Looking for a hearty meal to serve for dinner tonight? Look no further than this Steak Stir Fry, complete with potatoes, mushrooms and onions. The perfect way to use up those extra steaks in the freezer!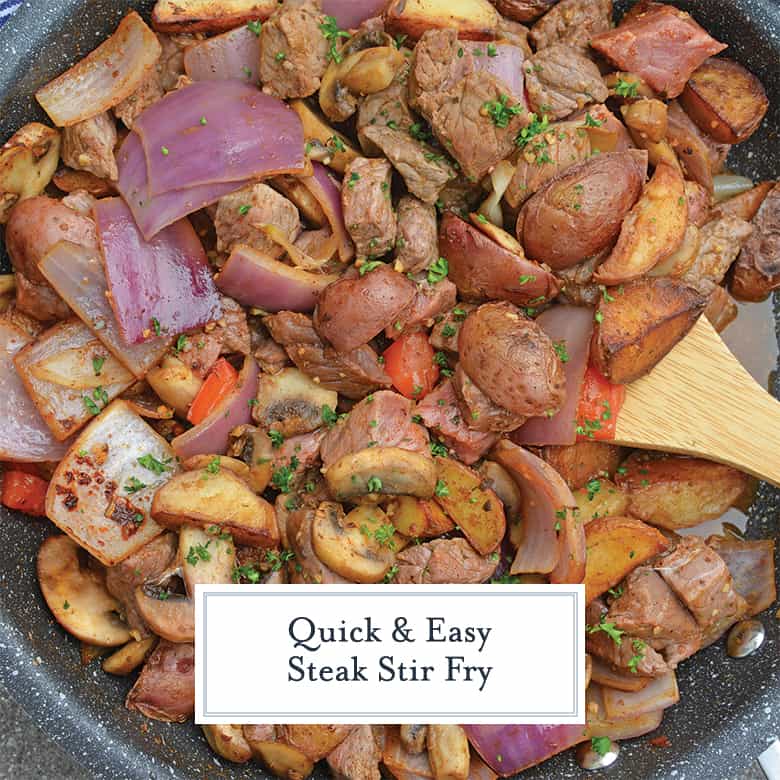 This Steak Stir Fry recipe is filled with lots of flavor and veggies. A beef stir fry makes a great meal for a busy weeknight!
This isn't your typical stir fry recipe. This steak stir fry recipe doesn't even have an Asian flare to it. It might as well be called a steak and potato skillet because it is about as American as it comes. Kind of like Polska Kielbasa Stir Fry not being exactly Polish.
Most stir fry's are made with some combination of brown sugar, soy sauce and rice vinegar for flavoring. However I chose to use my Steakhouse Steak Rub, garlic and butter to flavor this one.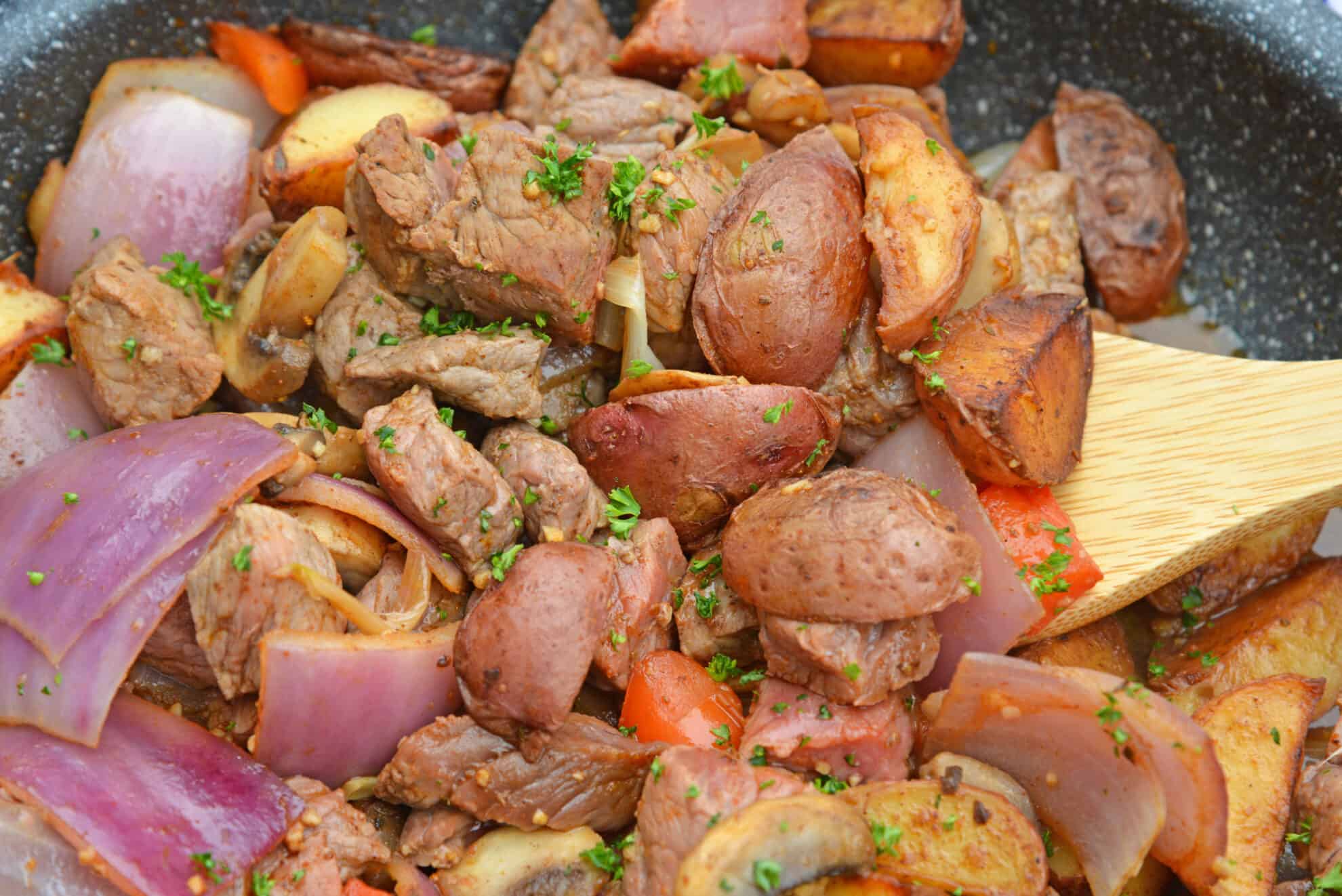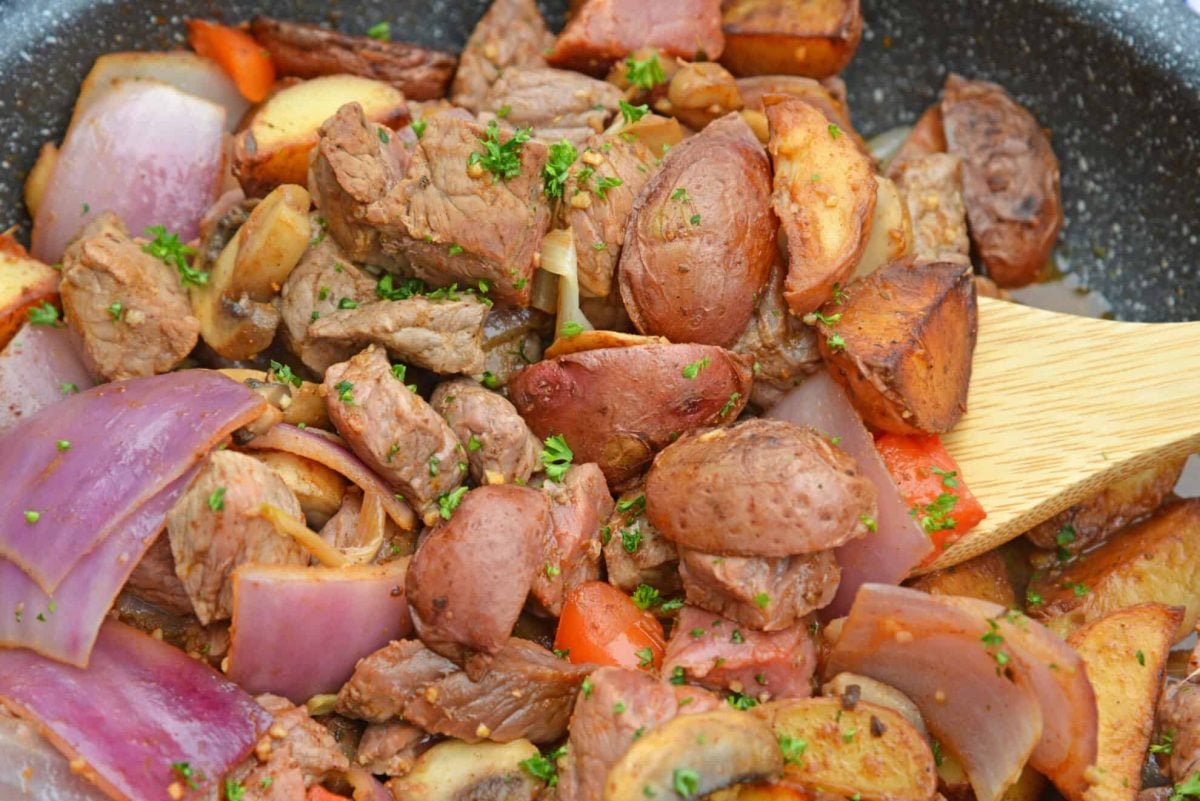 But it is made with beef and it is stir fried in a skillet, so that seemed to be the most appropriate name. Steak stir fry is basically all of the elements you love about a steak dinner loaded into one low carb easy recipe.
It is something I make when I don't have enough beef to make a whole beefy dinner for the family. Instead I chop it up into the steak bites and mix it with potatoes, onion, mushrooms and in this case, red bell pepper.
The first time I made it, my family loved it. So it is now in our regular rotation!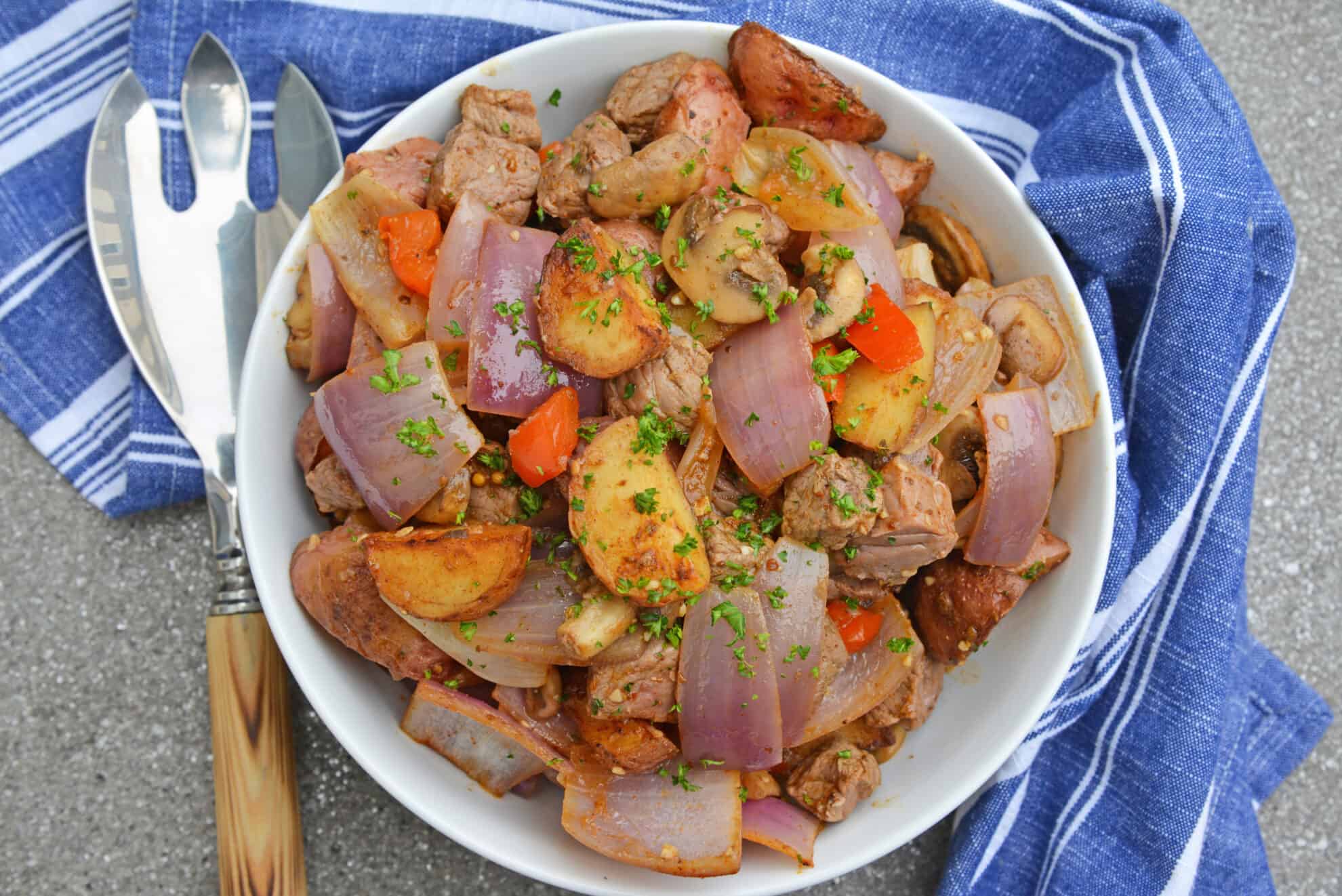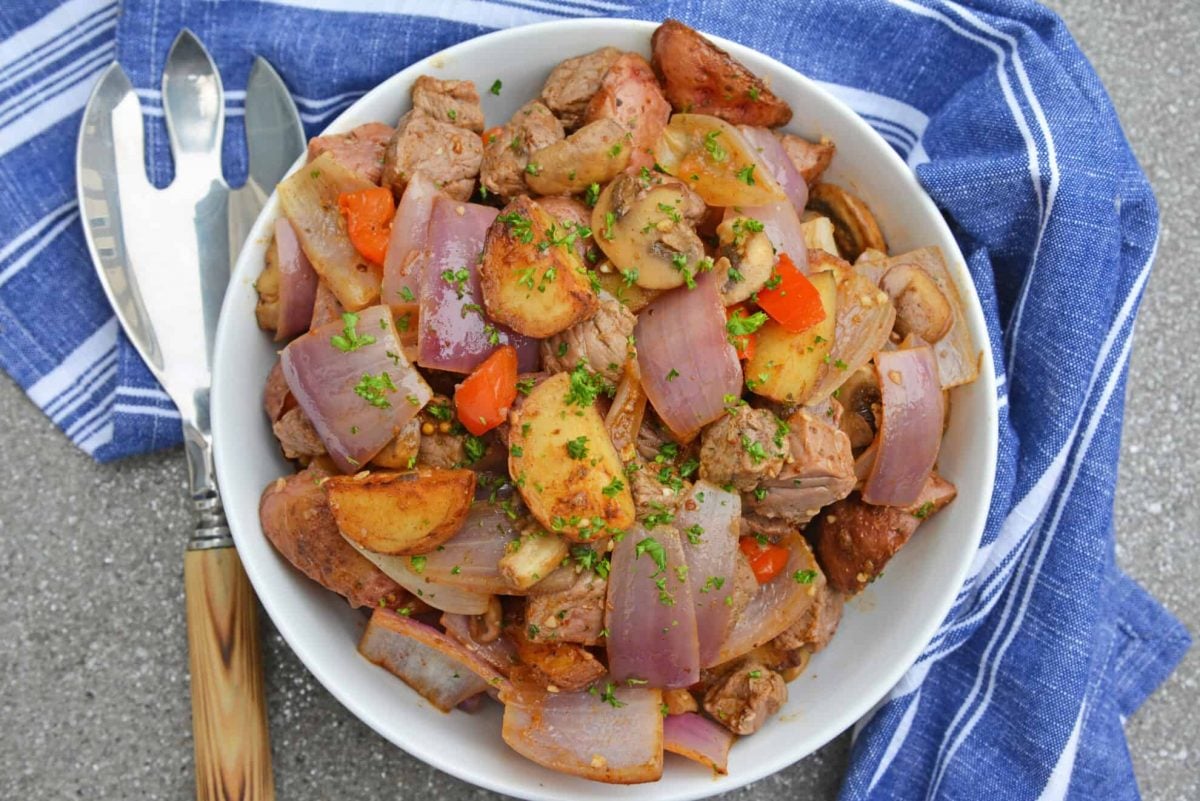 It works best with cuts of beef that don't require a lot of tenderization or marinating since there is no time for either. I do suggest cutting the raw beef against the grain. Shorter fibers equal easier to chew!
You can certainly use already cooked steak for this recipe if you'd like to. (It makes this recipe even quicker to make!) However, when making leftover steak recipes, just remember that the steak continues to cook as you heat it. Just keep a close eye on it so as not to over cook.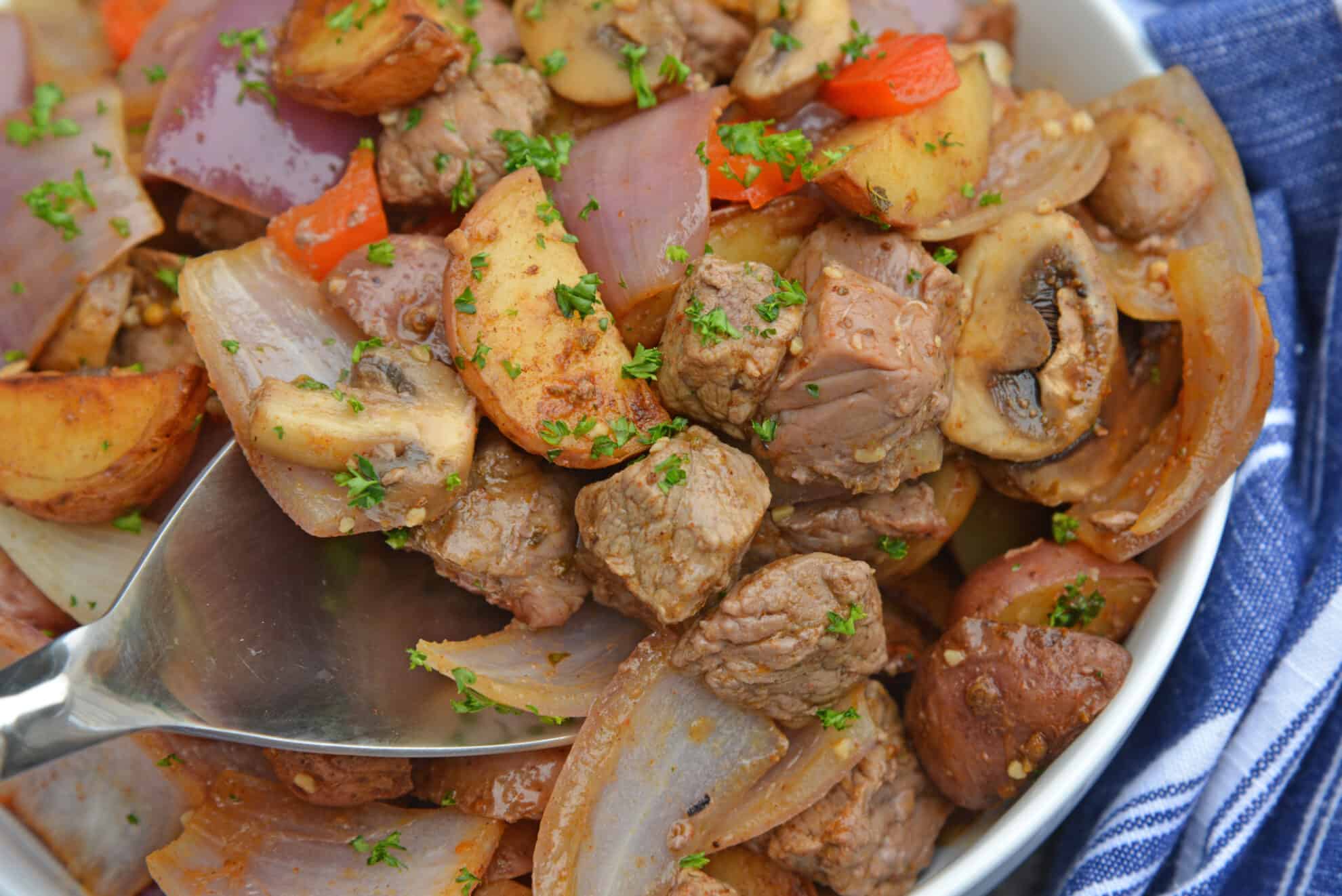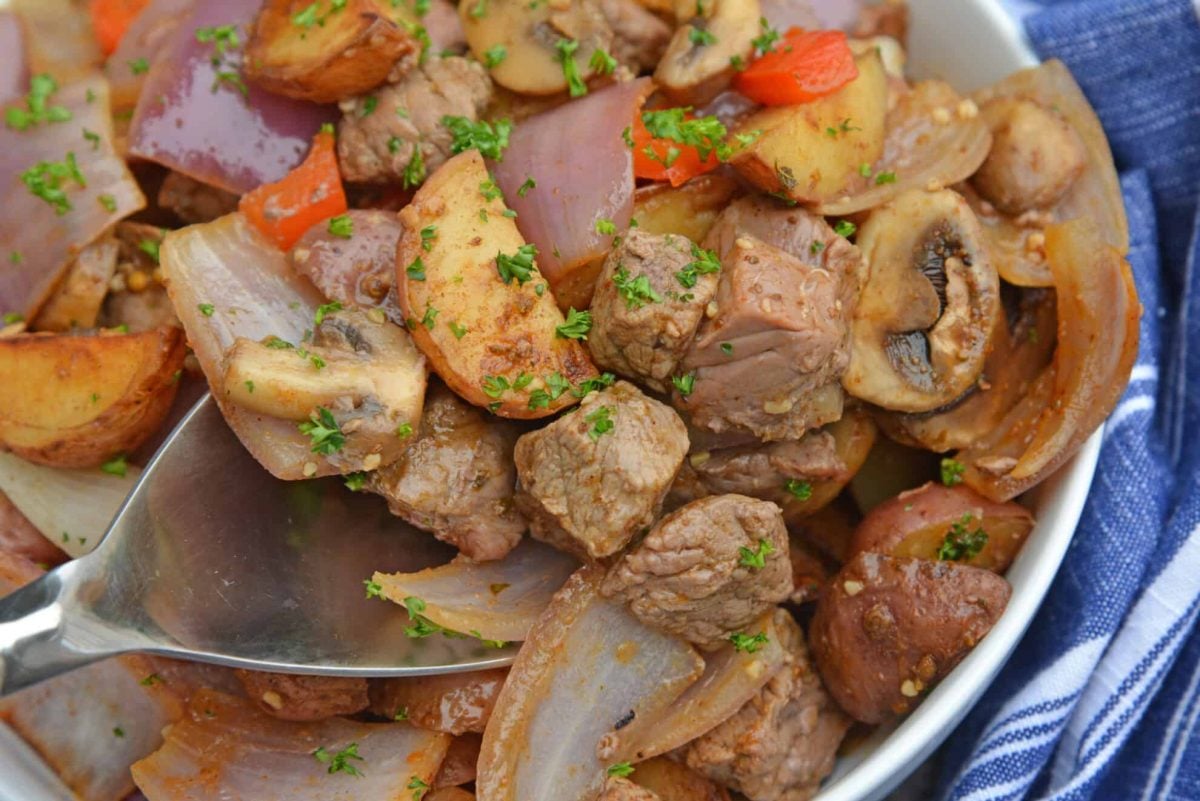 This steak stir fry was made with a flank steak leftover from my Green Curry Steak Salad. I only made one for myself, so I figured I'd use the rest to make dinner the following night.
The longest part of making this meal is the potatoes. If you like crispy potatoes, pan fry them according to the directions.
But if you are short on time and crisp tender potatoes aren't your number one priority, then you can pre-cook them in the microwave before adding them to the large skillet. See notes in the recipe card.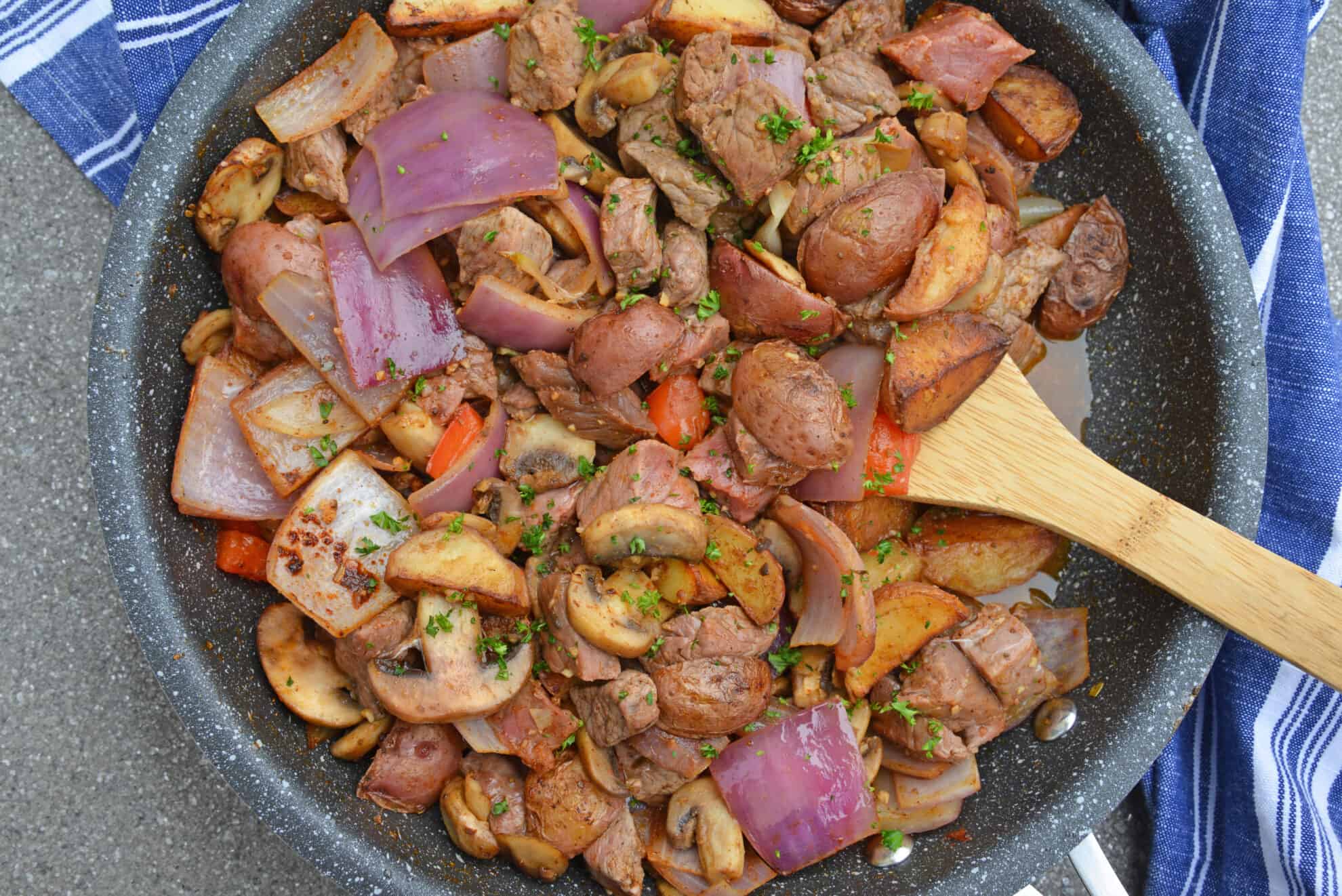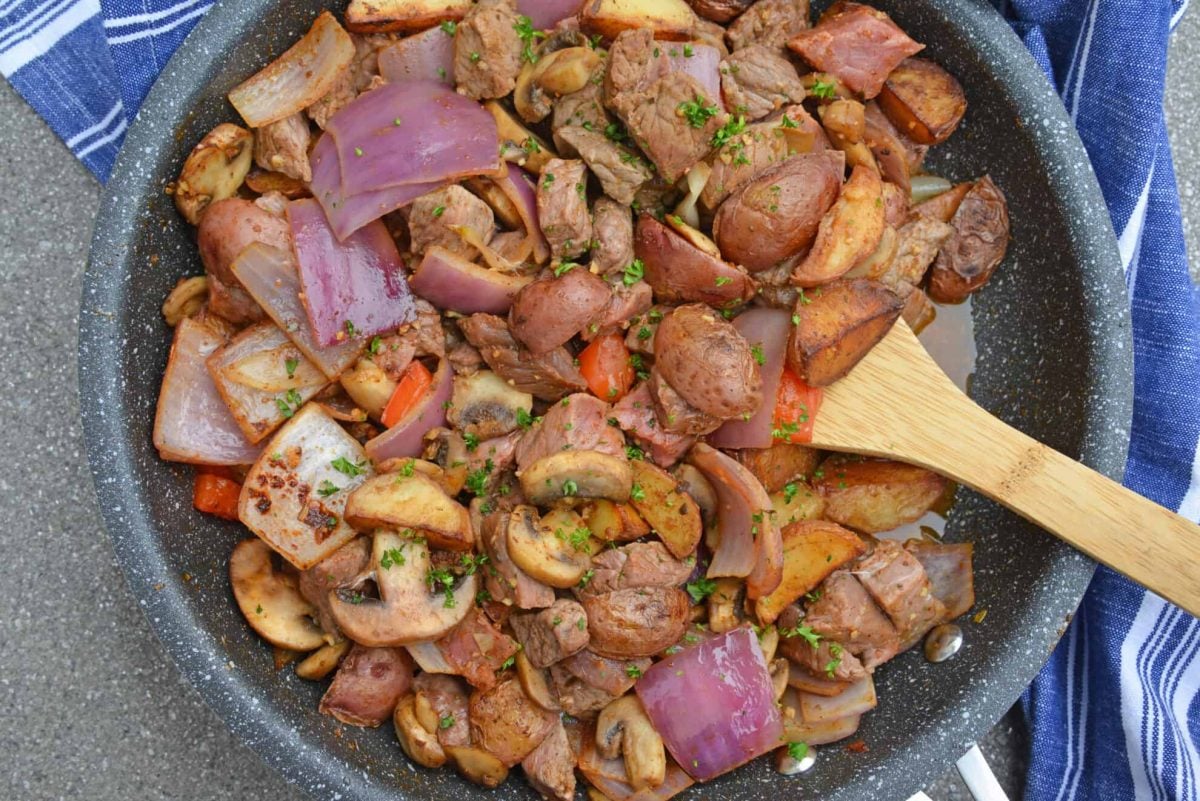 Questions you might have about how to make Steak Stir Fry:
Can I use a different seasoning? Sure! You can use whatever beef seasoning you'd like. I like my homemade steakhouse seasoning because it is flavorful, I generally already have a small batch made in the pantry and I can control the salt and pepper levels.
Can I use chicken? Sure! You can also try our chicken stir fry recipe.
Can I use steak sauce instead of steak seasoning? Yes, you can omit the steak seasoning and instead up about 1/4 cup of your favorite steak sauce. Or serve steak sauce on the side. You can check out my Peter Luger's Steak Sauce HERE!
Is Steak Stir Fry keto friendly? I am not a keto expert, so you might want to consult your keto coach before consuming, however it is my understanding that small amounts of potatoes are acceptable as a starch when in the maintenance portion of keto. You can also omit the potatoes altogether.
Is Steak Stir Fry Whole30 approved? I am also not a Whole30 expert, but it is my understanding that this recipe would be Whole30 approved if you used ghee or clarified butter.
Is Steak Stir Fry low carb? It is lower carb than many other meals, but of course, potatoes are a starchy vegetable, so it really depends on what your definition of low carb is.
What do I serve Steak Stir Fry with? You can eat it as-is or serve it over my Buttered Seasoned Noodles or a bed of rice. I know this seems like carb on carb (because of the potatoes), but there really aren't that many potatoes in the recipe. If you'd like a little green, you could add broccoli or even green onion to the skillet too.
Do I have to use a red bell pepper? Nope! You can use any color of bell pepper you'd like or just omit it. I happen to have a red one leftover from salad so it found its way into the skillet.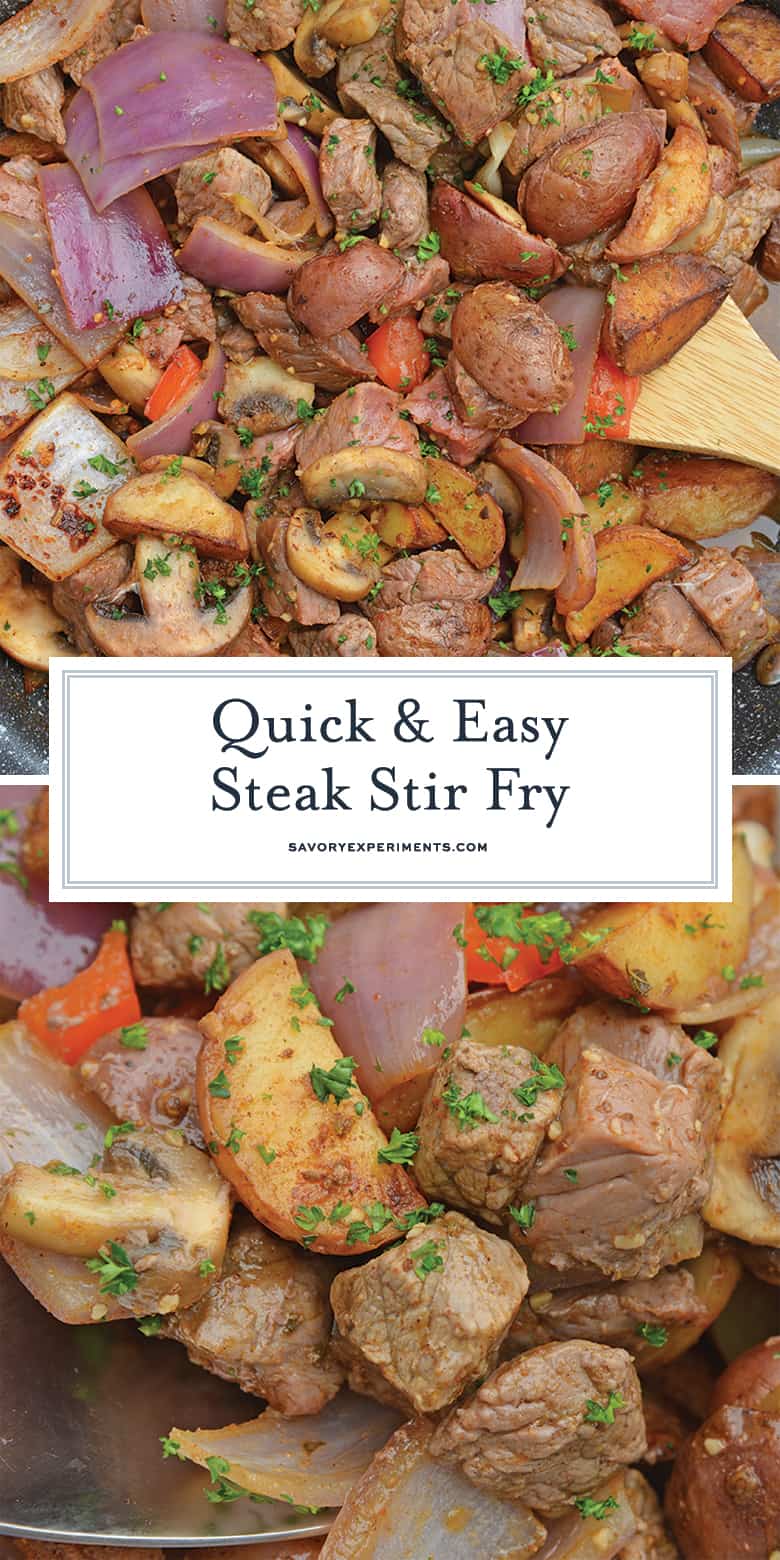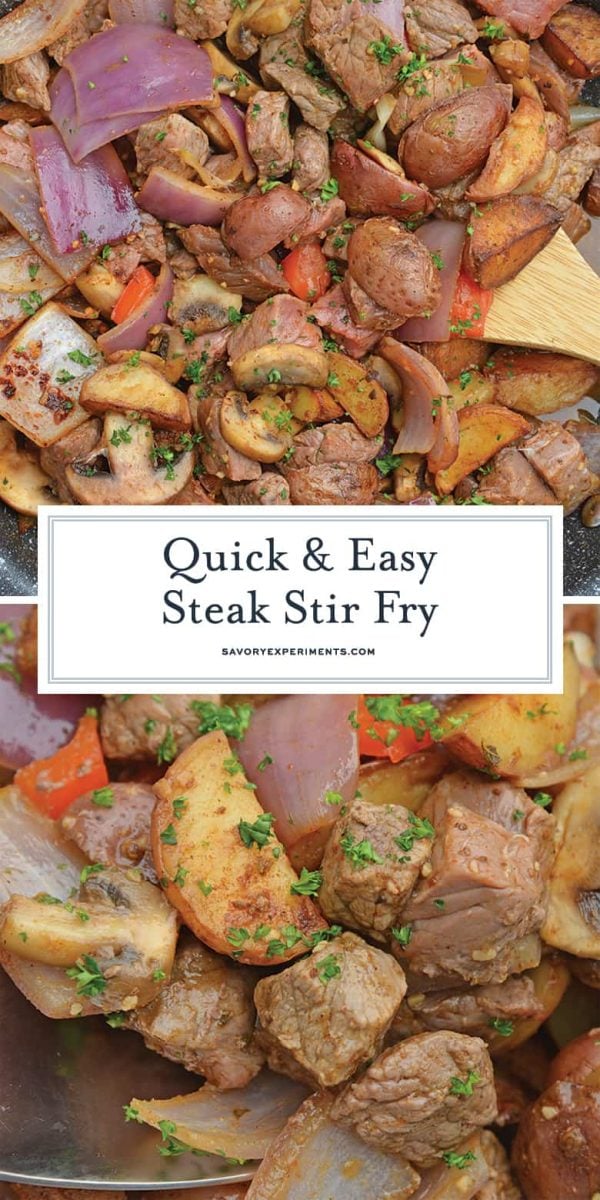 If you liked this beef stir fry, check out these other great steak recipes:
Tools you might need for making steak stir fry:
Heavy Bottom Frying Pan– this will be one of your most used kitchen tools. Having something that is heavy bottom will distribute heat better and prevent burning whether you are using an electric or gas range.
Wood cutting board – wood won't dull your knives like plastic and if treated properly, has natural antimicrobial properties.
Good knife – Global is my favorite! They are worth the price, I promise. I am kind of obsessed with them and store them tucked away so no one else can use them. Including hubby. Hands off my good stuff!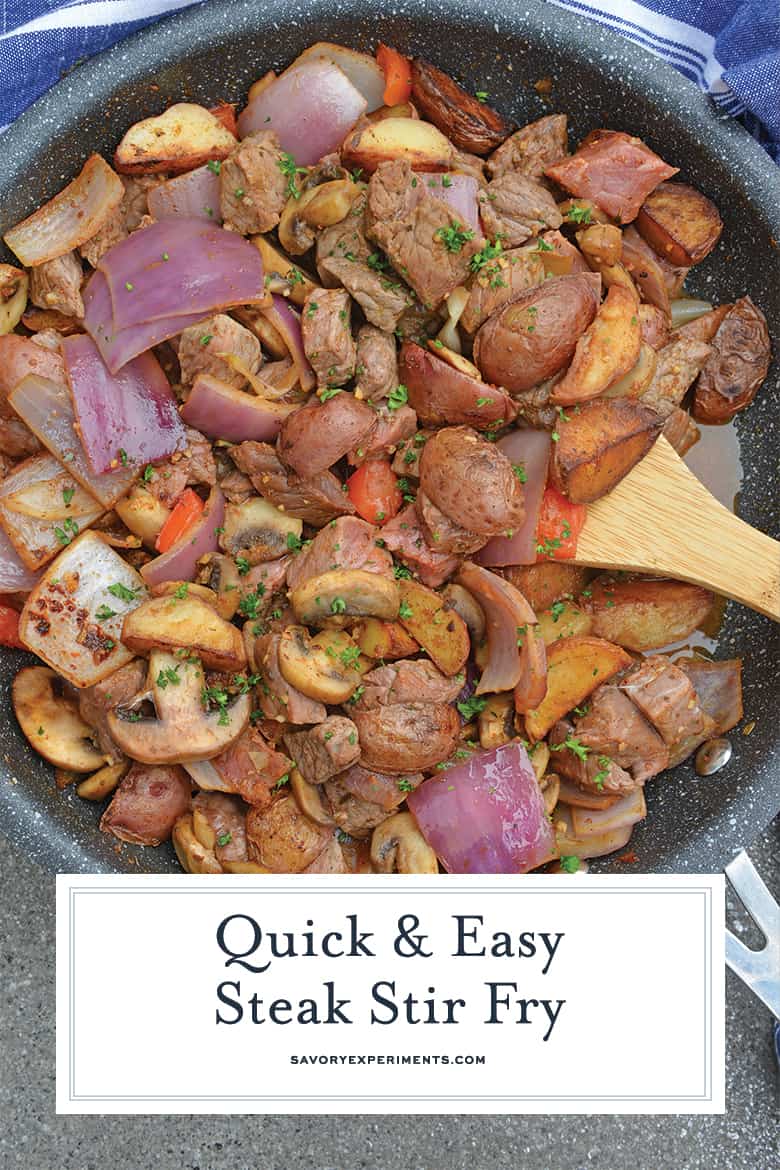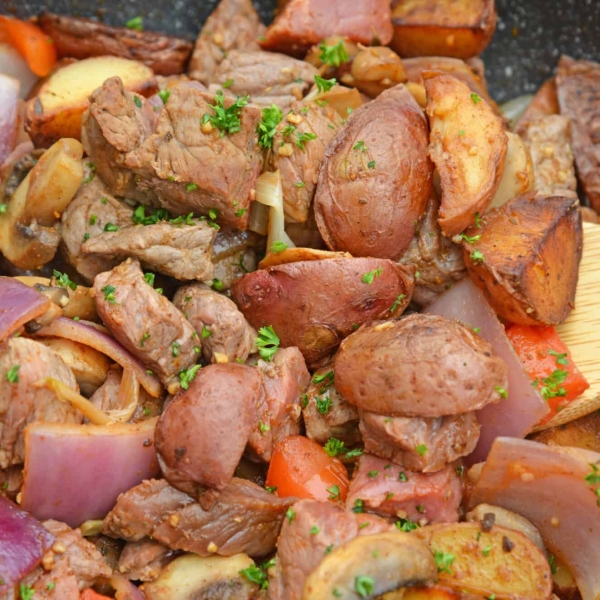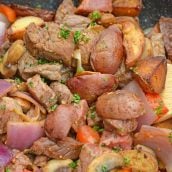 Steak Stir Fry
This Steak Stir Fry recipe is filled with lots of flavor and veggies. A beef stir fry makes a great meal for a busy weeknight!
Instructions
Melt butter in a large skillet over medium high heat.

Add potatoes and cook for 11-15 minutes, or until they brown and soften.

Add mushrooms, red bell peppers, onions and garlic. Continue to cook until starting to soften and mushrooms reduce by half, approximately 3-4 minutes.

Lastly, add beef and steakhouse steak rub. Cook until beef is seated, approximately 4-6 minutes depending on how well you like your beef done.

If you've tried this recipe, come back and let us know how it was!
Nutrition
Calories:
378
kcal
,
Carbohydrates:
38
g
,
Protein:
30
g
,
Fat:
12
g
,
Saturated Fat:
6
g
,
Cholesterol:
83
mg
,
Sodium:
126
mg
,
Potassium:
1408
mg
,
Fiber:
5
g
,
Sugar:
4
g
,
Vitamin A:
667
IU
,
Vitamin C:
59
mg
,
Calcium:
62
mg
,
Iron:
4
mg