Roasted Asparagus with Apricot Sauce is a family favorite in my house. Not only is it fast and easy, but it's also delicious too!

I absolutely get it – asparagus can sometimes be a hard sell. Not everyone loves a stalky, tree-like vegetable, but I can promise you that this recipe is an amazing side dish for almost every meal.
Why You'll Love Roasted Asparagus with Apricot Sauce
Cooking a side dish that is healthy and delicious doesn't have to be hard.
Sweet and Savory – Asparagus is known for its delicately bitter flavor. The addition of the apricot sauce here takes from a strictly savory dish into the sweet realm as well.
Nutrition – This vegetable is not only rich in minerals but it also touts things like Vitamin C, Vitamin A, and folic acid in addition to fiber. It can even help to lower blood pressure.
Finger Food – I don't know about you, but when it comes to asparagus, the fork and knife go out the window and my fingers become the utensils.
What is Roasted Asparagus with Apricot Sauce
This dish features asparagus roasted in the oven to perfection and a sauce featuring apricot preserves, soy, sauce, and garlic. It is sweet and savory perfection that cooks in a flash.
Fun Asparagus Facts
Asparagus is an amazing vegetable and here are a few fun facts you may not know.
Asparagus is generally in season from February through June and is relatively inexpensive due to rapid harvests.
Did you know asparagus can grow up to 1/2 per hour?!
Whether you are roasting asparagus or sauteeing asparagus, hot and fast is the best way to go and prevents you from getting a soggy dish.
Asparagus comes in a variety of colors with green being the most common. White and purple asparagus are both delicious and if you see them in the store, go ahead and grab them. They can be cooked and eaten the same way!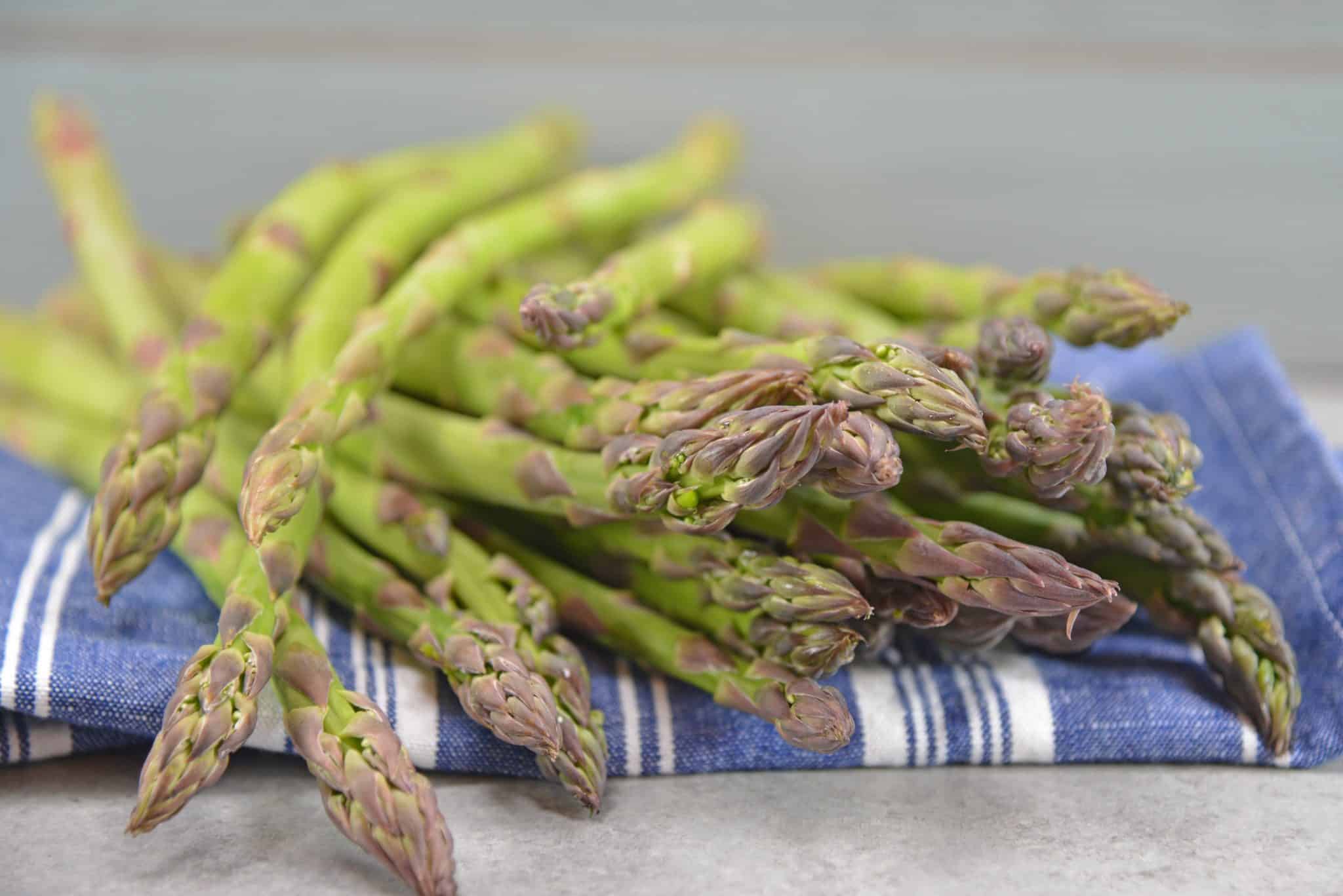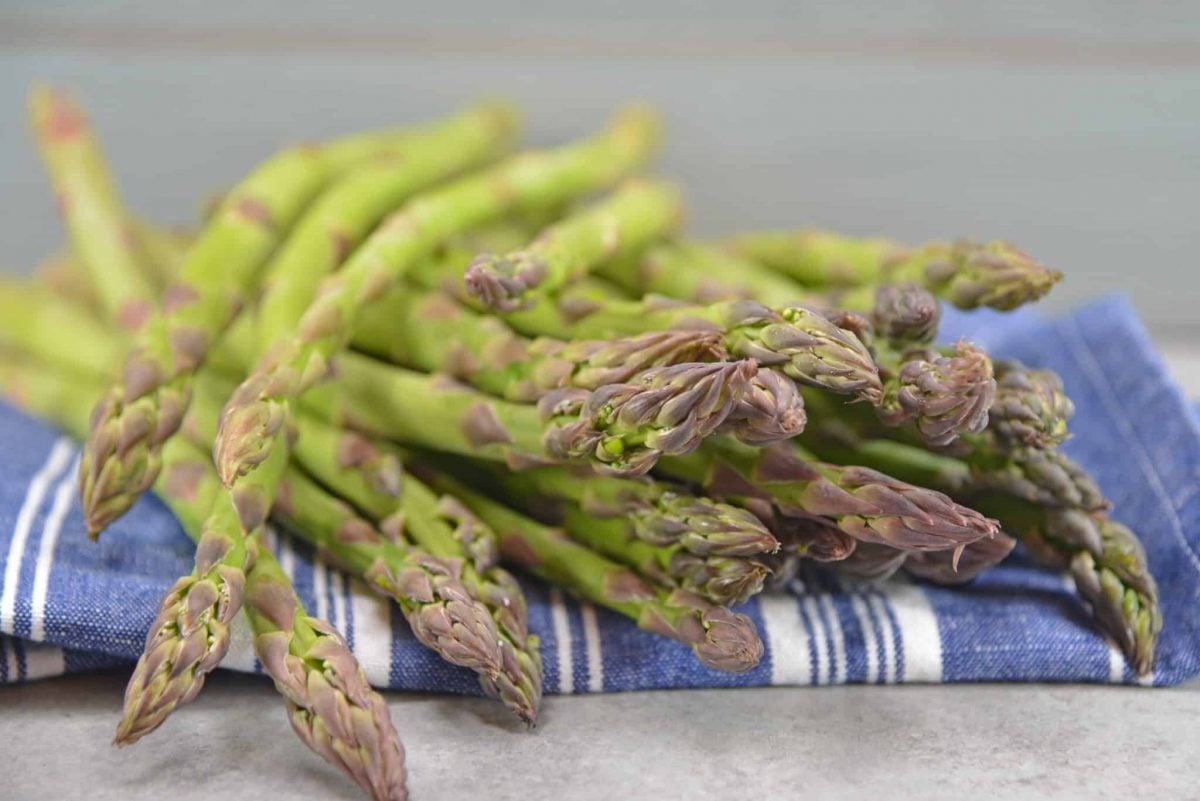 Ingredients
With less than ten ingredients, this dish is a no-brainer for your next vegetable side dish.
Asparagus – Look for medium to small size stalks in terms of thickness. The thicker stalks can be woody or stringy and a challenge to eat. If all you can find are the big ones, use a vegetable peeler to strip away the first or second layers and then proceed with the recipe. Keep in mind they might need a touch longer in the oven.
Sesame Seeds – Sesame seeds are packed with oil and they, much like nuts, can go rancid in a hurry. To keep them good for longer, store your sesame seed jar in the fridge.
Apricot Preserves – Tangy, sweet, and great for quick sauces. Try to find the "no sugar added" variety as it has plenty of sugar on its own.
Light Soy Sauce – Mildly flavored and salty but not too salty, this is bringing umami to the dish and really rounds out the sweetness of the apricot preserves.
Garlic – I always like to use fresh garlic, because it has a little bit more zest and bite than the jarred kind. Either will work here.
Cooking Spray – Evenly coats the asparagus for cooking without drowning it in oil.
Fine sea salt and pepper – The smaller granules of fine sea salt are great for coating smaller foods, like this asparagus. Freshly cracked black pepper will give it a gentle spiciness that pre-cracked black pepper lacks.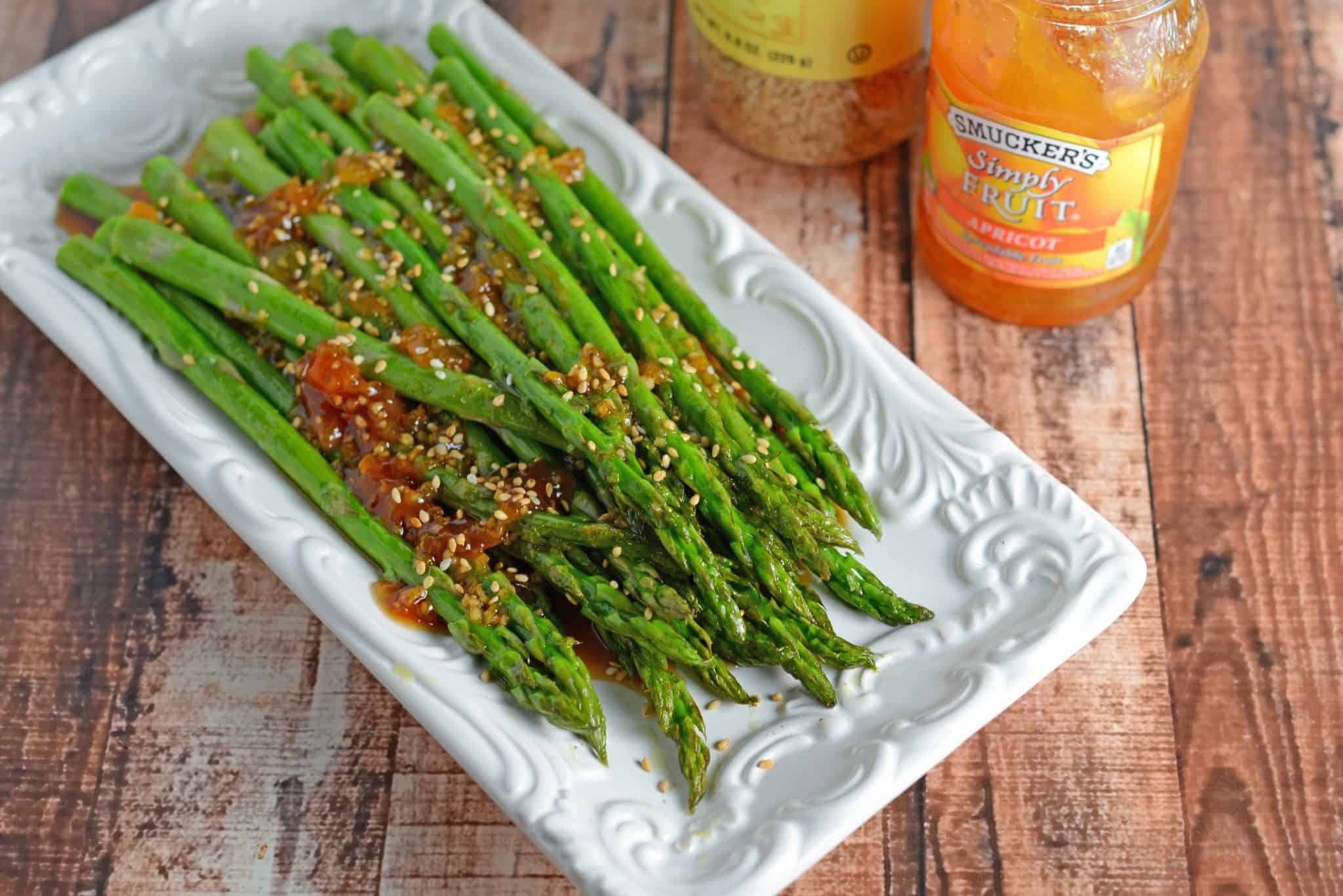 How to Make Roasted Asparagus with Apricot Sauce
Preheat the oven and prep your baking sheet.
Prep the asparagus. Get the asparagus into a single layer. If they are overlapping or on top of one another they will steam vs. roasting nicely. The cooking spray will serve not only to help the asparagus roast, but it will also serve as the glue for the salt, pepper, and sesame seeds.
Roast! Pop them in the oven, take them out and turn them around for even cooking, and pop them back in. The asparagus is done when the stalks are pliable and soft and the tips are looking crispy. Keep in mind that thicker stalks will take longer than the time listed in the recipe.
Make the Apricot Sauce. In a small bowl, combine the preserves, the soy, and the garlic. Don't worry if it is a little thick. The heat from the asparagus will help the sauce "to melt" over it.
Toss the asparagus. Tossing the asparagus in the dish you are serving it in means you won't lose any of that deliciousness on the baking sheet or an additional bowl.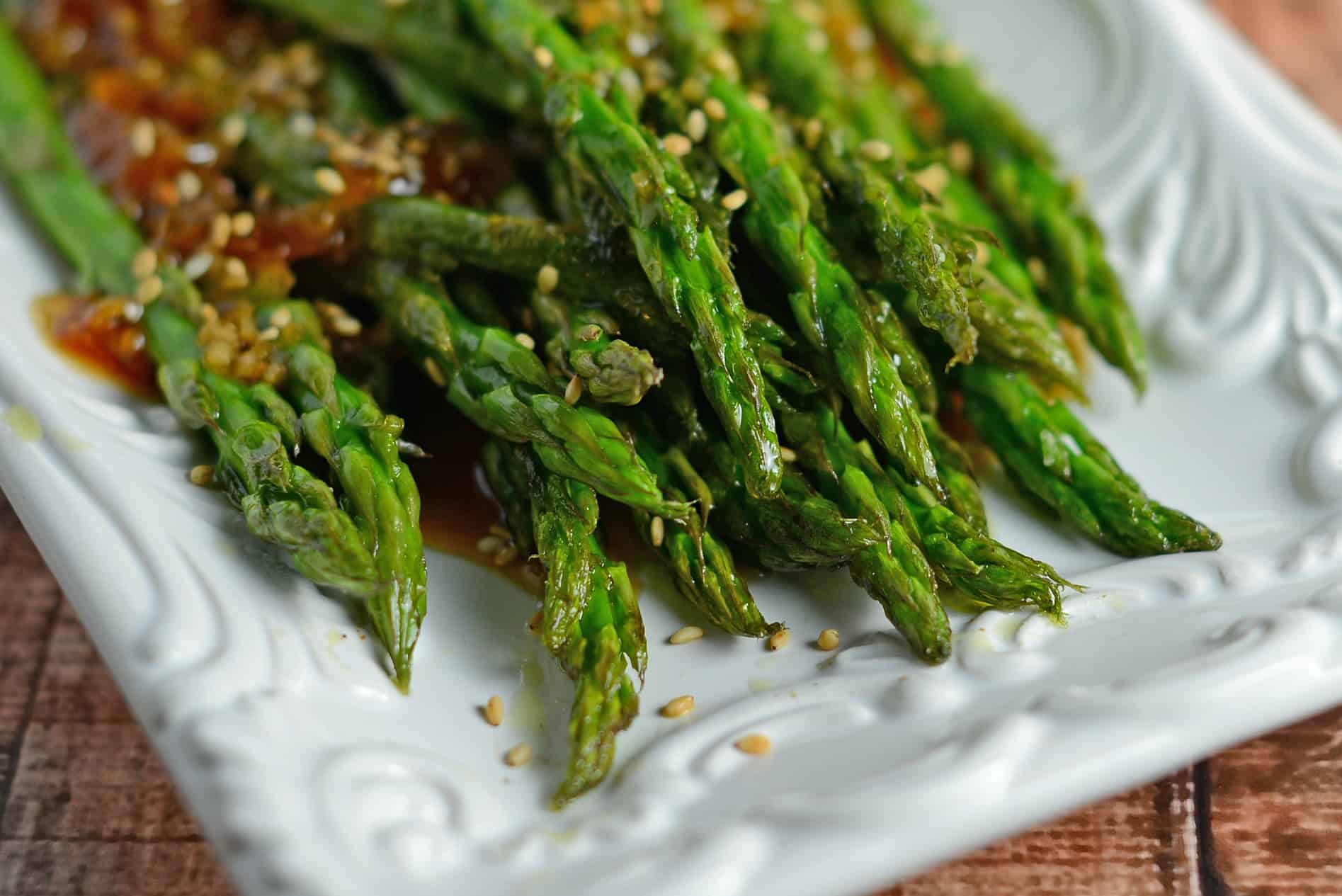 What to Serve Roasted Asparagus with Apricot Sauce With
The sky is truly the limit here, but below are some recipe pairings that I particularly like to serve with this dish:
Storing & Freezing
Storing – Pop any leftovers into an air-tight container and put them in the fridge for up to 5 days. I recommend allowing the asparagus to cool completely before covering it so it does not continue to cook.
Reheating – Call me crazy, but I like to eat these cold and with my fingers. If that doesn't float your boat, pop them in the microwave until warmed through.
Freezing – Vegetables in sauces like this do not thaw out well, and I do not recommend freezing this recipe.
Questions About Roasted Asparagus
Should I soak asparagus before roasting?
Nope! Not necessary. A good rinse and a trim on the ends are all you need before you can get cooking. If your asparagus is looking dry or is starting to dry out, however, trim the ends and stand them upright in a cup with a few inches of water in it. Pop it in the fridge and they will be as good as new in a few hours.
Is it better to roast or saute asparagus?
This is a matter of personal preference because both methods are terrific. I personally like roasting asparagus best because the ends get nice and crispy and it frees up space on the stove if I am cooking other dishes.
Why is my roasted asparagus soggy?
First, we have all had it happen to us so don't fret. Second, two things could be at play here. You have either overcooked your asparagus leaving it in the oven too long or you have put too much asparagus too close together. Remember to spread it out into a single layer and give the stalks a little room to breathe so they don't steam.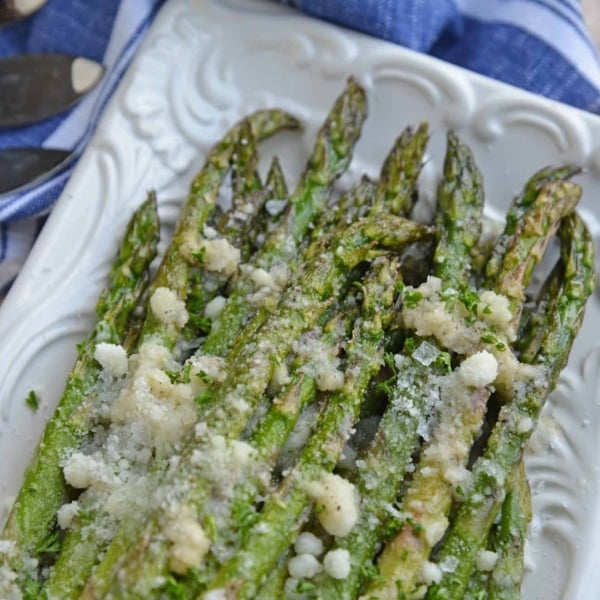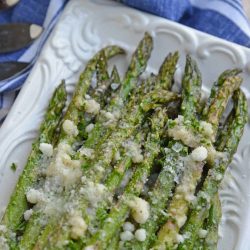 Garlic Parmesan Asparagus
Garlic Parmesan Asparagus is an easy side dish with loads of flavor. One of your favorite vegetables covered in fresh garlic and Parmesan cheese, what could be better?
See The Recipe!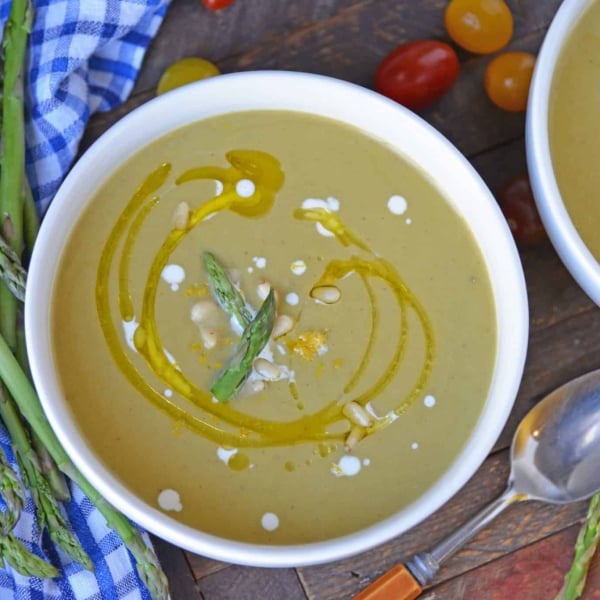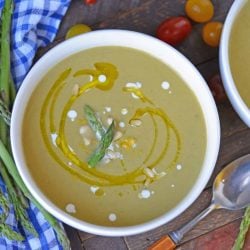 Asparagus Soup
Asparagus lovers will love this creamy asparagus soup! Deliciously smooth and flavored to perfection, this cream of asparagus soup makes the perfect appetizer!
See The Recipe!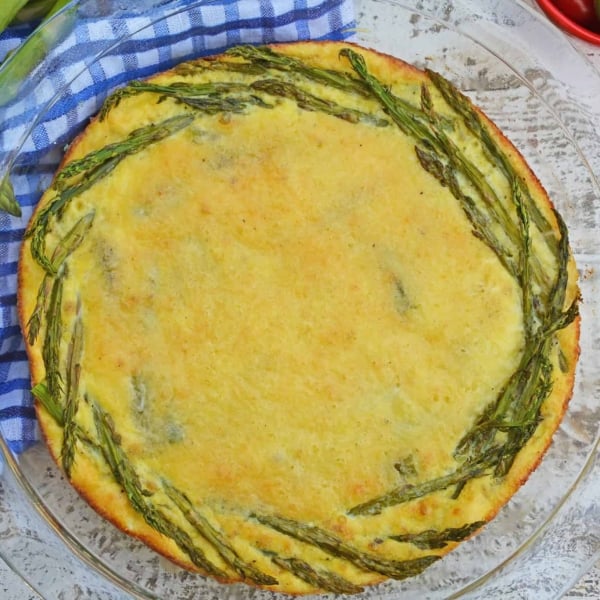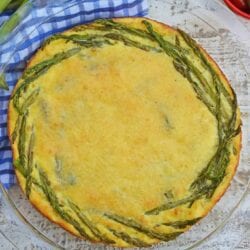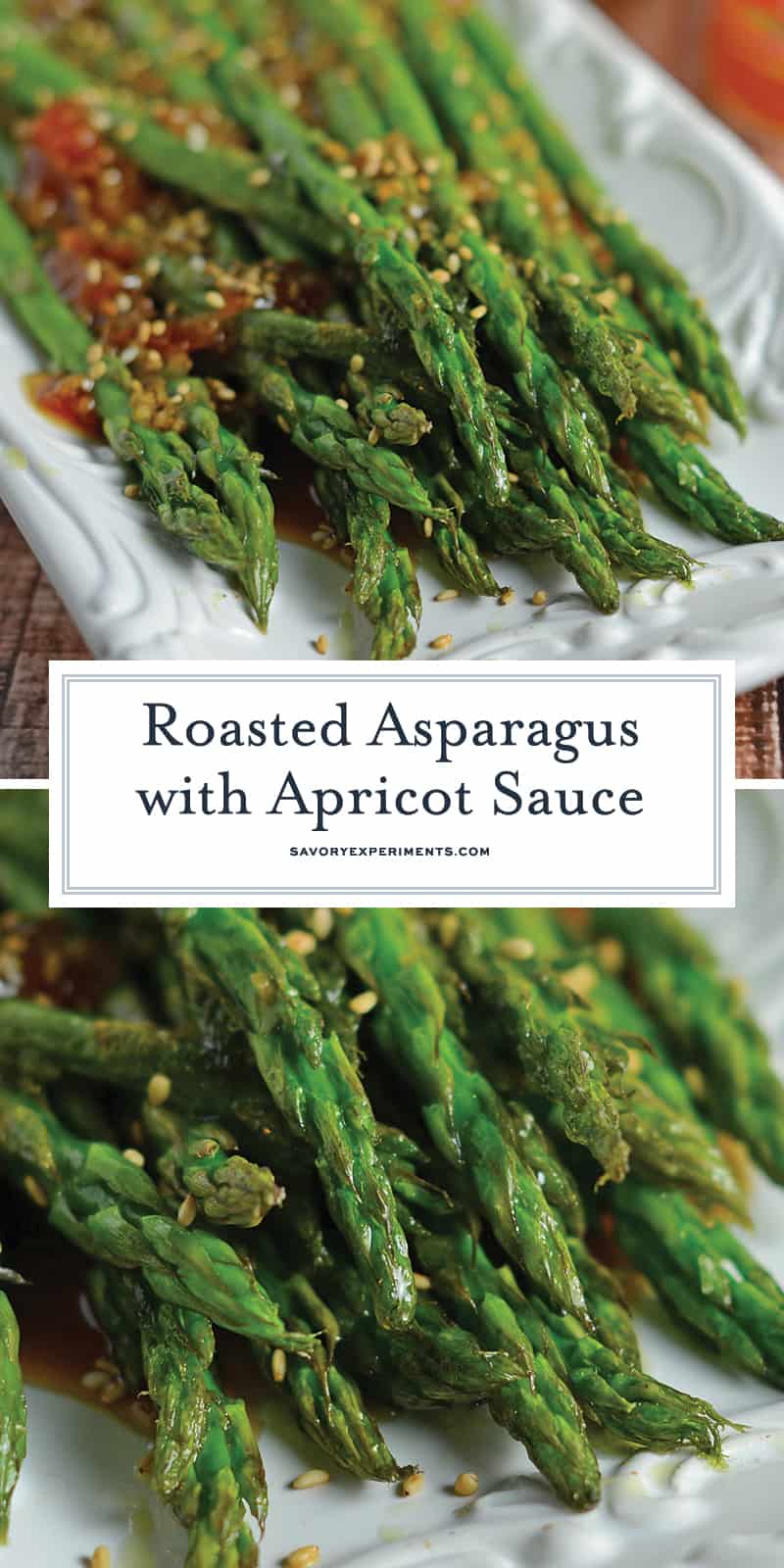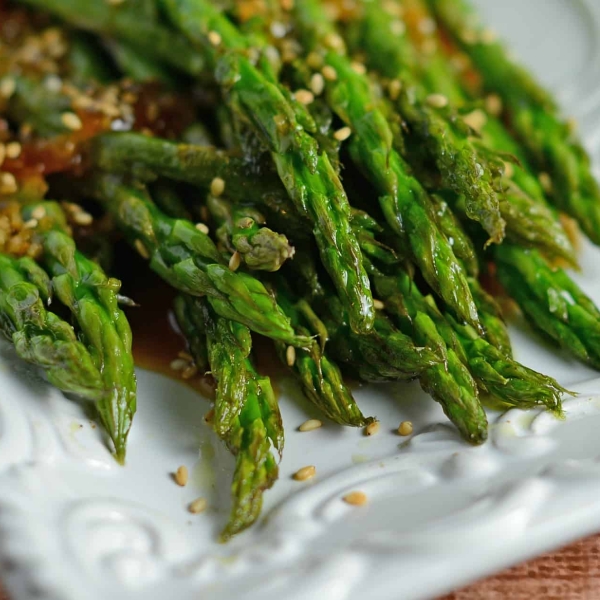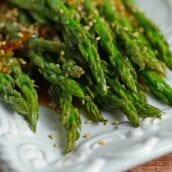 Roasted Asparagus with Apricot Sauce
Roasted Asparagus with Apricot Sauce is an easy recipe for asparagus in the oven. The best asparagus side recipe out there!
Instructions
Heat oven to 400 degrees. Spray a rimmed baking sheet with cooking spray.

Arrange asparagus in a single layer and spray with cooking spray again. Season with sea salt and pepper. Sprinkle sesame seeds over top.

Roast asparagus for 5 minutes, remove and turn over, cook for an additional 5 minutes or until stalks are soft and tips are crispy.

While asparagus cooks, combine apricot preserves, soy sauce and garlic in a small dish.

Remove from baking sheet into the rectangle dish, toss and coat with apricot glaze. Serve immediately.

We love comments! Make sure to come back and leave us one!
Nutrition
Calories:
21
kcal
,
Carbohydrates:
2
g
,
Protein:
1
g
,
Fat:
1
g
,
Sodium:
252
mg
,
Potassium:
18
mg
,
Vitamin A:
30
IU
,
Vitamin C:
0.7
mg
,
Calcium:
22
mg
,
Iron:
0.5
mg