Roasted Asparagus with Apricot Sauce is a family favorite for asparagus side dish recipes. Asparagus in the oven is fast, making it an easy side dish recipe for nearly any meal.
Adding my easy apricot sauce takes your roasted asparagus up a notch.

Roasted Asparagus with Apricot Sauce is an easy recipe for asparagus in the oven. The best asparagus side recipe out there!
I have trouble understanding individuals who do not enjoy the stocky tree-like vegetable. With a delicately bitter flavor, numerous health benefits and allure of being able to eat with your hands, who wouldn't want to indulge?
I'm also a nerdy weirdo, but don't asparagus spears remind you of some sort of tree in a Dr. Seuss book? I'm sure they were similar and had some funky, cool name.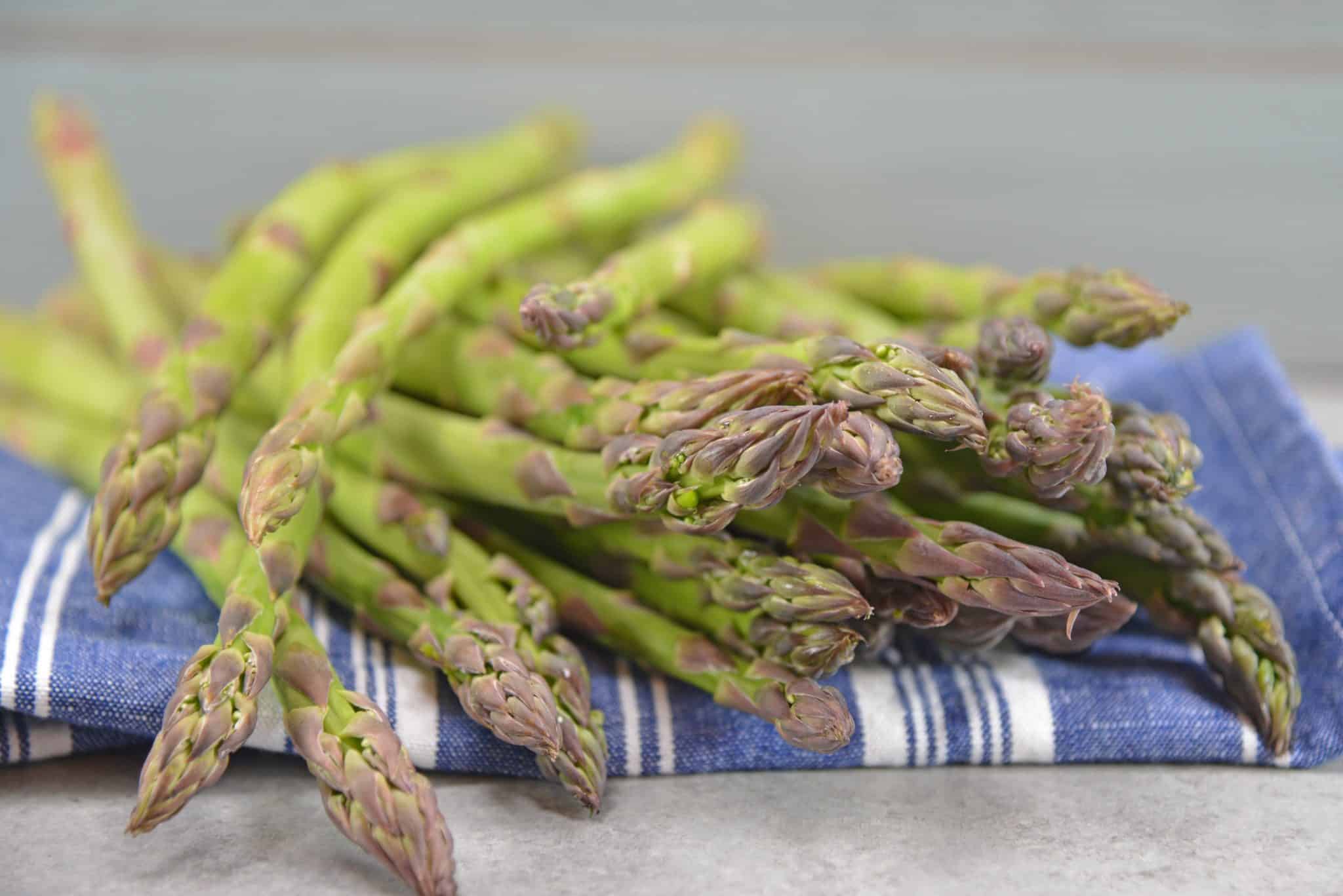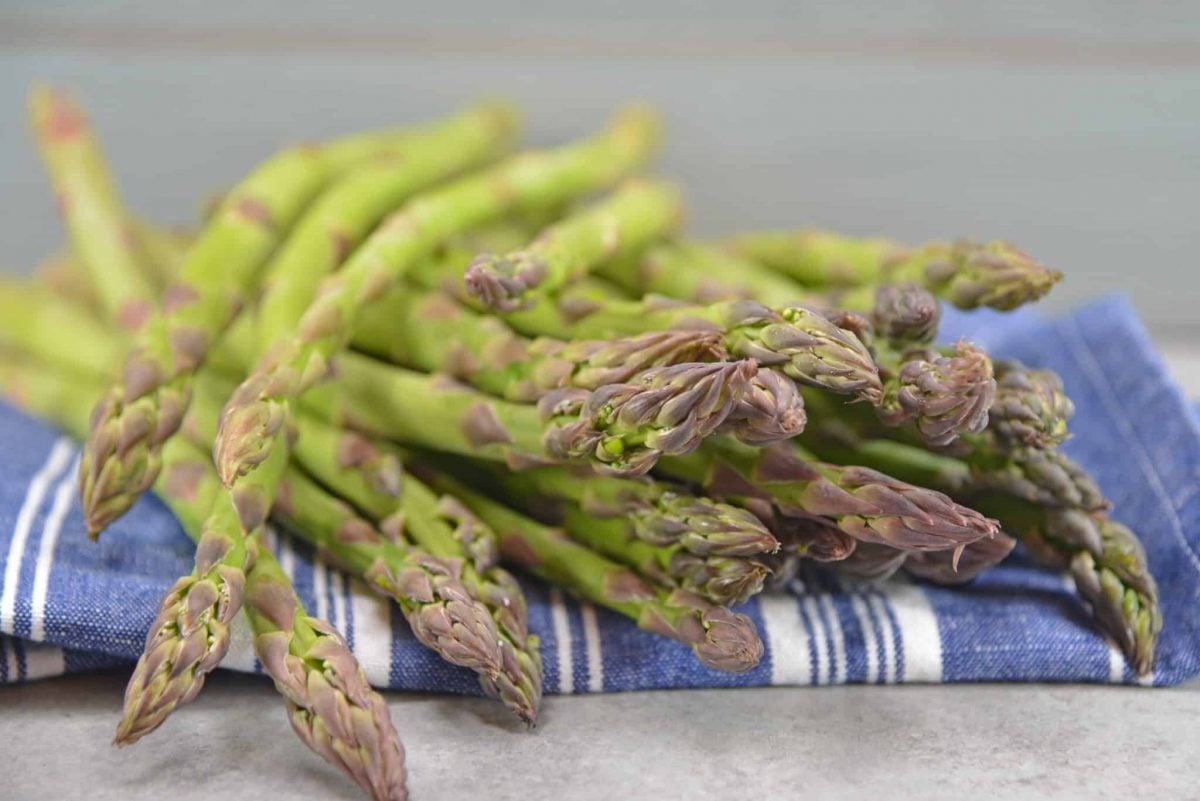 If you are still reading after me telling you about the way my odd mind works… let me also tell you about some of the benefits of eating asparagus.
Asparagus is packed with antioxidants, fiber and vitamins A, C, and E.Fresh asparagus, which starts harvesting in the spring is also relatively inexpensive due to the rapid harvest times.
Did you know asparagus can grow up to 1/2 inch per hour? That is crazy!Look for a medium to small size stalks, larger stalks are woody, stringy and can be challenging to eat.
If that is all that is available, blanch them before proceeding making your recipe. The next best option is flash frozen asparagus.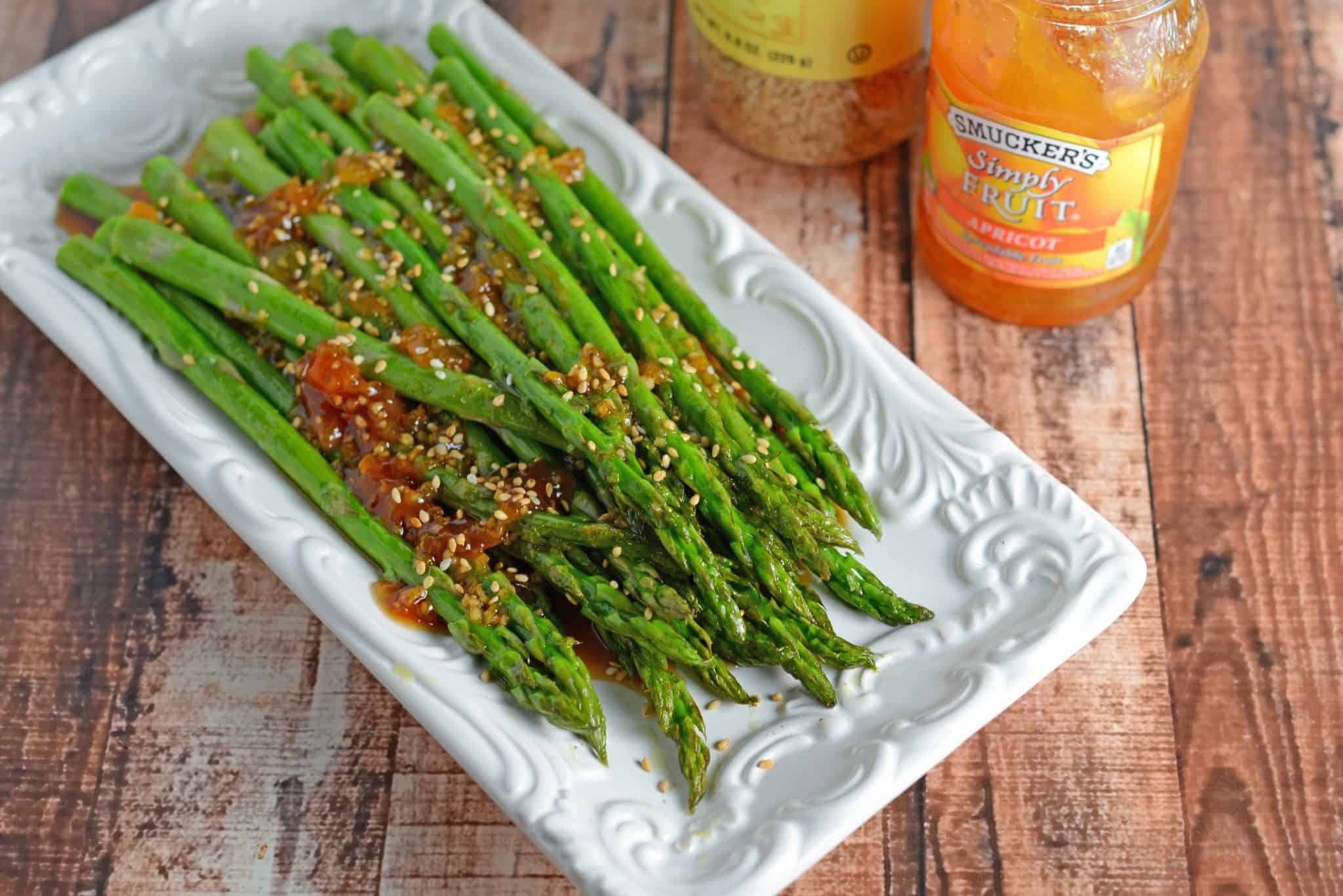 The name "roasted asparagus" is almost funny to me. Technically roasting is just the action of cooking something in the oven or over fire, but in fine cooking, generally means cooking something fairly low and slow.
Asparagus in the oven doesn't need to be low and slow, in fact, it does a little better when fired up and cooked fast to get a little crisp on the tip. If you are looking for white asparagus recipes or purple asparagus recipes, you can also use my Roasted Asparagus with Apricot Sauce.
White asparagus is actually the same as green, just harvested before sprouting above ground, hence why it is a little more expensive, it is labor intensive.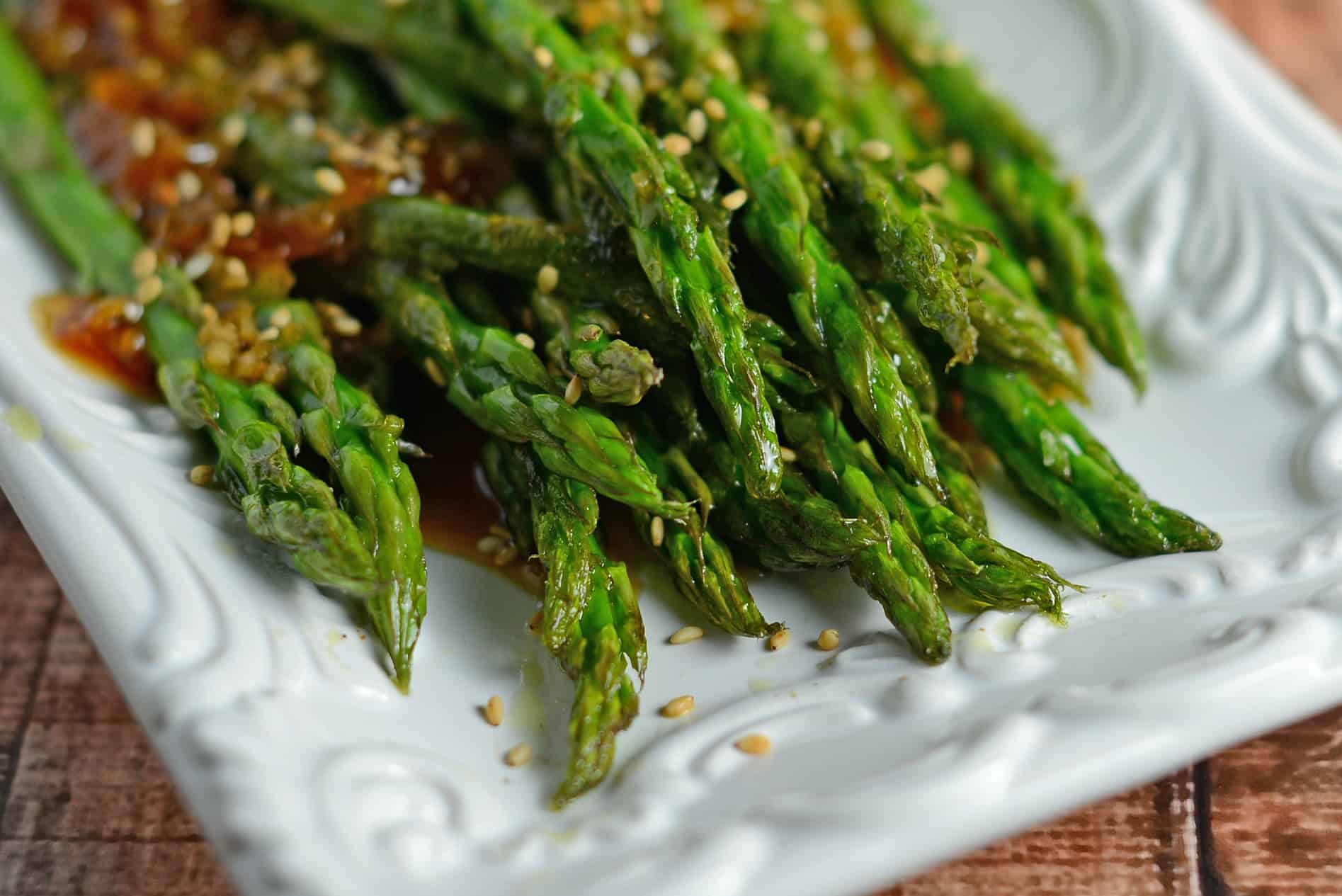 Tools for making Roasted Asparagus with Apricot Sauce:
Wood cutting board – wood won't dull your knives like plastic and if treated properly, has natural antimicrobial properties.
Good knife – Global is my favorite! They are worth the price, I promise. I am kind of obsessed with them and store them tucked away so no one else can use them. Including hubby. Hands off my good stuff!
Rimmed Baking Sheet– another kitchen staple! You'll use this for prep work, roasting and much more. I have 7 at my house.
Whisks– I buy whisks in multiple sizes. You never know which one you will need.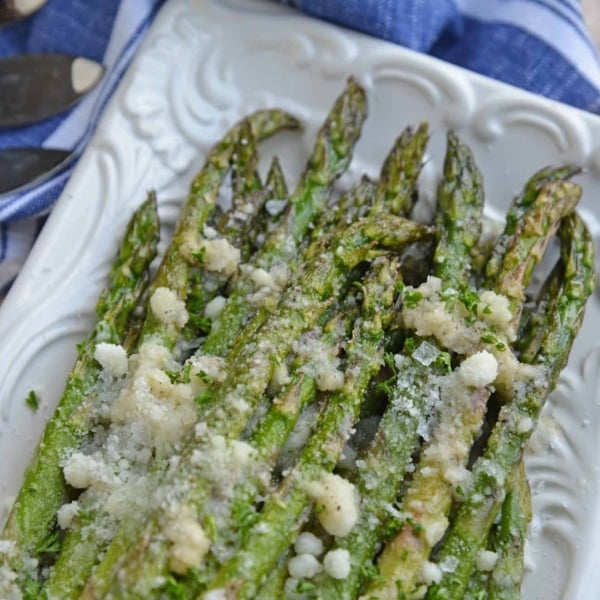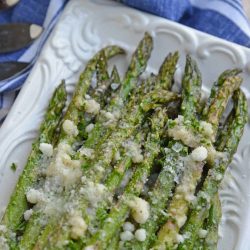 Garlic Parmesan Asparagus
Garlic Parmesan Asparagus is an easy side dish with loads of flavor. One of your favorite vegetables covered in fresh garlic and Parmesan cheese, what could be better?
View this recipe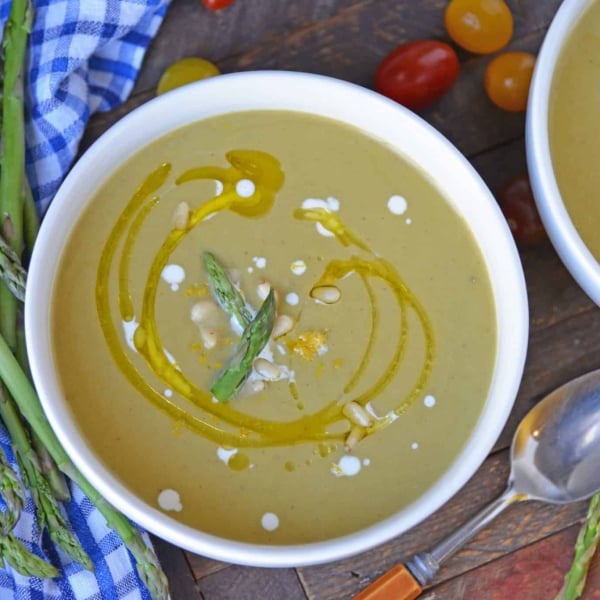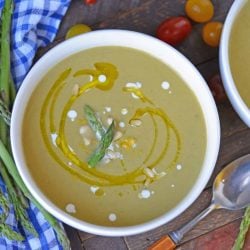 Asparagus Soup
Asparagus lovers will love this creamy asparagus soup! Deliciously smooth and flavored to perfection, this cream of asparagus soup makes the perfect appetizer!
View this recipe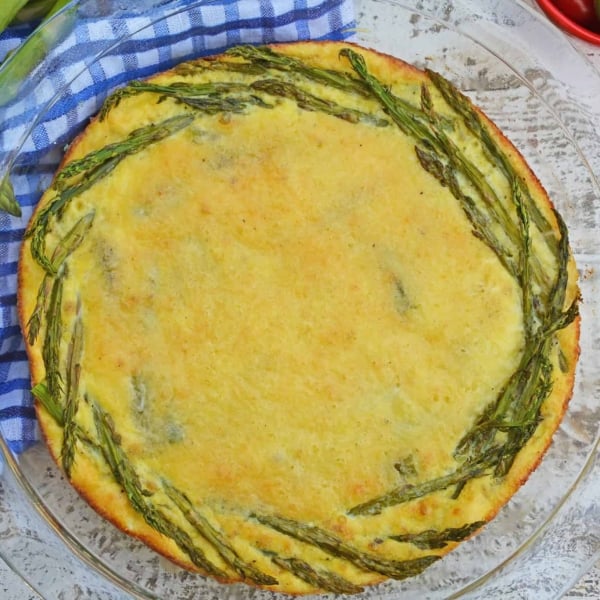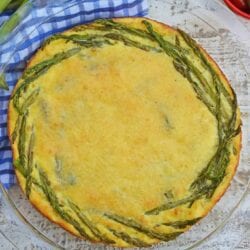 Crustless Asparagus Quiche
This crustless quiche recipe is one of the best asparagus recipes. An asparagus quiche would be a great addition to your next breakfast, brunch or lunch!
View this recipe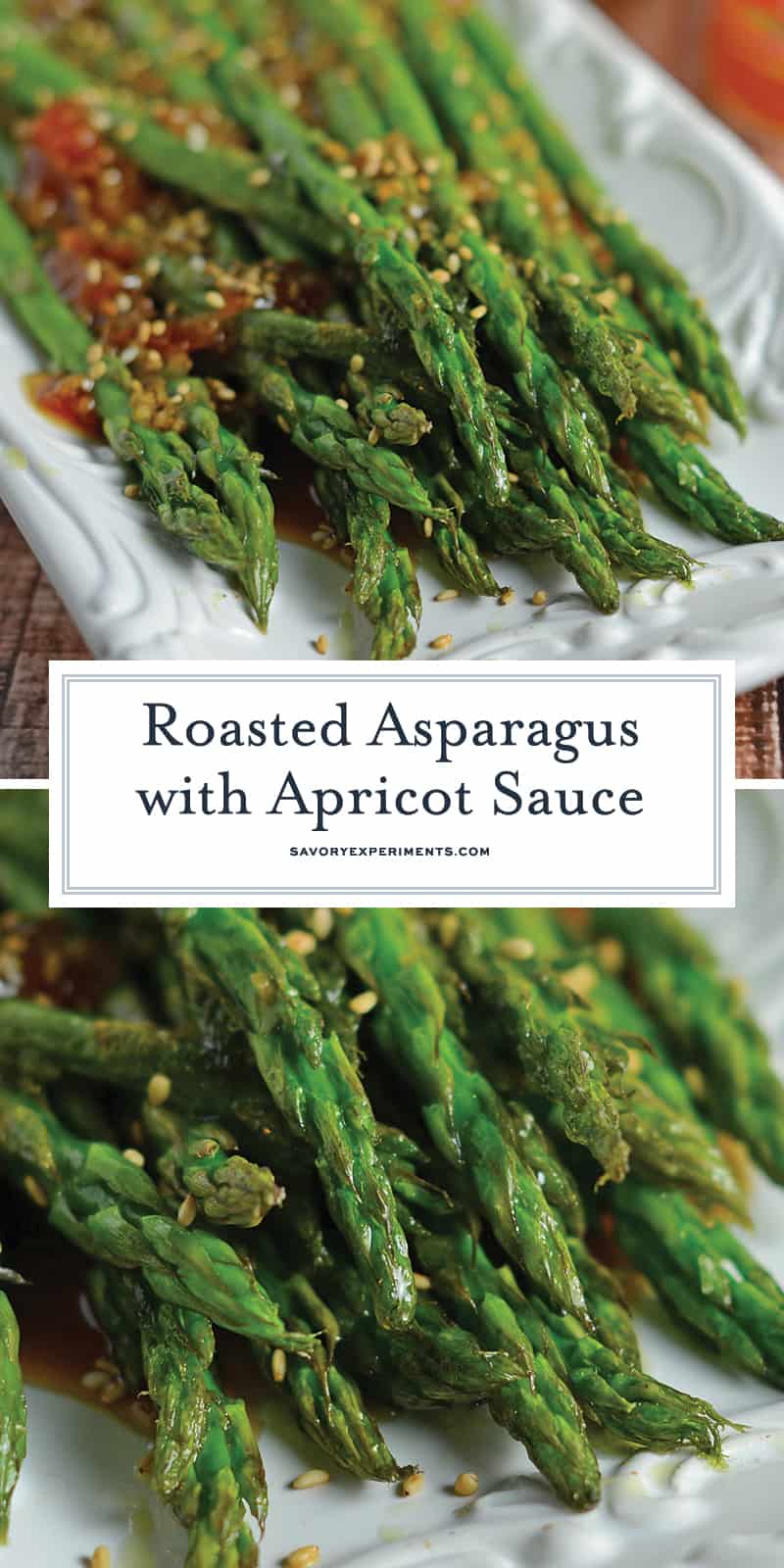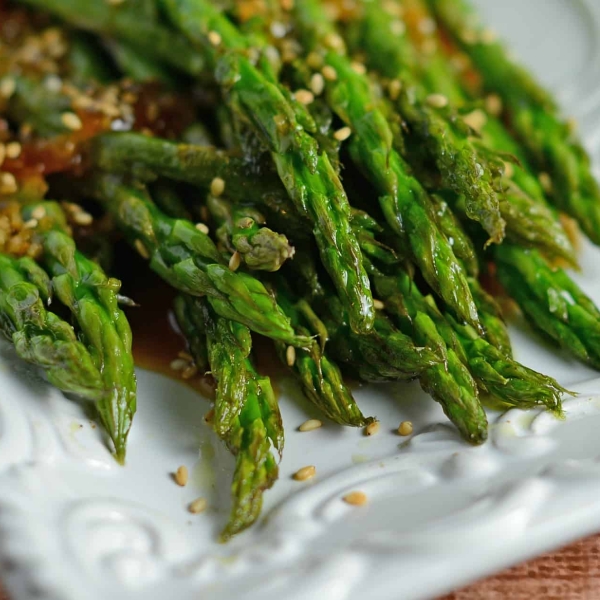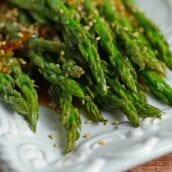 Roasted Asparagus with Apricot Sauce
Roasted Asparagus with Apricot Sauce is an easy recipe for asparagus in the oven. The best asparagus side recipe out there!
Instructions
Heat oven to 400 degrees. Spray a rimmed baking sheet with cooking spray.

Arange asparagus in a single layer and spray with cooking spray again. Season with sea salt and pepper. Sprinkle sesame seeds over top.

Roast asparagus for 5 minutes, remove and turn over, cook for an additional 5 minutes or until stalks are soft and tips are crispy.

While asparagus cooks, combine apricot preserves, soy sauce and garlic in a small dish.

Remove from baking sheet into the rectangle dish, toss and coat with apricot glaze. Serve immediately.

We love comments! Make sure to come back and leave us one!
Nutrition
Calories:
21
kcal
,
Carbohydrates:
2
g
,
Protein:
1
g
,
Fat:
1
g
,
Sodium:
252
mg
,
Potassium:
18
mg
,
Vitamin A:
30
IU
,
Vitamin C:
0.7
mg
,
Calcium:
22
mg
,
Iron:
0.5
mg