Foodie friends, I am not going to lie. The first time someone asked me to make a "cube steak recipe" I assumed I was picking up the package of stew meat.
You know… the cubed beef. Because that makes total sense.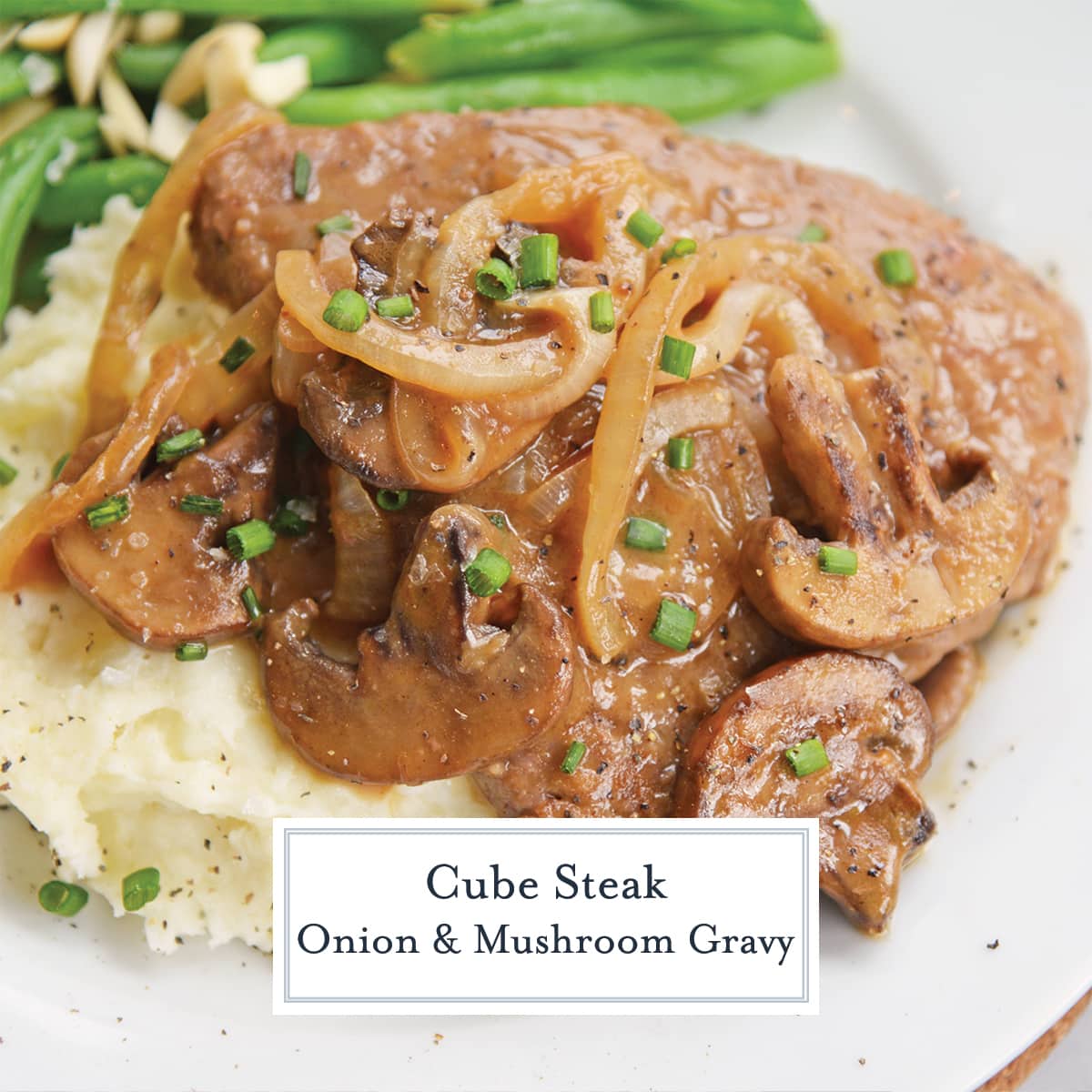 What is Cube Steak?
Nope, that isn't what cube steak is at all. So why is it called cube steak? It comes from the shape of the indentation made after the meat has been tenderized.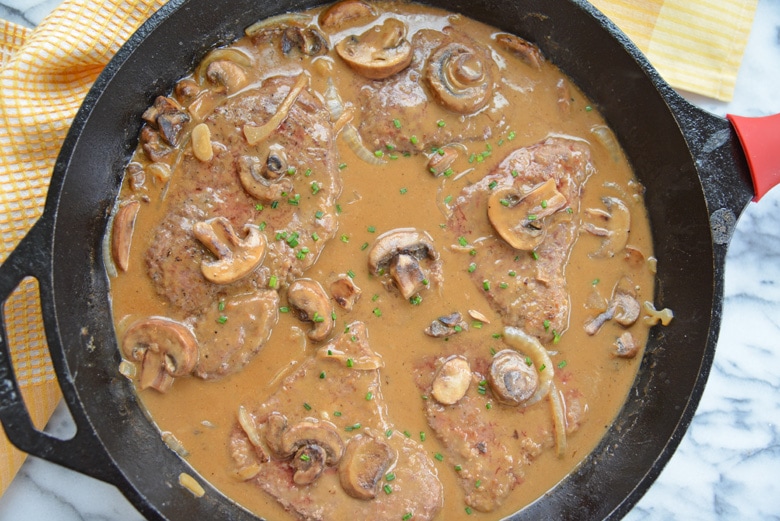 Commonly done by the butcher at your grocery store in a tenderizing machine (opposed to a mallet and by hand) it almost resembles ground beef in the package. The more you know, right??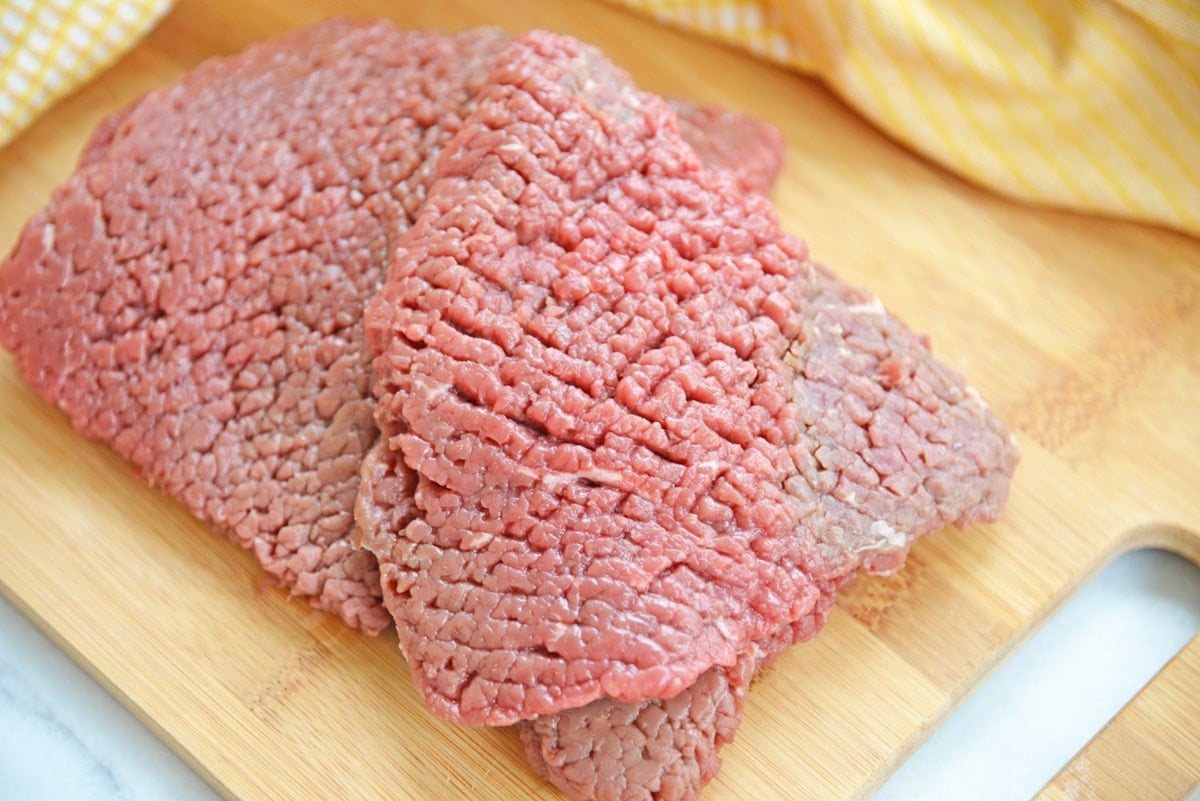 What type of beef is Cube Steak?
But cubed steak isn't its own cut in itself, it is a style of preparation. They are most commonly the top round or top sirloin, both cuts known for being a little more on the tough side and needing tender loving care.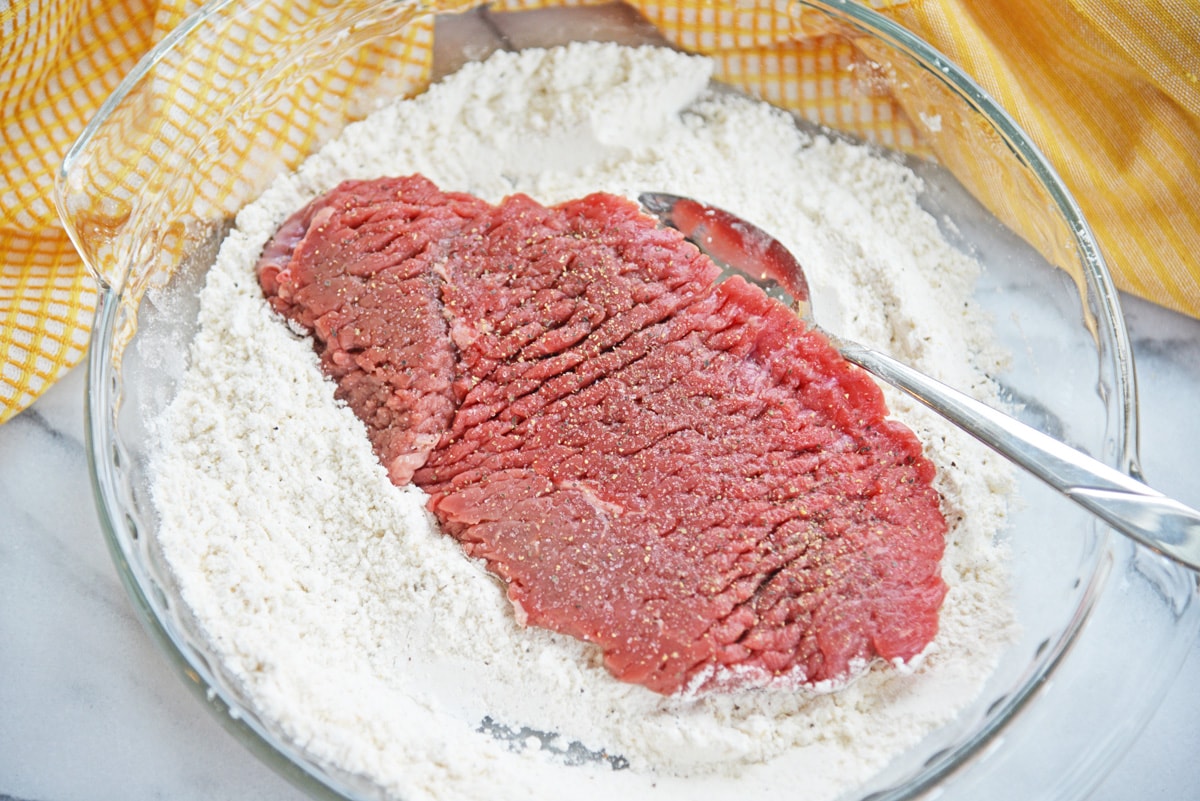 These cuts of beef are commonly marinated to break down the fibers for tenderness. Or you can skip all of that and tenderize them, which essentially does the same thing but manually instead of chemically.
If you can't find a package that specifically says "cube steak", simply ask your butcher if they have any in the back. If not, pick up a package of top round or top sirloin and use a hand mallet to tenderize it yourself.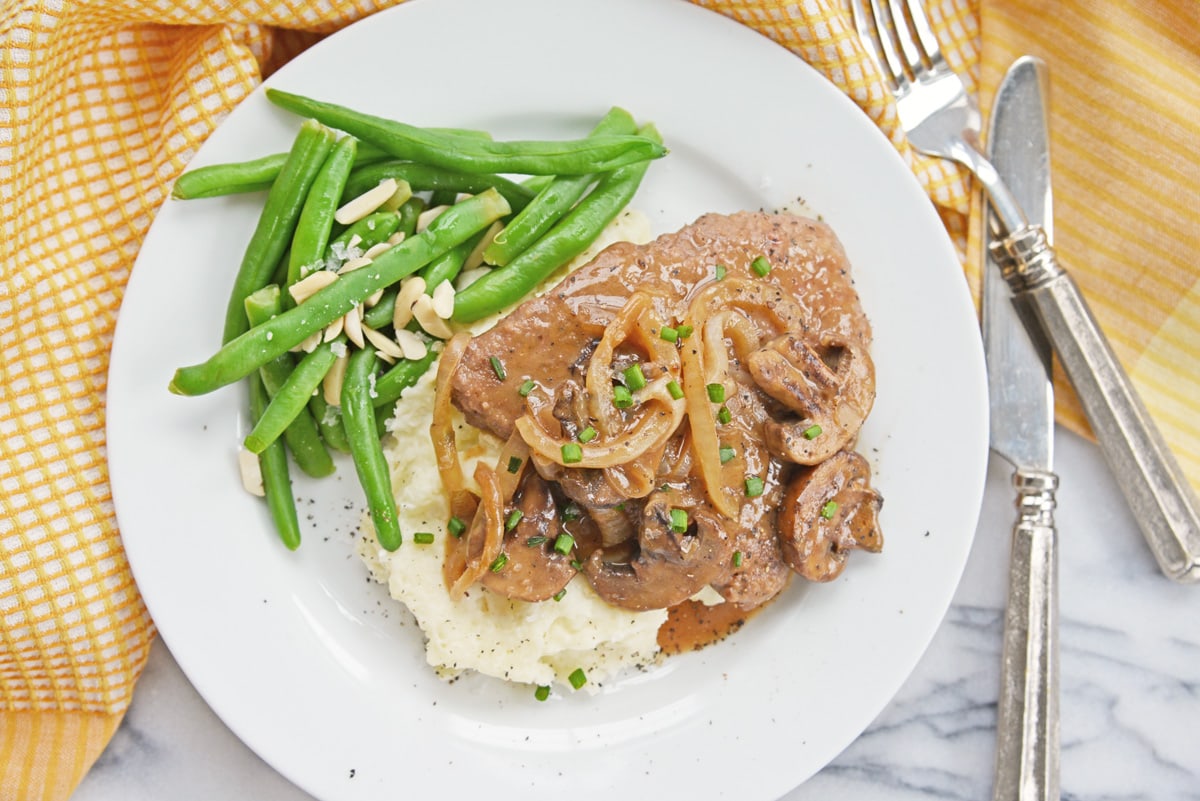 Cubed Steak Recipe Ingredients
With the exception of the actual beef and maybe the mushrooms, most folks have the other items already in the pantry (or fridge).
Cube Steak
Flour seasoned with garlic powder, onion powder, sea salt, black pepper
Oil for frying
Butter
Onions & mushrooms
Gravy mix (in a packet or make your own)
Beef broth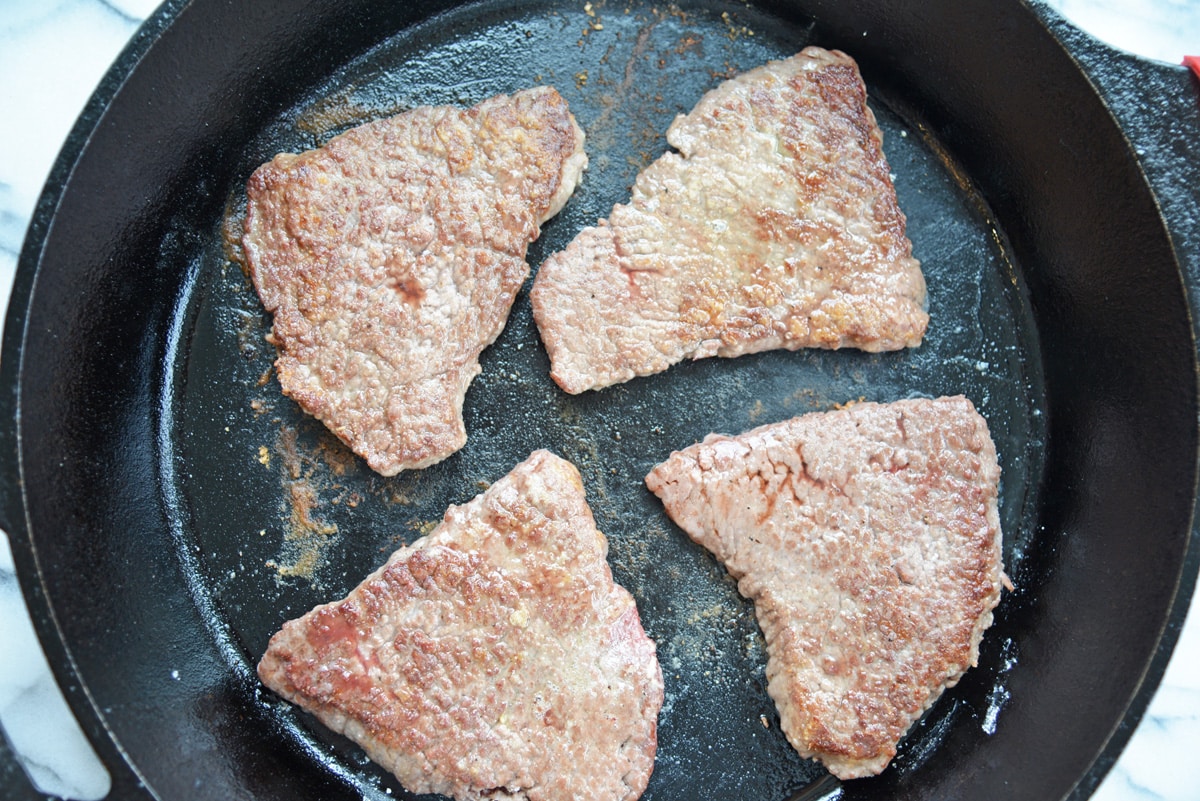 So here I am on the quest to create a cube steak recipe and what do you know… it is very similar to making Salisbury Steak.
Basically a different cut of meat, but both prepared quickly in a skillet and then topped with a brown gravy.
Gravy Ingredients for this Cube Steak Recipe
One could go super basic and just add beef broth to the browned bits and call it a day with plain gravy, or you can take it up a notch by adding mushrooms and onions.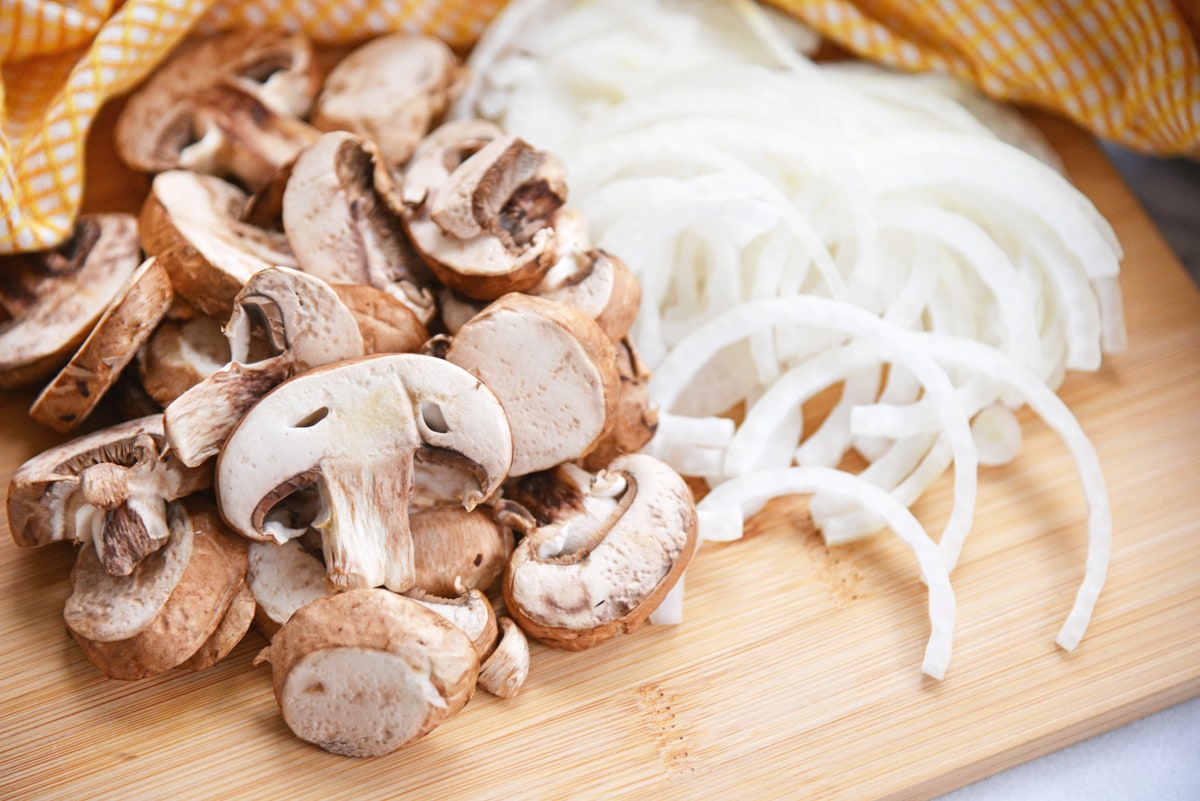 Or one or the other, if you are partial.
I like to use my homemade gravy mix (which is usually items you can find in your pantry) but you can also use one of the handy dandy store bought gravy mix packets.
Even when you make yourself a fancy stovetop cube steak, it will still take less than 30 minutes from start to finish.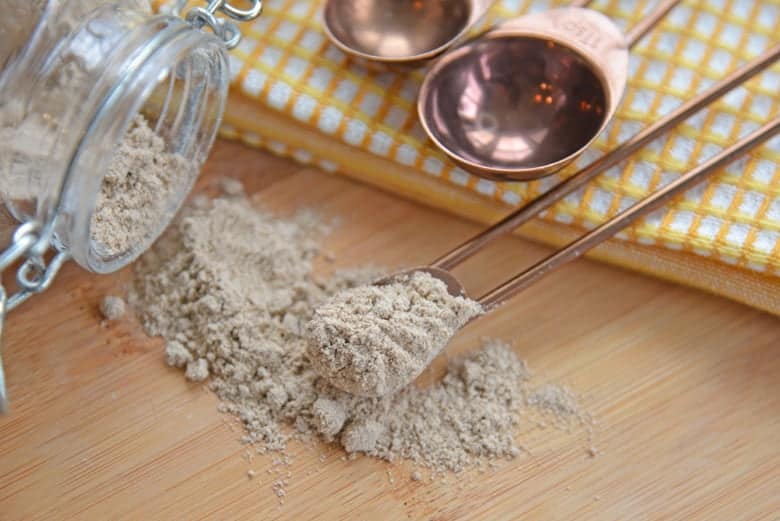 To make it extra fancy, you can top it with a slice of provolone cheese or even crispy onion straws.
How to make Cube Steak and Gravy in the crock pot and oven
The whole point of the crock pot is to make your life easier and quite frankly, it is actually easier to make on the stovetop than it is to make crock pot cube steak. And it takes less time.
Since the meat is tenderized already, you don't need the long, slow cooking process of the slow cooker to make it tender. It should be fine with a quick pan fry.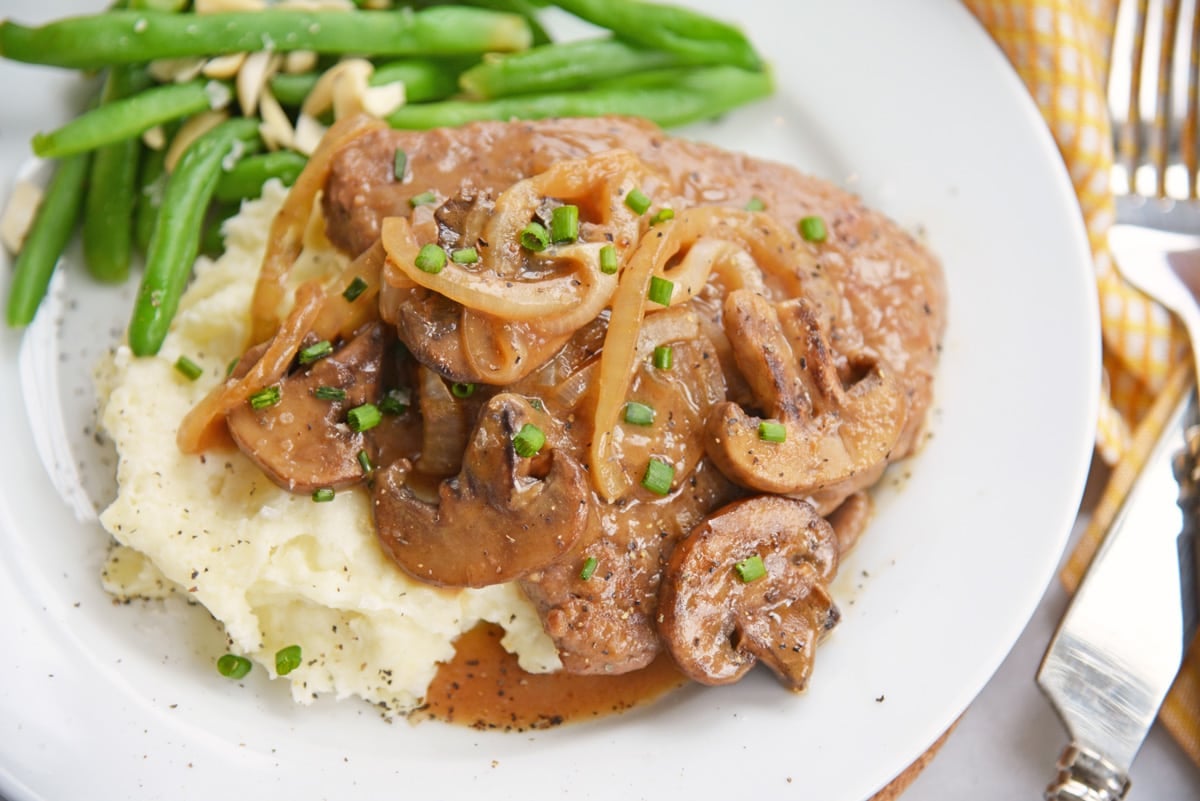 You can also bake it, but then you'll need to make the gravy separately and add over steaks. Bake at 350 for about 30-35 minutes. Don't be alarmed if you don't have the same intense flavor or caramelized onions since you are missing the whole process of the Maillard reaction.
What is the best way to cook cube steak?
Cube steak is best cooked quickly over heat. It is a fairly tough piece of meat which is why it is manually tenderized. Cooking it on high heat seals in the juices and gives it more flavor.
You can also use a slow cooker, but if you want it to be breaded, the breading will fall off while slow cooking.
How to make Cube Steak tender
Cube steak has been heavily tenderized through a machine to make it tender, hence the nickname, cube steak. Marinating in some acidic, quick high heat or long, low and slow in liquid are best ways to keep this unique cut tender.
How to store Cube Steak
This recipe is best served freshly made because of the cut of meat. When overcooked, it has the tendency to be chewy and rubbery. Of course the leftovers are totally edible, they just aren't as great.
Cube steak recipes can also be frozen in airtight containers for up to 3 months. Simply thaw and reheat in a skillet or saucepan.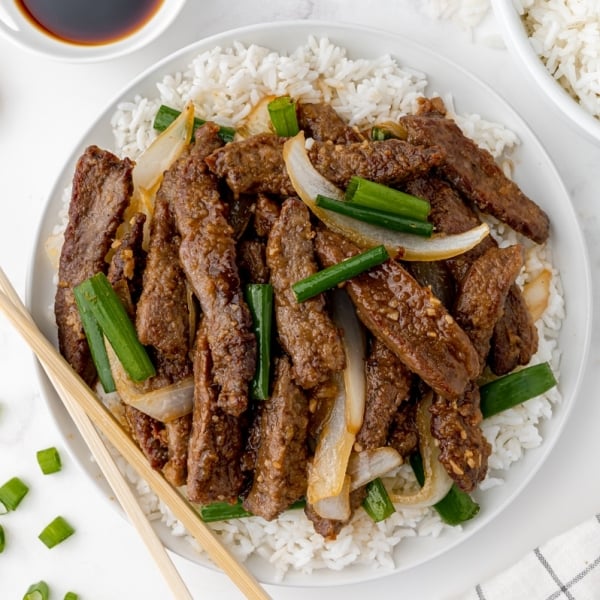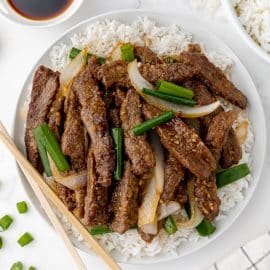 30-Minute Mongolian Beef
Skip the takeout and make this homemade Mongolian Beef recipe instead! It tastes even better than the PF Chang's recipe!
View this recipe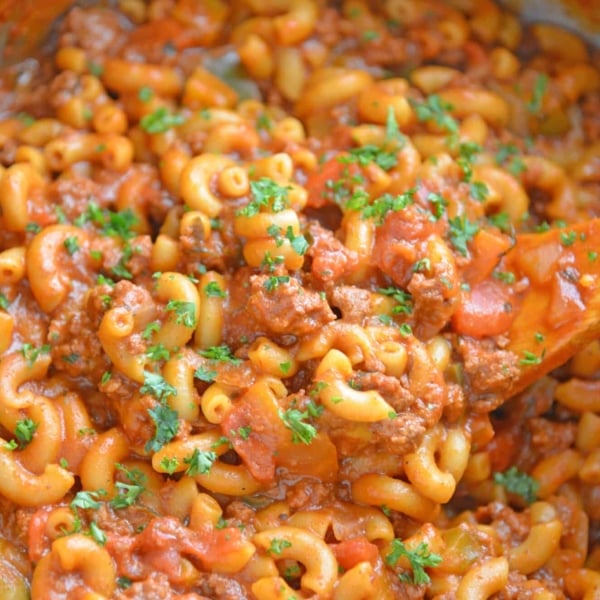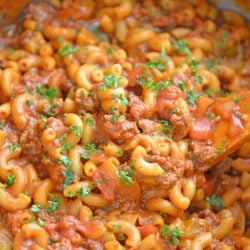 Beef Goulash
Classic goulash doesn't get any better than this Beef Goulash recipe! The perfect comforting meal for any weeknight!
View this recipe
What to make with Cube Steak
I like some sort of starch to soak up the gravy and also a vegetable, preferably green. These are my favorites: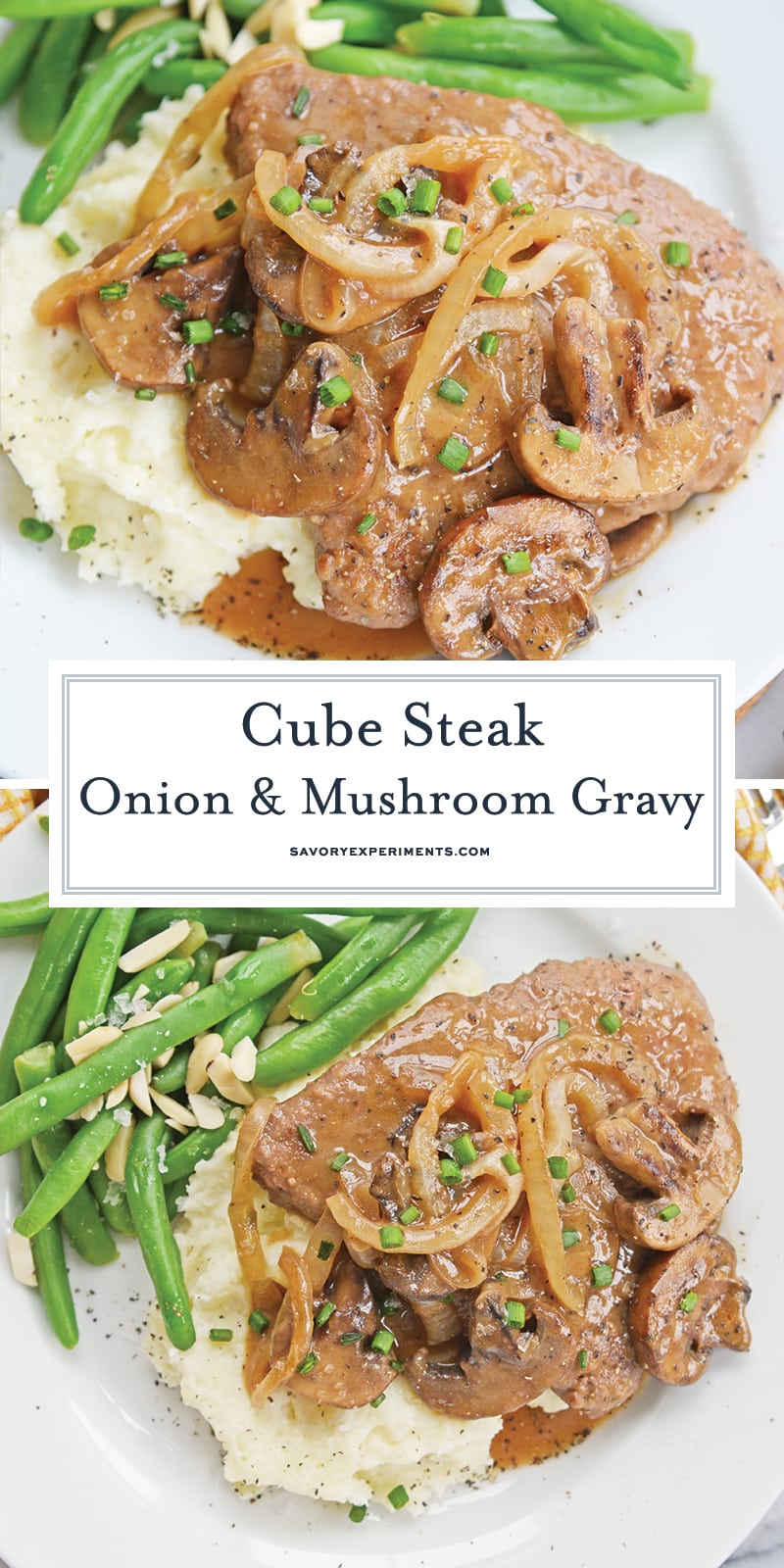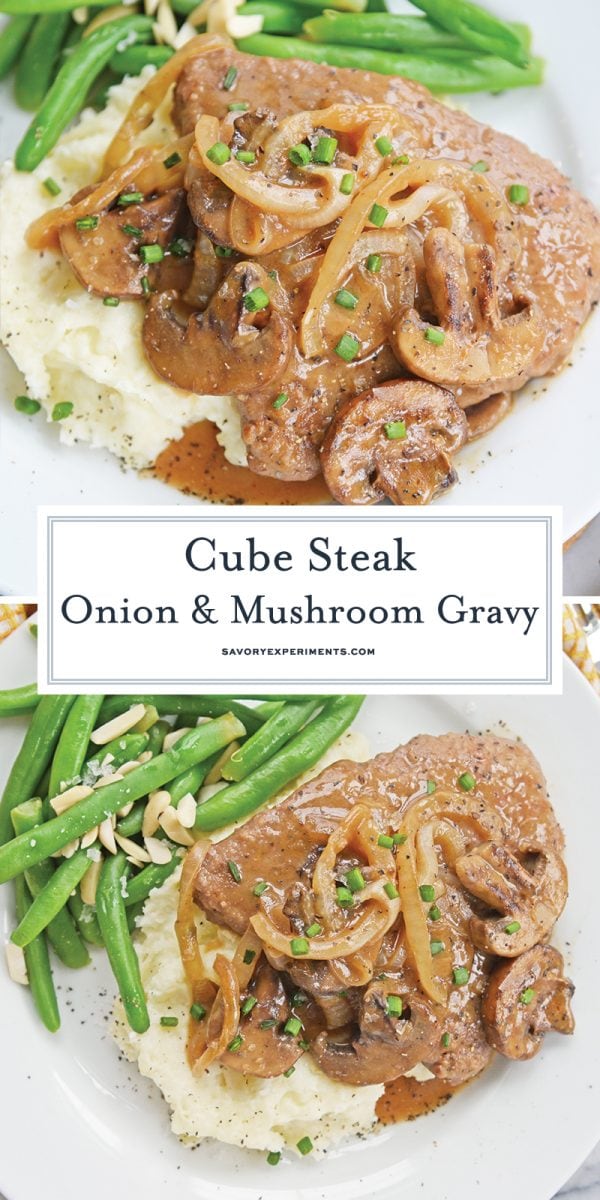 Cube Steak Recipe FAQs
Isn't cube steak just chicken fried steak?
Yes and no, they are a little different. Chicken fried steak is prepared more like a chicken cutlet using flour, egg and sometimes actual bread crumbs.

Cream gravy is prepared separately and spooned over the top for a crunchy, almost giant chicken finger. While cube steak has a subtle flour coating to help fry it up and it simmers in the gravy. Chicken fried steak can also be made with cube steak, which is technically a preparation method, not an actual recipe.
Why do you use beef stock and gravy mix?
Yes, both have beef bouillon in it, but it only adds to the beef flavor and rich gravy.

BUT, make sure you use unsalted butter because beef bouillon often have salt and you don't want your gravy to be too salt. If it is salty, check out my post on gravy that has tips and tricks for how to make gravy less salty.
How do you cook cube steak so it's not tough?
Either a quick high heat sear or long and slow in moisture using a slow cooker or braising.
What is cube steak good for?
Cube steak is an inexpensive cut of beef that has lots of intense beefy flavors. Due to this, it pairs well with full flavored gravy and is a great comfort meal.
Is cube steak just ground beef?
No, cube steak is a cut that comes from the top or bottom round. Although it looks like it is ground, it actually just the indentations that are left from a tenderizing machine. Ground beef comes from various cuts of beef and is put through a grinder.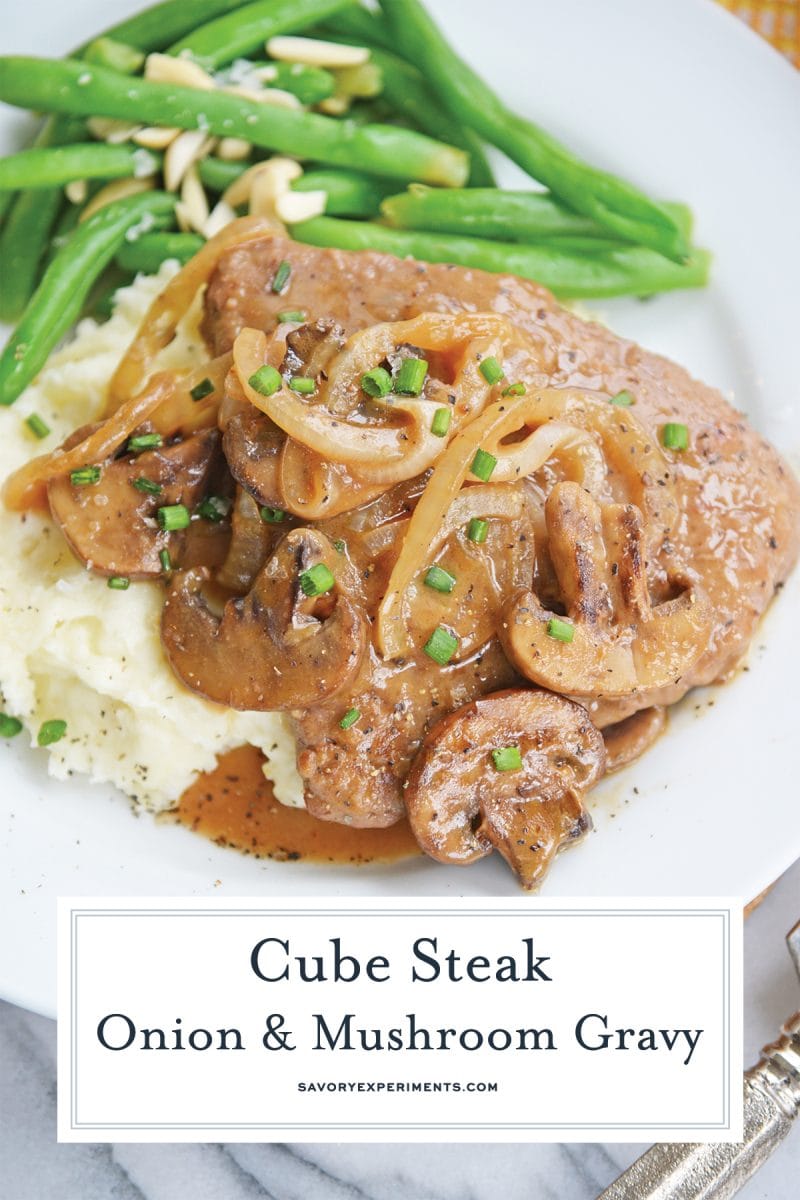 Making dinner for your family every night is no easy task. Planning the meals, grocery shopping, and then actually cooking them takes more time and thought than some may realize.
But with a quick, easy and cheap dinner like this cube steak recipe, you will be a dinner hero!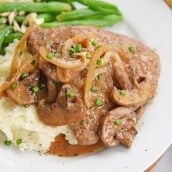 Cubed Steak and Gravy
Cooking dinner every night can be challenging, but save both time and money with this easy Cube Steak Recipe with Mushroom Gravy!
Instructions
In a shallow dish or pie plate, combine flour, garlic powder, onion powder, fine sea salt and black pepper.

In a large skillet, preferably cast iron, heat over medium-high heat. When hot, add oil for 1 minute.

Add cube steaks to the skillet. If working with a smaller skillet, you might have to work in batches. Do not crowd the steak.

Cook for 2-3 minutes on each side or until browned. Remove to a plate and set aside.

In the same skillet, add butter, white onion and sliced mushrooms. Saute until starting to soften, about 3-4 minutes.

Using a whisk, add dry gravy mix, making somewhat of a paste and scraping the dried bits off the bottom of the pan.

Stir in beef broth until smooth. Taste test and add additional salt or pepper, if needed.

Add cube steaks back to the skillet, spooning sauce over the top. Cook for another 1-2 minutes so they can reheat and sauce can thicken. Serve immediately over rice, buttered noodles or mashed potatoes.

If you've tried this recipe, come back and let us know how it was in the comments or ratings.
Notes
You can make your own gravy mix by clicking the link or use a brown gravy mix packet from the store which equals about tablespoons.
If you use salted butter, omit additional salt.
Nutrition
Calories:
579
kcal
,
Carbohydrates:
14
g
,
Protein:
47
g
,
Fat:
36
g
,
Saturated Fat:
19
g
,
Cholesterol:
168
mg
,
Sodium:
755
mg
,
Potassium:
797
mg
,
Fiber:
1
g
,
Sugar:
1
g
,
Vitamin A:
175
IU
,
Vitamin C:
1
mg
,
Calcium:
57
mg
,
Iron:
4
mg