Zesty chimichurri sauce is one of my go-to recipes to serve with beef and paired with succulent skirt steak, it makes for an absolutely drool-worthy dinner!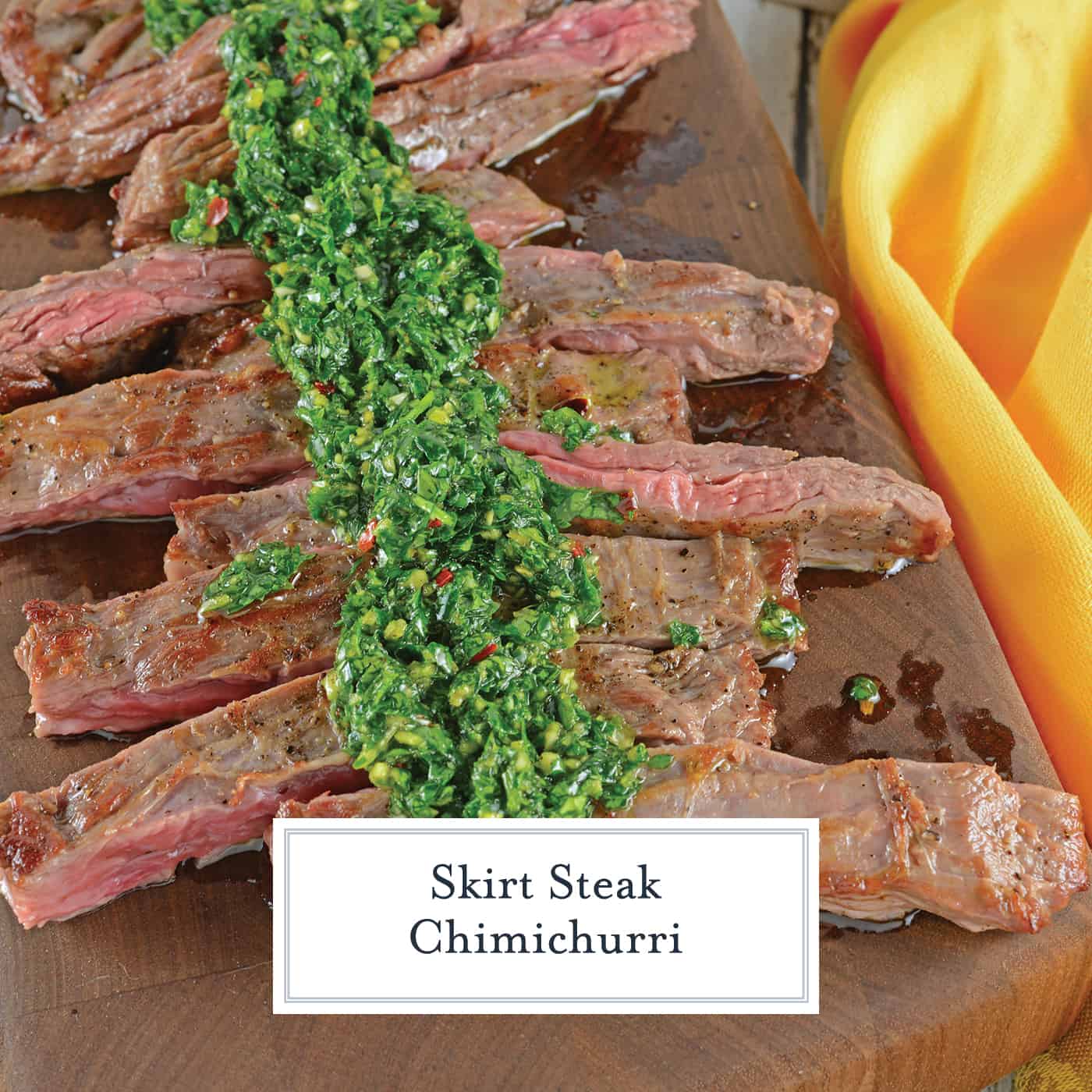 This Skirt Steak Chimichurri is one of those recipes that makes my mouth water. It also makes me want to fire up the grill just thinking about it. My favorite cut of beef and an incredible sauce come together to create magic on a plate.
Why You'll Love Skirt Steak Chimichurri
A steak dinner is hard to beat, but this Skirt Steak Chimichurri takes it to the next level. It's just that good!
Restaurant Menu Worthy – I absolutely love going to an Argentinian steak house, but with two kids, it isn't always a possibility. This dish brings the steak house home to you.
Ease – With 15 minutes, a grill, and a food processor, you can have one heck of an impressive steak dinner on the table.
Great For Anyone – This recipe is super easy to double or triple or to scale back if there are just two of you having dinner.
What is Skirt Steak Chimichurri?
This recipe pairs a perfectly grilled skirt steak with a herbaceous and zingy sauce called, Chimichurri. After your first bite, you won't be able to forget this perfect pairing.
Chimichurri hails from South America – namely Uruguay and Argentina – and can now be found on tables throughout Latin America. It is an uncooked sauce that is often found as a condiment to serve with grilled protein. It can also be used as a marinade.
The recipe varies from region to region and household to household, but the main ingredients include parsley, garlic, olive oil, oregano, and red wine vinegar. It is rich, piquant, and sometimes spicy which cuts nicely through the richness and fattiness of steak. Who needs Worcestershire sauce?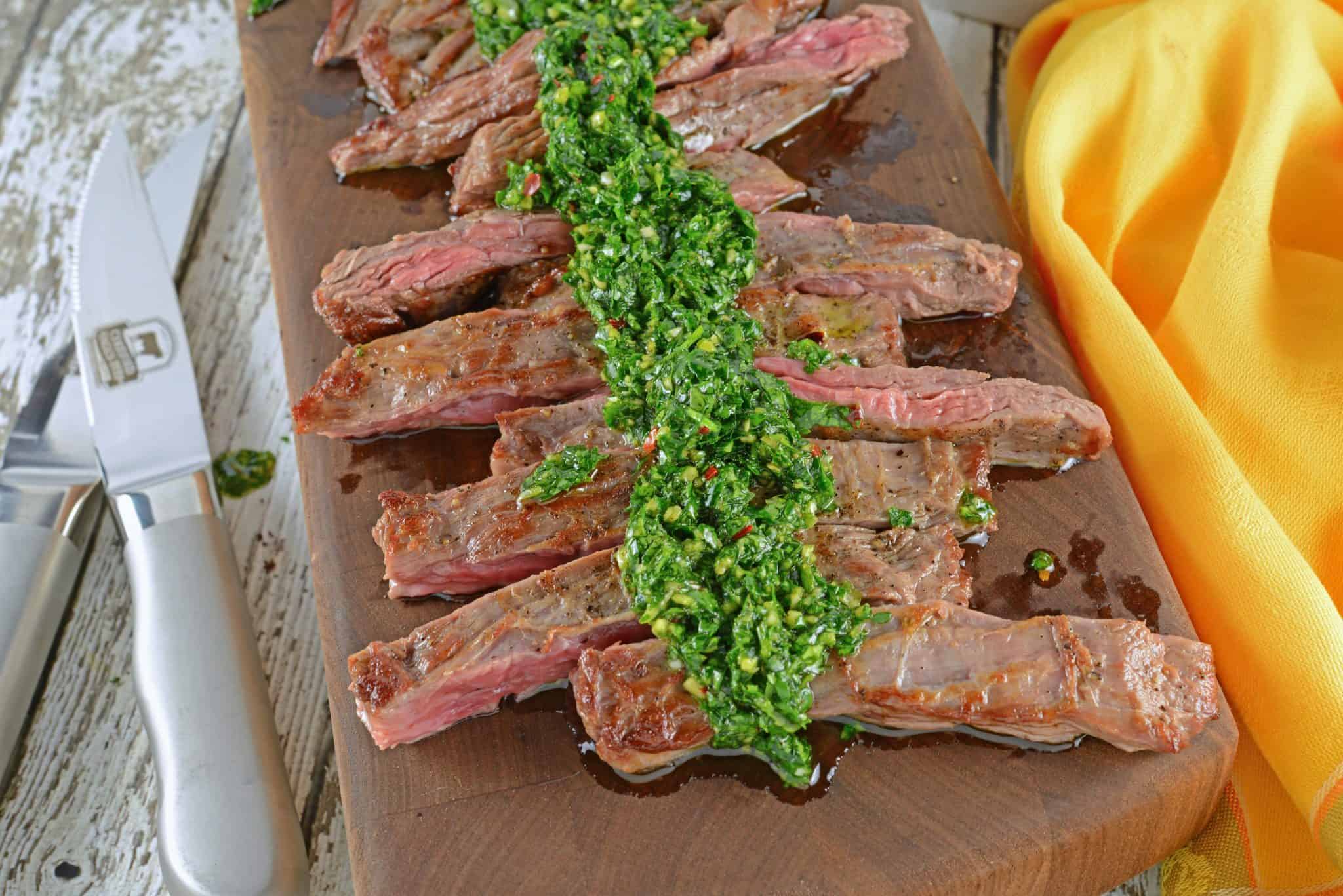 Let's Talk Skirt Steak
Skirt steak is a cut of steak known for its really pronounced beefy flavor. It's similar to flank steak and is often used in recipes like fajitas, carne asada simply grilled like this recipe.
Skirt steak is a long, thin, and lean cut of meat. It is best cooked grilled and best served medium rare. Always be sure to cut against the grain for the most tender bite. In my opinion, it has best steak with the best texture.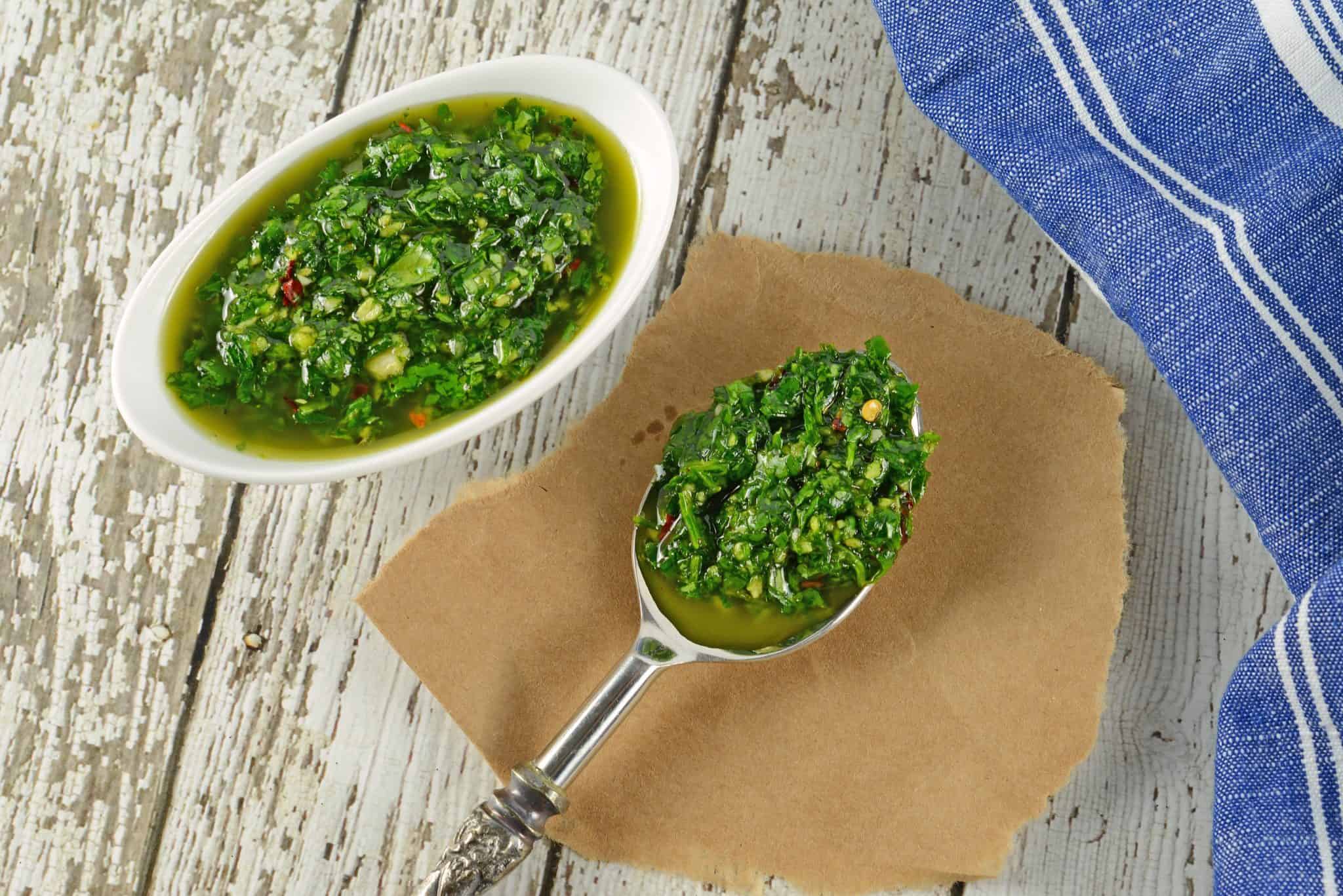 Ingredients
All you need are a few simple ingredients: the steak, chimichurri sauce (which can be made in just a few minutes), salt and pepper.
Skirt Steak – One of the most flavorful cuts of beef found at the butcher counter in your grocery store. If for some reason it isn't there, ask for a flank steak as it has fairly similar characteristics. Be sure to let your steak come to room temperature or close to it before grilling to get a perfect sear. Always season your steak just before your cook it so you don't draw out all the moisture.
Kosher Salt – This variety of salt has a larger grain that allows to you more effectively control your seasoning. Smaller grains are harder to control and make it very easy to oversalt. No one wants that!
Black Pepper – Use freshly ground black pepper whenever possible as foreground pepper is often sitting on shelves for who knows how long and can have a stale taste.
Chimichurri Sauce – This chimichurri recipe includes flat-leaf parsley, garlic, cilantro, extra-virgin olive oil, red wine vinegar, and red pepper flakes for some kick. All you have to do is throw everything into the bowl of a food processor. It is easy to customize so feel free to omit the cilantro or amp up the red pepper if you like a spicy sauce.
How to Make Skirt Steak Chimichurri
Simple and delicious and beyond easy to make, this is your next go-to steak recipe.
Remove the moisture. When it comes to cooking protein and getting a good sear, moisture is the enemy. Patting the steak dry with paper towels will make sure you are getting gorgeous grill marks every time.
Season the steak. Salt and pepper are a classic pairing and really allow the chimichurri sauce to shine.
Prep the grill. Whether you are using a gas grill or an outdoor grill fired with wood, be sure to fully preheat the grill to medium-high heat for best results when it comes to searing. Oiling the grates will make sure you don't leave half your steak behind when you are done cooking. Think of it like oiling a pan you are cooking in.
Cook the steak. Set a timer and don't walk away. Cook for three minutes on each side. You can spare the six total minutes this takes to cook. Overcooked skirt steak, especially skirt steak, can be a bit tough so it's best to keep things on the medium rare side with this recipe.
Rest and cut. Transfer cooked steak to a clean cutting board. Letting a steak rest after it is cooked allows the juices to redistribute and reabsorb in the meat. Cutting into it without letting it rest makes for a dry steak and unhappy eaters. When you are ready be sure to grab a sharp chef's knife and be sure to slice against the grain, perpendicular to the fibers, so every bite is tender and delicious.
Sauce it! Nothing beats homemade chimichurri sauce so feel free to serve the steak on a platter already sauced or you can have the fresh chimichurri sauce on the table for your guests to pass around.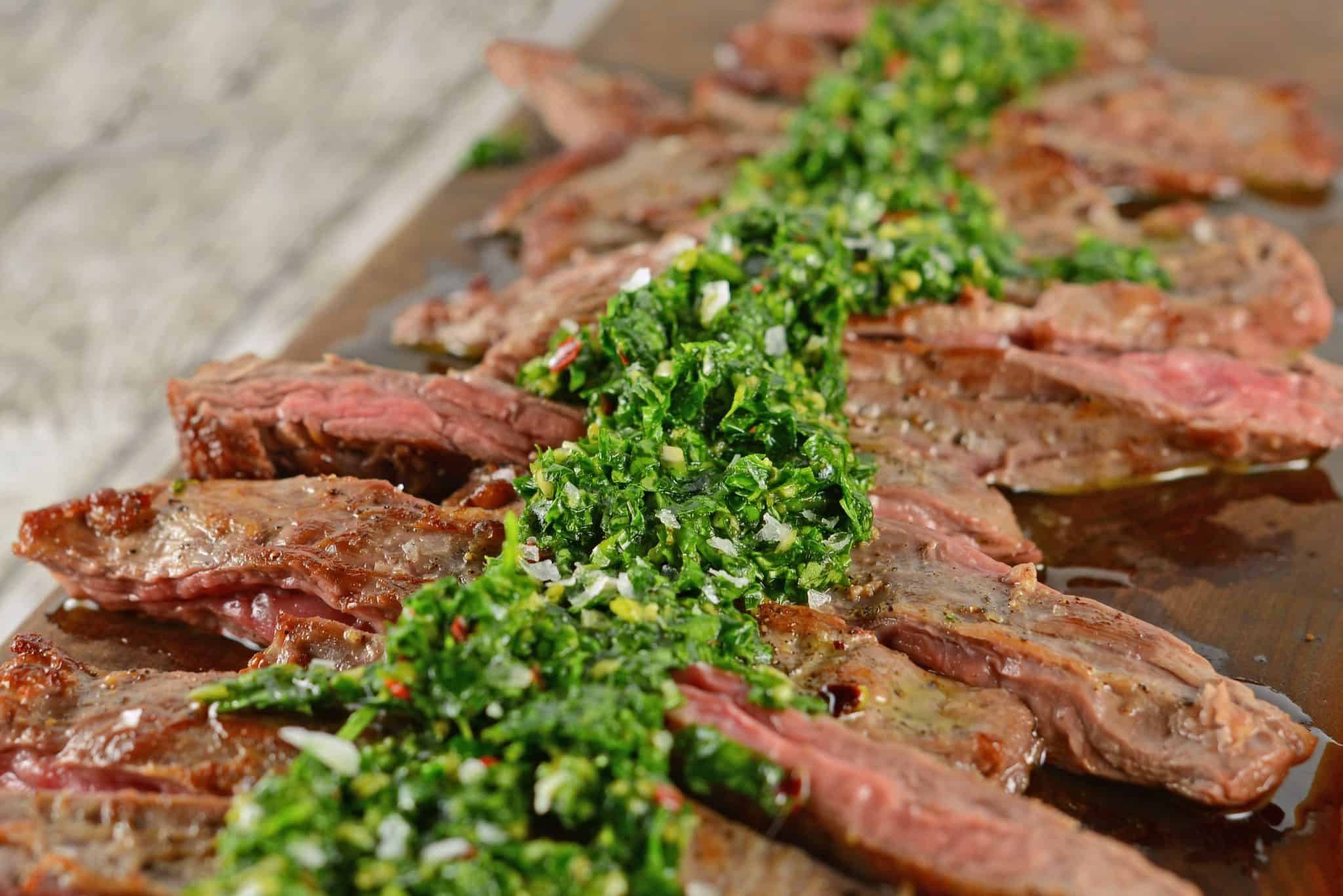 Variations
As simple as this easy chimichurri steak is, there are definitely ways to vary it up if you want something different.
Swap the cut of beef. Flank steak works wonderfully and a flat iron does too. If you are lucky and see a hanger steak, try that as well!
Put it between bread. Steak sandwiches are incredible way to eat tender steak leftovers and putting this recipe between two slices is beyond yummy. Doctor it up with some of your favorite toppings and have it. Red onions, roasted red peppers and a side of sweet potato fries sound good to me! And don't forget the remaining chimichurri sauce!
Play with the chimichurri. Adding some heat in the form of fresh chile peppers is a fun way to doctor up this tangy sauce and I particularly like serranos for the job. You can also skip the cilantro and add in other fresh herbs like oregano. Truth be told, play around with it each time you make it and every batch can be a new adventure.
Skip the grill. You an easily go with pan-seared skirt steak. Simply place steak in a rip-roaring hot large cast iron skillet and grill for 3-4 minutes per side.
What to Serve with Skirt Steak Chimichurri
The sky is really the limit when it comes to rounding out a meal with this chimichurri steak recipe, but here are a few ideas to get you started.
Storing and Freezing
Storing – Store the steak in the fridge in an air-tight container for up to five days in the fridge. The same goes for the chimichurri. I find it is best to store them separately but do whatever suits you best.
Freezing – The steak can easily be frozen for up to two months in an airtight container or a resealable plastic bag with as much air removed as possible. I do not recommend freezing the chimichurri.
Questions about Skirt Steak Chimichurri
What steak do you eat chimichurri with?
My favorite steak to eat chimichurri with is skirt steak, but it is great with just about any steak you can think of. The acidity and brightness of the sauce pair perfectly with the fattiness and unctuousness of the beef.
What to serve chimichurri steak with?
Chimichurri steak is great with just about any side you would normally serve with a steak. Think of everything from mashed potatoes and grilled vegetables to roasted potatoes or a salad.
How do you cook skirt steak so it's not tough?
The key to tender skirt steak is making sure it is closer to room temp when it goes onto the grill and making sure it is cooked hot and fast. This cut of meat has a lot of connective tissue which can sometimes be tough when overcooked so keeping the cook time low is optimal. Be sure to cut against the grain when serving this cut of beef becuase if you are cutting with the grain your guests are going to be doing a whole lot of chewing.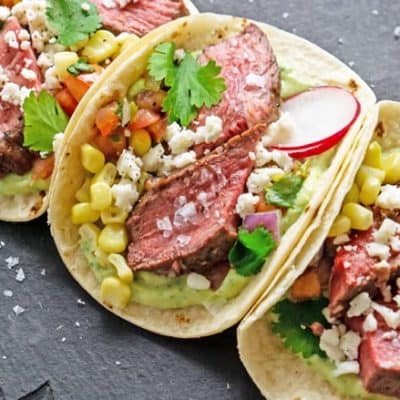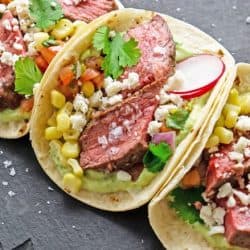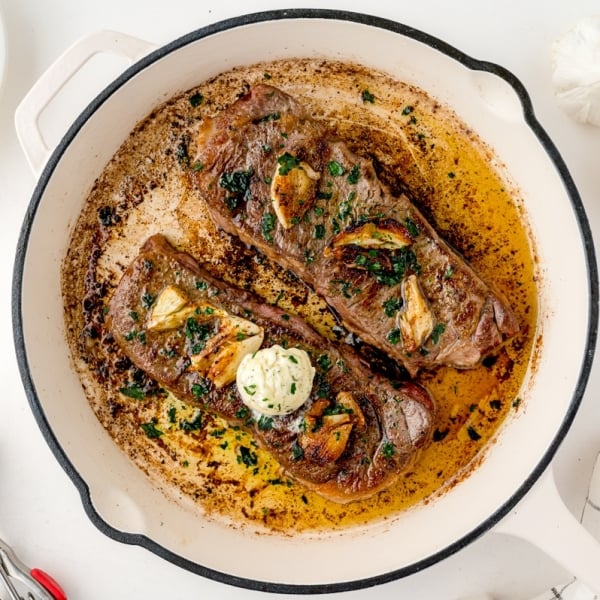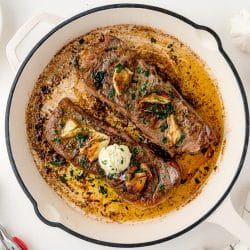 Pan Fried Steak
How to make a Pan Fried Steak at home is easier than you think with my step-by-step instructions and easy steak seasoning!
See The Recipe!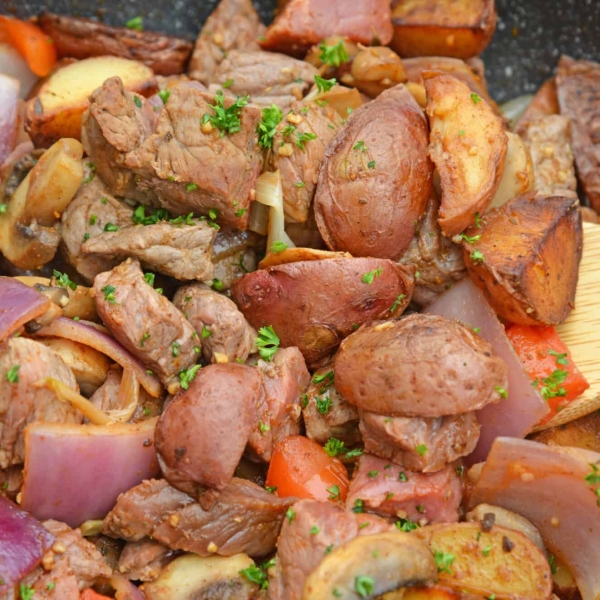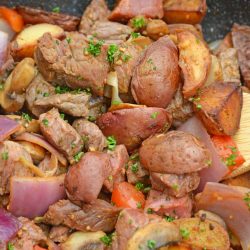 Steak Stir Fry
This Steak Stir Fry recipe is filled with lots of flavor and veggies. A beef stir fry makes a great meal for a busy weeknight!
See The Recipe!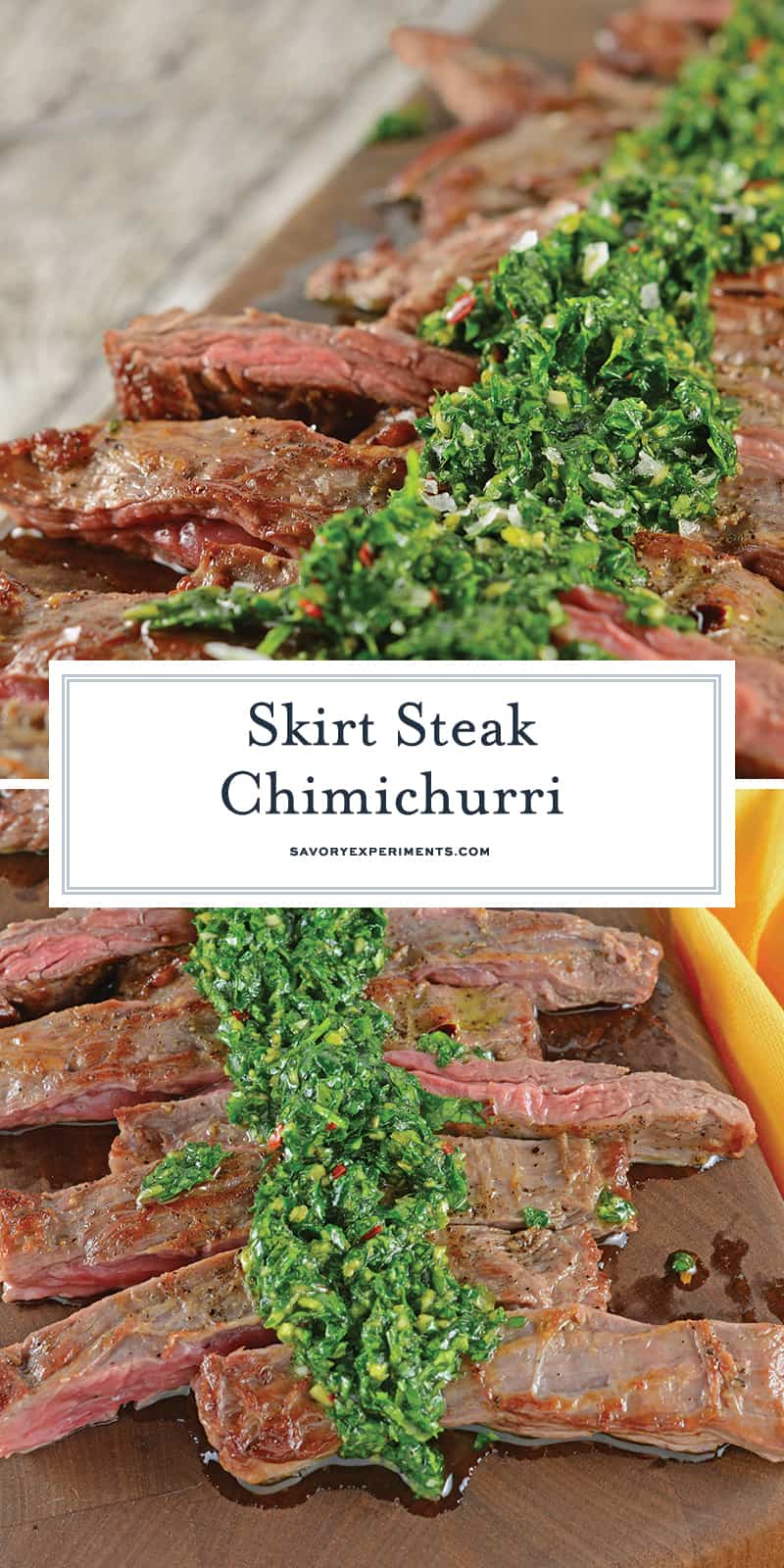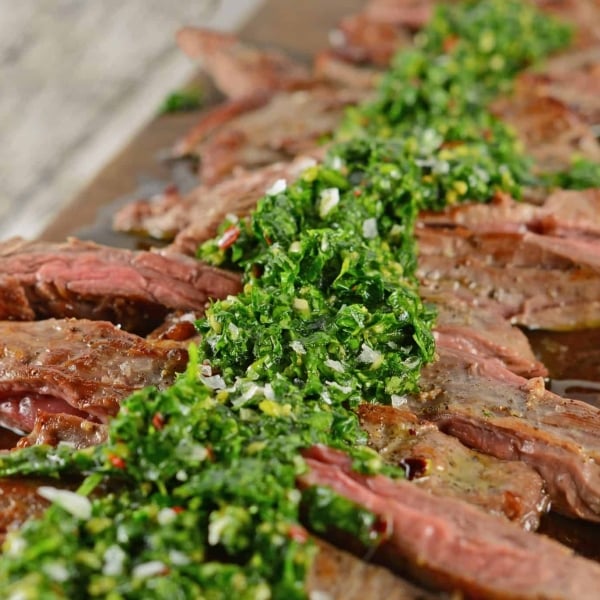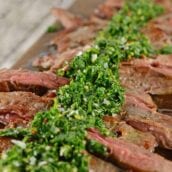 Skirt Steak Chimichurri
Skirt Steak Chimichurri is a grilled steak recipe that'll leave you drooling! Easy to make and topped with a delicious chimichurri sauce.
Instructions
Pat skirt steak dry with paper towels.

Massage with Kosher salt and freshly ground black pepper.

Heat grill to medium-high heat and oil grates.

Place skirt steak on indirect heat, cooking on each side for 3 minutes (medium-rare) on each side.

Remove from grill and allow to rest for 5 minutes before slicing against the grain.

Top with room temperture chimichurri sauce.

If you've tried this recipe, please come back and tell us how you liked it!
Nutrition
Calories:
588
kcal
,
Carbohydrates:
5
g
,
Protein:
52
g
,
Fat:
39
g
,
Saturated Fat:
10
g
,
Cholesterol:
147
mg
,
Sodium:
2473
mg
,
Potassium:
662
mg
,
Fiber:
1
g
,
Sugar:
1
g
,
Vitamin A:
1270
IU
,
Calcium:
113
mg
,
Iron:
4.4
mg