Chimichurri sauce is one of my favorite sauces for steak and paired with skirt steak, it makes for an absolutely drool-worthy dinner!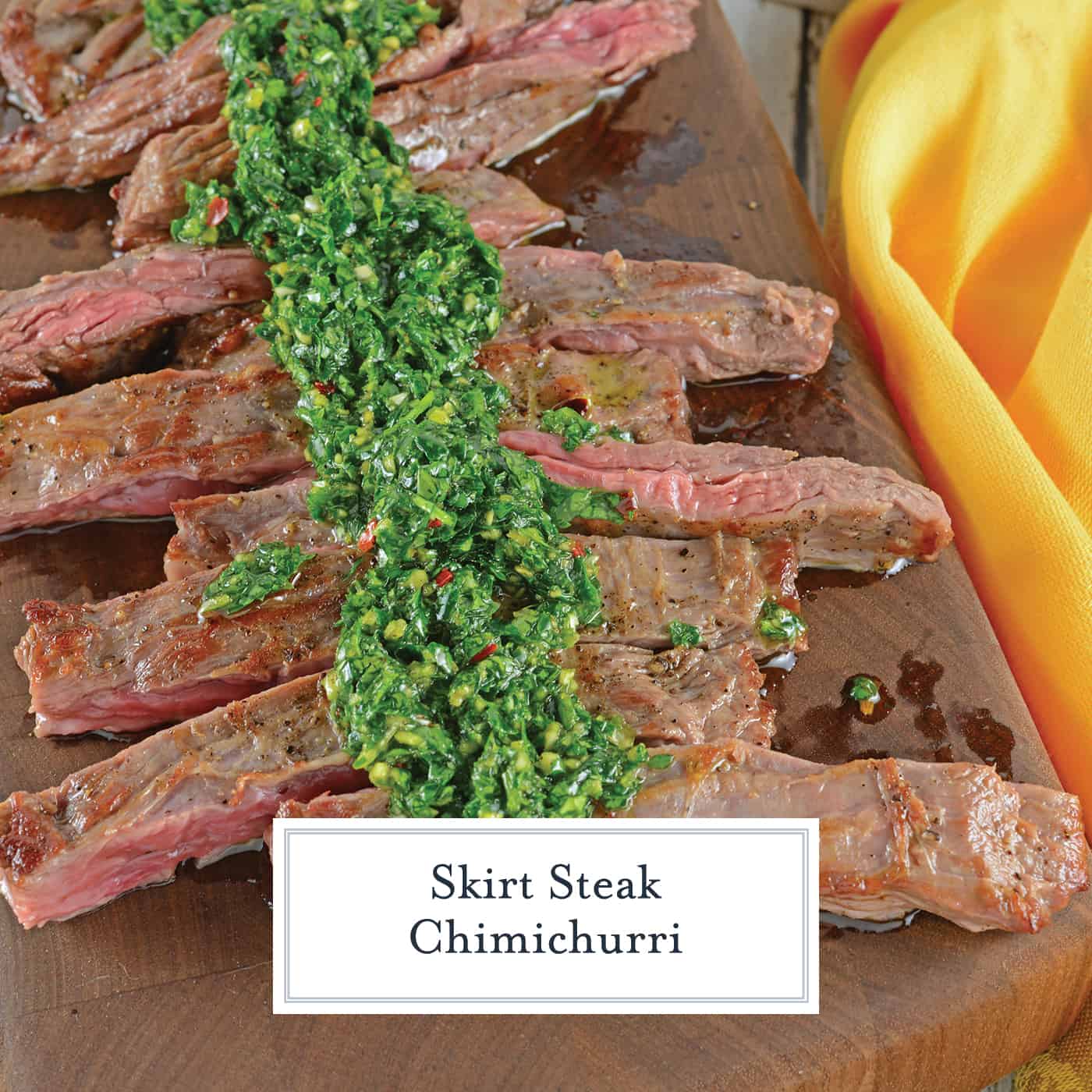 Skirt Steak Chimichurri combines one of the most delicious sauces for steak with a flavorful cut of meat to make a grilled steak recipe you won't be able to stop thinking about.
This Skirt Steak Chimichurri is one of those recipes that makes my mouth water just thinking about it. Writing about it just makes me want to fire up the grill and make it again. I think it's fair to say it's my new favorite grilled steak recipe. It's just that good!
It combines my favorite cut of beef and one of my favorite sauces in one for an absolutely drool-worthy dinner.
What is skirt steak? Skirt steak is a cut of beef known for its flavor, which is why it's one of my favorite cuts of meat for grilled steak recipes. Skirt steak is a long, thin and lean cut of meat and is best served medium rare and cut against the grain for the most tender steak.
It's similar to flank steak and is often used in recipes like fajitas though it can absolutely stand on its own in delicious a delicious grilled steak recipe, like this one.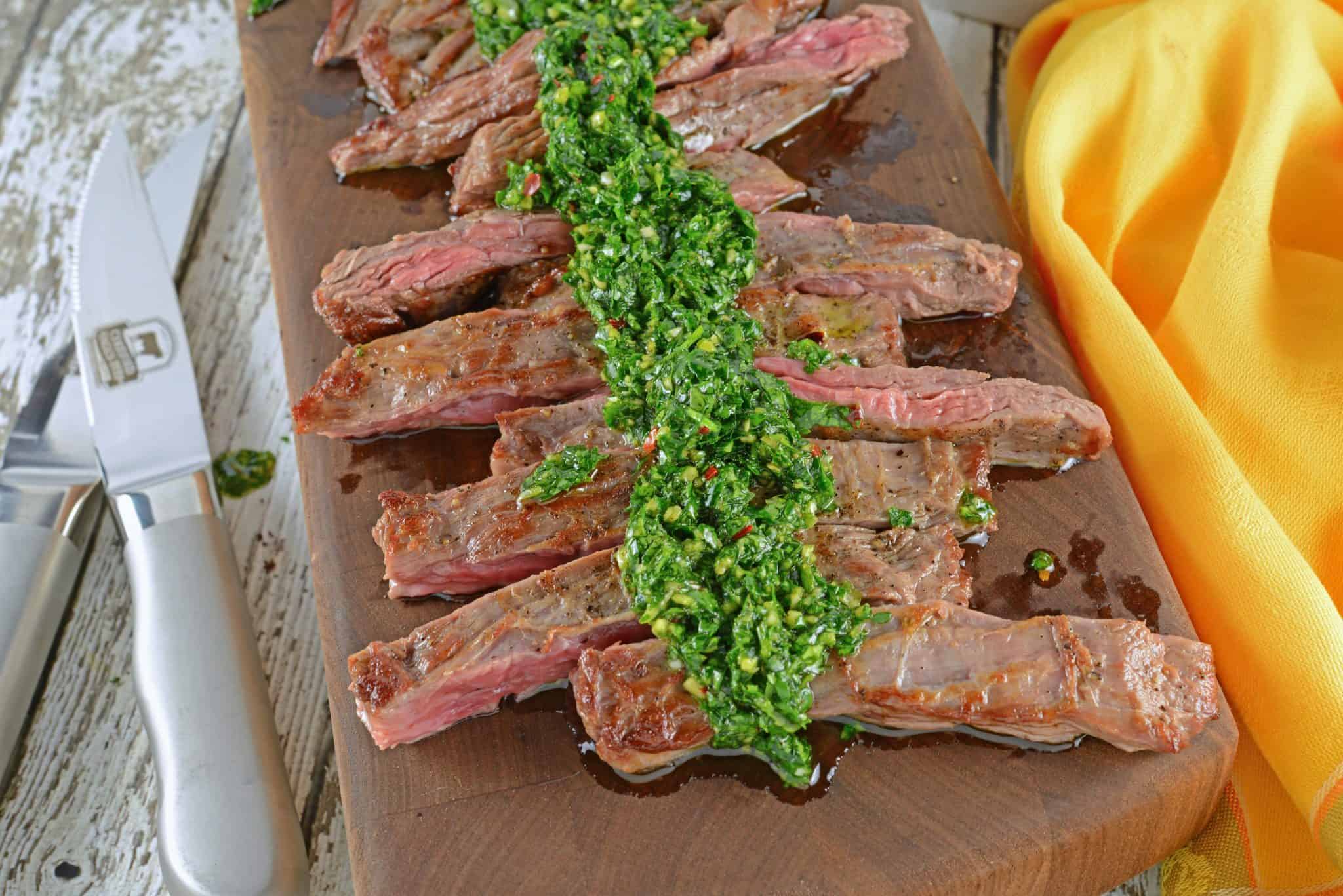 What is chimichurri? Chimichurri is a sauce that's traditionally used in South American and Mexican dishes but seems to lately be making its way onto many North American menus as well.
Chimichurri sauce is herby, garlicky and oh-so-delicious on any variety of meats and vegetables but is popularly used as a sauce for steak, as I've done with this Skirt Steak Chimichurri. It can be used as a marinade or sauce.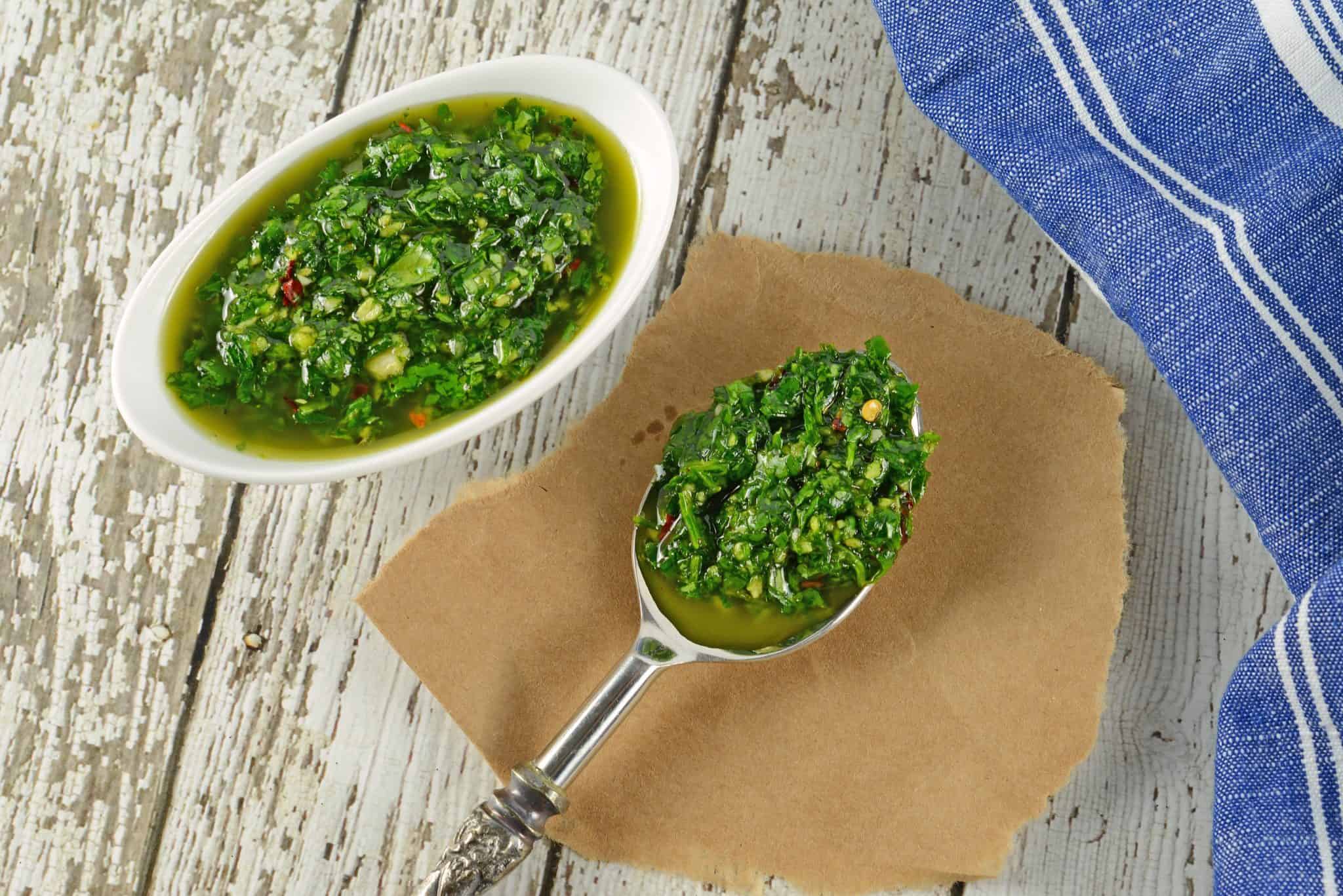 My authentic Chimichurri sauce is made with parsley, garlic, cilantro, olive oil, and red wine vinegar but there are many variations of it and it's one of the easiest sauces for steak to customize as you can make it spicy if you'd like or omit the cilantro if it's not your thing.
Skirt Steak Chimichurri is an easy grilled steak recipe. All you need is the steak, chimichurri sauce (which can be made in just a few minutes) and salt and pepper. The important thing is to not overcook the steak.
Overcooked skirt steak can end up being a bit tough so it's best to keep things on the medium rare side with this recipe.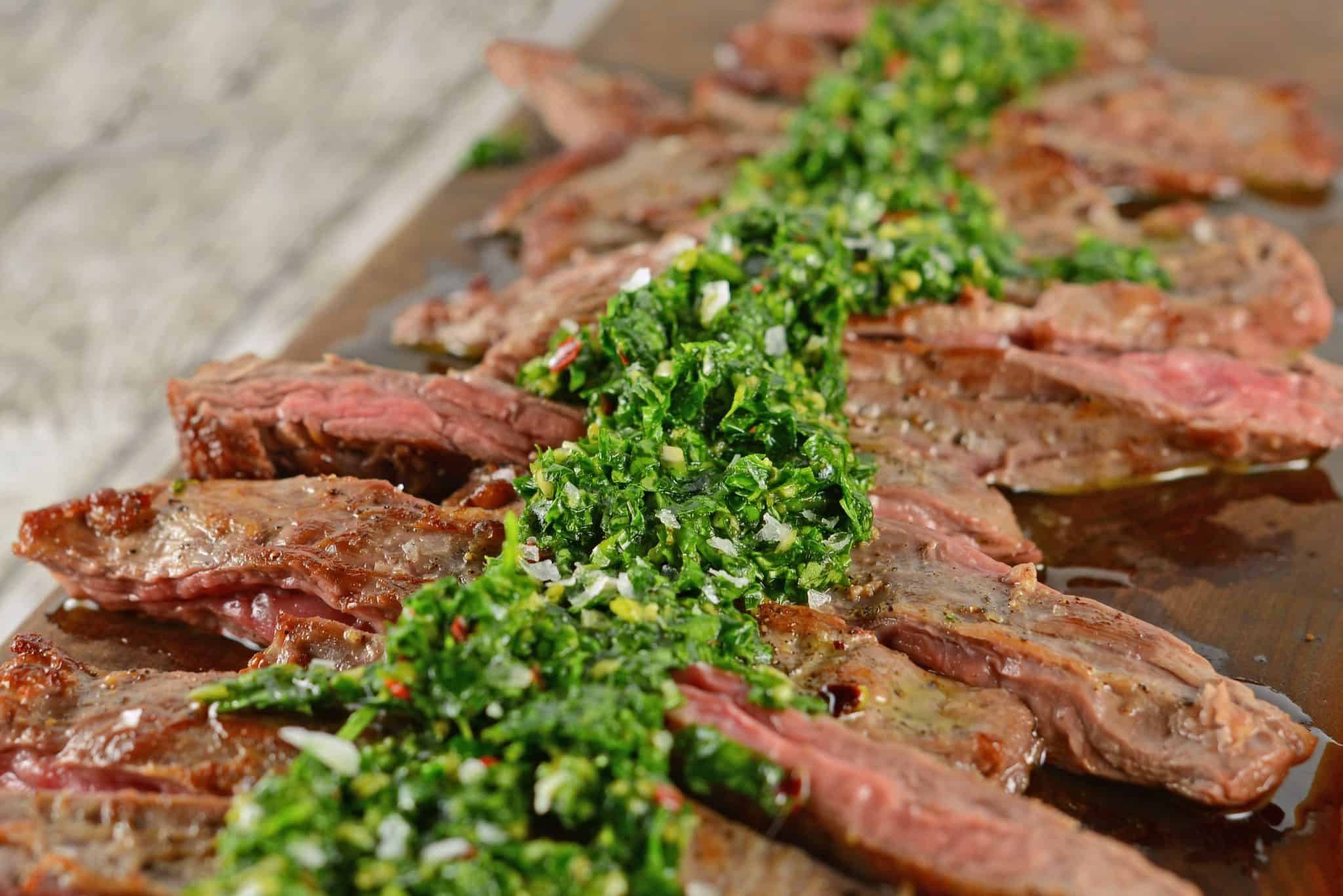 As I mentioned above, skirt steak is known for being flavorful so when you combine it with chimichurri sauce, it's basically an explosion of delicious flavors in your mouth.
Simple but delicious, which is why I think chimichurri is one of the best sauces for steak. A million times better than any A1 sauce! 😉
If you've been looking for your next grilled steak recipe, this is it!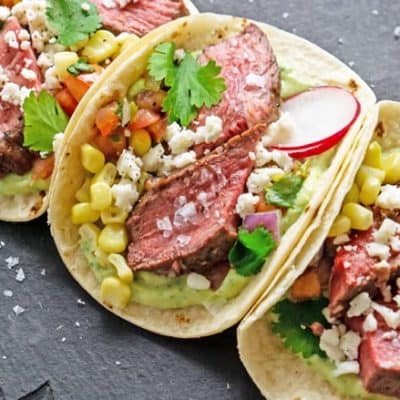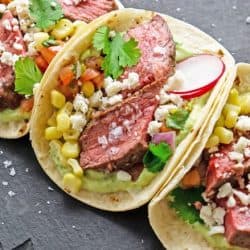 Jalapeno Lime Flank Steak Tacos
Flank Steak Tacos with a jalapeno lime marinade that will have you craving more. Made with few ingredients and lots of flavor, it's sure to become a family favorite!
View this recipe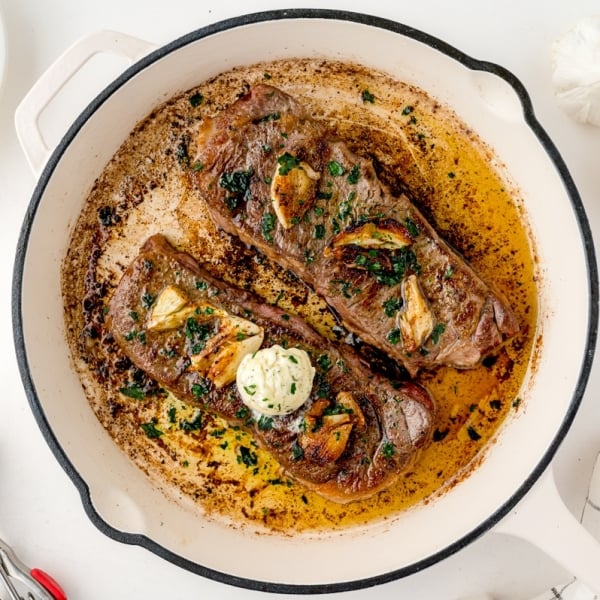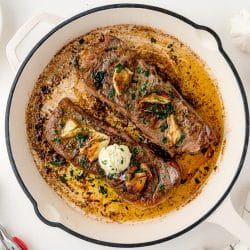 Pan Fried Steak
How to make a Pan Fried Steak at home is easier than you think with my step-by-step instructions and easy steak seasoning!
View this recipe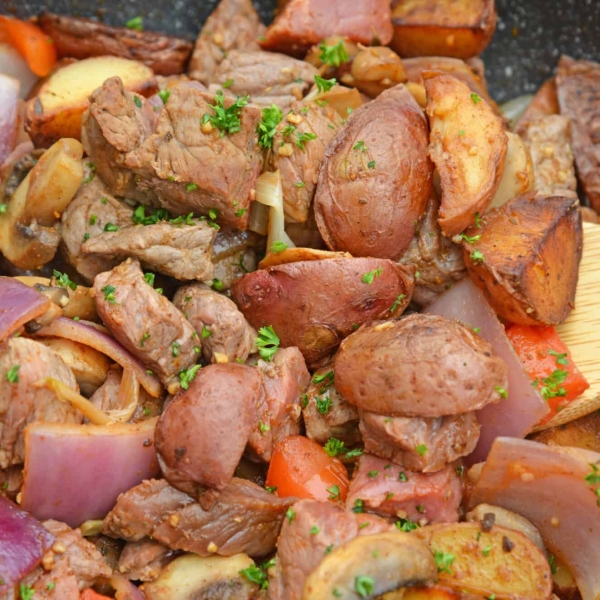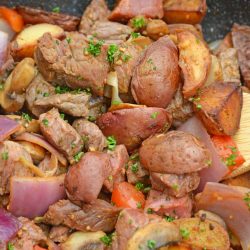 Steak Stir Fry
This Steak Stir Fry recipe is filled with lots of flavor and veggies. A beef stir fry makes a great meal for a busy weeknight!
View this recipe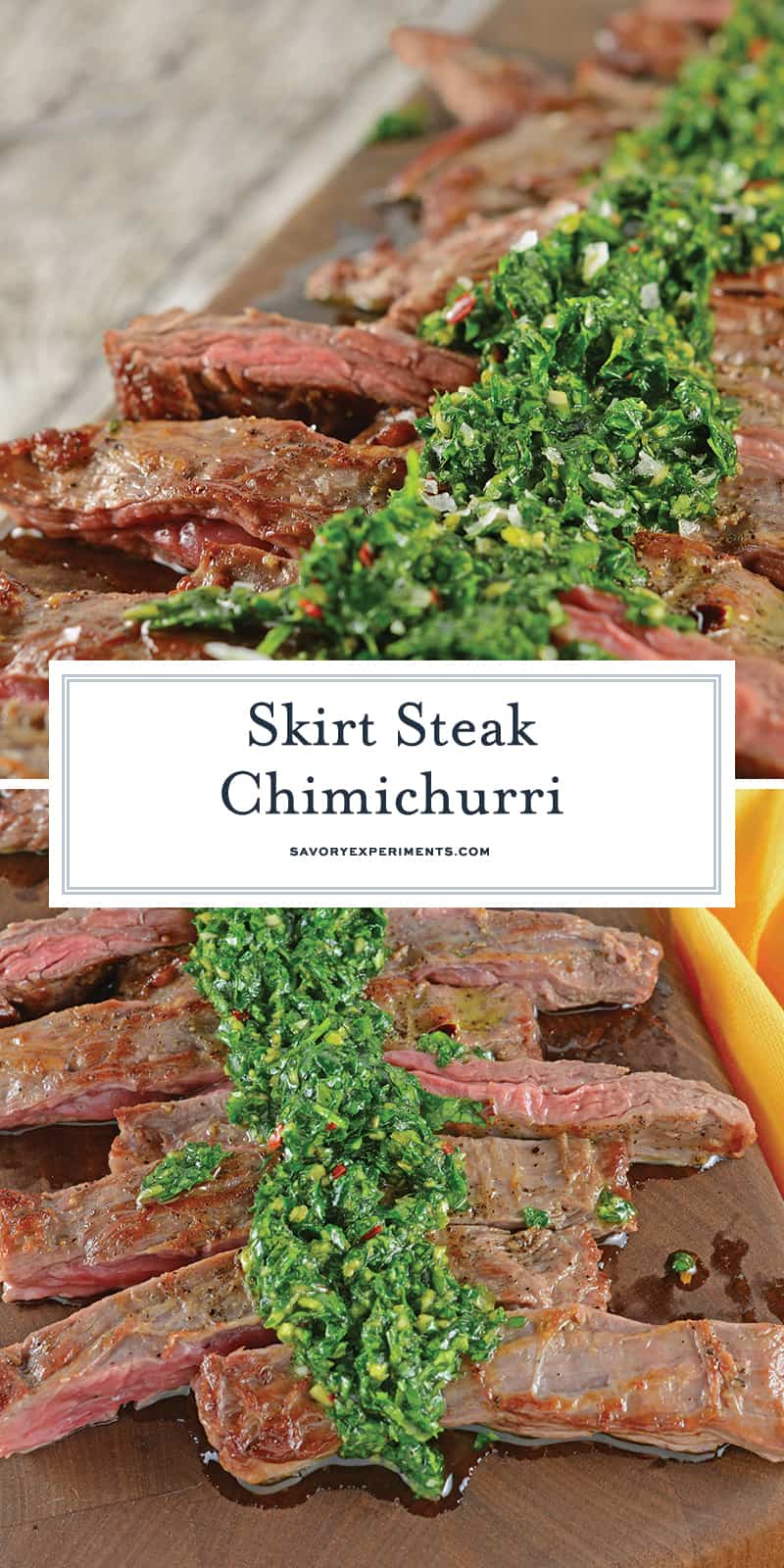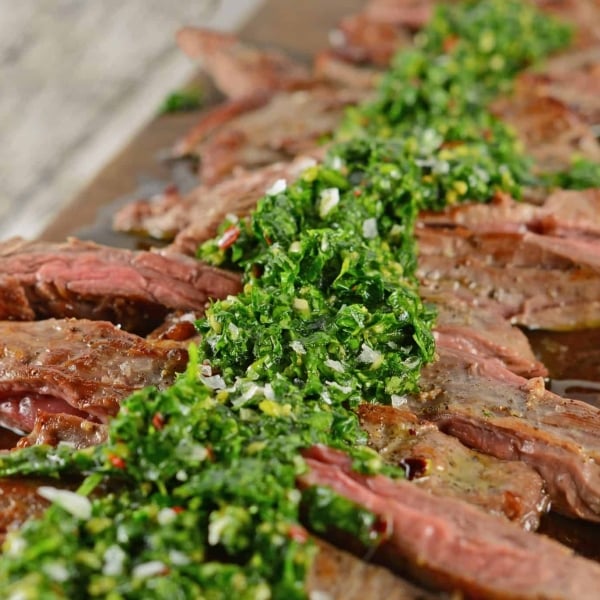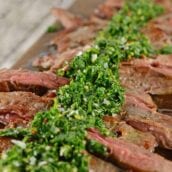 Skirt Steak Chimichurri
Skirt Steak Chimichurri is a grilled steak recipe that'll leave you drooling! Easy to make and topped with a delicious chimichurri sauce.
Instructions
Pat skirt steak dry with paper towels.

Massage with Kosher salt and freshly ground black pepper.

Heat grill to medium-high heat and oil grates.

Place skirt steak on indirect heat, cooking on each side for 3 minutes (medium-rare) on each side.

Remove from grill and allow to rest for 5 minutes before slicing against the grain.

Top with room temperture chimichurri sauce.

If you've tried this recipe, please come back and tell us how you liked it!
Nutrition
Calories:
588
kcal
,
Carbohydrates:
5
g
,
Protein:
52
g
,
Fat:
39
g
,
Saturated Fat:
10
g
,
Cholesterol:
147
mg
,
Sodium:
2473
mg
,
Potassium:
662
mg
,
Fiber:
1
g
,
Sugar:
1
g
,
Vitamin A:
1270
IU
,
Calcium:
113
mg
,
Iron:
4.4
mg