Steakhouse Steak Rub Recipe
In fact, people spend hundreds of thousands of dollars per year on premade spice rubs. The funny part is, you probably have all the ingredients to make your own custom spice rub at home.
I know we always have a bottle of Montreal Steak Seasoning on hand for homemade steaks.
I bet you'll think this Steakhouse Steak Rub is better than anything in a bottle… at least better than a simple salt and pepper dry rub. LOL.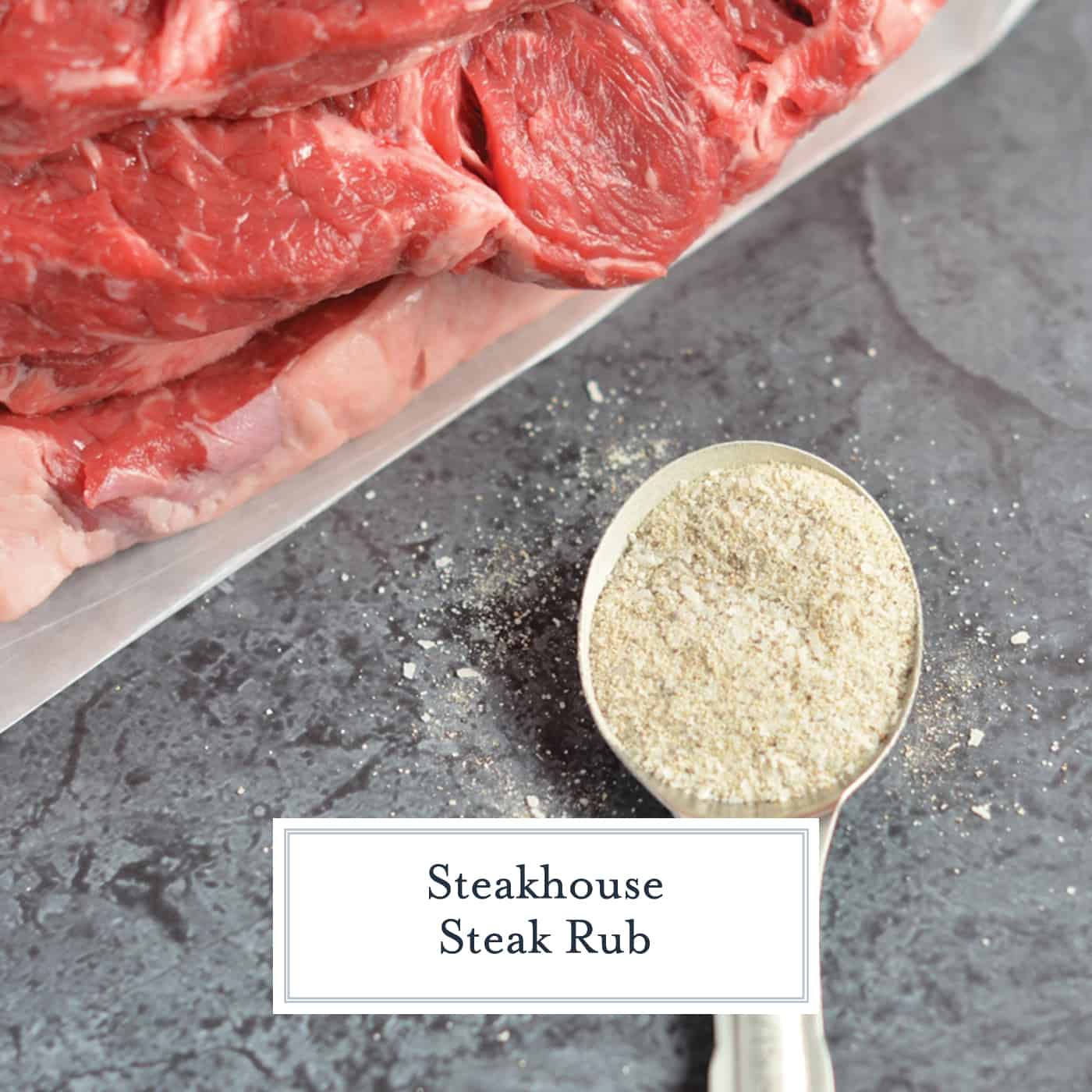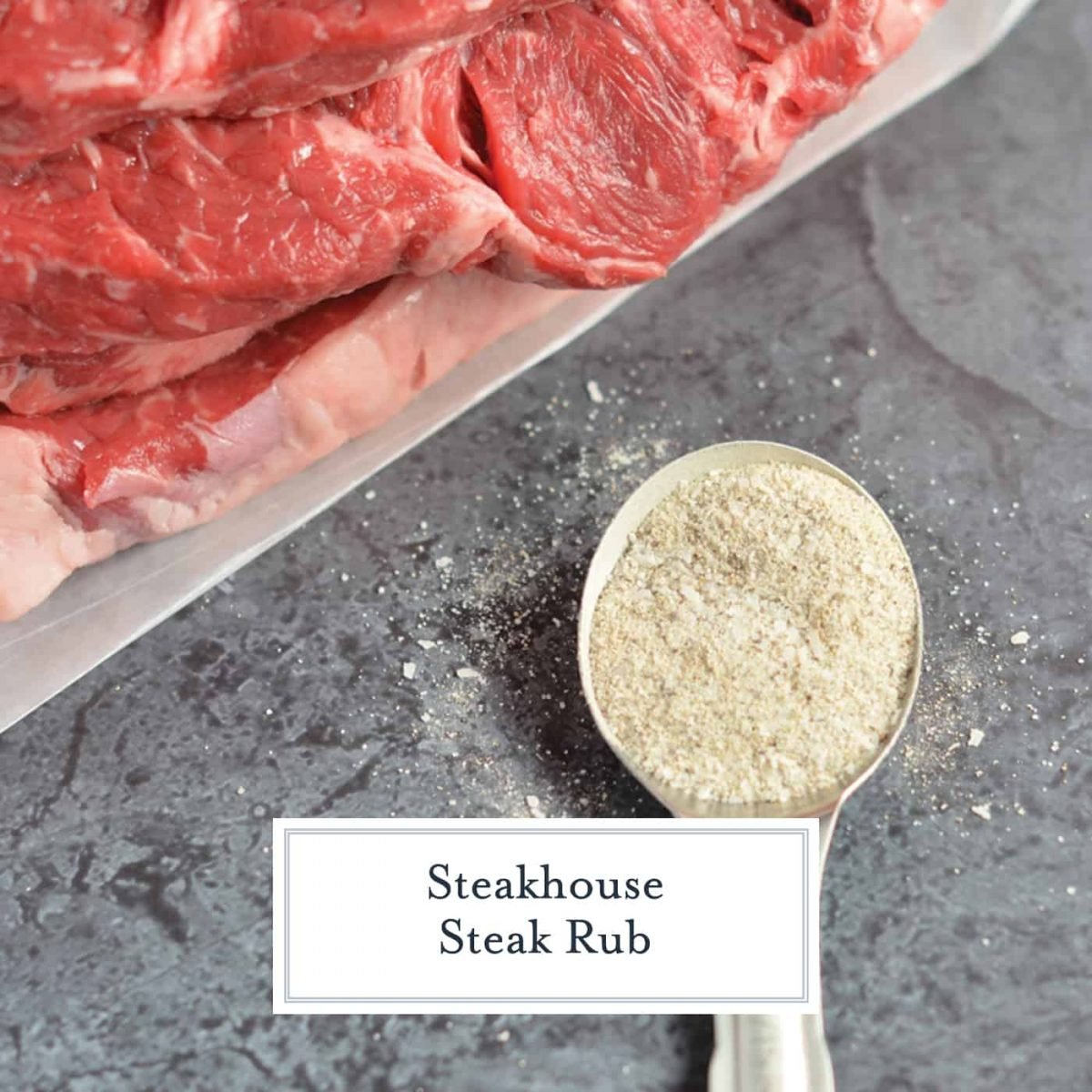 Steakhouse Steak Rub is a secret recipe that I received from a friend at a 5-star steakhouse. You won't beleive how easy it is to make and how delicious your steak will taste!
There are a couple of things that set high-end steakhouses above the rest: prime cuts of beef, a broiler that can reach up to 1800 degrees, maitre d'hotel butter and steak rub.
And yes, most steakhouses use a broiler, not a grill, so throw that the notion that all delicious steaks need a flame right out the window.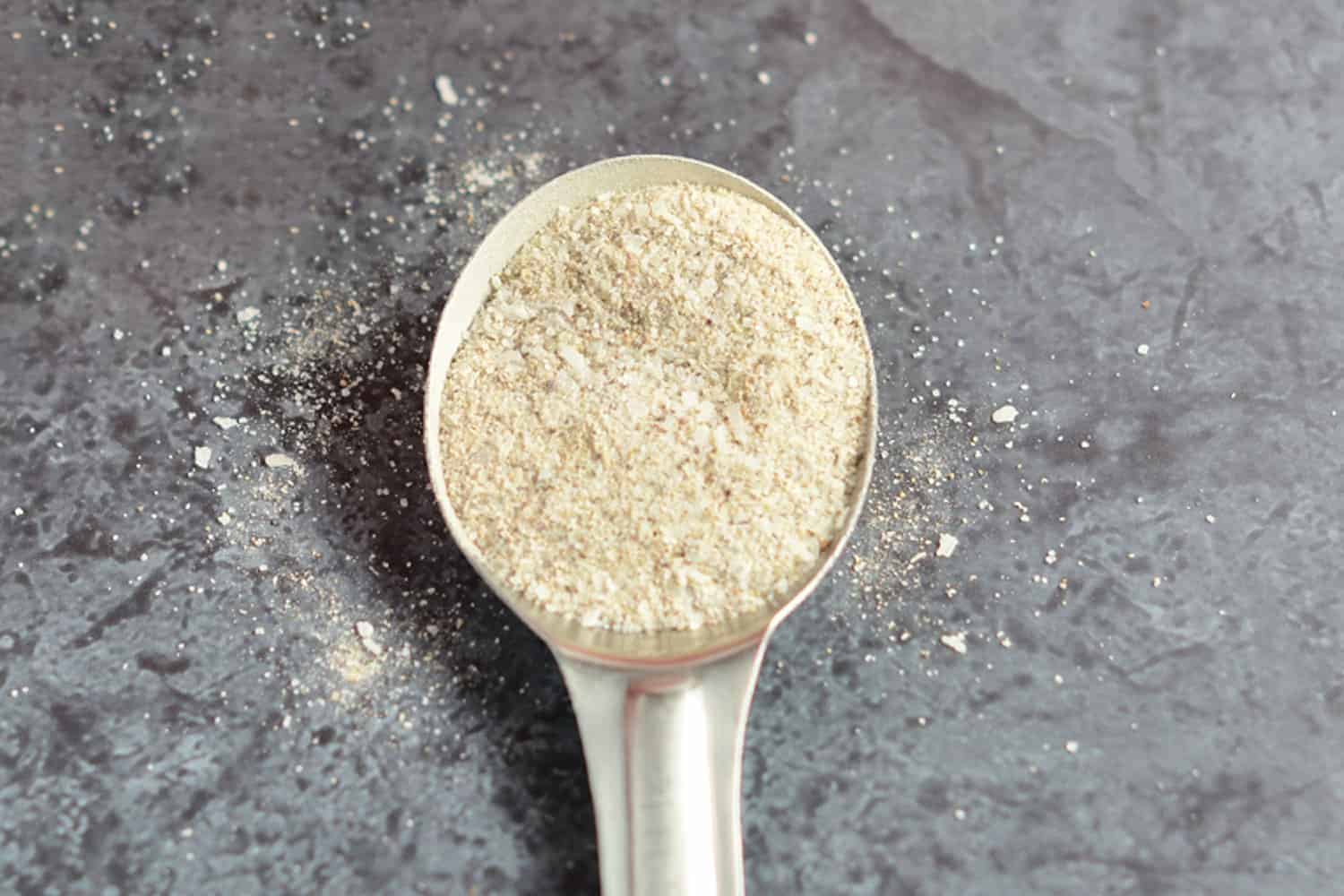 While most of us won't ever have an oven that reaches 1800 degrees, we can purchase a perfectly marbled steak and prepare maitre d'hotel butter and steak rub, both being relatively simple.
PRO TIP: Steak Rub makes an excellent gift. It is naturally preserved, has a long shelf life and can be made in large batches!
The dry rub will be the easiest out of the three. In fact, you probably already have all the ingredients in your pantry to make the best steak rub recipe.
Kosher salt
Garlic powder
Onion powder
Black pepper
Paprika
Celery salt
Sugar (yes… sugar helps it caramelize and stick to the meat!)
MY SECRET INGREDIENT- SEE RECIPE!
Simply combine all ingredients in a small bowl and and BINGO- you are ready to go!
This steak seasoning recipe can also be used on chicken or fish and I've even sprinkled this concoction on salads using a vinegar based dressing like Fresh Herb Vinaigrette or Garlic Balsamic Vinaigrette.
And once… I even used it on bread for a smoky steakhouse garlic bread. It was divine and people raved about the unexpected flavors!
PRO TIP: Use this spice blend on anything from beef, chicken, seafood, fish, pork, vegetables, salads and even bread!
Steakhouse Steak Rub beef can be prepared in a cast iron skillet, in the oven or for grilled steak.
For best results, massage steakhouse steak rub into your meat and wrap it in plastic wrap for at least 30 minutes, but up to 24 hours to really allow the salt to tenderize and flavors to marry.
Don't let it sit much longer, as the salt will get to a point where the beef will start to harden and just be plain salty instead of tenderized. In fact, you can even reduce the amount of salt, if desired.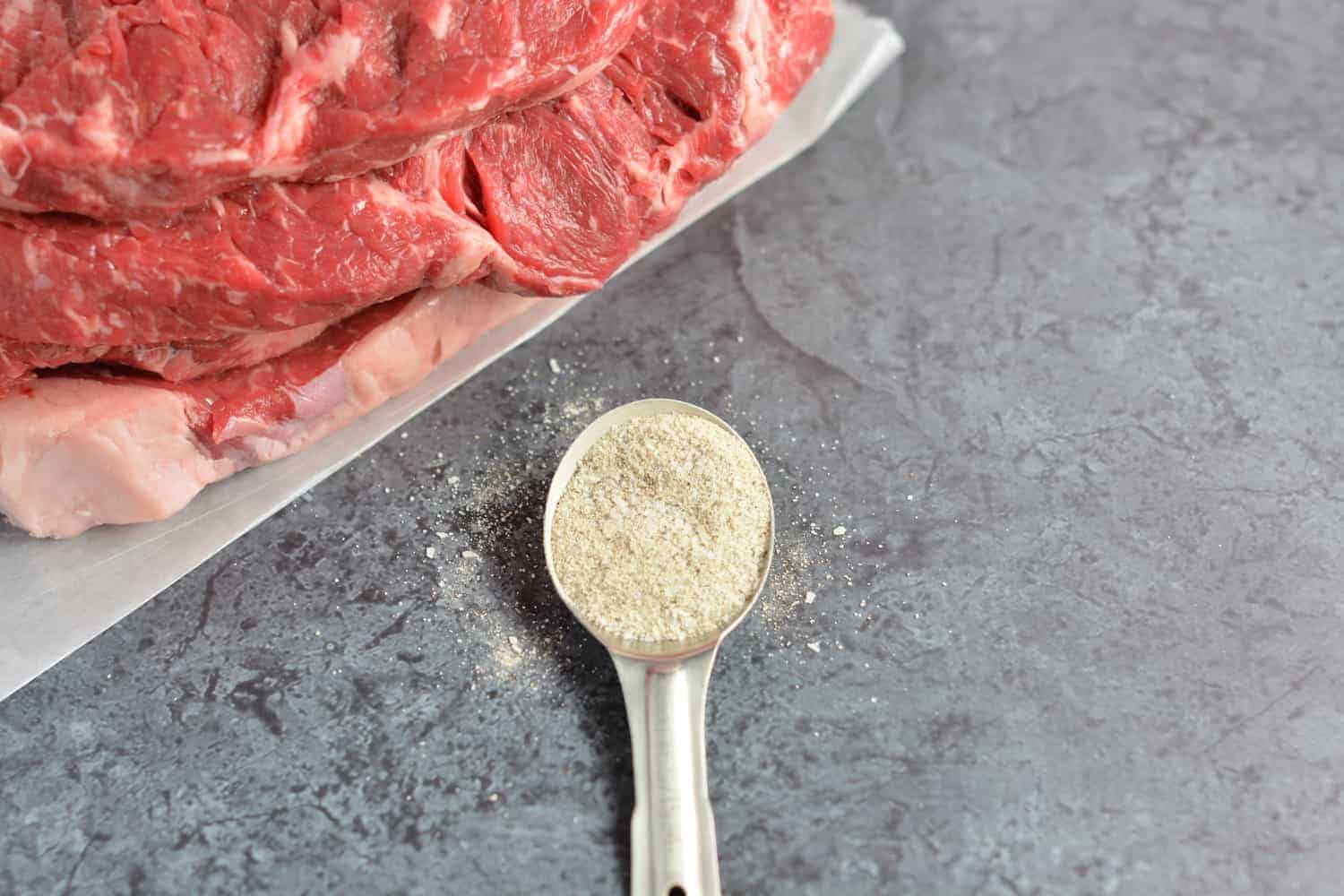 If you like making your own homemade spice mixes, here are a few more you might like!
Tools for making homemade beef rub:
Measuring spoons– I admit to eyeballing the amount of my ingredients sometimes, but really, everyone should use measuring spoons.
Airtight Plastic Containers– Make a double, triple even quadruple batch and store it in airtight container. The salt will help preserve the mixture and it will stay fresh for months! If it lasts that long…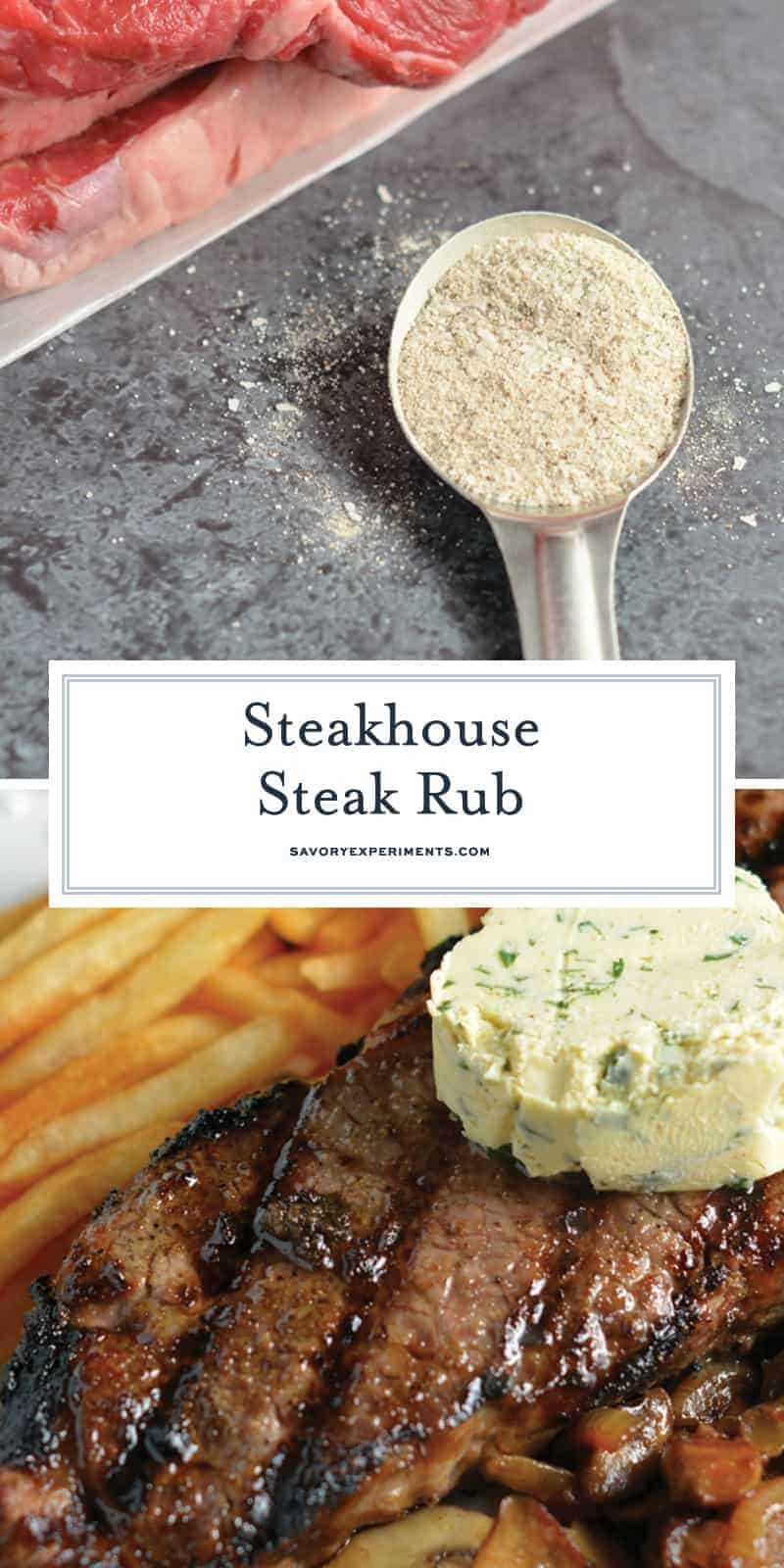 Questions you might have about how to make steak rub:
How far in advance should I apply steak rub? I would say 1-24 hours in advance. If you apply it early, the salt helps to tenderize and flavor the meat, however applied for too long and it can actually have the opposite effect.
One of the benefits of a rub versus a marinade is that you don't need to apply it far in advance to reap the benefits of flavor. Make sure you dab your meat dry before applying, the massage into the meat.
Can I use table salt instead of Kosher? I shy away from using table salt, also known as iodized salt, in general. I don't even buy it due to having a metallic taste.
The trouble with using the same amount of a smaller granule of salt is that you'll actually get a much saltier flavor.
If you use a different type of salt, or a different size of salt grain, then I also advise cutting the amount in half. Fine sea salt is a good alternative.
Can I use brown sugar instead of white sugar? You sure can. Brown sugar has a hint of molasses and while I don't prefer that on my steaks, you can certianly add it to yours. The best steak seasoning uses sugar, who knew?
What if I want a little heat on my steak? Looking for spice and not flame? Add 1/2 teaspoon of red pepper flakes.
Steakhouse Steak Rub is a secret recipe that I received from a friend at a 5-star steakhouse. You won't beleive how easy it is to make and how delicious your steak will taste!
CONNECT WITH SAVORY EXPERIMENTS!

Be sure to follow me on social media, so you never miss a post!

Facebook | Twitter | Youtube
Pinterest | Instagram

Get our FREE 8 Day E-Course on How to Be a Better Home Cook. Sign up HERE!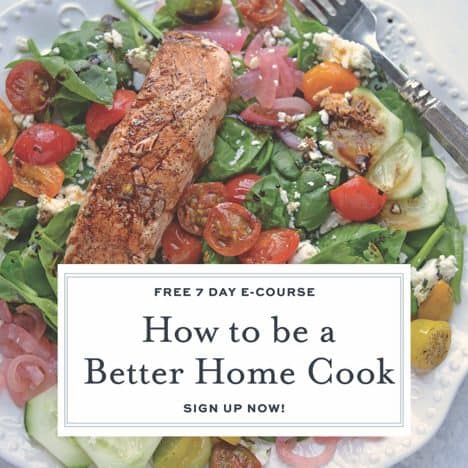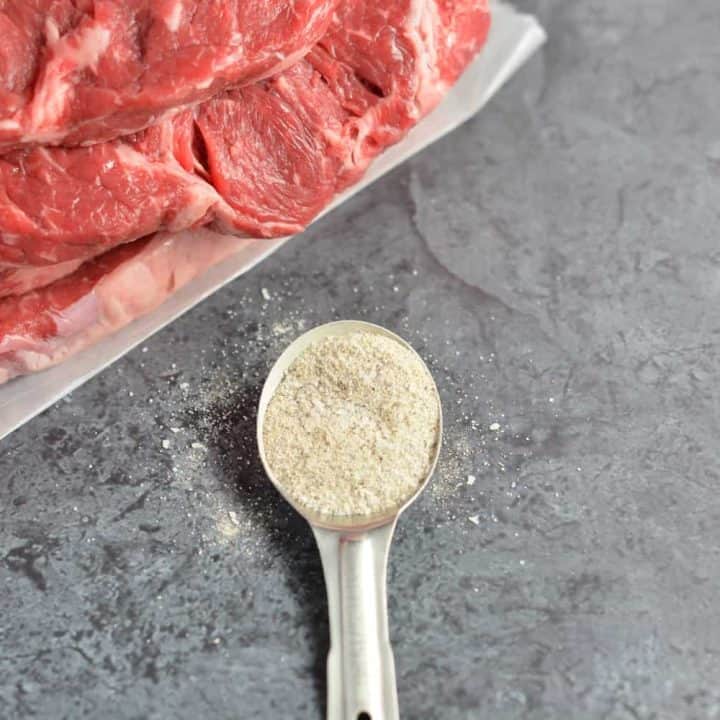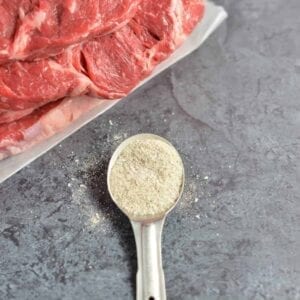 Steakhouse Steak Rub
Steakhouse Steak Rub is a secret recipe that I received from a friend at a 5-star steakhouse. You won't beleive how easy it is to make and how delicious your steak will taste!
Keyword:
beef rub, steak rub, steakhouse recipes
Ingredients
3

tablespoons

kosher salt

1

tablespoon

onion powder

1

tablespoon

garlic powder

1

tablespoon

celery salt

2

teaspoons

paprika

1

tablespoon

black pepper

1

tablespoon

sugar

1/2

teaspoon

nutmeg
Instructions
Mix all ingredients in a bowl. Massage into your favorite cuts of beef and cook as desired.

If you've tried this recipe, come back and let us know how it was!
Recipe Video
Nutrition Facts
Steakhouse Steak Rub
Amount Per Serving
Calories 32
% Daily Value*
Sodium 6979mg303%
Potassium 83mg2%
Carbohydrates 7g2%
Vitamin A 490IU10%
Vitamin C 0.4mg0%
Calcium 17mg2%
Iron 0.5mg3%
* Percent Daily Values are based on a 2000 calorie diet.