If you're looking for a delicious side but also want it to be easy, this Peas and Pearl Onions recipe is perfect. It only takes 4 ingredients and 15 minutes and has been vetted by over 100 of our readers as their new favorite easy side recipe.
Easy side dish recipes don't get much better than this Seasoned Peas and Onions recipe. You can't beat a dish that only requires four ingredients!
I am constantly on the hunt for easy side dish recipes. I generally spend the majority of my time on the entree, but need items that won't overwhelm those flavors and come together fast.
It's such a hard balance to find a side dish that is simple and flavorful, yet easy and not boring.
The classics like green bean casserole, creamed corn, sweet potatoes and roasted red pepper, besides being more of a Thanksgiving side, are so played out and ho-hum, not to mention heavy.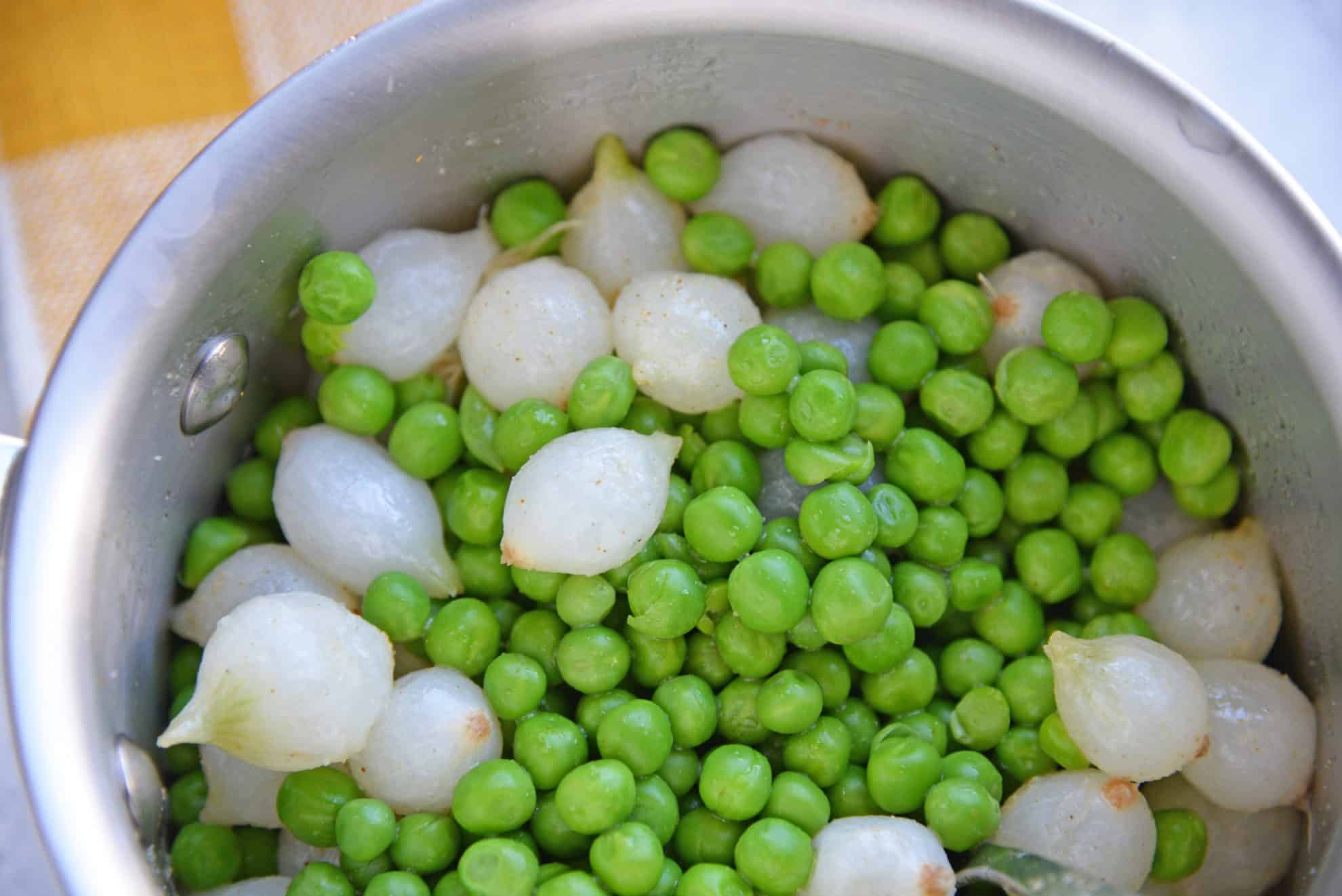 I don't know about you, but I always have a stock of frozen vegetables on hand. They stay good for so much longer than fresh veggies, and they are easy to whip up when you need a side dish in a hurry.
One of the frozen veggies that I always keep stocked in my freezer are sweet peas. This is funny, however, because growing up I did NOT like peas at all.
Like "please don't even put a scoop on my plate" kind of dislike.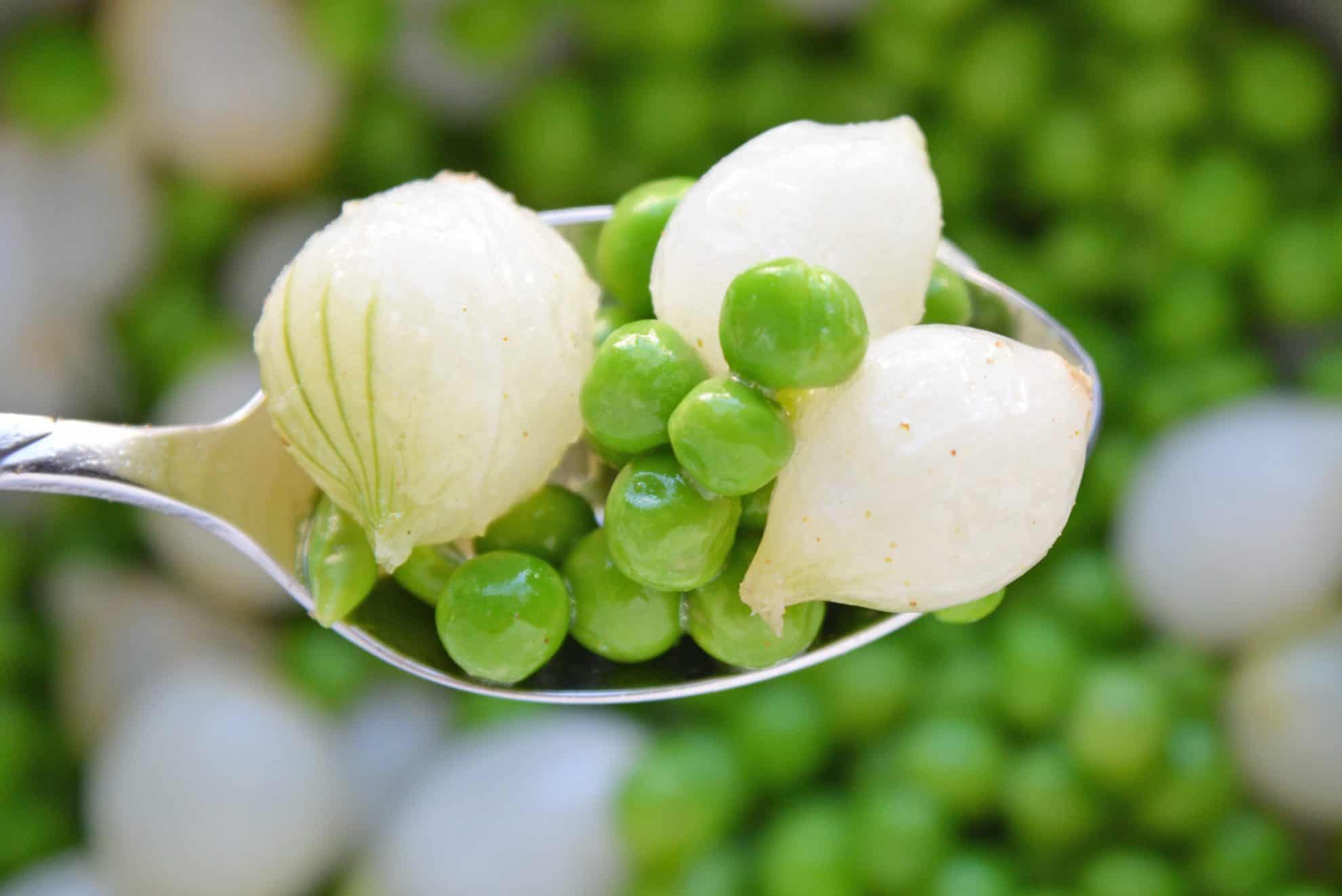 I'm not sure if it was the color, texture, flavor, or a combination of all three, but whenever my mom made peas, I could not eat them. There weren't too many things I didn't like, so mom usually let me pass on the peas.
PRO TIP: Frozen vegetables hold their nutrition better than canned and if cooked correctly, taste just as good as fresh too!
But thankfully as an adult, I've learned to love them. I often serve them as a side to our dinners, because both hubby and baby girl like them too. But pea recipes can be a bit boring, so I decided to take them up a notch!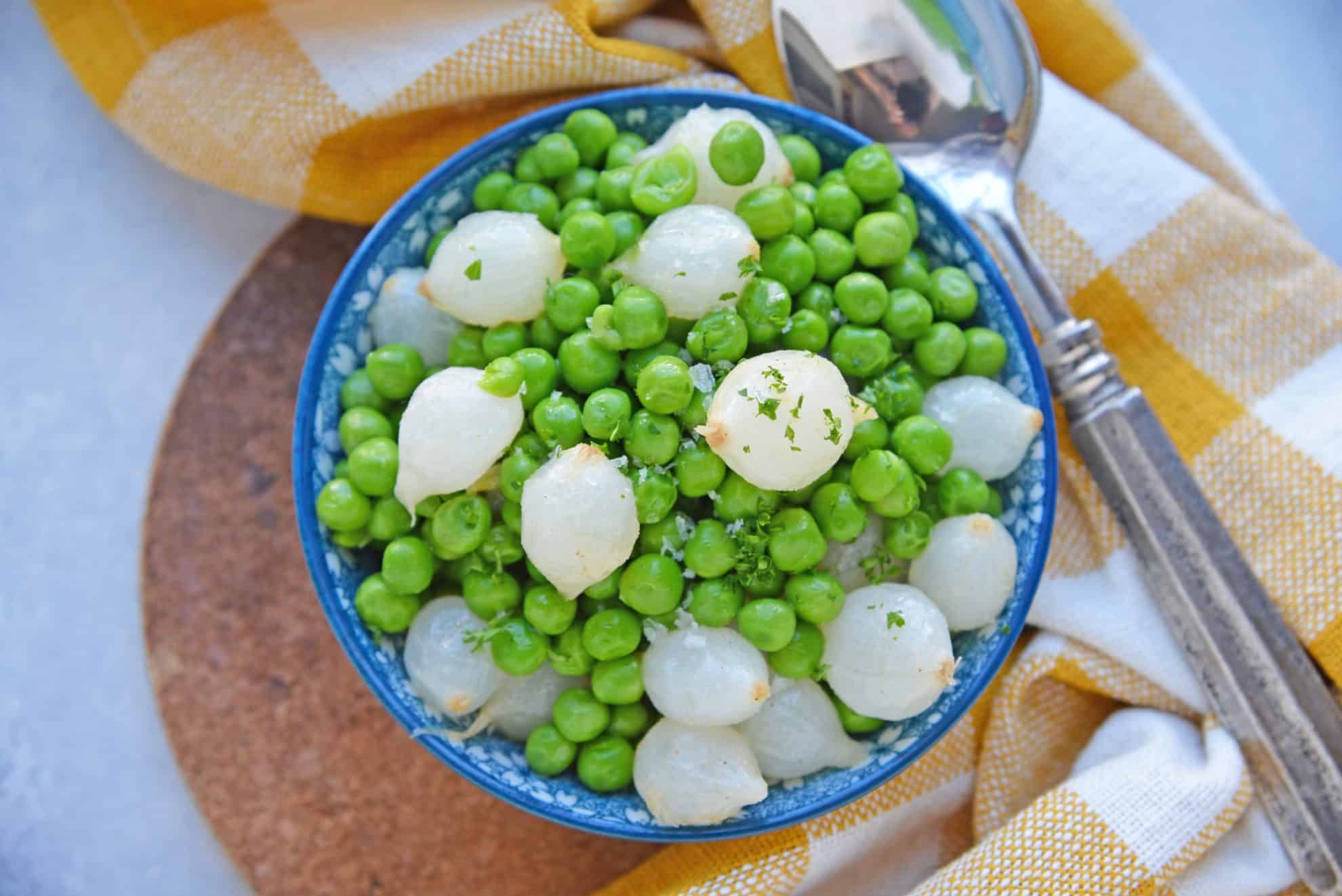 Seasoned peas and onions are one of the perfect sides in my arsenal that can be paired with nearly any dish. To season them I use my homemade seasoned salt, but you can use any salt blend you prefer.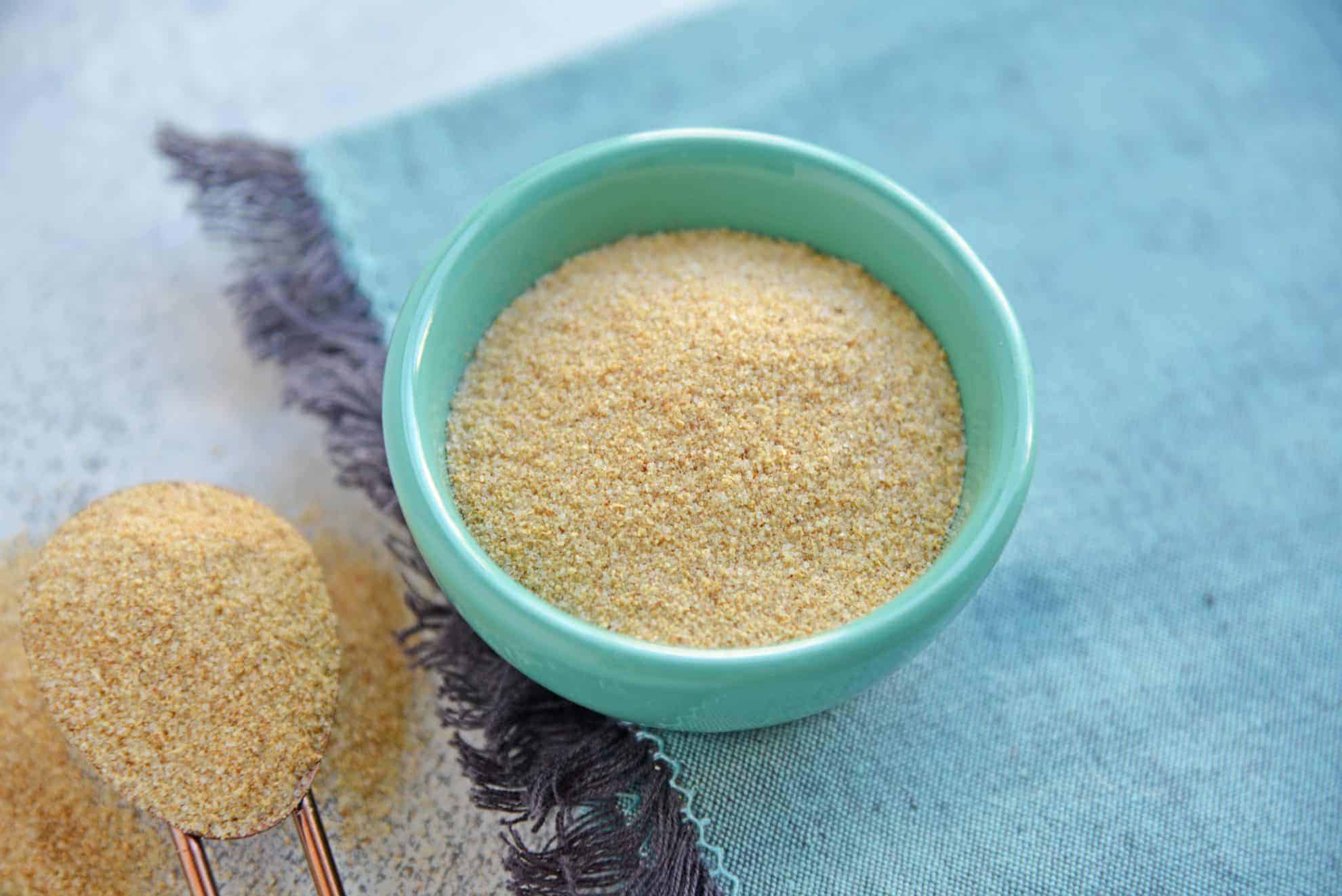 The element that really makes this recipe great is the ease. I don't need anything fresh. I can store frozen peas and onions for when I need them.
They are inexpensive and taste great (if not overcooked). Butter and seasoned salt are always on hand in my kitchen.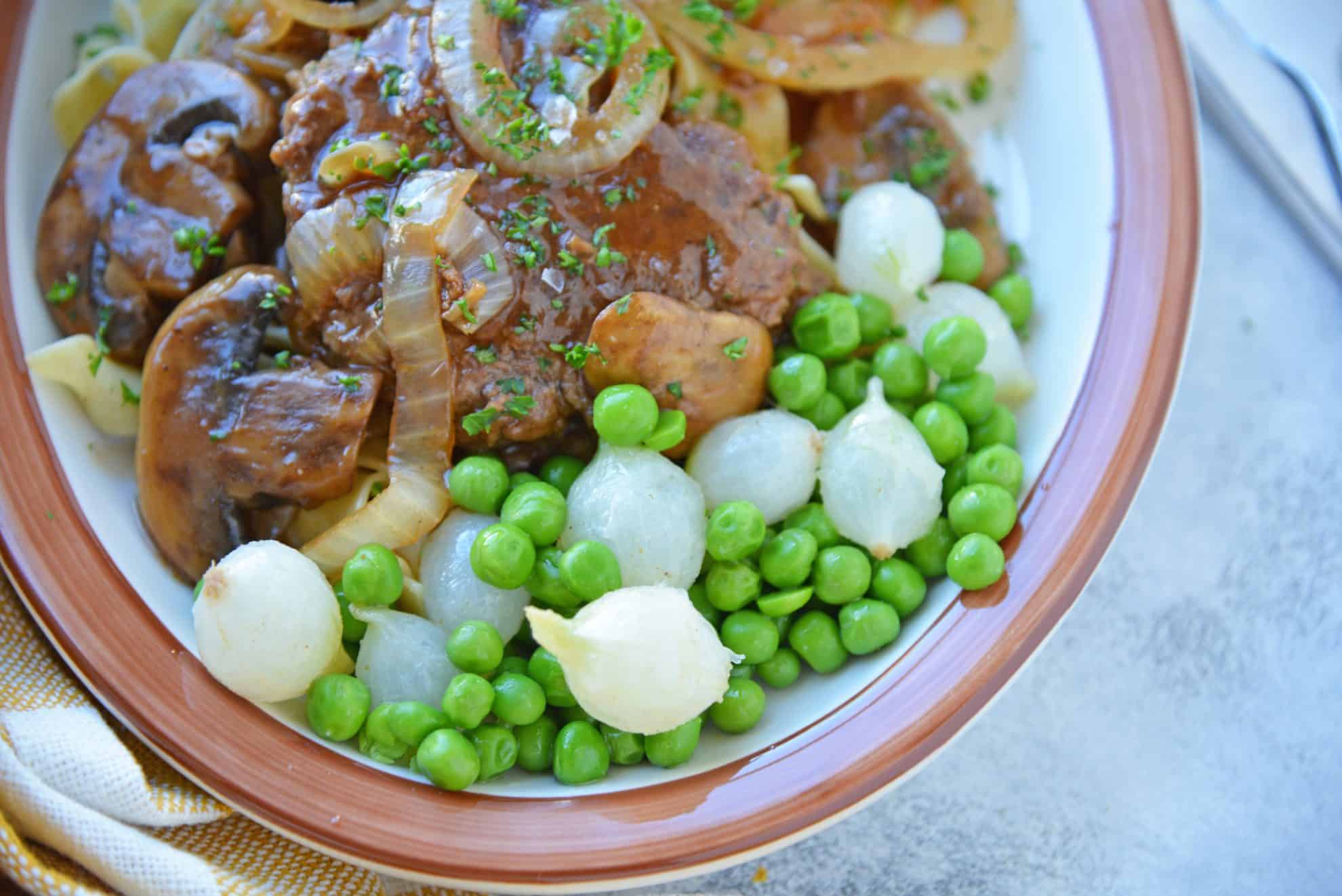 To make this dish, add peas, pearl onions, seasoned salt and butter into a heavy bottom saucepan. Bring your stove to low heat and cover.
Make sure to stir occasionally until the vegetables are completely thawed. It should take about 15 minutes.
And that's it! They are done. If you'd like to take these seasoned peas and onions up a notch, you could sprinkle with red pepper flakes before eating.
You could even add a little garlic butter or truffle butter to amp up the flavor a bit.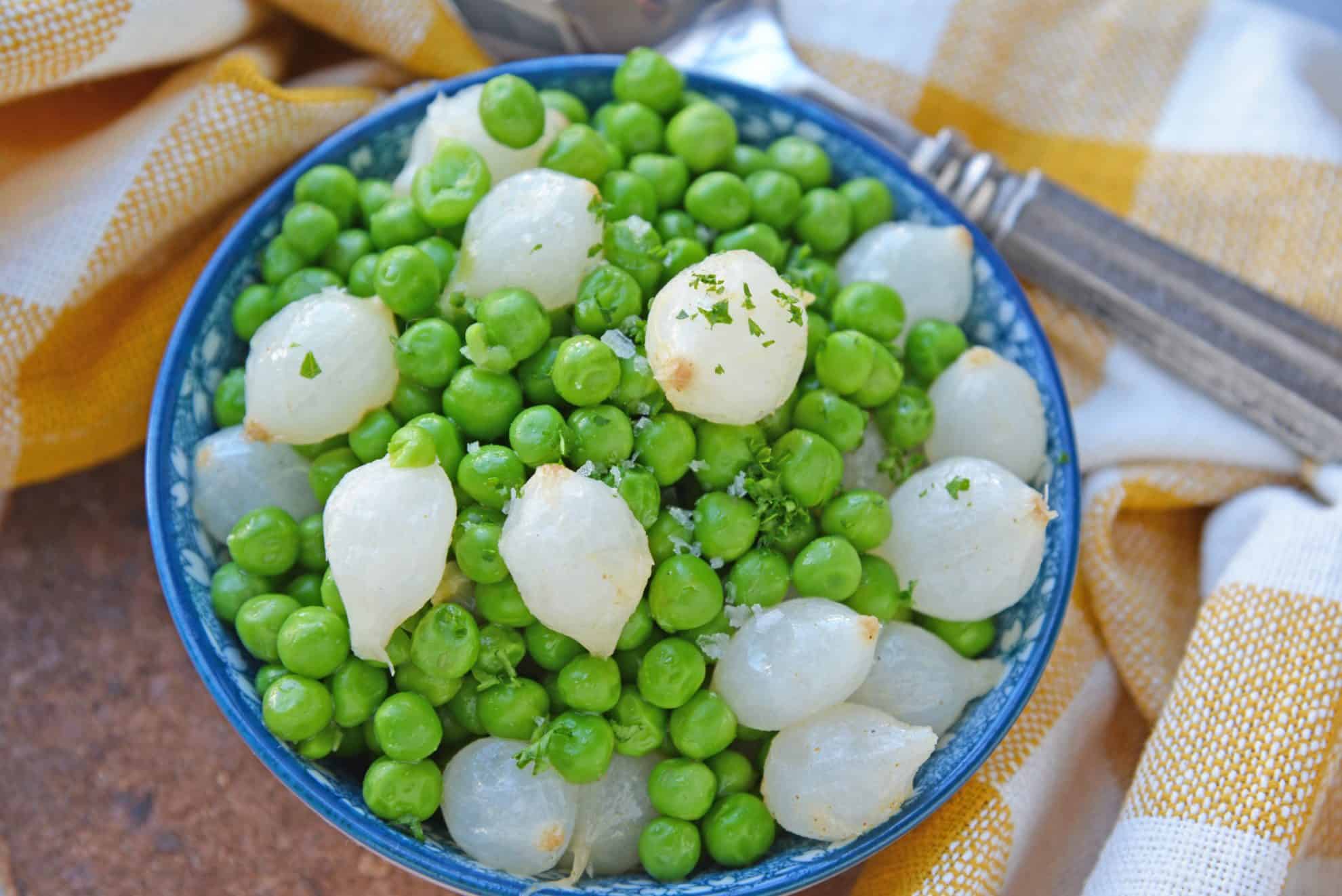 Questions you might have about how to make seasoned peas and onions:
Can I make these into creamed peas and onions? Sure you can! Just add 1-2 tablespoons of heavy cream (or Greek yogurt if you're being health conscious) at the very end.
Can I use fresh pearl onions and peas? You can certainly use fresh vegetables, but it will take a little longer to cook. Keep on low until all ingredients are soft, approximately 20-25 minutes.
Can I use different frozen vegetables? Sure! You can substitute in any other frozen vegetables you'd like. I also like green beans, carrots, corn, brussels sprouts or even butternut squash.
Can I use olive oil instead of butter? You sure can, I just suggest that you use a good quality oil! Good Extra Virgin Olive Oil will taste like, well, olives, while a poorly made one will taste like vegetable oil. Gross.
While people tend to favor Italian and Greek olive oils, I prefer to buy mine domestically. They are some great ones out there from all over the world, but the reporting of ingredients isn't always the same and you could find that your super expensive olive oil was actually cut with vegetable oil.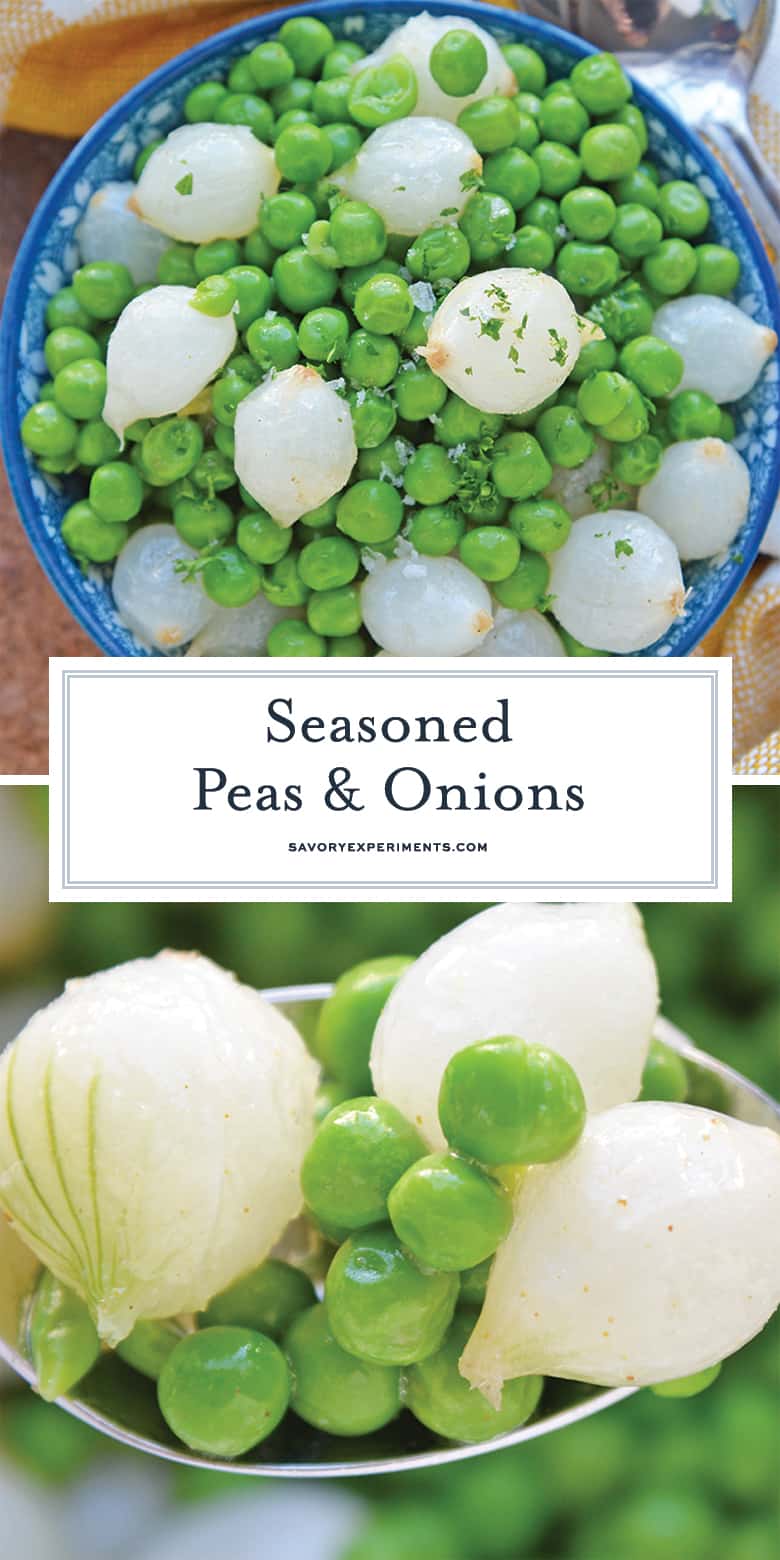 Our other favorite vegetables side dishes include Baked Kale Gratin, Garlic Parmesan Asparagus, Balsamic Roasted Root Vegetables, Roasted Greek Vegetables, Easy Mixed Vegetables and Creamed Onions.
Tools for making Seasoned Peas and Onions:
Heavy Bottom Sauce Pan– this will be one of your most used kitchen tools. Having something that is heavy bottom will distribute heat better and prevent burning whether you are using an electric or gas range.
Wooden Spoons– If you are using a good, metal pan, avoid injuring it by using wooden utensils. They are also easy to clean and can be purchase in bulk, allowing you to just toss then and pick a new one when one gets yucky.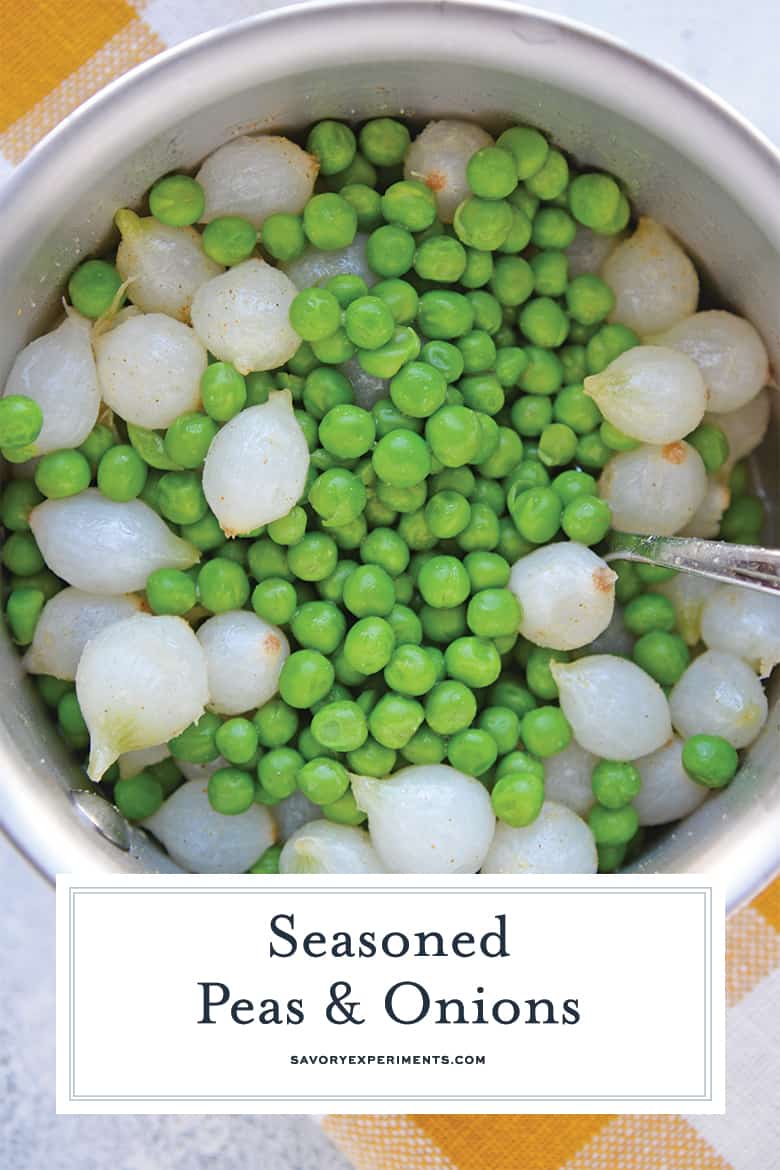 Peas and pearl onions is soon to be your new favorite dish as well. Easy, green and tasty, it makes it easy to eat the rainbow!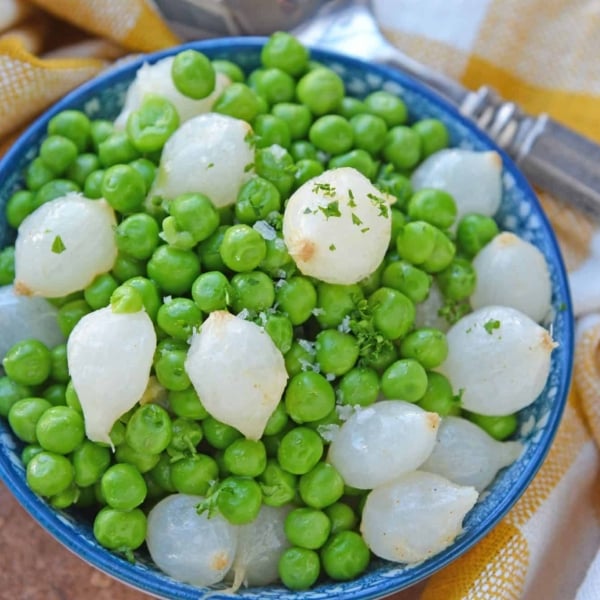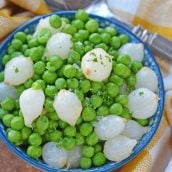 Seasoned Peas and Onions
Easy side dish recipes don't get much better than this Seasoned Peas and Onions recipe! You can't beat a dish that only requires four ingredients!
Instructions
Place frozen green peas, pearl onions, butter and seasoned salt into a heavy bottom saucepan.

Bring to a low heat and cover, stirring until vegetables are thawed, approximately 15 minutes.

Serve immediately.

If you've tried this recipe, come back and let us know how it was!
Nutrition
Calories:
122
kcal
,
Carbohydrates:
13
g
,
Protein:
5
g
,
Fat:
6
g
,
Saturated Fat:
4
g
,
Cholesterol:
15
mg
,
Sodium:
55
mg
,
Potassium:
218
mg
,
Fiber:
4
g
,
Sugar:
5
g
,
Vitamin A:
825
IU
,
Vitamin C:
34.6
mg
,
Calcium:
21
mg
,
Iron:
1.2
mg