I originally saw a recipe for Lomo Saltado in Food & Wine Magazine
. A nut for new ideas on food, this reminded of a steak stir fry or a southwestern steak frites, Peruvian food with a Chinese twist. Which I love, so naturally, I needed to make it!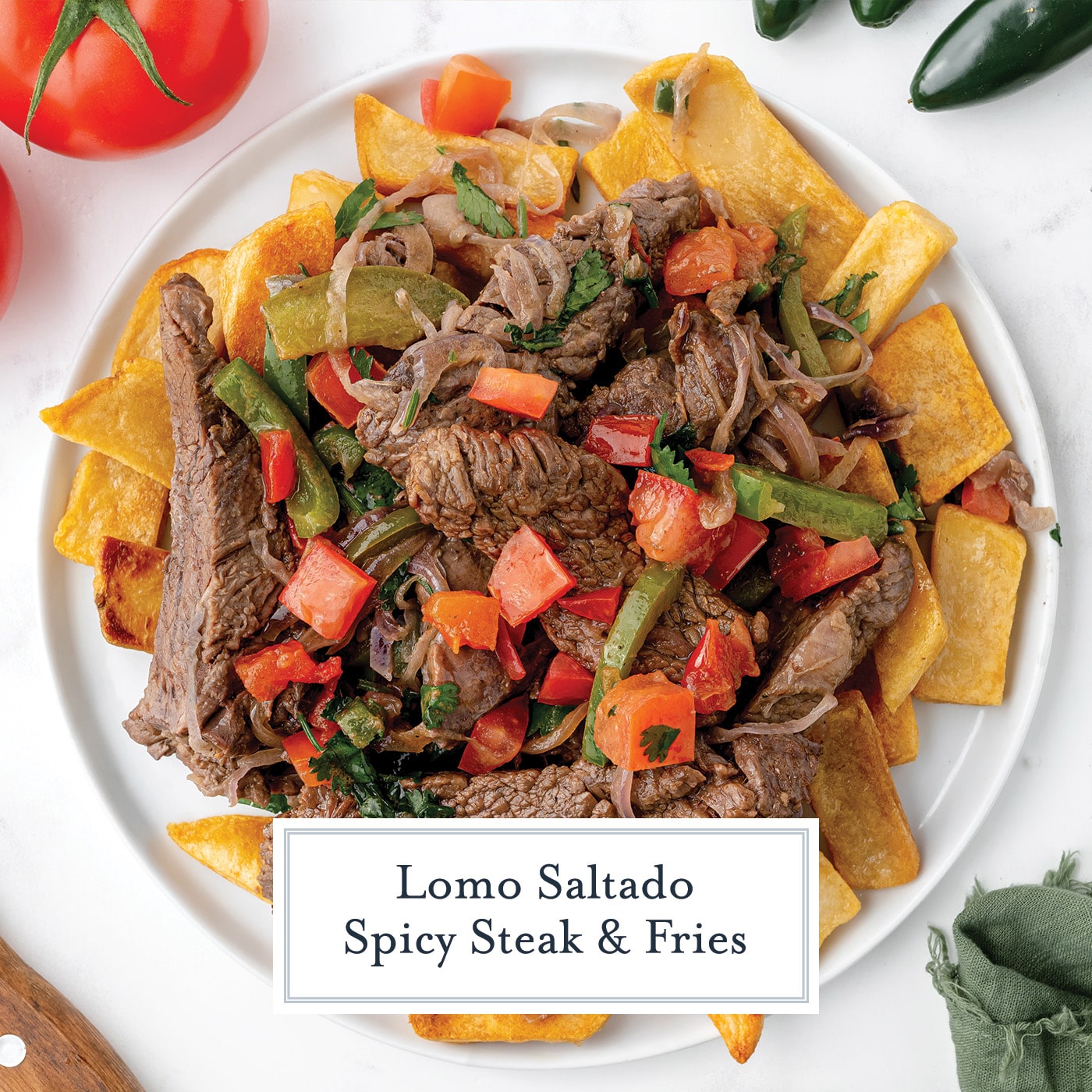 What is Lomo Saltado?
Lomo Saltado is a Peruvian dish using tender steak, onions, tomatoes, bell peppers and jalapenos with a side of white rice and served with fries. This comfort food boasts a sauce that is well seasoned and beef marinated in soy and/or vinegar based dressings. It's literally translation is beef stir fry, or even more drilled down, lomo = loin or tenderloin.
Yep, soy sauce! And technically this is a stir fry. So lomo saltado is a fusion of Chinese and Peruvian ingredients. It is said that the dish was created by Chinese immigrants to South America who were forced to use indigenous ingredients to create back home meals. It was prepared in a wok and served with rice, the potatoes are a Peruvian addition.
The result is a snappy dish that is crunchy, sweet, tangy and juicy all at the same time. With such simple preparation, it is a a no-brainer for a quick, weeknight meal, but you'll also see it served in many Peruvian restaurants.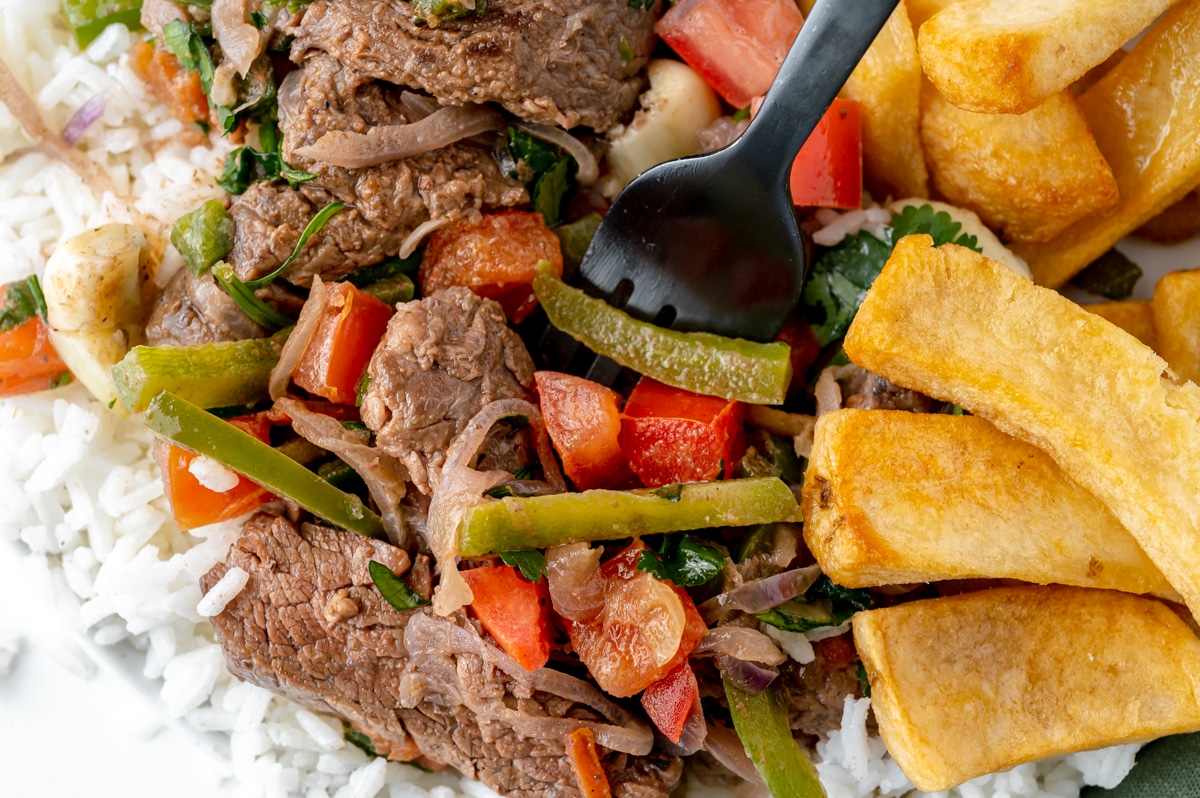 What Type Beef Do You Use In Lomo Saltado?
Lomo translates to tenderloin or loin, but there are so many cuts of the "loin" that it doesn't narrow it down. And if we are being honest, most of , the Chinese and Peruvian included, are not smacking down the bills for tenderloin on a quick meal.
So the next best thing is to pick a cut of beef that is best under a quick, high heat sear and my choice was a sirloin steak. Still a little on the higher end, it is known for being very beefy, juicy and flavorful. But you only need one steak to make the whole dish instead of serving a whole steak to each diner so it evens itself out.
Skirt steak is another favorite pick for stir fries, as is hanger steak or even flank steak. Of course, if you are feeling fancy use beef tenderloin (filet mignon).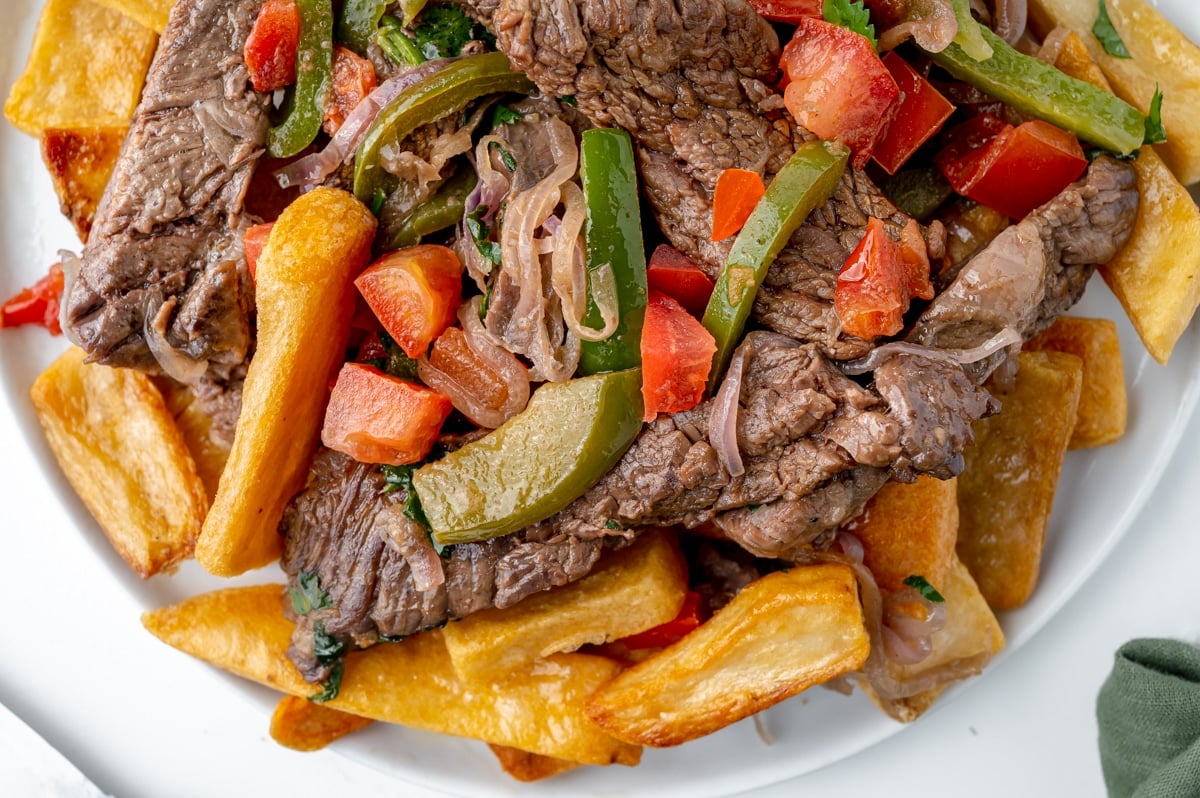 Why Should You Cut Beef Against The Grain?
The tougher the muscle fibers, the harder it is to chew your meat. But when you slice against the grain, you are essentially shortening them and manually tenderizing. You won't have to chew as much to break down the pieces since it's already been done for you.
However, not all cuts of beef need this treatment and the same concept can be applied to many different types of meat including chicken and pork.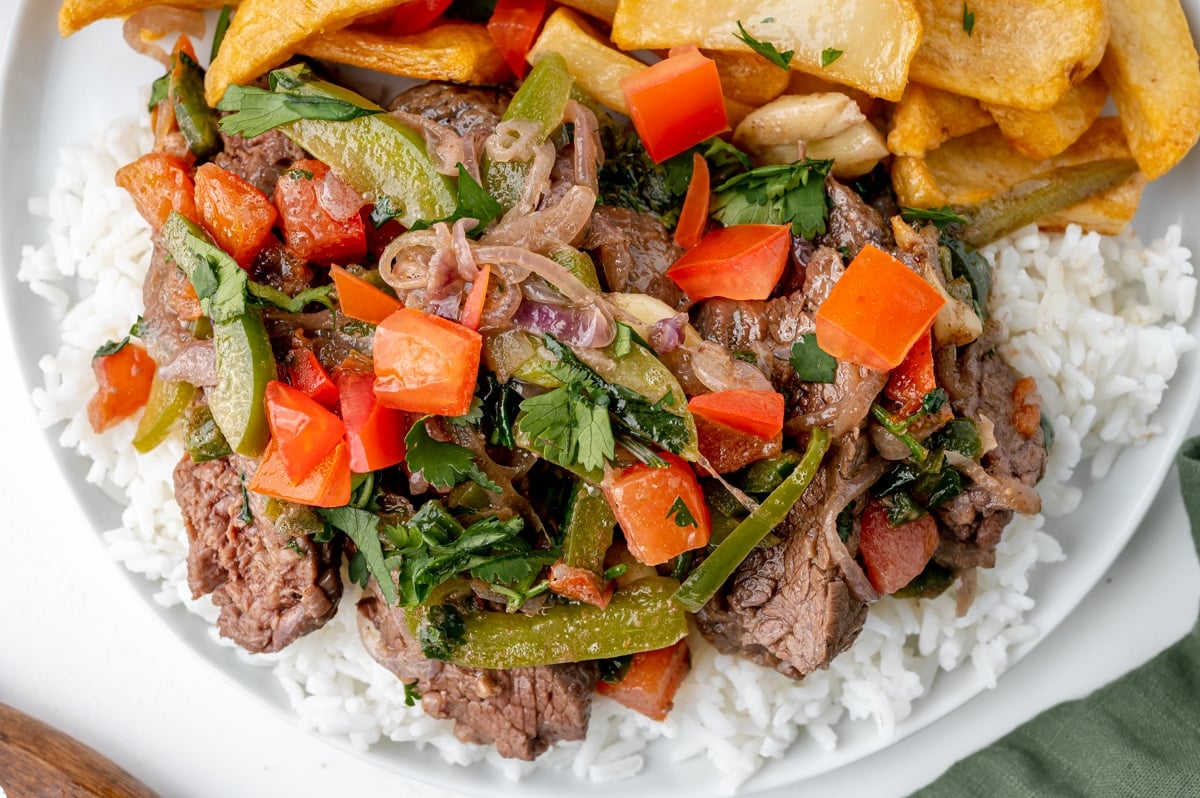 Can You Stir Fry Without a Wok?
Welp, we can do our best. Most my foodie friends out there don't own a good wok and don't have a range powerful enough to really heat it up. Even if you do, it requires a special burner shape using gas. There are some chefs that would argue if your pan doesn't catch fire at some point, it really isn't a stir fry at all.
So instead, we cheat. We are going to use a large skillet, the largest we can find, and high heat and do our best. SOme might say this isn't a traditional lomo saltado, but I would rather have something similar that not have it at all.
With that said, I do try to abide by a few stir fry techniques like using high heat, working in batches, getting a nice sear and brown on the meats and veggies. Overcrowding the pan, especially one with high sides, will create steam, which prevents the process of browning and can lead to uneven cooking.
Ingredients in Lomo Saltado
The ingredient list is fairly short for this Peruvian beef stir fry, it is how these flavors play together and the element of heat and browning that will really make it pop.
Seasonings– My blend is made up of ground cumin, ground coriander, salt and black pepper. Of course, these can be adjusted based on personal preference.
Sirloin steak– Trim any large fatty pieces and cut it into thin strips against the grain.
White vinegar– Traditional version use soy, but vinegar is also acidic, so it works. Soy can be used too- use 1-2 tablespoons soy sauce. Lime juice, red wine vinegar and balsamic vinegar are also good choices.
Neutral oil- Vegetable oil and canola oil are typically my go-tos, but any neutral oil works.
Large Red onion– I am drawn to adding color with my onion flavors, however scallions (green onions) are actually more authentic.
Garlic- Measure it with your heart! Please use fresh garlic and not the pre-minced bottle stuff.
Green bell pepper– or a medley of bell peppers.
Jalapenos– Some recipes call for pickled jalapenos, but fresh peppers are so much better. Some also use different types of chiles. Other varieties you may see include aji amarillo or aji amarillo paste or poblanos for a milder version. Aji amarillo pepper can be hard to find in US grocery stores so jalapenos are good substitutes. You can check your local Hispanic market if you have the time.
Tomato – An ingredient not typically seen in Chinese cuisine or stir fry, it is brought by the peruvian side. It's juicy freshness is fun next to the spicy peppers.
Fresh Cilantro- A controversial herb, it does add earthy depth, but it you are one of the few that thinks it tastes like dish soap, leave it out.
Hot sauce– For some the jalapeno might be enough, but for others, they need more and hot sauce also has a vinegar base so it adds more acidity.
Side of White Rice– Just plain white rice!
French fries– I like this dish with a thick-cut steak fry or country cut. Thinner versions like a shoestring will crisp up nice. Whatever you do, make sure the fries are crunchy. After they hit the sauce, they will immediately start to soak it up.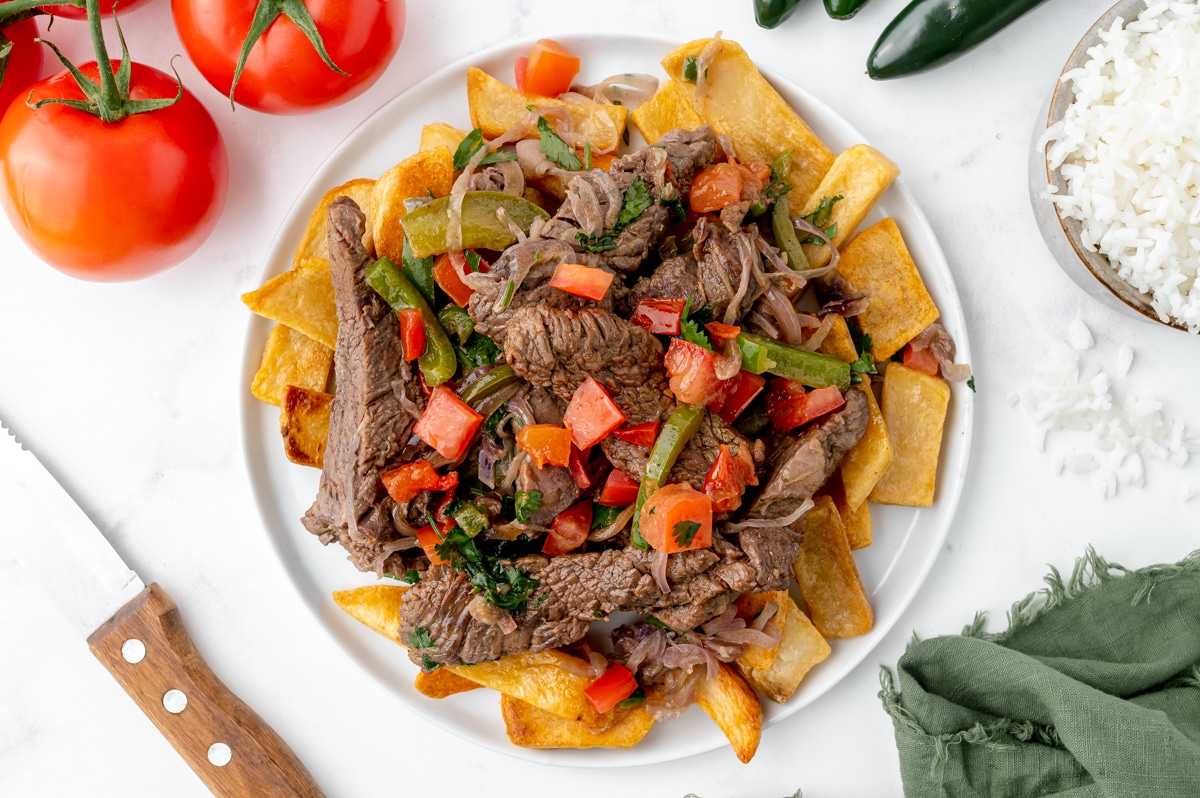 How to Make Lomo Saltado
The marination time on this beef is super quick, so you can let it sit while you sea up the veggies.
In a medium bowl, or a bowl large enough for the beef, combine the cumin, coriander, salt and pepper, mix well. Add the strips of sirloin and toss. This helps to seasoning stuck to the beef and not the sides of the bowl. Drizzle with the vinegar 1 tablespoon of the oil and toss again. It's like creating a marinade backwards. Set aside for a minimum of 15 minutes to marinate. You can marinate for up to 12 hours or overnight for maximum flavor.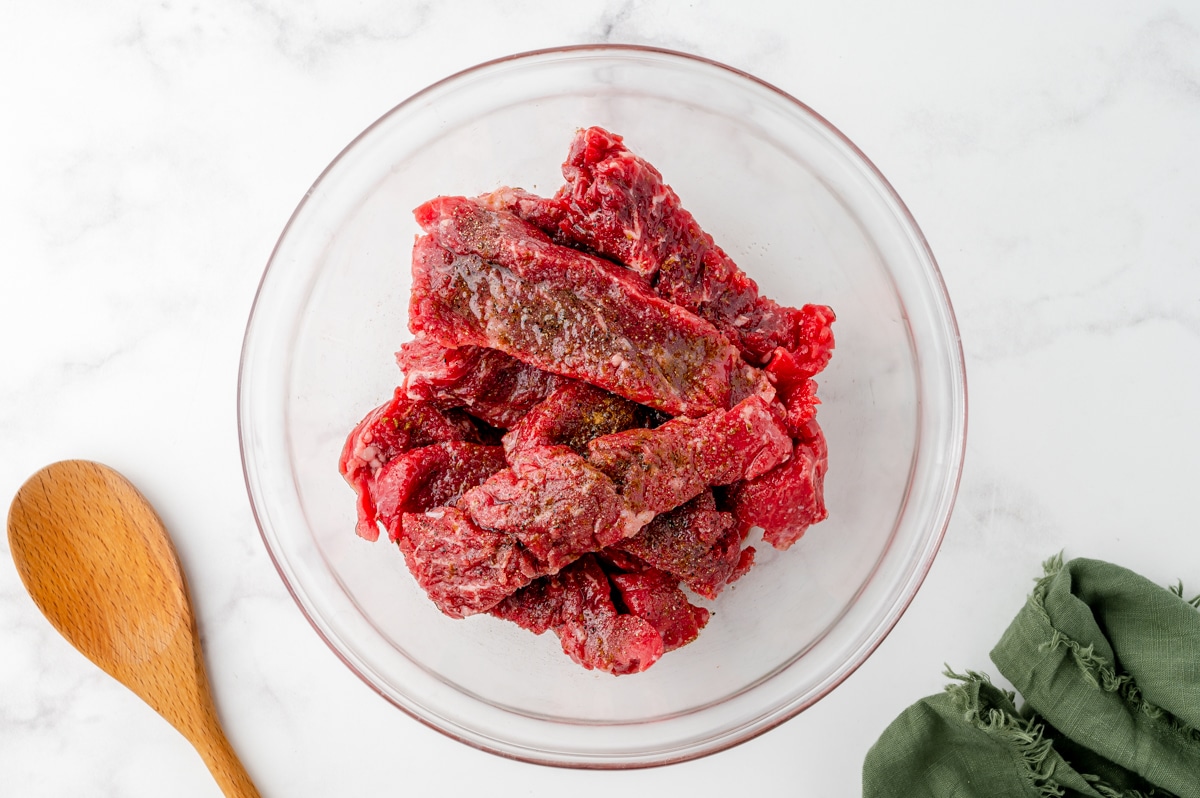 Heat the remaining 1 tablespoon of oil in a large, high-sided skillet over very high heat. When hot, add the onions, garlic, bell peppers and jalapenos. Saute until vegetables are start to soften, but still hold their shape, 5-7 minutes. Depending on the size of the pan, you might work in batches to no over crowd. The goal is to get a little char or brown on them. Remove from the pan using a slotted spoon and set aside. Work on the next batch or move into the beef.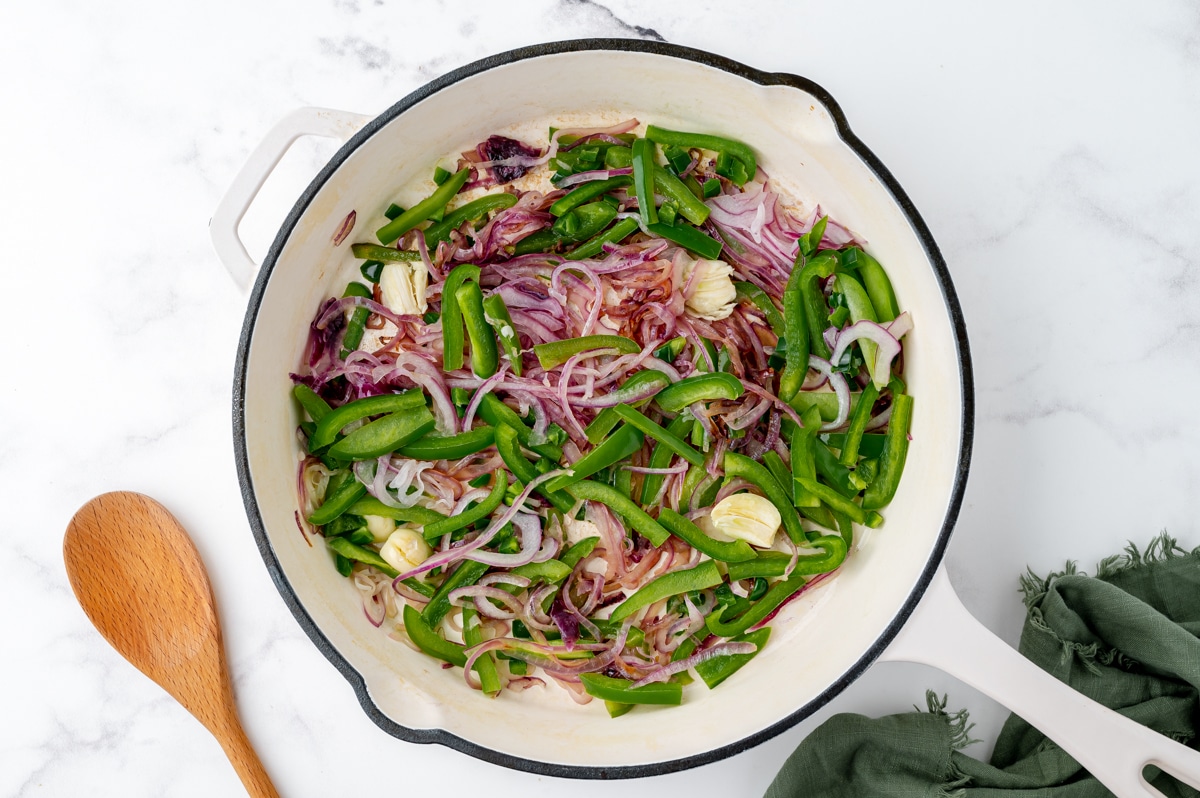 Without cleaning the large pan, add the steak strips with marinade. Sear on all sides until you see no pink. Return the cooked vegetables to the pan. Add the tomato, cilantro and hot sauce, toss and heat for an additional 2 minutes just to heat through.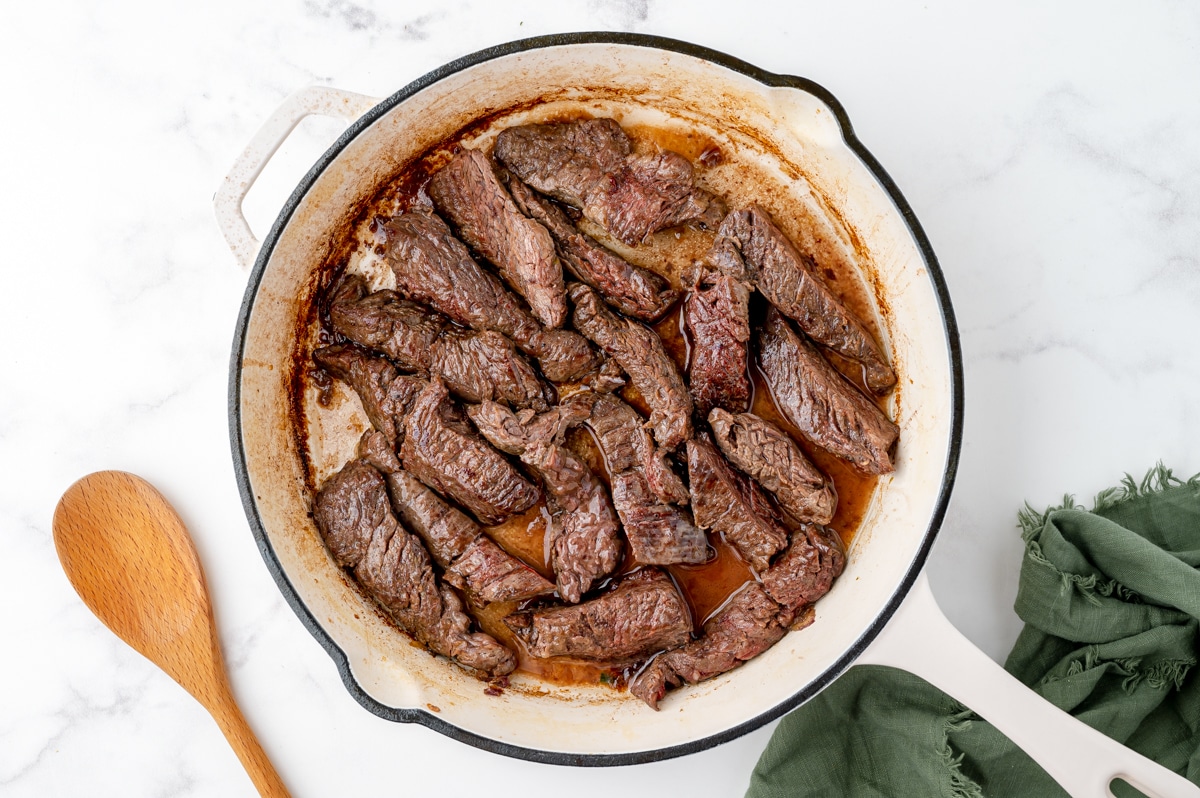 To serve, divide cooked rice between 4 dishes and spoon the beef stir fry over the rice. Evenly divide the fries on each plate. I suggest waiting until right before you eat to plate, otherwise the fries and the rice get mushy.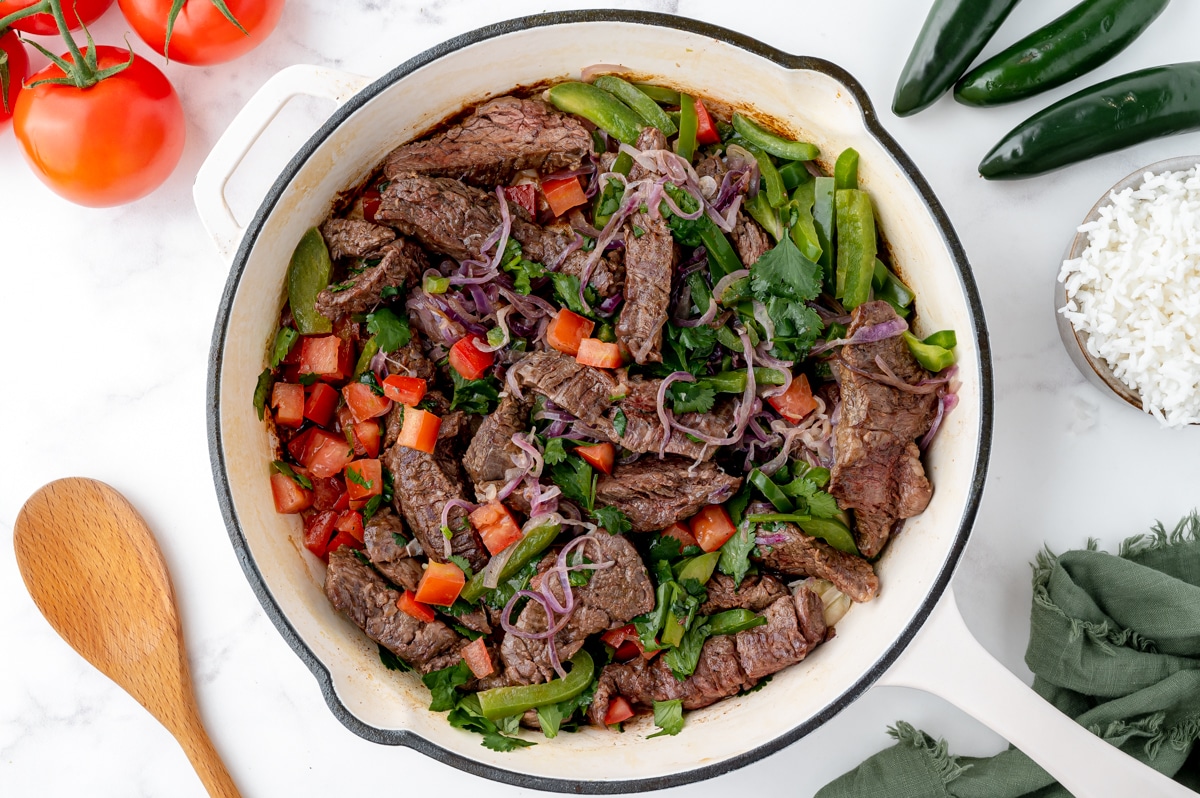 Make-Ahead, Storage & Freezing
Can You Make The Peruvian Lomo Saltado Recipe Ahead of Time?
I wouldn't suggest making this Peruvian classic ahead of time because the steak needs to be enjoyed right after it hits that peak of heat and the fries will get mushy. However, you can prep all of the elements ahead of time and then do a quick execution.
How Do You Store Lomo Saltado?
Store leftovers of this stir fry dish in an airtight container for up to 5 days. Reheat by giving it a quick sear in a frying pan or in the microwave. Beef will, unfortunately, be a little tough after being reheated.
Can You Freeze Lomo Saltado?
You can freeze the beef portion in an airtight container or freezer bag. Thaw overnight in the refrigerator.