I originally saw a recipe for Lomo Saltado in Food & Wine Magazine
. A nut for new ideas on food, this reminded of a steak stir fry or a southwestern steak frites. Which I love, so naturally, I needed to make it!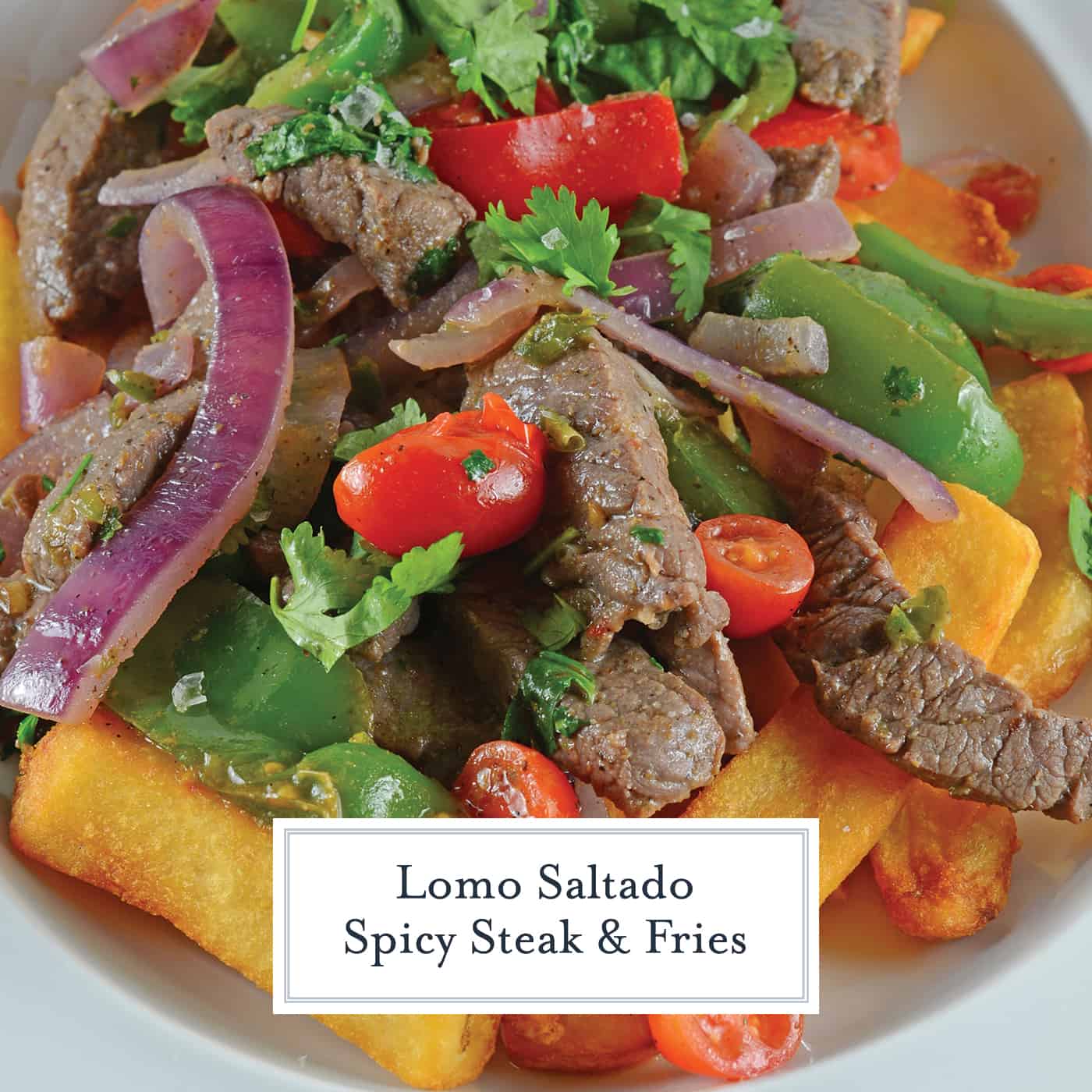 Lomo Saltado is a Peruvian dish using tender steak, onions, tomatoes, bell peppers and jalapenos over crispy French fries.
It is a quite popular Peruvian dish commonly served over rice, however I felt that was overkill with the French fries, so I omitted it.
Every culture has their version of "steak and potatoes" and I'm kind of in love with this one. Tender strips of seasoned sirloin are quickly fried and then tossed with onion, tomato, bell pepper and jalapeno.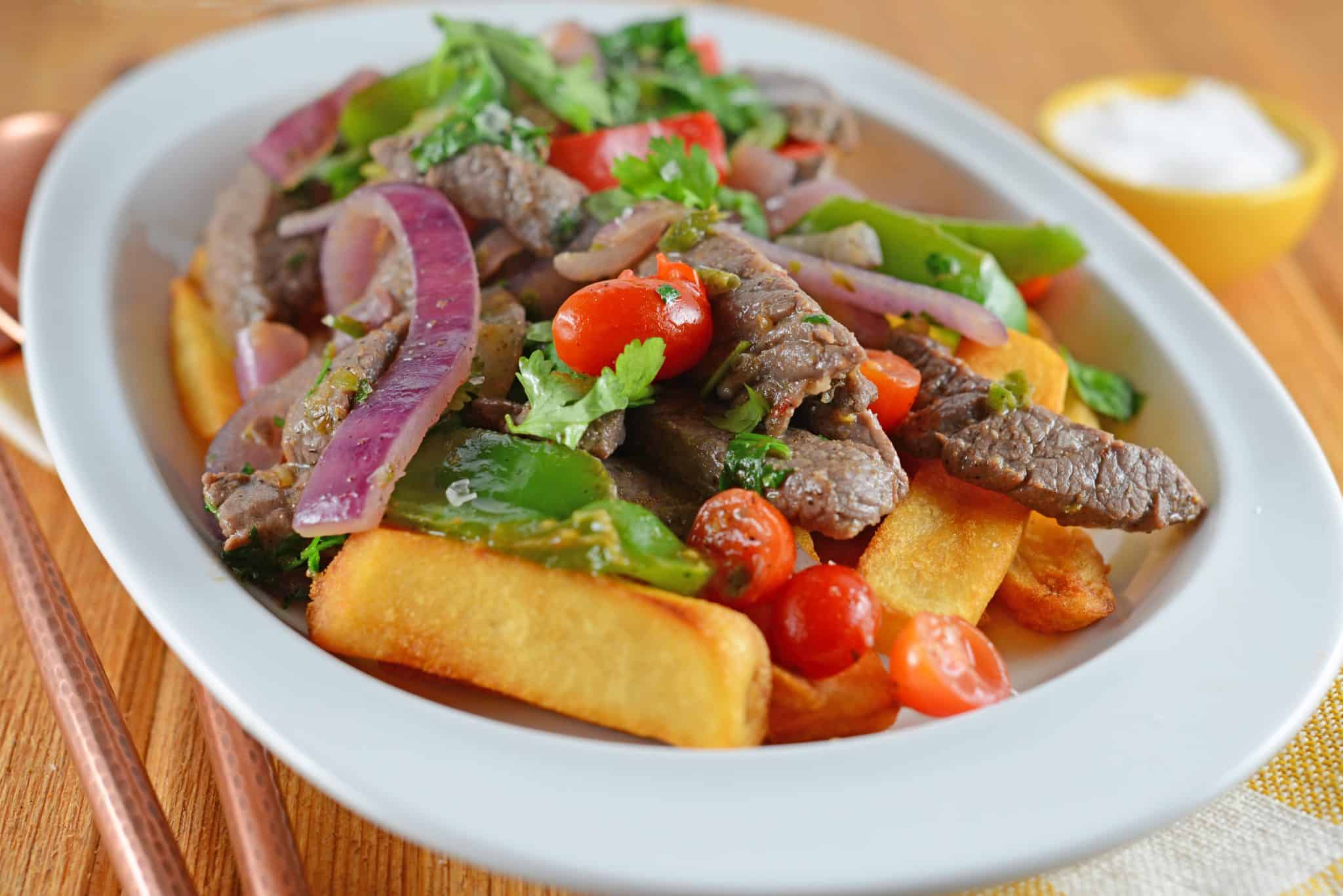 French fries are fried to a crispy golden brown so they can suck up the zesty au jus and seasoning. Just liked a spicer and more vegetable-ized version of Steak Frites.
I don't think there has ever been a recipe that I didn't modify somehow and Lomo Saltado was no exception. I increased the amount of garlic and French fries while adding green peppers and using fresh jalapenos instead of bottled.
While the original recipe calls for the steak and veggies to be cooked together, we prefer our steak rare and those veggies were not going to have enough time to cook, so I seared the meat separately from sauteing the vegetables. I also added in some hot sauce at the end for an extra kick.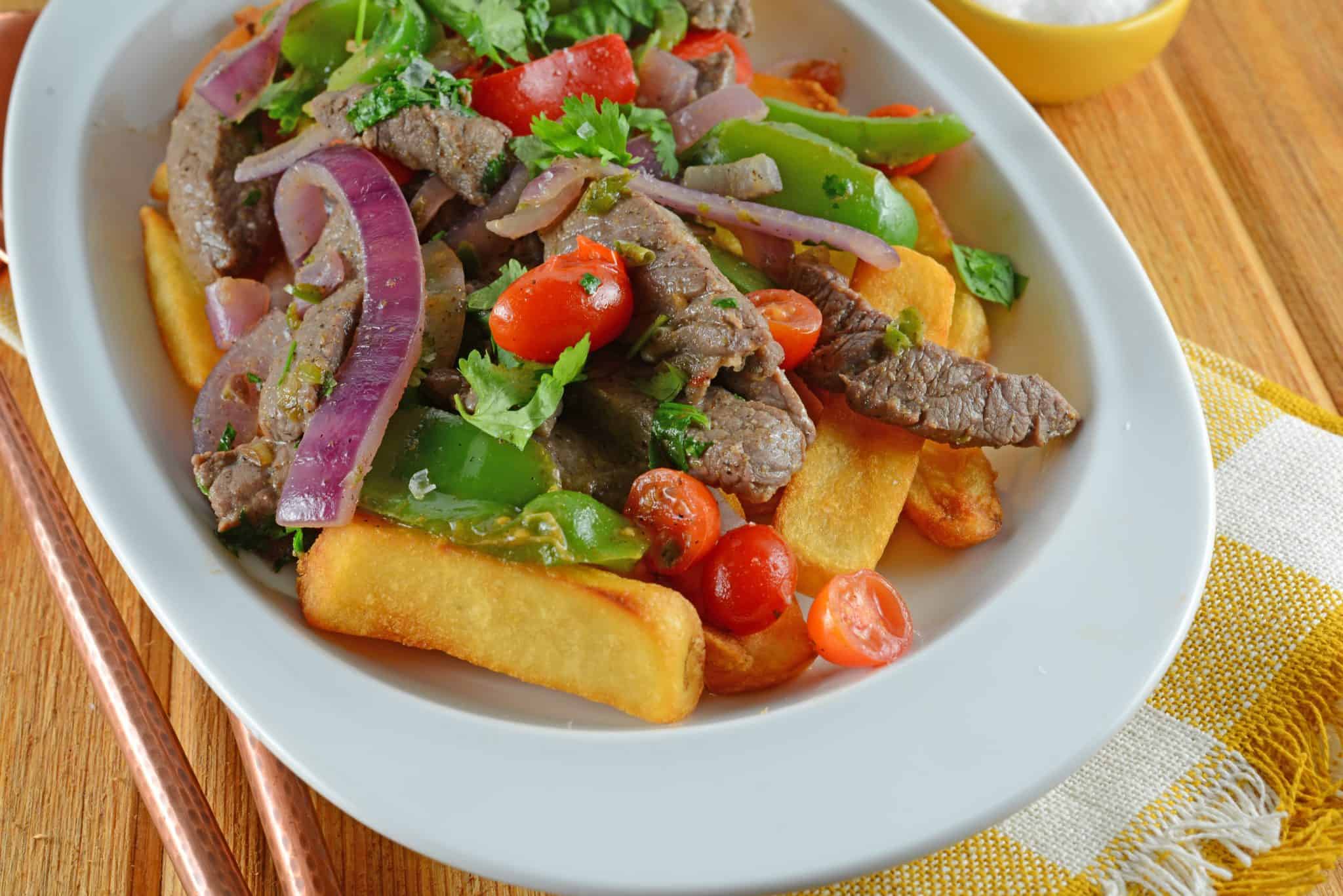 As for any recipe calling for slicing beef, it is important cut against the grain. It reduces the length of the fibers making them easier to chew and more tender.
Hubby says Lomo Saltado resembles the Garbage Plate, a regional Rochester dish made with a pile of random foods. Personally, I think Lomo Saltado is way better! It is also great for a weeknight meal.
Feel free to bake your French fries, although they might not be as crispy as frying them.
If you like this Steak and Potatoes recipe, , you'll also like these: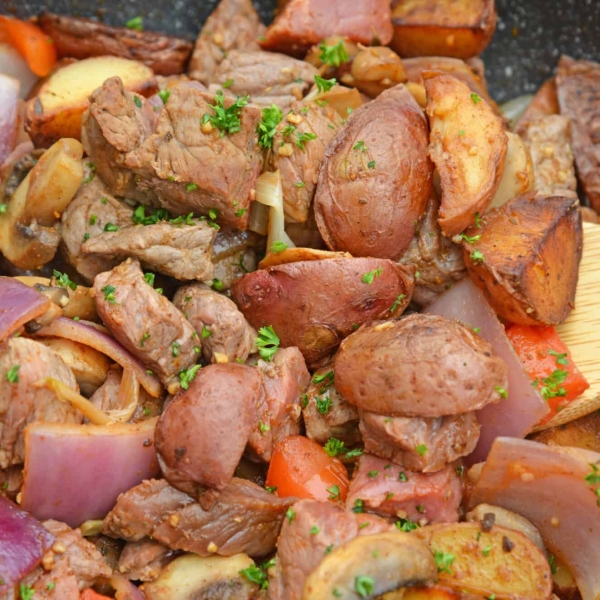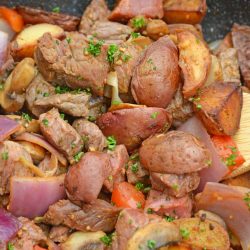 Steak Stir Fry
This Steak Stir Fry recipe is filled with lots of flavor and veggies. A beef stir fry makes a great meal for a busy weeknight!
View this recipe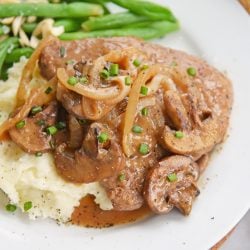 Easy Cube Steak Recipe
Cooking dinner every night can be challenging, but save both time and money with this easy Cube Steak Recipe with Mushroom Gravy!
View this recipe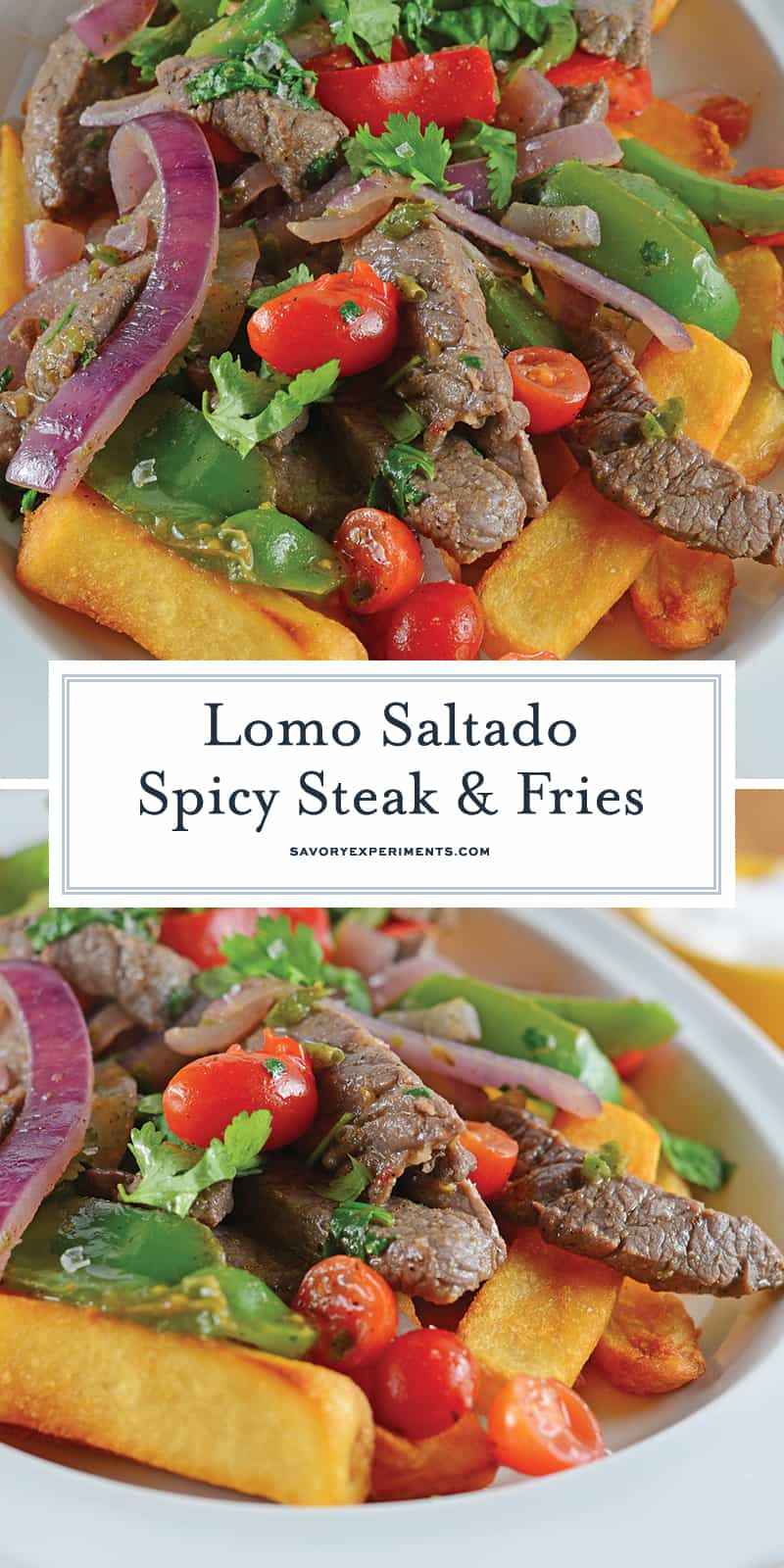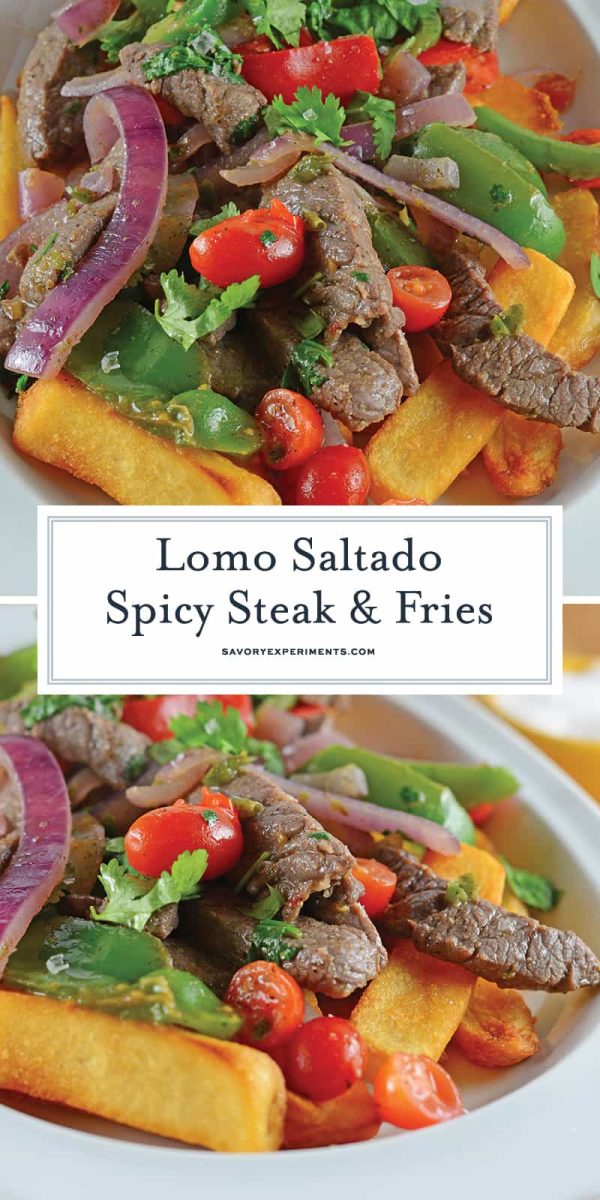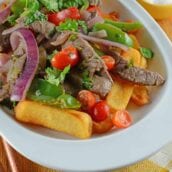 Lomo Saltado Recipe
Lomo Saltado is a Peruvian dish using tender steak, onions, tomatoes, bell peppers and jalapenos over crispy French fries.
Instructions
In a medium bowl combine cumin though pepper, mix well. Add steak and toss. Add extra virgin olive oil and toss again. Set aside for a minimum of 15 minutes. Meanwhile you can prep and cook the veggies.

Coat a large, high-sided skillet with cooking spray. Heat over medium-high heat. Add onions, garlic, bell peppers and jalapenos. Saute until vegetables are pliable and soft, but still hold their shape, approximately 5 minutes. Remove from pan and set aside.

Add steak strips with marinade and olive oil. Sear on all sides until you see no more pink. Return cooked vegetables to the pan. Add tomato, cilantro and hot sauce, toss. Heat for an additional 2 minutes.

To serve, place a bed of French fries on a plate or in a large bowl. Spoon steak and vegetable mixture over fries. I suggest waiting until right before you eat to combine fries with steak, otherwise they get mushy.

If you've tried this recipe, please come back and let us know it how it was!
Nutrition
Calories:
687
kcal
,
Carbohydrates:
39
g
,
Protein:
53
g
,
Fat:
34
g
,
Saturated Fat:
10
g
,
Cholesterol:
138
mg
,
Sodium:
1065
mg
,
Potassium:
1376
mg
,
Fiber:
6
g
,
Sugar:
1
g
,
Vitamin A:
180
IU
,
Vitamin C:
36.7
mg
,
Calcium:
93
mg
,
Iron:
5.7
mg