Sour Cream Pound Cakes are one of those recipes that have been around since the 1905's when people are flabbergasted with cakes that weren't just simple sugar, fat and flour.
Adding sour cream to cake batter or cream cheese to coffee cake, even mayo, was seen as out-of-the-box.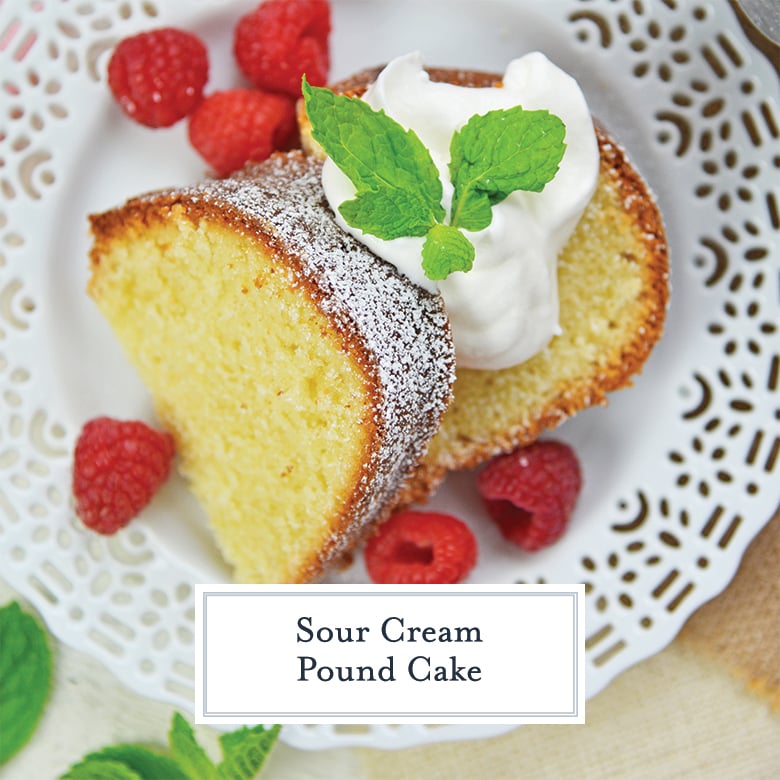 Pound Cake Recipes
Classic Pound cakes, as a rule, are a little heavy. If you want a light, moist crumb, this isn't your go-to cake. But when you need a comforting buttery dessert, they hit the spot.
They got their name because the original ingredient list was simple. One pound of butter, one pound of sugar and one pound of flour with a few eggs. Hence, pound cake. You never need to write it down!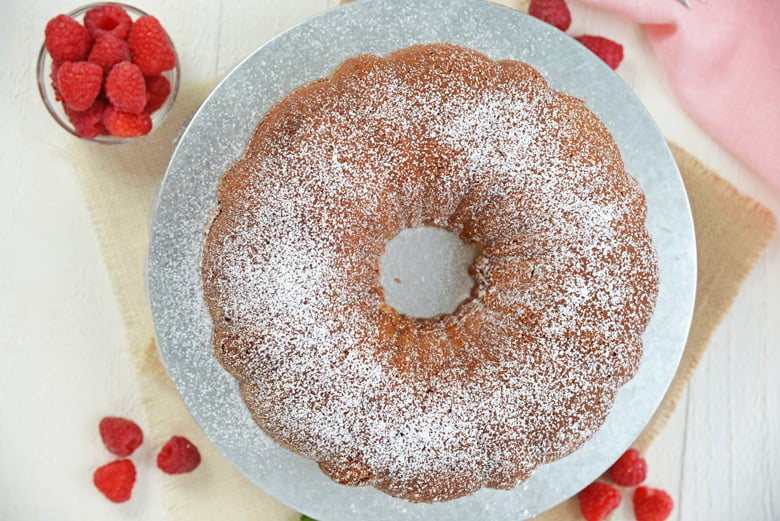 But with no leaveners or other flavors, this also meant they were heavy and needed to be accompanied by sauce or fresh fruit. Since, many variations of pound cake have emerged.
Sour Cream Pound Cake Recipe
Sour cream helps to lighten the cake and keep it moist, but this cake inherently doesn't have much flavor. It isn't supposed to. It is supposed to be a fairly lightly flavored cake perfect for serving with coffee or tea.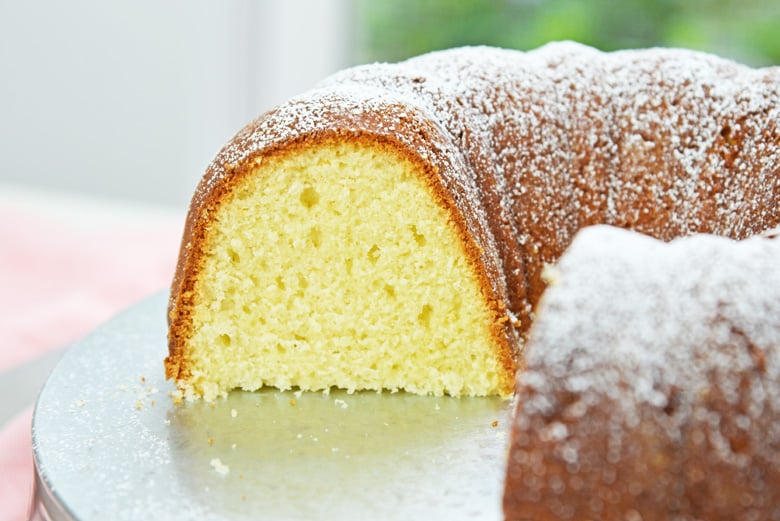 Sauces, fruit and powdered sugar are what add to taste and texture and those possibilities are endless! You can even substitute another type of extract for vanilla if you are going in that direction.
Butter, lemon, rum and almond are my personal favorites. These can also be incorporated into an easy glaze if you don't want to use powdered sugar.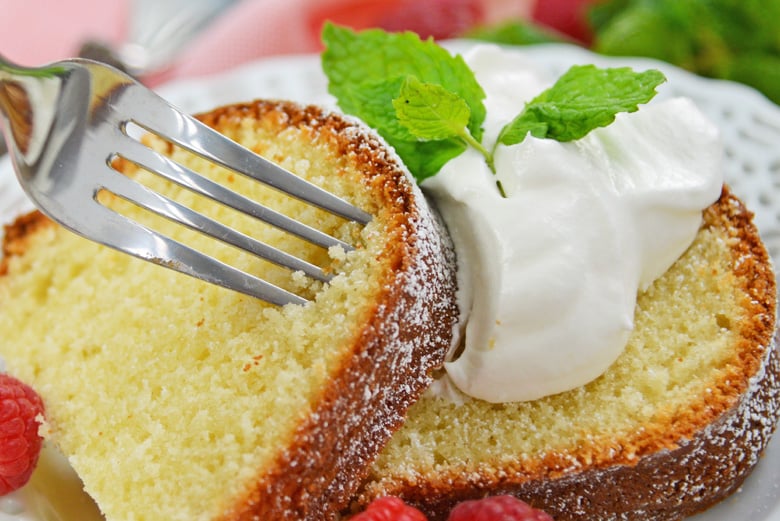 Ingredients
The ingredients for sour cream bundt cake are pretty straightforward and simple. Standard as far as cakes go.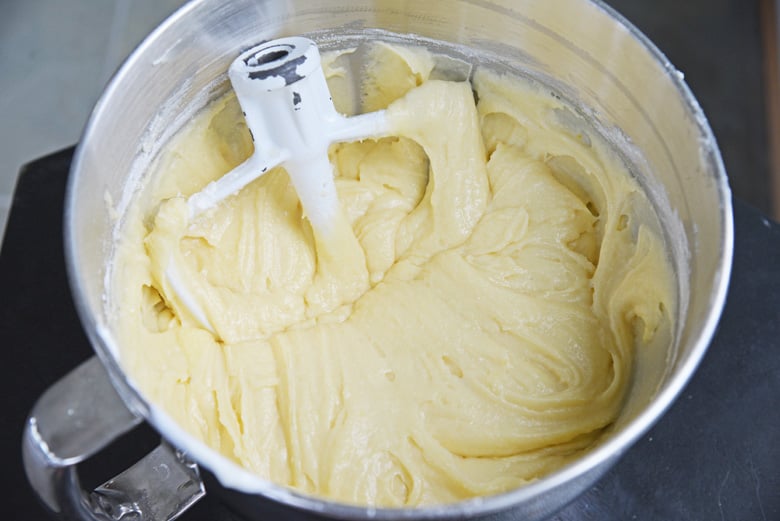 Unsalted Butter– Salt dries things out and brands can vary on salt content. Always bake with unsalted and then add salt as needed. Also, don't skimp with cheap butter- it is the base for the is cake. Use a good grade A butter.
Sugar- This is a rich cake, but not an overwhelming sweet cake. While it seems like a lot of sugar, this is also a LARGE cake and needs to balance out unsweetened cocoa.
Eggs- Creates structure and stability in the finished product.
Vanilla extract- use a good quality vanilla extract, not the imitation stuff.
Sour Cream– Use full fat! It adds moisture without thinning out the batter and also fat that gives it creamy texture and activates the baking soda.
Flour– Proteins that make up gluten and thus, structure and stability.
Baking Soda– Leavener to add fluff and neutralize acids.
Salt– Salt is essential in baking to bring out natural flavors and provide acidity.
Decorative Bundt Pans
They are so pretty. Ones that depict lovely winter scenes of ice skaters or have intricate lacework.
But know that the pretty cake might be harder to achieve than you think. Small peaks and intricate pictures also mean overcooked cake batter that is dry and crusty.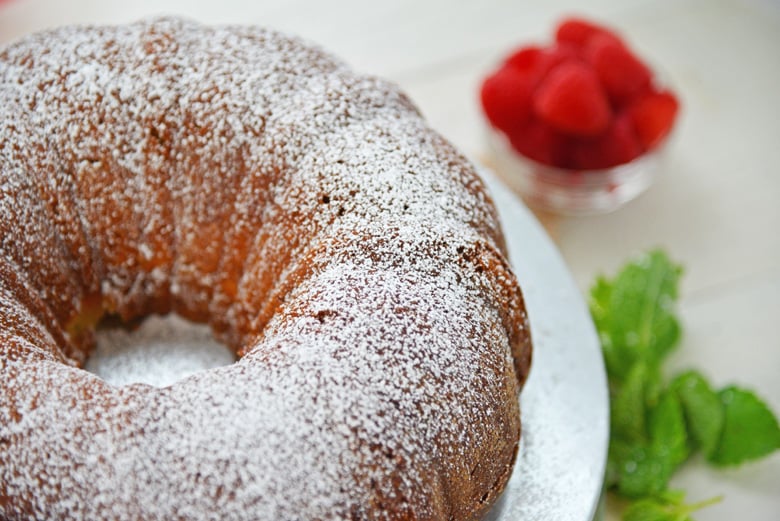 They are also harder to grease and flour- getting into small spaces. Use a pastry brush to help you out. Know the flour might cake in there too, preventing batter from filling it and thus leaving you with an incomplete pattern.
I have a few swirly ones I'll use, but I make mine pretty with sauces, powdered sugar, glazes and fruit garnish. It is safer and tastes better.
It is also a good tip to make cakes in the size and shape of pan that the recipe was intended. Using a tube pan for a loaf recipe could result in disaster and vice versa.
Pound Cake Glaze
I opted for just a confectioners sugar (powdered sugar) dusting and served caramel sauce on the side for this batch, however you can also choose to glaze it.
The simple cake glaze is just a mixture of 2 cups powdered sugar with 1 tablespoon milk and 1 tablespoon flavored extract. Vanilla is the most standard, but mix it up with rum, coconut, lemon or even butter for ultra velvety taste.
Mix together right before you are ready to ice, which should be after the cake is fully cooled. Then drizzle on top and allow to set or serve immediately.
Glaze will be tacky, so feel free to add small, lightweight embellishments at this stage.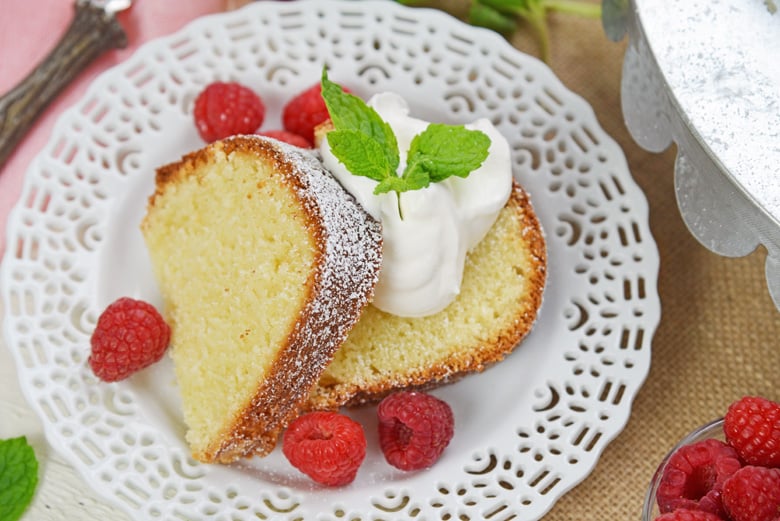 Trim the Bottom
It is a fact, most pound cakes aren't that pretty coming right out of the pan. Don't worry, dress it up and it will be pretty enough to enter any baking competition.
The first step is to trim the bottom. This is not necessary- the cake will taste just fine with an even bottom, but if you are serving it it, you might want it flat.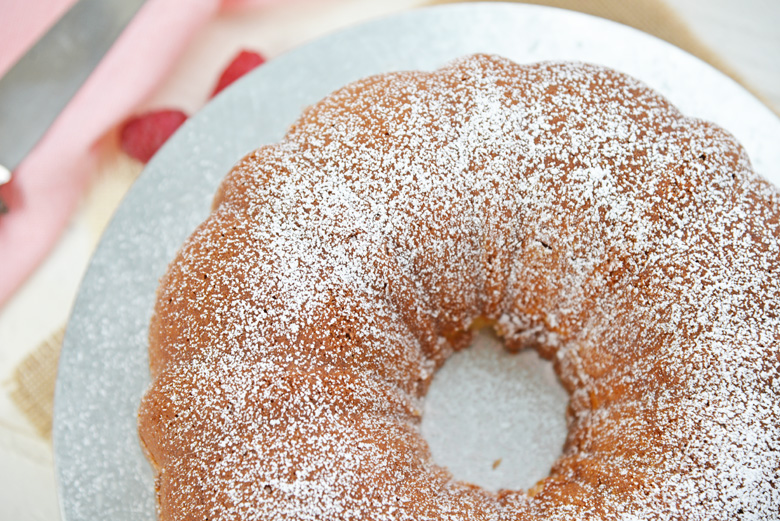 Use a serrated bread knife to trim it up to set pretty. Use the scraps as pieces for a trifle, for munching (by you) or if they are big enough, a dessert panini with marshmallow fluff.
Tips for BEST Pound Cake
I'm not assuming you don't know how to bake, but just skim these over as a refresher. This is a condensed version, check out my whole list for more details.
Measure wet and dry ingredients properly
Use high quality sugar with a large grain
Use grade A butter with little water and liquid fat
Make sure all ingredients are room temperature
Avoid over mixing
Use the size cake pan stated in the recipe
Grease your pans with vegetable shortening
Make sure you have the right oven temperature
Tip it out of the mold while warm (but not hot)
Allow to cool fully before adding sauce or icing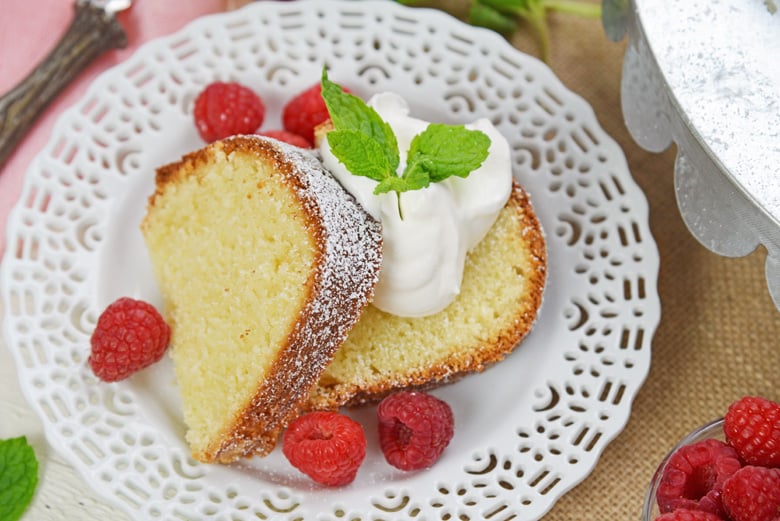 Pound Cake Toppings
Now you have a delicious, buttery pound cake- you need to make it extra special.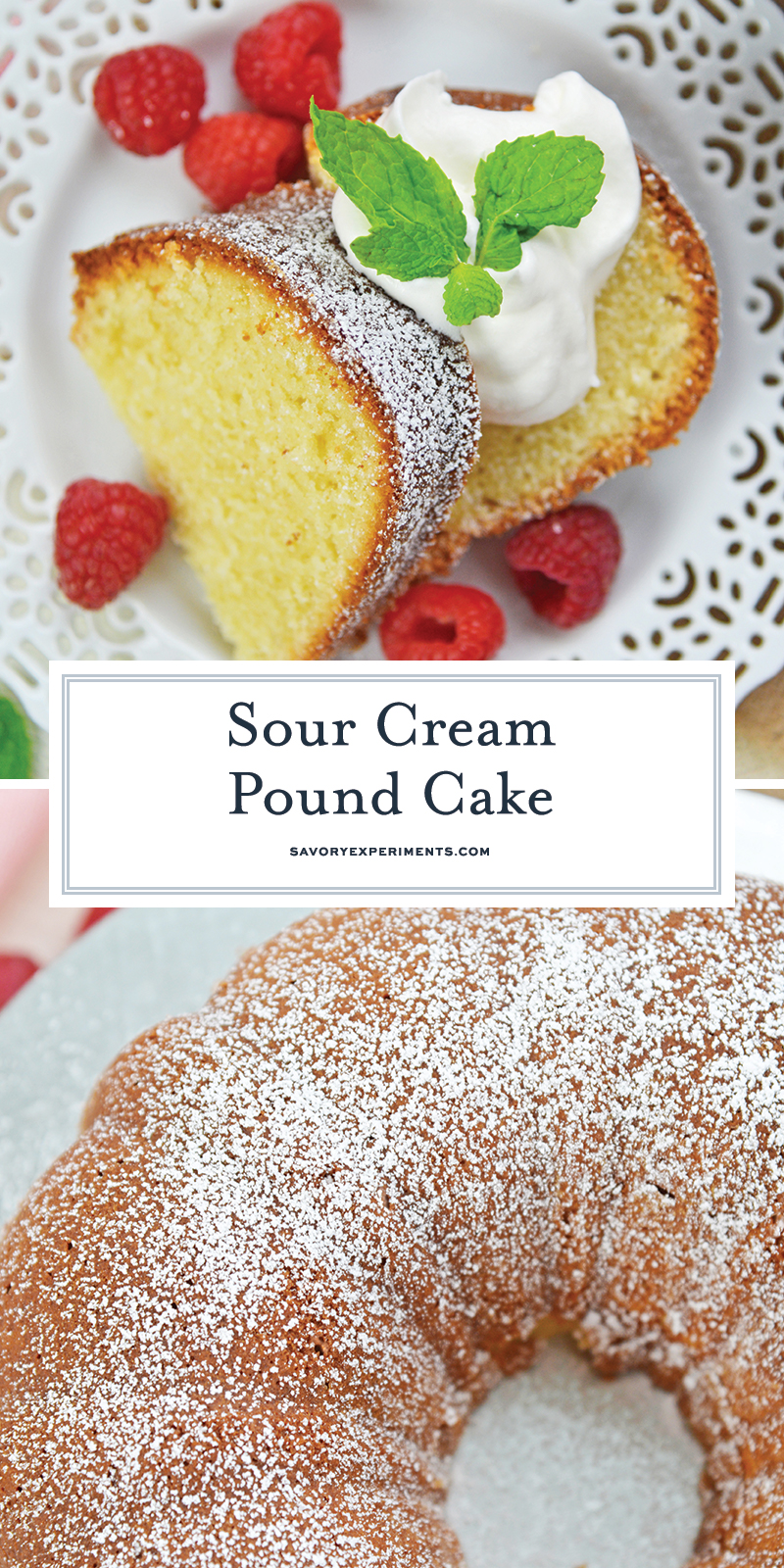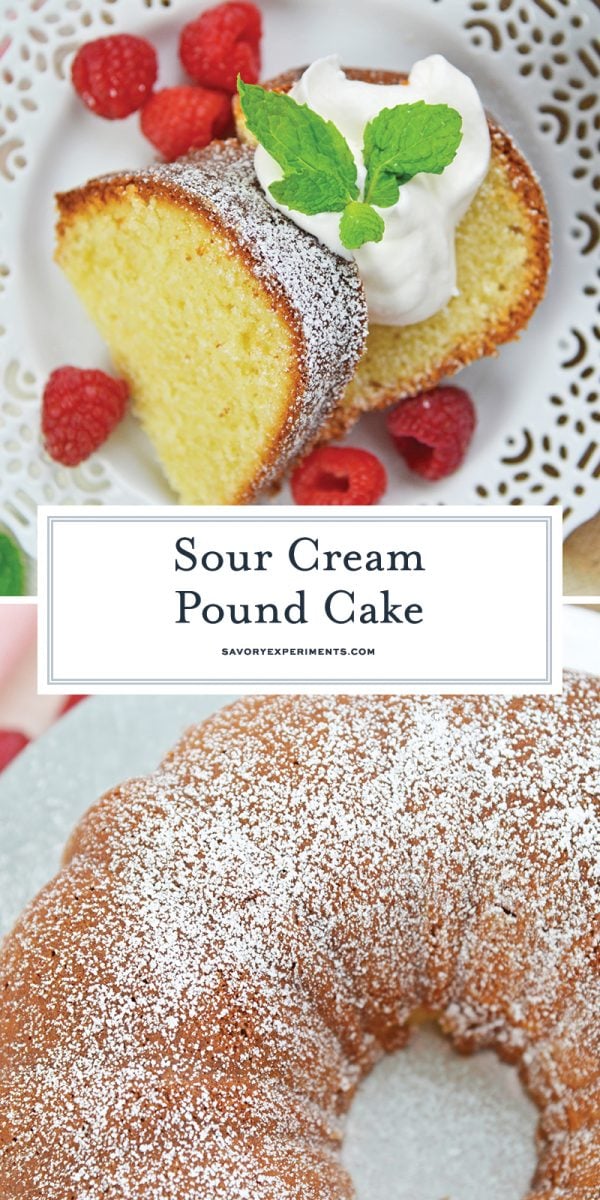 Now more delicious dessert recipes from #Summerdessertweek!
Welcome to the 4th Annual #SummerDessertWeek event hosted by Angie from
Big Bear's Wife
. We're celebrating all things summer with a week-long event that is absolutely filled with some of the best summer dessert recipes! Follow the hashtag #SummerDessertWeek on social media to find recipes and make sure to check out the bottom of this post for even more summer desserts!
Check out the amazing #SummerDessertWeek recipes from our bloggers today!
Ice Cream & Chilled Desserts:
Summertime Pies:
Sweet Summertime Cakes and Cupcakes:
No Bake Treats:
Baked Desserts: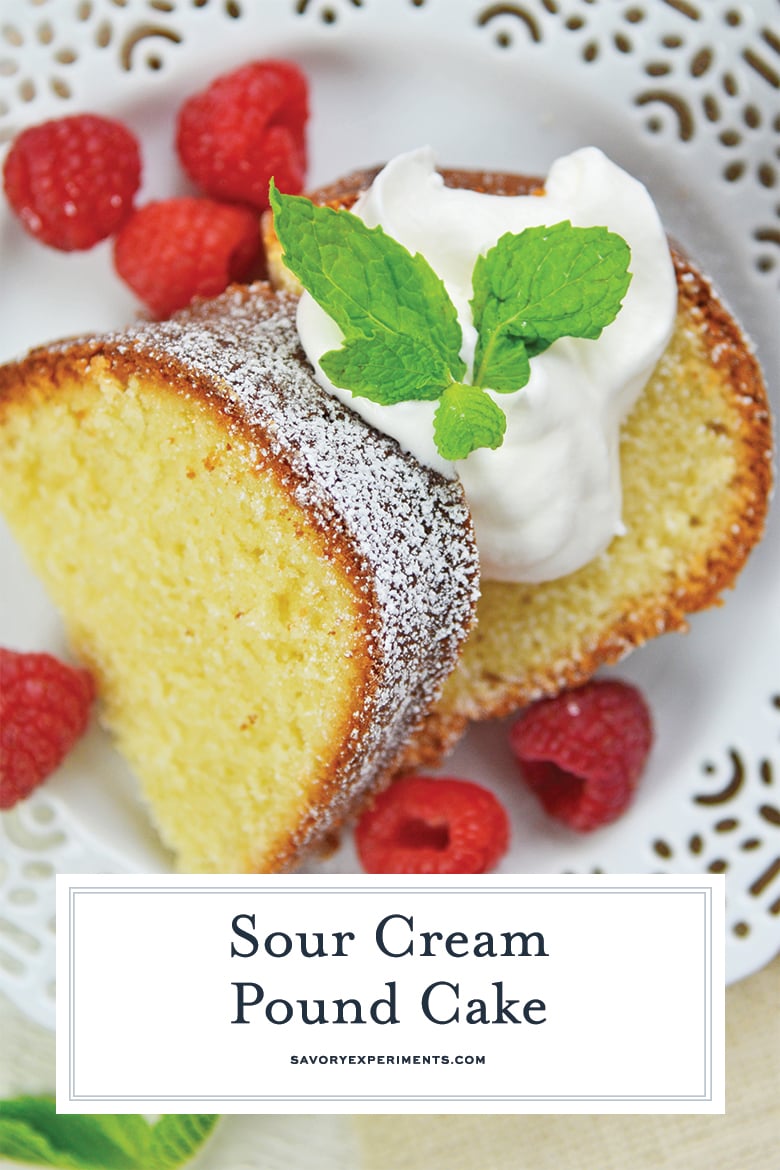 Amazing pound cake recipes:
Sour Cream Pound Cake
Sour cream makes this pound cake extra moist and buttery. Easy to make and serves up to 12- perfect for parties. Pair with sauce or fresh fruit.
Ingredients
Cake Pan Prep:
1

tablespoon

vegetable shortening

2

tablespoons

flour
Instructions
Preheat oven to 325 degrees. Grease a 10-inch fluted bundt pan with vegetable shortening and flour the pan with 2 tablespoons flour, tapping out excess.

Sift together flour, fine sea salt and baking soda. Please in a medium mixing bowl. Set aside.

In a large bowl or stand mixer fitted with a paddle attachments, beat butter for 3-4 minutes or until it pales and is light and fluffy.

Add sugar and continue to beat for 1 minutes.

Add eggs, one at a time, until yolk just disappears.

In small increments, add dry ingredients until just mixed.

Place in the center of your oven and bake for 60-70 minutes. Use the toothpick test at 60 minutes.

Remove and cool on a wire cooling rack for 10-15 minutes. Invert, tap the outside a few times with a wooden spoon, then release and flip.

Allow cake to cool completely before dusting with powdered sugar and garnishing with fresh fruit.

If you've tried this recipe, come back and let us know how it was in the comments and rating!
Nutrition
Calories:
496
kcal
|
Carbohydrates:
67
g
|
Protein:
7
g
|
Fat:
23
g
|
Saturated Fat:
13
g
|
Cholesterol:
132
mg
|
Sodium:
170
mg
|
Potassium:
95
mg
|
Fiber:
1
g
|
Sugar:
42
g
|
Vitamin A:
711
IU
|
Vitamin C:
1
mg
|
Calcium:
43
mg
|
Iron:
2
mg