Why mess with a classic? There really isn't a need. I've been making Betty Crocker's Vanilla Pound Cake for years.
It is such a versatile jumping-off point that can be modified using only extracts and citrus zest or dressed up with fresh whipped cream, vanilla custard, and fresh fruit.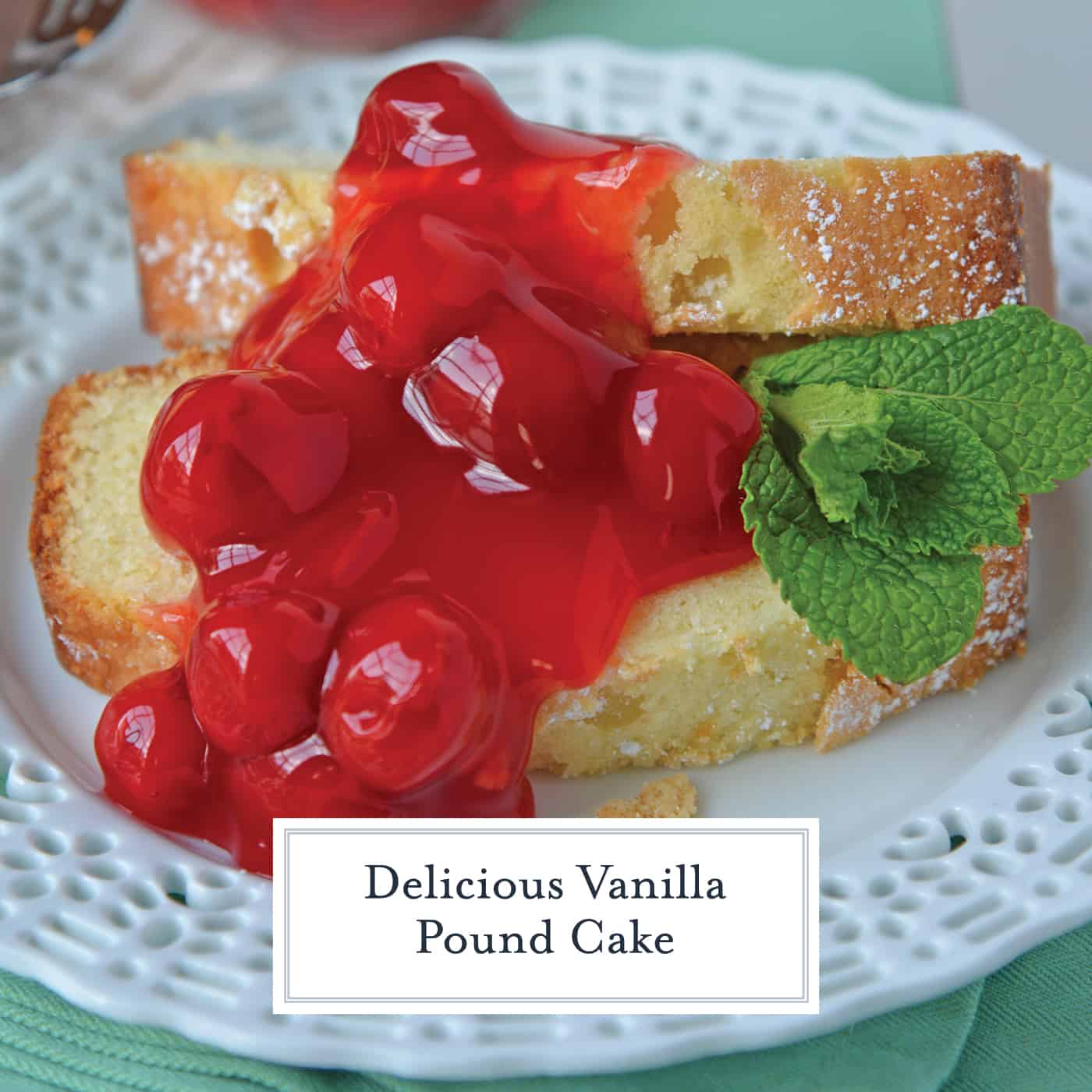 A classic Vanilla Pound Cake Recipe should be in every cook's recipe box. This is by the far best, soft and buttery pound cake out there!
Vanilla Pound Cake should be somewhat dense, but also meltingly tender and butt-er-ayyyyy. I think those qualities are what makes it so addictively delicious.
And it may seem a bit nutty, but this is a recipe that has been around since the 1700's. Yes, seriously.
Pound cake may seem like an odd name but it was named so after the original recipe. Did you know that bakers way back when were using one pound of butter, one pound of sugar, and one pound of flour, plus eggs and vanilla, of course?
Slightly different from the way we do it now, but it makes a whole lot more sense when you know the backstory.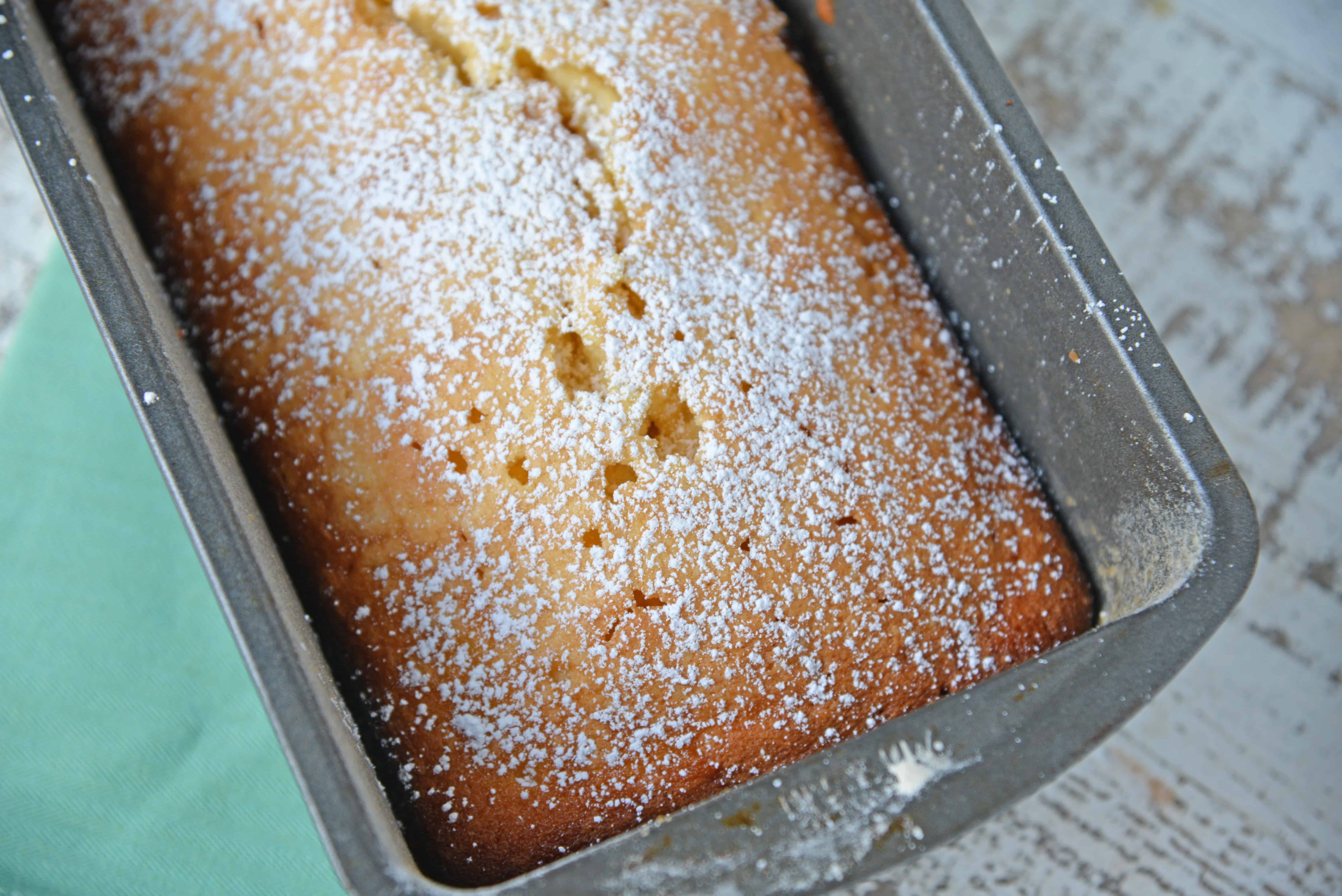 Through the years, this recipe has seen many iterations but despite all the changes, it still remains one of the best.
And while it is said to have originated in Europe, it has fast become one of those iconic "All-American" desserts that we all know and love.
Buttery, rich and decadent, pound cake can be served with a little sprinkle of powdered sugar or with a fresh fruit sauce, like my raspberry sauce. Better yet, try it with a drizzle or heavy pour of caramel or even fudge!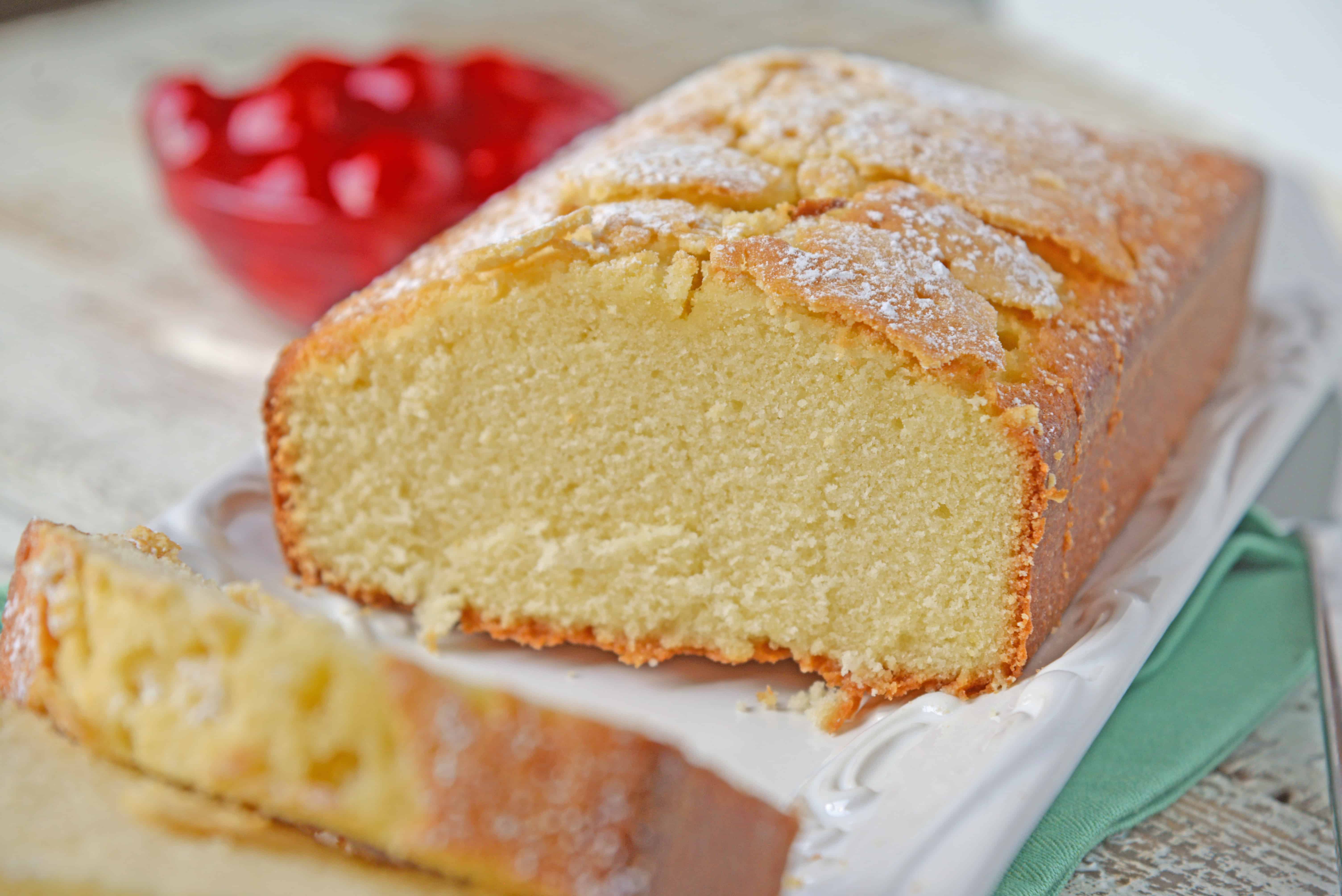 Try grilling stone fruit and combining with Classic Vanilla Bean Ice Cream or just sprinkling with powdered sugar.
You can go really nuts and throw a slice or two of the pound cake onto a well seasoned or buttered griddle to toast it and then top it with the grilled fruit.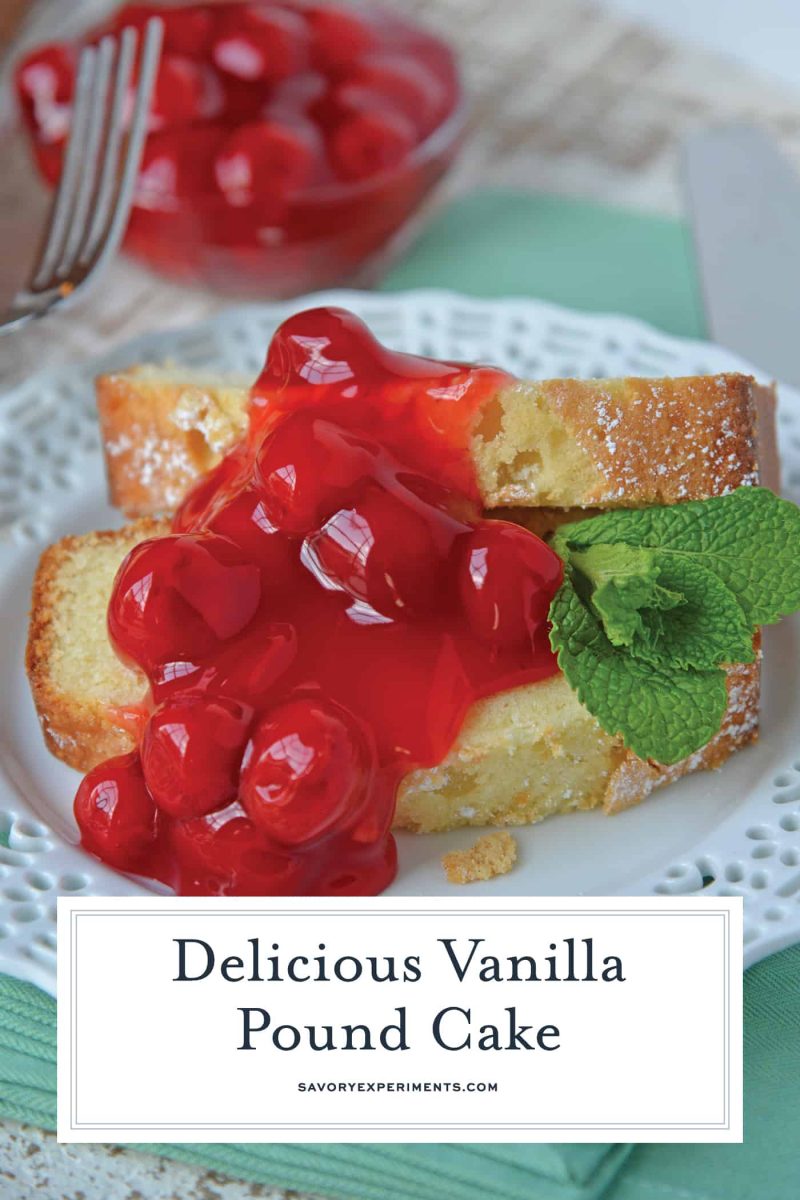 If you are feeling really fancy, try making my No-Bake Strawberry Layer Cake.
While it sounds like you will be baking (since you are looking at this recipe), you can also purchase a premade pound cake at the store to save on time and not heat up the house during the summer months. I won't tell a soul, I promise.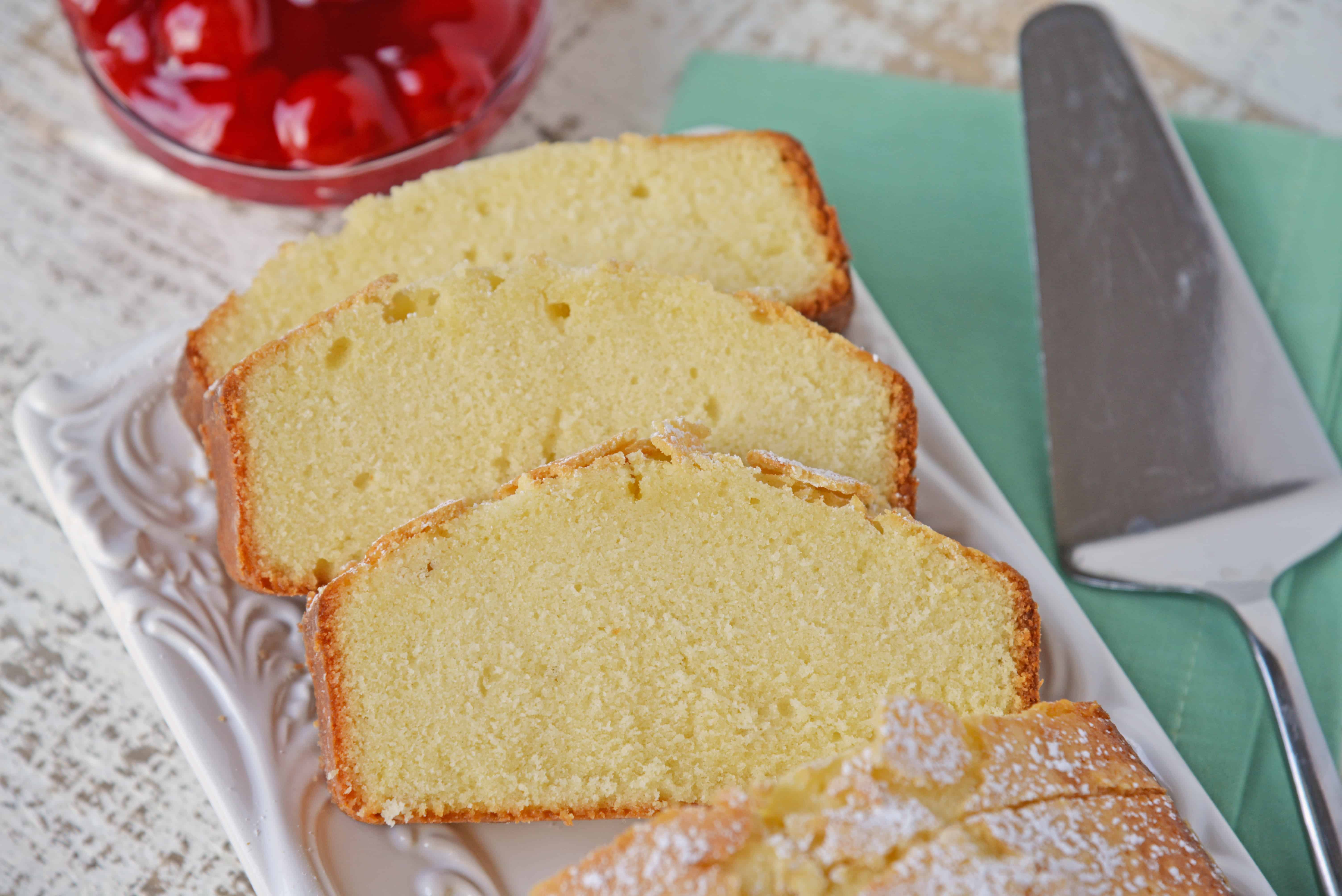 You can also use leftover slices that might be drying out a touch to make French Toast. Those same "on their way out" slices are fantastic in a bread pudding as well for a warm and equally decadent treat.
Mascarpone & Strawberry Stuffed French Toast is always a favorite in our house, just substitute vanilla pound cake for the brioche bread.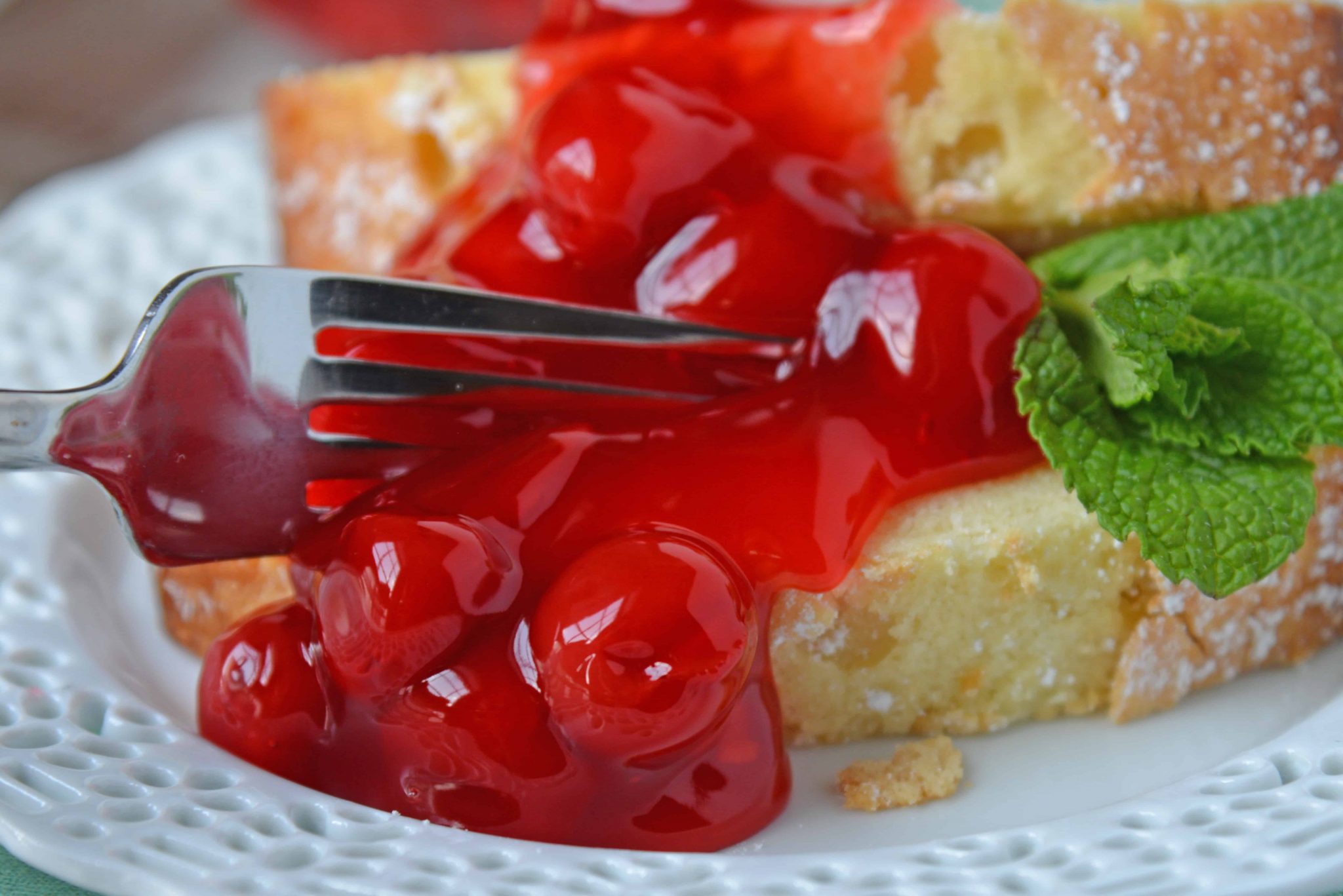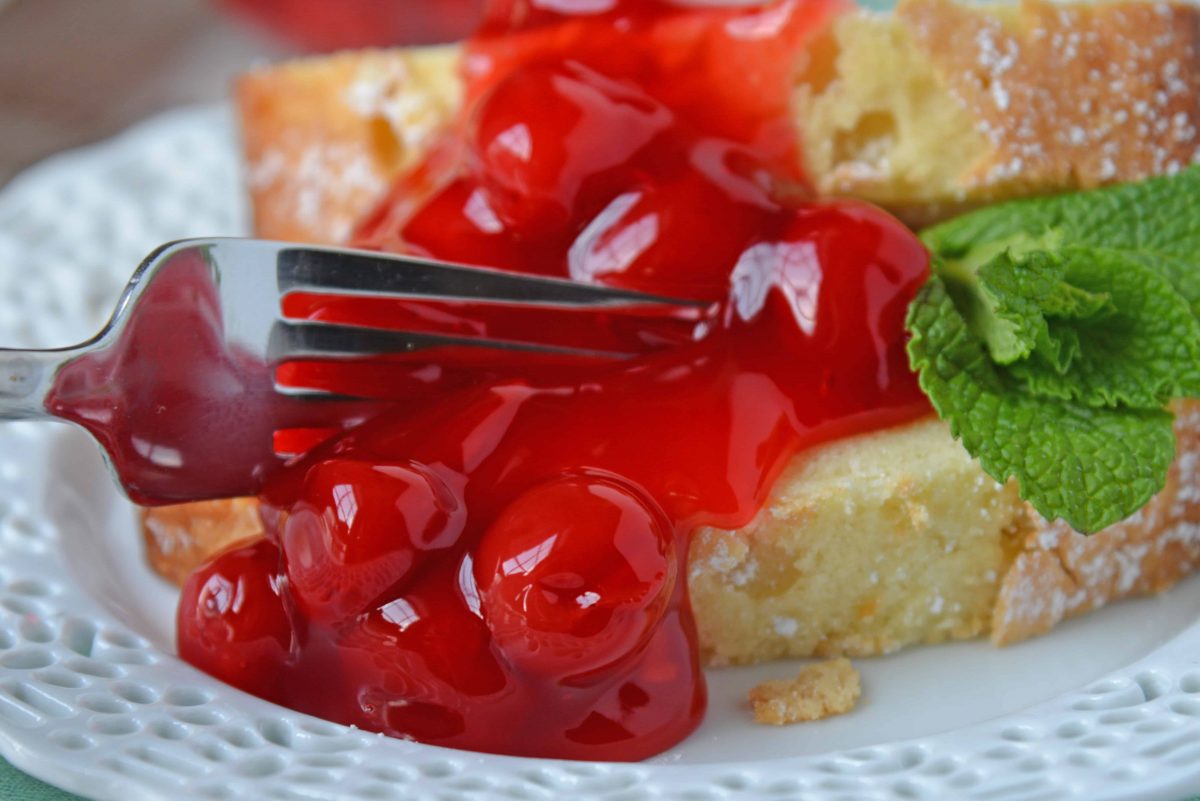 ONE. Do not overmix the batter. The most commonly made mistake in making a pound cake is overworking.
This is actually made easier when you are using a stand mixer because we overestimate how long the batter has been beaten. Pay attention or set a timer. You can also mix by hand and get a good arm workout!
TWO. Sift the dry ingredients. Even if you are using a boxed cake mix, sift the cake mix to get out any clumps. This will make it blend better, but also make it less likely that you will over mix.
If you don't have an actual sifter (I like the crank handle version) then gently shake your ingredients through a mesh colander.
THREE. Eggs. Eggs make a cake moist and yolks make them even more moist. Try adding one or two extra yolks to your favorite cake recipe and watch the crumb get even crumblier. Yes, I made that word up!
You can even omit egg whites altogether and use 2 egg yolks for every whAnother baker trick (that I have no tried…) for a light and fluffy cake is to use the egg whites, but seperate them and beat them to a froth, then fold them in. Much like you would for pancakes.
FOUR. Don't over bake your cake! This might seem like it is obvious, but many folks wait too long before taking the cake out of the oven and presto, dry cake. Whomp, whomp.
Don't let the top get lightly browned and use a cake tester. I also like to rotate my cakes while baking to avoid hot/cold spots.
FIVE. Measure your flour. You might think you measure your flour, but are you doing it correct?
Scoop flour into the measuring cup and level it off with a flat spatula or butter knife.
Don't pack it down, just let is sit how it did when you scooped it. Additional flour makes cake dry and even have a slight heap on your measuring cup could be the culprit. This is why measuring by weight is actually ideal, but you won't find those measurements in many American recipes.
If you are looking for even more pound cake recipes, check these out!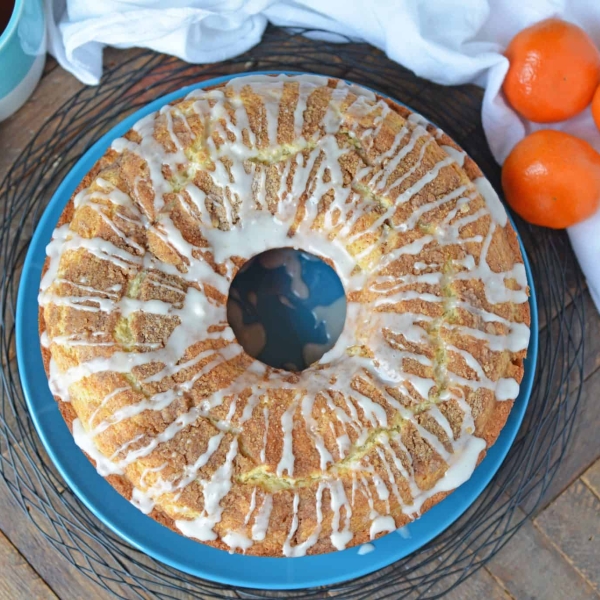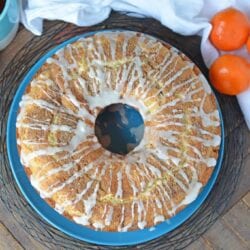 Sour Cream Coffee Cake
Sour Cream Coffee Cake is an easy coffee cake recipe with a streusel ribbon and crumb topping. Super moist without being overly sweet. Perfect for brunch or dessert.
View this recipe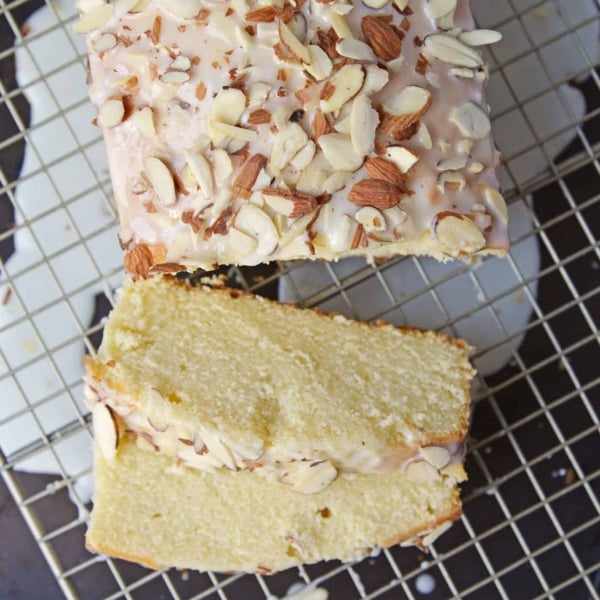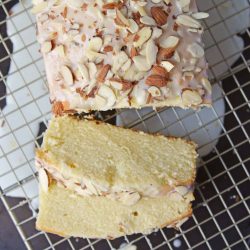 Almond Pound Cake Recipe
This Almond Pound Cake recipe is easy, moist and as dense as a pound cake should be. Topped with an almond pound cake glaze, it's the perfect dessert!
View this recipe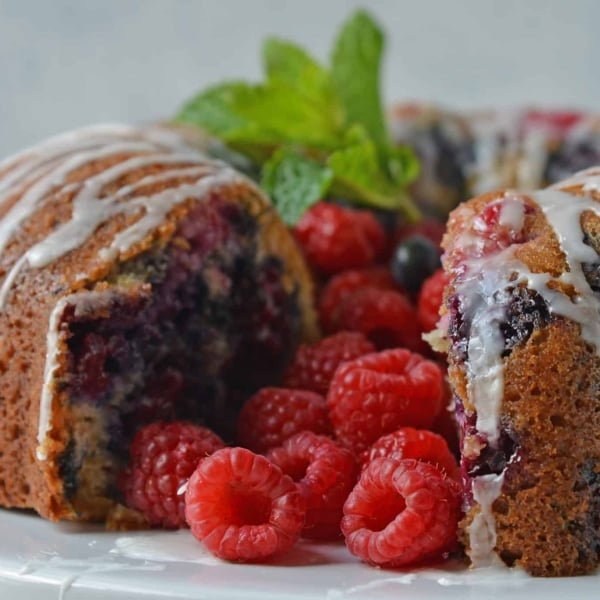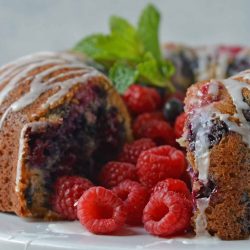 Berry Buttermilk Pound Cake Recipe
You will be making this Berry Buttermilk Pound Cake all year long! Recipes that use fresh berries make my favorite desserts, but this buttermilk cake can use frozen berries too.
View this recipe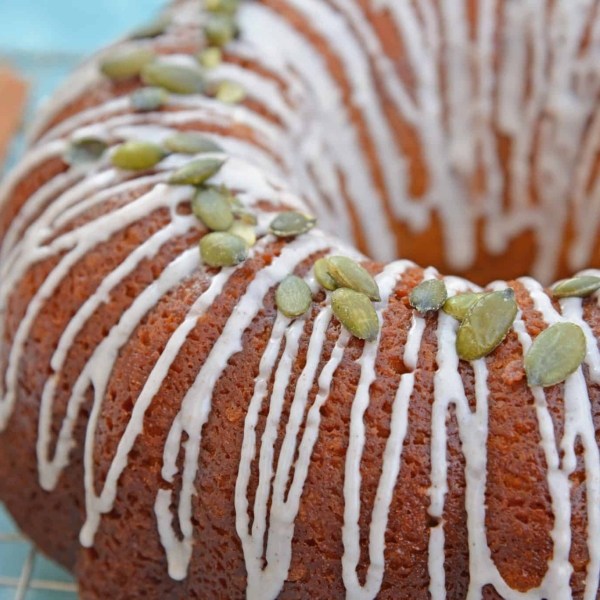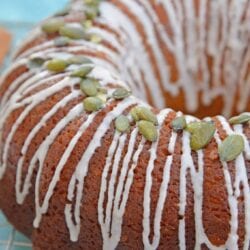 Starbucks Pumpkin Bread Recipe
Copycat Starbucks Pumpkin Bread is a moist and flavorful pumpkin pound cake perfect for pairing with a pumpkin spice coffee!
View this recipe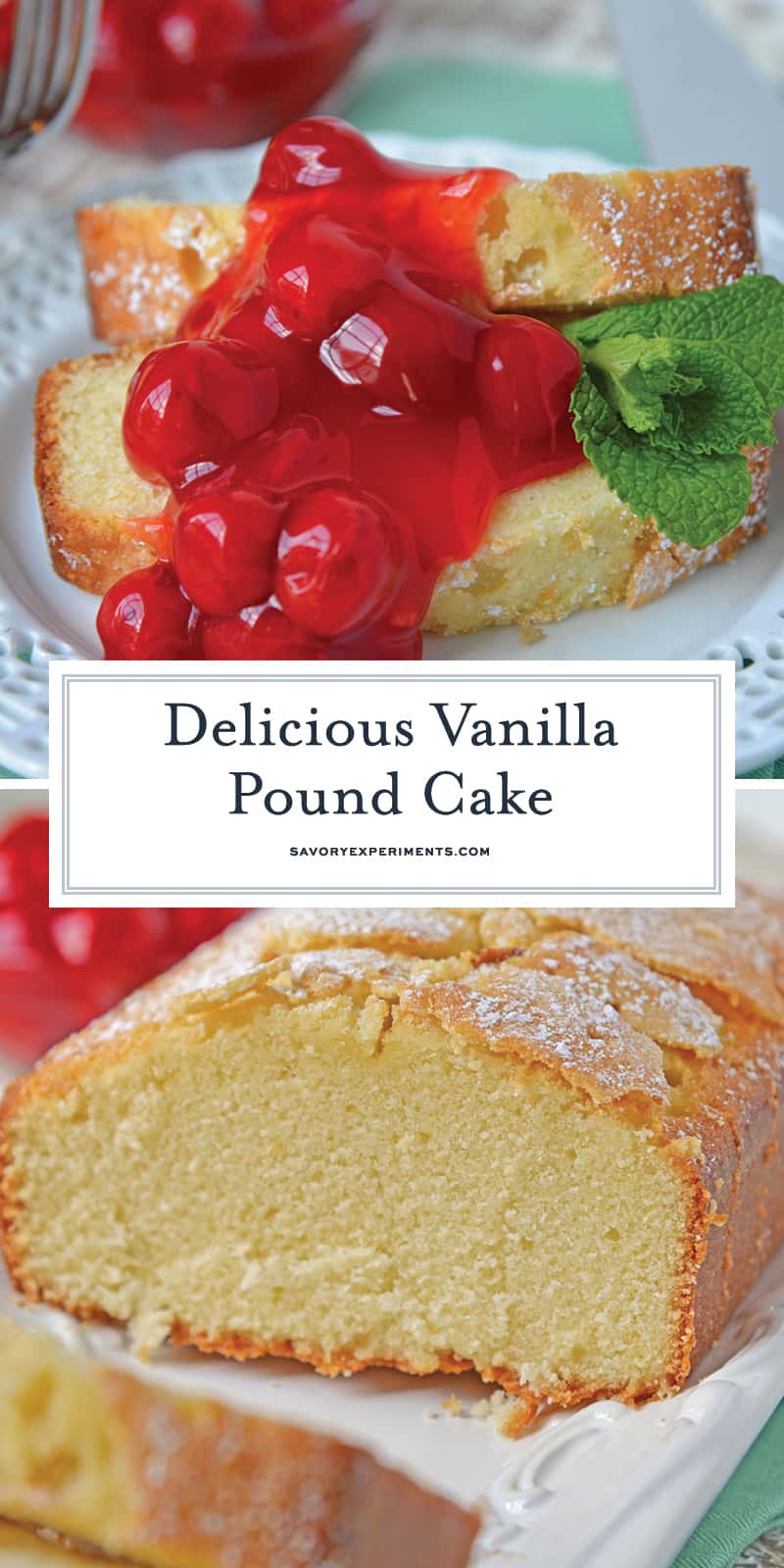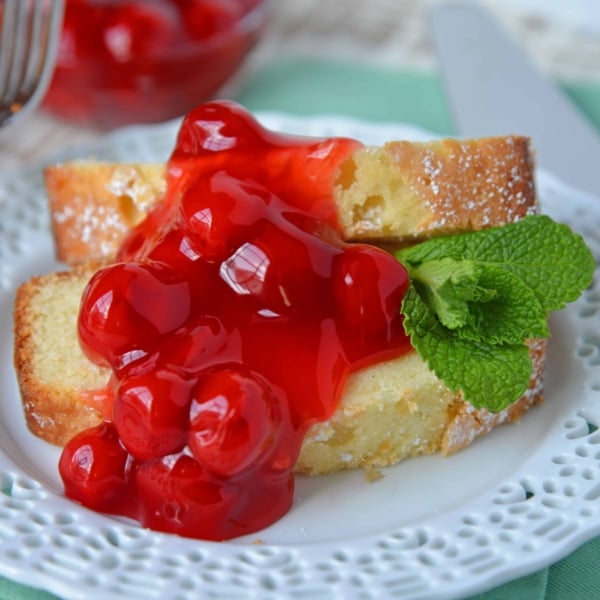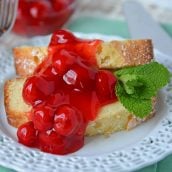 Vanilla Pound Cake Recipe
A classic Vanilla Pound Cake Recipe should be in every cook's recipe box. This is by the far best, soft and buttery pound cake out there!
Instructions
Heat oven to 350°F. Grease and lightly flour two 9×5-inch loaf pans.

In medium bowl, sift together flour, baking powder and salt; set aside.

In a large bowl or the bowl of a stand mixer fitted with the paddle attachment, beat sugar and butter until light and fluffy. Add vanilla and eggs, beating on high speed 5 minutes.

Add flour mixture into sugar mixture alternately with milk on low speed, beating just until smooth after each addition. Pour into pans.

Bake 55 to 60 minutes, or until toothpick inserted in center comes out clean. Cool 20 minutes; remove from pan(s) to wire rack. Cool completely, about 2 hours. Sprinkle with powdered sugar.
Notes
You can substitute any extract flavoring you'd like, this also tastes great with almond and lemon flavoring.
Nutrition
Calories:
2703
kcal
,
Carbohydrates:
400
g
,
Protein:
37
g
,
Fat:
108
g
,
Saturated Fat:
64
g
,
Cholesterol:
665
mg
,
Sodium:
1317
mg
,
Potassium:
742
mg
,
Fiber:
5
g
,
Sugar:
256
g
,
Vitamin A:
3630
IU
,
Calcium:
341
mg
,
Iron:
10.9
mg