Fulfill all your chocolate cravings with this moist, flavorful and totally rich Chocolate Pound Cake recipe. Easy to make with one special ingredient that will bring out the best chocolate-y flavors! I bet you can't guess what it is…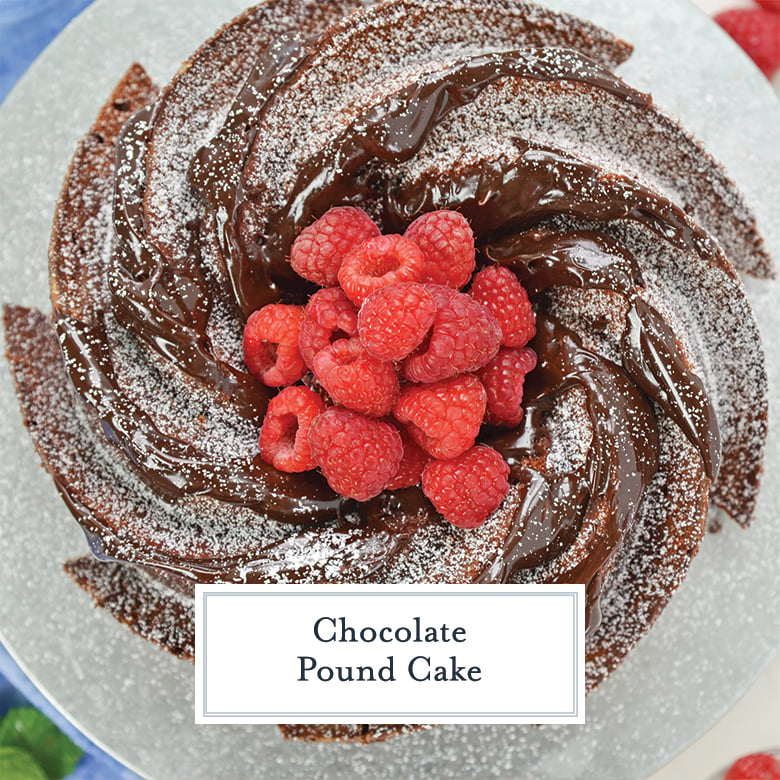 Pound Cake Recipes
Pound cakes, as a rule, are a little heavy. If you want a light, moist crumb, this isn't your go-to cake. But when you need a comforting buttery dessert, they hit the spot.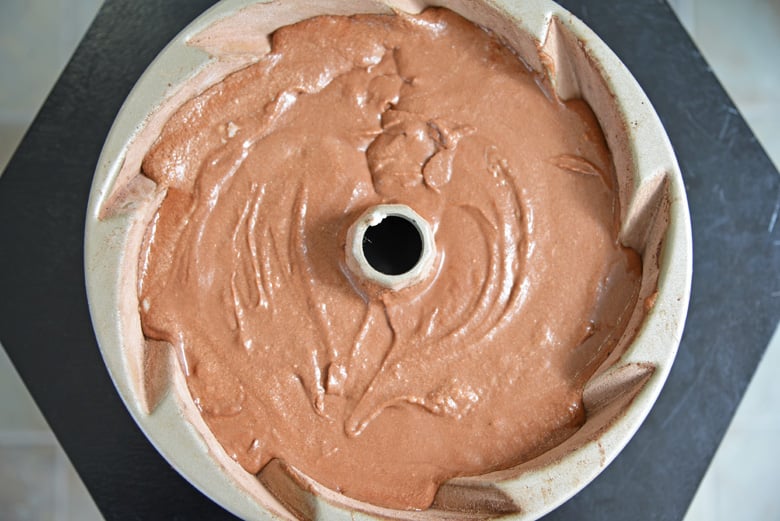 The original ingredient list was simple: one pound of butter, one pound of sugar and one pound of flour with a few eggs = POUND cake.
But with no leaveners or other flavors, this also meant they were heavy and needed to be accompanied by sauce or fresh fruit. While pound cake still isn't thought of as being light and fluffy, newer recipes use some leaveners and have made the iconic dessert a little less dense and a lot more velvety. Since, many variations of pound cake have emerged.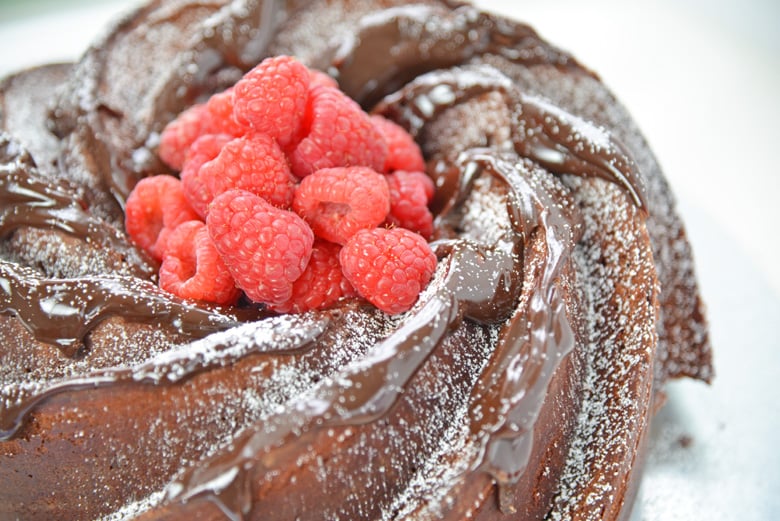 Some of my other favorites include Almond Pound Cake, Key Lime, Strawberry Cake, Sour Cream Bundt Cake, 7 Up Pound Cake and my classic Butter Pound Cake.
Ingredients
The ingredients for chocolate pound cake are pretty straightforward and simple. Standard as far as cakes go.
Unsalted Butter- Salt dries things out and brands can vary on salt content. Always bake with unsalted and then add salt as needed. Also, don't skimp with cheap butter- it is the base for the is cake. Use a good butter.
Sugar- This is a rich cake, but not an overwhelming sweet cake. While it seems like a lot of sugar, this is also a LARGE cake and needs to balance out unsweetened cocoa.
Eggs– Creates structure and stability in the finished product.
Vanilla extract– use a good quality vanilla extract, not the imitation stuff.
Buttermilk– no buttermilk? No problem! Using this adds fat and also moisture, but there are several buttermilk substitutions if you don't have the real deal.
Flour– Proteins that make up gluten and thus, structure and stability.
Unsweetened Cocoa Powder– This is a chocolate cake, so I highly recommend using a good quality cocoa powder. A Dutch processed will give you fudgier results, while natural will be little more crumby.
Baking Powder– Leavener to add fluff.
Salt– Salt is essential in baking to bring out natural flavors and provide acidity.
Instant Espresso– Um, excuse me? Read on…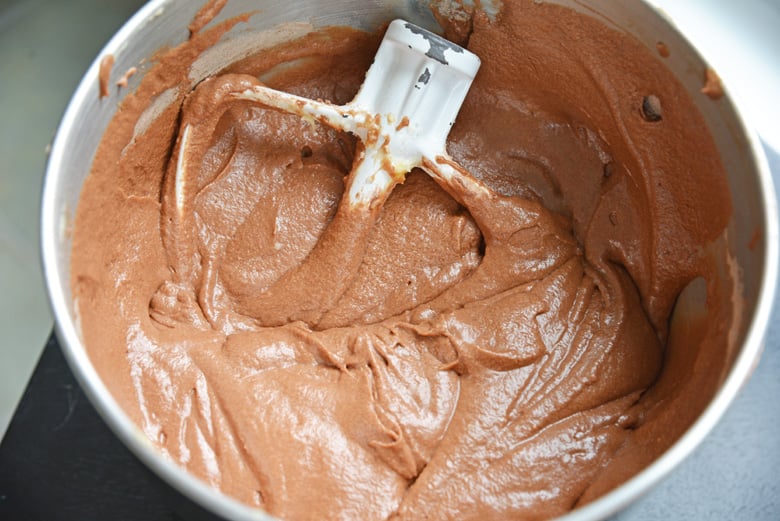 Coffee in Chocolate Recipes
At first you might reread this, but yes, I add coffee, espresso in this case, to my chocolate bundt cake. To many of my chocolate recipes, actually.
You see, coffee helps to bolster and amplify rich chocolate flavors and very rarely tastes like actual coffee.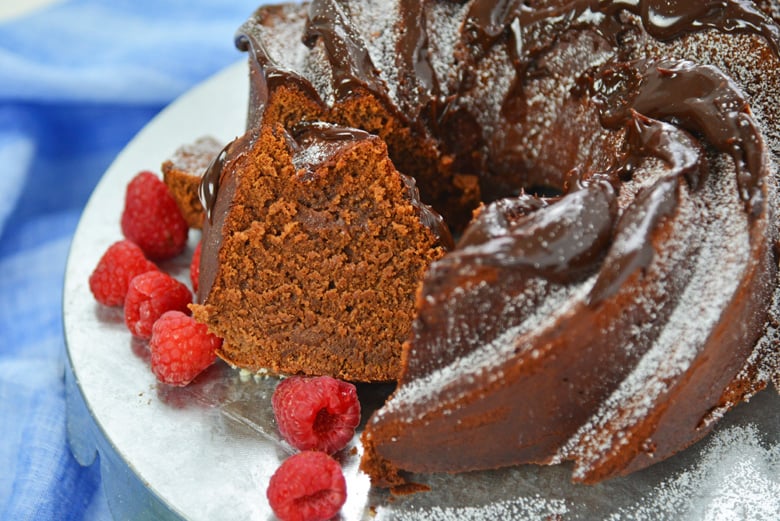 Using instant means that the coffee is intensified in a small amount of liquid, much more potent than just 1/2 cup of brewed coffee. Please remember that the caffeine will stay in the baked good, so if you are serving to pregnant woman, children or just don't want caffeine in your after dinner dessert, use a caffeine free instant coffee.
I made this mistake last night and had a slice around 8:15.. and then didn't fall asleep until nearly 1AM. Ugh…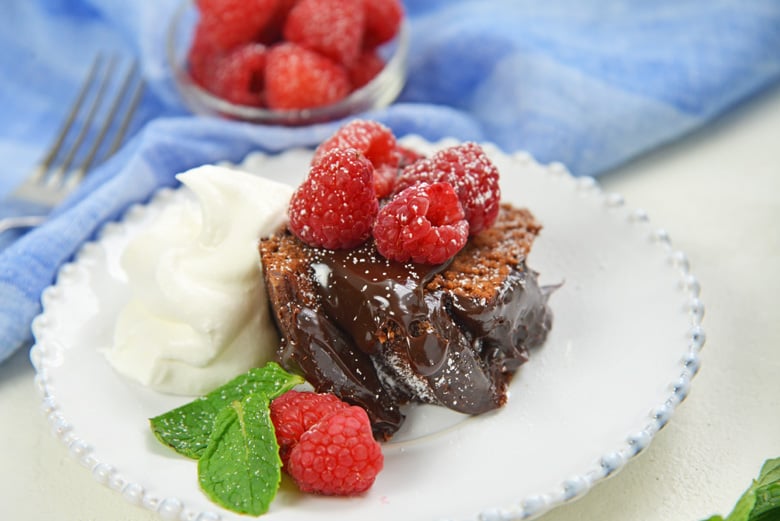 If you are really opposed to coffee you can substitute with an additional 1/4 cup of water or skim milk. Buttermilk is a little too thick to be a good swap.
Tips for BEST Pound Cake
I'm not assuming you don't know how to bake, but just skim these over as a refresher. This is a condensed version, check out my whole list for more details.
ONE: Measure Correctly – spoon dry ingredients into the measuring cup or spoon and get down to eye level for wet.
TWO: Sugar – Use the right type of sugar and know that brand names typically have larger granules, resulting in less per volume. Cheap off-brands can make for a cake that is too sweet or falls.
THREE: Butter – Use a good quality butter, lower grades have more water or liquid fats. Beat your butter for 1-7 minutes to incorporate in air to make it light (as light as pound cakes get) and fluffy.
FOUR: Room Temperature Ingredients – Not just the butter, all of it! Cold ingredients will bring the down the overall temperature of your cake batter.
FIVE: Do Not Overmix– Overmixing after beating the butter will make it tough, rubbery and dry.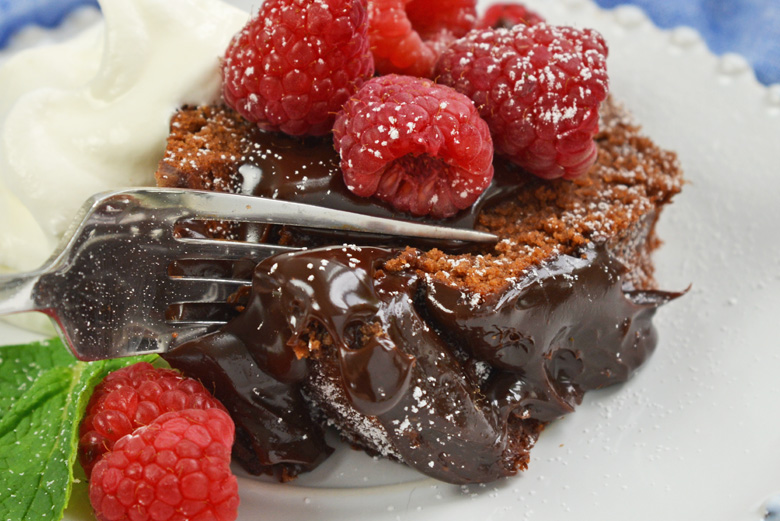 SIX: Cake Pan– Use the pan the recipe calls for- using a different pan, like a super decorative pan or a loaf pan, could result in poor results, undercooking, overcooking or batter overflowing from the pan.
SEVEN: Grease Your Pans– Grease them with vegetable shortening, not cooking spray. Spray on cake pans can prevent them from rising and impact flavor.
EIGHT: Oven Temperature– Preheat oven to 15 degrees higher than a recipe calls for, then reduce when you put the cake in. Having the door open reduces the temperature drastically, this offsets it. Then don't open the door while cooking!
NONE: Cooling- Allow your cake to cool in the pan on a cooling rack for 10-15 minutes. Invert and dump it while it is warm and not hot or cold- it is still pliable then. Let it cool completely before frosting or dusting with powdered sugar.
Toppings
This cake is divine without any topping at all or just a light dusting of powdered sugar, but if you want to take it a notch further, try fudge sauce, chocolate ganache, a simple powdered sugar glaze and sprinkle some mini chocolate chips. I also like caramel sauce, because, well caramel and chocolate are a match made in heaven!
You can even top it with crushed pieces of candy like Snickers or Twix. Just make sure to do the sprinkling while the icing or fudge is still tacky.
Powdered sugar can be applied right before serving, otherwise is tends to absorbs into the soft cake. I use fudge sauce and powdered sugar here.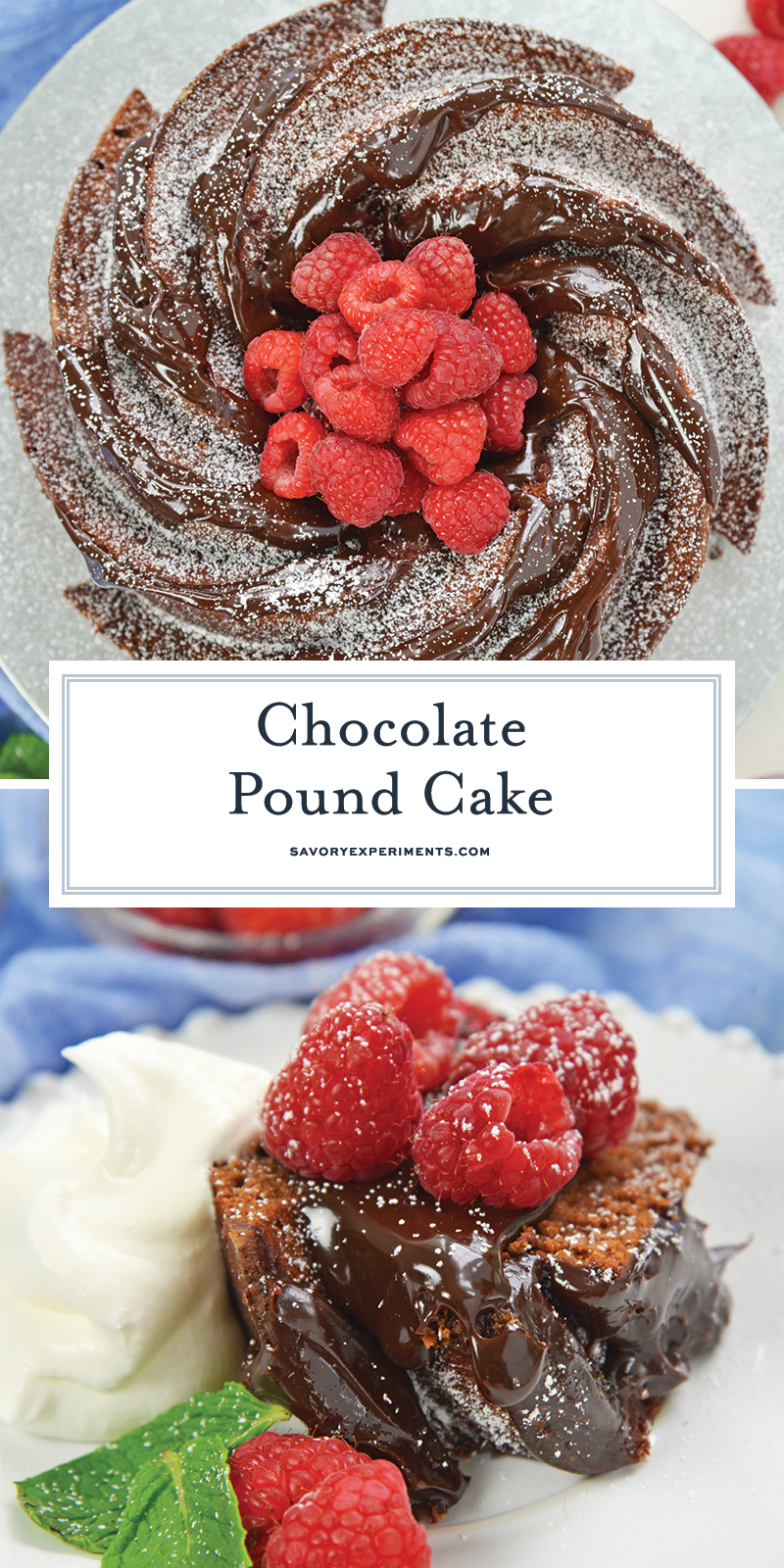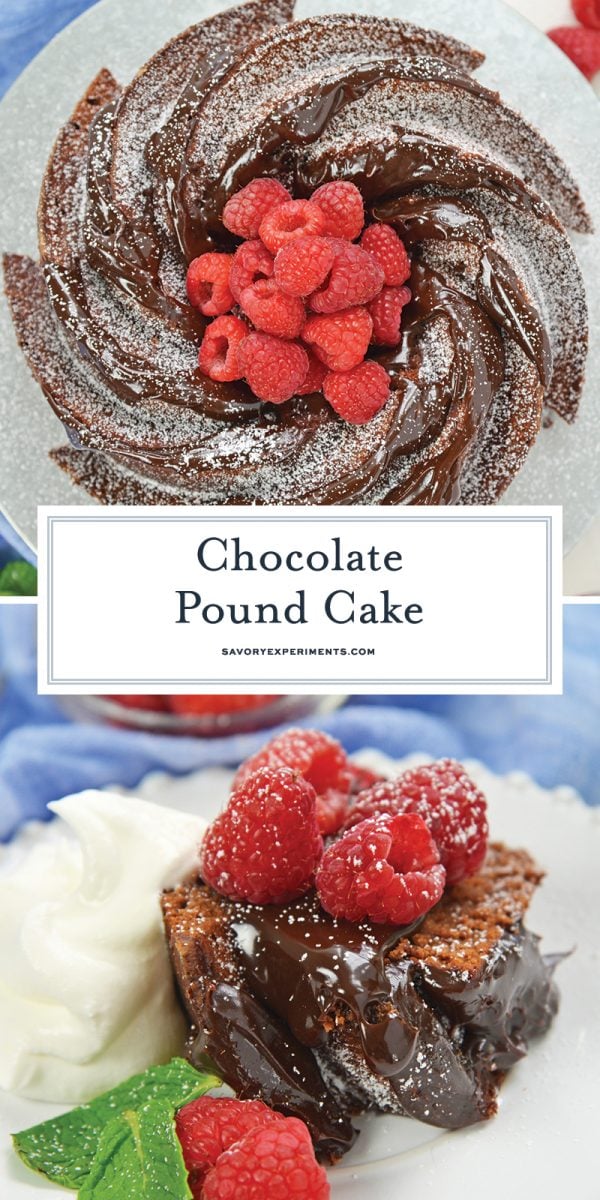 More desserts!
Welcome to the 4th Annual #SummerDessertWeek event hosted by Angie from
Big Bear's Wife
. We're celebrating all things summer with a week-long event that is absolutely filled with some of the best summer dessert recipes! Follow the hashtag #SummerDessertWeek on social media to find recipes and make sure to check out the bottom of this post for even more summer desserts!
Check out the amazing #SummerDessertWeek recipes from our bloggers today!
Ice Cream & Chilled Desserts:
Sweet Summertime Cakes and Cupcakes:
Baked Desserts: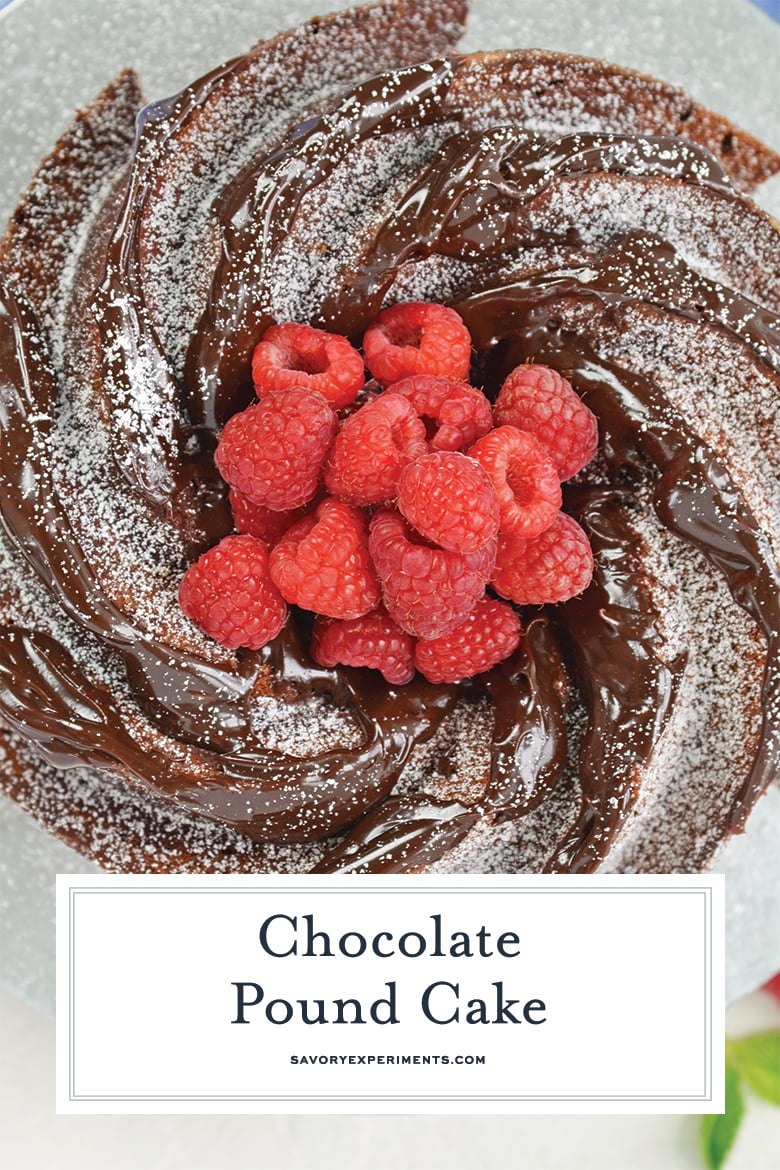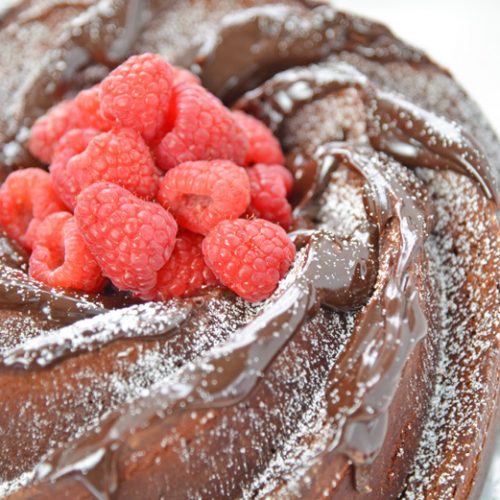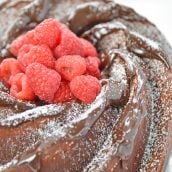 Chocolate Pound Cake
This super moist and rich Chocolate Pound Cake has one secret ingredient that makes it super chocolatey and delicious!
Instructions
Preheat oven to 325 degrees. Grease a 10-inch fluted bundt pan with vegetable shortening. Mix 2 tablespoons flour and 1 tablespoon cocoa powder together and then flour pan, tapping out excess. Set aside.

Soft together flour, unsweetened cocoa powder, fine sea salt and baking powder together. Please in a medium mixing bowl. Set aside.

In a large bowl or stand mixer fitted with a paddle attachments, beat butter for 3-4 minutes or until it pales and is light and fluffy.

Add sugar and continue to beat for 1 minutes.

Add eggs, one at a time, until yolk just disappears.

Dissolve instant espresso in 1/4 cup hot water.

Add instant espresso and vanilla into wet batter until just combined.

Place in the center of your oven and bake for 60-70 minutes. Use the toothpick test at 60 minutes.

Remove and cool on a wire cooling rack for 10-15 minutes. Invert, tap the outside a few times with a wooden spoon, then release and flip.

Allow cake to cool completely before topping peaks with hot fudge sauce, dusting with powdered sugar and garnishing with fresh fruit.

If you've tried this recipe, come back and let us know how it was in the comments and rating!
Notes
*Use decaffeinated coffee, water or skim milk as a substitution.
**Mini chocolate chips or peanut butter chips are also a good choice!
Nutrition
Calories:
599
kcal
,
Carbohydrates:
79
g
,
Protein:
8
g
,
Fat:
30
g
,
Saturated Fat:
17
g
,
Cholesterol:
132
mg
,
Sodium:
334
mg
,
Potassium:
264
mg
,
Fiber:
3
g
,
Sugar:
52
g
,
Vitamin A:
841
IU
,
Calcium:
70
mg
,
Iron:
2
mg