Fulfill all your chocolate cravings with this moist, flavorful and totally rich Chocolate Pound Cake recipe. Made into a loaf, it is the perfect fit for brunch or dessert for all chocolate lovers.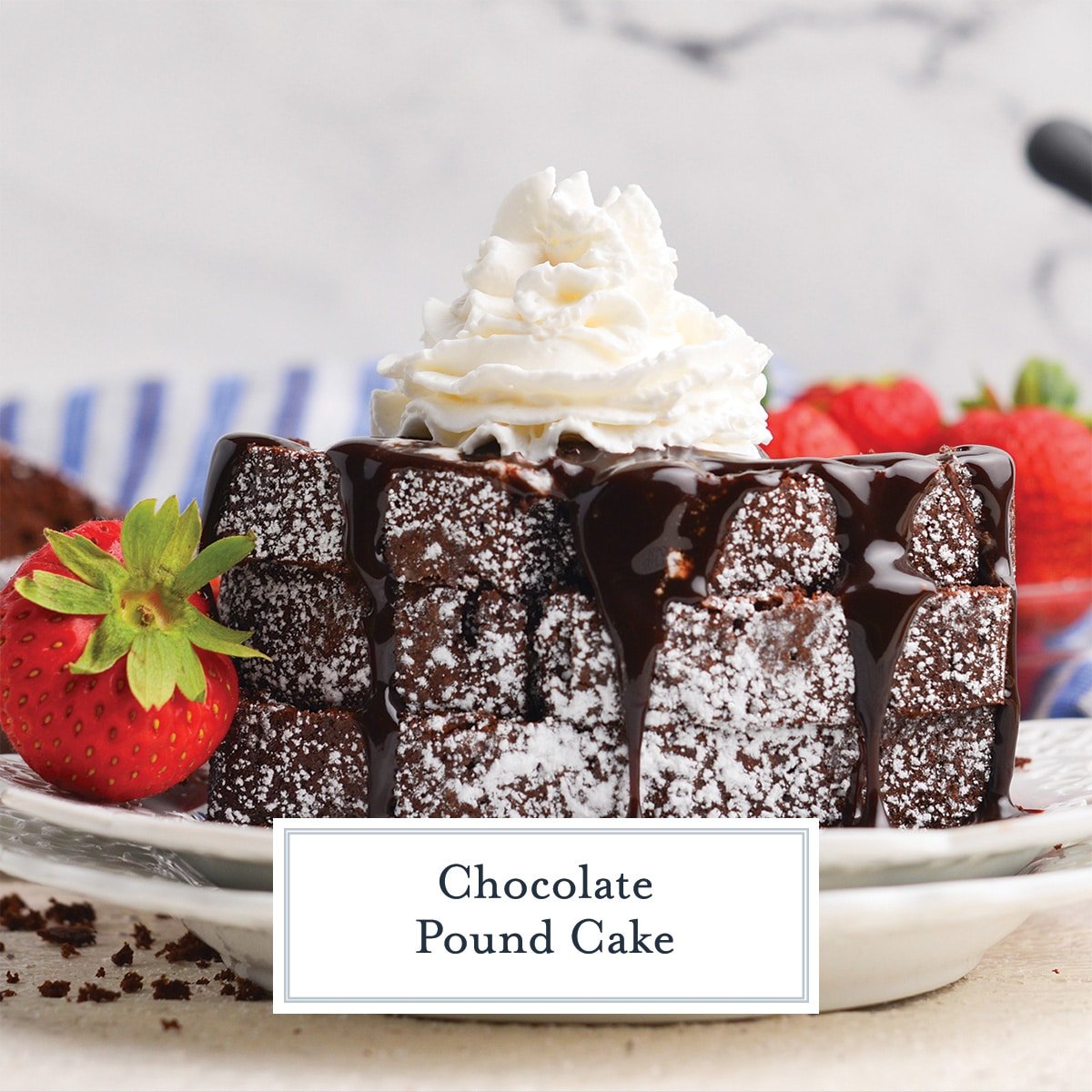 Pound Cake Recipes
Pound cakes, as a rule, are a little heavy. If you want a light, moist crumb, this isn't your go-to cake. But when you need a comforting buttery dessert, they hit the spot.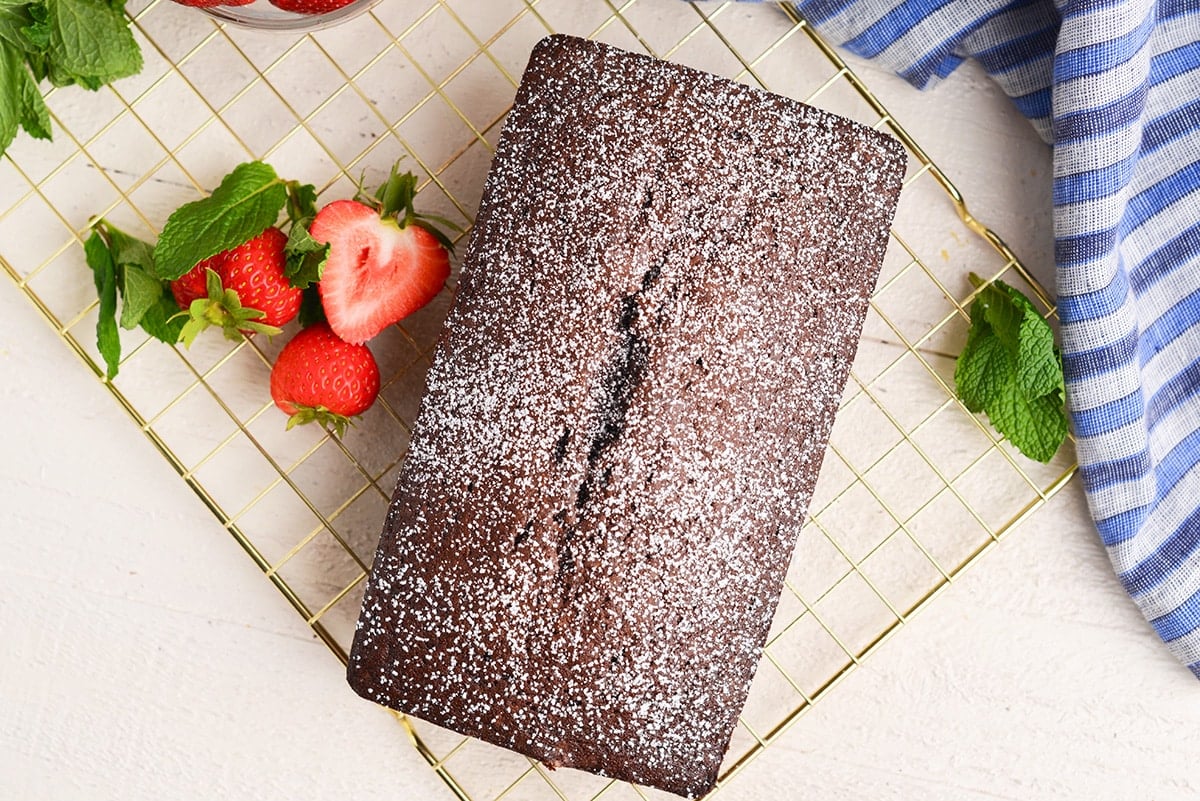 The original ingredient list was simple: one pound of butter, one pound of sugar and one pound of flour with a few eggs = POUND cake.
But with no leaveners or other flavors, this also meant they were heavy and needed to be accompanied by sauce or fresh fruit. While pound cake still isn't thought of as being light and fluffy, newer recipes use some leaveners and have made the iconic dessert a little less dense and a lot more velvety. Since, many variations of pound cake have emerged.
Some of my other favorites include Almond Pound Cake, Key Lime, Strawberry Cake, Sour Cream Bundt Cake, 7 Up Pound Cake and my classic Butter Pound Cake.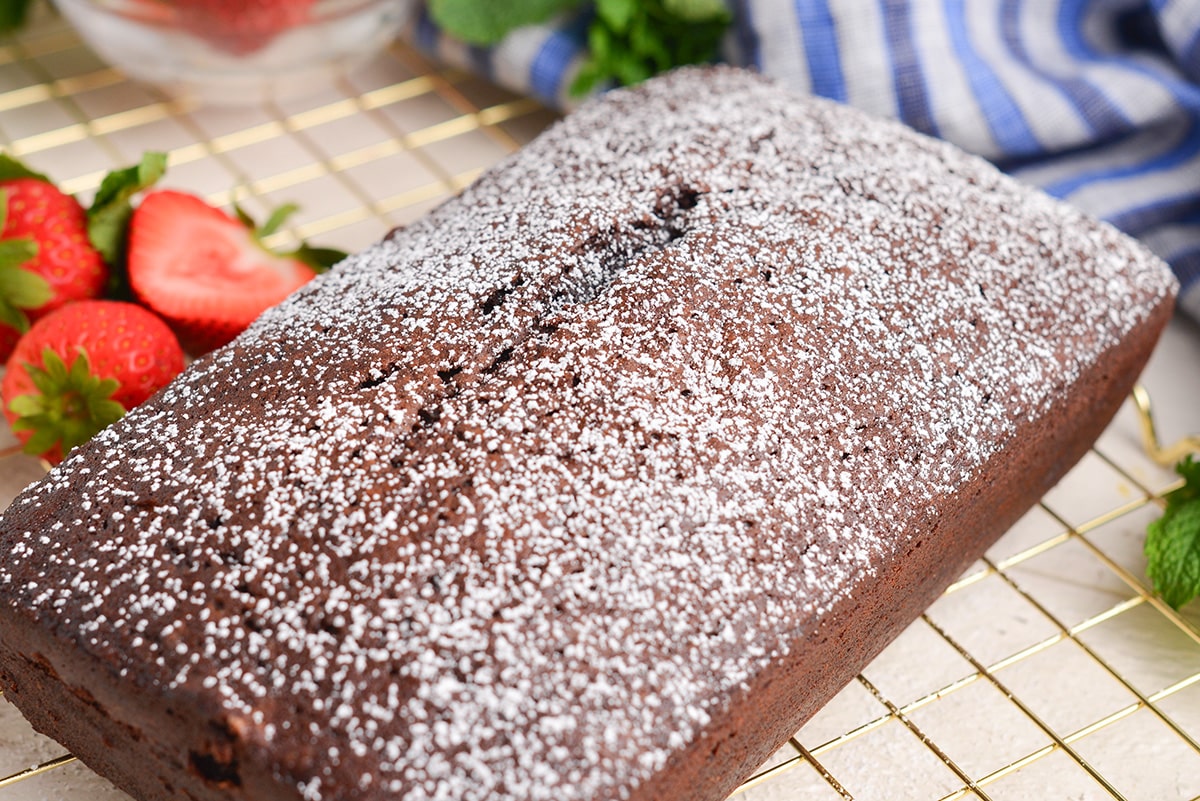 Ingredients for Chocolate Pound Cake
The ingredients for chocolate pound cake are pretty straightforward and simple. Standard as far as cakes go.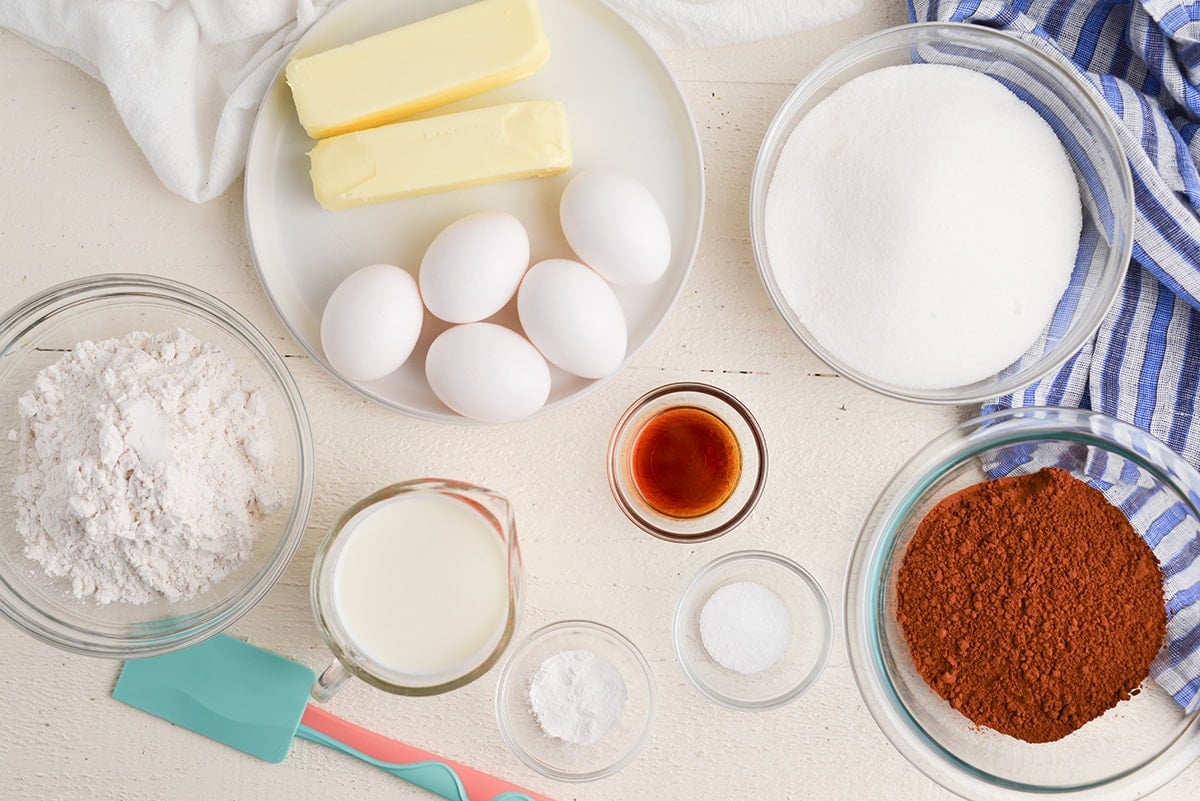 All-purpose flour- Gives baked goods structure and height.
Dutch processed cocoa– Dutch processed cocoa gives this pound cake its rich, chocolatey flavor. You can use standard unsweetened cocoa powder.
Baking powder- The leavening agent that makes the cake light and fluffy.
Salt- Brings out natural flavors and balances the sugar.
Sugar– Any cake needs sugar to make it sweet!
Butter– Rich and decadent, nothing beats the flavor of real butter. Use unsalted to have more control over the saltiness. If using salted butter, omit the additional salt.
Vanilla Extract– Complements the chocolate flavors and amps up the natural notes.
Eggs– Yolks contribute to the cake texture and also help lift the cake.
Whole Milk– The fats in whole milk are best for texture and flavor. Skim or reduced fat milks can also be swapped in a pinch. Cream or buttermilk might be too thick on their own, but feel free to swap out half of the whole milk for one or the other.
Toppings– Fudge sauce, powdered sugar and fresh fruit are our favorites, but scroll down for more ideas on how to top chocolate pound cake.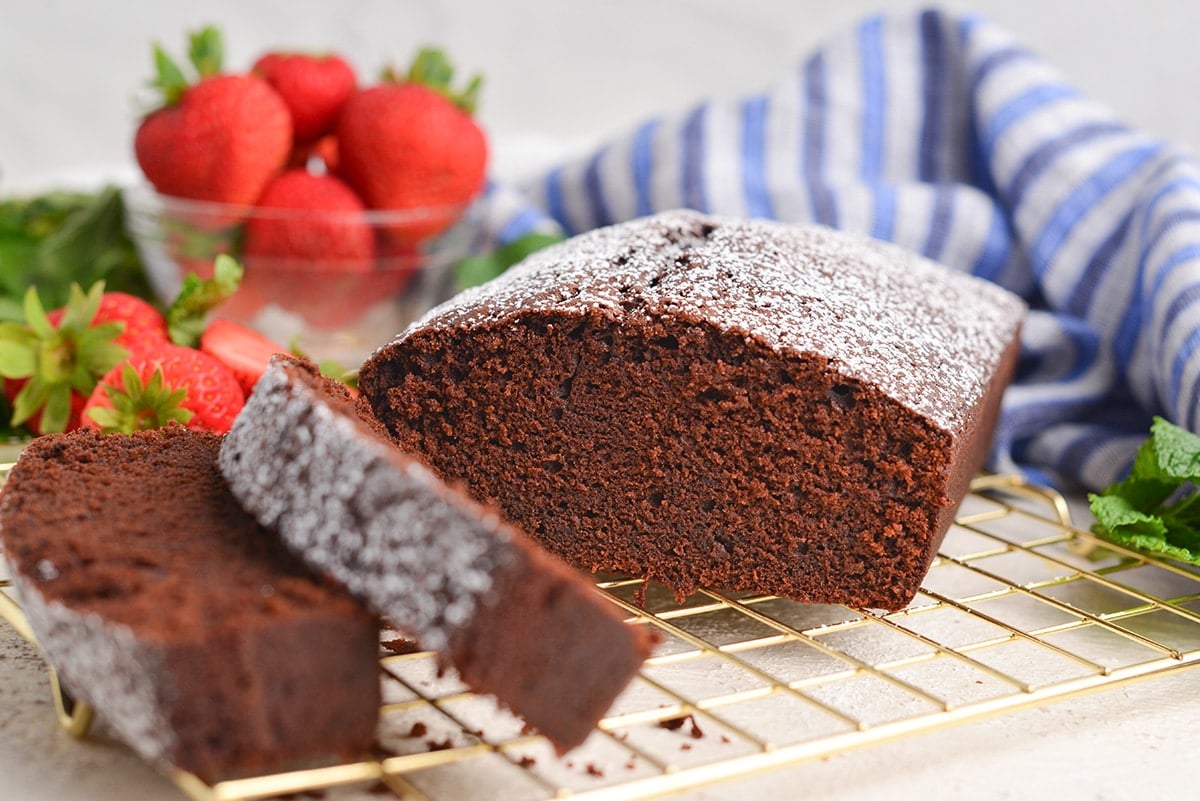 How to Make Chocolate Pound Cake
Making these cakes is super easy!
Prep. Preheat the oven and grease a 2 9×5 inch loaf pans with vegetable shortening. Mix the flour and cocoa powder together in a small bowl and then flour pan, tapping out excess. Using cocoa powder to flour will prevent it from having a white residue after baking, matching it perfectly with the chocolate sponge.
Sift Dry Ingredients. In medium bowl, sift together the flour, cocoa powder, baking powder and salt; set aside.
Cream. In a large bowl or the bowl of a stand mixer fitted with the paddle attachment, cream together the sugar and butter until light and fluffy. Add the vanilla and eggs, beating on high speed 5 minutes, scraping down the sides of the bowl.
Add wet ingredients. On low speed, add the flour mixture into the wet mixture alternating with milk, beating just until smooth after each addition. Pour batter evenly into both prepared pans.
Bake Cake. Bake 50 to 60 minutes, or until toothpick inserted into the center of the cake comes out clean. Cool 20 minutes; remove from pan(s) to wire rack. Cool completely, about 2 hours. Sprinkle with powdered sugar.
Garnish. Dust with powdered sugar or surround with fresh berries or a scoop of vanilla ice cream.
This cake was really designed for loaf pans and not a bundt pan or tube pan. For optimal baking and a moist cake, cook in the suggested size pans.
To intensify the chocolate flavor, add 1/2 teaspoon of espresso powder or instant coffee granules dissolved in 1 tablespoon hot water to the cake batter.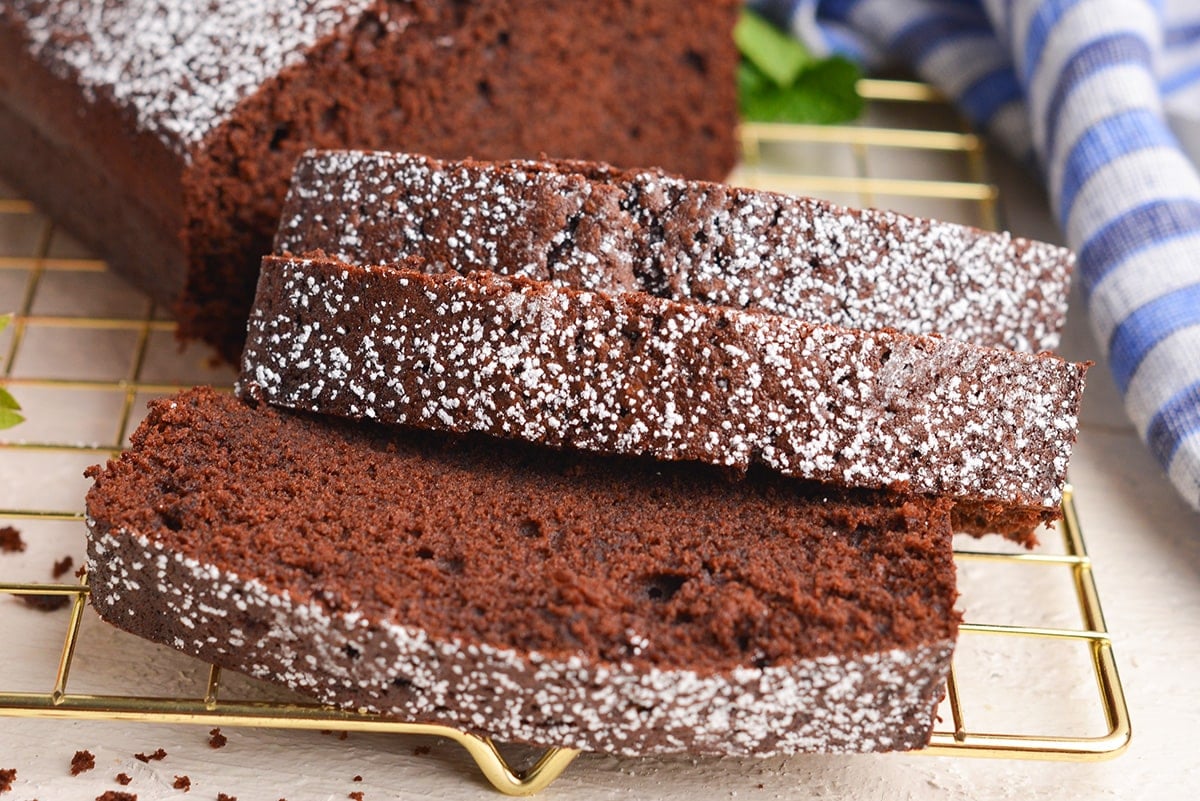 What Is the Different Between Dutch Processed Cocoa and Regular Cocoa?
Dutch-processed cocoa and regular cocoa, also known as natural cocoa, differ primarily in their processing methods and flavor profiles. Dutch-processed cocoa is treated with an alkaline solution, often potassium carbonate, to neutralize its natural acidity.
This process, called Dutching, results in a cocoa powder with a milder, less acidic taste and a darker color. In contrast, regular cocoa is made from roasted cocoa beans without any alkaline treatment, preserving its natural acidity and yielding a more intense, slightly bitter chocolate flavor.
The choice between these two types of cocoa depends on the specific recipe and the desired taste and appearance of the final product, as Dutch-processed cocoa lends a smoother, darker profile, while natural cocoa offers a more intense, acidic chocolate flavor. Both deliver rich chocolate flavor.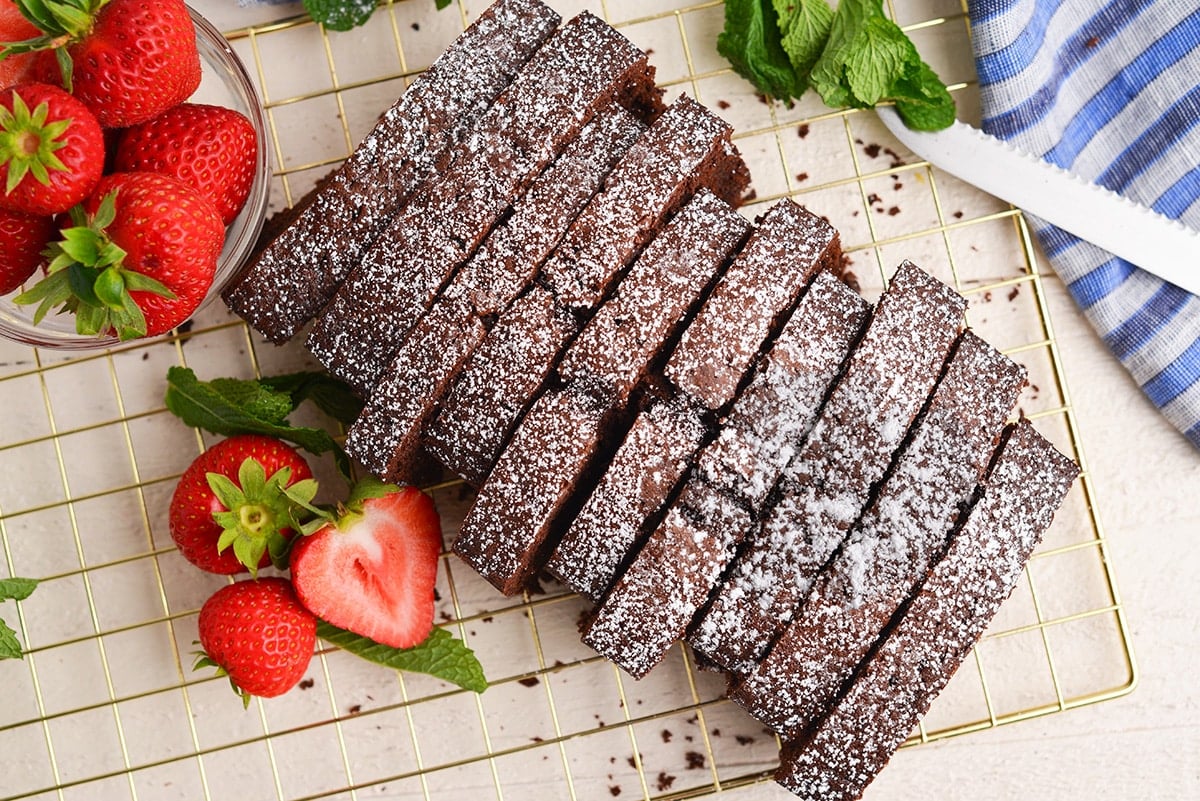 Tips for BEST Pound Cake
I'm not assuming you don't know how to bake, but just skim these over as a refresher. This is a condensed version, check out my whole list for more details.
Measure Correctly – spoon dry ingredients into the measuring cup or spoon and get down to eye level for wet.
Sugar – Use the right type of sugar and know that brand names typically have larger granules, resulting in less per volume. Cheap off-brands can make for a cake that is too sweet or falls.
Butter – Use a good quality butter, lower grades have more water or liquid fats. Beat your butter for 1-7 minutes to incorporate in air to make it light (as light as pound cakes get) and fluffy.
Room Temperature Ingredients – Not just the butter, all of it! Cold ingredients will bring the down the overall temperature of your cake batter.
Do Not Overmix– Overmixing after beating the butter will make it tough, rubbery and dry.
Cake Pan– Use the pan the recipe calls for- using a different pan, like a super decorative pan or a loaf pan, could result in poor results, undercooking, overcooking or batter overflowing from the pan.
Grease Your Pans– Grease them with vegetable shortening, not cooking spray. Spray on cake pans can prevent them from rising and impact flavor.
Oven Temperature– Preheat oven to 15 degrees higher than a recipe calls for, then reduce when you put the cake in. Having the door open reduces the temperature drastically, this offsets it. Then don't open the door while cooking!
Cooling- Allow your cake to cool in the pan on a cooling rack for 10-15 minutes. Invert and dump it while it is warm and not hot or cold- it is still pliable then. Let it cool completely before frosting or dusting with powdered sugar.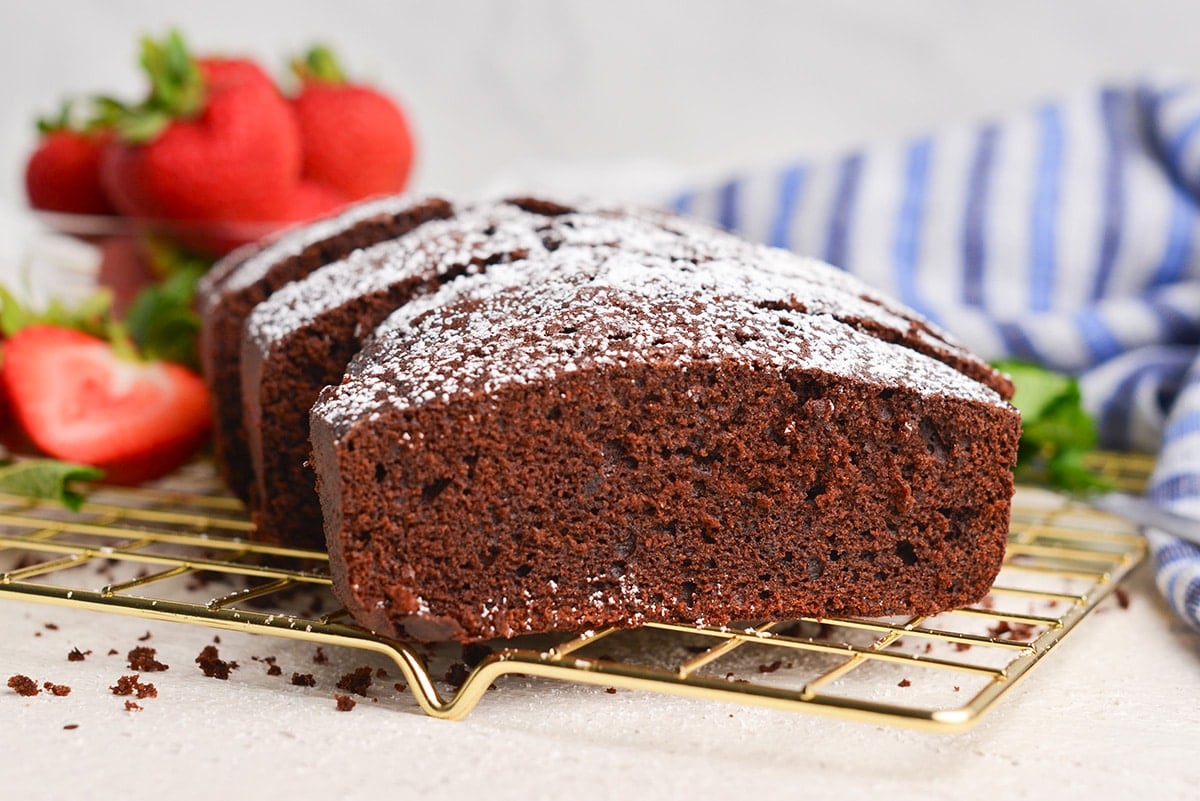 Toppings
This cake is divine without any topping at all or just a light dusting of powdered sugar, but if you want to take it a notch further, try fudge sauce, chocolate ganache, a simple powdered sugar glaze and sprinkle some mini chocolate chips. I also like caramel sauce, because, well caramel and chocolate are a match made in heaven!
Other types of frostings can also be used, like a cream cheese frosting, chocolate frosting or vanilla buttercream. A basic powdered sugar glaze is also delicious. Make is a chocolate glaze with a tablespoon of cocoa powder or just using chocolate syrup, like Hershey's, on top of the cake.
Storage & Freezing
Proper storage and freezing techniques are essential to maintain the freshness and quality of your chocolate pound cake. Here are some guidelines for both:
How to Store Pound Cake
Room Temperature: If you plan to consume the chocolate pound cake within a few days, you can store it at room temperature in an airtight container or wrapped tightly in plastic wrap. Be sure to keep it in a cool, dry place away from direct sunlight or heat sources.
Refrigeration: If your chocolate pound cake contains perishable ingredients like cream cheese or dairy, or if your kitchen is particularly warm and humid, it's advisable to store it in the refrigerator. Place it in an airtight container or wrap it in plastic wrap to prevent it from drying out. Always allow the cake to come to room temperature before serving for the best texture and flavor.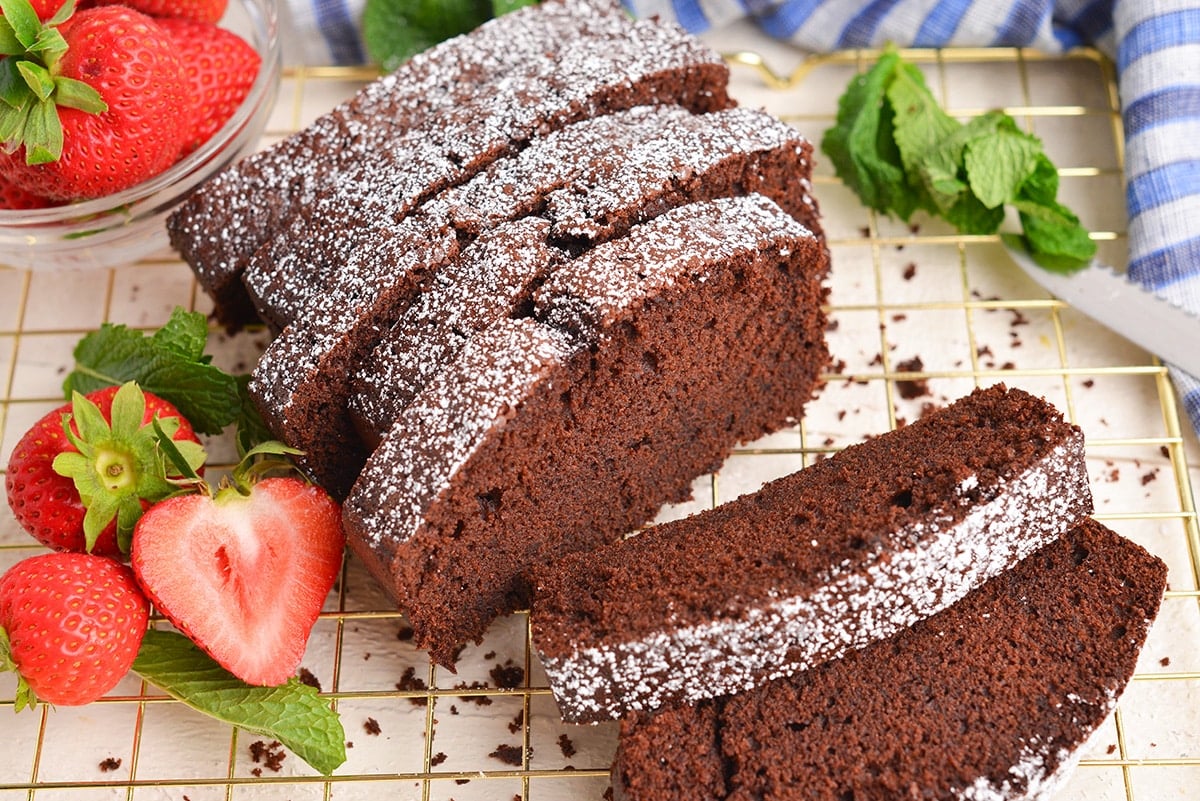 How to Freeze Pound Cake
Whole Cake: To freeze the entire chocolate pound cake, first allow it to cool completely. Wrap it tightly in multiple layers of plastic wrap or aluminum foil to prevent freezer burn and moisture loss. Place the wrapped cake in a resealable freezer bag for extra protection. Label the bag with the date. Frozen pound cake can be stored for up to three months.
Slices or Portions: Alternatively, you can slice the pound cake into individual portions before freezing. Place parchment paper between slices to prevent sticking. Wrap each portion in plastic wrap or aluminum foil and store them in an airtight container or freezer-safe bag. This allows you to thaw and enjoy single servings as needed without thawing the entire cake.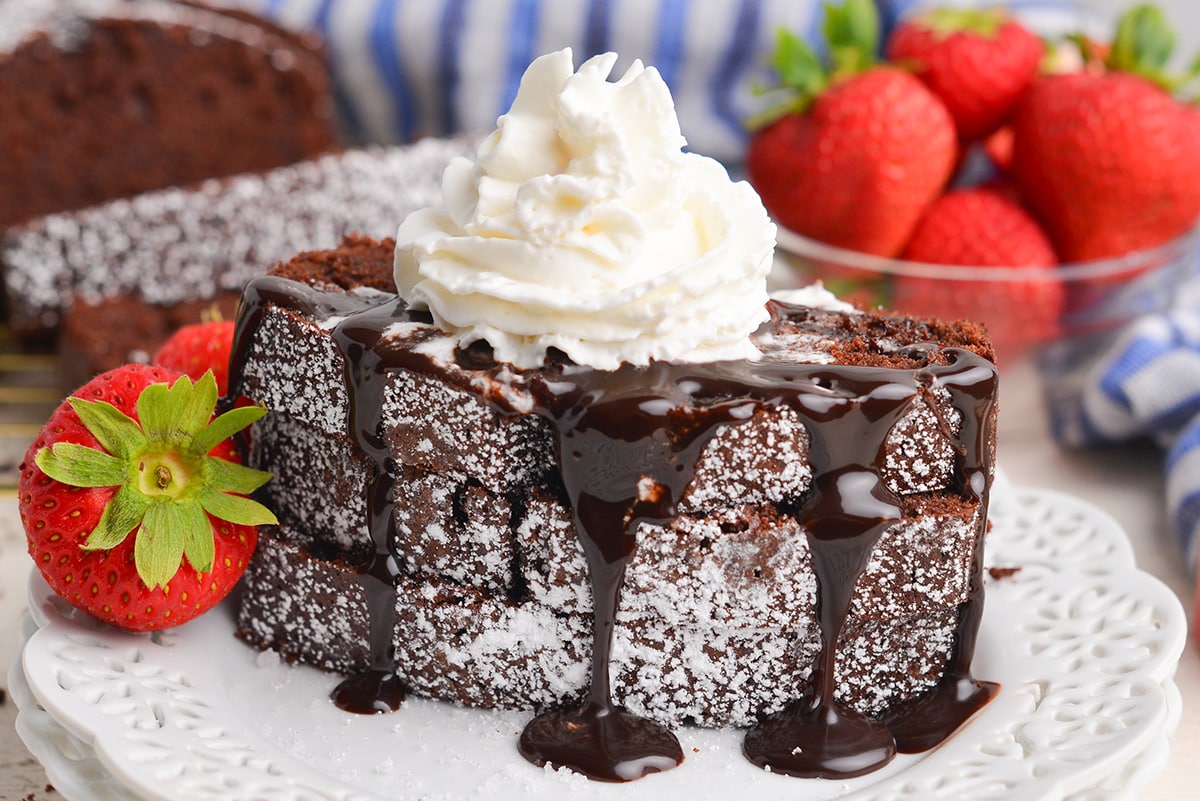 How to Thaw Pound Cake
When you're ready to enjoy your frozen chocolate pound cake, follow these thawing instructions:
Whole Cake: Transfer the wrapped cake from the freezer to the refrigerator. Allow it to thaw slowly in the refrigerator for several hours or overnight. This gradual thawing helps retain moisture and prevents the cake from becoming soggy.
Slices or Portions: For individual slices or portions, you can thaw them at room temperature for a quicker defrost, usually within an hour or so. Alternatively, you can microwave each portion for a short time at low power to speed up the process, but be careful not to overheat and dry out the cake.
Once the chocolate pound cake has thawed, it should be ready to serve. Sometimes I even microwave it for a few seconds to warm it up.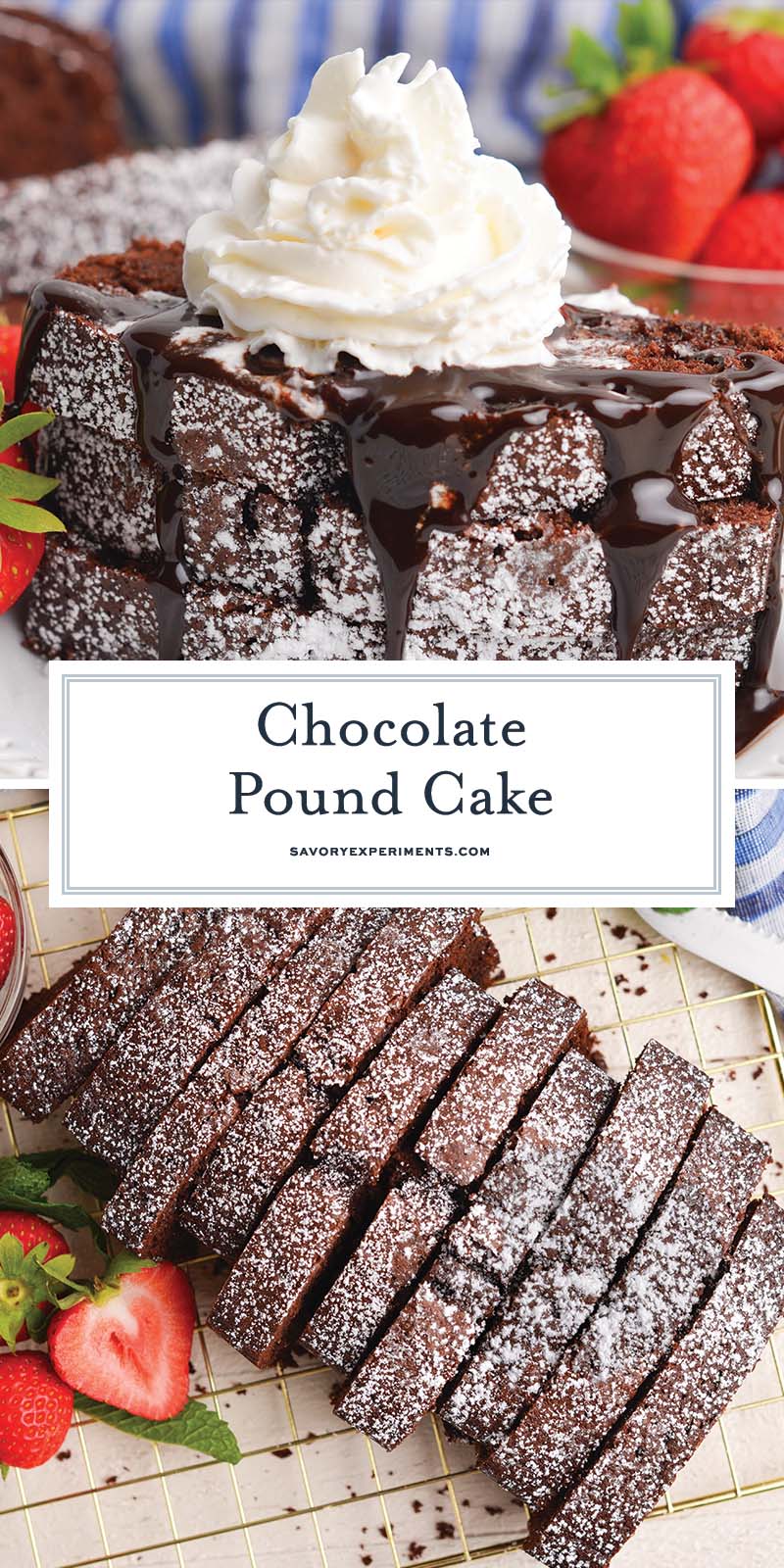 More Desserts!
We love to round out a meal with cake. Here are a few more of our favorite.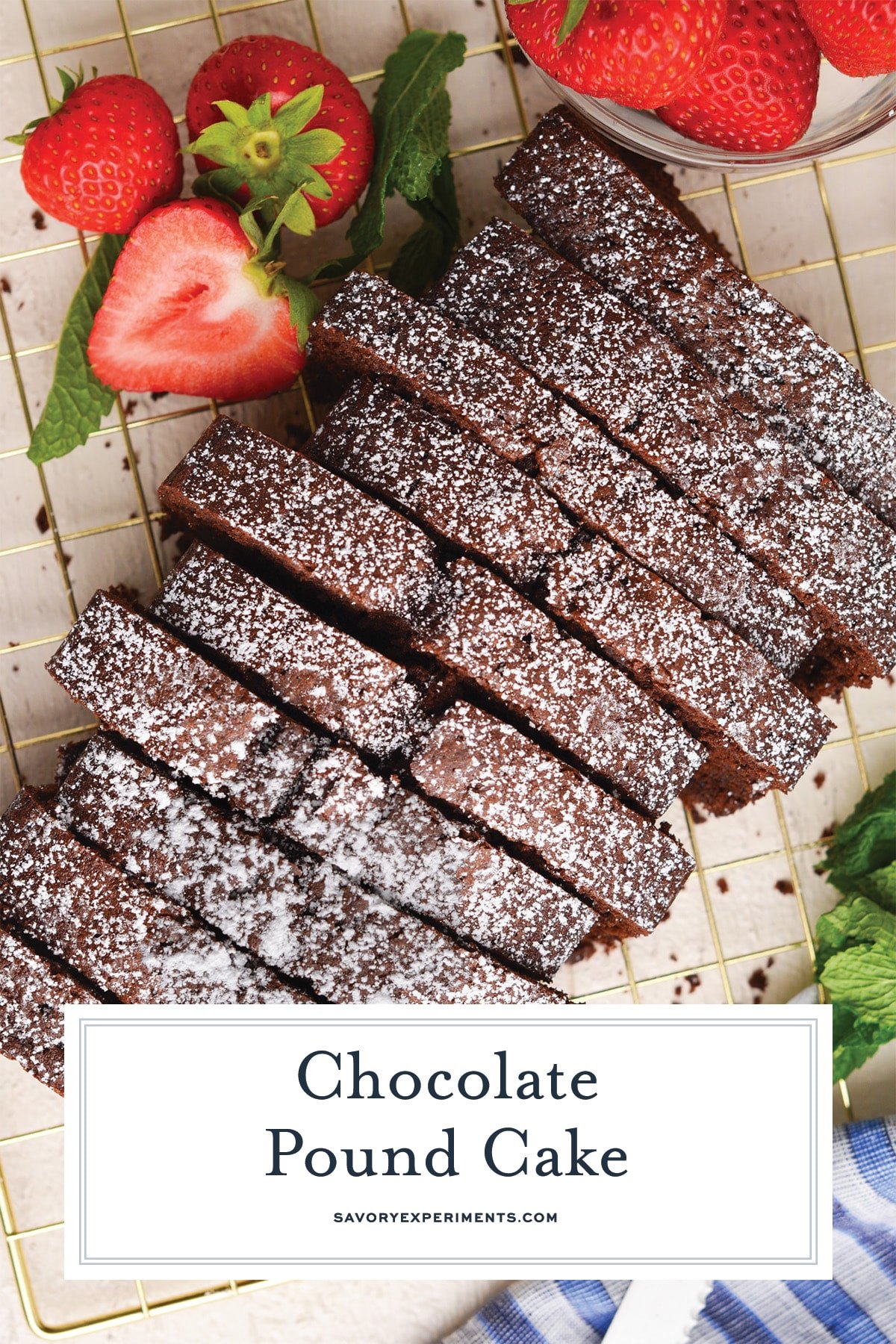 Welcome to the 4th Annual #SummerDessertWeek event hosted by Angie from
Big Bear's Wife
. We're celebrating all things summer with a week-long event that is absolutely filled with some of the best summer dessert recipes! Follow the hashtag #SummerDessertWeek on social media to find recipes and make sure to check out the bottom of this post for even more summer desserts!
Check out the amazing #SummerDessertWeek recipes from our bloggers today!
Ice Cream & Chilled Desserts:
Sweet Summertime Cakes and Cupcakes:
Baked Desserts: