This almond flavored cake will become your go-to pound cake recipe. SO delicious, moist and flavorful! Seriously the best moist pound cake recipe out there!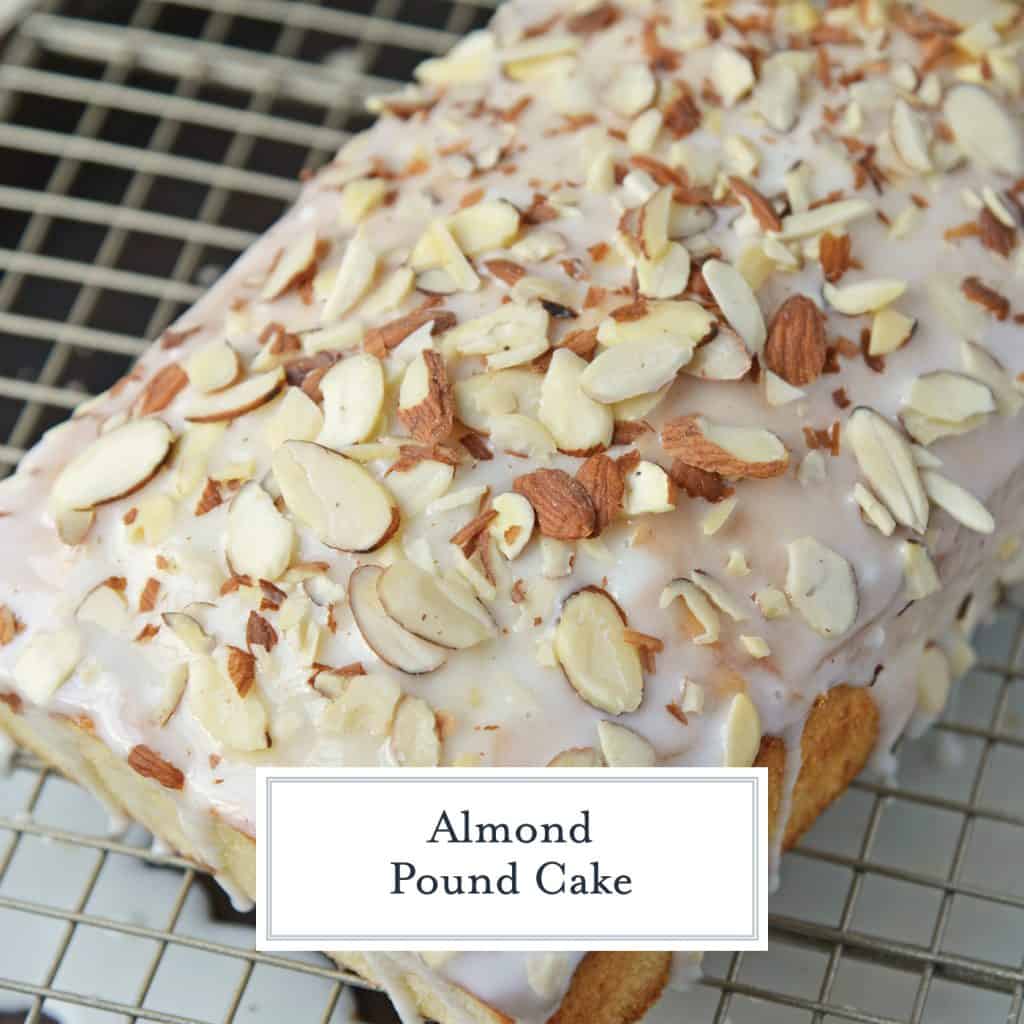 Almond Pound Cake Recipe
Pound cake is a dessert I've been trying to perfect for a while now. There are a lot of pound cake recipes out there that are much more complicated than necessary and that just wasn't working for me.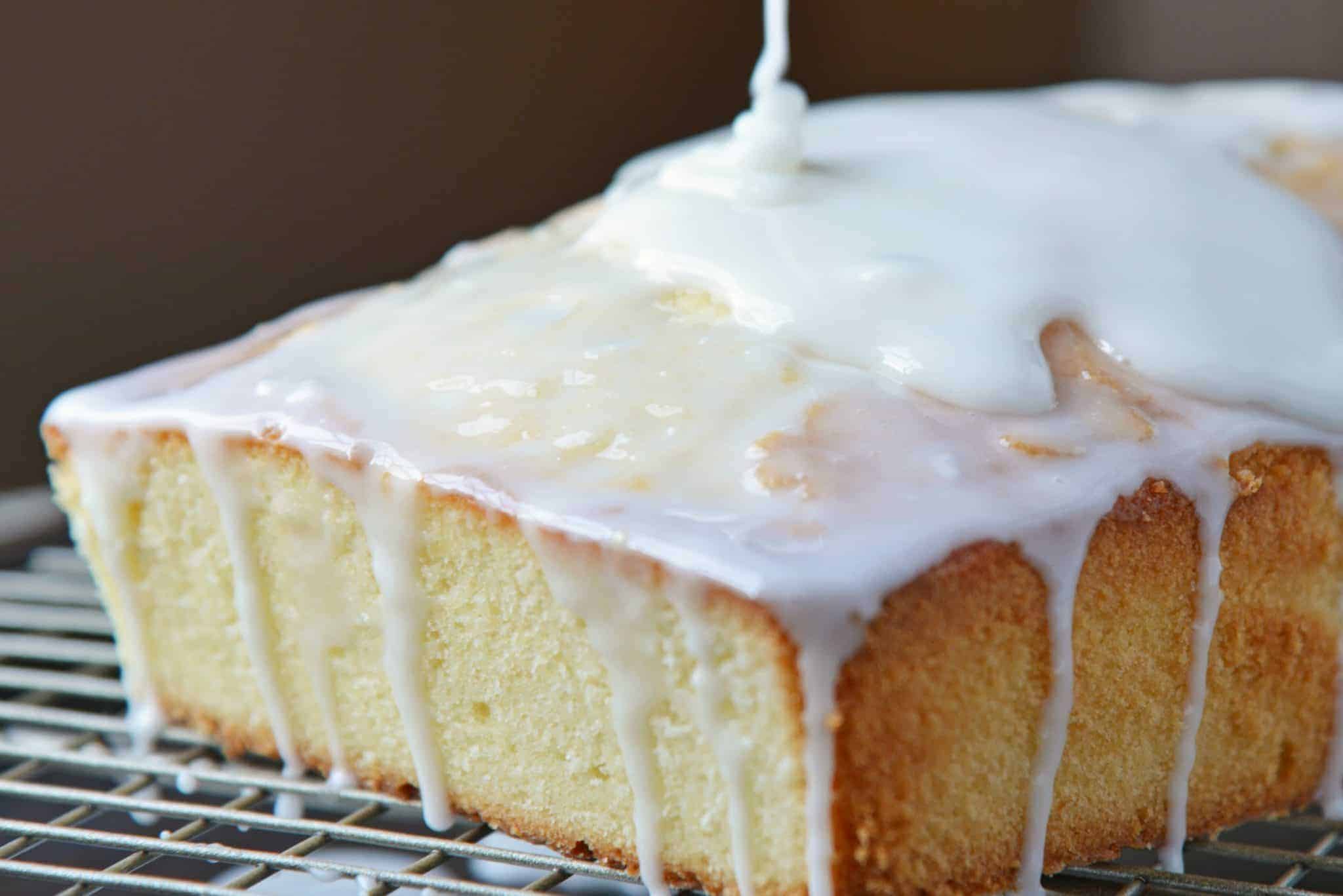 Other recipes turned out dry or just too dense or with hardly any flavor at all.But, finally, with this Almond Pound Cake recipe, I hit the jackpot.
This pound cake is moist, dense like a pound cake should be but not super heavy, and so flavorful. And the almond pound cake glaze?! To die for!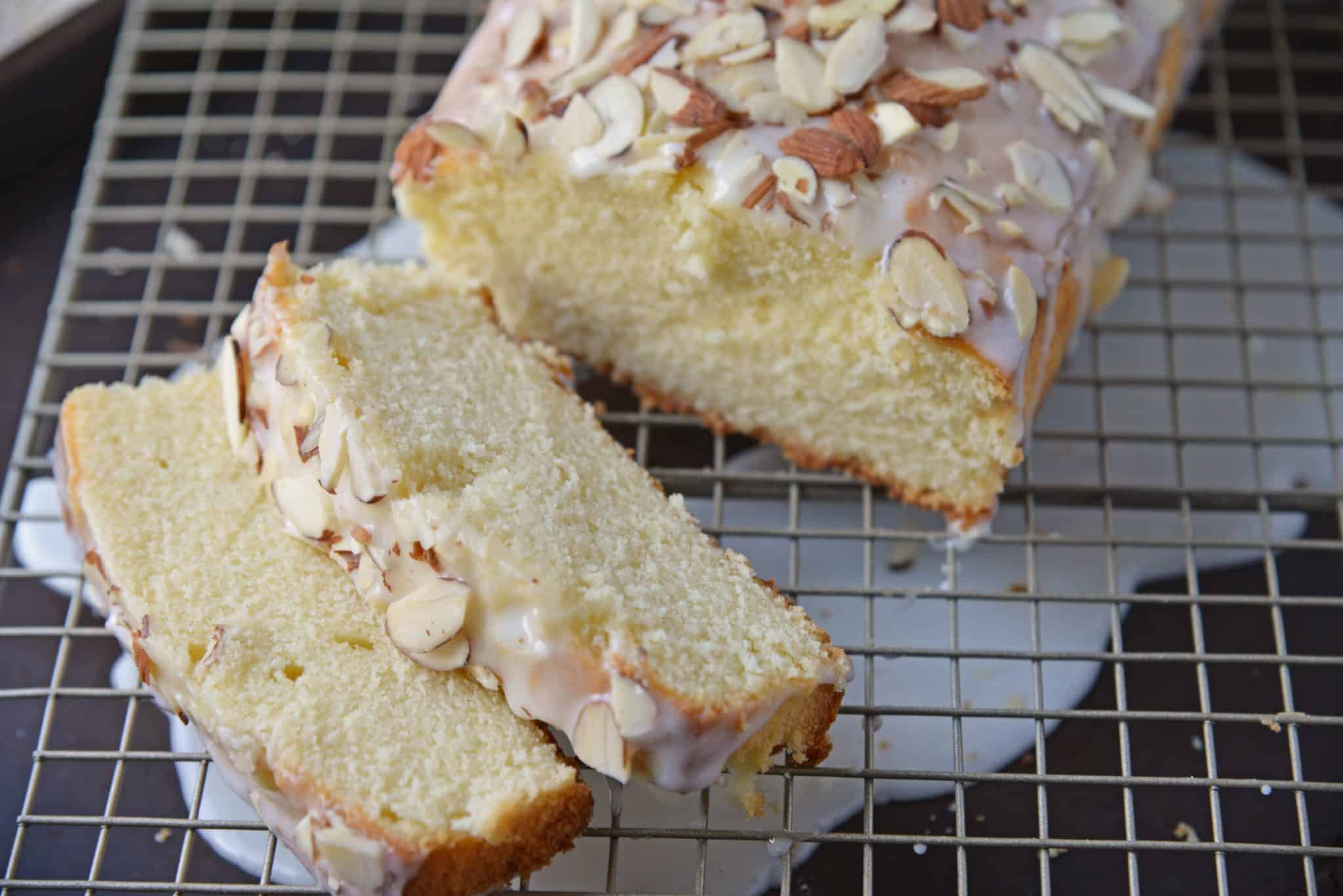 The key to the perfect almond pound cake is patience. You can't add everything to the bowl at once and expect to get the right consistency. Five minutes of beating the mixture for such deliciousness is well worth it!
This Almond Pound Cake recipe is one I love to serve guests. Since the cake needs to cool completely before adding the tasty almond pound cake glaze, I like to make this in the morning or early afternoon.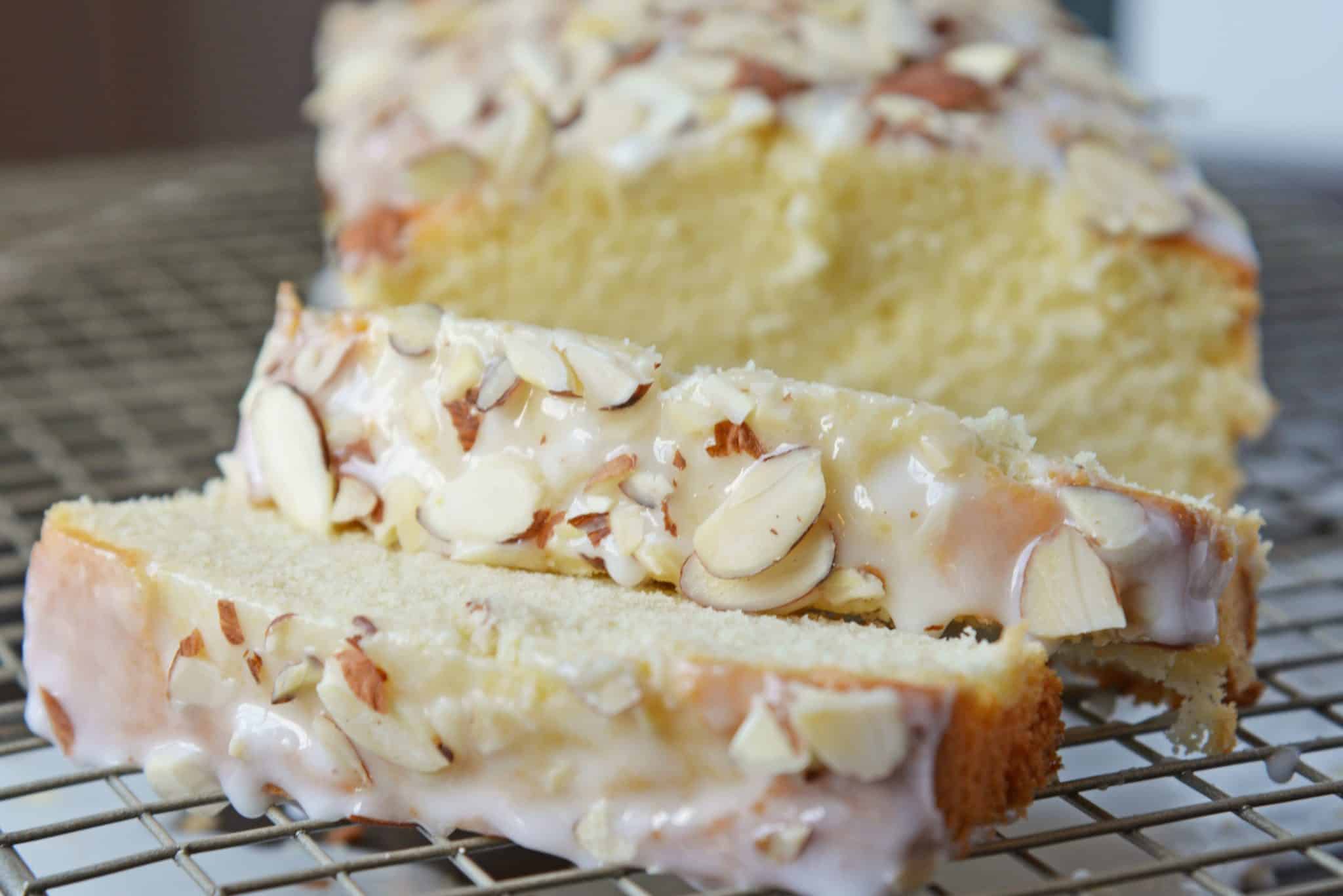 Make Ahead
That way, it's done and I don't need to worry about dessert while I'm also prepping dinner. Then, I just need a few minutes to whip to together the glaze and this delicious dessert is ready to be served.
Since the almond pound cake glaze is so delicious, this is a pound cake recipe that can be served by itself or with a cup of coffee. However, for a little something extra, you can serve it with fruit and whipped cream or a scoop of ice cream. Yum!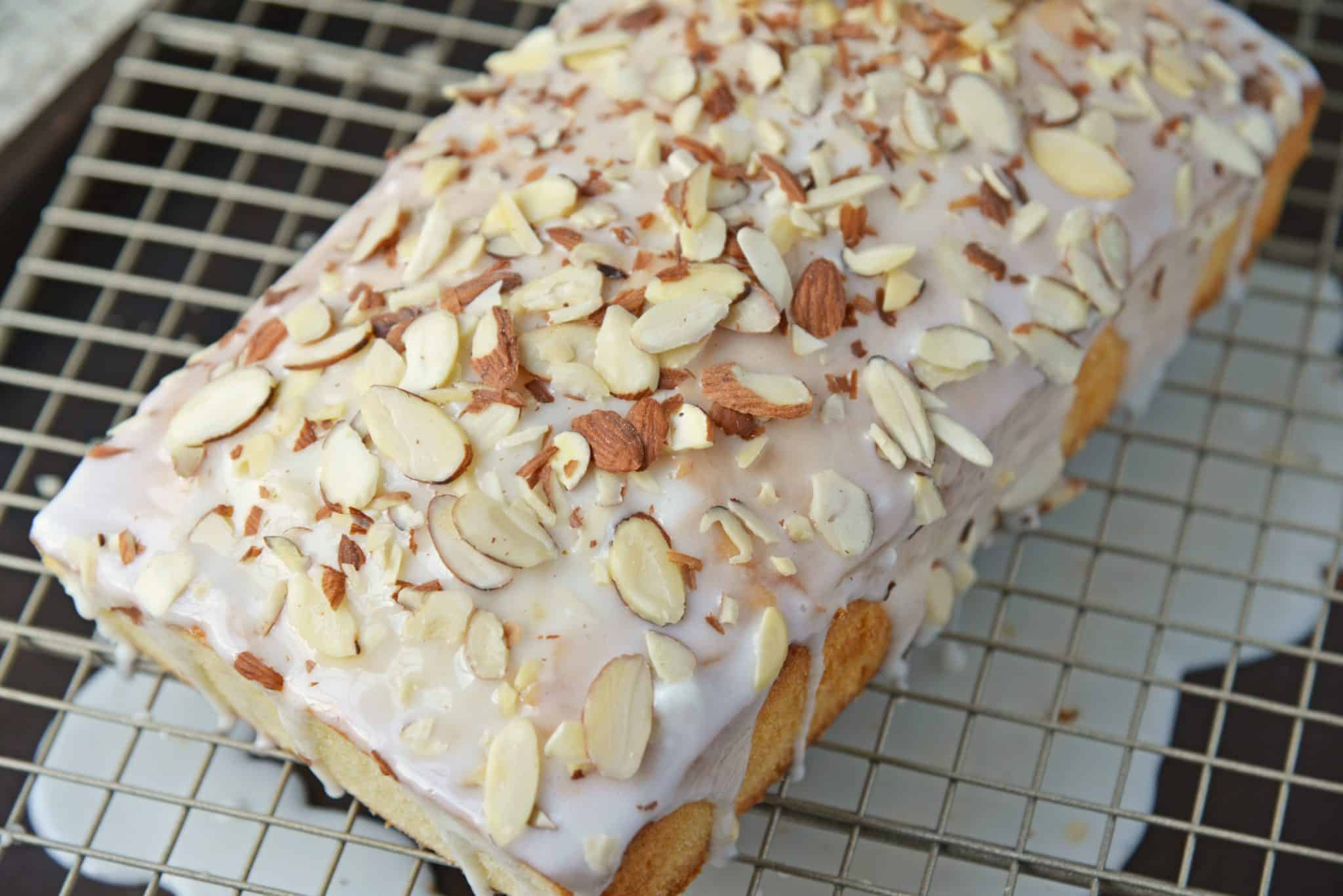 If you've tried a pound cake recipe before and found it too much of a hassle, I definitely recommend giving this Almond Pound Cake a shot! You may be surprised how easy it is!
But first… here are a few tips on making the best moist pound cake!
ONE. Do not overmix the batter. The most commonly made mistake in making a pound cake is overworking.
This is actually made easier when you are using a stand mixer because we overestimate how long the batter has been beaten. Pay attention or set a timer. You can also mix by hand and get a good arm workout!
TWO. Sift the dry ingredients. Even if you are using a boxed cake mix, sift the cake mix to get out any clumps. This will make it blend better, but also make it less likely that you will over mix.
If you don't have an actual sifter (I like the crank handle version) then gently shake your ingredients through a mesh colander.
THREE. Eggs. Eggs make a cake moist and yolks make them even more moist. Try adding one or two extra yolks to your favorite cake recipe and watch the crumb get even crumblier. Yes, I made that word up!
You can even omit egg whites altogether and use 2 egg yolks for every whole egg.
Another baker trick (that I have no tried…) for a light and fluffy cake is to use the egg whites, but seperate them and beat them to a froth, then fold them in. Much like you would for pancakes.
FOUR. Don't over bake your cake! This might seem like it is obvious, but many folks wait too long before taking the cake out of the oven and presto, dry cake. Whomp, whomp.
Don't let the top get lightly browned and use a cake tester. I also like to rotate my cakes while baking to avoid hot/cold spots.
FIVE. Measure your flour. You might think you measure your flour, but are you doing it correct?
Scoop flour into the measuring cup and level it off with a flat spatula or butter knife.
Don't pack it down, just let is sit how it did when you scooped it. Additional flour makes cake dry and even have a slight heap on your measuring cup could be the culprit.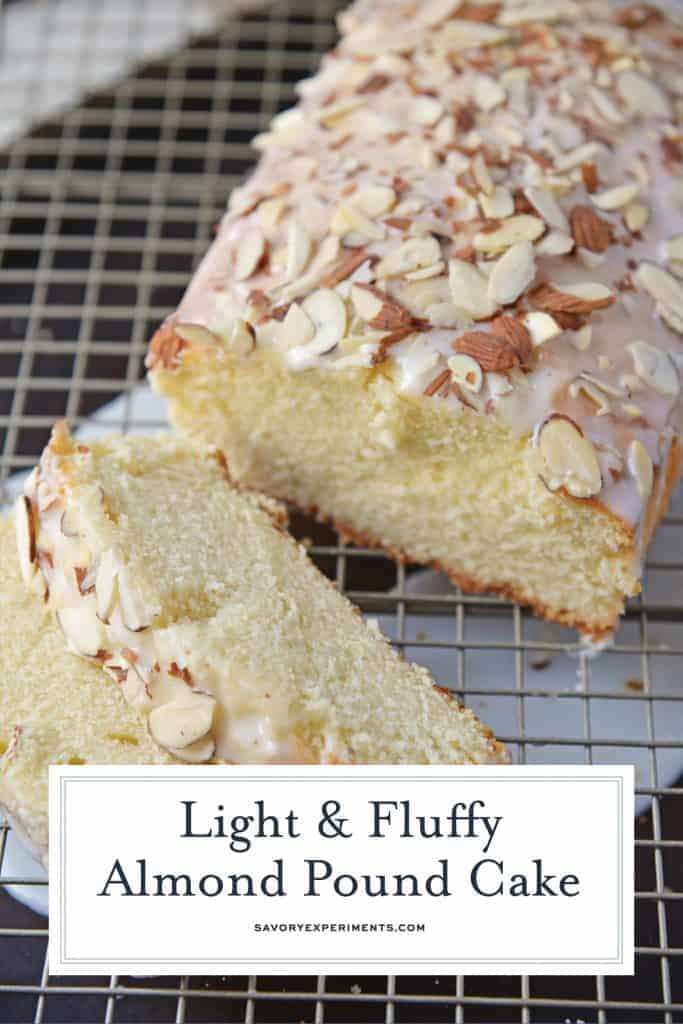 Tools for making Almond Pound Cake:
Loaf Pans – While you can get away with having one, I prefer to have two for baked goods like this, which typically call for 2 loaves.
Cooling Rack– Cooling racks aren't just great for cooling, they are also the best for drizzling!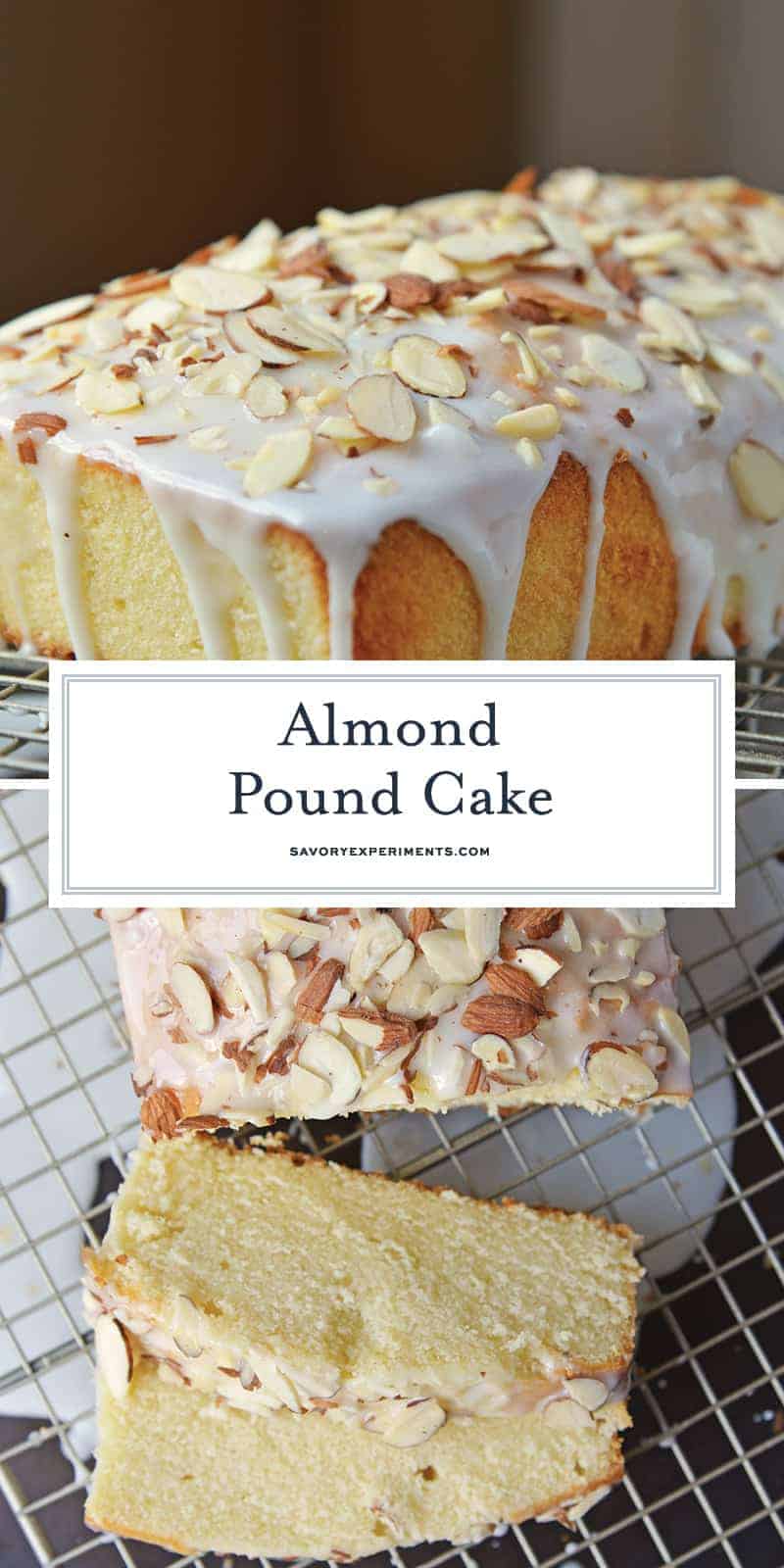 Questions you might have about how to make pound cake:
Can I make this recipe in a bundt pan? Presumably you can, however I have not personally tried it. There should be enough cake batter to make 1 average bundt cake. If you do try it, let us know!
Can I use cake flour instead of all purpose flour? For most recipes you can substitute cake flour for all purpose, so yes.
What is the difference between cake flour and all purpose flour? According to the kitchn…

Cake flour is a finely milled, delicate flour with a low protein content; it's usually bleached. The primary difference between cake flour and all-purpose (AP) flour is the protein content (which becomes gluten). The protein content of cake flour is about 8%, while the protein content of AP flour is slightly higher.
Can I use vanilla extract instead of almond extract? You can, but you will then have a vanilla pound cake instead of an almond pound cake. Not bad, just not the same.
Here the recipe for my classic vanilla pound cake and sour cream pound cake in case you want to give them a whirl!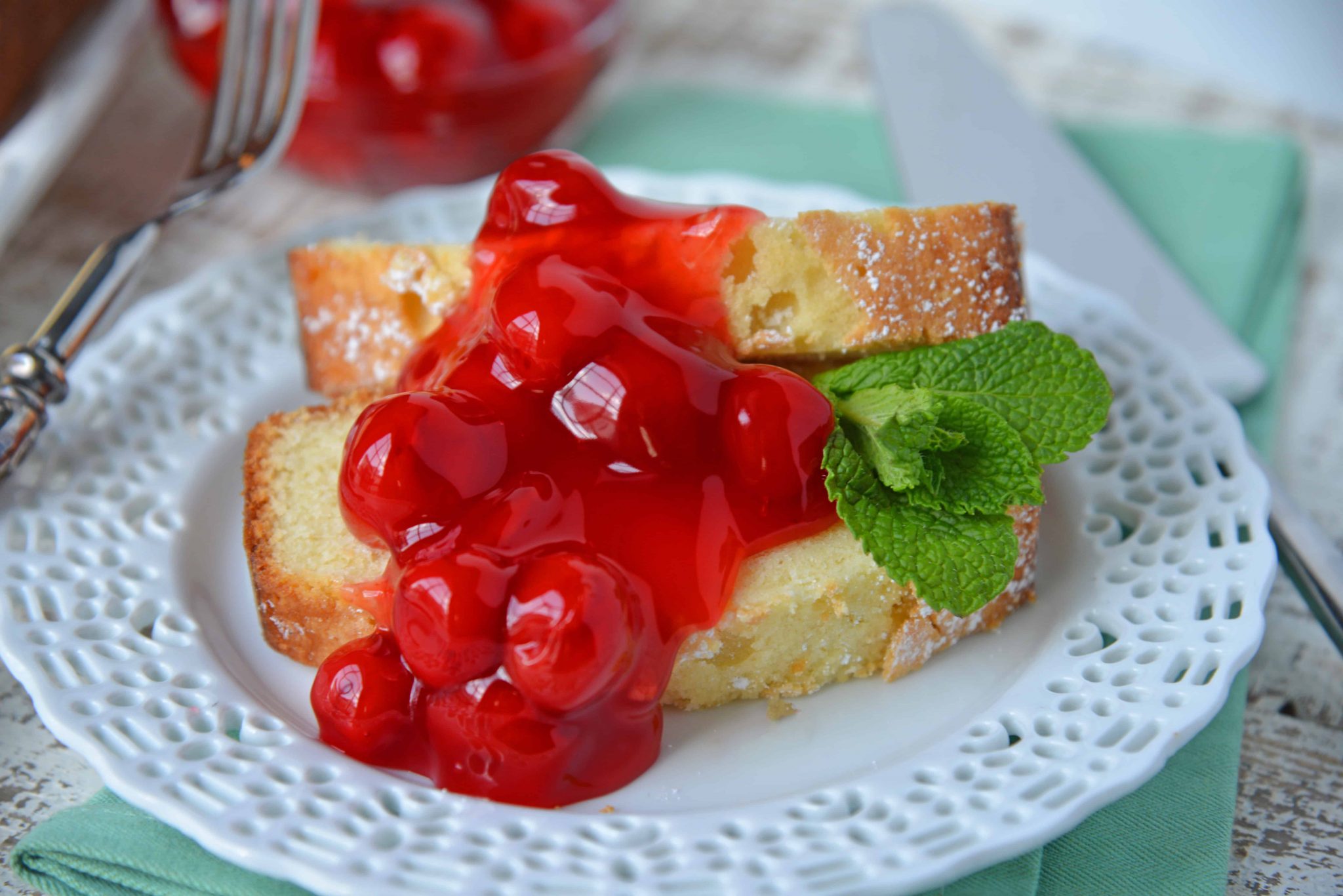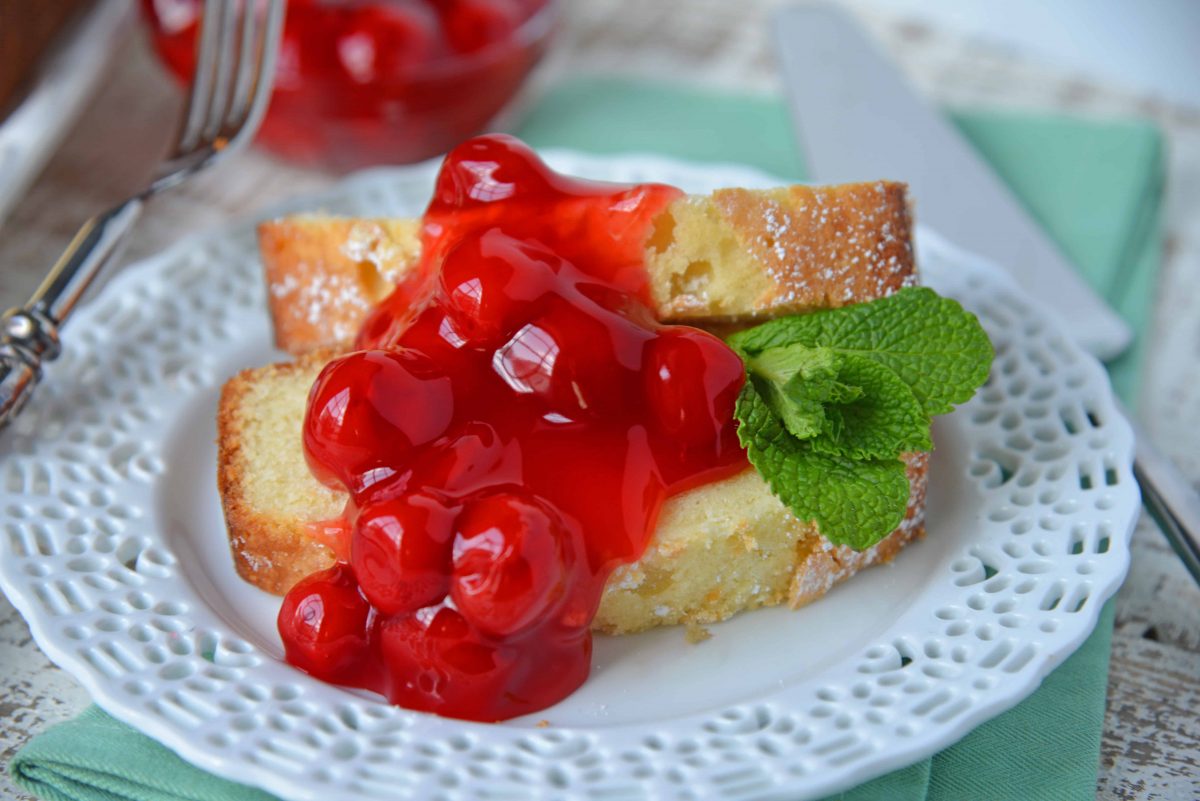 My cakes are sticking? Did you grease and flour your pans? Just grease alone often doesn't do the trick. Make sure to lightly flour your pans, tapping them on the sink so there is just a tiny amount.
More easy cake recipes: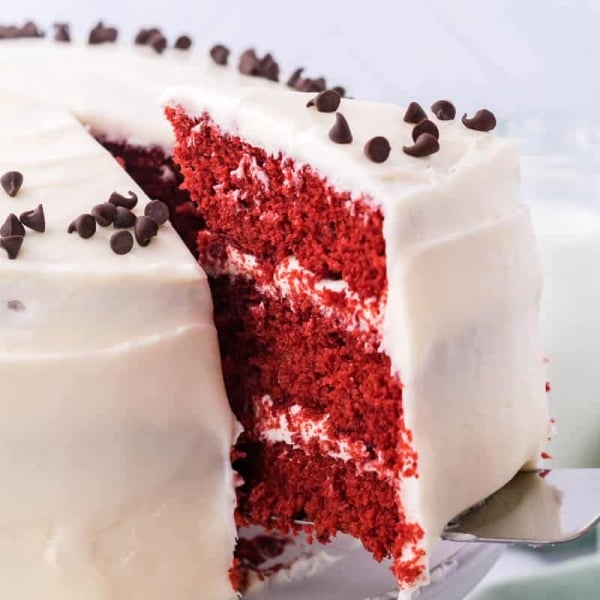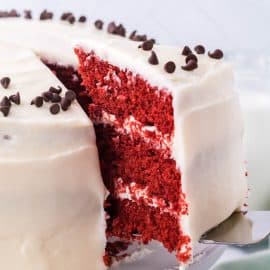 Red Velvet Cake
If you're looking to impress guests with a dessert that is equally as delicious as it is pretty, this red velvet cake is for you.
View this recipe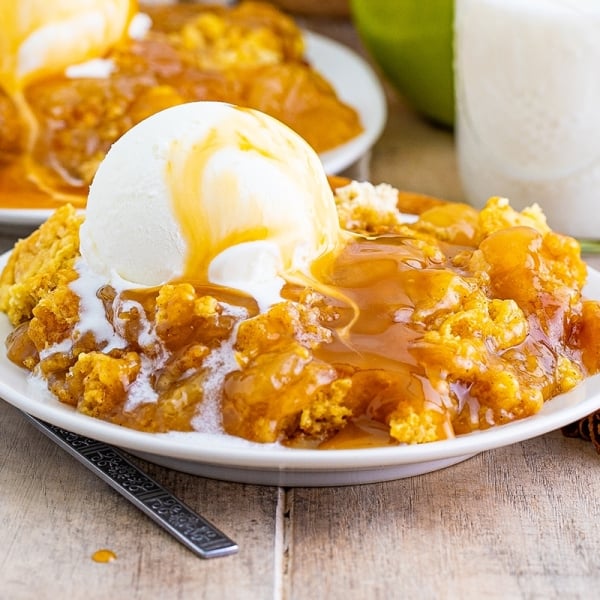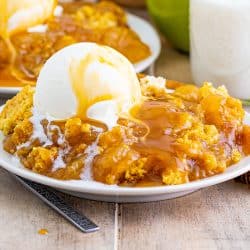 Caramel Apple Dump Cake
This caramel apple dump cake is made from apple pie filling, gooey caramel sauce, buttery yellow cake mix and a melted butter and vanilla blend.
View this recipe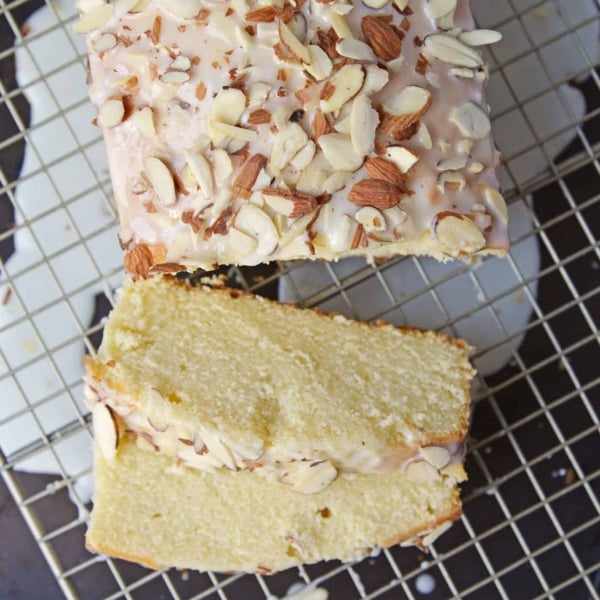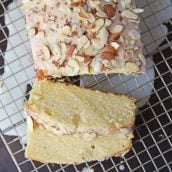 Almond Pound Cake Recipe
This Almond Pound Cake recipe is easy, moist and as dense as a pound cake should be. Topped with an almond pound cake glaze, it's the perfect dessert!
Ingredients
Almond Glaze and Topping:
Instructions
Preheat oven to 350°F. Grease and lightly flour two 9×5-inch loaf pans.

In medium bowl, sift together flour, baking powder and salt; set aside.

In a large bowl or the bowl of a stand mixer fitted with the paddle attachment, beat sugar and butter until light and fluffy.

Add almond extract and eggs, beating on high speed 5 minutes.

Add flour mixture into sugar mixture alternately with milk on low speed, beating just until smooth after each addition.

Evenly divide into two pans.

Bake 55 to 60 minutes, or until toothpick inserted in center comes out clean.

Cool 20 minutes; remove from pan(s) to wire rack. Cool completely, about 2 hours.

In a medium bowl, combine powdered sugar, almond extract and 2-4 tablespoons milk, whisking until smooth. Amount of milk will vary, you want a consistency that sticks to the back of a spoon, but is still pourable.

Pour over cooled pound cakes. Top with almond slices while still tacky.

Allow to set for 15 minutes before slicing and serving.

If you've tried this recipe, please come back and leave us a comment!
Nutrition
Calories:
547
kcal
,
Carbohydrates:
87
g
,
Protein:
7
g
,
Fat:
19
g
,
Saturated Fat:
10
g
,
Cholesterol:
111
mg
,
Sodium:
221
mg
,
Potassium:
148
mg
,
Fiber:
1
g
,
Sugar:
62
g
,
Vitamin A:
605
IU
,
Calcium:
68
mg
,
Iron:
1.9
mg