This post is sponsored by I Love Ice Cream Cakes, however all comments and opinions are 100% my own.
My Easy Whipped Cream recipe will soon be your family favorite too. With a few simple tricks, making homemade whipped cream has never been easier. I'm also adding a few fun whipped cream flavors so you can customize your recipe for any occasion or dessert!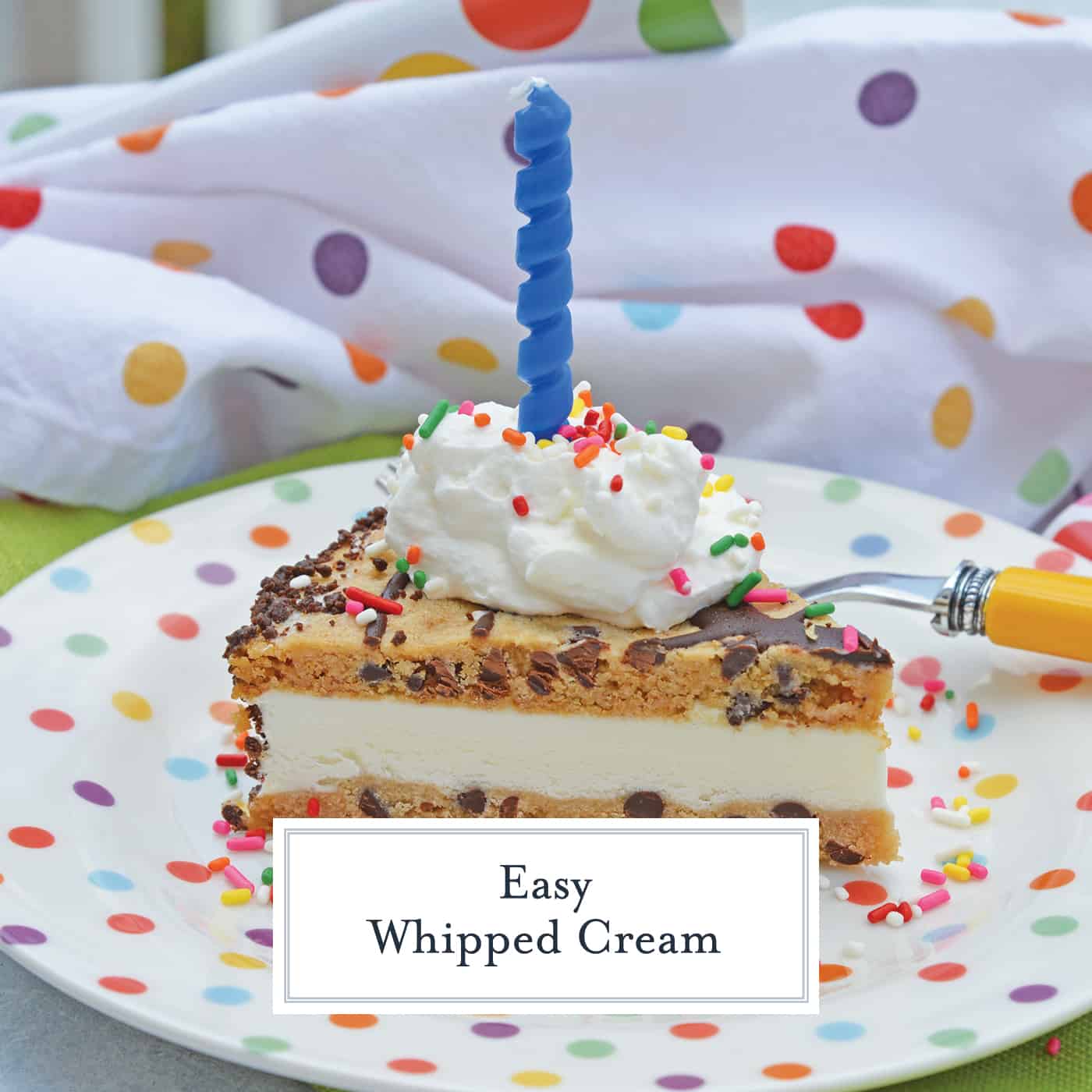 Easy Whipped Cream is a 3-ingredient recipe for whipped cream from scratch. Perfect for topping ice cream cake and other desserts!
We all have something that gives us warm, fond fuzzies from childhood. For me, one of those things is ice cream cake. I'd arrive to my friends' birthday parties and immediately ask about the cake selection, secretly hoping it was an ice cream cake with chocolate crunchies. It was what I looked forward to most on my own birthday!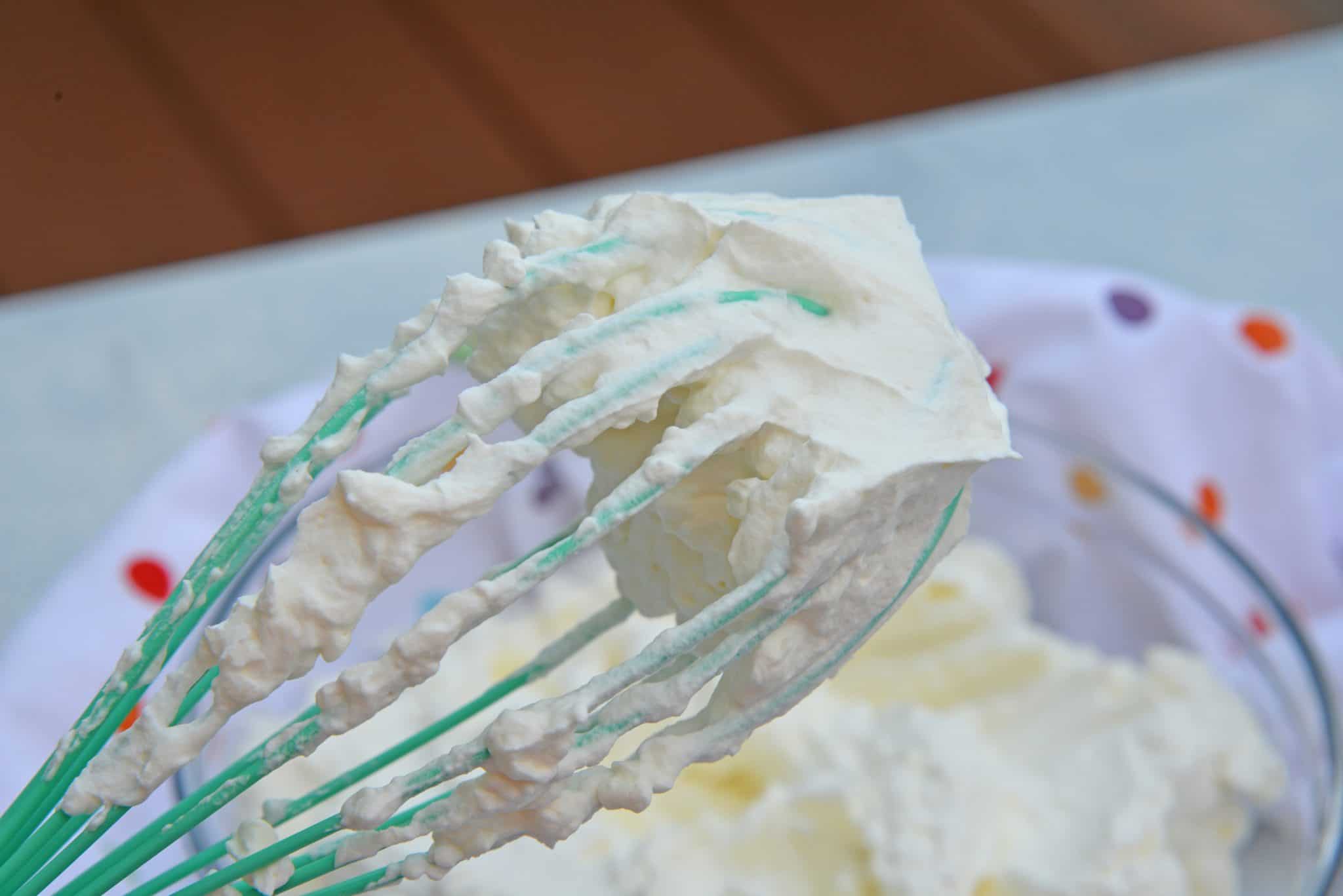 Hubby and I were just discussing our love for ice cream cakes the other night and he had a serious obsession with Carvel®'s Fudgie the Whale, which was a new hit on the market back then. Personally, I enjoyed the whipped frozen frosting and crunchies the best on a plain cake.
In this day and age, getting our hands on an ice cream cake isn't nearly as challenging. One, because we are adults and can grab one for any reason and two, because we can buy them at our favorite grocery store.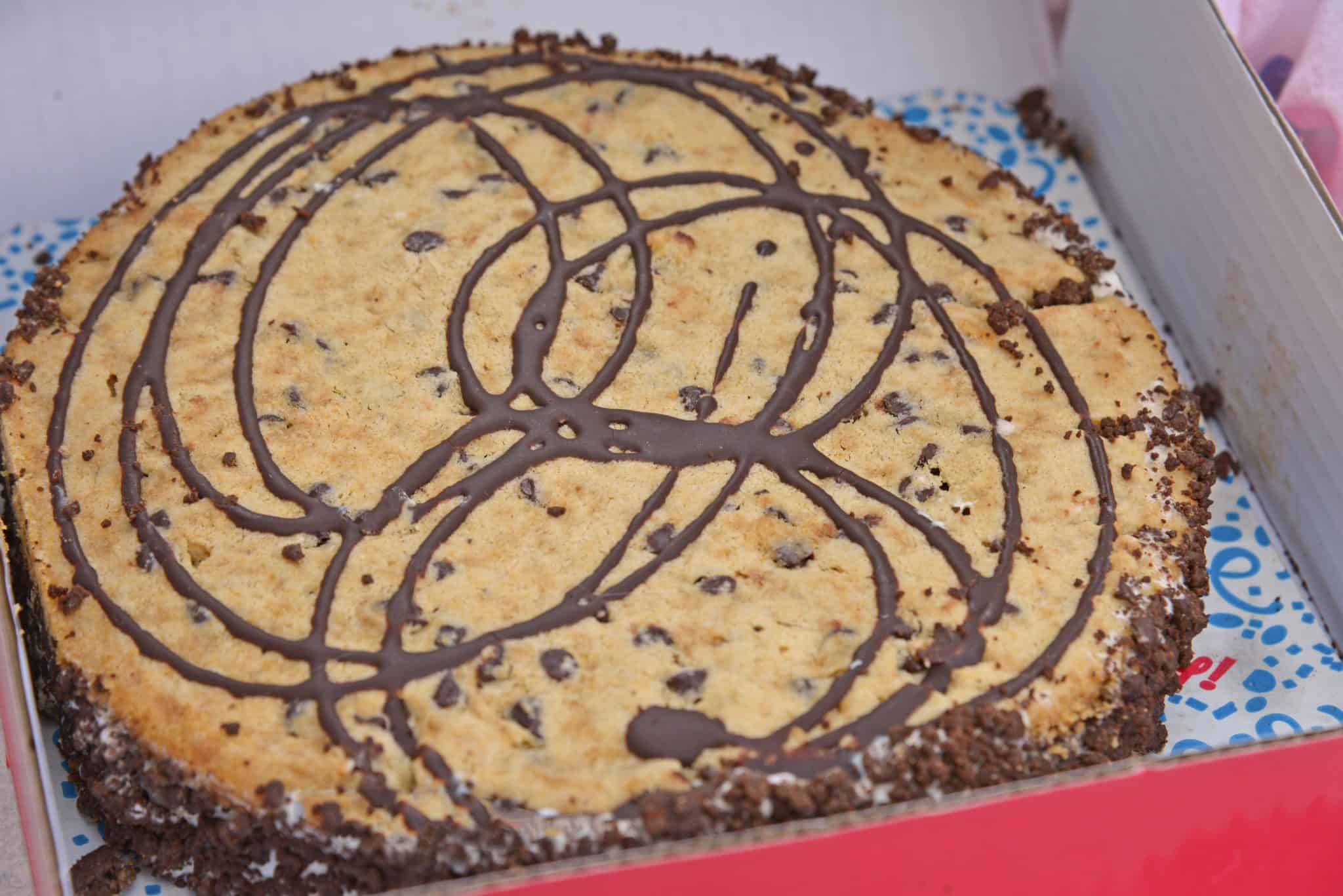 Imagine my excitement when I found out that Carvel® was now combining two of my favorite desserts: ice cream cake with crunchies AND cookie cake?!
A cookie cake base, creamy ice cream center and cookie cake top, with sides rolled in chocolate crunchies. This is a serious slice of heaven!
Since this heavenly Carvel® Ice Cream Cookie Cake was already perfection, it didn't need much in the way of embellishments, so my Easy Whipped Cream and a few colorful sprinkles did the trick.
I Love Ice Cream Cakes' delicious cakes are available in grocery stores in and around Baltimore, as well as around the country. I picked up this Carvel® Ice Cream Cookie Cake in the bakery section of my local Shopper's for a random weeknight surprise.
Remember, ice cream cakes are great for birthdays and other celebrations, but you can pick one up at the store for an "anytime" treat too!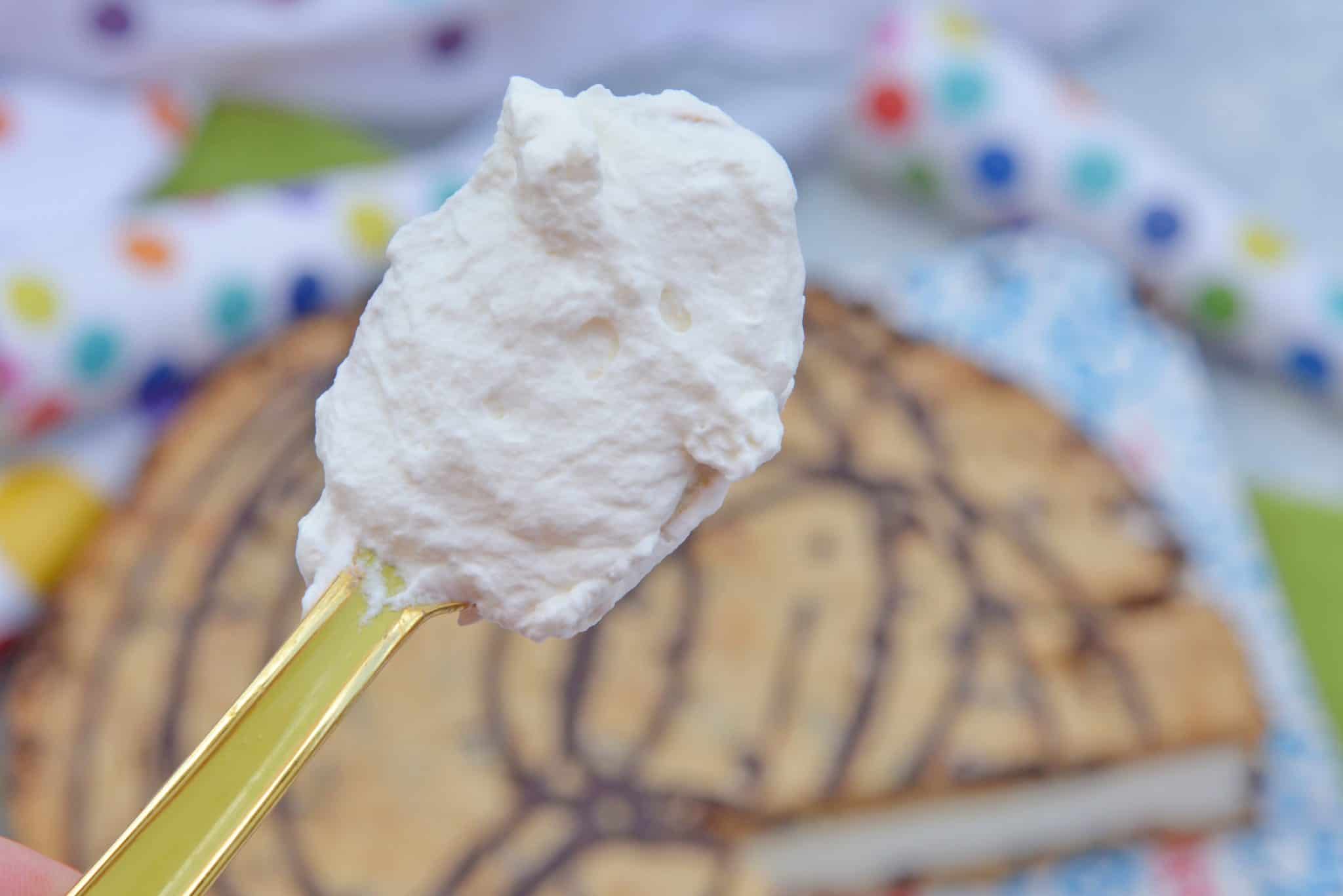 If you love ice cream cakes as much as we do, make sure you join the Crunchie Club! You'll get product news, coupons and party tips!
Despite being used interchangeably quite often, there is a difference. Heavy cream has a 36% milk fat while and whipping cream is only 30%.
Heavy cream is better for stabilized homemade whipped cream and thickening sauces because it has a higher milk fat and thicker texture, but only slightly.
Both can make whipped cream, but heavy cream is actually than whipping cream. Confusing, I know.
Heavy cream whips well and holds shape better. It's best for piping, pastry fillings and anything that needs to be thick and creamy. This also makes it better as a thickening agent and for creamy sauces.
Whipping cream will still whip and in fact, ost people use it merely because of the name, however it is lighter and tends to lose shape become liquidy.
Here are a few tricks for making the best easy whipped cream to go with any flavor of ice cream cake:
ONE. Make sure your cream, bowl and whisk are all cold. I put my bowl and whisk in the freezer for 1 hour to overnight before making homemade whipped cream.
TWO. Metal bowls work best for making whipped cream from scratch. Like when whipping egg whites, glass bowls are too smooth and the particles have a hard time lining up to chemically change into the frothy whipped cream you desire.
THREE. Without a doubt, using a stand mixer or electric hand mixer will make your life much easier. If you are whisking by hand, bless you and your massive arm muscles!
FOUR. To easily customize your homemade whipped cream recipe, use different types of extract. Lemon, butter, peppermint, almond and banana are some of my favorites.
FIVE. For chocolate whipped cream, add a tablespoon of cocoa powder after you have the base recipe completed. You can also fold in colorful sprinkles, crushed peppermint and other cookies or candies.
Delicious Recipes That Taste Better with Whipped Cream:
Holiday Meringue Wreath
If you're looking for the perfect showstopping holiday dessert, look no further than this Meringue Wreath! A beautiful holiday pavlova with whipped cream and fresh berries.
Mixed Berry Pie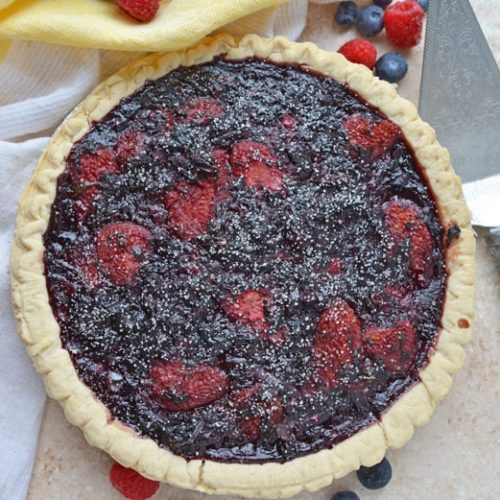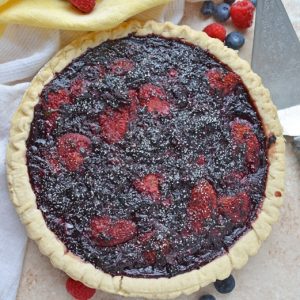 This Mixed Berry Pie is the best summer pie recipe! It uses frozen berries and a pre-made pie crust making it an easy pie recipe that tastes delicious.
Fruit Salad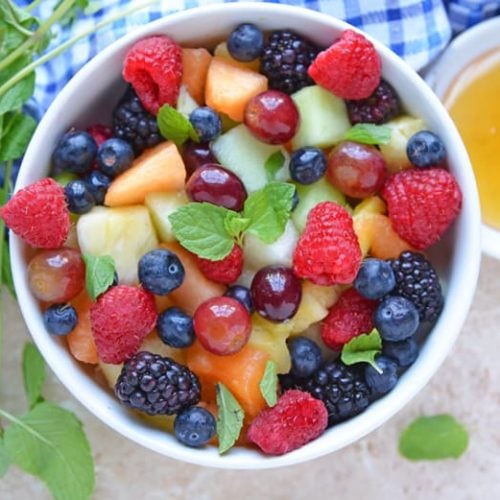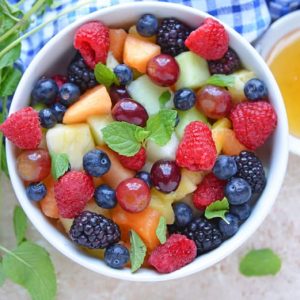 This is the best fruit salad recipe! With an easy fruit salad dressing of agave and fresh mint, it's the perfect refreshing salad recipe for summer!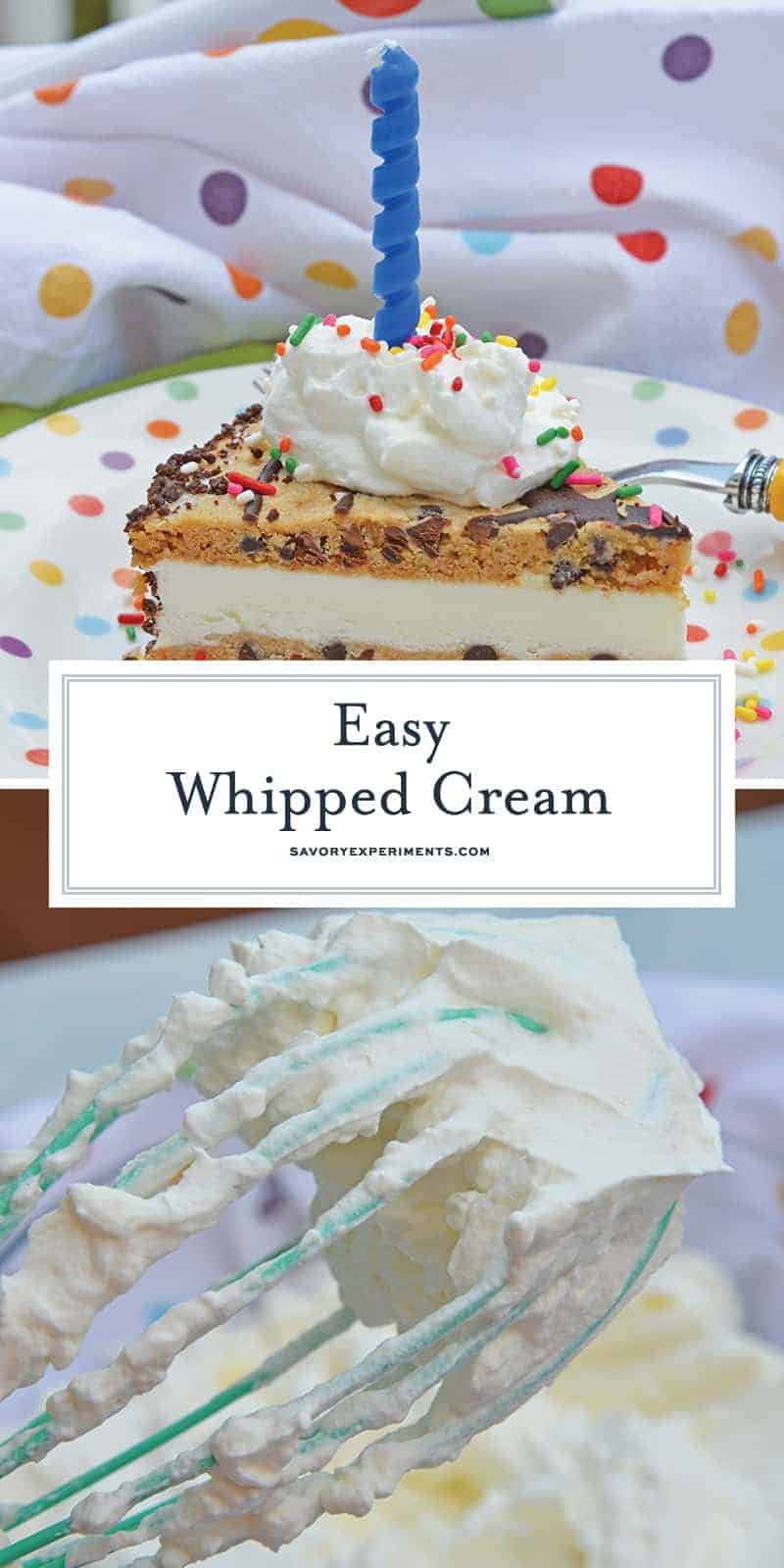 CONNECT WITH SAVORY EXPERIMENTS!

Be sure to follow me on social media, so you never miss a post!

Facebook | Twitter | Youtube
Pinterest | Instagram

Get our FREE 8 Day E-Course on How to Be a Better Home Cook. Sign up HERE!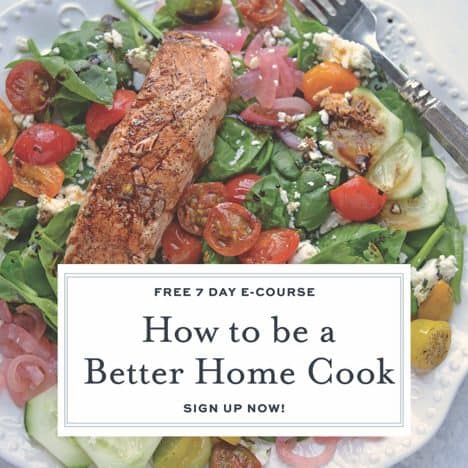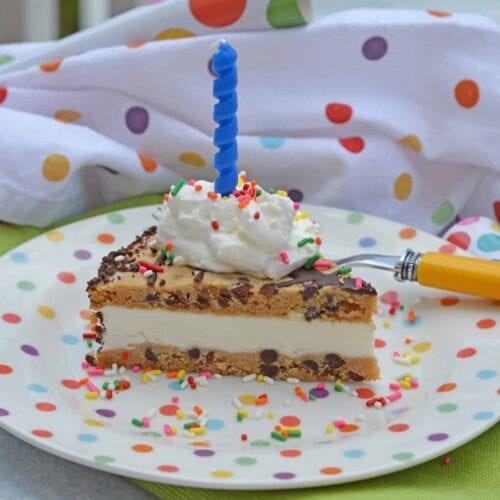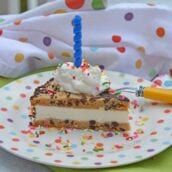 Print Recipe
Easy Whipped Cream
Easy Whipped Cream is a 3-ingredient recipe for whipped cream from scratch. Perfect for topping ice cream cake and other desserts!
Instructions
Chill bowl and whisk for at least 1 hour before preparing.*

Using a stand mixer fitted with the whisk attachment or an electric mixer fitted with the whisk attachment, combine whipping cream, sugar and vanilla and whisk vigorously for 3-4 minutes or until stiff peaks begin to form. You can certainly whisk by hand and work on your arm muscles, but it might take longer than 3-4 minutes.

Serve immediately or place in refrigerator. Homemade whipped cream only stays stiff for about 1 day. You can re-whisk it to bring back life, but it's best served fresh.

If you've tried this recipe, come back and let us know how it was!
Notes
*You can make whipped cream without the chilling step, but it is easier with it.
Nutrition
Calories:
873
kcal
|
Carbohydrates:
18
g
|
Protein:
4
g
|
Fat:
88
g
|
Saturated Fat:
54
g
|
Cholesterol:
326
mg
|
Sodium:
90
mg
|
Potassium:
178
mg
|
Sugar:
12
g
|
Vitamin A:
3500
IU
|
Vitamin C:
1.4
mg
|
Calcium:
155
mg
If you need assistance figuring out where to buy your Carvel®, Jon Donaire® or OREO® ice cream cake, check out the I Love Ice Cream Cakes product locator!