Whipped cream falling? Turning into a pile of BLAH right after you spoon it out? There is an easy fix for that and I'm going to teach you what it is…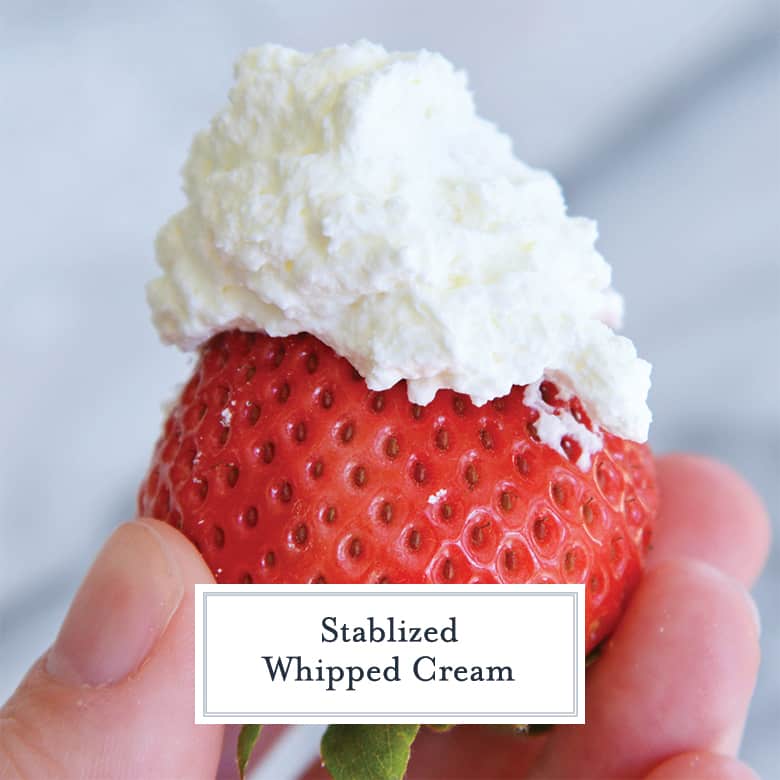 Homemade Whipped Cream
Homemade whipped cream is so fluffy and fabulous, you should want to just eat it with a spoon. I've been known to do such things. My daughter does too.
Any dessert should feel excited to be blessed by its presence.
Stabilized Whipped Cream
Did you whip cream fall? Just go flat? You spent time trying to pipe it out all pretty and then it deflated.
We've all been there. But there is a solution that doesn't involve using "whipped topping", which is just vegetable oil. In fact, there are 3 solutions, but one I prefer over the others.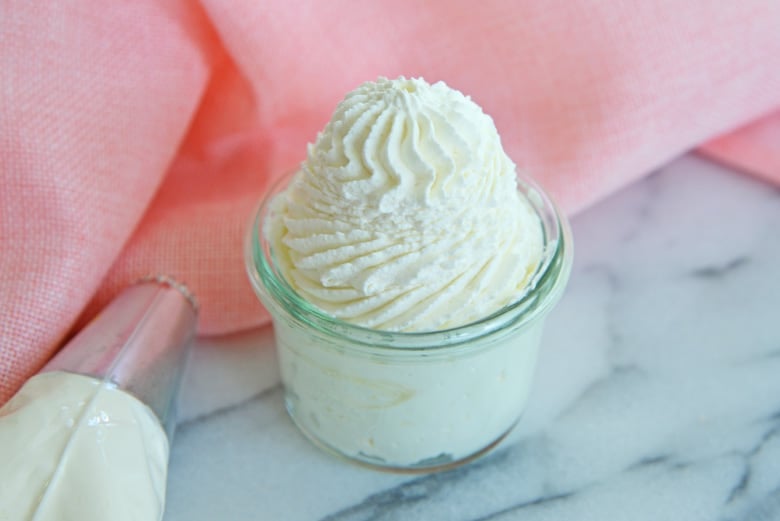 Corn Starch- Cornstarch is known to thicken and thus, it also thickens whipped cream. In fact, it is literally the only ingredient in those little packets of "Whip It" you buy at the store. Save your money, use the cornstarch you already have at home. One tablespoon is all you need!
Cream of Tartar– Not just for Snickerdoodles and meringue, it also helps to hold whipped cream. Use 1-2 teaspoons.
Skimmed Milk Powder– Just dehydrated skim milk, this one tastes the most creamy because it is actually dairy and sucks up some of the moisture. It will literally stay stiff for days. Swap it with 1 tablespoon.
Heavy Cream Vs Whipping Cream
Despite being used interchangeably quite often, there is a difference. Heavy cream has a 36% milk fat while and whipping cream is only 30%.
Heavy cream is better for stabilized homemade whipped cream and thickening sauces because it has a higher milk fat and thicker texture, but only slightly.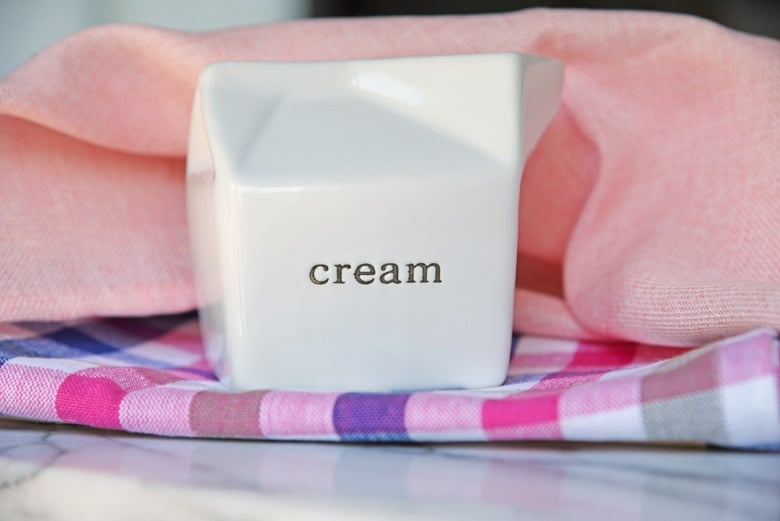 Both can make whipped cream, but heavy cream is actually better than whipping cream. Confusing, I know.
Heavy cream whips well and holds shape better. It's best for piping, pastry fillings and anything that needs to be thick and creamy. This also makes it better as a thickening agent and for creamy sauces.
Whipping cream will still whip and in fact, ost people use it merely because of the name, however it is lighter and tends to lose shape become liquidy.
How to Make Whipped Cream with a Mixer
Start will chilled ingredients and chilled equipment. Yep, you can even chill the sugar and stabilizing agent.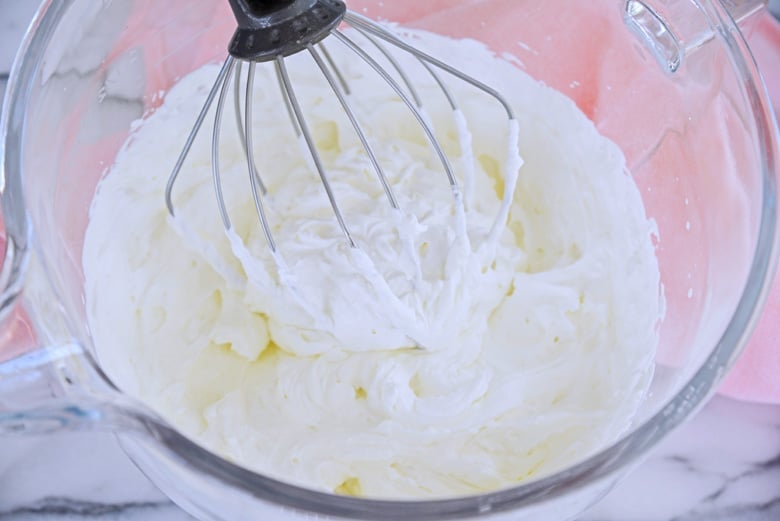 Use a medium speed (not high) and beat for 1-2 minutes. As soon as you see the cream start to thicken, stop.
Do not over beat or you will end up with butter and there is no way to remix back to whipped cream. This is far too easy to do when working with an electric mixer, so watch carefully!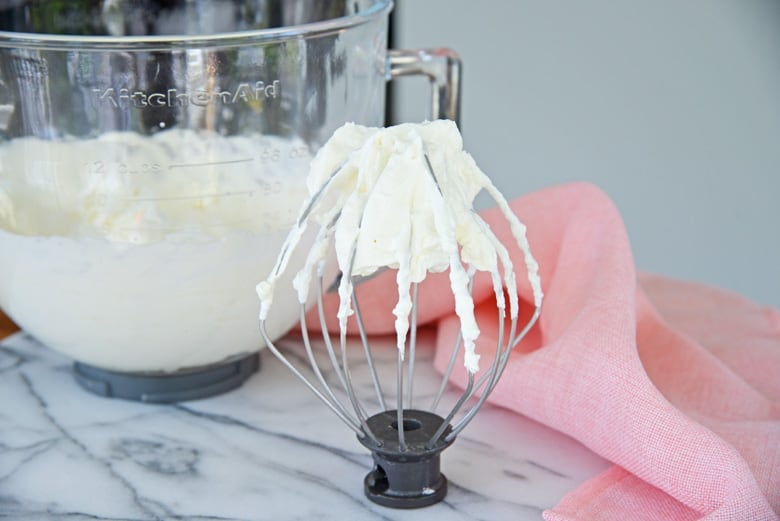 How to Make Whipped Cream By Hand
Also start with chilled ingredients and equipment.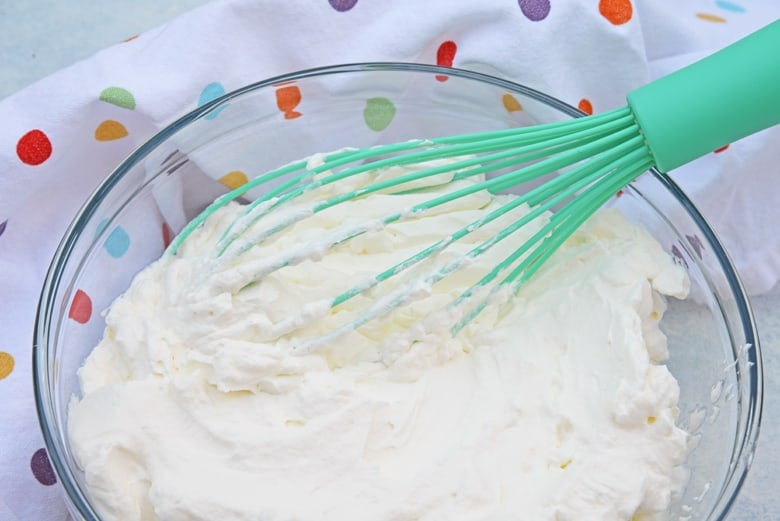 Using a whisk, whip vigorously for about 5 minutes. You'll see the cream get bubbly and frothy before it starts to thicken.
It is hard to overbeat by hand, but it can be done (hello hand churned butter!).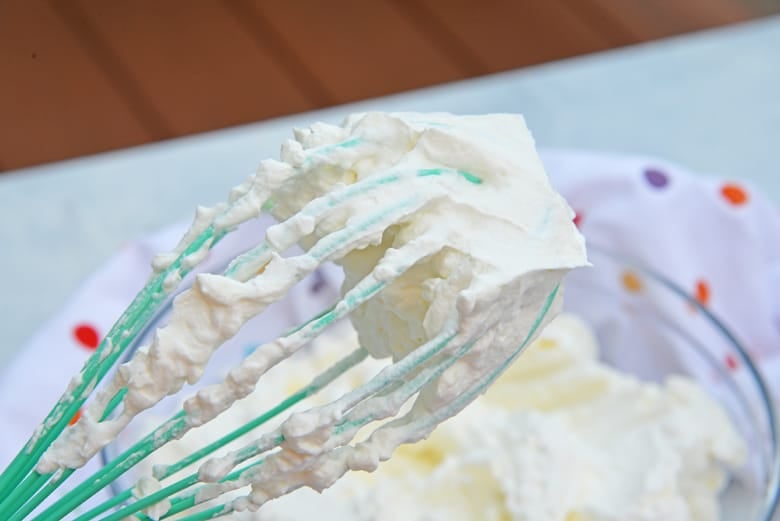 Tips for Making Whipped Cream
ONE. Make sure your cream, bowl and whisk are all cold. I put my bowl and whisk in the freezer for 1 hour to overnight before making homemade whipped cream.
TWO. Metal bowls work best for making whipped cream from scratch, but glass is fine too, just takes a little longer. Like when whipping egg whites, glass bowls are too smooth and the particles have a hard time lining up to chemically change into the frothy whipped cream you desire.
THREE. To easily customize your homemade whipped cream recipe, use different types of extract. Lemon, butter, peppermint, almond and banana are some of my favorites.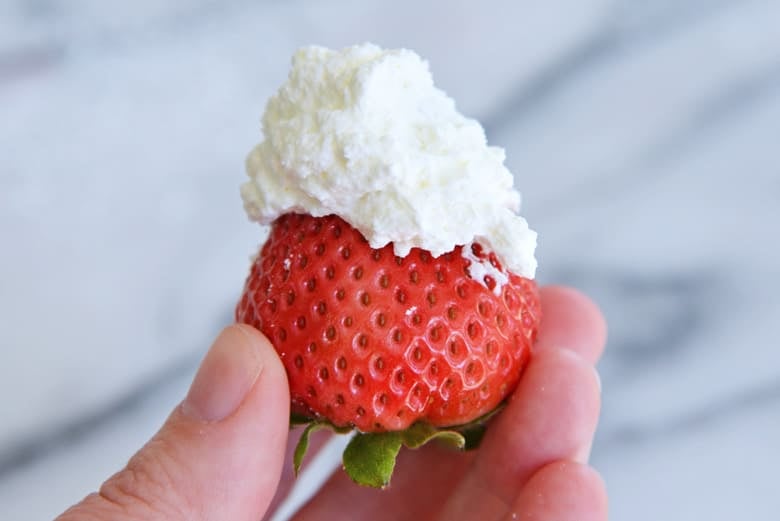 FOUR. For chocolate whipped cream, add a tablespoon of cocoa powder after you have the base recipe completed. You can also fold in colorful sprinkles, crushed peppermint and other cookies or candies.
FIVE. If making colored whipped cream, add gel food coloring before you start whipped. Adding it after can jeopardize the structure.
SIX: Don't over whip the cream. There is a fine line between whipped cream and butter. After it seperates, there is no getting it back and now you just have sweet butter and sweet buttermilk.
SEVEN. Serve as-is or make into something fun like peppermint whipped cream or chocolate whipped cream.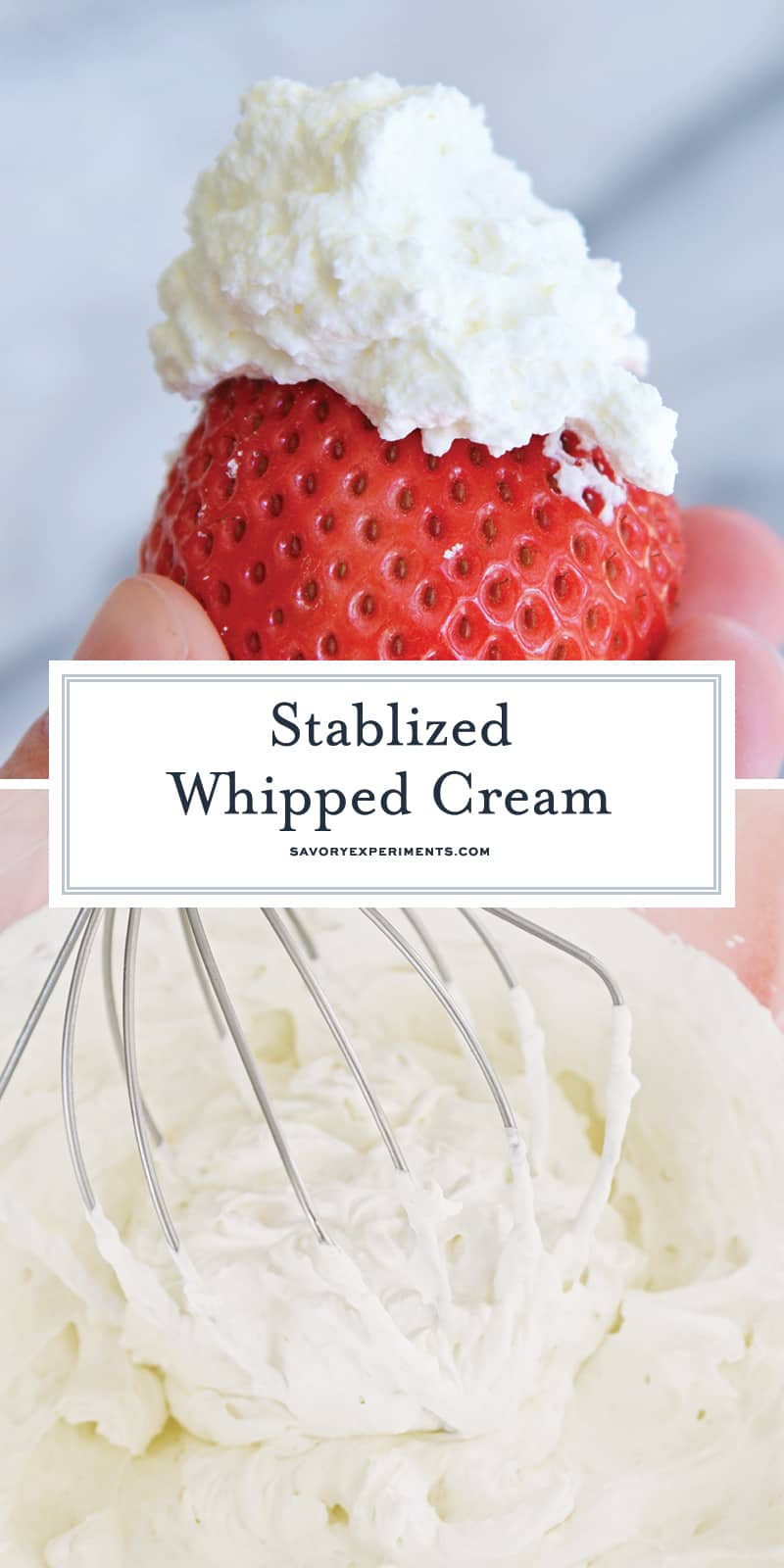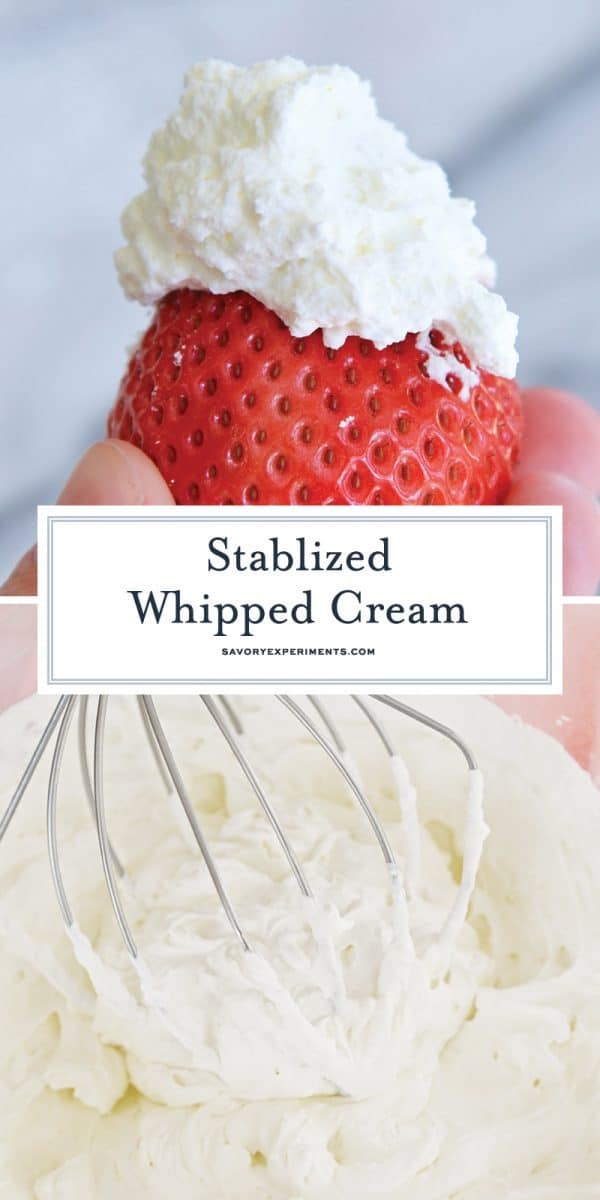 What You'll Need
Stand Mixer– If you plan to go this route, this is the mixer I own. It should come with a whisk attachment.
While I wouldn't buy a mixer just to make whipped cream, these bad boys are a work horse in the kitchen and you can use them for just about everything. The only appliance I leave on my counter.
Whisk– Going the old fashioned route? Use the size whisk that correlates with how much whipped cream you plan to make.
Whipped Cream Dispenser– Going the fancy route? You'll need a dispenser. Read the directions before using. Note, most do NOT come with cartridges, you'll need to buy those too. You'll need a new one for each batch, so you go through them rather quickly.
Recipes That Use Whipped Cream: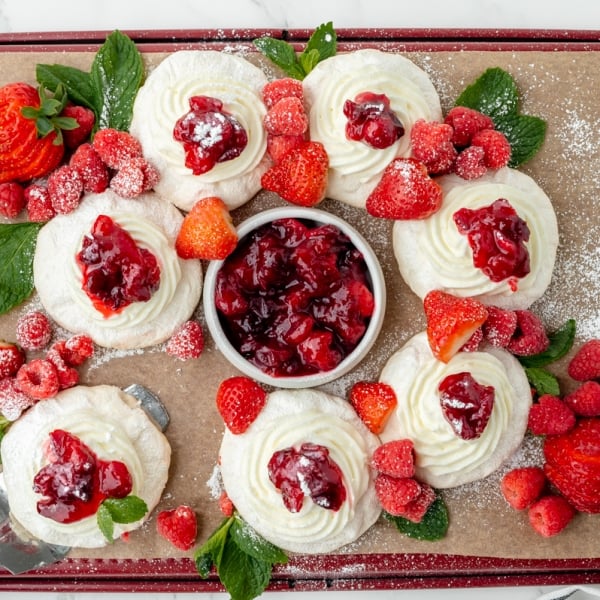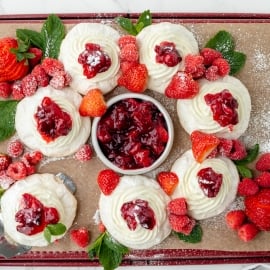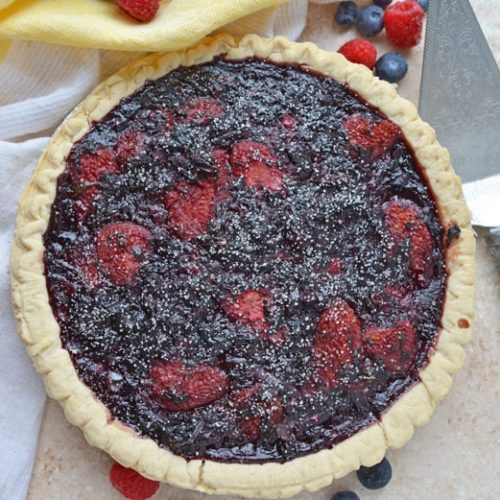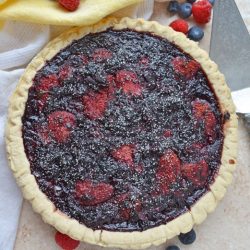 Mixed Berry Pie
This Mixed Berry Pie is the best summer pie recipe! It uses frozen berries and a pre-made pie crust making it an easy pie recipe that tastes delicious.
See The Recipe!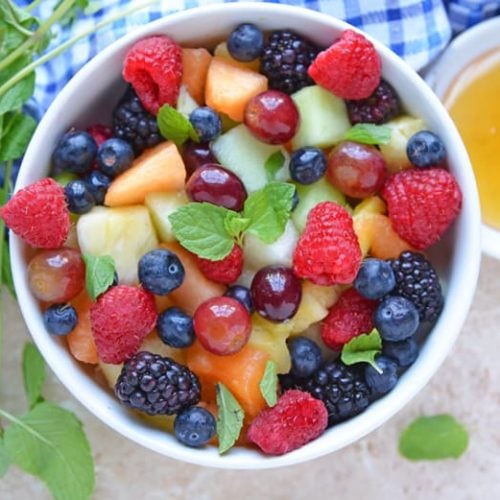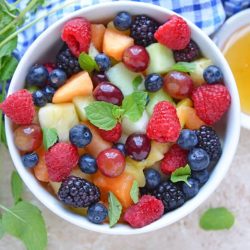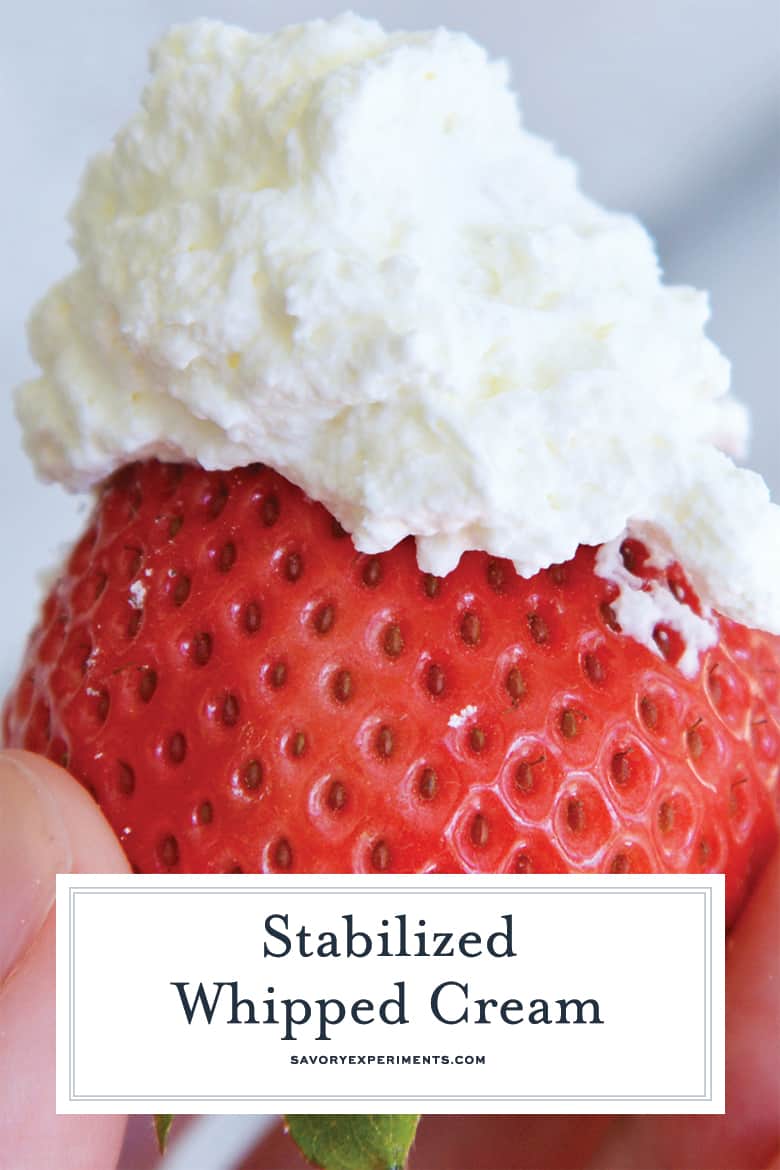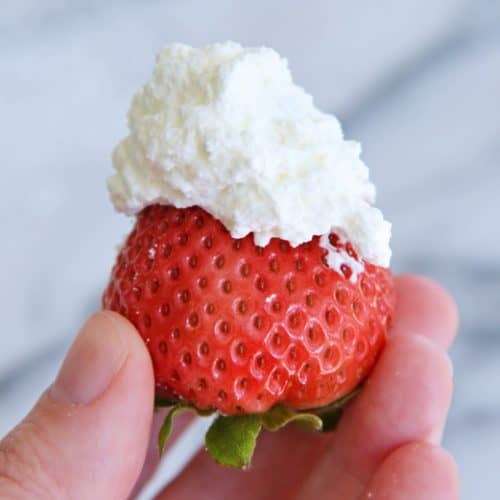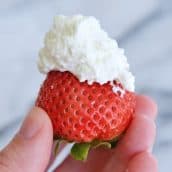 Stabilized Whipped Cream
Easy Whipped Cream is a 3-ingredient recipe for whipped cream from scratch. Perfect for topping ice cream cake and other desserts!
Instructions
Chill bowl and whisk for at least 1 hour before preparing.*

Using a stand mixer fitted with the whisk attachment or an electric mixer fitted with the whisk attachment, combine whipping cream, sugar, vanilla and skimmed milk powder.

Whisk vigorously for 1-2 minutes or until stiff peaks begin to form. You can certainly whisk by hand and work on your arm muscles, but it will take closer to 5 minutes.

Serve immediately or place in refrigerator. Homemade whipped cream only stays stiff for about 2 days. You can re-whisk it to bring back life, but it's best served fresh.

If you've tried this recipe, come back and let us know how it was!
Notes
*You can make whipped cream without the chilling step, but it is easier with it.
Nutrition
Calories:
148
kcal
,
Carbohydrates:
3
g
,
Protein:
1
g
,
Fat:
15
g
,
Saturated Fat:
9
g
,
Cholesterol:
54
mg
,
Sodium:
18
mg
,
Potassium:
41
mg
,
Sugar:
2
g
,
Vitamin A:
597
IU
,
Vitamin C:
1
mg
,
Calcium:
34
mg