Key Lime Pound Cake is a riff on my favorite (and award winning) Vanilla Pound Cake. The cake itself is a little lighter than most pound cakes, but with buttery flavor and in this case, a gentle lime flavor.
The glaze is a basic powdered sugar glaze, but dotted with lime zest to give it zing.
Pound Cake Recipes
Pound cakes, as a rule, are a little heavy. If you want a light, moist crumb, this isn't your go-to cake. But when you need a comforting buttery dessert, they hit the spot.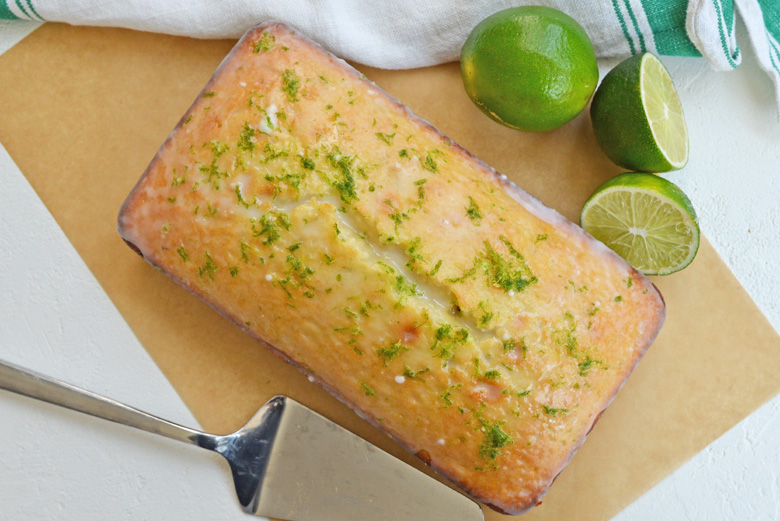 They got their name because the original ingredient list was simple. One pound of butter, one pound of sugar and one pound of flour with a few eggs. Hence, pound cake.
But with no leaveners or other flavors, this also meant they were heavy and needed to be accompanied by sauce or fresh fruit. Since, many variations of pound cake have emerged. My key lime cake being one of them.
Key Limes vs Regular Limes
Is there a difference between key limes and regular limes? There sure is!
Key limes are smaller than the usual limes at the store. Their skins are greenish-yellow and they have seeds. They are slightly more tart and have a floral aroma. Both the zest and the juice is more potent than regular limes.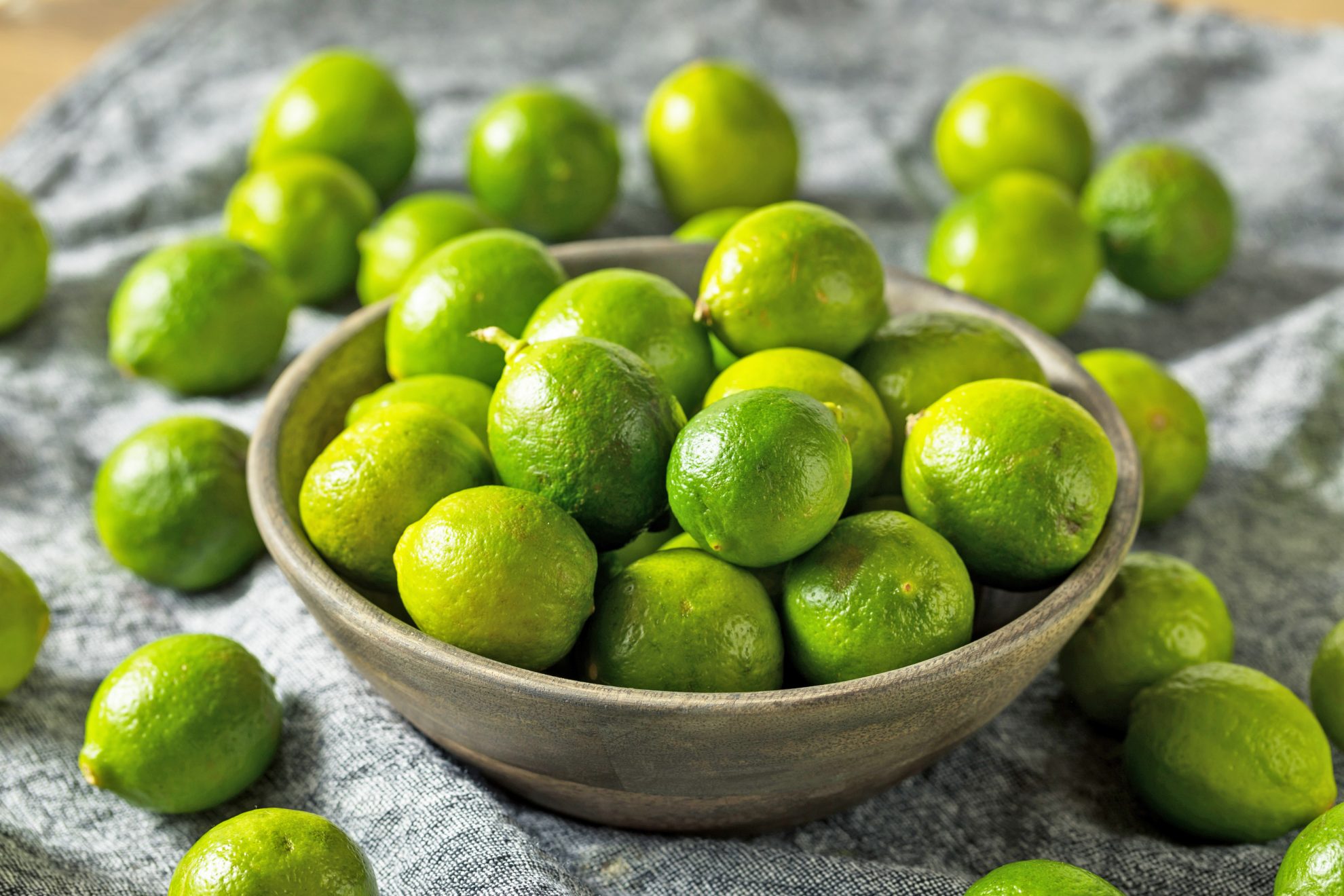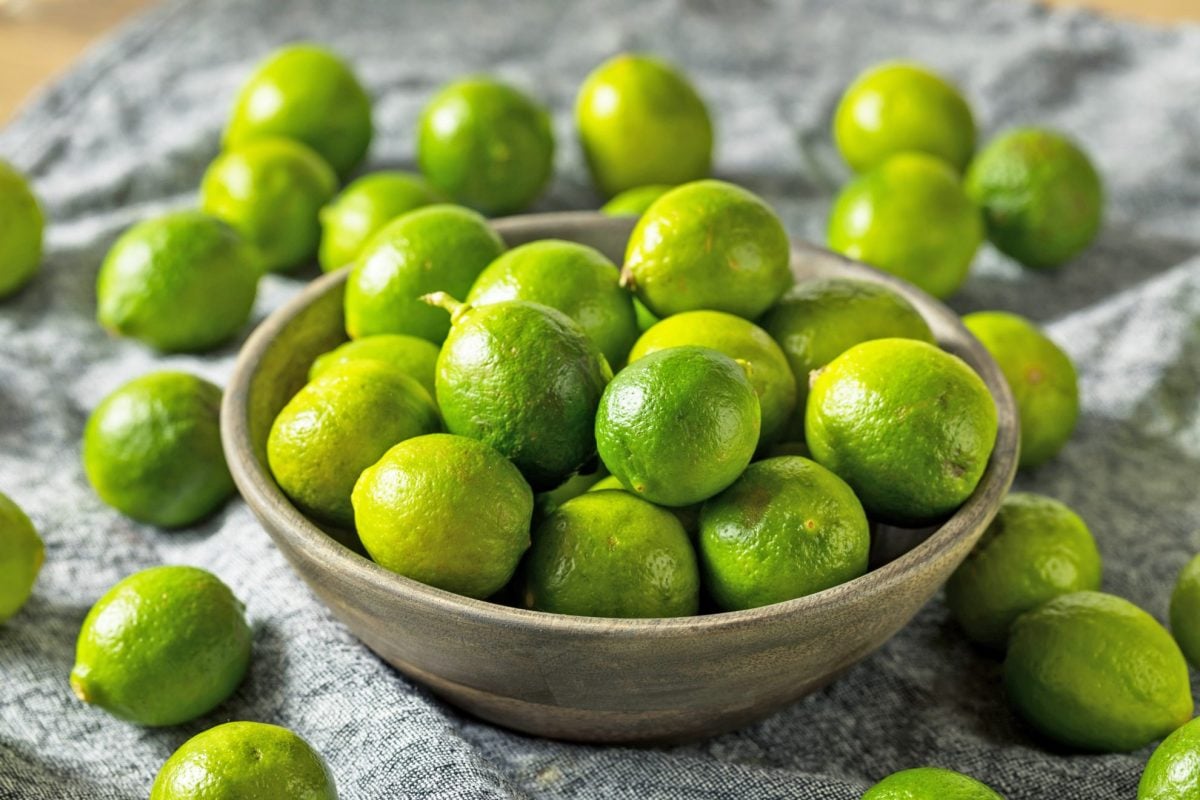 But for the majority of us, we will have trouble getting our hands on true key limes, so feel free to use regular limes if you can't.
You can also buy key lime juice in a bottle. While I would generally shy away from citrus juice in a bottle (over fresh) this is one scenario where I might go ahead and do it thinking of it more like a flavoring or extract than juice. Just so you get some of the real key lime flavor. Then use zest from regular limes.
Ingredients
The ingredients for lime pound cake are pretty straightforward and simple…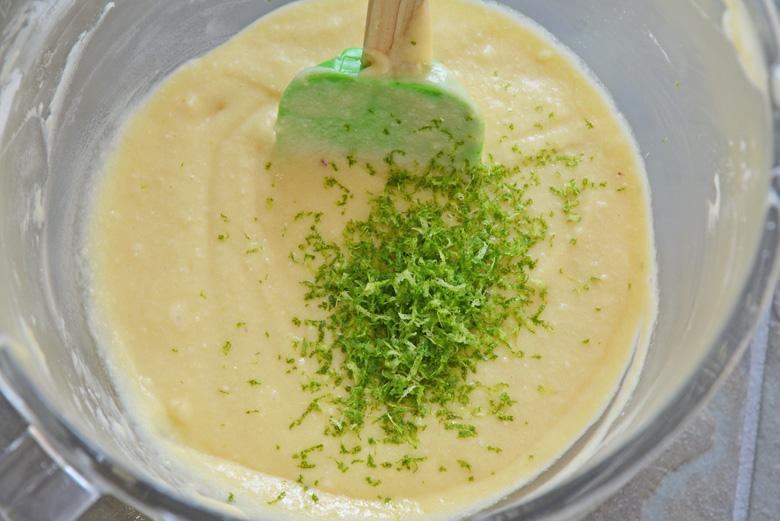 Unsalted Butter– Salt dries things out and brands can vary on salt content. Always bake with unsalted and then add salt as needed. Also, don't skimp with cheap butter- it is the base for the is cake. Use a good grade A butter.
Sugar- This is a rich cake, but not an overwhelming sweet cake.
Eggs- Creates structure and stability in the finished product.
Lime Juice- used instead of vanilla to add the punch you are looking for.
Flour– Proteins that make up gluten and thus, structure and stability.
Baking Powder- Leavener to add fluff and neutralize acids.
Salt– Salt is essential in baking to bring out natural flavors and provide acidity.
Milk– helps to keep things moist. Try to use a 2% or even full fat milk for the most impact.
Key Limes– See my whole diatribe above… and if you have extras, use them to make my Key Lime Cookies!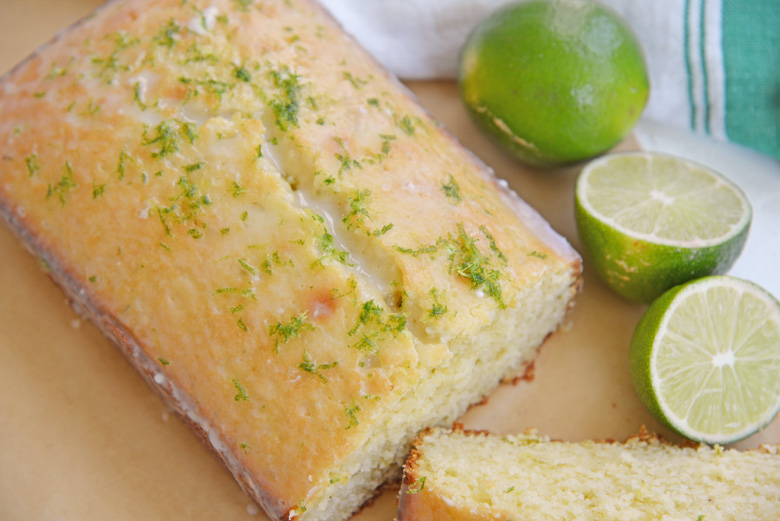 Baking Pans
This is discussed below, but it is so important that it needs to be discussed twice. USE THE PAN SUGGESTED FOR THE RECIPE.
This recipe calls for 2 standard loaf pans and while the batter will fit into a bundt pan or tube pan, it throws off the baking times.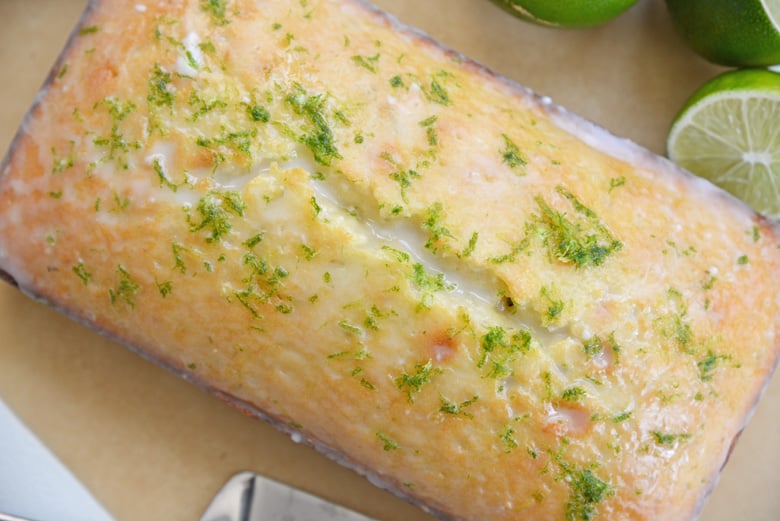 You can, of course, give it a try, but the baking times will be off and please don't leave a comment saying it failed miserably. It wasn't the recipe, it was the pan.
Pound Cake Glaze
The simple cake glaze is just a mixture of 2 cups powdered sugar (confectioners sugar) with a touch of milk and lime zest. You can also add lime juice or vanilla for more flavor, but since key limes are already so flavorful, it wasn't necessary.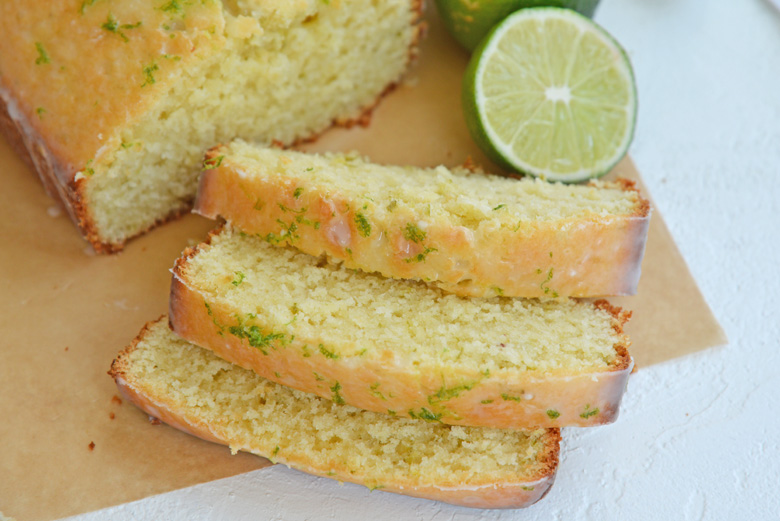 Add milk sparingly. I'm not sure I've ever actually made the right amount of glaze. I almost always add too much liquid and then need to add more powdered sugar. Ha!
Mix together right before you are ready to ice, which should be after the cake is fully cooled. Then drizzle on top and allow to set or serve immediately.
I like to do this over a wire rack so the extra glaze drips off instead of pooling around the bottom of the cake. After it sets, transfer it to the serving dish.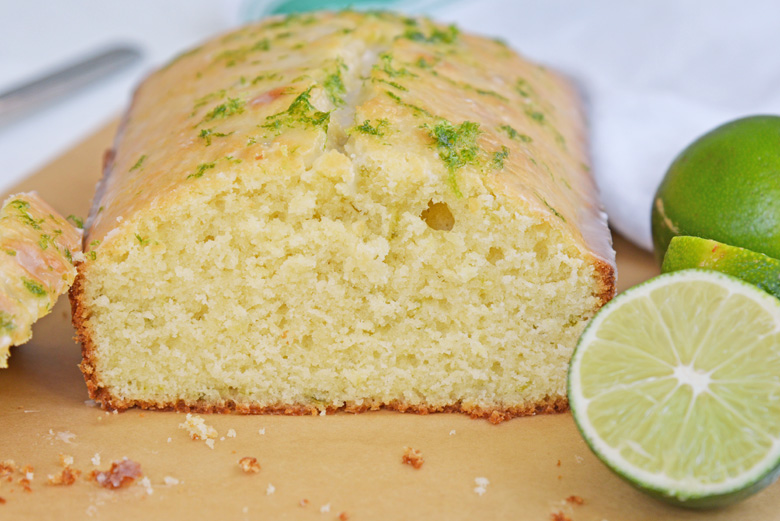 Tips for BEST Pound Cake
I'm not assuming you don't know how to bake, but just skim these over as a refresher. This is a condensed version, check out my whole list for more details.
Measure wet and dry ingredients properly
Use high quality sugar with a large grain
Use grade A butter with little water and liquid fat
Make sure all ingredients are room temperature
Avoid over mixing
Use the size cake pan stated in the recipe
Grease your pans with vegetable shortening
Make sure you have the right oven temperature
Tip it out of the mold while warm (but not hot)
Allow to cool fully before adding sauce or icing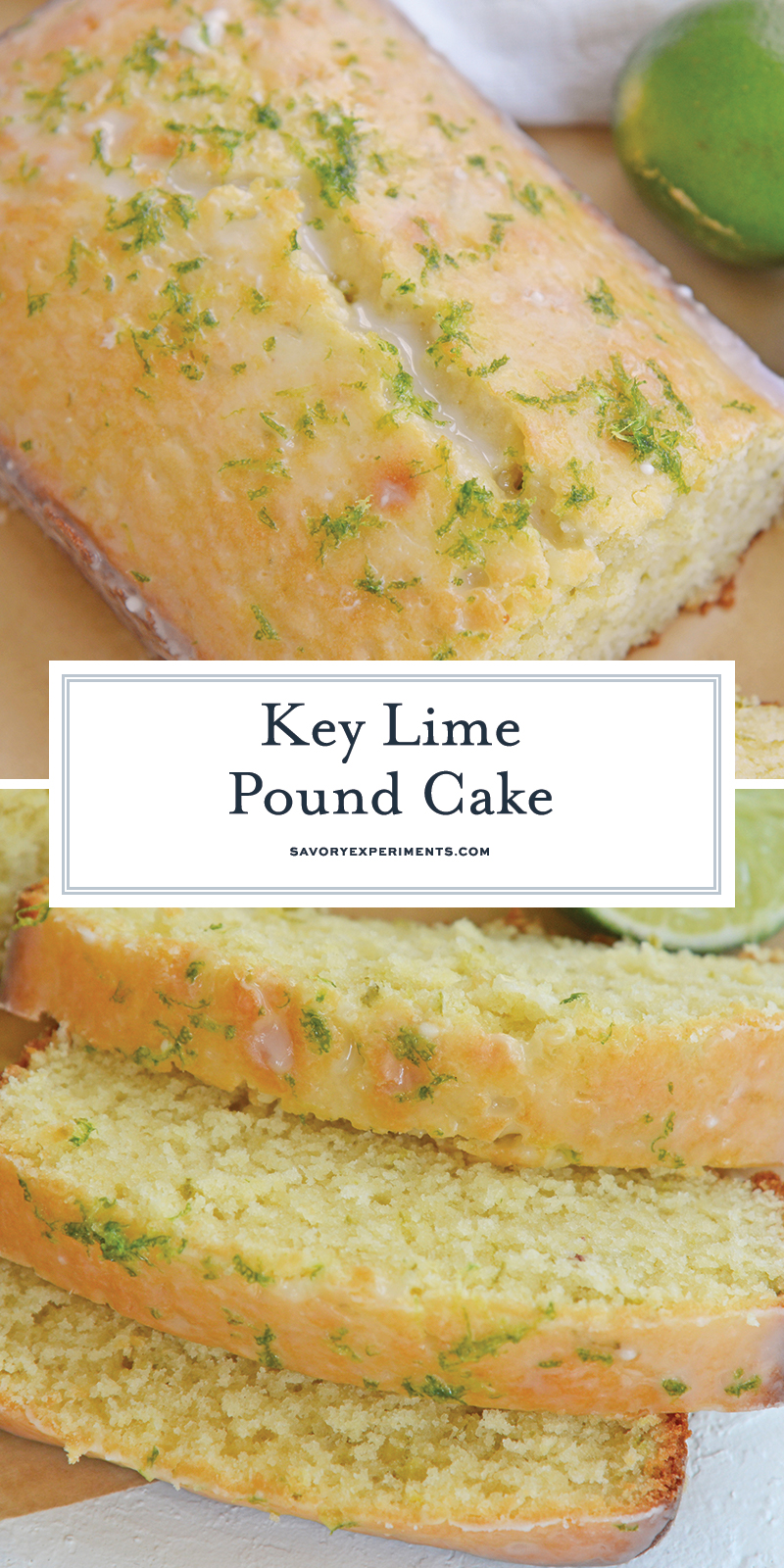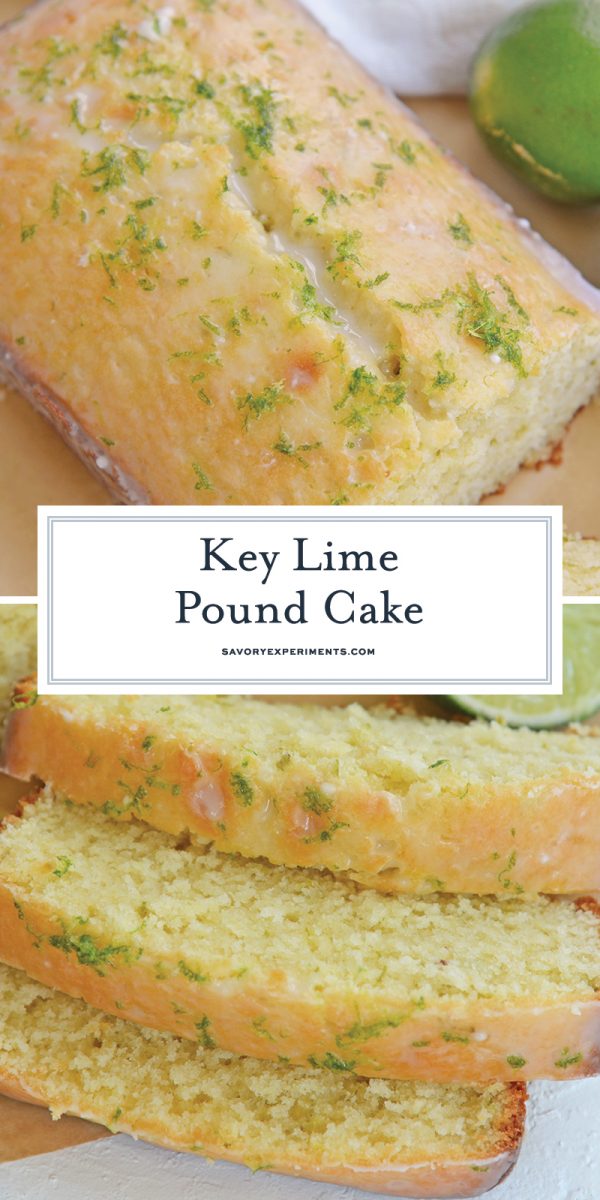 More delicious desserts…
Welcome to the 4th Annual #SummerDessertWeek event hosted by Angie from
Big Bear's Wife
. We're celebrating all things summer with a week-long event that is absolutely filled with some of the best summer dessert recipes! Follow the hashtag #SummerDessertWeek on social media to find recipes and make sure to check out the bottom of this post for even more summer desserts!
Check out the amazing #SummerDessertWeek recipes from our bloggers today!
Ice Cream:
Sweet Summertime Cakes and Cupcakes:
No Bake Treats: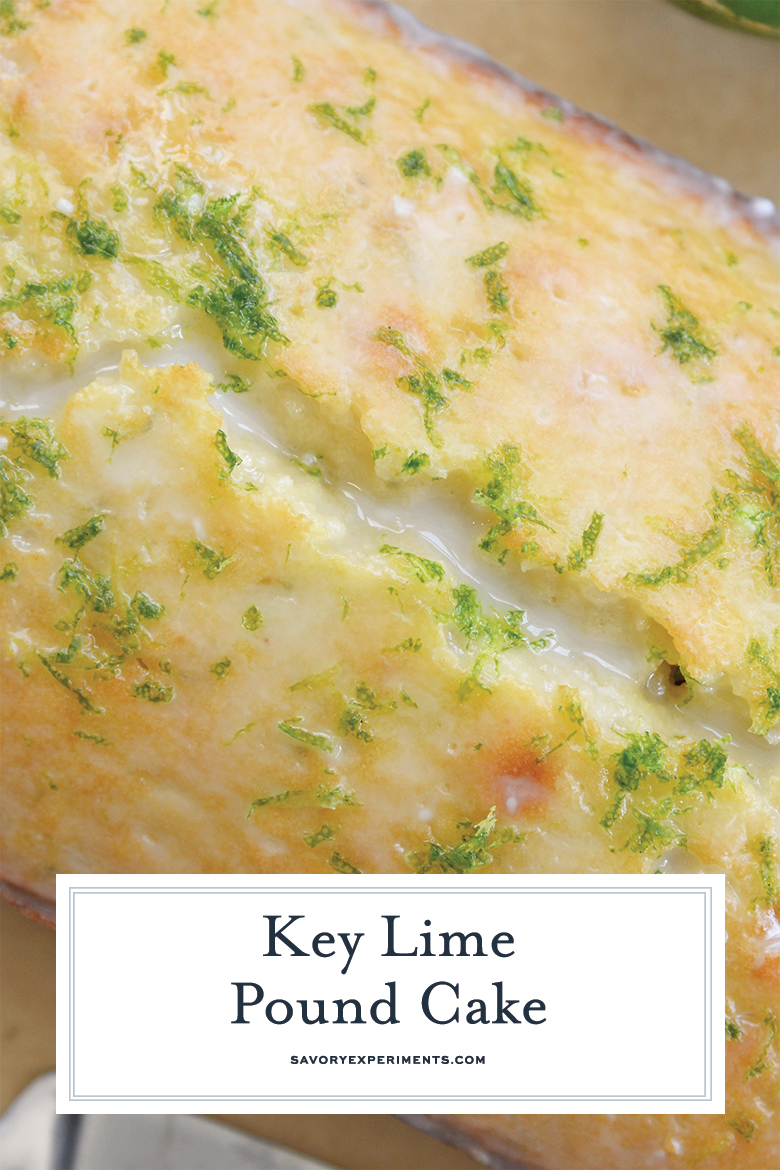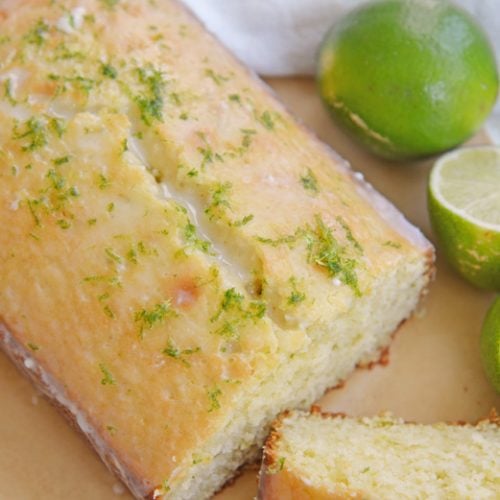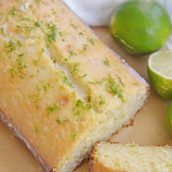 Key Lime Pound Cake
Infused with the juice and extract of key limes, this buttery and rich pound cake is the perfect summer dessert!
Instructions
Heat oven to 350 degrees. Grease and lightly flour two 9×5-inch loaf pans.

In medium bowl, sift together flour, baking powder and salt; set aside.

In a large bowl or the bowl of a stand mixer fitted with the paddle attachment, beat sugar and butter until light and fluffy. Add lime juice and eggs, beating on high speed for 2-3 minutes.

Add flour mixture into sugar mixture alternately with milk on low speed, beating just until smooth after each addition.

Pour into prepared pans.

Bake 55 to 60 minutes, or until toothpick inserted in center comes out clean. Cool 20 minutes; remove from pan(s) to wire rack. Cool completely, about 2 hours.

When cakes are cooled, make glaze.

Whisk together powdered sugar, milk and lime zest. Add milk very sparingly until a drizzle-able consistency.

Place cake on cooling rack with aluminum foil or parchment underneath. Spoon glaze over cakes and let excess drip below. Let glaze set and then transfer to serving tray.

If you've tried this recipe, come back and let us know how it was in the comments and ratings!
Nutrition
Calories:
635
kcal
,
Carbohydrates:
104
g
,
Protein:
8
g
,
Fat:
22
g
,
Saturated Fat:
13
g
,
Cholesterol:
133
mg
,
Sodium:
106
mg
,
Potassium:
153
mg
,
Fiber:
1
g
,
Sugar:
75
g
,
Vitamin A:
726
IU
,
Vitamin C:
1
mg
,
Calcium:
72
mg
,
Iron:
2
mg