Strawberry Pound Cake is a riff on my favorite (and award winning) Vanilla Pound Cake and Lemon Strawberry Cupcakes. The cake itself is a little lighter than most pound cakes, but with buttery flavor and in this case, pockets of caramelized strawberry goodness. Like little flavor bombs in a loaf cake; strawberry shortcake meets pound cake.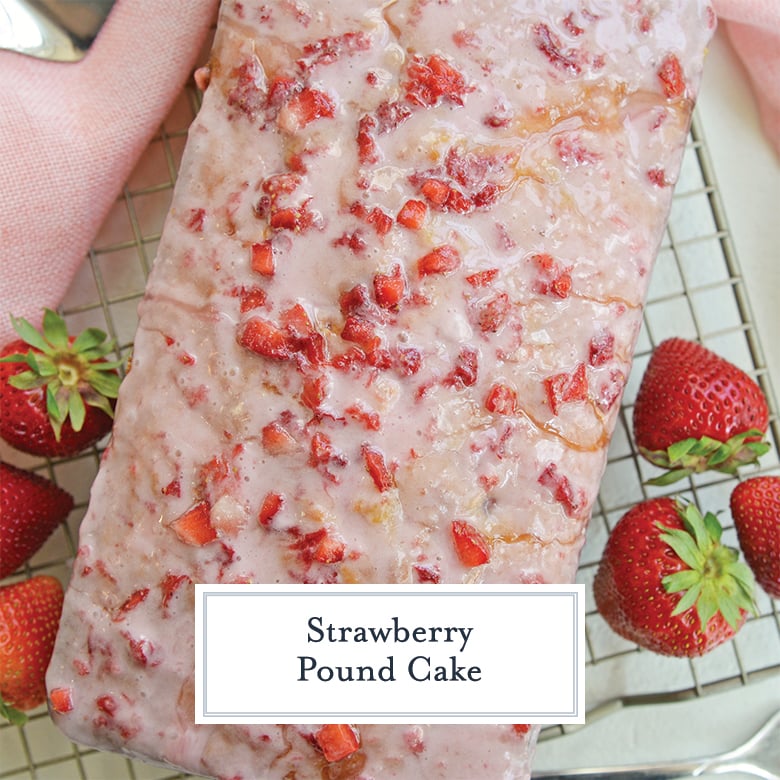 And in this case topped with muddled fresh strawberries for a glaze that is out of this world and adds just enough sweet for balance.
Pound Cake Recipes
Pound cakes, as a rule, are a little heavy. If you want a light, moist crumb, this isn't your go-to cake. But when you need a comforting buttery dessert, they hit the spot.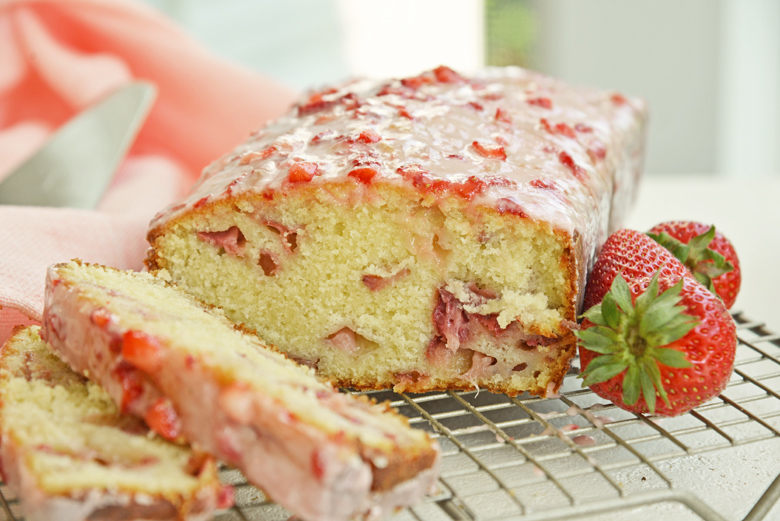 They got their name because the original ingredient list was simple. One pound of butter, one pound of sugar and one pound of flour with a few eggs. Hence, pound cake.
But with no leaveners or other flavors, this also meant they were heavy and needed to be accompanied by sauce or fresh fruit. Since, many variations of pound cake have emerged. My strawberry cake recipe being one of them.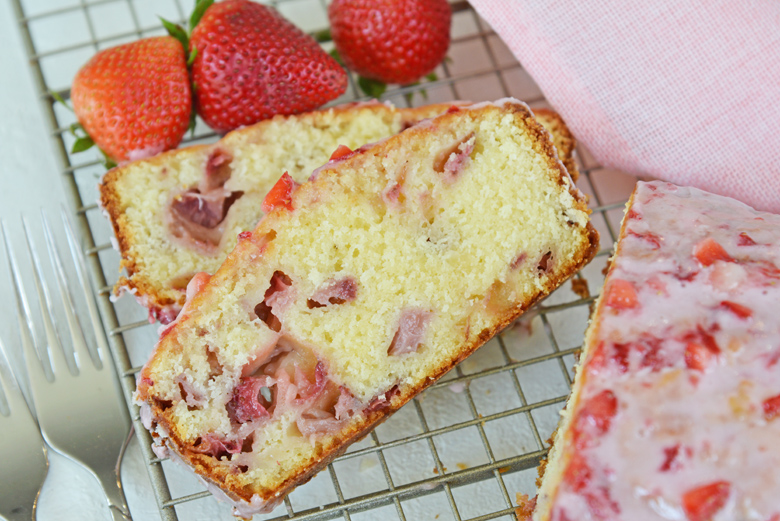 Strawberry Pound Cake Recipe
Adding strawberries to this classic recipe also adds moisture. One of the things to keep in mind is that you want your strawberries to be as dry as possible.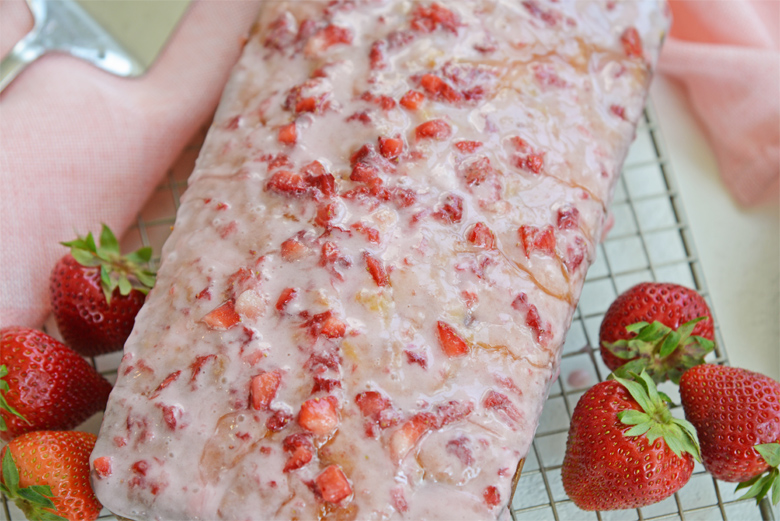 After washing the strawberries, dry them thoroughly with a paper towel or even let them sit, uncovered in the fridge to dry.
You'll need about 20ish strawberries, depending on size.
Ingredients
The ingredients for strawberry cake are pretty straightforward and simple… but with fresh strawberries!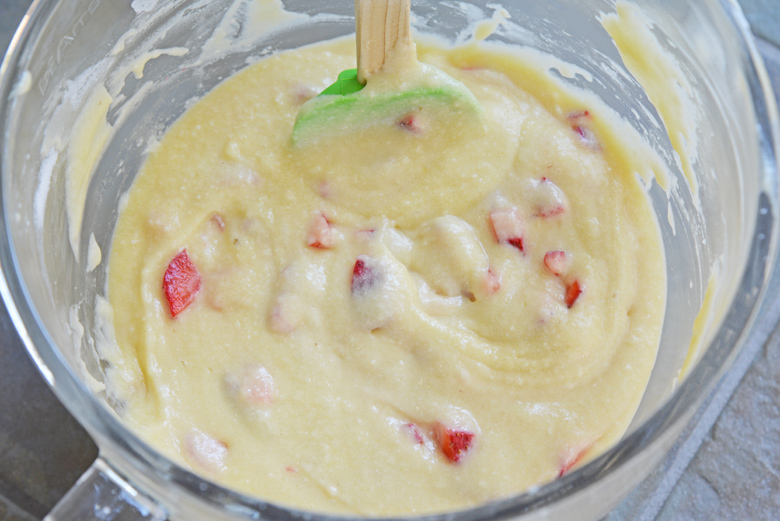 Unsalted Butter– Salt dries things out and brands can vary on salt content. Always bake with unsalted and then add salt as needed. Also, don't skimp with cheap butter- it is the base for the is cake. Use a good grade A butter.
Sugar- This is a rich cake, but not an overwhelming sweet cake. While it seems like a lot of sugar, this is also a LARGE cake and needs to balance out unsweetened cocoa.
Eggs- Creates structure and stability in the finished product.
Vanilla extract– use a good quality vanilla extract, not the imitation stuff.
All-Purpose Flour– Proteins that make up gluten and thus, structure and stability.
Baking Powder- Leavener to add fluff and neutralize acids.
Salt– Salt is essential in baking to bring out natural flavors and provide acidity.
Milk– helps to keep things moist. Try to use a 2% or even full fat milk for the most impact.
Strawberries– Fresh strawberries are best because they will melt and caramelizing during the baking process. Frozen strawberries tend to be a little more watery to start with. If you do use frozen, make sure they are thawed and as dry as possible. Add another 2 tablespoons of flour to the mix to counteract the water content.
Baking Pans
This is discussed below, but it is so important that it needs to be discussed twice. USE THE PAN SUGGESTED FOR THE RECIPE.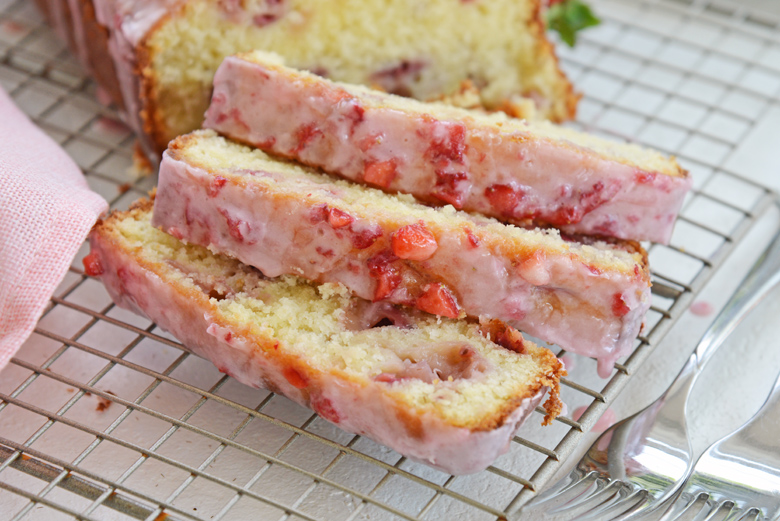 This recipe calls for 2 stand loaf pans and while the batter will fit into a bundt pan or tube pan, it throws off the baking times. You can give it a whirl, but chances are that it will burn the strawberries along the edges a little. The cake will need more time to bake than the actual strawberries due to the size.
Pound Cake Glaze
The simple cake glaze is just a mixture of 2 cups powdered sugar (confectioners sugar) with muddled strawberries and a touch of milk. Since the strawberries already have a lot of juice, you might not need much more liquid. This is where the intense strawberry flavor comes from.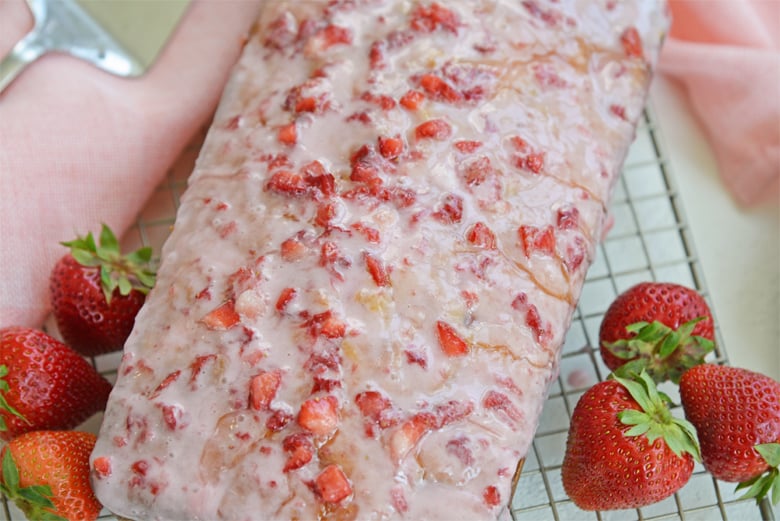 Add sparingly. I'm not sure I've ever actually made the right amount of glaze. I almost always add too much liquid and then need to add more powdered sugar. Ha!
Mix together right before you are ready to ice, which should be after the cake is fully cooled. Then drizzle on top and allow to set or serve immediately.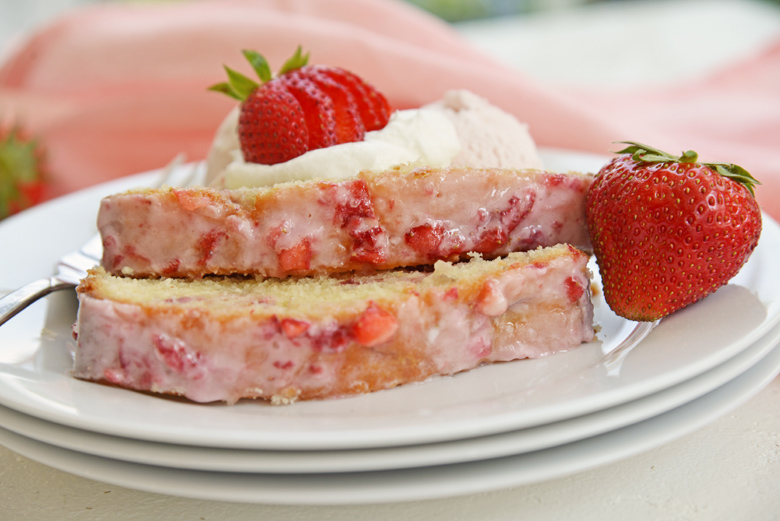 I like to do this over a wire rack so the extra glaze drips off instead of pooling around the bottom of the cake. After it sets, transfer it to the serving dish.
Muddling Strawberries
You'll need to muddle strawberries for the glaze. You can use an actual muddler if you have one lying around from making all those mojitos (you know who you are) or…
Use a pestle and mortar, mashed potato press or the back of a spoon in a plate.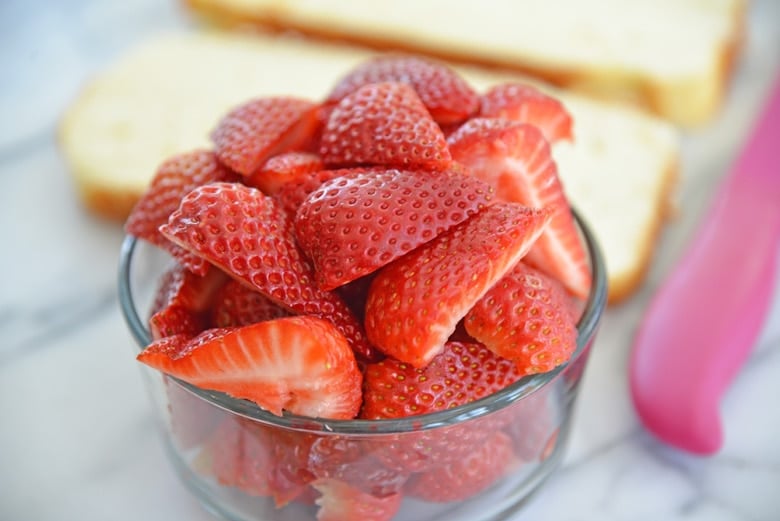 You do need to mash them somehow so they release juice, which will be the liquid to make powdered sugar into glaze.
If you want to skip this step, just use powdered sugar with 1 tablespoon of milk or simply dust with powdered sugar alone. Cream cheese frosting and whipped cream are other good options.
Tips for BEST Pound Cake
I'm not assuming you don't know how to bake, but just skim these over as a refresher. This is a condensed version, check out my whole list for more details.
Measure wet and dry ingredients properly
Use high quality sugar with a large grain
Use grade A butter with little water and liquid fat
Make sure all ingredients are room temperature
Avoid over mixing
Use the size cake pan stated in the recipe (loaf pan)
Grease your pans with vegetable shortening
Make sure you have the right oven temperature
Tip it out of the mold while warm (but not hot)
Allow to cool fully before adding sauce or icing
Storage & Freezing
Like most baked items, good pound cake is best enjoyed within a day of baking. The good news is that the strawberry glaze helps to keep it moist. Store at room temperature in an airtight container or cover with plastic wrap.
It can be frozen, but freeze just the cake and add the icing after it thaws.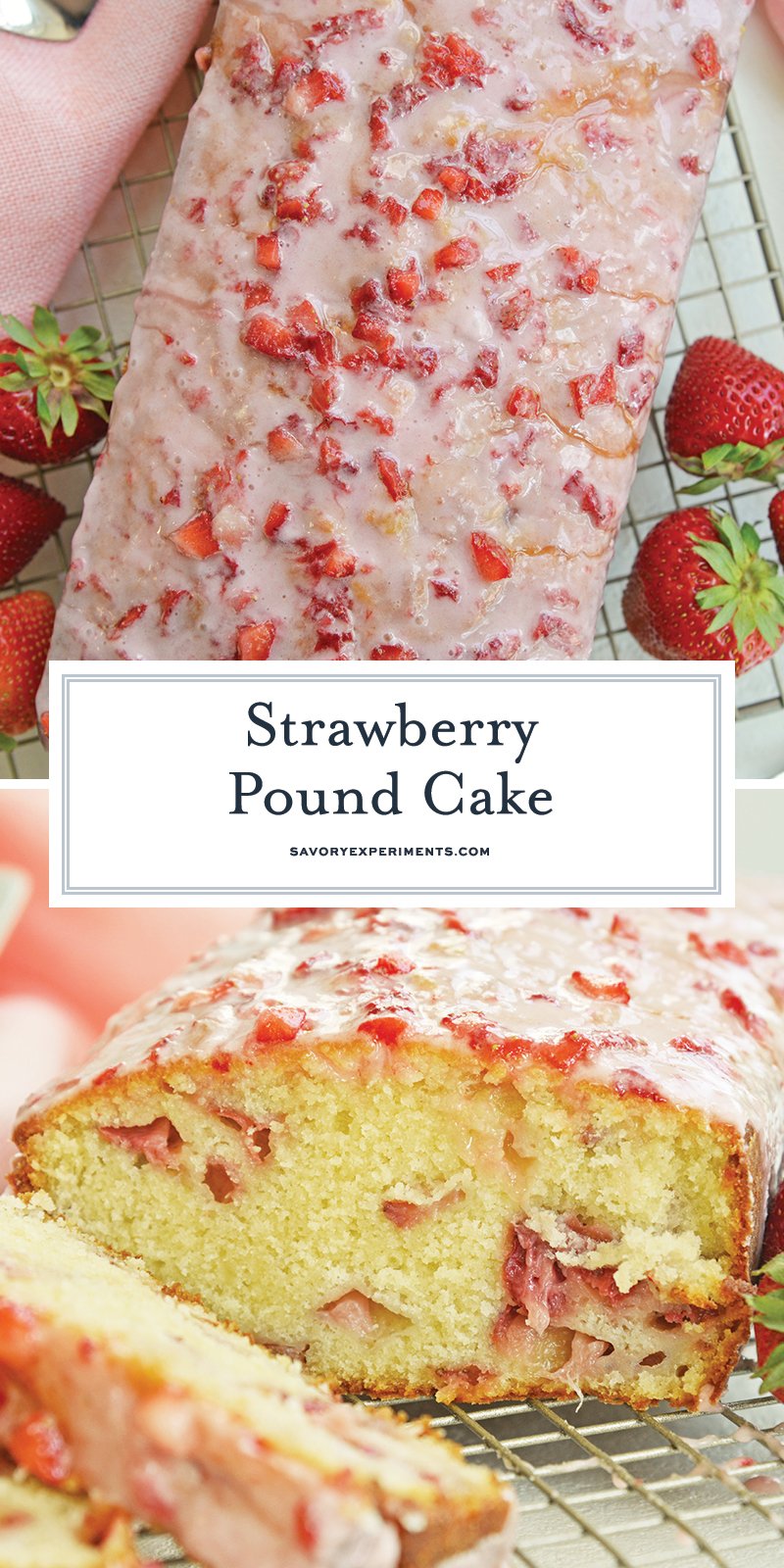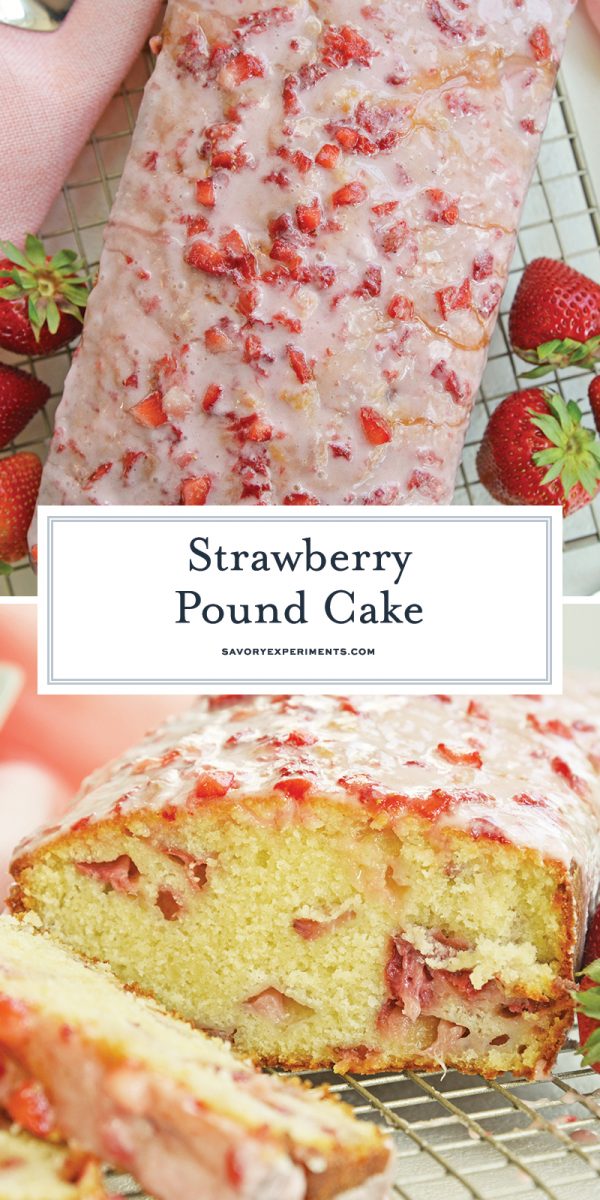 More delicious desserts…
Welcome to the 4th Annual #SummerDessertWeek event hosted by Angie from
Big Bear's Wife
. We're celebrating all things summer with a week-long event that is absolutely filled with some of the best summer dessert recipes! Follow the hashtag #SummerDessertWeek on social media to find recipes and make sure to check out the bottom of this post for even more summer desserts!
Check out the amazing #SummerDessertWeek recipes from our bloggers today!
Ice Cream & Chilled Desserts:
Sweet Summertime Cakes and Cupcakes:
No Bake Treats:
Baked Desserts:
Summer Treats: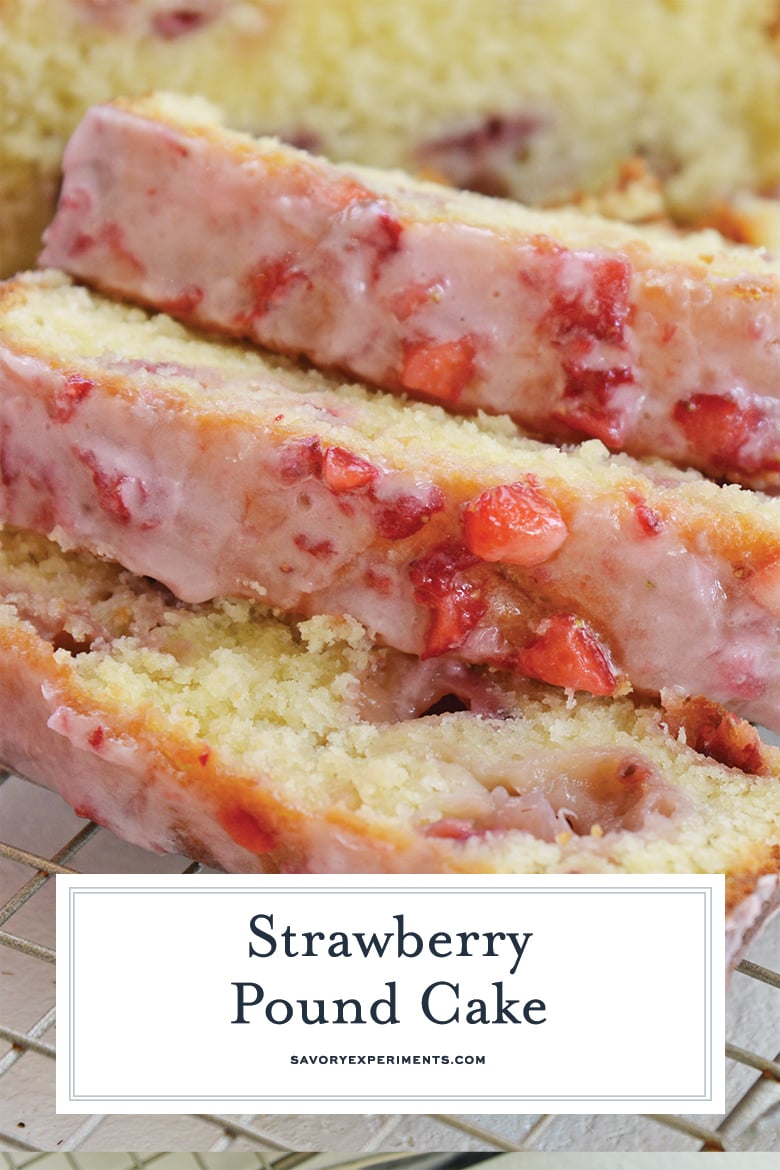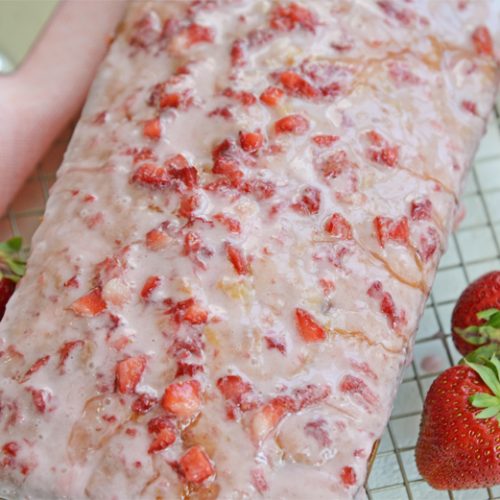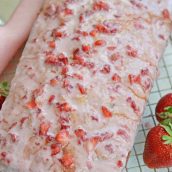 Strawberry Pound Cake
Deliciously moist and buttery, this is my award winning vanilla pound cake laced with fresh strawberries and topped with a fresh strawberry glaze. Makes 2 loaves!
Instructions
Heat oven to 350 degrees. Grease and lightly flour two 9×5-inch loaf pans.

In medium bowl, sift together flour, baking powder and salt; set aside.

In a large bowl or the bowl of a stand mixer fitted with the paddle attachment, beat sugar and butter until light and fluffy. Add vanilla and eggs, beating on high speed for 2-3 minutes.

Add flour mixture into sugar mixture alternately with milk on low speed, beating just until smooth after each addition. Fold in chopped strawberries by hand.

Pour into prepared pans.

Bake 55 to 60 minutes, or until toothpick inserted in center comes out clean. Cool 20 minutes; remove from pan(s) to wire rack. Cool completely, about 2 hours.

When cakes are cooled, make glaze. Start by muddling chopped strawberries.

Add to powdered sugar and mix. Add milk very sparingly until a pourable consistency.

Place cake on cooling rack with aluminum foil or parchment underneath. Spoon glaze over cakes and let excess drip below. Let glaze set and then transfer to serving tray.

If you've tried this recipe, come back and let us know how it was in the comments and ratings!
Nutrition
Calories:
403
kcal
,
Carbohydrates:
67
g
,
Protein:
5
g
,
Fat:
14
g
,
Saturated Fat:
8
g
,
Polyunsaturated Fat:
1
g
,
Monounsaturated Fat:
4
g
,
Trans Fat:
1
g
,
Cholesterol:
83
mg
,
Sodium:
66
mg
,
Potassium:
129
mg
,
Fiber:
1
g
,
Sugar:
48
g
,
Vitamin A:
456
IU
,
Vitamin C:
13
mg
,
Calcium:
47
mg
,
Iron:
1
mg