Easy side dishes don't get more delicious than these Roasted Ranch Potatoes! They taste great with everything and feature everyone's favorite flavor: ranch!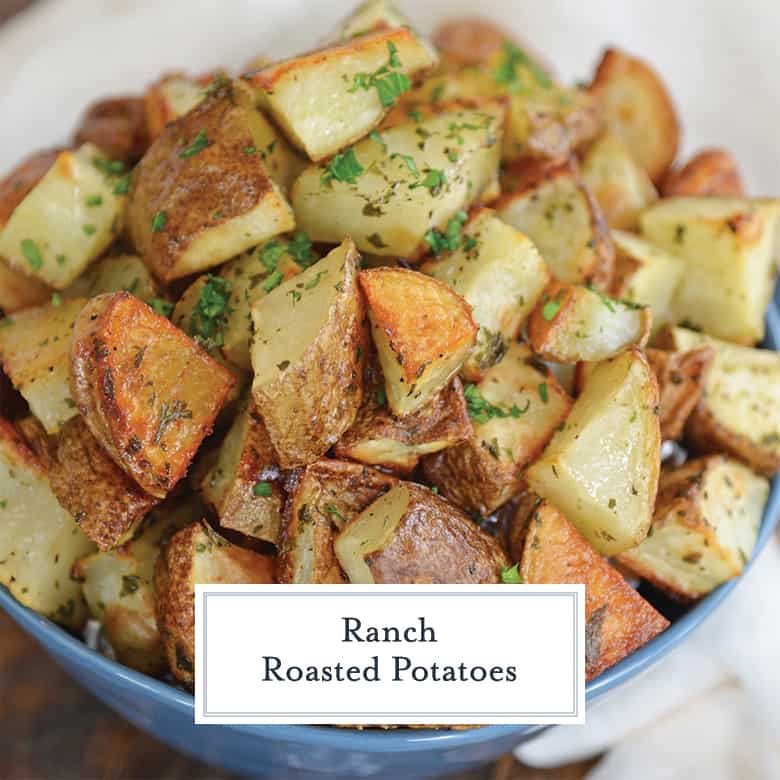 Looking for an easy side dish? These Roasted Ranch Potatoes are the BEST! And you only need 3 ingredients to make them!
If I had to choose one food to eat for the rest of my life, hands down without a question I'd choose potatoes. There are SO many ways to prepare a potato and all of them are delicious.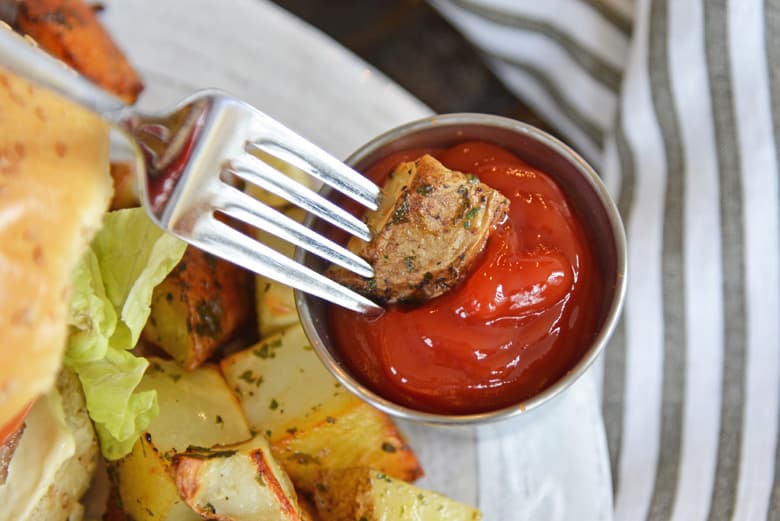 Some of my favorite potato recipes are:
You can make them into a breakfast dish like hash browns, use them as a side dish for dinner, or even turn them into a snack like potato chips. Potatoes are life!
Ranch Potatoes
Now that brings me to these easy Ranch Potatoes. What better dish to make than one that uses two of my favorite things: ranch and potatoes??
I've been on a total ranch kick lately, and I'm on a quest to add ranch to all the things. Is there anything that doesn't taste great with ranch?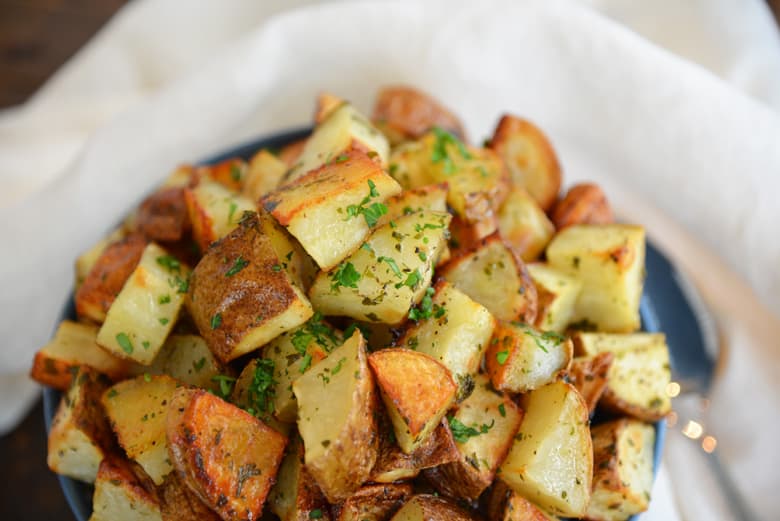 These potatoes were a total winner with my family. Although I am newly converted (and don't prefer the actual dressing,) we are all ranch lovers over here!
And the best part? These potatoes are easy peasy to make and only require three ingredients that you probably already have on hand: potatoes (duh,) vegetable oil and dry ranch seasoning.
You can use my homemade ranch seasoning recipe (super delicious with easy to obtain ingredients,) or you could totally just buy the packet from the store. Whichever you prefer!
How to make Ranch Potatoes
To start making these simple Ranch Potatoes, preheat your oven to 450 degrees. While the oven is preheating, cut your potatoes into two inch pieces.
Whether you choose to peel the potatoes or not is your choice. Keep in mind that the skin holds a lot of vitamins and nutrients, so tossing those is also tossing part of the nutrition.
Then in a large mixing bowl combine the cut potatoes with the vegetable oil. Make sure to toss until all of the potatoes are coated with the oil.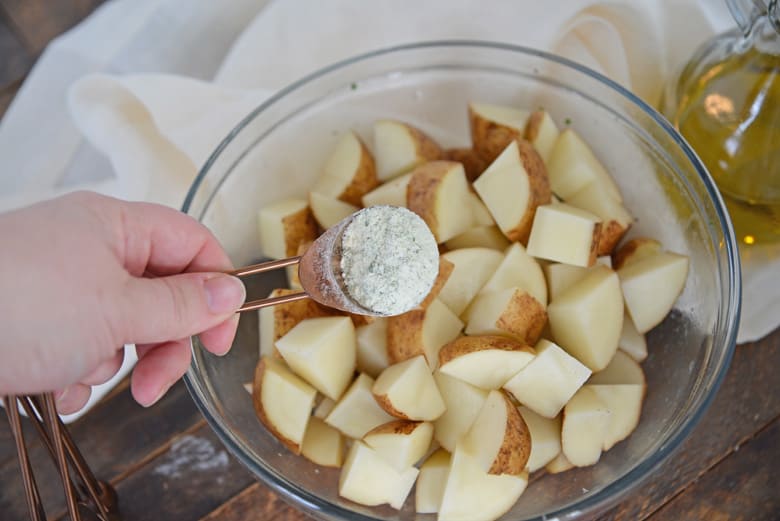 Next, add the ranch seasoning mix and toss the potatoes again until coated. You want all of those potatoes to be coated in the ranch goodness!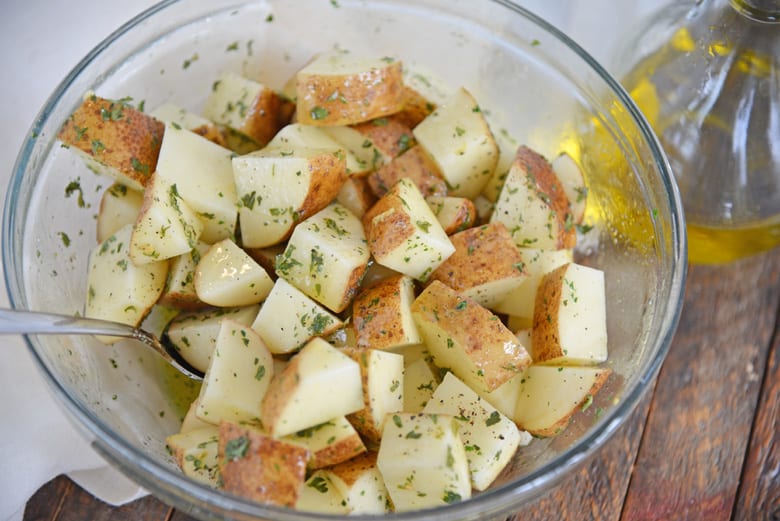 Bake them on an ungreased baking sheet for 30 to 35 minutes or until they are brown and crisp. And there you have it! Perfectly crispy, delicious potatoes.
Crispy Roast Potatoes
Getting crunchy, crispy potatoes seems like an easy task, but it all too often a challenge. Here are my tips:
ONE: Cut evenly-sized potatoes: If your potatoes are all wonky sizes, then they all need different cooking times leading to some being undercooked, others being over cooked and very few being at the perfect brown in the middle.
TWO: Cold water bath: After chopping your potatoes, let them sit in a bowl of cold water for 30 minutes or more. This prevents oxidation (browning potatoes) but also rinses off the starch. I am totally guilty of almost never doing this, but hey, I'll give ya the tools- you decide if you want to use them!
THREE: Dry your potatoes: Just like when you sear a steak, make sure your potatoes are nicely patted dry. Not only does this allow for the maillard reaction, water in the oven also creates steam and steam is the enemy of crunch.
FOUR: Toss them in fat: You'll need to toss your potatoes in some sort of fat. Something like rendered bacon fat or duck fat actually works best, even melted Crisco, but olive oil is good too. Do this in a separate bowl and remove potatoes using a slotted spoon so excess oil is left in the bowl and not on the baking sheet.
FIVE: Dry seasoning: Dry seasoning like salt, garlic powder, onion powder and more can also help get crispy potatoes. Add this evenly after you coat in oil so there aren't pockets of seasoning. Some even add 1-2 teaspoons of cornstarch for extra crunch.
SIX: Use a low rimmed baking sheet: Using something with high sides has the tendency to create steam within the pan. Use a low rimmed baking sheet for best results.
SEVEN: Use parchment paper: You won't be tempted to use too much oil if the possibility of sticking is eliminated.
EIGHT: Don't overcrowd the pan: Make sure your potatoes have room to breath! Hot air needs to circulate around each and every piece AND being too close together can also make for steam. Steam = soggy potatoes.
NINE: High heat: High heat will crispy up the outside while leaving the inside nice and fluffy, but make sure your pieces aren't too big or they won't cook the whole way through. About a 1-inch dice seems to be the sweet spot.
TEN: Flip Them. Half way through cooking, flip the potatoes so they evenly brown.
ELEVEN: Serve immediately: Fresh, hot crispy potatoes are best! If you wait too long or make them ahead of time, they will never be the same.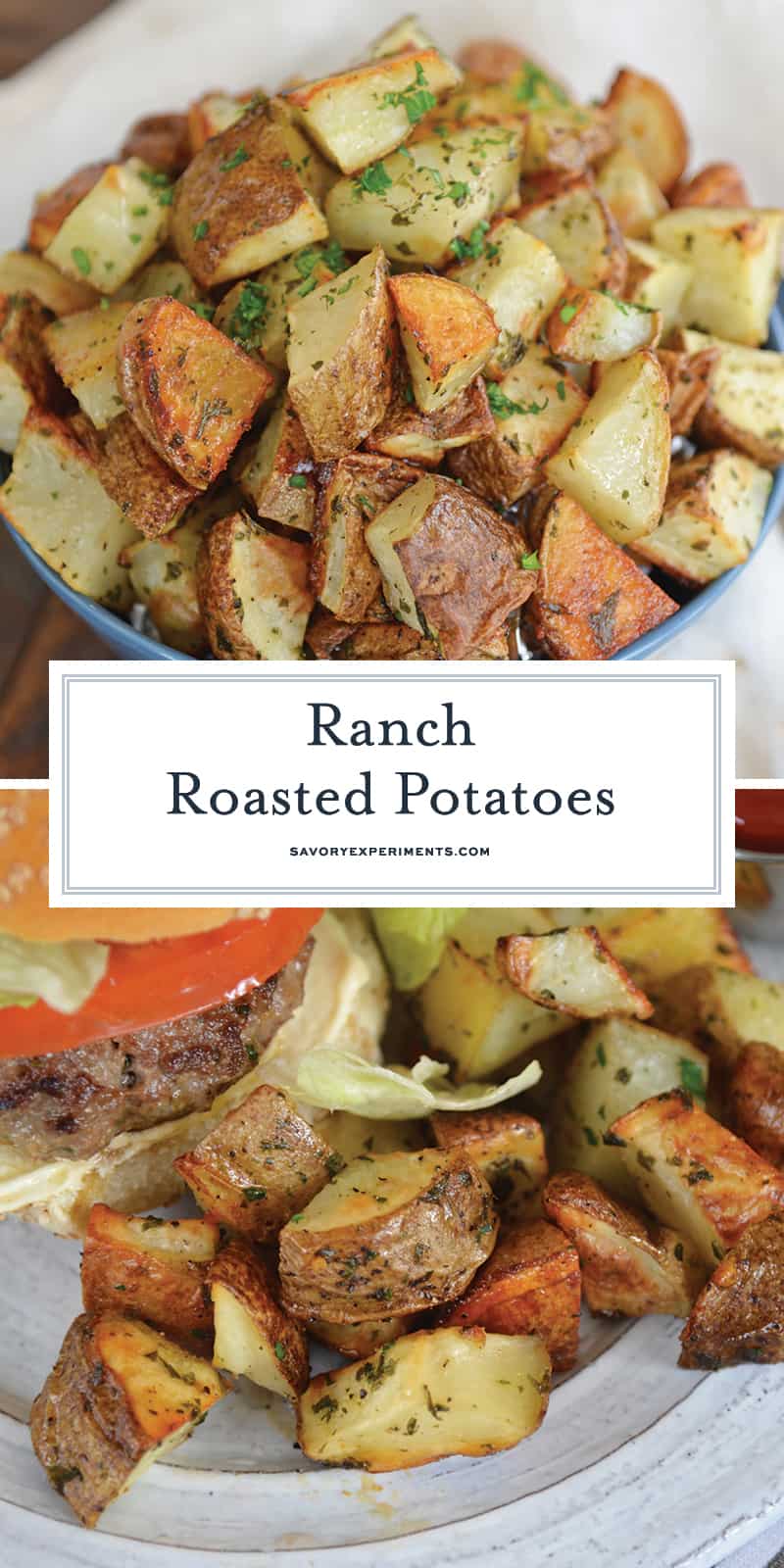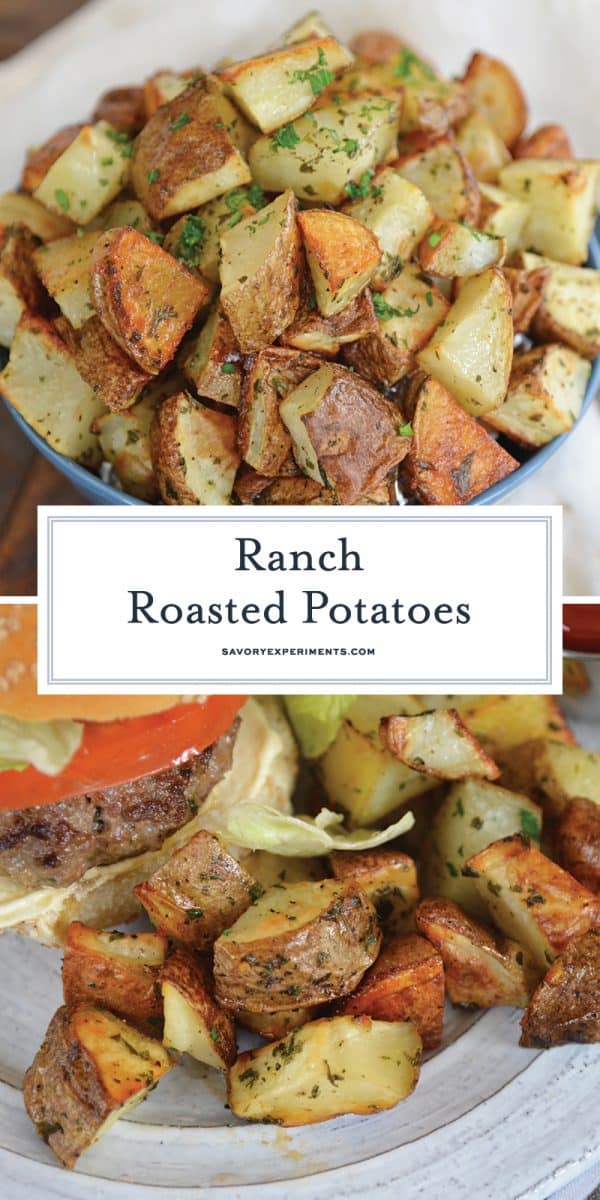 What to serve these potatoes with
Potatoes and burgers go hand in hand so I like to serve mine with a good burger. They would also taste great with practically and protein. Here are a couple of options: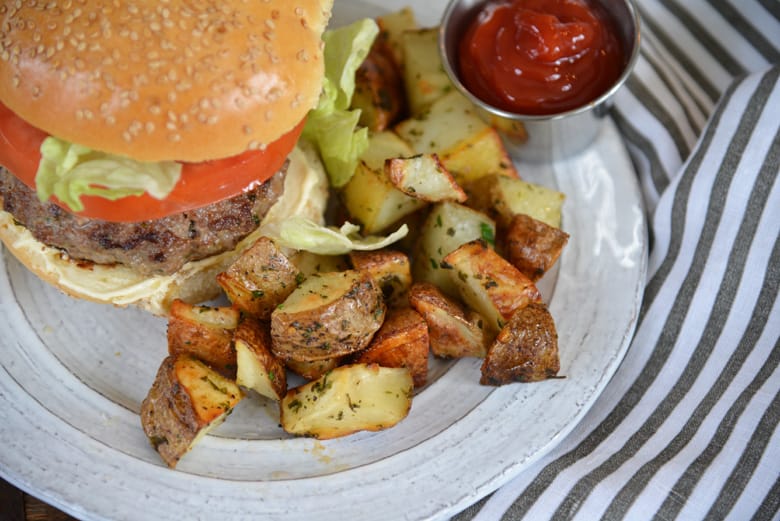 Ranch Meatballs
With simple ingredients and 35 minutes, you can make these delicious EASY Ranch Meatballs for dinner! A great way to spice up your spaghetti and meatballs!
See The Recipe!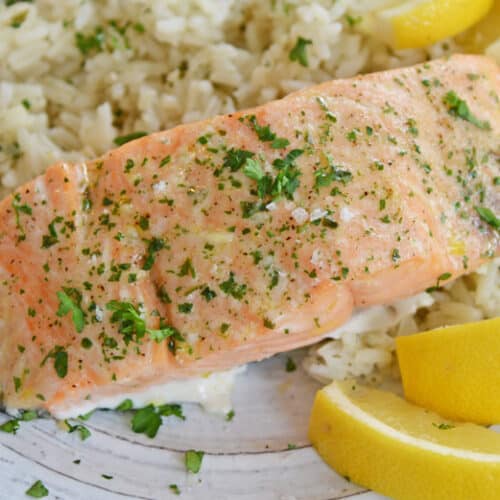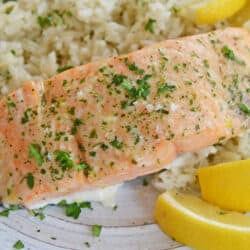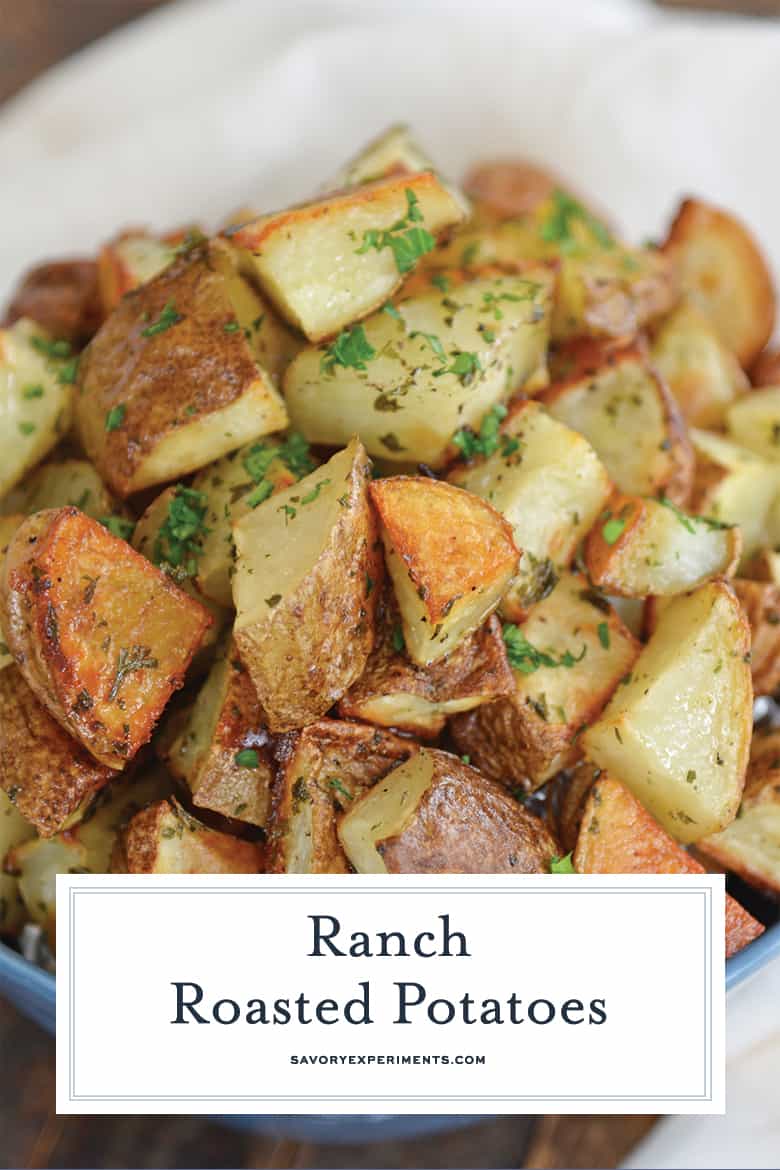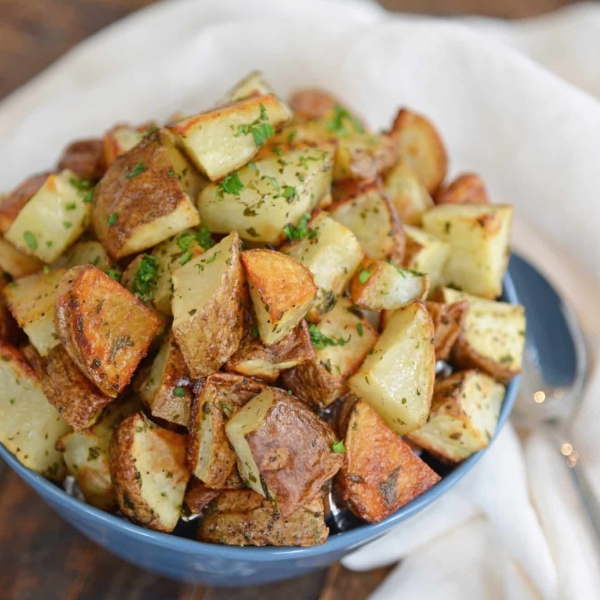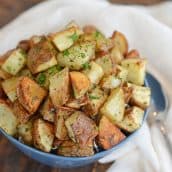 Ranch Roasted Potatoes
Looking for an easy side dish? These Roasted Ranch Potatoes are the BEST! And you only need 3 ingredients to make them!
Instructions
Preheat oven to 450 degrees.

In a large mixing bowl combine cut potatoes with vegetable oil, tossing to coat.

Add Ranch seasoning mix and toss again until coated.

Bake in ungreased baking sheet for 30 to 35 minutes or until potatoes are brown and crisp.

If you've tried this recipe, come back and let us know how it was!
Nutrition
Calories:
126
kcal
,
Carbohydrates:
2
g
,
Fat:
14
g
,
Saturated Fat:
11
g
,
Sodium:
225
mg