Fire up the grill and make this delicious and juicy Ranch Grilled Chicken for dinner tonight! The best part? You only need 5 ingredients!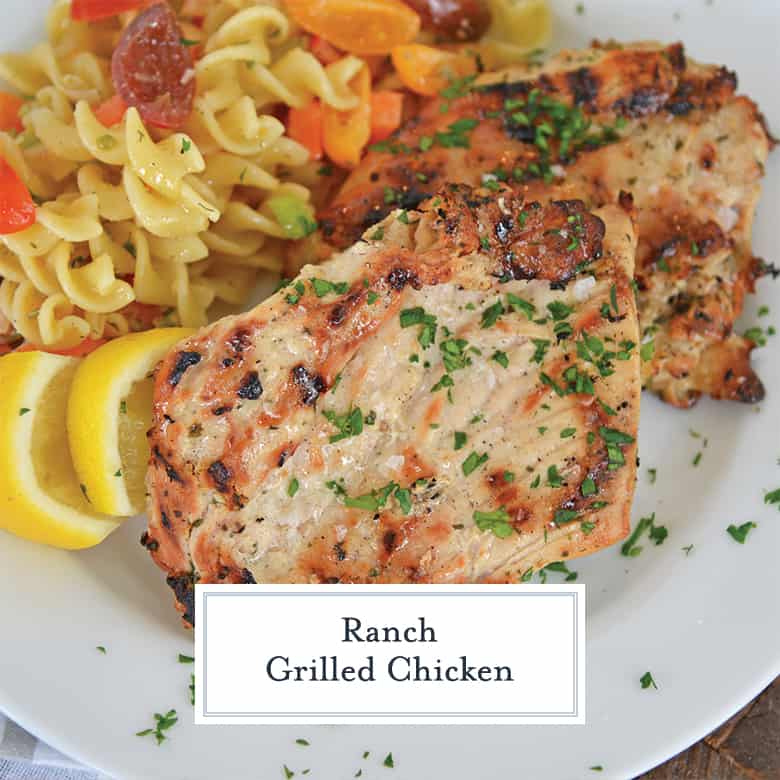 No more boring chicken dinners! This Ranch Grilled Chicken is great on its own as dinner, on top of a salad or on a sandwich!
Sometimes the best things in life are all too easy. Chicken on the grill seems easy, but is also commonly messed up for two reasons.
The first being that it isn't properly seasoned or marinated and the other that it is overcooked and dry. I aim to remedy both of those issues for you to make the juiciest, most tender and totally flavorful ranch grilled chicken ever!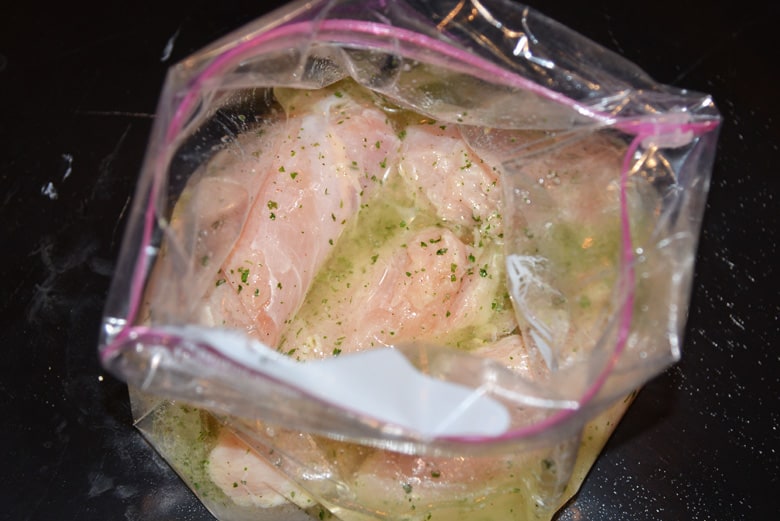 Using the right marinade is the best place to start and for mine, I use dry Ranch dressing mix. I, however, am not a huge fan of the dressing. Not sure why considering I like all of the individual ingredients.
Speaking of, have you ever read the store bought ranch dressing mix ingredients? Let me enlighten you: maltodextrin, monosodium glutamate, lactic acid, calcium stearate, etc. Gross, right?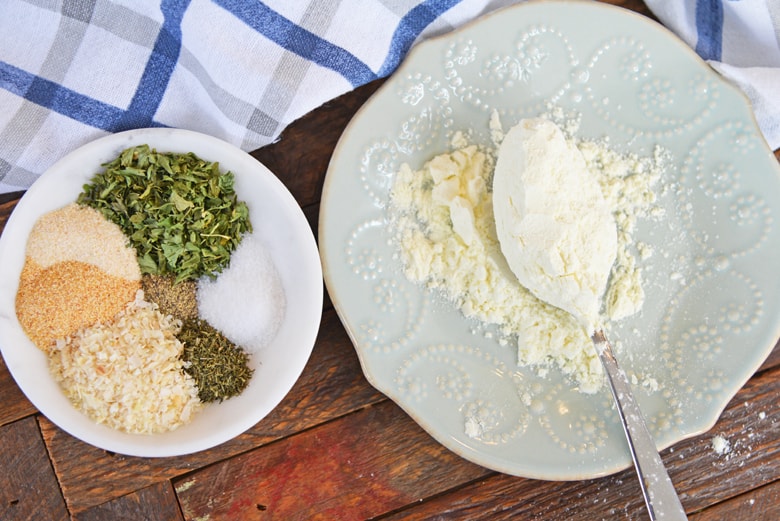 But my homemade ranch seasoning includes:
dry powdered buttermilk
dried parsley flakes
dried dill
garlic powder
onion powder
dried onion flakes
ground black pepper
dried chives
fine sea salt
All normal. All pronounceable. And all probably in your pantry already. I make a large batch and just keep it in the pantry for seasoning all sort of veggies, potatoes, seafood and more.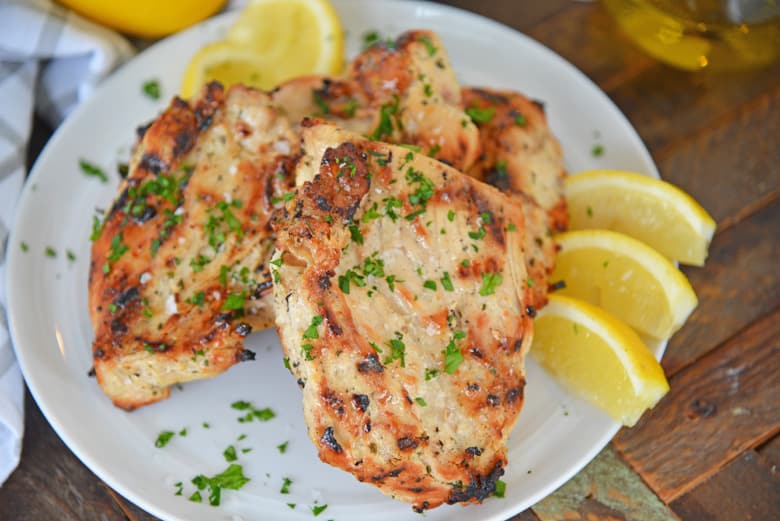 How to make Ranch Grilled Chicken
After this little spice mix, I add more garlic because, well, garlic. And citrus juice for a little pow. Water and oil help deliver all of these flavors through the chicken. No additional salt is needed because there is some in the dressing mix.
But there is one step that is imperative to making sure you have the best ranch grilled chicken and that is to tenderize and marinate the meat.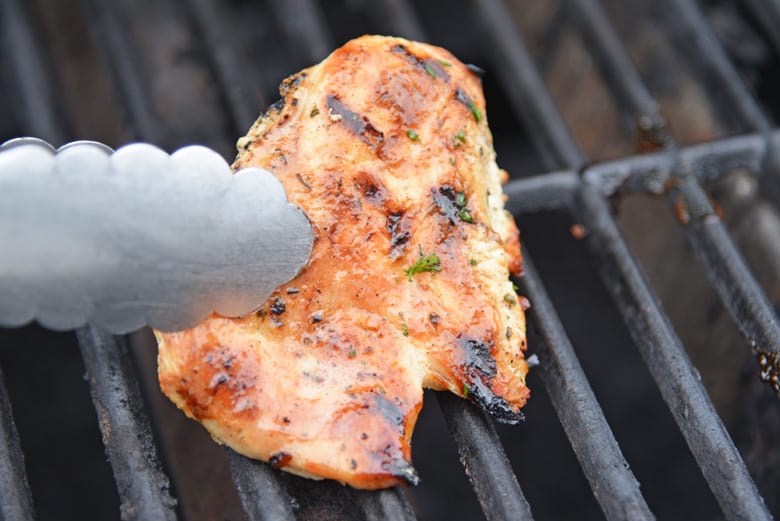 Tenderizing is important on two levels. The first is that it makes your piece of chicken even. Otherwise the thin, short end cooks long before the meaty fat end and one half is juicy and the other is dry. By pounding them out to a uniform thickness, you avoid this altogether.
The second is that tenderizing breaks down the fibers. This makes your chicken tender and also allows for the marinade to penetrate the fibers quickly. Less marinating time is always a good thing!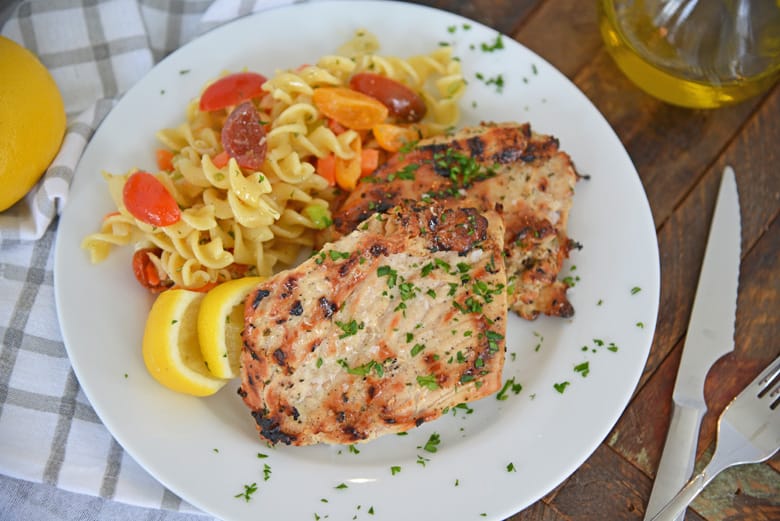 After prepping and marinating, all you need to do is grill. The length of time will be solely dependent on the the size of your chicken breasts. If the chicken is pounded out to around 1/2 inch thickness, it will take 5-7 minutes on each side with 5 minutes to rest.
What can I do with grilled chicken?
You can eat it hot off the grill, but also feel free to use a BBQ sauce or Ranch Dipping Sauce to go with it.
These marinated ranch grilled chicken breasts also make a great sandwich or salad topper.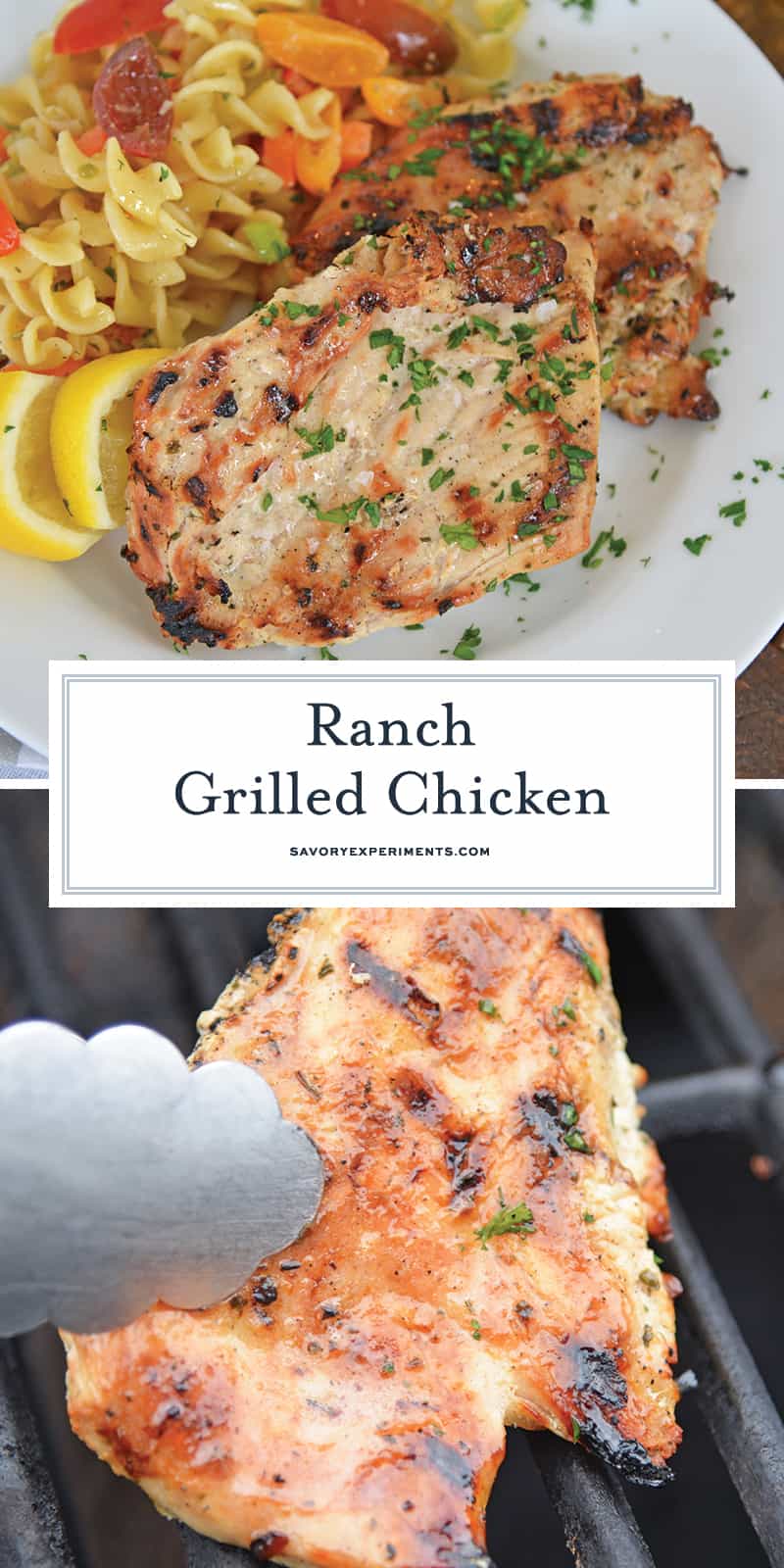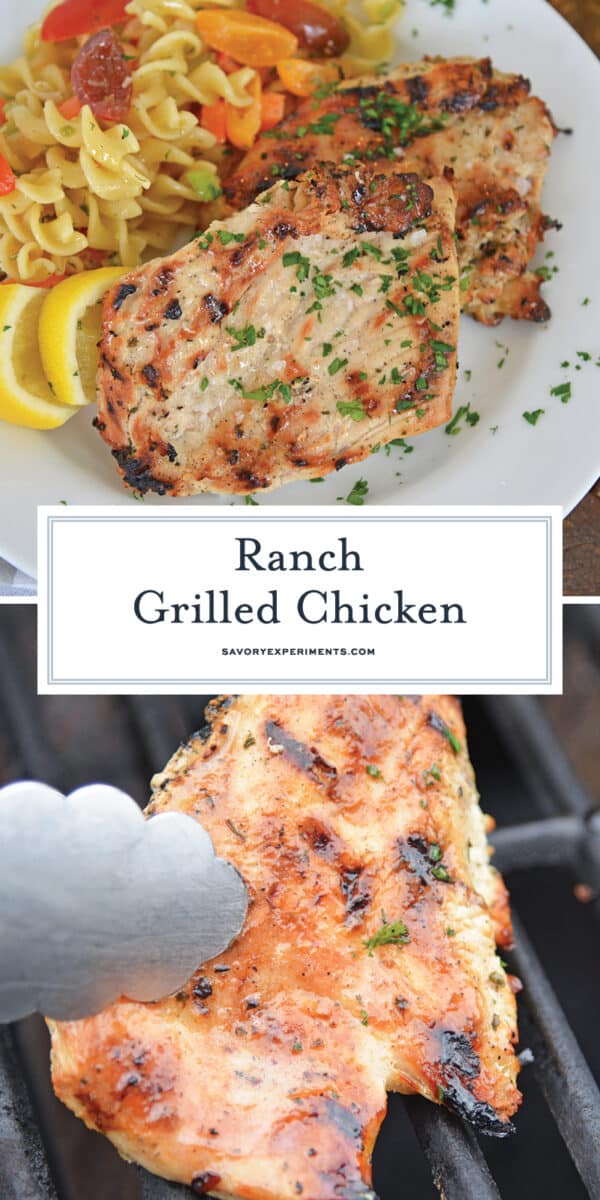 Tips for Juicy Grilled Chicken:
Tenderize chicken before marinating.
Use a flavorful marinade.
Do not overcook.
Allow to rest after grilling.
Sauces for Grilled Chicken
Grilled chicken can be serve with such a wide array of basting and dipping sauces. This grilled chicken recipe boats oodles of flavor on it's own, but you know I like it saucy.
Are you a ranch fanatic? Check out these recipes: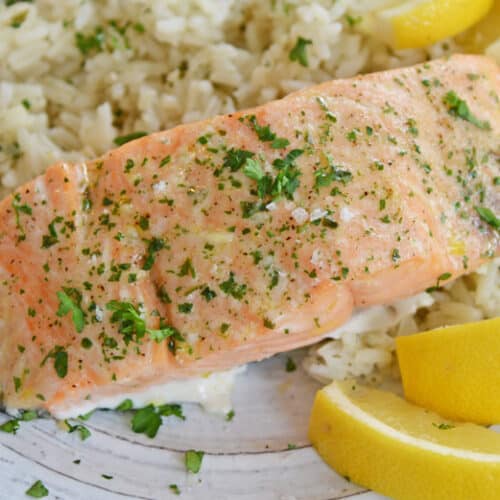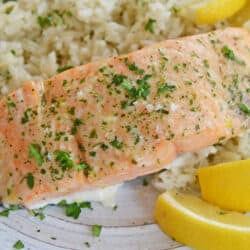 Ranch Salmon
Looking for an simple weeknight meal with minimal ingredients? This easy Ranch Salmon is it!
View this recipe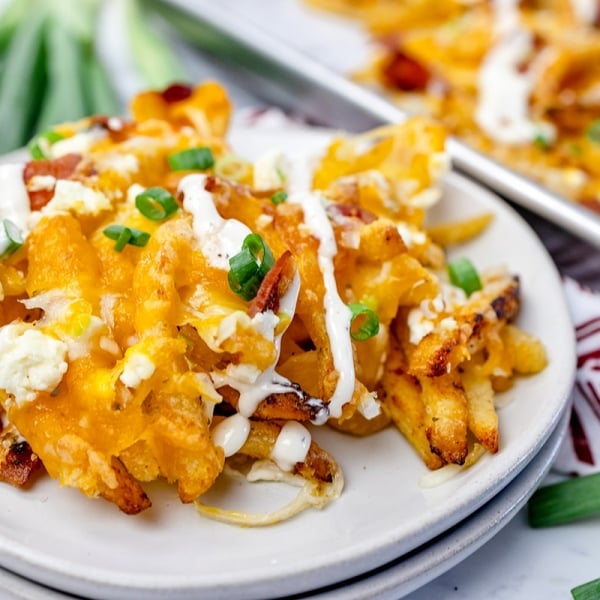 Ranch Bacon Cheese Fries
Crispy fries tossed with Ranch seasoning topped with a trio of freshly shredded cheese, crumbled bacon and scallions. Serve Ranch sauce on the side or drizzling on top.
View this recipe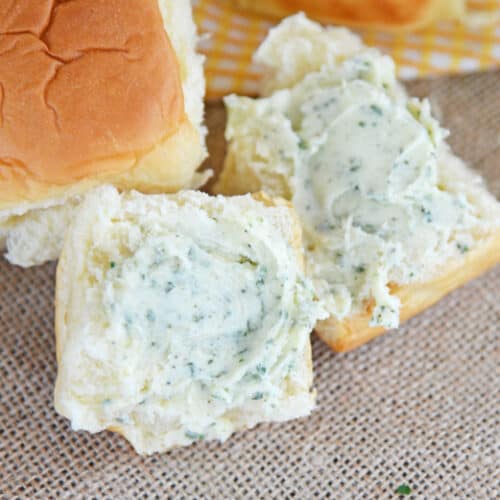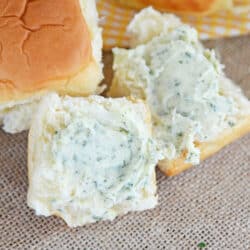 Ranch Butter
Ranch butter is easy homemade seasoned butter perfect for taking any dish using regular butter to the next level. Baked potatoes, pasta, seafood & poultry!
View this recipe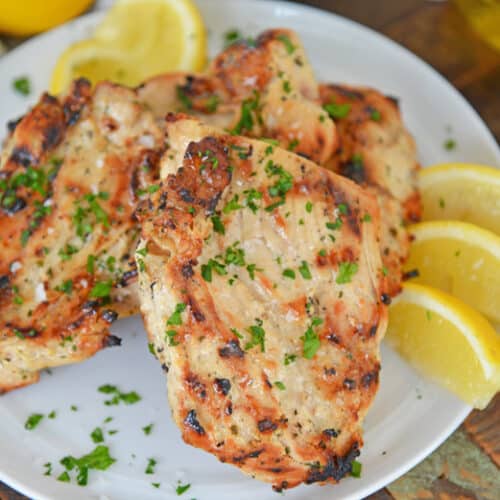 Ranch Grilled Chicken
Fire up the grill and make this delicious and juicy Ranch Grilled Chicken for dinner tonight! The best part? You only need 5 ingredients!
Instructions
Pound chicken breasts out to a uniform 1/2 inch thickness.

Combine dry Ranch mix with fresh garlic, lemon juice, water and vegetable oil in a large plastic bag. Chill and marinate for 10-30 minutes.

Before heating of the grill, allow to sit at room temperature for 10 minutes.

Heat grill to medium-high heat. Spray with grill approved cooking spray and place chicken directly over heat. Cook for 5-7 minutes on each side, or until done. Since the sizes of chicken varies greatly, so will the cooking times.

Remove and allow to rest for 5 minutes before serving.

If you've tried this recipe, come back and let us know how it was!
Notes
Chicken can also be baked at 350 degrees for approximately 15-20 minutes or until fully cooked.
Nutrition
Calories:
387
kcal
,
Carbohydrates:
5
g
,
Protein:
24
g
,
Fat:
30
g
,
Saturated Fat:
23
g
,
Cholesterol:
72
mg
,
Sodium:
695
mg
,
Potassium:
418
mg
,
Sugar:
1
g
,
Vitamin A:
34
IU
,
Vitamin C:
4
mg
,
Calcium:
6
mg
,
Iron:
1
mg