Fire up the grill and make this delicious and juicy Ranch Chicken for dinner tonight! The best part? You only need 5 ingredients!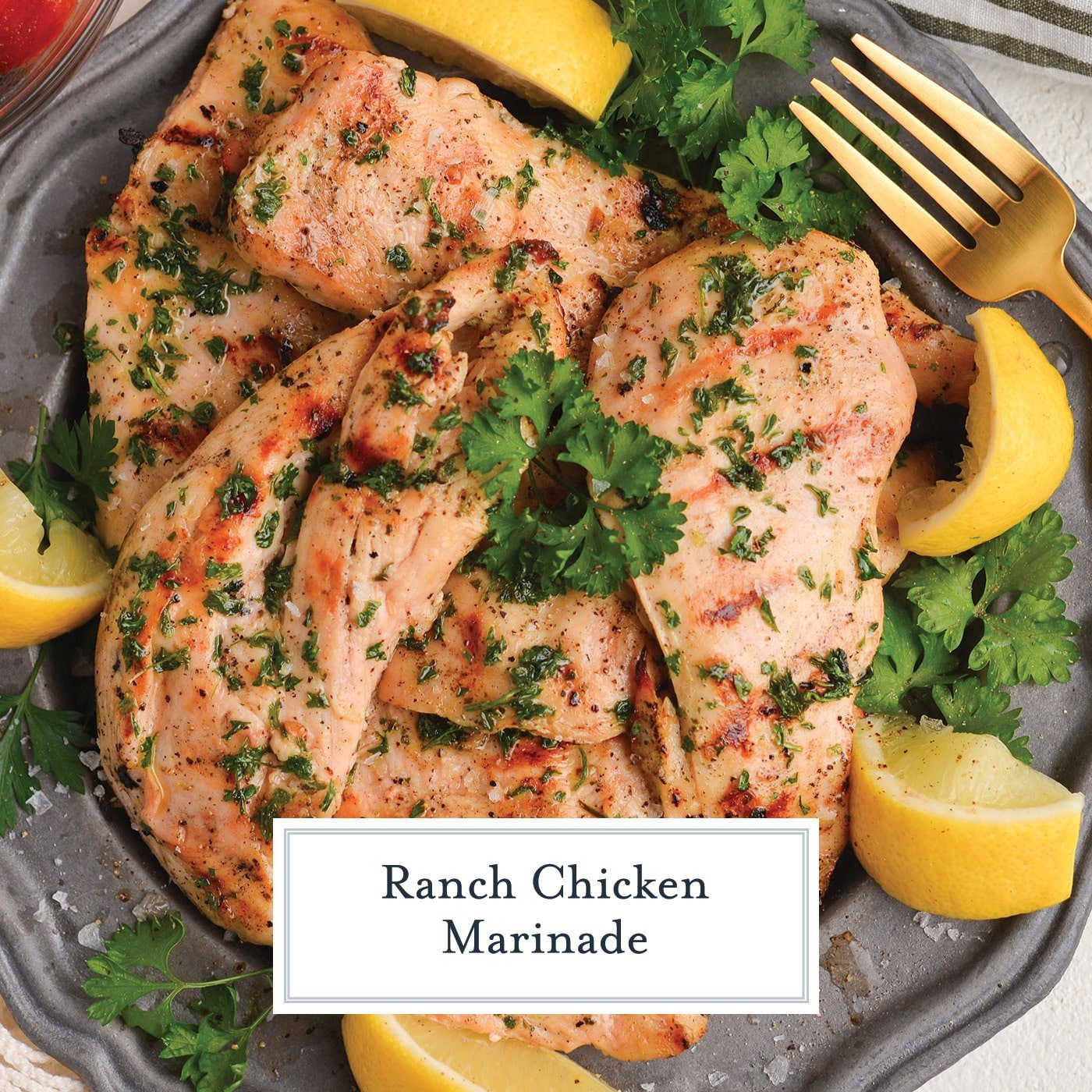 No more boring chicken dinners! This grilled chicken recipe is great as a main, on top of a salad, or on a sandwich.
Why You'll Love Grilled Ranch Chicken
Chicken can so easily be ho-hum, but this recipe is anything but. Here is why you will want to make it over and over again:
Crowd Pleaser – It's no secret that people LOVE ranch and people LOVE chicken. Put those two things together and you have a winner every time especially when you can make a lot of it and not break a sweat. It's something the whole family will enjoy.
Simplicity – Few ingredients, minimal marinating time, and a quick grill. Doesn't get any easier than that. The best flavor makes this chicken perfect for meal prep too.
Flavor bomb – You won't go back to salt and pepper again after tasting this recipe. Ranch seasoning mix is always a good idea for easy chicken dinners because it's packed with flavor.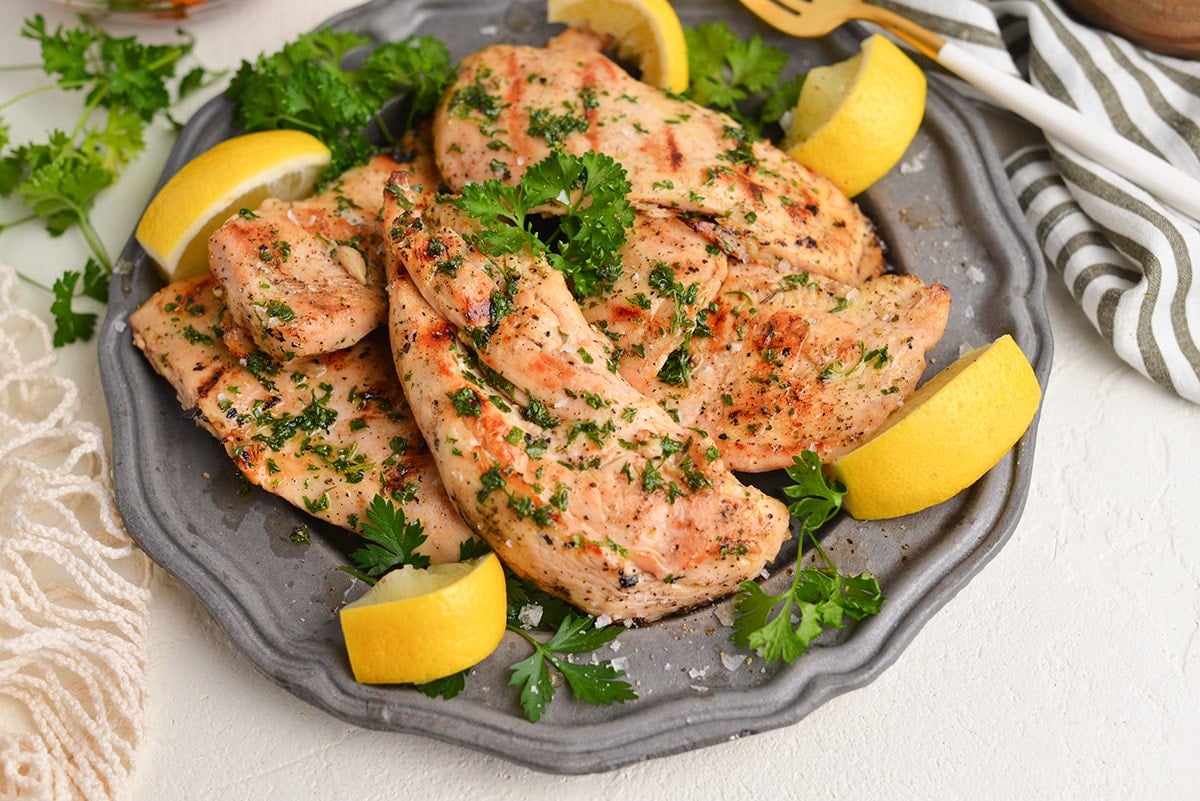 Homemade Ranch Mix vs. Store-Bought Ranch Mix
Buying a packet at the store is the easiest way to go about this, but at the end of the day, making your own is also really simple. It also allows you to dial up any of the flavors you really love while toning down the ones that you are less fond of. Not to mention: homemade = no preservatives.
I make a large batch and just keep it in the pantry for seasoning all sorts of veggies, potatoes, seafood, and more. The options here are endless.
The ingredients for it include a whole host of seasonings and spices; many of which you probably already have in your spice cabinet/drawer. The only thing you may need to hunt down or purchase online is the dry powdered buttermilk.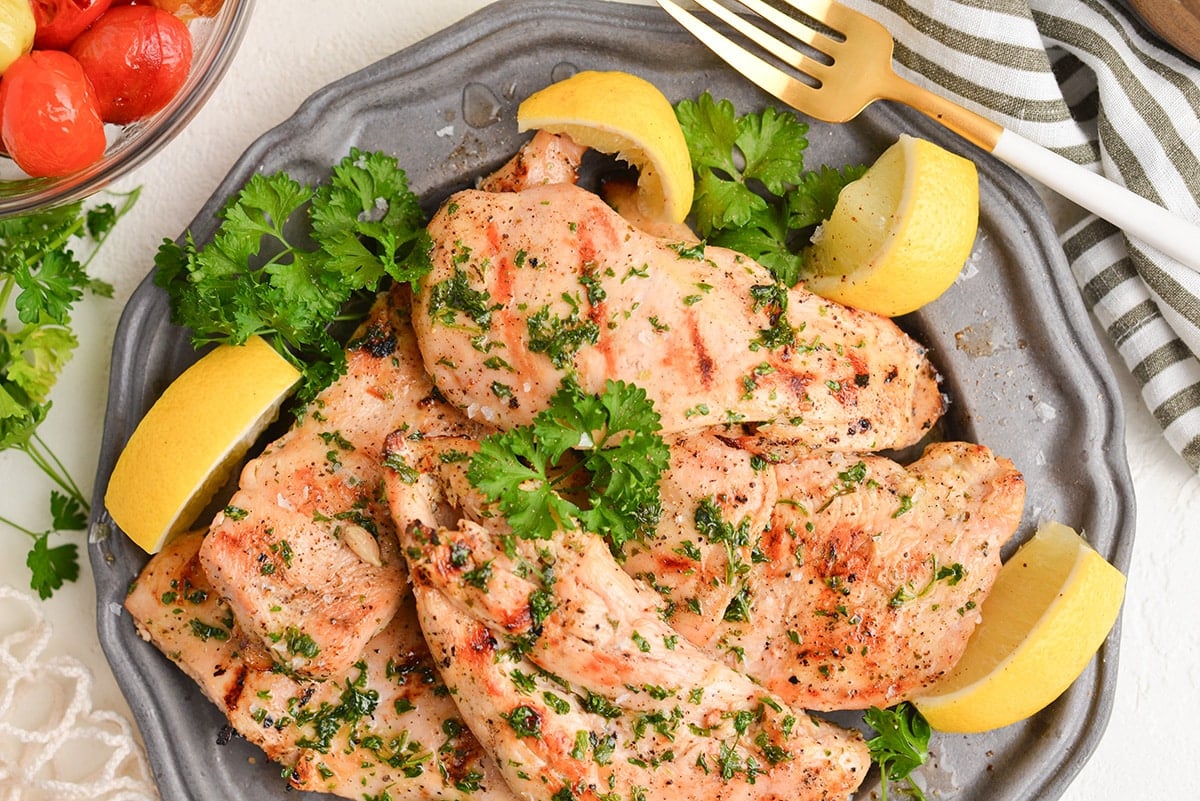 What You'll Need to Make Grilled Ranch Chicken
With just five ingredients you are off to the races with this recipe. Simple ingredients and 30 minutes cooking time means it's perfect for busy weeknights!
Chicken Breasts – The boneless, skinless variety are easy to tenderize and cook quickly because they don't have a bone that needs to cook through. You can also use chicken cutlets.
Dry Ranch Dressing Mix – You can easily buy a packet of this at the store. If you are feeling ambitious and looking for something to brag about to friends, try my homemade ranch dressing mix. All the same ingredients minus some of the stuff we would all rather not think about.
Garlic Clove – Go with a fresh clove of garlic here. You really want that bite and acidity that comes from a freshly cut clove versus the sweeter jarred varieties.
Lemon Juice – I am sure a lot of us grew up with the little lemon jars in the fridge. You can use either here, but the brightness and floral flavor of fresh lemon juice really can't be beaten.
Vegetable Oil – This neutral oil has a neutral flavor which will allow the ranch dressing, garlic, and lemon really shine through. It also has a high smoke point which means it can be heated to very high temperatures without burning or getting acrid. Perfect for the grill!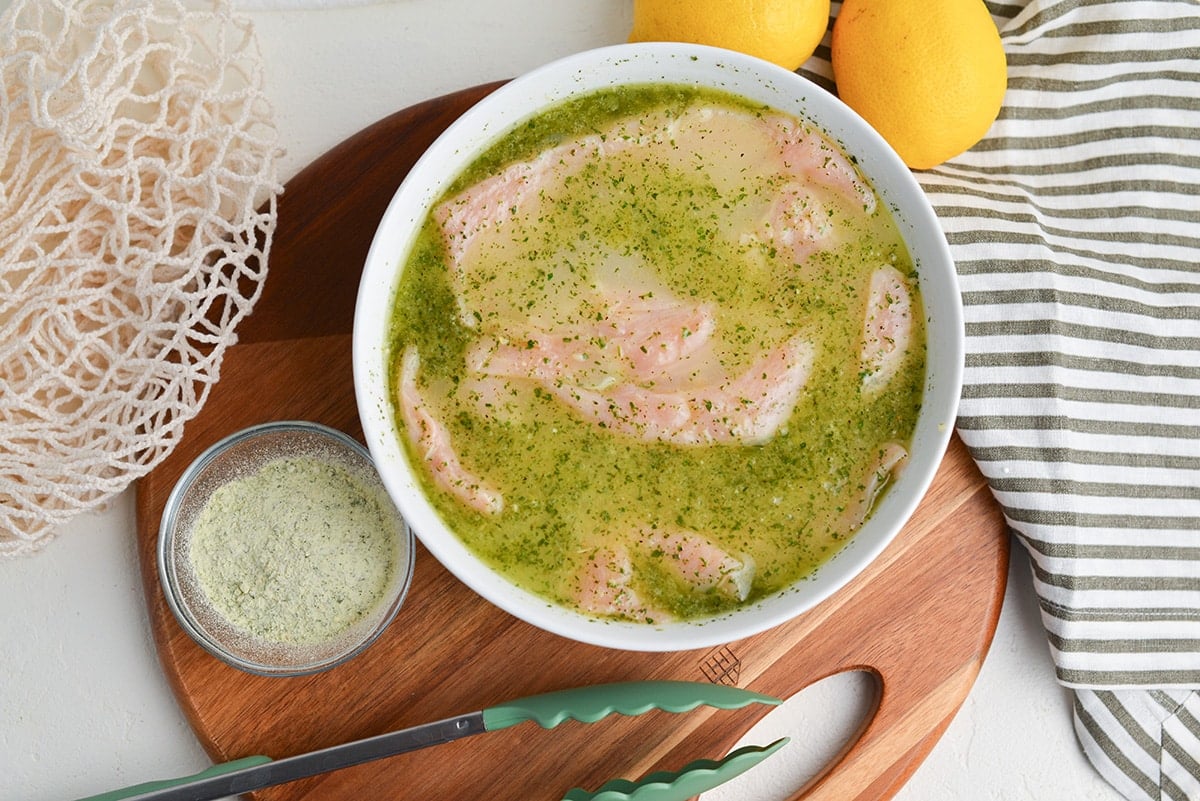 How to Make Grilled Ranch Chicken
Brace yourself for one of the easiest grilled chicken recipes out there.
Pound the chicken to even thickness. This not only tenderizes the chicken but thins it. This is important for two reasons – the marinade can better infiltrate the meat and it can do so more quickly hence the short marinating time for the chicken.
Create the marinade and marinate the chicken. The water ensures all of the chicken is covered in the flavorful marinade and assembling this in a plastic bag makes for one less dish during clean up.
Pull the meat out of the fridge. Allowing the meat to get just a touch warmer before it goes onto the grill means you will get a better sear and more even cooking.
Grill the chicken. Be sure to brush your grill grates well before oiling them with the cooking spray. This will set you up nicely for chicken that doesn't stick. Remember the internal temperature for fully cooked chicken is 165F.
Let the meat rest. You let a steak rest, so why not chicken? This simple but integral step allows the juices in the meat to redistribute and reabsorb as the chicken cools making for tender and juicy bites.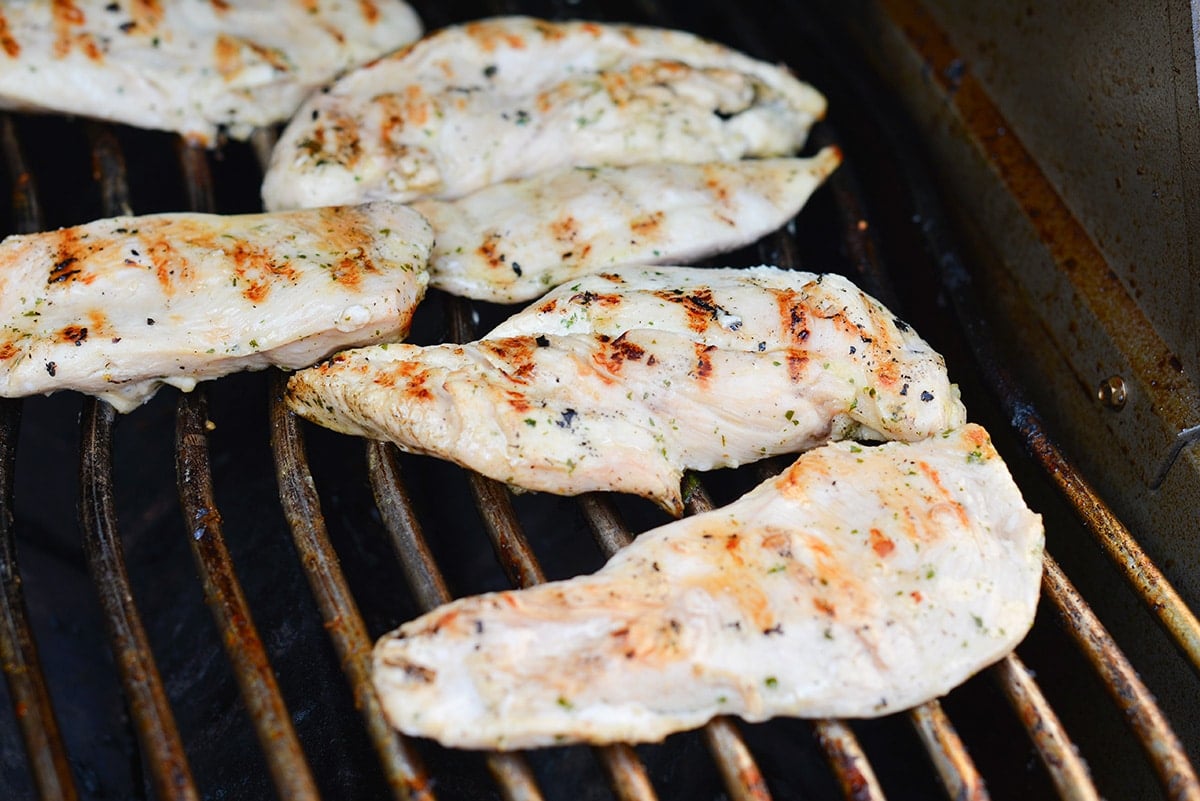 What to Serve with Grilled Ranch Chicken
You can eat it hot off the grill as is, on a sandwich with all the fixings or on top of a salad. Any choice of side that goes well with chicken, but I like to serve mine with green beans, or some other green vegetable and possibly a potato.
If you are going with the hot off-the-grill option, feel free to sauce it up. These are just a few of my favorites that go really well with it.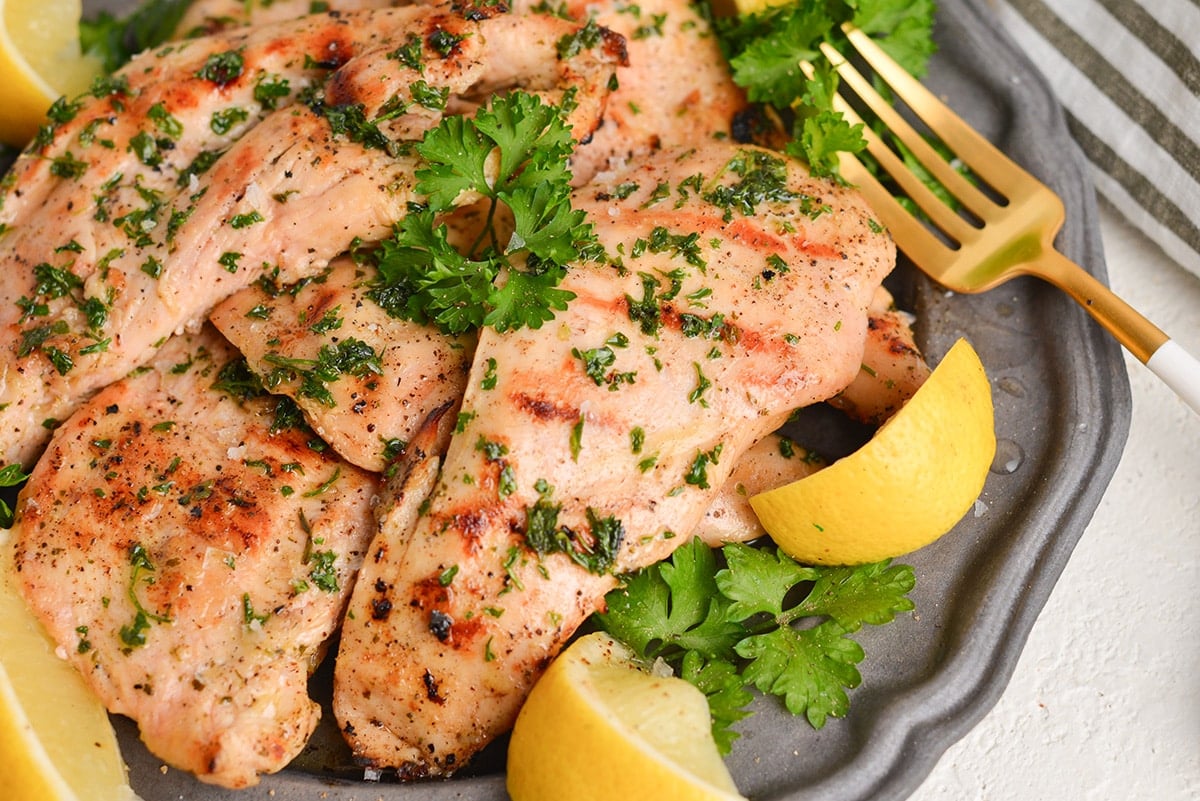 Tips for Juicy Grilled Chicken
Chicken on the grill seems easy but it is all too commonly flubbed. There are four common culprits responsible for lackluster grilled chicken.
The chicken is not properly seasoned. Be sure to season every piece of chicken well.
The poultry has not been marinated. Marinating doesn't always need to take 24 hours. Sometimes even 10-30 minutes is enough to impart a ton of flavor and tenderize at the same time
Too much time on the grill. Chicken, especially chicken breasts, doesn't have a ton of fat and can dry out easily. Cook it until cooked through and no more or you will end up with tough, dry chicken.
Not allowing the chicken to rest. Meat needs to rest – plain and simple. Allowing it to do so will make for a much better meal.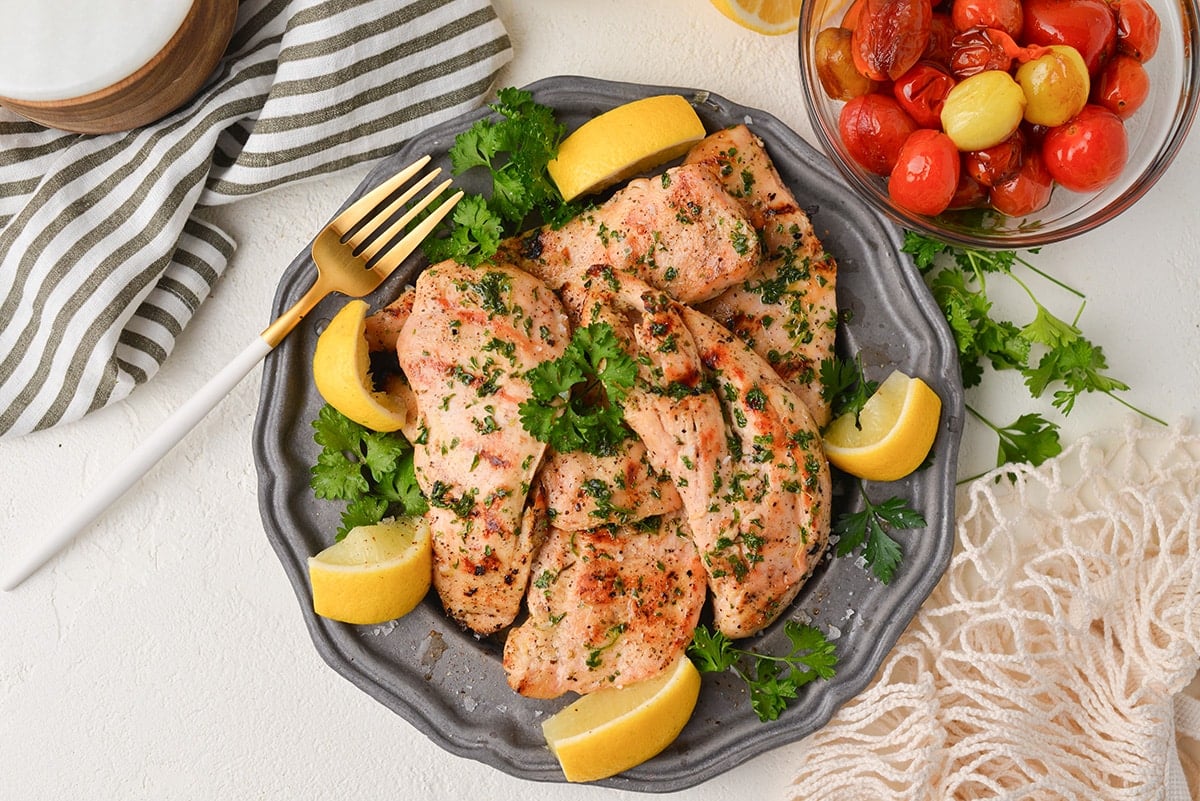 Variations on Grilled Ranch Chicken
There is no doubt this recipe is delicious as is. Here are two options to try if you are feeling spicy:
Boneless, skinless chicken thighs – If you are a fan of dark meat, try this option. Follow all the same prep and cooking steps for a winning dinner.
Pork Chops – Be sure to buy a relatively thin cut without a bone. Cooking times may vary and keep in mind pork has an internal temp of 145F which is lower than chicken. The best way to do this is to use a meat thermometer or instant-read
Cheese – If you'd like to add even more flavor to this ranch grilled chicken, try sprinkling with some cheese. Parmesan cheese, cheddar cheese or mozzarella cheese would all taste great.
Toppings – Take it one step further and turn this into a creamy ranch chicken by adding a creamy ranch sauce on top. You can also top with some crispy bacon for added flavor.
Crispy chicken – Coat your chicken with crunchy panko breadcrumbs and grill until golden brown for both amazing flavor and crunch.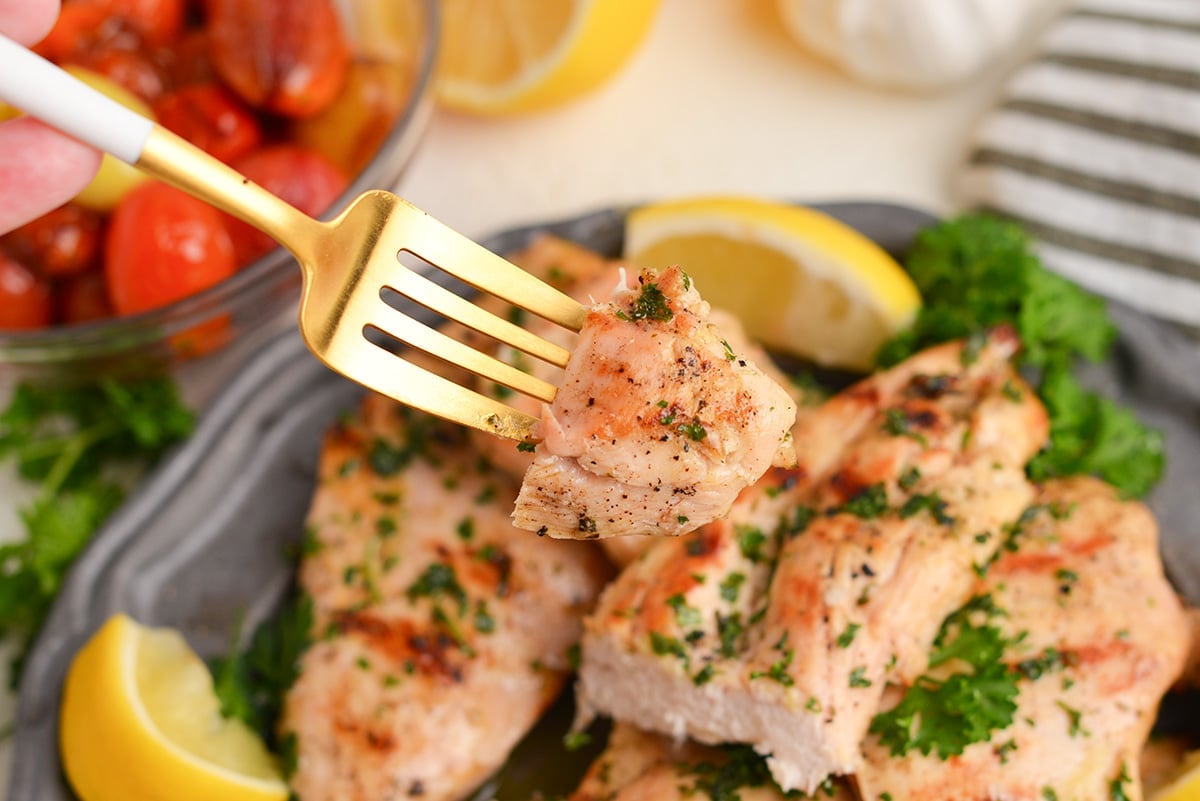 Storing & Freezing
Make ahead: You can easily marinate the chicken for up to two hours before you are ready to cook it.
Storage: Should you have Grilled Ranch Chicken leftovers, put them in an airtight container and keep them in the fridge for 2-3 days.
Reheating: Call me crazy, but I like to eat chicken leftovers cold. If you aren't like me, pop the chicken into a pan with a touch of vegetable oil until it is warmed through. If you are really pressed for time or don't feel like doing the dishes, pop it in the microwave.
Freezing: You can freeze Grilled Ranch Chicken for 2-3 months by putting it in a ziploc bag with all the air removed.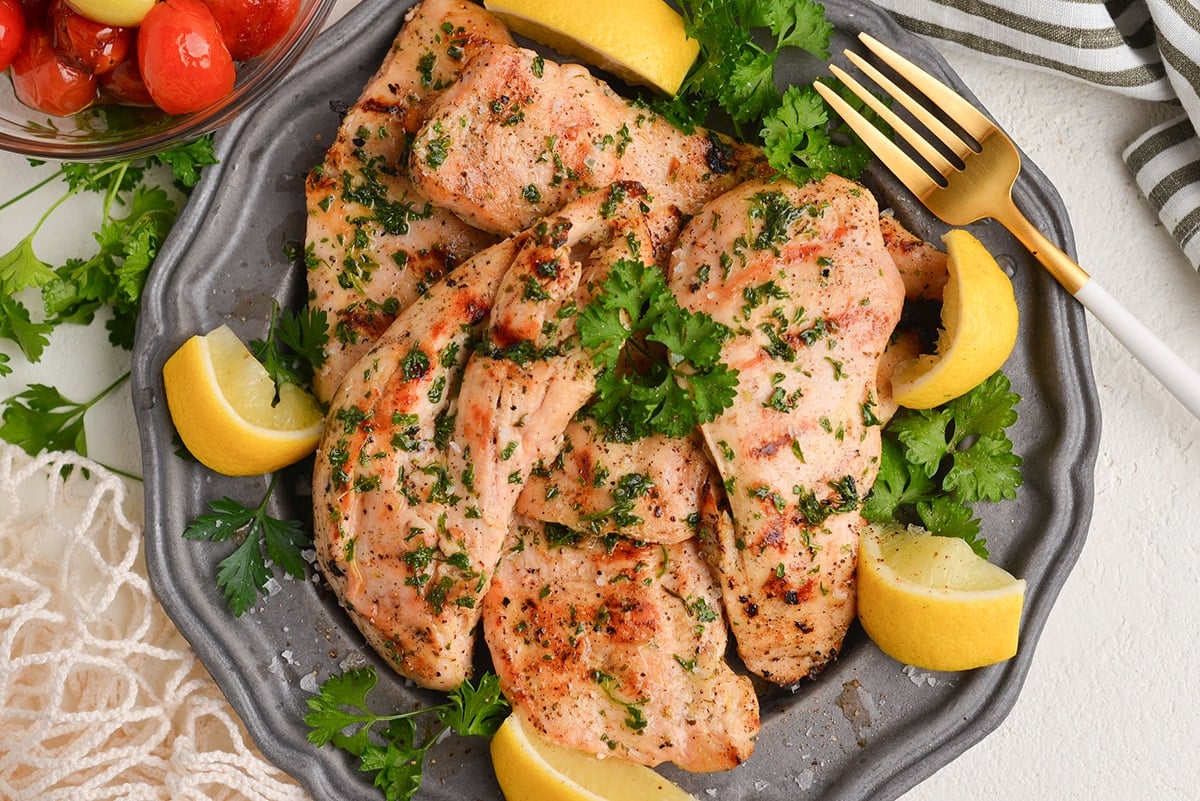 Questions about Grilled Ranch Chicken
What is ranch chicken made of?
Easy! Boneless chicken breasts pounded thin and marinated in a mix of dry ranch dressing mix, garlic, lemon juice, vegetable oil, and water.
How to cook chicken on the grill?
1. Heat the grill to medium-high heat.
2. Scrape off any goodies or leftovers from the last cook.
3. Brush the grill grates with a paper towel soaked in a high heat oil (vegetable or canola are great) or spray the grates carefully with cooking spray.
4. Place the chicken breasts over the heat and cook for 5-7 minutes on each side or until they reach an internal temperature of 165F.
5. Take them off the grill and allow them to rest for 5 minutes before serving.

What makes ranch flavor?
Great question! We all know that flavor well but what are the components that make it so great? It's a combo of creamy components namely buttermilk but sometimes sour cream or mayo along with herbs. Think parsley, dill, and chives. And last but not least, the aromatic elements aka onion and garlic. Oh and don't forget a healthy does of black pepper and of course, salt.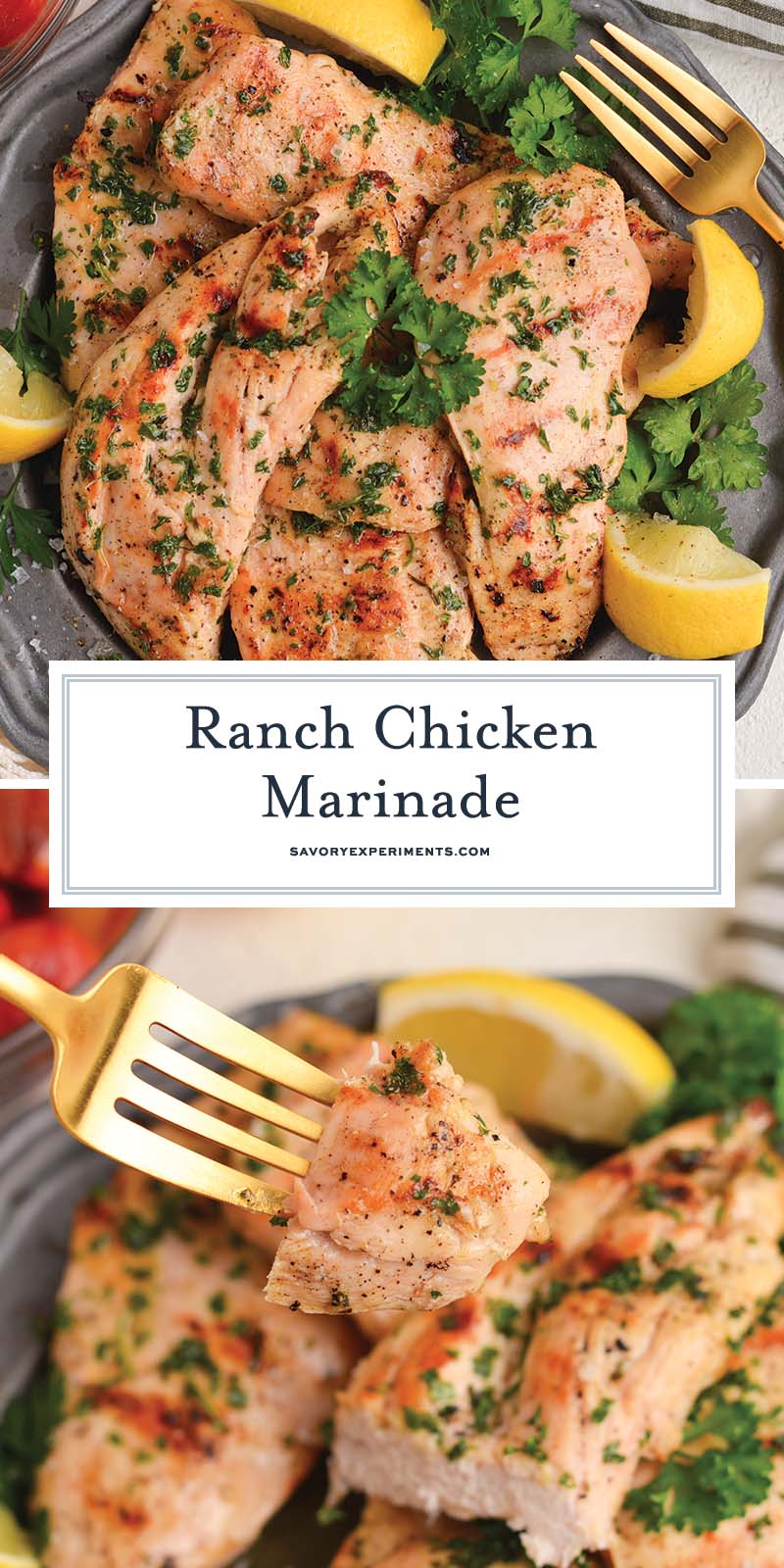 More Ranch Recipes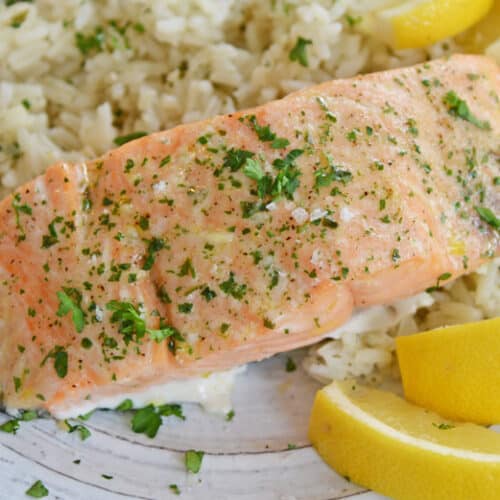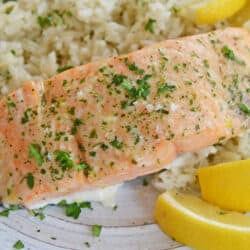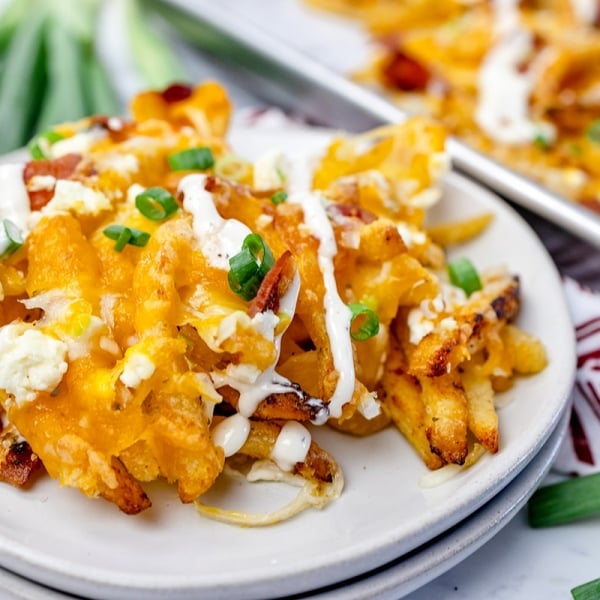 Ranch Bacon Cheese Fries
Crispy fries tossed with Ranch seasoning topped with a trio of freshly shredded cheese, crumbled bacon and scallions. Serve Ranch sauce on the side or drizzling on top.
See The Recipe!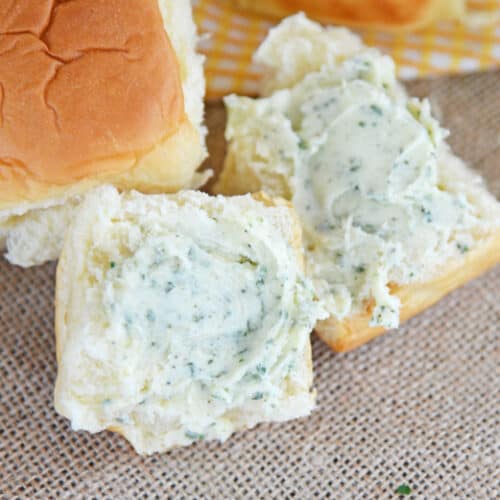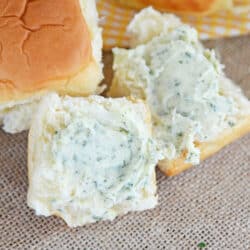 Ranch Butter
Ranch butter is easy homemade seasoned butter perfect for taking any dish using regular butter to the next level. Baked potatoes, pasta, seafood & poultry!
See The Recipe!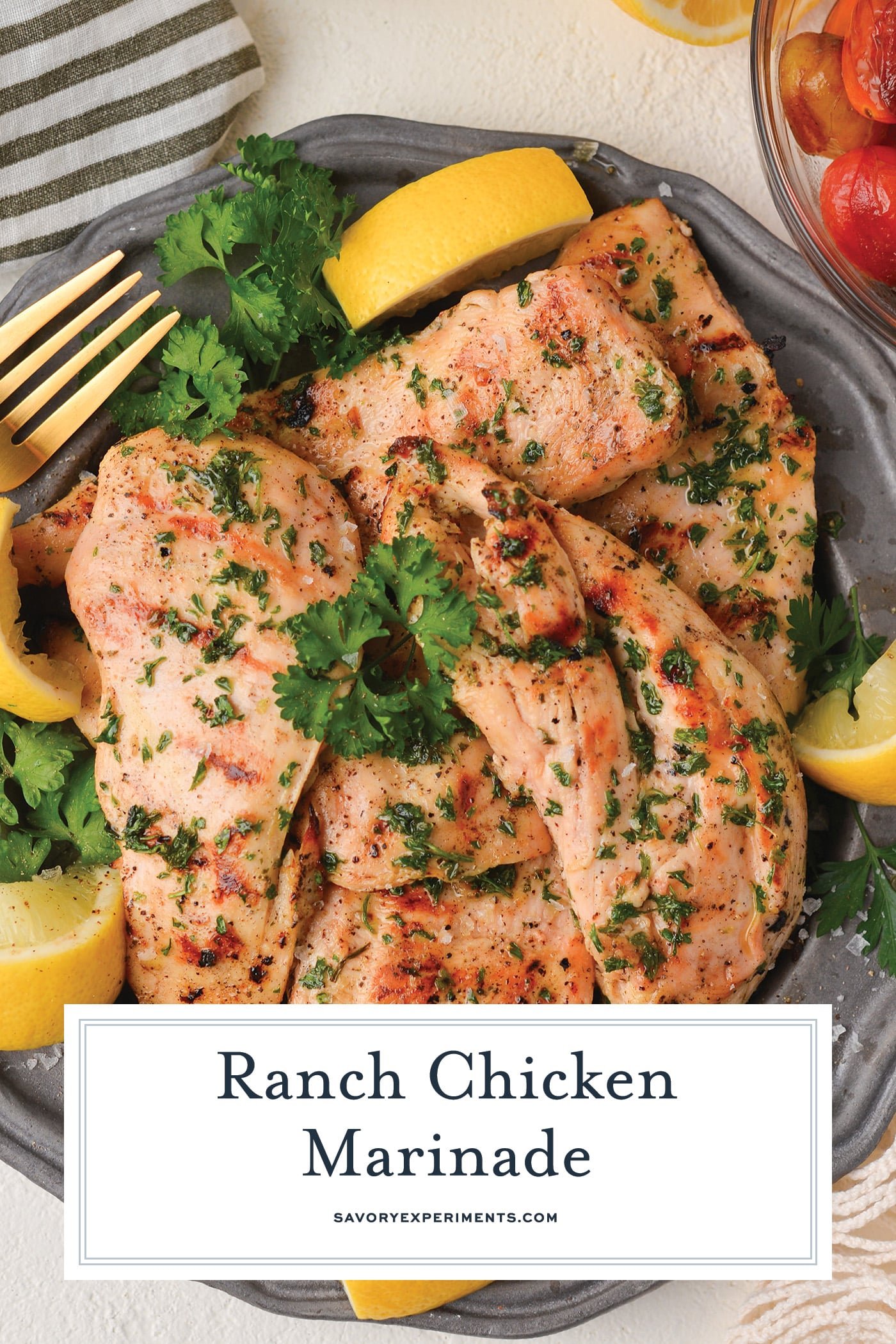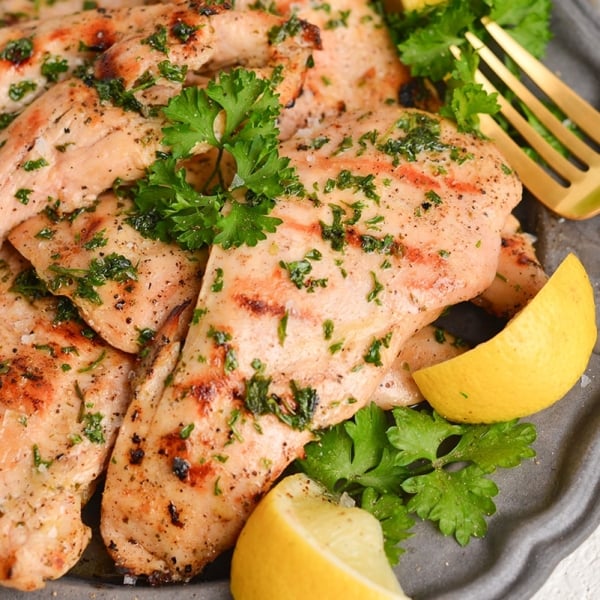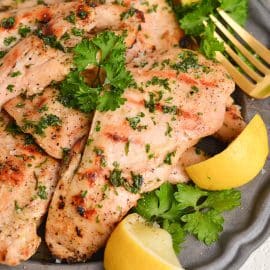 Ranch Grilled Chicken
Fire up the grill and make this delicious and juicy Ranch Grilled Chicken for dinner tonight! The best part? You only need 5 ingredients!
Instructions
Place the chicken on a cutting board or work surface, cover with a sheet of plastic wrap or wax paper. Pound the chicken breasts out to a uniform 1/2 inch thickness using the flat side of a meat mallet.

In a small bowl, whisk together the dry Ranch mix with fresh garlic, lemon juice, water and vegetable oil. Combine the marinade and chicken in a bowl or airtight plastic bag. Chill and marinate for as little as 30 minutes, but to 24 hours.

Before heating of the grill, allow the chicken to sit at room temperature for 10-20 minutes.

Heat the grill to medium-high heat (350°F). Spray with grill approved cooking spray and place chicken on indirect heat.. Cook for 5-7 minutes on each side, or until done. Since the sizes of chicken varies greatly, so will the cooking times. Use a meat thermometer to check doneness.

Remove and allow the chicken to rest for 5 minutes before serving.

If you've tried this recipe, come back and let us know how it was in the comments or star ratings.
Notes
Chicken can also be baked at 350 degrees for approximately 15-20 minutes or until fully cooked.
Nutrition
Calories:
387
kcal
,
Carbohydrates:
5
g
,
Protein:
24
g
,
Fat:
30
g
,
Saturated Fat:
23
g
,
Cholesterol:
72
mg
,
Sodium:
695
mg
,
Potassium:
418
mg
,
Sugar:
1
g
,
Vitamin A:
34
IU
,
Vitamin C:
4
mg
,
Calcium:
6
mg
,
Iron:
1
mg