What better way to upgrade your favorite snack mix than to add RANCH? This easy Ranch Chex Mix is addicting and delicious!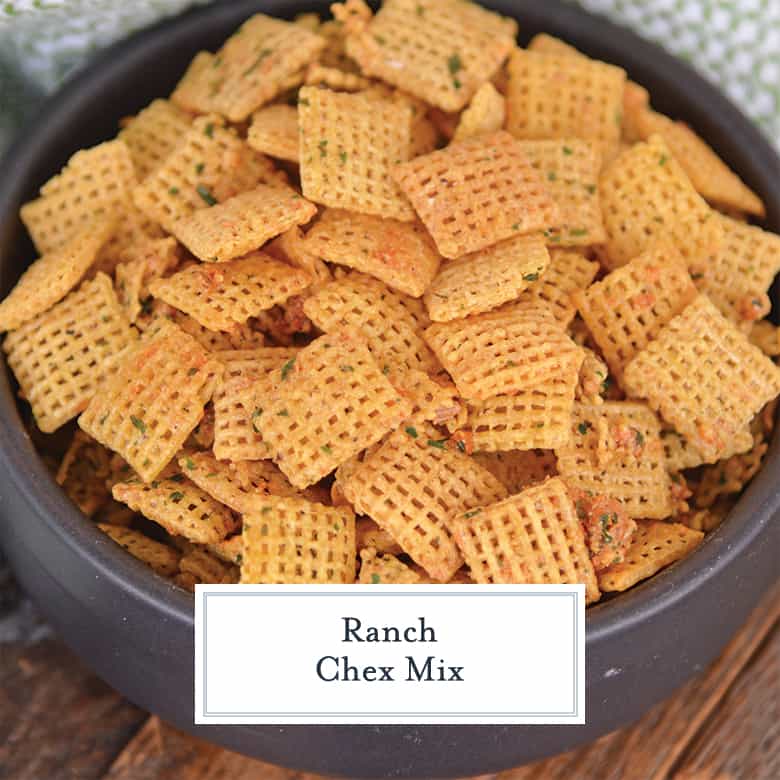 If you're looking for a delicious snack that is easy to make, look no further than this zesty Ranch Chex Mix! With only three ingredients, it simply can't be beat!
Ok if you haven't noticed lately, ranch has kind of been my thing. Is there anything that doesn't taste delicious with ranch seasoning on it?
I've been adding it to almost anything. From side dishes to main entrees, and even snacks! I started with my Ranch Oyster Crackers and knew I couldn't stop there.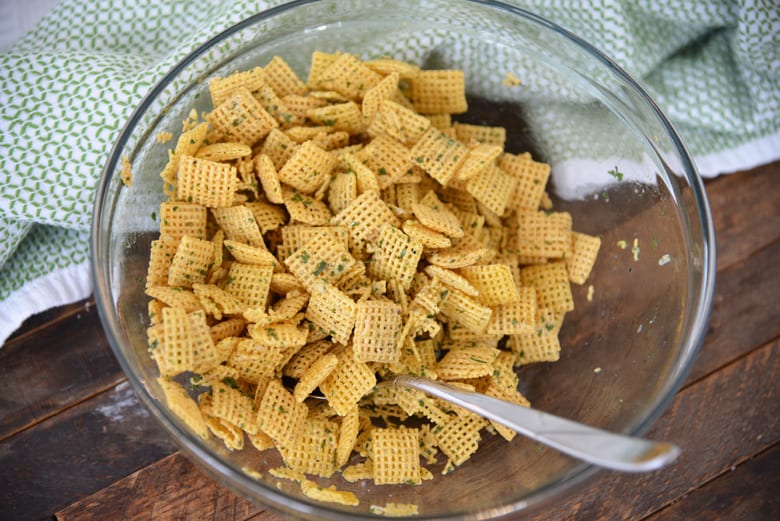 Chex Mix Recipe
And then this Ranch Chex Mix recipe was born. Chex mix has got to be one of my favorite snacks. Similar to trail mix, it's perfectly salty, crunchy and always has an awesome flavor.
But let's be honest, my favorite part of any Chex Mix is the actual Chex pieces. Crispy and crunchy, they are the perfect vehicle for whatever seasoning blend they are carrying.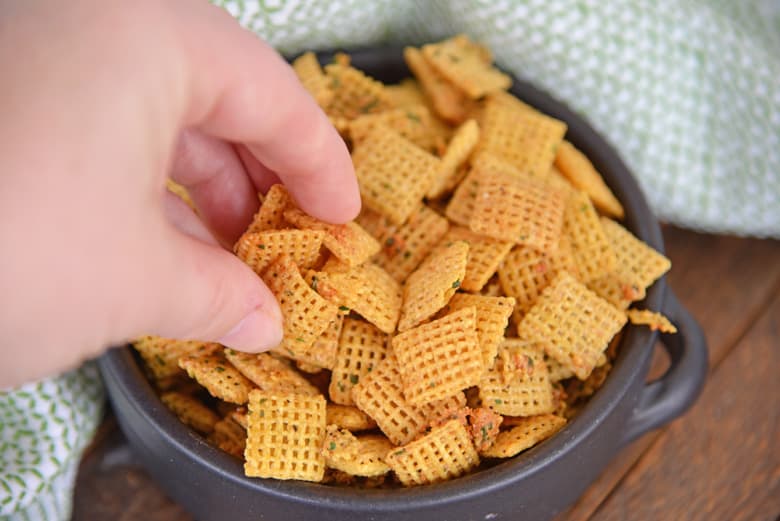 So my Ranch Chex Mix ended up not really being a mix at all. It is literally just Chex. Use any flavor you'd like, but I prefer the corn.
If you do like other add-ins, feel free to use them just as long as the total volume before baking equals 4 cups. Or double the butter and ranch mix, your choice.
Add-ins for Chex Mix:
Pretzels
Cheese Crackers
Nuts- peanuts, almond, walnuts or cashews
Chocolate chips
Corn chips
Dried fruit
Just make sure that the total volume of mix is still only 4 cups OR double the ranch seasoning and butter.
There are also different flavors of Chex cereal. I prefer to use corn, but other variations like rice, whole wheat or even nut could be fun variations.
That also makes this a gluten free snack option.
Make Chex Mix
To start making this easy Ranch Chex Mix, melt your unsalted butter. Then in a large microwave safe bowl, toss the Chex cereal with the butter until all pieces are coated evenly.
Next sprinkle and toss the cereal with the dry ranch seasoning. Make sure to get that goodness on each and every piece of cereal!


Then microwave the entire mixture for 2 minutes on high. At the halfway point, stop the microwave and stir the contents of the bowl. You can also make it in the oven to get a nice toasty brown.
And that's it! Can you think of an easier snack than that? Just make sure the Ranch Chex Mix is cooled before serving.
Party Appetizer
It's great for serving at parties and get togethers, but I just like keeping a bowl next to me while I work! It's easy to snack on and not messy. But if you do this, fair warning- they are addicting!
And if you aren't serving it right away, just store it in an airtight container or bag at room temperature. It will stay good for a few weeks, but who are we kidding, it won't last that long!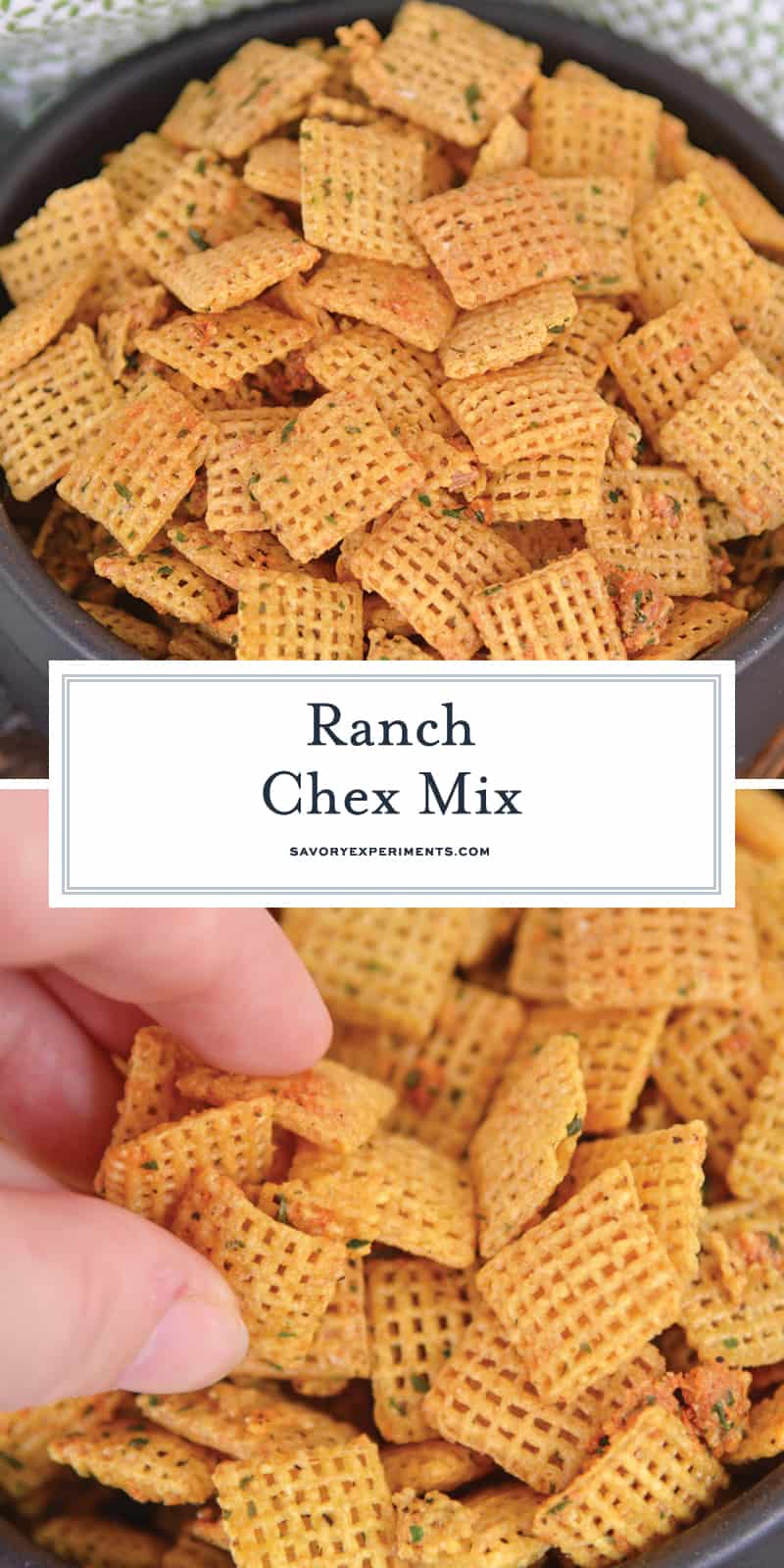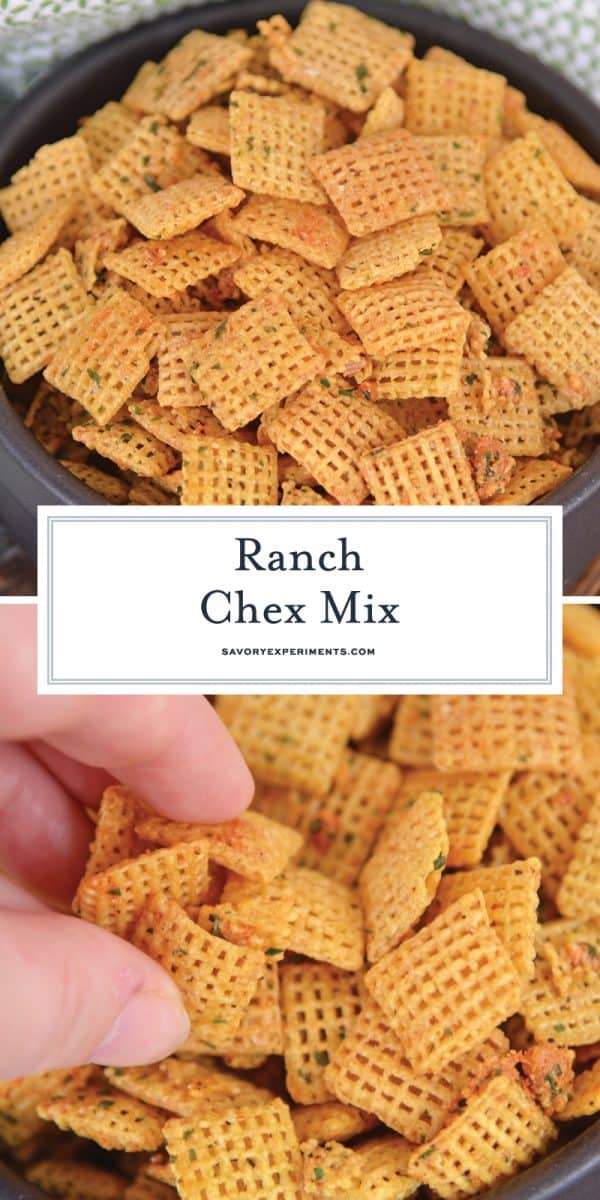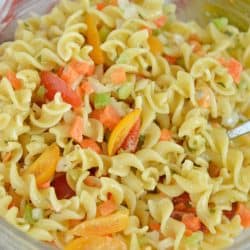 Ranch Pasta Salad
You won't go back to regular pasta salad after you've tried this delicious Ranch Pasta Salad recipe! It's easy to make with simple ingredients!
View this recipe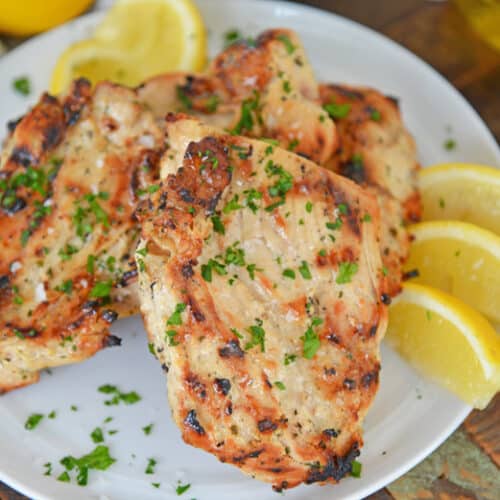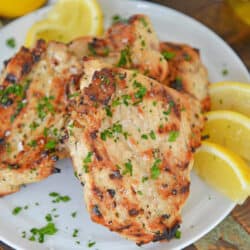 Ranch Grilled Chicken
Fire up the grill and make this delicious and juicy Ranch Grilled Chicken for dinner tonight! The best part? You only need 5 ingredients!
View this recipe
More snack recipes: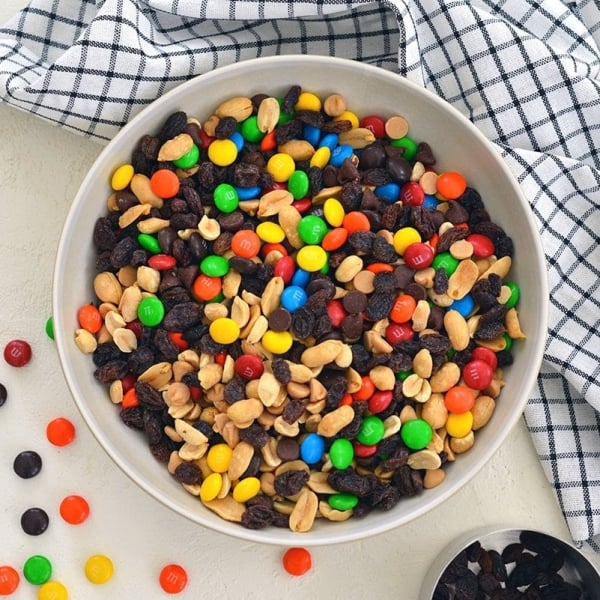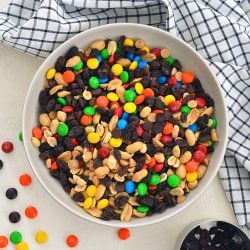 Monster Trail Mix
Monster Trail Mix is an easy trail mix of nuts, M&Ms, raisins and chips. The perfect snack for camping, hiking or an afternoon by the pool. Make a large batch and snack for days!
View this recipe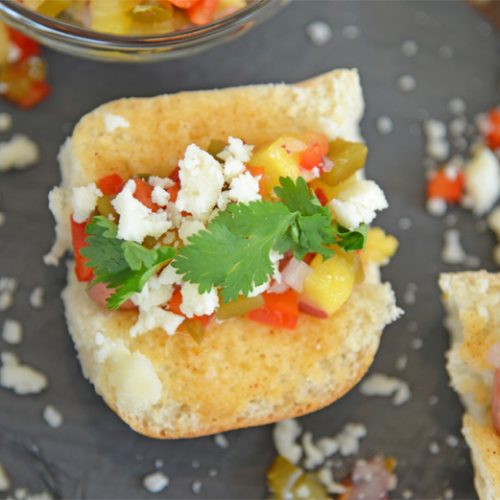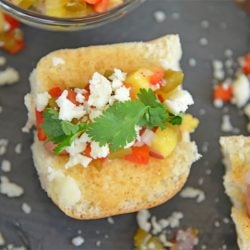 Jalapeño-Pineapple Salsa on Mini Hot Dogs
Jalapeño-Pineapple Salsa on Mini Hot Dogs is an easy and creative way to elevate your tailgating spread! Lush, sweet pineapple paired with spicy jalapenos and diced green chiles.
View this recipe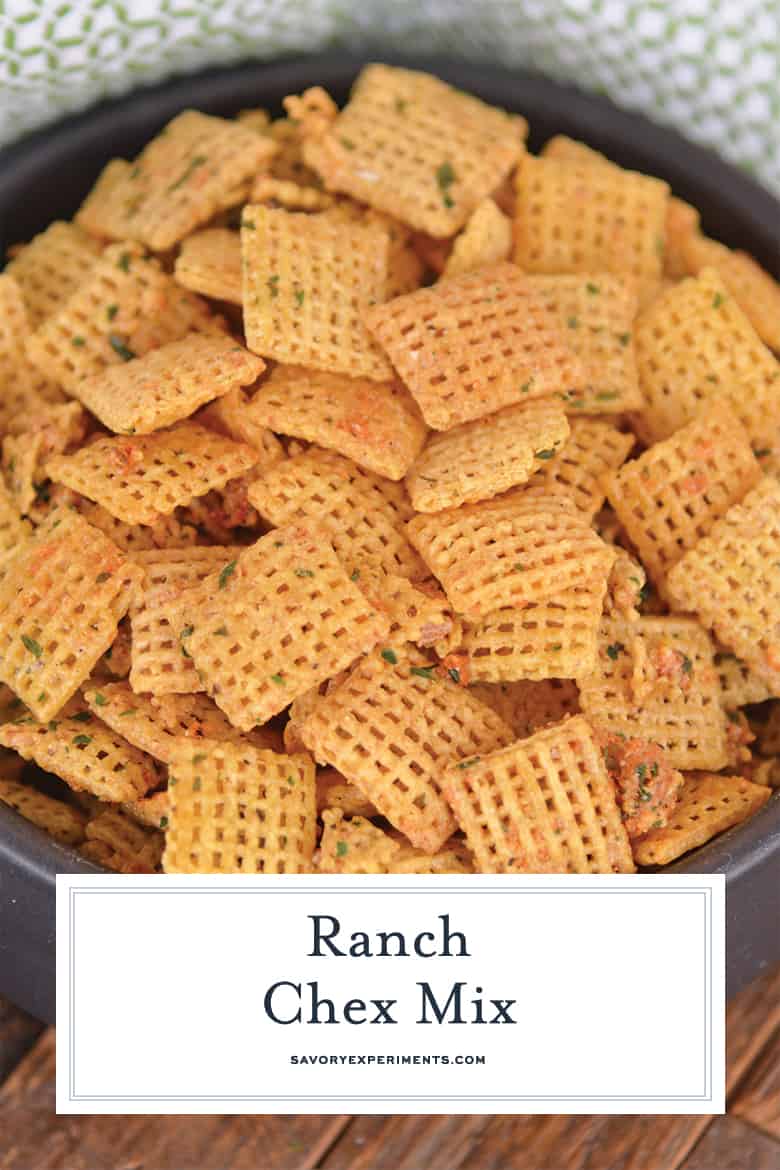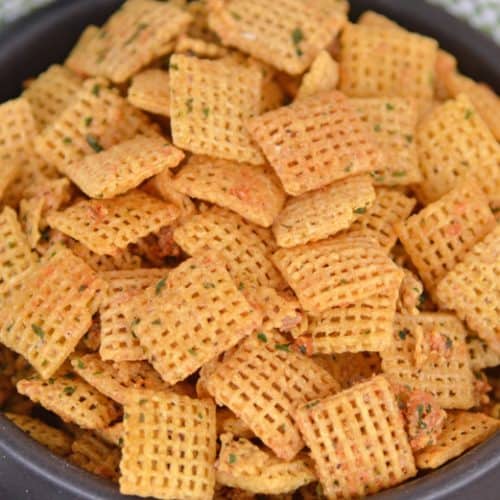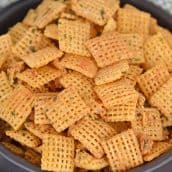 Ranch Chex Mix
If you're looking for a delicious snack that is easy to make, look no further than this zesty Ranch Chex Mix! With only three ingredients, it simply can't be beat!
Instructions
Preheat oven to 300 degrees.

In a large mixing bowl, toss Chex cereal with unsalted butter to coat.

Evenly sprinkle and toss cereal with dry Ranch seasoning. Transfer to a rimmed baking sheet.

Bake for 10-12 minutes, turning halfway.

Allow to cool slightly before serving.

Store in airtight containers or bags at room temperature.

If you've tried this recipe, come back and let us know how it was!
Notes
Microwave Instructions:

Microwave for 2 minutes on high, stopping half way to stir.
Nutrition
Calories:
285
kcal
,
Carbohydrates:
55
g
,
Protein:
6
g
,
Fat:
7
g
,
Saturated Fat:
4
g
,
Cholesterol:
15
mg
,
Sodium:
917
mg
,
Potassium:
229
mg
,
Fiber:
8
g
,
Sugar:
6
g
,
Vitamin A:
835
IU
,
Vitamin C:
8
mg
,
Calcium:
132
mg
,
Iron:
19
mg