What better way to upgrade your favorite snack mix than to add RANCH? This easy Ranch Chex Mix is addictive and delicious!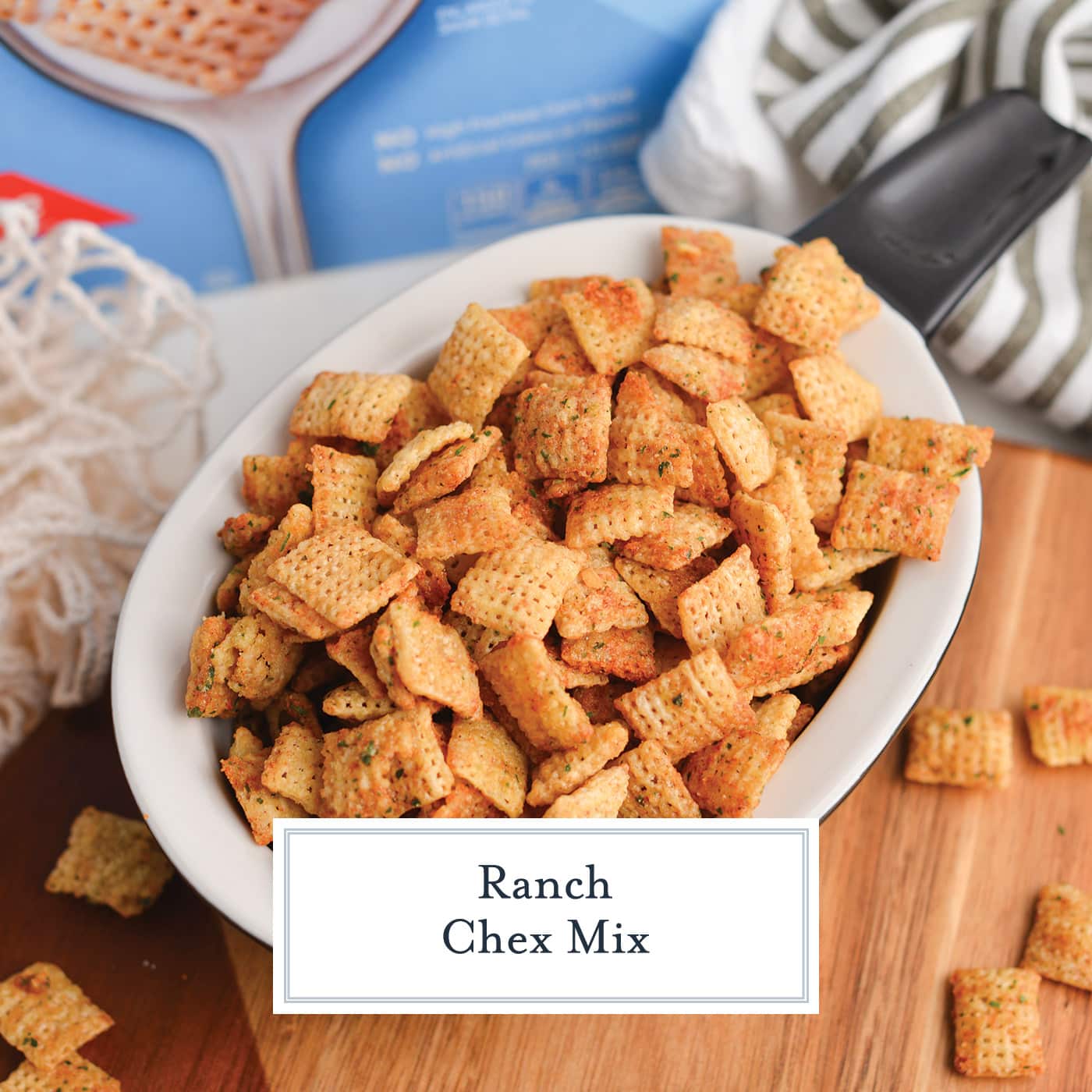 If you're looking for a scrumptious snack that is easy to make, look no further than this zesty Ranch Chex Mix! With only three ingredients, it simply can't be beat!
Chex mix has got to be one of my favorite snacks. Similar to trail mix, it's perfectly salty, and crunchy and always has an awesome flavor.
But let's be honest, my favorite part of any Chex Mix is the actual Chex pieces. Crispy and crunchy, they are the perfect vehicle for whatever seasoning blend they are carrying.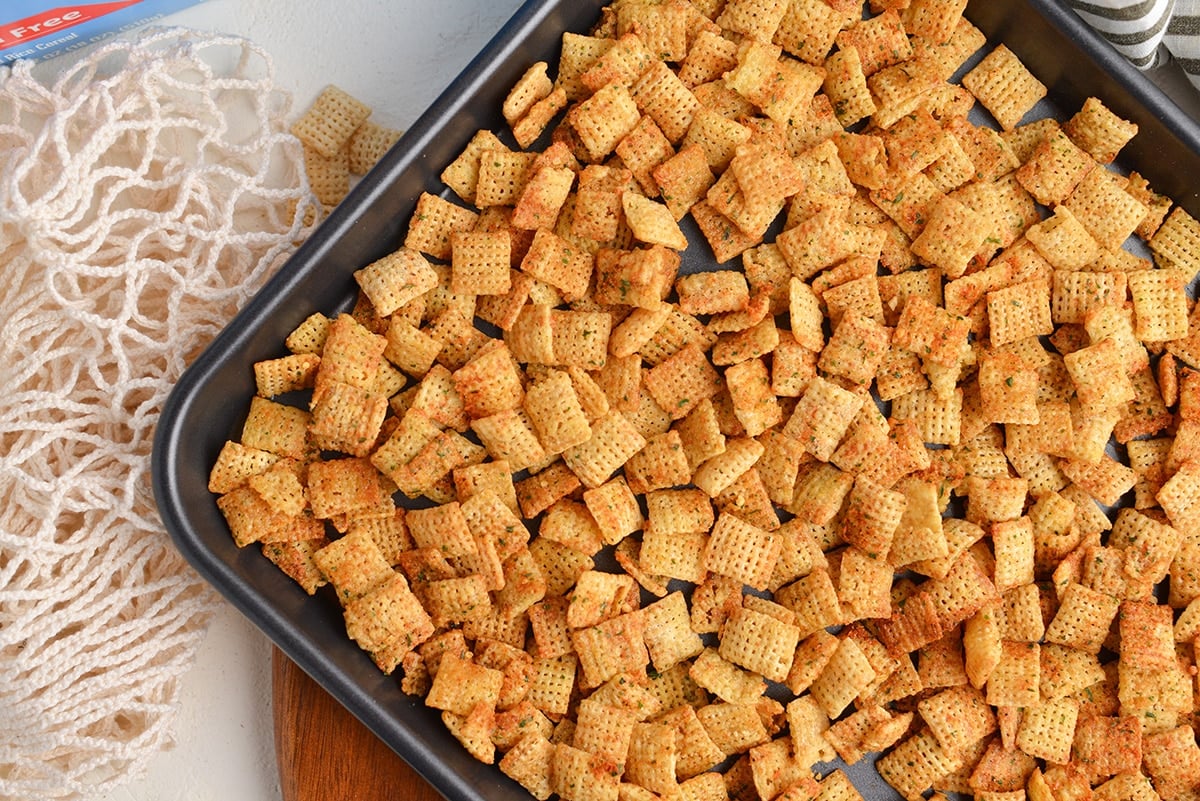 Why You'll Love Ranch Chex Mix
If you haven't noticed lately, ranch mix has kind of been my thing. Is there anything that doesn't taste delicious with ranch seasoning on it? This iteration is no exception.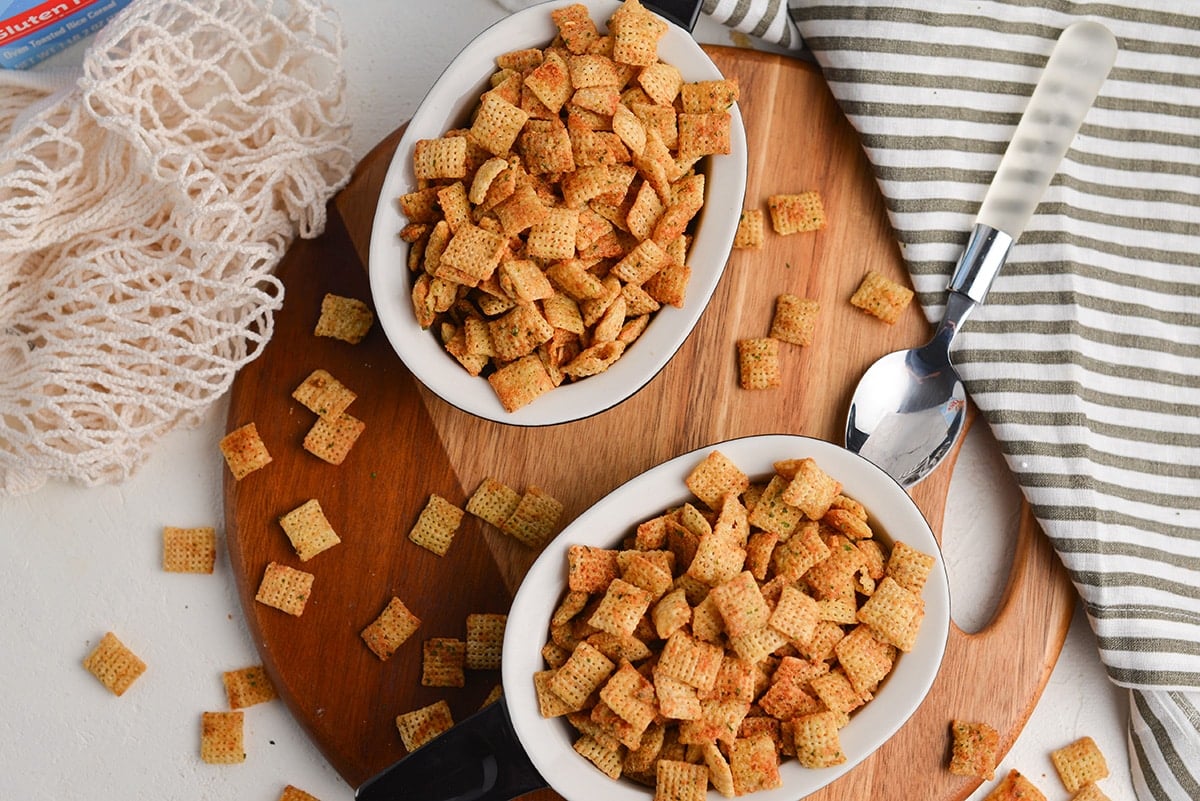 What is Ranch Chex Mix?
Ranch mix is so versatile and I've been adding it to almost anything. From side dishes to main entrees, and even snacks! I started with my Ranch Oyster Crackers and knew I couldn't stop there.
This recipe features two of your favorite things: Chex mix and the flavor of Ranch dry mix dressing. Tangy, creamy, herbaceous, crunchy, salty, and just a hint of sweetness.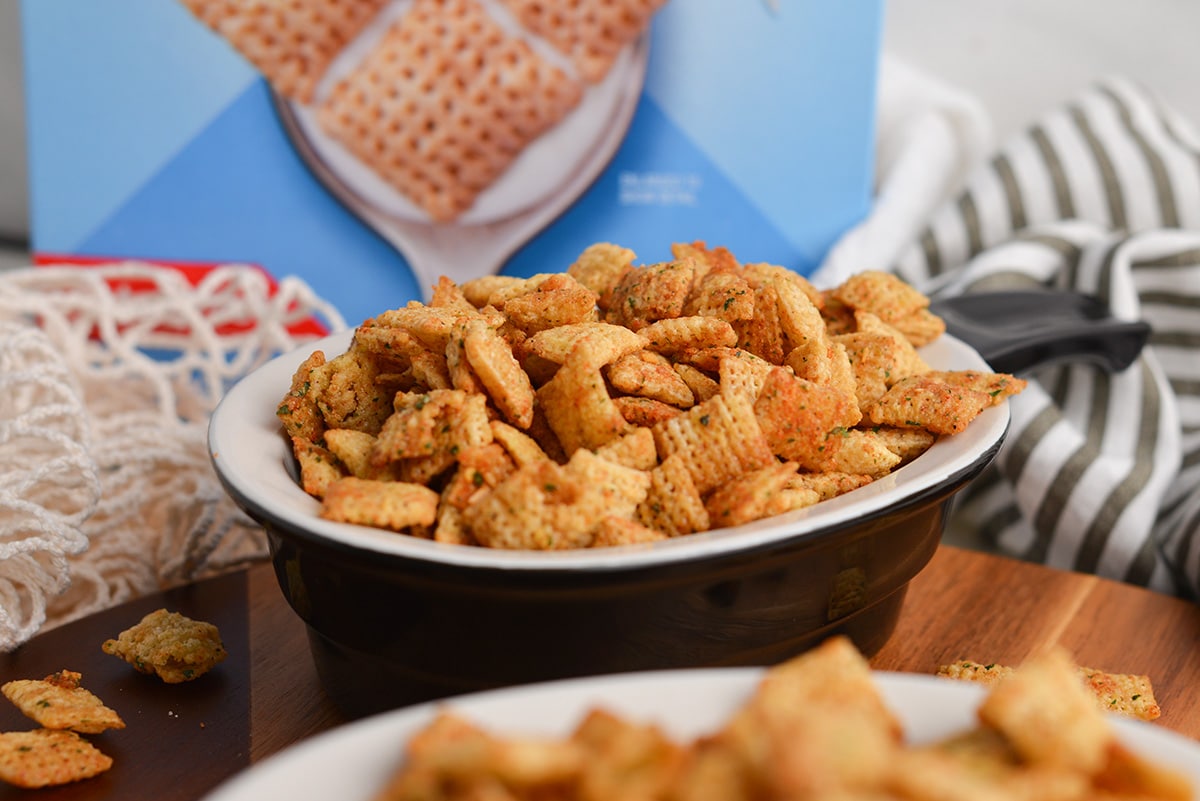 What's In Ranch Chex Mix?
I kept this one super simple for ease, but you can doctor it up as much or as little you would like to.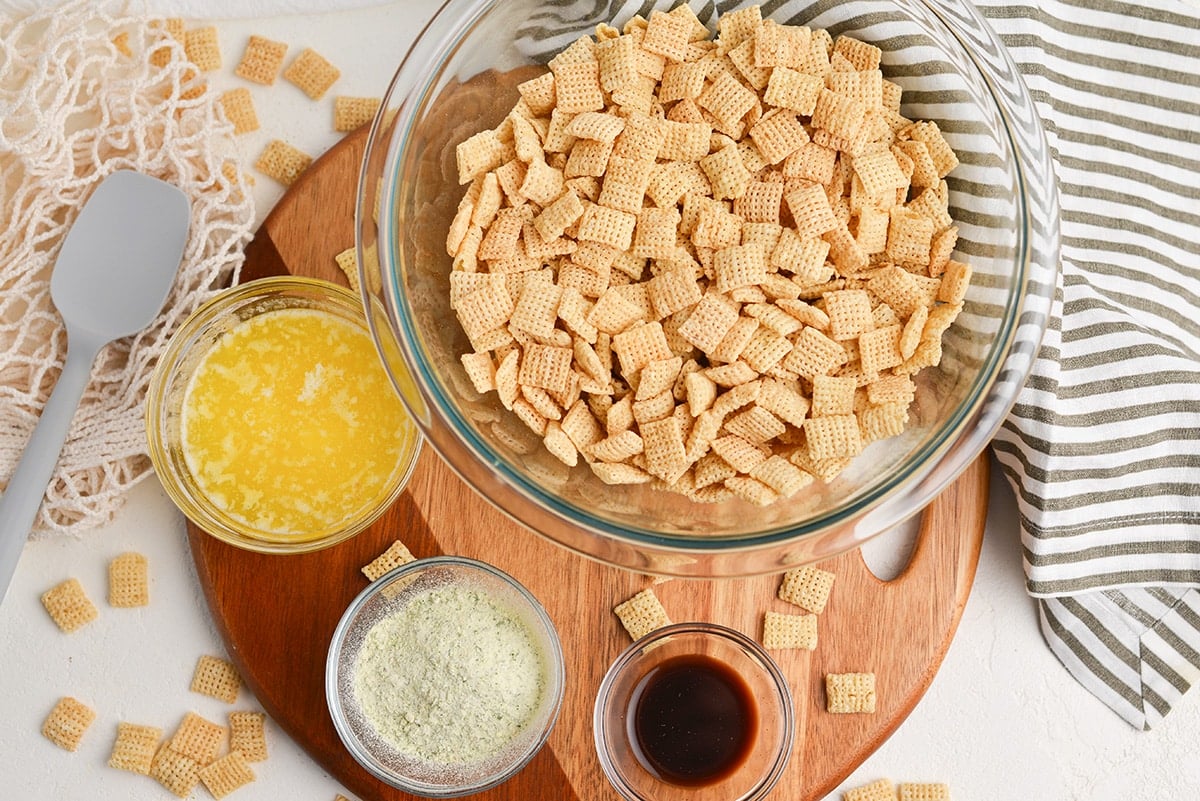 How to Make Ranch Chex Mix
You are going to love how easy it is to make this delicious snack mix.
Preheat the oven. It goes without saying that you want to get this process started so the oven is ready to go when you are ready to use it.
Coat the Chex cereal with butter. Add cereal to a large bowl. Melt the butter in the microwave or on the stove and drizzle it over the Chex mix. Use a spatula to gently coat the cereal. Make sure things are coated evenly. No butter equals no ranch mix will stick.
Season! Sprinkle the cereal with the dry mix. I like to sprinkle half, mix, and then sprinkle the second half for an even mix.
Pop it in the oven. Bake for 10-12 minutes – this will depend on your oven so keep an eye on it. Turning it halfway through ensures that it bakes evenly. Little known fact, your oven does not hold heat evenly. The front of the oven may be warmer than the back of the oven.
Cool. Allowing it to cool slightly before serving will not only save you or your guests from burning their mouths, it will allow the butter to really set up on the Ranch Chex Mix. This step almost seals in that ranch flavor.
Serve – you can either set it out in a serving bowl for folks to dig in or store it in air tight containers to enjoy later or take on the go. Be sure if you are putting it away that it is at room temp or the heat will steam the mix and you will lose that glorious crunch!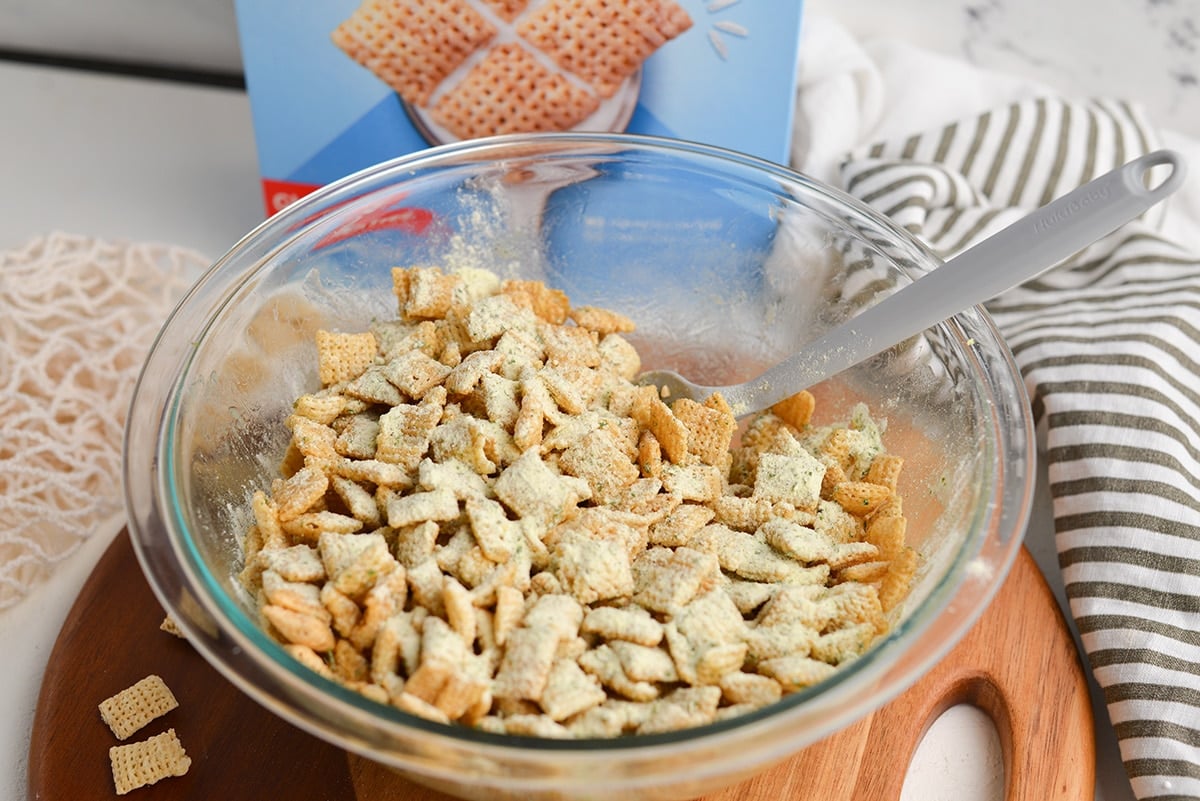 Make Ranch Chex Mix in the Microwave
Don't feel like turning on the oven? No problem. You can easily make this in the microwave.
To start making this easy Ranch Chex Mix, melt your unsalted butter. Then in a large microwave-safe bowl, toss the Chex cereal with the butter until all pieces are coated evenly.
Next, sprinkle and toss the cereal with the dry ranch seasoning. Make sure to get that goodness on each and every piece of cereal!
Then microwave the entire mixture for 2 minutes on high. At the halfway point, stop the microwave and stir the contents of the bowl. You can also make it in the oven to get a nice toasty brown.
And that's it! Can you think of an easier snack than that? Just make sure the Ranch Chex Mix is cooled before serving.
The same storage notes apply as the oven-baked version.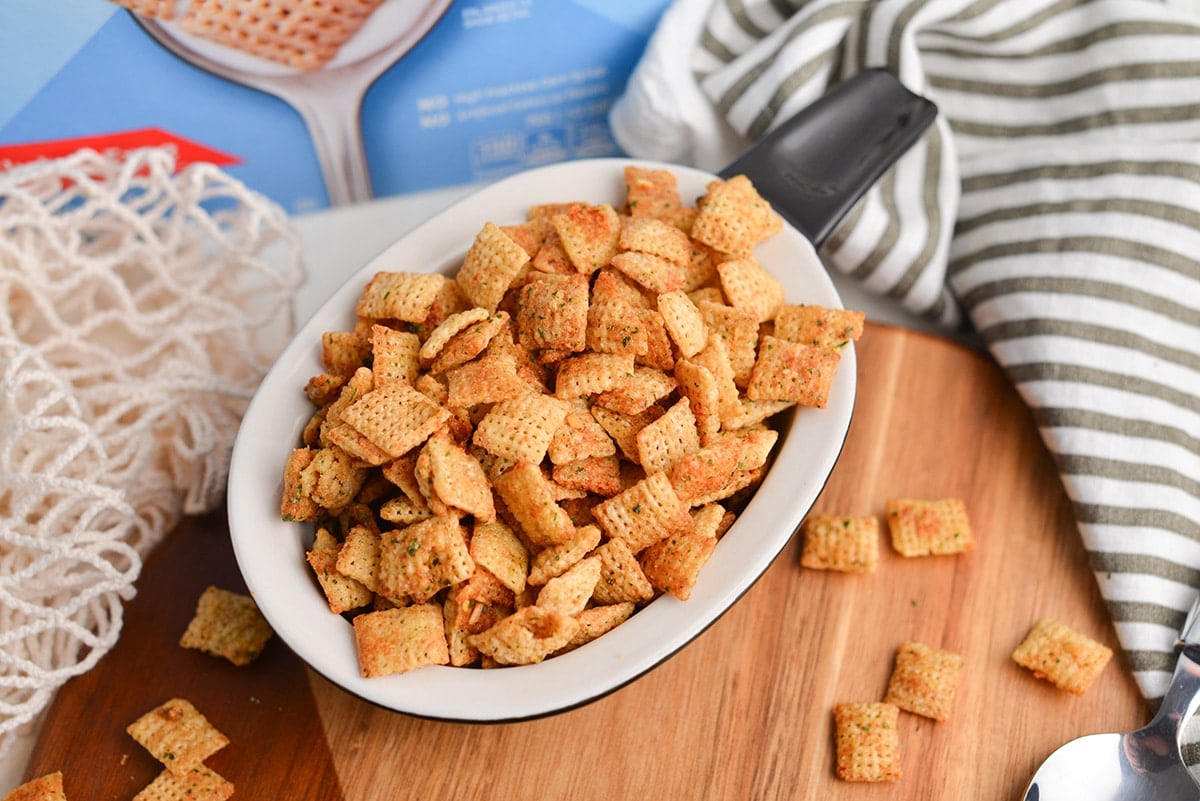 Variations
I am calling this recipe "Chex Mix" but you will notice it only has Chex in it. It was just that good. If you want to vary it up, feel free to add in any of the following:
If you do like other add-ins, feel free to use them just as long as the total volume before baking equals 4 cups. Or double the butter and ranch mix, your choice.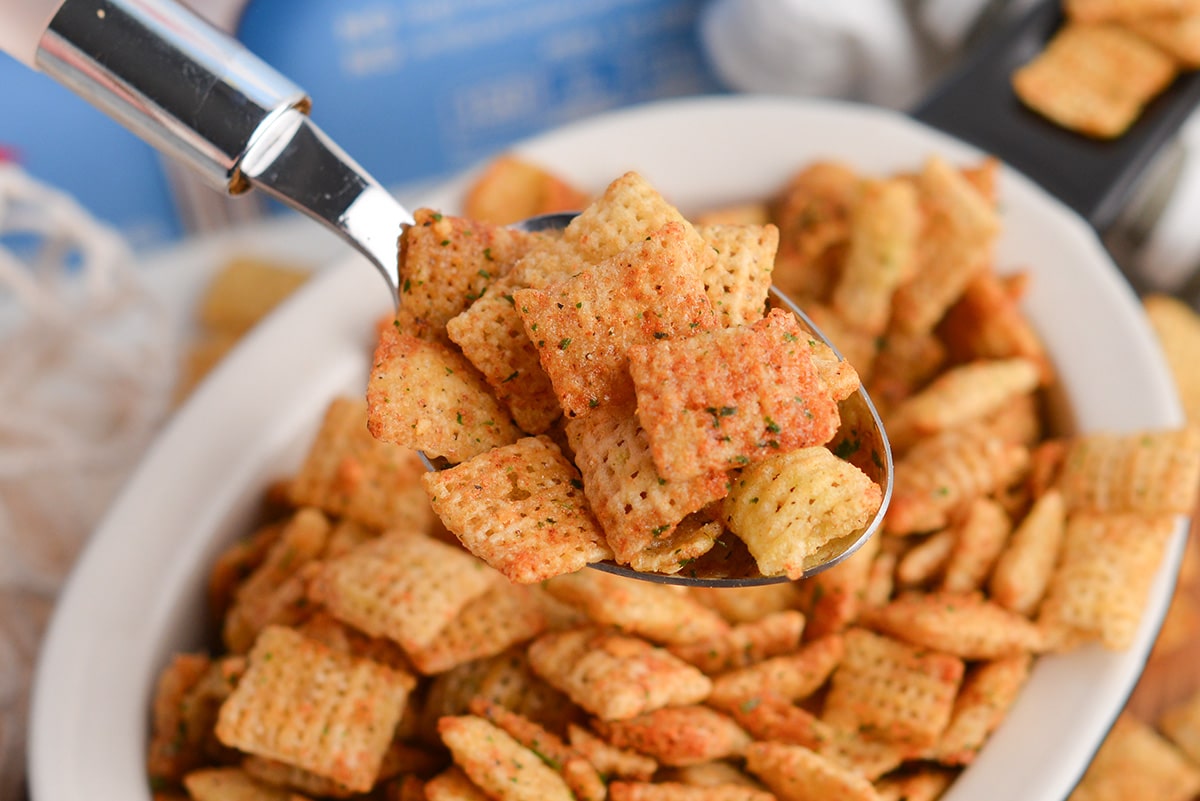 Storing & Freezing
Make-ahead: You can easily make this recipe a week or two, a few days, or just a few hours before you plan to serve it. It should stay fresh in an airtight container for a few weeks.
Storage: Just like any cereal, Ranch Chex Mix is at risk of becoming stale. Be sure to store in an airtight container or in gallon ziploc bags with the air removed for up to a few weeks.
Freezing: I do not recommend freezing this recipe.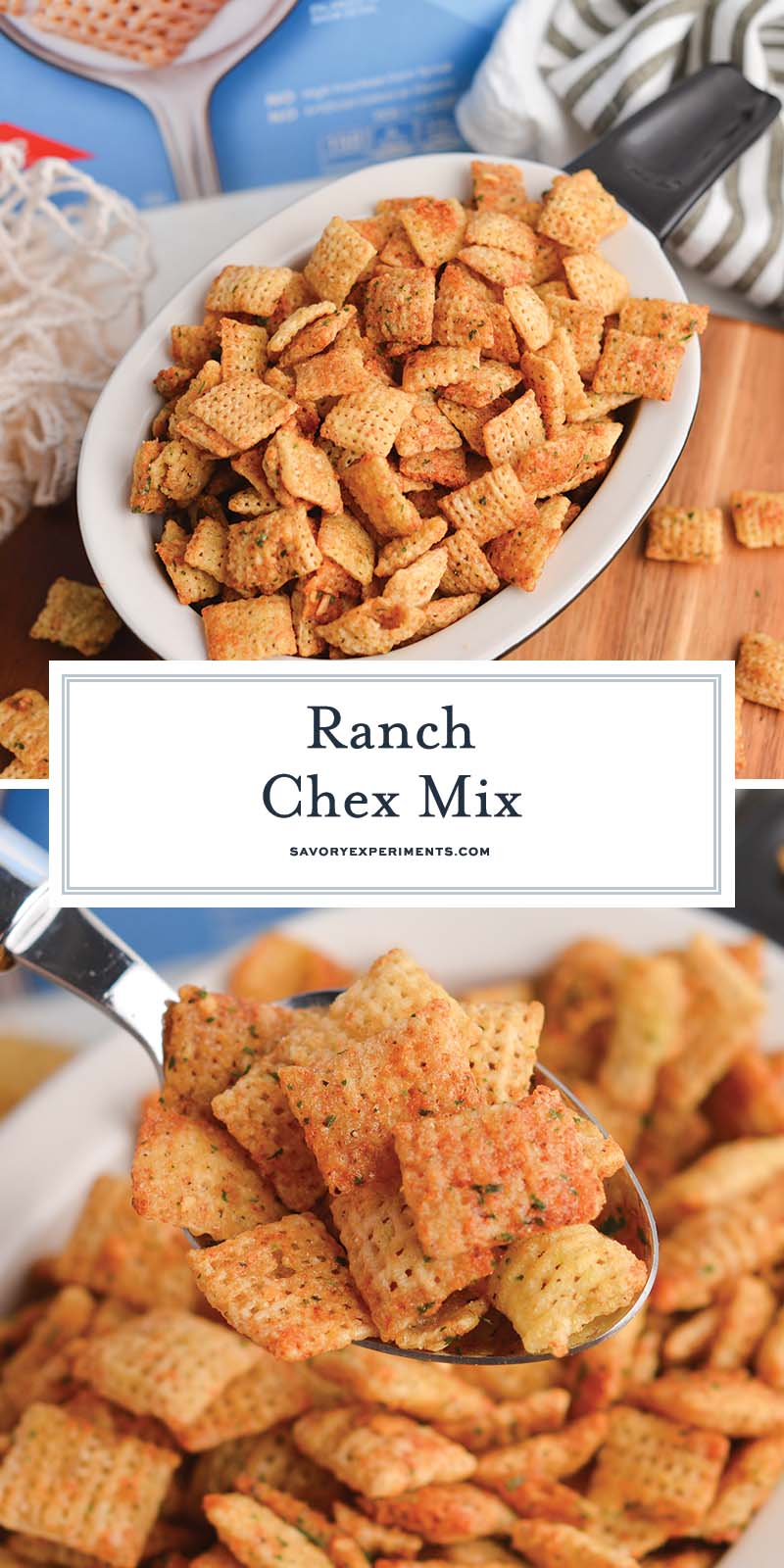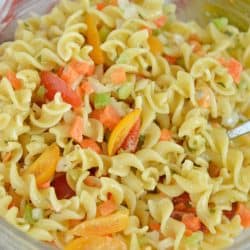 Ranch Pasta Salad
You won't go back to regular pasta salad after you've tried this delicious Ranch Pasta Salad recipe! It's easy to make with simple ingredients!
See The Recipe!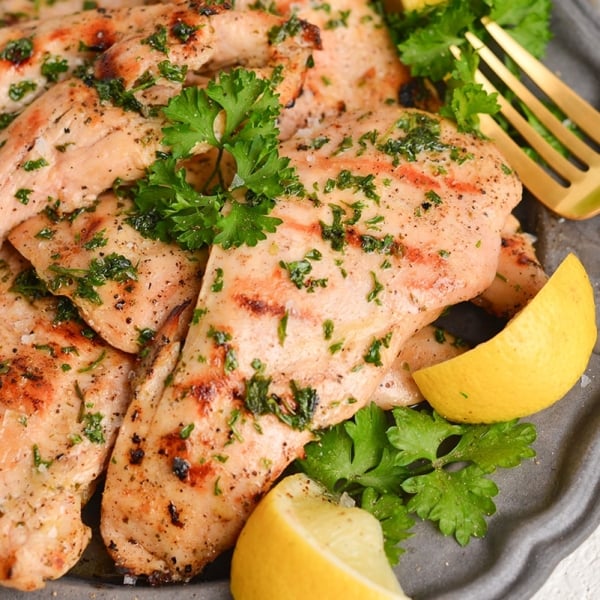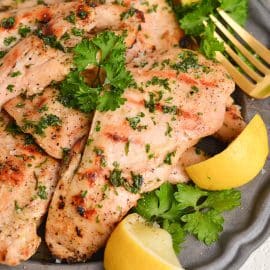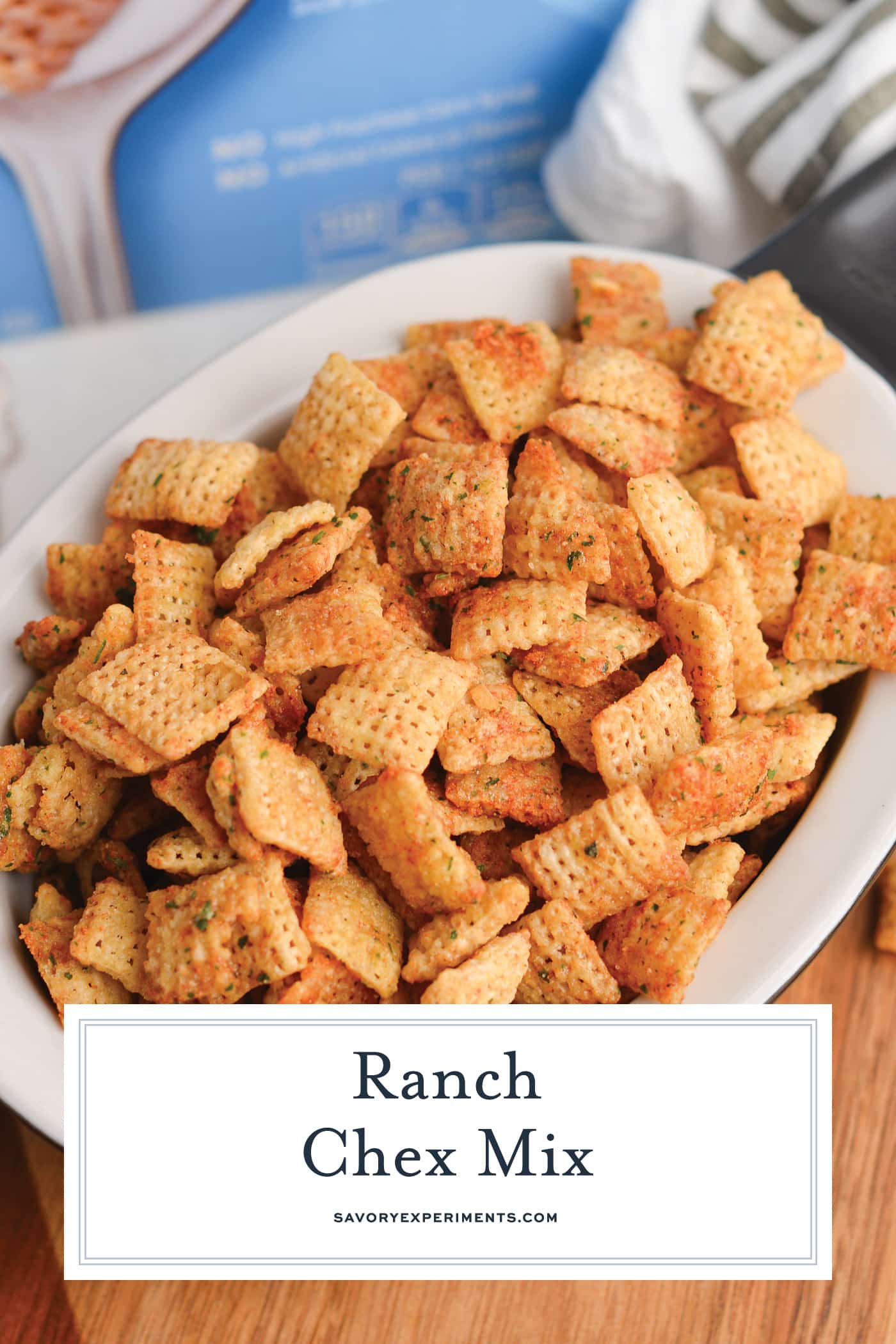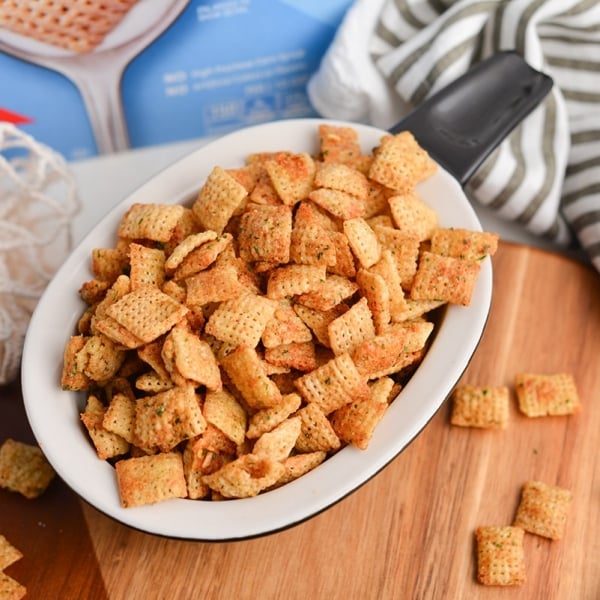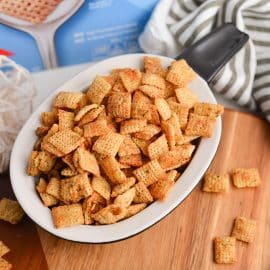 Ranch Chex Mix
If you're looking for a delicious snack that is easy to make, look no further than this zesty Ranch Chex Mix! With only three ingredients, it simply can't be beat!
Instructions
Preheat the oven to 300°F and get out a large rimmed baking sheet.

In a large mixing bowl, toss the Chex cereal with the melted butter to coat.

Evenly sprinkle and toss the cereal with the dry Ranch seasoning. Transfer the cereal mix to the baking sheet.

Bake for 10-12 minutes, turning halfway.

Allow the mix to cool slightly before serving.

Store in airtight containers or bags at room temperature.

If you've tried this recipe, come back and let us know how it was in the comments or star ratings.
Notes
Microwave Instructions:

Microwave for 2 minutes on high, stopping half way to stir.
Nutrition
Calories:
285
kcal
,
Carbohydrates:
55
g
,
Protein:
6
g
,
Fat:
7
g
,
Saturated Fat:
4
g
,
Cholesterol:
15
mg
,
Sodium:
917
mg
,
Potassium:
229
mg
,
Fiber:
8
g
,
Sugar:
6
g
,
Vitamin A:
835
IU
,
Vitamin C:
8
mg
,
Calcium:
132
mg
,
Iron:
19
mg