These Stuffed Breakfast Potatoes are loaded with cheddar cheese, bacon, tomatoes, chives, onion, green pepper, and eggs! It's the ultimate all in one breakfast solution. Everyone will fall in love with this unique breakfast idea.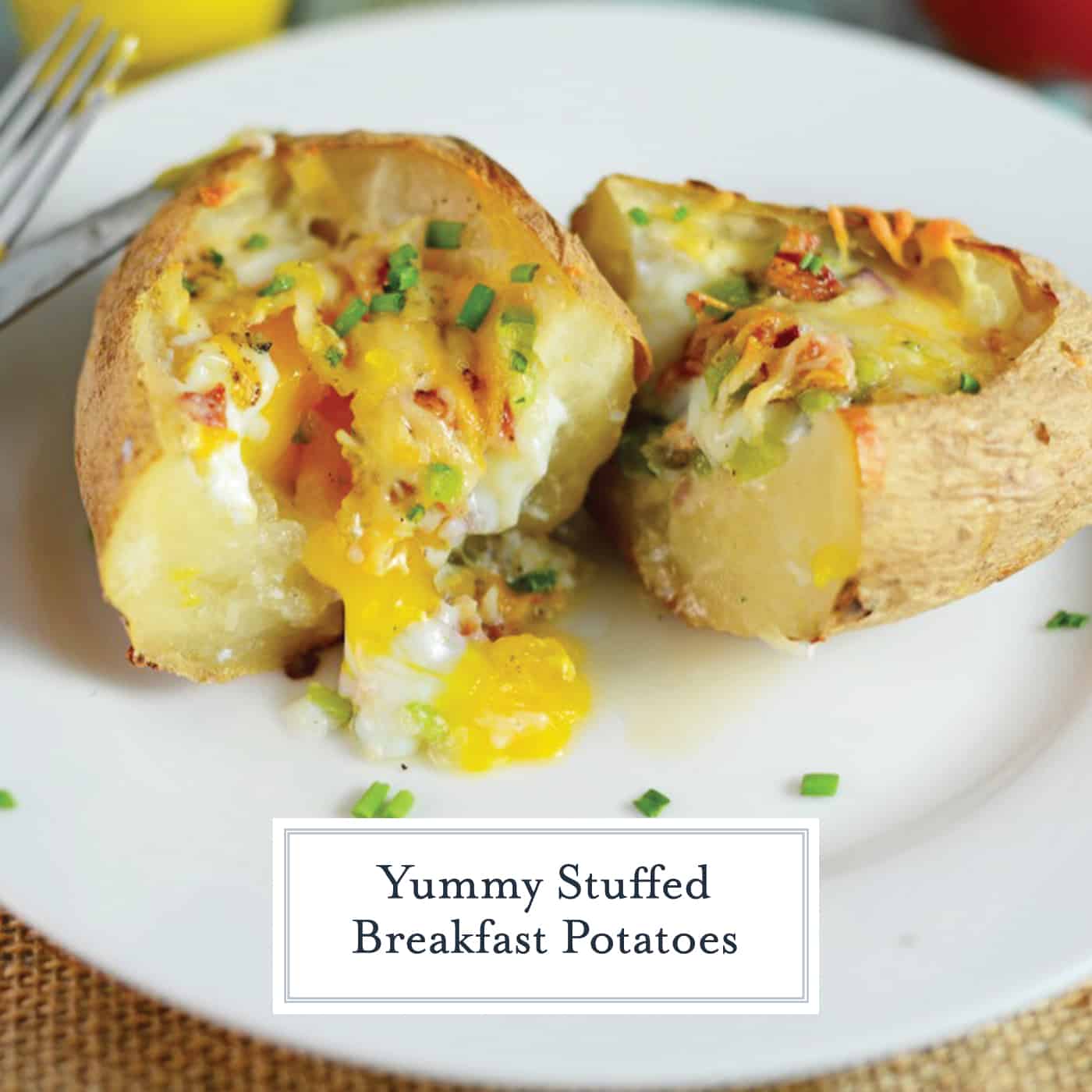 Stuffed Breakfast Potatoes are scooped baked potatoes stuffed with cheese, your choice of veggies, bacon and an egg. Perfect for feeding a crowd.
Sometimes you totally forget posts and recipes from long ago… or from March 2013, like this one that I still struggle to name appropriately. I landed with Stuffed Breakfast Potatoes, but it still doesn't do it justice.
I threw it out to my readers on Facebook…. what should I name this recipe and they came up with all sorts of creative ideas like Potato Boats, Stuffed Potatoes, Potato Nummers, Eggy Potato Boats… seriously all sorts of stuff. Even little individual breakfast potato casseroles.
Stuffed Breakfast Potatoes were a magical dish that worked on the first try and was amazingly tasty, fun looking and also easy to eat. Roasted potatoes stuffed to the gills with yummy topping and then baked to a golden brown.
I've continued to make it for brunch on the weekends with a variety of ingredients, really whatever I have leftover in the fridge during the week.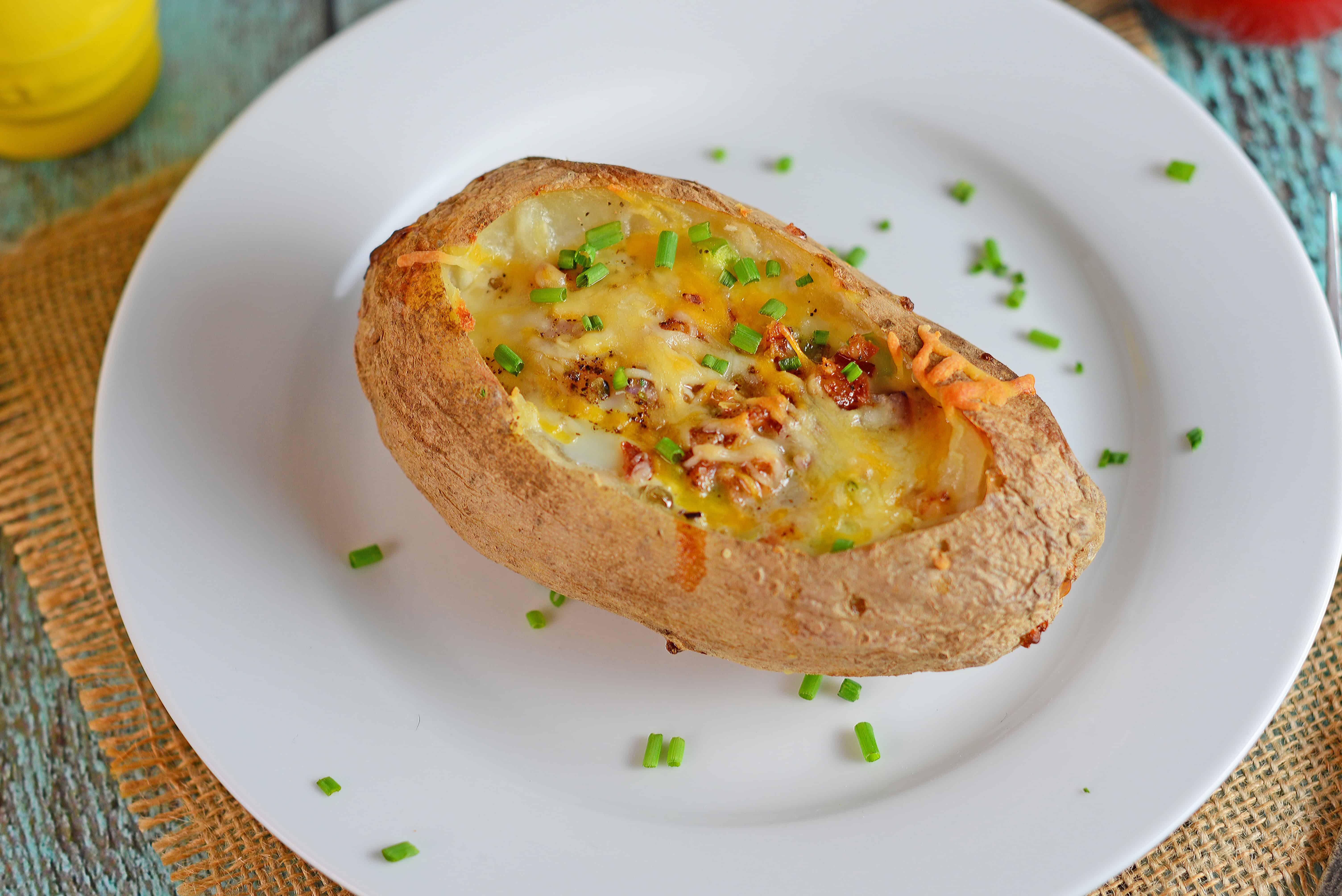 I used bacon, green bell pepper, onion, chives, tomato to make these stuffed potatoes! All of these combined taste great in Stuffed Breakfast Potatoes!
I used a fork and knife, but you could eat it whole with your fingers like a potato skin.
Other fun stuffing ingredients could be ham, crumbled breakfast sausage, zucchini, carrot, sweet potato, mushrooms, a variety of cheese, spinach, tomatoes and more!
I baked potatoes specially for this purpose the night before. It works better if the potato is fully cooled or refrigerated overnight. Perfect baked potatoes are easy, see note below if you don't already have them prepared.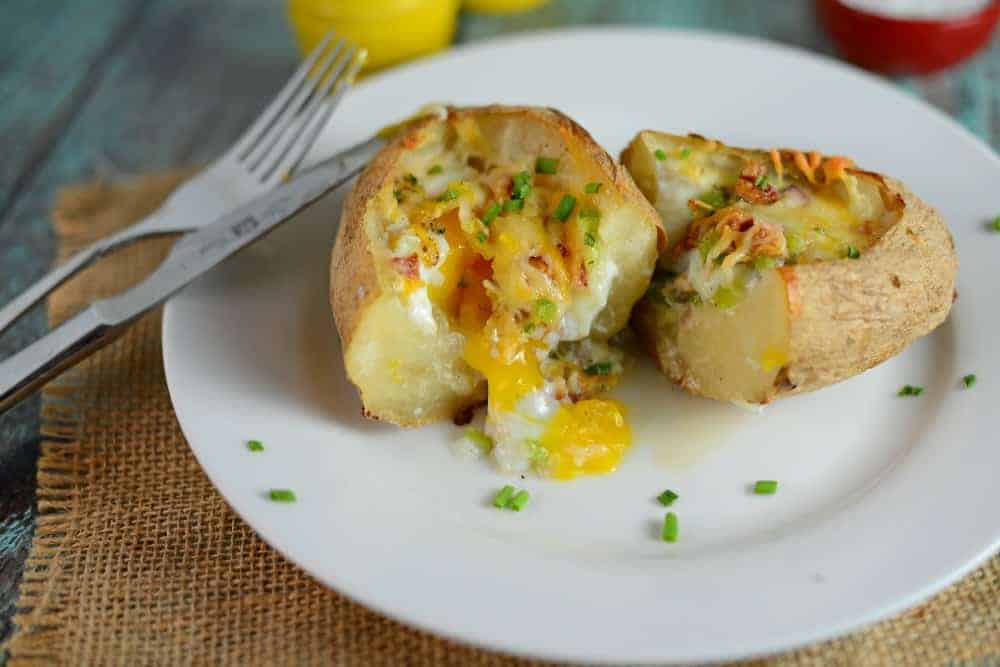 I served my Stuffed Breakfast Potatoes with Homemade Breakfast Sausage and toast, but they really don't require all that much in addition to their cheesy self. See the video below to watch the instructions!
Tools for making eggy potato boats:
Wood cutting board – wood won't dull your knives like plastic and if treated properly, has natural antimicrobial properties.
Good knife – Global is my favorite! They are worth the price, I promise. I am kind of obsessed with them and store them tucked away so no one else can use them. Including hubby. Hands off my good stuff!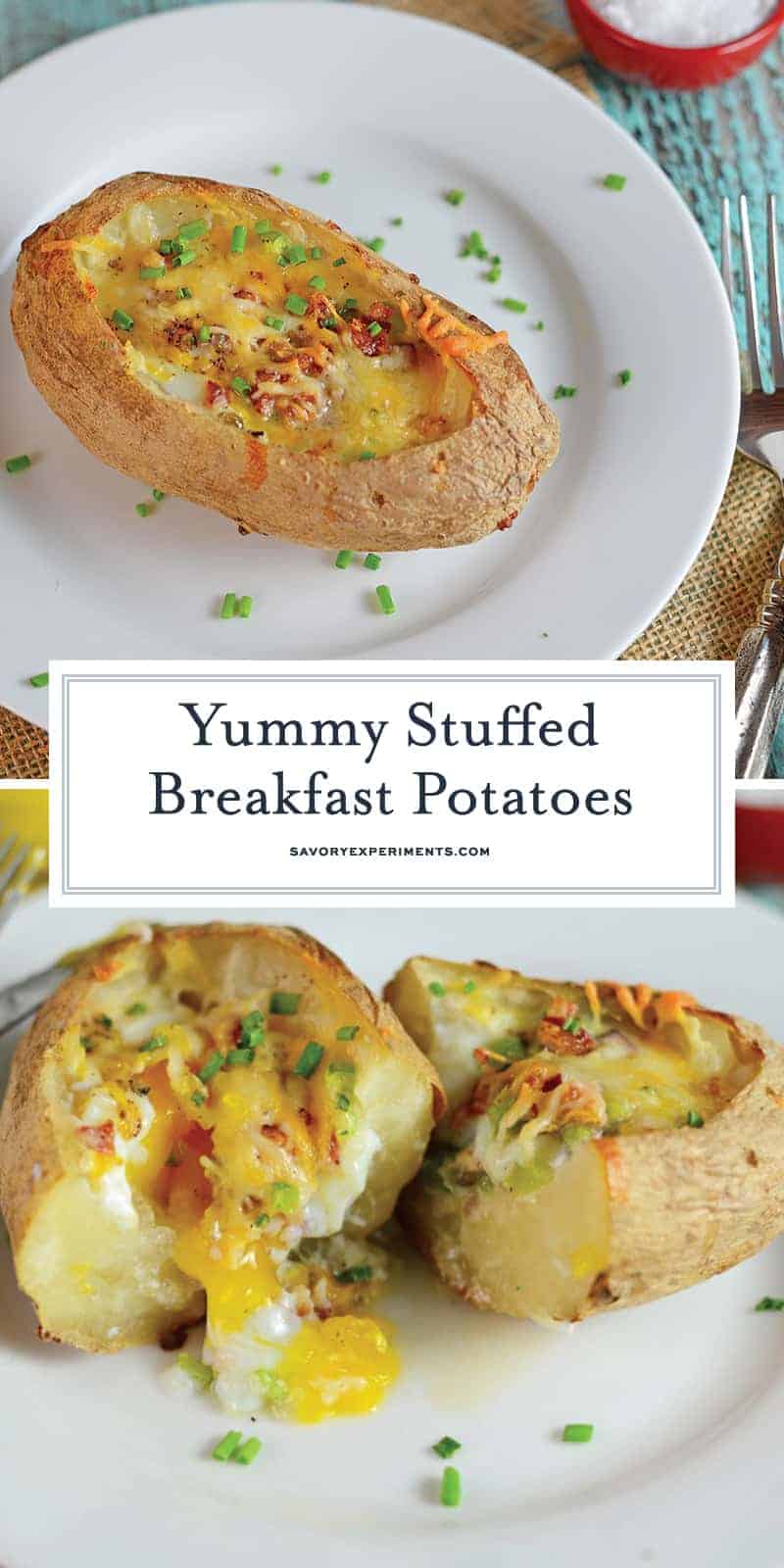 Questions you might have about how to make breakfast potatoes:
Can I make these ahead of time? Sure! You can either assemble them ahead of time and wait to bake or pre bake and reheat.
Can I freeze these breakfast potatoes? You sure can! All the ingredients freeze well. Package in airtight containers, I would recommend plastic bags for this one, and freeze for up to 6 months.