Tired of eating the same old boring pasta salads? This easy Ranch Pasta Salad is a total game changer! Plus it's a great way to use up that pasta in the pantry!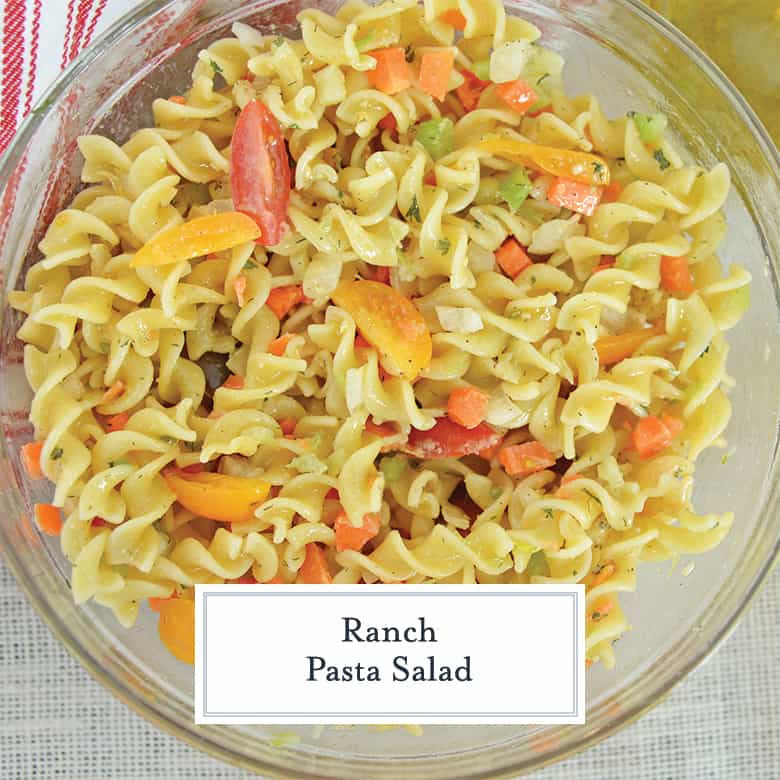 You won't go back to regular pasta salad after you've tried this delicious Ranch Pasta Salad recipe! It's easy to make with simple ingredients!
Summer is around the corner and with that comes BBQs and parties. What is the perfect side dish for any party? Hands down, pasta salad.
This Ranch Pasta Salad recipe takes a traditional pasta tossed with chopped veggies and elevates it using a zesty Ranch seasoning mix.
Have you ever read the store bought ranch dressing mix ingredients? Let me enlighten you: maltodextrin, monosodium glutamate, lactic acid, calcium stearate, etc.
But my homemade ranch seasoning includes:
dry powdered buttermilk
dried parsley flakes
dried dill
garlic powder
onion powder
dried onion flakes
ground black pepper
dried chives
fine sea salt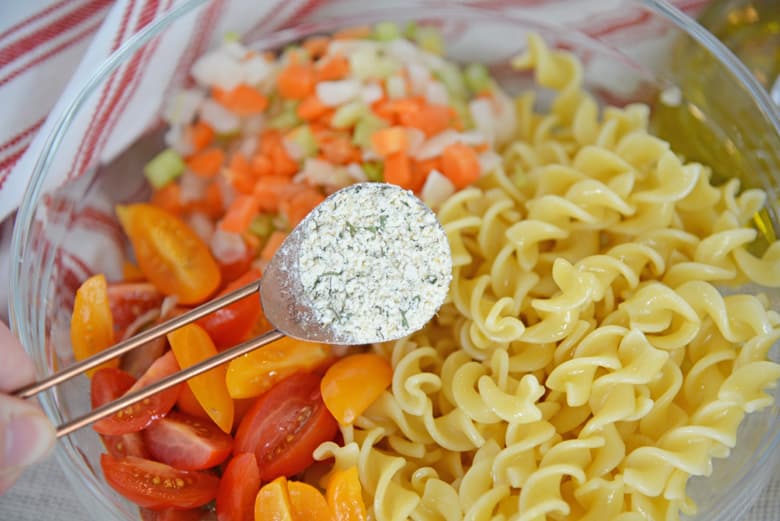 All normal. All pronounceable. And probably all in your pantry already. I make a large batch and just keep it in the pantry for seasoning all sort of things:
and of course this Ranch Pasta Salad!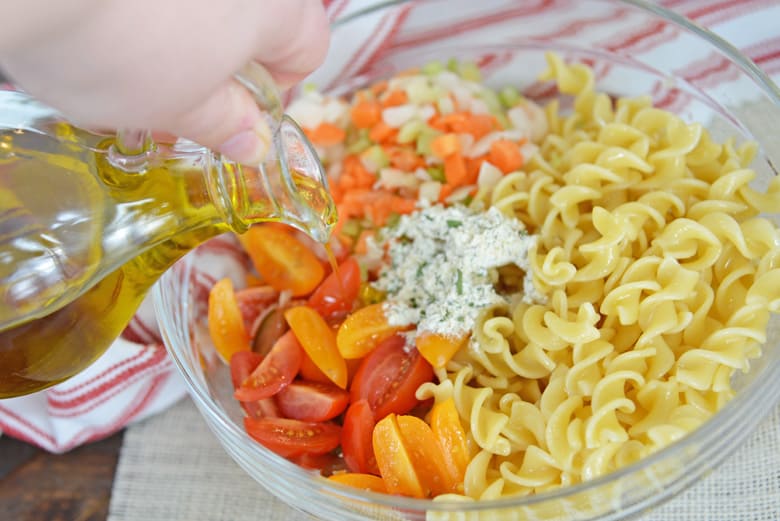 How to make Ranch Pasta Salad
While pasta salad is typically a pretty easy dish to prepare, there are a couple of ways you can ensure that yours is out-of-this-world.
The first is picking the right type of pasta. You need something with shape and body so the sauce can stick to it. An oil based dressing would just slick off a piece of spaghetti, but hugs rotini and elbows magically.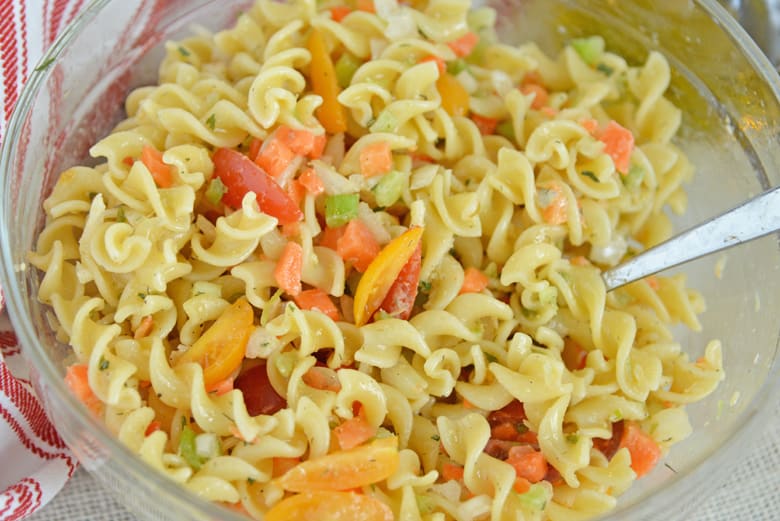 The second is making sure your pasta isn't overcooked. Mushy ranch pasta salad is against my religion. This is the one and only time I will instruct you to rinse your pasta in cold water and that is to stop the cooking process and prevent soggy noodles.
Now you'll need to get chopping and while I find using different shapes and sizes of veggies and add-ins to add interest, I also want them all to be relatively the same size.
Lastly, this ranch pasta salad needs a little time to marinate. The pasta and the veggies all need to soak up the delicious ranch laced sauce and the only way to make that happen is time.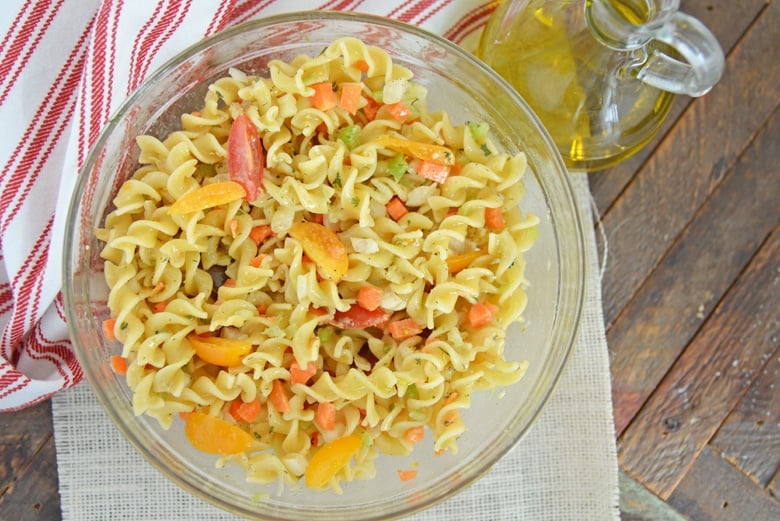 What should I put in my pasta salad?
I used carrot, onion, celery and tomatoes, but you can use whatever you have on hand or need to use up. Some of my other favorite pasta salad ingredients include:
sliced olives
cucumber
corn
roasted red pepper
green bell pepper
caramelized onions
fresh herbs
diced pepperoni, ham, bacon or summer sausage
diced cheese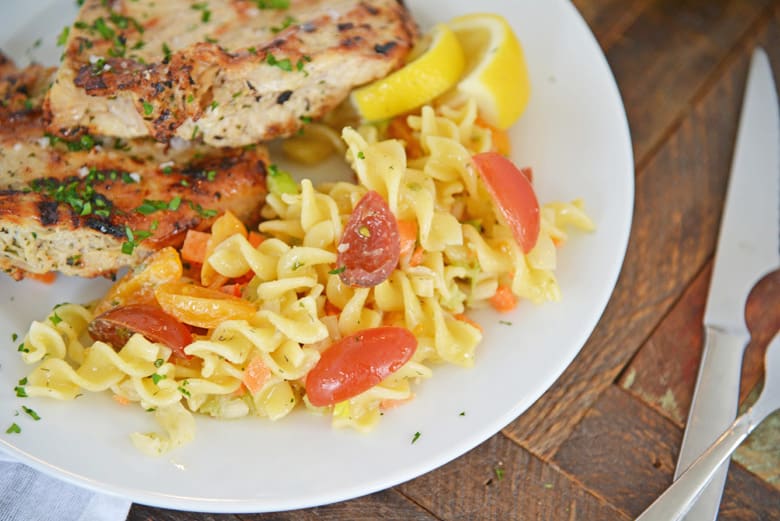 How far in advance can I make this?
This ranch pasta salad has a sweet spot for serving and I would say that is about 6-12 hours after you make it. Let it sit too long and it gets a little gummy, but if it doesn't sit long enough, the flavors can't marry.
It will stay good (just not A+) in the fridge for up to 5 days. I do not suggest freezing pasta salad.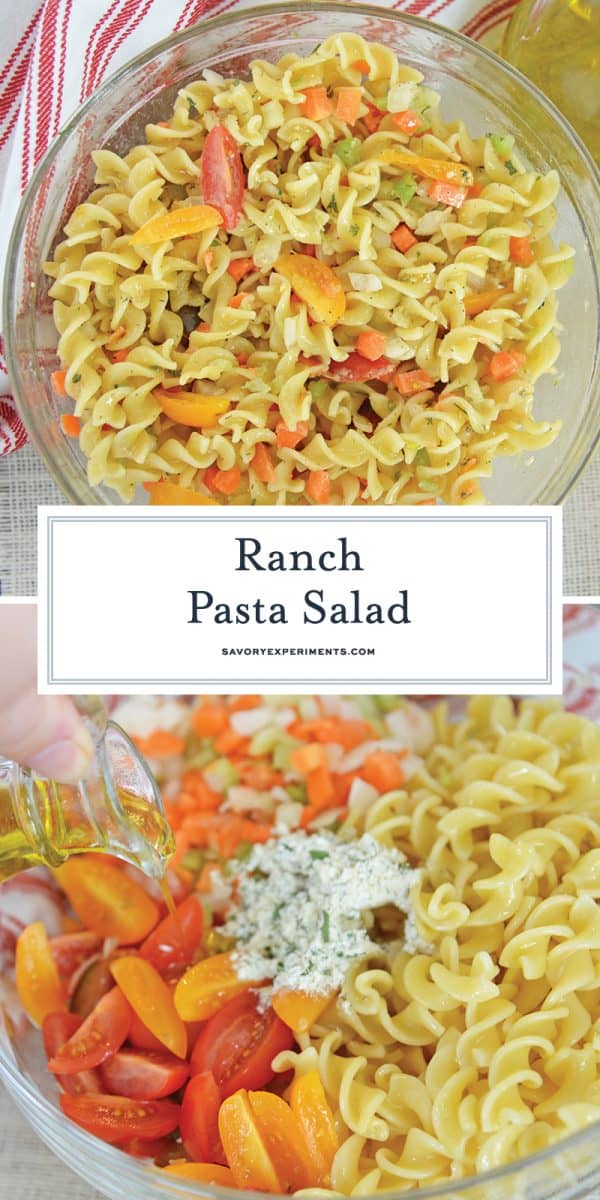 Here are my other favorite pasta salads: