Ranch fanatics everywhere will fall in love with these easy Ranch Oyster Crackers! With butter, homemade ranch seasoning and oyster crackers, you have yourself an easy, delicious snack!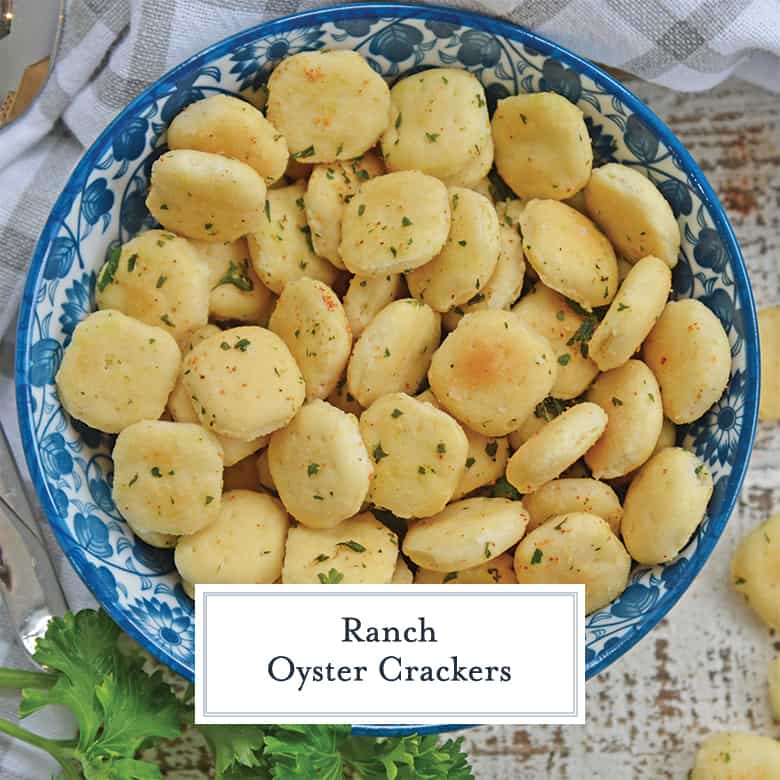 If you like ranch, you are going to LOVE this Ranch Oyster Crackers recipe! Great for topping soups and salads.
If you have been following along recently, you might have noticed I am on a ranch kick. It's arguably one of the most popular salad dressing and there are people who are quite literally obsessed with it, so why not incorporate it into alllll the things?
Prior to these Ranch Oyster Crackers, I've made several other recipes that include ranch:
Why are they called oyster crackers? Because they were originally made to be a less salty saltine cracker for serving with oyster stew and oyster bisque.

They also happen to be shaped like an oyster shell, however I was unable to figure any history as to why they are shaped this way.
And since I already had a couple flavored oyster crackers recipes, I decided to make a ranch version! And let me tell you, they are really good!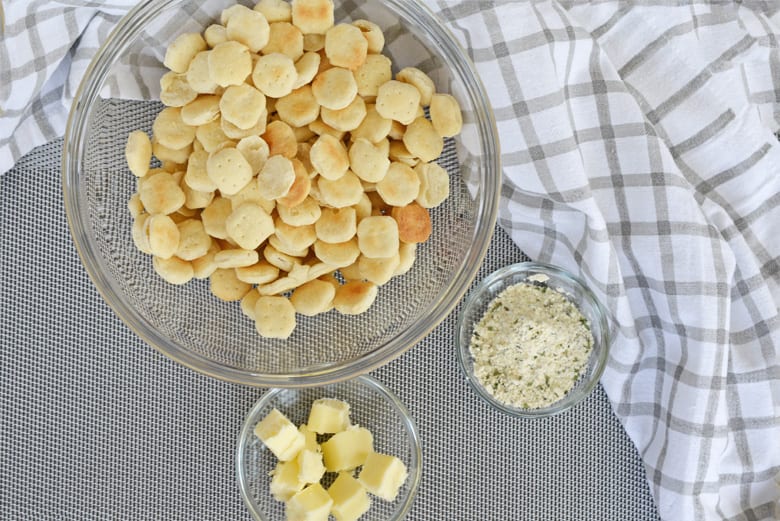 I don't know about you, but I am definitely partial to oyster crackers. Their shape and size make them perfect for topping soups and chili recipes, but also just for snacking!
I don't particularly like crunching up regular saltine crackers for soup, because they tend to get soggy quickly. But with oyster crackers, they hold their shape and texture a little better, adding a nice crunch to whatever you add them to!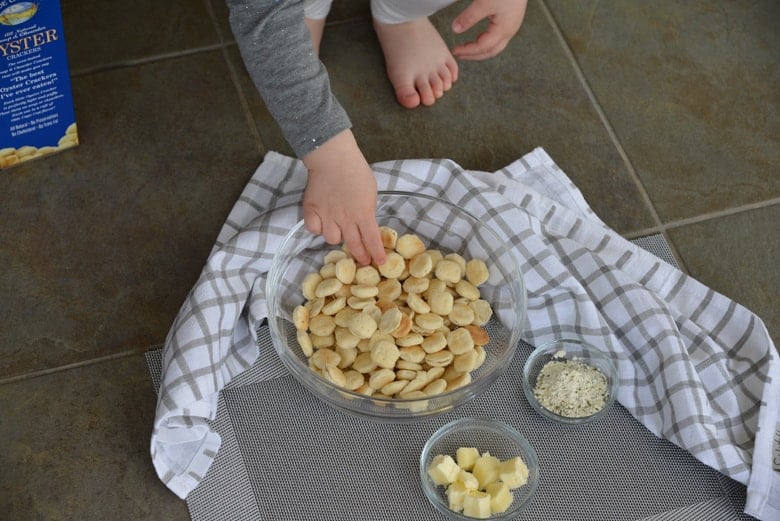 If you've seen my Dill Oyster Cracker recipe or Cajun Oyster Crackers, then you know how easy it is to go through an entire batch of these easy Ranch Oyster Crackers just by snacking on them! If I were you, I would make a double batch!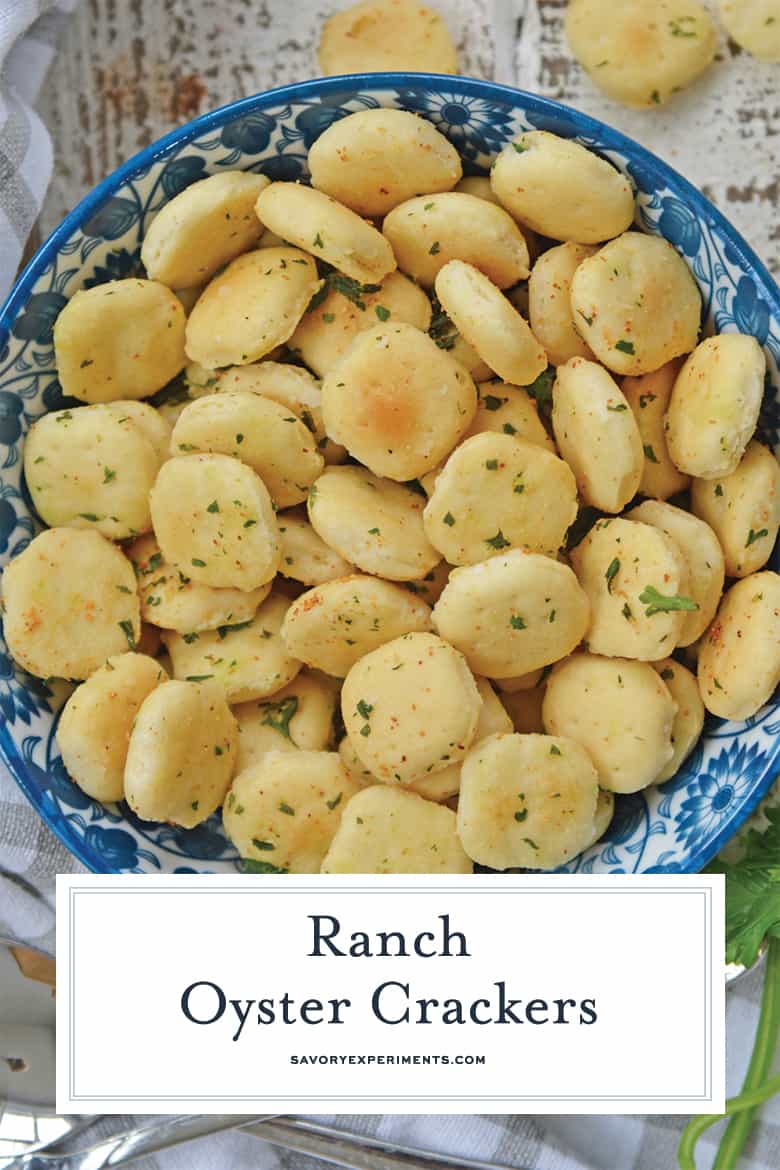 The best part? You won't believe how easy they are to make! You can have these crackers ready in only about three easy steps.
Start by preheating your oven to 300 degrees. While the oven is preheating, toss the oyster crackers with the melted butter in a large mixing bowl.
Next, sprinkle on the ranch seasoning. Make sure all of the crackers are coated evenly. Stirring gently can help with this.
Then simply place the coated crackers on a rimmed baking sheet. Bake for 5 minutes, flip the crackers over and bake for another 5 minutes.
And there you have it! An easy snack that tastes great! Be sure to store the crackers in an airtight container (once they've cooled) if you aren't going to use them right away.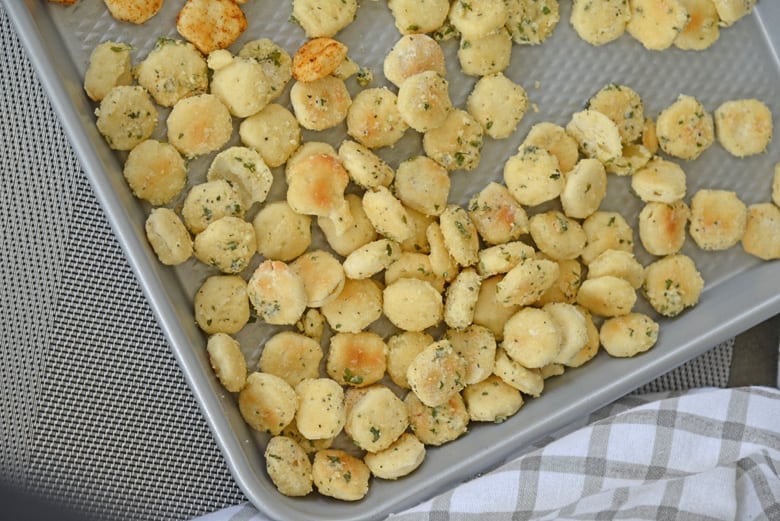 Questions you might have about how to make Ranch Oyster Crackers:
How long do they last?
If you put these crackers in an airtight container in your pantry, they will last for months. There is nothing perishable in this recipe, so they won't go bad- just stale.
Can I use oil instead of butter?
Yes, in fact there is really no particular reason why I used butter in this ranch oyster crackers recipe. It's just what I grabbed first!
You can use whatever flavor of oil you'd like. You can even use a flavored oil if it will complement your recipe or bowl of soup.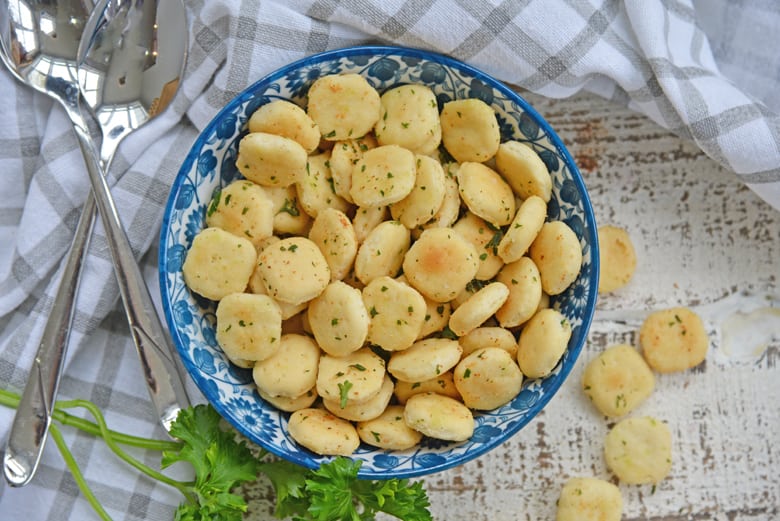 What do you do with these Ranch Oyster Crackers?
Anything you'd like! Of course they always taste great on top of soups or chili recipes like these: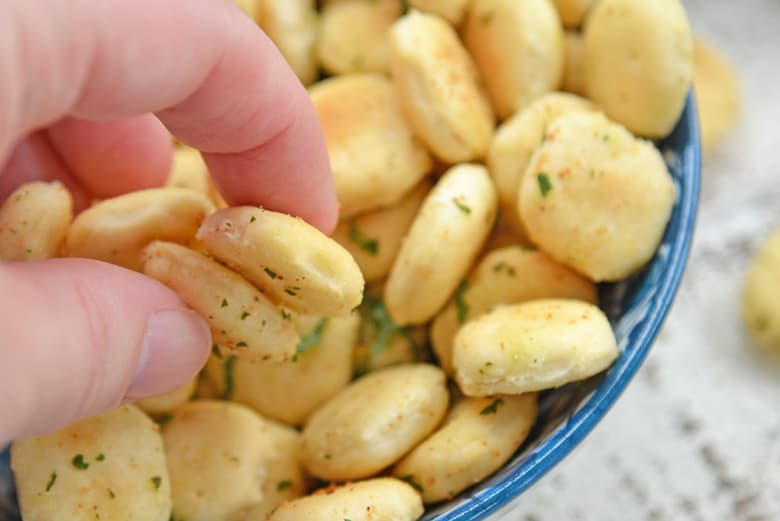 These Ranch Oyster Crackers are also great as croutons on a salad! Here are some salads they would taste great on: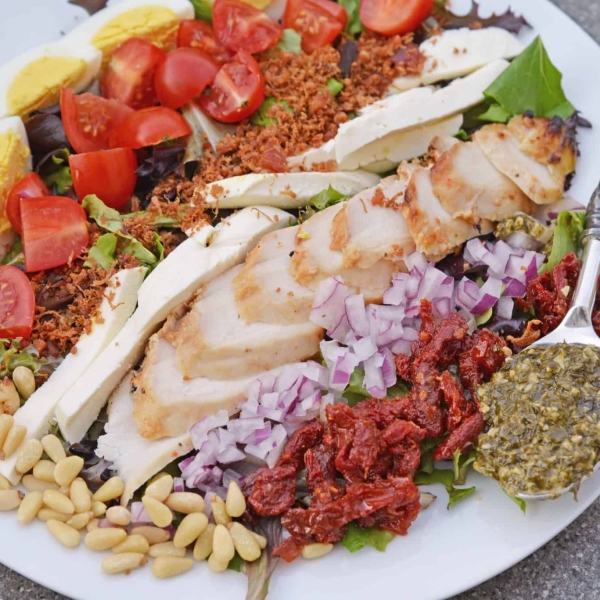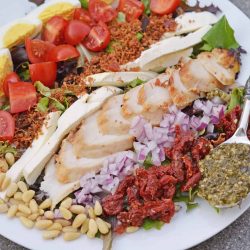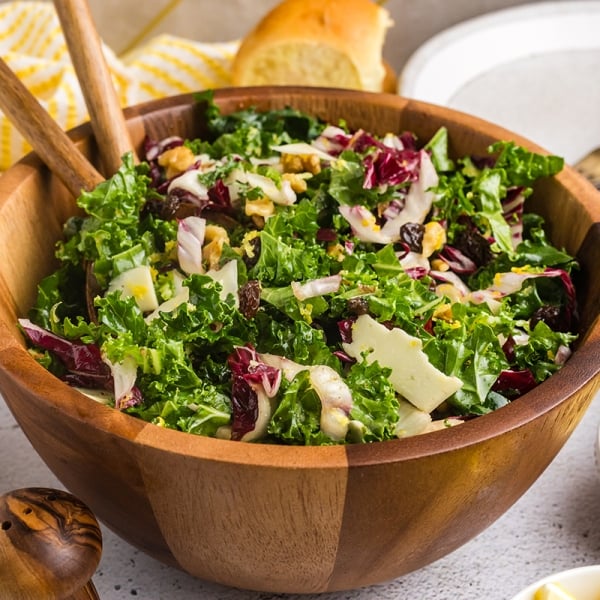 Kale Salad Recipe
Kale Salad with Lemon Dressing is tossed with currants, radicchio, walnuts and a lemon dressing. Learn how to massage kale salad and make a delicious salad!
See The Recipe!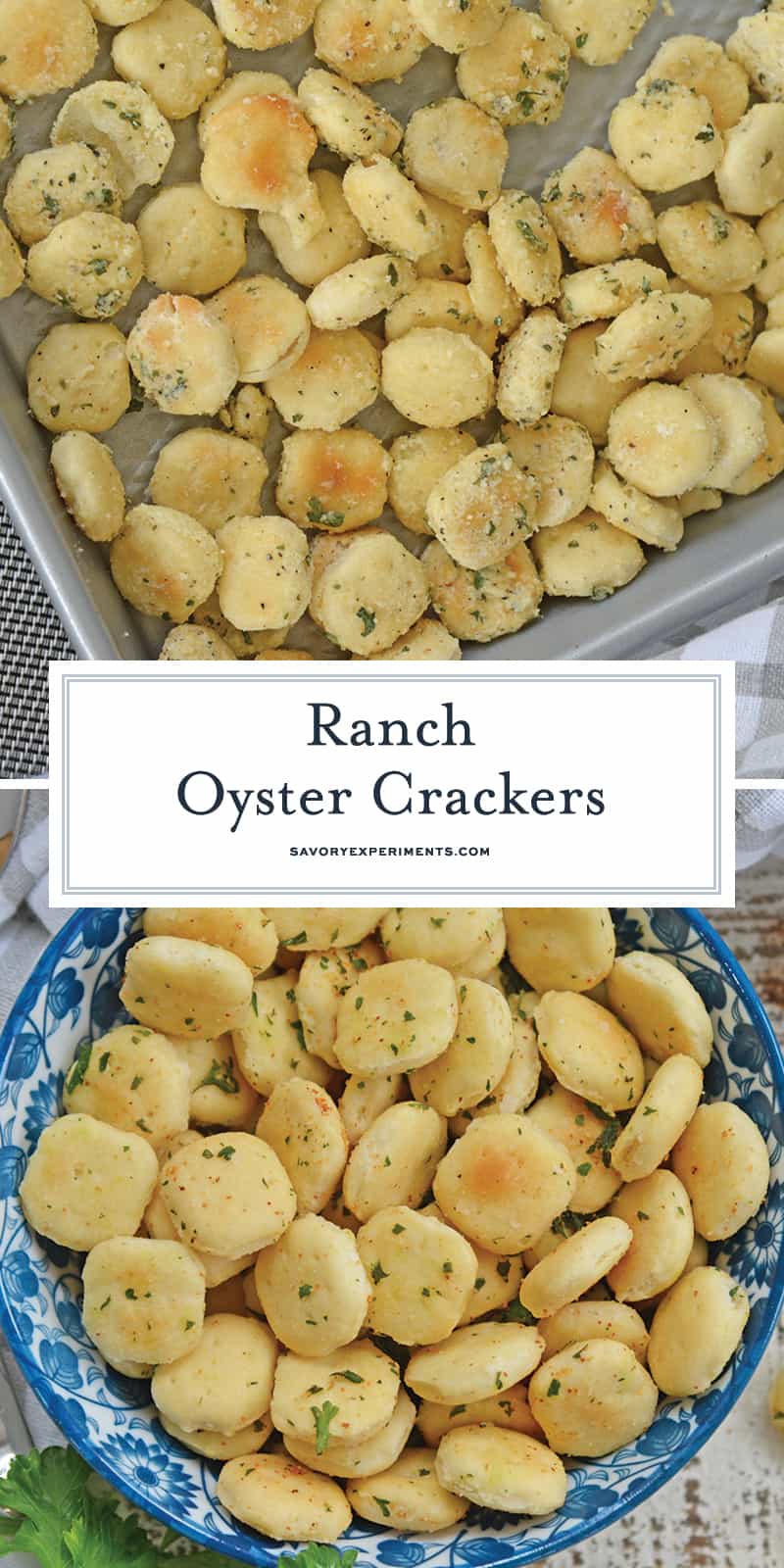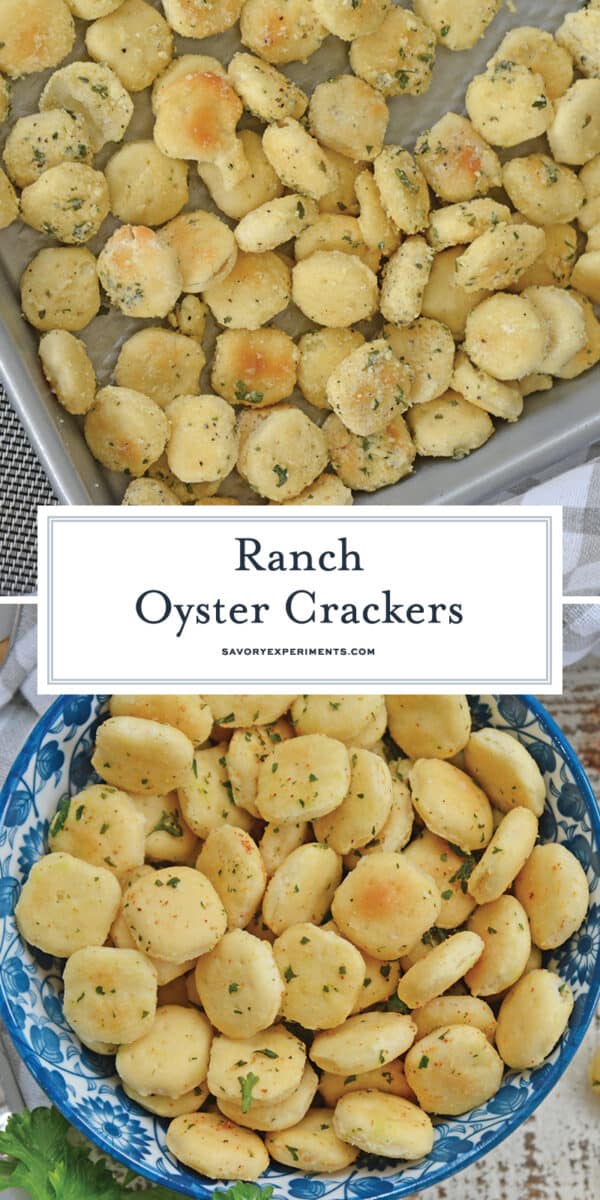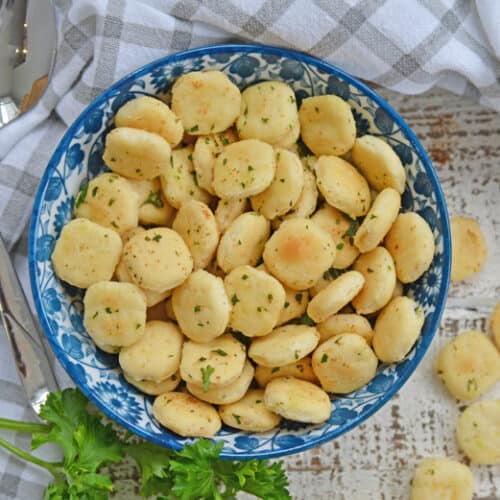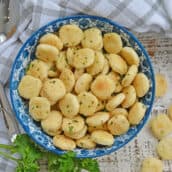 Ranch Oyster Crackers
Ranch fanatics will fall in love with these EASY Ranch Oyster Crackers! With butter, ranch seasoning and crackers, you have yourself a delicious snack!
Ingredients
2

tablespoons

unsalted butter

, melted

2

teaspoons

dry Ranch dressing seasoning

9

ounces

salted oyster crackers*
Instructions
Preheat oven to 300 degrees.

In a large mixing bowl, toss oyster crackers with melted butter.

Sprinkle dry ranch seasoning evenly over the crackers and stir to coat.

Place onto a rimmed baking sheet.

Bake for 5 minutes, turning oyster crackers and cooking for another 5 minutes.

Remove and allow to cool. Store crackers in an airtight plastic bag or bowl at room temperature.
Notes
If your oyster crackers are unsalted, add ½ teaspoon fine sea salt. Or it can be omitted if you are cutting own on your salt intake.
Nutrition
Calories:
218
kcal
,
Carbohydrates:
33
g
,
Protein:
4
g
,
Fat:
8
g
,
Saturated Fat:
3
g
,
Cholesterol:
10
mg
,
Sodium:
585
mg
,
Potassium:
68
mg
,
Fiber:
1
g
,
Sugar:
1
g
,
Vitamin A:
117
IU
,
Calcium:
9
mg
,
Iron:
2
mg