Wedge salads are one of those funny things that are very simple to make, using only 6 ingredients, but look amazingly impressive. Tell me you haven't nudged your fellow diners when a towering plate of blue cheese and iceberg floats by at a fancy steakhouse.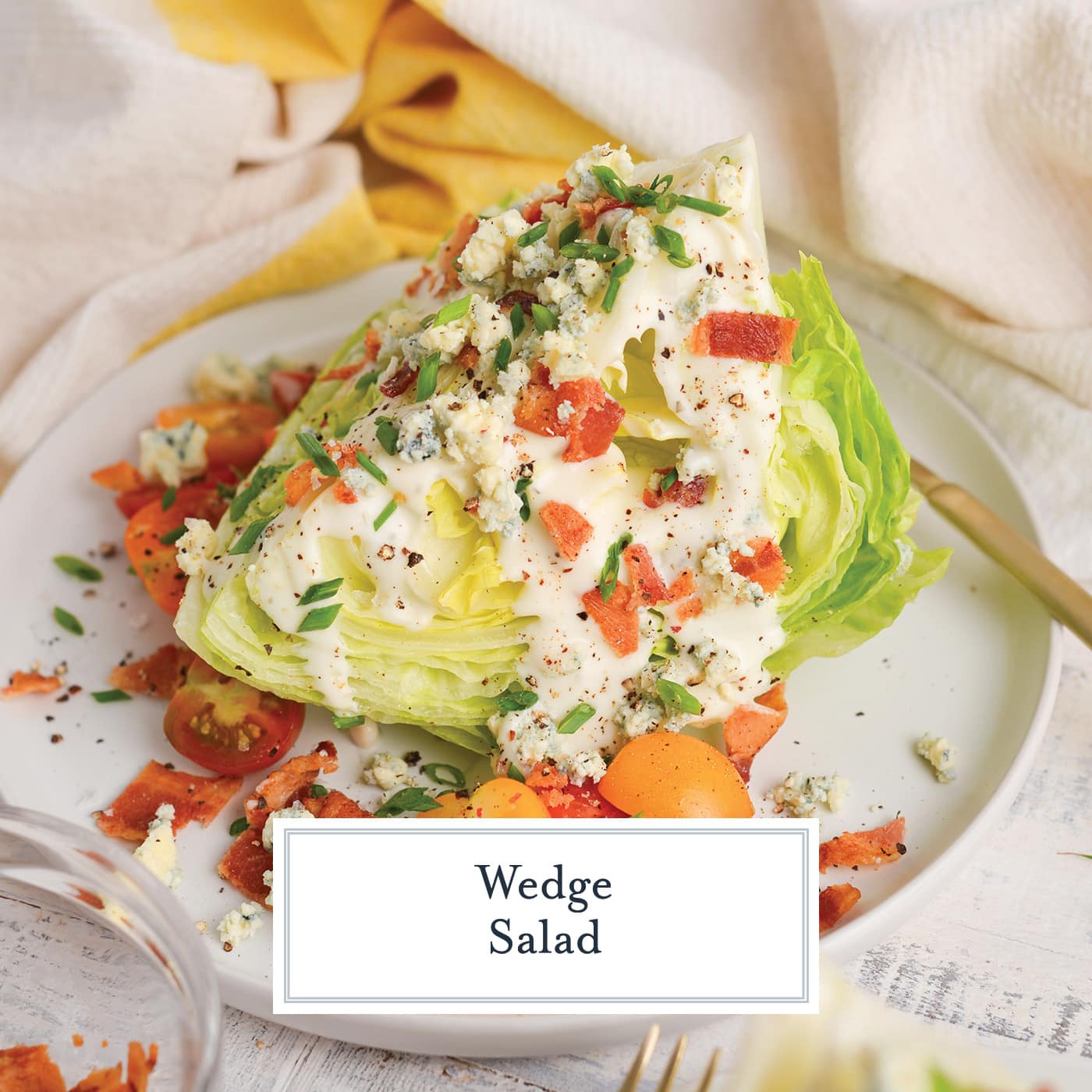 It doesn't take much at all to achieve the same glorious salad at home, but there are a few tips for making it the best!
Why You'll Love This Wedge Salad
We don't often call a salad decadent, but this one definitely deserves that description.
Easy – It doesn't get much easier than this super-sized show-stopping salad that only takes a handful of steps to make.
Versatile – You can make this simple salad your main dish or serve it as a starter to a succulent steak at a dinner party — it's also the perfect side dish or light lunch.
Customizable – It's easy to swap ingredients in or out to make your own signature salad.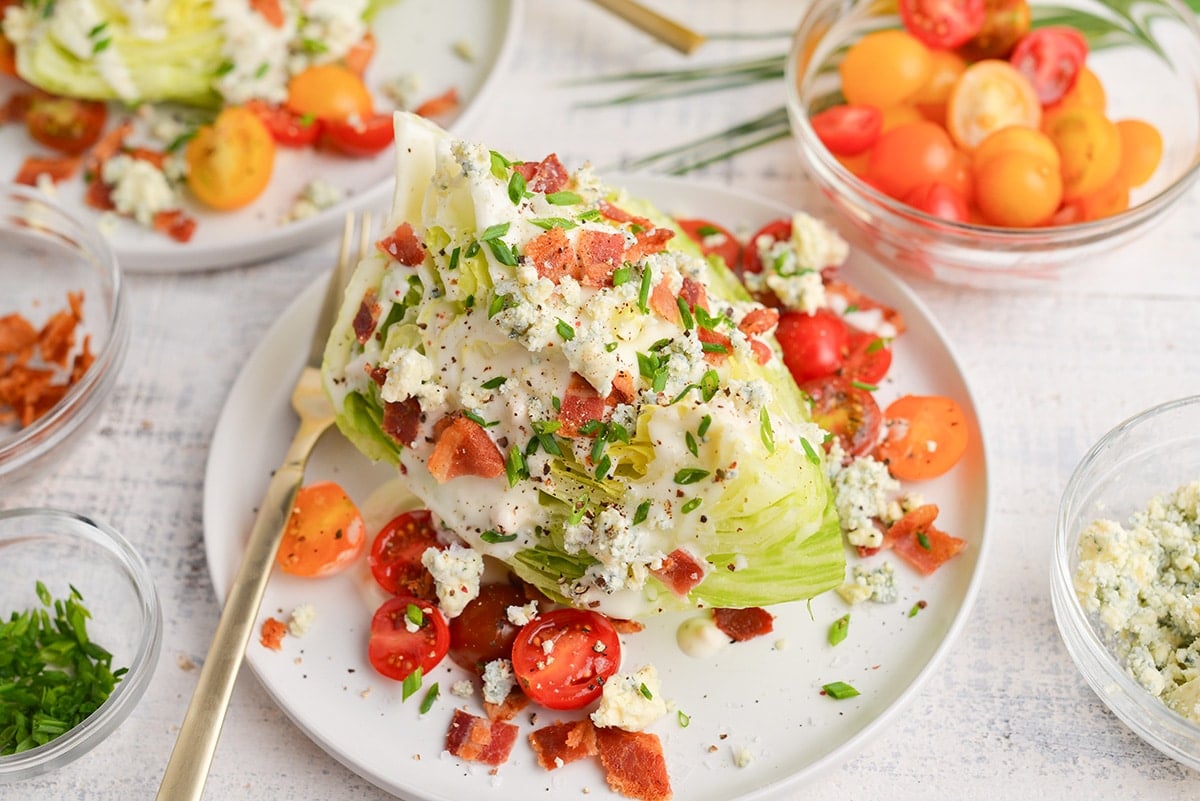 Ingredients
All it takes is a handful of simple, fresh ingredients to make this eye-catching salad.
Whole Head of Iceberg lettuce – Crunchy iceberg lettuce is the simple, affordable base of this towering salad. Leaving the base intact while slicing will help to keep the leaves together while also making for a pretty presentation.
Blue cheese dressing – Creamy blue cheese dressing is the key to this salad's bold flavor.
Grape tomatoes (or cherry tomatoes) – These small, sweet tomatoes are a vibrant addition to the salad in terms of both taste and texture.
Blue cheese crumbles – These add even more creamy texture and pleasantly funky flavor.
Crisp Bacon – Crisp, salty bacon crumbles pair perfectly with the pungent, creamy dressing. You can easily make a large batch of bacon in the oven — all you need is a baking sheet.
Chives – Chopped chives impart a zesty flavor that balances the other ingredients. Use kitchen shears to snip the chives to make quick work of cutting them up.
Maldon sea salt – Large flakes of this gourmet sea salt bring out the flavors of the blue cheese and bacon while elevating the entire salad.
Freshly ground black pepper – Pepper adds just a touch of gentle heat that rounds out all of the flavors.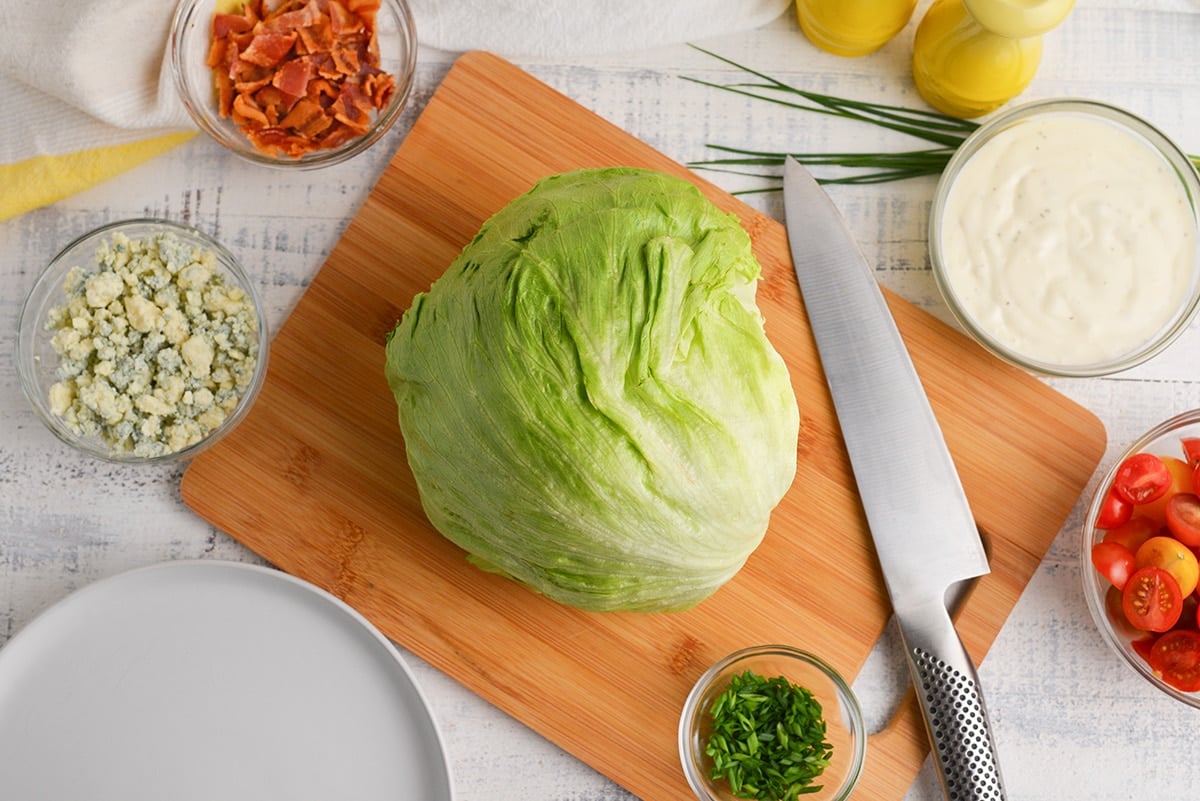 More Wedge Salad Toppings
A traditional salad will already have blue cheese crumbles, grape tomatoes, chives, and bacon, but that doesn't mean you can't add more. Here are a few of my favorites.
Olives
Parmesan cheese
Chicken
Shrimp
Slices of beef
Avocado
Nuts or seeds
Croutons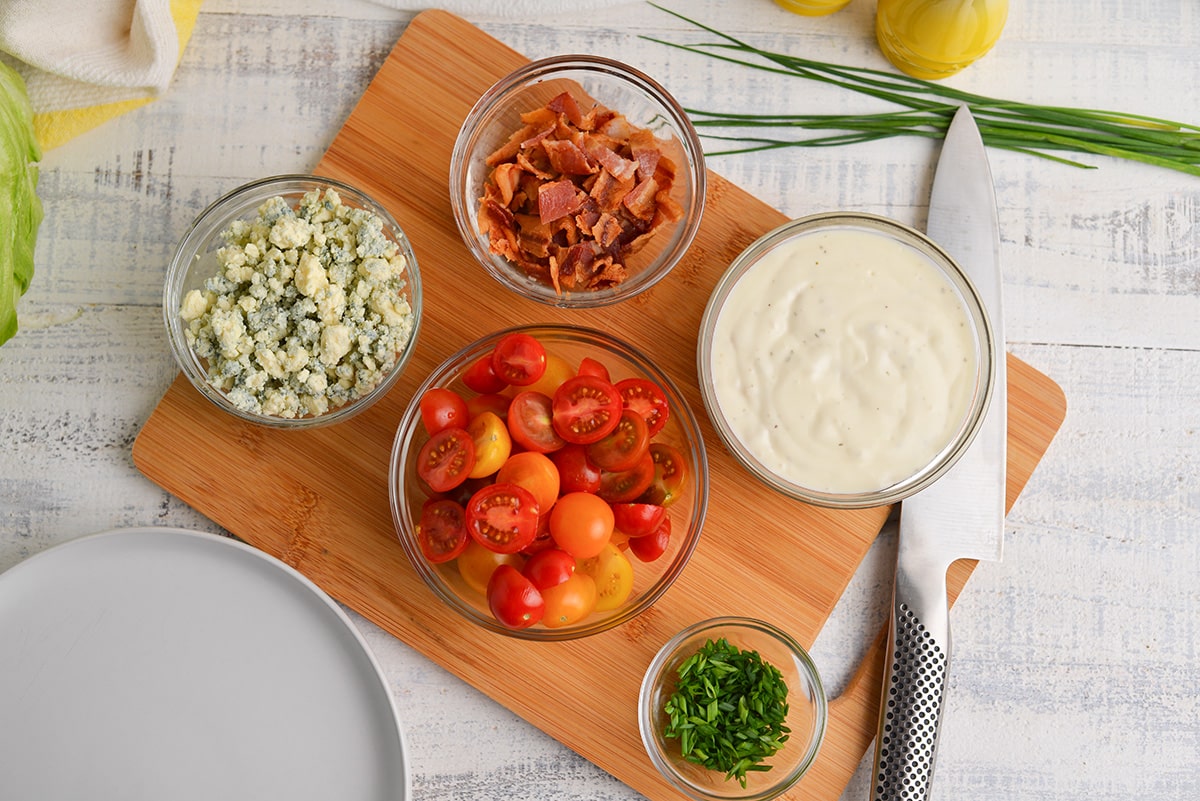 What is Blue Cheese?
Blue cheese is a type of cheese with distinctive blue or green veins running through it, which result from the growth of specific molds, such as Penicillium roqueforti or Penicillium glaucum. The cheese is typically made from cow's, sheep's, or goat's milk and undergoes a specific aging process that encourages the growth of these molds.
The molds create pockets of flavor, giving blue cheese its characteristic tangy and pungent taste. The texture can vary from creamy and crumbly to semi-soft.
Blue cheese is a widely used ingredient in anything from salads and dressings to sauces and spreads, and it is appreciated by many for its unique and bold flavor profile.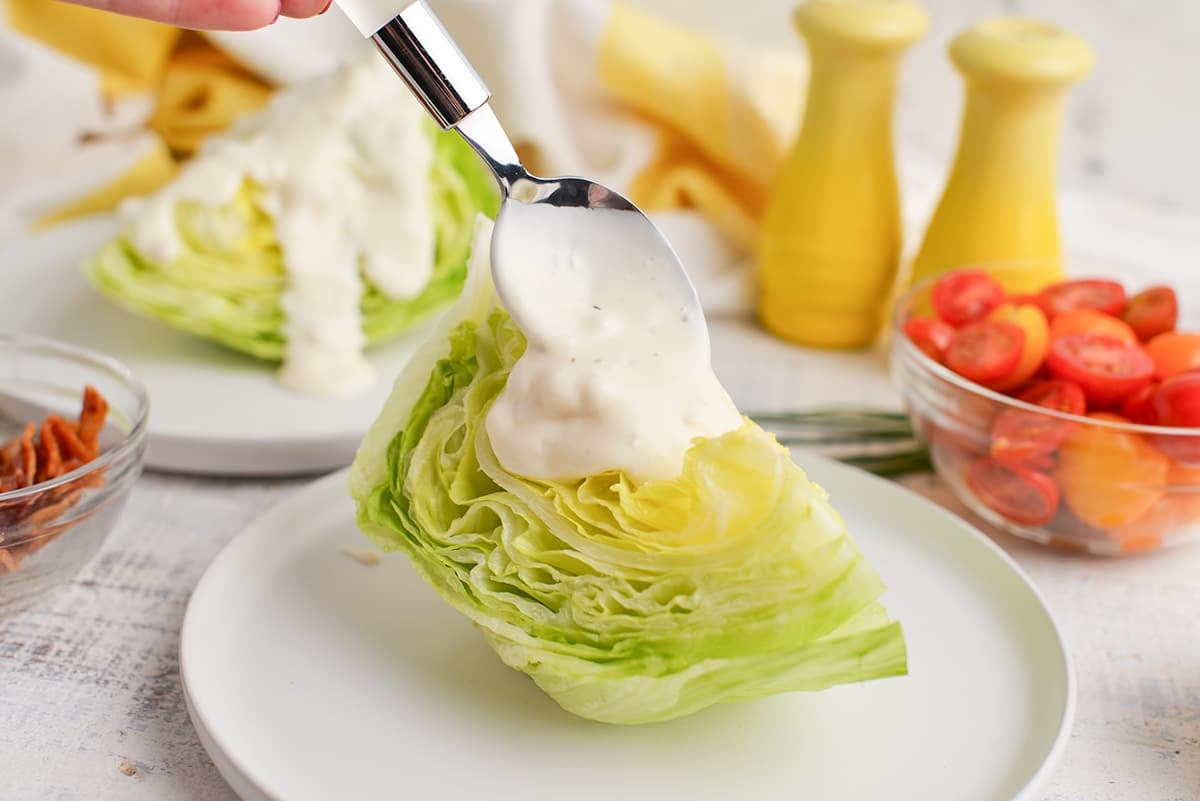 Types of Blue Cheese
There are many types of blue cheese. Pick one based on personal preference and just how funky you want it to be. Try using one for the dressing and a different one for crumbles for better visual and taste appeal. Gorgonzola, Stilton, Roquefort, and Bayley Hazen Blue are the most commonly used in US restaurants and seen in grocery stores.
Roquefort: A classic French blue cheese made from sheep's milk. It has a distinct, tangy flavor and a crumbly texture.
Stilton: A rich, creamy English blue cheese made from cow's milk. It is characterized by its mellow, nutty taste.
Gorgonzola: An Italian blue cheese made from cow's milk. It comes in two varieties, dolce (sweet and creamy) and piccante (sharp and pungent).
Danish Blue: Also known as Danablu, it is a creamy blue cheese from Denmark with a sharp and salty taste.
Cabrales: A traditional Spanish blue cheese made from cow, goat, or sheep's milk. It has a robust and intense flavor.
Maytag Blue: An American blue cheese with a crumbly texture and a tangy taste. It is made from cow's milk.
Bleu d'Auvergne: A French blue cheese made from cow's milk. It has a strong, spicy flavor with a creamy texture.
Fourme d'Ambert: Another French blue cheese made from cow's milk. It has a milder and creamier taste compared to other blue cheeses.
Cashel Blue: An Irish blue cheese made from cow's milk. It is known for its delicate and slightly sweet flavor.
Gubeen: An Irish farmhouse blue cheese made from cow's milk. It has a unique taste with hints of fruit and spice.
Tips for How to Make a Wedge Salad
Sure, you can just throw it together, but there is a method to the madness and making it superb!
Dressing First: While many salads get dressed last, this one is actually better if you put the dressing on first. It can then sink into all of the layers of lettuce, giving you an evenly sauced salad.
Sticky on the Sides: Dressing first also serves as the glue to hold the other toppings onto the iceberg wedge. Otherwise, they'd all just topple off.
Grapes on the Bottom: The exception to this rule is the grape tomatoes. Since they are large and heavy, I like to scatter them around the base.
Chill: The last tip is to chill the lettuce, toppings, and dressing before making them. You can even make them ahead of time. There is nothing better than a crisp wedge.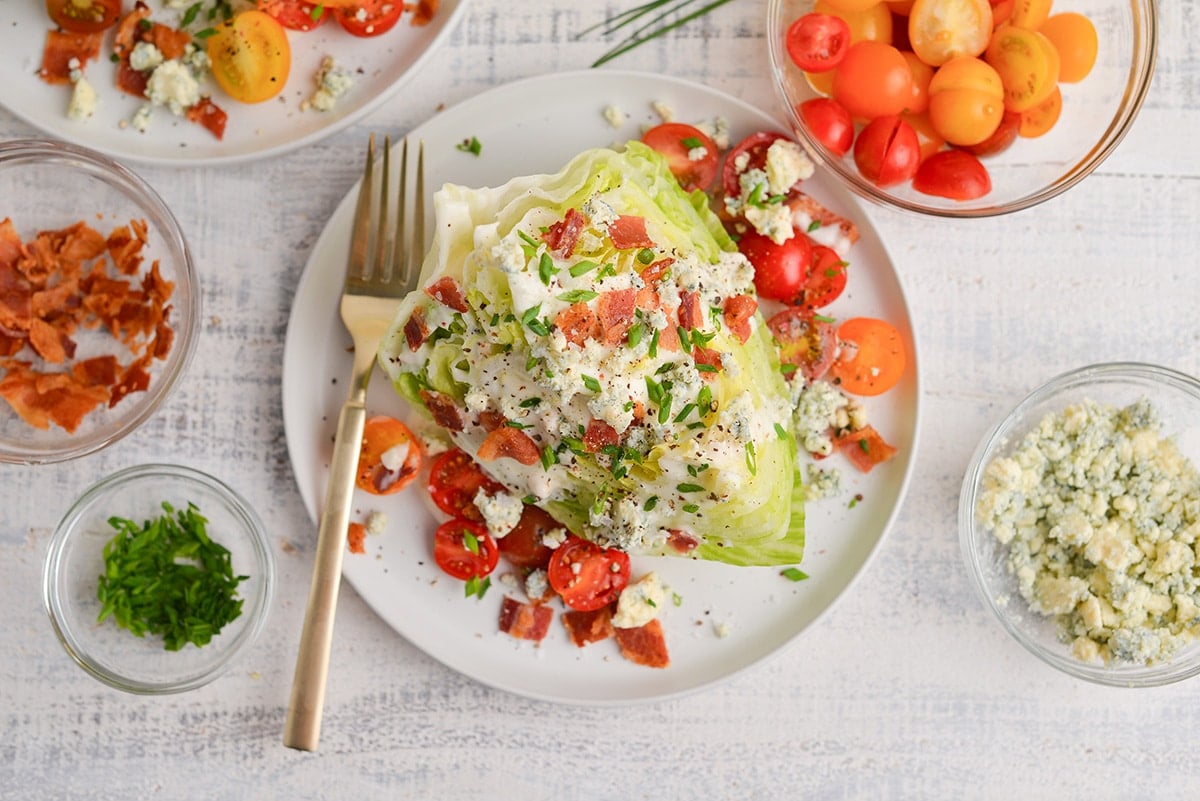 How to Make This Easy Wedge Salad Recipe
It only takes a few minutes to make this masterpiece of a salad.
Prepare lettuce. Take any blemished leaves off of the outside of the head of lettuce. Place the head of lettuce on a cutting board and use a sharp chef's knife to chop it into quarters while the base is still intact.
Add dressing. Generously cover each of the lettuce wedges with the dressing.
Add toppings. Top the lettuce evenly with the tomato halves, blue cheese crumbles, bacon pieces, and chives.
Salt and pepper. Sprinkle the salt and black pepper over top.
Enjoy! Serve immediately or store briefly in the refrigerator.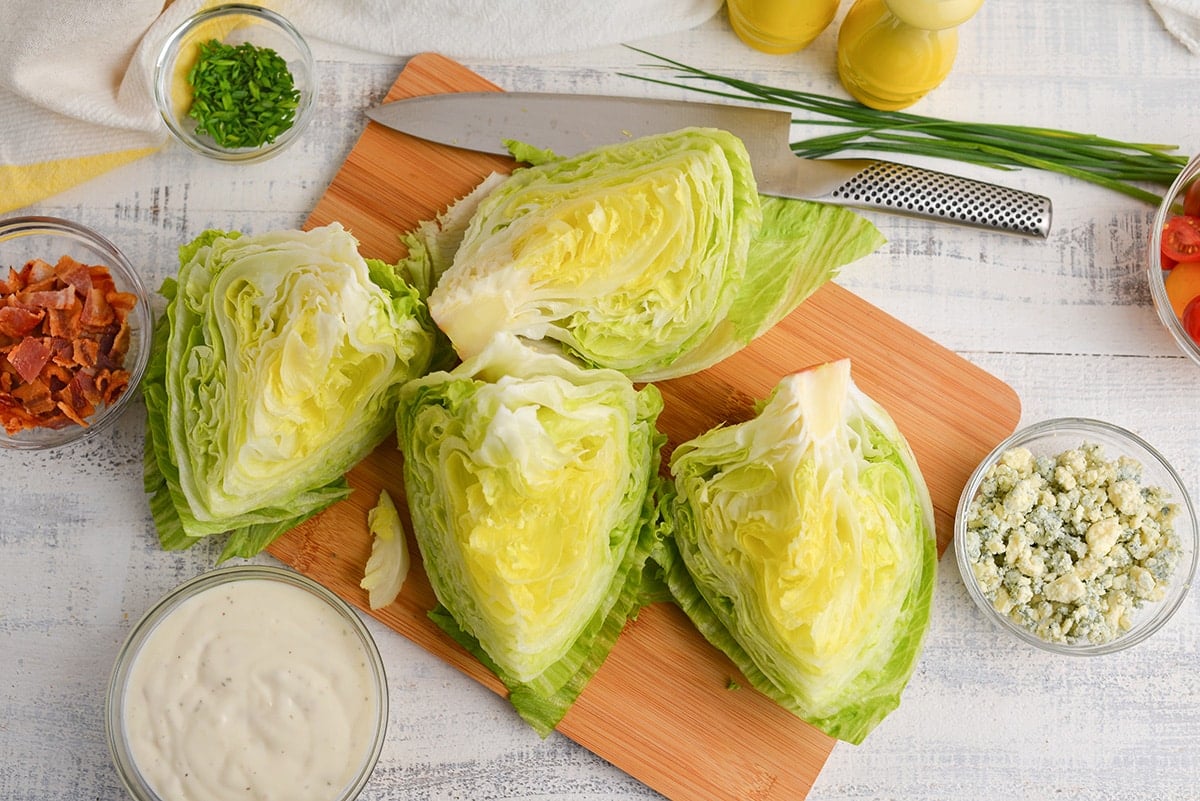 What to Serve With Wedge Salad
Serve this salad solo or use it as a starter before any meal, from steak frites or lobster tails to chicken piccata or shrimp scampi. You can also serve it alongside soups — we love it with pasta e fagioli, easy minestrone, and spicy crab and sausage soup.
Variations
Trade ingredients in or out to customize this easy salad.
Fruit – Add seasonal fruit to the salad, from pears or apples to berries or peaches. If using pears or apples, be sure to toss them in lemon juice to avoid browning.
Lettuce – Use whichever style of lettuce you prefer.
Meat – Instead of smoky bacon, crisp up some pancetta or prosciutto.
Caprese – Make a caprese-style version by adding slices of fresh mozzarella.
Mexican-style – Trade out the blue cheese for an avocado crema over the wedge of lettuce and add black beans and grilled corn. You can also use salsa, guacamole, sour cream, and queso.
Asian-style – Add bean sprouts and edamame and a drizzle of chile oil.
Greek-style – Substitute feta for the cheese and use a lemony Greek vinaigrette or tzatziki for the dressing. Add some kalamata olives and red onion.
Dressing – If you're not a blue cheese fan, replace it with another creamy favorite like Caesar dressing, parmesan dressing, or ranch dressing.
Bacon – While fresh is always better, if you need to save time you can get packaged, cooked bacon pieces. Just avoid the dehydrated bacon bits.
How to Store a Traditional Wedge Salad
While this salad is best served immediately or shortly after preparation, you can store it if necessary.
Make-Ahead: Make the dressing ahead of time and slice your tomatoes and lettuce so that all of the ingredients are ready for quick preparation just before serving.
Refrigerator: Refrigerate prepared wedge salad in an airtight container for up to 24 hours. Do note that the greens could wilt from the moisture from the salad dressing and the bacon may not be as crisp.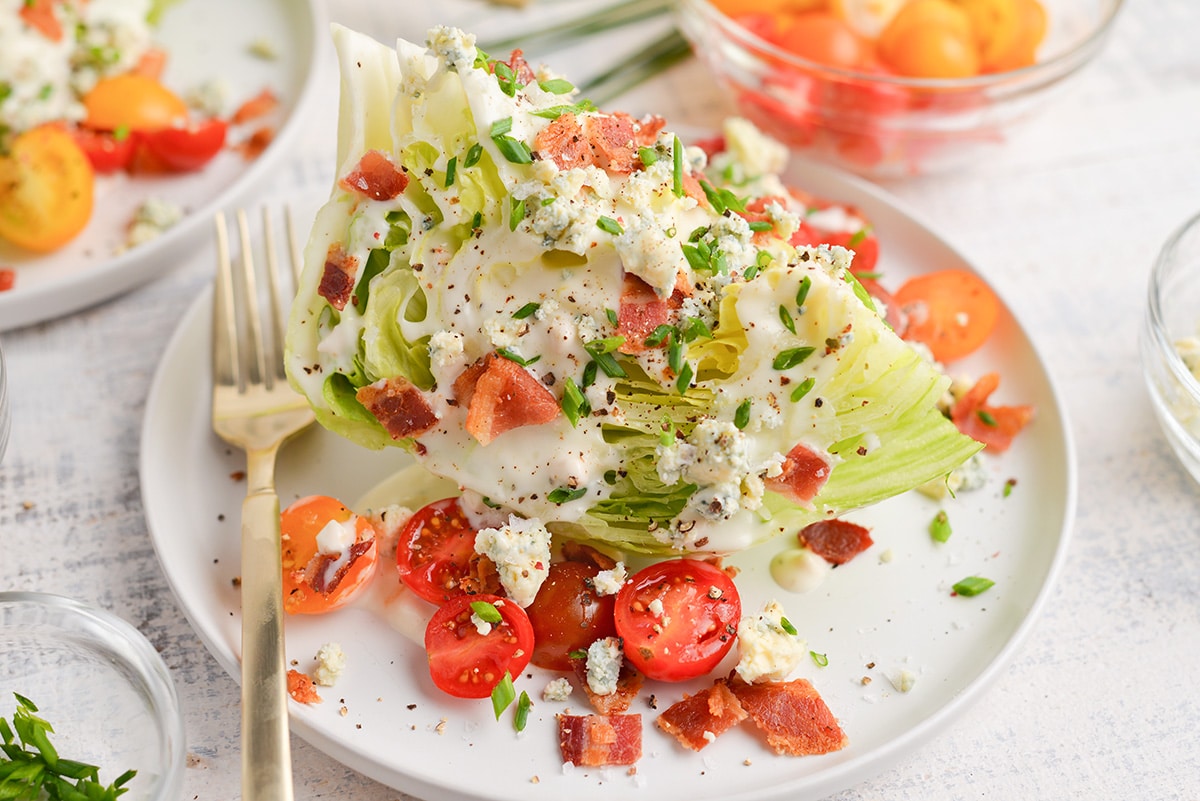 Commonly Asked Questions About Iceberg Wedge Salad
Can you use a different type of lettuce for a wedge salad?
Yes, you can use a different type of lettuce for a wedge salad. Traditionally, a wedge salad is made using iceberg lettuce, which has a crisp texture and a mild flavor. However, you can experiment with other lettuce varieties to give the salad a different taste and texture, such as Romaine, butter lettuce, Bibb, little gem, or red leaf lettuce.

What is wedge salad made of?
Wedge salad is composed of crisp lettuce, juicy tomatoes, crispy bacon, creamy blue cheese and blue cheese dressing, and chives. It's all sprinkled with a high-quality salt and fresh pepper.
Do I need to wash a head of iceberg lettuce?
Any lettuce will benefit from being washed. It helps eliminate any impurities and makes the greens look better, too.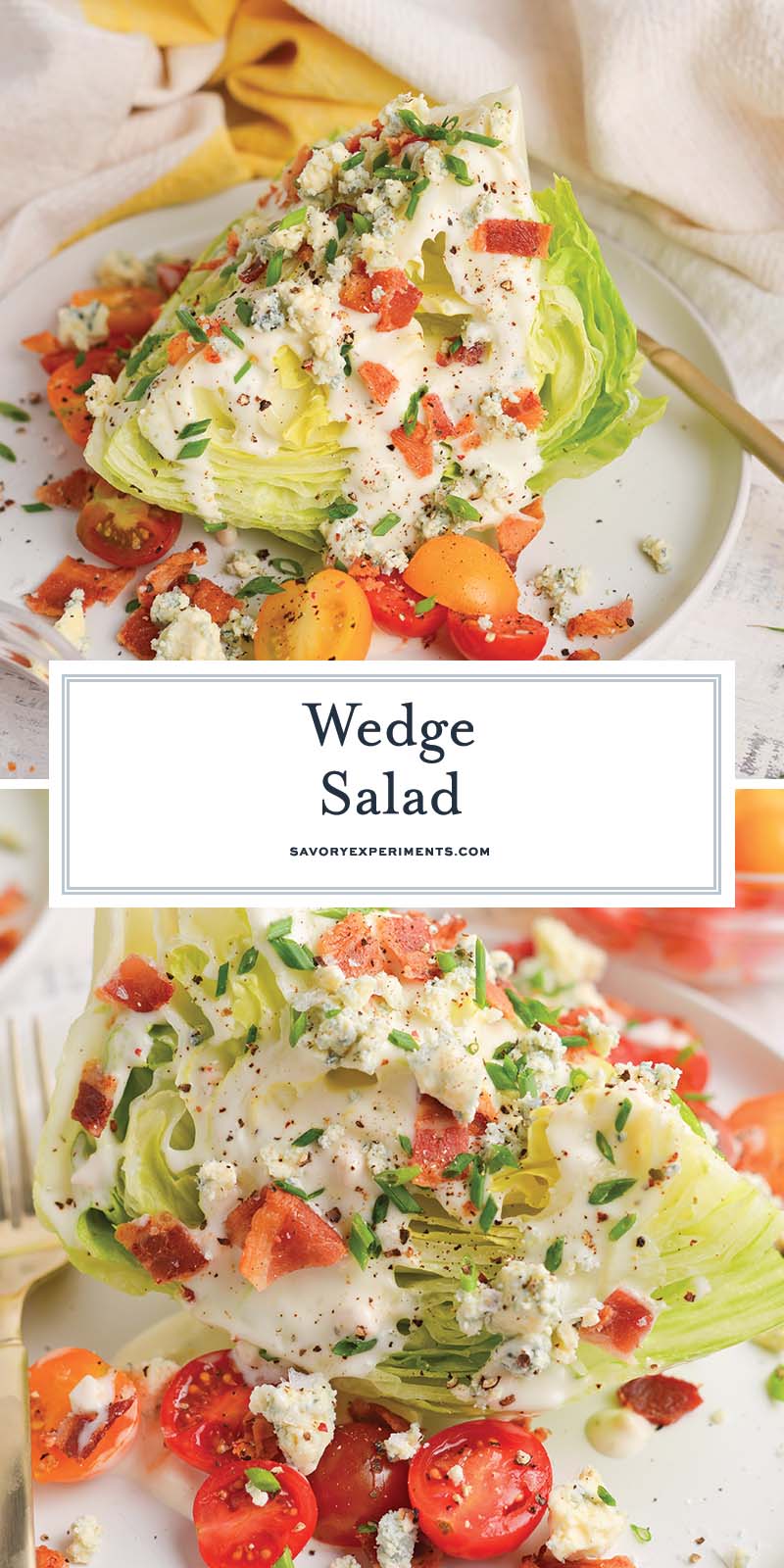 Other Satisfying Salads
Cobb Salad
With egg, bacon, tomato, onion, avocado and blue cheese, a Classic Cobb Salad recipe can't be beat! This recipe also has the BEST homemade dressing!
See The Recipe!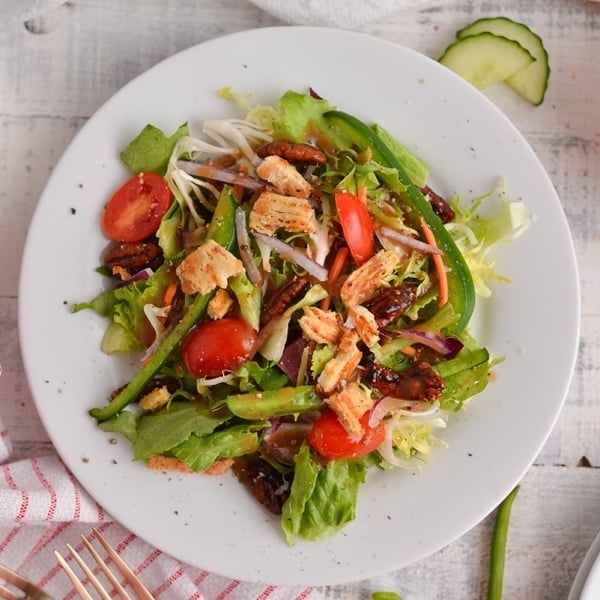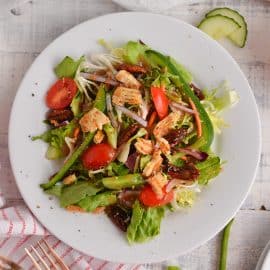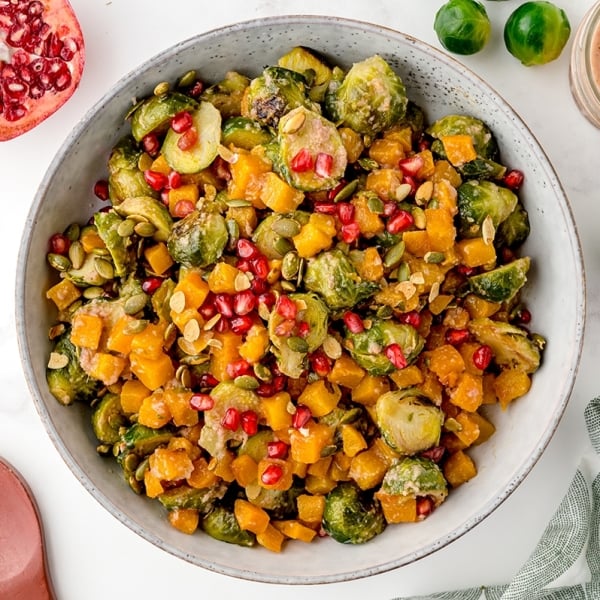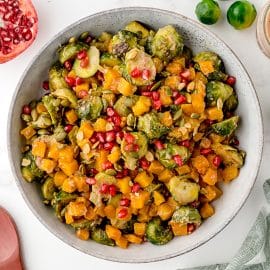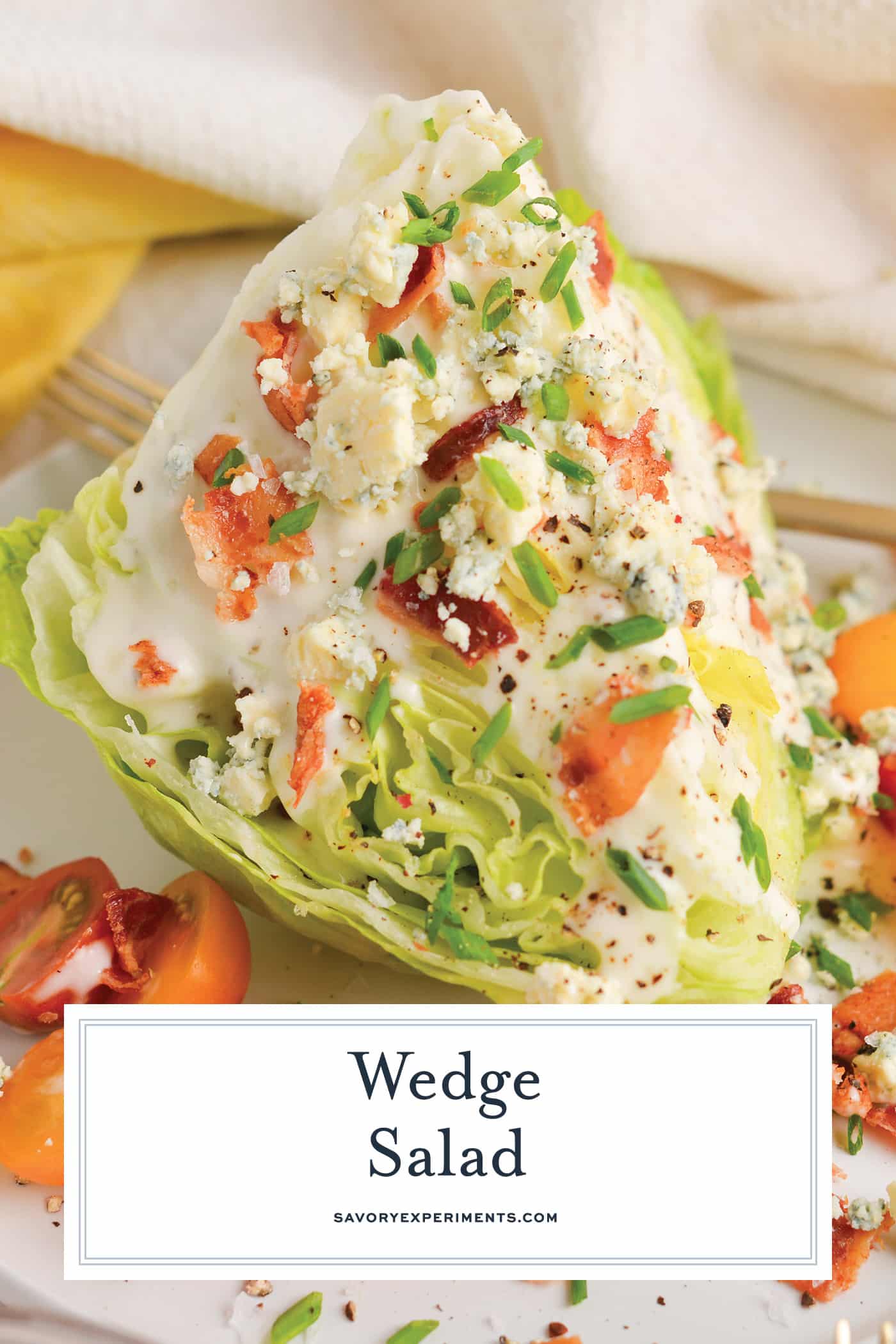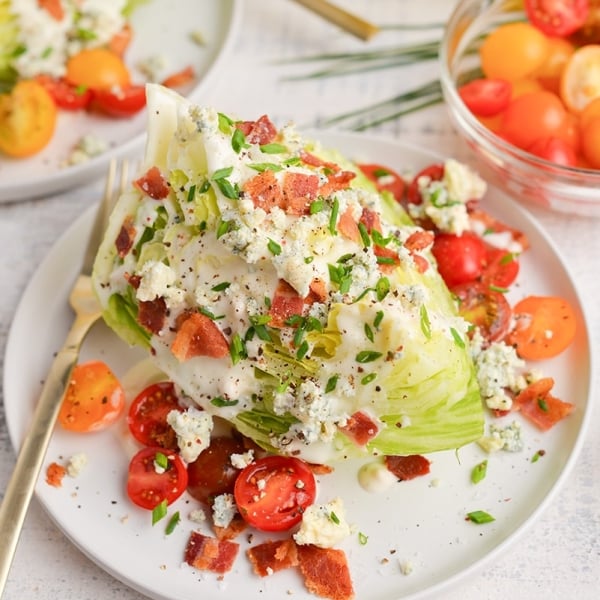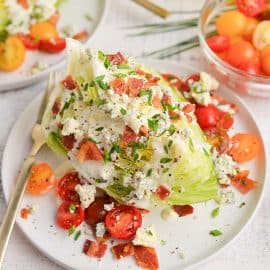 Classic Wedge Salad
This Wedge Salad replicates the steakhouse favorite with its towering lettuce, creamy blue cheese, crispy bacon and bright, juicy tomatoes!
Instructions
Remove any unsightly leaves of lettuce from the outside of the head, then chop into quarters. Leaving the base intact will help keep the leaves intact while serving, so I do not cut this off.

Place one quarter on each plate. Spoon dressing evenly over each quarter.

Evenly divide a top with the grape tomatoes, blue cheese crumbles, bacon and chives.

Finish with Maldon sea salt and freshly ground black pepper.

If you've tried this recipe, come back and let us know how it was in the comments or star ratings.
Nutrition
Calories:
268
kcal
,
Carbohydrates:
8
g
,
Protein:
12
g
,
Fat:
21
g
,
Saturated Fat:
9
g
,
Polyunsaturated Fat:
4
g
,
Monounsaturated Fat:
8
g
,
Trans Fat:
0.04
g
,
Cholesterol:
33
mg
,
Sodium:
980
mg
,
Potassium:
365
mg
,
Fiber:
2
g
,
Sugar:
5
g
,
Vitamin A:
1116
IU
,
Vitamin C:
9
mg
,
Calcium:
174
mg
,
Iron:
1
mg