This post is sponsored by the Certified Angus Beef® brand in conjunction with a social media campaign through Sunday Supper LLC. All opinions are my own.
The reserve sear isn't just a buzzword, make it your dinner! Perfect for those special occassions or a random Sunday.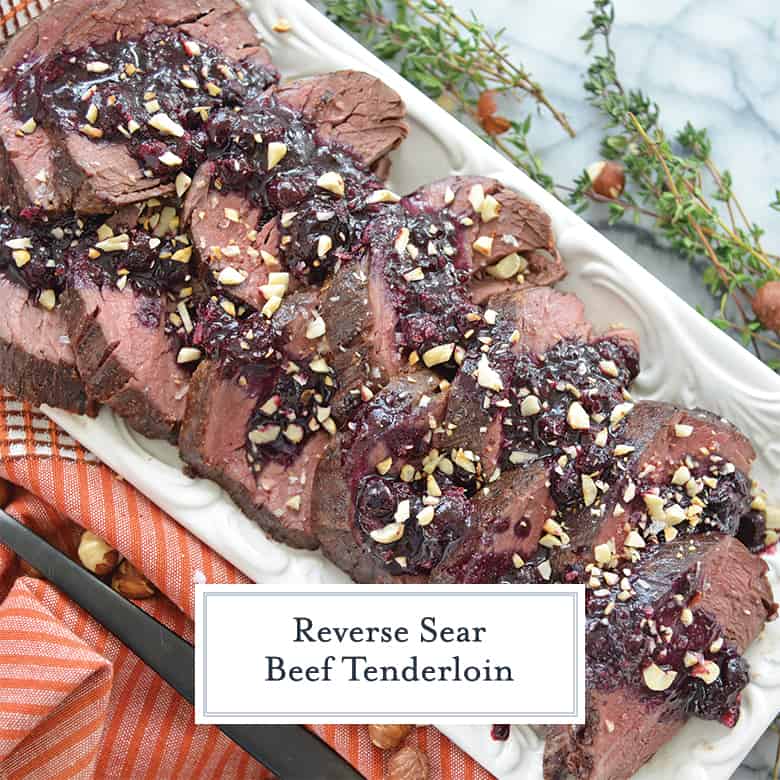 Stunning Reverse Sear Beef Tenderloin recipe with a savory Blueberry Sauce and toasted hazelnuts is the perfect celebratory roast for your holiday table!
When it comes to special holidays and celebratory meals, beef reigns king. When I am looking for the "wow factor" along with ease, a beef tenderloin is the way to go. They literally melt in your mouth.
Beef Tenderloin is a roast, which simply means it is a large piece of meat destined to be cut into single servings, which are known as filet mignon.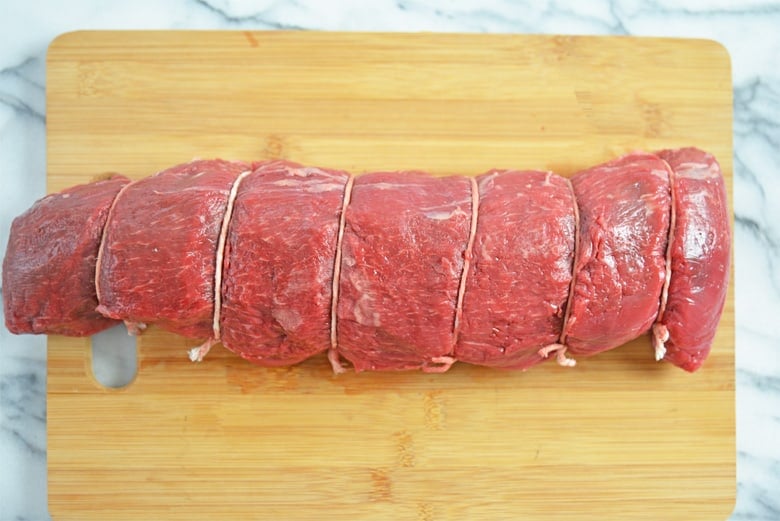 It comes from the loin just under the ribs and is also known as chateaubriand.
The benefits of beef tenderloin are that it is easy to cook, being a smaller piece of meat, and it is super tender to start. No worries about marinating, brining, tenderizing and cooking perfectly. Roasted beef tenderloin is as easy as it gets.
Even if you overcook tenderloin (and I hope you don't) it will still be fork-tender (but maybe a little on the dry side).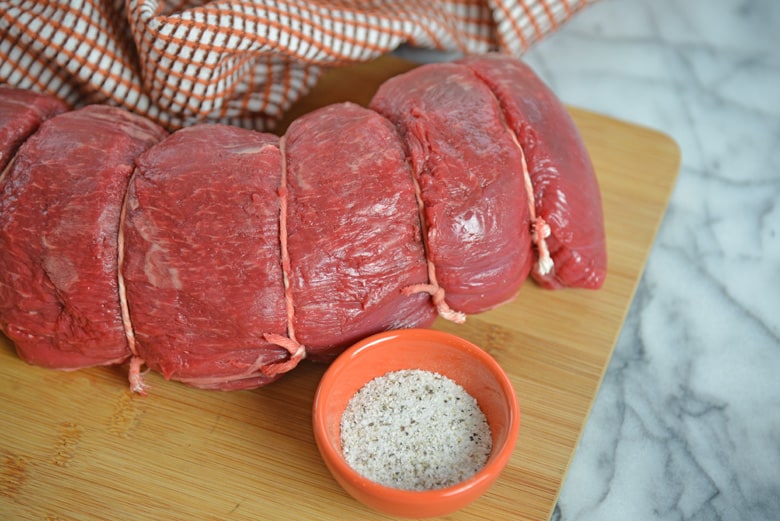 Tenderloin is also much easier to carve than other cuts that might have more marbling, fat deposits and bones. You can make large, thick cut medallions or paper-thin cuts perfect for serving alongside other proteins like seafood.
The only thing to be mindful of is that beef tenderloin is very low in fat and without marbling to provide flavor, you'll need to add it yourself. The most popular flavors are garlic, peppercorns and salt, of course.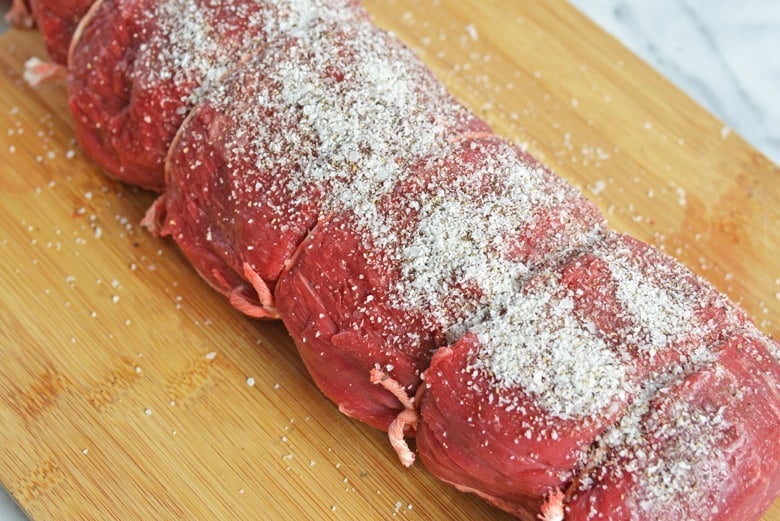 While these are great, I am going to get you out of your comfort zone and ready to prepare a gorgeous beef tenderloin recipe with a savory blueberry sauce and toasted hazelnuts.
The ultimate savory, sweet and slightly salty entrée. And visually stunning, because that is important too!
What is a reverse sear?
You might have heard this term, but what is a reserve sear? It isn't hard and it is exactly what the name dictates. You roast the meat first and then sear last. Perfectly cooked beef every time.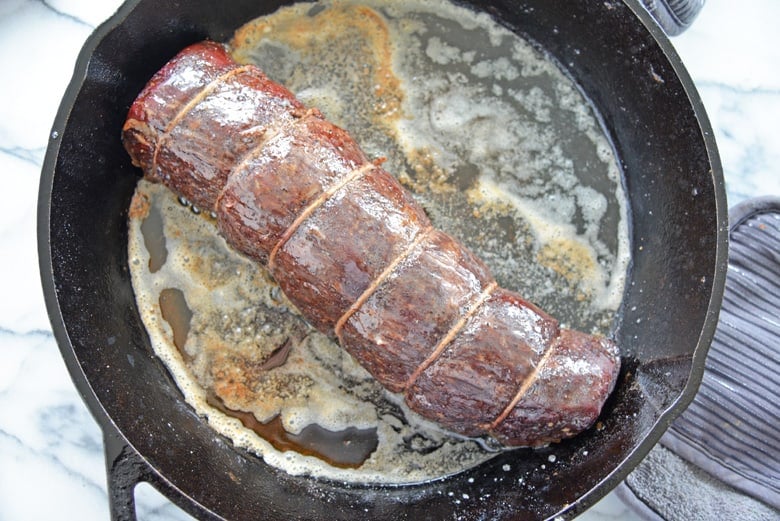 Most beef tenderloin recipes start with a sear in a pan and then transfer to the oven for cooking or start in a super hot oven to get a nice crust (also known as bark) and then lower the temperture to finish cooking.
It's a slow roasted tenderloin or even an oven sous vide, if you will. Which goes against how most people typically prepare tenderloin.
For the sear, you can use a pan or even use the broiler function on your oven.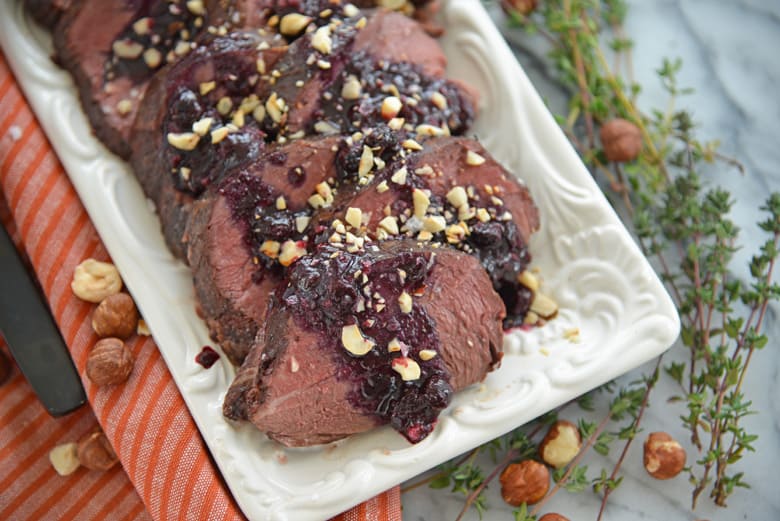 What are the benefits of a reverse sear?
Beef browns best when it is dry. To get the driest exterior possible, the oven will do the work for you.
You will most likely get a more consistent temperature through your whole roast. No matter which way you put it, heating meat in an oven gives you more control.
Have you seen those gorgeous rosy photos of beef? They probably used the reverse sear method. It gives a consistent medium rare pink with limited grey edges (just check out these photos!)
You still get the flavor building benefits of a sear, just at the end. Searing beef creates acid and develops flavor.
No special equipment or knowledge. Just the same tools you've been using all along, but in reverse.
Roasts don't need as long to rest using the reverse sear method.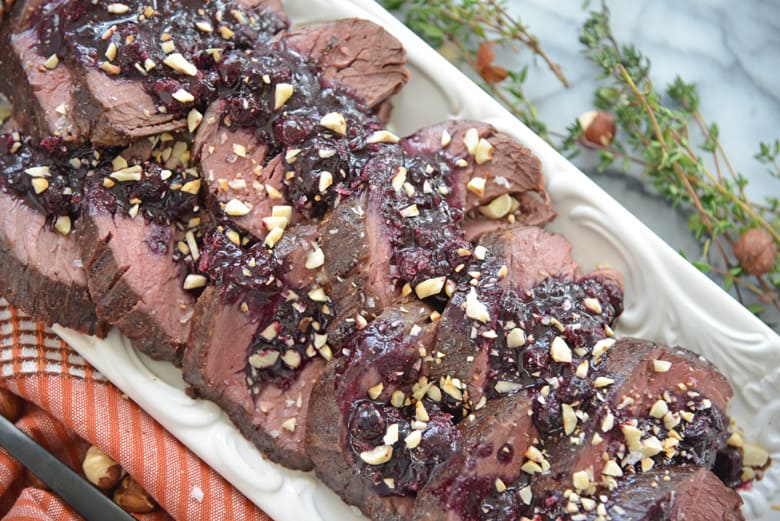 How do you get to this end result? The reverse sear method and the Roast Perfect App from Certified Angus Beef® brand… more to come on that below!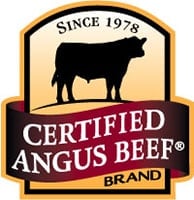 Tips for making the perfect reverse sear beef tenderloin:
Make sure your cut is an even size. Use a center cut tenderloin or tie back the tapered tail with butcher's twine to make it even. I prefer a center cut tenderloin because it is easier to manage.
Be mindful that you have a pan large enough to accommodate the roast you intend to sear or you can use the broiler on your oven.
Use butchers twine to hold the beef tautly together. It will cook evenly and keep its shape.
Salt your tenderloin well. It will probably look like you've used too much, which means it is just right. Salting beef gives it flavor, helps to dry out the exterior for a better sear and chemically changes the proteins. Our buddy over at Serious Eats and The Food Lab gives the best explanation. Use a coarse salt without iodine, such as Kosher salt.
It intrinsically alters its muscle structure. As salt dissolves in meat juices and works its way slowly into the meat, it dissolves a protein called myosin—one of the proteins responsible for the shrinkage that occurs when meat is heated. Visually, this change is quite apparent when you compare a piece of salted meat to a piece of fresh meat. Denatured proteins scatter light in a different way from intact ones, giving salted meat a deeper red, slightly translucent appearance. –

J. KENJI LÓPEZ-ALT
For best results, salt the meat up to 1 day in advance to allow it to dissolve into the protein.
Cook it low and slow. This is basically an oven sous vide method. We want to roast to be all the same temperature, so we are going to start with letting it sit at room temperature before placing it in the oven.
Get your pan to smoking point before adding. You don't need long to sear the roast, but you do need HOT.
Use an oil with a high smoke point to sear the meat and then add butter to baste at the very end. Butter, unless it is clarified (ghee) will burn.
The best way to get a smoking hot pan is cast iron. It is a work horse in the kitchen and I highly recommend one.
You can then use the same pan to prepare your blueberry sauce while the roast rests. Or you can make it while the roast cooks.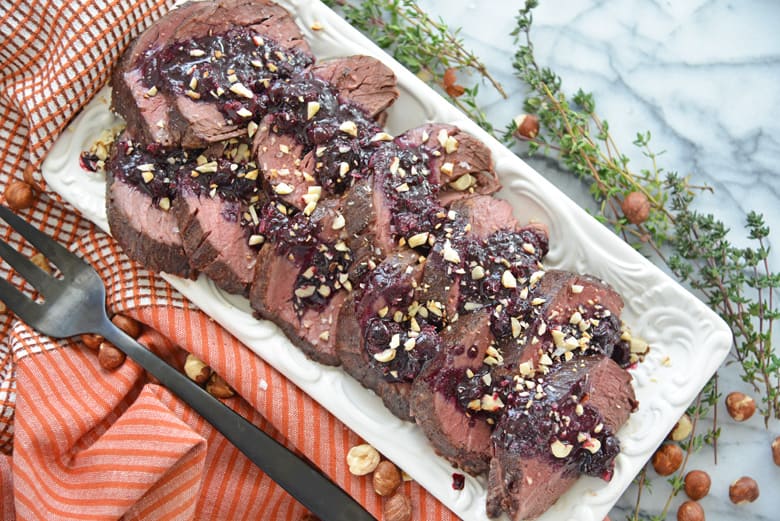 To make sure you get the right cut of meat and size roast, you want to use the Roast Perfect App. Download it to your phone and then select the roast you wish to make and the number of people you are serving. The app will tell you the suggested weight of the roast you need.
Next you'll get more information about the cut chosen. In this case a beef tenderloin is "lean, succulent and elegant with mild flavor." The app will also give recipe suggestions, but if you are here, you are most likely using mine. You won't be disappointed!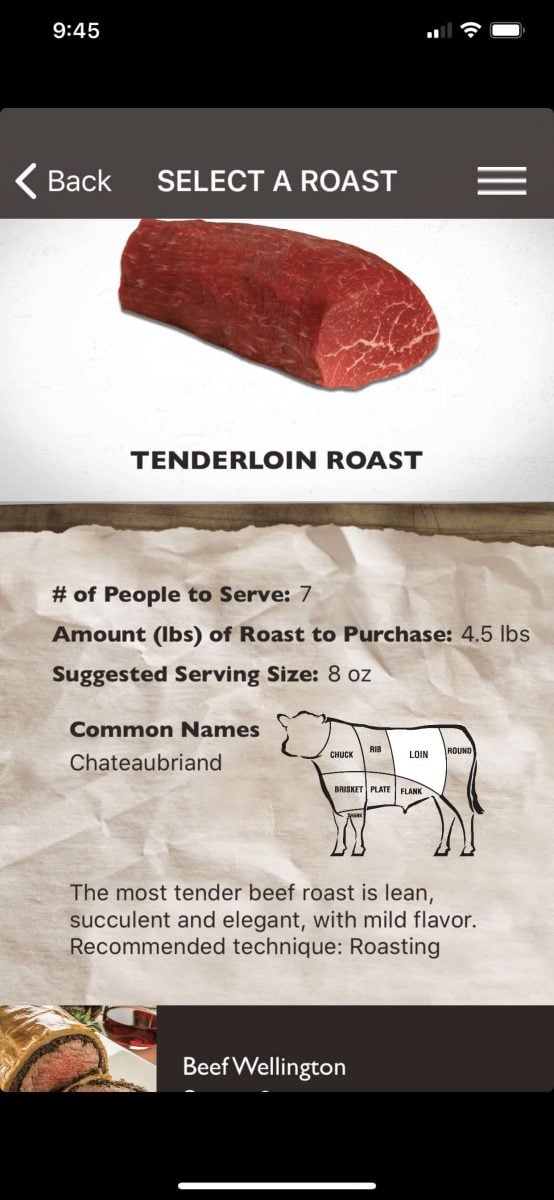 It will also give you side dish suggestions, where to find a store that carries Certified Angus Beef® brand, roasting tips and a degrees of doneness guide. I highly suggest using a digital thermometer to check internal temperature for doneness. It is the only reliable method.
Rare- Cool red center 125F
Medium Rare- Warm red center 135F
Medium- Warm pink center 145F
Medium Well- Slightly pink center 150F
Well Done- Little to no pink 160F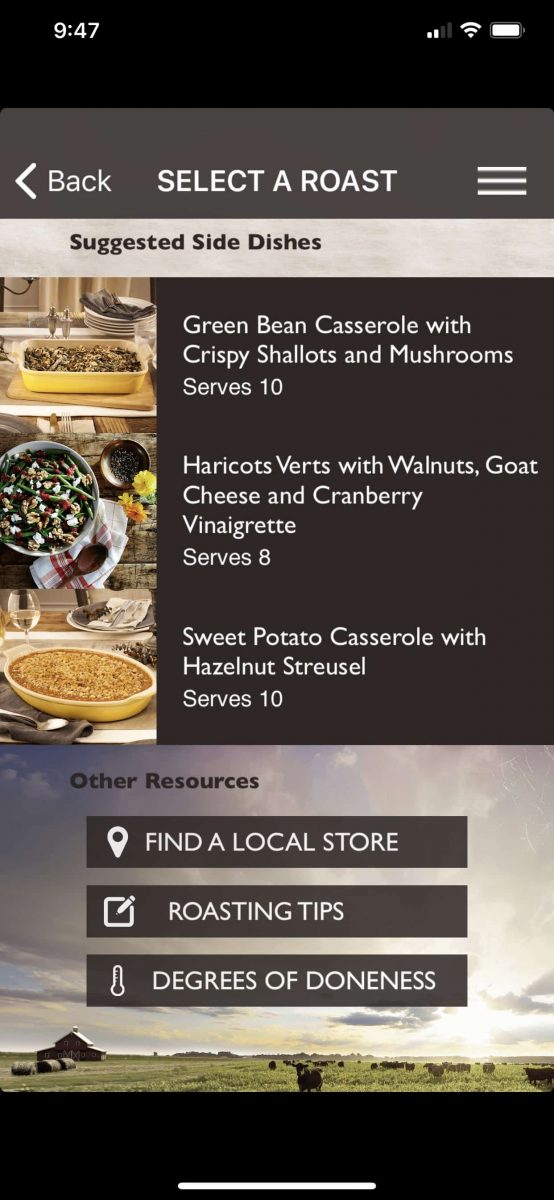 For a beef tenderloin, it is suggested to not cook past medium, a warm pink center. And even though all of this comes down to scientific person, there is still a piece of me that holds my breath when I go to slice.
I serve mine with a savory blueberry sauce, toasted hazelnuts and flaky sea salt. This savory blueberry sauce has a red wine base with fresh blueberries, brown sugar and thyme.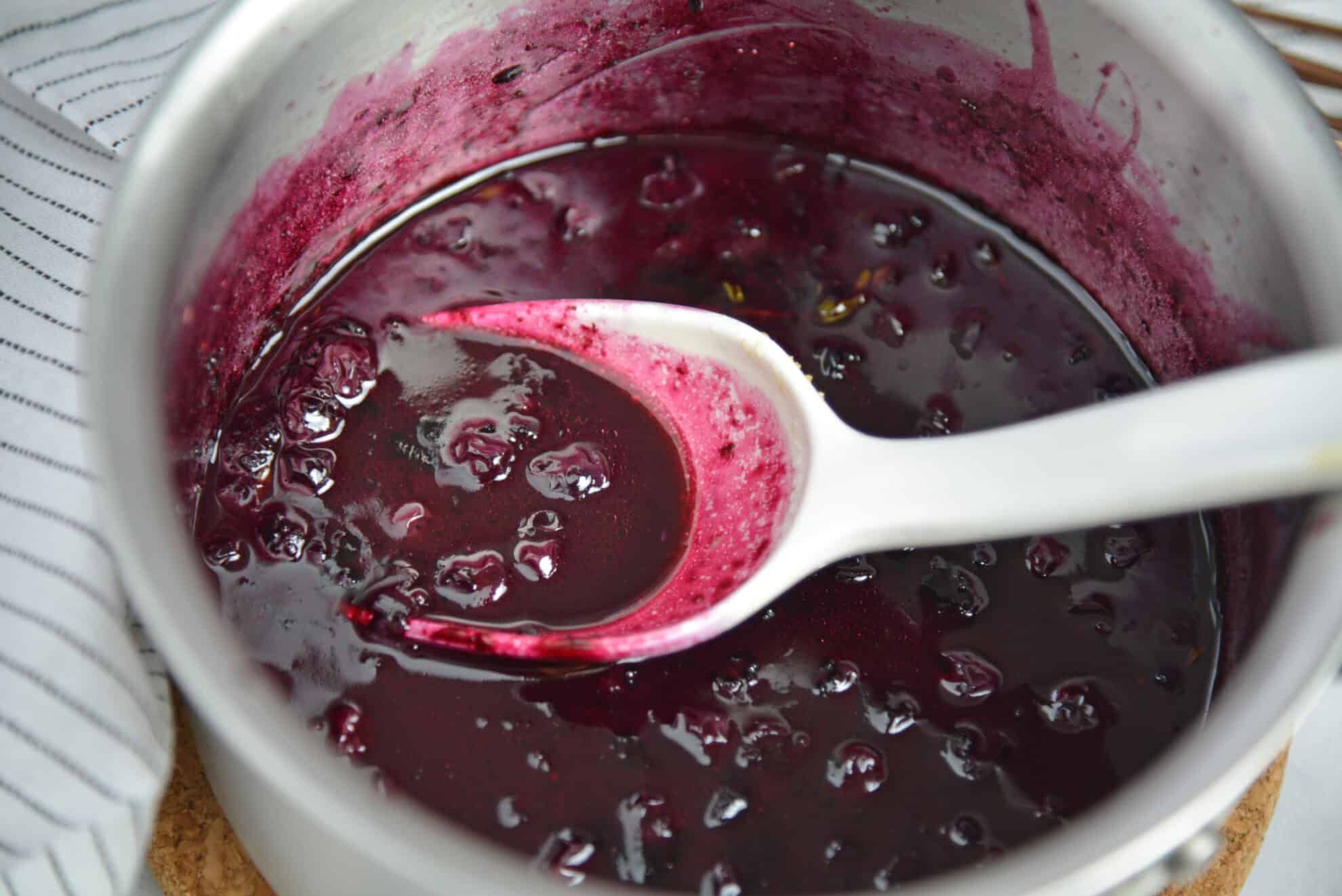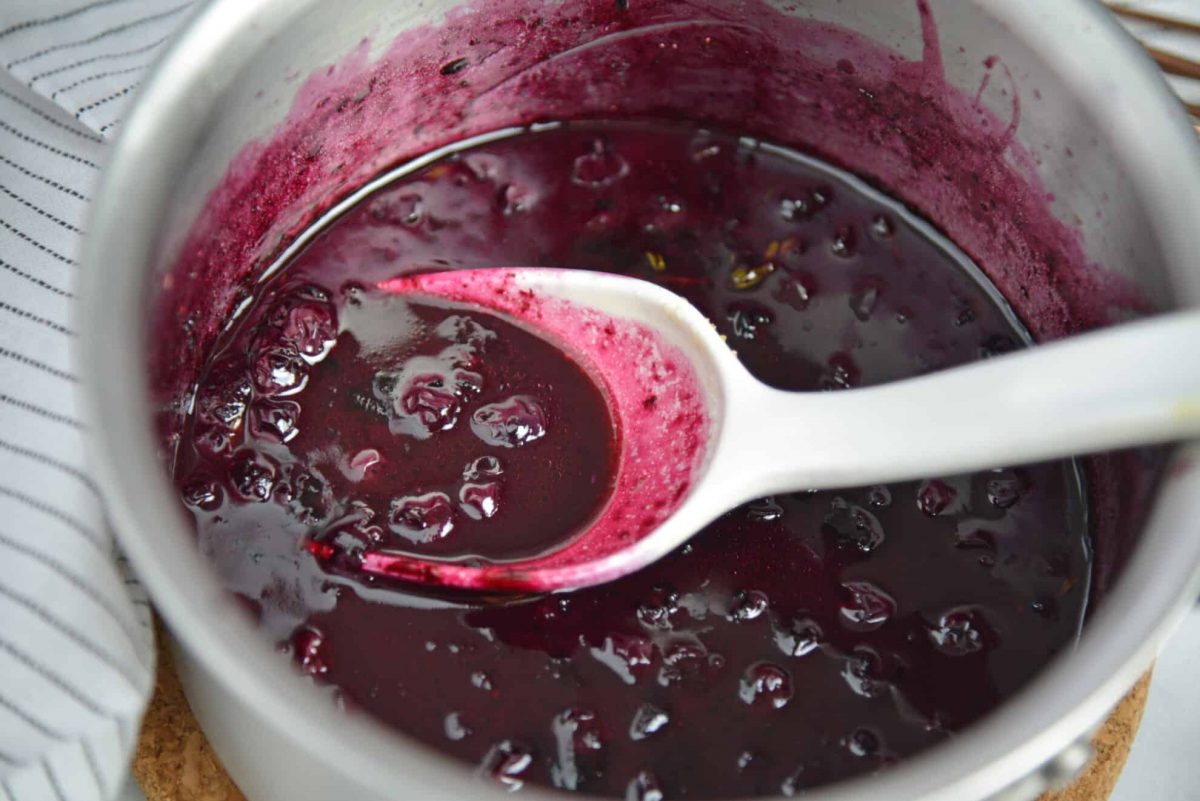 Also feel free to make it with a Whipped Horseradish Sauce or Creamy Horseradish Sauce with Chives. You can also serve it with both!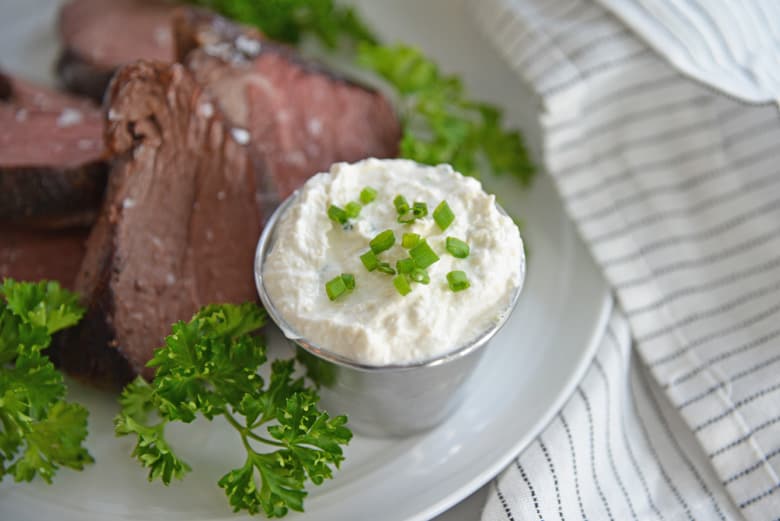 Other fabulous beef recipes:
Sides to serve with your beef tenderloin:
Questions you might have about how to make a reverse sear beef tenderloin:
Can I make this in advance? This is one I don't recommend making in advance. Each time you have to reheat beef, you will end up cooking it a little more than originally intended. Take the time to do it right and before your serve your meal. You won't be sorry.
What do hazelnuts taste like? They are usually describes as sweet, buttery and crunchy. You see them frequently in coffee and dessert recipes, but here, they complement in flavor, aroma and texture.
Can I omit the hazelnuts? Sure! No need to substitute with anything else, just leave them off.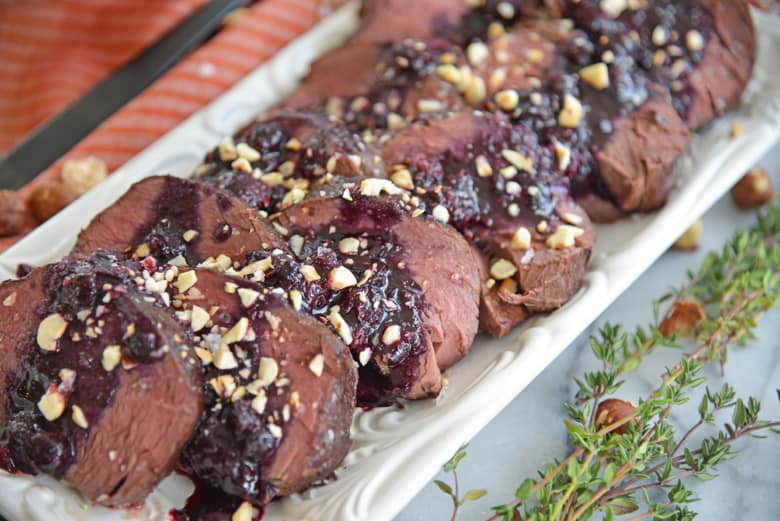 Can I use the blueberry sauce on other cuts of beef? Of course! This savory blueberry sauce will taste great on any beef steak. Grilled strip steaks, prime rib or pan seared filet mignon.
How much meat should I plan for each person? If you use the Roast Perfect App, you can plug in your servings and it will pop out the ideal size roast for the occasion. But the general rule for beef tenderloin is 8 ounces per person if serving alone as an entree.
Some people like to serve it surf and turf style with a lobster tail or crab imperial and then you can scale it back to 4 ounces per person.
Can I sear under the broiler? You can use the broiler function of your oven to sear the roast, however I find I have more control and even browning using a large cast iron skillet.
What wine pair well with beef tenderloin? I typically like a dry red wine, but since this has a blueberry sauce, something a little sweeter will also complement nicely.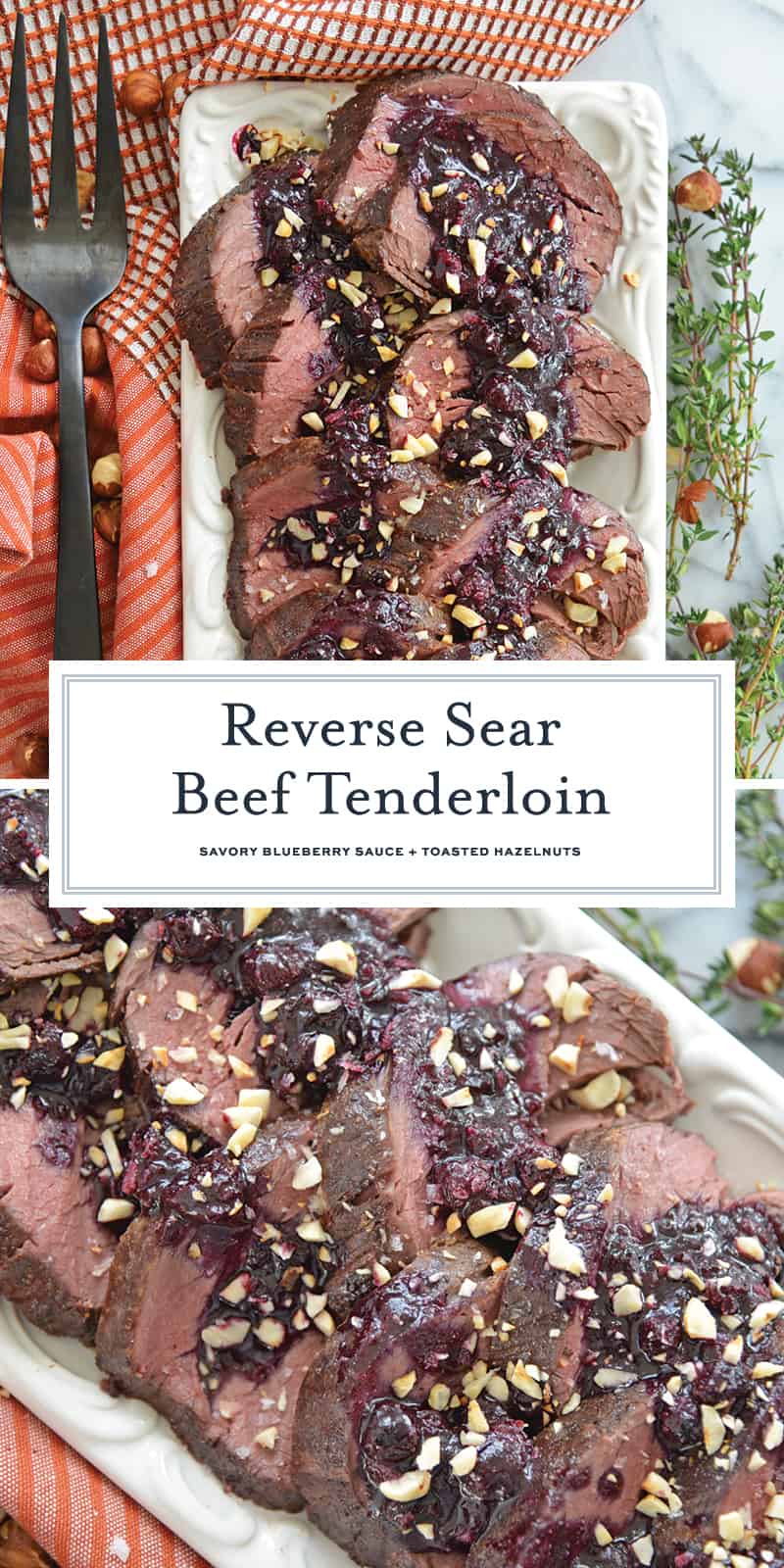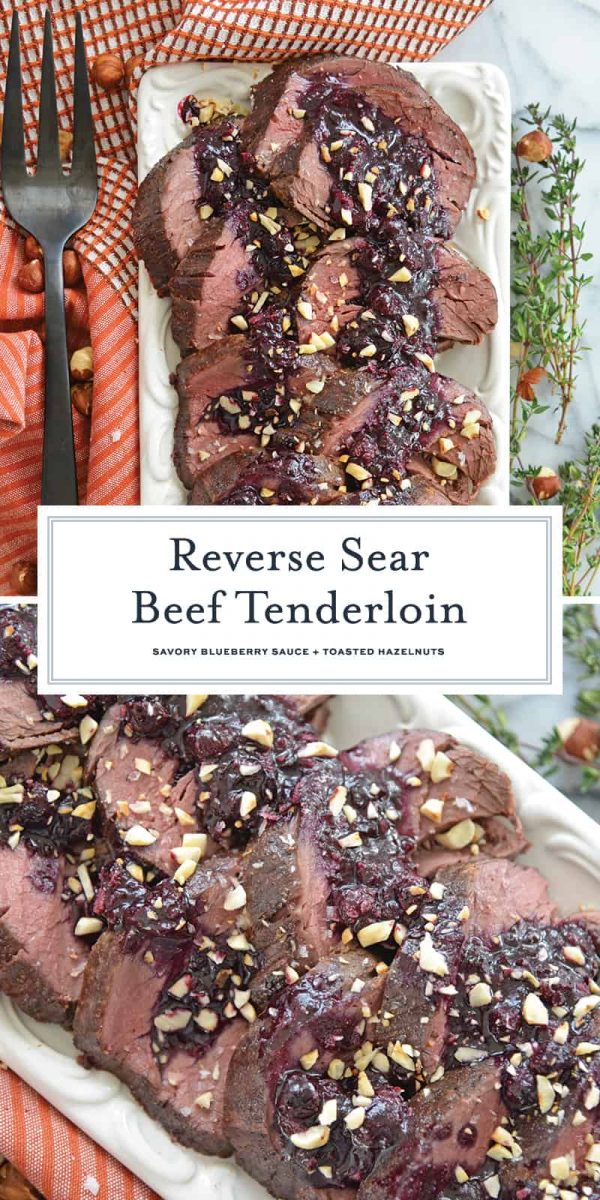 Make sure to check the Certified Angus Beef® brand website for even more fantastic beef recipes and information on why Certified Angus Beef® brand is the BEST beef!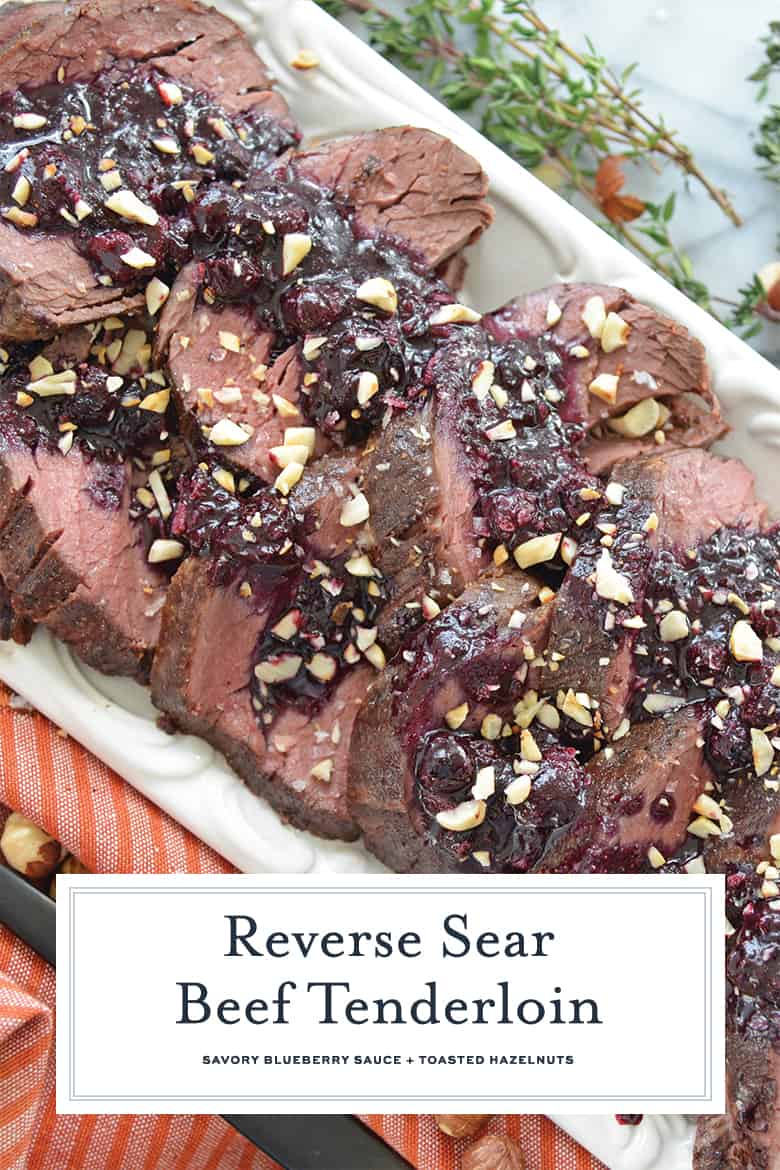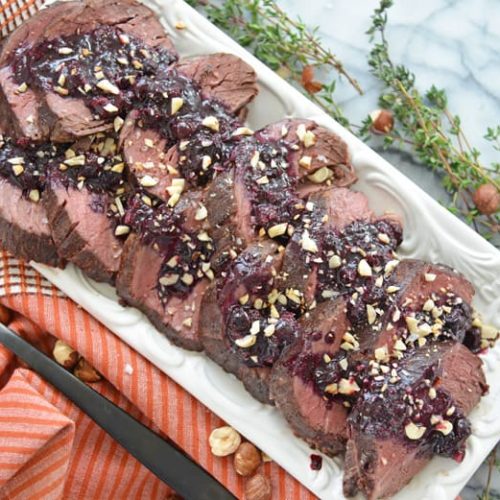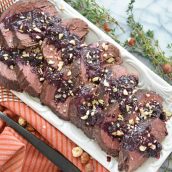 Reverse Sear Beef Tenderloin with Blueberry Sauce
Stunning Reverse Sear Beef Tenderloin recipe with a savory Blueberry Sauce and toasted Hazelnuts is the perfect celebratory roast for your holiday table!
Ingredients
Beef Tenderloin:
2 1/2

pound

Certified Angus Beef ® tenderloin roast

2 1/2

teaspoons

coarse salt

1

teaspoon

black pepper

2

tablespoons

canola oil

4

tablespoons

unsalted butter
To serve:
2

tablespoons

toasted hazelnuts

, chopped

Flakey sea salt
Instructions
Beef Tenderloin:
Preheat oven to 225°F.

Season tenderloin roast with coarse sea salt and freshly ground black pepper.

Slow cook roast for 80-90 minutes (or until internal temperature reaches 125°F for rare). This can vary greatly from roast to roast, please measure. Remove roast from oven.

Right before removing, heat a large cast iron pan or other skillet. Add oil.

Add tenderloin, turning occasionally until evenly browned. This only takes 3-4 minutes.

Low heat and add butter, allowing it to melt fast. Remove from heat and spoon hot butter over roast.

Remove, tent with foil and allow to rest while you make the blueberry sauce. If you made your blueberry sauce ahead of time, allow to rest for about 5 minutes. Not as much time is needed for a reverse sear.
Blueberry sauce:
Using browned and beef seasoned butter already in the pan, add shallots and allow to soften for 1-2 minutes.

Add remaining ingredients including red wine, fresh blueberries, thyme sprigs, Iight brown sugar and balsamic vinegar..

Bring to a low simmer, stirring every so often. Heat until blueberries start to burst and reduce in size. Sauce should start to thick and become syrupy, about 5-10 minutes. Be mindful that it will continue to thicken as it cools, so don't wait until it is super sticky to remove from heat.

Remove from heat and allow to cool for 2-4 minutes. Remove thyme sprigs.

Serve on the side of beef or ladle over beef tenderloin on serving platter.
To serve:
Thinly slice beef tenderloin and place on a serving platter. Top with toasted hazelnuts and flakey sea salt, such as Maldon sea salt.

You can serve the sauce on the side with other sauces (such as horseradish) as well or ladle over the top for a stunning centerpiece.
Notes
You can use frozen blueberries as well, just thaw them and drain well.
You can prepare the sauce ahead of time if you don't want to do it after searing. Simply start in a small saucepan with 2 tablespoons unsalted butter, follow the directions and then correct seasoning with salt and pepper at the end.
To toast hazelnuts: place them in a dry skillet over medium heat, tossing for about 3-4 minutes. Toasting brings out natural oils, flavor and aroma.
You can use dried thyme instead of fresh. Use about ½ teaspoon.
Nutrition
Calories:
501
kcal
,
Carbohydrates:
6
g
,
Protein:
26
g
,
Fat:
38
g
,
Saturated Fat:
16
g
,
Cholesterol:
114
mg
,
Sodium:
800
mg
,
Potassium:
511
mg
,
Fiber:
1
g
,
Sugar:
4
g
,
Vitamin A:
185
IU
,
Vitamin C:
2
mg
,
Calcium:
17
mg
,
Iron:
4
mg