If you're looking for a comfort food dinner for the whole family to enjoy, this EASY crock pot Mississippi Pot Roast is it! Tender, moist & so delicious, seriously one of the best roasts ever.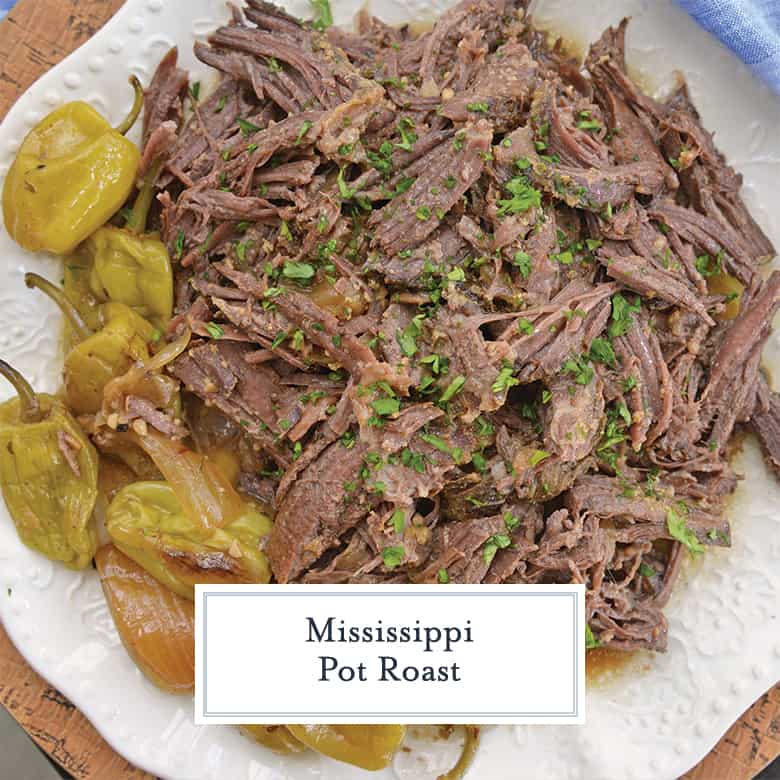 People generally love or hate pot roast. I would bet money that the people that dislike the probably just had some tough, rubbery, leathery roasts through their childhood that now give them slight symptoms of PTSD when the words are even uttered. You know the ones you had to smother with ketchup just make them edible?
Thank goodness this is NOT that pot roast. In fact, I used to be a classic pot roast hater. It is true. But this easy Mississippi Pot Roast recipe is super tender and has loads of flavor that is a little different from traditional pot roast recipes.
I started making my signature Italian Pot Roast and also Italian Beef Sandwiches. It only made sense that I combine two meals I enjoy and try the now famous, Mississippi pot roast.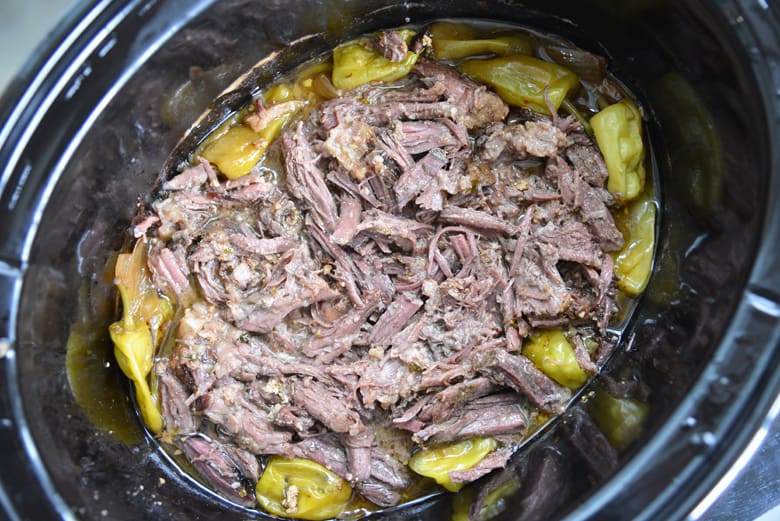 Mississippi Pot Roast Recipe
Why is it called Mississippi pot roast? Well, because this easy recipe hails from Ripley, Mississippi and is actually fairly new. Southern Living Magazine claims the now famous pot roast was only developed in the mid 1990s.
The original recipe actually calls for dry Italian dressing, but ranch mix gave it a fun variation that has now basically broken the internet. I don't even like ranch dressing seasoning and yet, somehow in this recipe it totally works. Some folks also like onion soup mix.
It's one of those popular recipes with simple ingredients. And slow cooker recipes like this are hard to beat. Especially when the kids are back in school for a delicious dinner.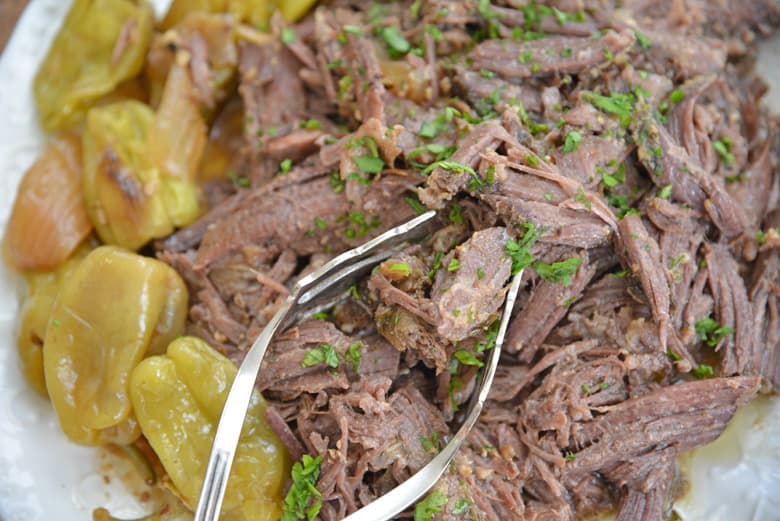 Ingredients
Beef chuck roast – Chuck roast is probably the best and most popular beef cuts for any pot roast recipe. Look for chuck roast, shoulder steak, boneless chuck roast, chuck shoulder pot roast, chuck seven-bone pot roast, or beef chuck arm. This is a tougher cut that requires low and slow cooking. It also has a good amount of marbling to keep it moist and tender while roasting.
Dry ranch seasoning – Dry ranch mix has pretty common ingredients including garlic, onion, parsley, dill and powdered buttermilk. Buttermilk is where this Mississippi pot roast gets its unique tang. Dry ranch seasoning packets have thickeners in them, so if you use store bought you won't have this issue, but if you are like me and make your own, you'll need to thicken the sauce. All you need to do it whisk 1 tablespoon of cornstarch or arrowroot with 1/4 cup of water. While you shred the roast, whisk it right into the pot and by the time you are done shredding, the gravy will be perfect.
White onion – Onion and pot roast seem to go hand in hand. The onion just adds a lot of flavor, and I also like to eat them with the roast when it's finished.
Garlic – I think this one is self explanatory, right?? I'm pretty sure there is no such as too much garlic for me. Use fresh garlic opposed to the store bought stuff for real garlicky flavor.
Unsalted butter – I've seen a lot of recipes call for a half a stick of butter, but we don't need quite that much for this recipe. The natural fat from the beef counts for a lot. I use unsalted so I can control the saltiness.
Pepperoncini – What are pepperoncini peppers? These little peppers are generally found in glass jars in the sandwich condiment or Italian food aisle. They are sometimes found on the side of a pizza or antipasto platter. Peperoncino is the Italian name. I use an entire 16 ounce jar, drained. We really like the flavor the peppers add, but some folks don't and choose to only use 4-5 peppers. I don't use the juice I feel like it's too overwhelming, but if you want a strong flavor, go ahead and add some of it.
Worcestershire Sauce – The hardest thing to pronounce in the culinary world is also one of the most powerful ingredients. Use this to amp up any beefy recipe with bold flavors.
Beef bouillon cubes or bouillon paste – Some crock pot Mississippi pot roast recipes use a dry packet of au jus gravy mix. I prefer to use about 1/2 cup of water with beef bouillon. This gives it a robust taste without being so salty since you'll get some salt from the ranch seasoning too. If you are using broth, opt for low sodium and use a 1 cup of beef broth.
How to Make Slow Cooker Mississippi Pot Roast
Start by whisking together water, beef bouillon and Worcestershire sauce in the bottom of the slow cooker until it's smooth. Then add the chuck roast to the middle and surround it with cut onion, garlic and pepperoncini.
Sprinkle the dry ranch mix and cubed butter on top of the roast. Don't worry about massaging it in or anything, just put it right on top and the juices of the meat will take care of the rest.
Then just put the lid on and set for 8 hours on low heat or 4 hours on high heat. Depending on your slow cooker, the roast might be done in 6 hours and some might take 8, so be sure to check yours at 6 hours so that it doesn't overcook. You'll know it is done when you can easily shred off a piece with your fork.
Shred all of the beef, discarding any large pieces of fat. I like to serve it with the cooked peppers and onions, but this is optional.
If the gravy needs further thickening, add a small amount of slurry (cornstarch mixed with cold water) to the liquid and whisk.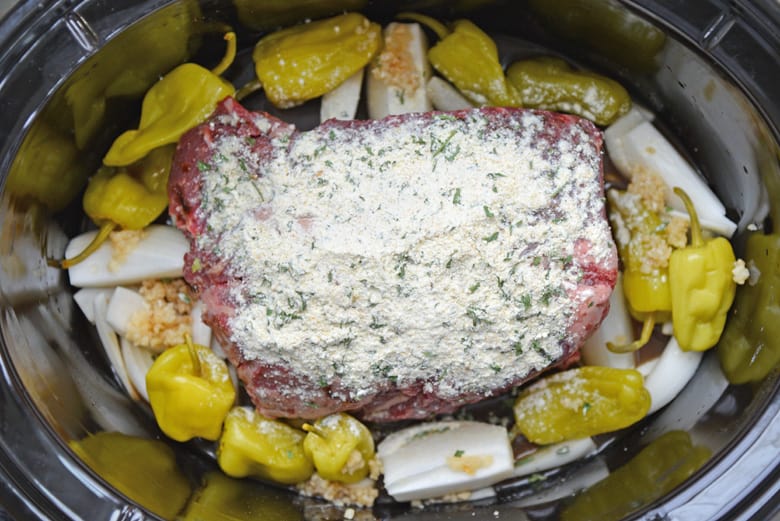 Mississippi Pot Roast in the Oven
Can I make a Mississippi Pot Roast in the oven? You sure can! It will take less time, but since you are cooking it a little faster and with more heat there is a slight potential that it won't be as tender, but will still be a delicious pot roast.
All you need to do it prepare it the same way but in a large Dutch oven or roasting pan. Now you need to cover it tight to seal in the heat. Roast for 3-4 hours at 300°F. It will be traditionally braising. You'll know the roast is done when it easily pulls apart with a fork.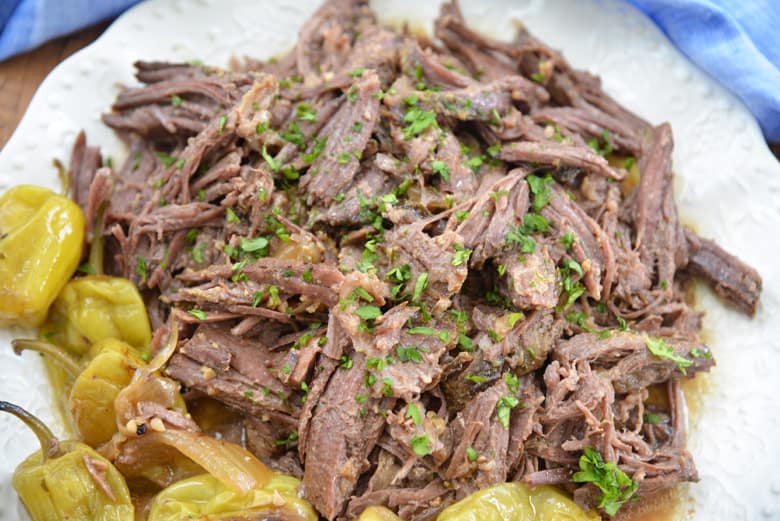 Instant Pot Mississippi Pot Roast
I would say that second to the slow cooker, an Instant Pot is the way to go. The only problem here is that the pressure can impact the onions and pepperoncini, making them fall apart. But if that isn't an issue or you want yours more incorporated, be my guest!
Cut the chuck roast into large 3-4 inches pieces. Add everything to the pot the same way you would for a crock pot roast. Cover and close vent, set to Manual high pressure for 30 minutes. Allow for 10 minutes natural release, open vent.
Remove tender meat and shred with forks.
What to Serve With Mississippi Pot Roast
As far as what you should serve it with, most people serve their Mississippi roast recipe over mashed potatoes I also like using my creamy ranch mashed potatoes. You can also use rice like my ranch rice, or even just plain buttered egg noodles. really anything will looks fantastic on your dinner table.
The first time me made this delicious roast, we opted for polenta just to switch things up! I also like to serve it with a side of something green like:
Also serve it low carb with just the meat and pepperoncini or over cauliflower rice or garlic parmesan roasted cauliflower.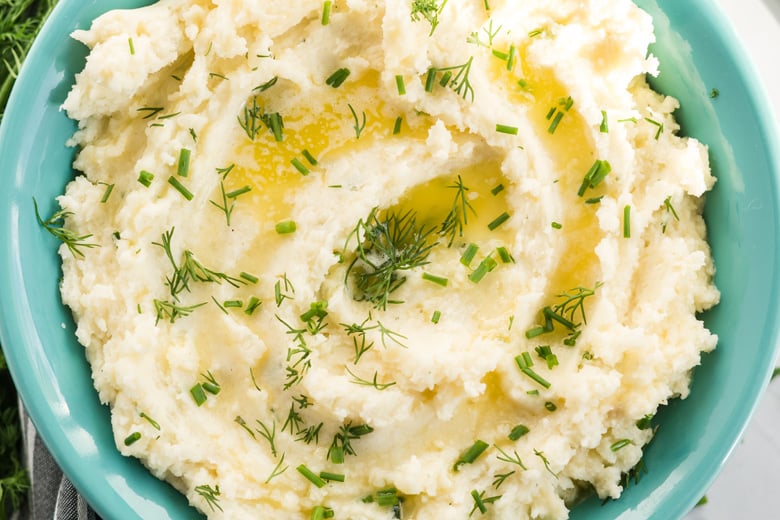 Storage & Freezing
Storage: Store leftovers in an airtight container for up to 5 days. Reheat in the microwave with additional juice to prevent drying.
Freezing: You can freeze leftover Mississippi pot roast in an airtight container for up to three months. Just be sure not to include any veggies because they will become mushy when reheated.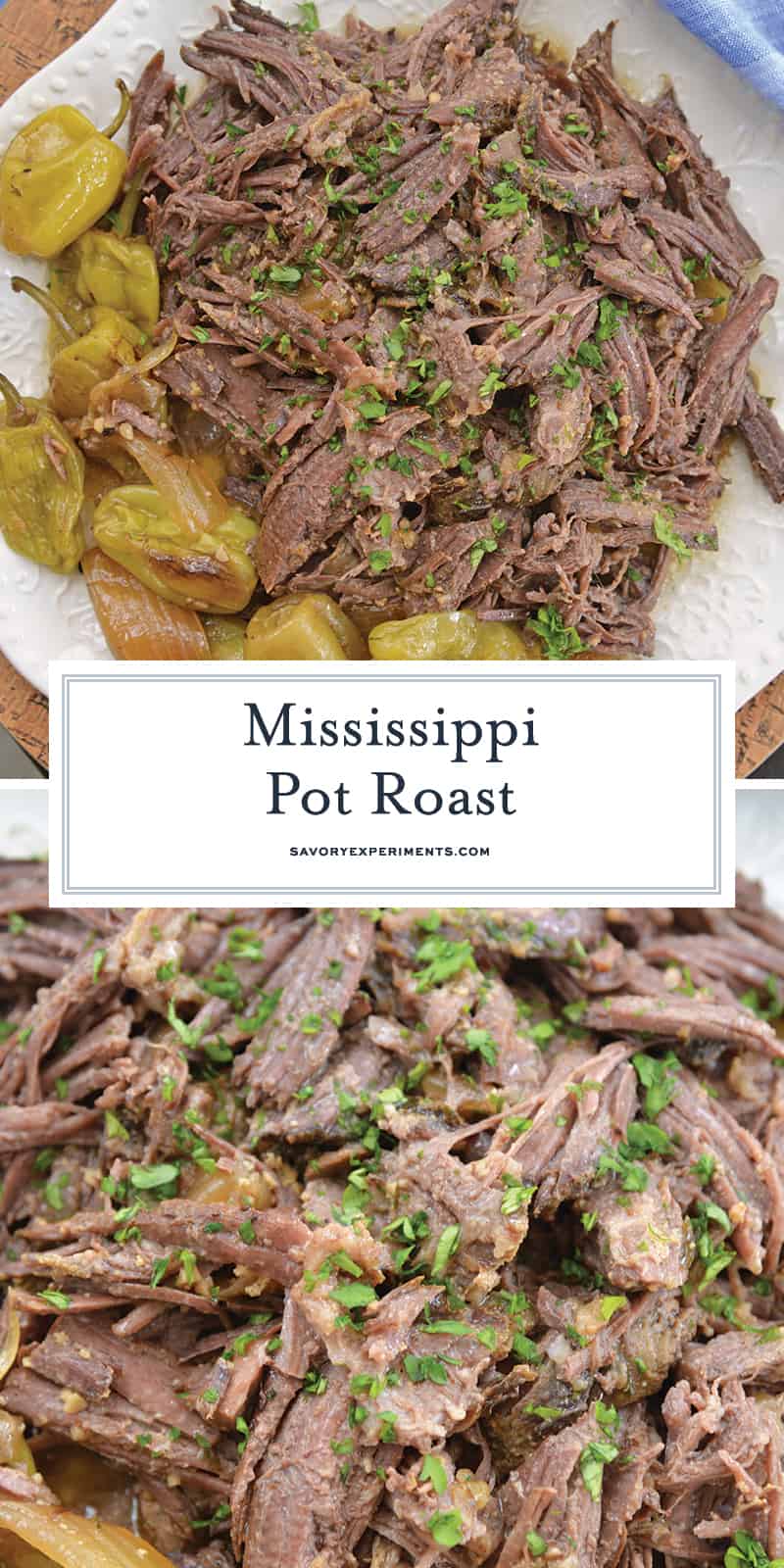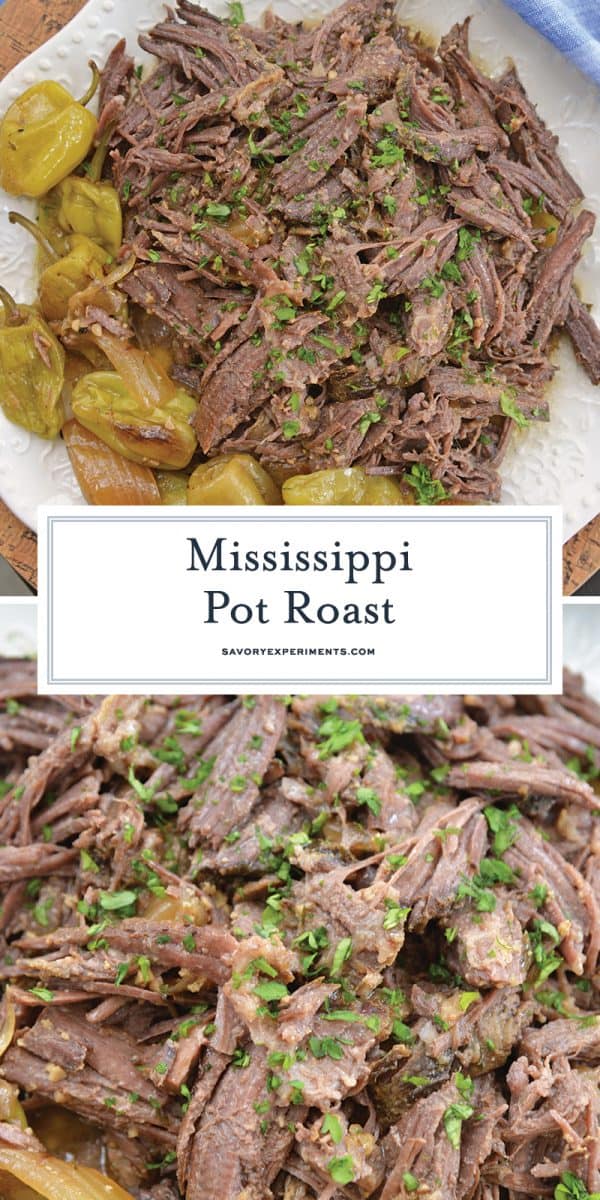 More Beef Roast Recipes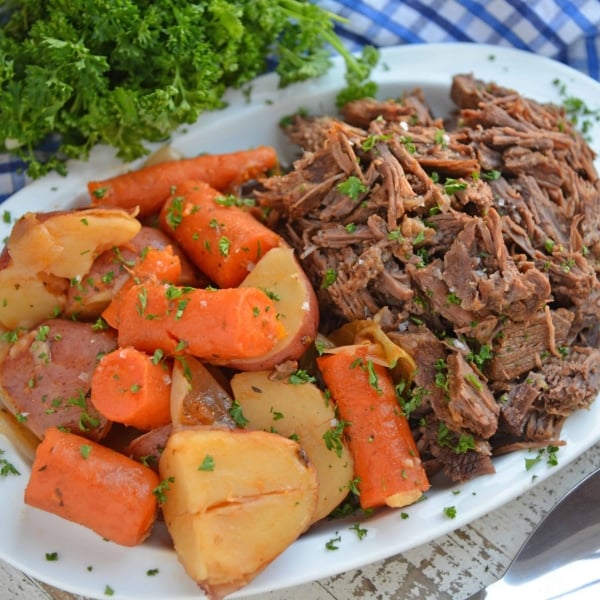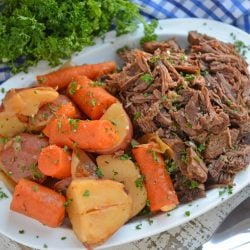 Pressure Cooker Italian Pot Roast
Pressure Cooker Italian Pot Roast is an easy and quick one-dish family meal. Potatoes, onions and carrots surround tender pot roast. Top with tomato gravy!
View this recipe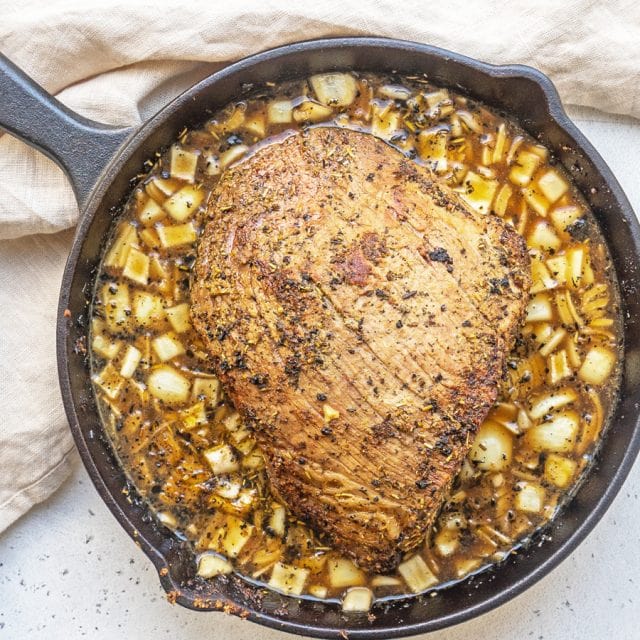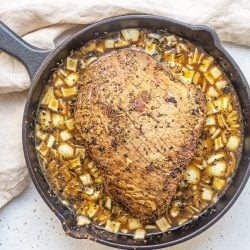 Baked Eye of Round Roast
This Baked Eye of Round Roast is the easiest way to make delicious roast beef in your oven! Slice your roast beef and serve with a flavorful gravy made from the drippings.
View this recipe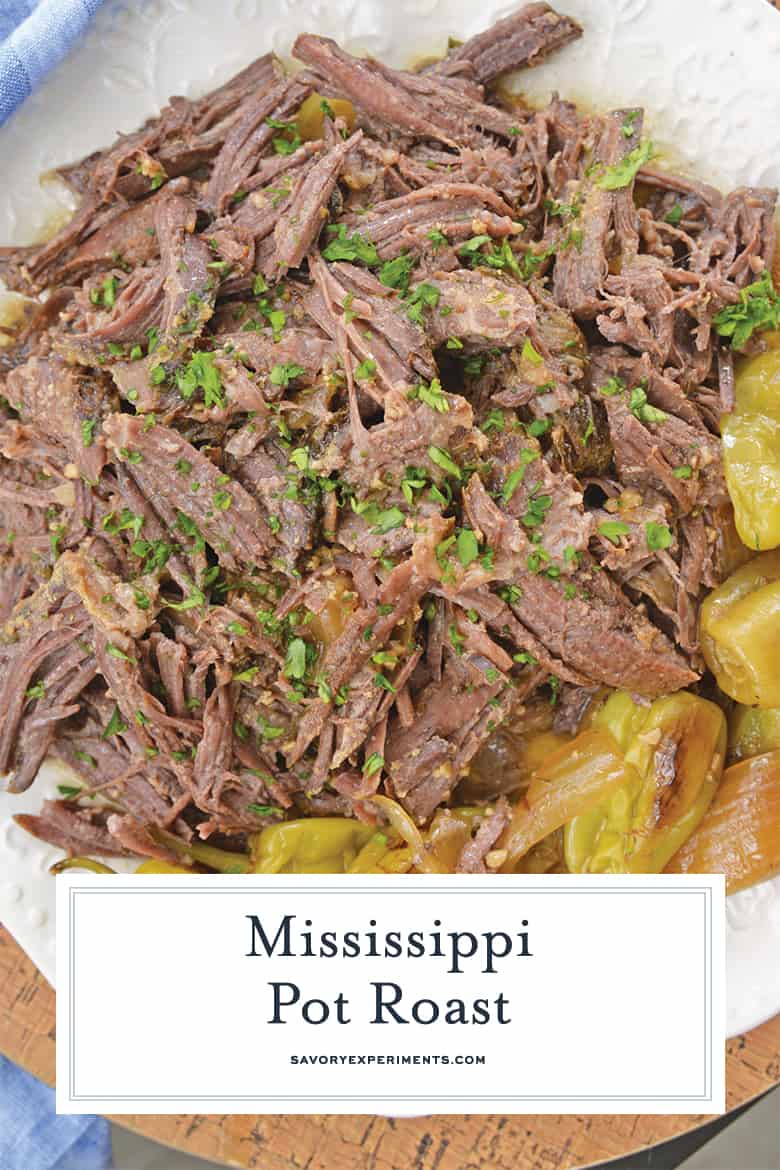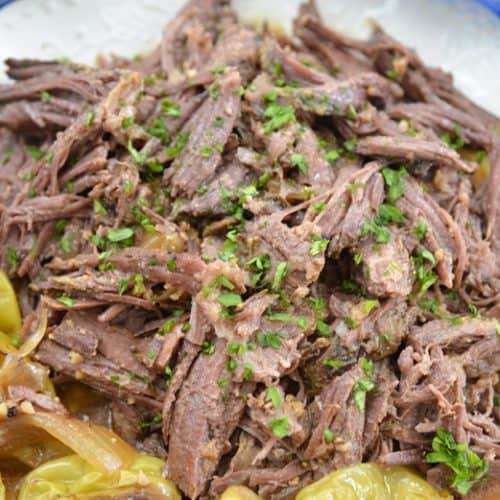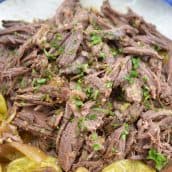 Crock Pot Mississippi Pot Roast
This easy Mississippi Pot Roast recipe is super tender and so perfect if you're craving comfort food! It's the best pot roast recipe!
Instructions
In the bottom of the slow cooker, whisk together the water, beef bouillon and Worcestershire sauce until smooth (or close to smooth).

Place the chuck roast in the middle and surround it with the pepperoncini, onion and garlic.

Sprinkle the ranch seasoning on top of the roast. No need to massage in, just sprinkle it and go. Top the roast with the cubed butter pieces.

Place the lid on and set for 8 hours on low or 4 hours on high. Depending on the size of your roast, this could take a little more or a little less. You'll know it is done when you can easily shred off a piece with your fork.

Remove roast and set aside on a cutting board.

Ladle out 1/4 cup of the liquid and whish with cornstarch. Return this slurry back to the slow cooker and whisk in until it starts to thicken. Keep on the warm setting.

Shred the beef and then return to sauce to coat.

Serve over mashed potatoes, rice or egg noodles.

If you've tried this recipe, come back and let us know how it was in the comments or star ratings.
Nutrition
Calories:
382
kcal
,
Carbohydrates:
8
g
,
Protein:
34
g
,
Fat:
24
g
,
Saturated Fat:
11
g
,
Cholesterol:
129
mg
,
Sodium:
705
mg
,
Potassium:
730
mg
,
Fiber:
2
g
,
Sugar:
2
g
,
Vitamin A:
346
IU
,
Vitamin C:
48
mg
,
Calcium:
43
mg
,
Iron:
4
mg