If you're looking for a comfort food dinner for the whole family to enjoy, this EASY Slow Cooker Mississippi Pot Roast is it! Tender, moist & so delicious!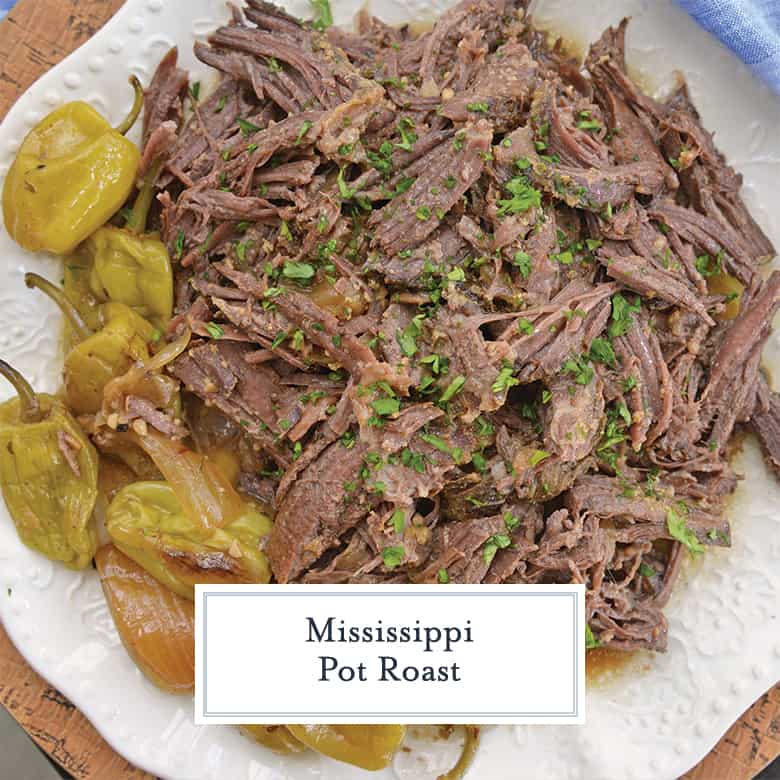 This easy Mississippi Pot Roast recipe is super tender and so perfect if you're craving comfort food! It's the best pot roast recipe!
People generally love or hate pot roast. I would bet money that the people that dislike the probably just had some tough, rubbery and dry roasts through their childhood that now give them slight symptoms of PTSD when the words are even uttered.
Thank goodness this is NOT that pot roast. In fact, I used to be a pot roast hater. It is true.
BEST Pot Roast Recipe
In fact, I am one of those people that prefers rare beef so pot roast was never my jam. My mom didn't make it growing up either, so there was no nostalgia attached to it.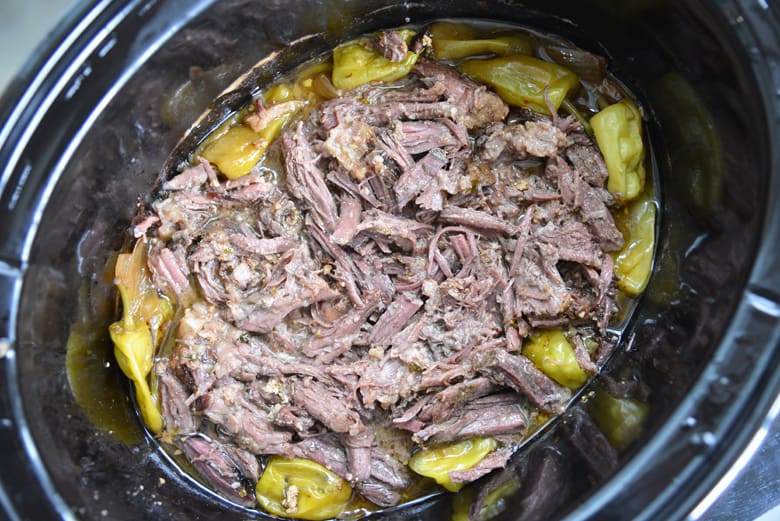 But then I started making my signature Italian Pot Roast and now I crave the stuff. Tender, moist and SOOOO good. The perfect one dish meal.
It only made sense that I combine two meals I enjoy, Italian beef hoagies and pot roast and try the now famous, Mississippi pot roast.
Mississippi Pot Roast Recipe
Why is it called Mississippi pot roast? Well, because it hails from Ripley, Mississippi and is actually a fairly new recipe. Southern Living Magazine claims the now famous pot roast was only developed in the mid 1990s.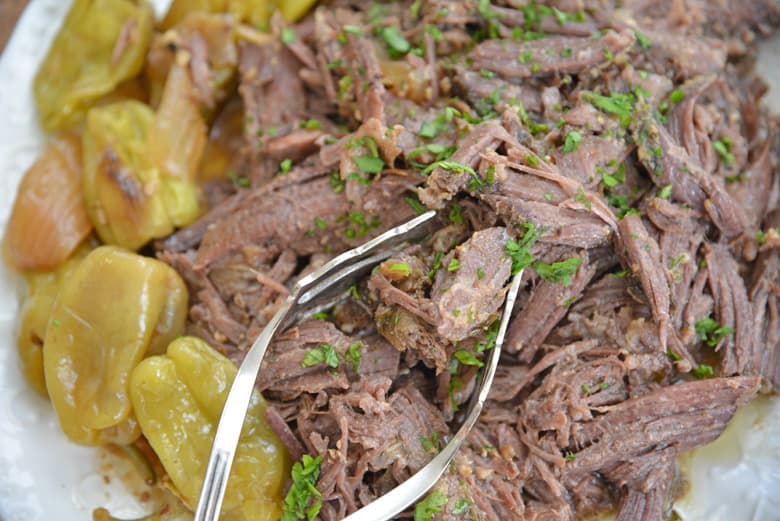 The original recipe actually calls for dry Italian dressing, hence the italian beef hoagies, but ranch mix gave it a fun variation that has now basically broken the internet.
Pot Roast Meat
What cut of beef do you use for Mississippi pot roast?
Chuck roast is probably the best and most popular beef cuts for any pot roast recipe. Look for chuck roast, shoulder steak, boneless chuck roast, chuck shoulder pot roast, chuck seven-bone pot roast, or beef chuck arm.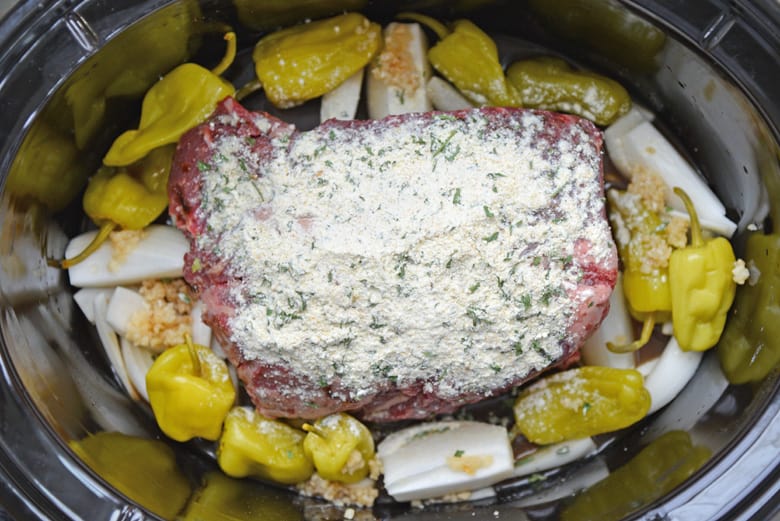 This is a tougher cut that requires low and slow cooking. It also has a good amount of marbling to keep it moist and tender while roasting.
Brisket is also a good alternative.
Pepperoncini
What is a pepperoncini? These little peppers are generally found in glass jars in the sandwich condiment or Italian food aisle.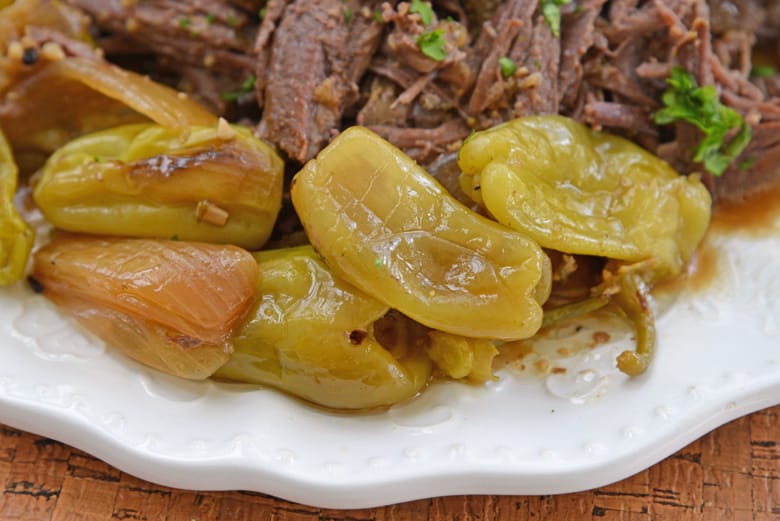 They are sometimes found on the side of a pizza or antipasto platter. Peperoncino is the Italian name.
I use an entire 16 ounce jar, drained. We really like the flavor the peppers add, but some folks don't and choose to only use 4-5 peppers. I don't use the juice I feel like it's too overwhelming.
Au Jus Seasoning
Some Mississippi pot roast recipes use a dry packet of au ju or beef gravy. I prefer to use about 1/2 cup of water with beef bouillon. This gives it a robust taste without being so salty since you'll get some salt from the ranch seasoning too.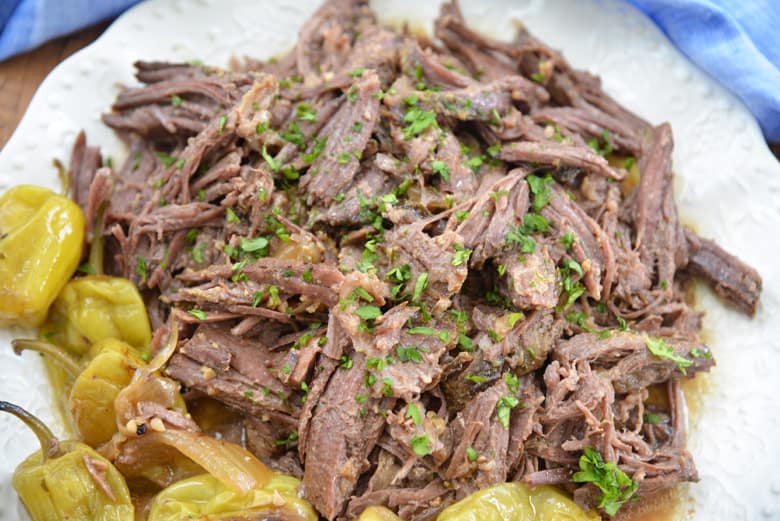 You don't want to add too much liquid and in fact some recipes don't add any additional liquid or beef broth. The slow cooker works it's magic by keeping all moisture inside the pot which will be enough to make your pot roast delicious without watering down the juices which would then become your gravy.
The most common mistake people make is adding too much liquid and then not thinking that the roast has flavor.
Ranch Seasoning
Dry ranch seasoning has pretty common ingredients including garlic, onion, parsley, dill and powdered buttermilk. Buttermilk is where this Mississippi pot roast gets its unique tang.
Dry ranch seasoning packets have thickeners in them, so if you use store bought you won't have this issue, but if you are like me and make your own, you'll need to thicken the sauce.
All you need to do it whisk 1 tablespoon of cornstarch or arrowroot with 1/4 cup of water. While you shred the roast, whisk it right into the pot and by the time you are done shredding, the gravy will be perfect.
Sides for Mississippi Roast
What do you serve with Mississippi pot roast?
Most people serve their Mississippi pot roast over mashed potatoes I also like using my creamy ranch mashed potatoes. You can also use rice like my ranch rice.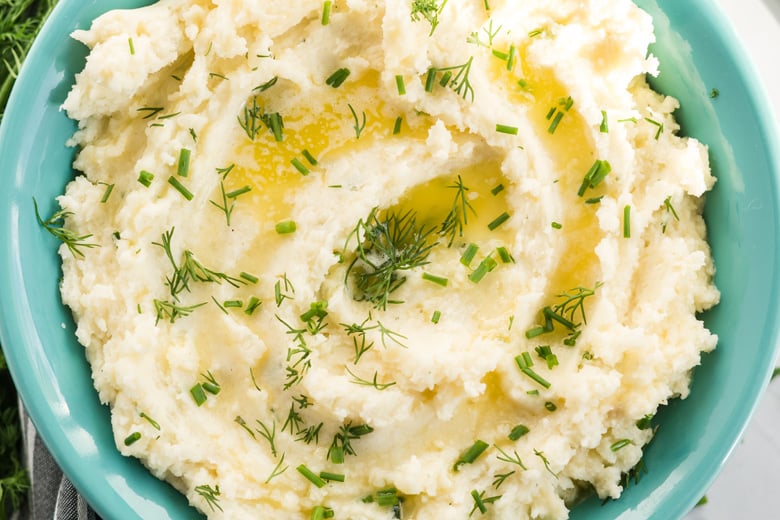 Tonight we've opted for polenta just to switch things up!
I also like to serve it with a side of something green like:
Pot Roast in the Oven
Can I make a Mississippi Pot Roast in the oven?
You sure can! It will take less time, but since you are cooking it a little faster and with more heat there is a slight potential that it won't be as tender.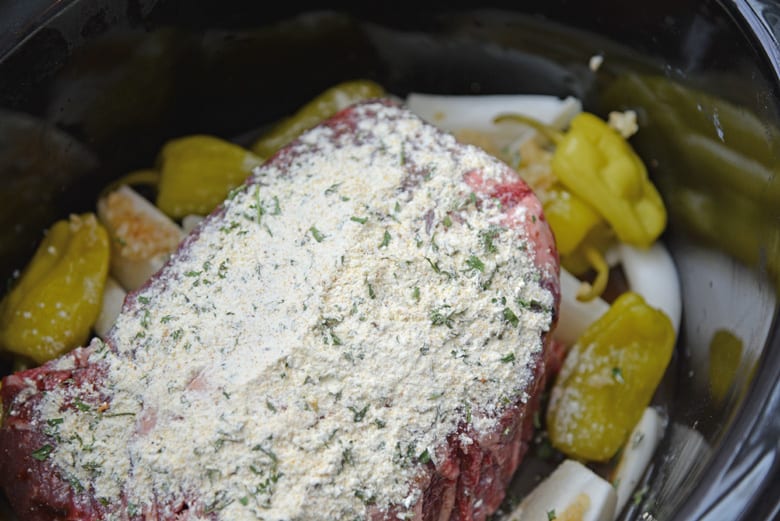 All you need to do it prepare it the same way but in a large Dutch oven or roasting pan. Now you need to cover it tight to seal in the heat.
Roast for 2-3 hours at 350 degrees. You'll know the roast is done when it easily pulls apart with a fork.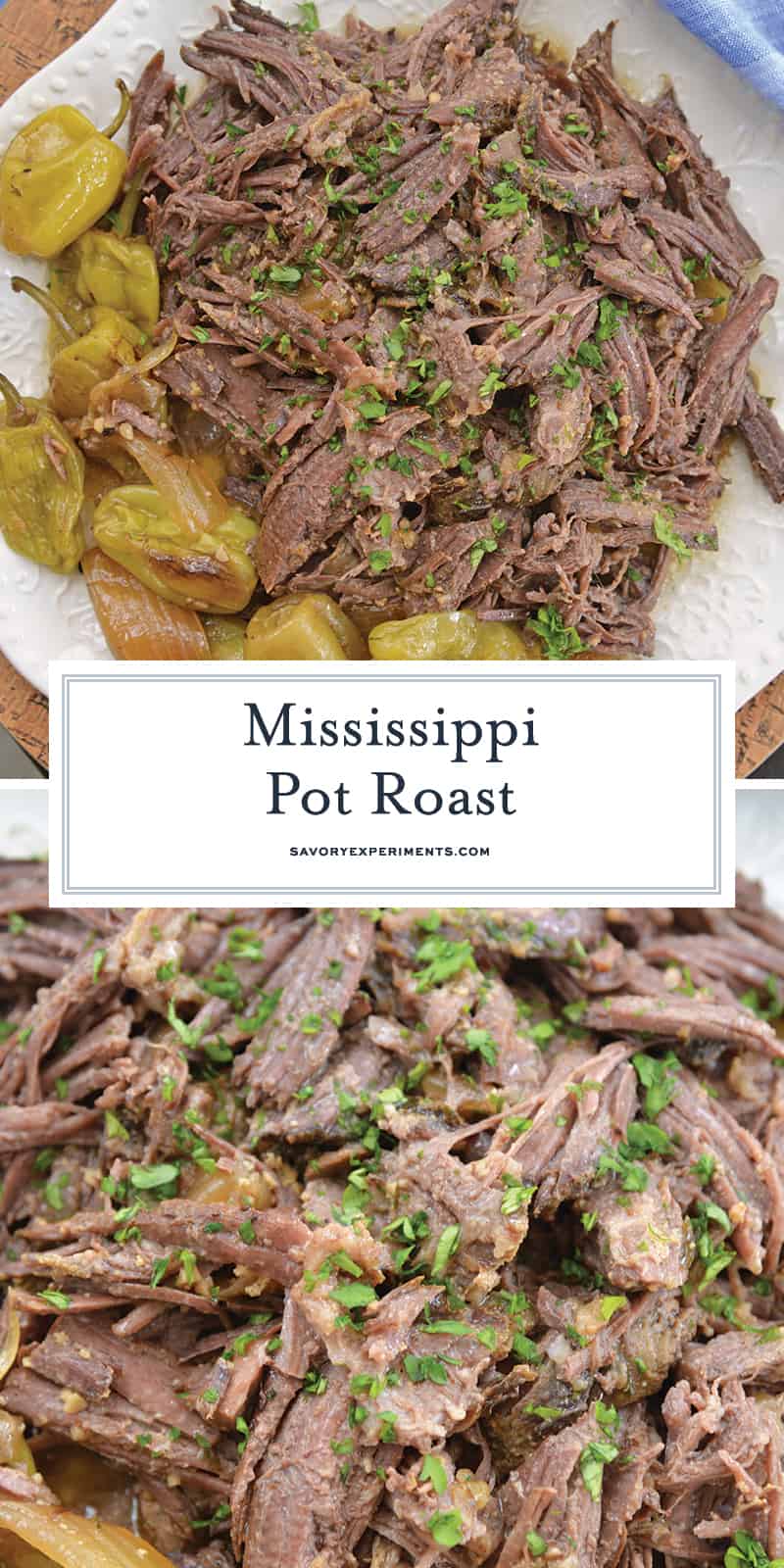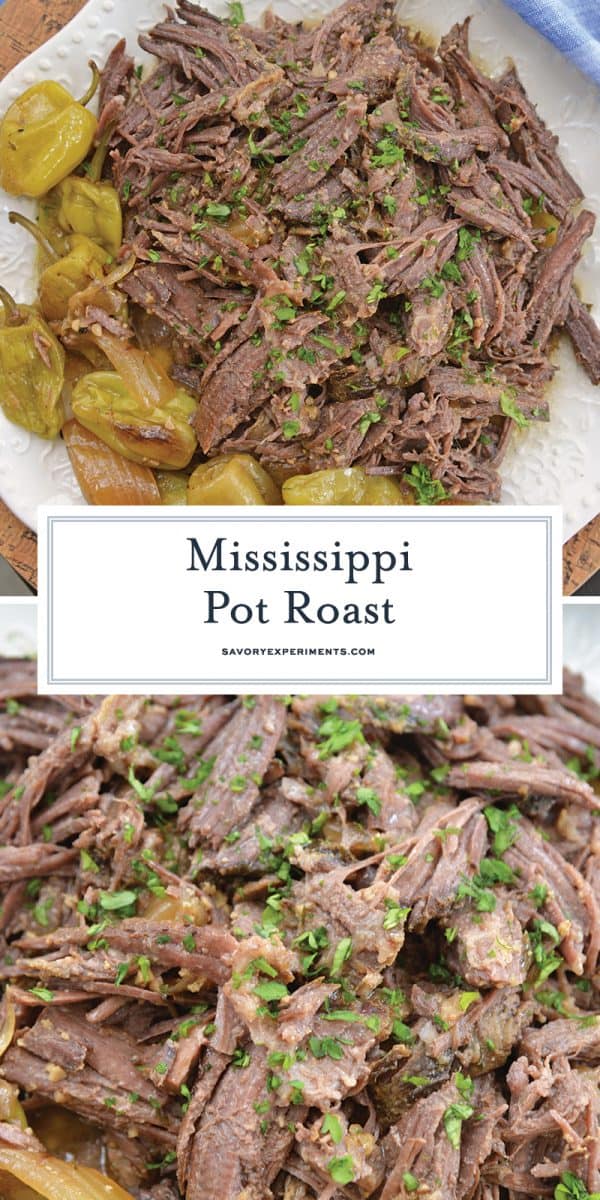 More beef roast recipes: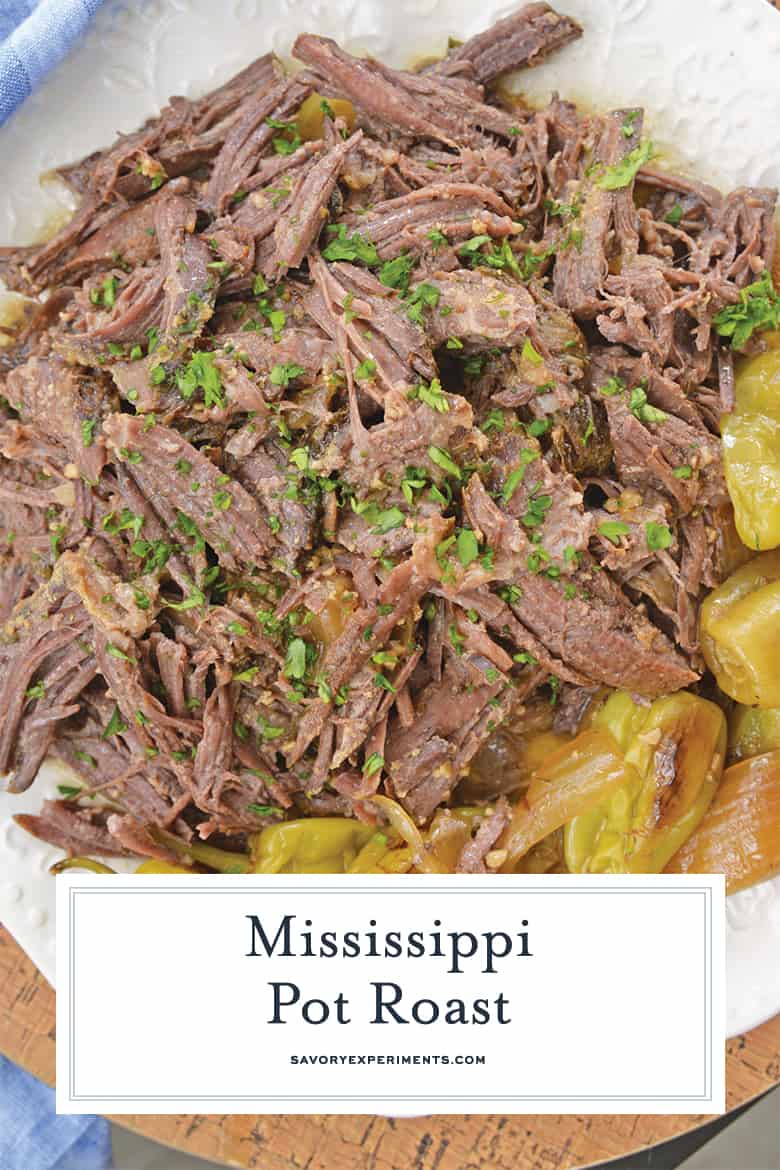 CONNECT WITH SAVORY EXPERIMENTS!

Be sure to follow me on social media, so you never miss a post!

Facebook | Twitter | Youtube
Pinterest | Instagram

Get our FREE 8 Day E-Course on How to Be a Better Home Cook. Sign up HERE!