Does anyone else think asparagus resemble little trees that should be in a Dr. Seuss book? Nope, just me and my weirdo imagination?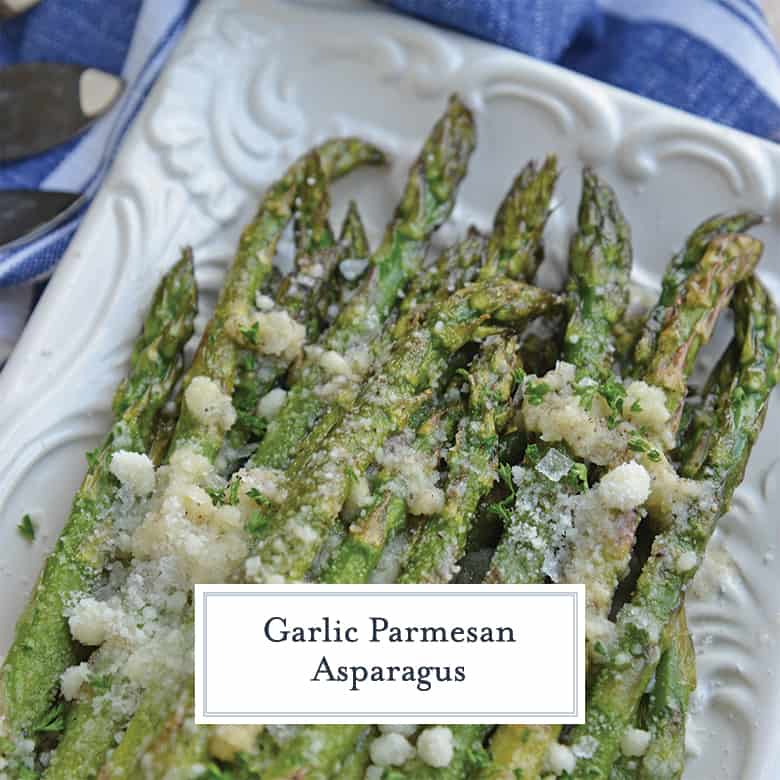 Garlic Parmesan Asparagus is an easy side dish with loads of flavor. One of your favorite vegetables covered in fresh garlic and Parmesan cheese, what could be better?
Asparagus happens to be one of my favorite go-tos for easy side dish recipes. It cooks easily, has an easy flavor palette that can easily morph to complement nearly any meal or cuisine and is inexpensive. Oven roasted asparagus are easy to prep and quick to cook!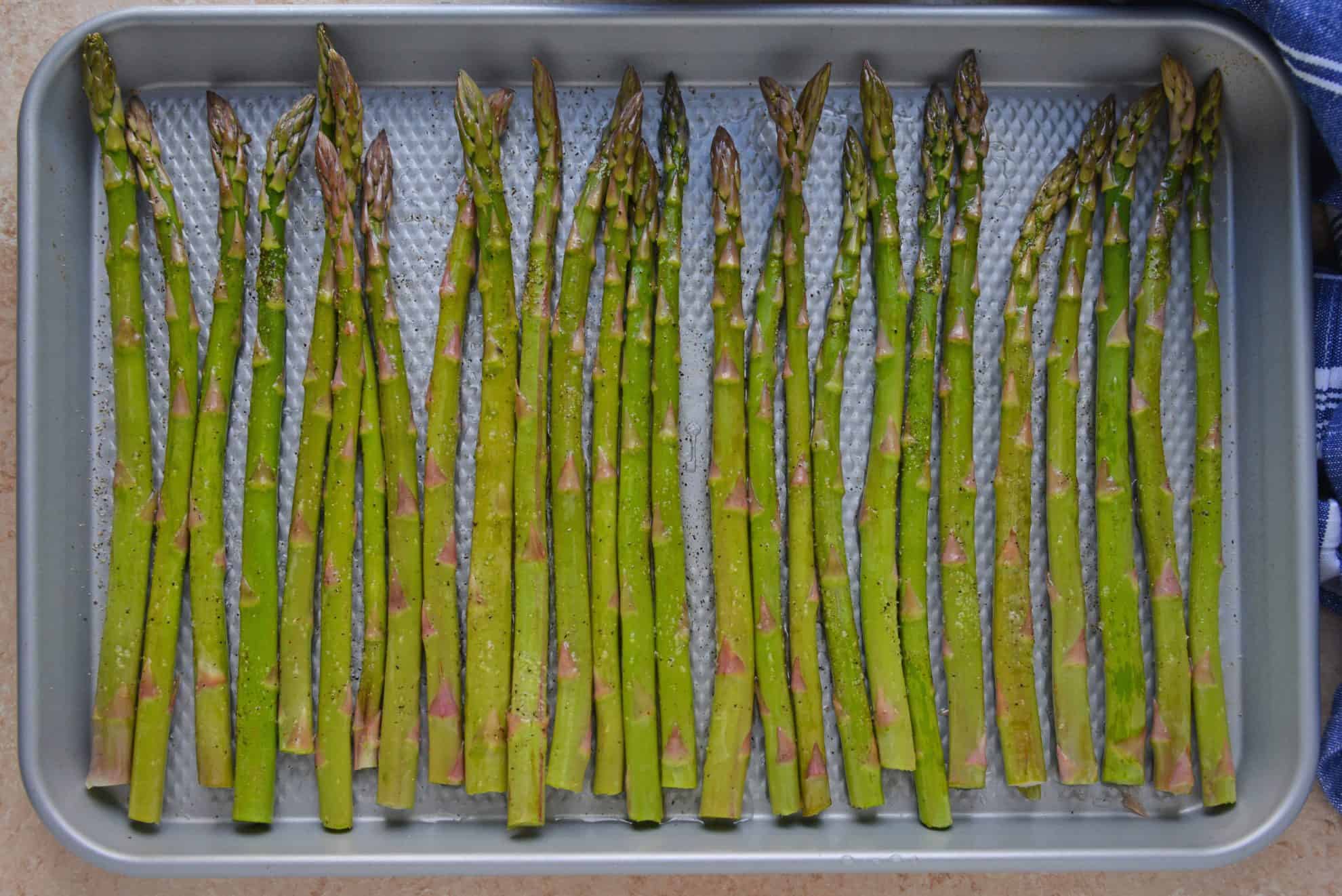 Not to mention that the health benefits of fresh asparagus are lengthy. Check this out:
Low Calorie- approximately 20 calories for every 1 cup cooked.
Antioxidant rich- includes numerous antioxidants linked to aging prevention, reduced inflammation and anti carcinogenic properties.
High in dietary fiber- aids in digestion and also helps you feel satisfied.
Lower blood pressure- Potassium has been linked to lower blood pressure, asparagus is high in potassium.
Nutrient Rich-high in folate, vitamins A, C, E, and chromium.
Many Garlic Parmesan Asparagus recipes roasted the garlic and cheese along with the asparagus. Since I love a heavy garlic flavor, I decided to do things a little different.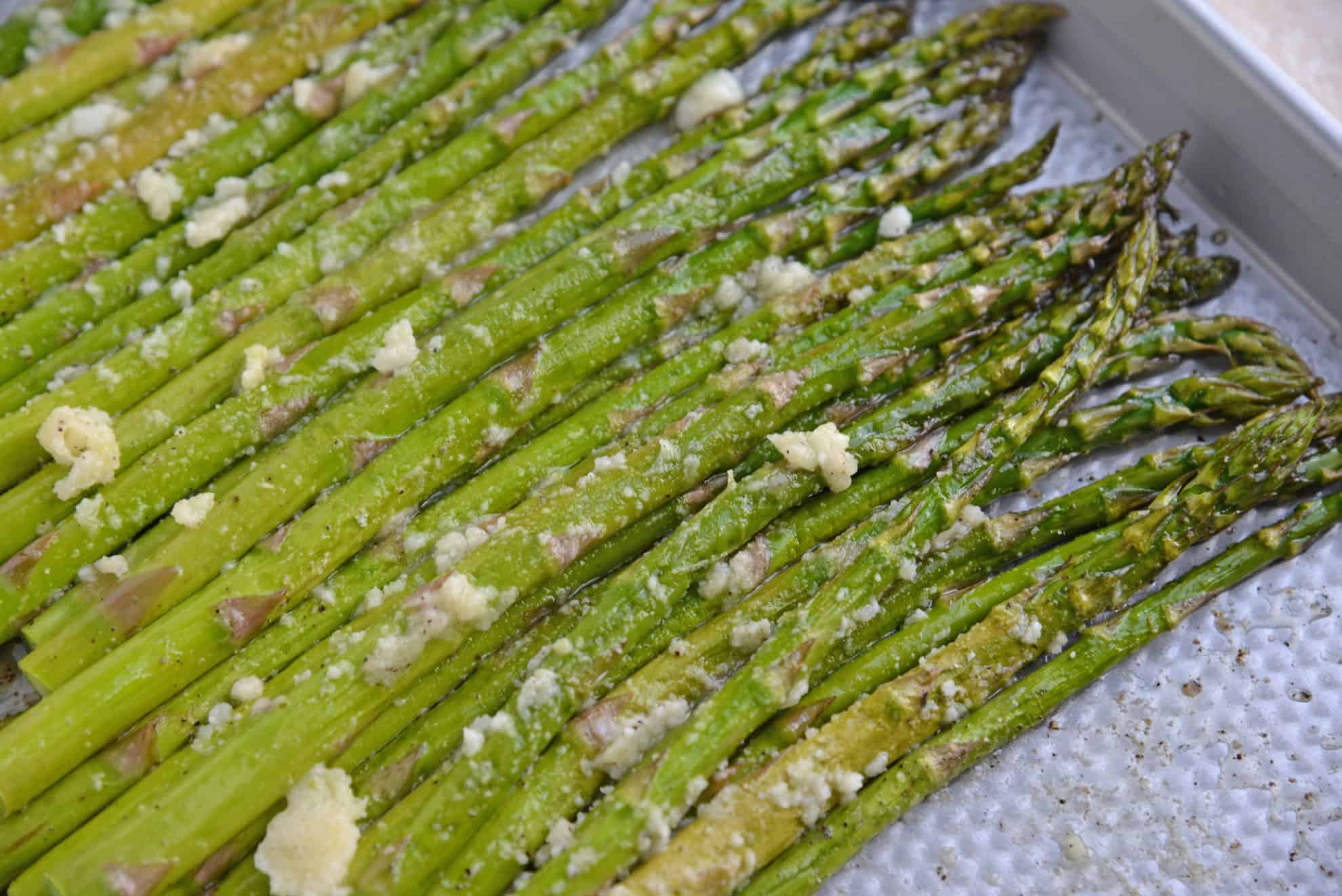 Instead, I used freshly grated Parmesan cheese with raw garlic. Did you know that the potency of garlic is based on two things?
Garlic, a member of the allium or onion family, has been linked to lower blood pressure, reduction of common illnesses, lower cholesterol, increased longevity and even higher athletic performance. Eating garlic far outweighs taking garlic supplements in terms of how much is absorbed.
The first being the clove itself. Like peppers and many other vegetables and fruits, each piece can take on its own level of sweetness, heat or tart.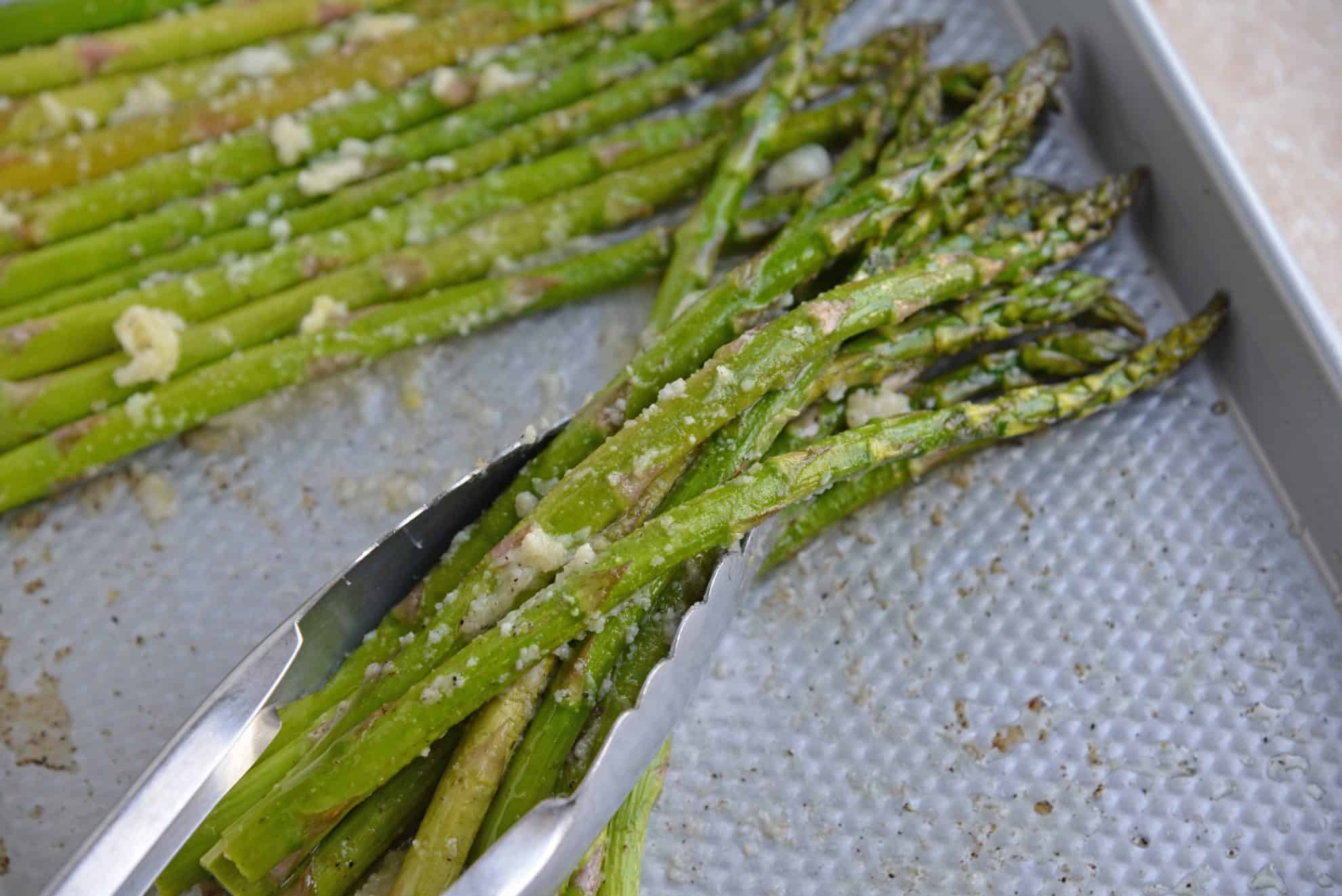 But the second is something you have complete control over. The level of garlic potency is directly correlated to how many of the fibers are ruptured. The more ruptures, the more garlic flavor.
Whole or sliced garlic will be less potent than crushed, minced or grated garlic. For this recipe, you can pick your garlic preference and prep it that way.
You can also roast it with the asparagus to tone down the garlicky deliciousness.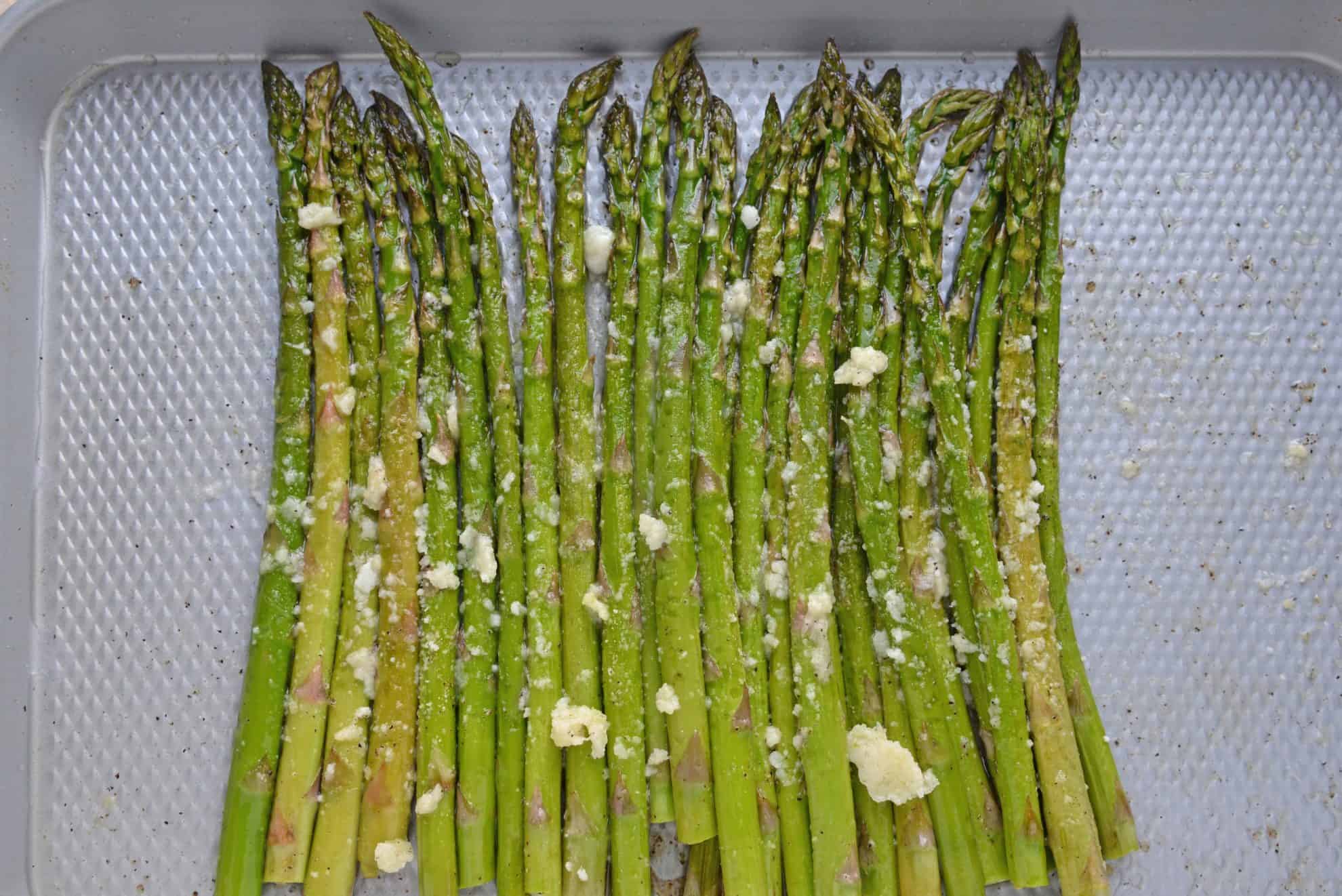 I like use a minced or crushed garlic, mixing it with the cheese. This produces a "hand rubbed cheese," with the cheese taking on loads of garlic flavor. Raw garlic also retains more nutritional value then cooked garlic.
PRO TIP: If you are using a garlic forward recipe, opt for fresh garlic and not jarred garlic, which generally tastes sweet instead of garlicky.
When shopping for garlic, look for a uniformly green bunch that is not plump and not shriveled or limp. Medium thickness of an asparagus spear will be easier to cook and eat as opposed to a super thick stalk. Ends should easily and naturally snap off.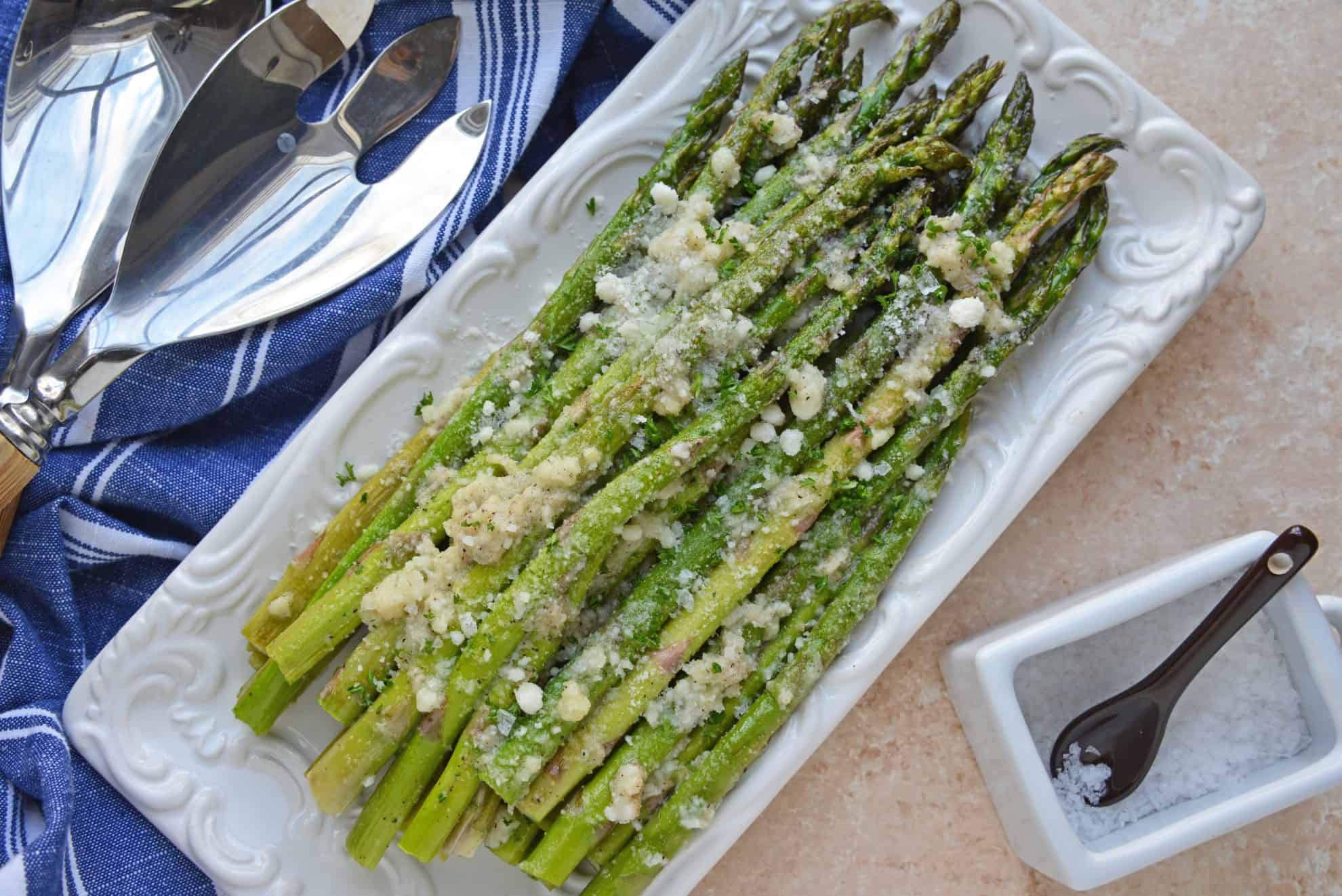 If you like this easy asparagus side dish recipe, here are a few more!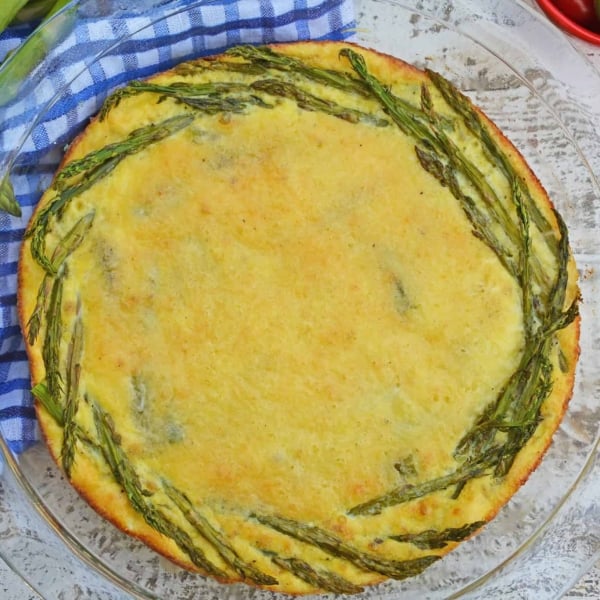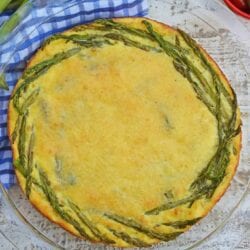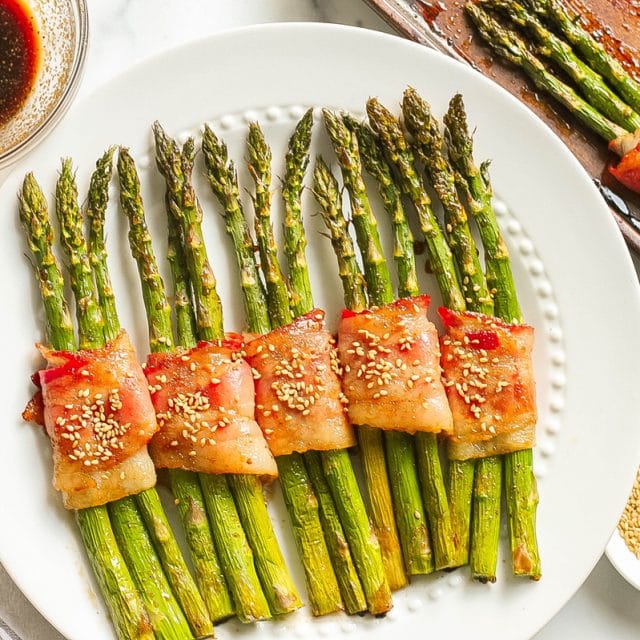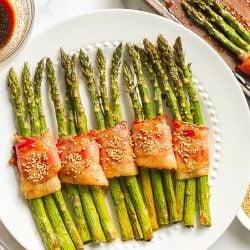 Tools for making Garlic Parmesan Asparagus:
Wood cutting board – wood won't dull your knives like plastic and if treated properly, has natural antimicrobial properties.
Good knife – Global is my favorite! They are worth the price, I promise. I am kind of obsessed with them and store them tucked away so no one else can use them. Including hubby. Hands off my good stuff!
Cheese Grater– Another item I didn't think I needed, but love. Parmesan cheese lasts longer and tastes better when freshly grated.
Garlic Press
– other than the microplane, pressing the best way to get the most garlic flavor out of your fresh garlic cloves.
Rimmed Baking Sheet– another kitchen staple! You'll use this for prep work, roasting and much more. I have 7 at my house.

Questions you might have about how to make Garlic Parmesan Asparagus:
Can I substitute Parmesan for another cheese? Pecorino romano is the best substitute for Parmesan cheese. What is the difference between Parmesan cheese and pecorino romano?
Parmesan cheese is a cow's milk cheese that tends to be a bit nutty and mild. In Italy it is referred to as Parmigiano Reggiano. For a recipe like this, you want to use a young cheese, opposed to an aged Parmesan that has a crystalized and more salty flavor. It is better for cheese boards and salads.
PRO TIP: Take the time to freshly grate your cheese. It has more flavor and is less dry than pre shredded cheese.
Pecorino Romano is a sheep's milk cheese that is salty and umami-rich. They are similar in color and generally packaged in the same size triangular packaging, so many beleive they are the same. While easily used interchangeably, they are distinctly different.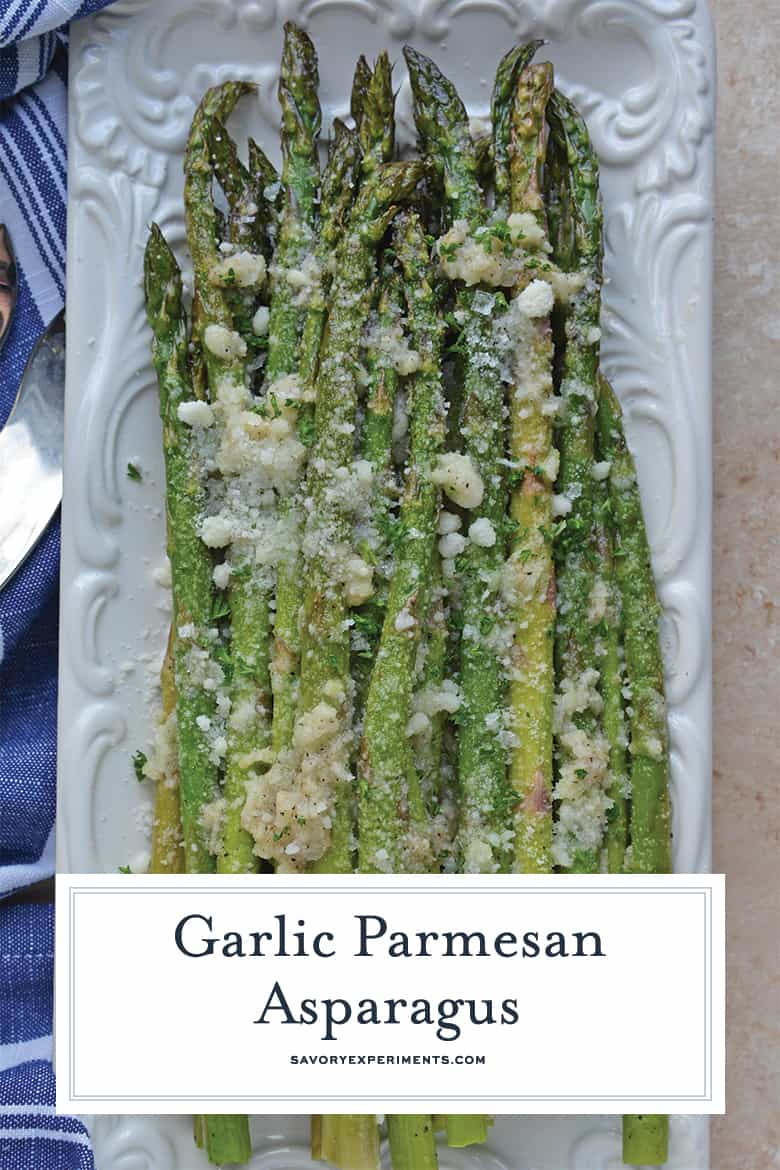 Can I freeze asparagus? You can freeze asparagus, but it needs to be blanched or cooked first. However, in my experience, asparagus never quite thaws to the same texture. Even cooked, it holds a lot of water and ends up limp and slimy.
I personally do not freeze asparagus. I'd rather buy a new bunch and make a new batch.
What olive oil do you recommend? Good Extra Virgin Olive Oil will taste like, well, olives, while a poorly made one will taste like vegetable oil. Gross. While people tend to favor Italian and Greek olive oils, I prefer to buy mine domestically.
There are some great ones out there from all over the world, but the reporting of ingredients isn't always the same and you could find that your super expensive olive oil was actually cut with vegetable oil.
What are some other variations to this asparagus recipe? Good food is often an improvised. I've added fresh lemon juice, lemon zest, crispy prosciutto and bacon to this recipe with excellent results! Simply toss it into the cheese mixture and toss it on the cooked asparagus at the end.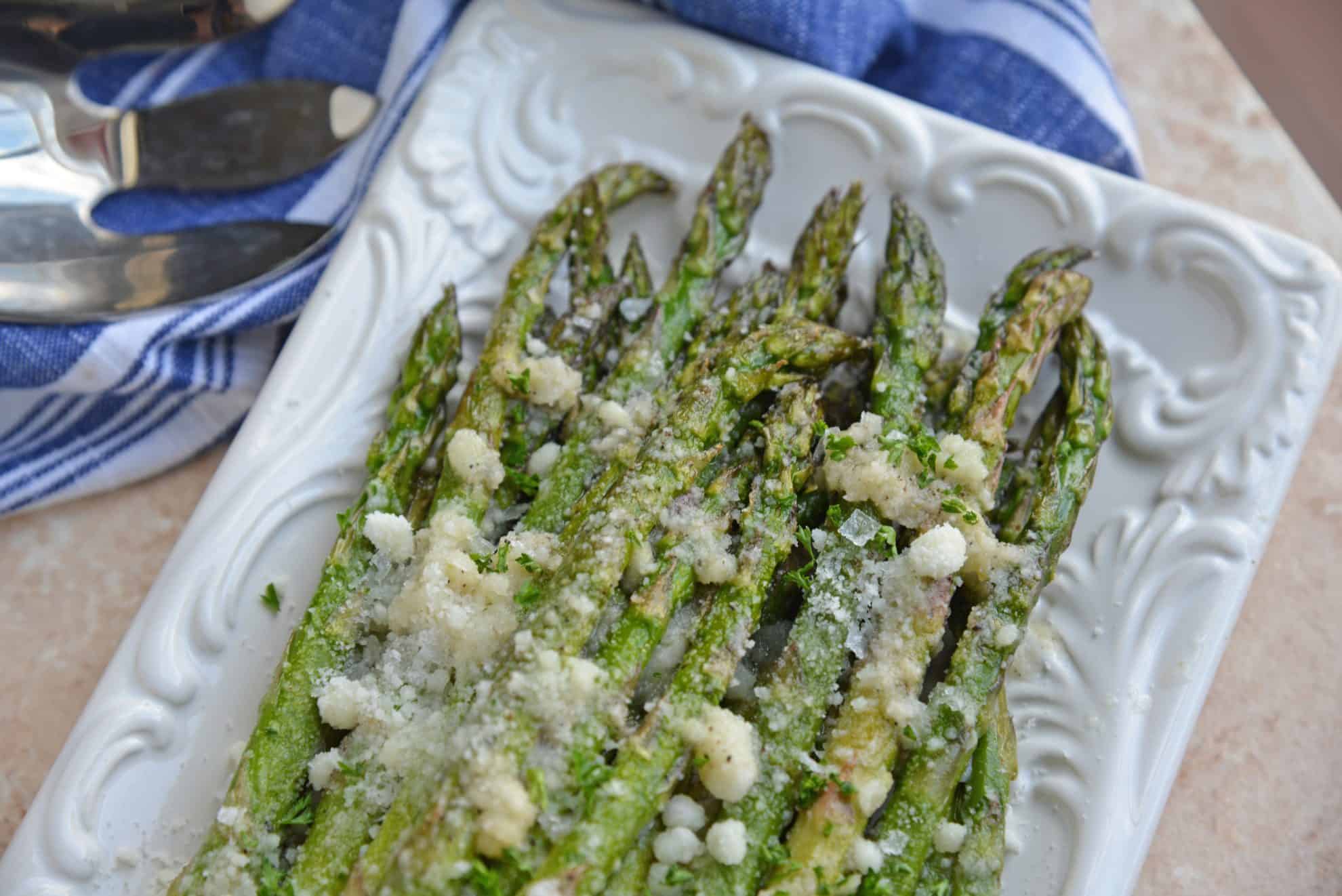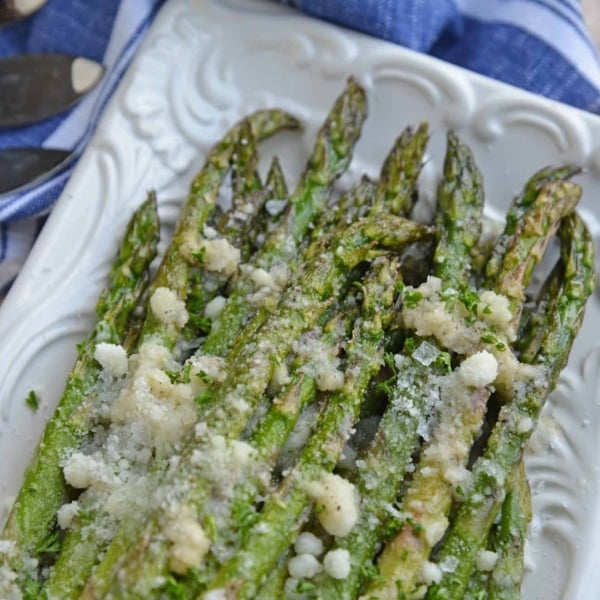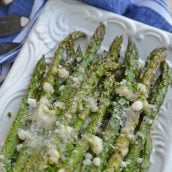 Garlic Parmesan Asparagus
Garlic Parmesan Asparagus is an easy side dish with loads of flavor. One of your favorite vegetables covered in fresh garlic and Parmesan cheese, what could be better?
Instructions
Preheat oven to 350 degrees.

Place trimmed asparagus on a rimmed baking sheet, drizzle with 1 tablespoon extra virgin oil olive. Roll it around a little to evenly coat spears.

Sprinkle with fine sea salt and ground black pepper.

Roast for 13-15 minutes. This will depend on the size of your spears and based on spears that are about the same width as a pencil.

Meanwhile, in a small mixing bowl, combine remaining 1 tablespoon olive oil with minced or crushed garlic and grated Parmesan cheese.

As soon as asparagus is removed from the oven, toss it with the garlic and parmesan mixture.

Serve immediatly.

If you've tried this recipe, come back and let us know how it was!
Nutrition
Calories:
75
kcal
,
Protein:
1
g
,
Fat:
7
g
,
Saturated Fat:
1
g
,
Cholesterol:
1
mg
,
Sodium:
331
mg
,
Vitamin A:
50
IU
,
Vitamin C:
0.7
mg
,
Calcium:
32
mg
,
Iron:
0.1
mg