I know many folks think of the slow cooker
for winter meals, but I actually prefer it in the summer and Italian beef with pepperoncinis are the perfect meal to prepare in it! They make a fabulous slider or hoagie.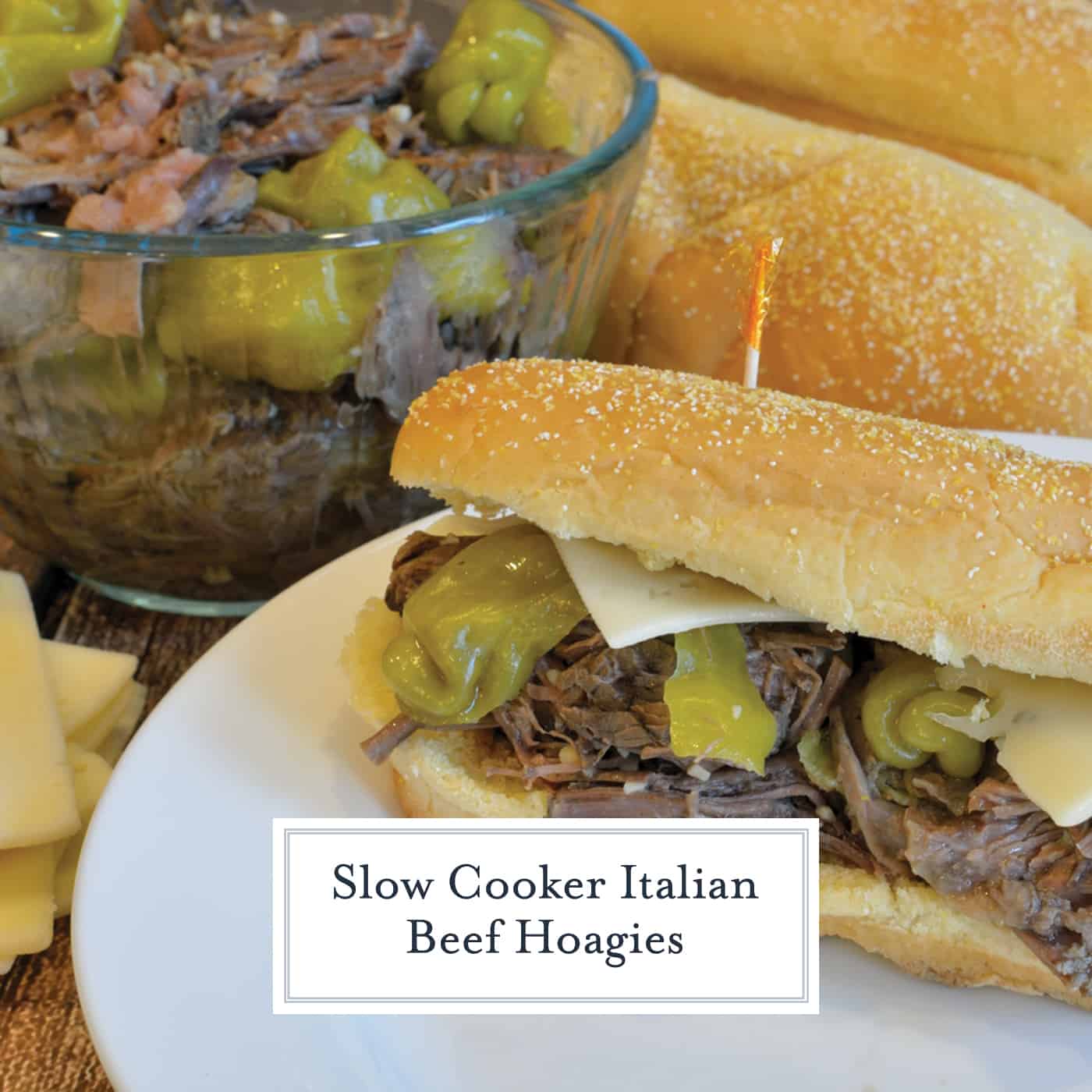 Slow Cooker Italian Beef Sandwiches are pot roast cooked in pepperoncini chiles until fork tender, then smothered in cheese and serve on a sub roll.
Why use a slow cooker in the summer instead of the winter? Instead of heating up the house with the oven or stove, the warmth is contained.
I can throw something in before I leave for work and expect it to be done by the time I get home, leaving more time for outdoor activities and time with the family. Easy, peasy!
One of hubby's favorite slow cooker meals are Italian Beef Hoagies. Slightly spicy, slightly sweet, right up his alley. Similar to a Mississippi Pot Roast, but in sandwich form.
They are made with Italian seasoning, pepperoncini peppers and beef broth. After slowly simmered, it is easily shredded with two forks.
PRO TIP: Rub dry Italian seasoning between your palms before adding to the recipe. This releases the natural oils and helps infuse flavor.
Some folks add bell peppers, but I don't find them necessarily. Others use a dry Italian salad dressing mix, but dry italian seasoning works just as well.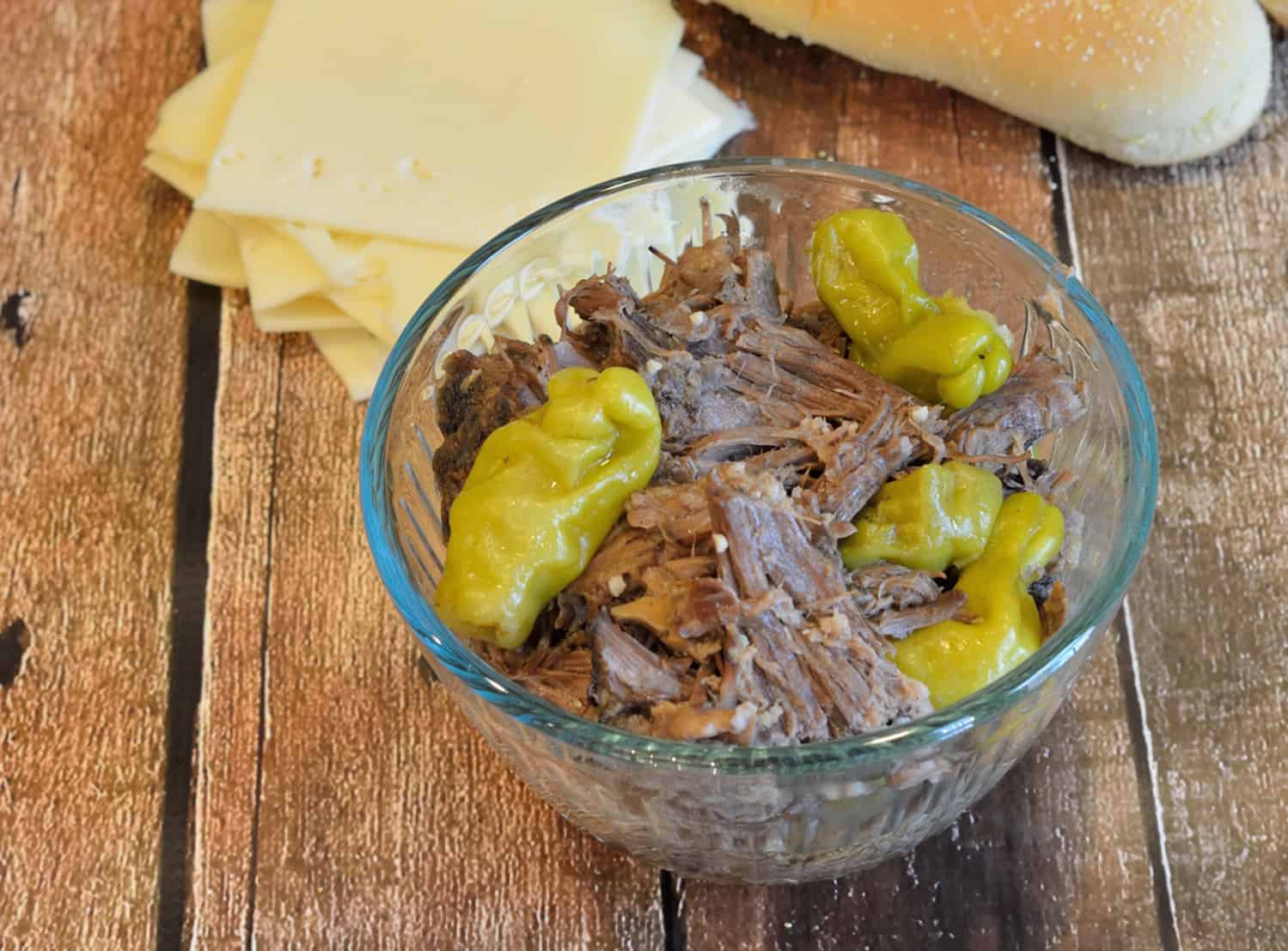 Have you ever had a pepperoncini? They are the little peppers that commonly come with pizza, on cheese platters or are available in grocery store olive bars.
PRO TIP: Chuck roast is the most popular cut of beef for pot roast. This is a cut that needs to be slowly cooked and simmered to be fork-tender.
Pepperoncinis have a unique taste that is sometimes described as a moderately spicy chile pepper similar to banana peppers, but just slightly bitter. The natural juices of the pepperoncini give the beef a big, bold flavor and help break down the fibers in beef.
Now the next question… what is the difference between a submarine sandwiches, hoagie, hero and grinder? First, all can be served hot or cold, except submarine sandwiches which are typically cold and made with thinly sliced deli meats.
A submarine sandwich is a sandwich made on a long roll, long and thin like a submarine, and typically filled with meat, cheese, and other fixings.
The term hoagie was made popular in the Italian American culture, specifically around the Philadelphia area, but is essentially the same thing. A sandwich made on a long, thin bug topped with meat, cheese and other fixings.
Heros are the same thing as hoagies, but the term is popular in New York City.
Grinders are the same thing, but a term used in the New England region.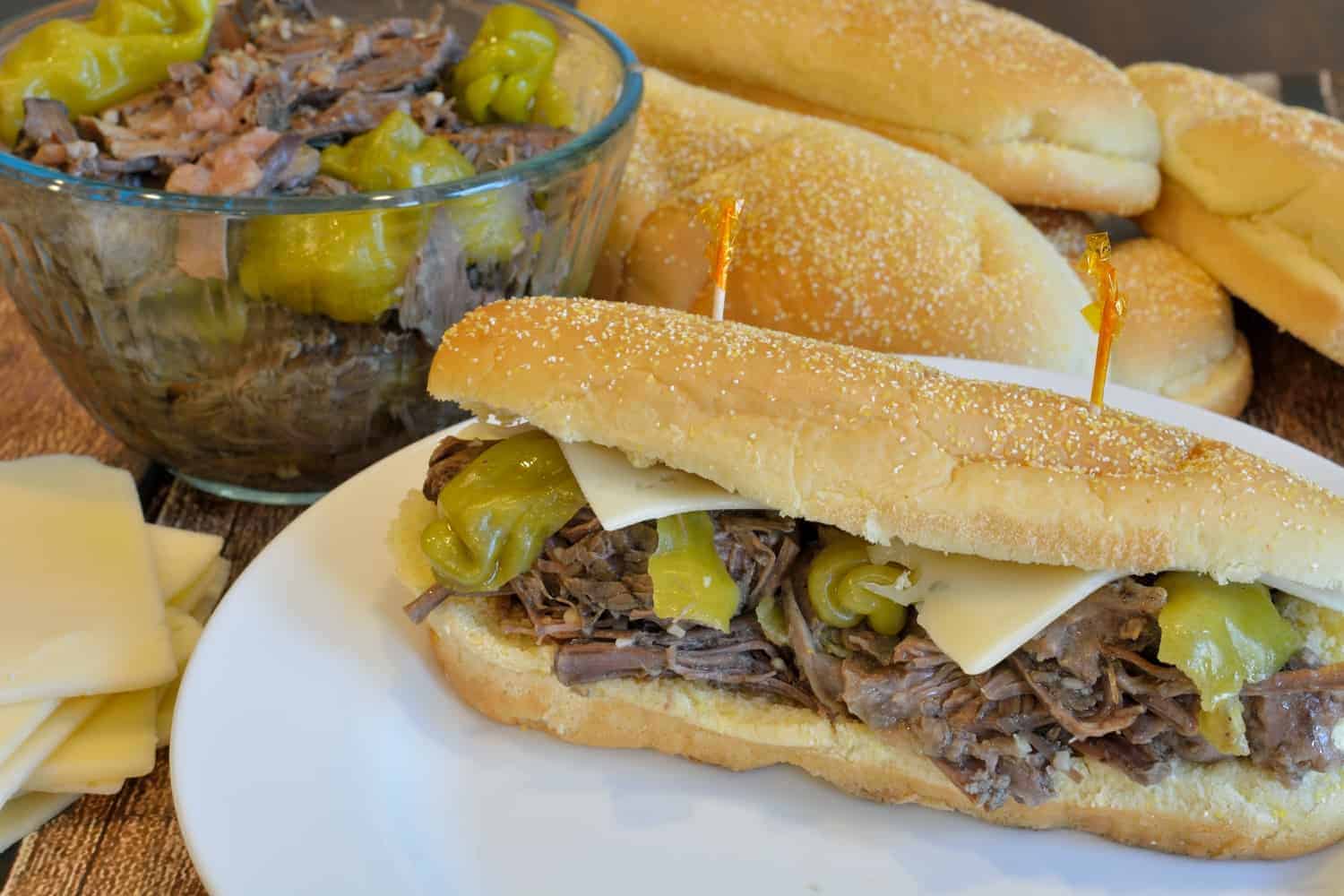 You can play with the cut of beef you use in these Italian beef hoagies. Quite commonly, my grocer labels all the suitable roast cuts as "pot roast". It is usually a bottom round roast, but you can also use chuck or shoulder.
Add Swiss cheese, or any other desired cheese, to a hearty sub roll and you have a crowd pleasing Italian Beef Sandwich. Jarlsberg and white cheddar are also winners!
PRO TIP: Plastic bags are actually better for freezing than plastic containers because you can get more air out, preventing freezer burn.
After your Italian beef is all cooked, you can keep it in the slow cooker on the warm function, making it ideal for serving at parties or family functions. You can also freeze it in airtight plastic bags.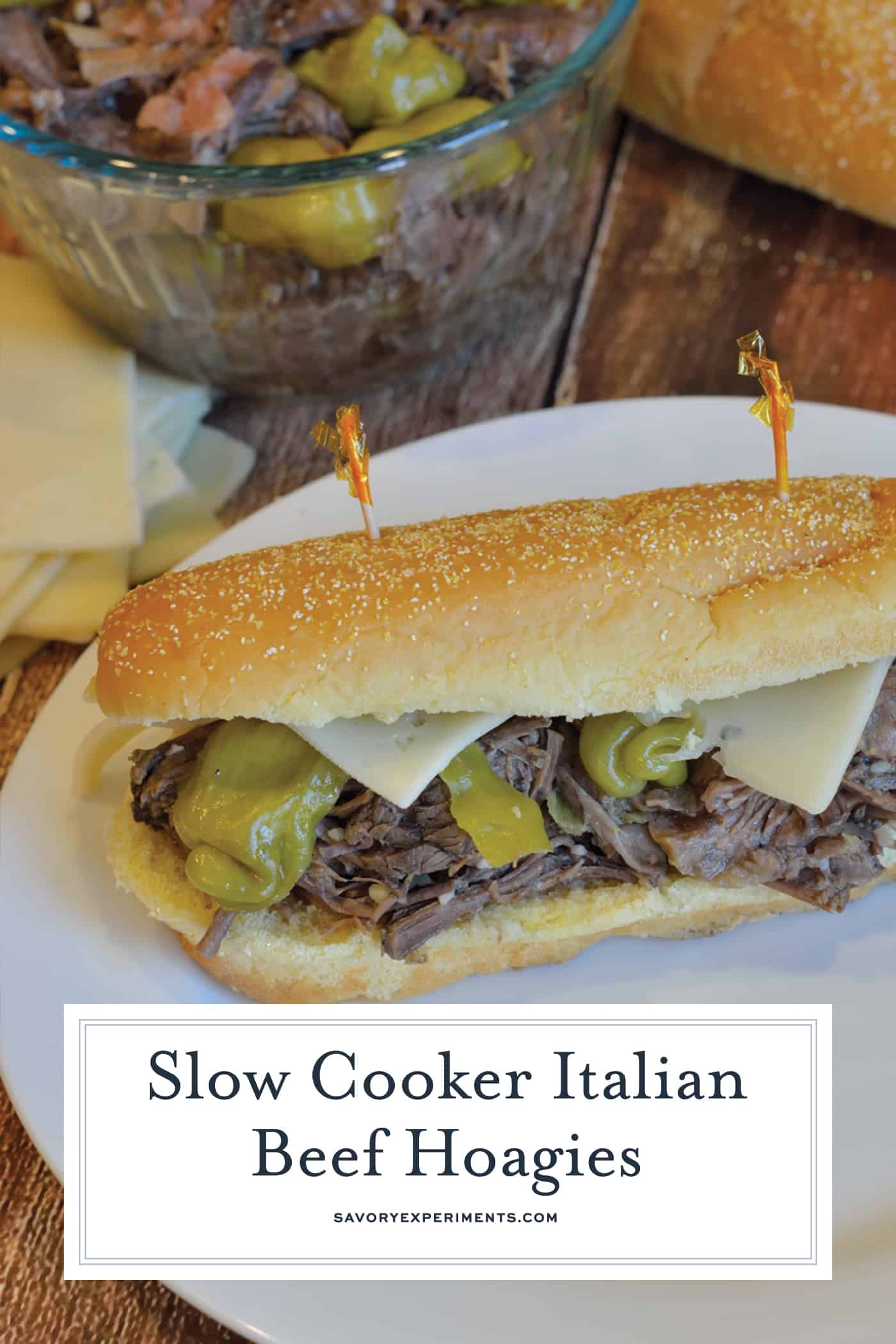 Serve with your Italian Beef Sandwiches with:
Tools for making Slow Cooker Italian Beef Pot Roast:
Wood cutting board – wood won't dull your knives like plastic and if treated properly, has natural antimicrobial properties.
Good knife – Global is my favorite! They are worth the price, I promise. I am kind of obsessed with them and store them tucked away so no one else can use them. Including hubby. Hands off my good stuff!
Slow Cooker
– I like the type of slow cooker you can set ahead of time, has a locking lid for transport and also keeps warm when turned off in case I am not there to manually set it. Crock Pot is a great brand, but there are some other good ones out there too.
Slow Cooker Liners
– want even easier clean up? Use a slow cooker liner, just lift if out and throw it away!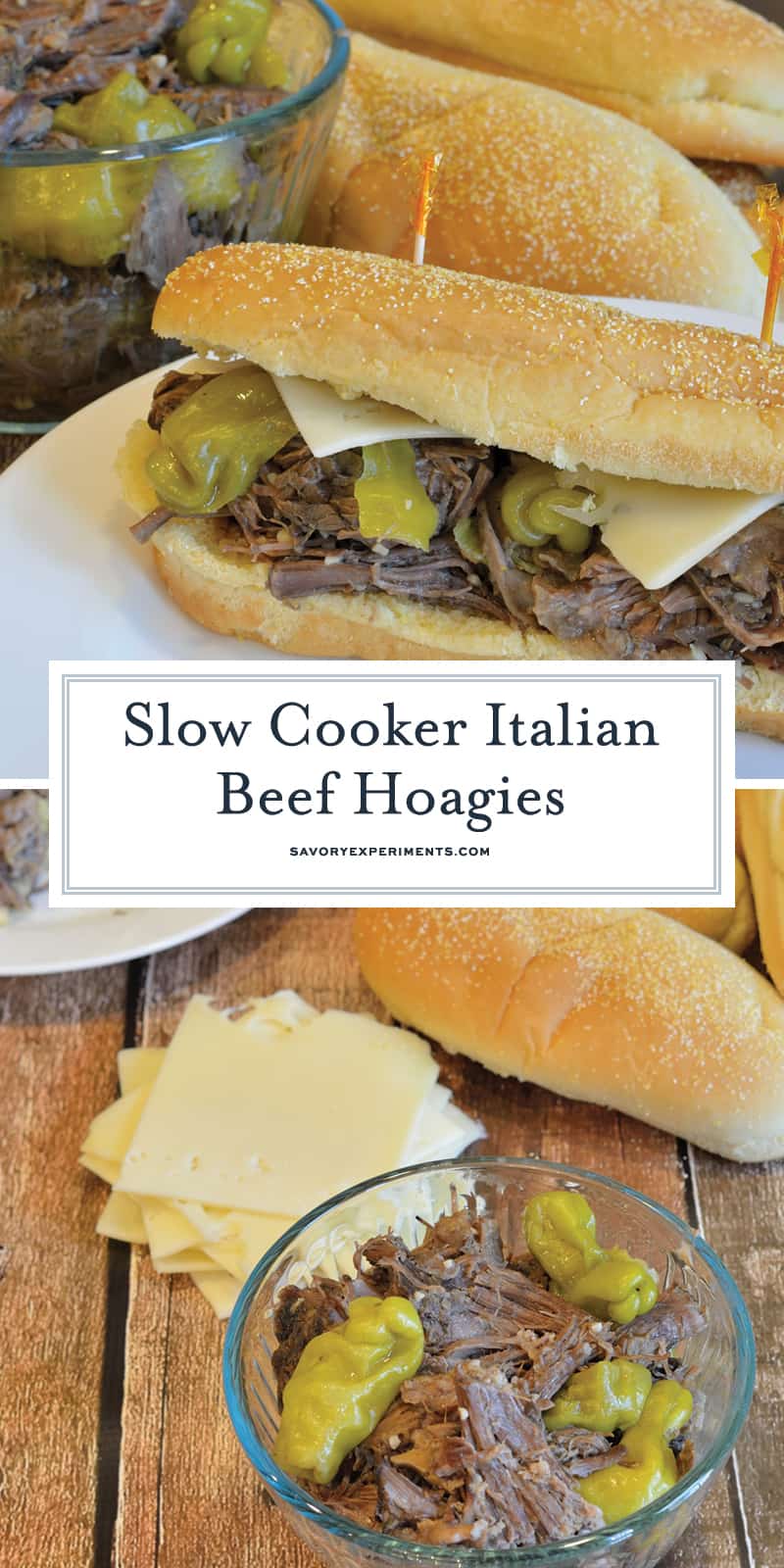 Questions you might have about how to make Italian Beef in the slow cooker:
Can I make Italian beef ahead of time? You sure can! Make it up to 24 hours in advance and then just reheat it on the stove or on the "warm" setting of your crock pot.
Can I freeze Italian beef pot roast? Place your cooked Italian beef into an airtight plastic bag, being mindful to get as much air out as possible, then freeze for 3-4 months.
Is crockpot Italian beef gluten free? It is… until you put it on bread. Use a gluten free bread and make sure your beef stock is also gluten free.
Is Italian beef keto? I am not a keto expert, however as far as I know the Italian beef alone is keto friendly. Now after you put it on a sandwich… it isn't.
Is Italian beef healthy? This is a loaded question and everyone's definition of "healthy" is different. You can scroll down to the recipe and see the nutritional information to determine if it is healthy in your eyes. Remember to consume everything in moderation.
Can you make Italian beef with brisket? You sure can! Follow the same directions. Brisket also needs the TLC of a nice slow cook, so it should translate perfectly.
Can I make this recipe in the Instant Pot? I don't have an Instant Pot Italian Beef recipe quite yet, but I am working on it. When I do start I will use the same recipe, only put it in the Instant Pot
(or other pressure cooker) on manual high pressure for 60 minutes.
The only thing I would be concerned about is the pepperoncinis literally disintegrating, so I might strain them out, adding just the liquid, then add them back in at the end and cook for another 3-4 minutes on high manual pressure to soften them. If you do try this technique, come back and let us know how it worked!
How can I make the liquid into a gravy or thick sauce? After you take out the beef to shred it, add 2 tablespoons of cornstarch whisked with 2 tablespoons of water to the remaining liquid. Whisk in well. It should thicken in 10 minutes.
You can also remove the liquid to a medium saucepan and simmer on low to reduce. I would still add cornstarch to thicken it.
Can I use garlic powder instead of fresh garlic? Yes, use 1-2 teaspoons of garlic powder, depending on how garlicky you like it.
Slow Cooker Italian Beef Sandwiches are pot roast cooked in pepperoncini chiles until fork tender, then smothered in cheese and serve on a sub roll. Great for parties too! Click to Tweet
---
---