Oh, baked potatoes. You are delicious as a full meal or a side dish.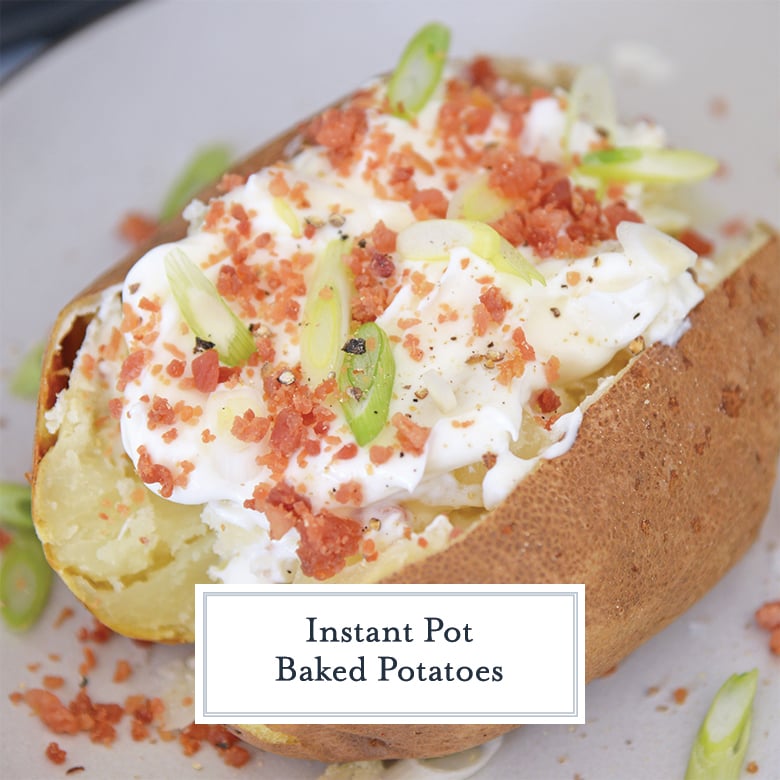 Instant Pot Baked Potatoes for perfectly fluffy potatoes cooked in a digital pressure cooker. No foil, olive oil or salt needed!
Instant Pot Baked Potato Recipe
Baked potatoes are magical things. Crispy outside with a soft, fluffy inside. If I was only allowed one food for the rest of time, it would be potato.
They are a blank canvas waiting to be painted with a myriad of delicious flavors. Of course, I prefer just a sprinkle of salt and loads of butter cause that is how I roll.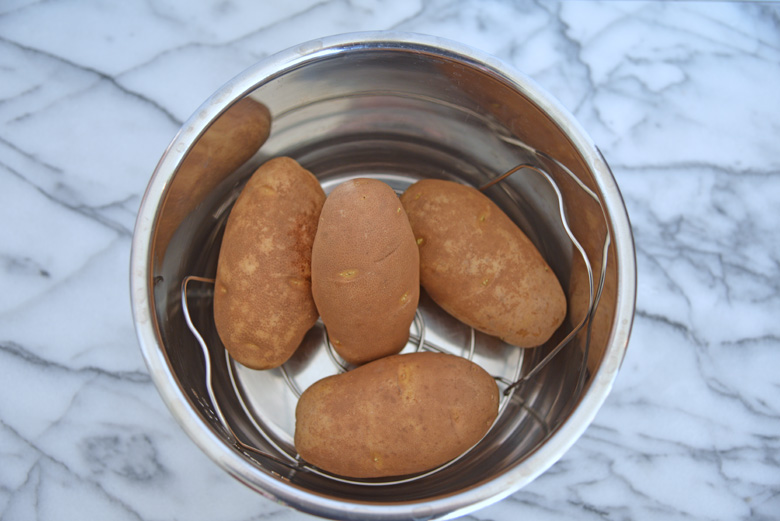 Jacket potatoes is another common term for a baked potato, with the skin being the "jacket". They are typically served "loaded" which means topped with butter, sour cream, bacon and chives.
Scallions are also acceptable. Cheese too.
Potatoes are the BEST!
Potatoes in general are versatile and pair with nearly any entrée and baked potatoes are no exception. But baked potatoes in the oven can take a lot of time and foresight. I have two small kids, so those two commodities aren't always in my back pocket.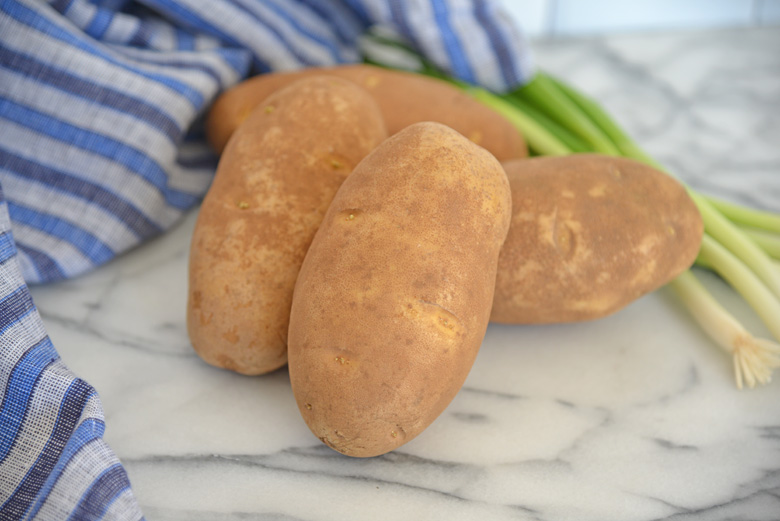 Luckily, you can now make yourself a nice baked potato in the Instant Pot– or any other electric pressure cooker.
The thing is that some instant pot baked potato recipes take nearly the same amount of time as the oven and then, in my eyes, they are no good. This recipe will take about 30 minutes from start to finish.
PRO TIP: Don't be afraid to eat potato skins! There are tons of nutrients there!
How to Make Potatoes in the Instant Pot
Just 30 minutes to build pressure, cook and naturally release pressure. Not a super quick baked potato, like making one in the microwave, but also quicker than the oven.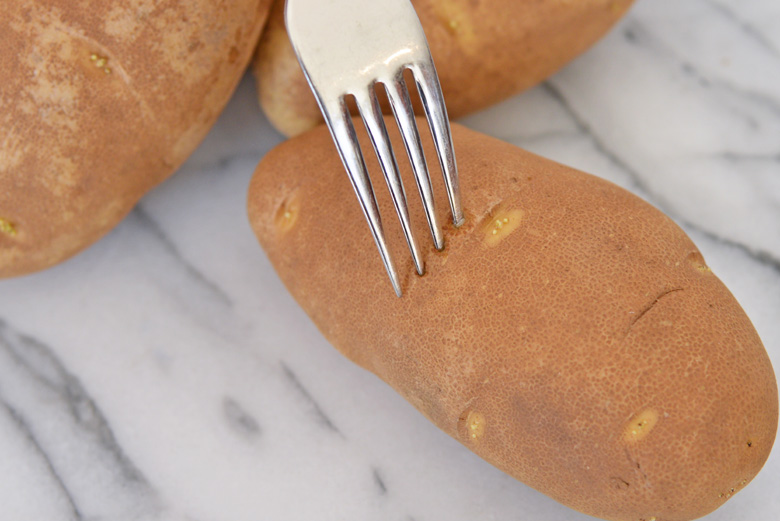 The one piece of advice I would give to you is that Instant Pot Baked Potatoes do not have the crispiest of skin. If you are okay with a soft skin, then these will do you fine. You can preheat your oven to a high temp and let them finish there, but again, you aren't really saving any time this way.
You can also make baked potatoes in the Air Fryer!
Still making potatoes in the Instant Pot is still better than the microwave.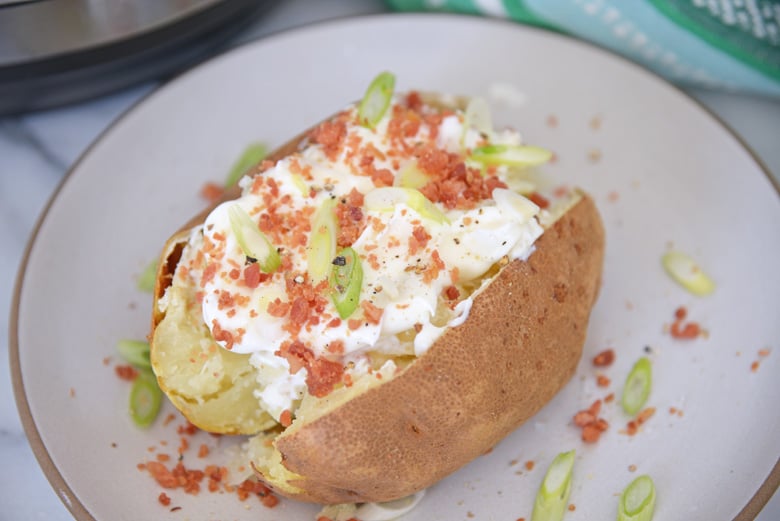 Tips:
Pierce potatoes several times with a fork so the steam and pressure within the potato can release. Otherwise, they will explode.
Don't let the bottom of the potatoes touch the water below the trivet. This spot will get mushy and gross and the potato won't be fluffy.
Medium potatoes work best. If they are too large, they tend to not cook evenly. A medium potato is about 2-3 inches in diameter and about 5-7 ounces in weight.
Use cold water. Hot water will throw off the time it takes to build pressure and thus the total cooking time.
Don't overcrowd the pot. Cooking 4-5 potatoes at one time tends to be best.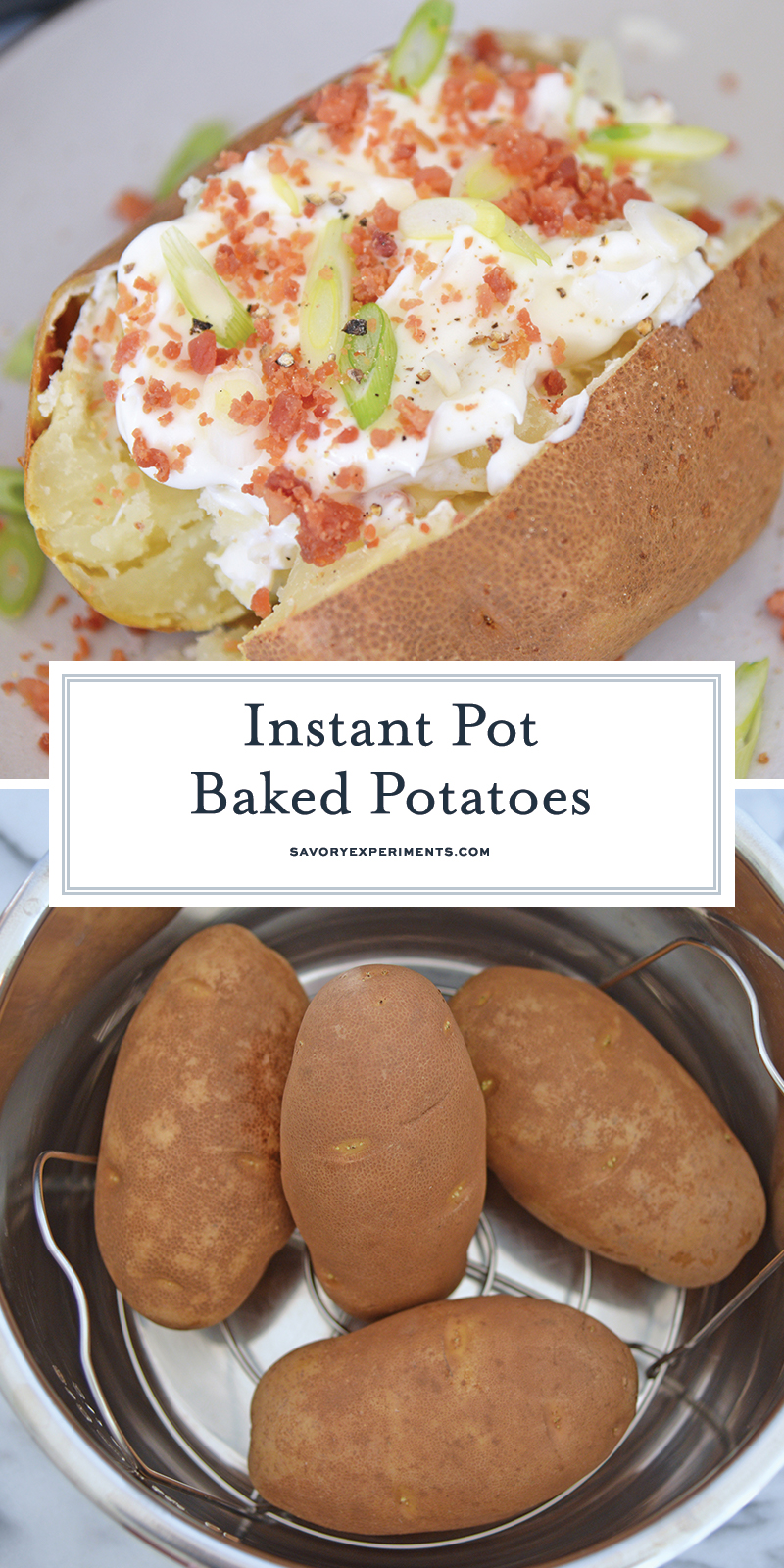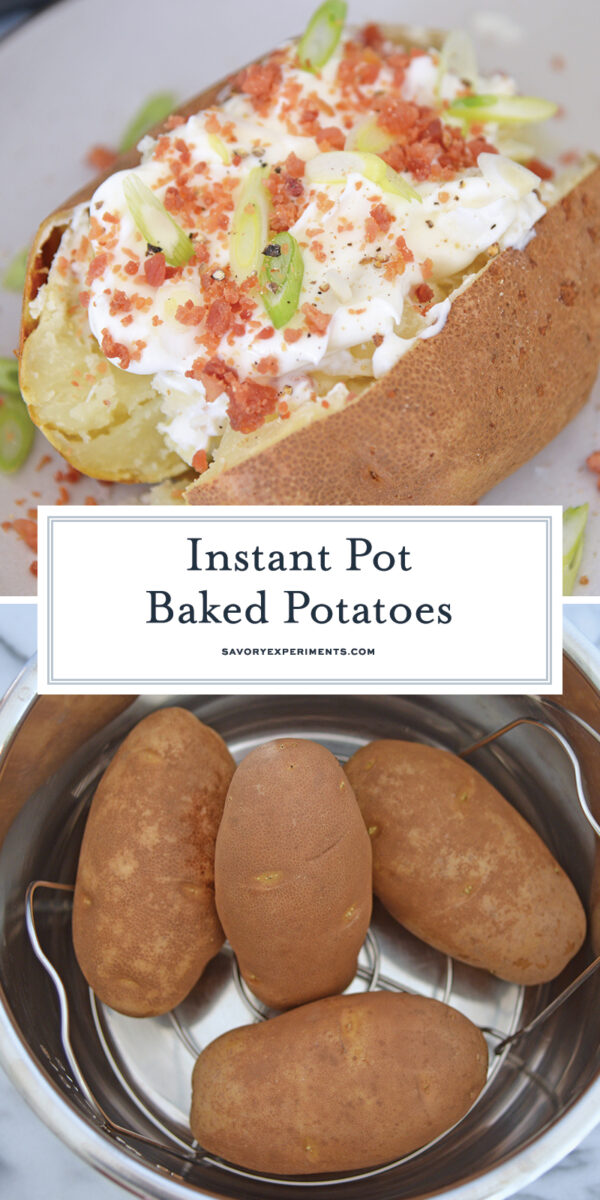 What are the best potatoes for baked potatoes?
Russet Potatoes are the best for baking. The skins are thicker and the starchy interior has a sweet flavor and fluffy texture. They are hardy and can hold lots of toppings (or none at all). Russet potatoes are also fairly large, so one can suffice for a whole meal or a solid side dish.
Other types of potatoes can be baked, but they have less starchy flesh or a thinner skin that makes them not as ideal.
What are the best baked potato toppings?
Of course, the usual: butter, shredded cheese, chives or scallions, crumbed bacon and sour cream. But what are some others that are perfect for a baked potato bar?
We'd love to hear about your favorite baked potato toppings- leave them in the comments!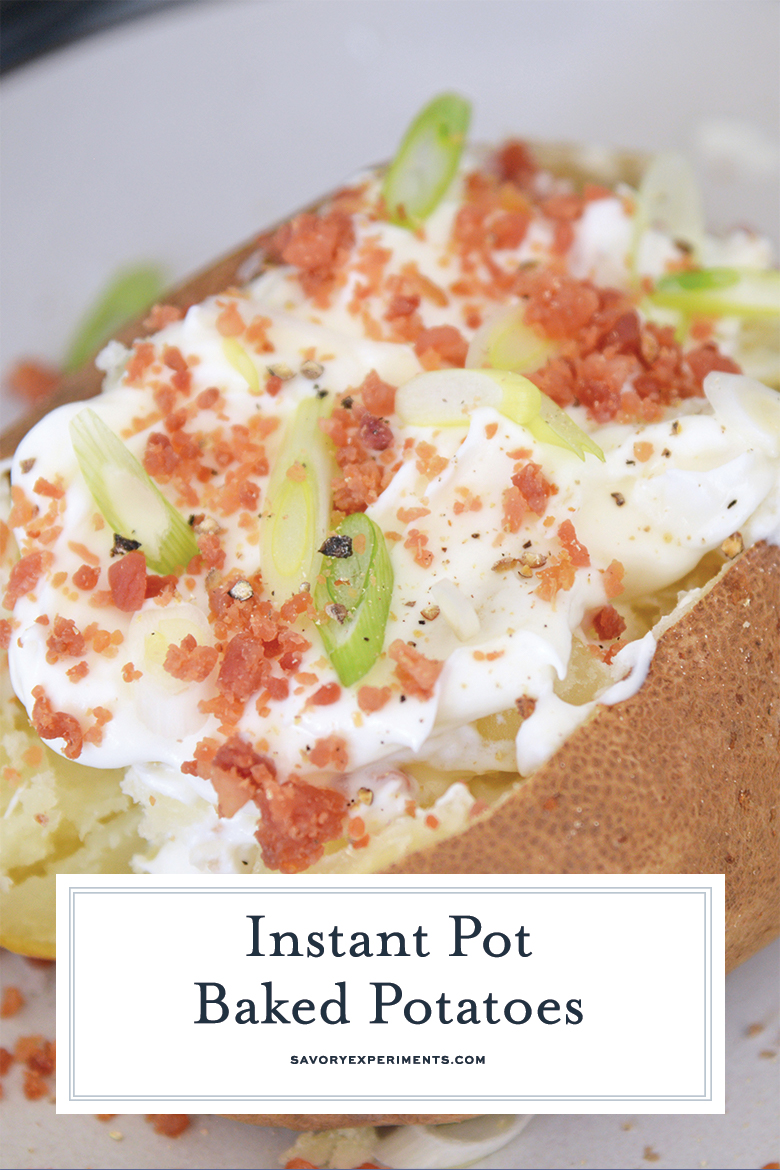 Olive oil, salt and pepper on the Skin
Many people do this for making baked potatoes in the oven, but I have never found it necessary for that method or this one. In fact, the salt can burn and it won't have the same skin crisping and flavoring effect, so I recommend against it.
What happens if I don't pierce my potatoes?
They will explode. Trust me, I've done this before by accident.
Here are some fabulous entrees to serve with your instant pot baked potatoes: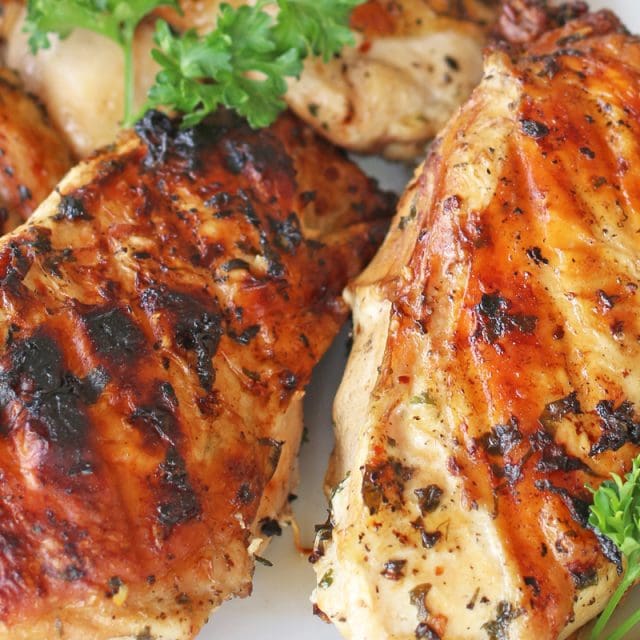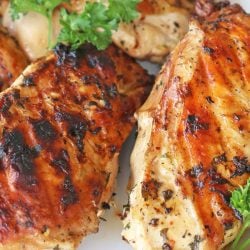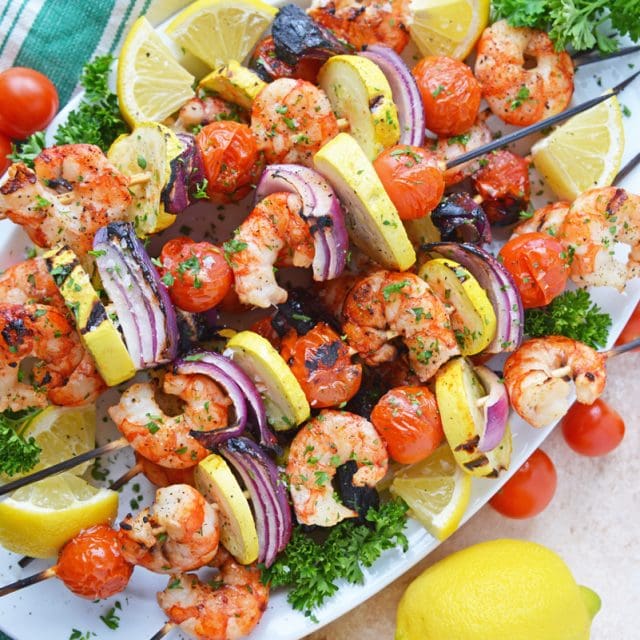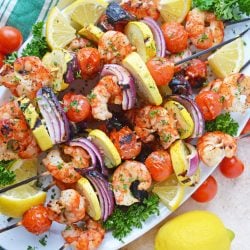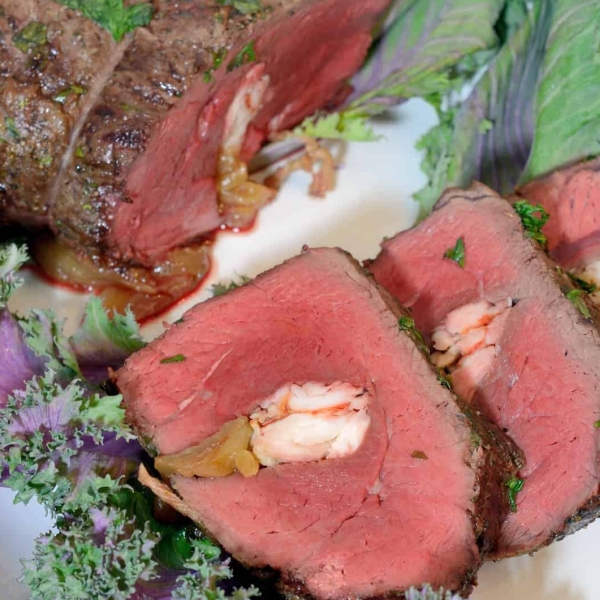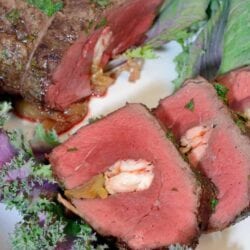 Make sure to learn about how to use an Instant Pot and pressure cooking for high altitudes, in case you need it, of course.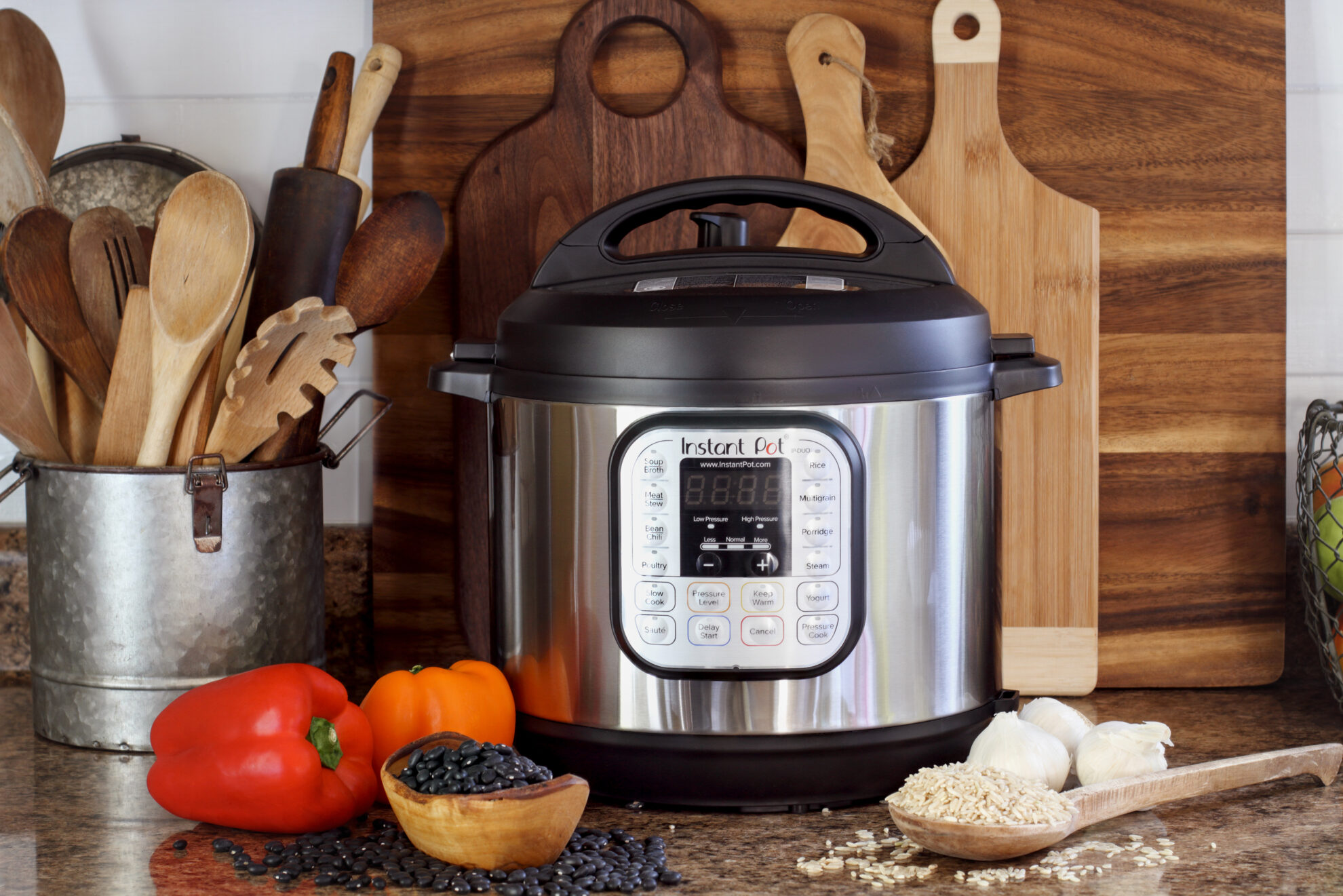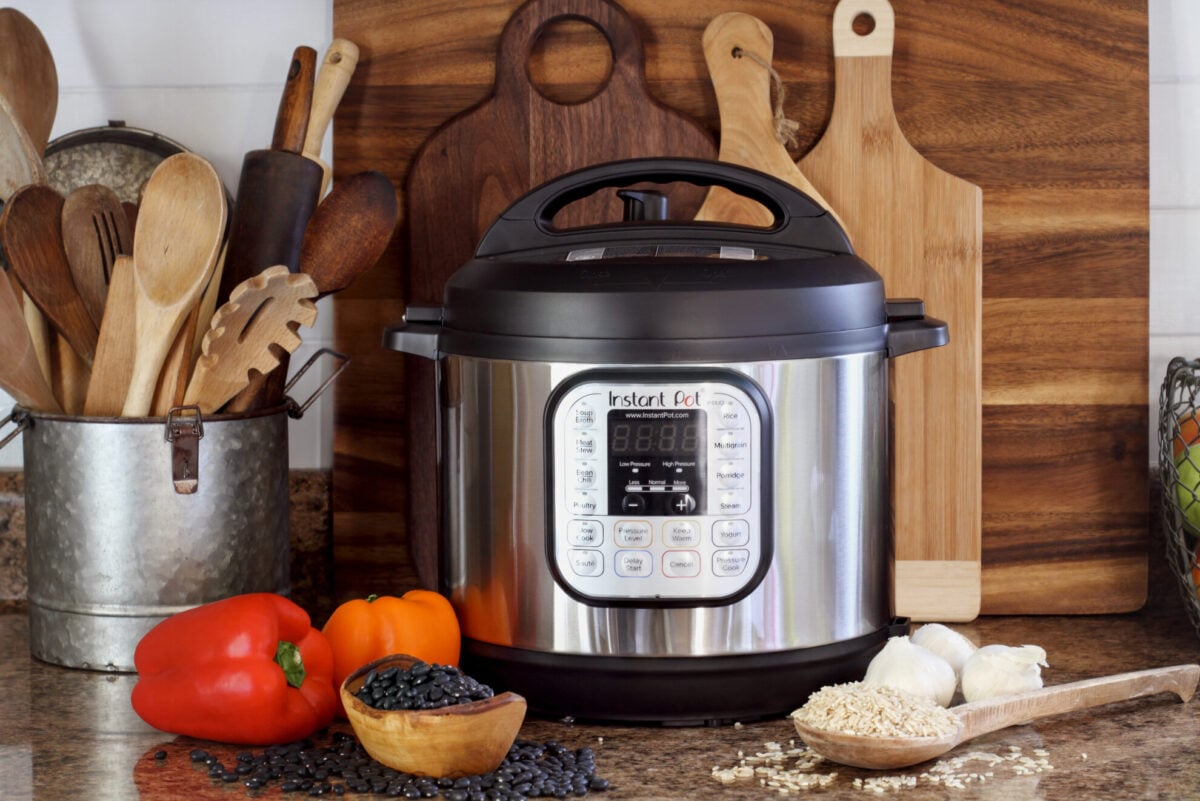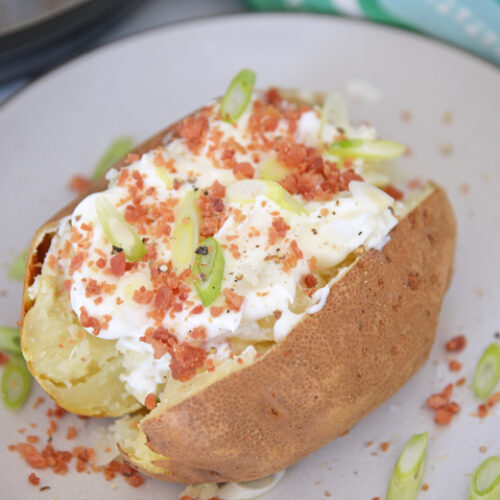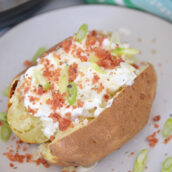 Instant Pot Baked Potatoes
Instant Pot Baked Potatoes for perfectly fluffy potatoes cooked in a digital pressure cooker. No foil, olive oil or salt needed!
Instructions
Arrange the trivet in your Instant Pot and pour 1 cup cold water in the bottom.

Pierce potatoes 6-8 times with a fork.

Place potatoes on top of trivet being mindful to not let the skins touch the water.

Lock the lid and seal the valve.

Set to manual pressure high for 12 minutes.

Allow pressure to naturally release for 10 minutes, then do a quick release.

Remove potatoes and dress them with your favorite toppings.

If you've tried this recipe, come back and let us know how it was!
Notes
For large potatoes, cook on manual high pressure for 20 minutes.
Nutrition
Calories:
168
kcal
,
Carbohydrates:
38
g
,
Protein:
5
g
,
Fat:
1
g
,
Saturated Fat:
1
g
,
Sodium:
11
mg
,
Potassium:
888
mg
,
Fiber:
3
g
,
Sugar:
1
g
,
Vitamin C:
12
mg
,
Calcium:
28
mg
,
Iron:
2
mg