This homemade hummus recipe is so easy to make and even better to eat! You'll never buy store bought hummus again, once you've made it yourself. Perfect for a party or just to enjoy as a snack.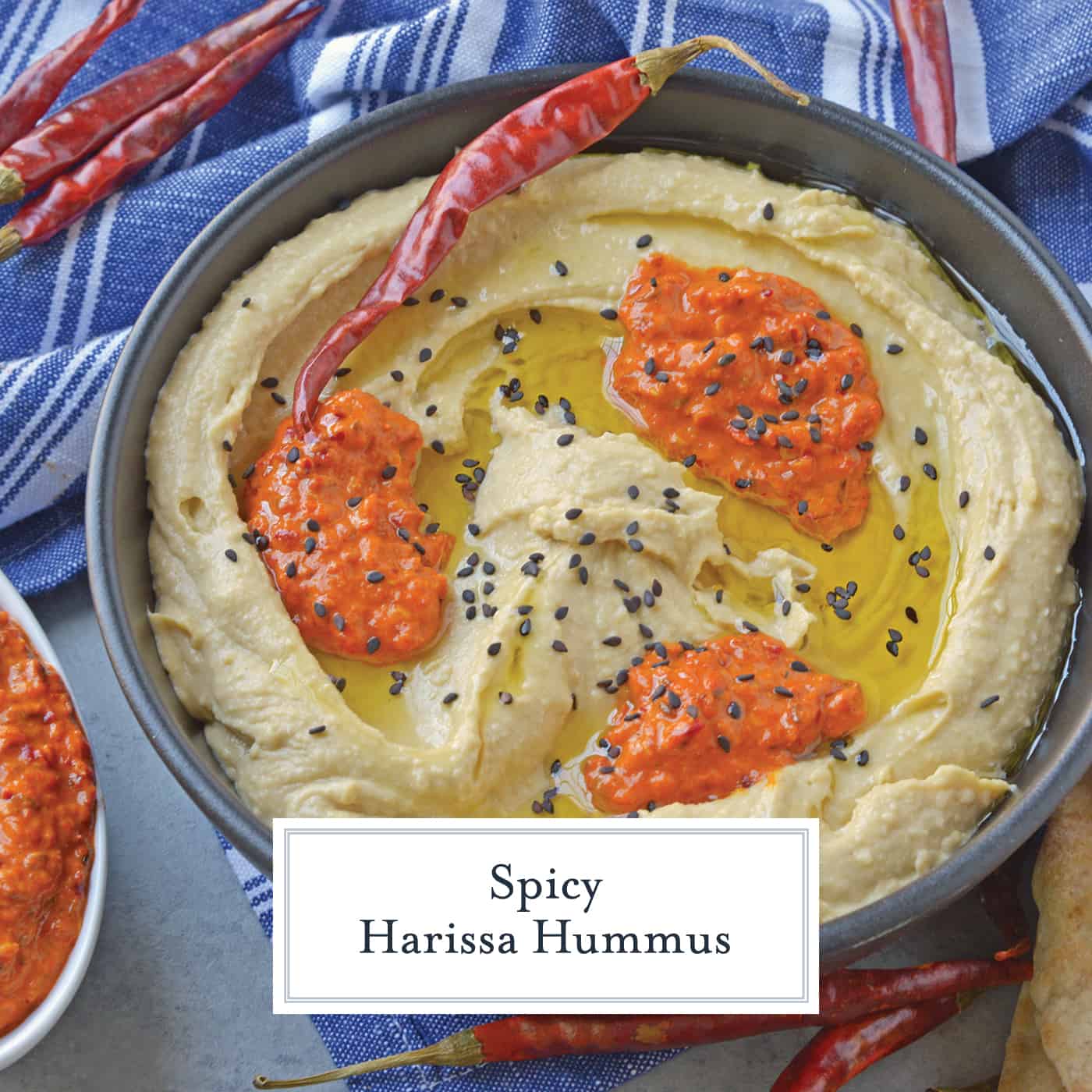 Harissa Hummus is an easy, packed full of flavor, homemade hummus recipe. Pair with vegetables or chips for a dip, or even as a spread on flatbreads or sandwiches!
Is it hommos, hummus or houmos? Depends on where you come from! Let's get the basic and most often asked questions out of the way…
What is hummus? The literal translation is "chickpeas." Hummus ingredients typically include a blend of varying amounts of tahini (sesame seed paste), lemon juice, garlic and olive oil. It is typically viewed as a Middle Eastern recipe.
After that, the sky's the limit. It can be served plain, with pine nuts, jalapenos or chiles, just to name a few. Roasted garlic, mint leaves, roasted red pepper and even beets are also common hummus flavors.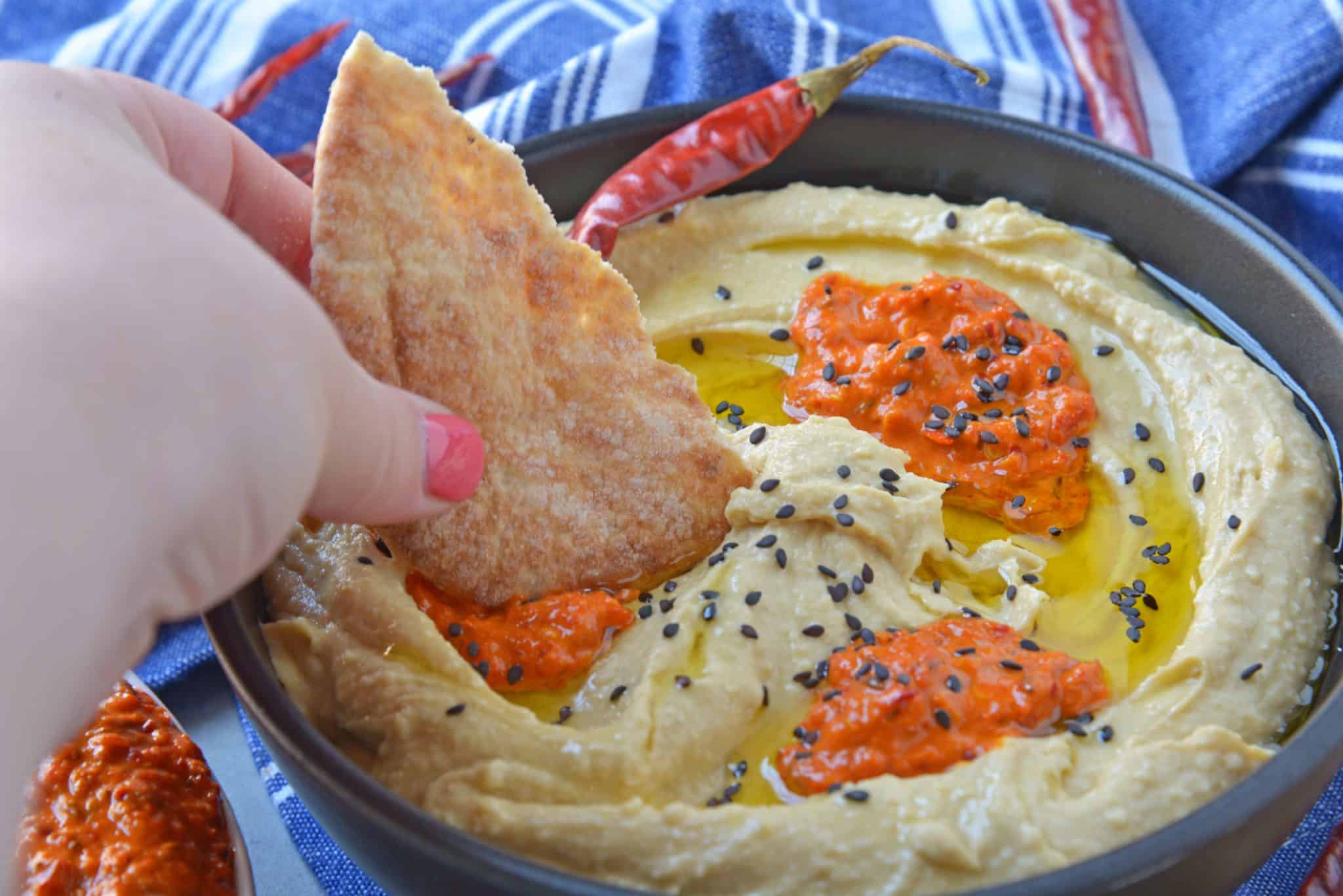 The next most common question is what is harissa? According to Wikipedia….
Harissa is a Tunisian hot chili pepper paste, the main ingredients of which are roasted red peppers, Baklouti pepper, serrano peppers, and other hot chili peppers, spices and herbs such as garlic paste, coriander seed, saffron, rose, or caraway, as well as some vegetable or olive oil to carry the oil-soluble flavors.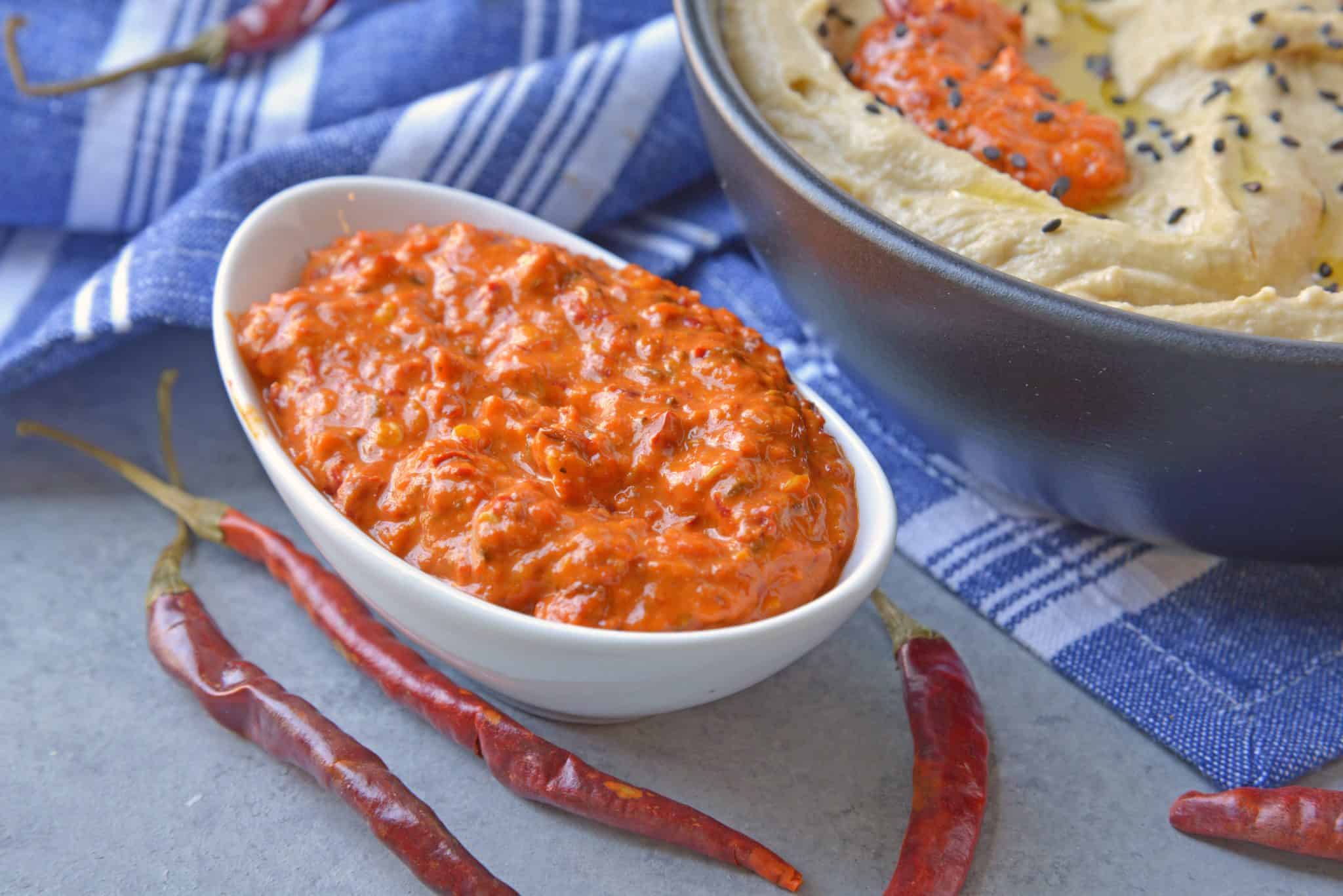 Historically harissa hailed from the Middle East and was made with Maghrebi hot chili peppers. Since these chiles aren't available worldwide, but the condiment was so tasty, other cultures started making their own adaptations of harissa sauce using different local peppers.
The original harissa recipe uses roasted red peppers, garlic, serrano peppers, coriander, caraway seed and olive oil for preservation. Some even added rose petals. Fancy!
PRO TIP: Taste test your canned chickpeas. Different brands have different tastes and textures. You want one that has a buttery and creamy texture and taste for homemade hummus. It should squish easily between your fingers and not feeling gritty or grainy.
This Harissa Hummus recipe, is a clear-your-sinuses kind of spicy hummus. Don't be intimidated by that, that's a good thing! Spicy foods have been linked to increased metabolism and other natural health benefits. There is a lot of goodness hiding out in this hummus dip.
If you really can't handle the heat, lessen the amount of harissa sauce or just remove it altogether. If you know me I'm always trying to find ways to add some heat to my recipes!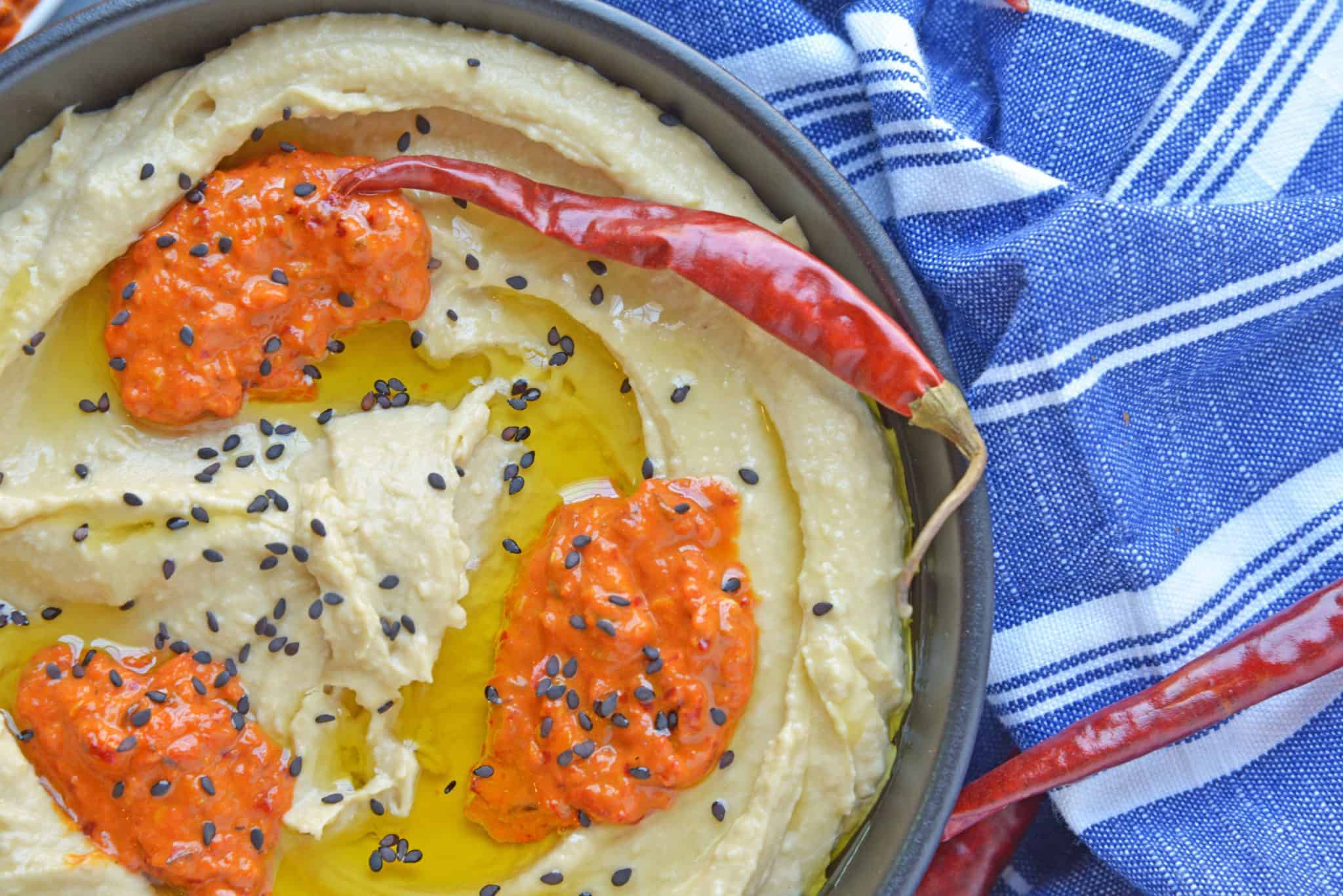 Garnish your hummus with a good quality olive oil (see my notes below on the importance of good olive oil) and sesame seeds. I like black sesame seeds for the contrast, but you can use regular or omit them if someone has a sesame allergy.
PRO TIP: Rinse canned chickpeas well and several times with cold water to reduce sodium.
Hummus is a good source of protein, helps lower your cholesterol which means lower risk of heart disease, it's anti-inflammatory, full of fiber, has lots of vitamins and minerals, good for bone health, and is an energy booster.
Here is how to cook chickpeas:
ONE. Soak dried chickpeas (garbanzo beans) in cold water overnight.

TWO. Transfer the soaked chickpeas to a large saucepan or a small pot. Cover the chick peas with water by 2 inches.

THREE. Bring water to boil, then reduce the heat slightly and simmer for 20 to 25 minutes for firmer beans, 40 to 50 minutes for softer beans. For hummus, you want smooth and creamy beans.
Serve with vegetables, whole wheat flatbreads, pita chips or tortilla chips! It also tastes great on sandwiches and salads.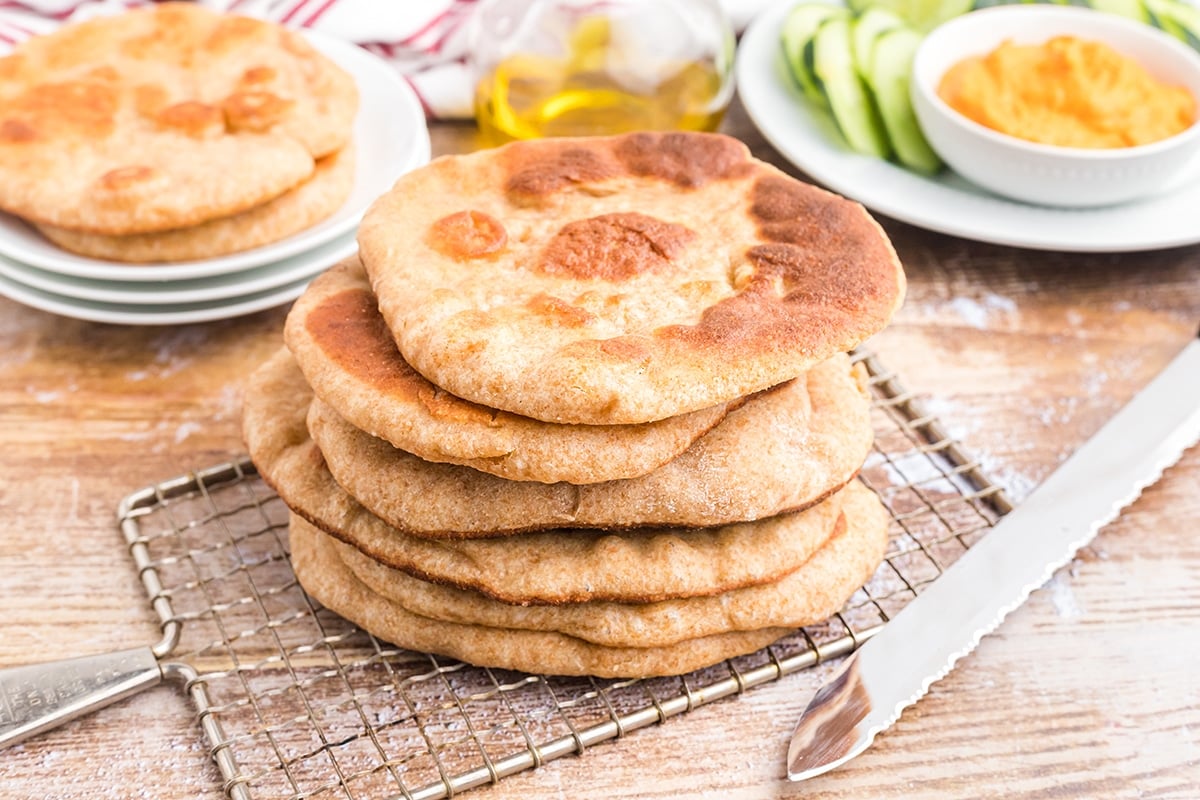 Check out these other easy appetizers: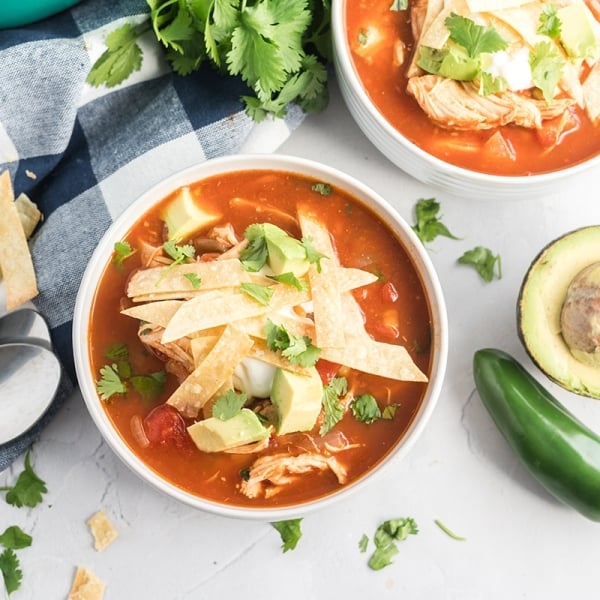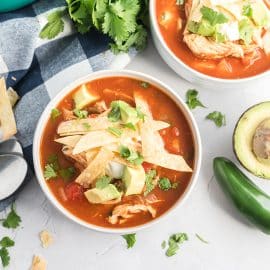 Easy Chicken Tortilla Soup
This is an easy chicken tortilla soup that can be on your table in less than an hour. A rich tomato broth with a bit of spice and large chunks of chicken make this a hearty and comforting meal!
See The Recipe!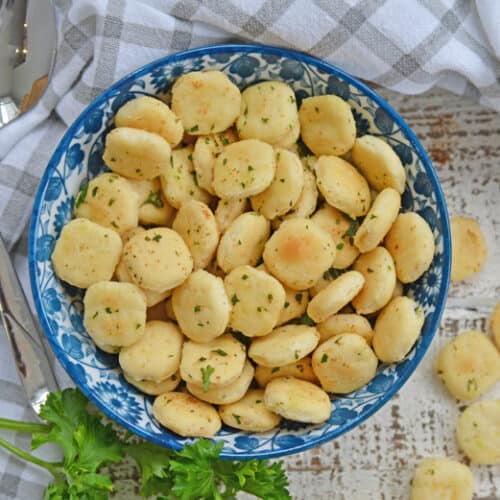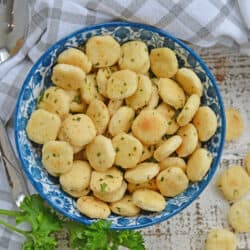 Ranch Oyster Crackers
Ranch fanatics will fall in love with these EASY Ranch Oyster Crackers! With butter, ranch seasoning and crackers, you have yourself a delicious snack!
See The Recipe!
Tools for making spicy hummus dip:
Good Extra Virgin Olive Oil– A good olive oil will taste like, well, olives, while a poorly made one will taste like vegetable oil. Gross. While people tend to favor Italian and Greek olive oils, I prefer to buy mine domestically.
There are some great ones out there from all over the world, but the reporting of ingredients isn't always the same and you could find that your super expensive olive oil was actually cut with vegetable oil.
Mini Food Processor– I use this thing daily! It is by far my most used kitchen appliance, it is small and I throw all the parts into the dishwasher, well except the base and cord, of course!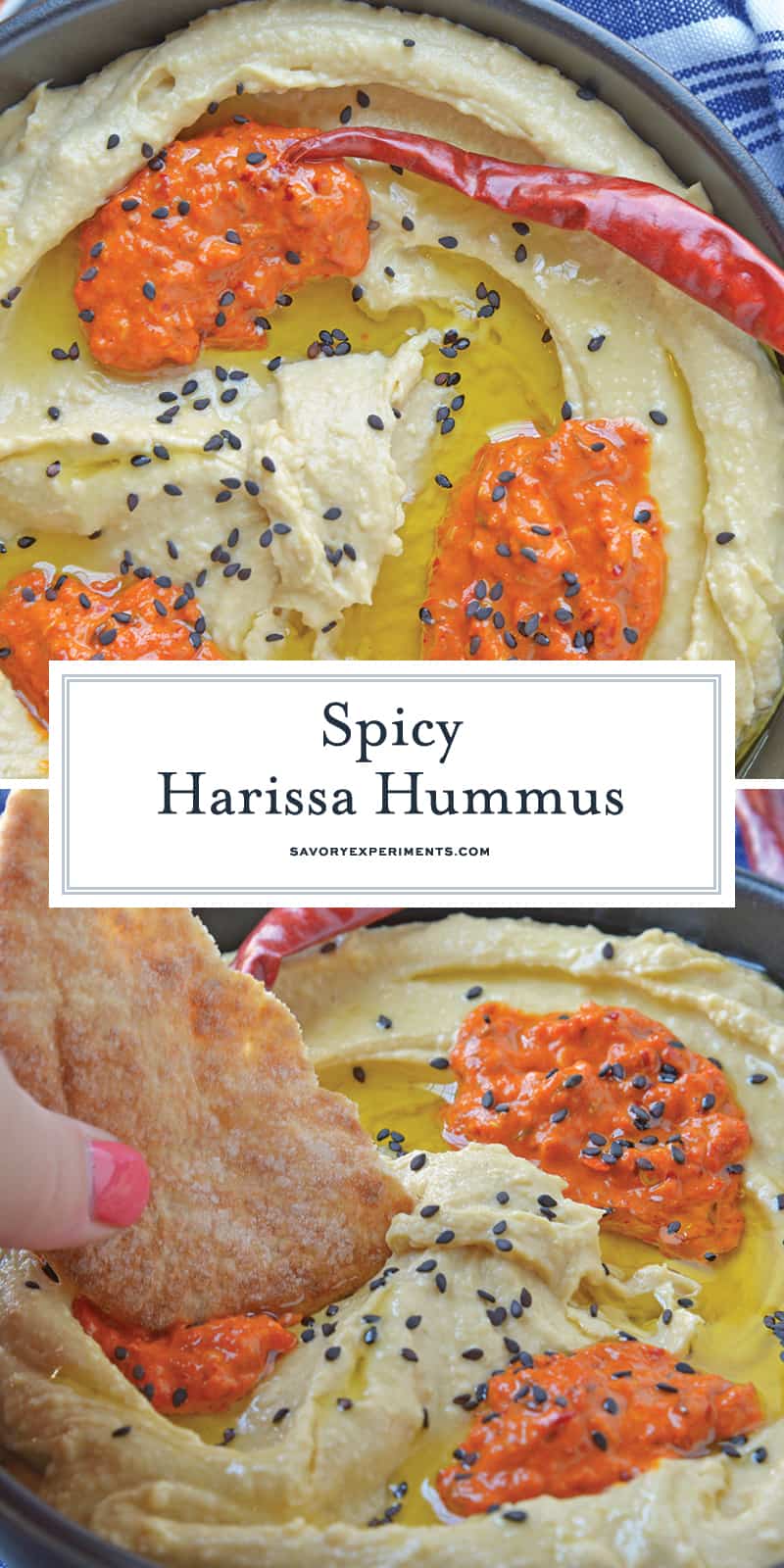 Questions you might have about how to make hummus:
What is the difference between harissa sauce and harissa paste? There really isn't much of a different, only the name. You can buy the store brand if you don't feeling like making your own.
Can hummus be frozen? Hummus isn't the best frozen and defrosted. Although it is possible and there aren't any health risks, the texture comes out a little slimy, therefore I don't recommend it.
Can other sauces be substituted for harissa paste? It sure can! All these chile based hot sauces are so similar. If you find you like one more than another, simply use the one you like! Sriracha and chile garlic sauce are good substitutions.
What are harissa spices? Like so many recipe, the exact spice blend varies from restaurant to restaurant and family to family. The basics are chile peppers, garlic and olive oil. The other most common harissa ingredients include: cumin, coriander, caraway and mint.
How long is hummus good for? You can keep it in an airtight container in the refrigerator for about a week. Since it is homemade, it doesn't have any preservatives to keep it good longer.
Is hummus keto friendly? I am not a keto expert, so please consult one, but from what I understand, legumes (beans) aren't allowed on keto and chickpeas are beans. Therefore, hummus is not keto.
Is hummus low carb? Yes, hummus itself is a low carb recipe. Just be mindful of what you serve it with and stick with vegetables.
Is hummus gluten free? This recipe is gluten free, but check the label of the tahini your are using just to make sure that ingredient is also gluten free.
How long can hummus sit out? The CDC recommends no longer than 2 hours. If you are serving it at a party, you can set the bowl or tub in a larger mixing bowl filled with ice to help keep it chilled and last longer at room temperature.
Do I have to use a food processor? This one is really hard to NOT use a food a processor. You can try using an immersion blender
or a mortar and pestle,
but you might not get a smooth texture.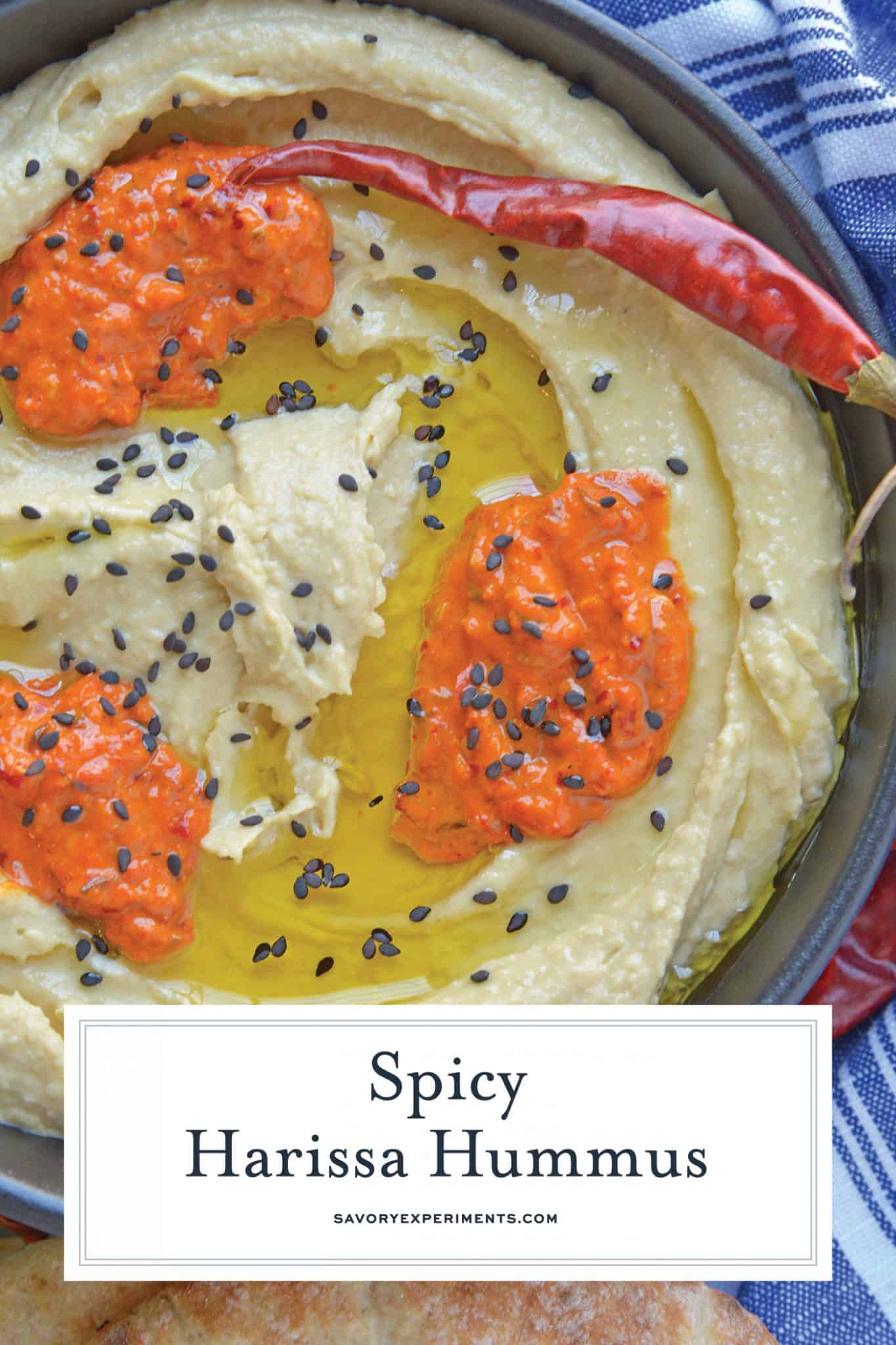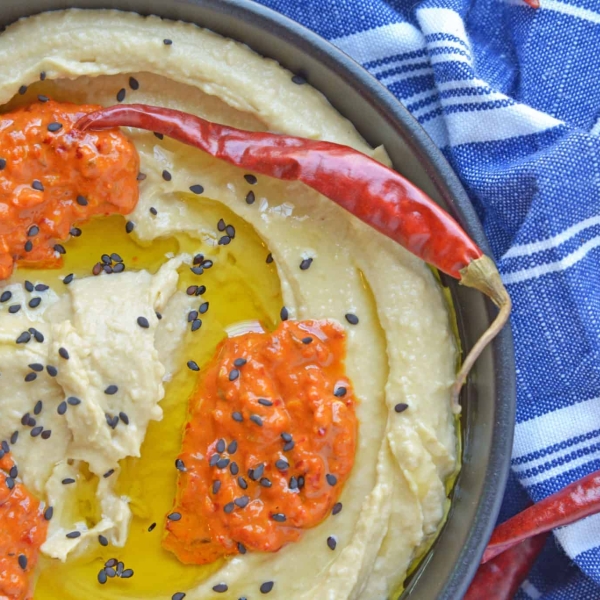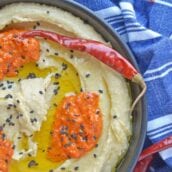 Harissa Hummus Recipe
Harissa Hummus is an easy, packed full of flavor, homemade hummus recipe. Pair with vegetables or chips for a dip, or even as a spread on flatbreads or sandwiches!
Instructions
Place chickpeas and baking soda into a medium saucepan and cover with cold water. Bring to a low boil. Stir occasionally and cook for 15-20 minutes or until beans are super squishy. Remove, drain and cool.

In large food processor, combine drained chickpeas, garlic, kosher salt, tahini, lemon juice and water. Blend until super smooth.

Place in serving dish, making a dent in the center. Spoon in harissa. More extra virgin olive oil can be added at this time if desired. you can also swirl it around to evenly distribute the flavor.

If you've tried this recipe, come back and let us know how it was!
Nutrition
Calories:
373
kcal
,
Carbohydrates:
32
g
,
Protein:
13
g
,
Fat:
23
g
,
Saturated Fat:
3
g
,
Sodium:
607
mg
,
Potassium:
464
mg
,
Fiber:
8
g
,
Sugar:
5
g
,
Vitamin A:
200
IU
,
Vitamin C:
9
mg
,
Calcium:
91
mg
,
Iron:
3.8
mg