Potatoes. I love you so.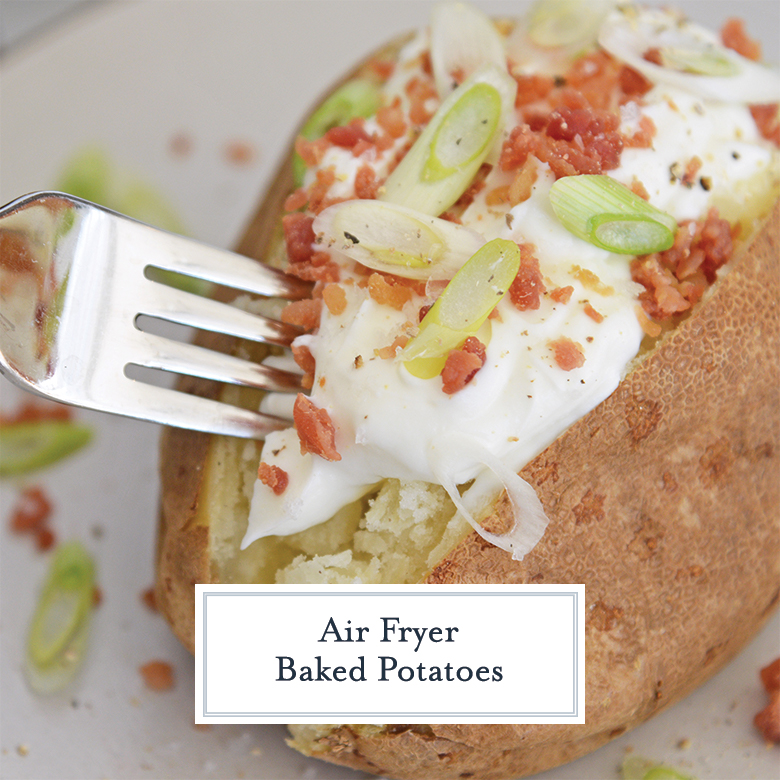 Air Fryer Baked Potatoes make the fluffiest potatoes with the crispiest skin in a fraction of the time of an oven!
Potatoes in general are great, but baked potatoes are magical. Crispy outside with a soft, fluffy inside.
Making baked potatoes in the oven used to be the best way. Fluffy insides with crispy skin outside. I get all excited thinking about them.
Then the Instant Pot came on the scene and made electric pressure cooker cooking a safe way to prepare food fast. Instant Pot Baked Potatoes are much faster, but lack the crispy skin. If that isn't a priority for you, then this is an excellent option.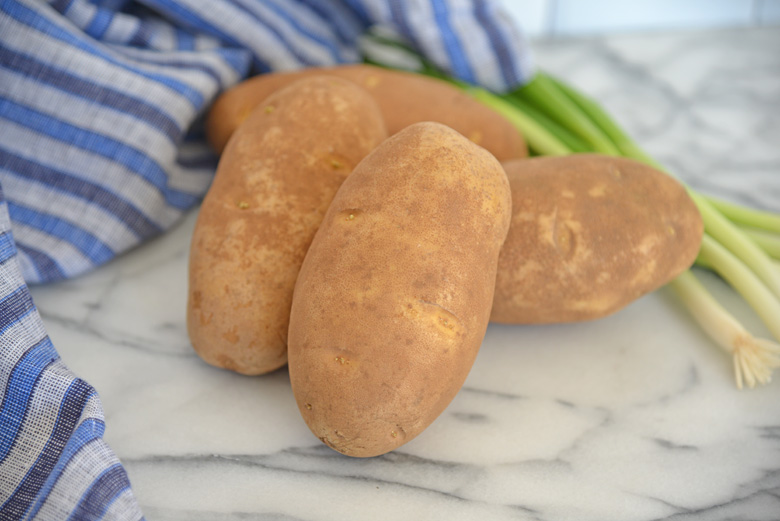 But now I have an Air Fryer. I resisted the movement, but finally broke down and got one for Christmas.
After mastering two of my favorite Air Fryer recipes for Air Fryer French Fries and Air Fryer Zucchini Chips I decided to give baked potatoes a whirl.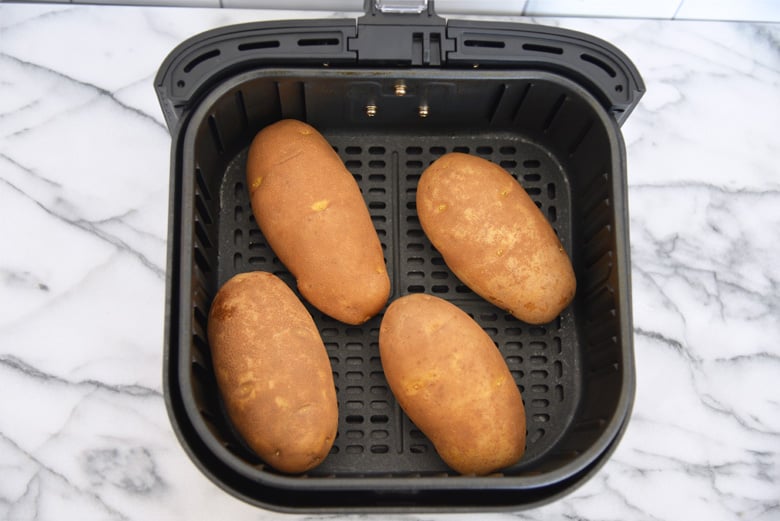 All of the ease and speed of pressure cooking with the crunch of an oven. What's not to love?
In fact, dare I say that the skins might even be crisper than the oven? Without oil will still give crispy skin, but with oil will give you AMAZING SKIN!!!!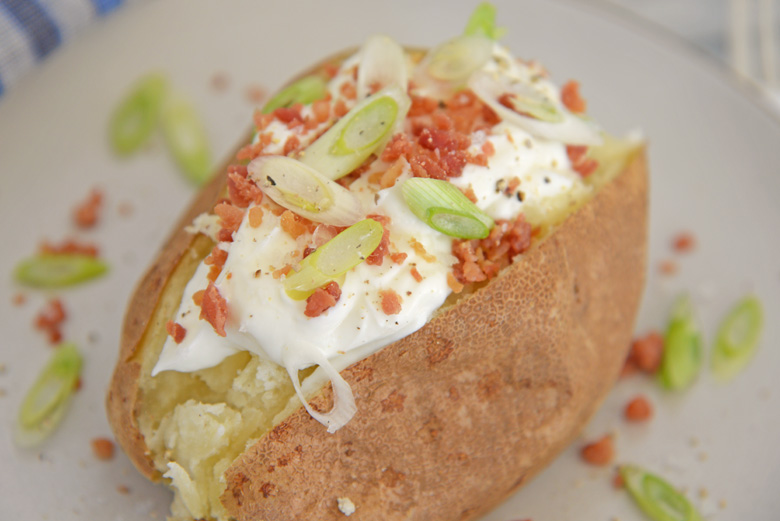 They do take about 40 minutes to cook, but you won't have preheating time and this still shaves about 25-30 minutes off total cook time compared to the oven.
Best oils for making Air Fryer Baked Potatoes:
Avocado Oil
Olive Oil
Vegetable Blend Oil
Coconut Oil
Peanut Oil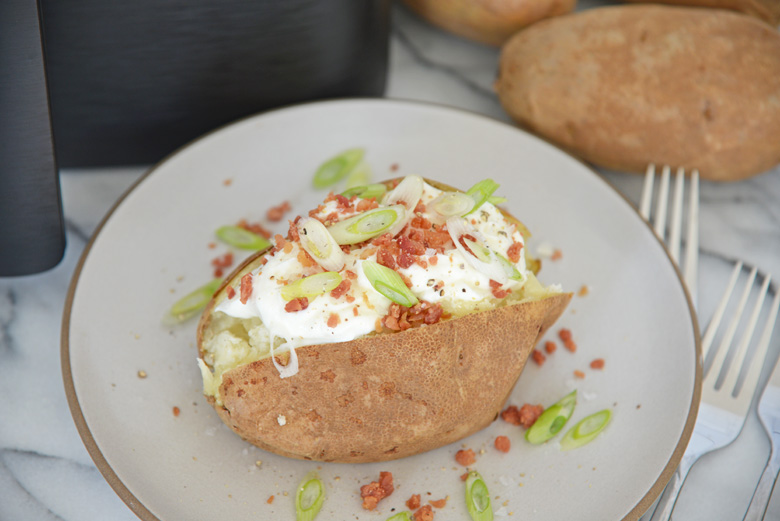 Tips for making baked potatoes in the Air Fryer:
Don't crowd the pan. Like making anything else in the Air Fryer, the more surface space for hot air to hit your food, the better.
Flip your taters halfway through. This ensures even baking.
Medium potatoes work best to make sure they don't under or over cook.
Use a coarse sea salt, not a fine salt otherwise it will be too salty.
How Long to Bake a Potato in an Air Fryer
Cooking a baked potato in an air fryer takes between 30 and 40 minutes for a medium potato. Medium potatoes are about 2-3 inches in diameter and 5-7 ounces in weight.
Cooking times will vary depending on the size of potato, size of your Air Fryer and how many you managed to shove in there.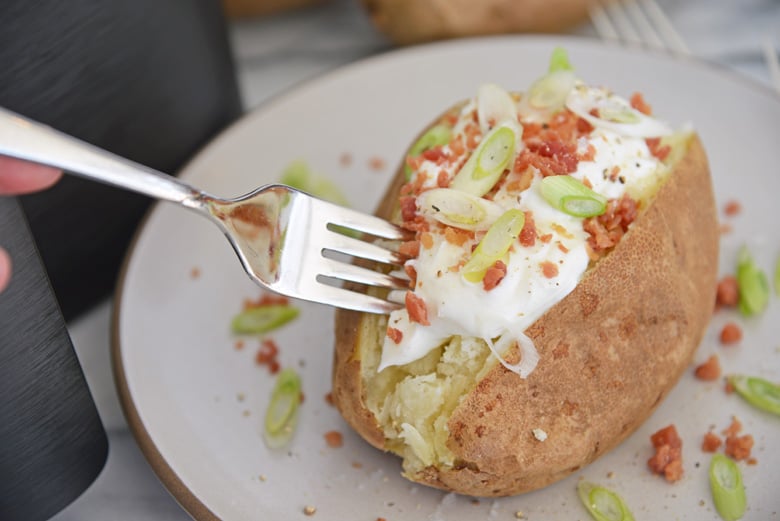 They will be light and fluffy at 205º, you can check it with a digital thermometer. You can also just pierce it with a fork or knife and if it slides in and out easily, they are done.
The beauty of an Air Fryer compared to the Instant Pot is that you can easily just pop them back in for a few minutes if needed.
Questions you might have about how to make baked potatoes in the Air Fryer:
What are the best potatoes for baked potatoes?
Russet Potatoes are the best for baking. The skins are thicker and the starchy interior has a sweet flavor and fluffy texture. They are hardy and can hold lots of toppings (or none at all). Russet potatoes are also fairly large, so one can suffice for a whole meal or a solid side dish.
Other types of potatoes can be baked, but they have less starchy flesh or a thinner skin that makes them not as ideal.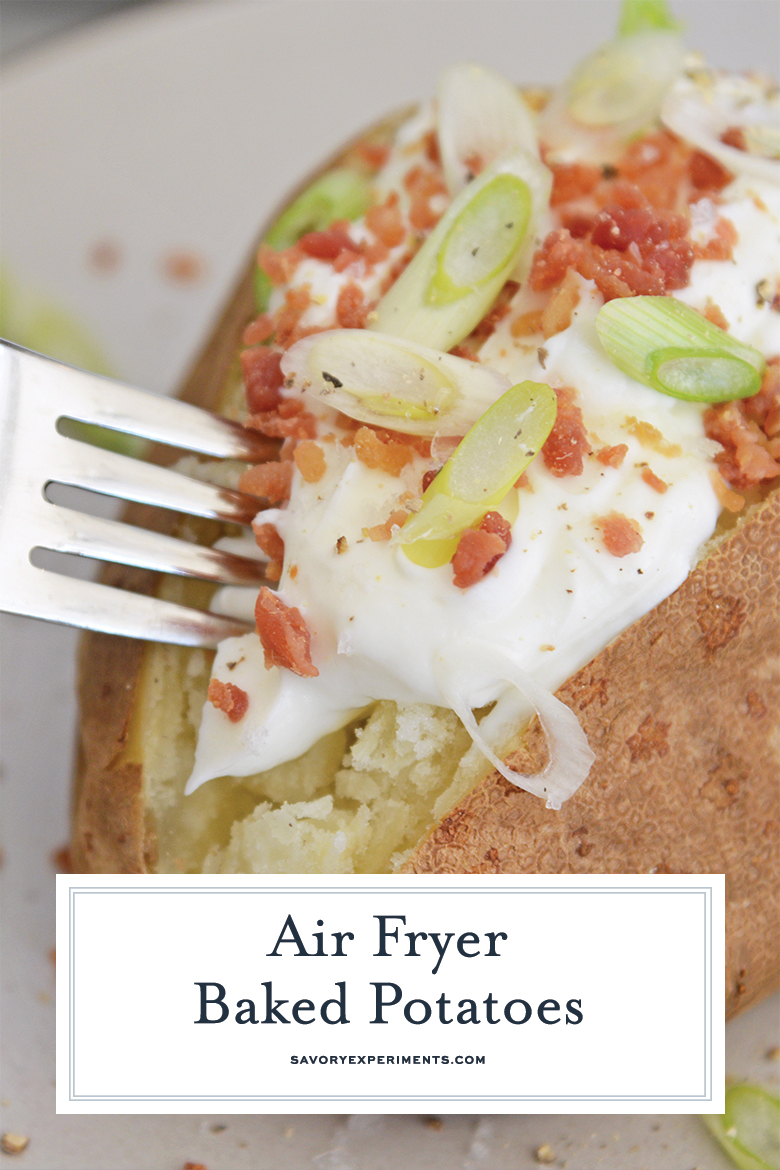 What are the best baked potato toppings?
butter
shredded cheese
chives or scallions
crumbled bacon
sour cream
Are baked potatoes healthy?
I hate the word "heathy" these days. It means something different to everyone. What I will say is that potatoes (before being dressed) are a low fat and low calories food. Most of the nutrient are in the skin, so don't skip those!
Making them without oil and salt or at least with avocado or coconut oil will make them healthier than other types of fat. I once knew a woman who slathered hers with Crisco. Delicious, but man, high in fat!
Can I use aluminum foil on potatoes in the Air Fryer?
You can, but you don't need to. In fact, the skins won't get as crispy if you don't.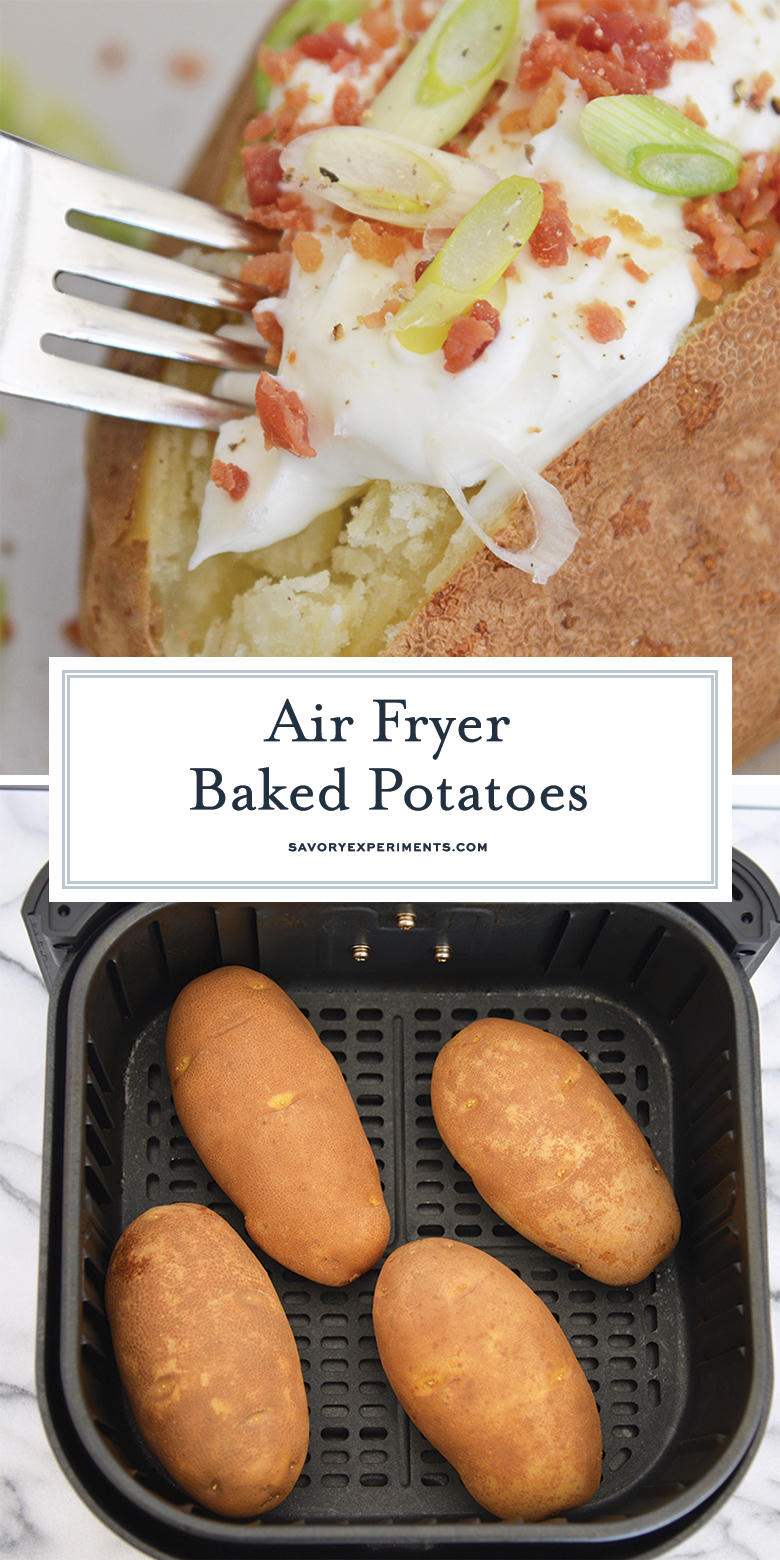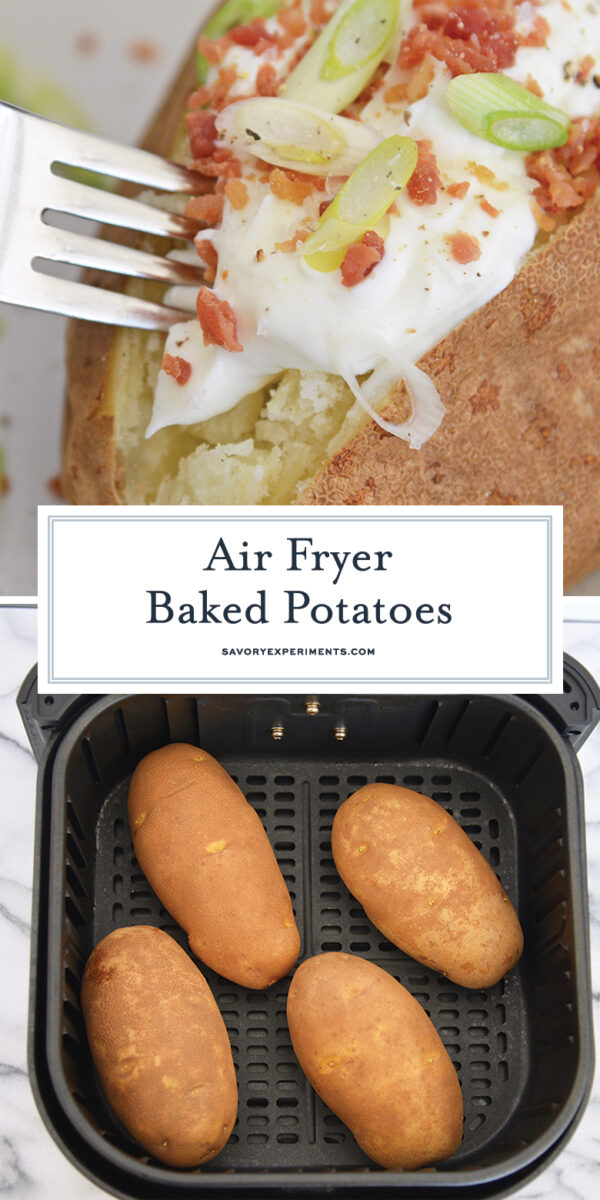 If you love baked potatoes like we do, you might enjoy these other potato recipes: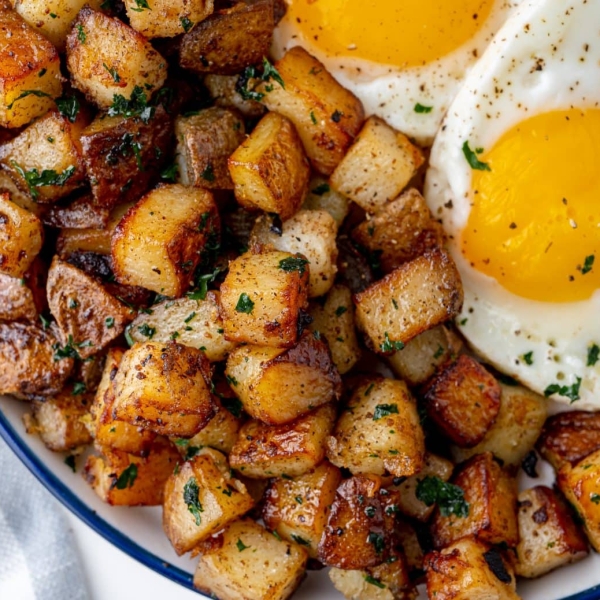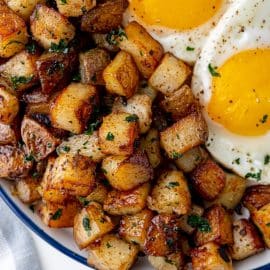 Crispy Home Fries
Make Crispy Home Fries just like at the restaurant at home. My recipe is super crispy, but also has a secret ingredient guaranteed to make these the best breakfast potatoes ever!
See The Recipe!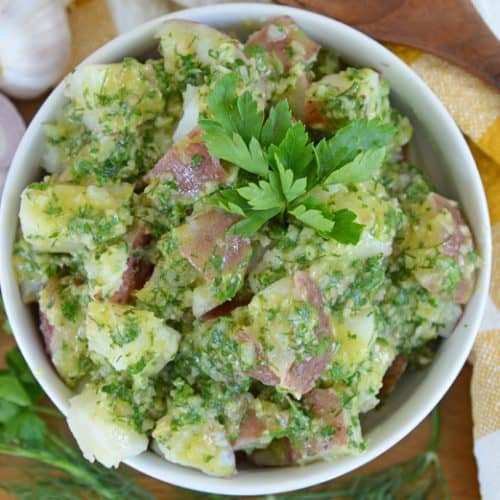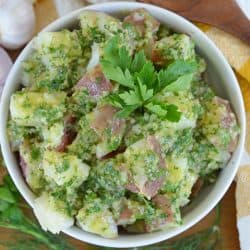 Herbed Potato Salad Recipe
Herbed Potato Salad is mayo-free potato salad recipe that uses fresh herbs and mild white wine vinegar to add tangy flavor. Served chilled at your summer gathering!
See The Recipe!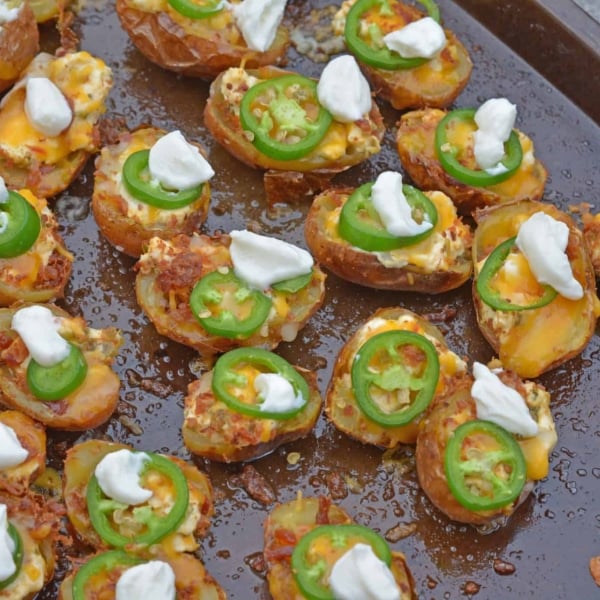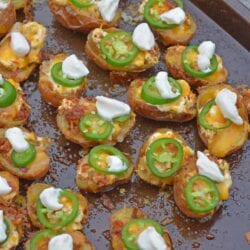 Jalapeno Popper Potato Skins
Jalapeno Popper Potato Skins are bite-sized potatoes filled with 3 types of cheese, fresh jalapenos, bacon and cooled off with sour cream. Perfect for a snack or party appetizer!
See The Recipe!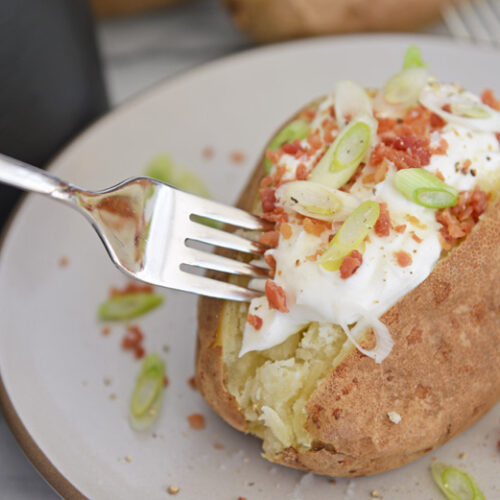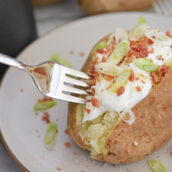 Air Fryer Baked Potatoes
Air Fryer Baked Potatoes make the fluffiest potatoes with the crispiest skin in a fraction of the time of an oven!
Instructions
Preheat air fryer to 400 degrees.

Brush potatoes with desired oil and sprinkle with coarse salt.

Place them in the air fryer for 40 minutes.

Test for doneness and add another 5 minutes if they are still a little taunt.

If you've tried this recipe, come back and let us know how it was!
Notes
Large potatoes can take up to 1 hour.
Nutrition
Calories:
210
kcal
,
Carbohydrates:
38
g
,
Protein:
5
g
,
Fat:
5
g
,
Saturated Fat:
1
g
,
Sodium:
2336
mg
,
Potassium:
888
mg
,
Fiber:
3
g
,
Sugar:
1
g
,
Vitamin C:
12
mg
,
Calcium:
28
mg
,
Iron:
2
mg