Love sweet potatoes, but want to jazz them up a bit? This Twice Baked Sweet Potato recipe uses the bold flavors of mascarpone, garlic, and oregano to complement the classic, sweet tuber.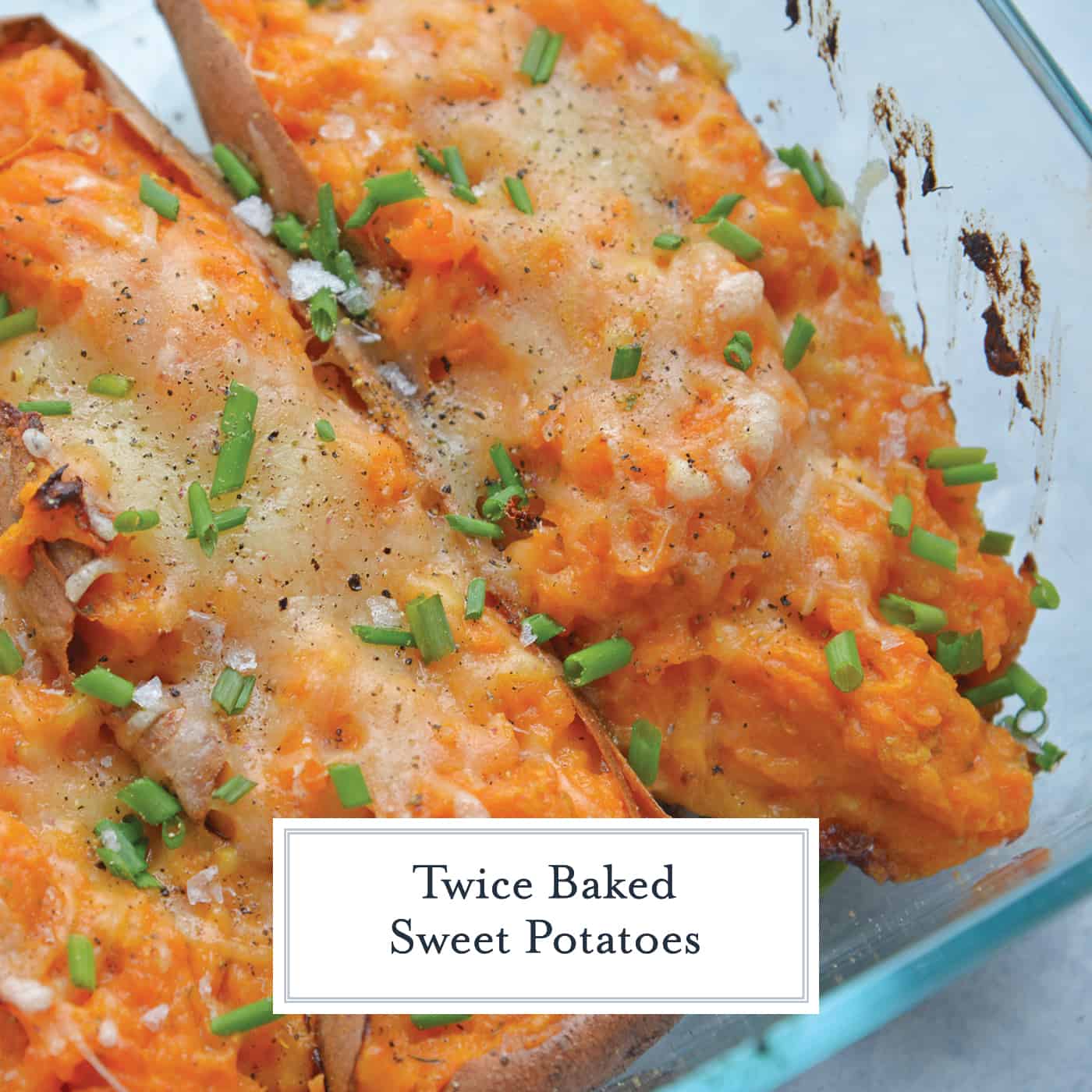 While most people are making sweet version of this dish with marshmallows and brown sugar streusel toppings, I wanted to go the savory route.
Yams vs Sweet Potatoes
Here goes the question someone will undoubtedly ask: are yams and sweet potatoes the same thing? Long story short, the answer is NO.
Although they look similar, they are very different and chances are you've probably never had a real yam.
For the in-depth explanation, I suggest you check out what Alton Brown has to say about the subject. This will make for a great dinner conversation, especially the part about, "man yams.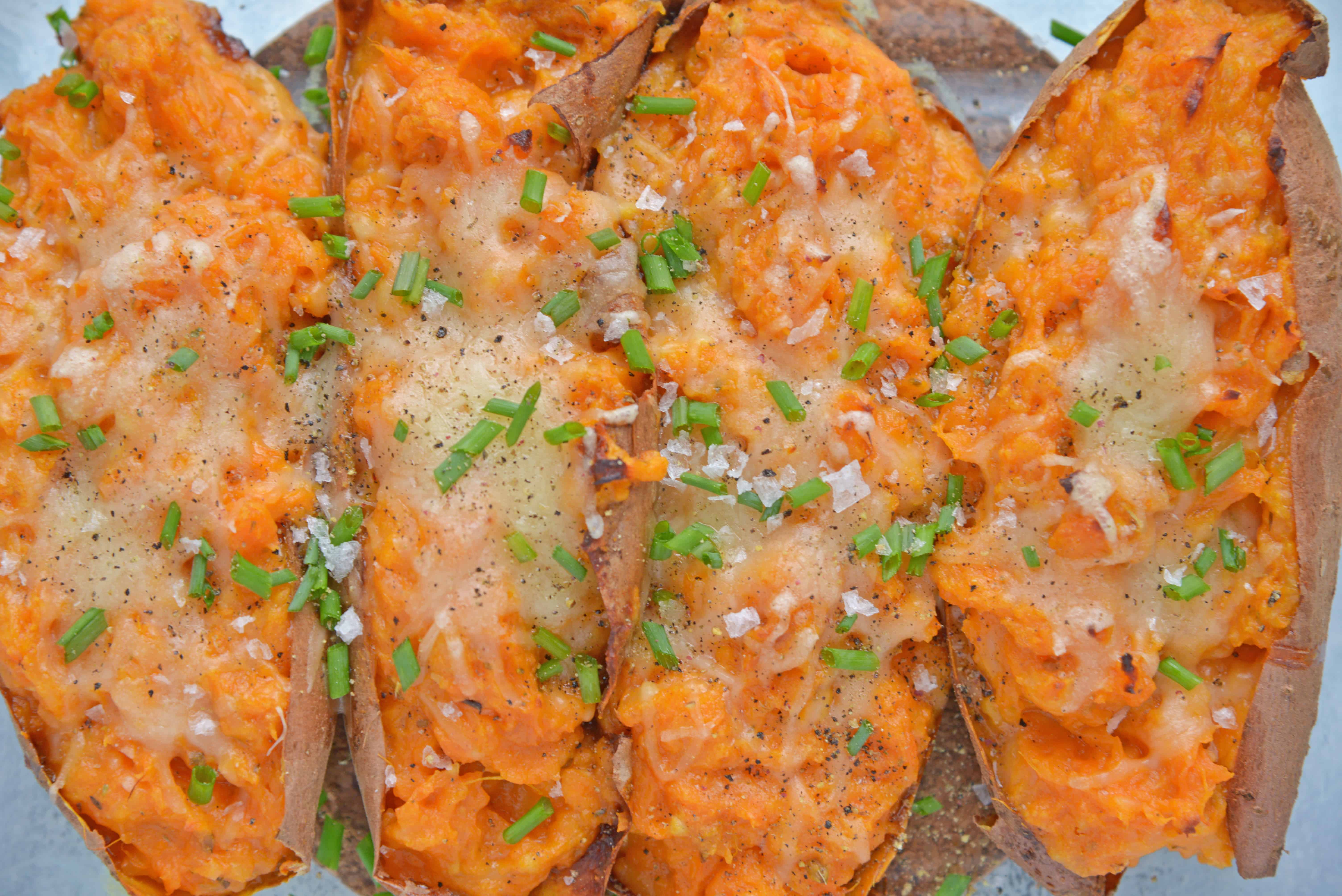 If you want the Cliff Notes version, here goes: both are root vegetables that come from a flowering plant. However, yams are long, cylindrical, and have an almost bark-like exterior. They are also drier and more starchy in terms of texture.
Sweet potatoes, on the other hand, have tapered ends and skin similar to the potatoes we all know and love. The skin and flesh color of these can all vary based on the specific type of sweet potato we are talking about and they are not just the orange/copper colored variety you immediately envision.
Health Benefits
Sweet potatoes also popular on the health front. They are a great source of vitamins, minerals, and fiber. Anti-oxidants are something they also tout. And may (I repeat may) have cancer-fighting properties, boost the immune system, and support healthy vision.
Now those are all things I can get behind. The fact that they are naturally delicious as all get out is just a bonus. And while they are not a low-carb vegetable, they help you to feel full and are great to include in your weekly diet.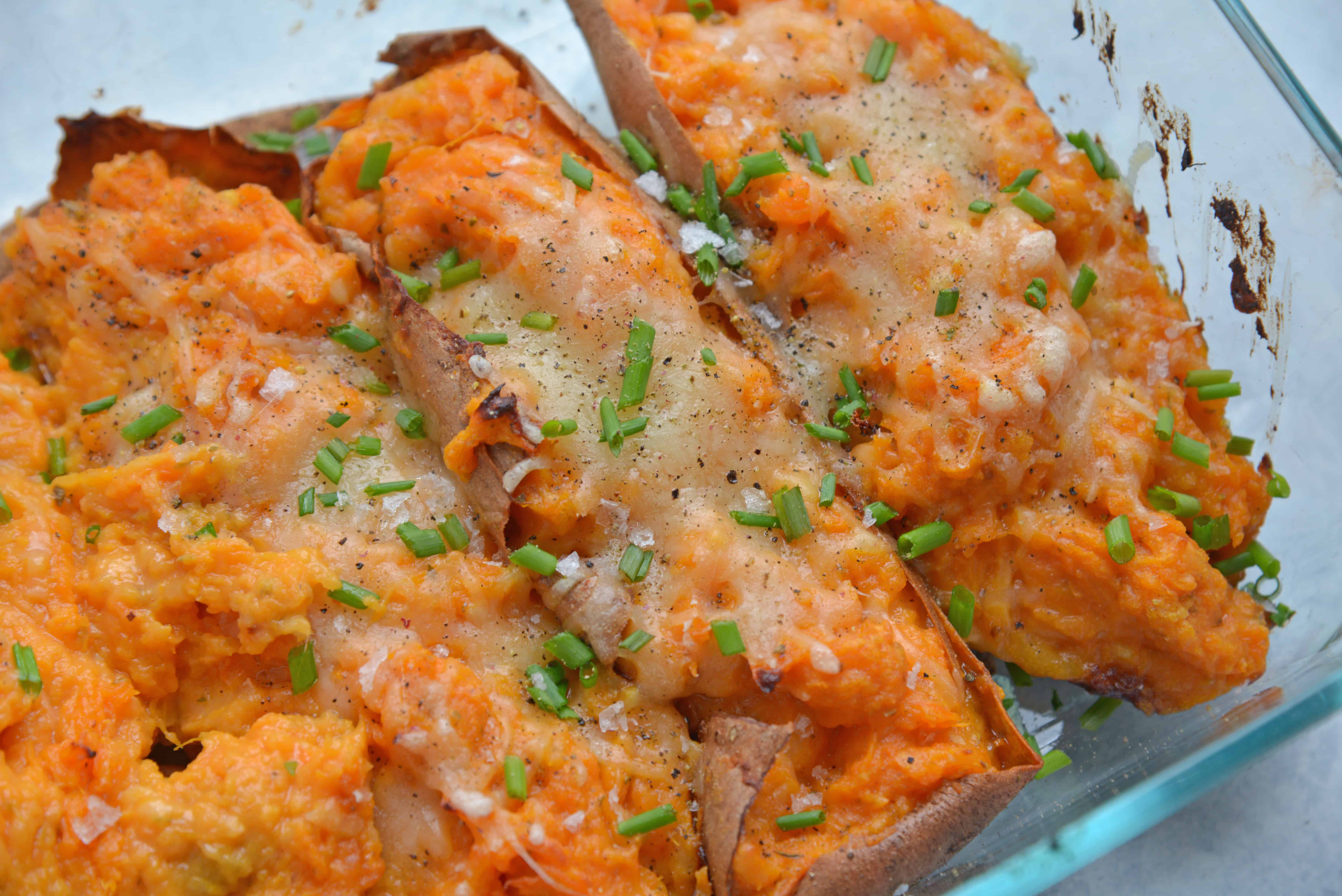 A lot of people will skip the skin in a twice baked potato, but I urge you to think again. Not only does it have great texture, because it is baked, it is also holding onto a bunch of fiber and potassium.
Twice Baked Sweet Potatoes
This Twice Baked Sweet Potatoes recipe makes use of the orange-flesh variety of sweet potato, but feel free to try it with other sweet potato varieties if that is what your grocery store is carrying or if you want to try it with something different yourself.
In addition to sweet potatoes, you'll need:
Garlic
Mascarpone cheese (or cream cheese)
Gruyere cheese
Butter
Seasonings: Kosher salt, oregano
Toppings: Chives and Maldon Salt
Next you'll bake the sweet potatoes just like you would a regular twiced baked. Cut them in half and scoop out the flesh. The biggest difference here is that sweet potato skins are a little thinner and more delicate than other potato varieties, so be gentle and know they will be a little floppy.
Combine the flesh with cheese, butter and seasonings, whipping well. Then scoop back into the skins. Bake again and top with chives!
Did You Know SweetPotato is One Word?
Did you know that sweetpotato is actually one word? Most people still use two, so we do as well, but in 1989 this nun (not an adjective) was officially changed to one word to help standout against it's very commonly confused cousin the yam.
And as we know, sweet potatoes are not yams! You've likely never even had a yam in your lifetime because they aren't grown in the US. So bring up this little bit of trivia at your table tonight.
Serve Them With
Twice Baked Sweet Potatoes can be served as a side dish or entree. Sweet savory and just plain delicious, it is no wonder they go fast. With 300 calories a serving, they are a winning recipe!
Pair them with an Instant Pot Whole Chicken, King Ranch Chicken, Crock Pot Pork Loin or even Chicken Kiev.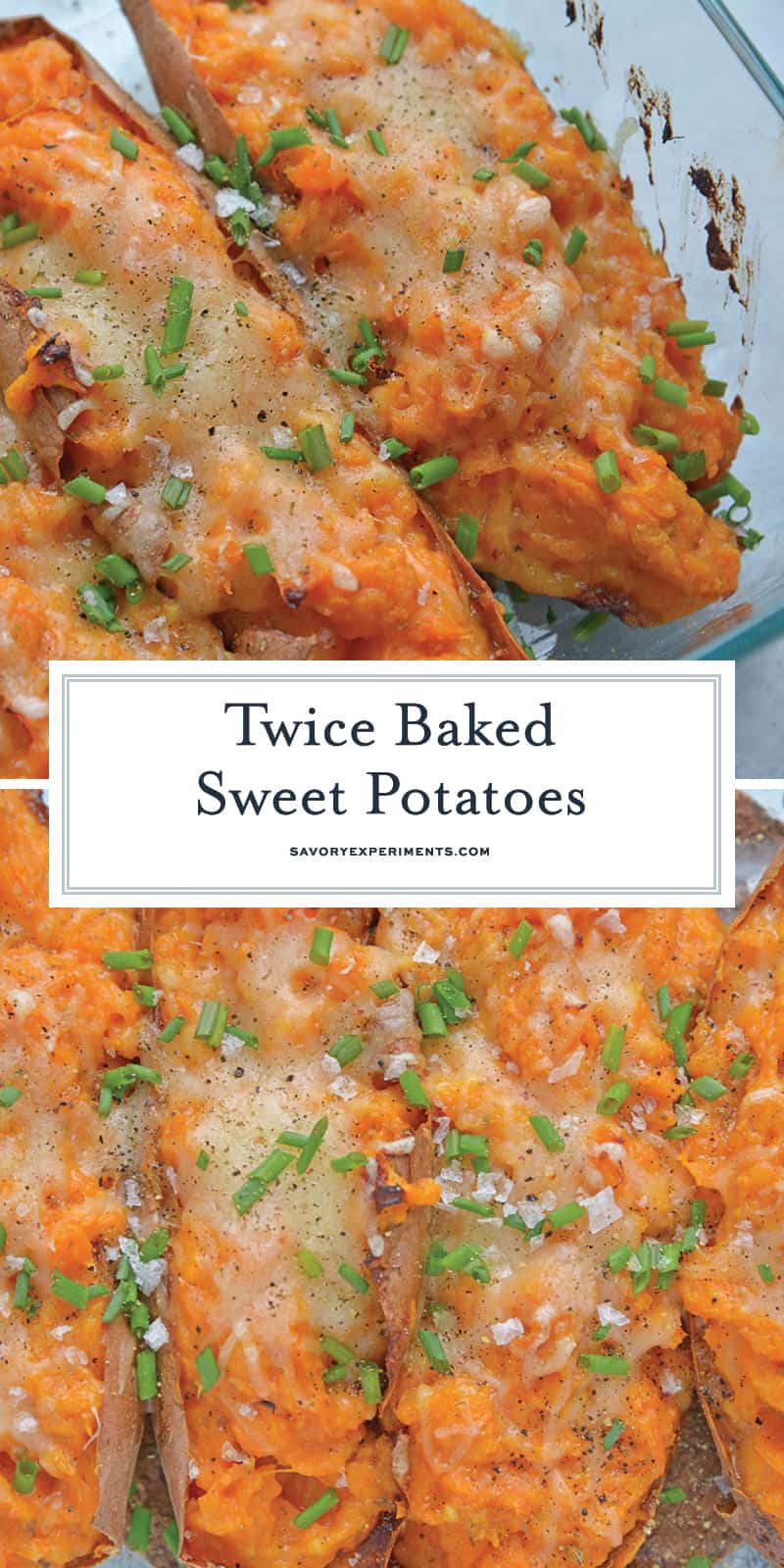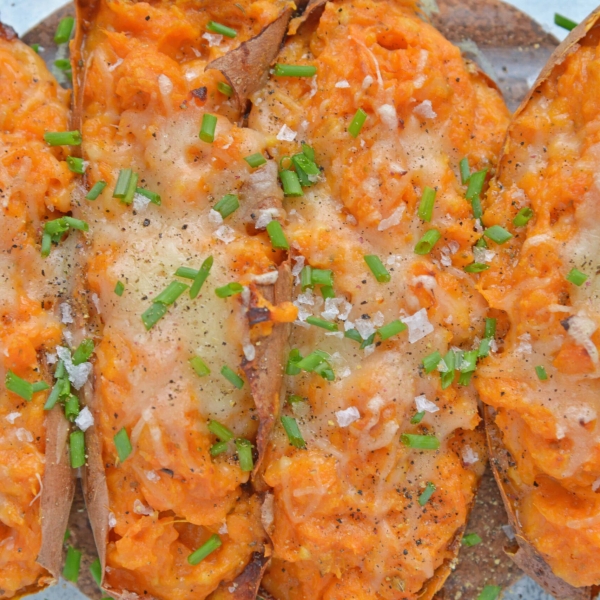 Twice Baked Sweet Potato Recipe
Twice Baked Sweet Potatoes uses bold flavors like mascarpone, garlic, and oregano to complement the classic, sweet tuber.

Instructions
Preheat oven to 400 degrees. Pierce both potatoes several times with a potato nail or serving fork (something long). Line a rimmed baking sheet with aluminum foil.

Place potatoes on the rimmed baking sheet and cook for 40-45 minutes. Potatoes should be soft to the touch. Remove and allow to cool until you are able to handle them.

Sweet potato skins are not nearly as hearty as other types of potatoes, so be gentle. Cut them in half and spoon out cooked flesh to a large mixing bowl.

Blend with mascarpone, gruyere cheese, kosher salt, butter, and dried oregano.

Spoon mixture back into potato skins.

Coat a small, high sided baking dish with cooking spray. Place filled sweet potatoes into the dish. Try to make them fit snug so they don't fall over.

Reduce oven temperature to 350 degrees and bake for an additional 15 minutes.

Remove and allow to cool slightly before serving. Top with chives and Maldon sea salt.

Your opinion means a lot to us. Please come back and leave us a comment to let us know if you made any modifications and how the recipe turned out!

If you've tried this recipe, come back and let us know how it was!
Nutrition
Calories:
300
kcal
,
Carbohydrates:
1
g
,
Protein:
7
g
,
Fat:
29
g
,
Saturated Fat:
18
g
,
Cholesterol:
76
mg
,
Sodium:
462
mg
,
Potassium:
25
mg
,
Vitamin A:
1055
IU
,
Vitamin C:
1.3
mg
,
Calcium:
228
mg
,
Iron:
0.4
mg