Looking for a delicious homemade dessert sauce or topping? Strawberry topping is what you are looking for.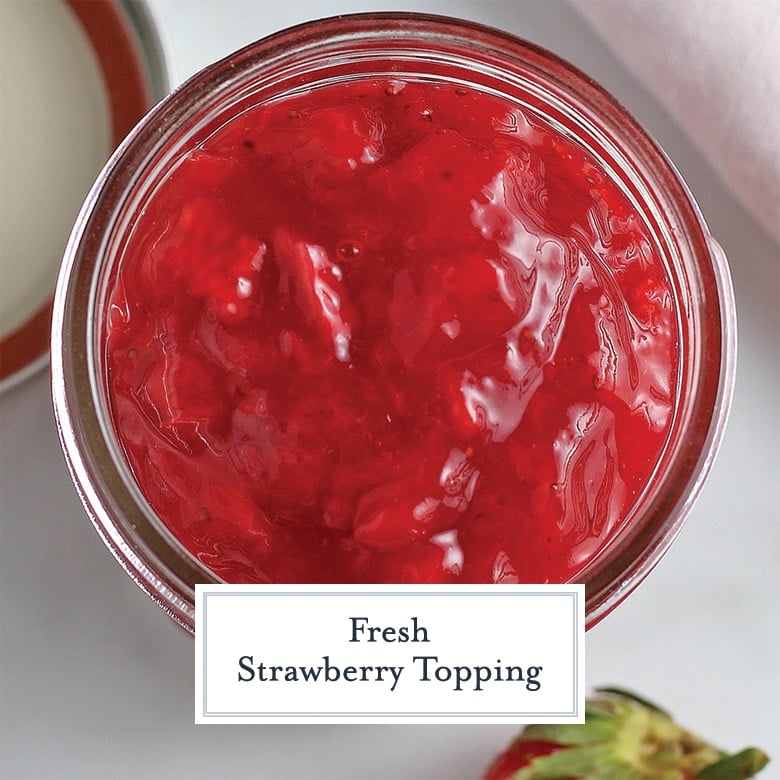 Made from fresh strawberries and then reduced, it is perfect for topping ice cream, cheesecake and even cheese. Yes, cheese, there is nothing quite like a strawberry glaze over cheese like brie or even just a brick of cream cheese.
Strawberry Topping
First thing is first, homemade strawberry sauce and strawberry topping are the same darn thing. It is a sauce made out of strawberries that tops other items. Or, if you are like my 2 year old daughter, you just eat it with a spoon right out of the jar.
Strawberry Glaze is generally the same ingredients, just blended to a smooth texture with an immersion blender (stick blender) or in a food processor.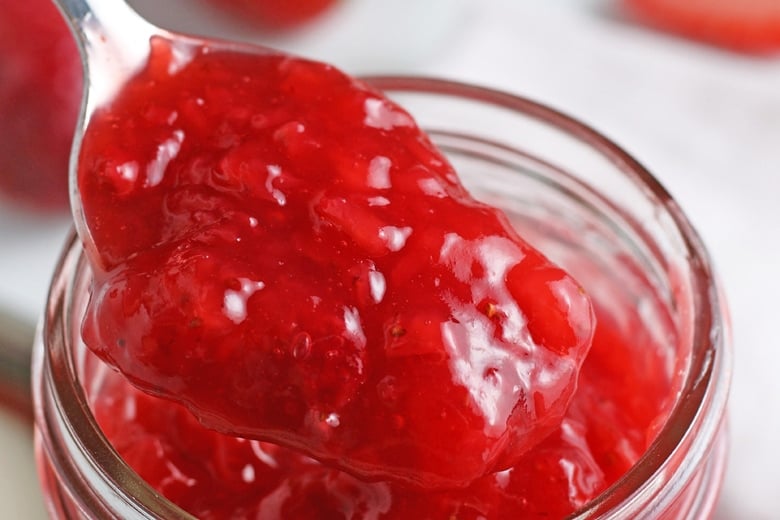 It can be made to be super sweet, a little tart or even salty. And making it at home means all of these important strawberry sauce variables lie in your hands.
Oh, the pressure!
Frozen vs Fresh Strawberries
Can I tell you where I had the best strawberries ever? Japan. I know, weird, but man, they have mastered the strawberry.
I digress. What I really want to answer is should you use frozen strawberries or fresh.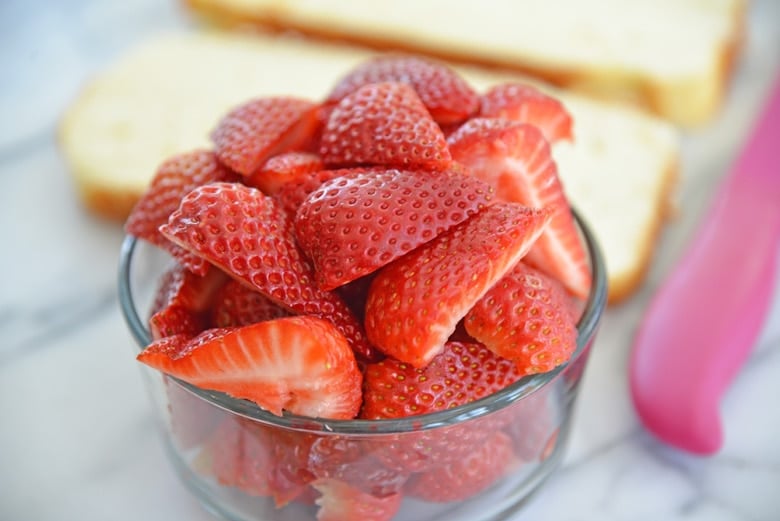 Fresh strawberries are easier and might have more flavor, especially if they are hand picked right at the peak of the season, June. Did you know that any produce starts to lose nutrient density the moment it is harvested?
That means if it took a week to get strawberries processed, packaged and shipped to your grocery store, not only will they not have as long of a shelf life, but they also won't pack as much punch as if you picked them yourself.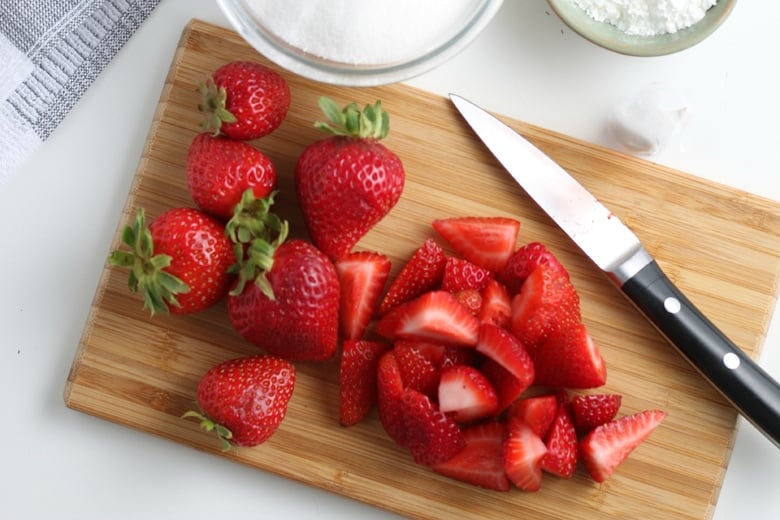 But… I don't have the time for that, so I buy them at the store. And sometimes I even get frozen ones, which are generally frozen within a day of picking, so they retain all those good nutrients.
The downfall is that they don't tend to have as much flavor. If you were just eating them regular, this would be more of an issue, but since we are going to combine them with a bunch of sugar, it doesn't make a huge difference.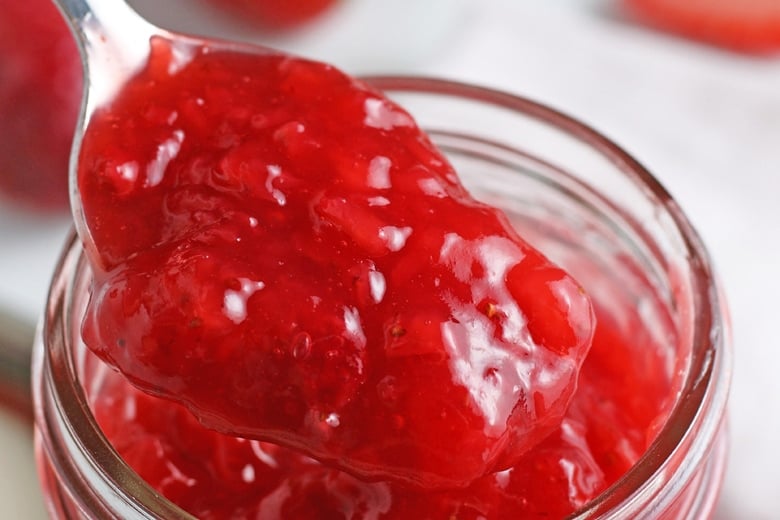 Just make sure to fully thaw and drain them before adding to the strawberry topping recipe.
Uses
After making it, strawberry sauce can be used on so many things. Here are my favorites uses: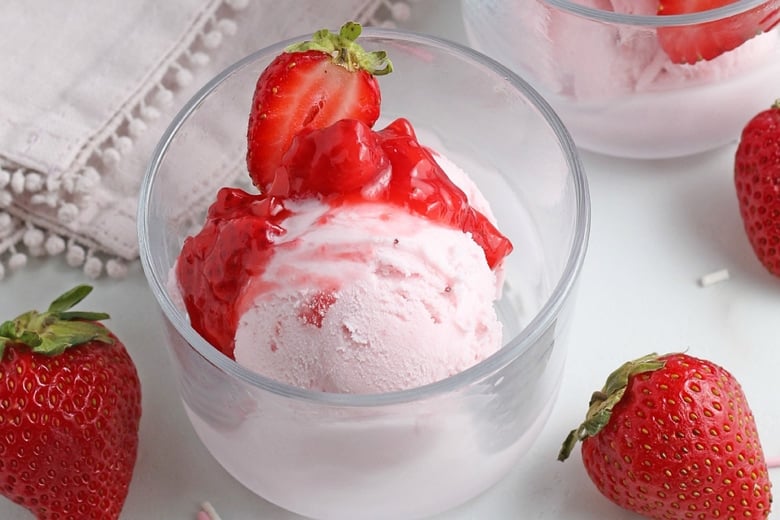 On ice cream
Angel food cake, cheesecake, pound cake or white cake
To dip a white cheddar grilled cheese (trust me on this one)
On baked brie
Waffles
Pancakes
Strawberry shortcake
French toast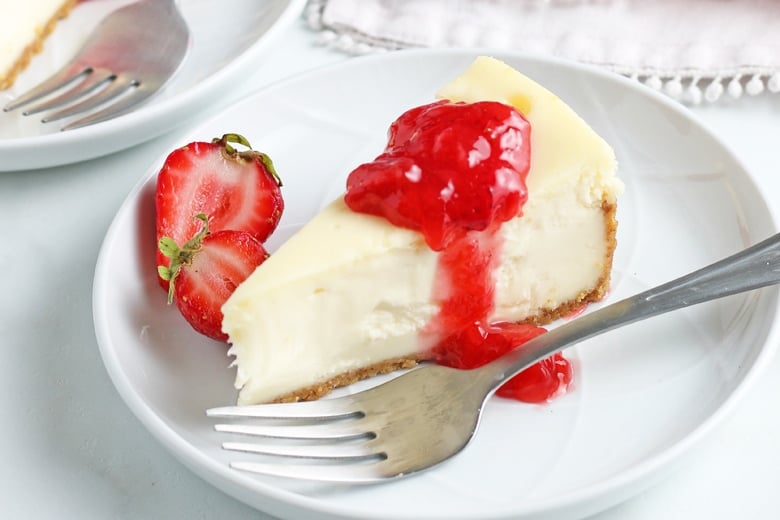 Strawberry Topping Ingredients
The ingredient list for my homemade strawberry topping is fairly short, but can be made even shorter if you wish.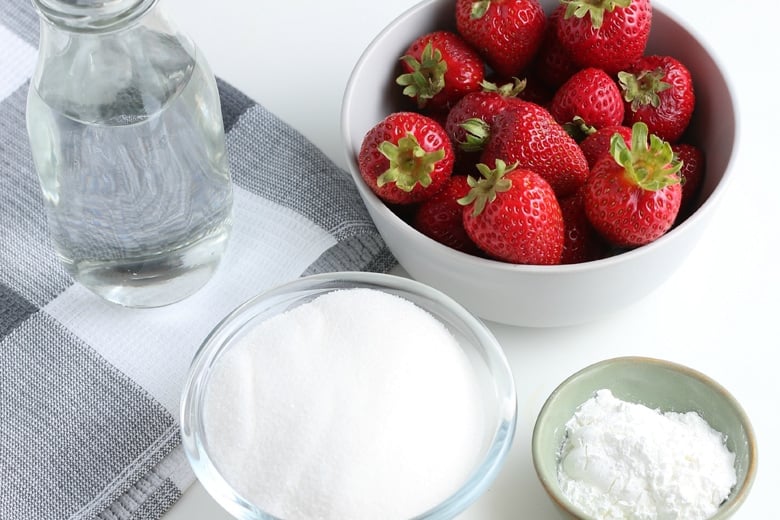 Some recipes use nothing but strawberries. I prefer to help mine along a little in both the flavor and time department.
Strawberries– hulled and quartered
Sugar– to amplify the natural sugars
Lemon juice– to add an acidic zing
Cornstarch– or arrowroot, you can also omit this, but it helps the sauce thicken faster so it doesn't need to simmer for hours on end
Water– water will help the strawberries break down before the sugars burn, most of it will evaporate
How to Make Strawberry Sauce
This is a quick and easy strawberry topping sauce so instead of simmering for hours to wait for the strawberries to break down and then thicken, the process is sped up using cornstarch and sugar.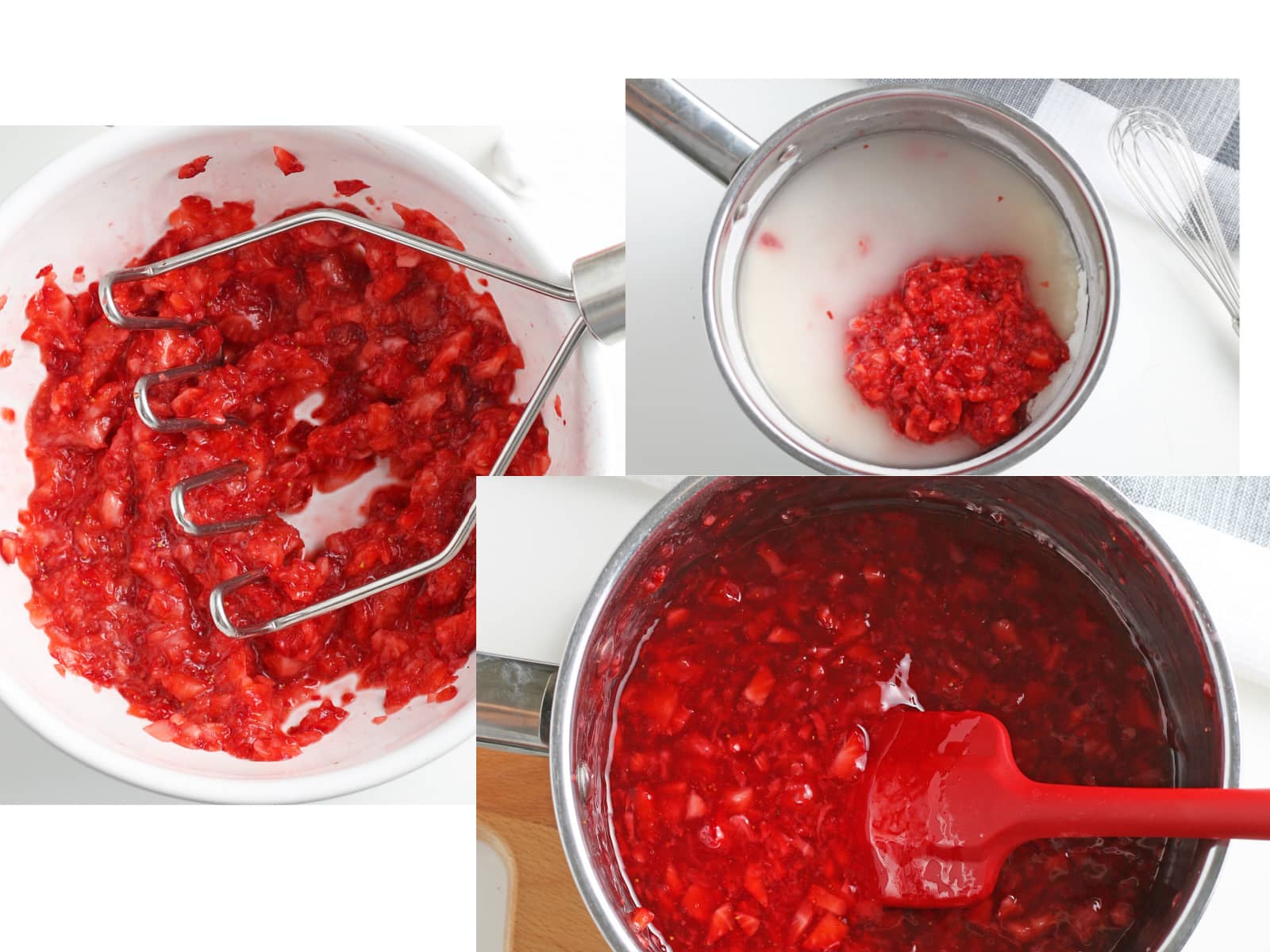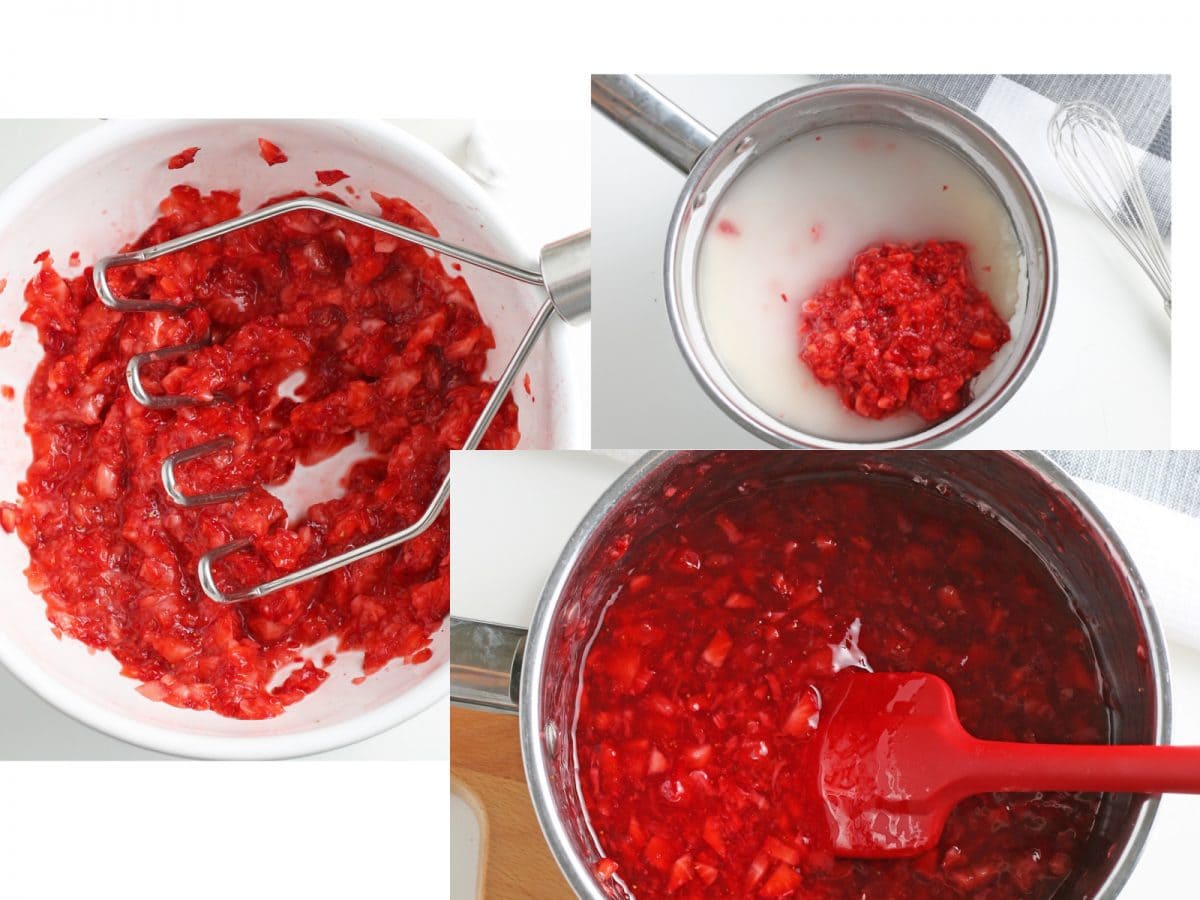 Chop strawberries and coarsely mash them with a post masher or pastry cutter. This gives them a head start in releasing juices and breaking down.
Dice a few more and set them aside, they are added towards the end for texture.
Add mashed strawberries to a saucepan with sugar, lemon juice and water and bring to a low boil. Stir well to combine and continue stirring until it makes a syrup and sugar has fully dissolved. It won't be super thick yet, but will start to thicken while cooling.
Stir in fresh berries and remove from the heat.
Allow to cool fully then jar, freeze or store.
Variations
Most people probably don't think about strawberry topping variations, but there are as many as your imagination can come up with.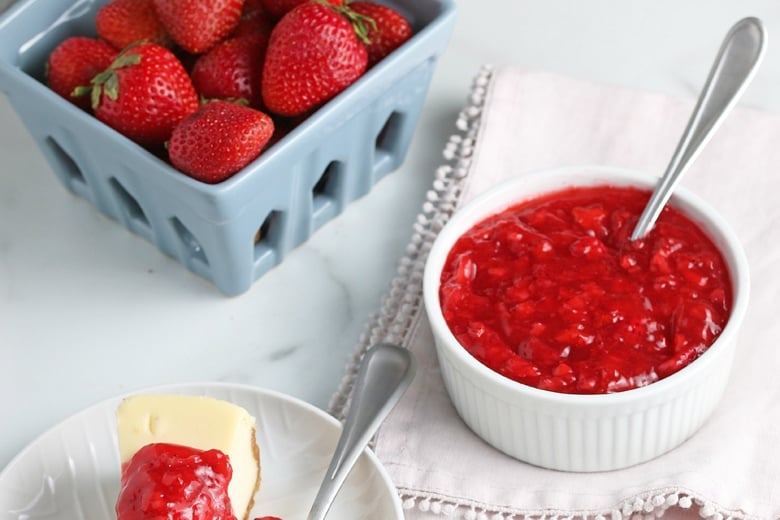 Citrus zest– either lemon or lime zest will take this sweet sauce and it some zing. Add 1/2-1 teaspoon.
Extracts– vanilla extract is the most common, but almond is also a fun addition. Add 1/2-1 teaspoon.
Salt– Not just table salt, but a good fleur de sel or a pinch of coarse Kosher salt. Salt helps brighten other flavors and also balances the sweet. Plus, I am a sucker for anything sweet and salty.
Red food coloring – Um, excuse me? You'd be surprised- check just about any package of store bought strawberry sauce I guarantee you it will have red dye. Some strawberries aren't as vibrant red as others. You'll all had them- the ones with a white center. A dab of food coloring gives it the sassy red color you are craving. Use sparingly, red food dye tend to have a funny aftertaste.
Storage & Freezing
Before storing, allow strawberry sauce to cool fully. Then transfer to a clean plastic or glass container. It will stay fresh in the fridge for up to 1 week.
If you plan to can your strawberry sauce, you'll do this while it is still hot, see instructions below.
Reheat on the stove or microwave. If reheating on the stove, I recommend adding 1-2 tablespoons of water to keep the correct consistency.
You can freeze strawberry sauce for up to 3 months.
How to Can Strawberry Topping
First, make sure you have all the tools.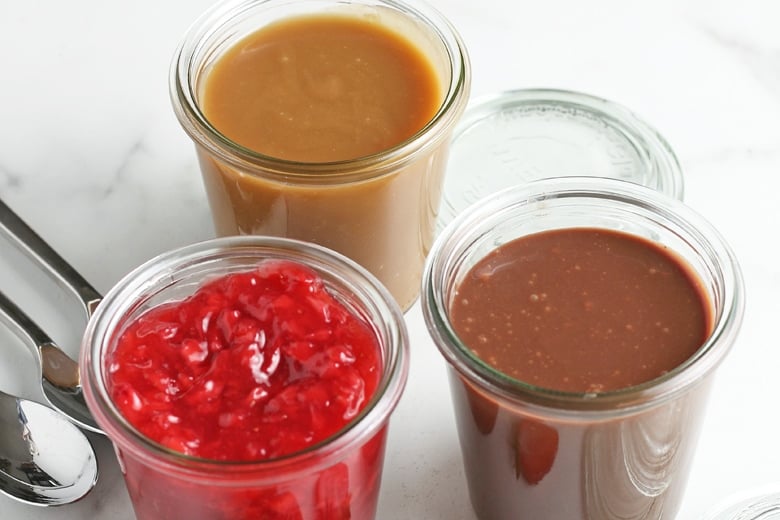 Then get to canning your strawberry topping…
Before you start cooking your sauce, fill a large pot with the canning rack with enough water to cover your canning jars by 1 inch. Bring it to a boil over high heat.
While your sauce is cooking place your jars in the pot of boiling water for a minute or so to warm them up. This prevents cracking from a temperature difference when you add the hot jam to them.
Remove them from the water with your jar clamps and place them on a towel upside down to let the water run out.
When your sauce is done, flip the jars over using your hand protection, they'll still be hot. Using your funnel and ladle, fill jars immediately with your hot jam, leaving ¼" of space between the rim and the jam.
Place seals on and using your hand protection, screw on the lids as tightly as you can. Then use your jar clamps to submerge the jars in the boiling water again. Wipe the rims clean before doing this- any sauce left on the rim can prevent them from sealing.
Allow to 'process' in the boiling water for 10 minutes. Remove and set them on a towel, (they'll be very hot!) and leave them at room temperature until each lid has 'popped'.
You'll know the strawberry topping jars are ready for the cupboard when you hear a 'pop' of the seal locking. You can also check this by pushing down on the center of the seal. If it clicks, it isn't done yet. This can take up to 24 hours, so be patient!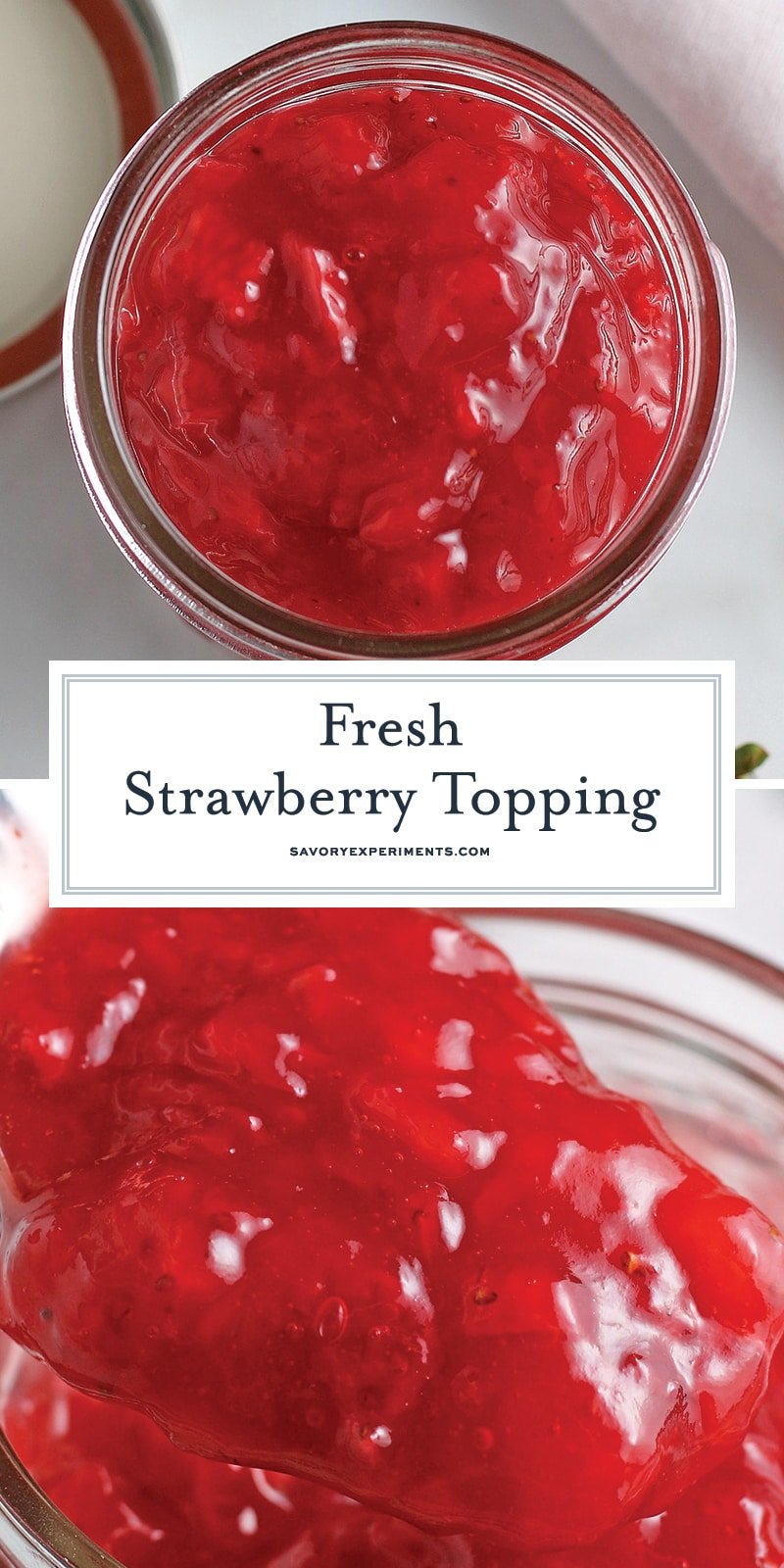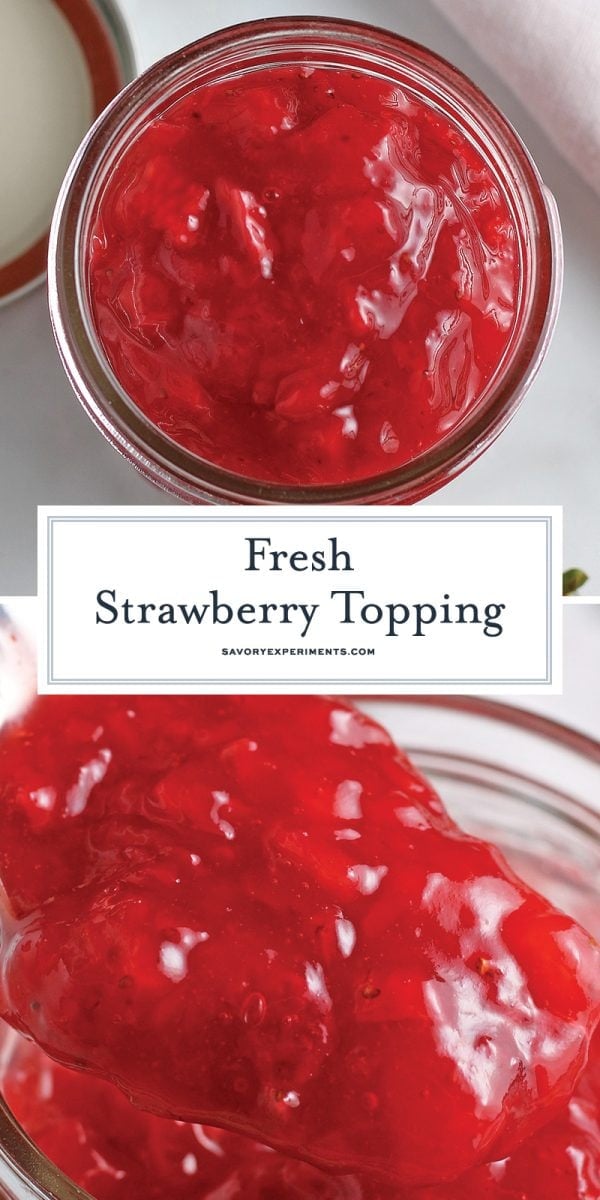 More dessert toppings: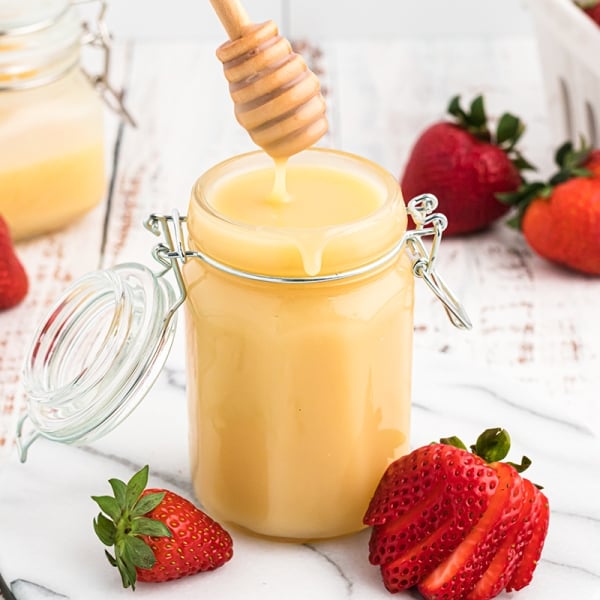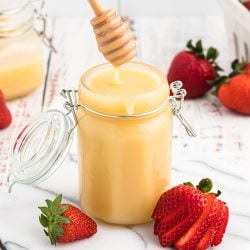 Dutch Honey Syrup (Vanilla Butter Syrup Recipe)
Dutch Honey Syrup Recipe is an easy homemade syrup for pancakes, waffles, French toast, biscuits or even vanilla ice cream!
View this recipe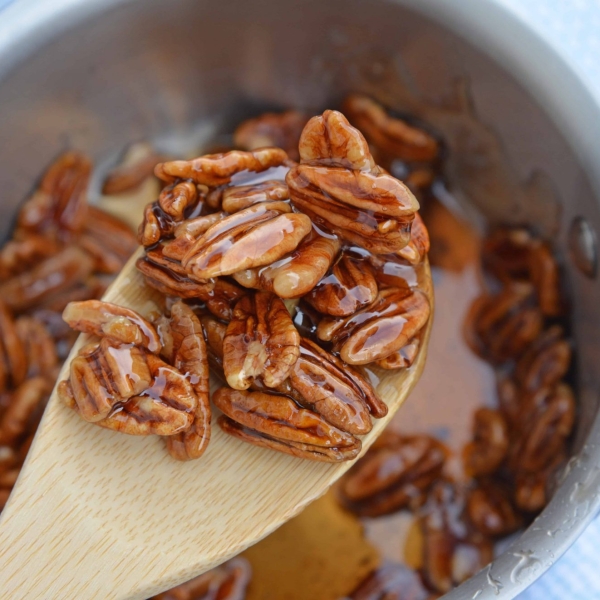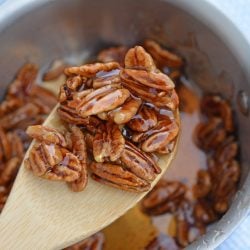 Pecan Caramel Sauce
Pecan Caramel Sauce is a salted caramel sauce with crunchy pecans. The perfect ice cream topping no matter what flavor your favorite flavor!
View this recipe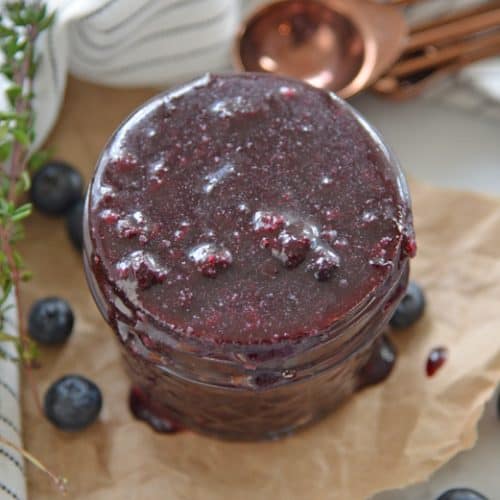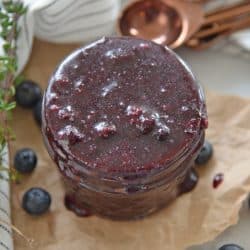 Savory Blueberry Sauce
This Savory Blueberry Sauce is perfect for adding that special something to your beef, pork or chicken. Fresh blueberries with thyme, shallot and balsamic reduction sauce.
View this recipe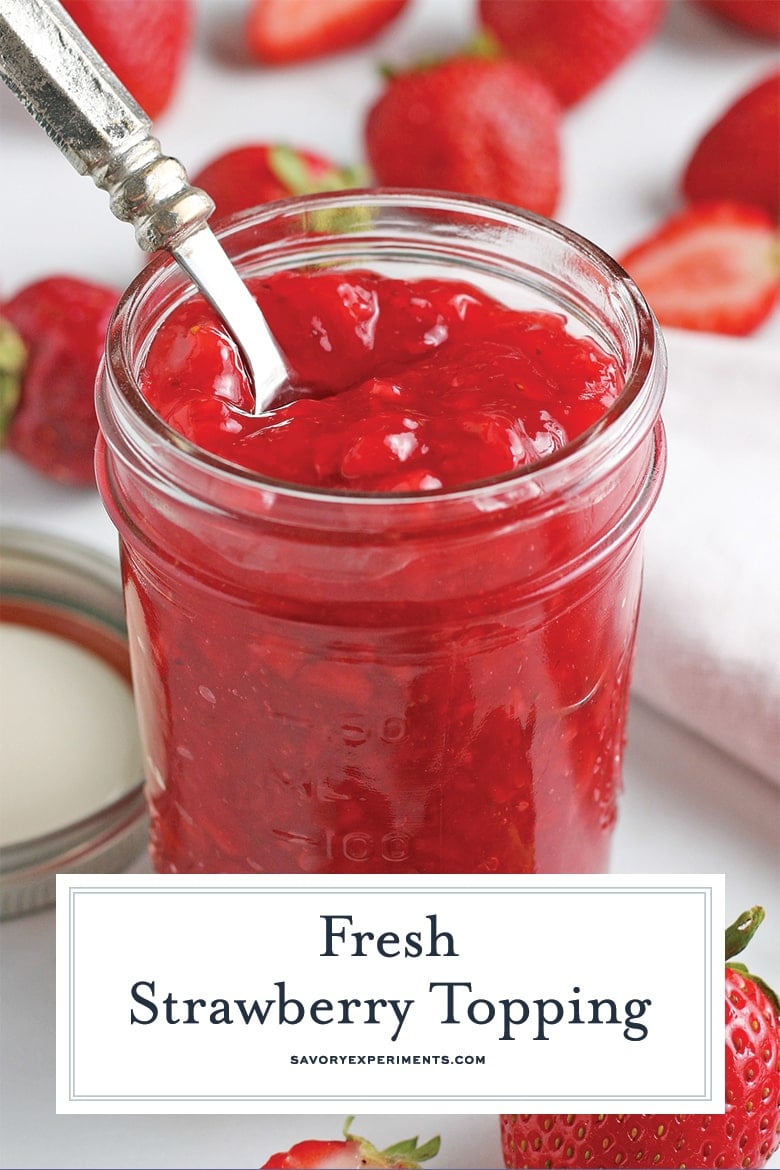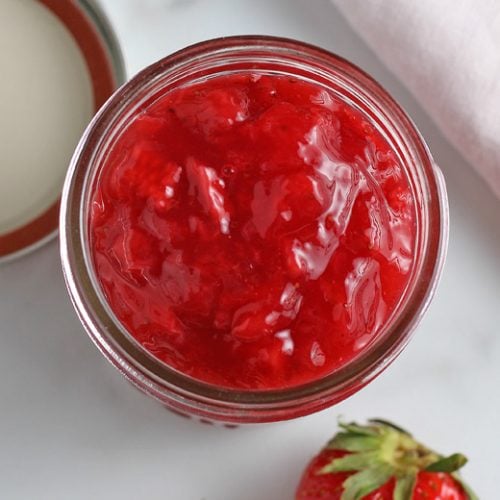 Strawberry Topping (Strawberry Glaze)
Perfect for topping ice cream, cheesecake and many other desserts, this EASY homemade Strawberry Topping is out of this world delicious!
Instructions
In a medium saucepan, combine the mashed strawberries, sugar, cornstarch, lemon juice and water. Bring to a low boil.

Stirring constantly, cook for 3-8 minutes, or until the sauce has thickened.

Remove from heat, stir in reserved 1 cup chopped diced strawberries and the salt.

Allow to cool fully before refrigerating or freezing. If canning (see instructions above) do this while hot.

If you've tried this recipe, come back and let us know how it was in the comments or ratings.
Notes
To Make Into A Strawberry Glaze: Place completed sauce in a food processor or blend until smooth with an immersion blender.
Nutrition
Calories:
256
kcal
,
Carbohydrates:
65
g
,
Protein:
1
g
,
Fat:
1
g
,
Saturated Fat:
1
g
,
Sodium:
4
mg
,
Potassium:
220
mg
,
Fiber:
3
g
,
Sugar:
57
g
,
Vitamin C:
88
mg
,
Calcium:
23
mg
,
Iron:
1
mg