Have you ever served sausage balls? The name is enough to make you giggle, but I promise these Pimento Cheese Sausage Balls are incredible!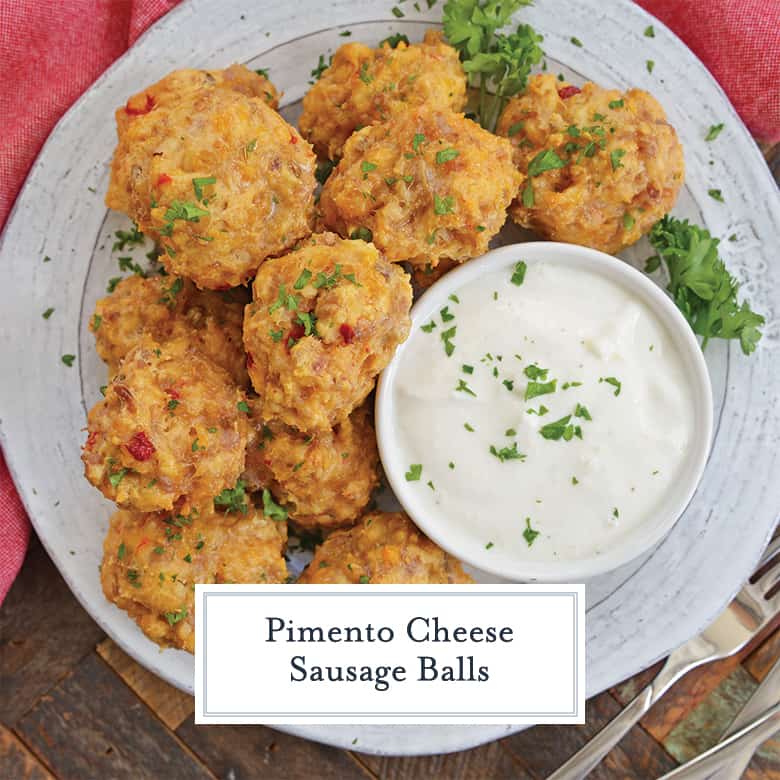 Pimento Cheese Sausage Ball Recipe
If you've never heard of it, pimento cheese is a southern classic. It's a cheddar cheese and pimento pepper dip. Pimento is just another word for roasted red peppers if you aren't familiar.
I could put pimento cheese on almost anything! But here are a few of my favorite recipes:
and now this Pimento Cheese Sausage Balls recipe!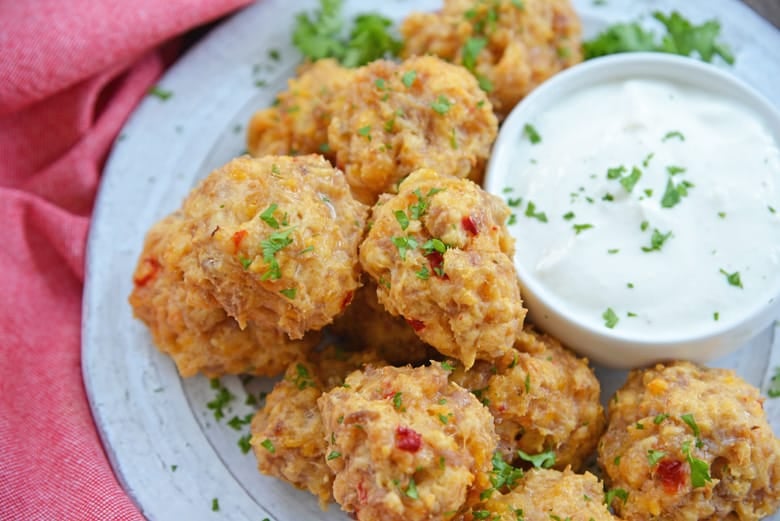 Traditional Sausage Balls
The most common version is sometimes called cream cheese sausage balls and is made with pancake mix or Bisquick. These easy Pimento Cheese Sausage Balls are a play on those, but using Pimento cheese in place of the cheddar and cream cheese.
Pimento cheese actually makes perfect sense since it is made from cheddar, cream cheese and mayonnaise. These ingredients provide flavor, along with pimentos.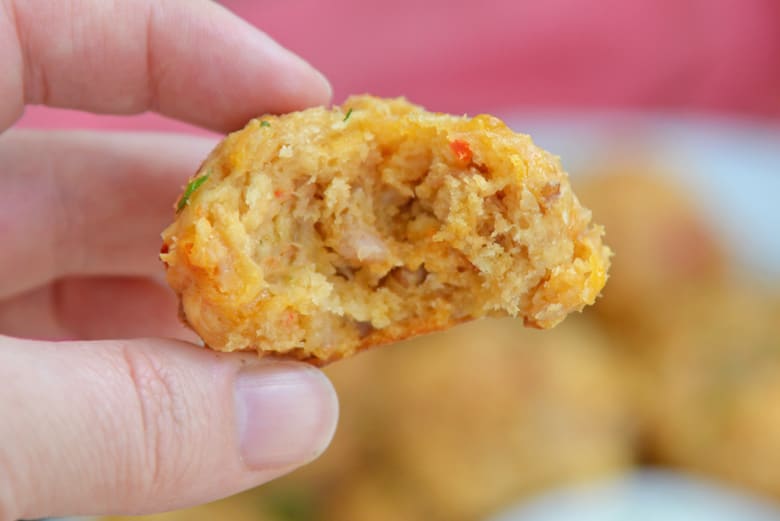 Red pepper also gives these little balls a fun rosy, pink color. They are the perfect party appetizer or snack.
Sausage Ball Ingredients
Like cream cheese sausage balls, this pimento version includes:
flour
baking soda
baking powder
salt and pepper
sugar
milk
butter
and sausage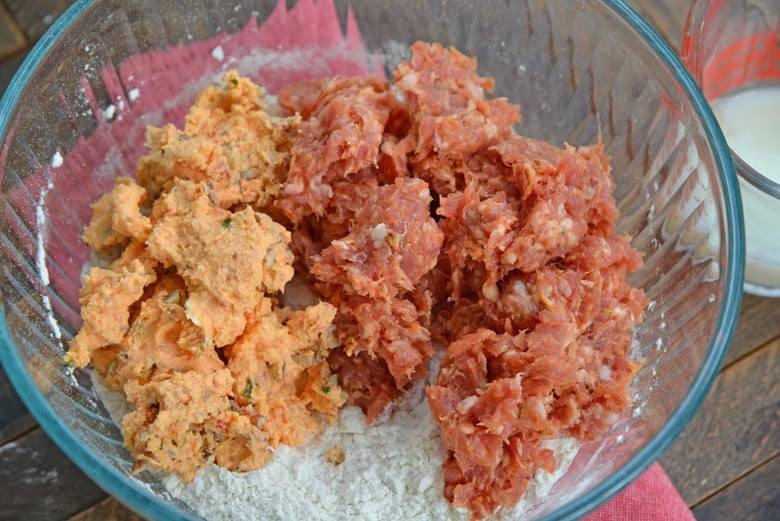 But in place of the cream cheese and cheddar cheese of the sausage balls you might be used to, this recipe uses pimento cheese!
Variations
While this base recipe is super tasty, you can totally put your own spin on the ingredients.
If you like spicy, add chopped jalapenos, crushed red pepper or spicy Italian sausage to the mix.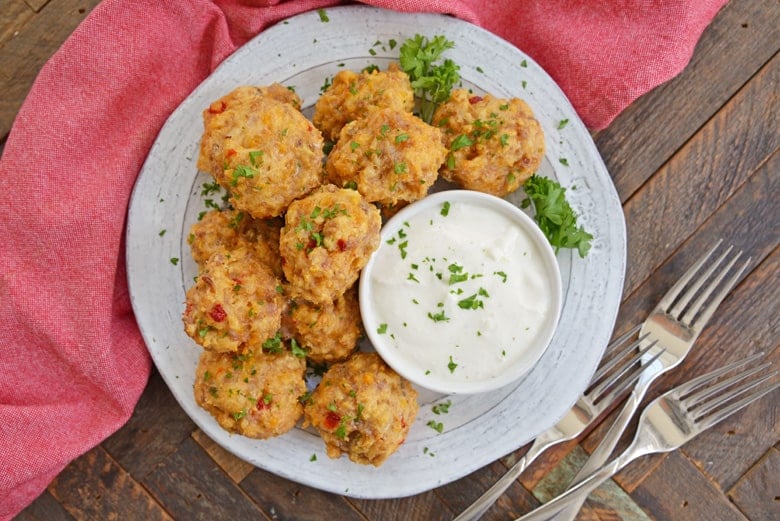 For a more BBQ flavor, a dab of liquid smoke or yellow mustard livens these right up.
Sausage Ball Dipping Sauce
If you've been around here for any length of time, you know that I love a good aioli. They're great for spreading on sandwiches, but they also double as an excellent dipping sauce!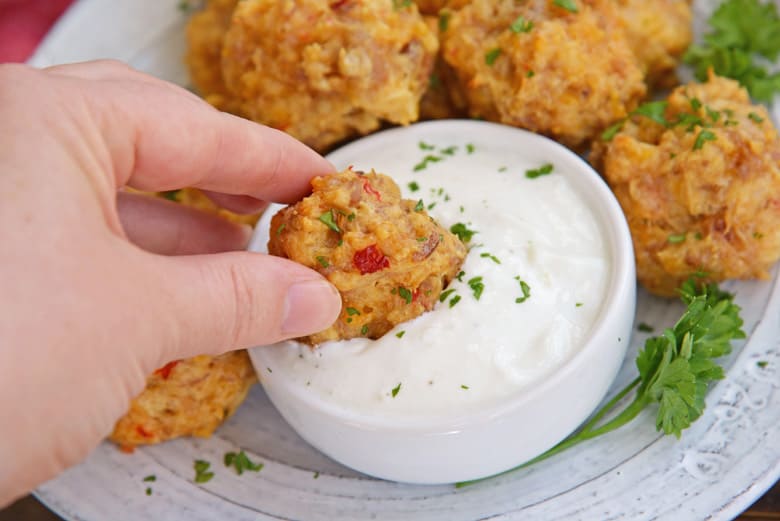 For this recipe, I like to use:

If you aren't a big fan of aioli, you could also try something like: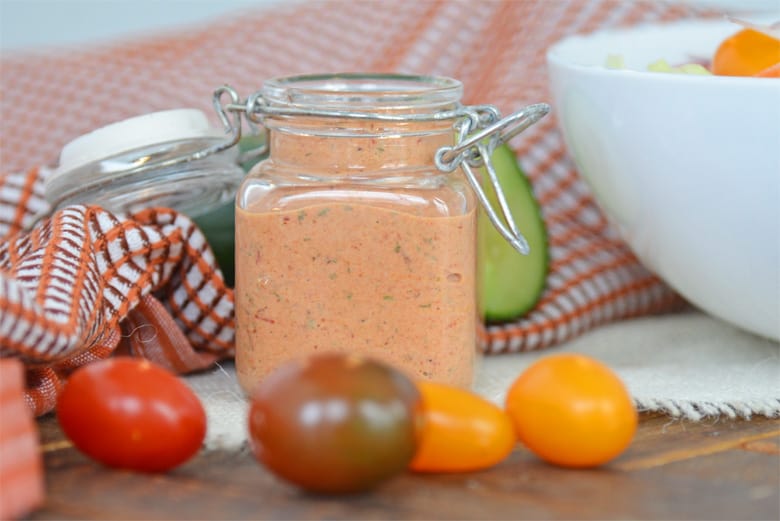 How to Make Pimento Cheese Sausage Balls
Start by preheating your oven to 350 degrees and coating a rimmed baking dish with cooking spray. Set the baking dish aside and start on the sausage balls. You can also use parchment paper.
Combine the flour, baking soda, baking powder, salt and sugar in a large mixing bowl. Whisk those ingredients well before adding in the other. Make sure they are well blended with no lumps.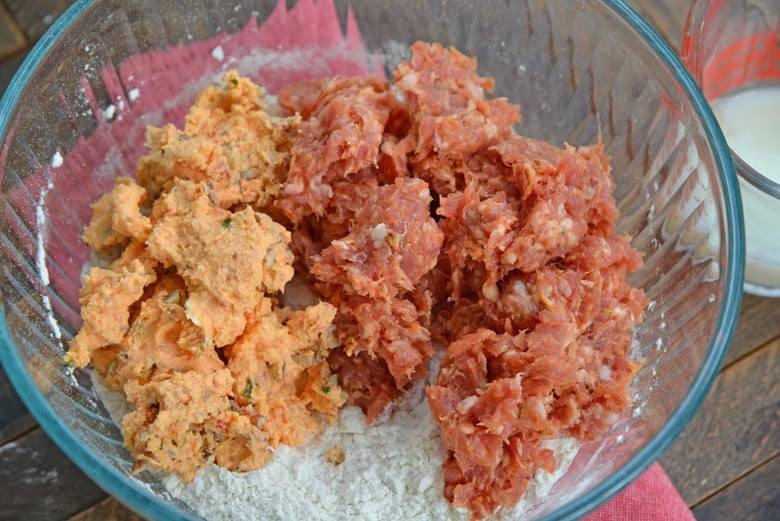 Next add the sausage, creamy pimento cheese, milk and pepper. Mix with the dry ingredients until everything is combined. Your dough will be sticky, that's how it should be!
Next gently form the mixture into one inch balls and place them at least one inch apart on the greased baking sheet. Then bake them for 20 minutes until the tops are lightly browned.
Do not get all excited and make giant balls. They need to be around 1 inch in order for the center to cook completely without the exterior being over cooked.
It is important to make sure the center of the sausage balls reaches an internal temperature of 145 degrees. So make sure to use a thermometer to check before serving!
The last step is to baste those babies with melted butter. Because everything tastes better with butter, right?? Sometimes I even add a dab of garlic or onion powder.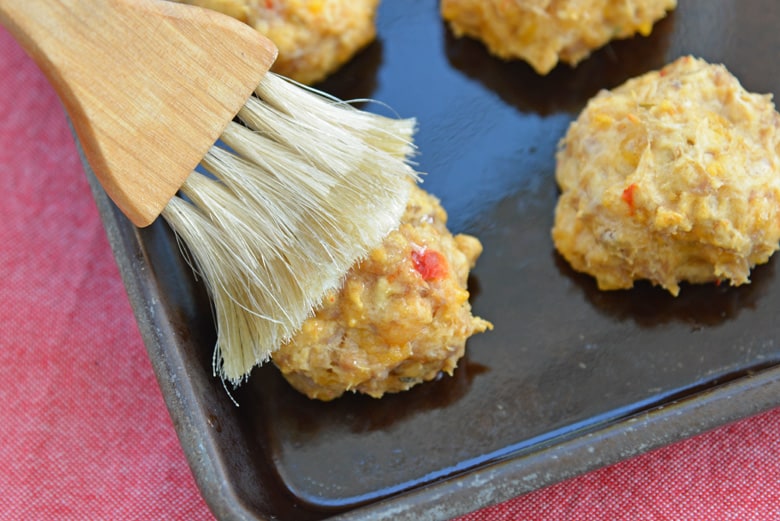 Tools for the Job
Large Mixing Bowl– Use a mixing bowl a little larger than you think you'll need. There is less pressure to keep it in the bowl.
Digital Thermometer– No, it isn't "cheating". Every chef has one on their lapel. It is the only reliable way to tell doneness for both enjoyment and food safety reasons.
Rimmed Baking Sheets – I really like this thick, industrial gauge baking sheets. You'll find this type in professional kitchens and are less likely to warp. Also, super cheap and they come in a variety of sizes. I have one of each!
Silicone Basting Brush– Truth time! I used a pastry brush with boar bristles for the photos because it looks prettier, but I generally used a silicone basting brush. They don't absorb as much of the liquid being basted, are easier to clean and dry better so they don't carry as much bacteria.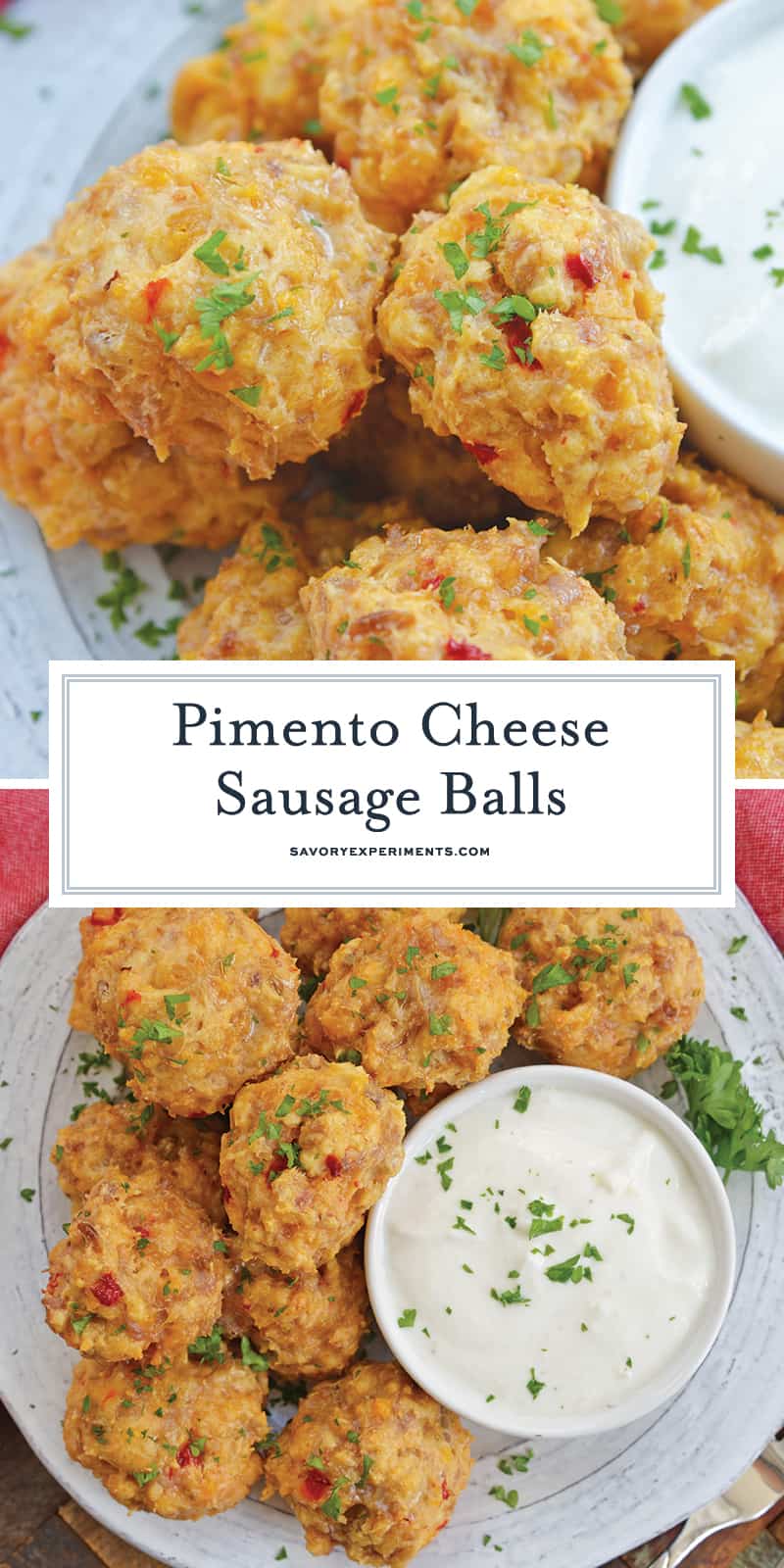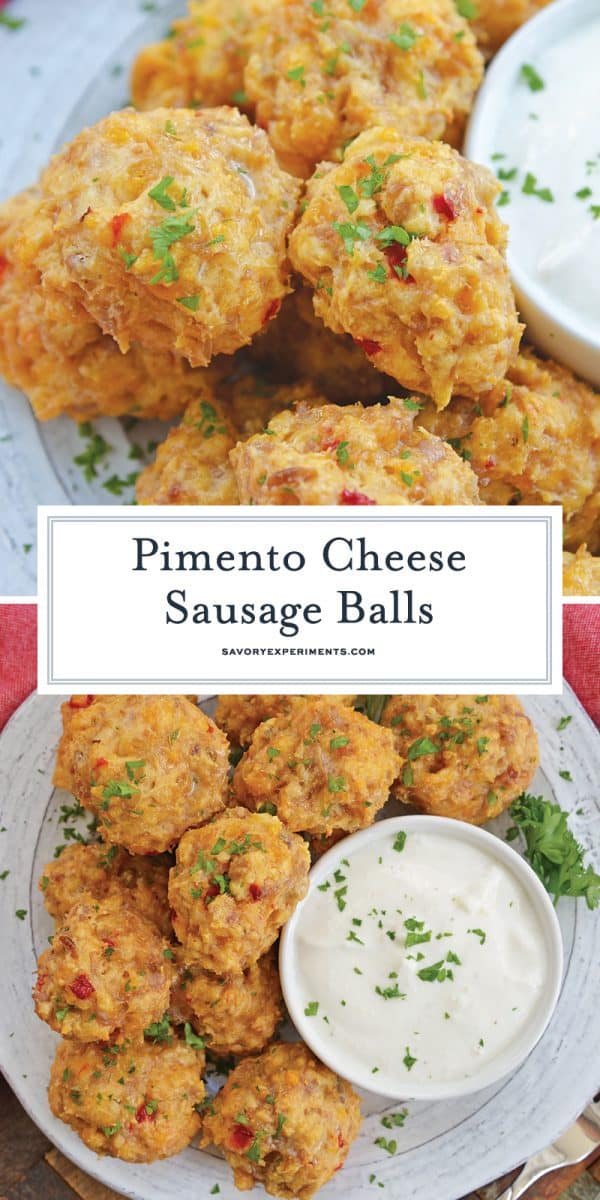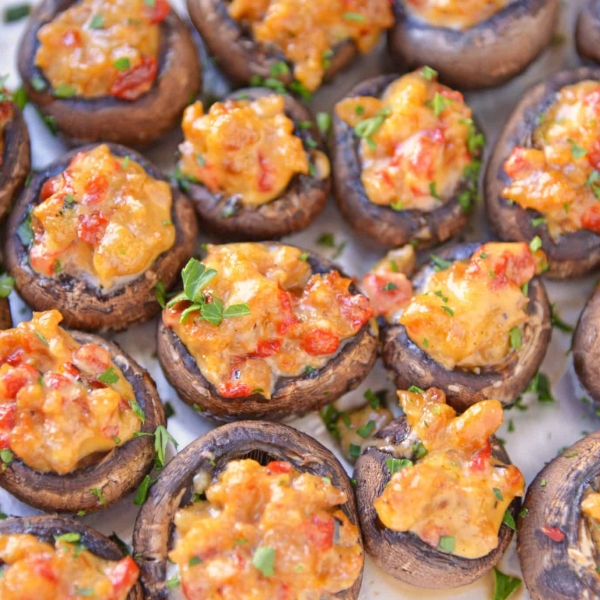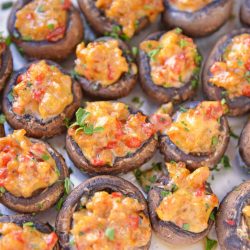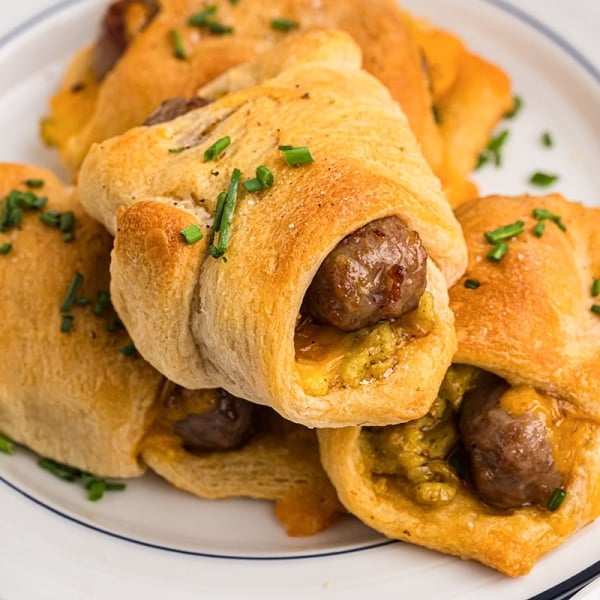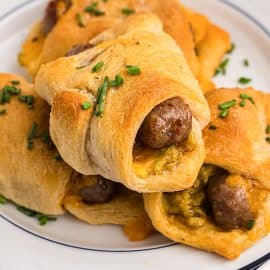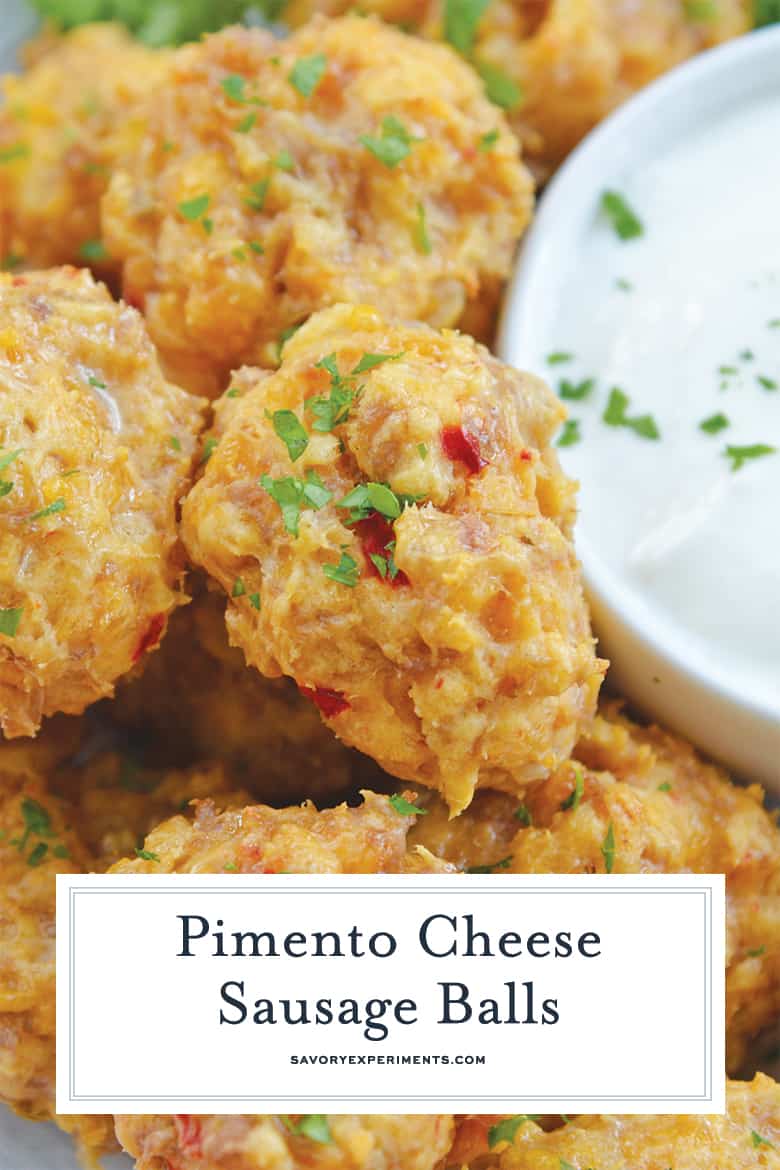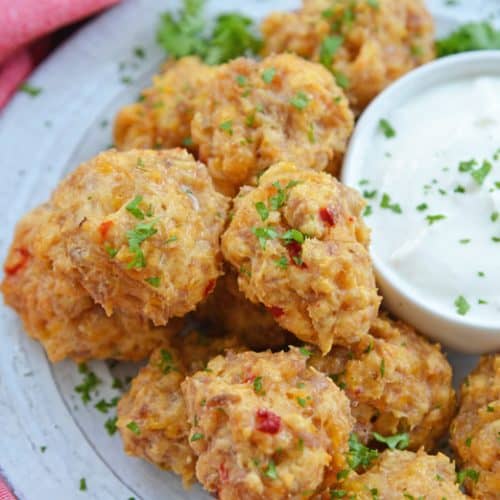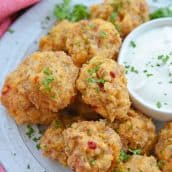 Pimento Cheese Sausage Balls
You'll never eat regular sausage balls again after you've tried the BEST Pimento Cheese Sausage Balls recipe! Perfect for entertaining or just snacking!
Instructions
Preheat oven to 350 degrees. Lightly coat a rimmed baking sheet with cooking spray.

In a large mixing bowl or bowl of a stand mixer fitted with the paddle attachment, combine flour, baking soda, baking powder, salt and sugar. Whisk by nad before adding other ingredients.

Add bulk sweet pork sausage, pimento cheese, milk and ground black pepper. Mix until combined. Dough will be super sticky, this is normal.

Gently mold into 1-inch balls and set a minimum of 1 inch apart on rimmed baking sheet.

Bake for 20 minutes, or until center registers at 145 degrees and tops are lightly browned.

Remove and baste with melted butter.

Serve sausage balls hot with aioli dipping sauce.

If you've tried this recipe, come back and let us know how it was!
Notes
You can also substitute 1 1/2 cups self rising flour and omit all purpose flour, baking soda, baking powder and salt.
Use spicy sausage or flavored sausage for a little kick.
You can also use chicken sausage opposed to pork.
Add a pinch of garlic powder or onion powder to the melted butter before basting.
Nutrition
Calories:
95
kcal
,
Carbohydrates:
8
g
,
Protein:
2
g
,
Fat:
5
g
,
Saturated Fat:
2
g
,
Cholesterol:
14
mg
,
Sodium:
287
mg
,
Potassium:
48
mg
,
Fiber:
1
g
,
Sugar:
2
g
,
Vitamin A:
115
IU
,
Vitamin C:
1
mg
,
Calcium:
46
mg
,
Iron:
1
mg