You probably don't know this about me (and likely don't care) but I'll tell you anyhow. I grew up in Colorado and on snowy days there was nothing like coming back inside after being half frozen from building snow castles and equally half roasting from your snow suit to a nice, piping hot mug of hot cocoa.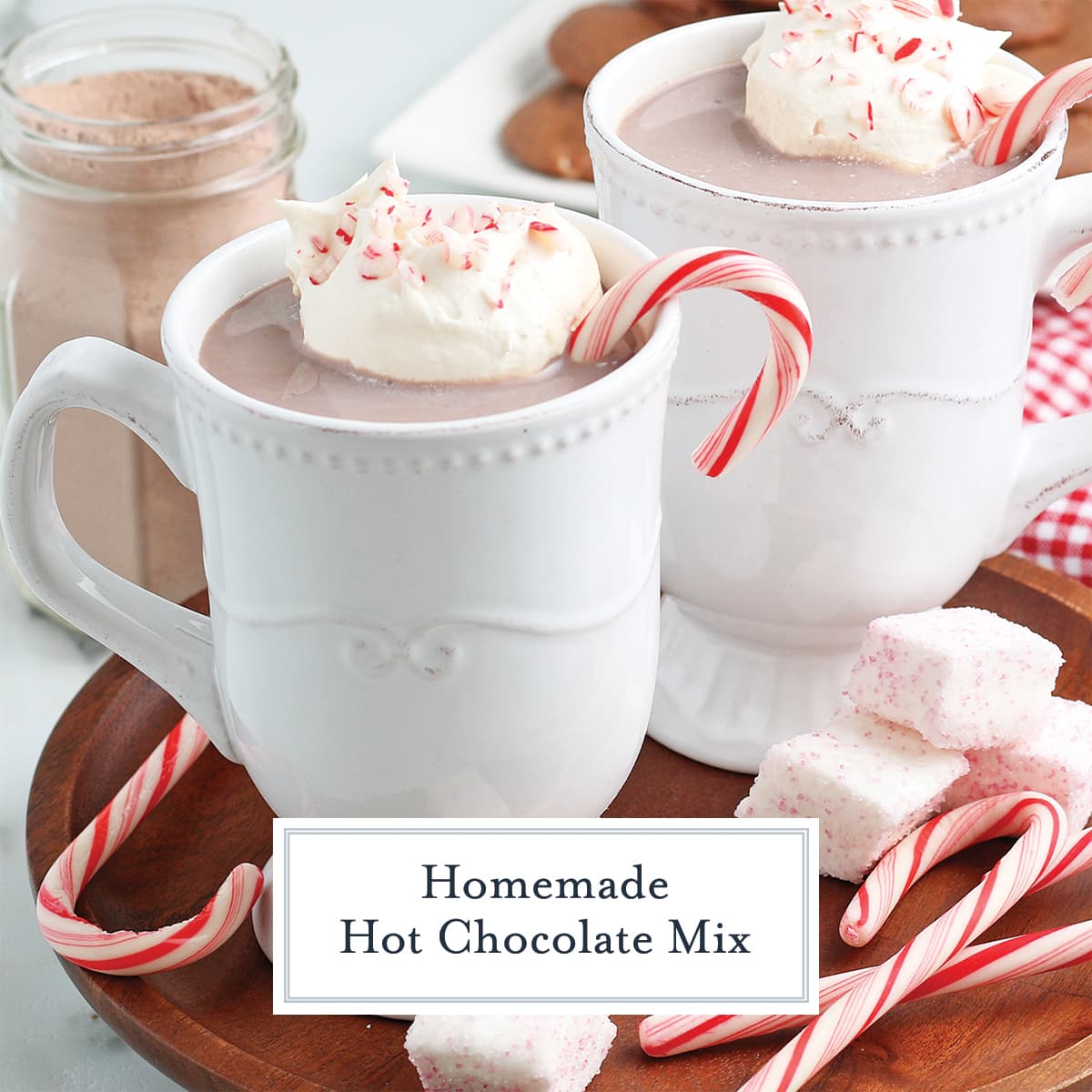 Except… that I actually preferred to just eat the mix straight dry and all powdery. LOL. I know, I know, I am such a weirdo!!!!
I even sprinkled it on my vanilla ice cream. And continued to do so as an adult!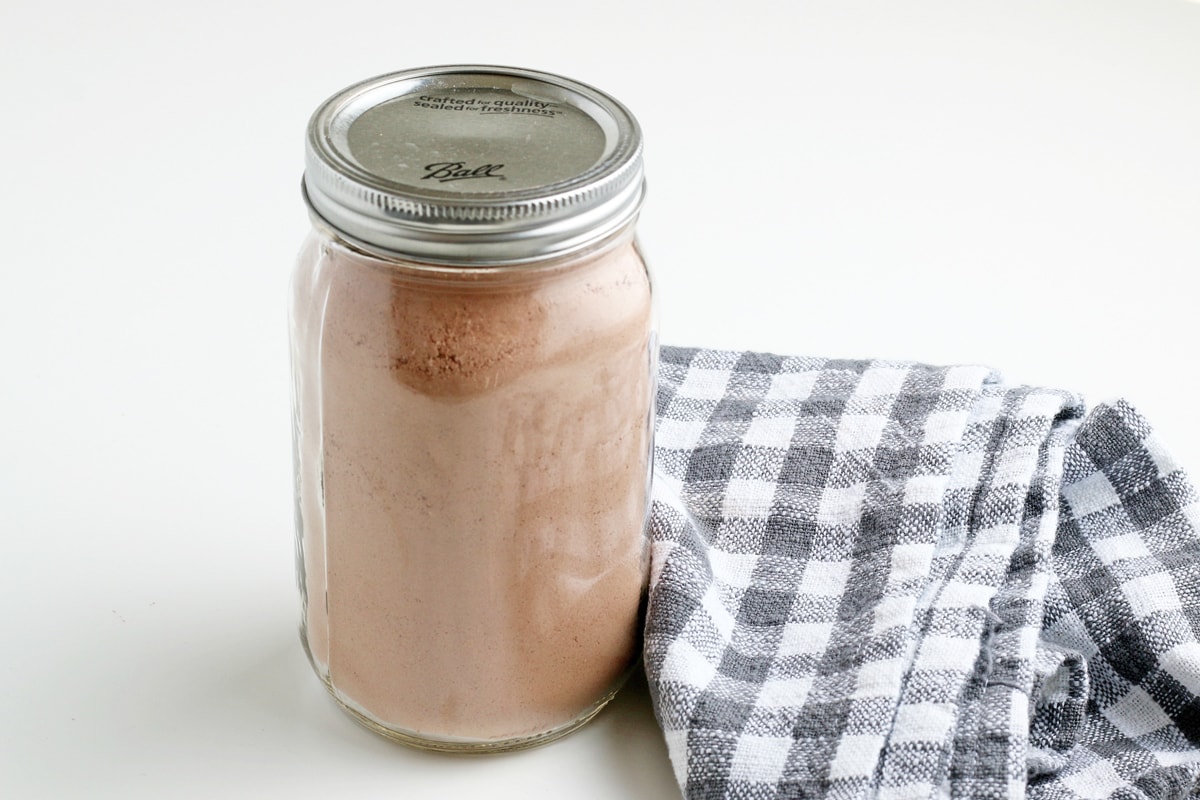 Homemade Hot Chocolate Mix
Although I haven't done this in ages, I did want to bring the joy of a marshmallow stuffed cup of hot chocolate to my kiddos and didn't have a tin of hot cocoa mix, so you can guess the rest of this story.
I made my own. After a few tweaks, we had it right. And the trick? The secret? Powdered and granulated sugar.
What's In Hot Chocolate Mix?
It is very basically and like most store bought spice blends and mixes, you likely have all the ingredients in your pantry. Mix up a large batch of this save it for a snowy day… or your ice cream in July.

Powdered Milk– Also known as instant dry milk, it is dehydrated milk.
Powdered Sugar– like confectioners sugar.
Unsweetened cocoa powder– if you use sweetened, omit the granulated sugar.
Granulated Sugar- this is your regular run-of-the mill sugar. Yes, there are two types of sugar.
If you want to make your mix super fine like the store bought stuff, place it in a food processor and give it a few pulses.
Variations
Peppermint Hot Chocolate– Swirl a candy cane or add 1 drop of peppermint extract to water or milk.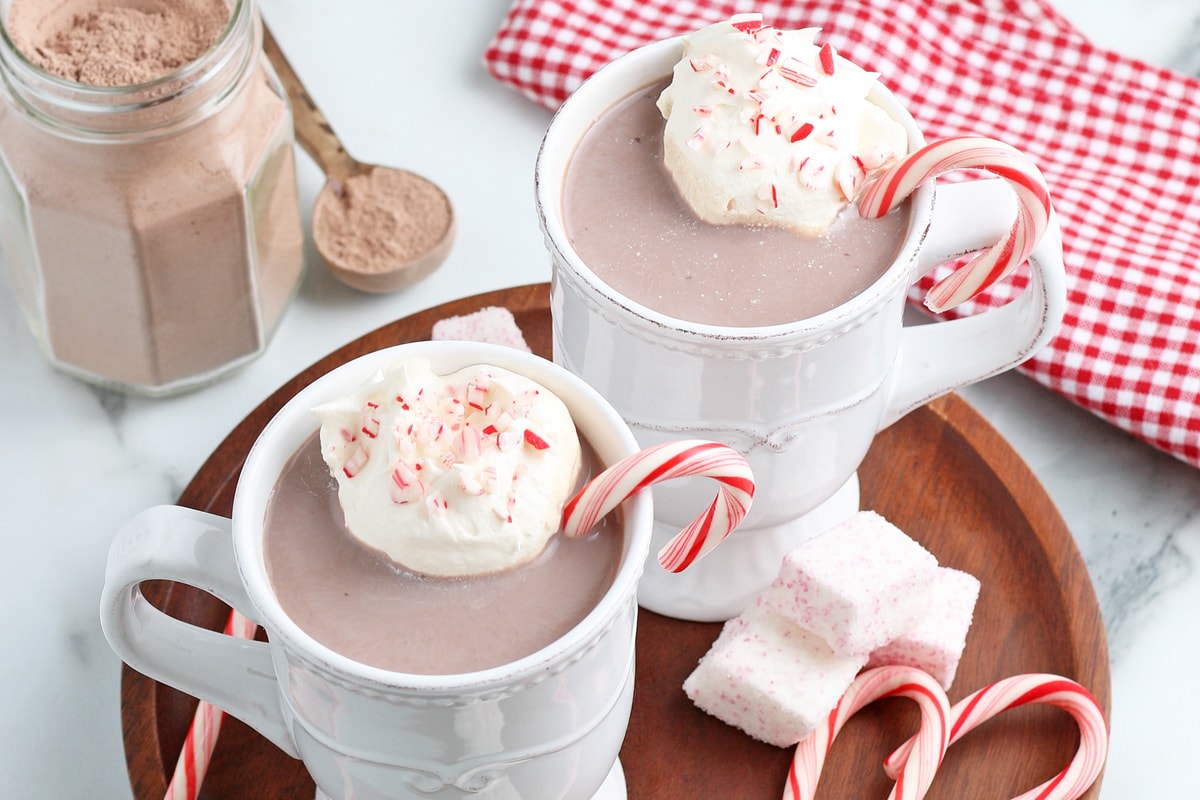 Boozy Hot Chocolate – Always a favorite! Spiked hot chocolate is best with chocolate or coffee liqueur, whipped cream vodka or marshmallow vodka, Bailey's Irish Cream or Peppermint Schnapps.
Almond Hot Chocolate– Add a drop of almond extract to hot milk or water.
Hot Chocolate Bombs– Fill these hollow chocolate orbs with hot chocolate mix and marshmallows! Make an excellent gift.
Hazelnut Hot Chocolate – Same thing, add a drop of hazelnut extract.
Flavored Coffee Creamer- Another quick and easy way to get a flavored cup of cocoa is to add a tablespoon of flavored coffee creamer.
Whipped Hot Chocolate– This one just uses regular mix, but with heavy cream and makes it frothy and thick!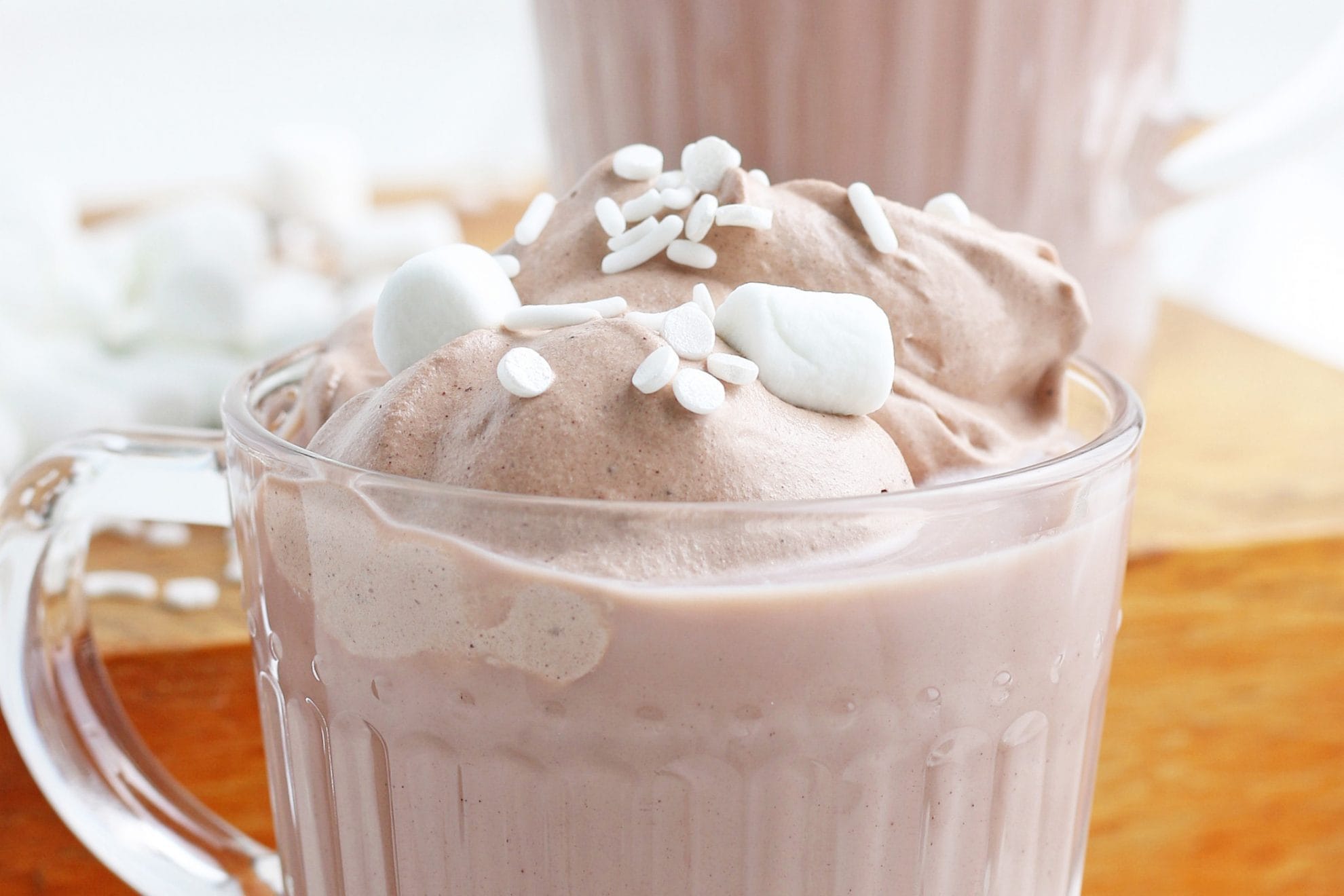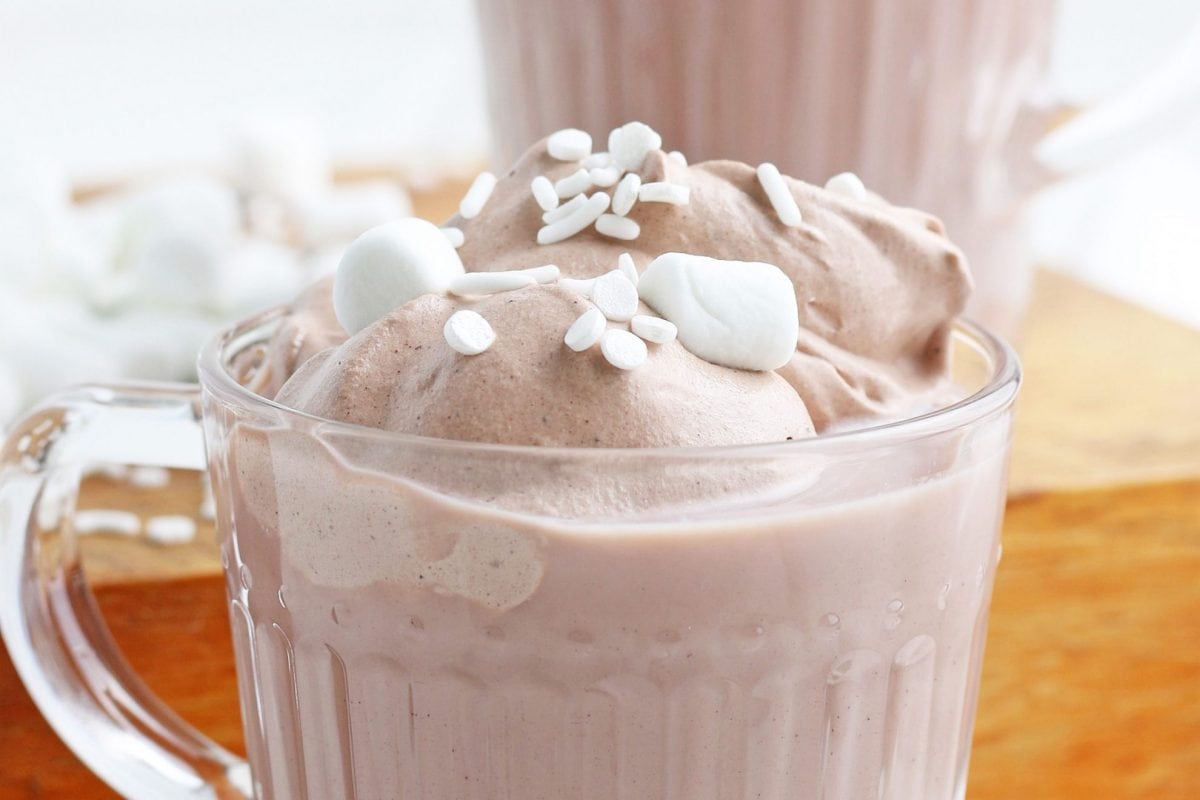 Toppings
Perfect for making a hot chocolate bar, you you can place each in a little bowl and allow your guests to build their own creation!
Plain Marshmallows
Flavored marshmallows
Crushed peppermint
Hot chocolate stir sticks
Milk or semi sweet chocolate chips
Butterscotch chips or crushed butterscotch candies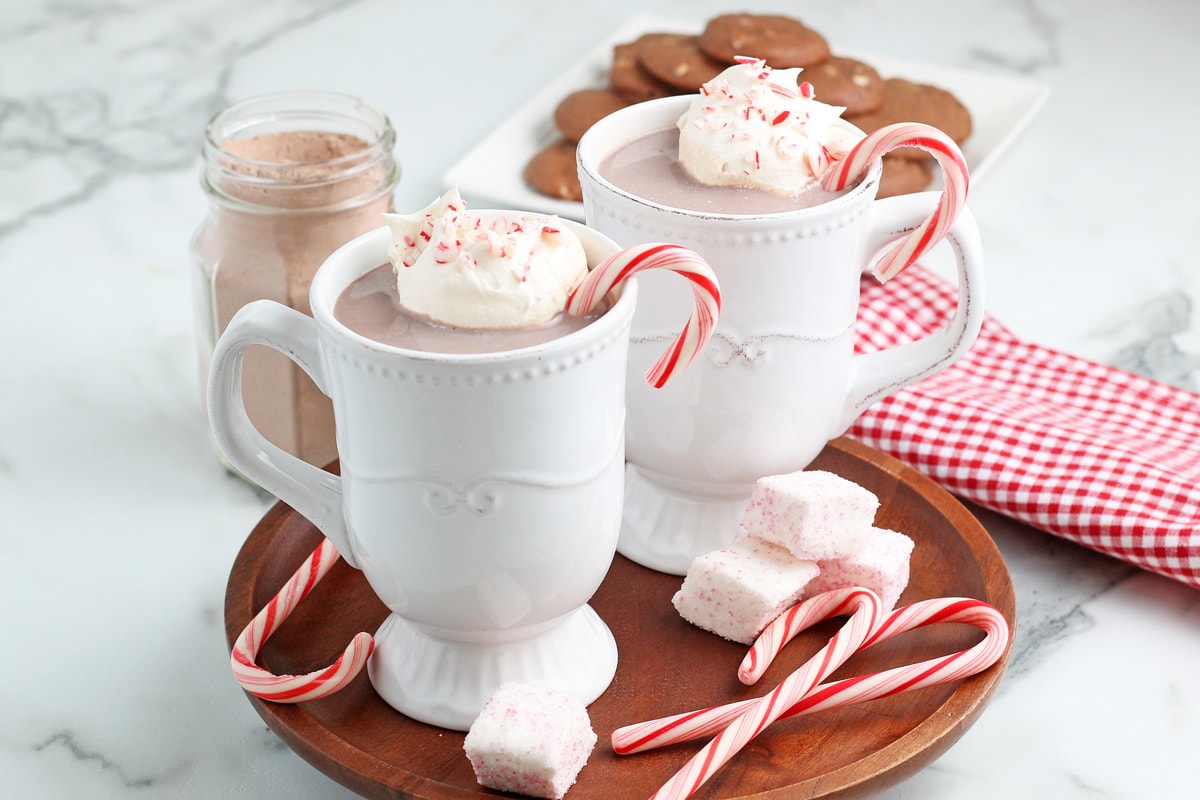 Storage & Gifting
Store dry mix in a cool and dry place for up to 6 months. It is best in an airtight container or jar.
Homemade hot chocolate mix is great as a gift. Purchase cute glass jars or mason jars at your local craft store and then attach a hand written note with instructions on how to make the hot chocolate.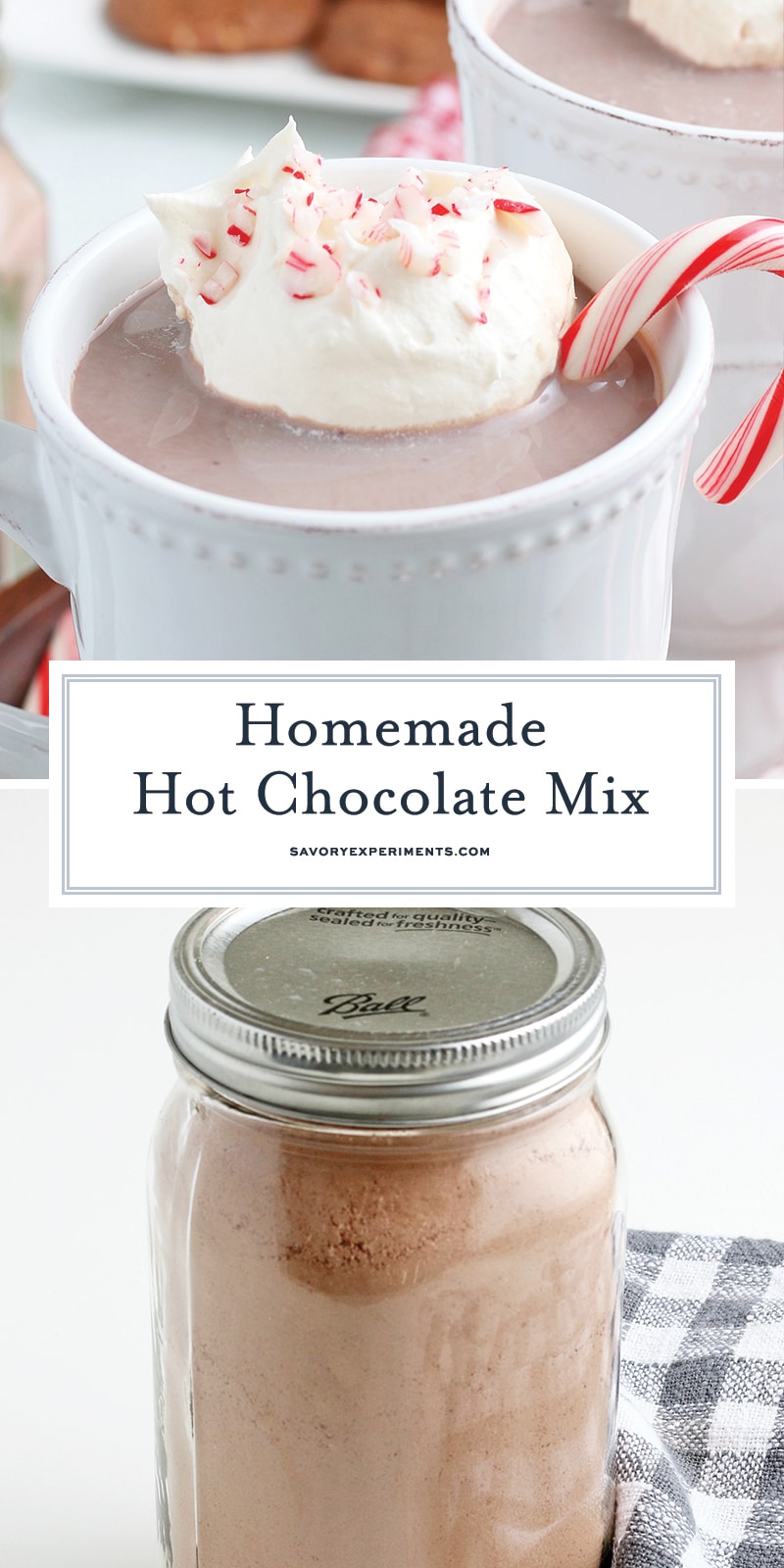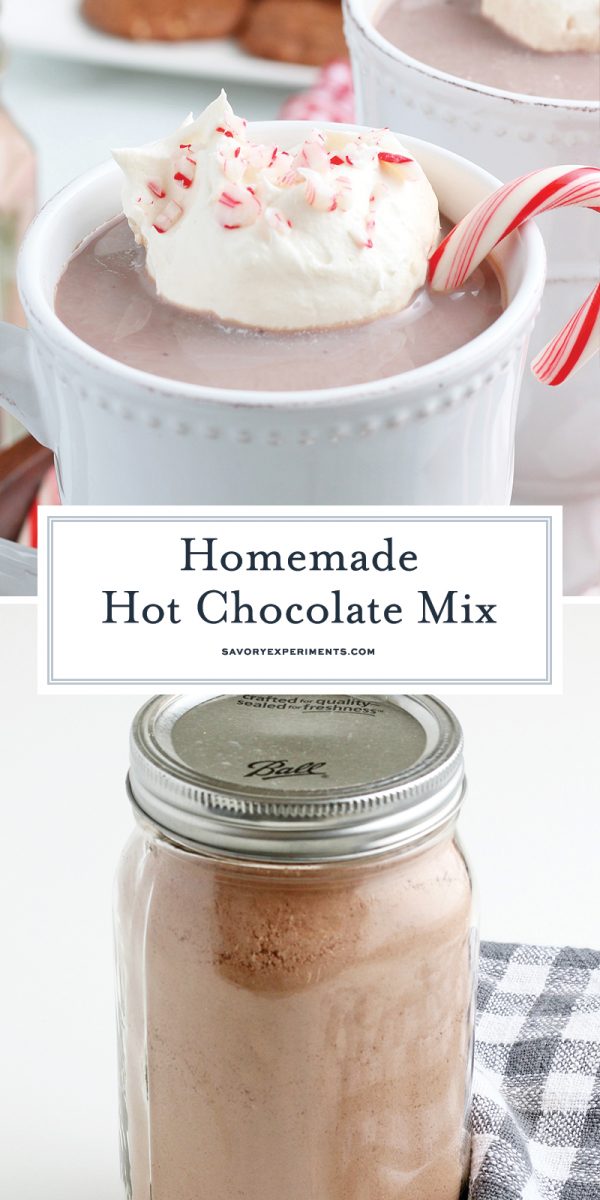 Other Cold Weather Beverages