There is nothing more comforting than a steaming bowl of ham and bean soup. Commonly known as ham bone soup or navy bean soup, this is a dish developed out of necessity, but all of the flavor profiles aligned and now it is not only nostalgic, it is delicious!
History of Ham Bone Soup
There are differing stories, but both are very probable, so it is likely they both have roots but with tiny twists. The first is credited to black southerners who were experts at developing delicious, high value recipes from items that others might have seen as "leftovers" or "poor food". In this case, it was using ham hocks or ham bones to season soup and loosen the meat and dried beans.
The second is that navy bean soup was served on naval ships because of it's inexpensive ingredients and high nutritional value.
I think we all had a grandmother that would scoff at the thought of discarding a ham bone without pulling the meat for soup, stock or ham salad.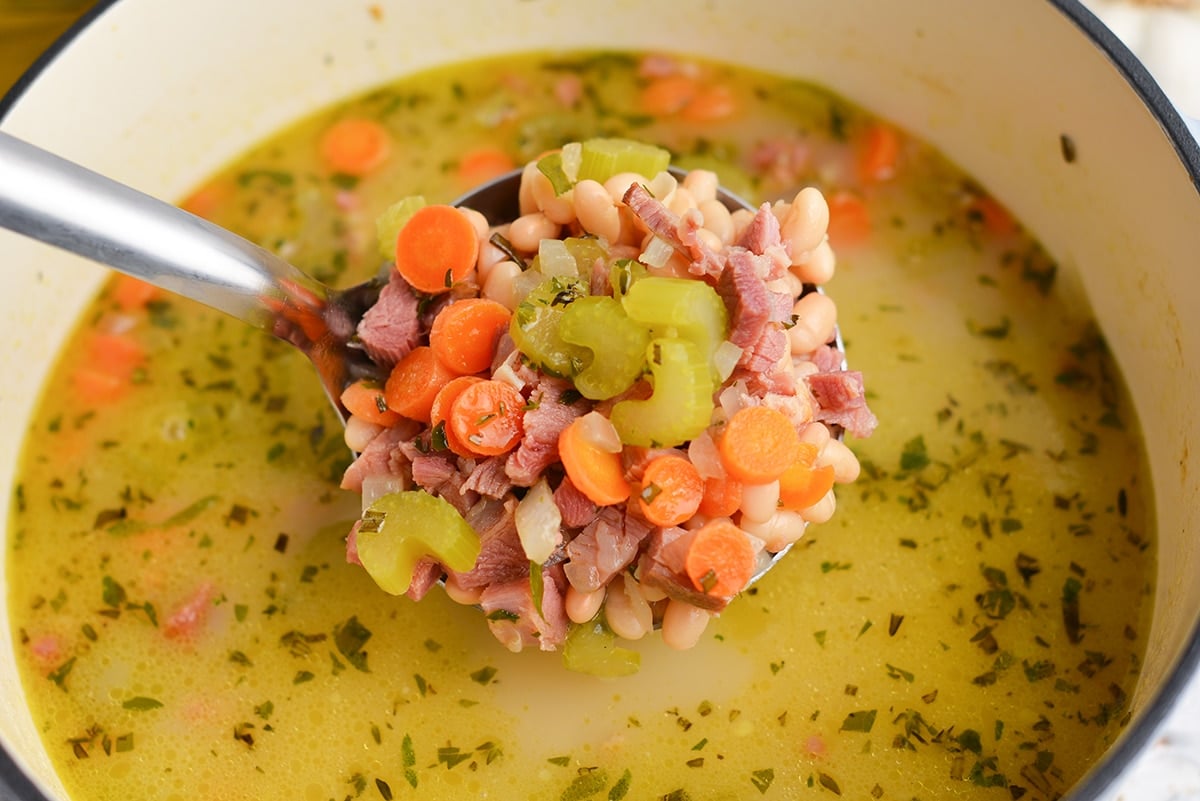 Leftover Ham Recipe
And this is where is become leftover ham soup- because most of the time it was a dish created after the main dish. Whether you have a boneless ham roast or an actual bone, there is still valuable meat that can be used to season the broth and also add protein.
The beauty of this leftover ham soup recipe is that it will rarely taste the same because the seasoning of the ham roast will likely have different flavor profiles. A soup made with a honey ham versus my peach and riesling ham will have distinctly different flavor profiles. You can even use leftover ham steak recipes or slow cooker ham.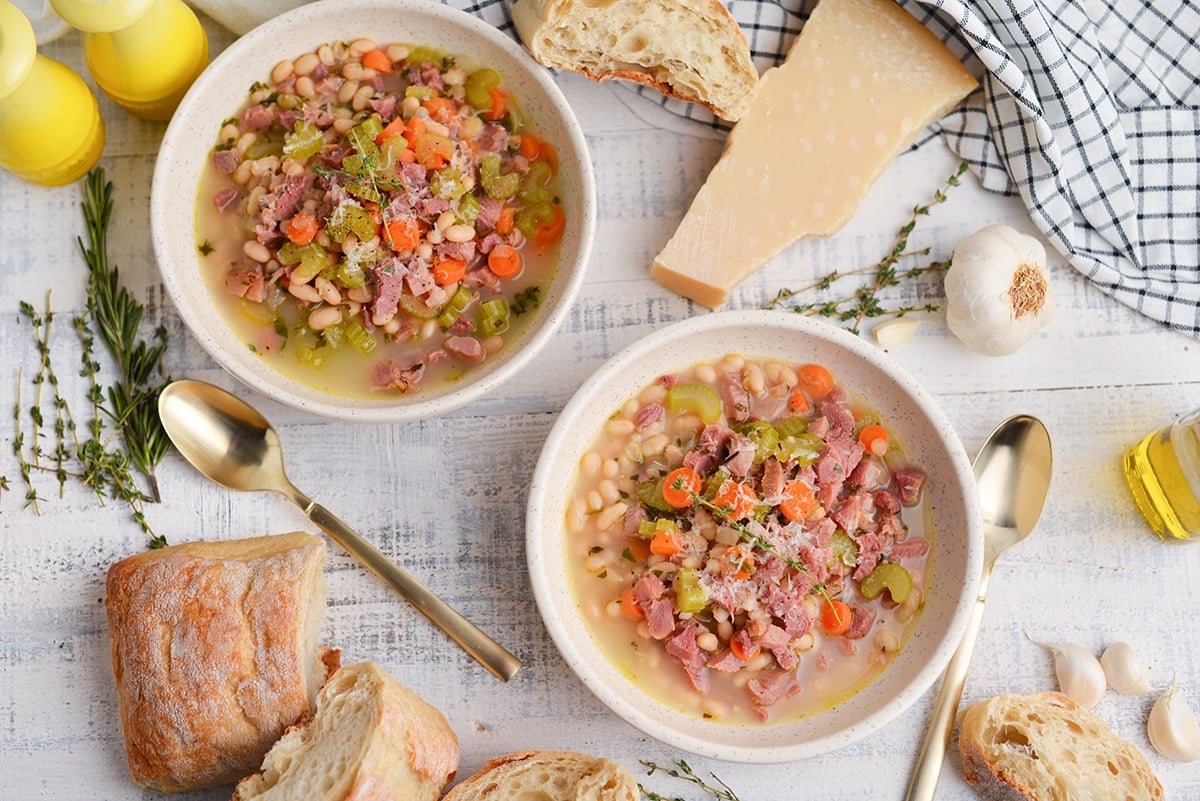 This is also why the base of the broth is fairly standard and versatile; so it seamlessly blends with all of the other possible items that could be on your leftover ham.
Even if you think there is little to no meat left on the bone, you might be surprised how much you can salvage using a paring knife or allowing the bone to simmer in the broth and loosen all the bits.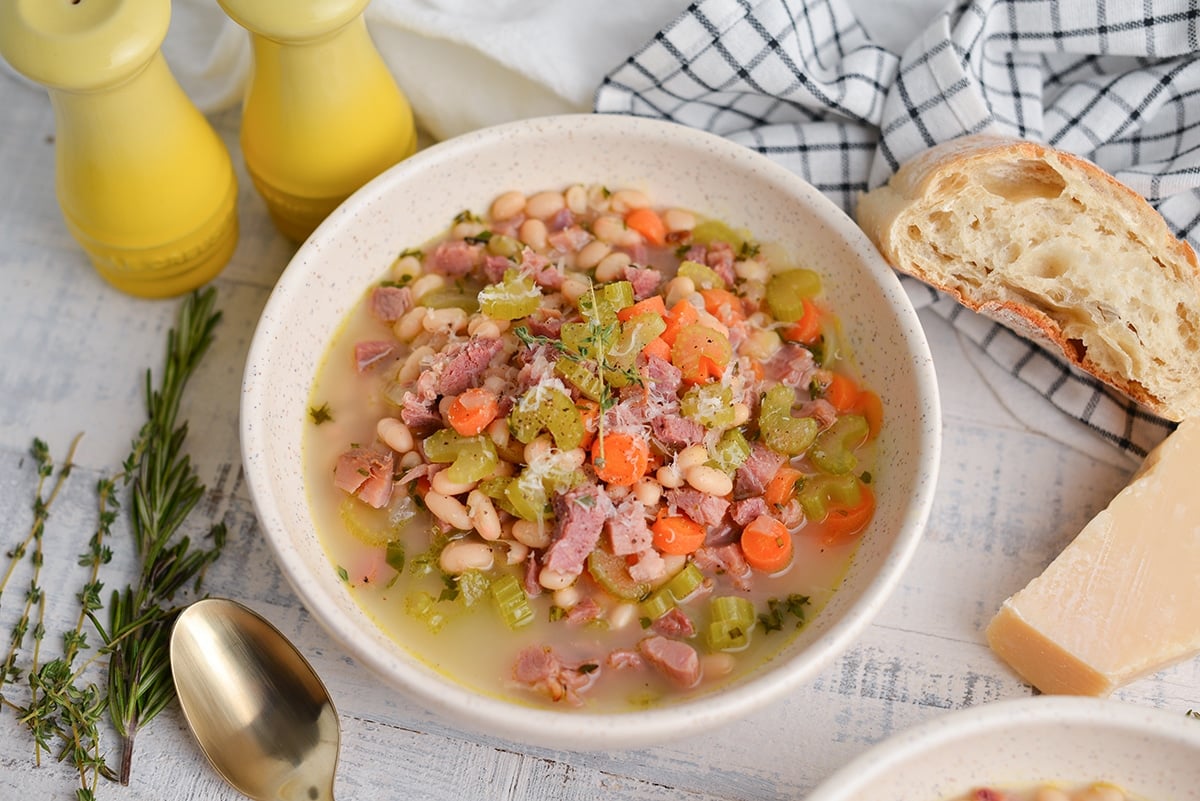 How to Store a Ham Bone for Soup
If you are planning to make this bean soup recipe within 5 days of serving your fresh ham, then store your leftover ham bone in an airtight container or plastic bag in the refrigerator.
But if you aren't sure when you'll be making soup, wrap the ham shank tightly in plastic wrap or aluminum and then place into a freezer bag, releasing as much air as possible. Freeze for up to 6 months. Thaw in the fridge overnight before using.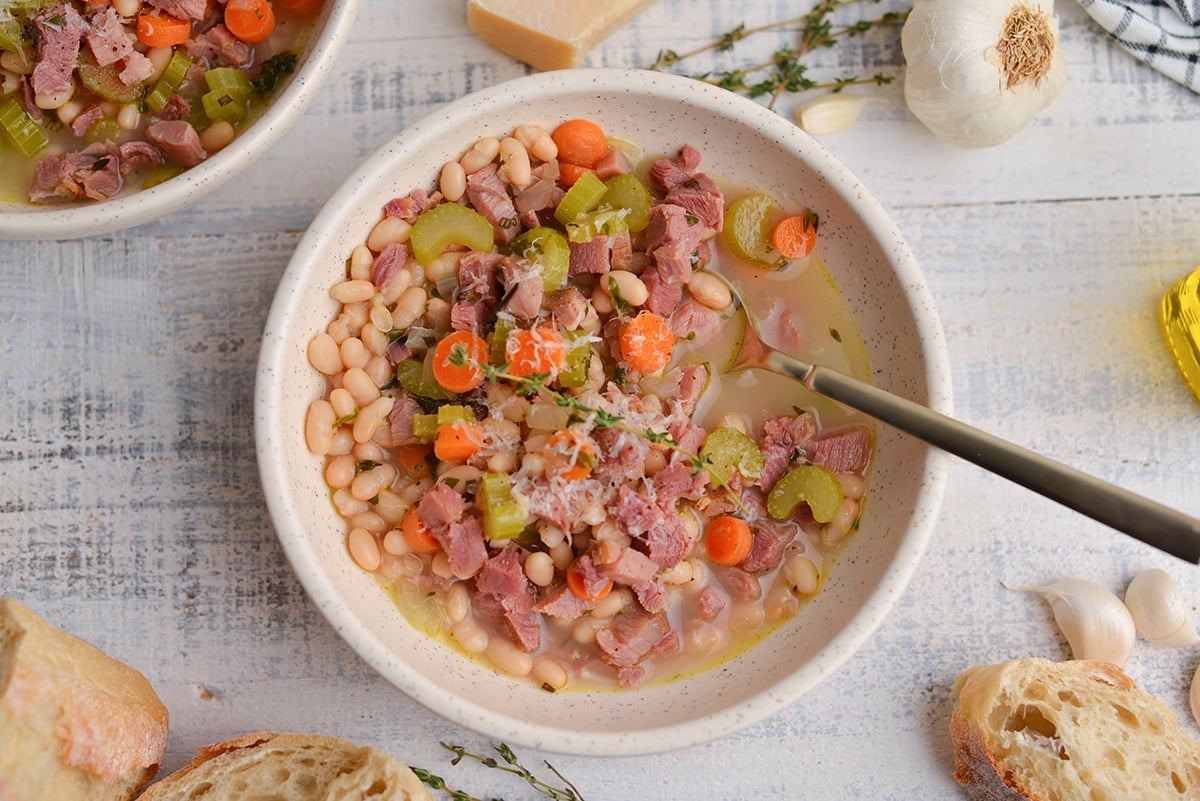 Can I Make Ham Soup Without a Bone?
You sure can! In fact, for this soup, I just carved off the meat and didn't use the bone at all. But if you don't have any leftover ham, feel free to grab a few ham steak, a boneless ham or even a package of thick cut deli ham meat at the grocery store.
All of them will create a delicious soup.
Ham Soup Ingredients
This soup is super verstile, so feel free to add or omit any of the ingredients. The point is to use what you have on hand, so get creative!
Olive Oil– For sauteing. Any natural oil will work.
Veggies– Carrots, white onion, celery and garlic, the trinity of soup bases, are used in this recipe. See below for some other great additional veggies. Just be mindful of cooking time so nothing gets super mushy and stays snappy and flavorful.
Fresh Herbs– Any blend of fresh herbs will work as long as it totals 3 teaspoons. I used flat parsley (Italian parsley), thyme and rosemary. Oregano, sage and even mint would be fun additions too. But also feel free to just use all parsley if the ham itself has a lot of flavor profiles. Fresh parsley is a gentle flavor so it doesn't overpower the leftover holiday ham taste.
Ham– See above for how to get your ham, lots of options! If you are using a ham bone, throw that in too to loosen the meat and then use a paring knife to carve the bits off.
Navy beans– This is a quick soup, so I used canned (drained and rinsed), but any type of small white bean can be swapped. Cannellini beans, garbanzo beans, great northern beans, white kidney beans or flageolet beans are good options. Here are even more navy bean recipes.
Low sodium chicken broth or vegetable broth– Use more or less depending on how you like your soup. I like more additions and less broth, but some prefer more broth, less additions. Use a low sodium broth because the actual ham will likely have a good amount of salt and you don't want the soup to be overly salty. These might also be labeled as chicken stock or vegetable stock at the store.
Ground White Pepper– A milder pepper taste, I like white pepper for seasoning and then add a few grinds of fresh black pepper when serving.
Apple cider vinegar– This is my secret for soups and now I'm sharing it with you. A very famous chef once told me that every soup should have a splash of acidity right before serving to brighten the flavors. This can be vinegar or a citrus juice. Feel free to play around with different varieties!
Coarse Kosher Salt– Maybe? You might not need salt at all. Depending on how salty the ham was, it might not be necessary. Or you can season it with a small sprinkle of flaky sea salt when serving.
Heavy Cream- I like using just a touch to thicken the broth, but this is optional.
Other veggies we like are chopped kale and spinach (add towards the end) and root vegetables because they are so hearty. These would include parsnips, rutabagas, potatoes and turnips. If you care craving more carbs, feel free to add a cup of small pasta like ditalini or leftover rice.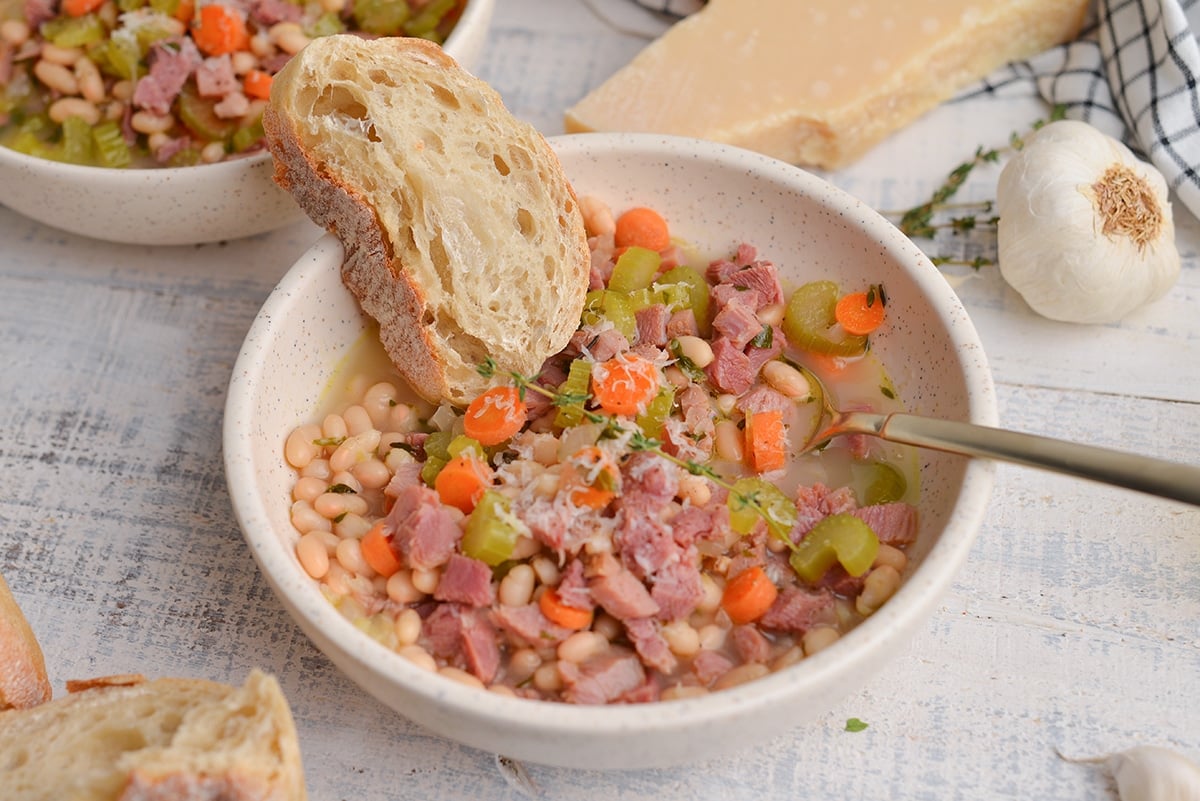 How Do You Make Ham Soup?
Heat the olive oil in a large Dutch oven or pot and saute the carrots, onion and celery until just soft. The goal is to keep them slightly toothy, not mushy and bland. Add the garlic, sauteing for an additional minute. Add the fresh herbs, saute until fragrant, 1-2 minutes.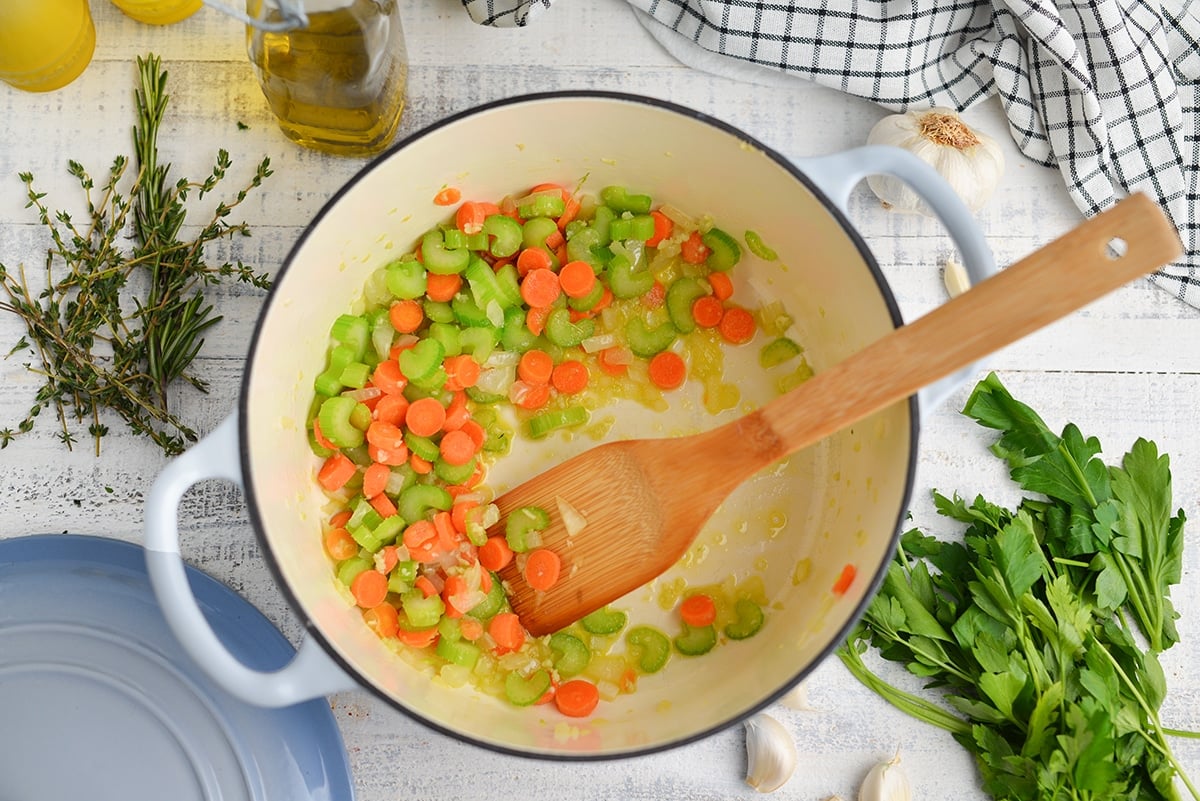 Stir in the ham, beans and broth, bring to a very low simmer. Do not boil- this can result in over cooked veggies and also murky broth. Simmer on low heat for 15-20 minutes.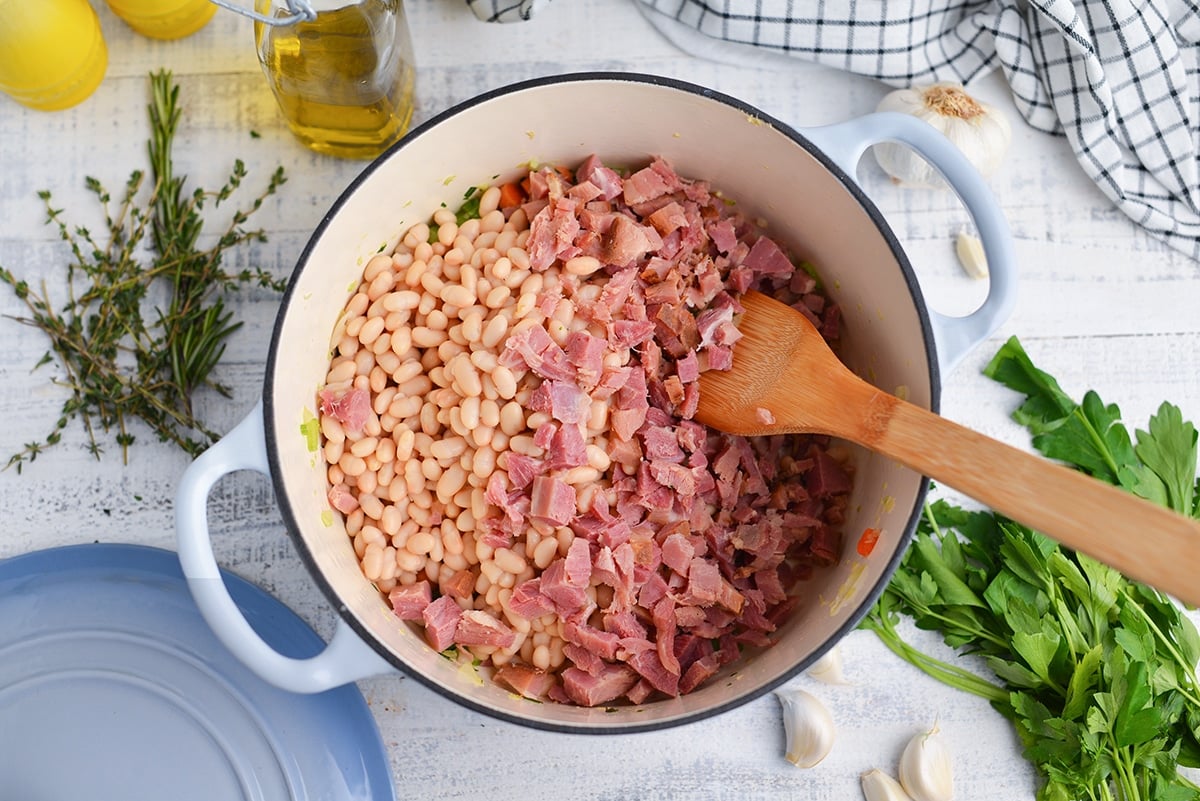 Before serving, stir in the white pepper, vinegar and heavy cream. Taste test to determine if salt is needed (it might not be) and if so, proceed with caution until it hits the right notes.
Ladle into bowls and serve with a crusty loaf of bread for sopping up the broth in the bowl.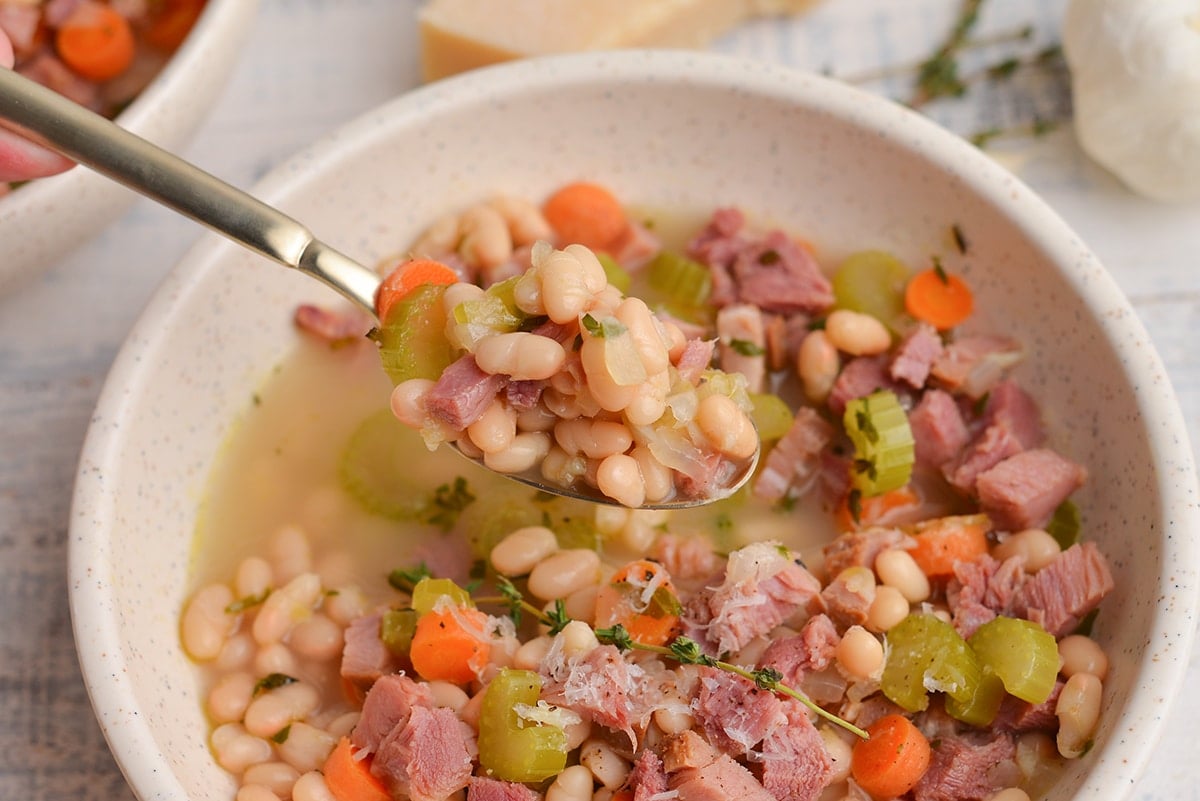 Crock Pot Instructions
To make this recipe in the crock pot, simply add all od the ingredients to a bowl and simmer for 1-2 hours on low. The vegetables will soften while the rest of it cooks. Don't cook for too long or the beans will start to get mushy.
It can also be done in an instant pot, adding all ingredients and cooking on manual high pressure for 4-5 minutes and use a quick release.
Tips & Variations
There are so many ways to make this soup your own. Here are a few of my favorites.
Add bacon! Doesn't bacon make everything better?
Make is smoky with just 1/2 teaspoon of Liquid Smoke. Smoked ham hocks will also lend this smoky flavor.
Yes, we used navy beans, but you can use a medley of bean types as long as they are all cooked or soaked. A 15 bean mix or pinto beans are good options.
Add more veggies- as long as they cook at the same pace, toss them in! This is a great way to clean out the vegetable crisper.
Add a bay leaf for earthy, peppery undertones.
If you prefer a slightly thicker soup, give some beans a quick hit with an immersion blender and add the paste back to the pot, stirring well.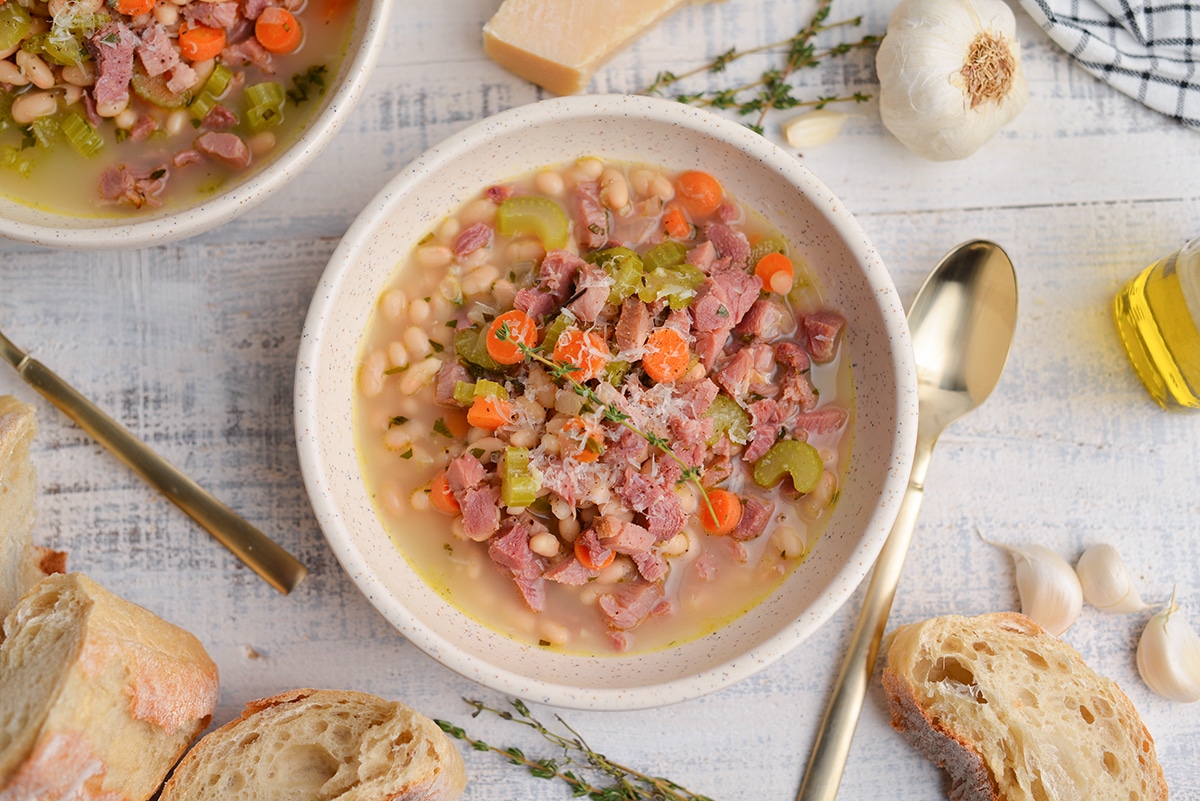 How to Soak Navy Beans
We used canned beans because the purpose of this recipe was ease and brevity, but if you prefer to prepare your beans from scratch here are instructions.
In a large bowl, cover 1 pound of dry beans with water by 2 inches.
Add 2 tablespoons of coarse kosher salt per pound of beans, stirring well.
Allow them soak for at least 4 hours or up to 12 hours.
Rinse and drain well before using.
This step can be done ahead of time and beans can be stored in an airtight container for up to a week in the fridge.
What Do You Serve with Ham Soup?
I feel like a hearty soup and a salad are no-brainers, but so is bread for soaking up all of that delicious broth. It can also be served as an appetizer with nearly any entree.
Crusty bread is also a great option. Make your own easy, no-yeast bread like my potato bread or roast garlic bread. Or opt for my award winning garlic bread spread or 2-ingredient bread sticks. Focaccia or cornbread casserole are also lovely choices.
And don't forget the greens! A leafy side salad or veggie side dish like asparagus, pan fried broccolini or brussels sprouts are good options.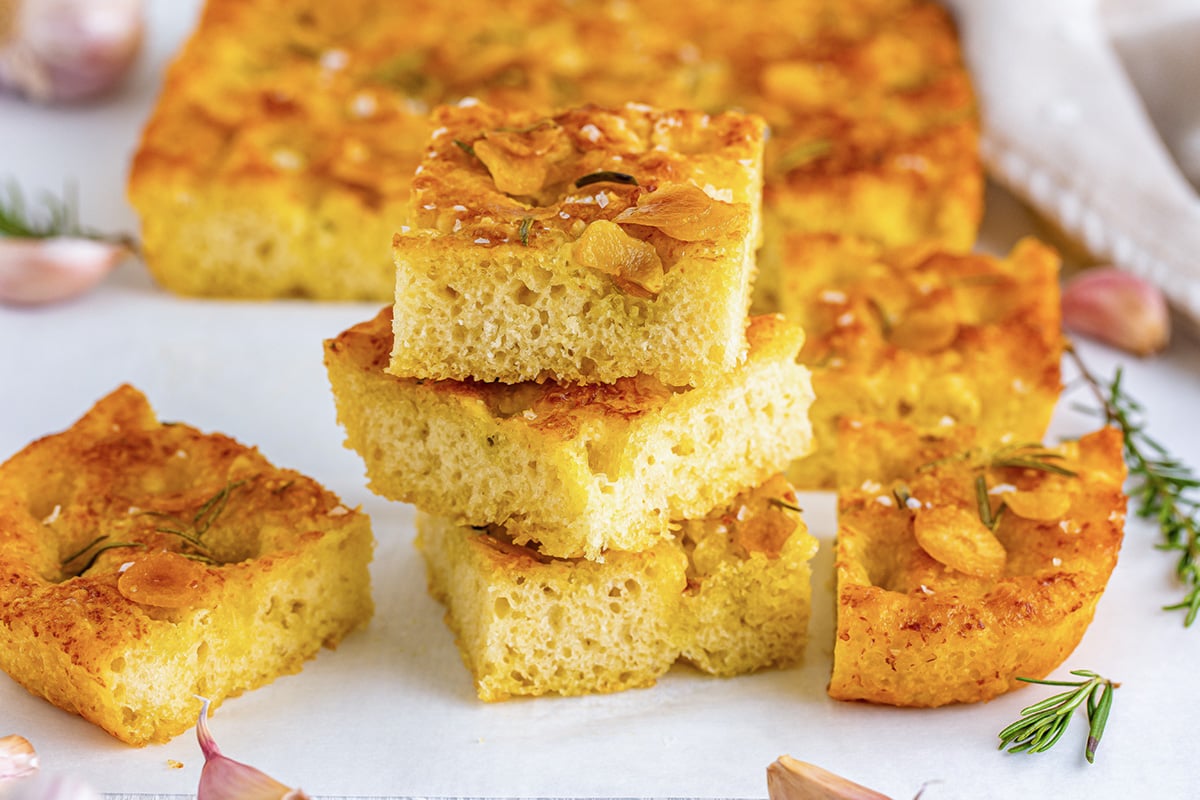 Storage & Freezing
Leftovers- Leftovers can be stored in an airtight container for up to 5 days. Taste test to correct seasoning. Chilled soups can often become muted and need an extra dash of salt or vinegar to liven them back up. My husband swears the best part is enjoying it the next day.
Freezing- This is a freezer friendly soup. I highly suggest getting plastic deli cups and filling to the brim with just a little room for expansion. Air is the enemy for freezer burn, so giving it the last space possible prevents it from happening.
Freeze for up to 6 months. Thaw in the stovetop over low heat or overnight in the refrigerator. Same as chilled soup, taste test to correct seasoning.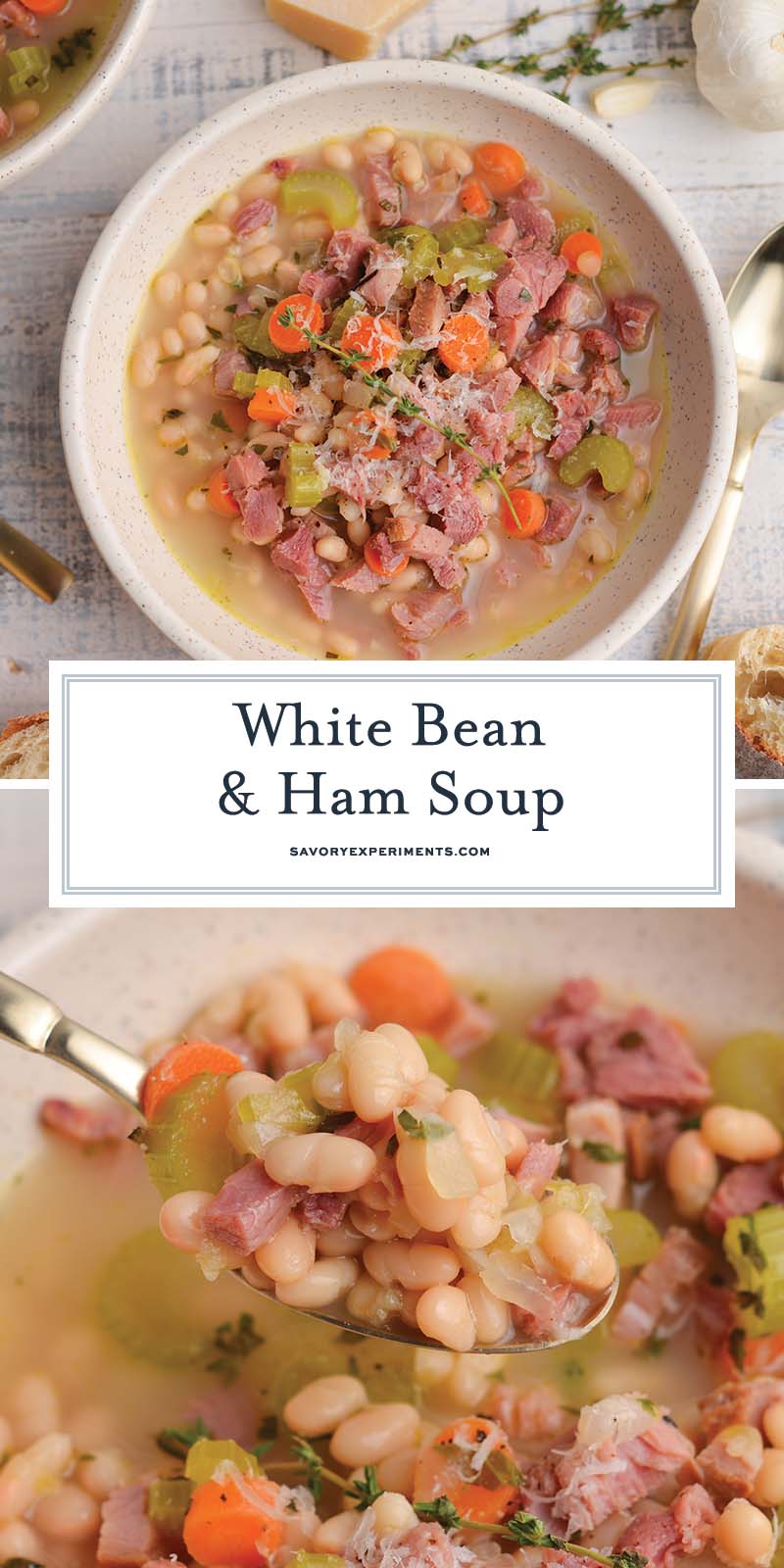 More Soup Recipes