If you've ever been curious about the cabbage soup diet, also known as the weightloss wonder soup, this Healthy Cabbage Soup is the recipe you'll want to try! Way better than the original but just as healthy!
This Healthy Cabbage Soup is based off from the Weightloss Wonder Soup and is full of nothing but veggies for healthy vegetable soup that may even help you lose a few pounds!
The holidays have passed and if you're anything like me, you're probably feeling a bit bloated and like you may need to lose a few pounds. I mean, if you were able to get through the holidays without indulging…my hat is off to you. But that was definitely not me.
It's also the time of the year when everyone becomes obsessed with the latest fad diets or the quickest ways to lose all that holiday weight. I'm sure we've all heard of the cabbage soup diet, where you eat nothing but soup for 10 days.
While I'm not a fan of fad diets, I figured there might actually be something to incorporating a healthy vegetable soup into my meals so I decided to give my own version of weightloss wonder soup a try.
I am not going to sit here and WOW you claiming this to be "the best soup recipe ever!" Because it is not. Let's get that out of the way. It is a diet cabbage soup.
This means that many of the pieces that traditionally make soup so yummy are big no-nos. No cheese, no cream, no protein, no beans. Nada. Just broth and veggies. What I will claim with confidence is that this is the best diet cabbage soup!
Why? I'll tell ya! First of all, I add parsnips. Why are parsnips so underutilized? They are the sweet cousin of the carrot and should be treated with respect. Put them in your soup!
I also brighten the broth with the addition of lemon juice. Most soups will brighten significantly with the addition of an acid. One tablespoon of vinegar or citrus to any soup will add another layer of sophistication.
And lastly, chili powder, which is why my broth has a red hue. It needs more flavor, foodie friends! Vegetables boiled in water is pretty bland, but a little bit of chili powder gives it some much needed heat.
I don't suggest you eat nothing but this soup for 10 days. I am not into fad diets, not even the cabbage soup diet that inspired this soup. However, I will say if you are going to eat nothing but vegetable soup for 10 days, this is the one to eat! Let me know if you lose those 10 pounds.
For now, I'll eat my Healthy Cabbage Soup as part of my well-rounded diet because it is good enough to be eaten just regular.
Easy Chicken Tortilla Soup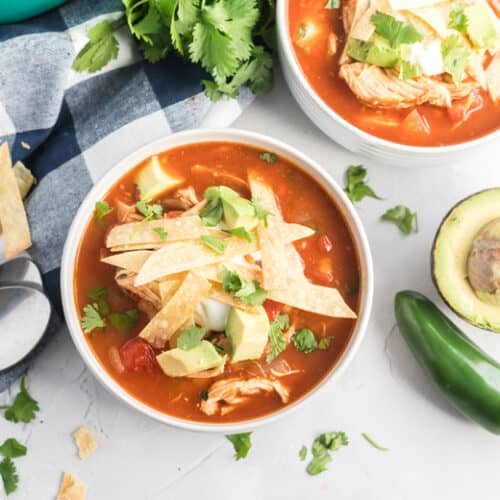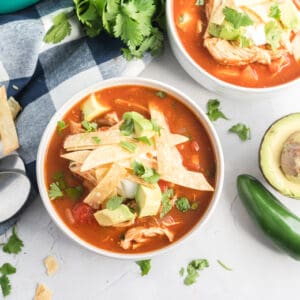 This is an easy chicken tortilla soup that can be on your table in less than an hour. A rich tomato broth with a bit of spice and large chunks of chicken make this a hearty and comforting meal!
15 Bean Soup
This easy 15 Bean Soup Recipe can be made in the Instant Pot or on the Stove using only pantry staples!
10-Minute Roasted Red Pepper and Hummus Soup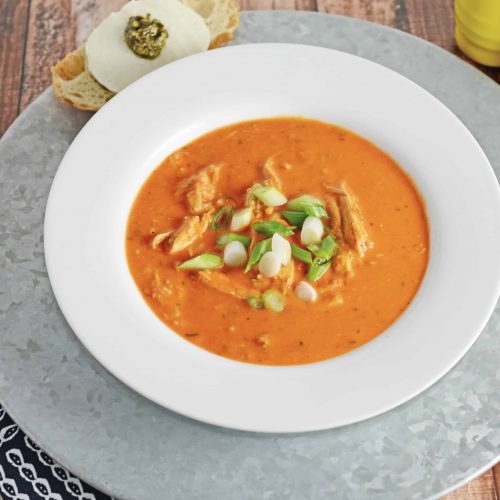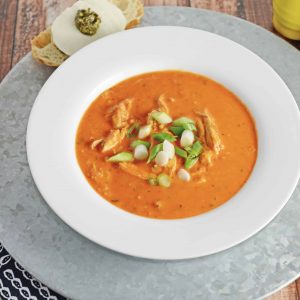 Gluten and dairy free soup made from pre-cooked items, only takes 10 minutes. Sub tofu for vegan version.
Print Recipe
Healthy Cabbage Soup
This Healthy Cabbage Soup is based off from the Weightloss Wonder Soup and is full of nothing but veggies for healthy vegetable soup that may even help you lose a few pounds!
Instructions
In a large stock pot or Dutch oven, bring vegetable stock to a rapid boil, adding carrots, parsnips and celery.

Boil until soft, approximately 10 minutes.

Add tomatoes, cabbage, lemon juice and chili powder. Continue to cook over low heat until cabbage just starts to soften, approximately 5 minutes.

Season to taste with salt and pepper. Serve.

If you've tried this recipe, come back and let us know how it was!
Nutrition
Calories:
128
kcal
|
Carbohydrates:
30
g
|
Protein:
4
g
|
Sodium:
2083
mg
|
Potassium:
786
mg
|
Fiber:
7
g
|
Sugar:
15
g
|
Vitamin A:
6830
IU
|
Vitamin C:
62.2
mg
|
Calcium:
113
mg
|
Iron:
2.2
mg