If you've ever been curious about the cabbage soup diet, also known as the weight loss wonder soup, this Healthy Cabbage Soup is the recipe you'll want to try. Way better than the original, but just as healthy!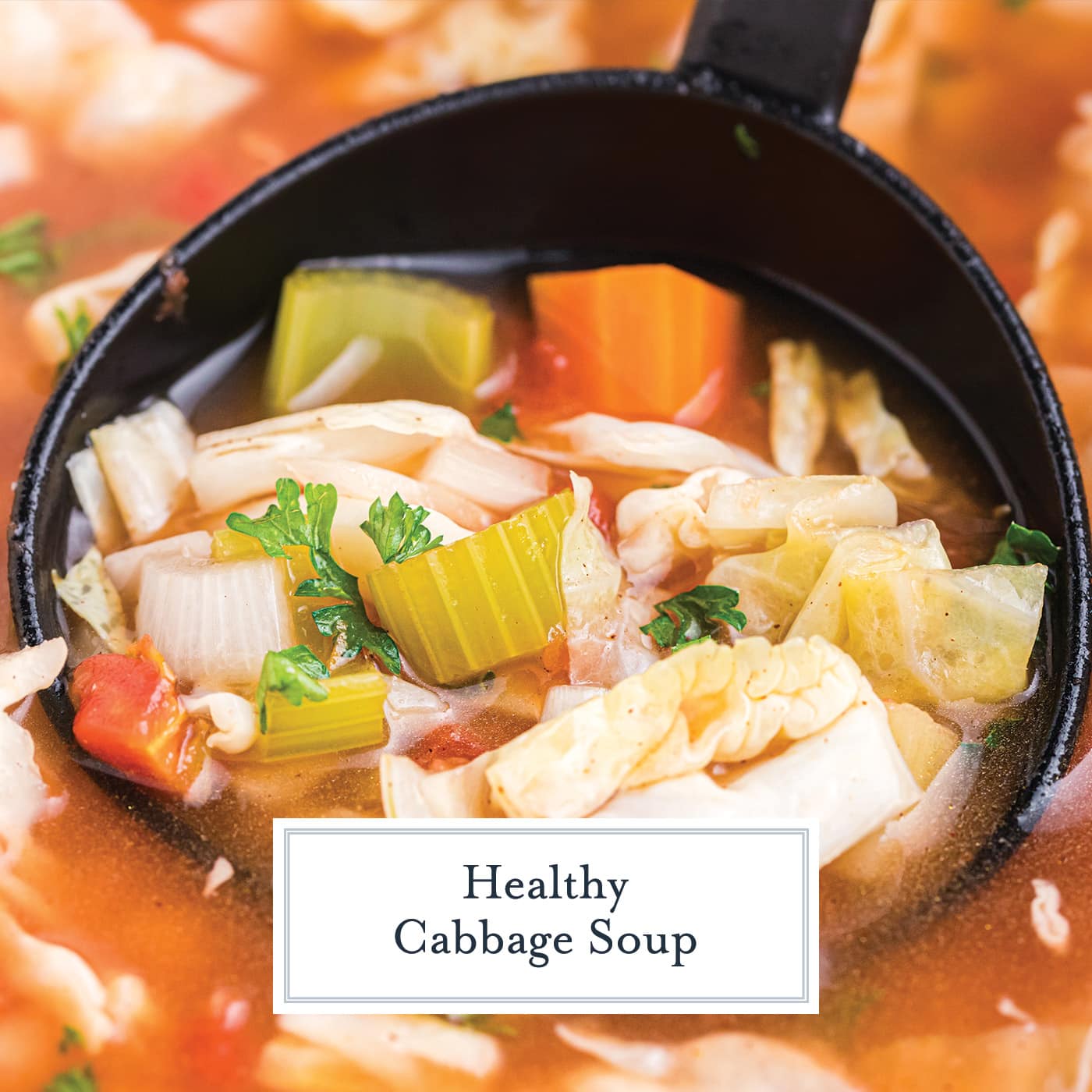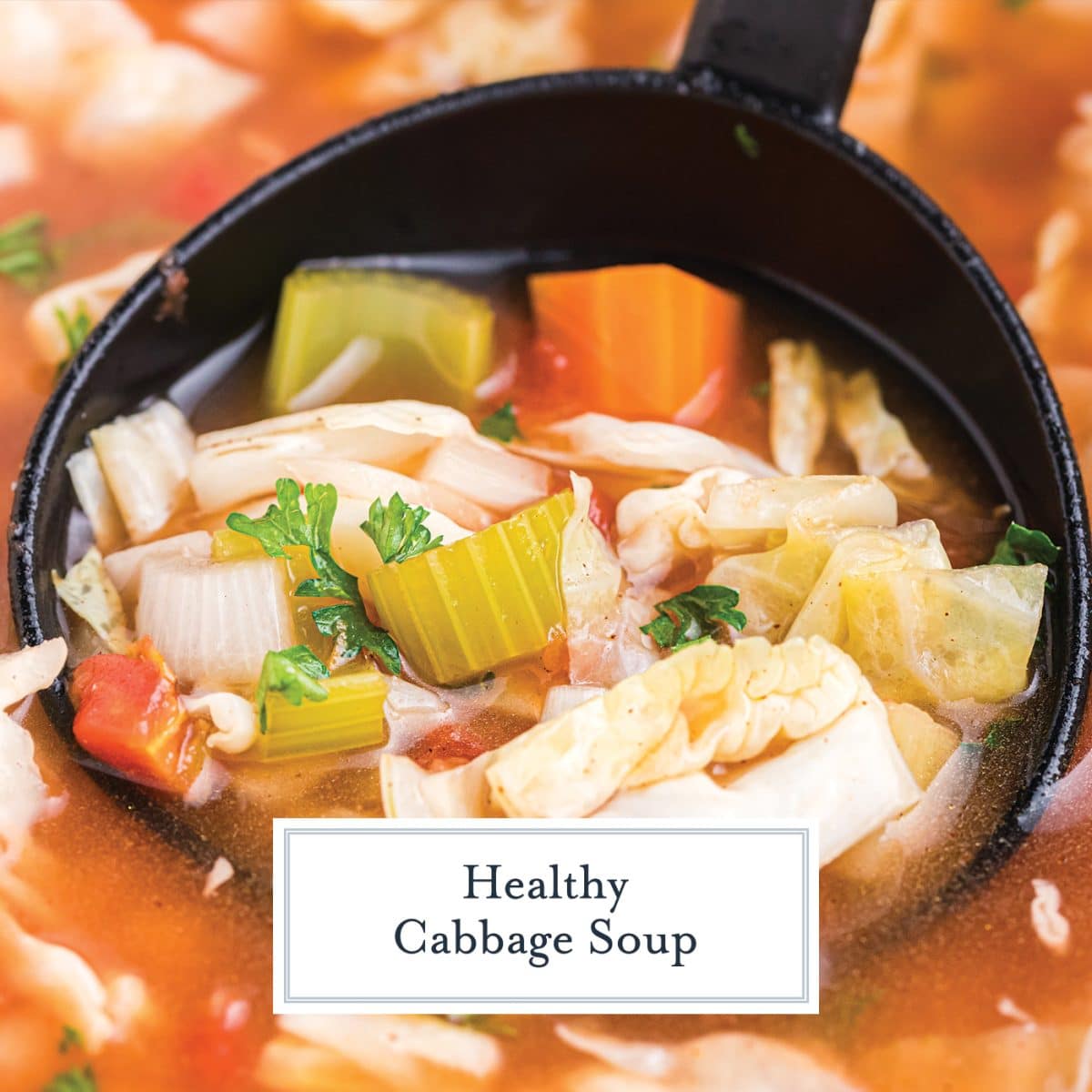 So good that even if you aren't on this special detox, the soup is hearty, full of veggies and totally tasty.
Cabbage Soup Diet
The holidays have passed and if you're anything like me, you're probably feeling a bit bloated and like you may need to lose a few pounds. I mean, if you were able to get through the holidays without indulging…my hat is off to you. But that was definitely not me.
It's also the time of the year when everyone becomes obsessed with the latest fad diets or the quickest ways to lose all that holiday weight. I'm sure we've all heard of the cabbage soup diet, where you eat nothing but soup for 10 days.
Some have variations where you are allowed certain fruits and veggies, but only on certain days. Absolutely no carbs or starches. But I really wouldn't know all the details, but cause I didn't follow any of these…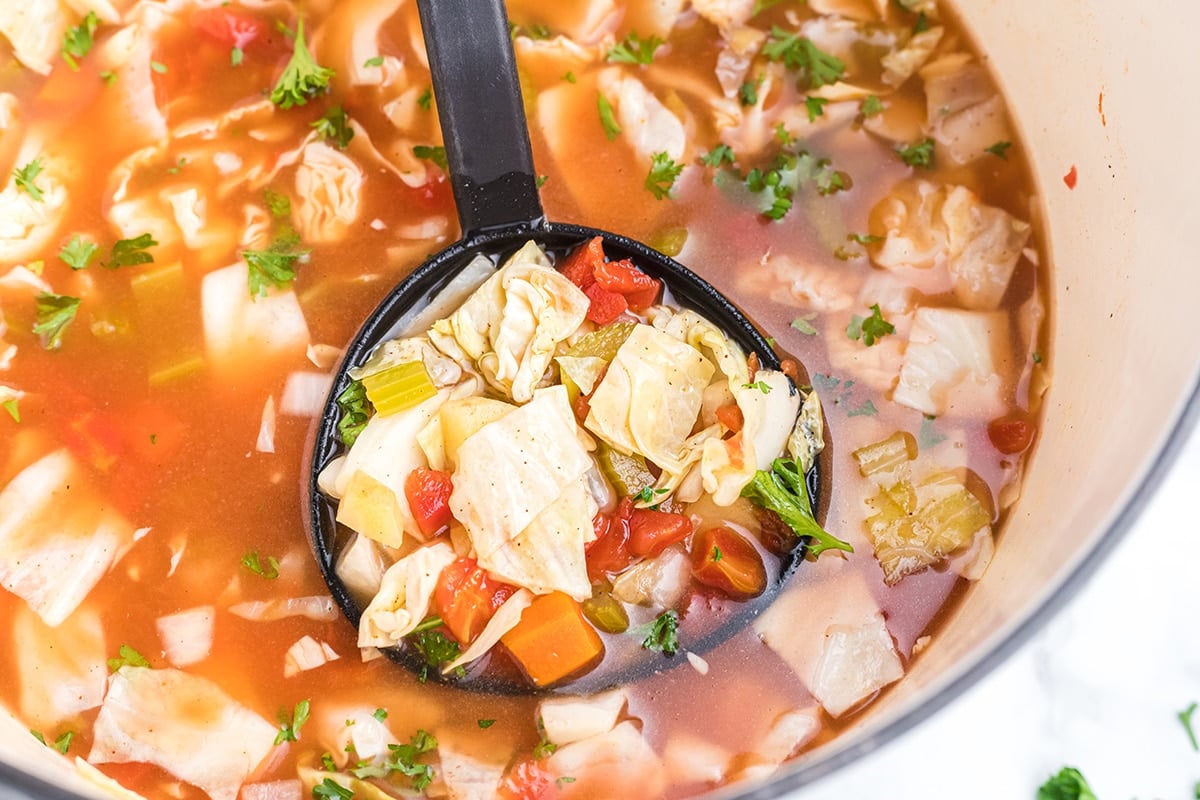 The BEST Cabbage Soup
I don't know much because I didn't make this soup to be a part of any diet. I just decided to eat a little healthier and it just so happens that healthy cabbage soup is a part of this so-called wonder.
You'll have to let me know if it works…
What I do know is that as far as cabbage soup recipes go, at least all veggies cabbage soups, this is one really good soup.
I like to add cabbage towards the end so it keeps a crispy snap while eating. It is the texture and the broth that brings this soup alive. That and seasoning… which is kind of like a choose your own adventure.
And feel free to serve it with a slice or two of crusty bread. Bread paired with a flavorful vegetable soup makes the perfect meal in my eyes.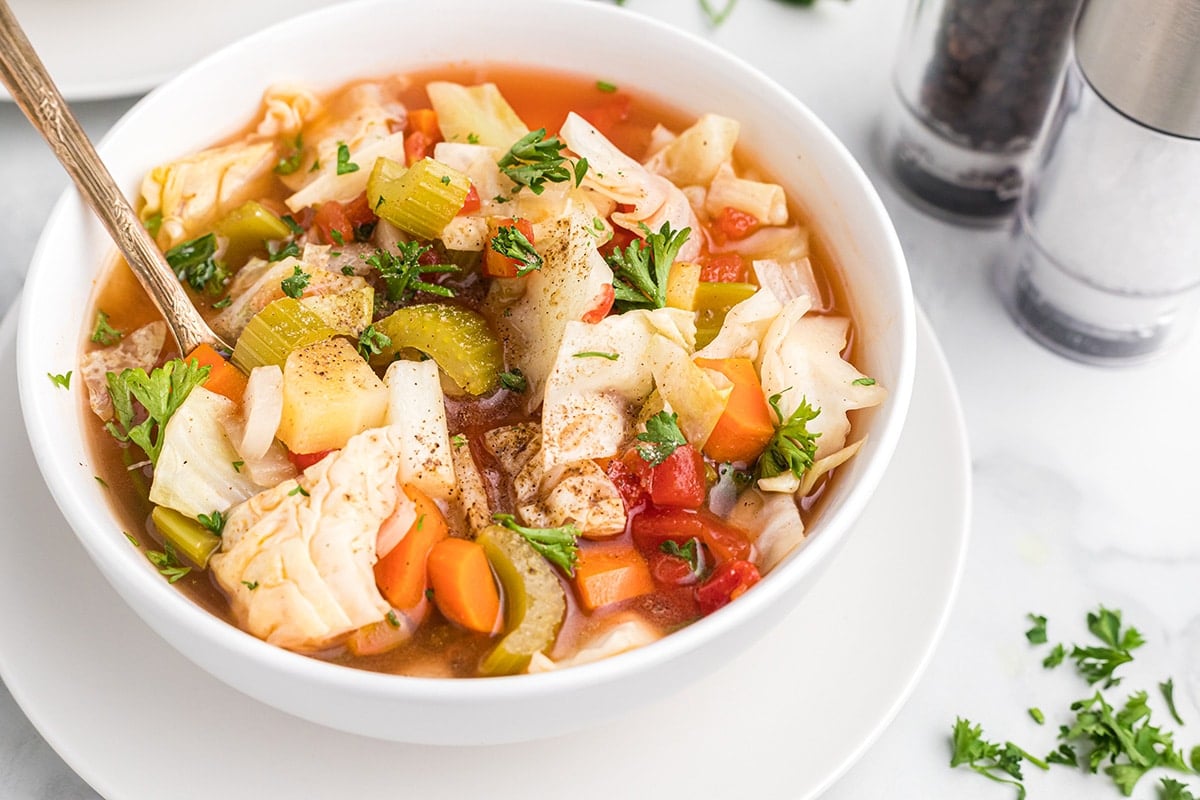 Cabbage Soup Ingredients
The simple ingredients is what makes this easy soup recipe so great. Not only is it a healthy soup recipe, but it's perfect to make in a large pot and enjoy it again the next day. Using non-starchy vegetables helps to keep this soup low carb.
Green cabbage- this is cabbage soup, after all! I like large pieces of fresh cabbage, but you can also shred them super thin like an angel hair slaw.
Carrot– carrot helps to add color and texture.
Parsnips– Parsnips are one of the most underrated veggies out there. The carrots pale cousin, they are sweet and utterly delicious.
Celery- When you are looking for waterlogged veggies, celery is at the top of the list!
Garlic- grating garlic will give you the maximum of garlic flavors.
Onion- Gives the broth more sophistication to your healthy cabbage soup.
Canned Tomatoes- While you can use fresh, canned is easier, they are also peeled and also stored in a herbaceous tomato broth. Drain before adding.
Tomato Paste– Using tomato paste is optional, but makes the broth a little more flavorful and colorful.
Vegetable Broth- Also substitute with chicken broth, if you'd like. Use more or less depending on how much liquid you prefer.
Lemon Juice- Adds a brightness to the soup- add right before serving.
Chili Powder– Totally optional and up to you which type of chili powder to use, but makes it warm and homey.
Salt and Pepper – For the least salty salt, use a large grain Kosher salt and freshly ground pepper.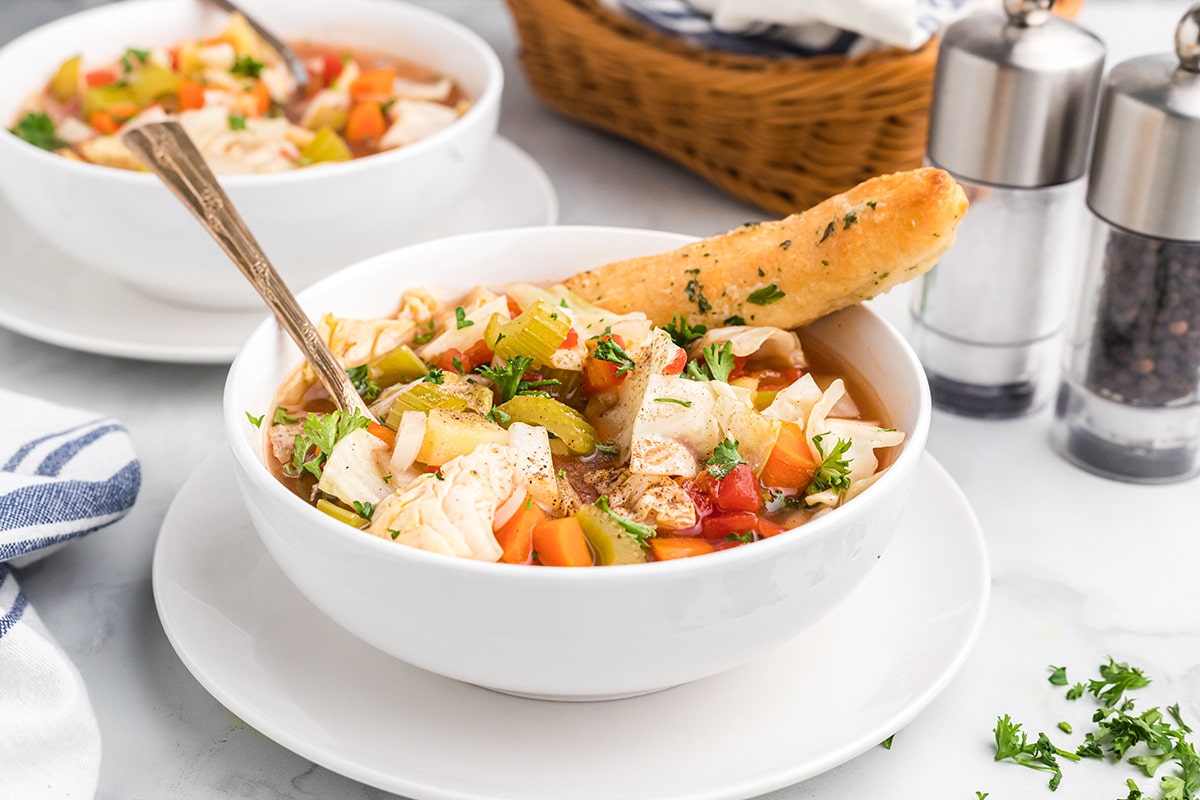 How to Make Detox Cabbage Soup
Bring vegetable broth to a bowl. In a large stock pot or Dutch oven, bring the vegetable broth to a rapid boil and then add the carrots, parsnips and celery and optionally, the tomato paste.
Boil veggies. Boil until soft.
Add cabbage and seasonings. Add the cabbage, tomatoes, cabbage, lemon juice and chili powder. Continue to cook over low heat until the cabbage just starts to soften.
Season and serve. Season to taste with salt and pepper. Serve. If you want a thicker broth, use a cornstarch slurry.
People ask all the time if you can make this healthy cabbage soup in the Instant pot and my answer is always no. It isn't even that good in a slow cooker… and I'll tell you why.
These veggies will turn to mush! Pressure cooking will quite literally mush them up to the point where there is no textural variety. Yuck! To keep it fresh and snappy, only cook long enough to marry the flavors and that is it!
PRO TIP: One tablespoon of vinegar or citrus to any soup will add another layer of sophistication.

Variations
Listen, if you are that person who will be eating healthy cabbage soup for a week (or more) you'll want some variation. Try a variety of vegetables- extra veggies make a tasty soup have even more health benefits. Here are a few to try:
Chopped fresh herbs (thyme, basil, oregano)
Vinegar- instead of lemon juice, swap in vinegar, any type but I like apple cider vinegar
Smoked Paprika
Aleppo pepper– like crushed red pepper, but smoky and sweet
Bay Leaves- add a bay leaf while simmering, then discard
Bell Pepper- add raw with other veggies
Pesto– add a tablespoon of pesto to the broth
Ground meat (cooked and drained) – adding ground beef, ground turkey or any meat to this healthy cabbage soup recipe is a great option for extra protein
Shredded chicken – just keep in mind it will no longer be a vegetarian option
Sweet potatoes
White beans
Bell peppers
Sweet peas
White or brown rice
Red pepper flakes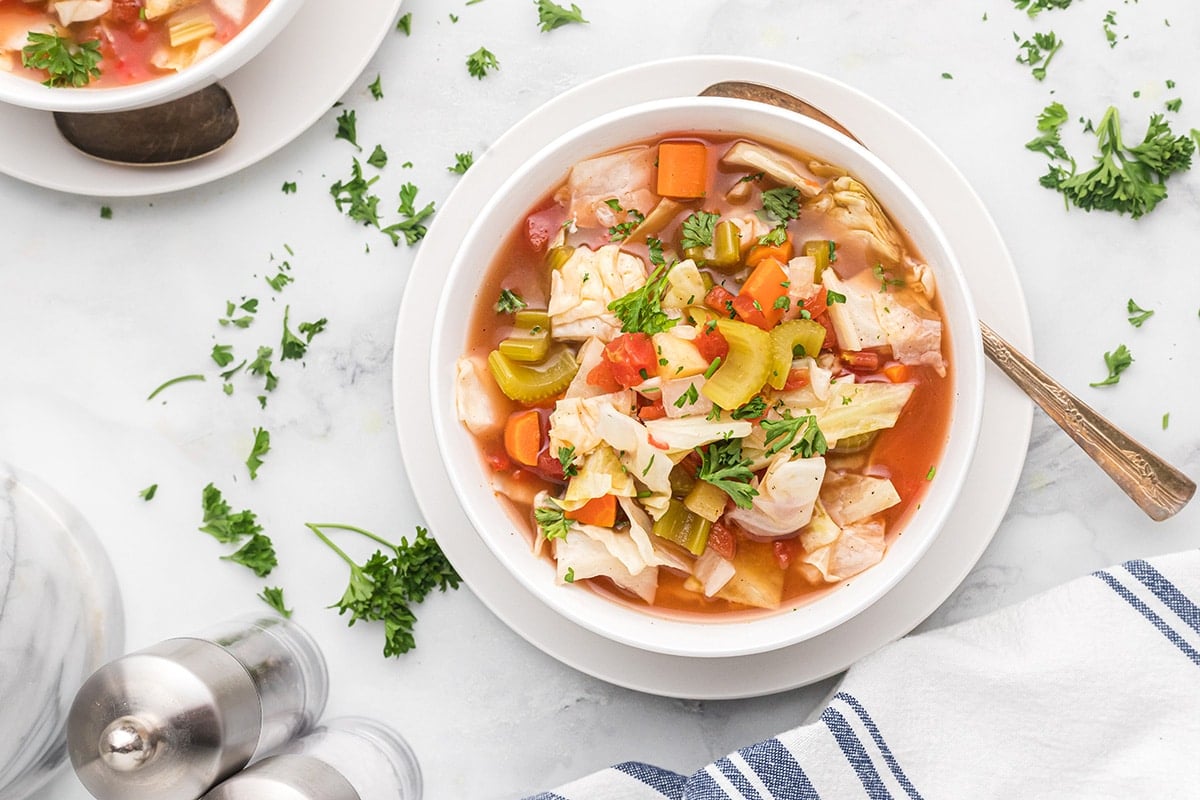 Freezing & Storage
Of course you can freeze soup, however how it thaws is the real question. And cabbage, in general doesn't thaw well. It goes limp and gets mushy, so I don't recommend freezing this healthy cabbage soup.
The same goes for storing and making ahead. After about a day, all the veggies start to loose the toothiness that made such a basic soup so interesting. If you have leftovers and need to store it, keep it in an airtight container.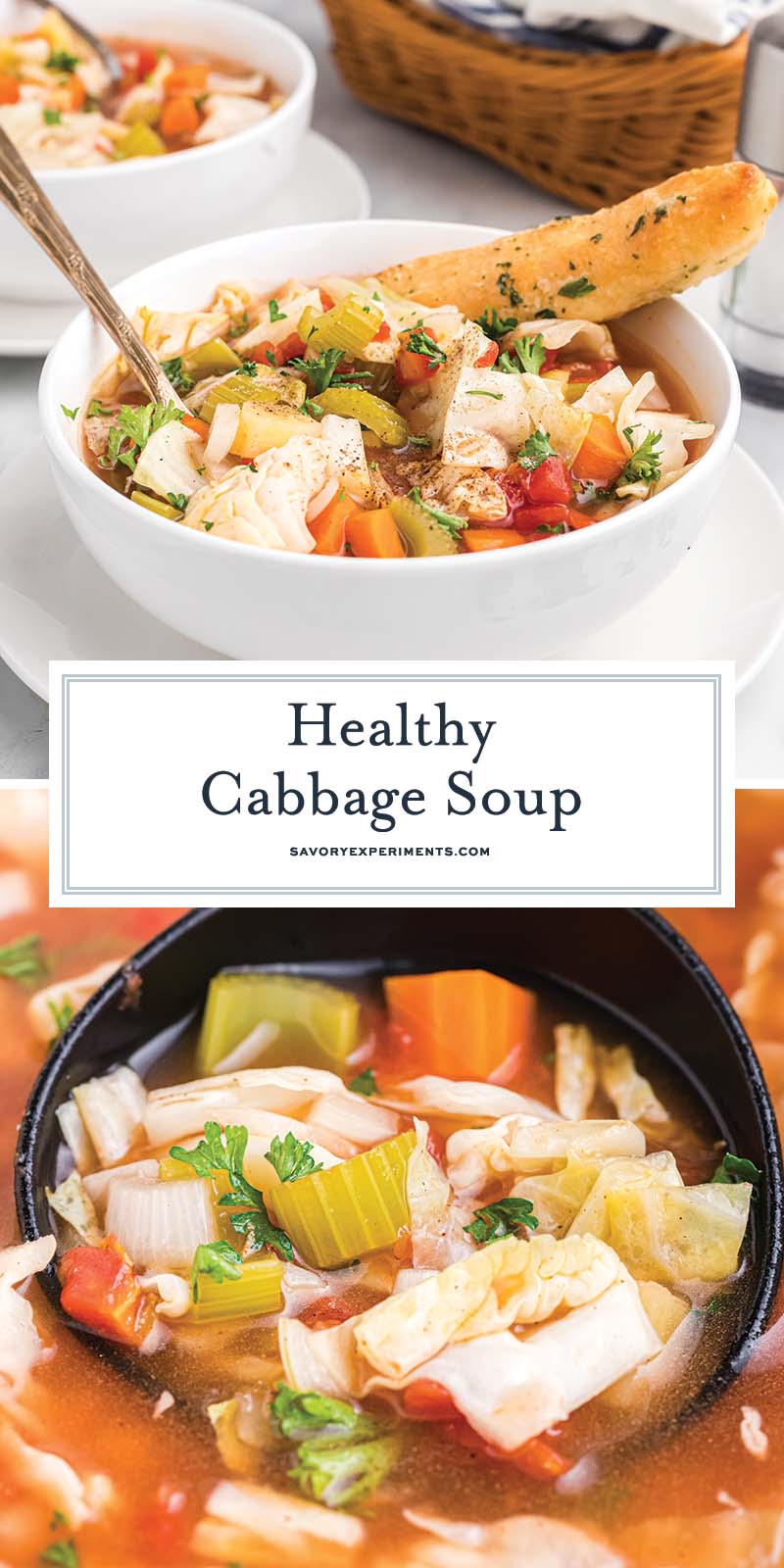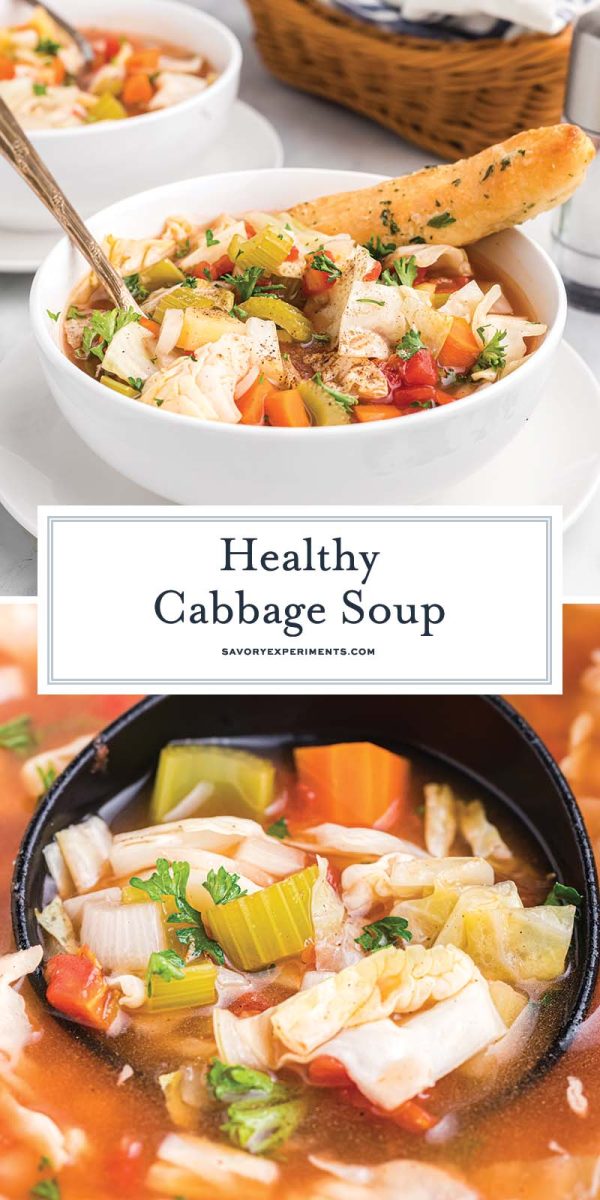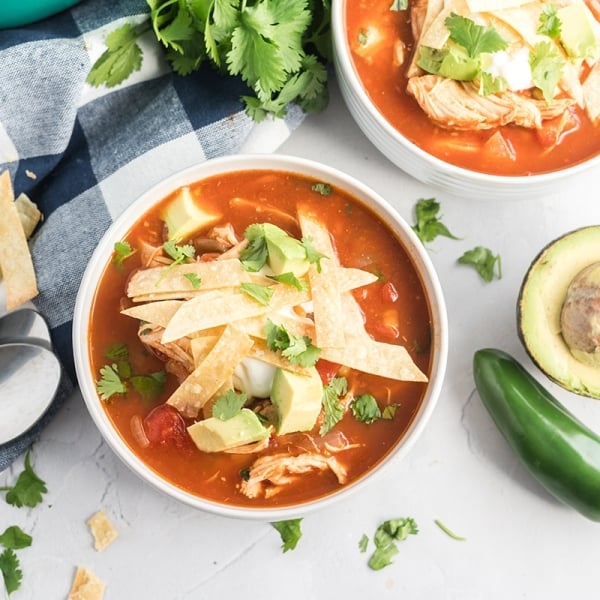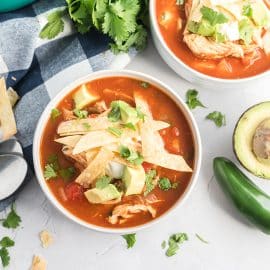 Easy Chicken Tortilla Soup
This is an easy chicken tortilla soup that can be on your table in less than an hour. A rich tomato broth with a bit of spice and large chunks of chicken make this a hearty and comforting meal!
View this recipe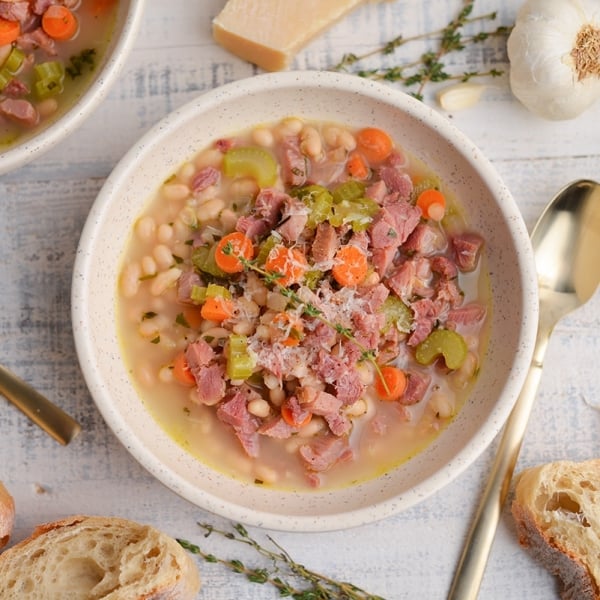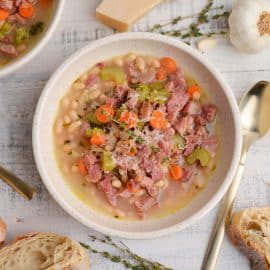 White Bean and Ham Soup
A hearty ham soup recipe seasoned with fresh herbs, vegetables and then a splash of my secret ingredient. The best use for leftover ham!
View this recipe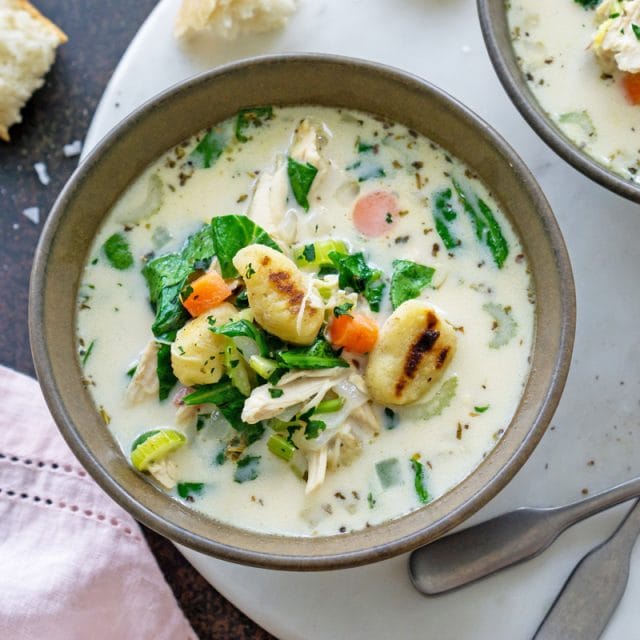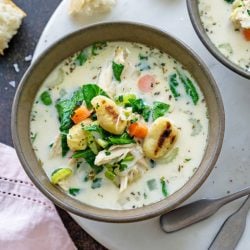 Chicken Gnocchi Soup
A hearty, creamy soup, this Chicken Gnocchi Soup recipe is the BEST! It's easy to throw together and it's ready in under an hour!
View this recipe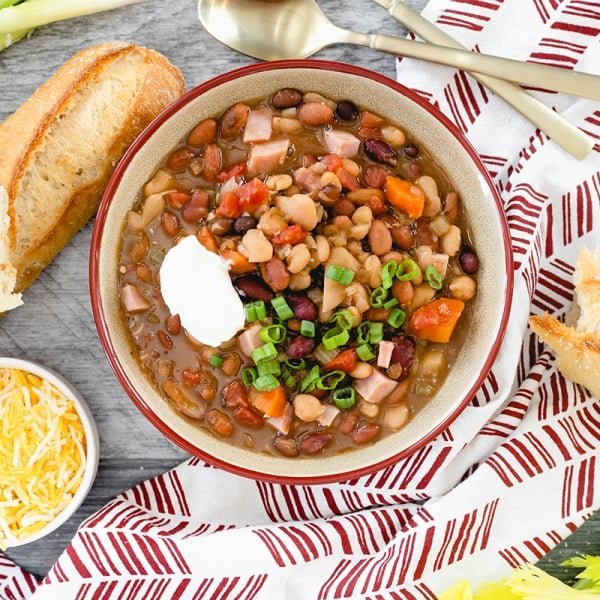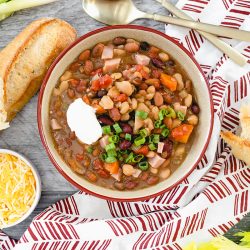 Instant Pot Bean Soup
This easy 15 Bean Soup Recipe goes from dry beans to deliciously magnificent in just an hour using out two chef-approved secret ingredients.
View this recipe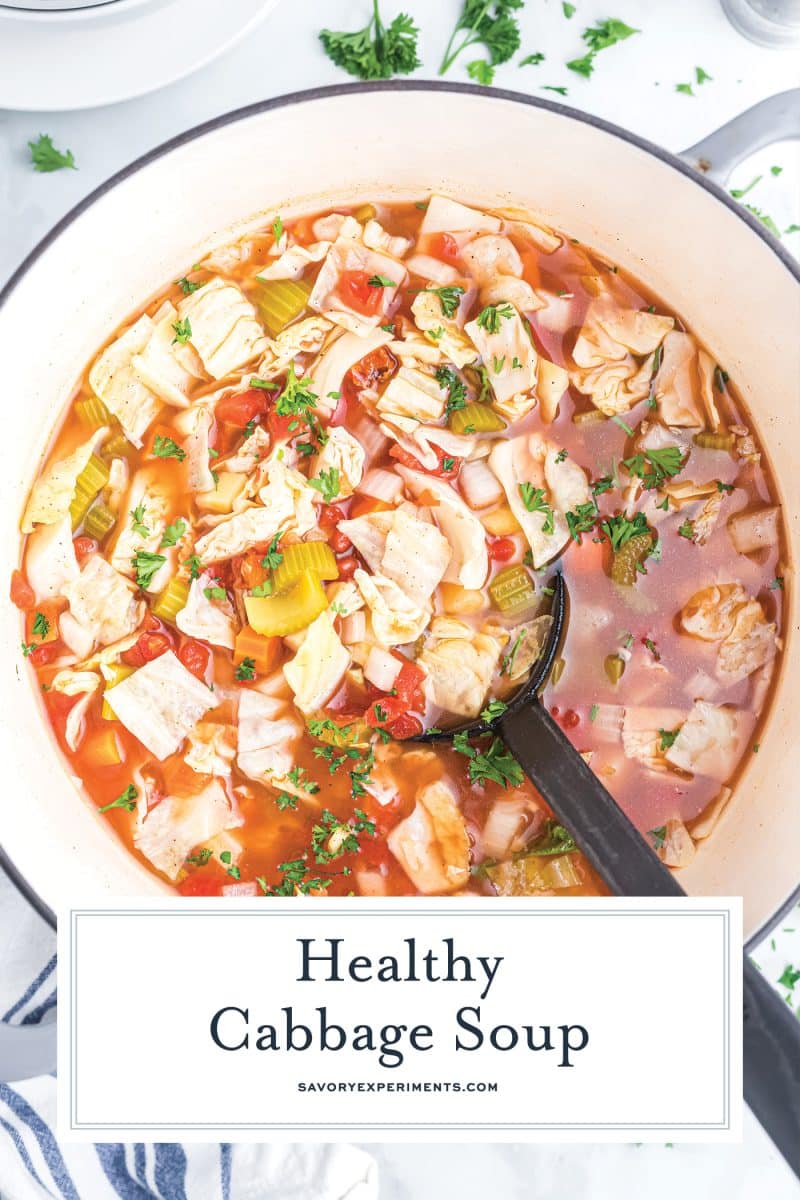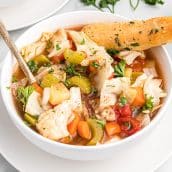 Healthy Cabbage Soup
This Healthy Cabbage Soup is based off from the Weightloss Wonder Soup and is full of nothing but veggies for healthy vegetable soup that may even help you lose a few pounds!
Instructions
In a large stock pot or Dutch oven, bring the vegetable broth to a rapid boil and then add the carrots, parsnips and celery and optionally, the tomato paste.

Boil until soft, approximately 10 minutes.

Add the cabbage, tomatoes, cabbage, lemon juice and chili powder. Continue to cook over low heat until the cabbage just starts to soften, approximately 5 minutes.

Season to taste with salt and pepper. Serve.

If you've tried this recipe, come back and let us know how it was in the comments or star ratings.
Nutrition
Calories:
128
kcal
,
Carbohydrates:
30
g
,
Protein:
4
g
,
Sodium:
2083
mg
,
Potassium:
786
mg
,
Fiber:
7
g
,
Sugar:
15
g
,
Vitamin A:
6830
IU
,
Vitamin C:
62.2
mg
,
Calcium:
113
mg
,
Iron:
2.2
mg