I'm telling you, this Garlic Butter Brussels Sprout recipe is a life changer! Melted butter, garlic, salt, pepper, olive oil, and parmesan cheese make this one amazing side dish.

Garlic Butter Brussels Sprouts is an easy side dish that even sprout haters will love! Fresh brussel sprouts covered in butter, garlic, and topped with parmesan cheese.
Poor brussels sprouts. They always get a bad name and I'm not sure why. Their reputation alone causes people to never even try them.
But WAIT- have you tried my Garlic Butter Brussels Sprouts?
Between Garlic Butter Brussels Sprouts and my Bacon and Brussels Sprouts, I've turned the nay-sayers into believers time and time again.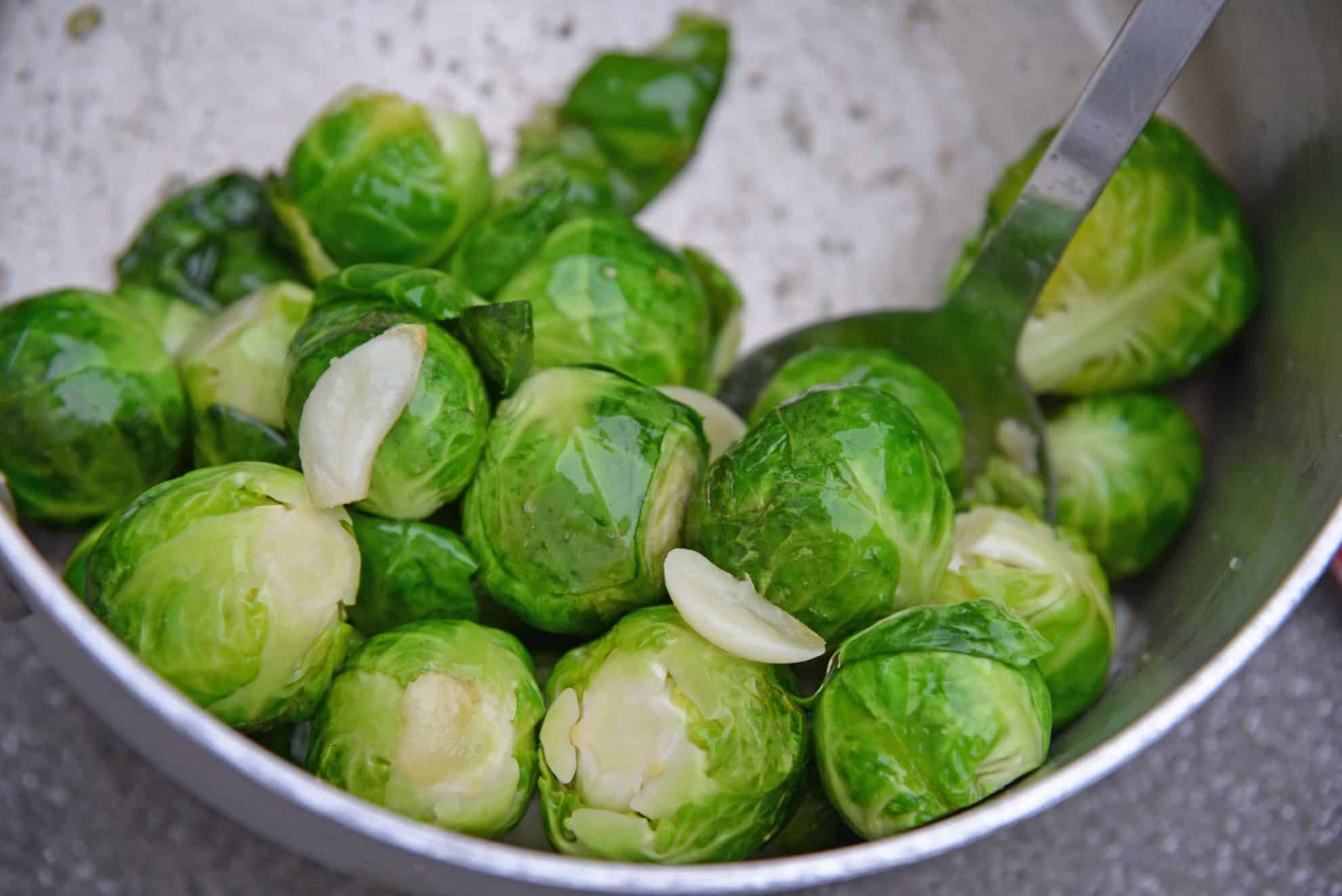 Of course, there are those who have only had frozen or canned, and then I completely understand the aversion. The truth is, fresh brussels sprouts are amazingly simple to prepare and delicious to eat.
Certainly not the mushy, butter mess that you are served a cafeteria style restaurant. Gross.
Brussels sprouts honestly just look like barbie sized cabbages and have a similar taste to cabbage. They are in the same family as cabbage so it just makes sense. They can have a bitter taste depending on how they are cooked, but cooked just right, they are slightly sweet.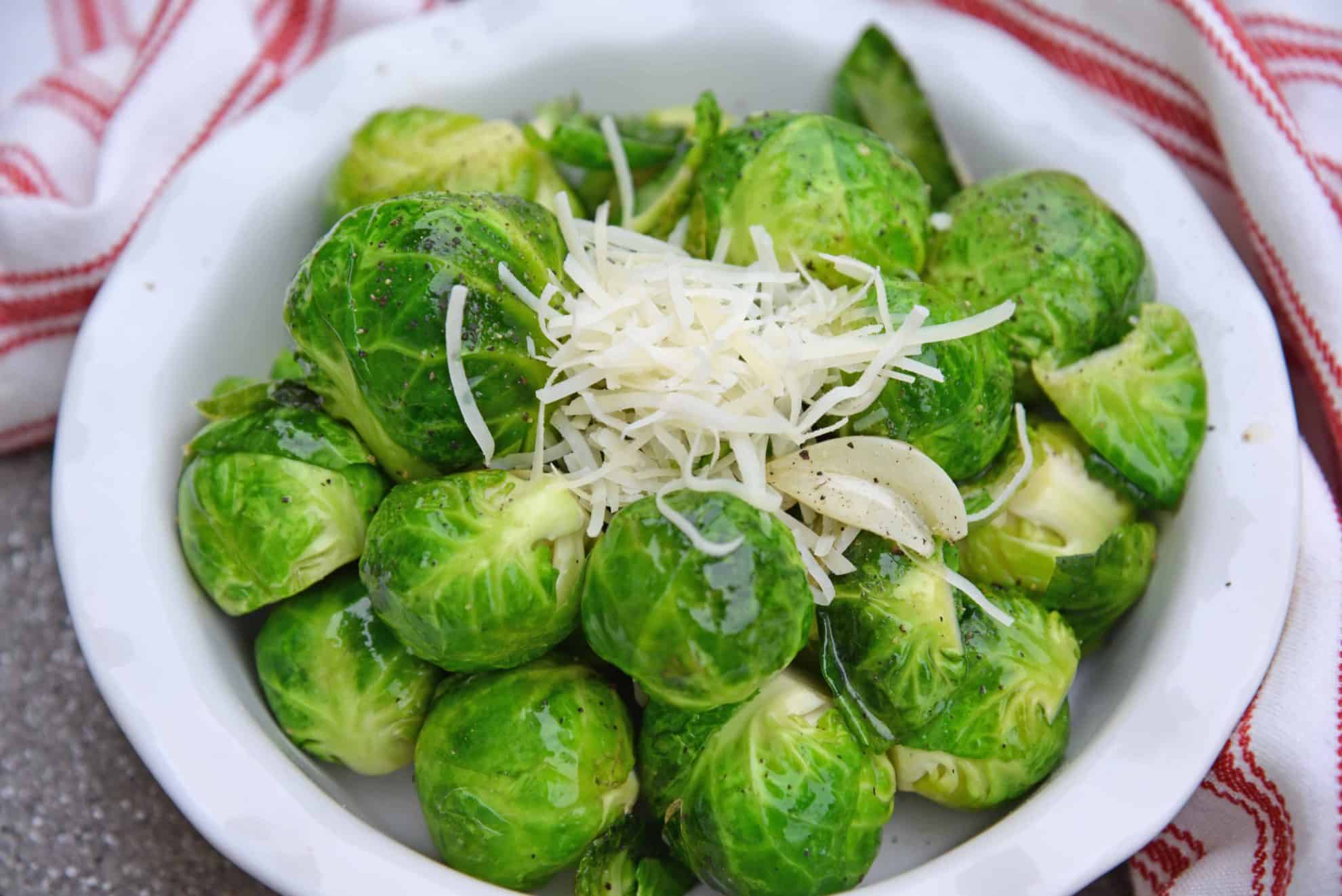 If you make roasted Brussels sprouts, they tend to have a sweeter taste and if you saute them it helps to reduce the bitterness and have a more savory flavor. Don't bother boiling them, they just get soft and soggy which is just gross.
The key to getting a delectable taste is in the way they are cooked. Here I cook them on the stovetop and cover them in a garlic butter sauce, so naturally they are delicious.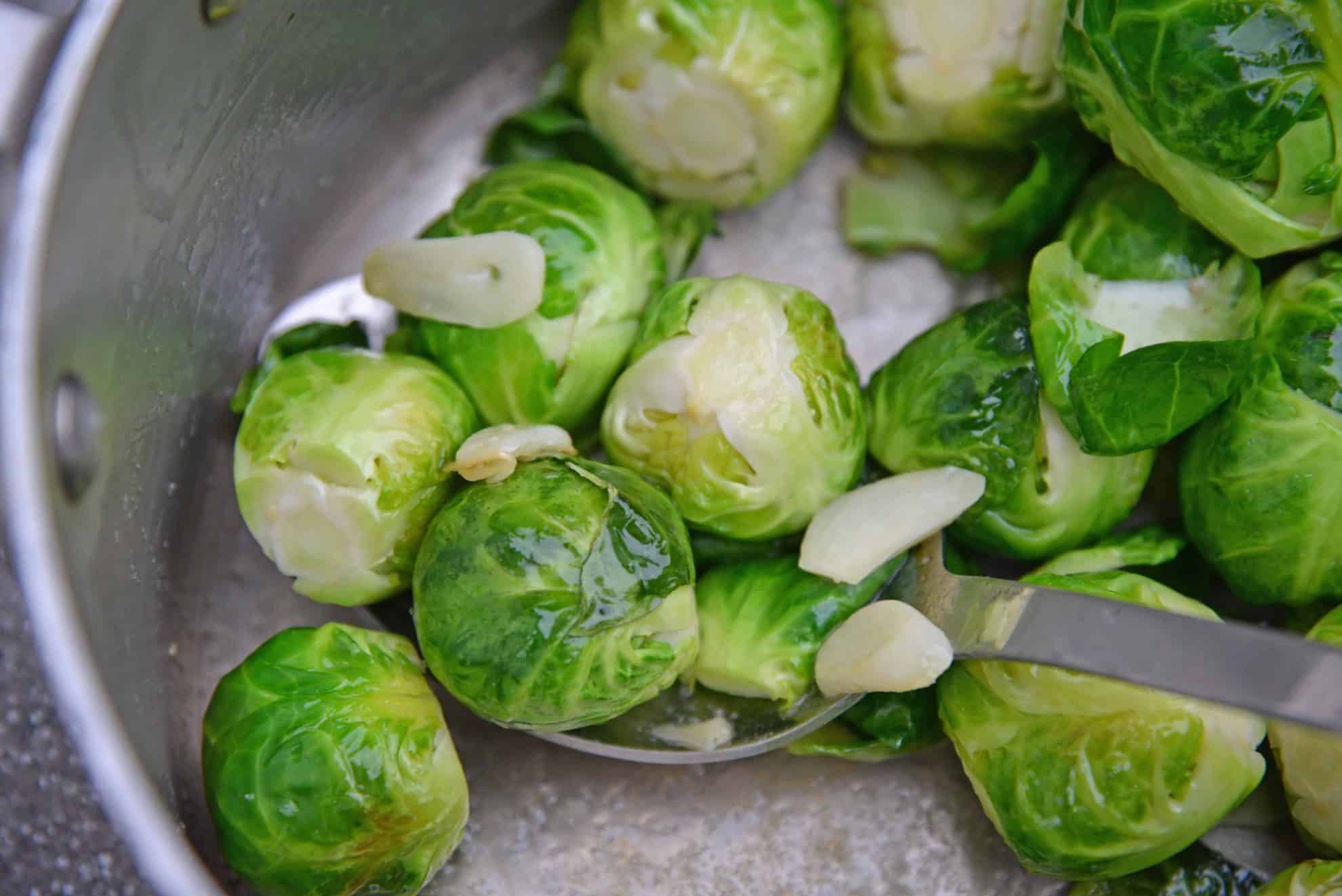 Also, don't forget how great brussel sprouts are for your health, filled with vitamins A & C, fiber, and folic acids! A true superfood.
And lastly, are they brussel sprouts or brussels sprouts? The later is correct. They originated in Belgium! So even though most will remove the "S", you'll know the correct version.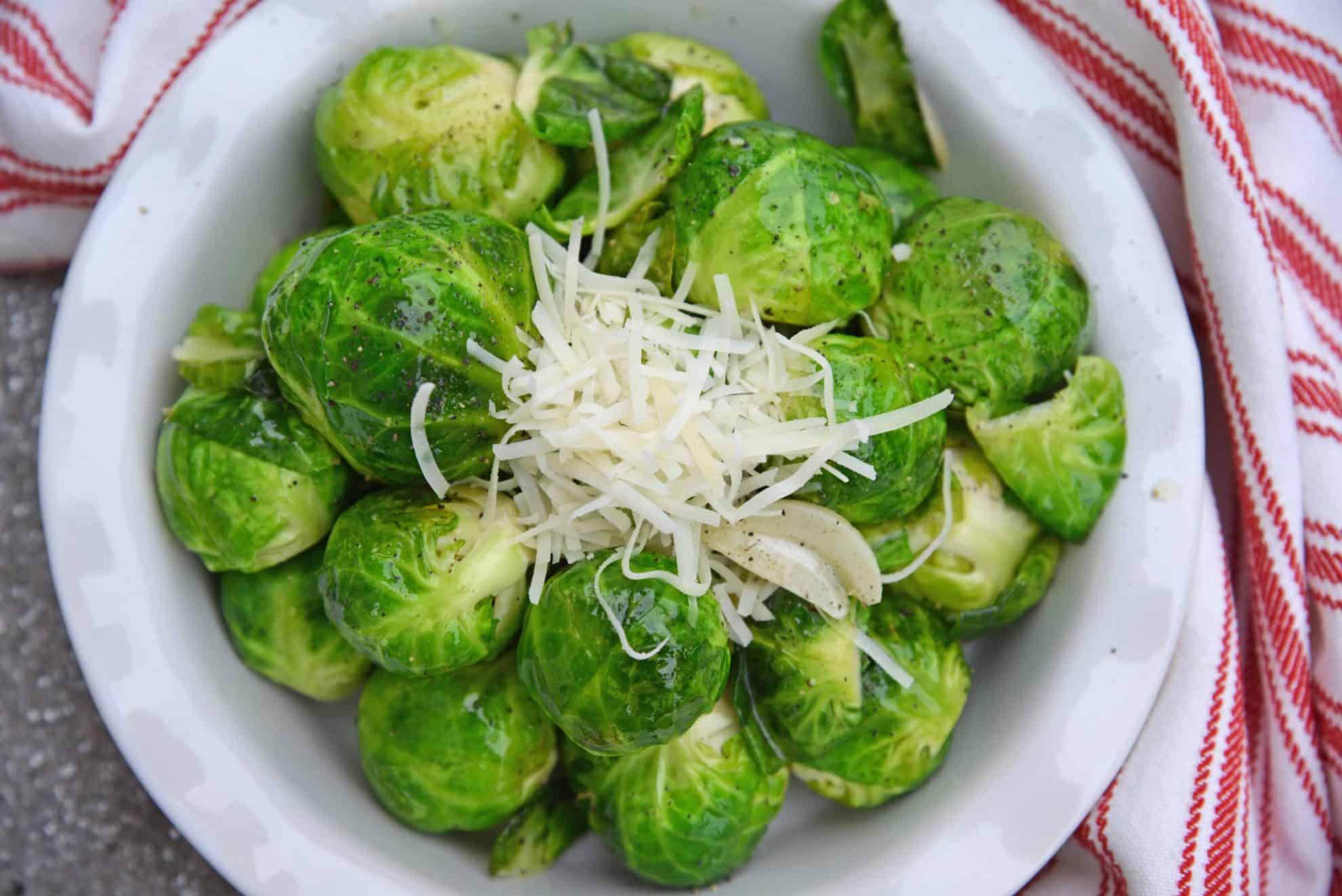 Serve Garlic Butter Brussel Sprouts with: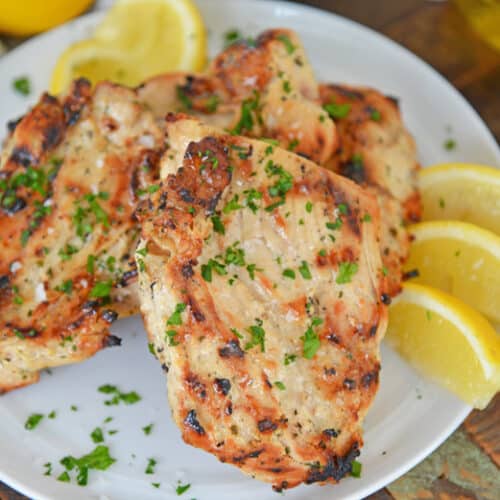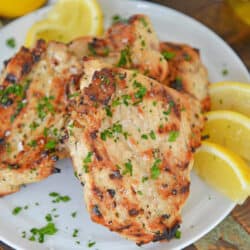 Ranch Grilled Chicken
Fire up the grill and make this delicious and juicy Ranch Grilled Chicken for dinner tonight! The best part? You only need 5 ingredients!
View this recipe
Check out these easy side dish recipes: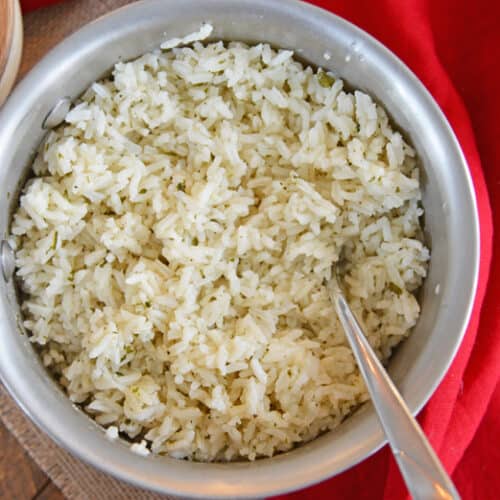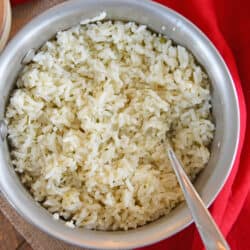 Ranch Rice
Calling all ranch fanatics! This Ranch Rice is super easy to make and adds fun flavor to your meals. No more boring rice recipes!
View this recipe
Tools for making this brussels sprout side dish:
Good Extra Virgin Olive Oil– A good olive oil will taste like, well, olives, while a poorly made one will taste like vegetable oil. Gross. While people tend to favor Italian and Greek olive oils, I prefer to buy mine domestically.
There are some great ones out there from all over the world, but the reporting of ingredients isn't always the same and you could find that your super expensive olive oil was actually cut with vegetable oil.
Heavy Bottom Sauce Pan– this will be one of your most used kitchen tools. Having something that is heavy bottom will distribute heat better and prevent burning whether you are using an electric or gas range.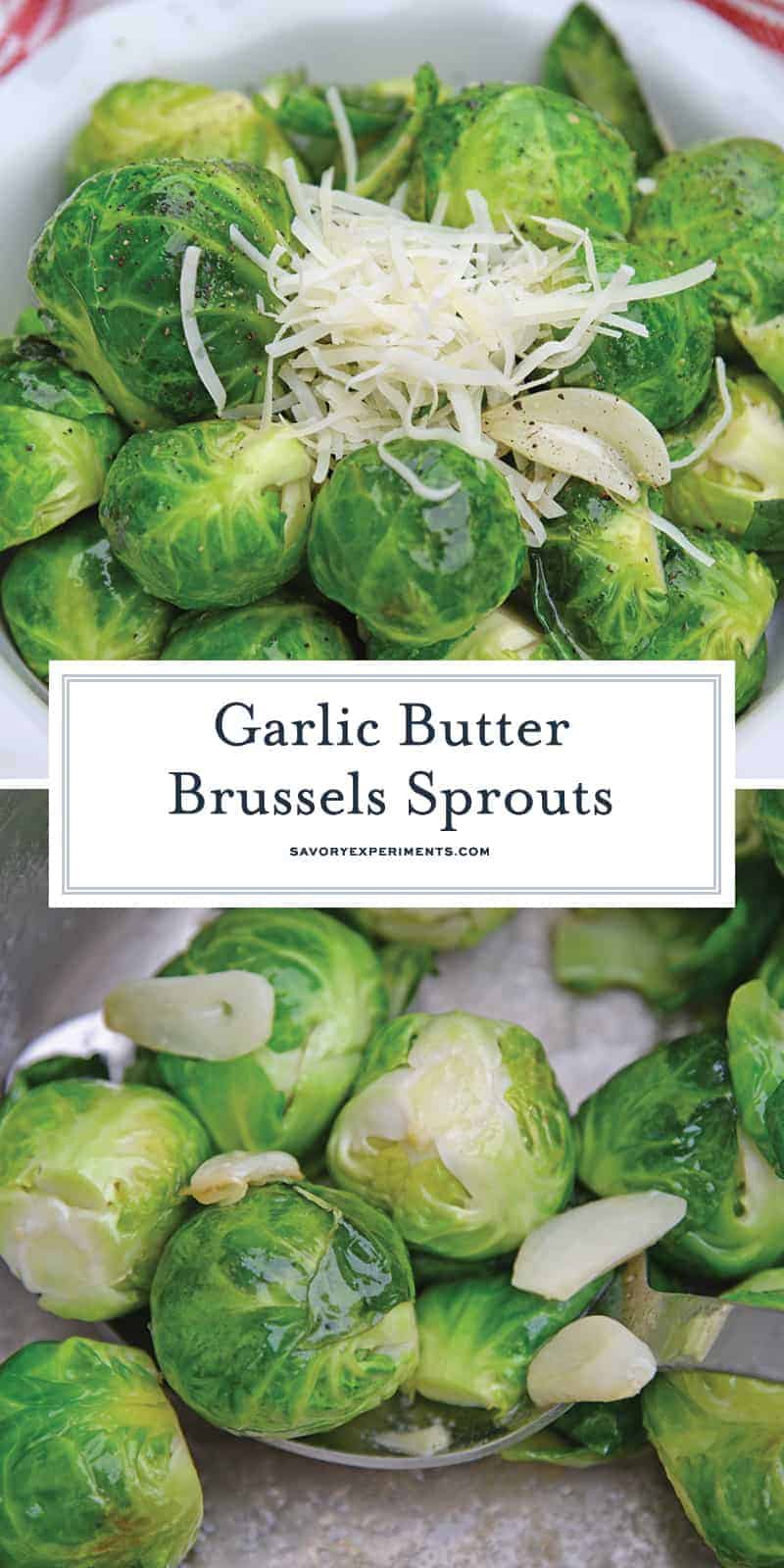 Questions you might have about how to make brussels sprouts:
Can I use steamed brussels sprouts? You can certainly steam your brussels sprouts using a steamer basket
and then toss in the same garlic butter sauce.
Are Brussels sprouts good for you? This is one question I hate getting, that or are brussels sprouts healthy? The definition of healthy means so many things these days.
What I will say is that sprouts alone have a lot of nutritional benefits like being high in antioxidants and rich in fiber and also vitamin K.
Can I make sauteed brussels sprouts ahead of time? You can make this recipe in advance, but remember that everytime you cook them, they get a little softer. The beauty of this quick saute is that the outside is soft and tender, while the inside is still firm and crunchy.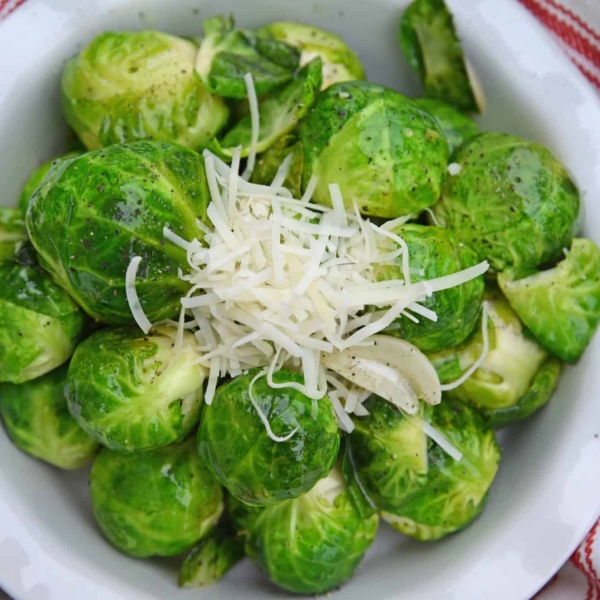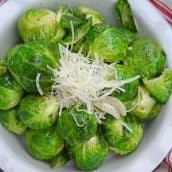 Garlic Butter Brussels Sprout Recipe
Garlic Butter Brussels Sprouts is an easy side dish that even sprout haters will love! Fresh brussel sprouts covered in butter, garlic, and topped with parmesan cheese.
Instructions
Melt butter in a medium sauce pan over medium heat. When melted, add garlic. Saute for 2 minutes.

Add light extra virgin olive oil and brussels sprouts, season lightly with fine sea salt and pepper. Continue to heat over medium heat for 8-10 minutes or until a brilliant green hue.

Remove and top with freshly grated Parmesan cheese.

If you've tried this recipe, come back and let us know how it was!
Nutrition
Calories:
134
kcal
,
Carbohydrates:
11
g
,
Protein:
4
g
,
Fat:
9
g
,
Saturated Fat:
4
g
,
Cholesterol:
15
mg
,
Sodium:
78
mg
,
Potassium:
453
mg
,
Fiber:
4
g
,
Sugar:
2
g
,
Vitamin A:
1030
IU
,
Vitamin C:
97.4
mg
,
Calcium:
53
mg
,
Iron:
1.6
mg