There is nothing quite like a bowl of piping hot soup and if we are being honest, I don't really care what the outside weather is doing- hot or cold. This Chicken Gnocchi Soup recipe is one of my favorites to whip up quick.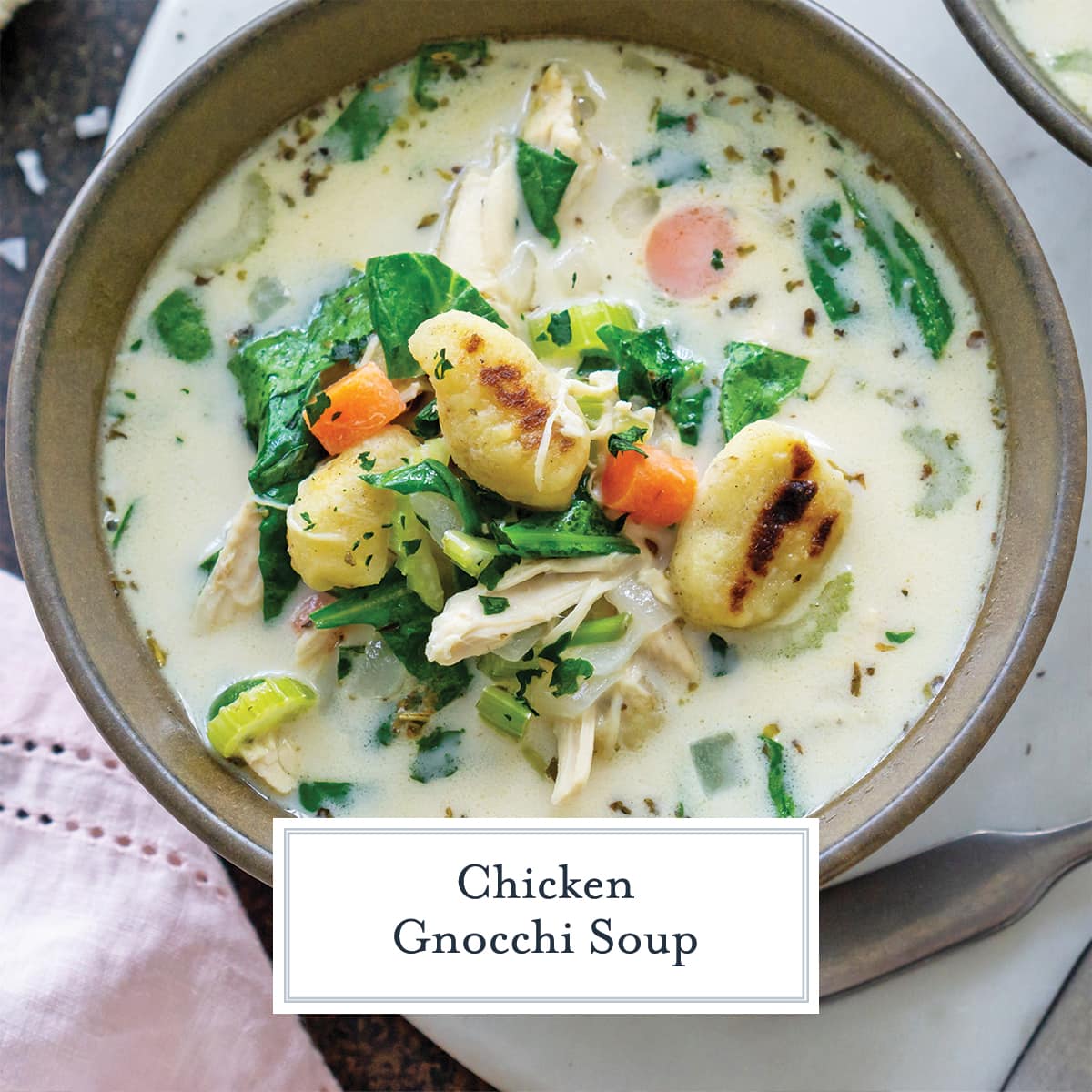 It is hearty enough to be served as an entree or with a side salad, or as an appetizer. And even though it has a rich, creamy base, it is stuffed with fresh veggies so I feel like it has some "good for you" attributes.
Chicken Gnocchi Soup Recipe
This recipe has been likened to a copycat Olive Garden Chicken Gnocchi Soup, but truth be told, I've never had it! So if you do try it, let us know in the comments if it is the same or not- other readers would love to know.
My recipe uses fresh veggies cooked until just soft, but still toothy with a snap, a basic creamy base, Italian seasonings and the secret ingredient: nutmeg. And of course, gnocchi, but I'll elaborate on that more in a minute.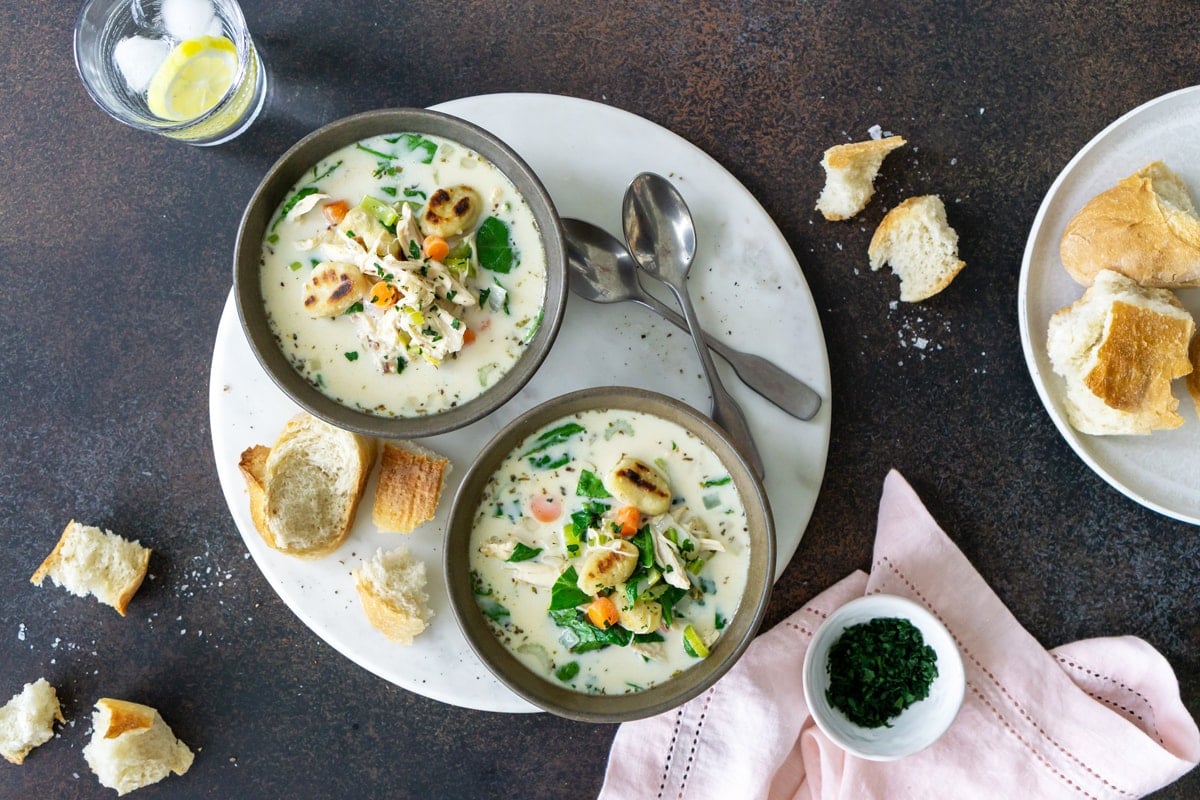 This chicken gnocchi soup comes together easily, but because of the cream base, make sure to never heat it past medium heat or else it runs the risk of separating.
What is Gnocchi?
Gnocchi are small Italian dumplings made from flour, egg, cheese and most commonly potato. You'll see mine is listed as potato gnocchi and this is because some are made with other things like cauliflower.
Tradtionally, they are about the size of a qaurter and rolled to have ridges on one side. When cooked, they are a little doughy and chewy, some describe them as pillowy.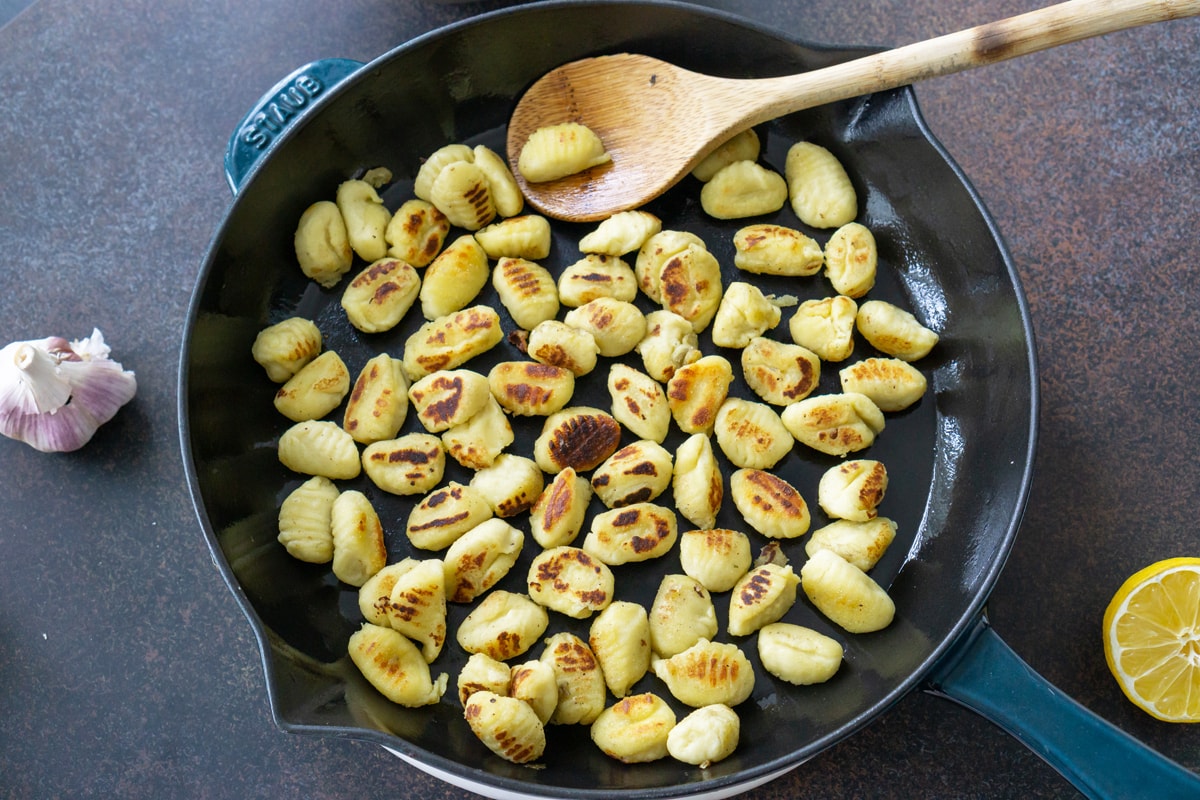 Gnocchi are technically a pasta and therefore most of the time boiled to cook, however they are quite delicate and it is easy to overcook them. This is why I pan fry! Even for this Chicken Gnocchi Soup!
Pan frying gnocchi has become my go-to technique to prevent soggy pasta. Browning gives them more flavor and a crunchy outside with a tender inside. I use the same technique for tomato pan-fried gnocchi and gnocchi carbonara.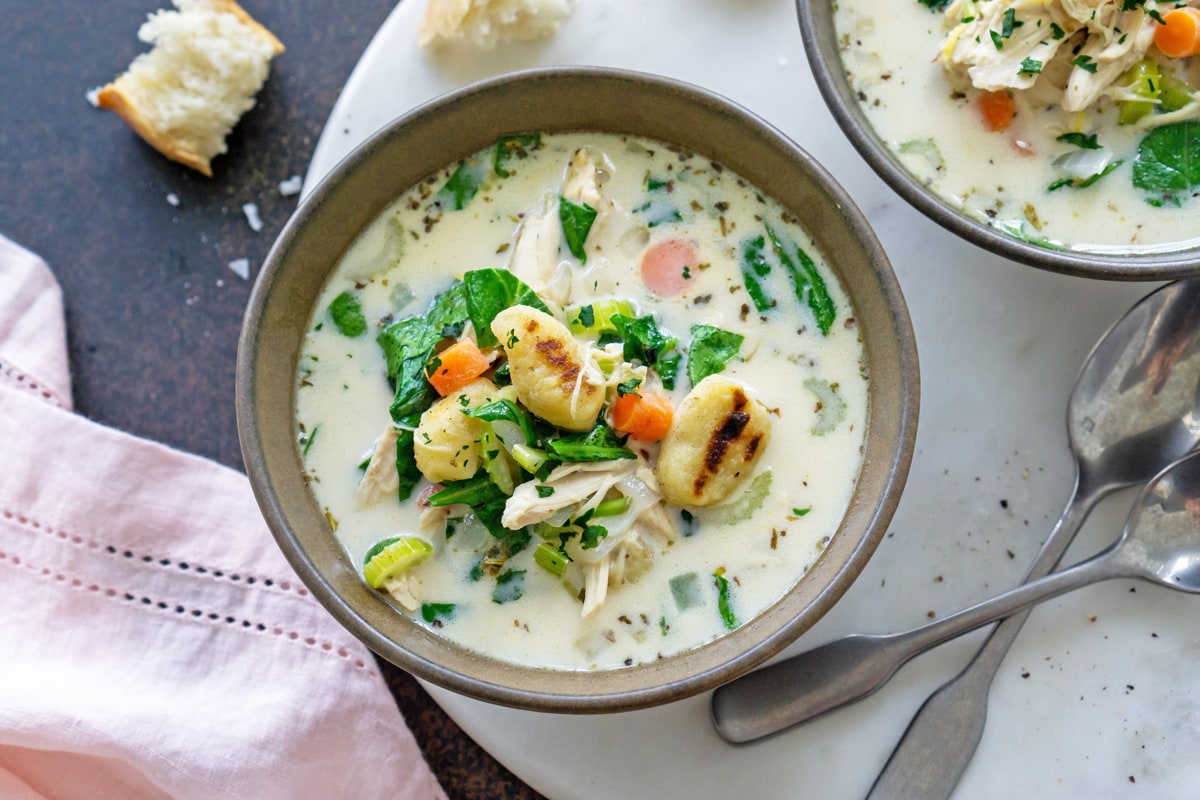 Cooked Chicken
This soup recipe calls for cooked chicken, which you can get in several ways. The first and my favorite, is to grab a pre-cooked rotesserie chicken at the grocery store. They are seasoned, juicy and ready to shred.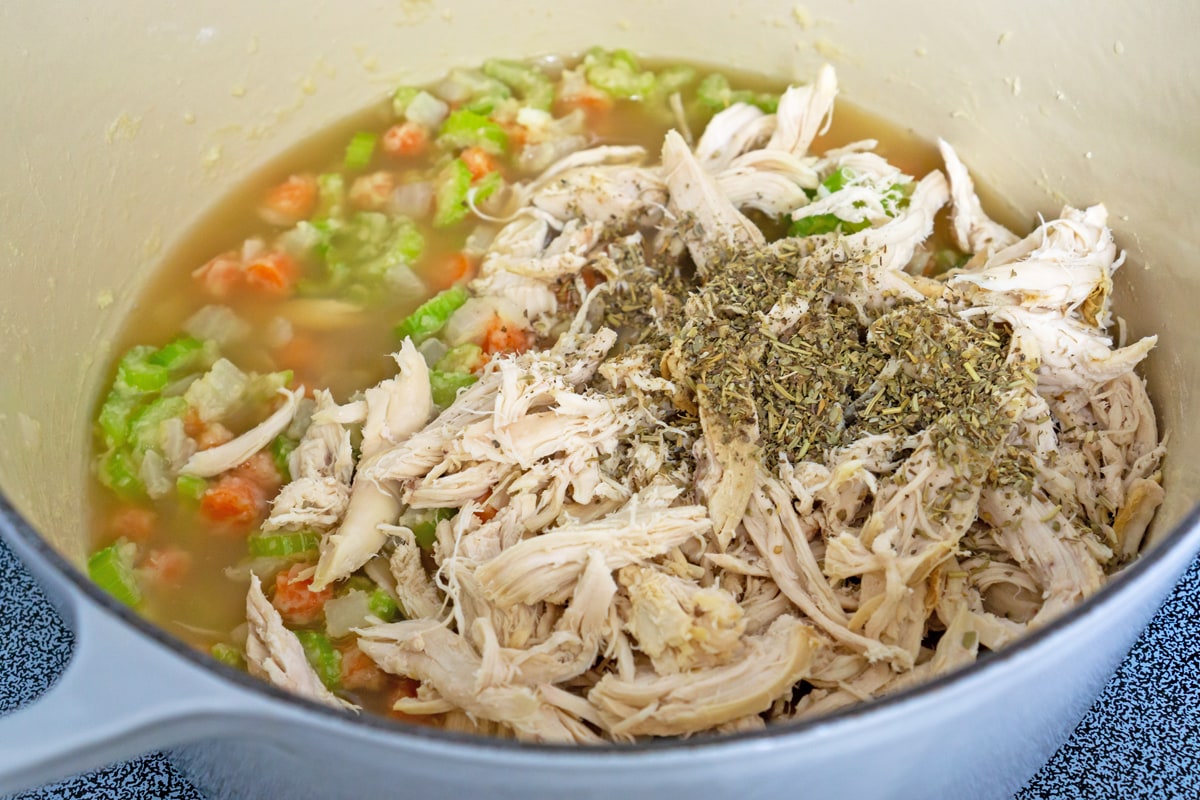 You can also make a few chicken breasts or thighs in the instant pot or use any chicken leftover from other recipes, just remember that the soup will take on any seasonings or flavors already on the chicken.
You can quickly make a whole chicken in the instant pot that tastes just like a rotisserie chicken, too. And if chicken isn't your jam, feel free to swap out cooked Italian sausage cut into bite-sized pieces or even cooked and drained ground turkey.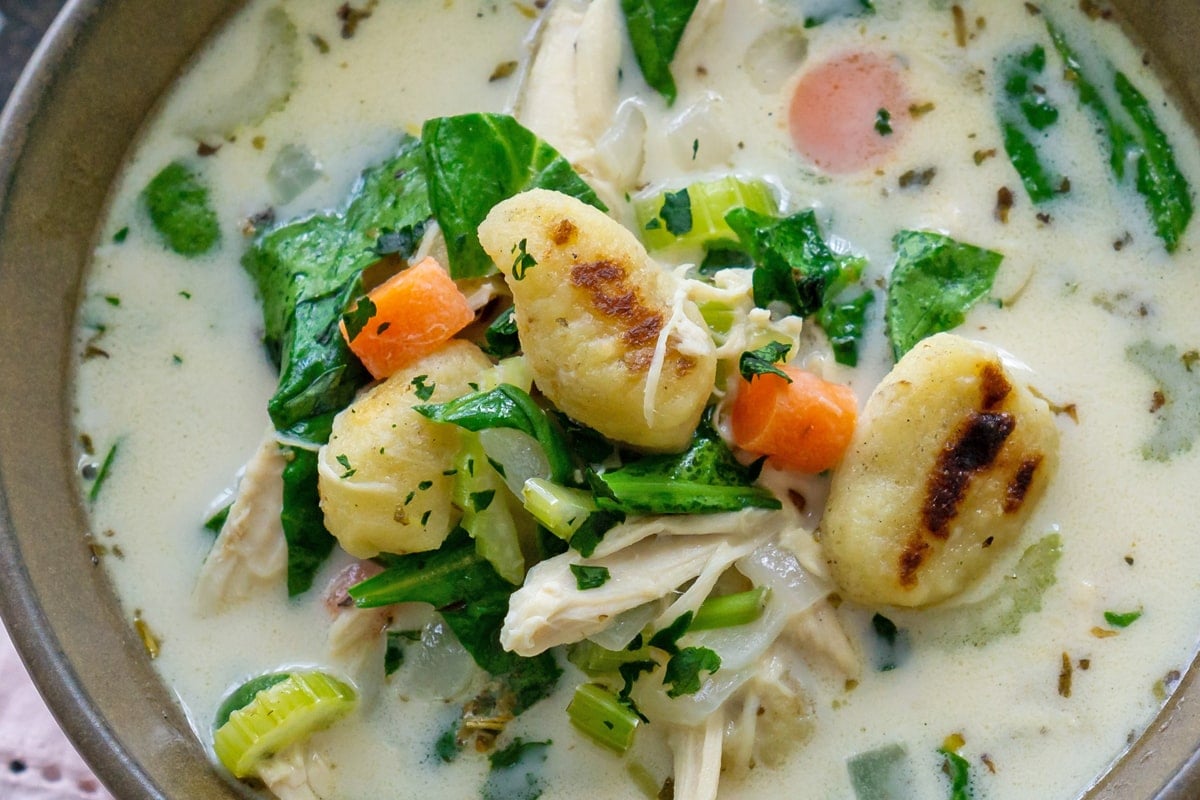 How to Make Chicken Gnocchi Soup
I know the ingredient list looks long, but most of it is simple, kitchen staples.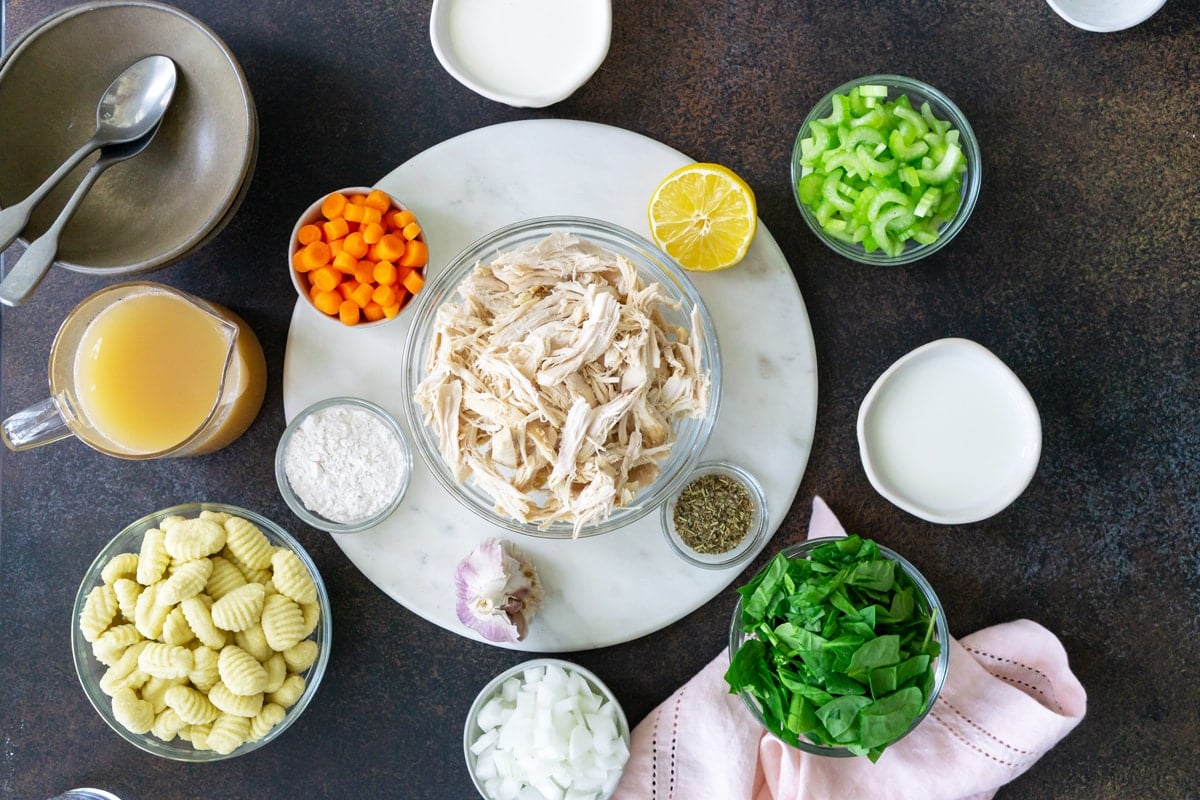 Extra Virgin Olive Oil
Veggies: White onion, carrots, celery and garlic, fresh spinach
Flour
Chicken
Seasonings: Italian seasoning, nutmeg, salt and pepper, while I usually use fresh herbs, dried is just fine and will plump up in the broth
Base: chicken broth (or swap out vegetable broth) whole milk and cream- use the full fat versions. Light options might not allow for the base to combine.
Potato gnocchi
Parmesan cheese
Gently saute vegetables until they are starting to soften, but not fully cooked.
Next, make a paste from the oil and flour, adding in broth, seasonings and chicken until it starts to mix.
While it warms, heat more oil in another skillet and brown gnocchi, getting a nice crispy on the outside.
Lastly, add both cream and milk, cheese, fresh spinach and browned gnocchi to the pot, heat until just warm and serve.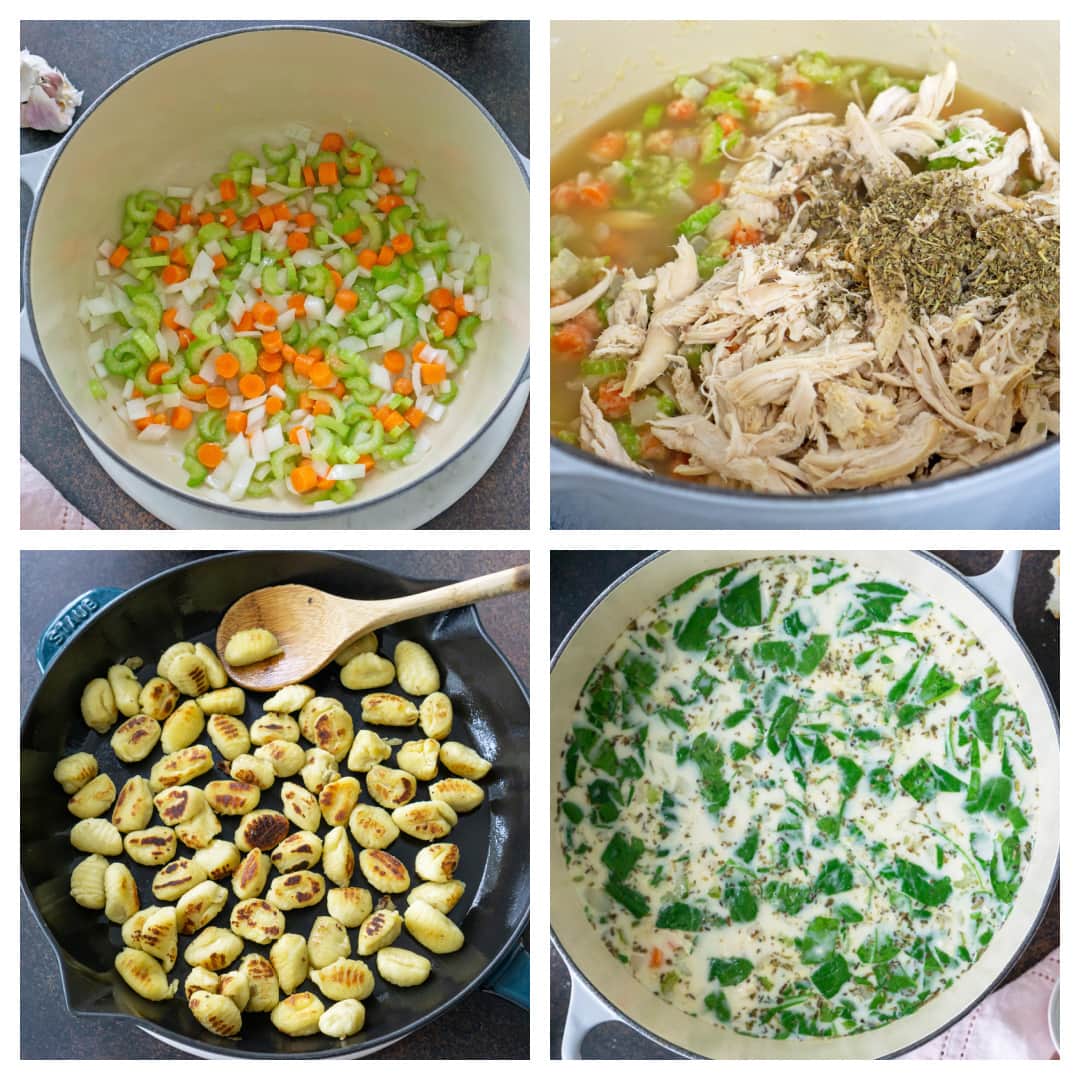 Make Ahead & Freezing
This soup can be made ahead of time and reheated, however I highly suggest waiting to add the gnocchi until right before serving. Any soup with pasta will get bloated and gummy.
Unfortunately, this soup isn't freezer friendly. It has too much dairy and when thawed separates and gets mealy.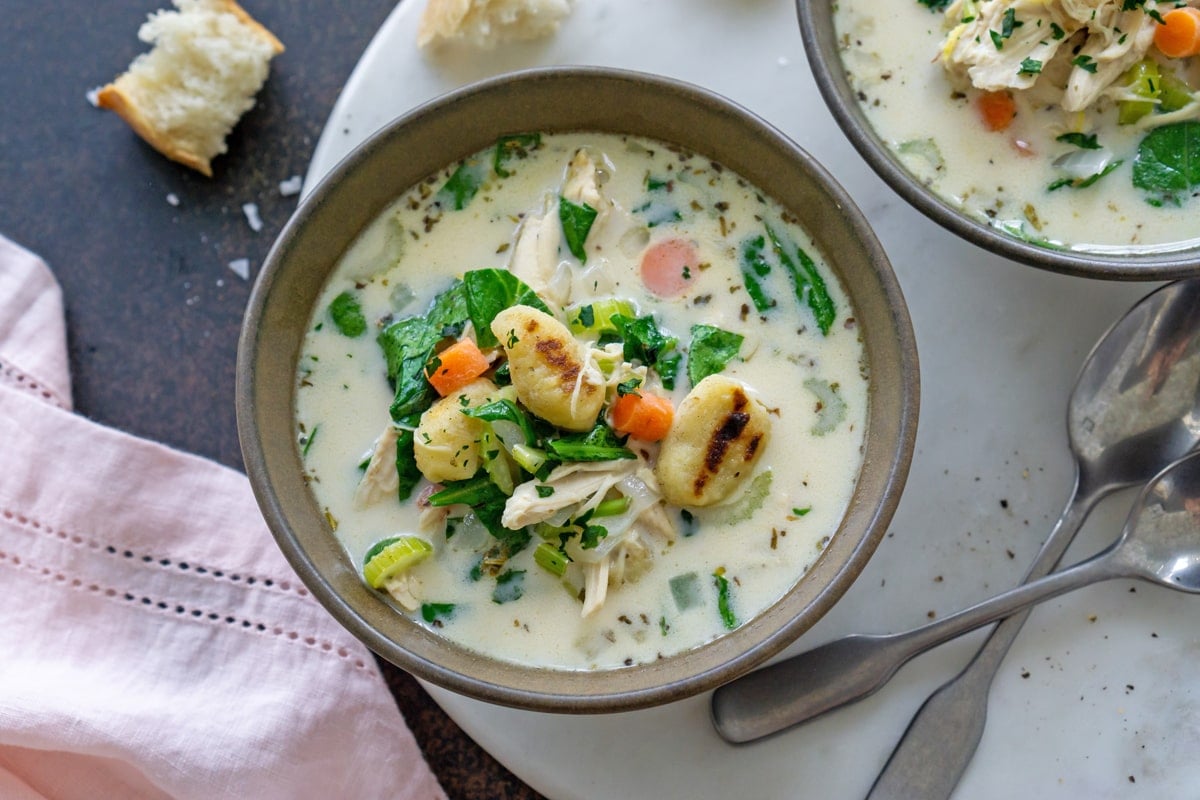 Chicken Gnocchi Soup Variations
Chicken gnocchi soup is pretty forgiving in amounts.
Dairy: I have played around with variations on milk and cream. Some were too thin and others too thick, but ultimately event that can be swapped around as long as it equals 2 1/2 cups. I have not experimented with non-dairy creamers, if you do, let us know how it goes!
Potatoes– Instead of gnocchi, add diced potatoes. Make sure they are uniform size and add them with the other veggies. When sauteing to make sure they are cooked through.
Vegetables- Add more or less of any of the listed vegetables, but also consider zucchini or asparagus, added with other veggies, or even green peas, but add those right at the end.
Protein- Chicken seems to be the protein of choice, but feel free to add the same amount, more or less of any cooked meat. Sausage cut into discs, ground beef and even turkey sausage are all great swaps.
Pasta/Rice- If you don't want to use gnocchi, swap out dry small pasta like ditalini, adding with enough cooking time to soften, or even a 1-2 cups of cooked rice, adding both right at the end.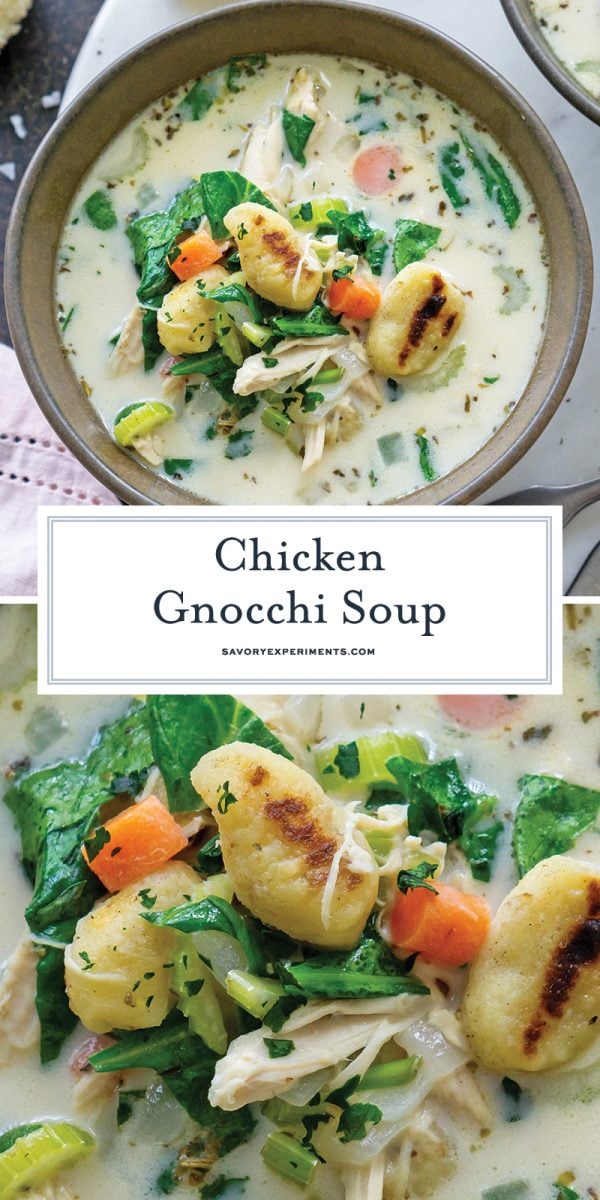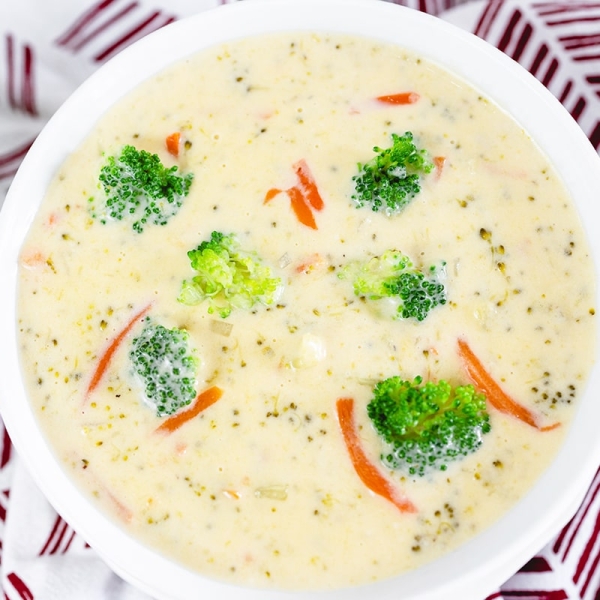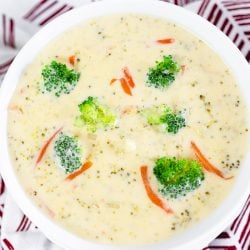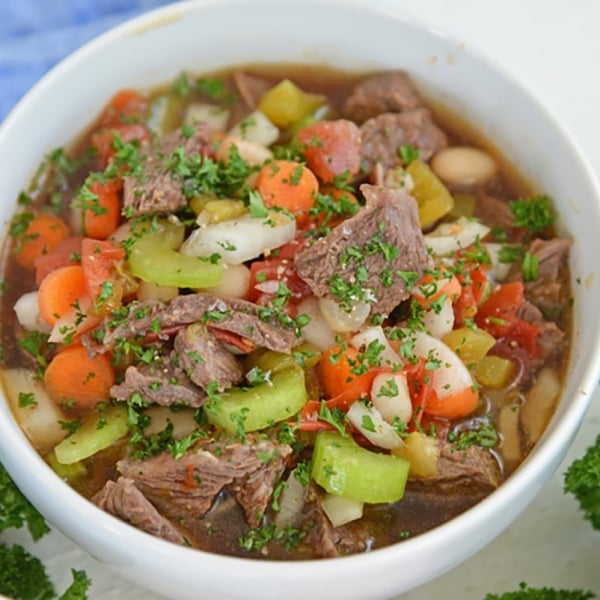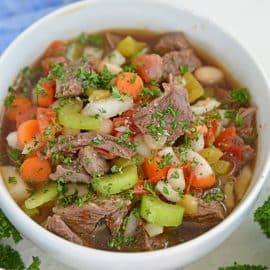 Short Rib Soup
Mildly hot short rib soup is sure to warm your soul and your belly. Tender pieces of beef with veggies and southwest flavors.
See The Recipe!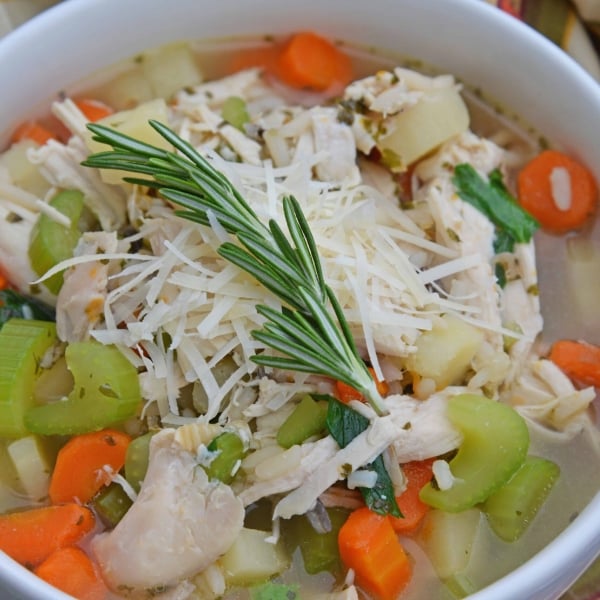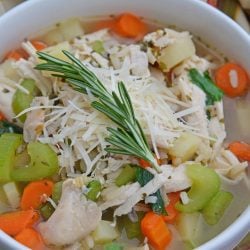 20-Minute Chicken Wild Rice Soup
This 20-Minute Wild Rice Chicken Soup is an incredibly easy but flavorful 20 minute meal made with two kitchen hacks that will make your life so much easier! It'll become a winter soup staple in your home!
See The Recipe!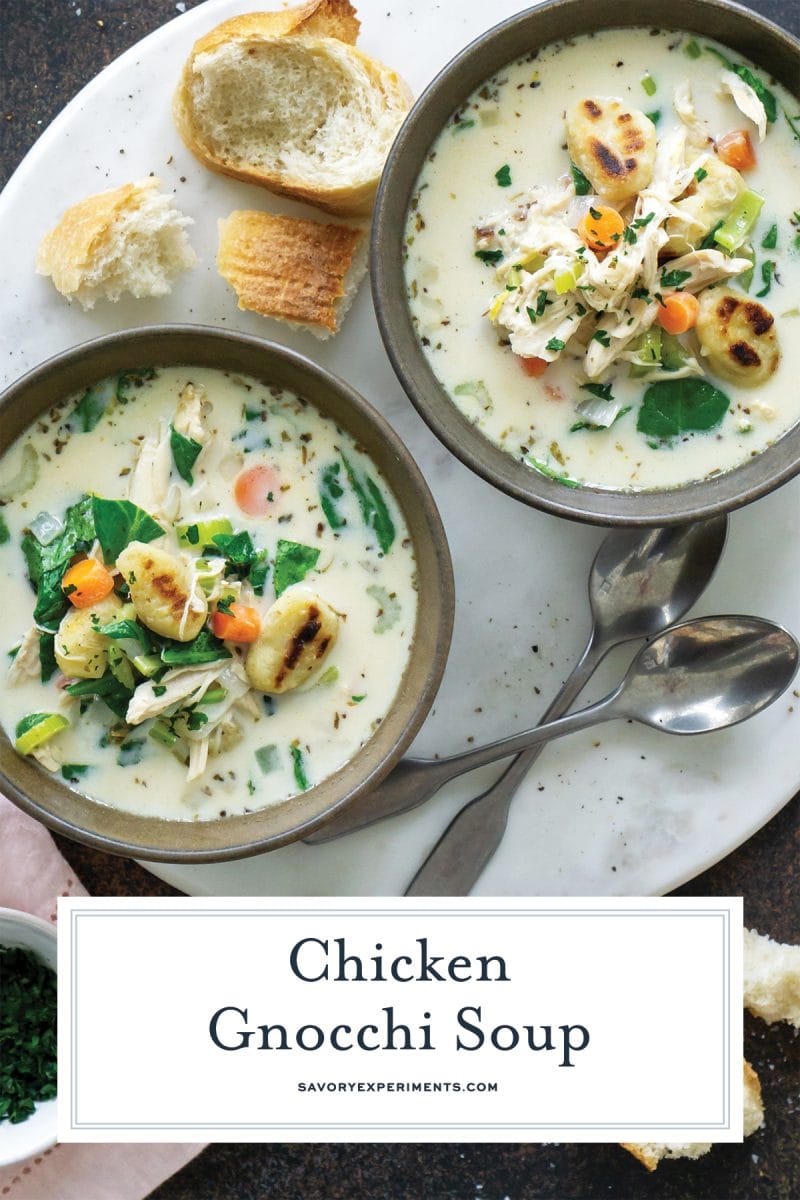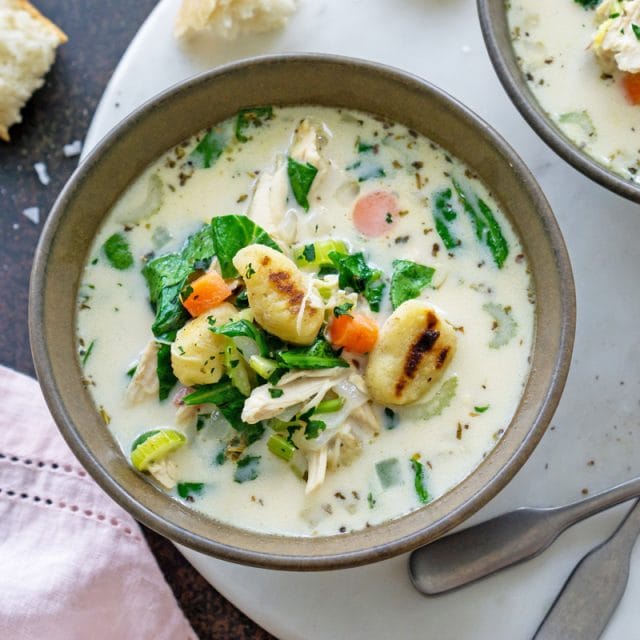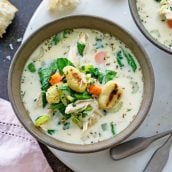 Chicken Gnocchi Soup
A hearty, creamy soup, this Chicken Gnocchi Soup recipe is the BEST! It's easy to throw together and it's ready in under an hour!
Instructions
Heat the butter in a large Dutch oven over medium heat. Add the onion, carrots, celery and garlic, cooking for 4-5 minutes or until slightly soft, but still a little taunt.

Add the flour, stirring until it forms a paste to make a roux.

Meanwhile, heat 2 tablespoons olive oil in a separate large skillet over medium high heat. Add potato gnocchi, browning on all sides. Remove and set aside.

Season broth with Parmesan cheese, Kosher salt and white pepper, then add milk and cream, bring to a low simmer again.

If you've tried this recipe, come back and let us know how it was in the comments or ratings!
Nutrition
Calories:
436
kcal
,
Carbohydrates:
40
g
,
Protein:
11
g
,
Fat:
27
g
,
Saturated Fat:
14
g
,
Trans Fat:
1
g
,
Cholesterol:
72
mg
,
Sodium:
783
mg
,
Potassium:
402
mg
,
Fiber:
3
g
,
Sugar:
5
g
,
Vitamin A:
3134
IU
,
Vitamin C:
5
mg
,
Calcium:
174
mg
,
Iron:
4
mg