Riesling Peach Glazed Ham has a perfectly sweet, crunchy outside, and a tender, savory inside. You'll be the star of the party when you unveil this amazing baked ham at the dinner table. Everyone will be begging for more!

This Riesling Peach Glazed Ham Recipe is a beautifully caramelized baked ham with peach brown sugar glaze.
I always forget about ham for Sunday dinner. Chicken, beef, all the usual stuff, but I always forget about ham. The Real Housemoms recently posted a photo of their Riesling and Peach Ham that had me drooling.
The photo alone had me tasting a sweet, but slightly crunchy sugar crust on buttery ham. So I made the recipe for a recent dinner party and my guests were WOWED!
My ham is was twice the size from the original recipe, merely because it was the only size my grocer had, so I doubled the glaze and made a few minor adjustments. I mean, look at this beautiful bark! Don't you just want to reach out and grab a bite from the screen?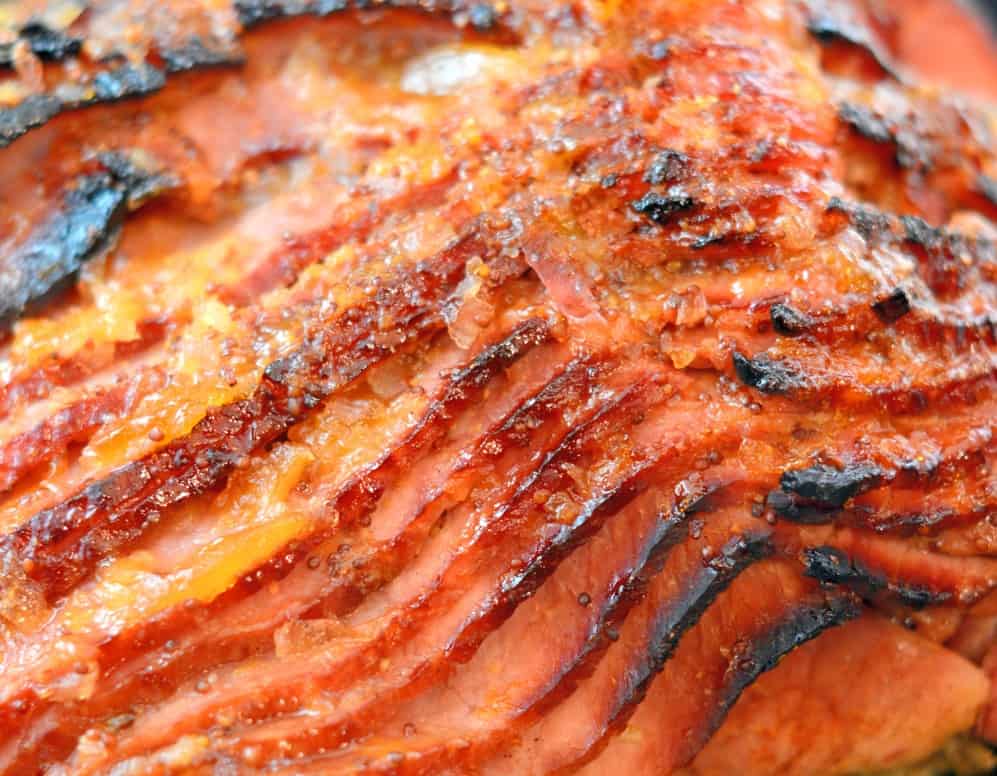 Not sure how to bake ham? Just place your ham on a roasting pan and brush the ham with your peach glaze. Put it in the oven to bake for 2 hours and baste every 20-30 minutes.
When you noticed the ham starting to brown place a piece of aluminum foil loosely on top for the remainder of cooking time. You don't want that pretty bark to burn!
Riesling Peach Glazed Ham would make the perfect Easter dinner, but is also ideal for any Sunday supper. Perfect for feeding a crowd and makes a killer ham and cheese sandwich for leftovers.
Because I am a total food nerd, here are a few fun facts about ham. Perfect for dinner table discussion or that one hammy question on Jeopardy.
There are 13,000+ people in the United States that have the last name "Ham".
National Ham Day is April 15th, also tax day!
Country ham is characterized by being hand rubbed with salt, sugar and nitrate and packed in the curing ingredients. It is generally smoked and much drier and saltier than other styles of ham.
Chicago artist Dwight Kalb made a statue of Madonna from 180 pounds of ham.
Forms of ham are present in nearly every cultural food around the world since pigs are easy to raise, require little grazing area and produce a lot of meat. The names of ham, however, differ from culture to culture.
Brown Sugar Pineapple Ham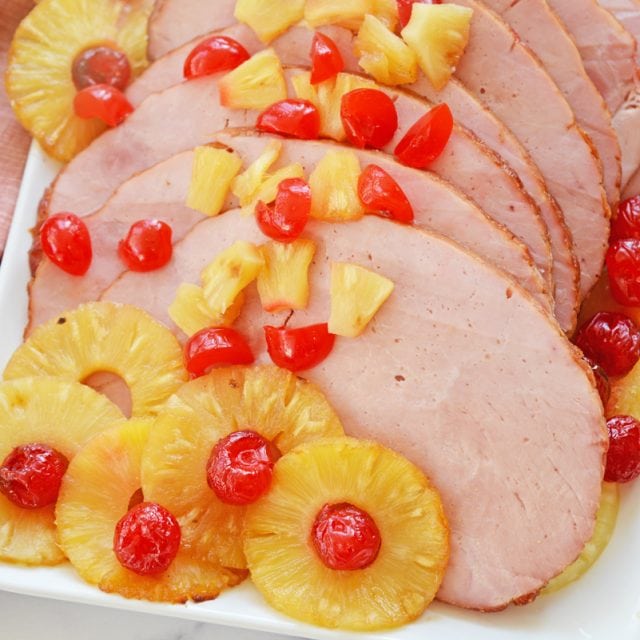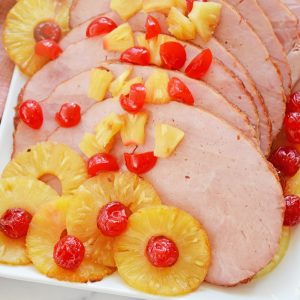 Brown sugar pineapple ham is a classic baked ham recipe using a mustard glaze with pineapples and cherries.
Best Ham Salad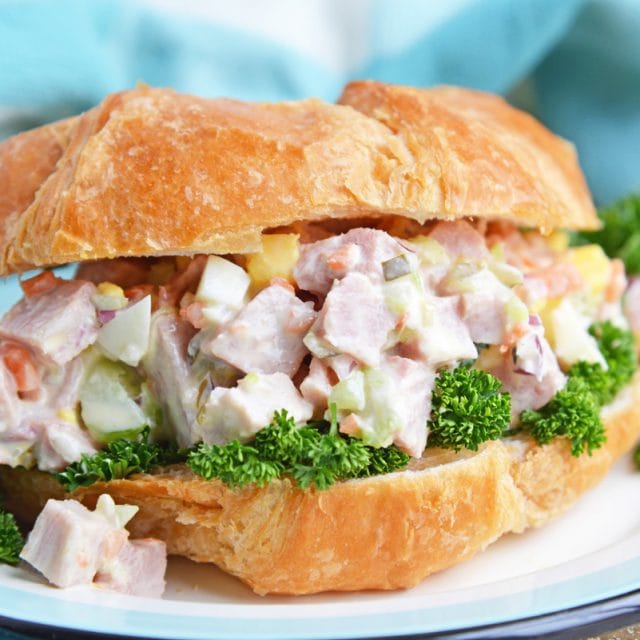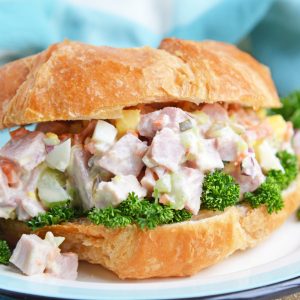 The best Ham Salad Recipe using leftover ham, minced vegetables, hard boiled egg and a lightly seasoned creamy mayonnaise base. Serve with crackers or as a sandwich.
Thyme Honey Baked Ham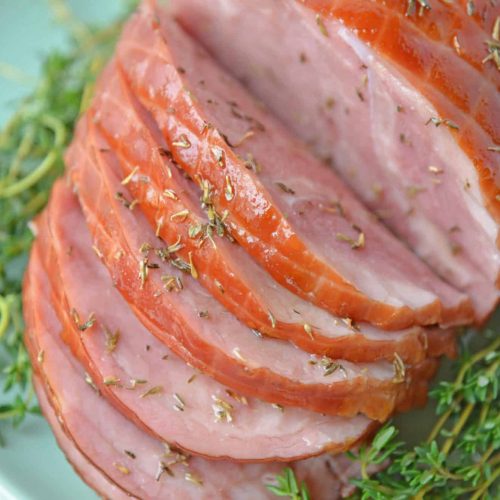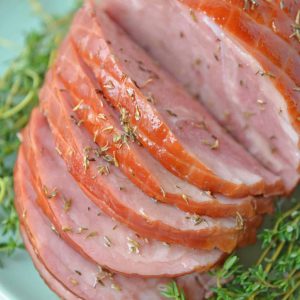 Thyme Honey Glazed Ham is a light and flavorful ham glaze recipe the whole family will enjoy. Simple to make and delicious to eat!
Tools for making Riesling Peach Glazed Ham:
Roasting Pan
– Use for hams, prime rib, roasting a chicken and more!
Heavy Bottom Saucepan
– Every kitchen needs one. Having a heavy bottom means that heat is more evenly distributed.
Carving Knife
– You might not use a carving knife often, but you'll be glad you have one when you do need it. This one is my favorite and cuts through roasts like butter.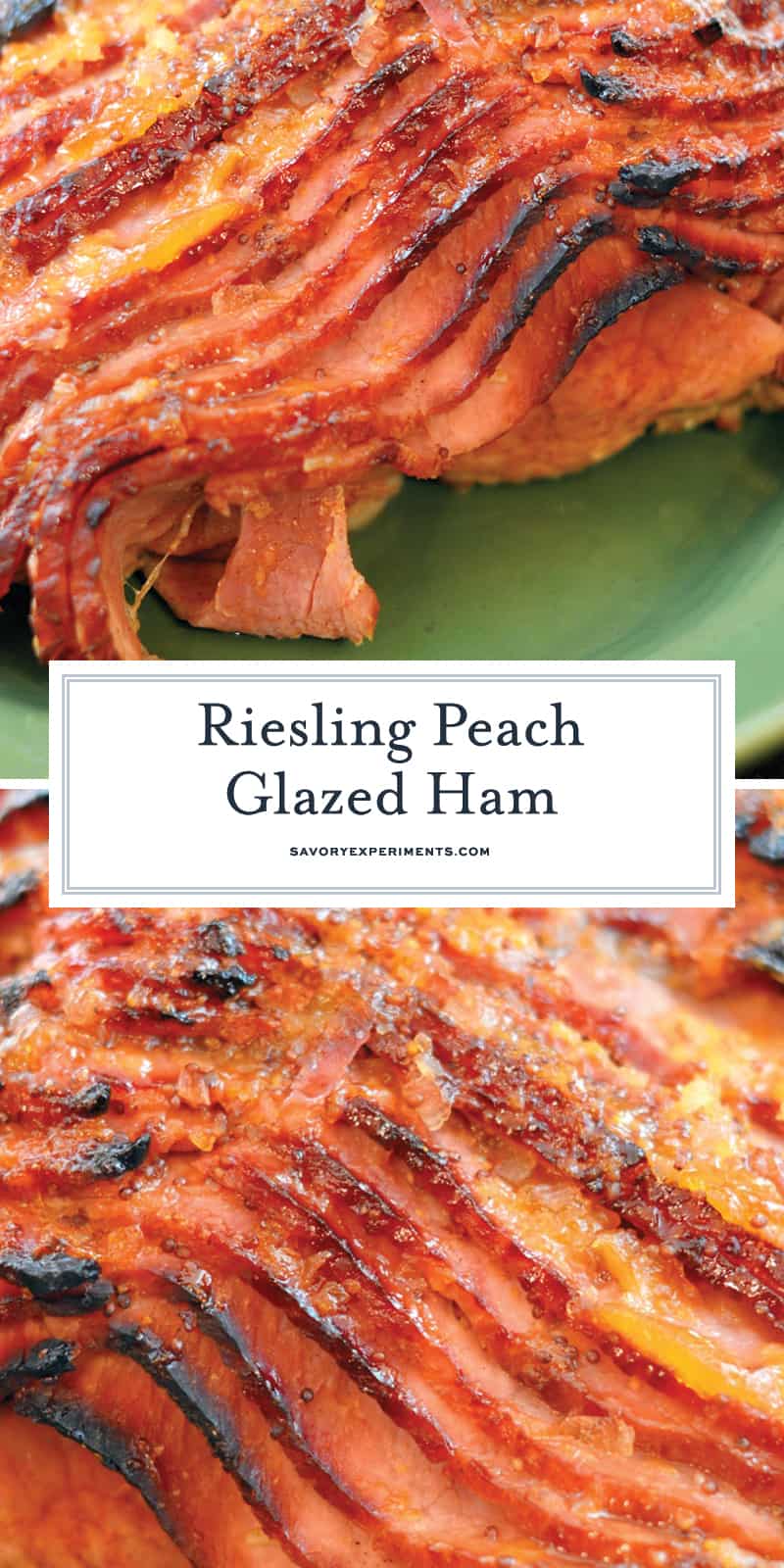 This Riesling Peach Glazed Ham Recipe is a beautifully caramelized baked ham with peach brown sugar glaze. This glazed ham feeds a crowd and is easy to make! Click to Tweet
CONNECT WITH SAVORY EXPERIMENTS!

Be sure to follow me on social media, so you never miss a post!

Facebook | Twitter | Youtube
Pinterest | Instagram
Get our FREE 8 Day E-Course on How to Be a Better Home Cook. Sign up HERE!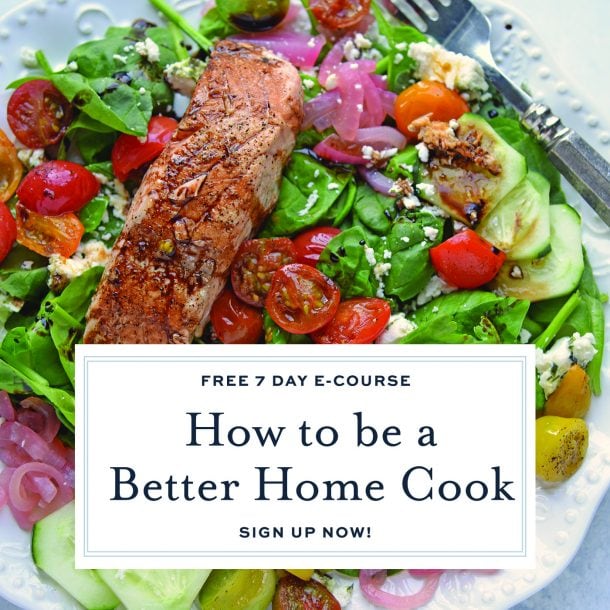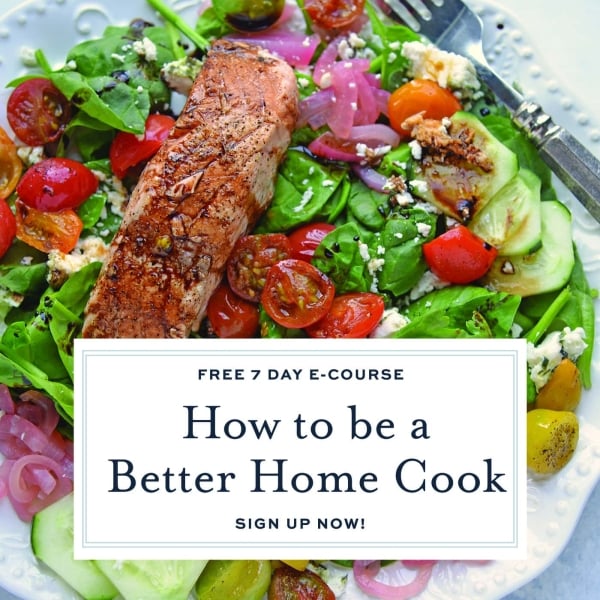 Riesling Peach Glazed Ham
This Riesling Peach Glazed Ham Recipe is a beautifully caramelized baked ham with peach brown sugar glaze.

Ingredients
6-8

lb

bone-in ham

pre-cut ham

1 1/2

cups

Riesling wine

or other sweet white wine

3

springs fresh thyme

1

shallot

minced

2 1/2

cups

cups peach preserves

(18 ounce jar)

3/4

cup

light brown sugar

packed

1/2

cup

stone ground mustard

1

teaspoon

fine sea salt
Instructions
Preheat oven to 350 degrees and prepare a roasting pan with elevated rack, lightly coating it with cooking spray.

In a medium saucepan, bring riesling, thyme and shallot to a simmer for approximately 10 minutes, or until the mixture starts to reduce.

Remove thyme stalks and stir in peach preserves, brown sugar, stone ground mustard and salt, continue to heat for an additional 4-5 minutes. Mixture should be liquid, but lumpy and sticky.

Brush half of peach glaze over ham, making sure to get into all of the nooks.

Bake for 2 hours, basting with remaining peach glaze every 20-30 minutes.

When top starts to brown and crust, loosely place a piece of aluminum foil over top (approximately 1 hour to 90 minutes into cooking).

Remove and allow to rest for 10 minutes before completing the carving and serving.

Let stand 15 minutes before slicing and serving

If you've tried this recipe, come back and let us know how it was!
Nutrition
Calories:
1305
kcal
|
Carbohydrates:
38
g
|
Protein:
98
g
|
Fat:
76
g
|
Saturated Fat:
27
g
|
Cholesterol:
281
mg
|
Sodium:
6022
mg
|
Potassium:
1428
mg
|
Sugar:
33
g
|
Vitamin A:
15
IU
|
Vitamin C:
1.7
mg
|
Calcium:
74
mg
|
Iron:
4.7
mg