I don't think I've ever set out to make ham salad just to make ham salad. But I have used leftover ham to make ham salad. It is the perfect summer lunch food and great for a picnic in the park.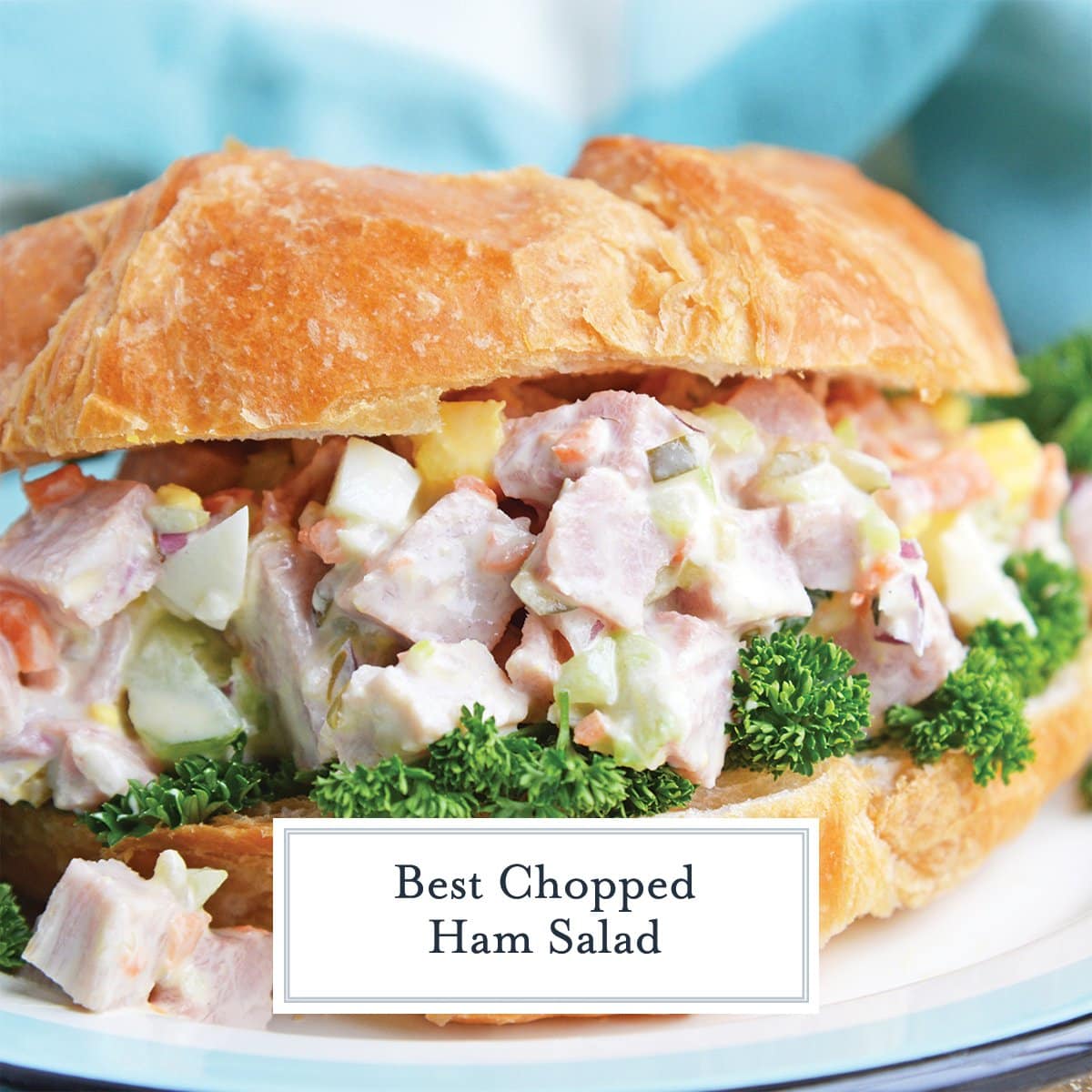 This is the Best Ham Salad Recipe!
Ham salad seems to be the most popular the days following Easter. Leftover ham and hard boiled eggs from egg hunts make it a seamless no brainer as how to use them. Pile in minced vegetables and a lightly seasoned creamy mayonnaise base and you have perfection on a platter.
But a good ham salad can be so much more than that!
Chopped Ham Salad ingredients
This is one of those age-old debates and depending on your geographic location, the "correct" ham salad recipe. Can we all just agree that there are many right ways to make it? This is just one of them, don't dis it until you try it.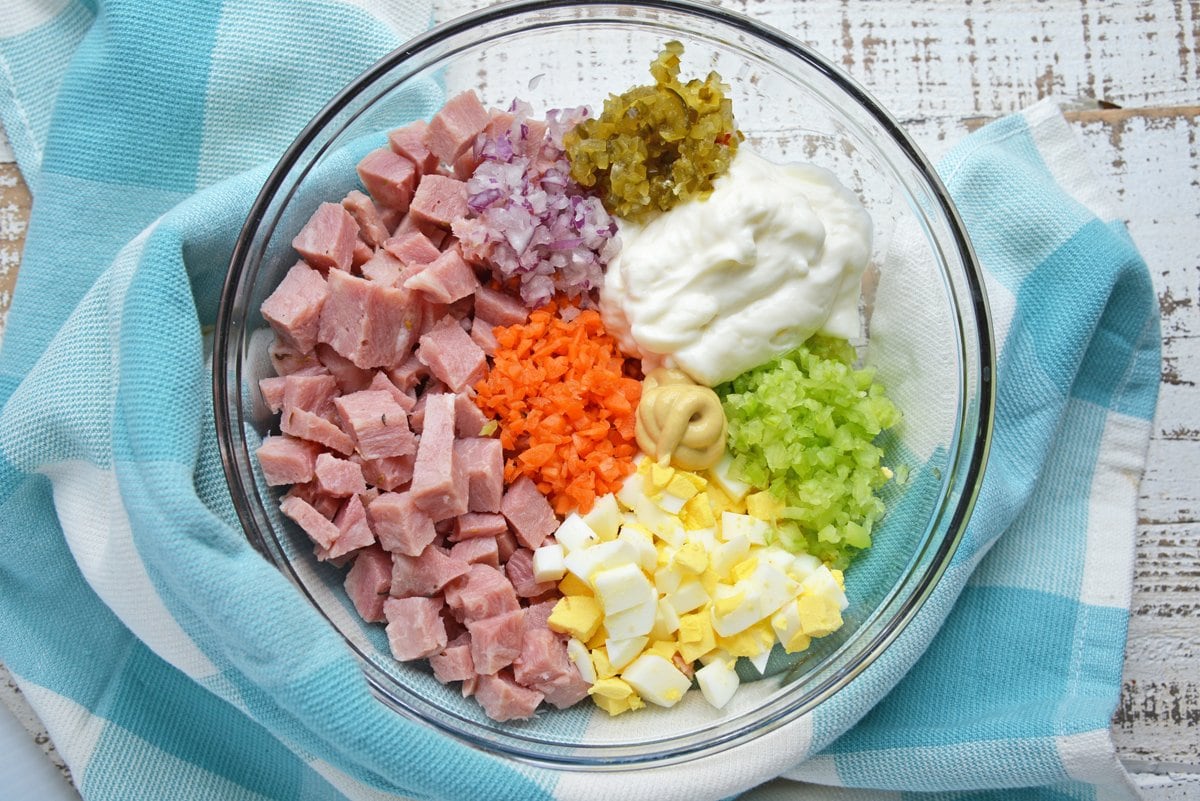 Cooked Ham- Ham deserves its own section, so see more on that below.
Hard boiled eggs– Oddly, this has the potential to be the most difficult part of making this recipe. Lucky for you, I have 3 foolproof ways to make them! Here are instructions on how to make hard boiled eggs on the stove, in the oven and in the Instant Pot! You can always just buy a bag of precooked eggs too.
Mayonnaise– Oh, shucks, here comes the debate. What type of mayo do you use? Duke's? Miracle Whip? Tell me in the comments, but also know that to save a few calories, you can swap out the mayo for plain Greek yogurt. Make sure it is Greek for thickness.
Dijon Mustard- Use a smooth mustard for this one, but also note that a spicy Dijon might add some fun flavors.
Sweet Pickle Relish– Pickles are another touchy subject. It adds the acidity needed to balance out the salty ham, but I also like it for the crunch. Dill pickles also work.
Veggies: Carrots, red onion and celery- feel free to add more or less of any of these.
Coarse kosher salt & white pepper– Make sure to taste the ham salad before adding seasonings. Ham is by definition cured and therefore very salty. Depending on the leftovers or brand, it can be even saltier. Some creations won't even need salt. I prefer finely ground white pepper for mine so it doesn't have tiny black flecks and provides a milder peppery taste that isn't overpowering.
Hot sauce– This one is optional, but added in just a few dabs will give a little more sophistication to the mix, not be overpowering or spicy.
The Ham
If you are using leftover ham, the ham glaze will determine some of the flavoring, but I often cut off the ham skin before making this recipe. If you want some of that flavor, feel free to leave it on. Here are some of my favorite ham recipes to use for ham salad:
Ready to heat ham steak and boneless cooked ham are also great options. You might need a little more seasoning since they will be fairly plain other than salt.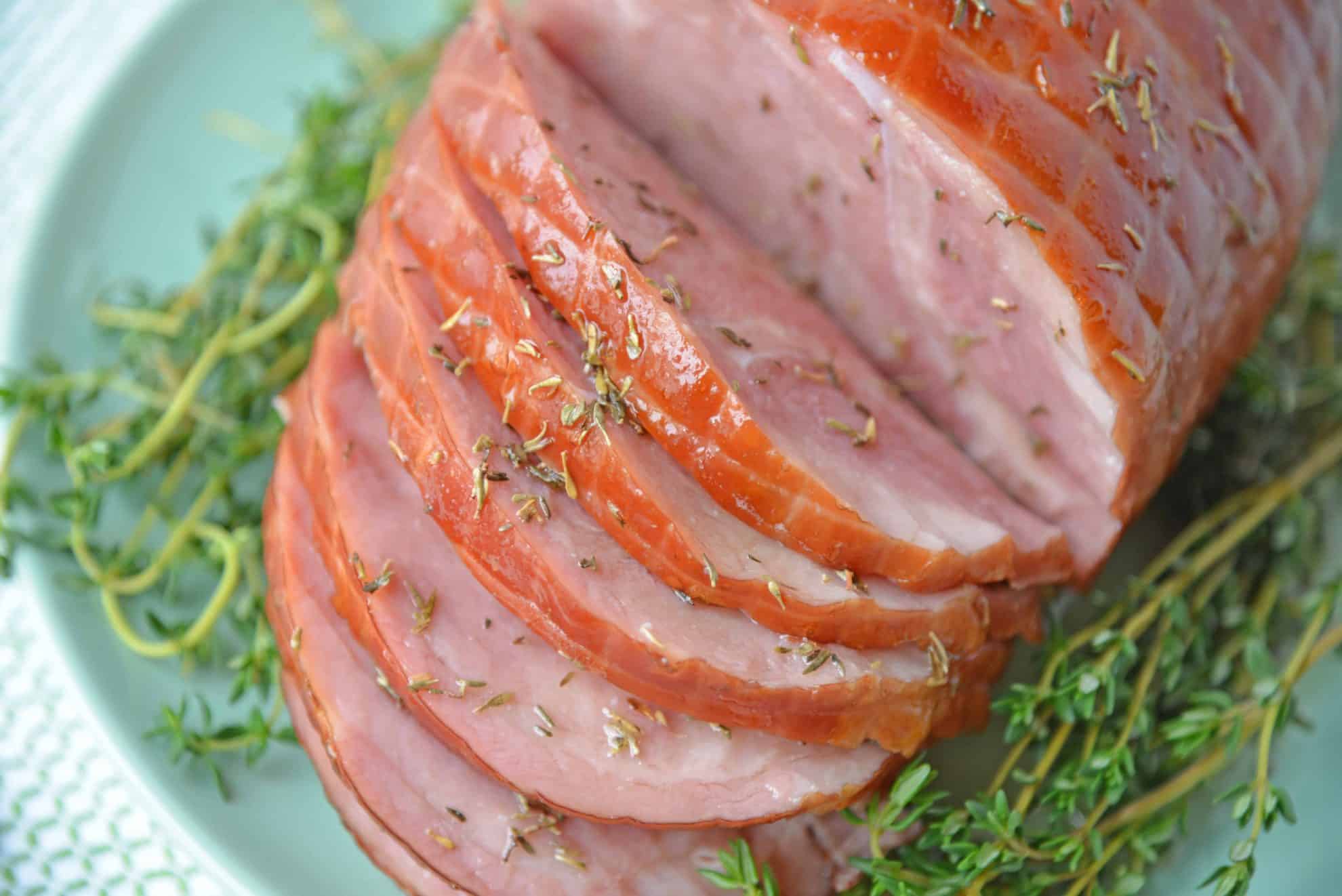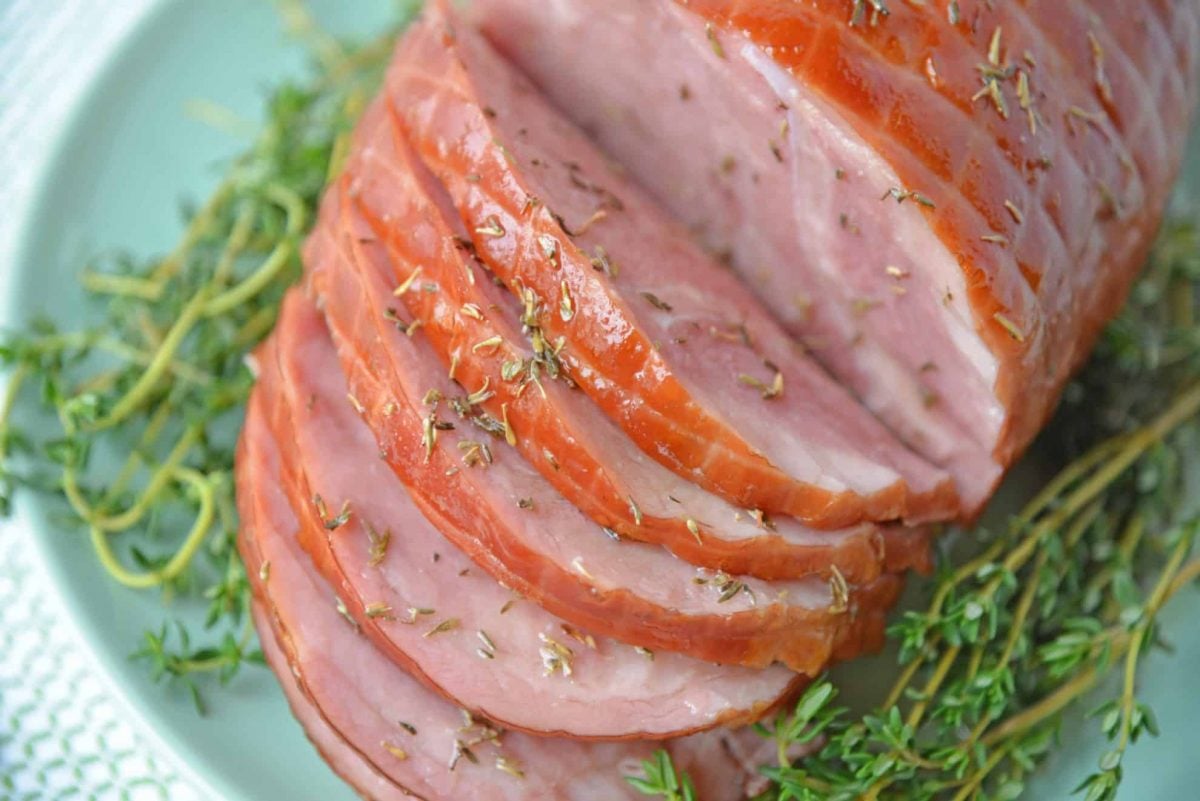 After you get paste flavor, we now need to discuss the texture. Oh yes, I like a chopped salad with toothiness, I want to know I've just enjoyed a cube of ham. But others like more of a fine mince or even ground ham, sometimes referred to as old fashioned ham salad.
No need to haul out the meat grinder, just give it a few pulses in a food processor. This is best for a ham spread, but also works for a sandwich or salad. You can also quickly chop the veggies and save some time on the cutting board.
How to Make Ham Salad
This is the easy part. I only have two words of advice: don't over mix it and make sure to taste before you season.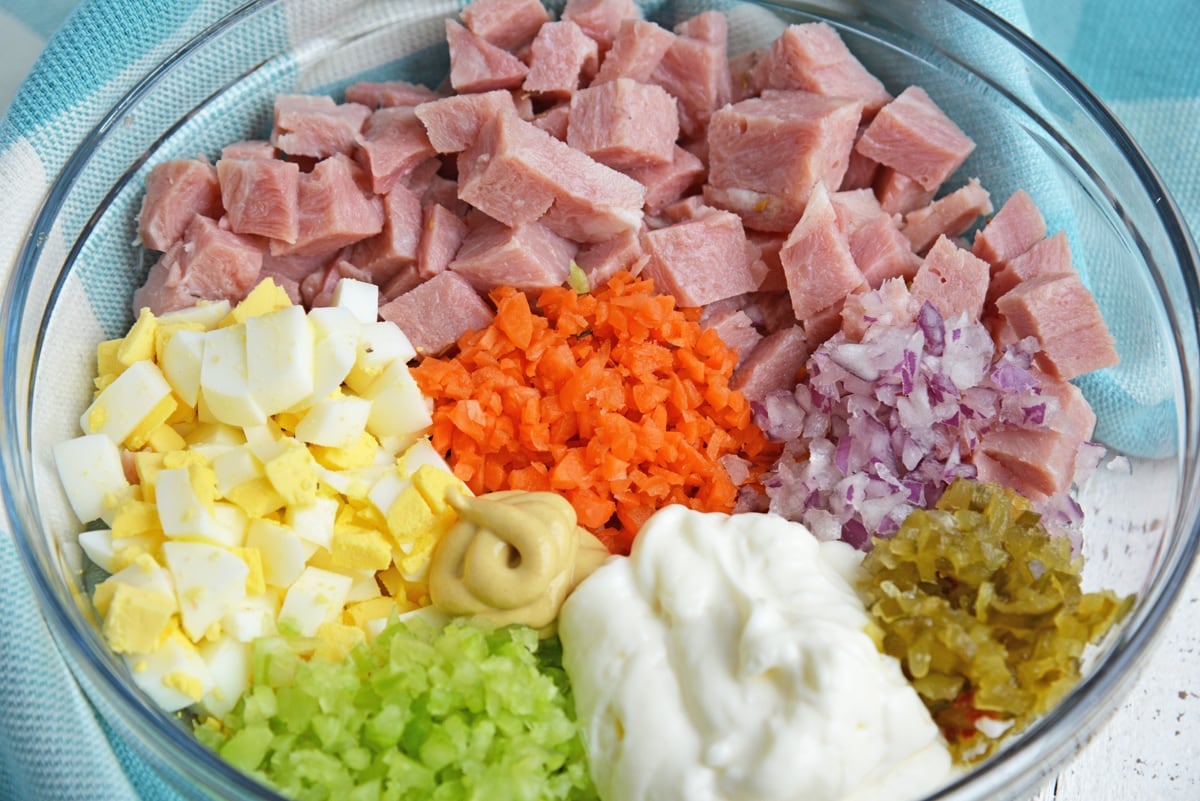 Combine the finely diced ham, hard boiled eggs, mayonnaise, mustard, relish, carrot, red onion, celery and hot sauce in a large mixing bowl. Toss to combine, do not over mix or the eggs get gummy and weird.
Taste the ham mixture and then season with coarse salt and pepper, if desired. This will vary depending on the saltiness of the ham.
Cover and chill for 1 hour before serving.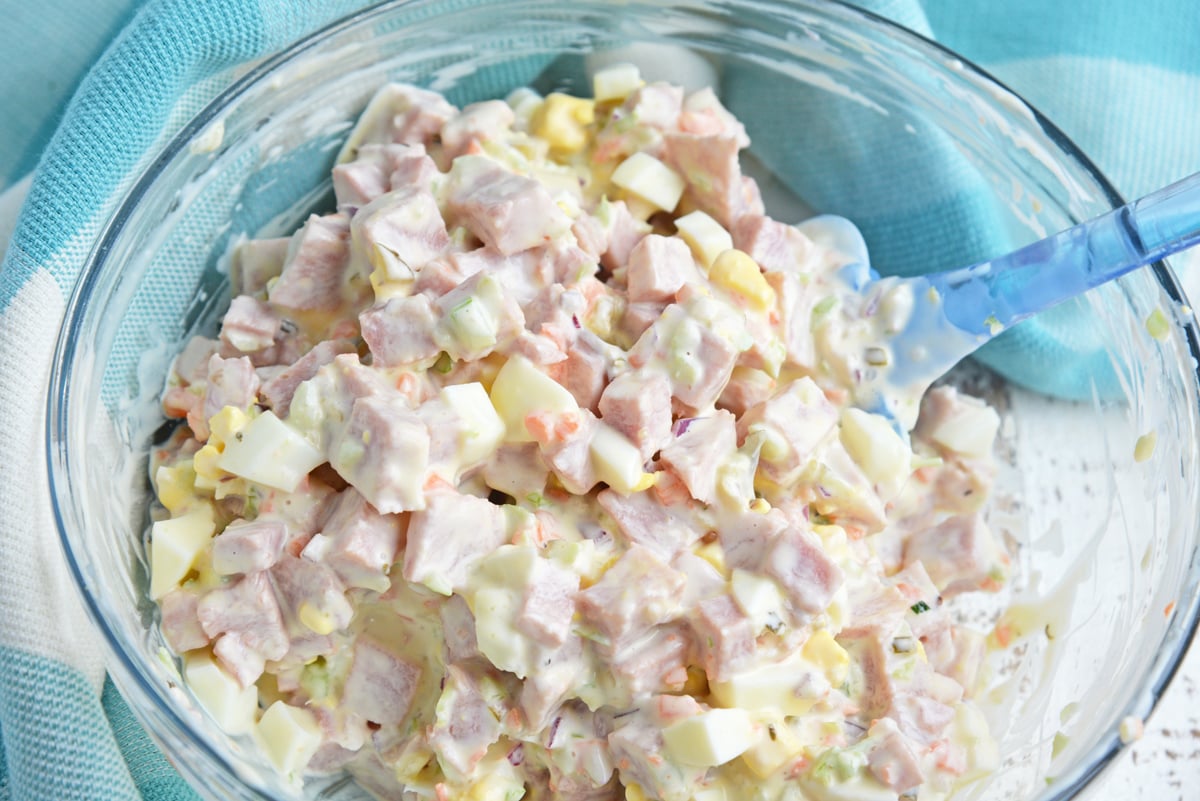 How to serve this Recipe for Ham Salad
Ham Salad Spread. One is has a ham salad spread, more of a dip, and served with crackers. Salty crackers do best. Here, ham diced a little smaller or ground works a little better.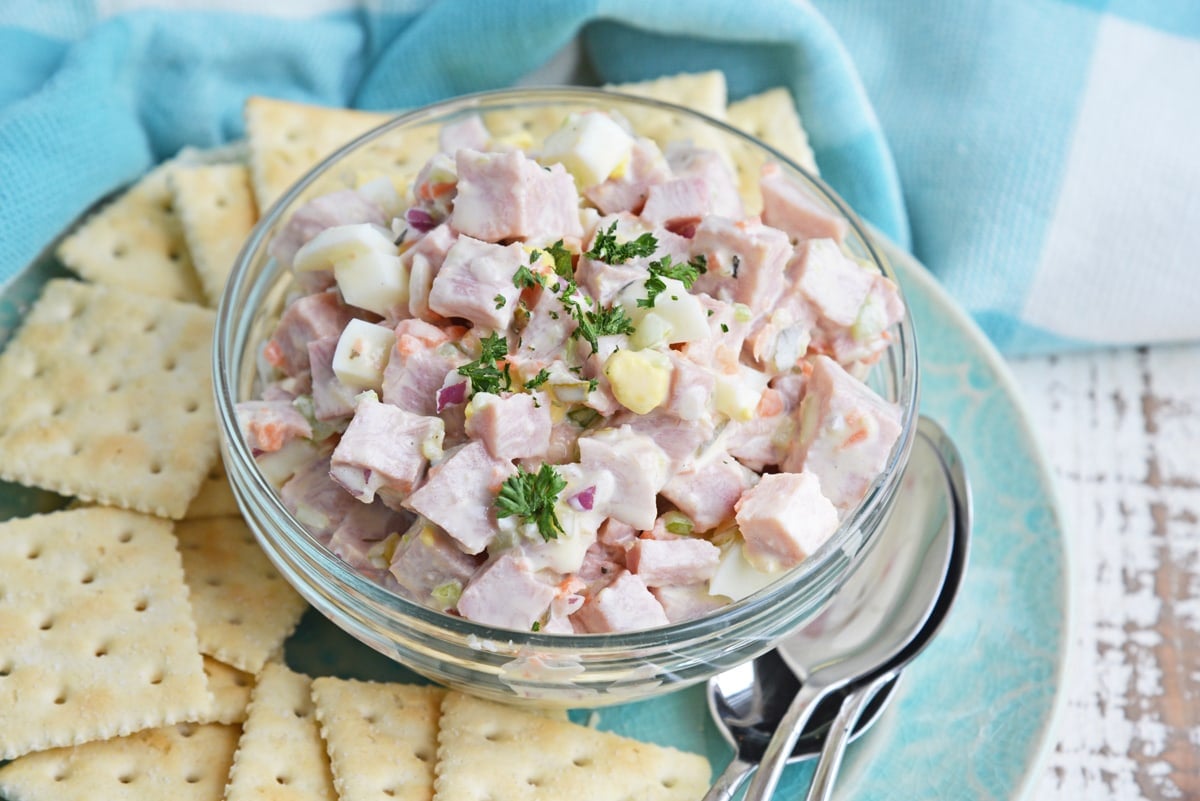 Ham Salad Sandwich– Load your chilled salad up onto buttery biscuits, croissant rolls, white bread or a hearty roll. No need to add anything else.
If you opt for a sandwich, there is also much debate about the proper greenage. Some prefer Romaine lettuce, others a crisp iceberg and still others a frilly Bibb.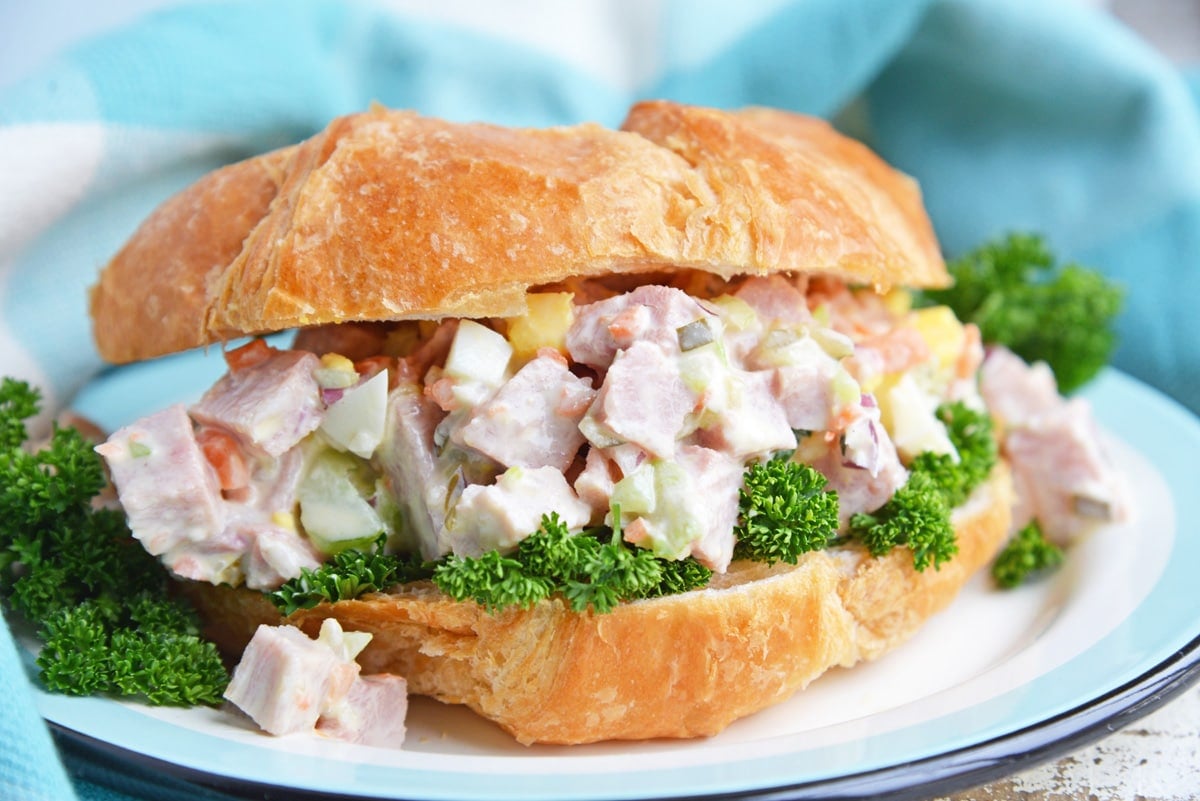 Ham Salad Pasta Salad– Um, what is this? A fusion of ham salad with a cold macaroni salad. And it is delicious. This is best when you just have a little left. Not really enough for a full meal, but you can transform it into a sid.
Easily do this by tossing leftover ham mixture with 2-3 cups of cooked pasta and 1 cup of shredded cheddar cheese. Best pasta choice for ham and cheese pasta are elbow macaroni, shells or corkscrews- something with nooks and crannies. You can even add a packet of dry ranch dressing mix to liven it up!
Ham Salad Recipe storage
Can I make ham salad ahead of time? You sure can! In fact, I think it tastes best when it sits for an hour or two to let the flavors marry. I would no make it more than 24 hours in advance.
It might also need to have the salt and pepper seasoning corrected since chilling foods like this can sometimes mute the flavor profile.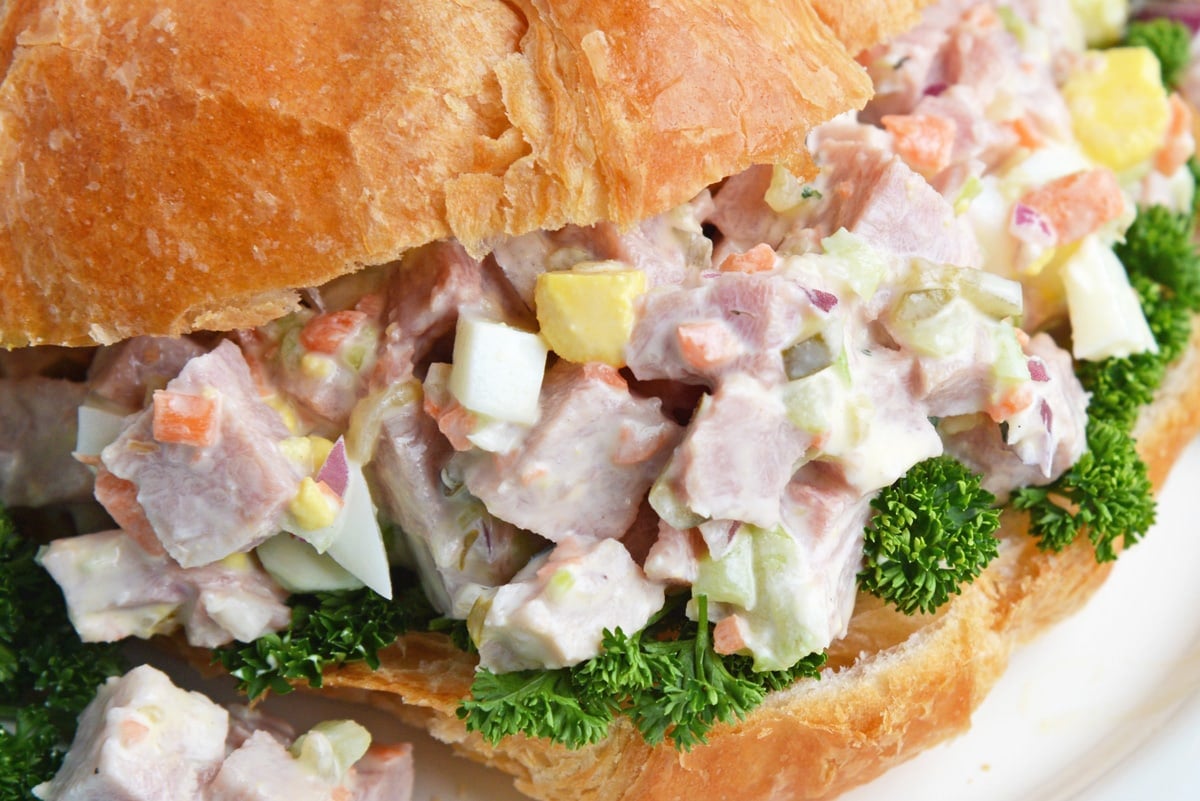 How long is ham salad good for? Since it contains mayonnaise and chopped hard boiled egg, I would say if properly refrigerated, no longer than 4 days.
How long can ham salad sit out? According to the CDC, you should only leave ham salad out at room temperature for up to 2 hours.
How long will a ham salad sandwich last in the fridge?
A well wrapped ham salad sandwich will last in the fridge for 2-3 days. However, it will stay much more palatable if you store the ham salad filling separate from the bread for the sandwich.
If storing together, wrap the sandwich in plastic wrap or aluminum foil.
Can you freeze ham salad made with mayonnaise?
Can you freeze ham salad? I am always weary about freezing mayonnaise based spreads or salads. I would recommend to not freeze this one.
Best Ham Salad FAQs
What is deli ham salad made of?
Deli ham salad is a ham salad but made with deli meat instead of a ham steak or ham roast. The pieces of ham are typically much thinner.
Where did ham salad originate?
Considered a vintage ham recipe, it was developed as a way to use leftover ham, much like ham bone soup. It was first recorded in recipe books around the 1920s, but popularized in the 1950s.
Why does my ham salad get watery?
All of the ingredients in ham salad, including the actual ham and many of the minced veggies, are loaded with water which starts to leach out while it sits. Simply stir it well before using again and it will be fine.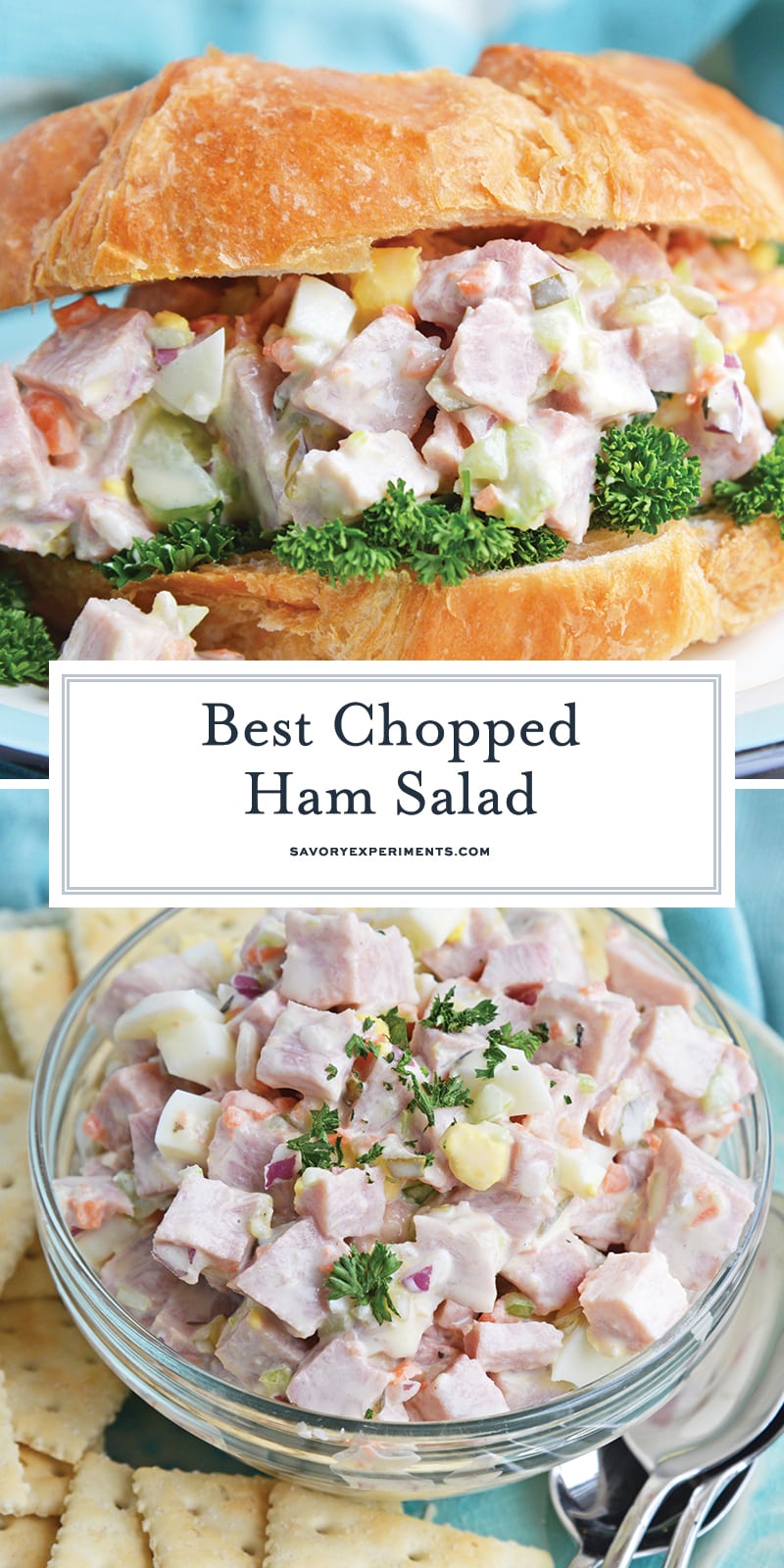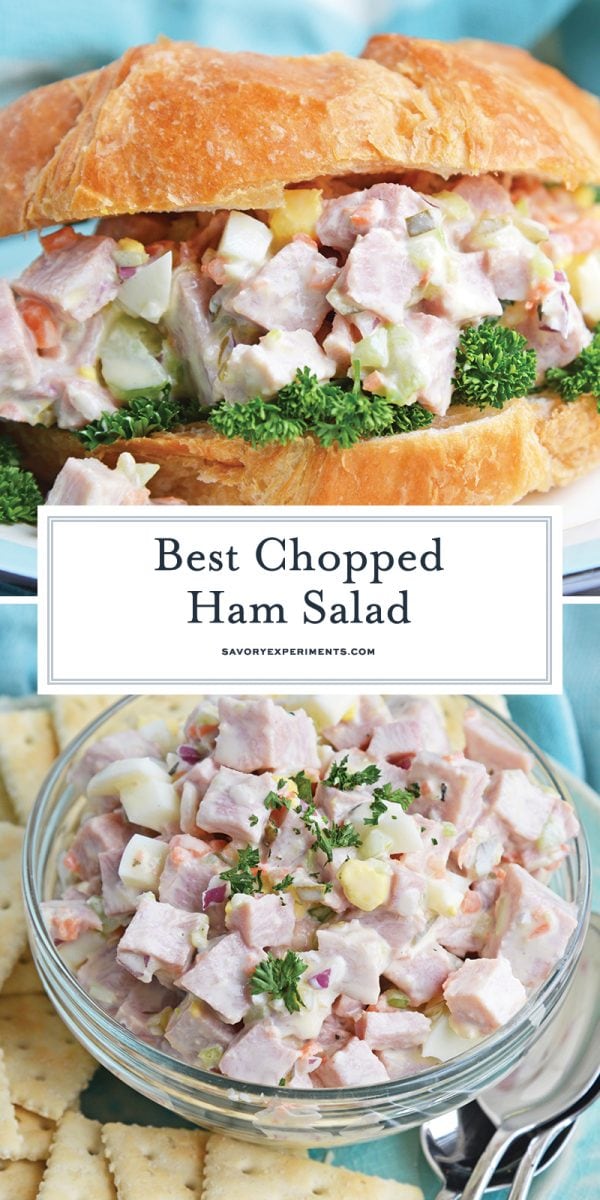 You might also enjoy these favorites: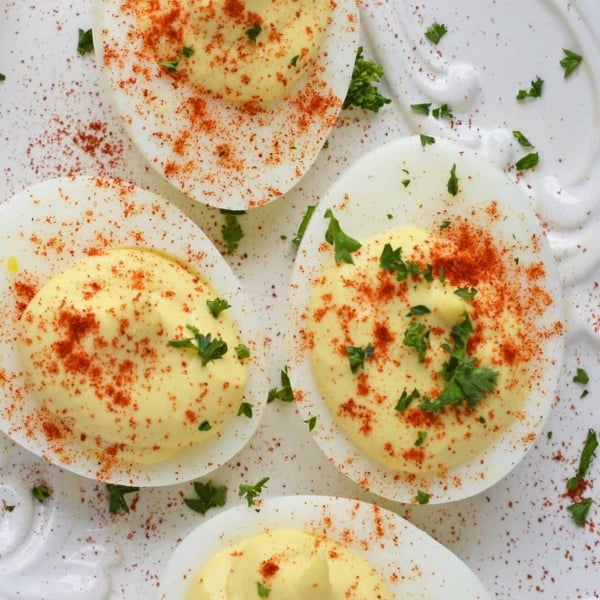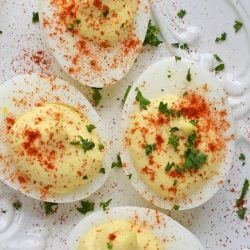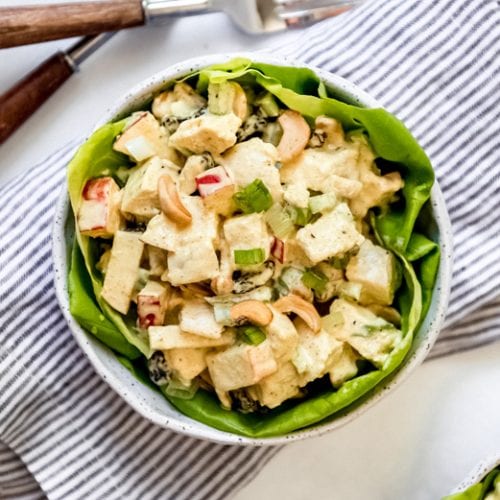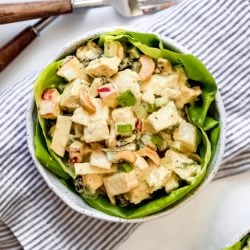 Curry Chicken Salad
A creamy, sweet & savory sauce coats tender bites of chicken in this Curry Chicken Salad. Chunks of crisp apples and celery, chewy raisins, and crunchy cashews are in every bite!
See The Recipe!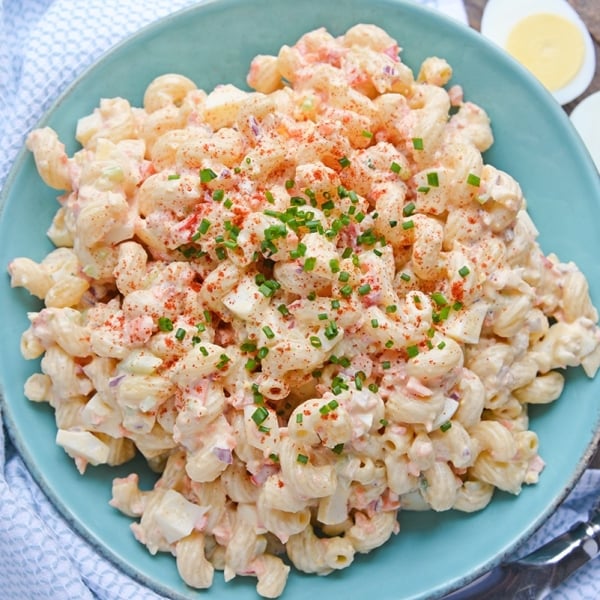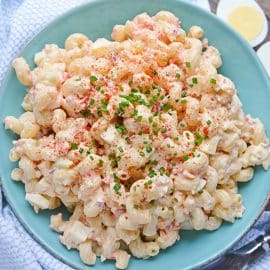 Deviled Egg Macaroni Salad
Deviled Egg Macaroni Salad is a cold macaroni salad using deviled egg filling, pasta and finely minced vegetables. The perfect make ahead side dish for parties and potlucks!
See The Recipe!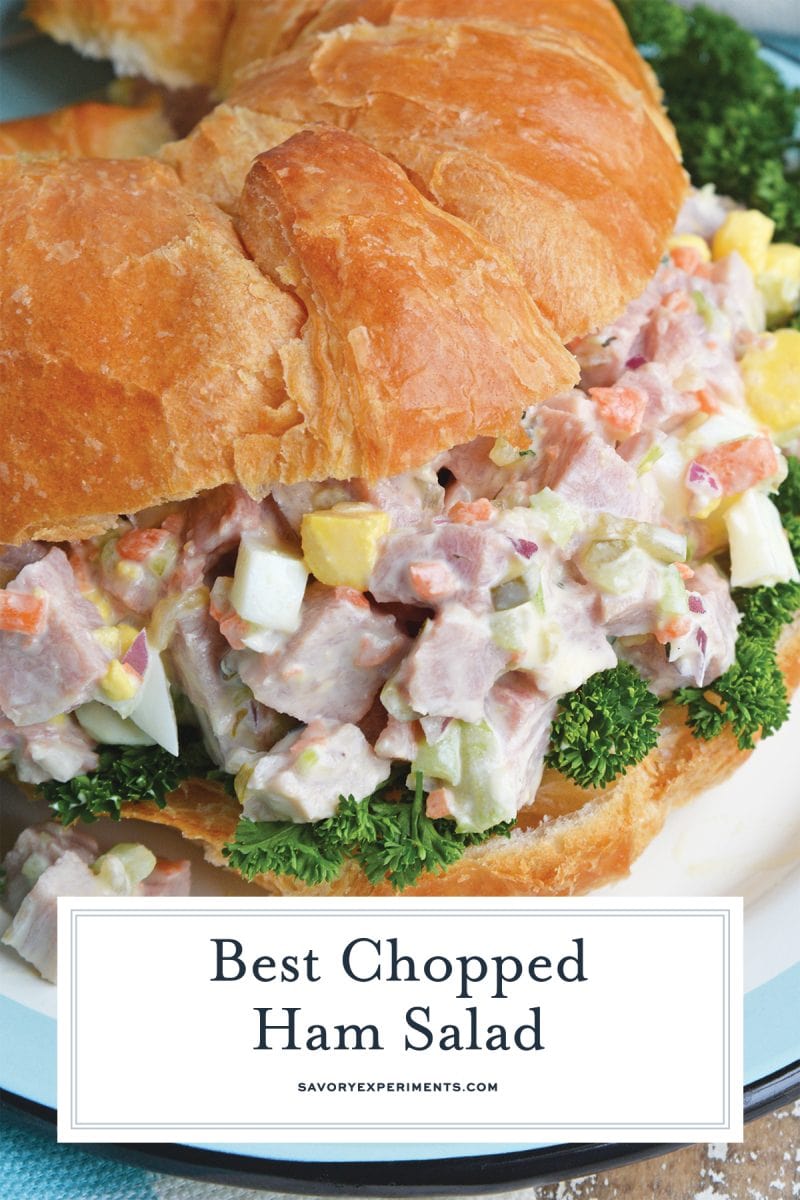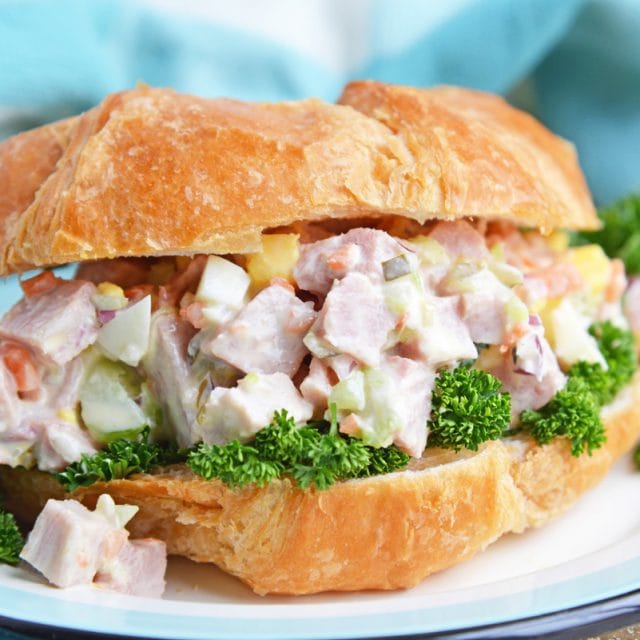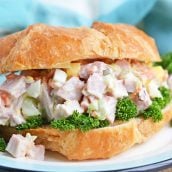 Ham Salad
The best Ham Salad Recipe using leftover ham, minced vegetables, hard boiled egg and a lightly seasoned creamy mayonnaise base. Serve with crackers or as a sandwich.
Instructions
Combine chopped the ham, hard boiled eggs, mayonnaise, mustard, relish, carrot, red onion, celery and hot sauce in a large mixing bowl. Toss to combine.

Taste the mixture and then season with coarse salt and pepper, if desired. This will vary depending on the saltiness of the ham.

Cover and chill for 1 hour before serving.

Serve as a ham salad spread or as a sandwich.

If you've tried this recipe, come back and let us know how it was in the comments or ratings.
Notes
*You can substitute plain Greek yogurt or even mashed avocado, or some combination of the three!
Nutrition
Calories:
335
kcal
,
Carbohydrates:
1
g
,
Protein:
12
g
,
Fat:
30
g
,
Saturated Fat:
6
g
,
Cholesterol:
102
mg
,
Sodium:
1163
mg
,
Potassium:
162
mg
,
Sugar:
1
g
,
Vitamin A:
555
IU
,
Vitamin C:
0.2
mg
,
Calcium:
14
mg
,
Iron:
0.7
mg