I don't think I've ever set out to make ham salad just to make ham salad. But I have used leftover ham to make ham salad. It is the perfect summer lunch food and great for a picnic in the park.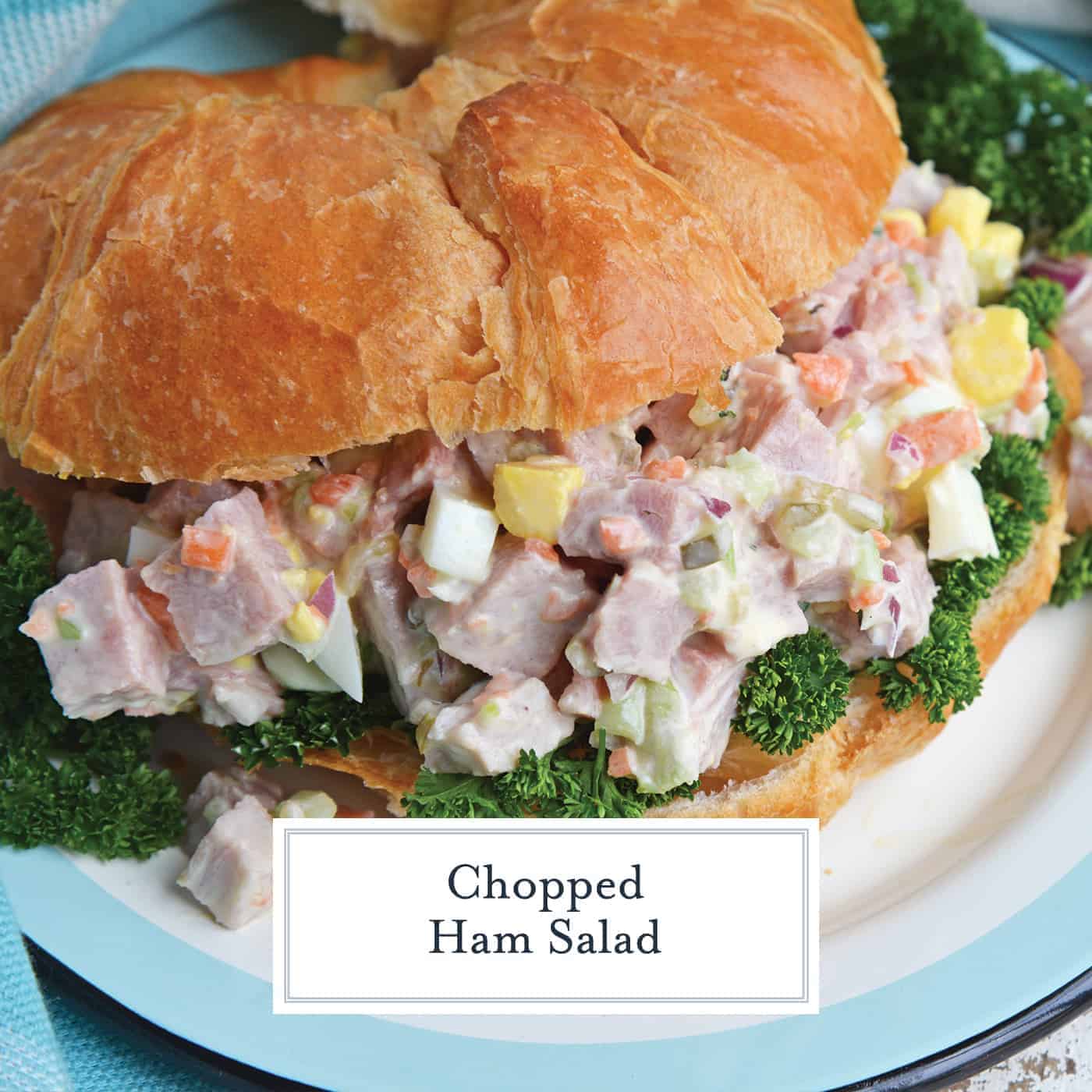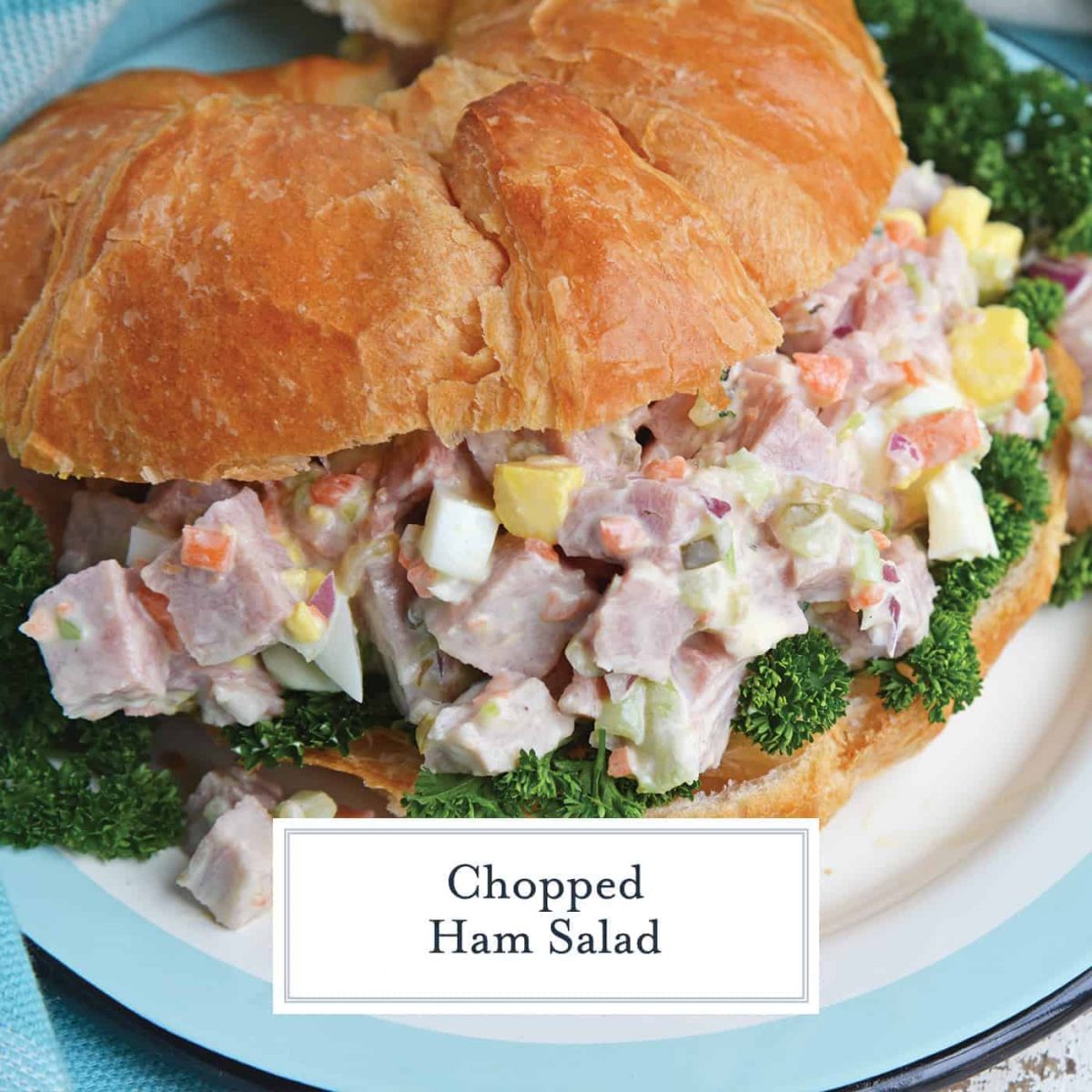 The best Ham Salad Recipe using leftover ham, minced vegetables, hard boiled egg and a lightly seasoned creamy mayonnaise base. Serve with crackers or as a sandwich.
Ham salad seems to be the most popular the days following Easter. Leftover ham and hard boiled eggs from egg hunts make it a seamless no brainer as how to use them.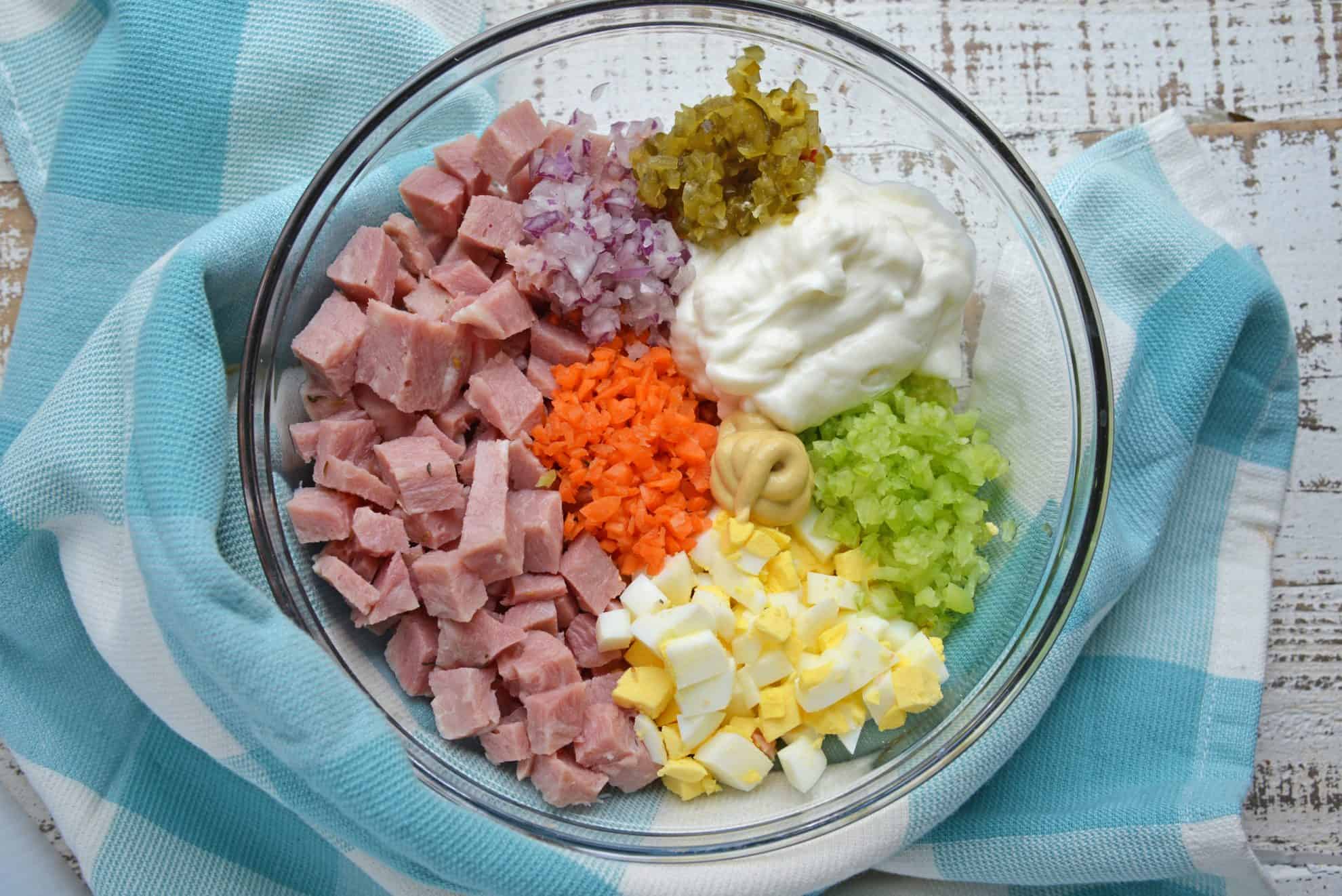 You can buy store bought ham salad, but it is so easy to make, what would you?
Hard boiled eggs can be the most difficult part of making this recipe. Lucky for you, I have 3 foolproof ways to make them! Here are instructions on how to make hard boiled eggs on the stove, in the oven and in the Instant Pot!
If you are using leftover ham, the ham glaze will determine some of the flavoring, but I often cut off the ham skin before making this recipe.
If you want some of that flavor, feel free to leave it on. Here are some of my favorite ham recipes to use for ham salad:
Many use nothing but sweet pickle relish, which is just pickled cucumber. It adds the acidity needed to balance out a ham salad spread. But I also like it for the crunch.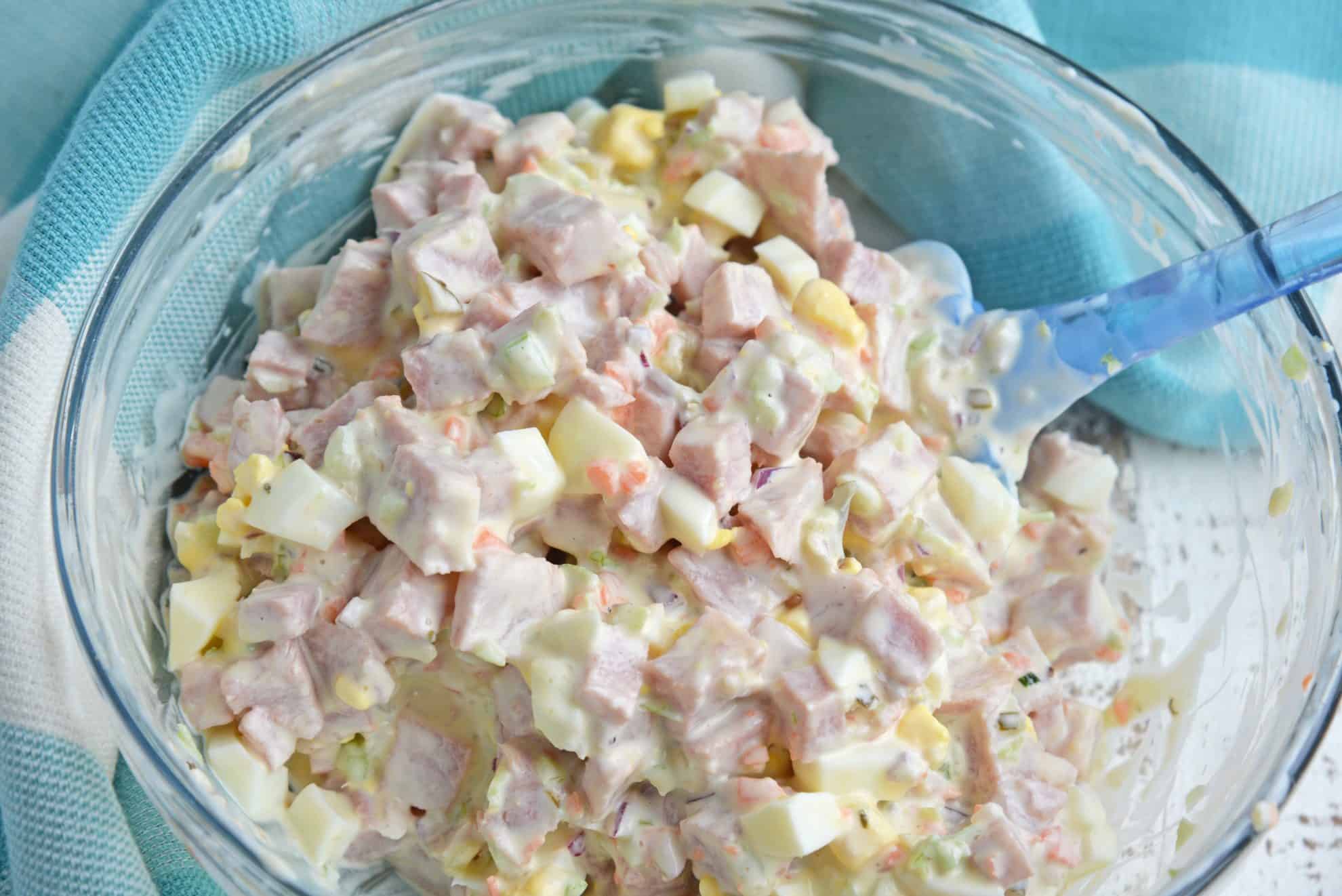 You know me, you know I love texture and color, so I take my ham salad recipe a step further by adding minced carrots, celery and red onion as well. Colorful, crunchy and tasty!
PRO TIP: To quickly minced vegetables, use a mini food processor.
I also find that the best ham salad is only lightly seasoned with just enough mayonnaise to make it creamy, but not overly saucey or wet. It is also not over mixed.
Because of the additional of chopped hard boiled eggs, these can get cakey end up looking a muddy color of yellow. I want to be able to easily identify all of my ham salad ingredients.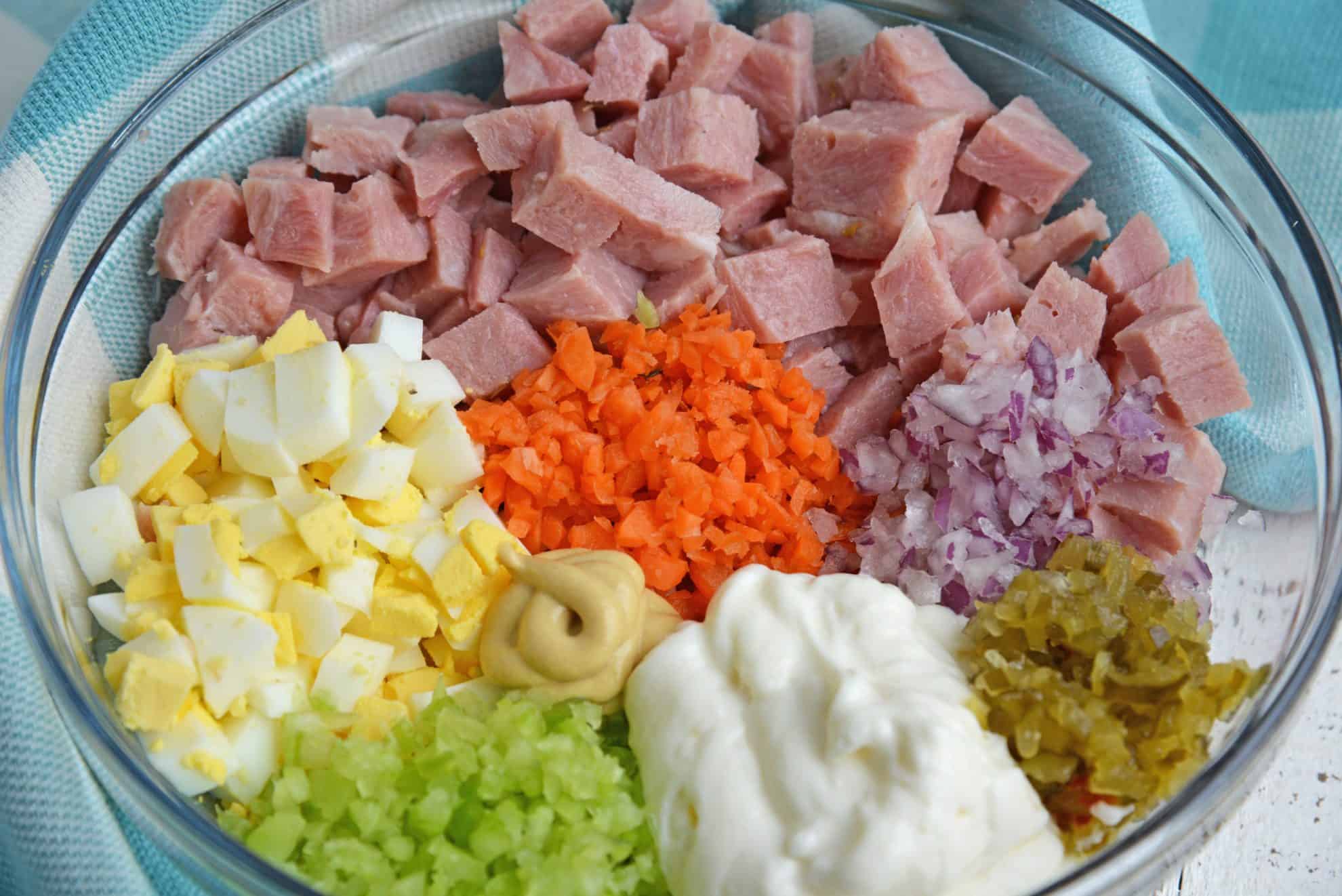 How chopped you like your ham is up to you. Some people prefer larger chunks of chopped ham, like me. Others like finely chopped ham and some even like ground ham.
You don't have to have a meat grinder for a finely well minced ham. Instead, just use a food processor.
You'll see ham salad served two ways. One is has a ham salad spread, more of a dip, and served with crackers. Salty crackers do best. Here, ham diced a little smaller does actually work a little better.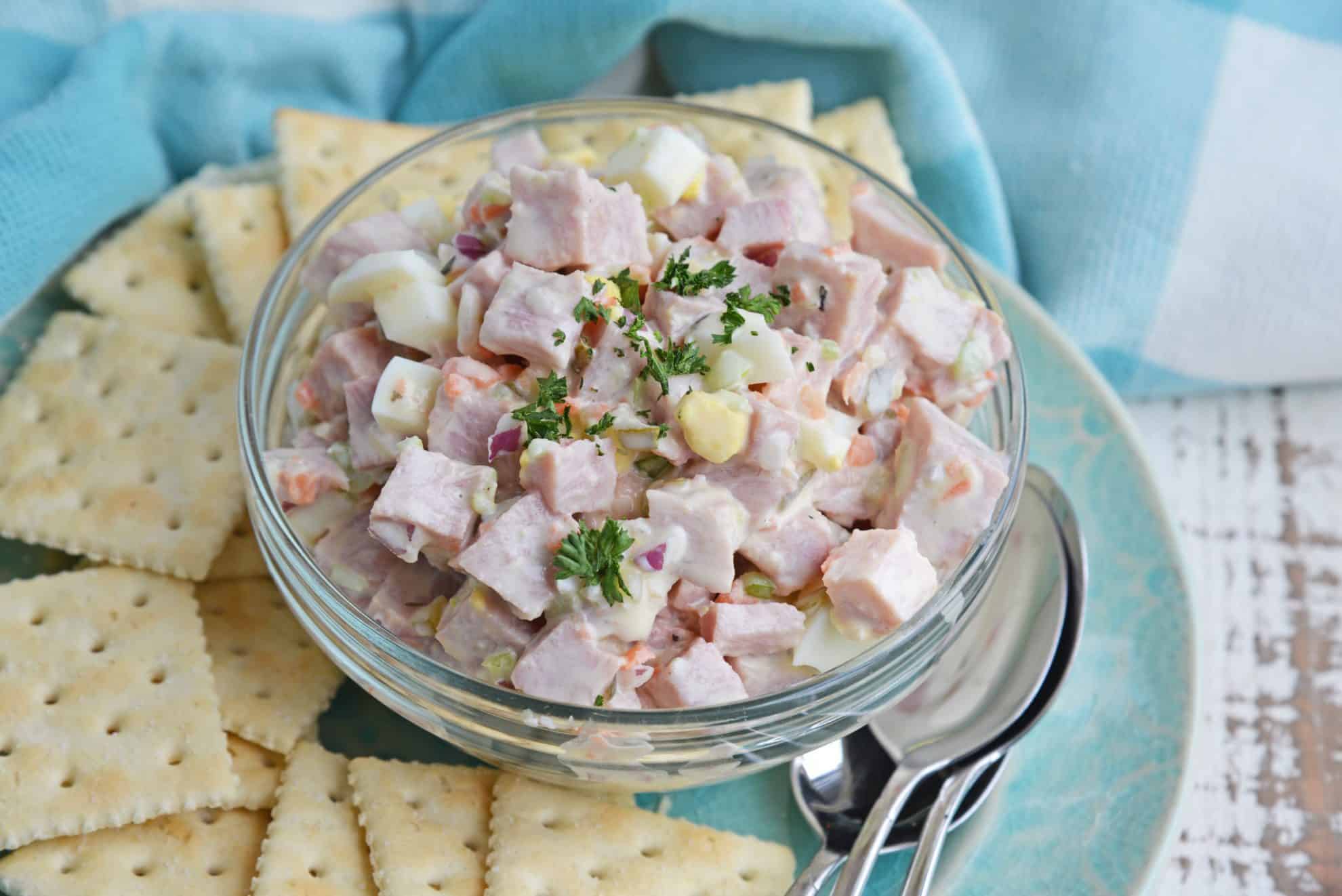 The second is as a ham salad sandwich. I prefer my ham mixture on a buttery croissant roll, but other like a hearty Kaiser roll. And other still, plain white bread.
PRO TIP: To lighten up your ham salad, swap plain Greek yogurt for mayonnaise. You can get even fancier (and add some healthy fats) and use half mashed avocado.
If you opt for a sandwich, there is also much debate about the proper greenage. Some prefer Romaine lettuce, others a crisp iceberg and still others a frilly Bibb.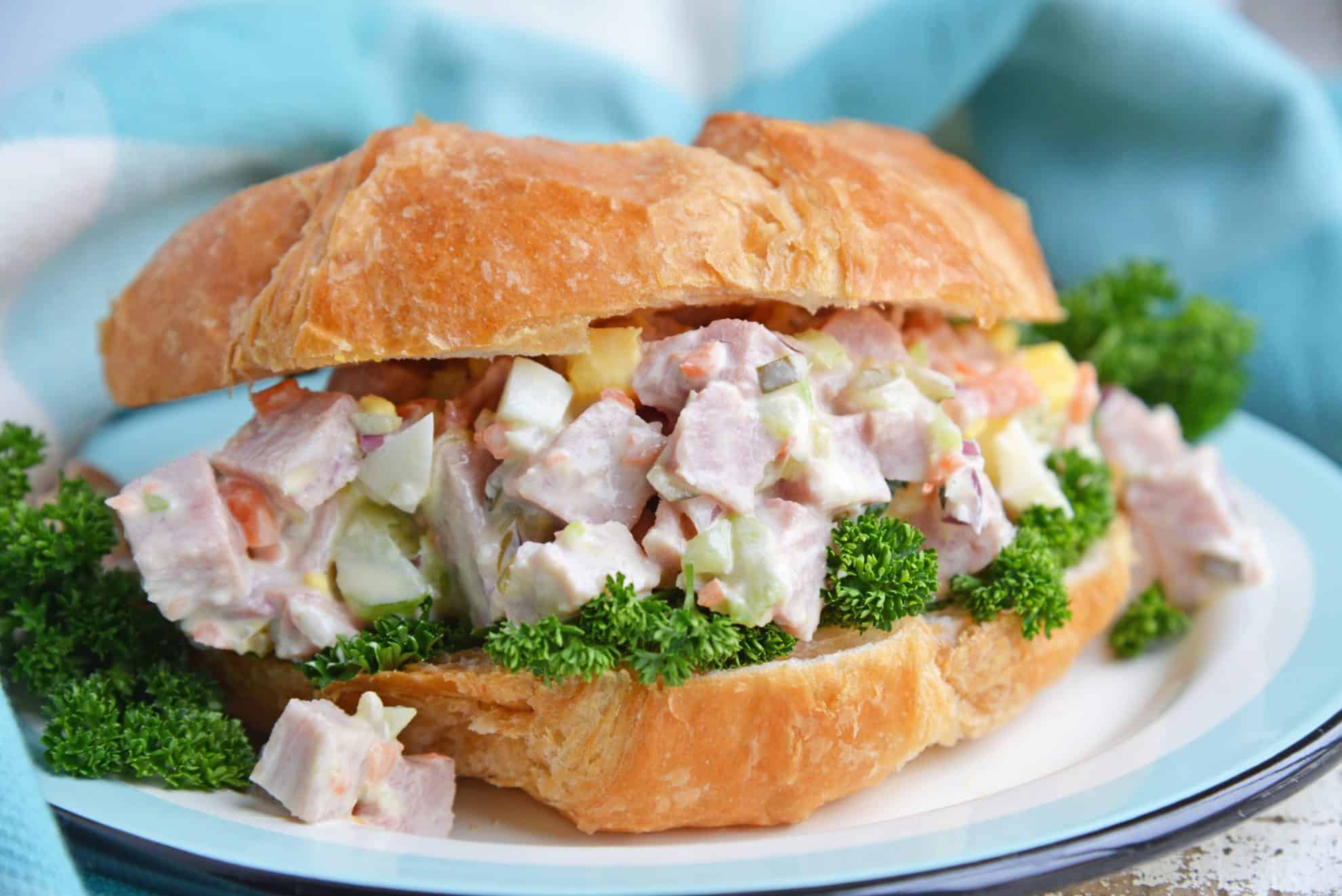 You might also enjoy these favorites:
Tools for making the best ham salad:
Wood cutting board – wood won't dull your knives like plastic and if treated properly, has natural antimicrobial properties.
Good knife – Global is my favorite! They are worth the price, I promise. I am kind of obsessed with them and store them tucked away so no one else can use them. Including hubby. Hands off my good stuff!
Mini Food Processor– I use this thing daily! It is by far my most used kitchen appliance, it is small and I throw all the parts into the dishwasher, well except the base and cord, of course!
Mixing Bowls– make sure to check out my article on Using the Right Mixing Bowl, you'd be surprised how many people aren't!

Questions you might have about how to make ham salad:
Can you freeze ham salad? I am always weary about freezing mayonnaise based spreads or salads. I would recommend to not freeze this one.
How long is ham salad good for? Since it contains mayonnaise and chopped hard boiled egg, I would say if properly refrigerated, no longer than 4 days.
Can I make ham salad ahead of time? You sure can! In fact, I think it tastes best when it sits for an hour or two to let the flavors marry. I would no make it more than 24 hours in advance.
It might also need to have the salt and pepper seasoning corrected since chilling foods like this can sometimes mute the flavor profile.
Can you make ham salad with Miracle Whip? Sure! If you prefer the taste of Miracle Whip, which is sweeter than mayonnaise, feel free to use it!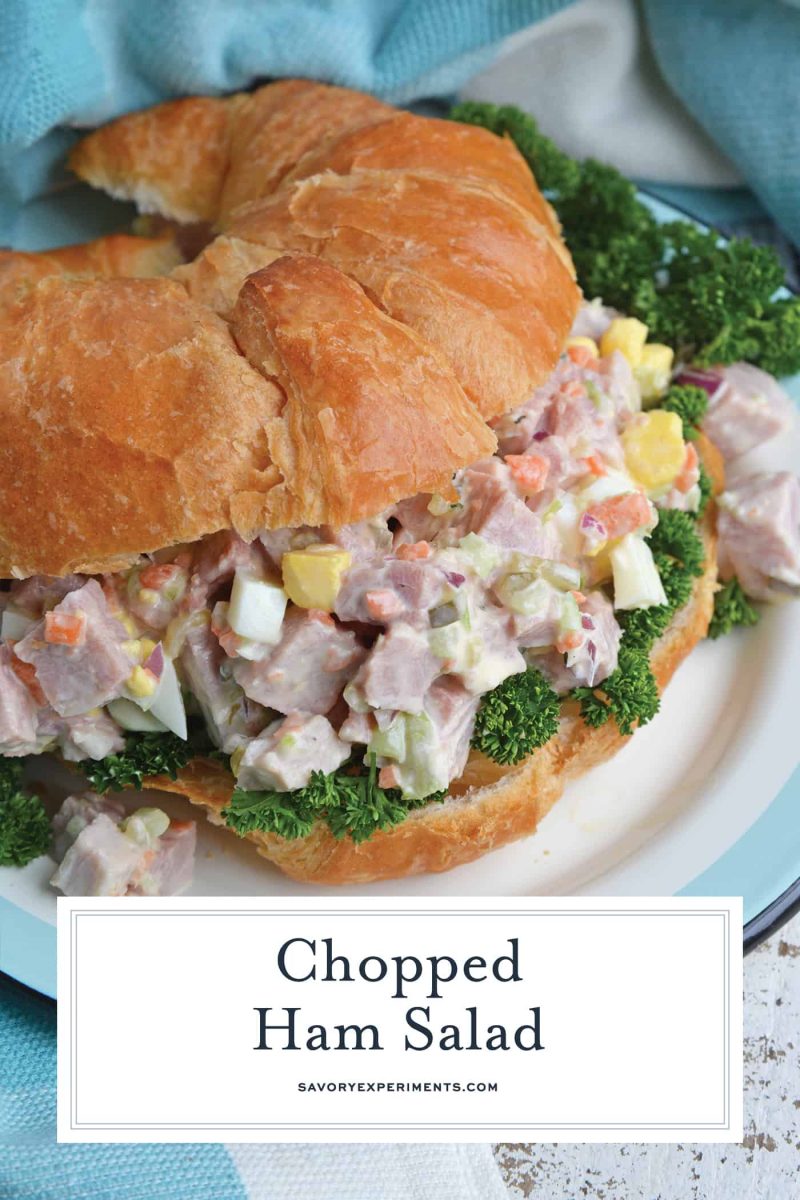 Is ham salad gluten free? I can't speak for all ham salad recipes but this one is!
Is ham salad keto friendly? I am not a keto expert, but according to what I do know, this would be keto friendly if eaten with say, a crudite platter, instead of crackers or bread.
How long can ham salad sit out? According to the CDC, you should only leave ham salad out at room temperature for up to 2 hours.
What do you put on a ham salad sandwich? Most people just put lettuce and tomato on theirs because there are so many other delicious items mixed in. Use them both or don't use either!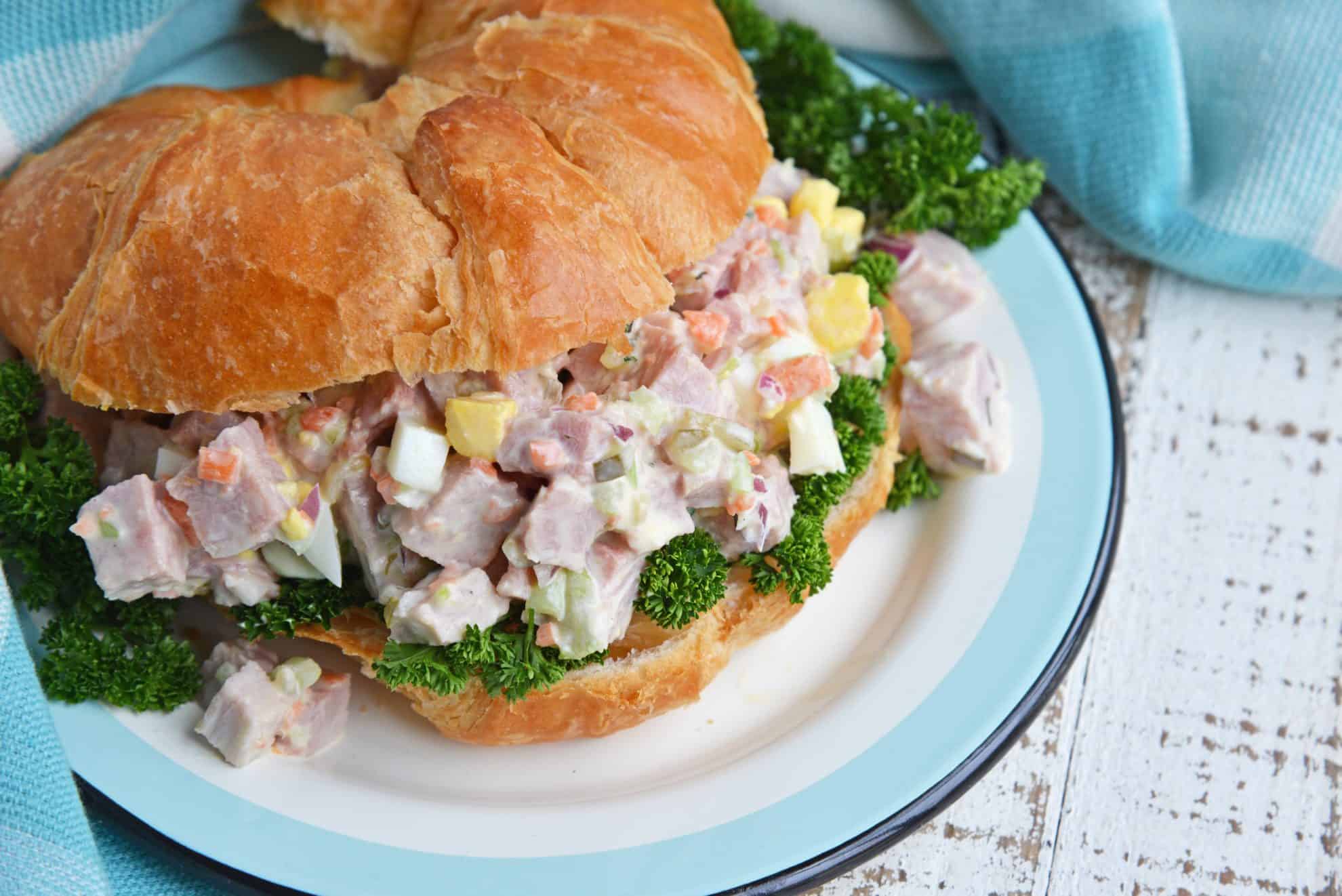 The best Ham Salad Recipe using leftover ham, minced vegetables, hard boiled egg and a lightly seasoned creamy mayonnaise base. Serve with crackers or as a sandwich.
CONNECT WITH SAVORY EXPERIMENTS!

Be sure to follow me on social media, so you never miss a post!

Facebook | Twitter | Youtube
Pinterest | Instagram

Get our FREE 8 Day E-Course on How to Be a Better Home Cook. Sign up HERE!