Using leftover kielbasa and sauerkraut, you can make the BEST Sausage and Sauerkraut Soup recipe in no time! It's hearty, delicious and EASY to make!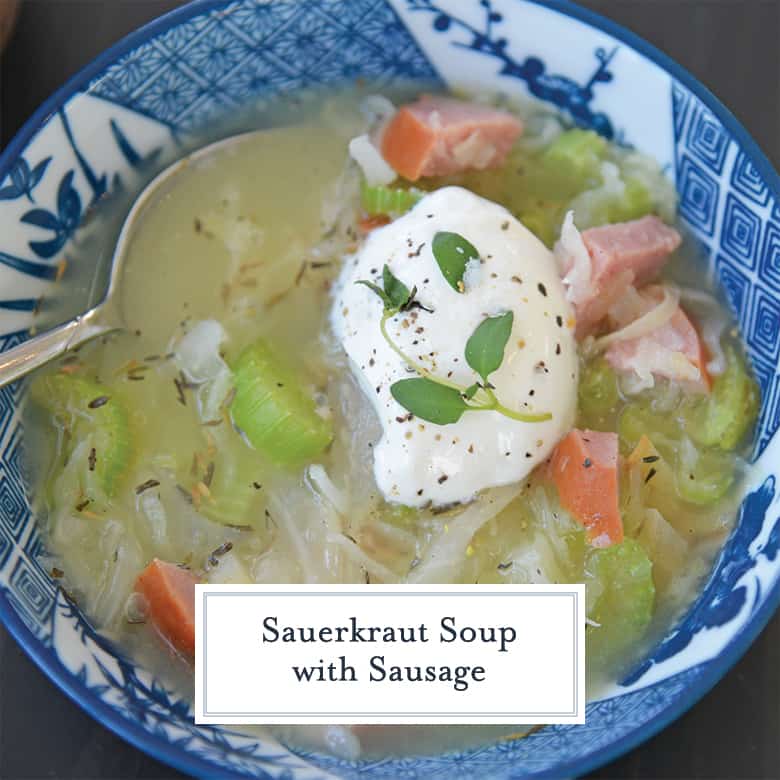 You can make Sausage and Sauerkraut Soup from leftover stove top kielbasa and sauerkraut or you can make a fresh pot of your own.
Sauerkraut Soup with Sausage
By definition, this soup is fairly thin because it doesn't use any flour or cornstarch.
However, if you'd like to tighten yours up a little bit you can add a dollop of sour cream in the saucepan while hitting at a very low temperature because you don't want it separate, or as a garnish when serving and then start in.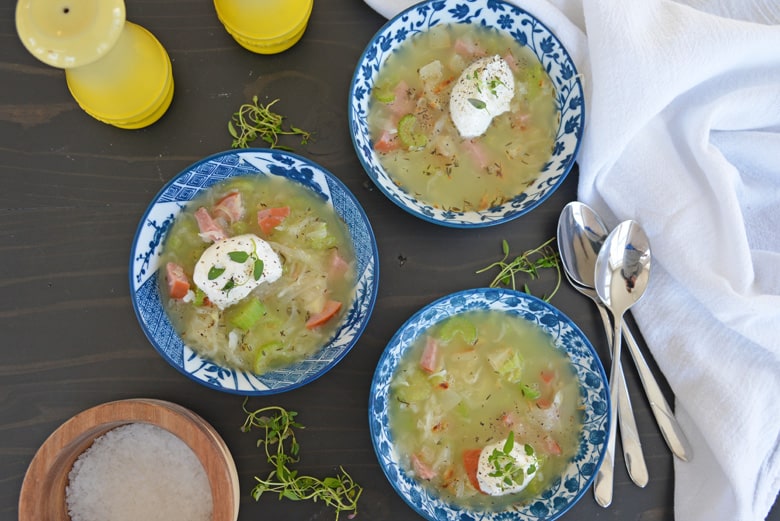 Alternatively, you can also ladle out a small amount of the broth and add 1 teaspoon of cornstarch. You don't want to add too much because it's not supposed to be a super hearty stew, it's a soup.
Sausage and Sauerkraut Soup Ingredients
This is a fairly traditional version, however adding apple juice can be a bit controversial. I like the sweetness it adds.
I make my own sauerkraut, but store bought is perfectly acceptable too.
I like to chop up my kielbasa into nice bite-sized pieces but you can keep yours as sliced medallions if you prefer it that way. I want to get a small bite of all the ingredients in every spoon. Hubby prefers them in large disks, totally up to you!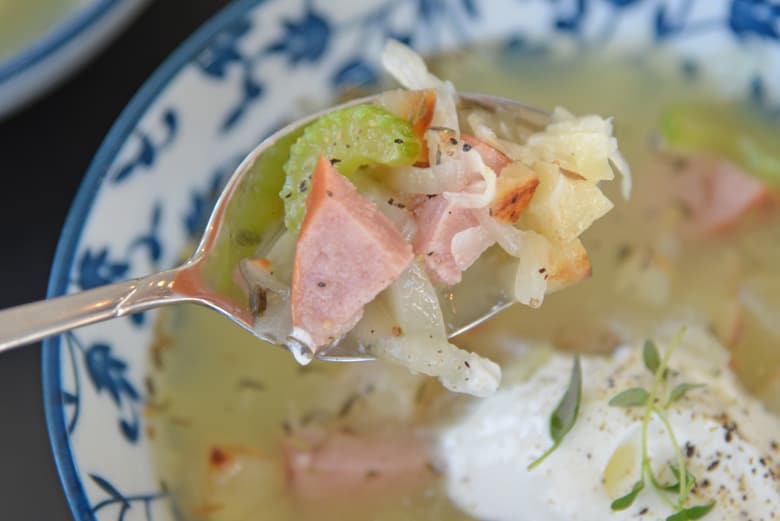 Some popular ingredients:
grated carrot
ginger
minced garlic
scallions
chives
I like garnishing with fresh thyme. It makes it look way fancier than any bowl of pasta sauerkraut soup I've ever seen.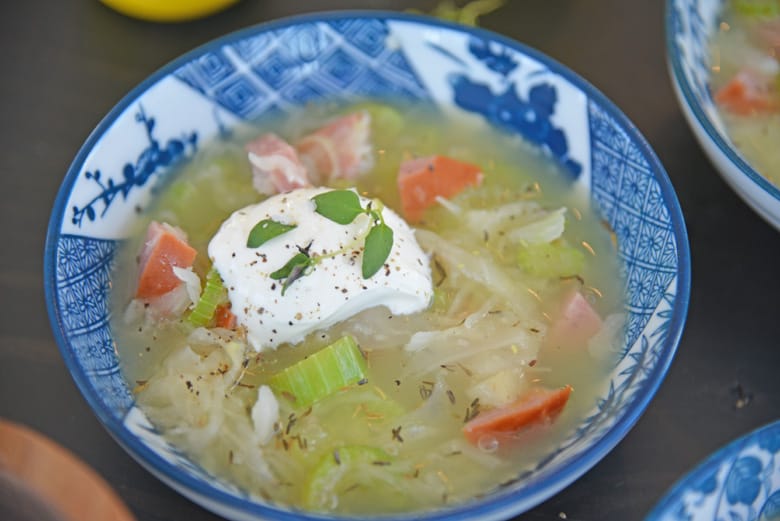 Make Ahead, Storage & Freezing
Can I make this soup ahead of time? You can and in fact some people would argue that may be better the next day so that the flavors have time to sit and let the flavors marry.
If stored properly, it will stay good in the fridge for up to 5 days.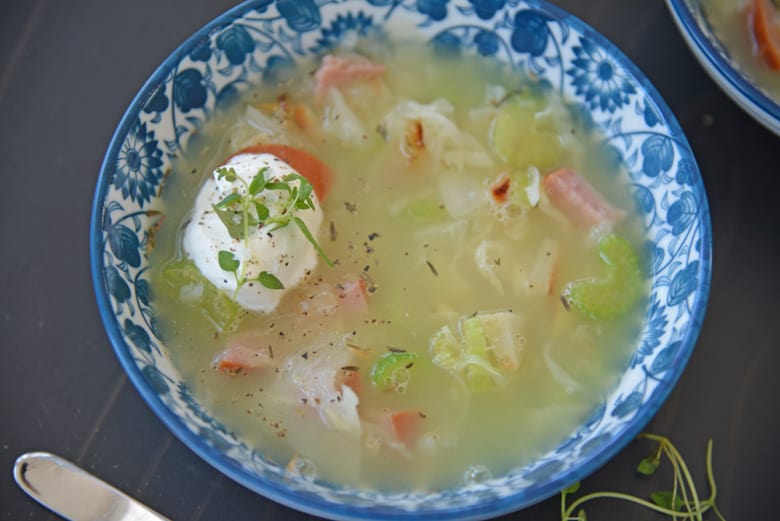 You can definitely freeze this soup. In fact, I don't suggest freezing sauerkraut because when its thawed it gets all soggy and gross. However, freezing it as a soup it's already waterlogged and you're not going to notice much of a difference.
Unless you're one of the people that likes to get a little toothiness and bite out of your sauerkraut when you eat the soup. In this case I don't suggest freezing your Sausage and Sauerkraut Soup.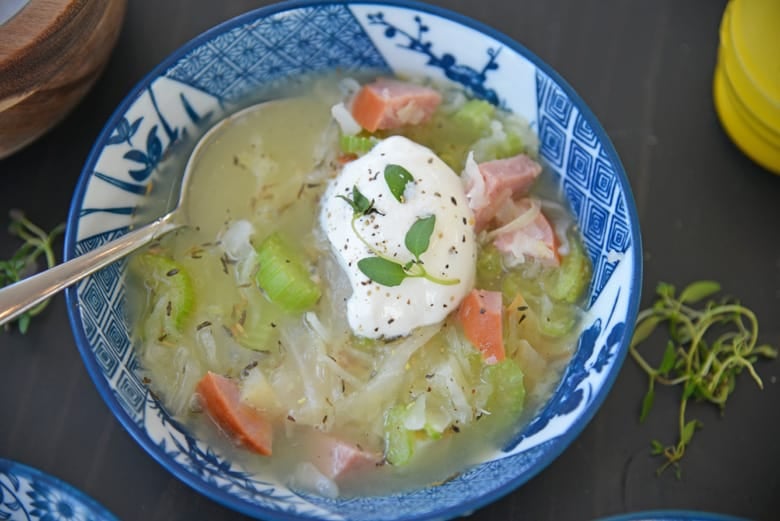 What is Kielbasa?
Kielbasa is collectively any type of tubed meat coming from Poland. It usually comes un a U-shape. You'll sometimes see it labeled "polska" which just translates to "Poland".
You also see similar recipes coming from the Ukraine and Germany, but they use a different type of local sausage and have small differences.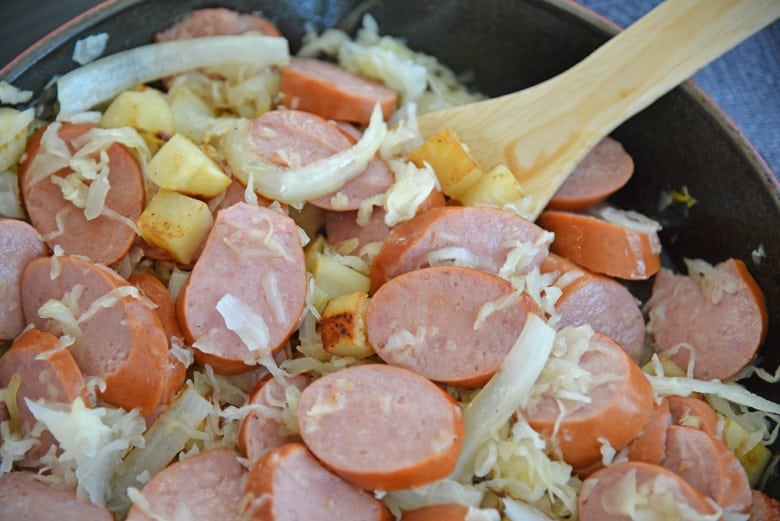 Some people can't get their hands on kielbasa, so feel free to use another type of sausage. I do recommend using another smoked rope sausage as opposed to a spicy Italian sausage or breakfast sausage though.
You can even use turkey kielbasa to make this easy Sausage and Sauerkraut Soup if you'd prefer to. It saves a few calories and is overall a little healthier!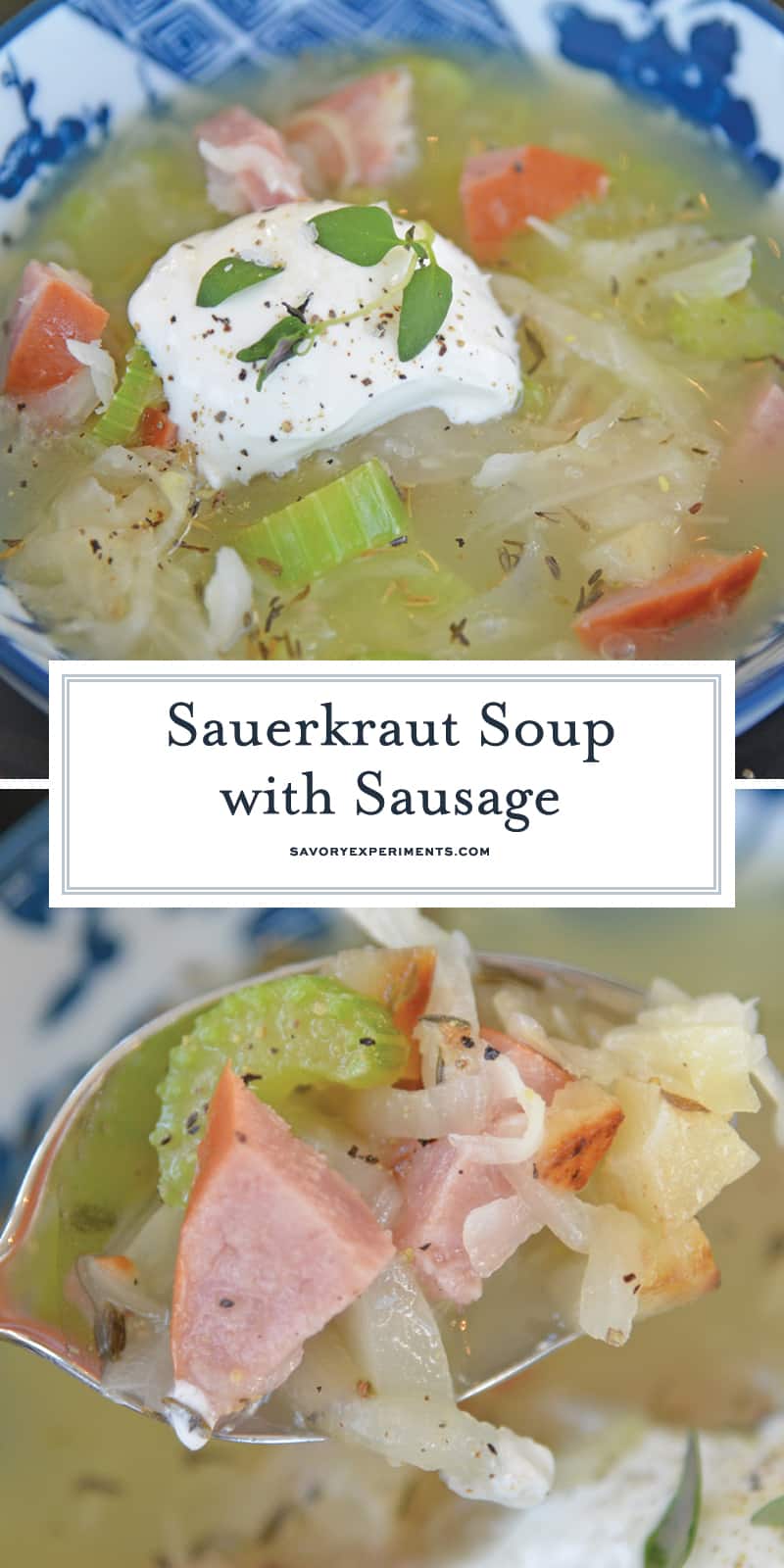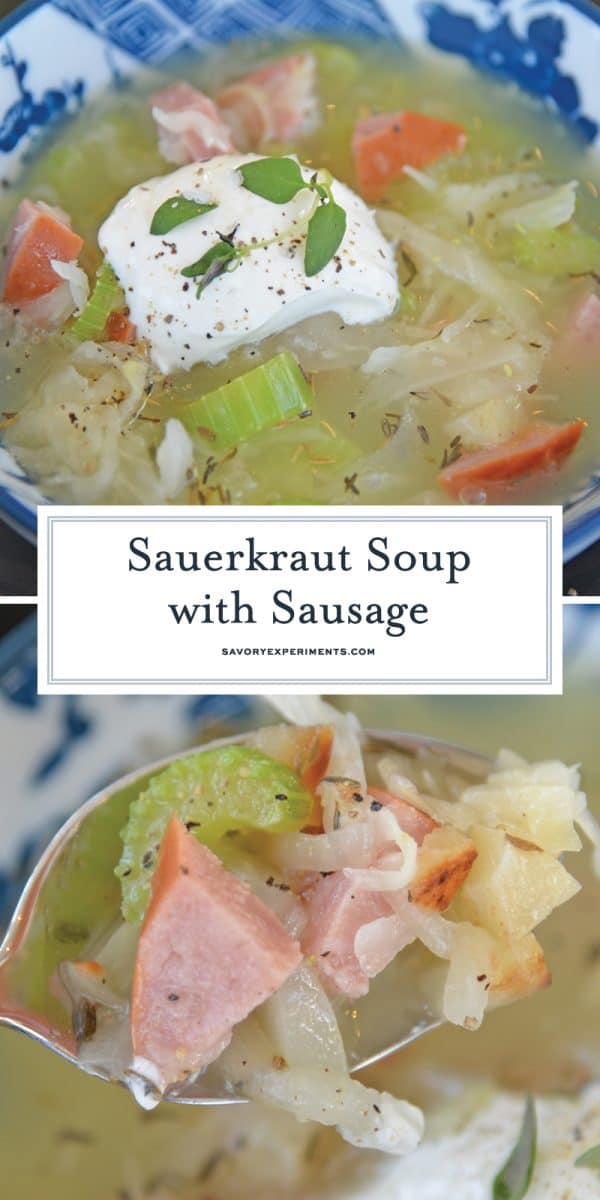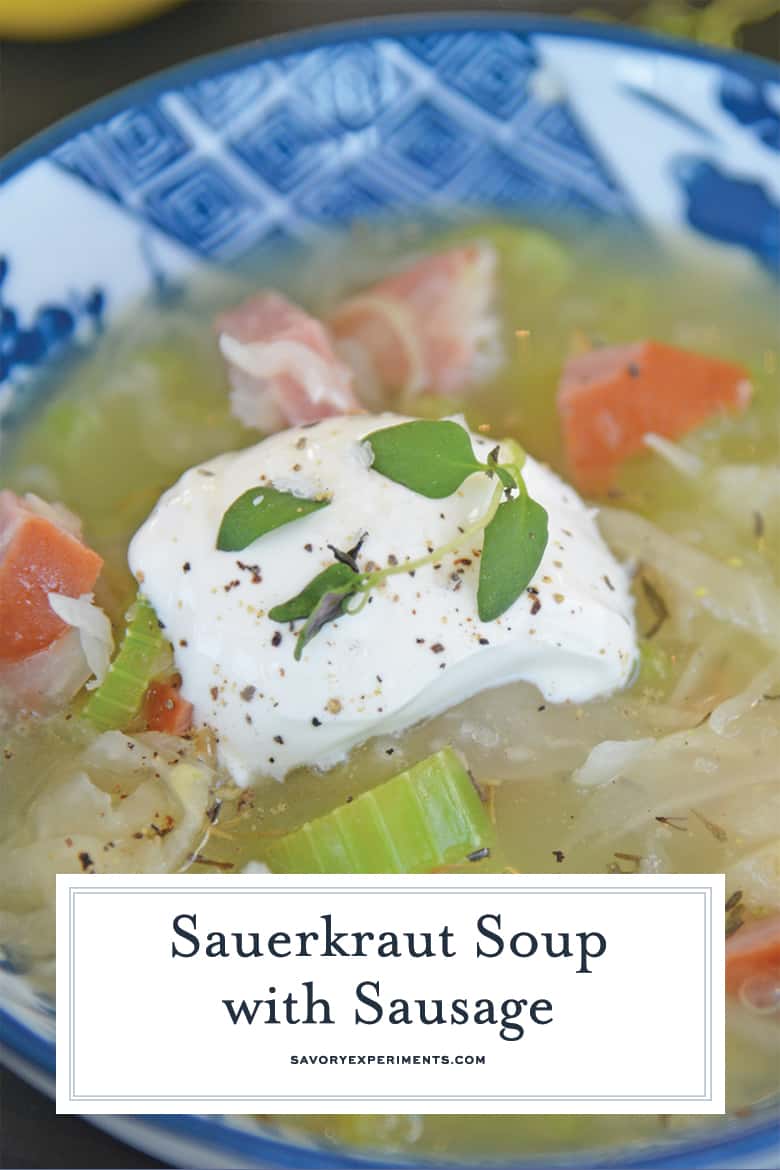 CONNECT WITH SAVORY EXPERIMENTS!

Be sure to follow me on social media, so you never miss a post!

Facebook | Twitter | Youtube
Pinterest | Instagram

Get our FREE 8 Day E-Course on How to Be a Better Home Cook. Sign up HERE!