The beauty of a ham glaze recipe like this Thyme Honey Glaze is that you can use it on any cut of ham. Spiral cut ham, ham steaks, bone-in ham or just a small ham roast.
Baked ham recipes reign king!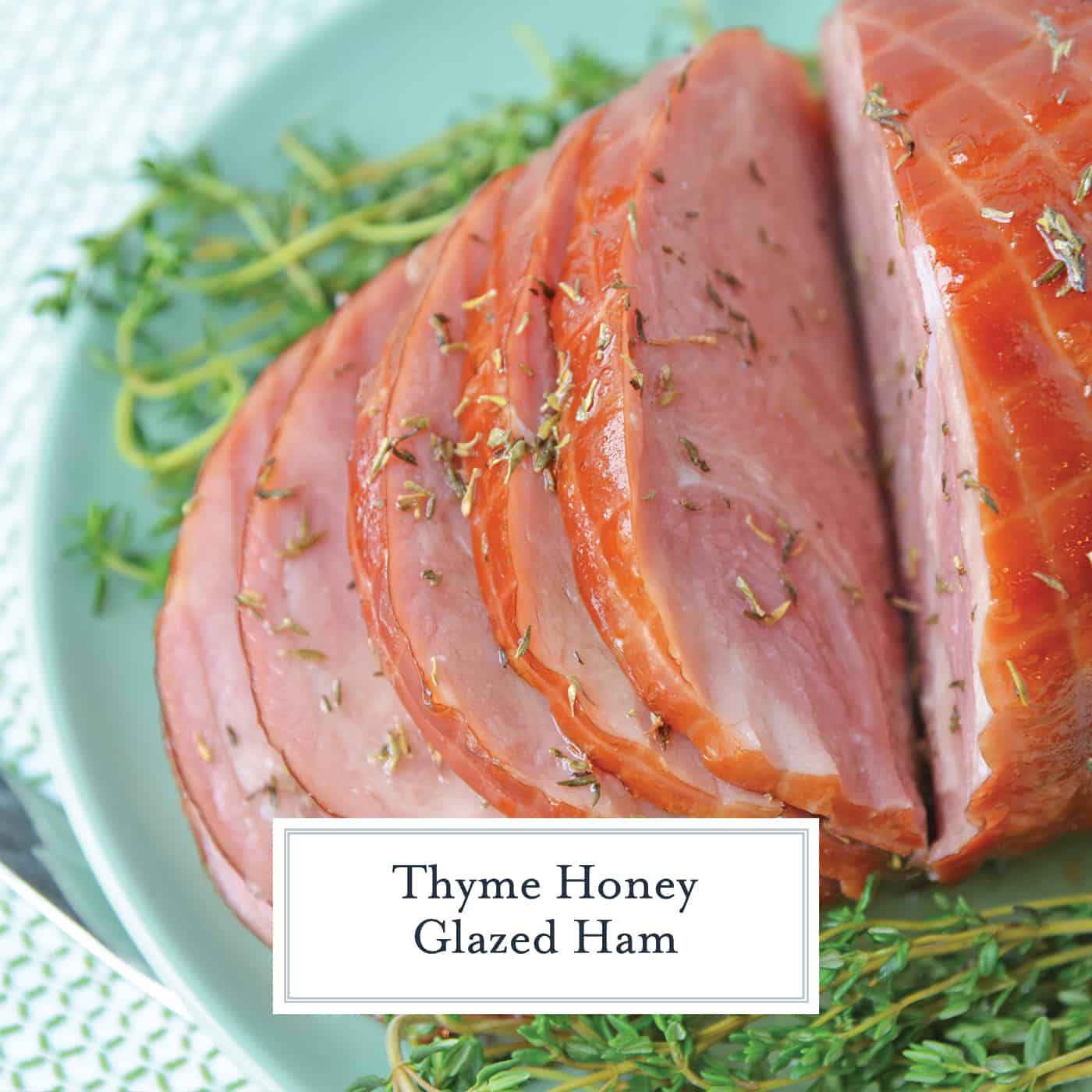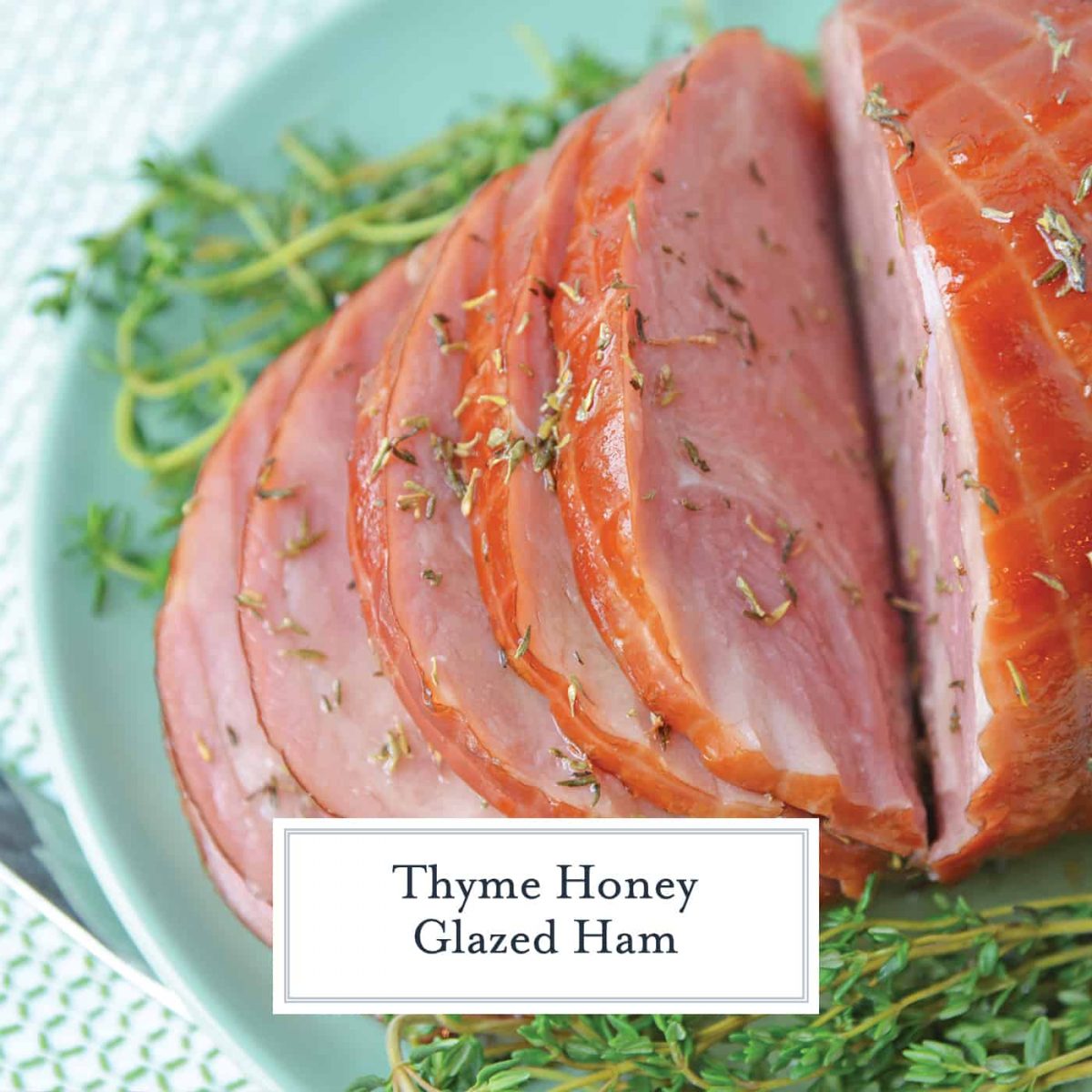 Thyme Honey Glazed Ham is a light and flavorful ham glaze recipe the whole family will enjoy. Simple to make and delicious to eat!
Everyone loves ham, yet it only seems to be devoured on certain holidays. Most notably an Easter Ham, but also on Christmas and sometimes even as a side to turkey on Thanksgiving.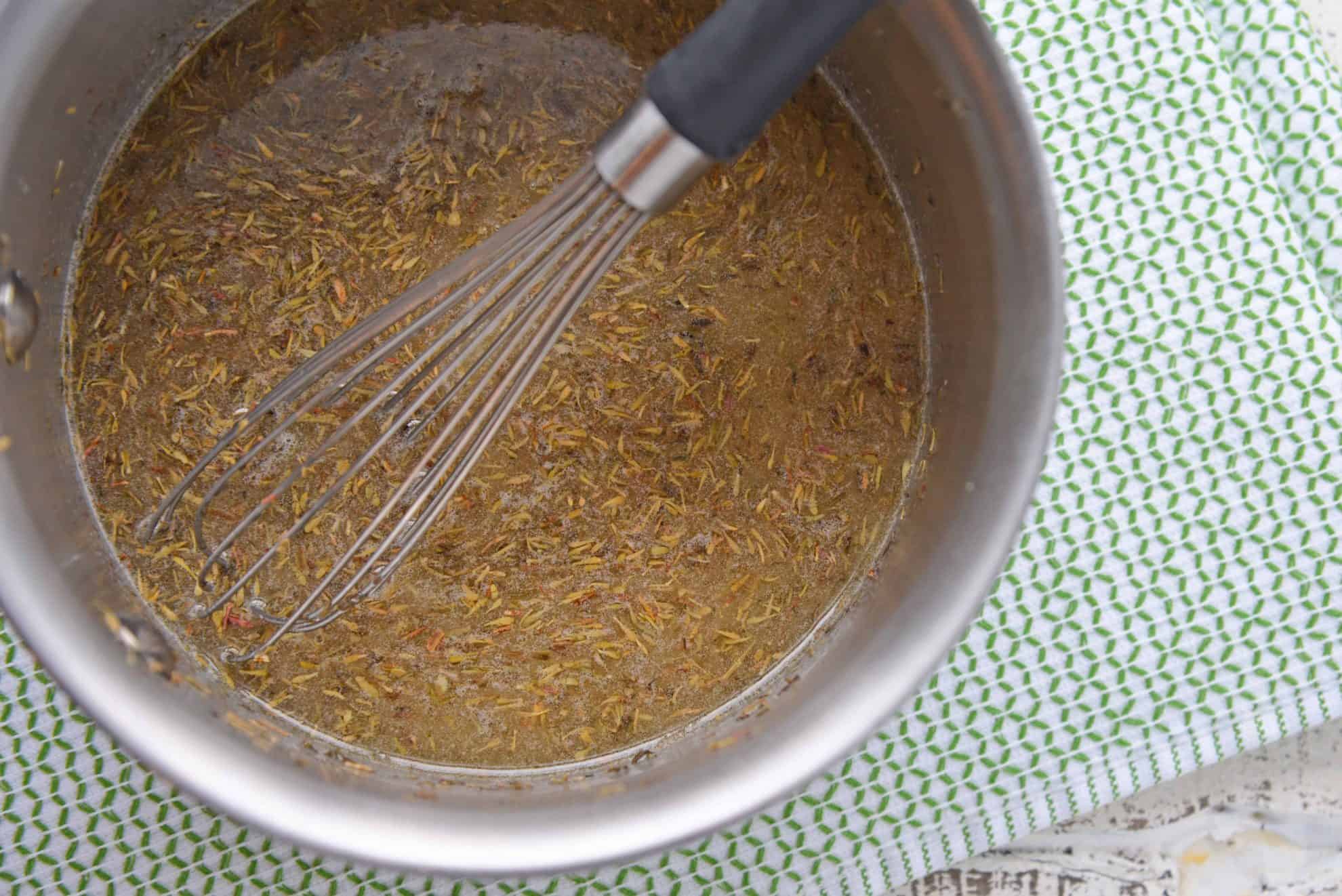 Why do we eat ham on Easter? Most people say simply because it was in season.
Ham was prepared and cured starting in the fall of the previous year and ready for consumption around the time Easter fell. Some were eaten a little early on Christmas.
Ham is also one of the few roasts that is (relatively) inexpensive. Compared to lamb, which is very pricey, and large beef roasts or tenderloin, pork roasts are more affordable for feeding large families.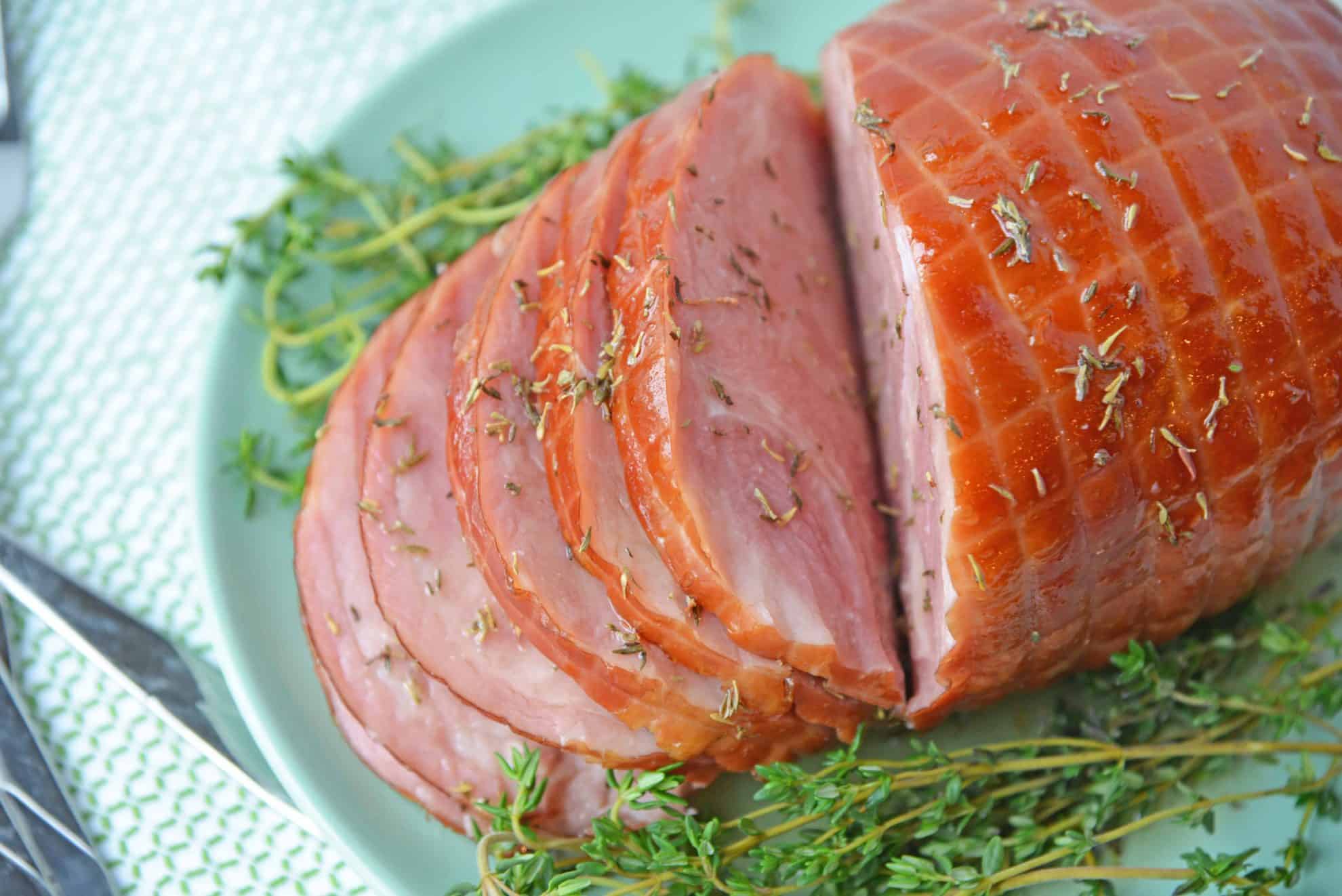 Honey Baked Ham is by far the most popular recipe for a ham roast, followed closely by pineapple glazed ham. You know, the iconic ones with cherries and ham slices?
Whether you get one premade from the Honey Baked Ham company or buy a spiral ham at the grocery store, chances are it comes with the signature gooey and crunchy honey ham glaze.
While I love this brown sugar glaze for ham, I also want something different from time to time. Sweet pairs well with ham since it is salty, so I don't tend to stray too far.
Honey and thyme flavors were perfect for a sweet and savory pairing.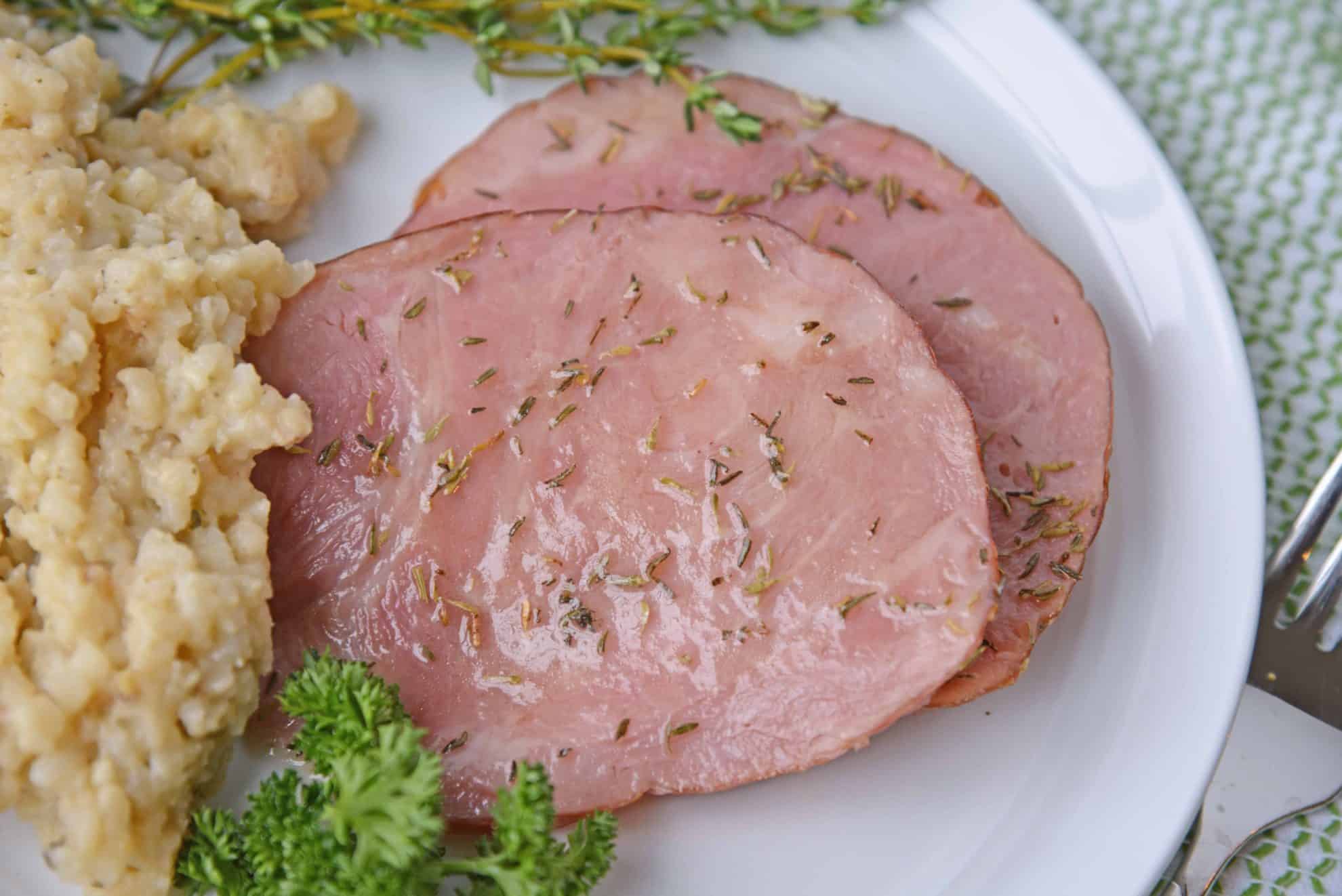 Thyme Honey Glaze is a spinoff of the traditional brown sugar ham glaze, but with all the honey and none of the brown sugar. It is much lighter, like a light syrup, instead of a thick sauce.
Some might be surprised that there are even ham glazes without brown sugar. Imagine that! LOL. I thought it was a prereq!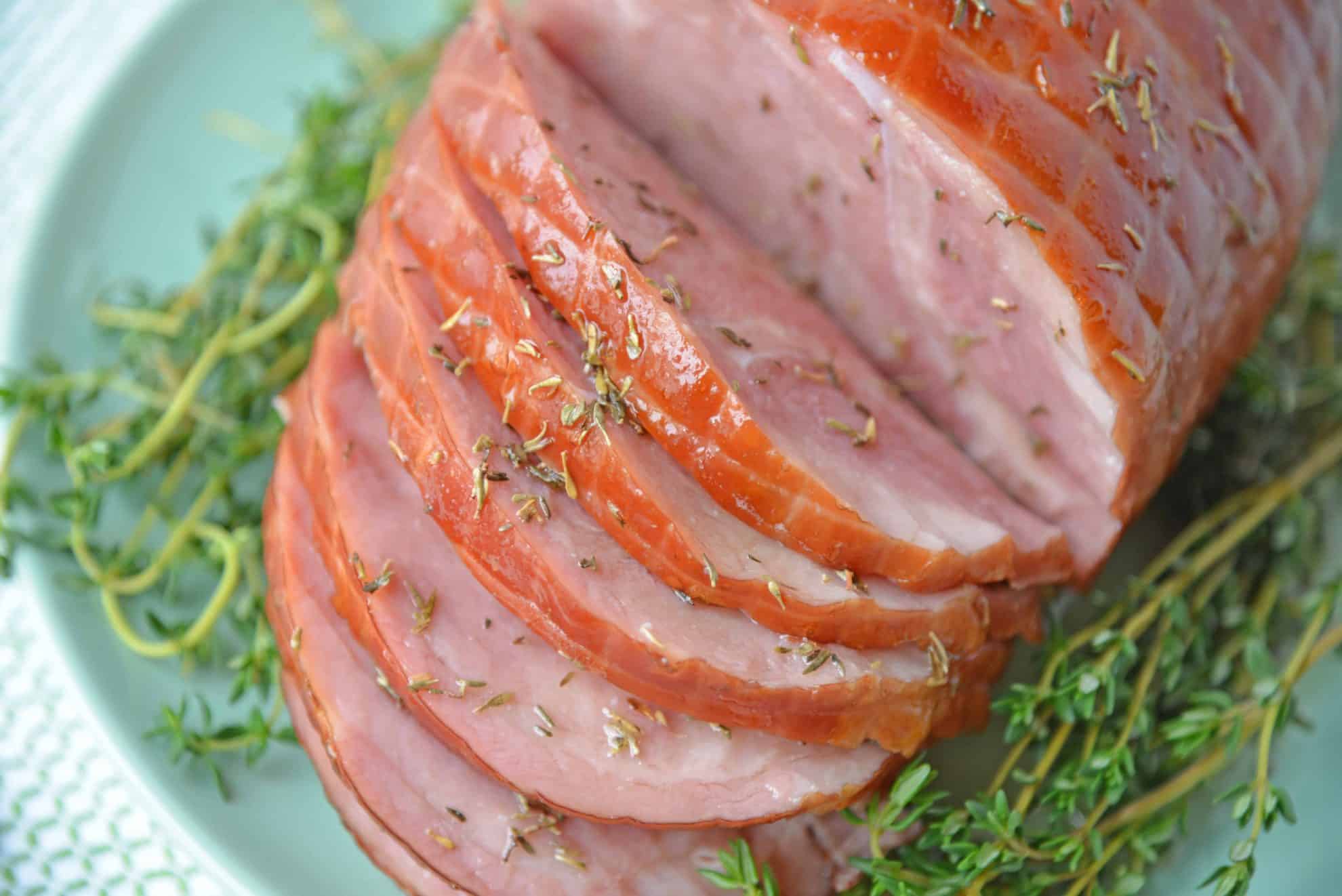 Natural flavors of the ham can really shine while only being complemented with delicate fresh herb and honey. Apple cider vinegar adds the gentle bite and salt excentituates the flavor palette.
An easy recipe that any home cook can master.
PRO TIP: You can can also use dried thyme leaves. The conversion is 1 teaspoon of dried herb for every 1 tablespoon of fresh herb.

Dried herbs can go bad, so make sure yours are less than 1 year old and rub them between the palms of your hands before adding to the glaze to bring our natural oils and flavors.
The other bonus is that Thyme Honey Glaze can be used on literally any type of ham. Large, small, roast, bone-in or even just simple ham steaks. And it is always in season!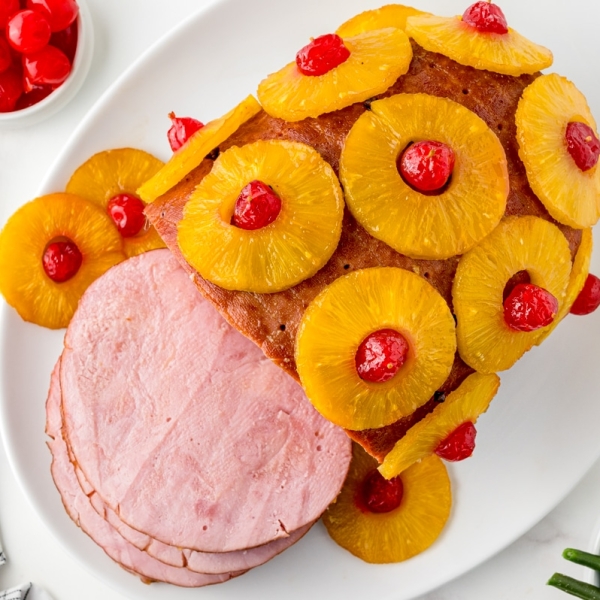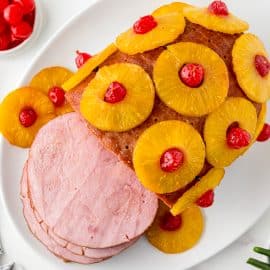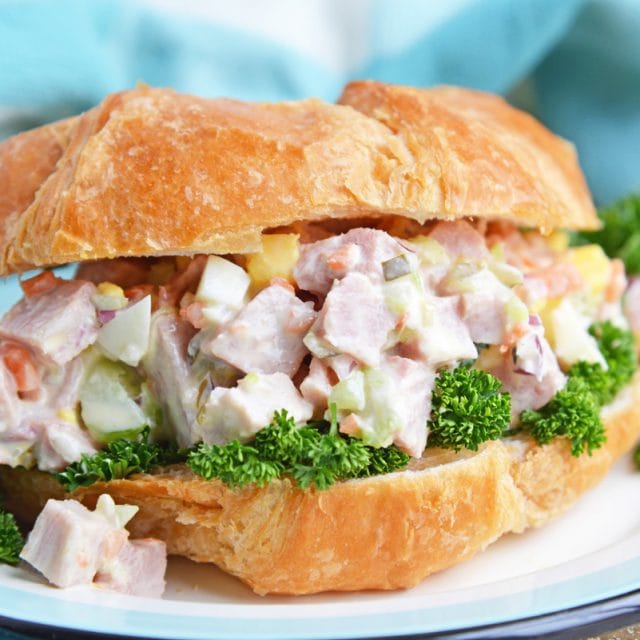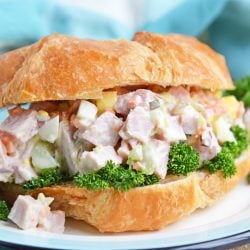 Ham Salad
The best Ham Salad Recipe using leftover ham, minced vegetables, hard boiled egg and a lightly seasoned creamy mayonnaise base. Serve with crackers or as a sandwich.
See The Recipe!
Tools for making honey ham:
Whisks– I buy whisks in multiple sizes. You never know which one you will need.
Heavy Bottom Saucepan– don't underestimate the importance of good cookware. A heavy bottom saucepan is essential regardless of whether you are cooking on gas, electric or induction.
The bottoms are usually layered with different metal conductors and distribute heat better resulting less hot and cold spots, even cooking of food and less chance of scorching.
I love my All Clad Tri Ply, but I understand this is quite expensive (it lasts FOREVER), I also like the KitchenAid saucepan. If you are in the market for a whole new set, the All Clad set is expensive, yes, but well worth the money and you'll never have to buy a pan again.
Roasting Pan– Depending on the size of the ham you are cooking, you may night a large roasting pan.
Silicone Basting Brush– I love my old school hair pastry brush for basting, but a silicone brush works wonders on sticky sauces like this thyme honey glaze and is so much easier to clean and dry, leaving less room for bacteria to grow. Even dishwasher safe!
Carving knife– You might not use a carving knife that frequently, but man, when you need one, you'll be glad you have it! If your ham is a pre cut spiral ham, you might not need any carving utensils.
Cooking Twine– If you have a spiral cut ham and the slices are falling over after basting, use some cooking twine to tie it back together otherwise the slices falling over will get dry. No one likes dry ham. Yucky.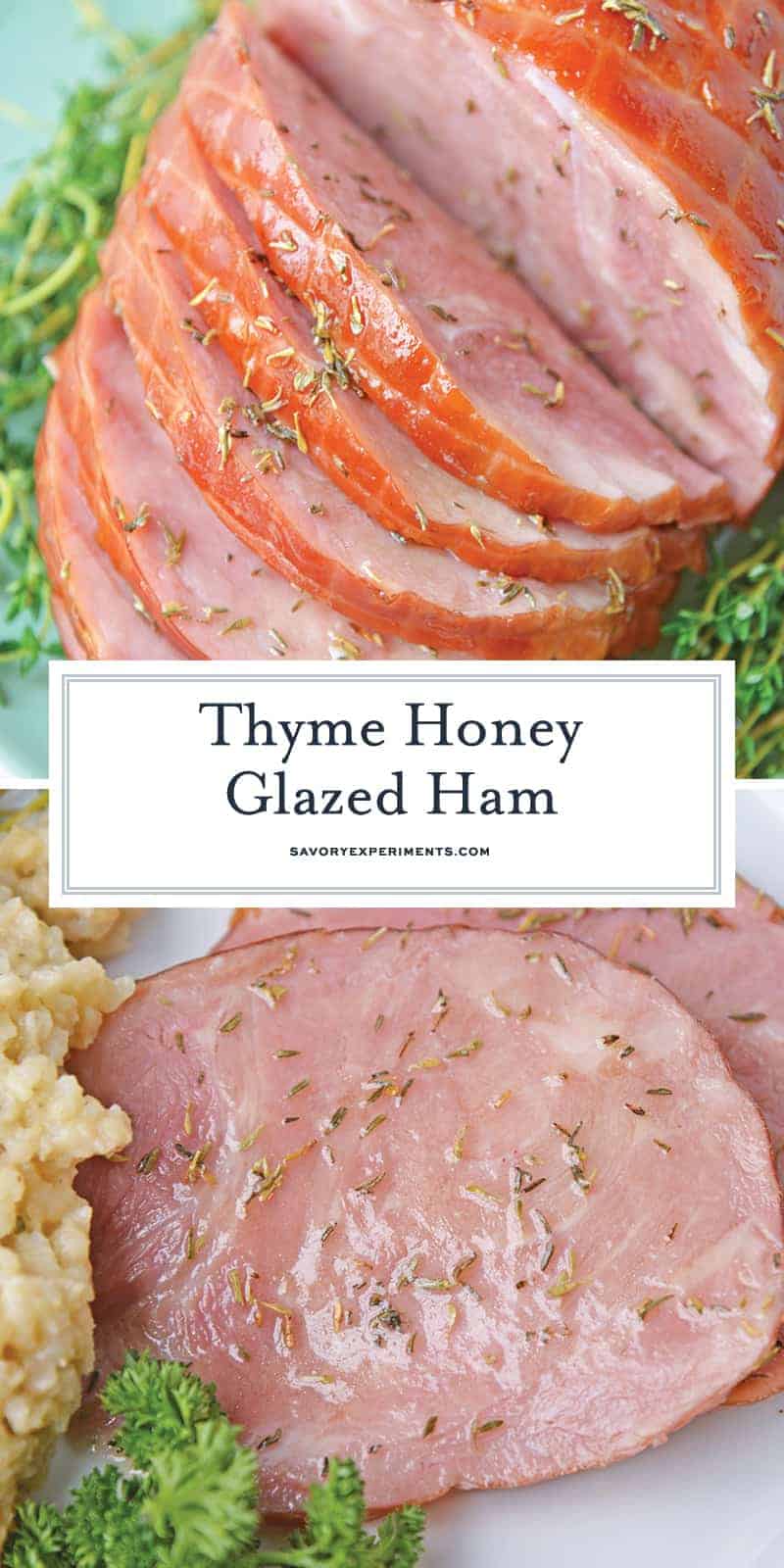 Questions you might have about how to make glaze for ham:
Can you glaze ham the night before? I wouldn't suggest glazing the night before. Ham is usually fully cooked and therefore just needs to be warmed on the day of preparation.
The glaze won't marinate and penetrate through the cooked ham, so it really doesn't have any benefit going on early. It also won't stick as well. You need heat to have it melt and crust onto the ham.
Is ham glaze gluten free? I can't speak for all recipes, but this is a gluten free recipe.
Can you glaze ham in a slow cooker? Whether you are using a ham glaze from scratch or a packaged ham glaze, you can prepare the ham in a slow cooker, but it will lose the sought after crunch that ham glazes are so well known for.
As mentioned above, hams are cooked when you get there and just need to be warmed and glazed, so there is really no benefit to making it in the slow cooker unless it is just to save space on your counters.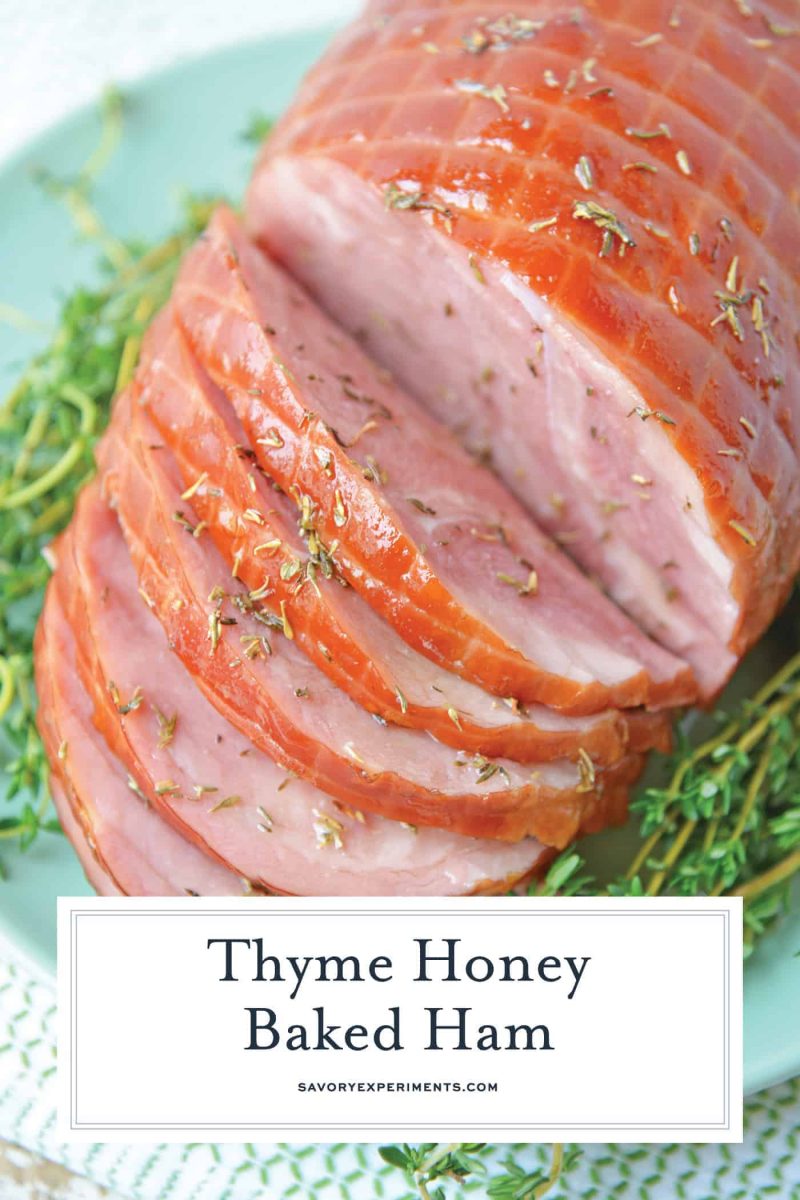 Why glaze a ham? You don't have to glaze ham at all, but why not with this easy ham glaze recipe! Ham will have a slightly salty, cured taste without the use of a glaze or sauce.
Salty and sweet pair perfectly together, so many folks like the addition of a nice sugary glaze.
Can I eat ham at room temperature? You can, but the FDA doesn't recommend it being out at room temperature for longer than 2 hours.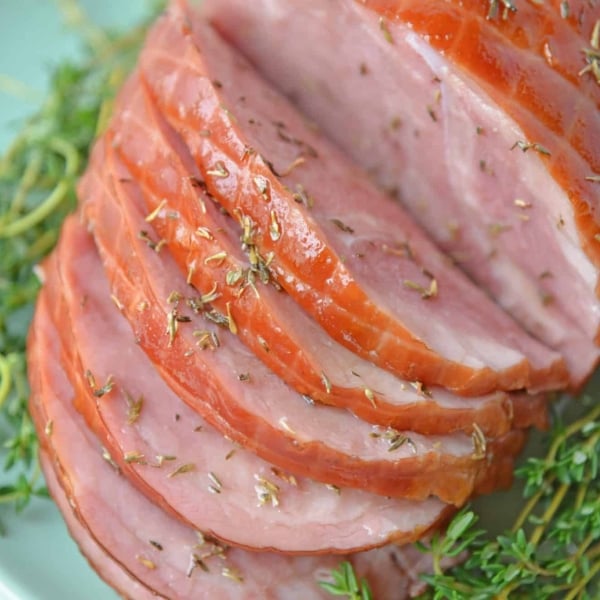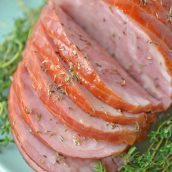 Thyme Honey Baked Ham
Thyme Honey Glazed Ham is a light and flavorful ham glaze recipe the whole family will enjoy. Simple to make and delicious to eat!
Instructions
In a small saucepan, combine honey, apple cider vinegar, fresh thyme, Kosher salt and butter. Bring to a simmer over medium-low heat.

Cook your ham according to package directions. Since you can use any cut you'd like, it is hard for me to instruct you on temperatures and times.

When ham is about 30 minutes away from being done, start to baste with thyme honey glaze, basting every 10 minute until finished. Be mindful to get in all the cuts, nooks and crannies for the most flavor!

If you've tried this recipe, come back and let us know how it was!
Notes
Use this ham glaze on any cut of ham, spiral cut ham, ham steaks, bone-in ham or just a small ham roast. Feel free to double the recipe if you are making a large roast.
Adapted from Epiciruous.com
Nutrition
Calories:
123
kcal
,
Carbohydrates:
23
g
,
Fat:
3
g
,
Saturated Fat:
2
g
,
Cholesterol:
10
mg
,
Sodium:
422
mg
,
Potassium:
36
mg
,
Sugar:
23
g
,
Vitamin A:
225
IU
,
Vitamin C:
3.9
mg
,
Calcium:
11
mg
,
Iron:
0.5
mg