Looking for an easy soup recipe that you can enjoy all year round? This Slow Cooker Chicken Noodle Soup is flavorful and SO easy to make!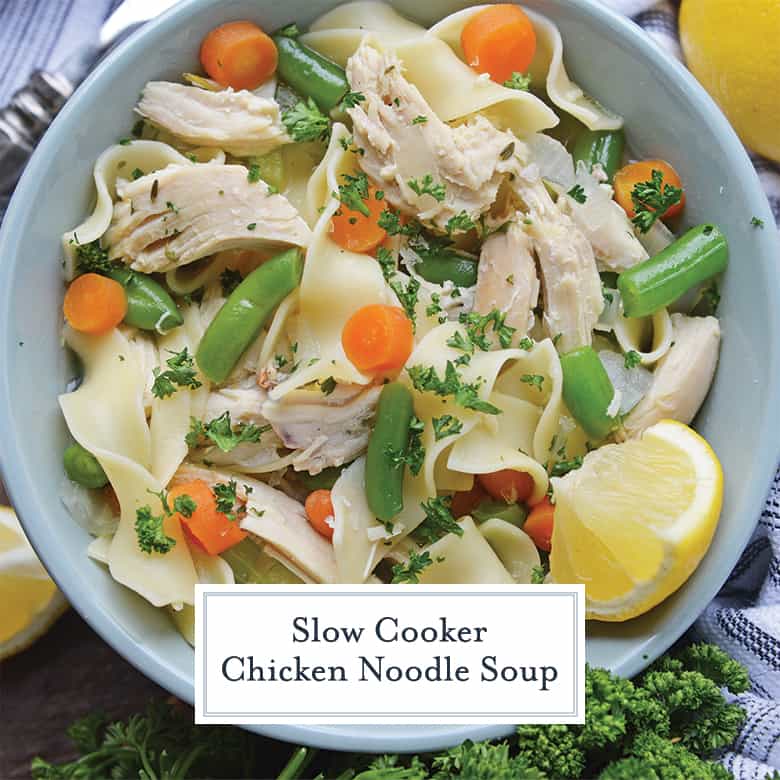 No chicken soup recipe is easier than this Slow Cooker Chicken Noodle Soup! Throw everything together and let the crockpot do the work for you.
I've been really trying to round out my recipe collection lately. I have so many great ideas in my arsenal that I can't wait to share with all of you.
One of them is this Slow Cooker Chicken Noodle Soup. A good chicken noodle soup recipe is a great staple to have in your recipe box. It's comforting on cold fall or winter nights, but light enough to enjoy during the summer too.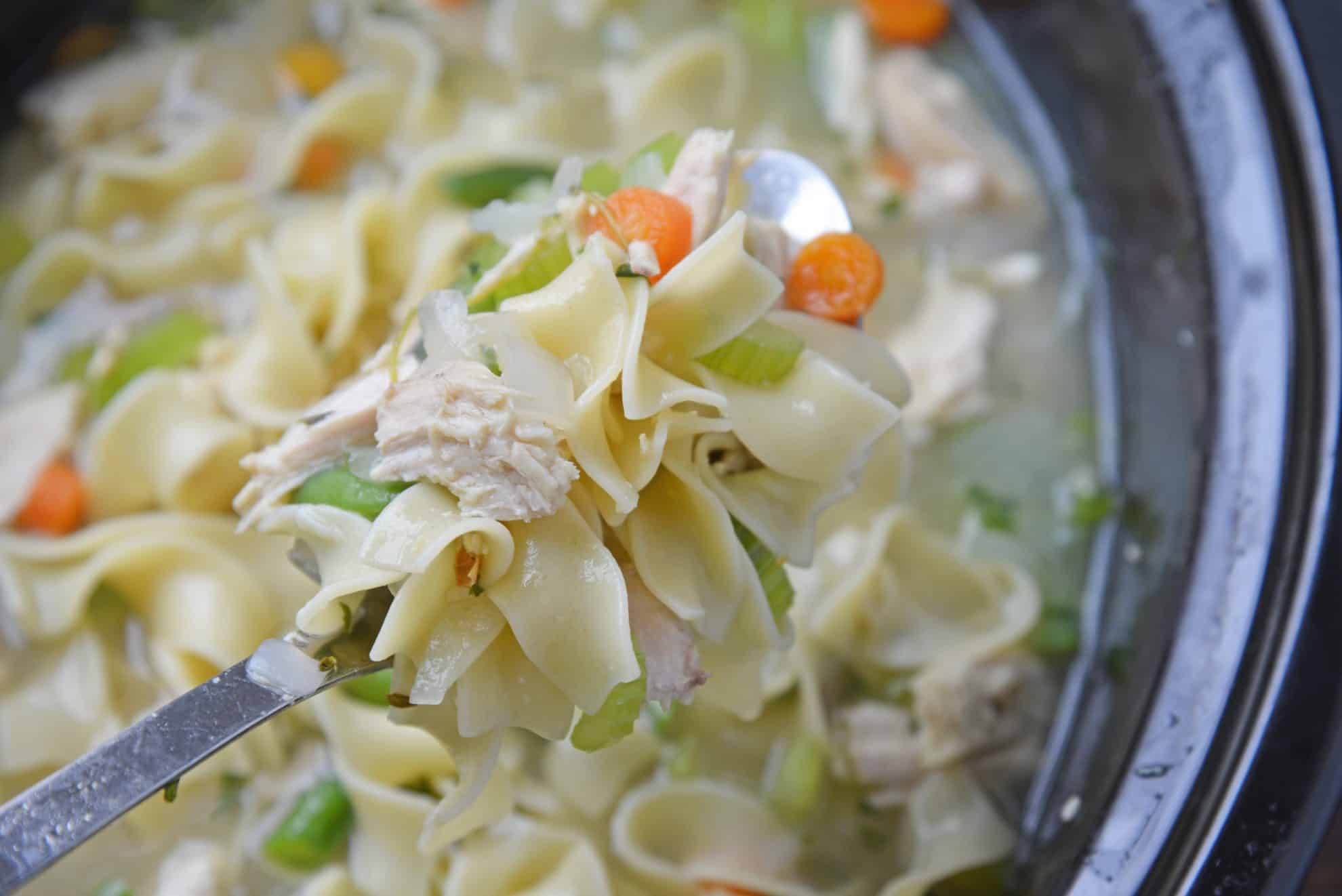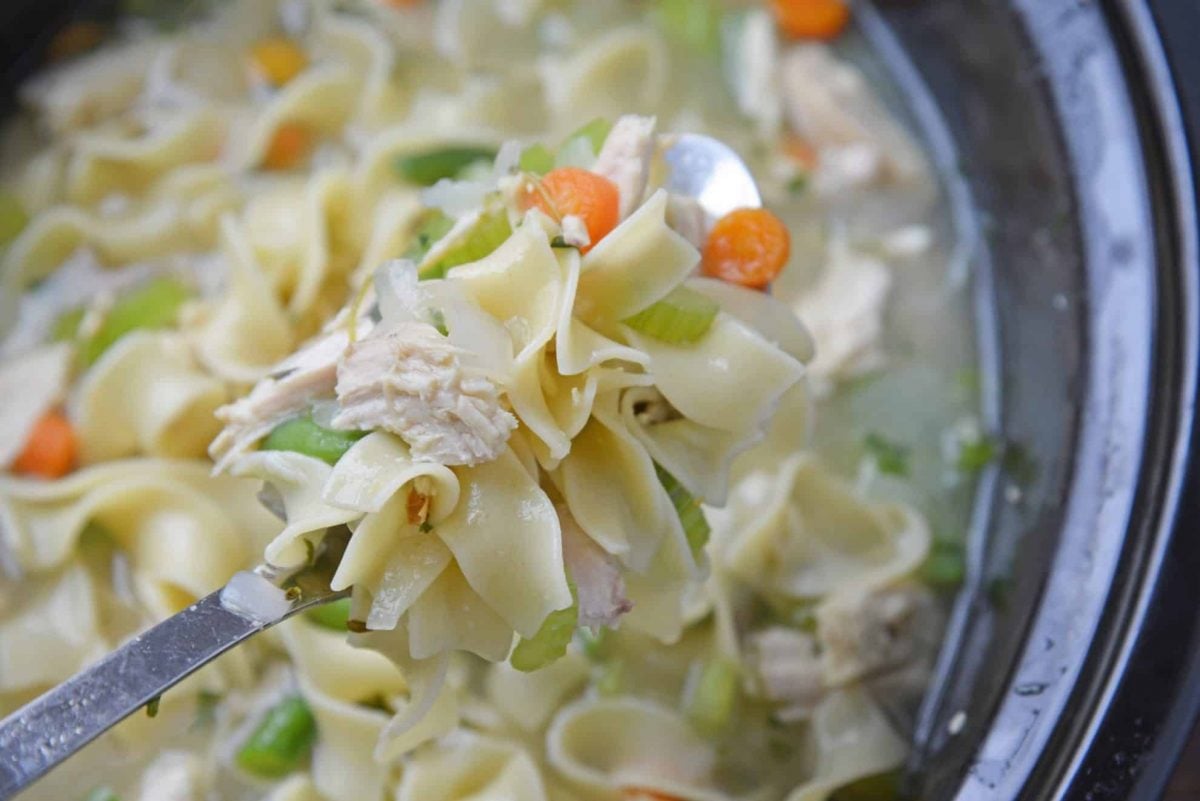 Plus, when you're feeling under the weather the canned stuff just can't compare! I'd take a big, steaming bowl of homemade chicken soup over a canned soup any day.
One of the things I love about this particular Slow Cooker Chicken Noodle Soup recipe is the flavor in the pasta. While egg noodles are generally pretty tasteless, this pasta will have more flavor because cooking the noodles in the broth helps to absorb all of the flavor.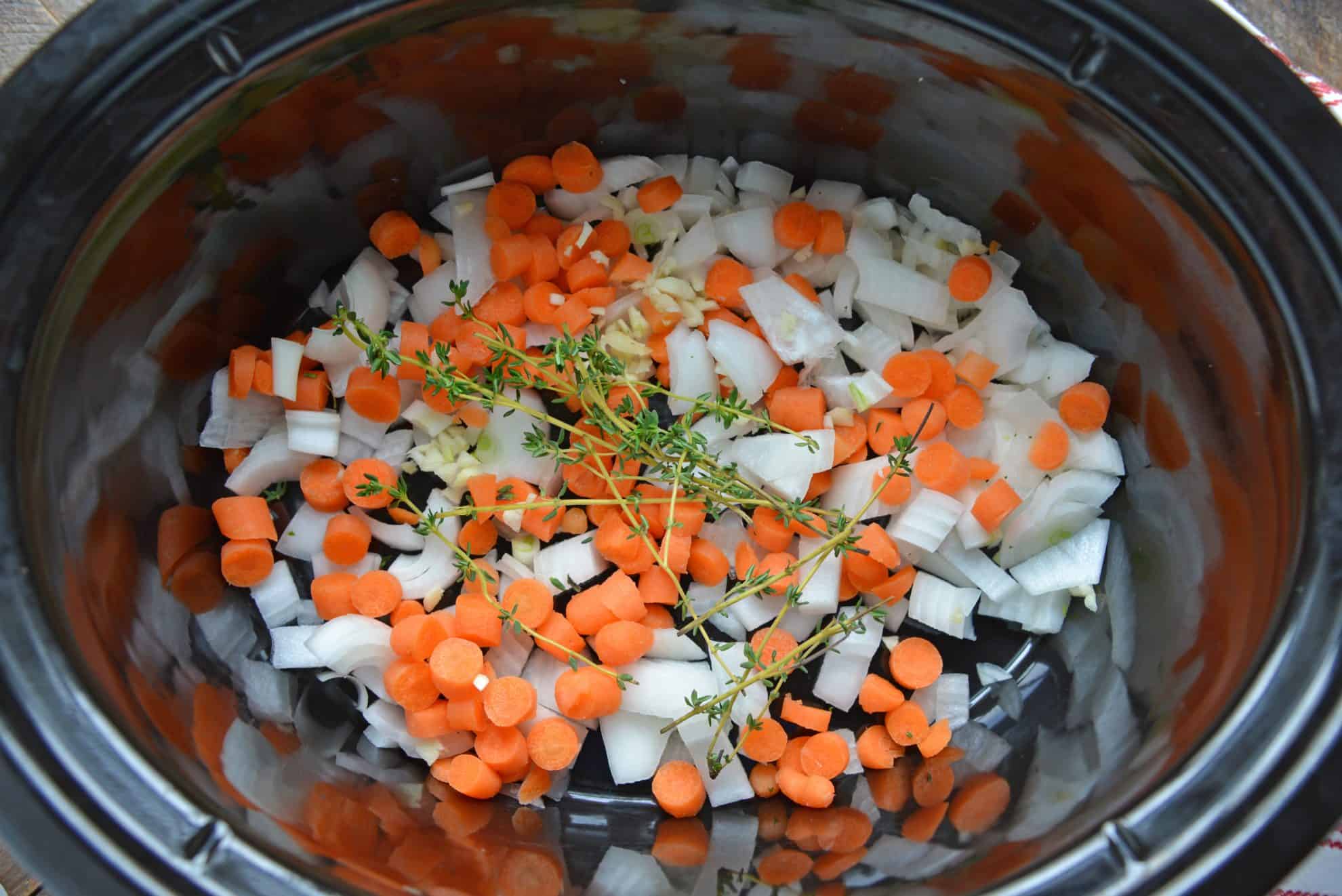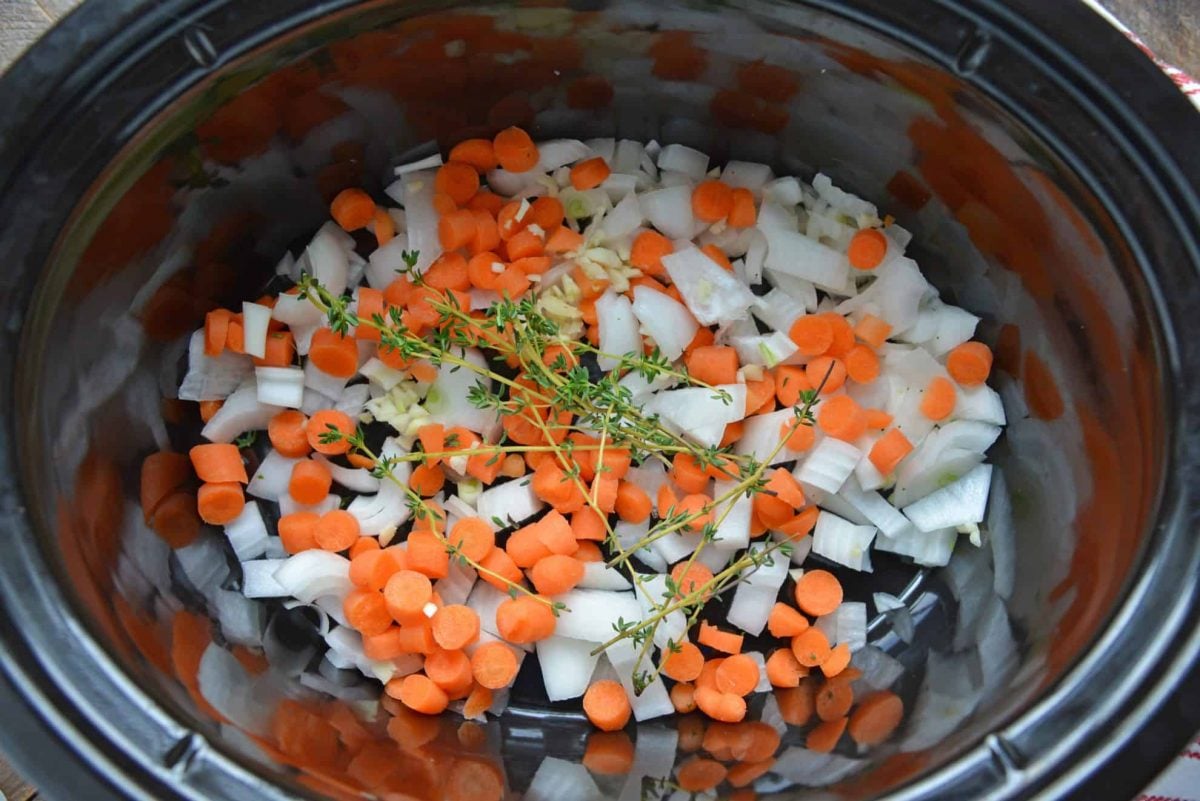 You can use any type of pasta you choose. Some of the most popular are:
acini di pepe
orzo
tubettini
ditalini
macaroni
Why use the slow cooker instead of stove top? The slow cooker and stove top directions are actually the same. I just find it easier to control the low temperature settings on a slow cooker better than the stove top.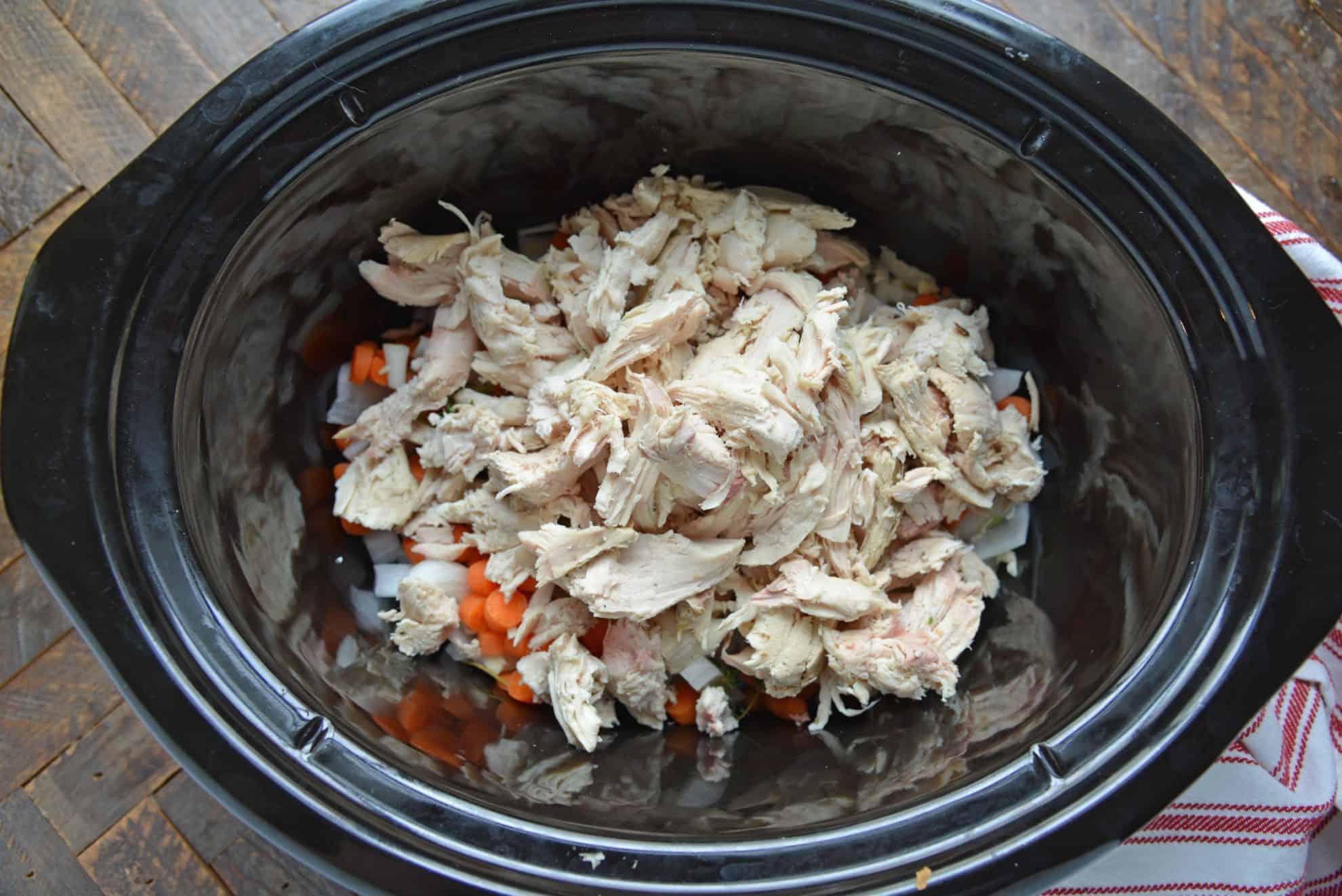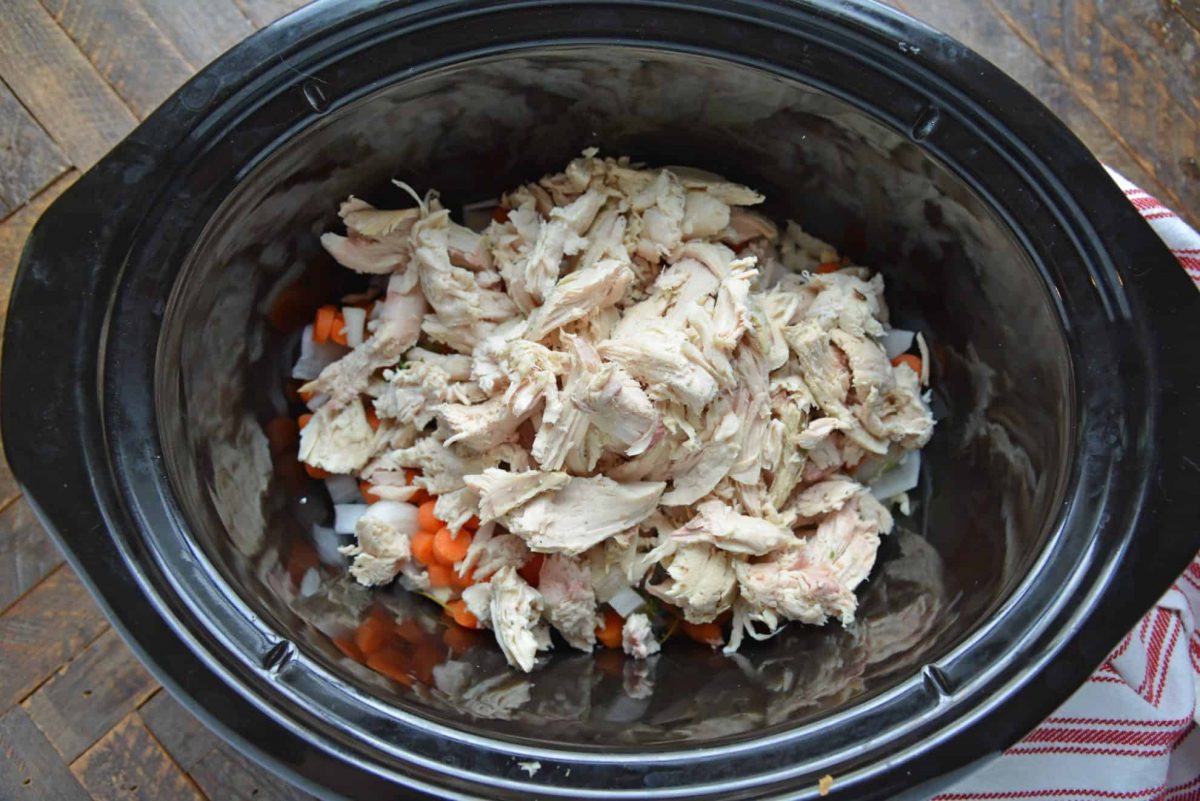 To make this slow cooker chicken noodle soup, you start with a rotisserie chicken. Once the chicken is cool enough to handle, remove all meat (both white and dark,) shred it into bite size pieces, and then add the chicken to the slow cooker.
Next, you will add the carrots, onion, garlic, thyme, (rosemary if you'd like,) bay leaf and chicken broth into the slow cooker with the shredded chicken. Cover and cook on low for two hours.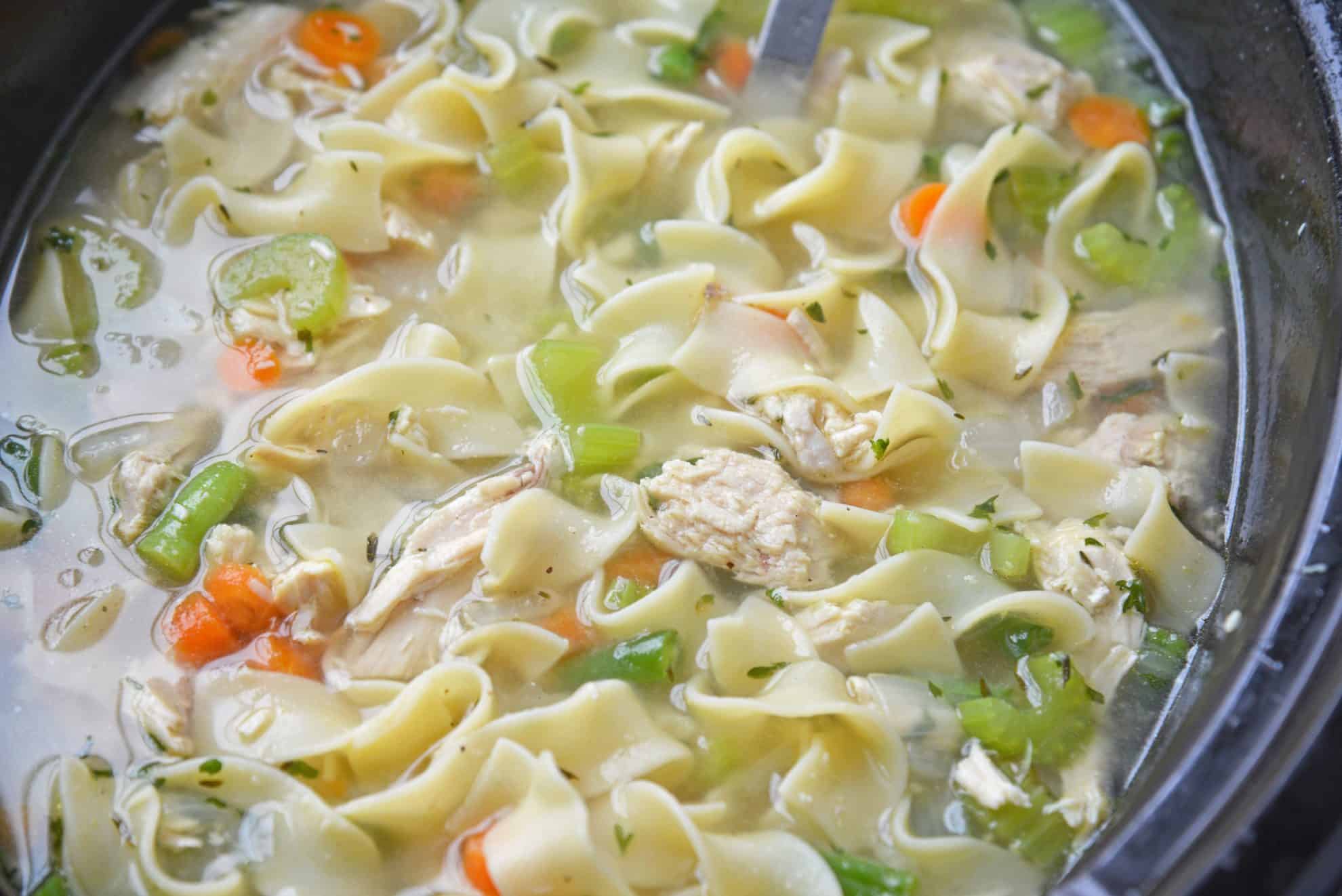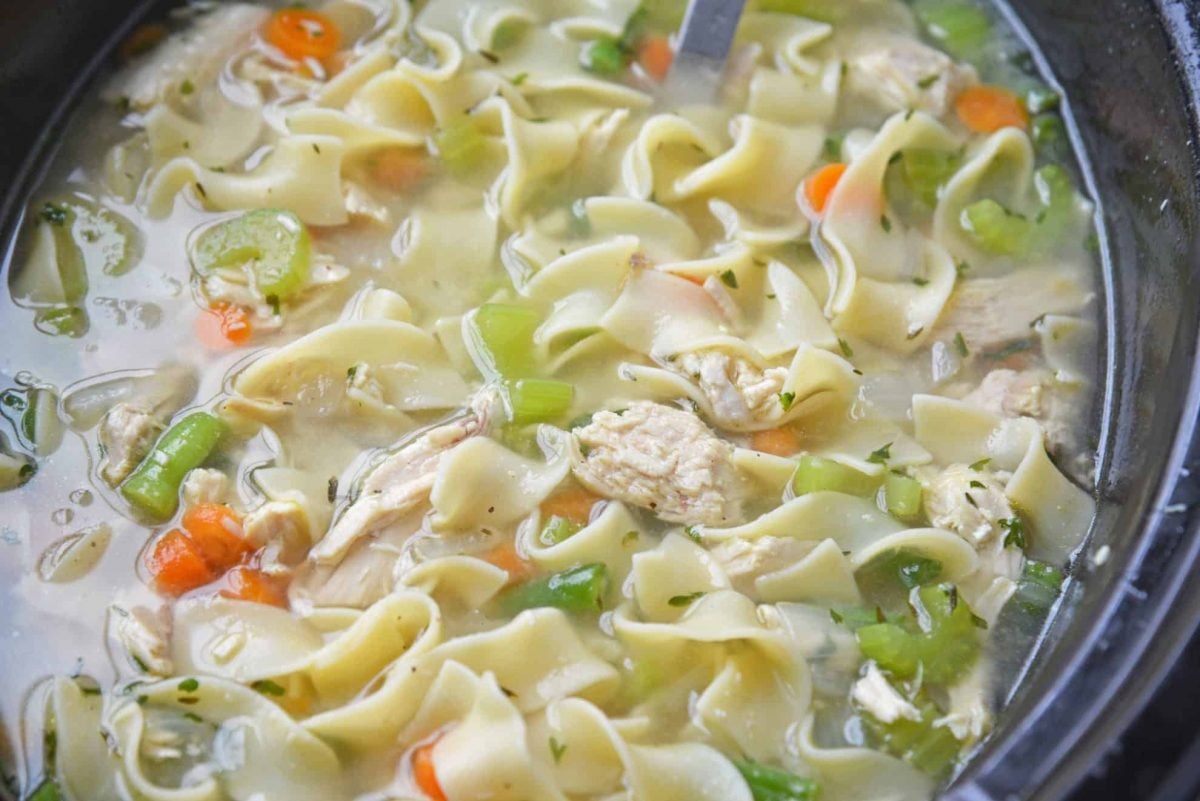 Once the two hours are up, you will add the celery, green beans, lemon juice, white pepper and egg noodles (or whichever noodles you prefer.) Cook that for an additional 20-25 minutes, or until the pasta is cooked to your liking.
PRO TIP: Amplify the flavor of any soup by adding an acid 30 minutes to right before serving. This can be as simple as a citrus juice or vinegar.
And there you have it! If that chicken soup isn't the easiest recipe ever, I don't know what is! Ladle the soup into bowls, top with salt and pepper to taste, and serve immediately.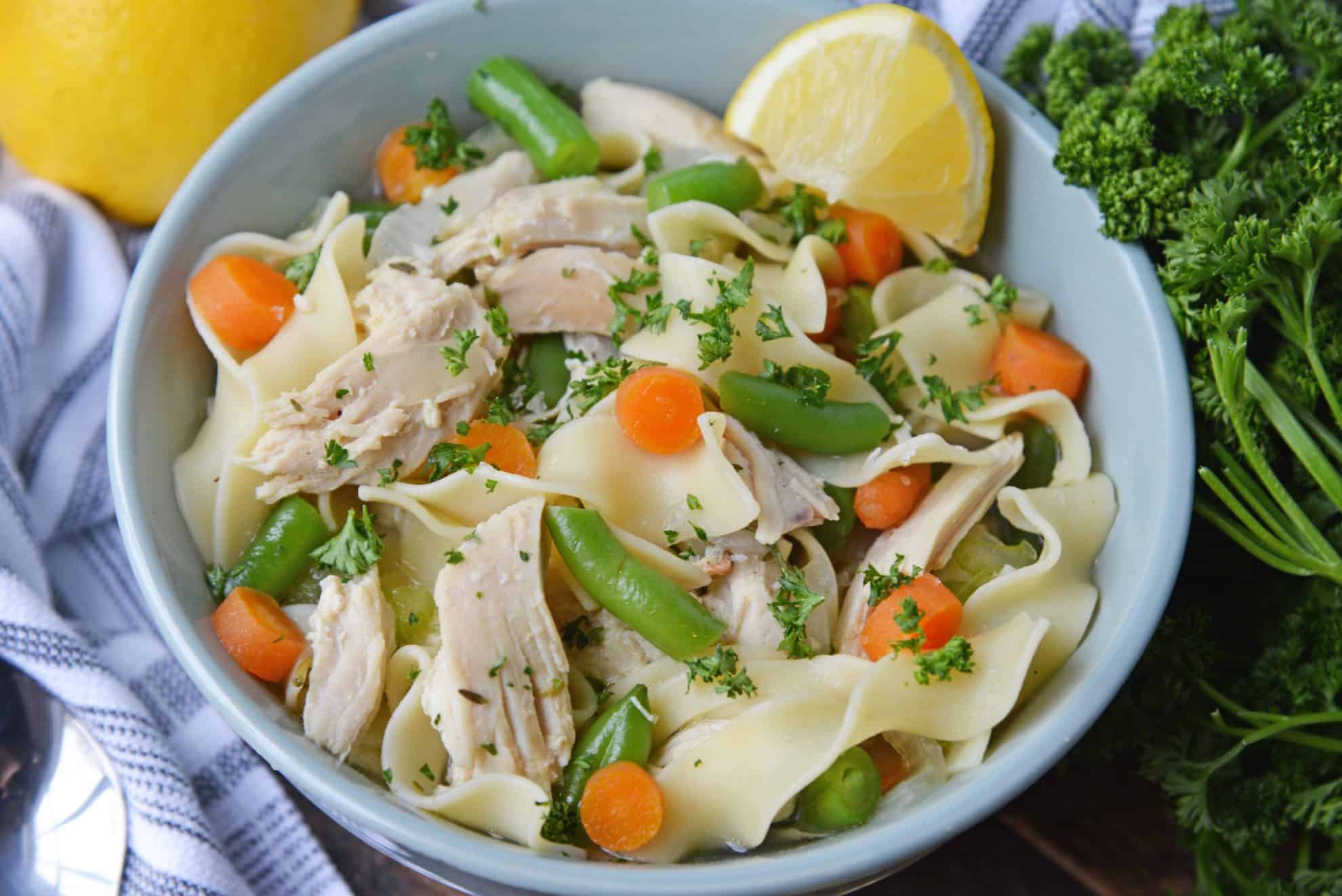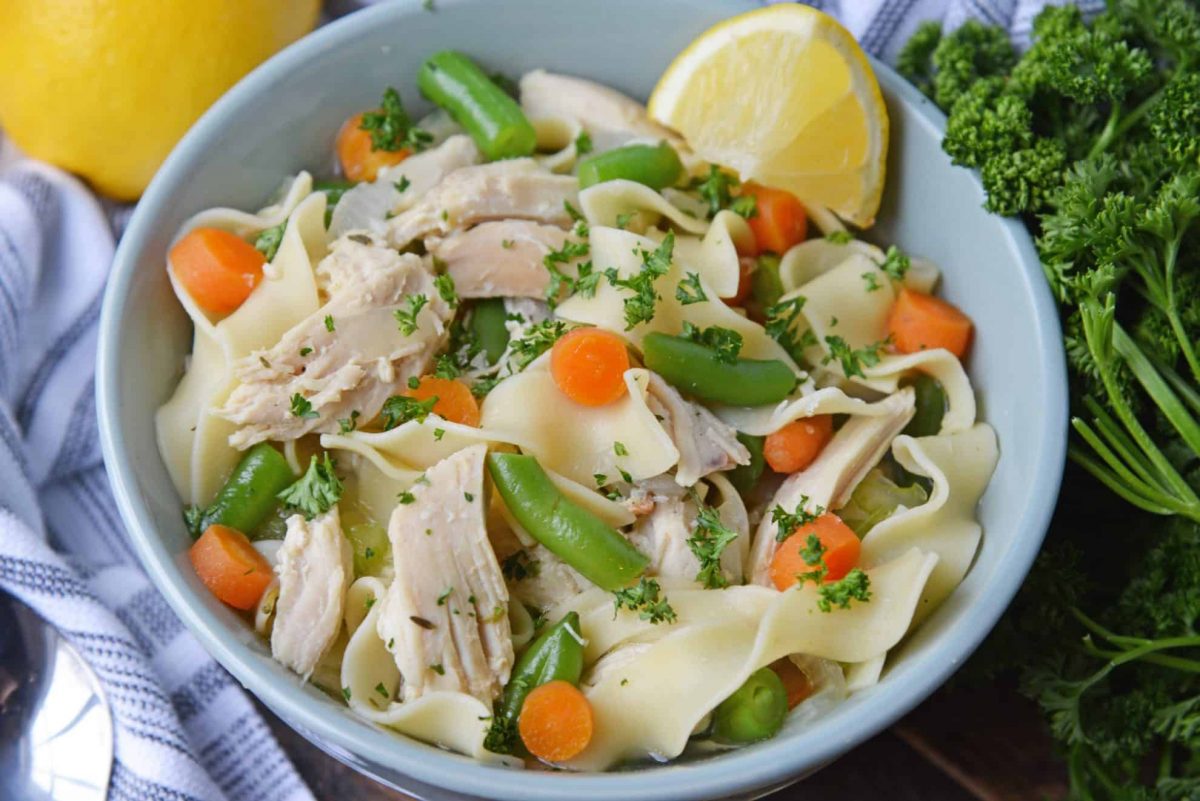 Questions you might have about how to make crockpot chicken noodle soup:
Can I make this on the stovetop? You sure can! Just make in a large Dutch oven or large pot and keep on a very low simmer, the lowest possible (don't bring to a boil,) for 2 hours.
What vegetables in chicken noodle soup? In addition to the traditional onions, carrots and celery of the typical chicken noodle soup recipe, I also like to throw in some green beans. It's adds some flavor, texture and color that you wouldn't otherwise have. Plus it's delicious! But if you don't like green beans, you can certainly leave them out.
Can chicken noodle soup be frozen? So the answer to this is yes…and no. Soups that have noodles don't tend to reheat very well after being frozen. So if you are making this soup just to freeze, leave out the noodles. When you are ready to thaw and reheat, just boil some fresh noodles to add in.
However, be aware that the noodles will not have the same flavor, because they will not be cooked in the soup base as the original recipe states.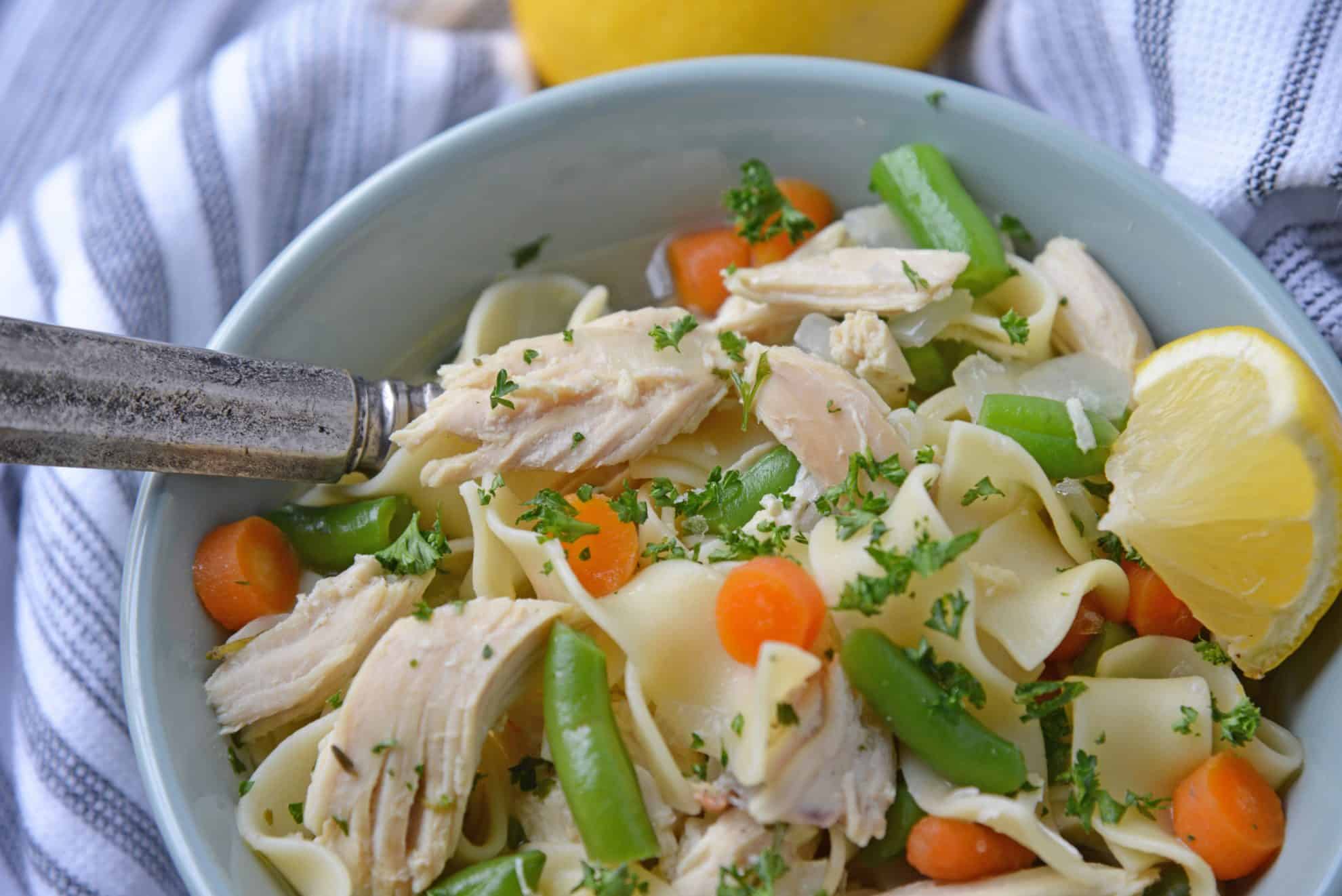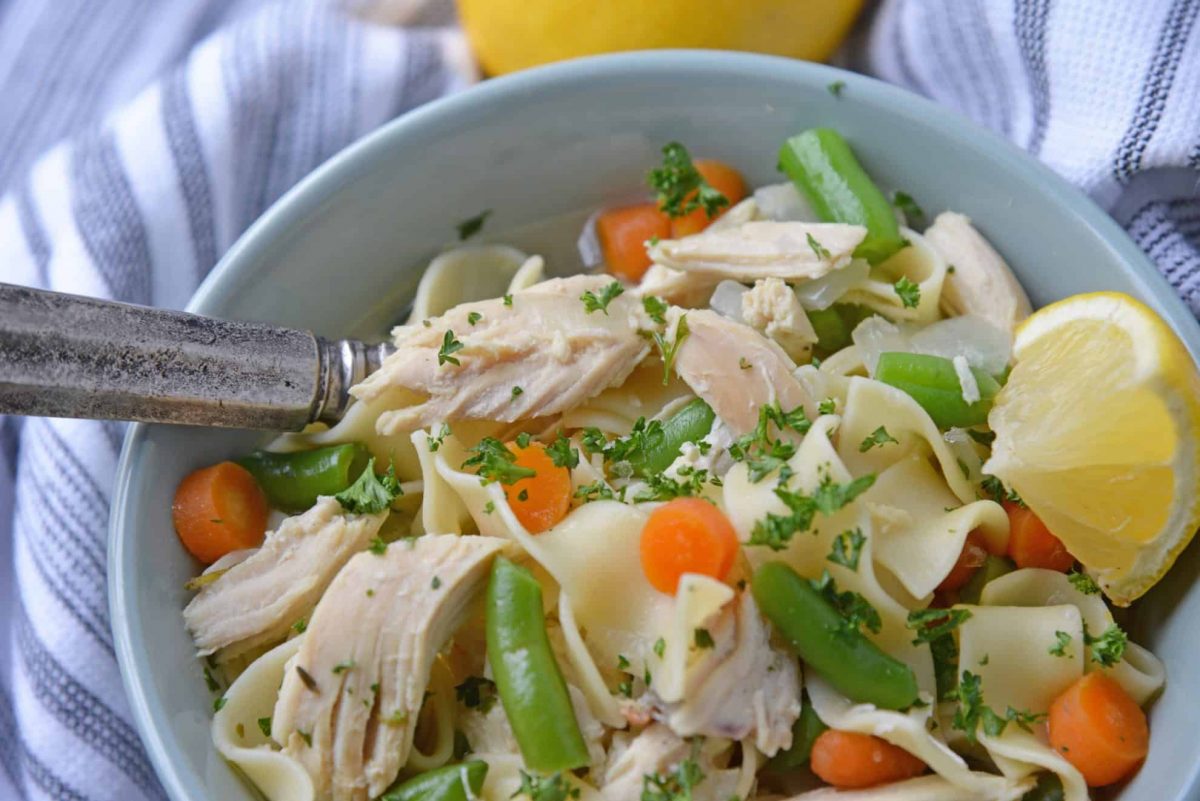 How to season chicken noodle soup? I like to season mine exactly the way it is written in the recipe: with garlic, thyme, bay leaves, lemon juice and white pepper. But feel free to add in something like rosemary or extra pepper to make it to your liking.
What to serve with chicken noodle soup? We usually eat this as our main meal, so I like to serve my Slow Cooker Chicken Noodle Soup with a good bread. Whether is be Dinner Rolls or even Cheese Stuffed Garlic Rolls.
You could also serve it alongside a nice salad, or even a light sandwich like chicken salad or egg salad.
What is the difference between chicken stock and chicken broth? Chicken stock is made from simmering the bones, which gives it a really full bodied flavor. Whereas chicken broth is mostly made from the meat and some veggies.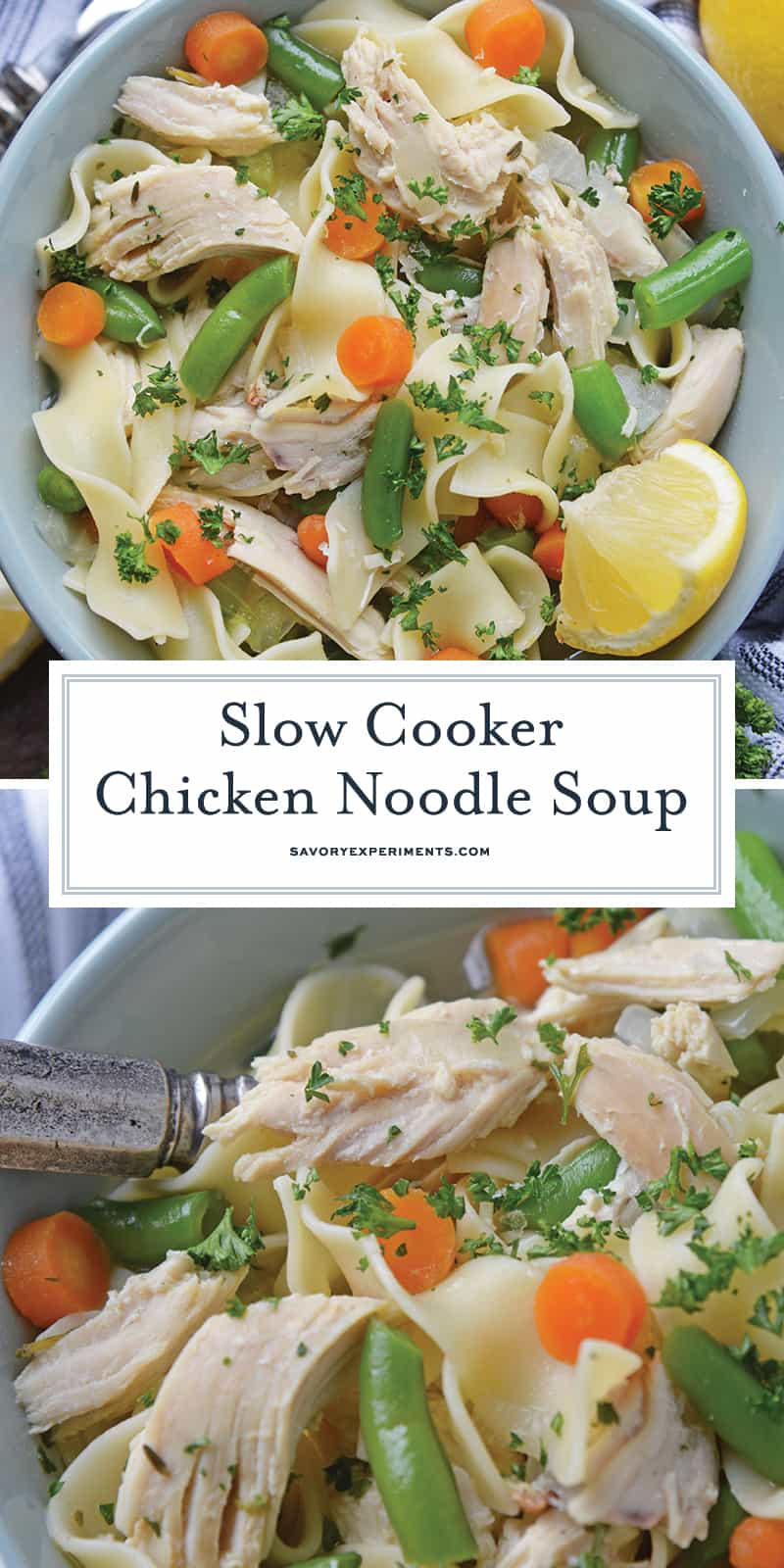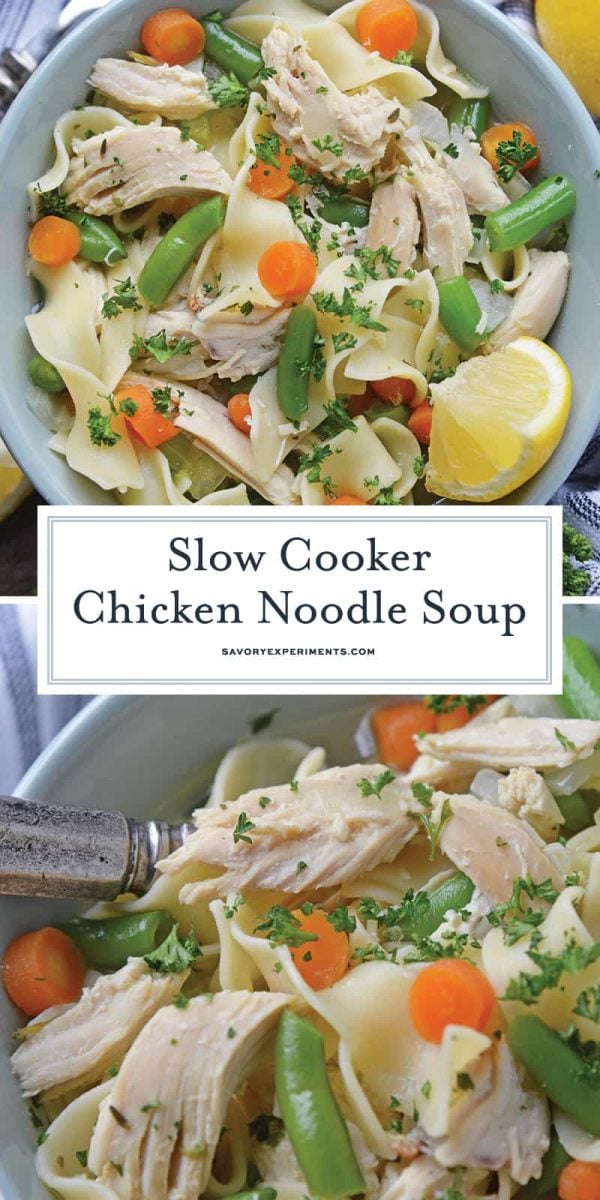 Egg Drop Soup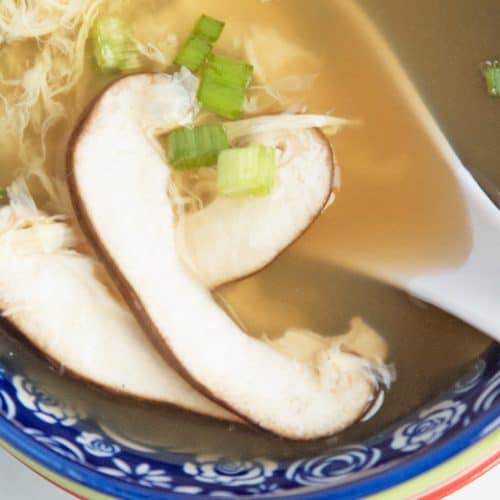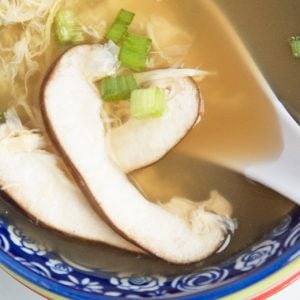 This Chinese Egg Drop Soup is the BEST! It's quick and easy to make, making it perfect for a quick lunch or starter for dinner. It's made in only 15 minutes!
Easy Chicken Tortilla Soup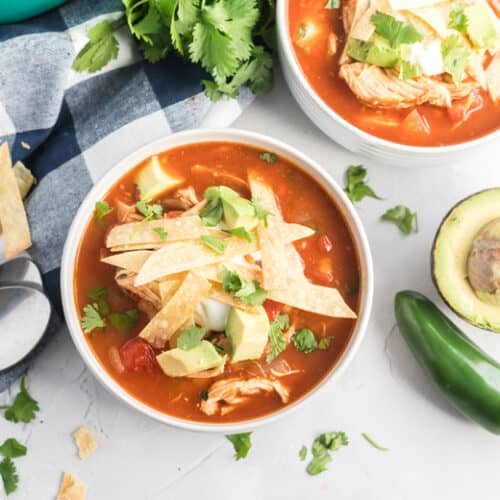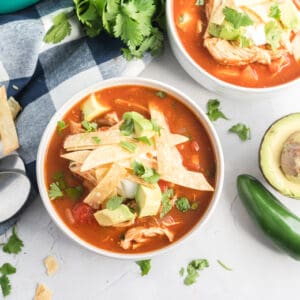 This is an easy chicken tortilla soup that can be on your table in less than an hour. A rich tomato broth with a bit of spice and large chunks of chicken make this a hearty and comforting meal!
Tools for making Chicken Noodle Soup:
French Onion Soup Crocks– these are oven safe bowls perfect for serving any soup, especially those with melted cheese. I personally like the old school brown porcelain with a handle. It makes it easier to transfer from the baking sheet to a serving plate.
Slow Cooker– It is a slow cooker soup recipe for a reason…
If you don't use a slow cooker, you can always use a Dutch Oven! Every kitchen should have one! They are heavy. They are expensive. They are worth it!
Or make it in the Instant Pot!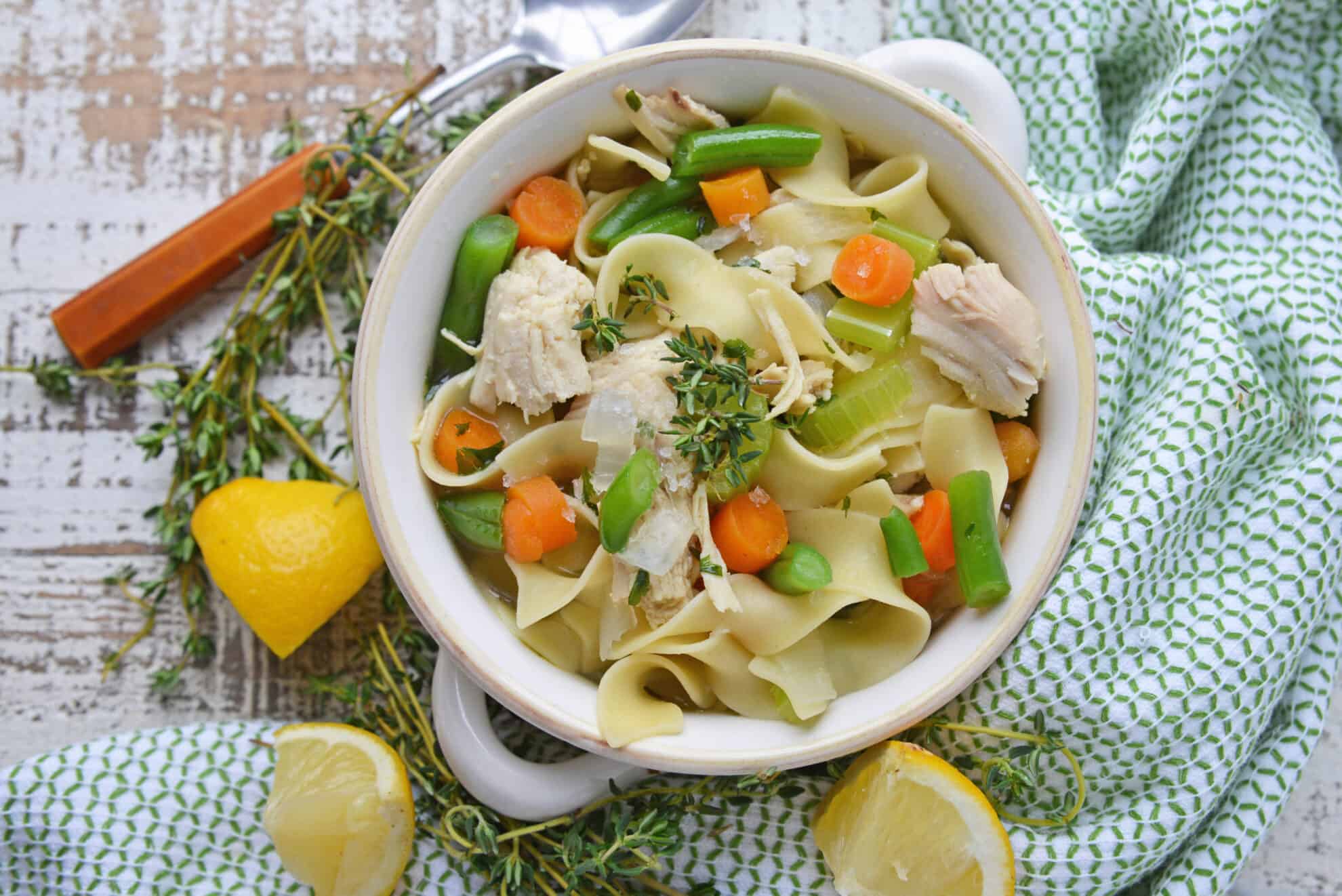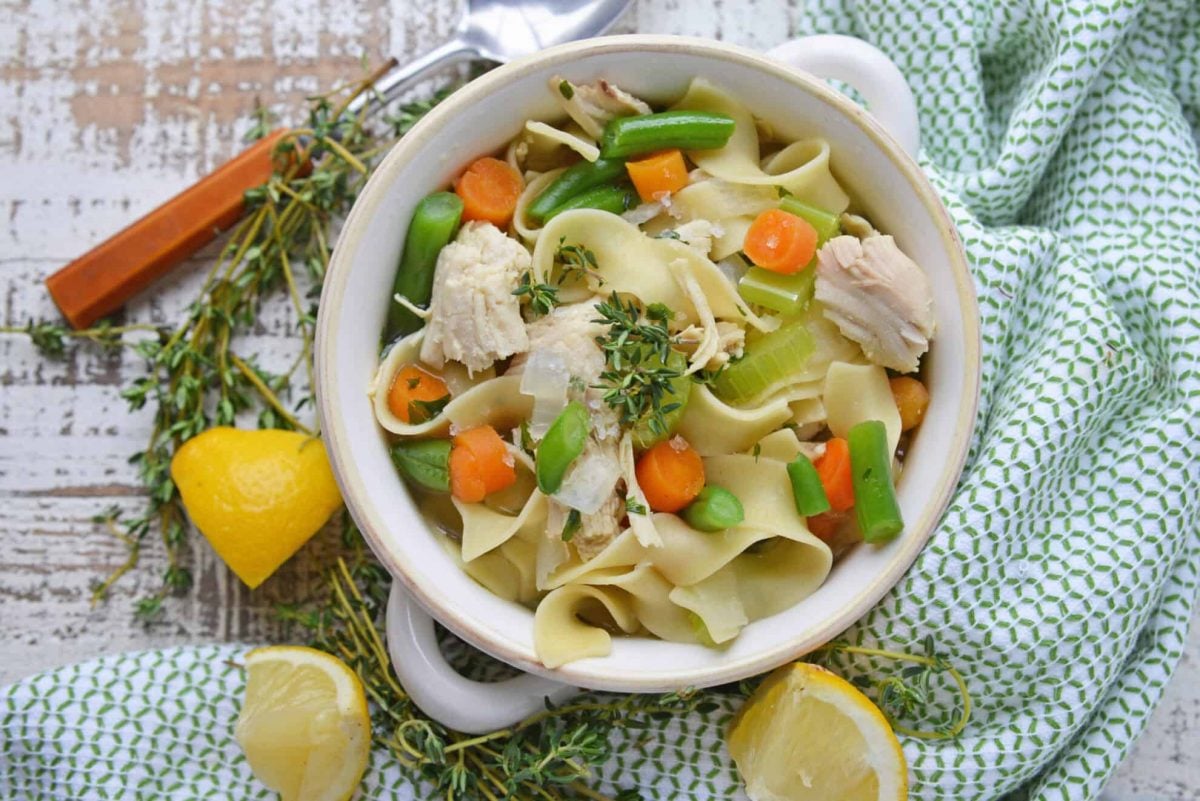 CONNECT WITH SAVORY EXPERIMENTS!

Be sure to follow me on social media, so you never miss a post!

Facebook | Twitter | Youtube
Pinterest | Instagram

Get our FREE 8 Day E-Course on How to Be a Better Home Cook. Sign up HERE!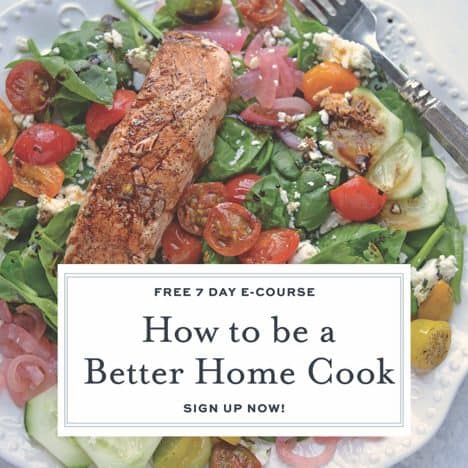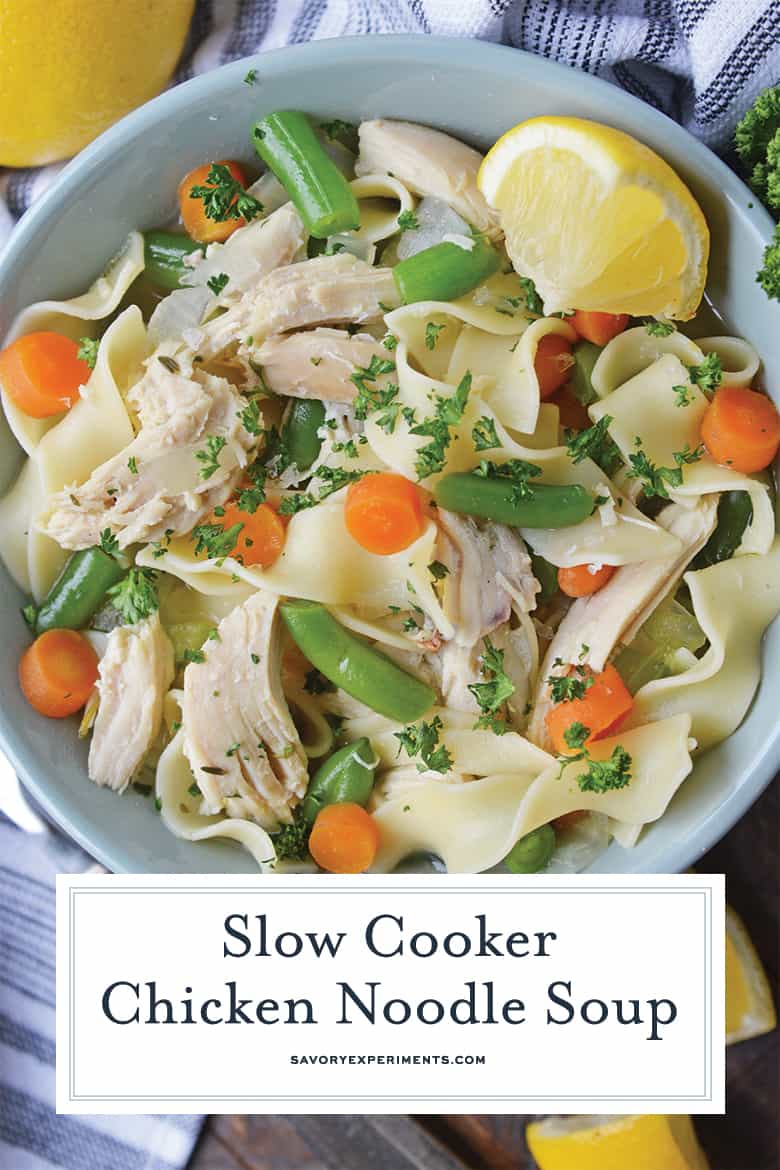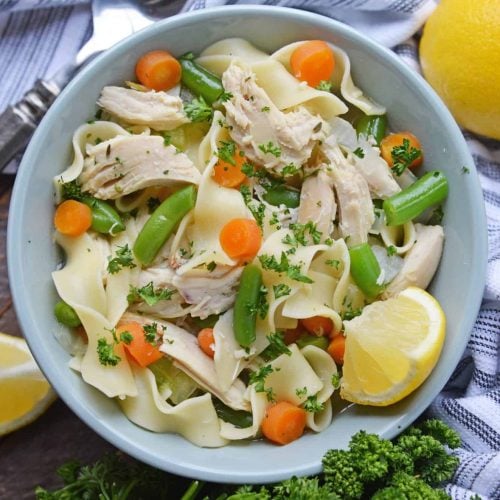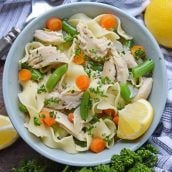 Print Recipe
Slow Cooker Chicken Noodle Soup
No chicken soup recipe is easier than this Slow Cooker Chicken Noodle Soup! Throw everything together and let the crockpot do the work for you.
Instructions
Shred all chicken, white and dark meat, off of cooked rotisserie chicken. Add to slow cooker.

Combine carrots, onion, garlic, whole thyme sprigs, bay leaves and chicken broth with chicken. Set slow cooker to low for 2 hours.

Add celery, green beans, lemon juice, white pepper and egg noodles. Cook for an additional 20-25 minutes, or until pasta is cooked.

Serve immediately.

If you've tried this recipe, come back and let us know how it was.
Nutrition
Calories:
451
kcal
|
Carbohydrates:
33
g
|
Protein:
47
g
|
Fat:
13
g
|
Saturated Fat:
3
g
|
Cholesterol:
152
mg
|
Sodium:
1447
mg
|
Potassium:
879
mg
|
Fiber:
3
g
|
Sugar:
3
g
|
Vitamin A:
3752
IU
|
Vitamin C:
30
mg
|
Calcium:
74
mg
|
Iron:
4
mg