Looking for the perfect dessert or snack item? This churro recipe has your name written all over it.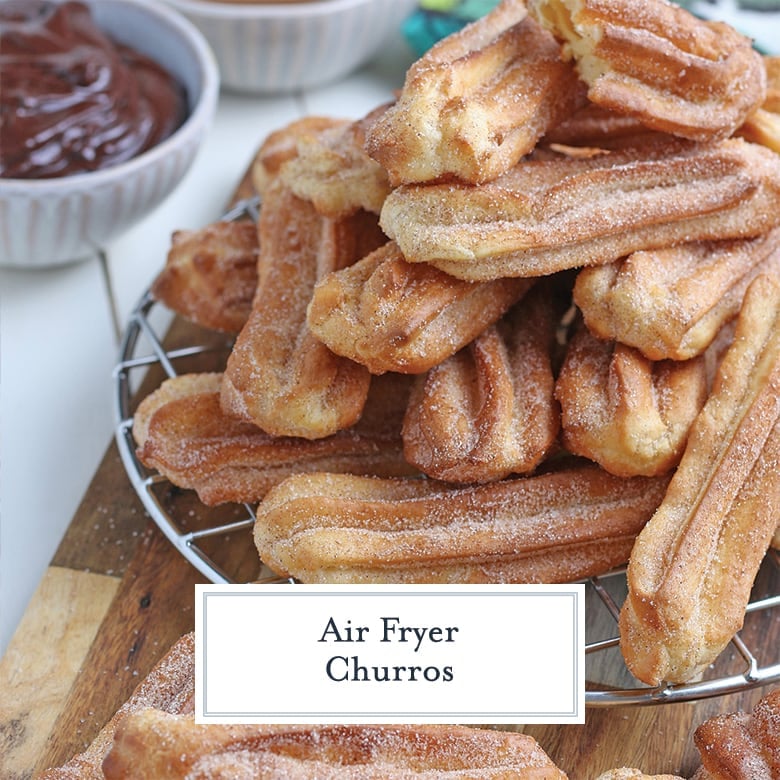 Sometimes I crave the crunchy deliciousness of cinnamon sugar. Most likely nostalgia from my childhood eating cinnamon toast, sopapillas, hocus pocus buns and churro cheesecake bars it was the only pregnancy craving I ever had.
But I also didn't like making traditional churros at home. They are a mess! Piping thick dough into hot oil was just not on my to-do list. Until I learned that I could make them in an Air Fryer.
And suddenly homemade churros seemed much more doable.
What is a Churro?
Churros are a light fried pastry made from pate a choux dough and then tossed in cinnamon sugar. They are often served with decadent dipping sauces.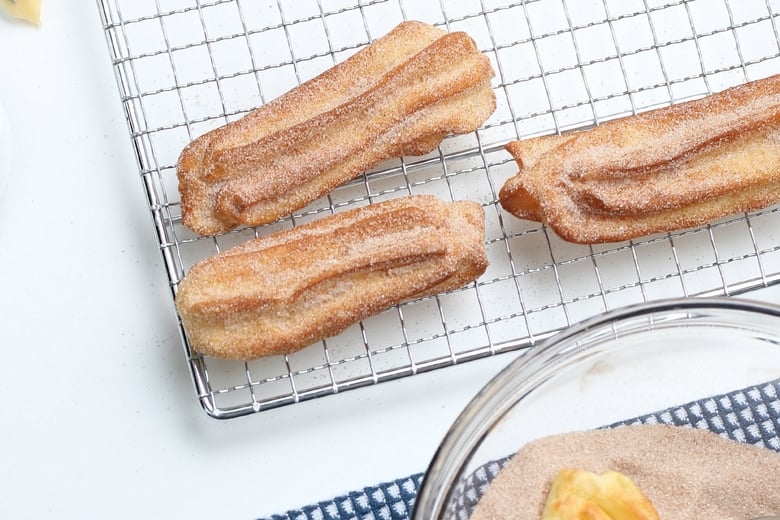 While churros are most popular in Spain, Portugal and Mexico, many Americans associate them with carnival or boardwalk foods.
Some come in small, bite-sized bits while others are a more manageable stick about 3-4 inches long and still others are a giant size of 5 inches+.
Air Fryer Churros
I had previously tried to make baked churros, but really struggled with the dough, which seems to be the biggest issue anyone has with cooking churros at home regardless of the cooking method.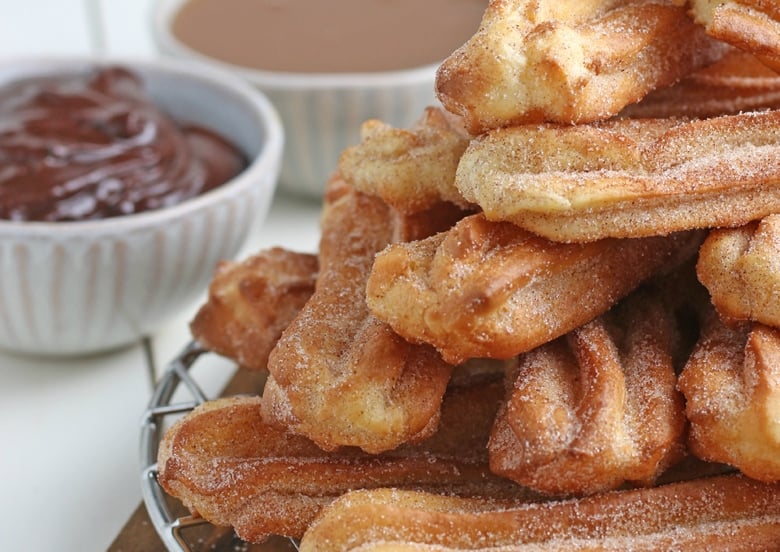 Pate a choux is a tricky baking technqiue to conque. A delicate balance between cooking the eggs in the batter and getting it to just the correct consistency to be thick enough to pipe and hold its shape but still malable enough to be piped in the first place.
But with baking, the temperature doesn't increase fast enough to flash fry the outside and keep the iconic star. Instead, it gradually heats and then has the tendency to melt and fall. They still taste ok, but since the shape has changed, so does the light and fluffy texture they get when deep fried.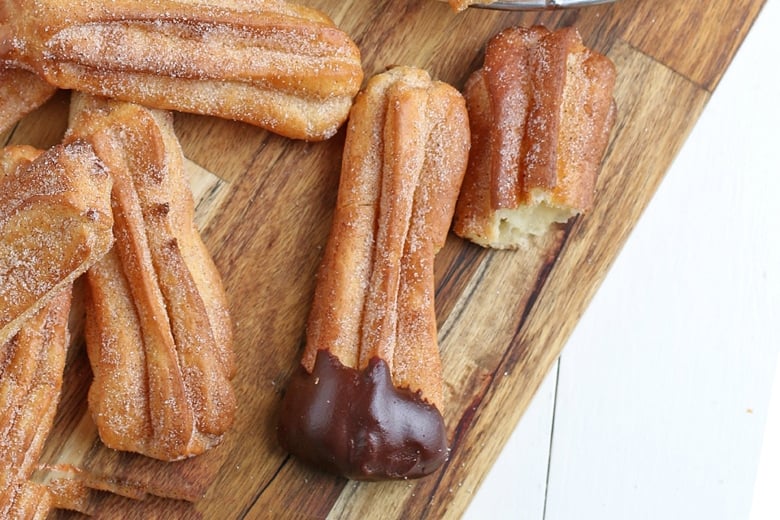 Air Fryer Churros solve the problem because they heat super fast with a ridiculous amount of circulating hot air.
Churro Shape
As mentioned, the shape of a churro is a star shaped log or stick. Shorter or longer, the star shape is essential to make sure they cook evenly and get the perfect crunchy texture.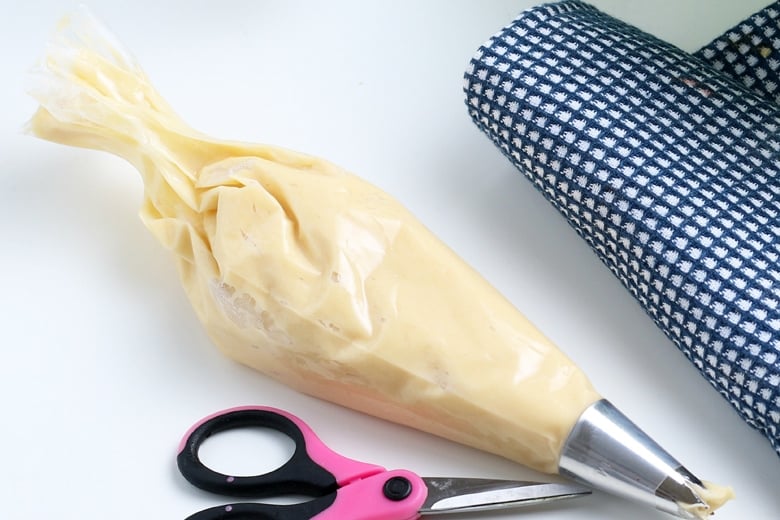 To achieve this you'll need a piping bag or large plastic bag with a 1M star tip. You can use a slightly larger tip, but due to the thickness of the dough, I don't recommend going smaller.
I prefer to use an actual piping bag for this project because they are sturdier and this dough needs some serious muscle to pipe out.
How to Make Air Fried Churros
As mentioned before, you'll need to make the dough which is considered a choux dough. Choux dough uses butter, water, flour and eggs, but no rising/leavening agents.
It is thick, but also has a high moisture level which creates steam allowing the pastry to cook without drying. It is the same base used for making cream puffs and other European pastries.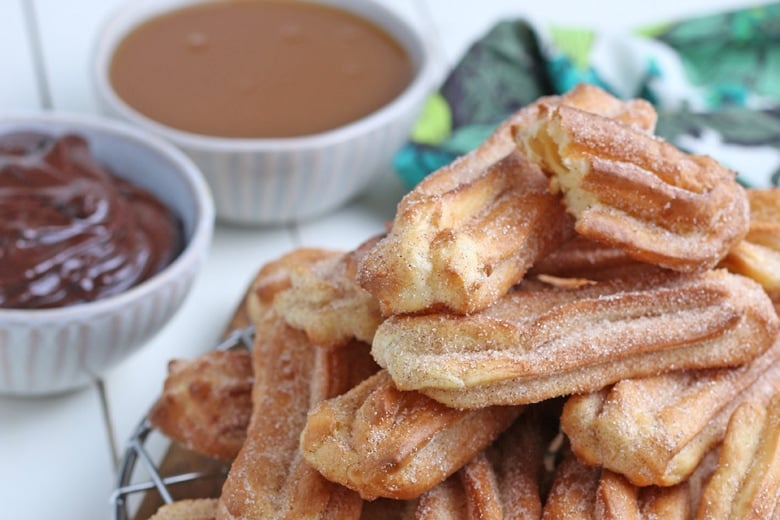 Churros ingredients are pretty standard baking ingredients, but heated before adding the eggs. The trick to not having cooked eggs is cooling the dough enough that they don't cook immediately upon hitting the dough.
Ingredients for Making Churros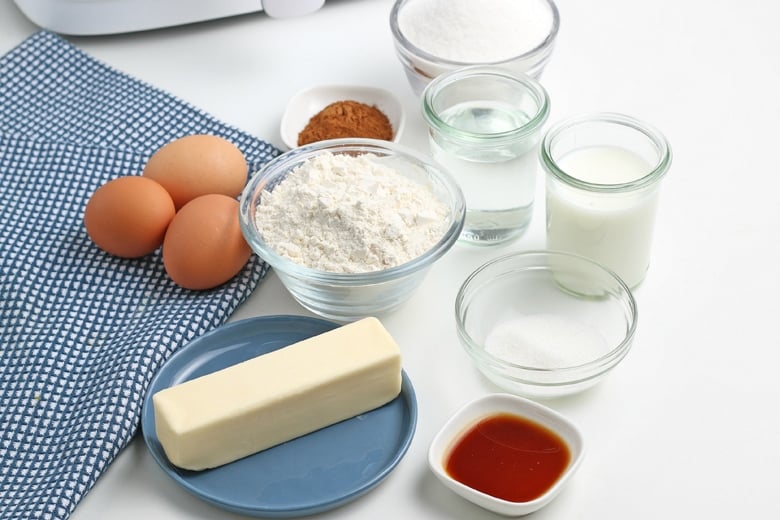 Water
Milk
Unsalted Butter- use unsalted for this one, the salt in salted butter will dry out the dough.
Sugar
Flour
Eggs
Vanilla
Cinnamon Sugar
How to Make Churros
To make the choux dough, you'll combine water, milk, butter and sugar, brining to a boil This simultaneously scalds the milk and reduces water content in the butter.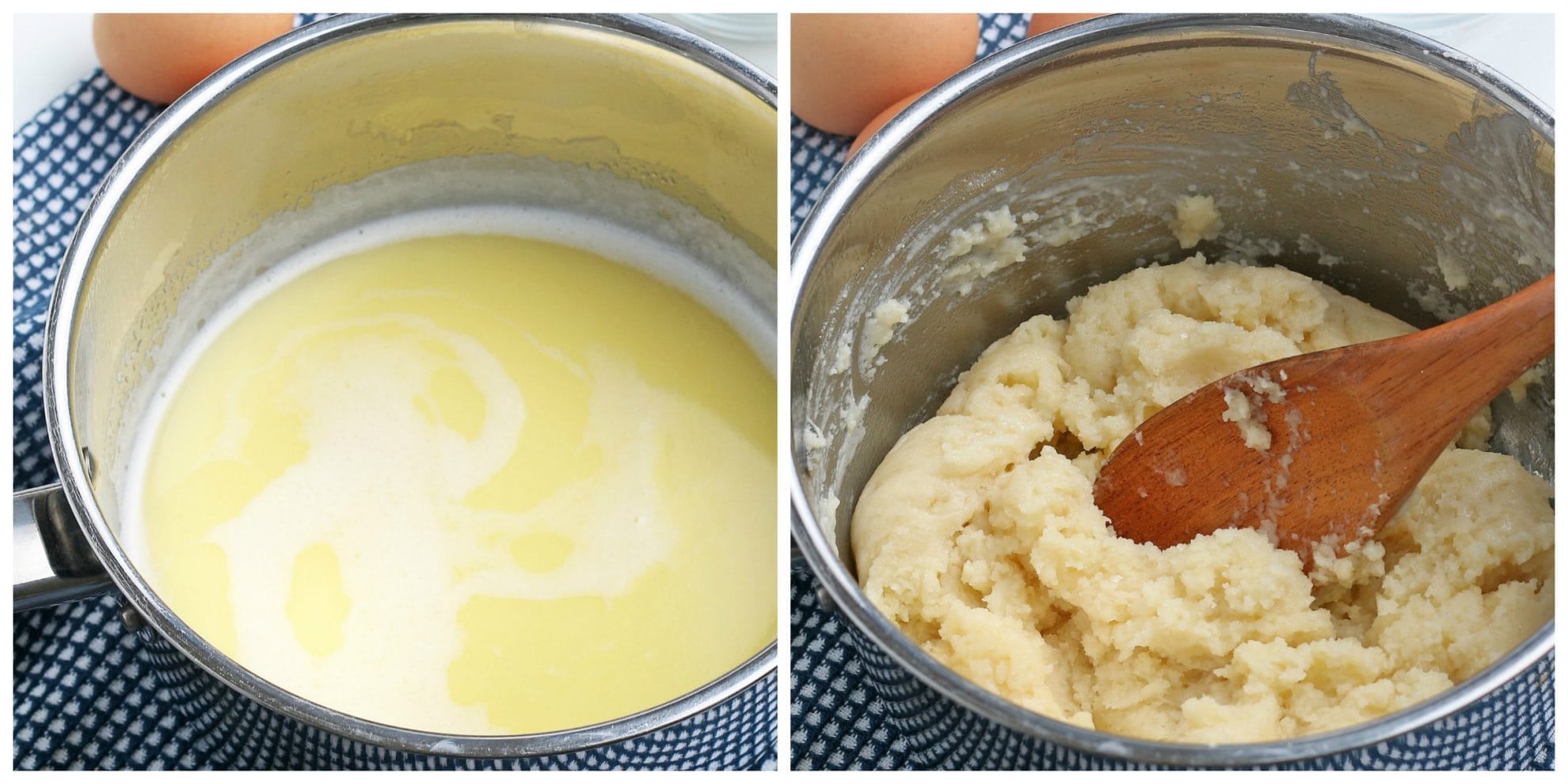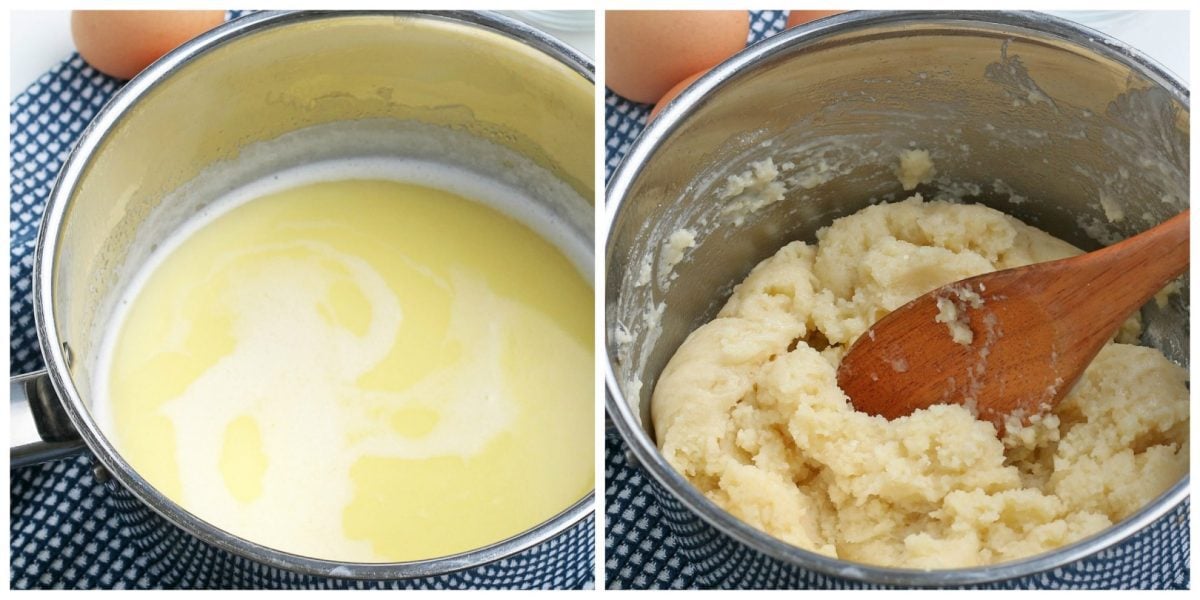 Off heat, you'll add the flour. Make sure it is off heat to prevent it from making a roux (browned butter and flour mixture) instead of a choux. It will be a hard, smooth ball.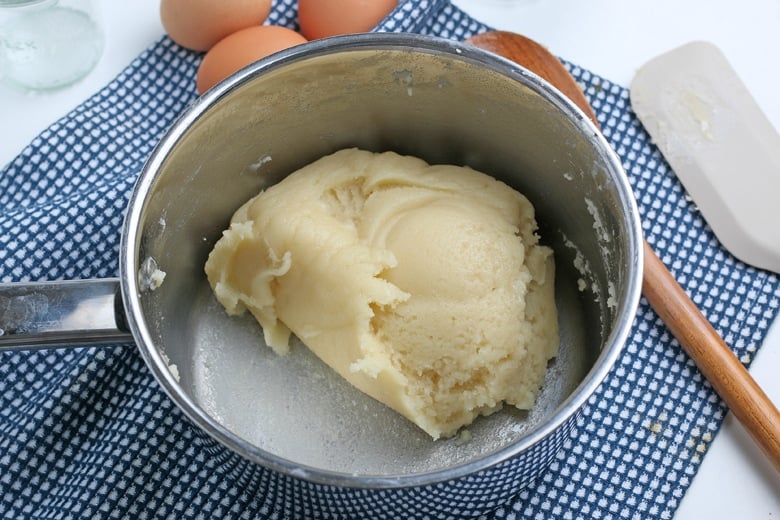 Transfer to a mixing bowl and then add 1 egg at a time, mixing well between additions. I highly encourage you to use a stand mixer or electric hand mixer so you can mix fast and efficiently, preventing the eggs from cooking. You'll also add vanilla extract.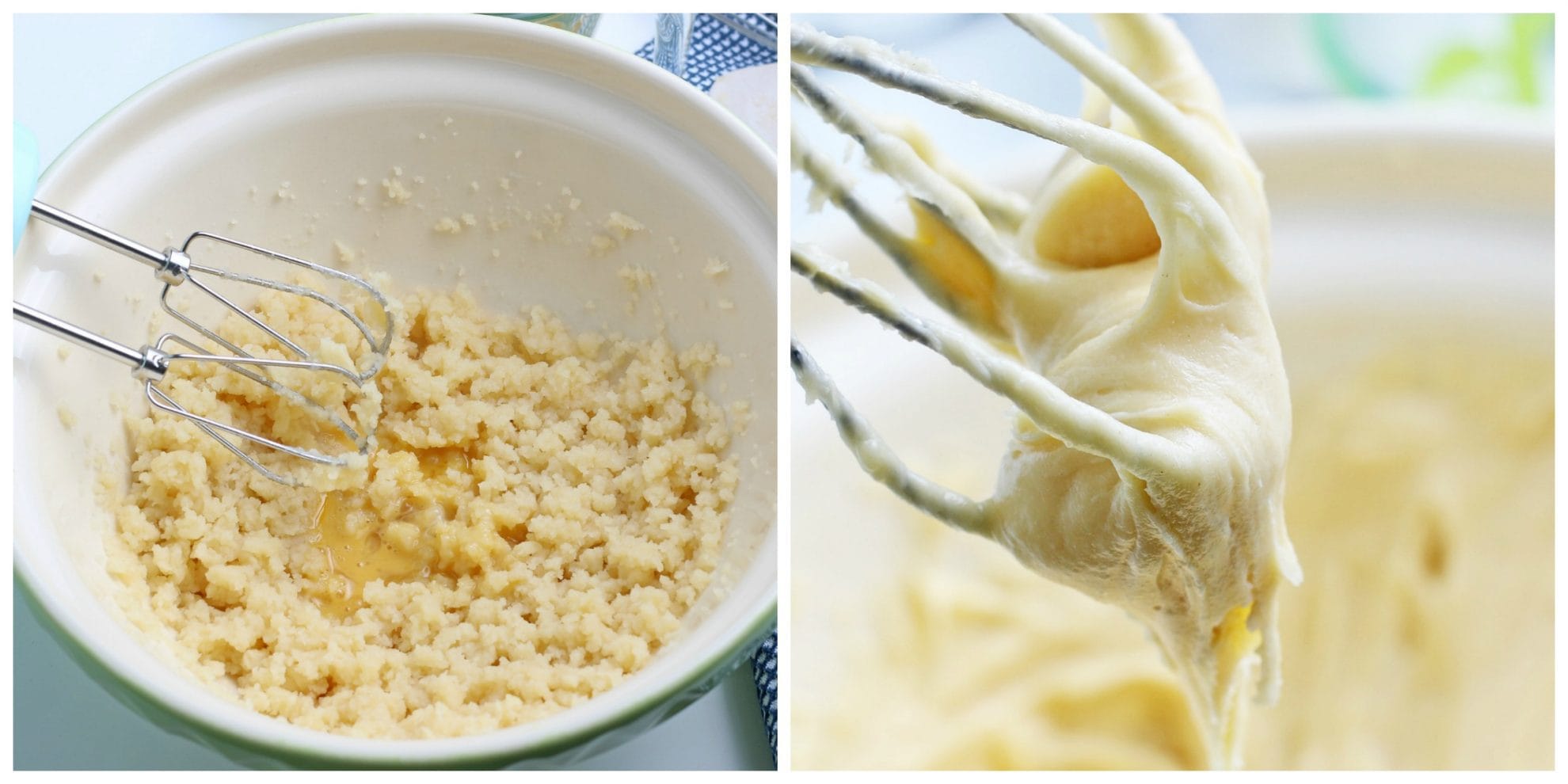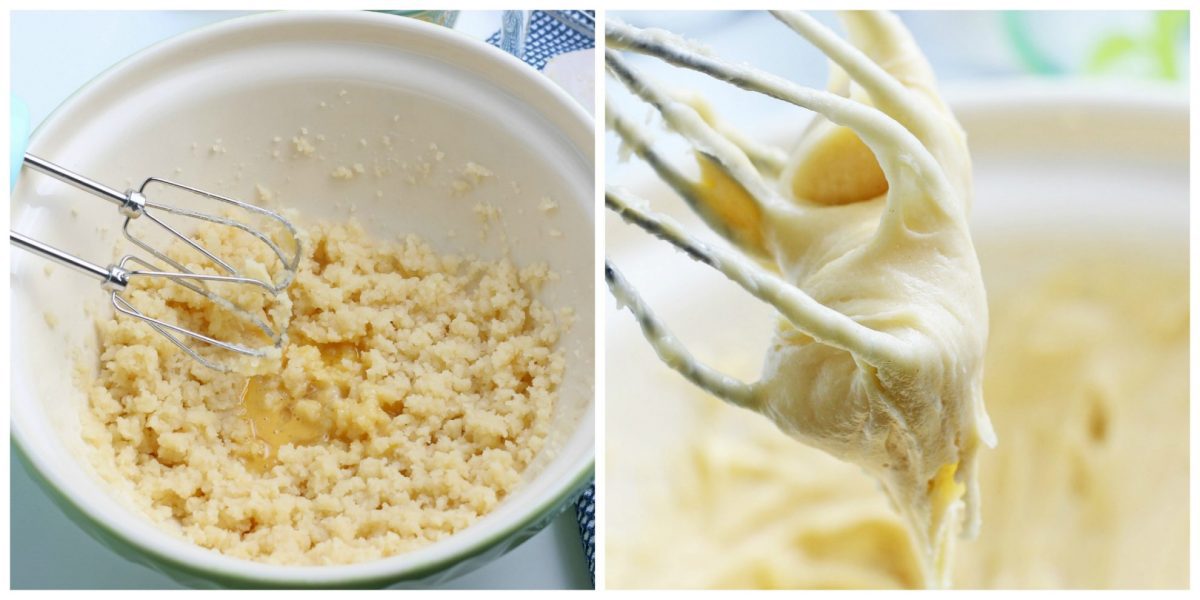 Transfer the dough to your piping bag fitted with a star tip. Pipe directly into a greased air fryer basket. Not having to handle or transfer the dough will prevent breaking. Cut the ends with scissors after making 3-4 inch logs.
You'll have preheated the fryer for a little hotter than you need it knowing it will cool when you remove it to pipe the churros.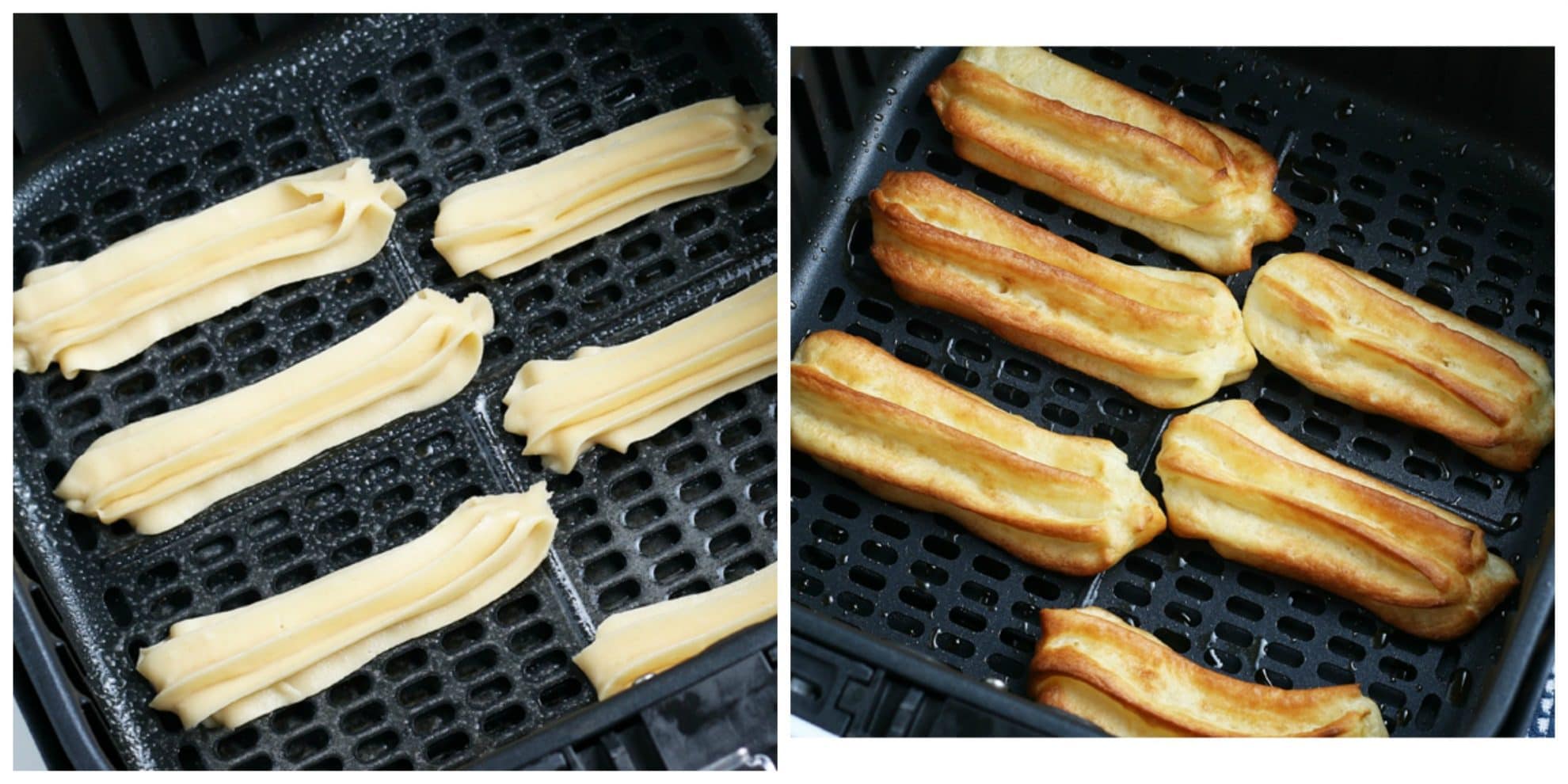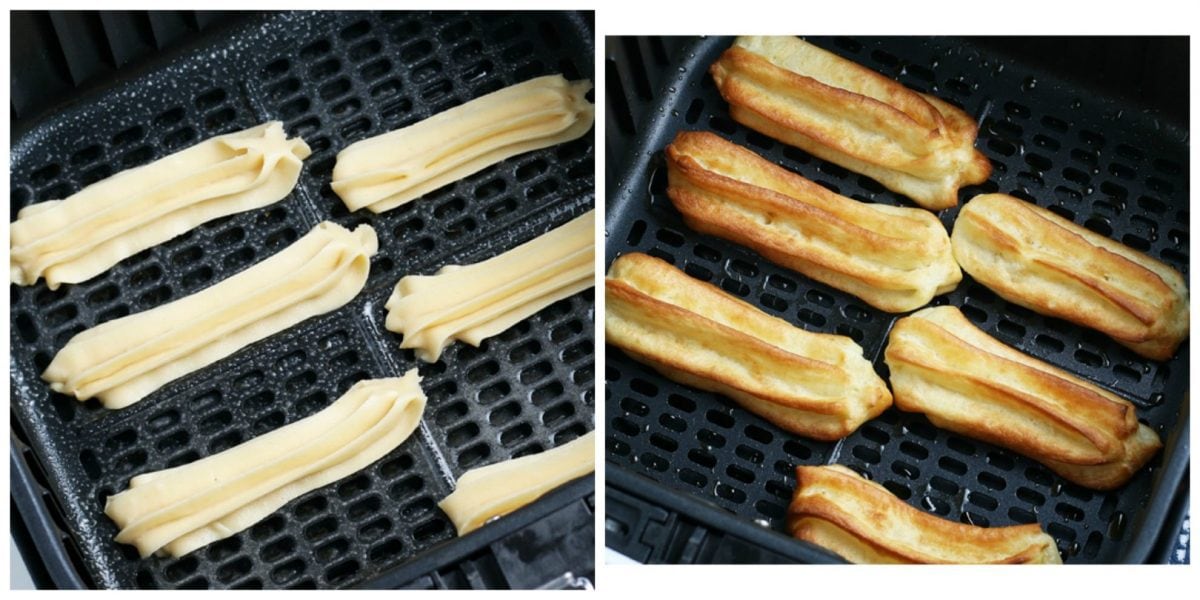 Fry for 6-8 minutes at 375 degrees. Cooking time between air fryers varies greatly. You can do 1 test churro first or just start checking it at around 6 minutes.
Remove when golden brown and toss immediately in cinnamon sugar mixture. It sticks better when they are hot and fresh.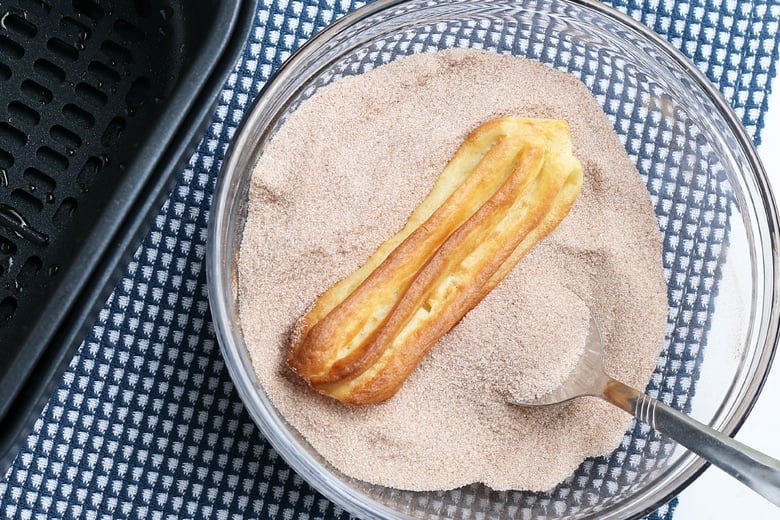 Enjoy immediately with your favorite dipping sauces.
Dipping Sauce
I actually eat mine without any sauce at all, but in my husband will tell you that all foods, including desserts, need dipping sauce.
Tips for Making Air Fryer Churros
A few lumps of flour might remain before adding eggs, that is normal. Just make sure it forms a smooth ball.
Eggy tasting dough or bits of cooked egg is one of the most common issues making churros. To prevent this, allow the dough to cool while adding flour and then use an electric mixing method.
Use 1M star tip and piping bags for best shaped results.
If you don't plan to use the dough immediately, wrap in plastic wrap and refrigerate. You'll need to let it warm for 15-20 minutes before it is the correct temperature and consistency for piping. This can be tricky, I highly encourage you to fry them right after making the dough.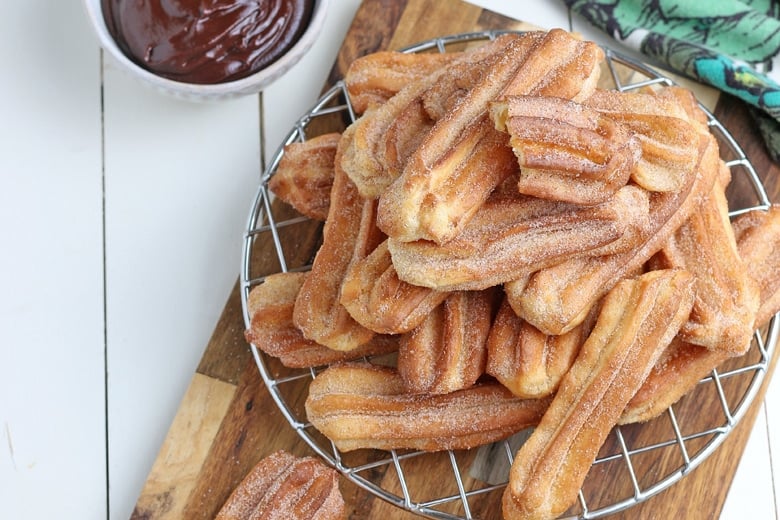 Fry churros in batches and don't let them touch. They need air to circulate all the way around the dough to cook them evenly.
Spray lightly with vegetable or canola oil to get the crispiest results. You can omit this step but they might be a little more chewy than crunchy.
Humidity can impact choux dough and cooking time. Aim for a lower humidity day for best results.
Cinnamon sugar sticks best when they are hot right from the fryer.
Please keep in mind that there are a lot of variables when making this recipe: water content in butter, milk, size of eggs and air fryer brand/type. If you need to make alterations to make sure the dough is correct, please leave those suggestions in the comments for other readers to use as they make their own!
Storage
Air fryer churros are best enjoyed hot and fresh. Leftovers can be stored in an airtight container at room temperature for up to 3 days. Reheat at a low heat in the oven.
I do not recommend freezing churros. They freeze fine, but don't defrost well.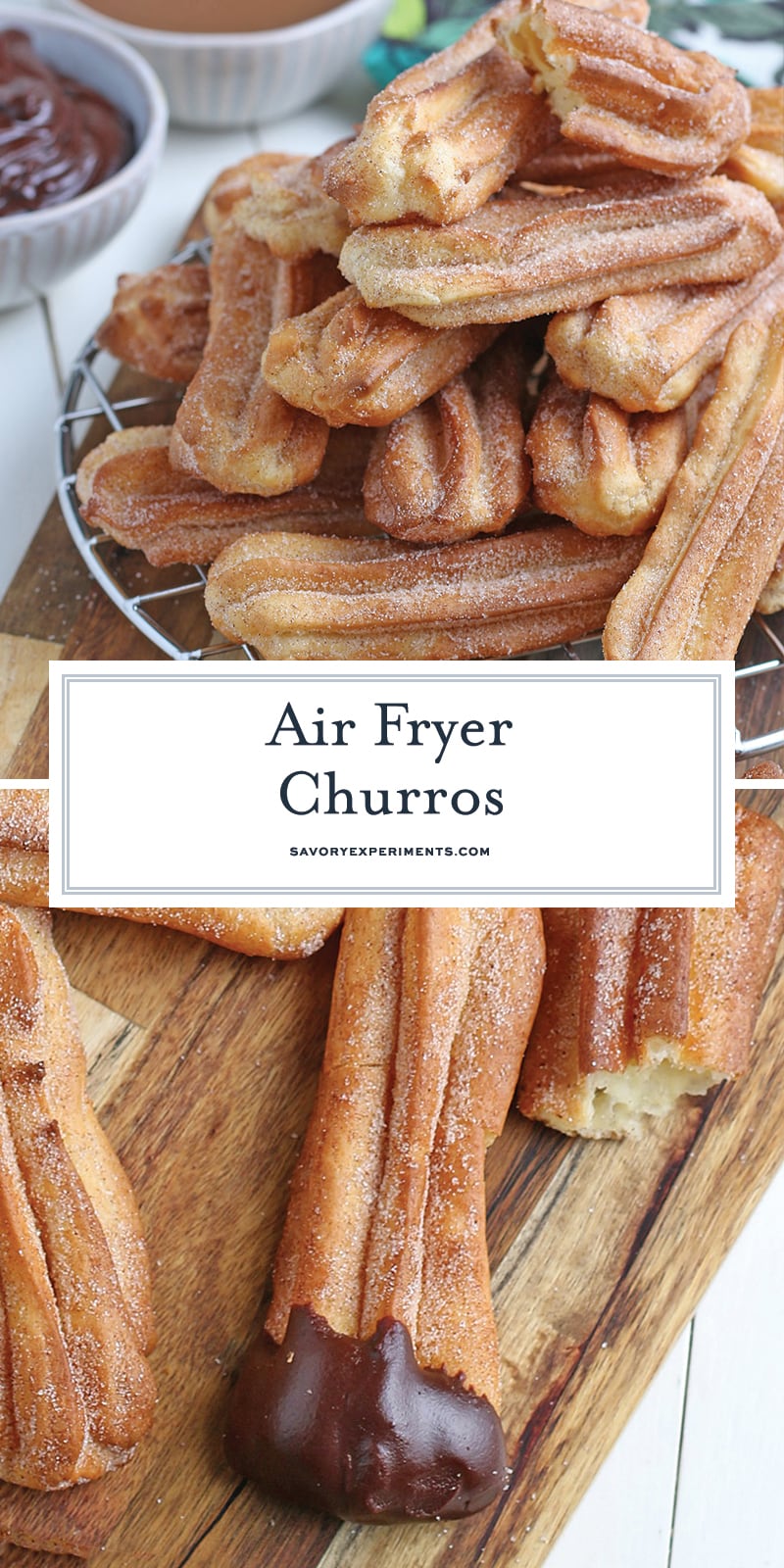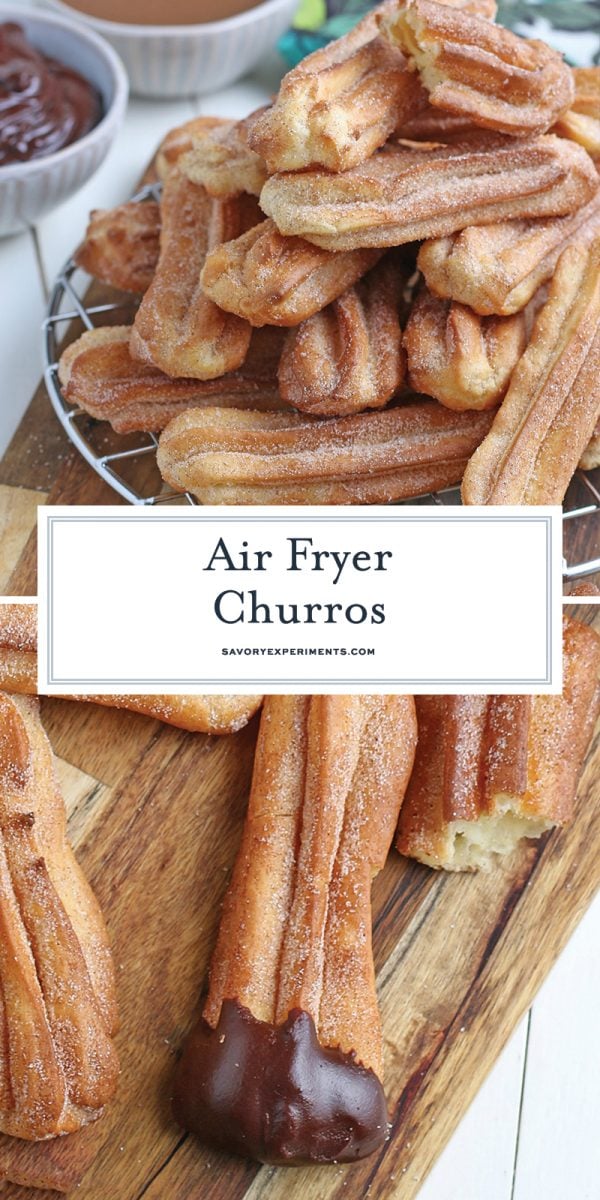 More Air Fryer Dessert Recipes: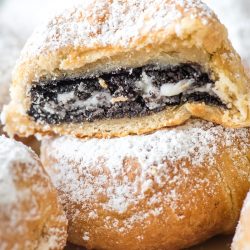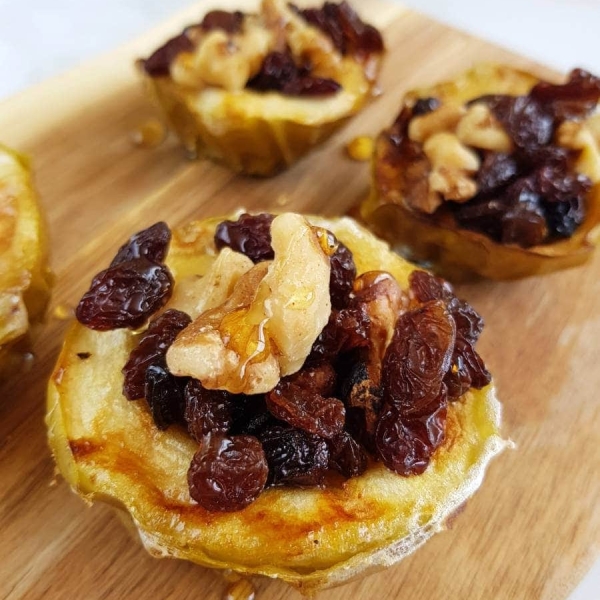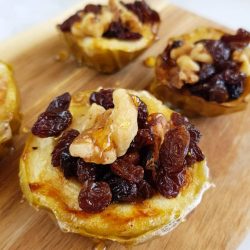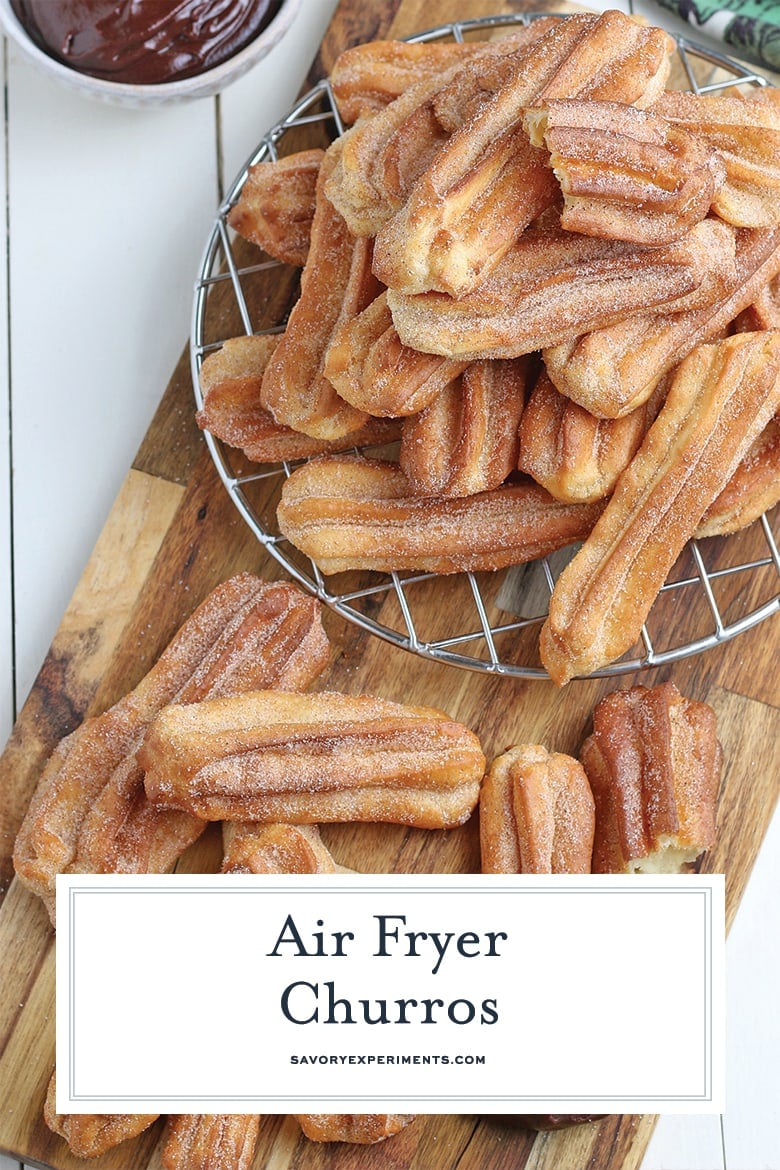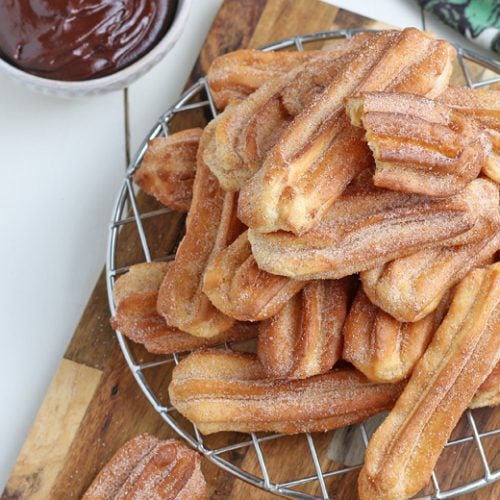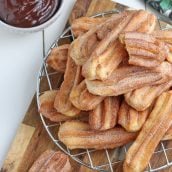 Air Fryer Churros
The perfect churro recipe, crunchy and tossed in cinnamon sugar, but made in the Air Fryer so no mess from frying!
Instructions
In a medium saucepan, bring water, milk, butter and sugar to a low boil over medium heat, stirring frequently. Cook for about 5 minutes at a simmer.

Remove from the heat and quickly stir in flour with a wooden spoon until completely incorporated and it forms a smooth ball. If it doesn't come together, place over low heat until it does, but stir constantly to avoid browning.

Transfer dough to the bowl of a stand mixer fitted with a paddle attachment or a large mixing bowl with an electric mixer. Beat until fluffy.

Preheat air fryer to 400 degrees.

Fit a pastry bag or large plastic bag with a #1M open star decorating tip. Add dough to the bag. You'll most likely need to add dough in batches.

Spray air fryer basket lightly with cooking spray.

Pipe dough directly into air fryer basket into 3-4 inch logs. Cut ends with scissors. Make sure to not crowd the fryer basket.

Lightly spray churros with cooking spray.

Meanwhile, combine cinnamon and sugar mixture in a medium mixing bowl.

Serve hot and fresh with your favorite dipping sauces.

If you've tried this recipe, come back and let us know how it was in the comments or ratings.
Notes
Please keep in mind that there are a lot of variables when making this recipe: water content in butter, milk, size of eggs and air fryer brand/type. If you need to make alterations to make sure the dough is correct, please leave those suggestions in the comments for other readers to use as they make their own!
Nutrition
Calories:
99
kcal
,
Carbohydrates:
13
g
,
Protein:
1
g
,
Fat:
5
g
,
Saturated Fat:
3
g
,
Cholesterol:
31
mg
,
Sodium:
11
mg
,
Potassium:
20
mg
,
Fiber:
1
g
,
Sugar:
9
g
,
Vitamin A:
156
IU
,
Calcium:
14
mg
,
Iron:
1
mg