When it comes to choosing an appetizer, I love going to my cheese appetizer recipes because they are always a hit with a crowd! This Queso Fundido is the holy grail of appetizers, it won't last more than 10 minutes once it's served!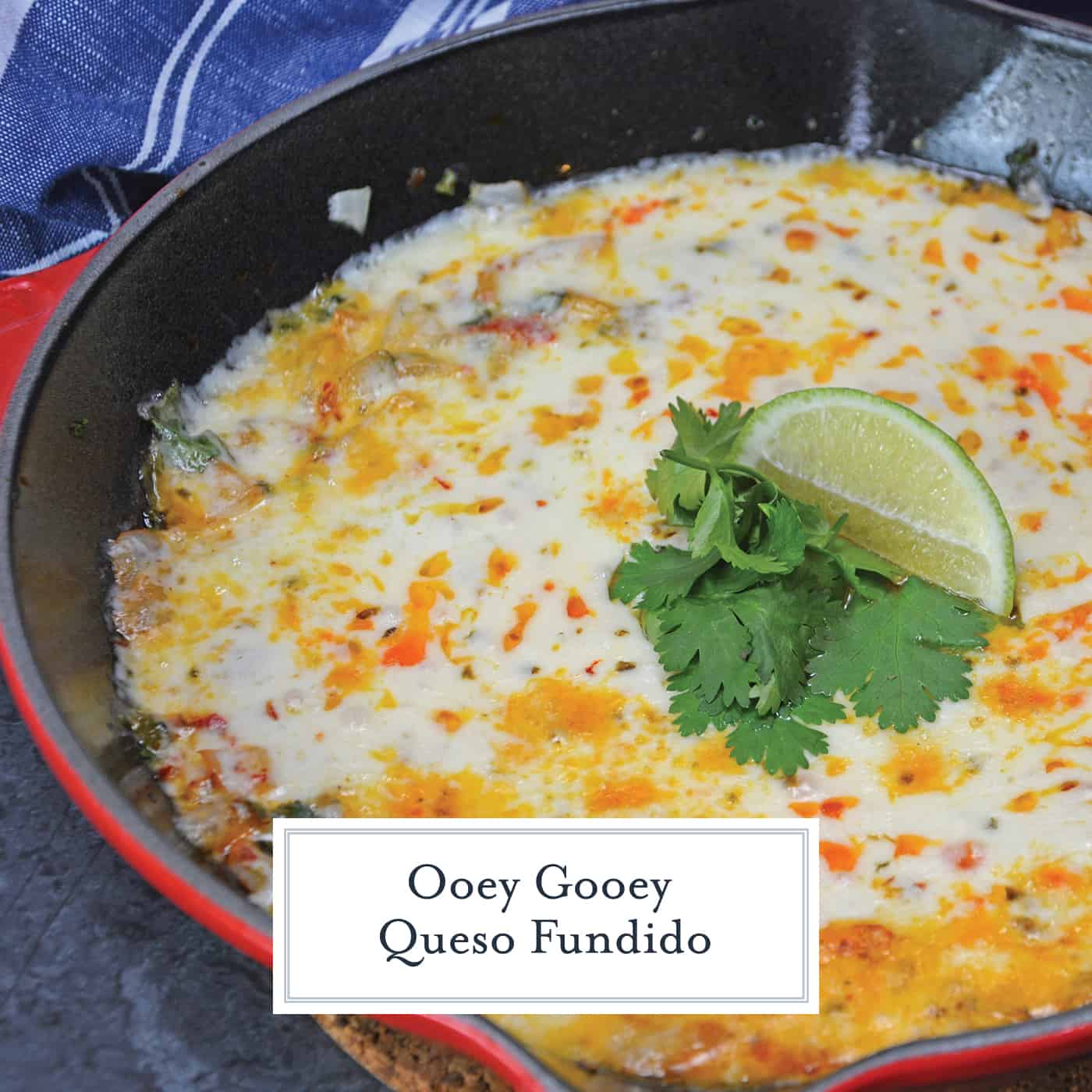 This Queso Fundido recipe is an easy Mexican cheese dip made of chopped vegetables, cilantro, chile powder and shredded cheddar and pepper jack cheese!
I really wish I had a cool Queso Fundido fondue set. Not just any old fondue set though.
The kind with a charcoal brick underneath and space for a moat of homemade tortilla chips surrounding the bottom. Actually, one of the few kitchen appliances I do not own is a fondue set
(hint, hint… hubby).
To make do (please note sarcastic tone) I use a cast iron pan
to make all of my fundidos. First world problems, I know!
Only trick: EAT IT FAST! Cast iron will hold heat longer than other cooking vessels but not as long as a fondue set with fire (or charcoal) to keep it warm and bubbly.
Some folks like to use a small slow cooker, but I find the cheese overcooks and gets all gross after a bit. 
Queso Fundido stood no chance against a group of 5 40-year-old men playing wiffle ball in the street. I spooned out a little bit for myself before presenting the goods. A clean cast iron skillet was returned minutes later.
You would never have known there was cheese in this thing, that is how clean it was.
Now is that point where people are reading wondering when I am going to explain "fundido", unless you have had the pleasure of its company before. Queso fundido is melted cheese.
Not only fun to say… FUNDIDO… it also means "molten" or "melted" in Spanish.
Do you see that Mrs. Maseros? I remember my Spanish from 12th grade! It is similar to a queso recipe, but contains no milk or cream to make it liquidy.
Fundidos are simple recipes of melted cheese. Basically you load all of your ingredients into a baking dish or skillet and cook. I prefer using the oven, but some people use the stovetop. If you do, just use a skillet over medium heat, anything higher will separate the cheese and burn.
You can add a small amount of beer, but it will make it less cheesy and more liquidy. Not the worst thing in the world, right?
Other ways to customize your queso fundido recipe is to add chopped serrano chiles, chopped onions or scallions, garlic, bell peppers and to use a variety of ooey gooey cheeses. Some of my favorites are oaxaca, monterey jack or cheddar. You can even fold in salsa.
You can also use a chorizo mixture, but I have a whole recipe for Chorizo Queso Fundido you can follow. If you do want a cheesy, liquidy dip, check out my White Queso Dip.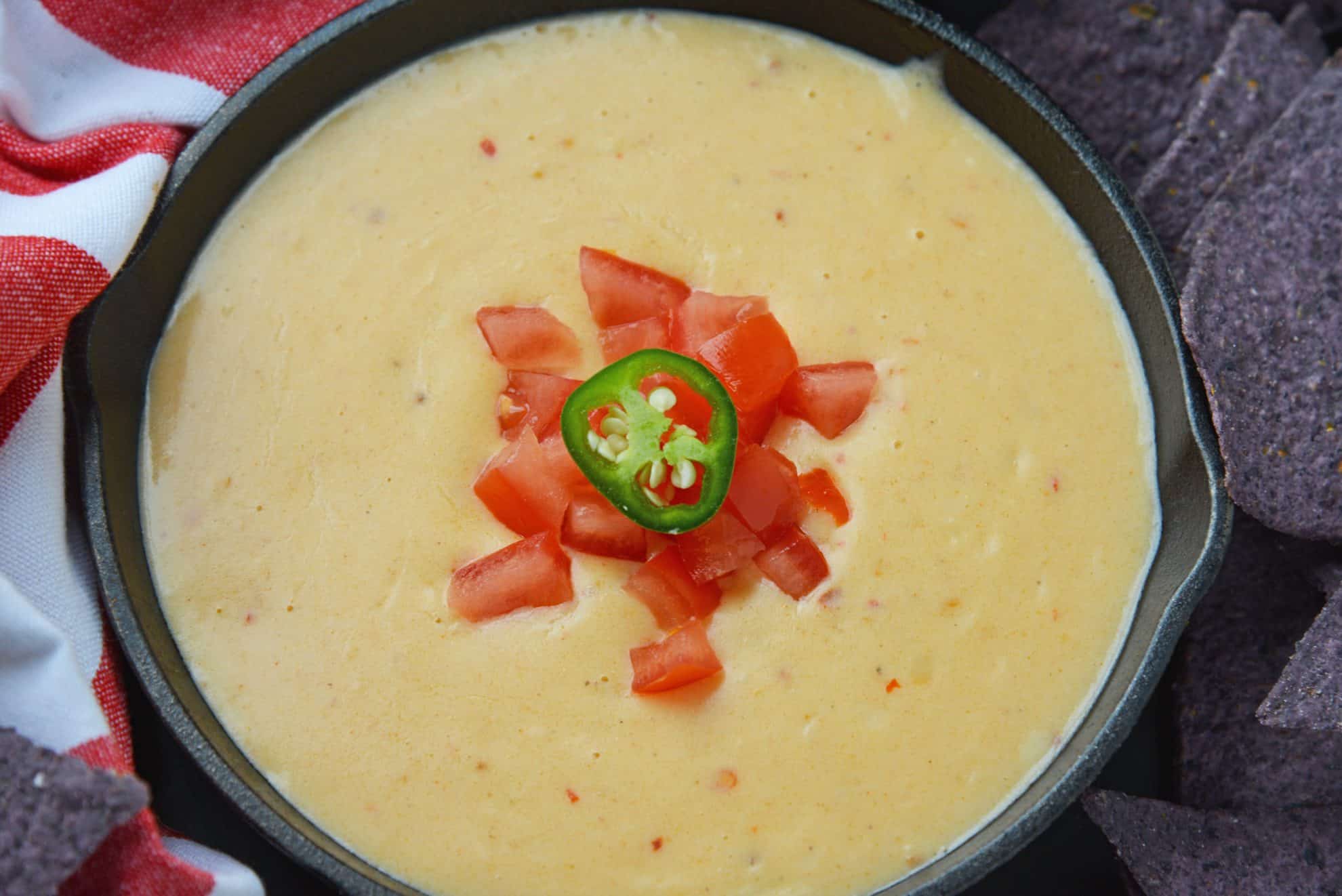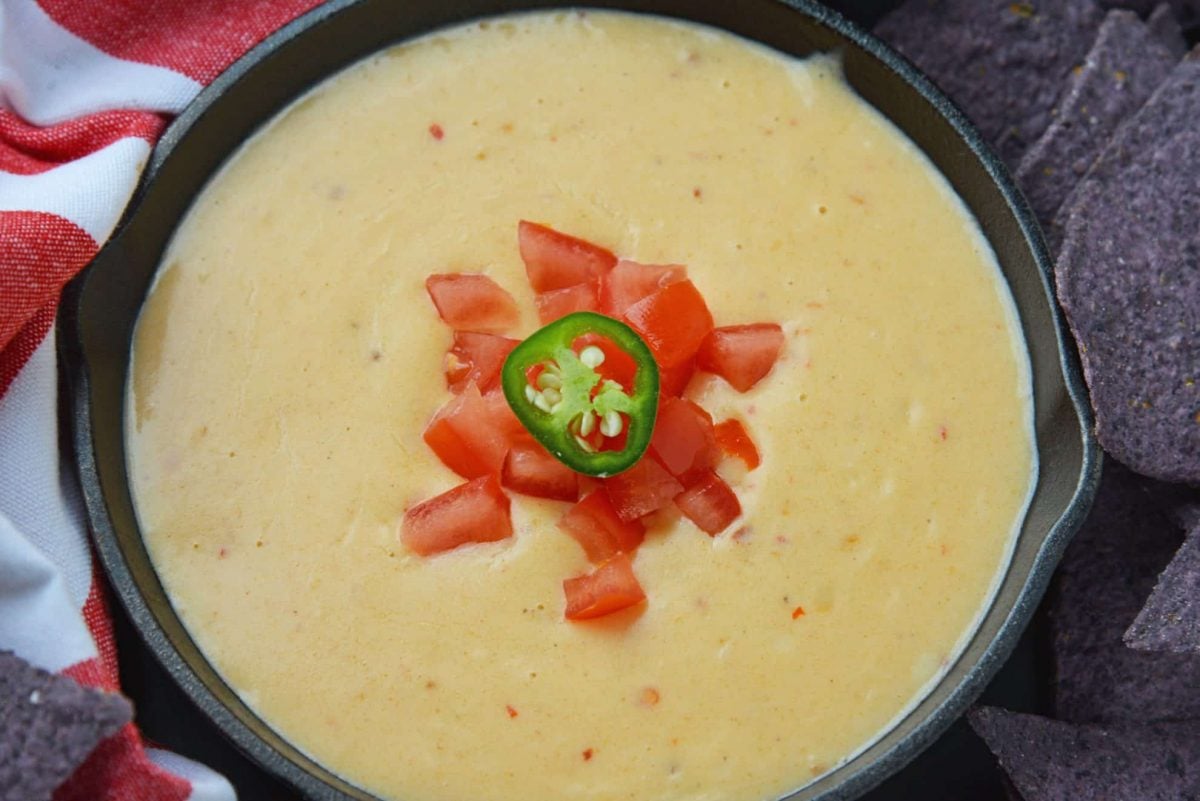 One thing I do suggest for any queso fundido recipe is to shred your own cheese. Pre Shredded, bagged cheese is great, but typically tossed in a special blend of powders to help it not clump together in the bag. This inhibits it from getting really good and melty.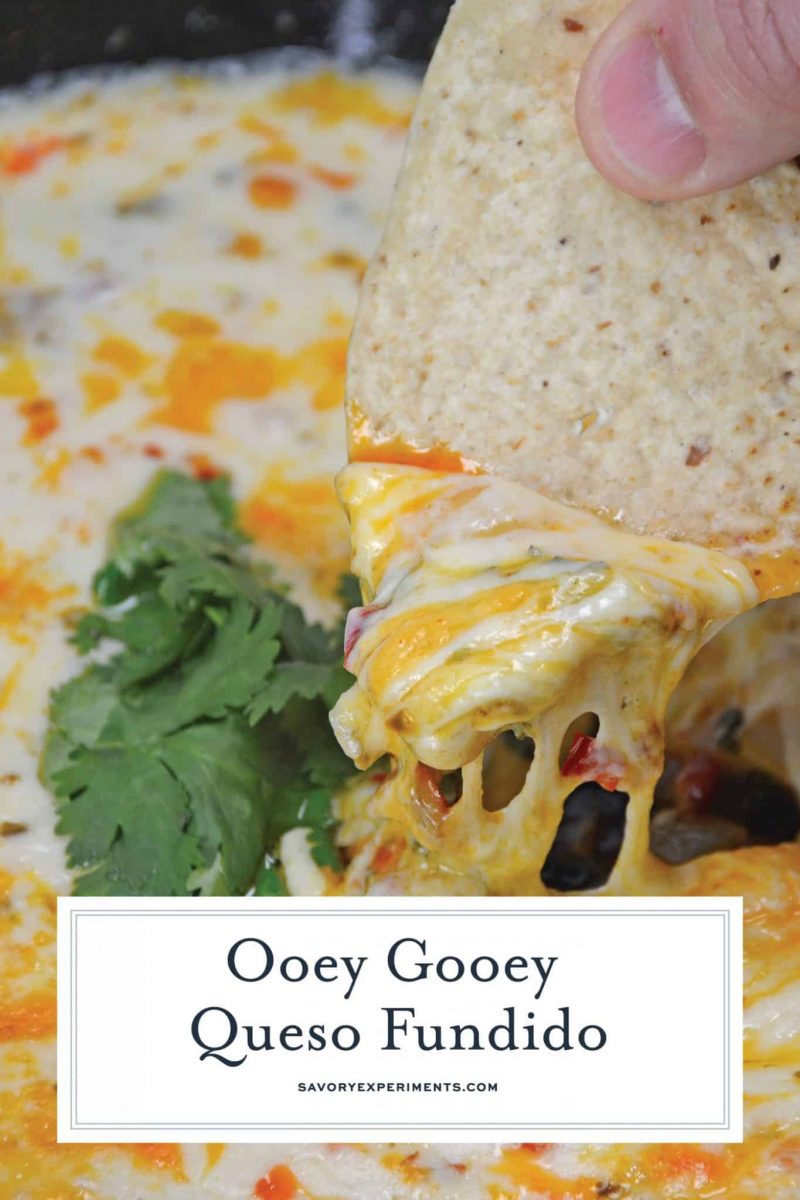 Popcorn Chicken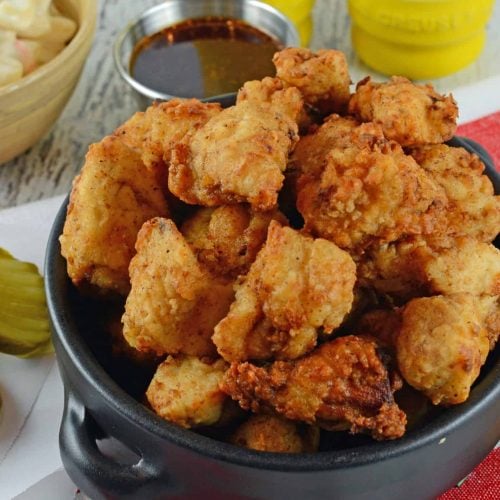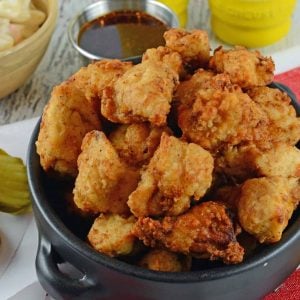 This Popcorn Chicken Recipe is a simple and easy to make deliciously crispy popcorn chicken bites at home. Great for game days, parties or even lunch!
Creamy Spinach and Artichoke Dip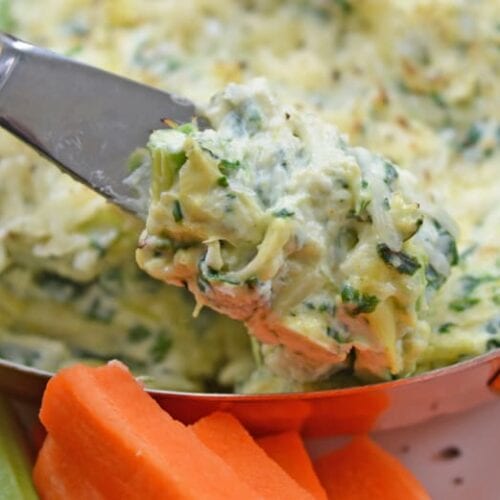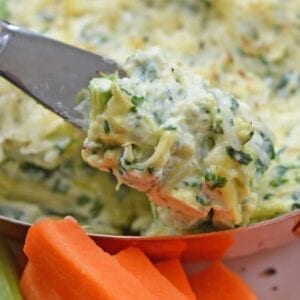 Creamy Spinach Artichoke Dip is the perfect party appetizer. Make ahead and serve chilled or hot with crackers, crostini or vegetables!
Crispy Corn Fritters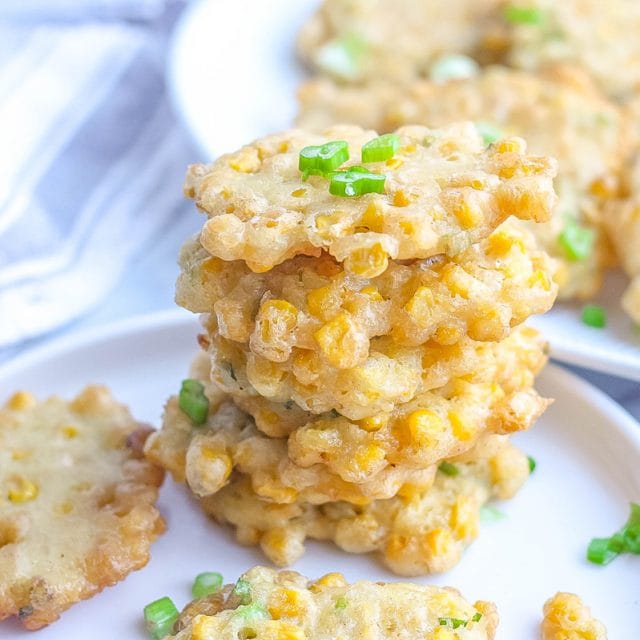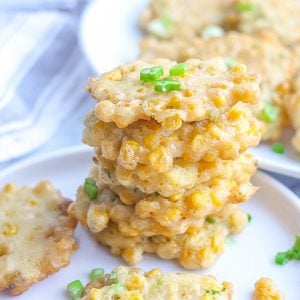 Crispy fritter batter with pops of corn and a hint of scallion. Perfect as a side dish, serving w/ chili or even as a dessert with honey!
Tools for making any melted cheese recipe:
Wood cutting board – wood won't dull your knives like plastic and if treated properly, has natural antimicrobial properties.
Cast Iron Skillet– Yes they are heavy, yes they take a little extra TLC. Are using cast iron pans worth it? YES!!! Just buy one and you'll thank me later! I have both pre-seasoned and unseasoned. I like them both for different reasons.
And after you buy your cast iron skillet, make sure to check out how to season your cast iron and how to clean your cast iron!
Cheese Grater
– See my notes above on the importance of grating your own cheese!
Mixing Bowls– make sure to check out my article on Using the Right Mixing Bowl, you'd be surprised how many people aren't!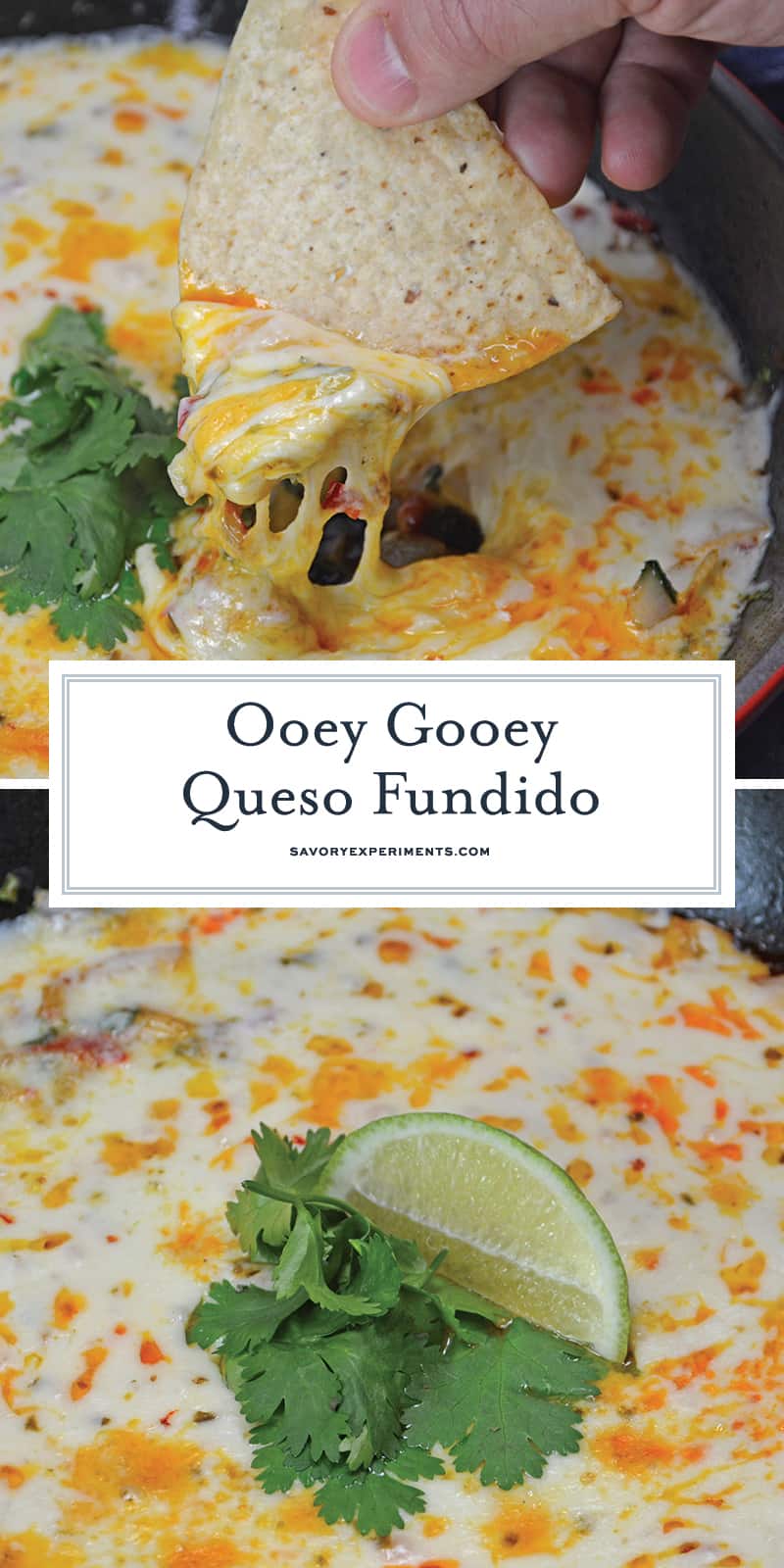 Questions you might have about queso fundido recipes:
Can you reheat queso fundido? You can reheat fundido recipes… if you have any leftovers. LOL. Simple reheat the way you heated the first time. As with any straight melted cheese, I highly recommend against using the microwave. Skillet, fondue pot and slow cooker are your best bets.
You might also want to add a little liquid, like beer or vegetable stock.
Can you freeze queso fundido? Not really… it will just be a brick of frozen cheese. I prefer mine to be fresh and since it is an easy recipe, that isn't tough to do.
This Queso Fundido recipe is an easy Mexican cheese dip made of chopped vegetables, cilantro, chile powder and shredded cheddar and pepper jack cheese! Click to Tweet
How do I eat queso fundido? I think the most popular way is on a chip, but you can also use fresh veggies like carrots and celery. You can also scoop this magical deliciousness on tacos, burritos or even tostadas.
Can I omit the flour? You can, but it helps hold it together.
Is queso fundido gluten free? This fundido recipe is not gluten free, but you can substitute the flour for cornstarch or arrowroot. Use about 2 tablespoons.
CONNECT WITH SAVORY EXPERIMENTS!

Be sure to follow me on social media, so you never miss a post!

Facebook | Twitter | Youtube
Pinterest | Instagram
Get our FREE 8 Day E-Course on How to Be a Better Home Cook. Sign up HERE!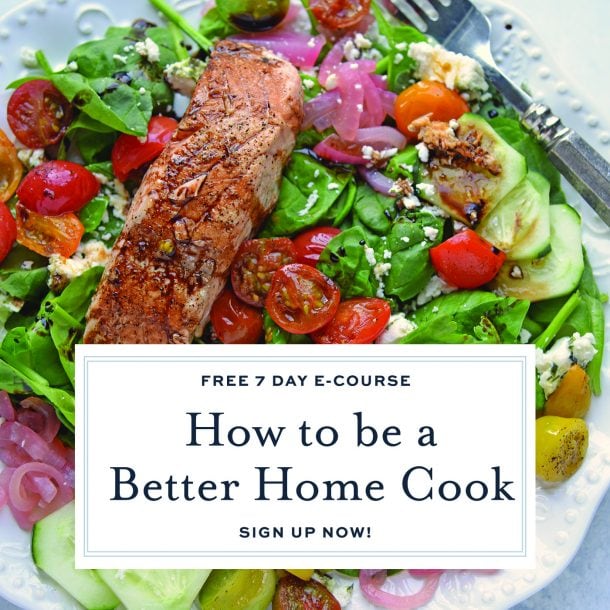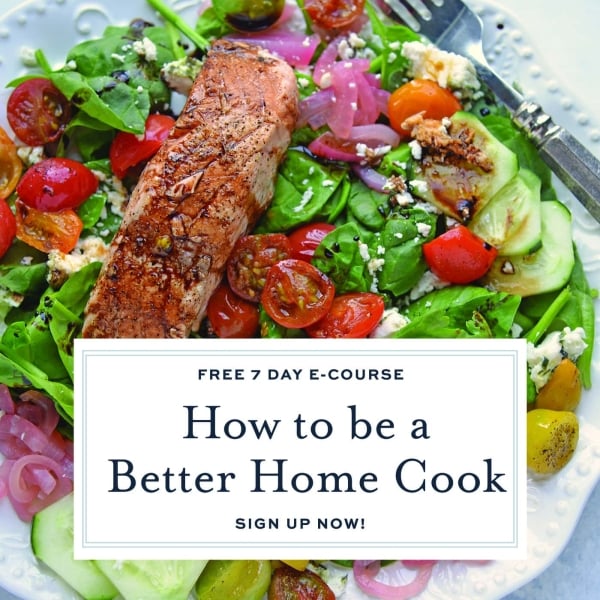 Queso Fundido
Queso Fundido is an easy Mexican appetizer made of chopped vegetables, cilantro, chile powder and shredded cheddar and pepper jack cheese.
Instructions
Heat medium cast iron skillet over high heat. When hot, add vegetable oil.

While cast iron skillet and oil are heating, toss cheese and flour together in a medium mixing bowl. Set aside.

When oil has heated add diced white onion, diced peppadews, 1/2 cup cilantro, diced jalapeno and chili powder. Stir for approximately 5 minutes, or until vegetables or soft. Remove from heat.

Preheat broiler and place oven shelf 4-5 inches away from heating mechanism.

Add cheese and flour mixture directly to the cast iron skillet. Arrange in an even layer and attempt to stir into vegetables. It might get a little stringy and clump, at which point, just leave it alone.

Place under broiler for 3-4 minutes or until cheese is melted, brown and bubbly.

Remove and top with the juice of one fresh lime and 1 tablespoon chopped cilantro. Serve with tortilla chips. Enjoy your Queso Fundido con Verduras!
Notes
Peppadews can be found in the Olive Bar section of your grocery store. They are generally already pitted and marinated in olive oil. Drain and pat dry before using. If you are unable to find them, substitute red bell pepper. If you enjoy Peppadews, try Peppadew Poppers!
Nutrition
Calories:
273
kcal
|
Carbohydrates:
18
g
|
Protein:
12
g
|
Fat:
17
g
|
Saturated Fat:
10
g
|
Cholesterol:
38
mg
|
Sodium:
290
mg
|
Potassium:
106
mg
|
Fiber:
1
g
|
Sugar:
7
g
|
Vitamin A:
645
IU
|
Vitamin C:
10.6
mg
|
Calcium:
346
mg
|
Iron:
1.1
mg