This Spanish Rice recipe is fluffy, packed with Spanish inspired flavor and a family favorite. This rice dish is very easy to make and requires one pot and about 40 minutes. Top with fresh cilantro or peppers for the perfect finish!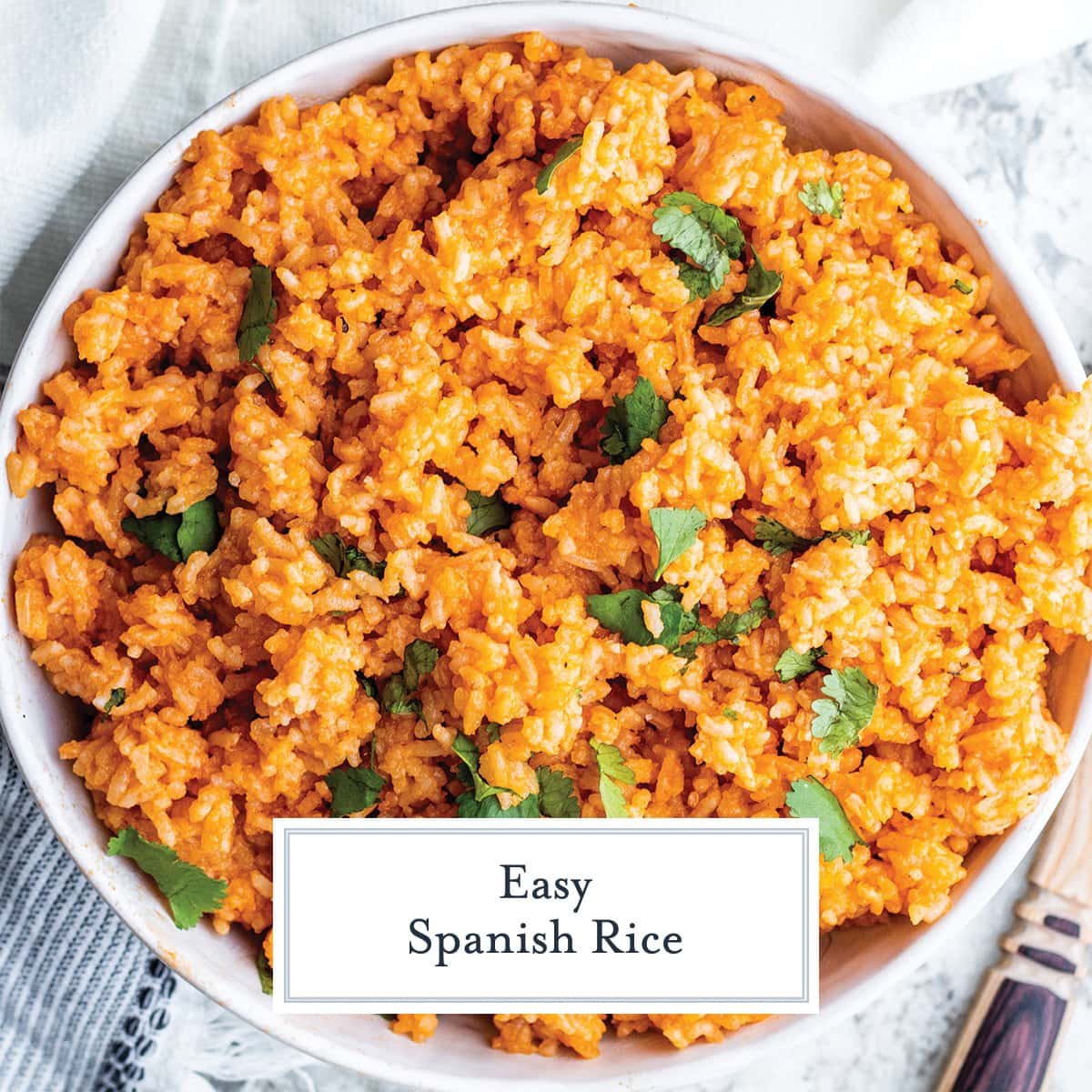 Spanish Rice vs. Mexican Rice
Although they might sound interchangeable, they actually do have a key difference. Traditionally, Spanish Rice has a more yellow color and is seasoned with spices like saffron and turmeric to get its hue. It is also made with a long grain white rice.
Mexican rice is seasoned with cumin and has a tomato base giving it a more red color and different texture. In America, the two names have become interchangeable despite very large difference in spices and geographic origination.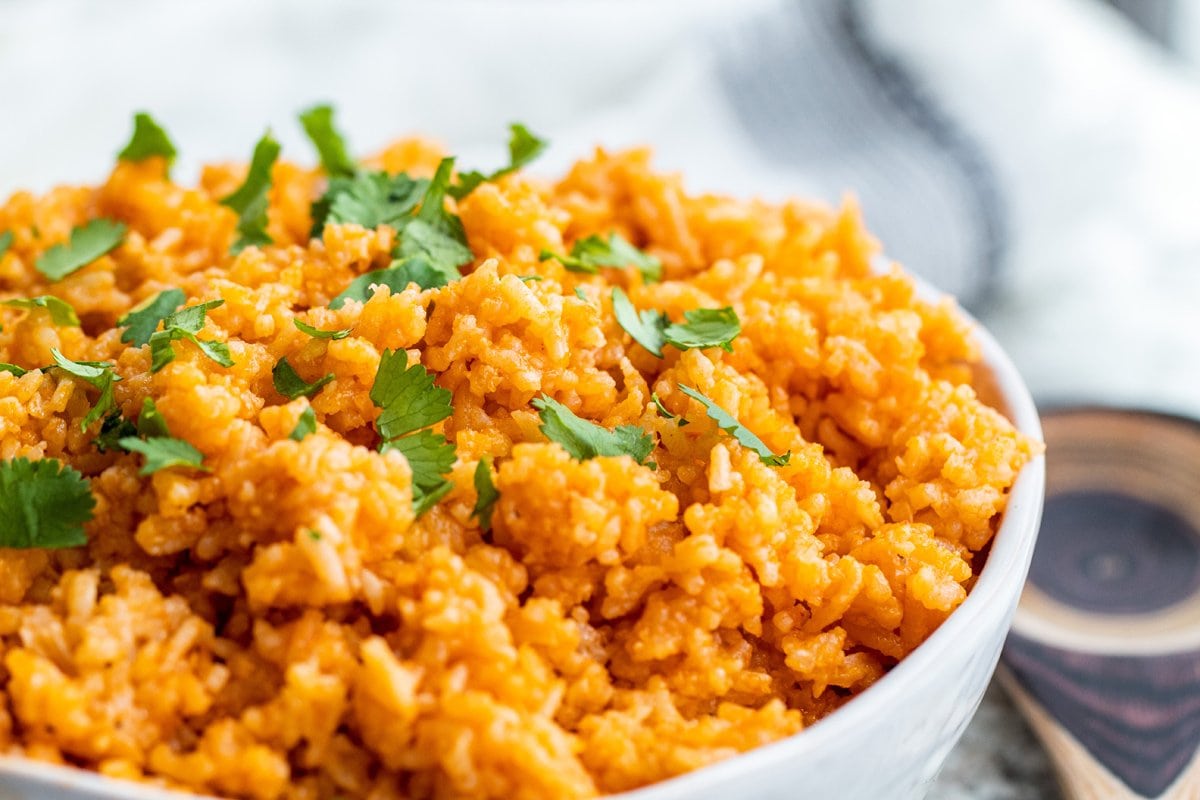 How to Make Spanish Rice
Word to the wise, don't rush cooking rice. Many folks want to crank the heat to speed up the process, but then the rice won't be the correct texture.
Wash rice with water several times until water runs clear. This prevents rice from being gummy.
Next, heat olive oil and brown the rice, add garlic towards the end of browning.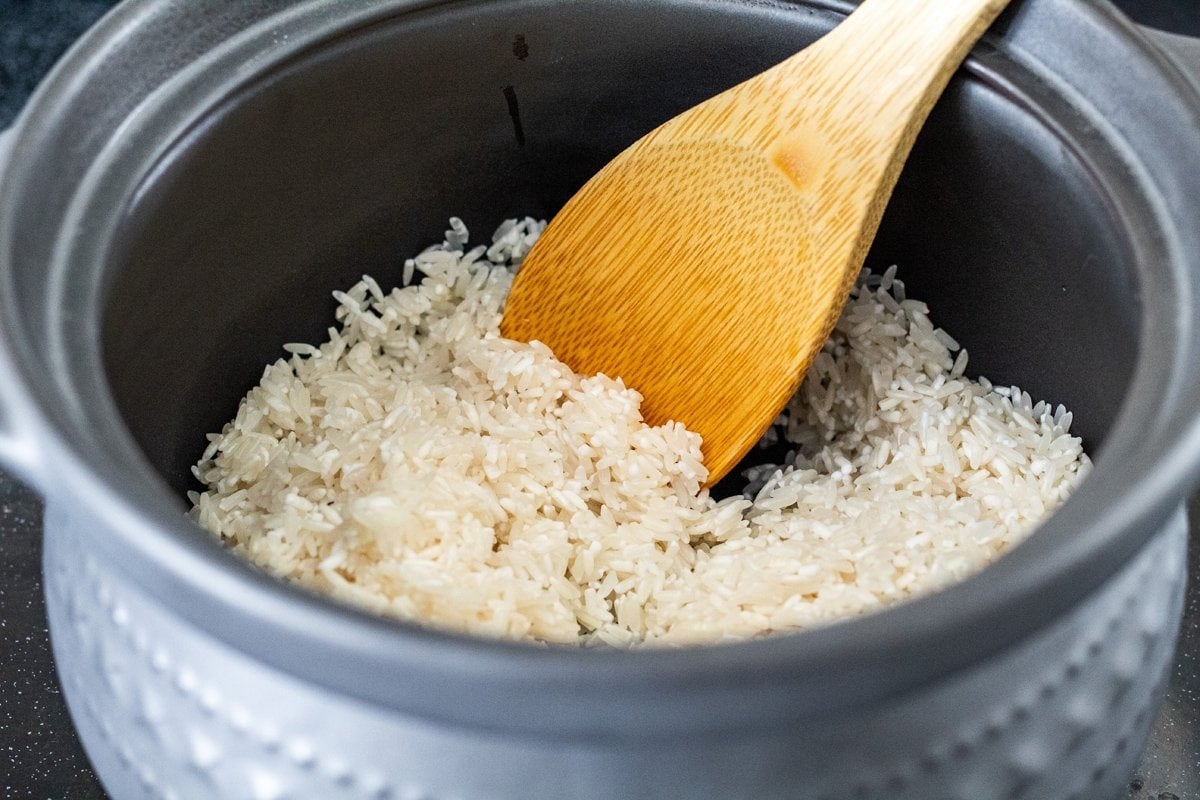 Add all of the remaining ingredients to the pot and stir to combine. Bring to a boil, then lower heat to a simmer and cover.
Once cooked, use a fork to fluff the rice, then serve warm with toppings and main dish of choice.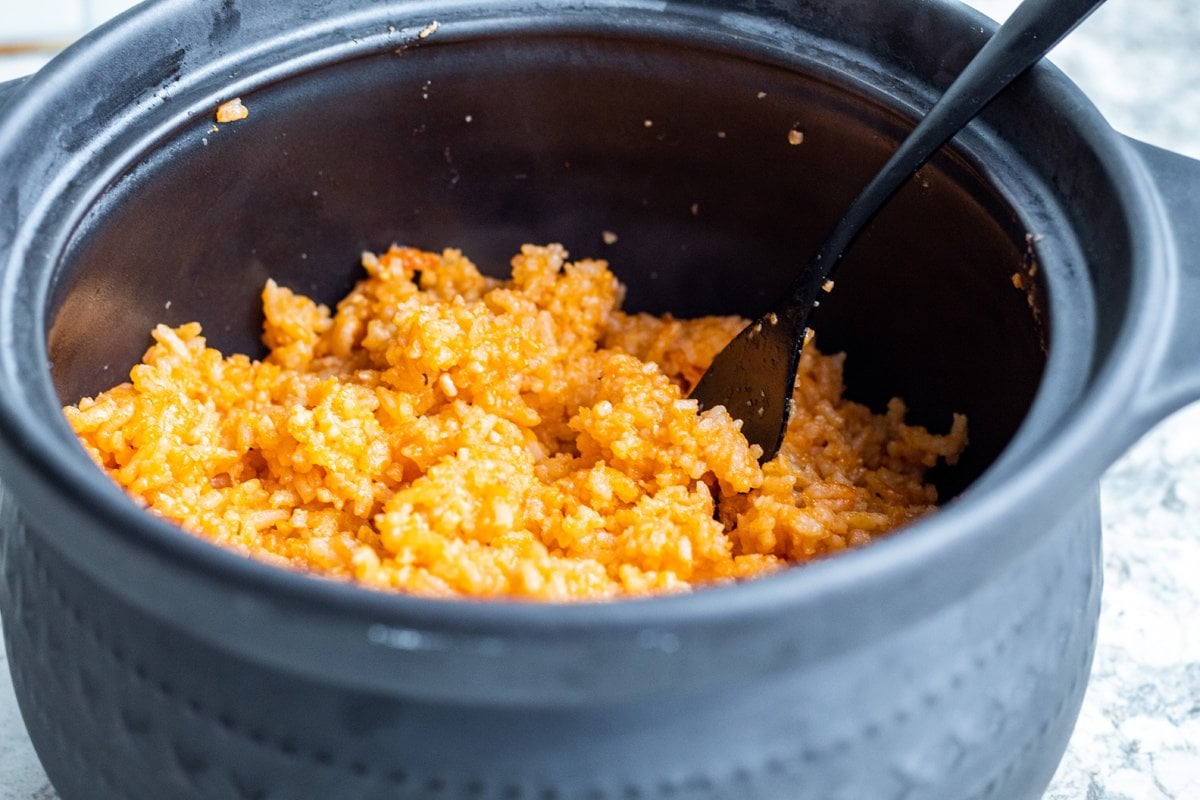 Spanish Rice Instant Pot Instructions
Wash rice with water several times.
Add the rice and olive oil to the bowl of the Instant Pot and turn on SAUTE mode, browning well and then adding garlic.
Next, add all of the remaining ingredients to the bowl and stir to combine.
Cover and seal, cooking on high pressure and using a natural release.
Once the pressure is released, remove the lid and use a fork to fluff the rice.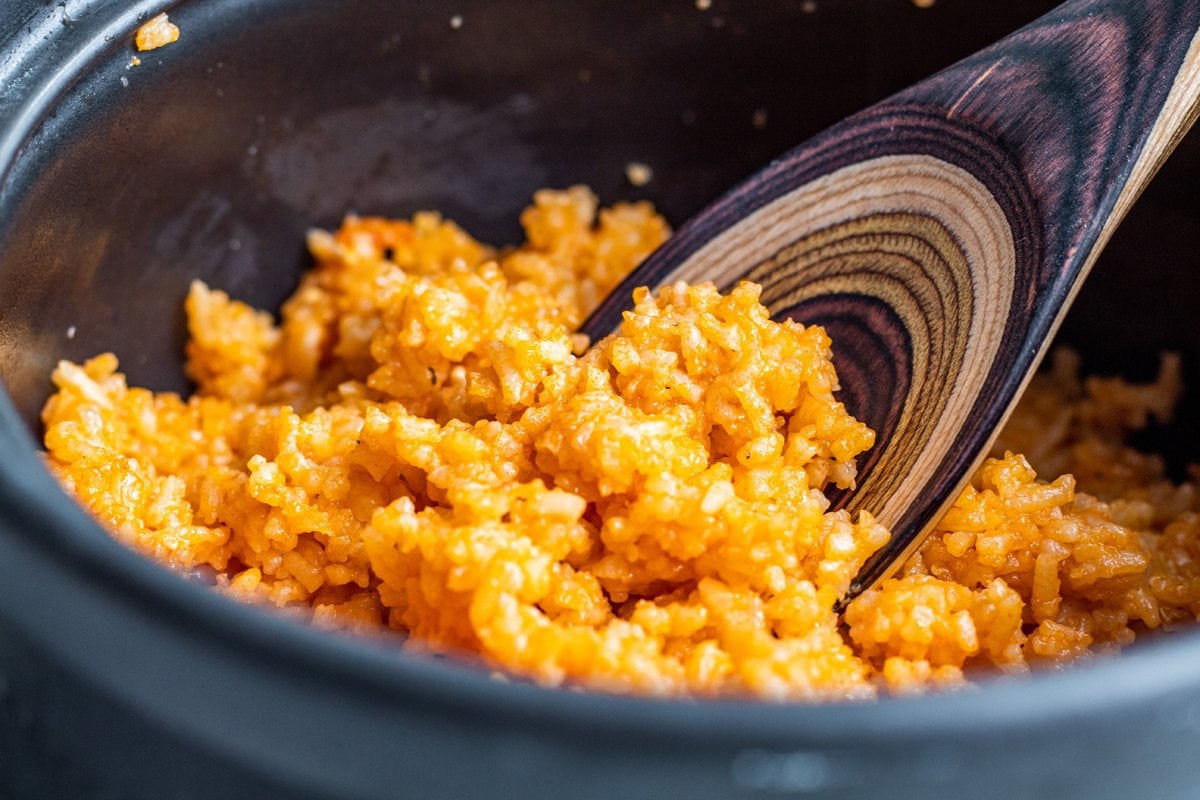 Tips & Suggestions
Wash the Rice: Before starting your Spanish rice be sure to thoroughly wash and rinse your rice of choice with water. This will help remove the surface starch from the rice meaning it will get fluffy when cooked and not gummy. You can use a bowl or strainer to wash your rice.
Rice Suggestions: I like to use long grain rice because I find it gets fluffier and cooks better than short grain rice. You can use brown rice if you wish, but the cook time will be different. oir brown rice you will need to cook your rice longer for 50-60 minutes.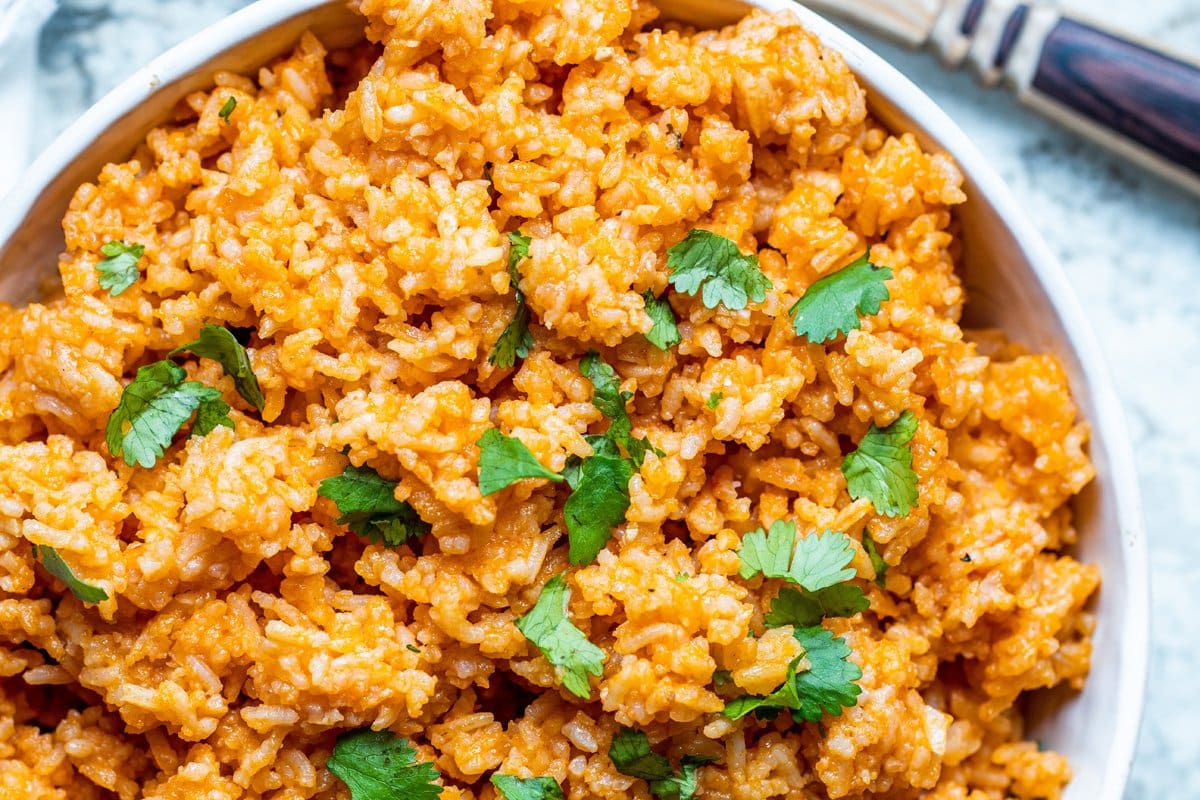 Tomato Sauce Hack: If you want to add more flavor to your rice you can swap the tomato sauce out for your favorite salsa. This will also add more heat.
Spanish Rice Pairing Ideas
Spanish rice is delicious be itself, but you can also jazz it up and make it into a beautifully prepared side dish or even entree. Here are my favorites:
Fresh cilantro
Jalapeno
Chopped onion
Chopped bell pepper
Fresh parsley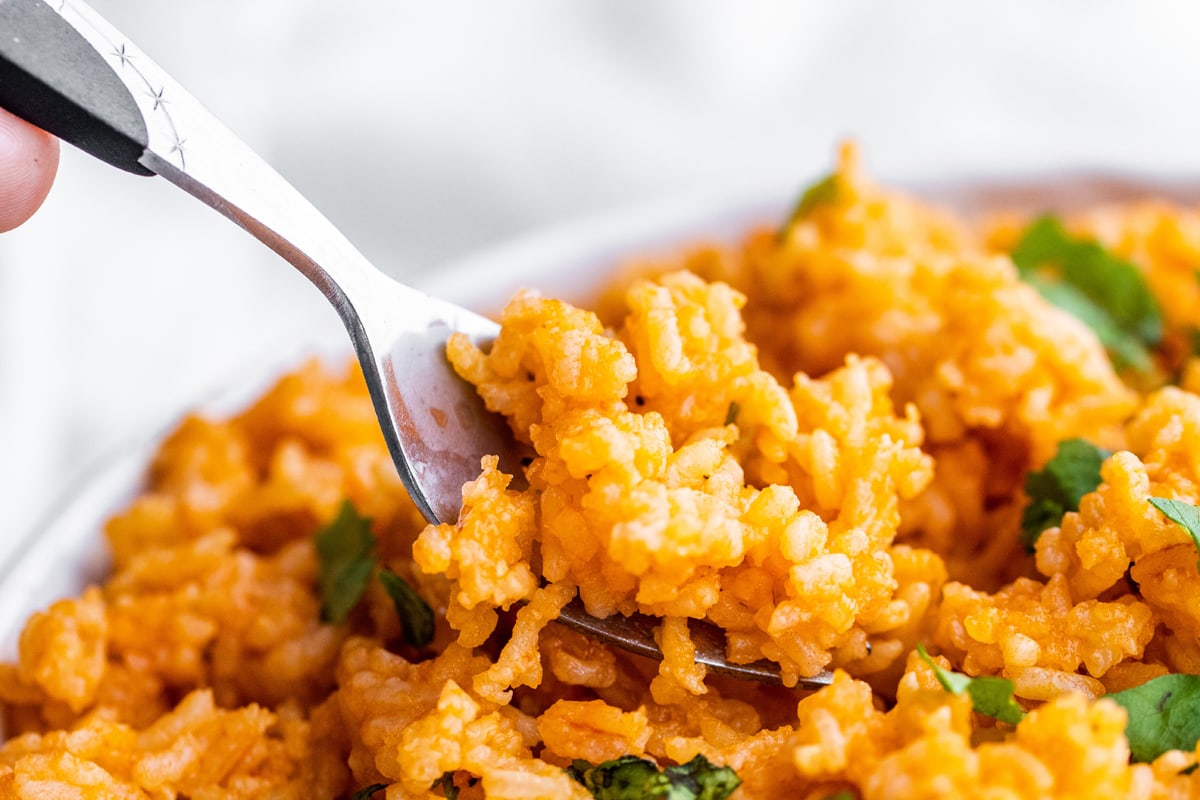 Other variations including adding chopped canned tomatoes to the finished rice, grated bell pepper or pimento or even rinsed black beans or pinto beans.
As an entree, pair with smoky grilled flavors, especially seafood like Grilled Snapper, Grilled Chicken or Spanish Chicken. I also love it with seared scallops and chimichurri steak.
Storage & Freezing
How much rice should I make per person? As a general rule, I usually make ¼ a cup of uncooked rice per person. This will result in about 1 cup of cooked rice per person. If you want a larger or serving of rice then please adjust accordingly.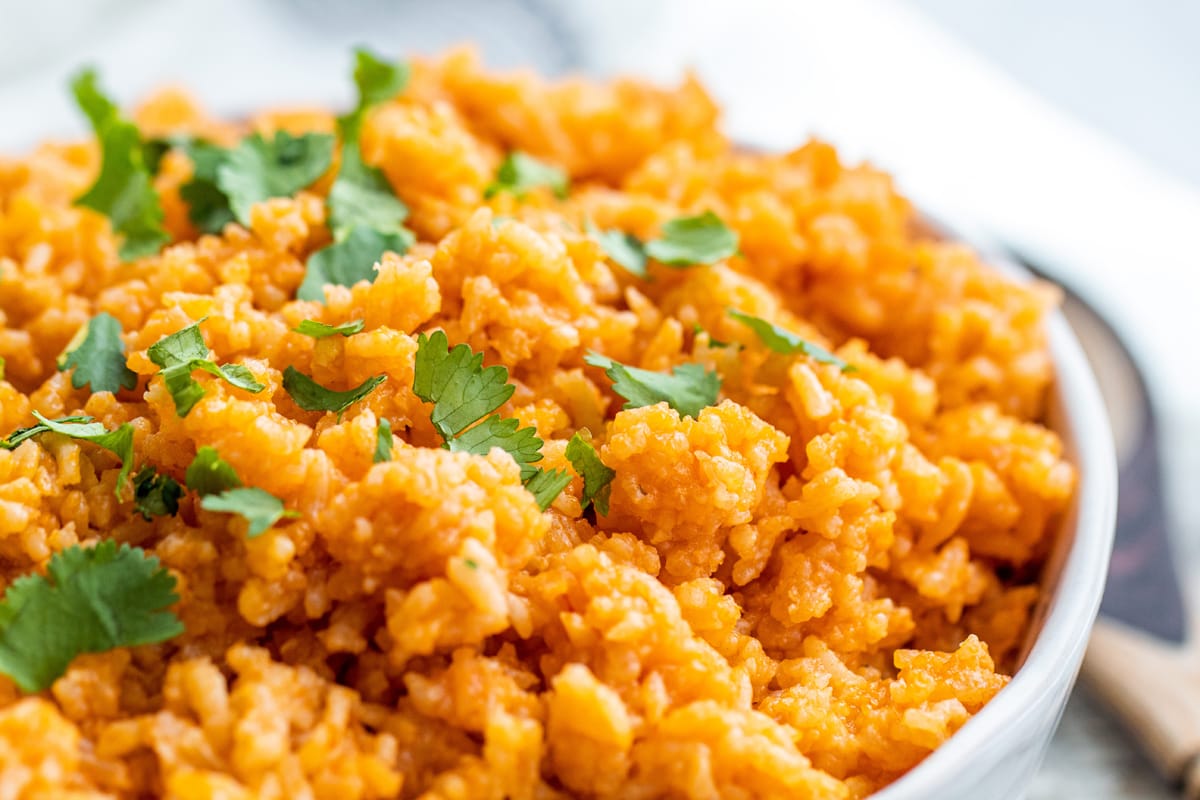 However, if you have leftover, you can store leftover rice in an airtight container for up to 6 days. Reheat in a microwave or on the stovetop until warm before serving.
Cooked rice can be frozen for up to 3 months. Let the rice cool completely then seal in an airtight freezer bag and store flat in the freezer. Reheat directly from the freezer or let thaw overnight in the fridge when ready to serve.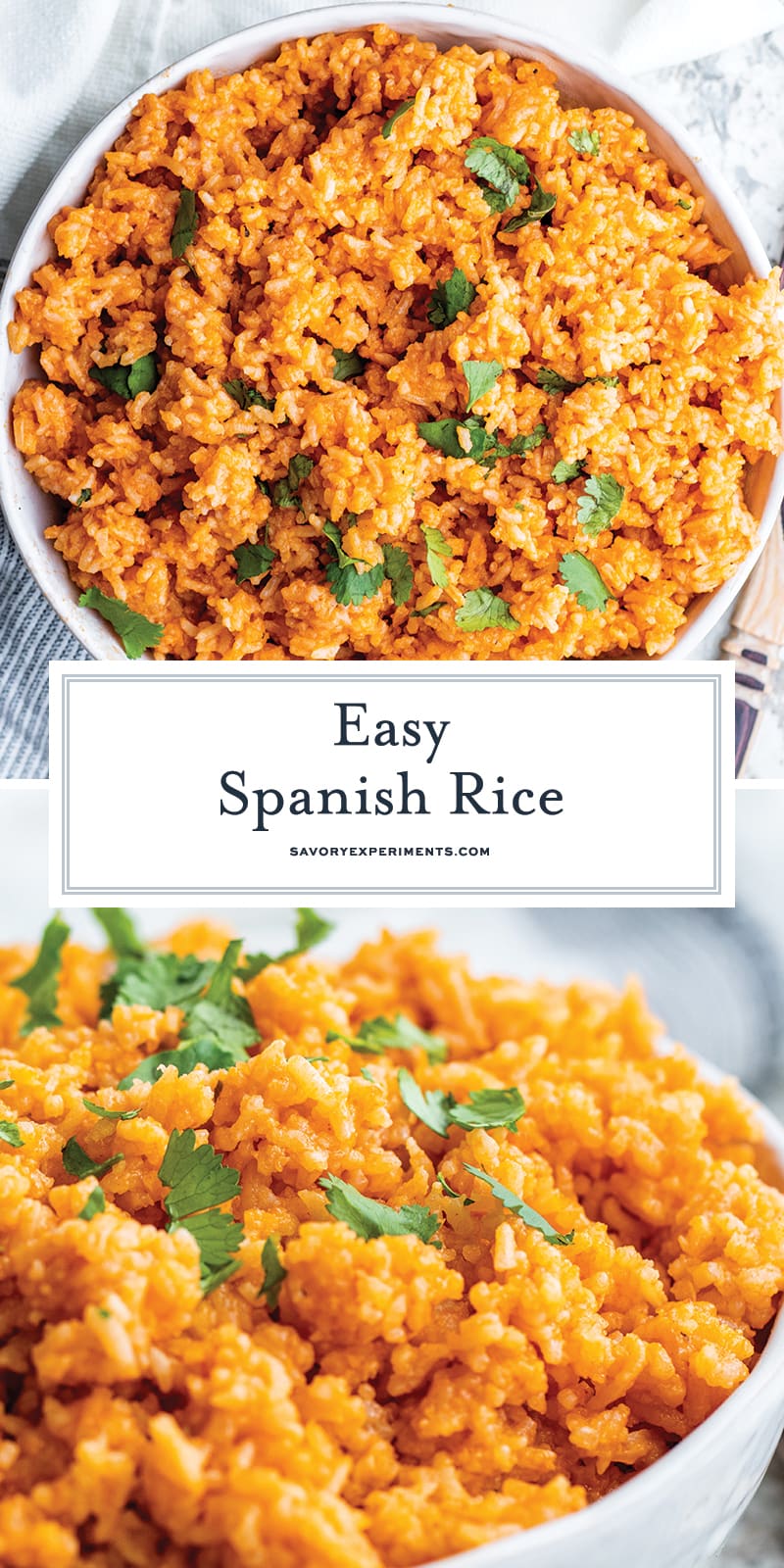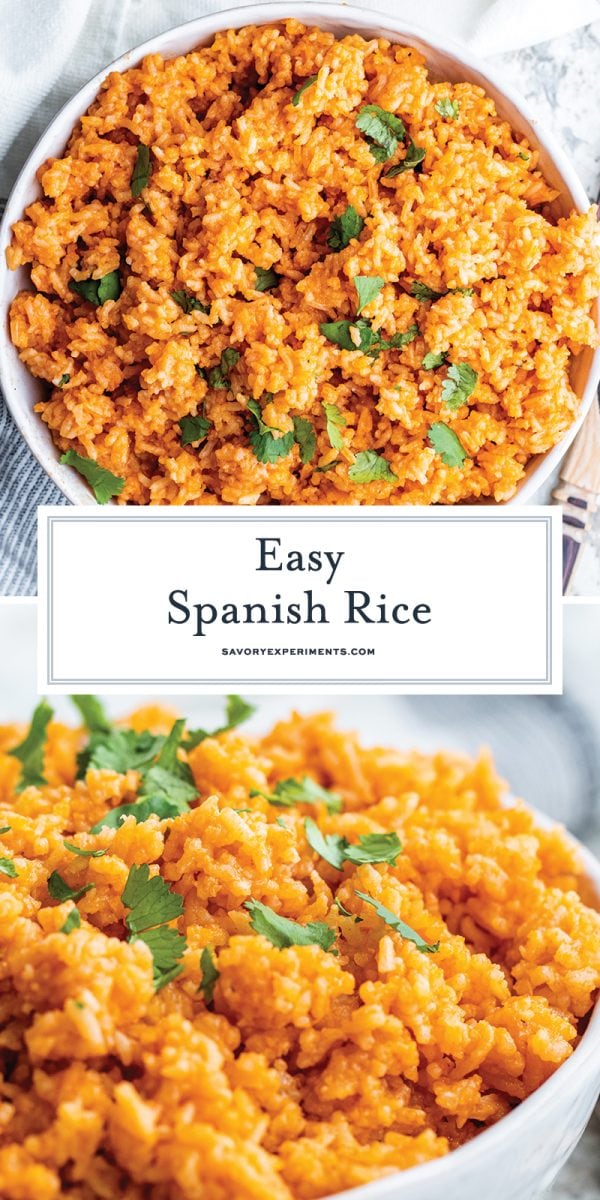 More easy rice recipes: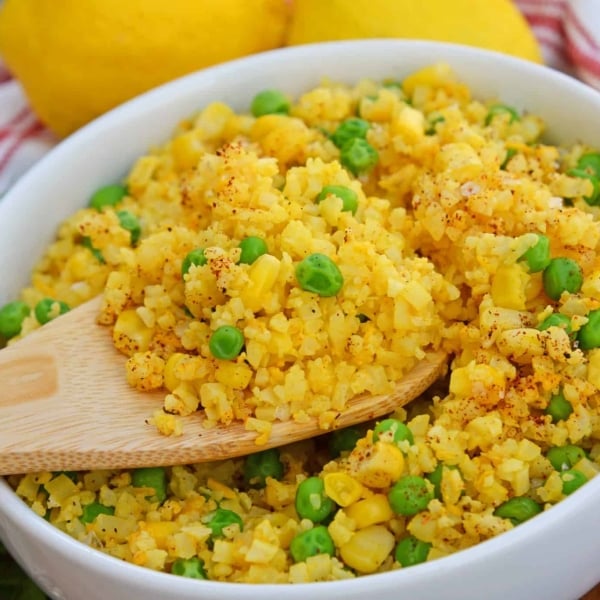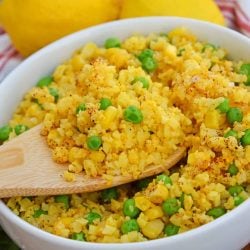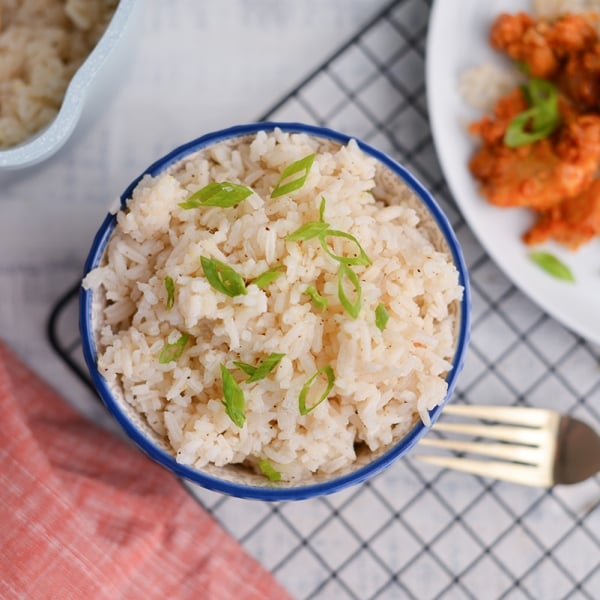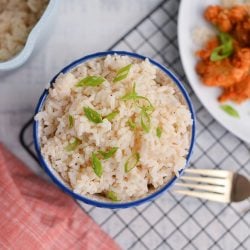 Ginger Rice Recipe
Ginger Rice is one of my favorite jasmine rice recipes. It pairs perfectly with many Asian dishes and adds much more flavor to meals than traditional white rice.
See The Recipe!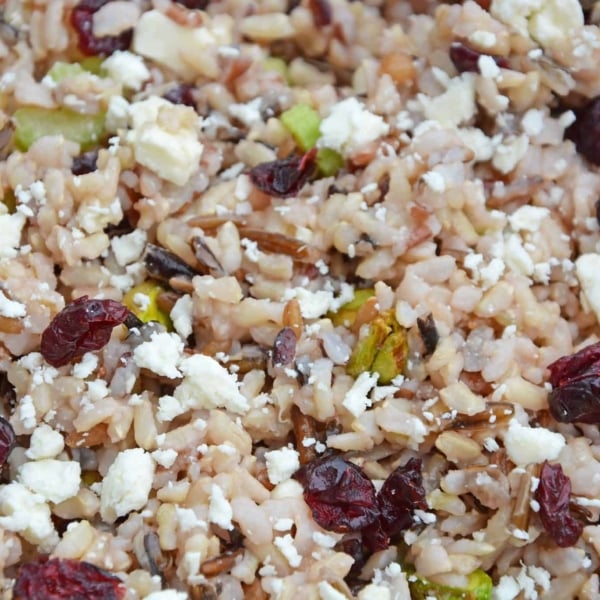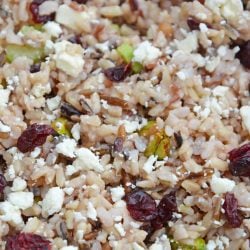 Wild Rice Pilaf
This Wild Rice Pilaf recipe is an easy side dish for your next potluck, picnic or dinner. Quick and easy to make in advance it's the best rice pilaf recipe!
See The Recipe!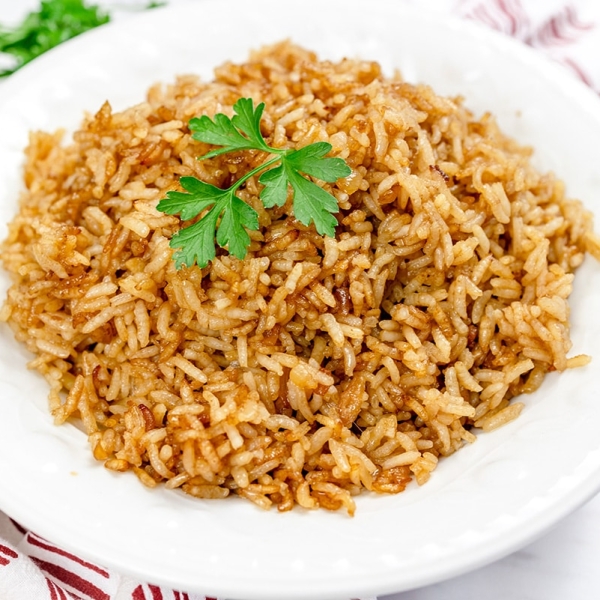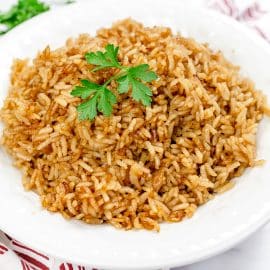 Stick of Butter Rice
Stick of Butter Rice will soon be your favorite side dish. This simple recipe uses only a few ingredients like beef broth and onion soup mix!
See The Recipe!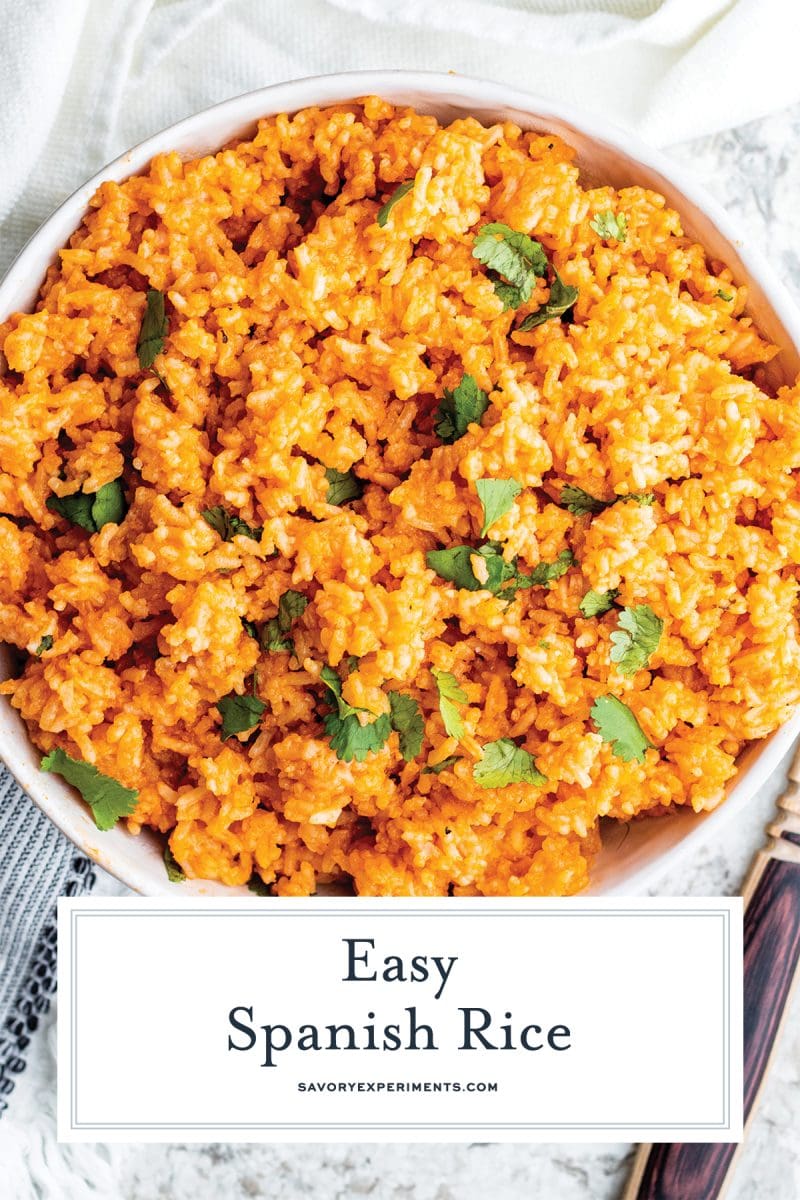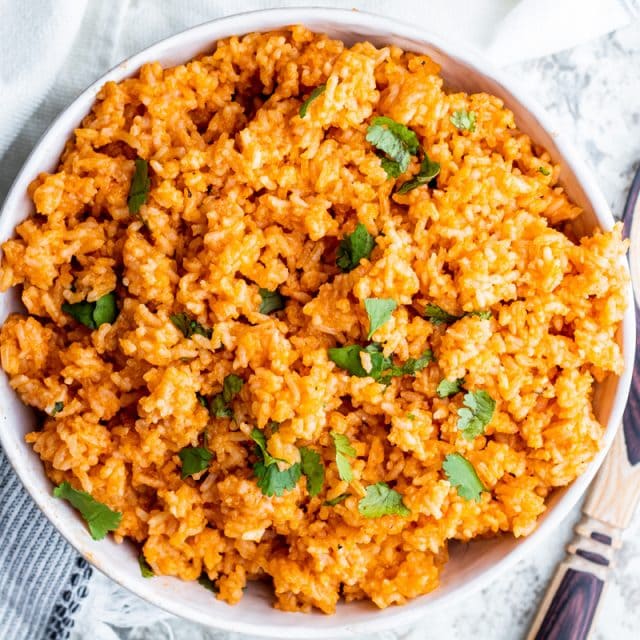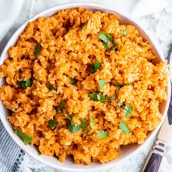 Spanish Rice
Easy Spanish Rice is seasoned with saffron, cumin and tomato base- the perfect zesty Spanish flavors and beautiful colors.
Instructions
Rinse rice in a colander under cold water until water runs clear.

Heat olive oil over medium heat, add rice and brown for about 3 minutes. Add the garlic and saute an additional 1 minute.

Bring to a boil, then reduce heat to low. Cover and simmer for 30-40 minutes until no liquid remains and rice is cooked.

If you've tried this recipe, come back and let us know how it was in the comments or ratings!
Notes
Instant Pot Instructions: Cook on HIGH PRESSURE for 7 minutes then let the Instant Pot fully natural release.
Nutrition
Calories:
200
kcal
,
Carbohydrates:
33
g
,
Protein:
9
g
,
Fat:
5
g
,
Saturated Fat:
1
g
,
Sodium:
332
mg
,
Potassium:
368
mg
,
Fiber:
3
g
,
Sugar:
2
g
,
Vitamin A:
161
IU
,
Vitamin C:
2
mg
,
Calcium:
17
mg
,
Iron:
1
mg