This recipe originally appeared on Real Housemoms, where I am a contributor.
Chorizo Queso Fundido isn't your typical cheese dip. In fact, I'm not even sure if I'd refer to it has a dip. The cheese is so rich you can't really dip anything. More of a scoop and shovel. LOL.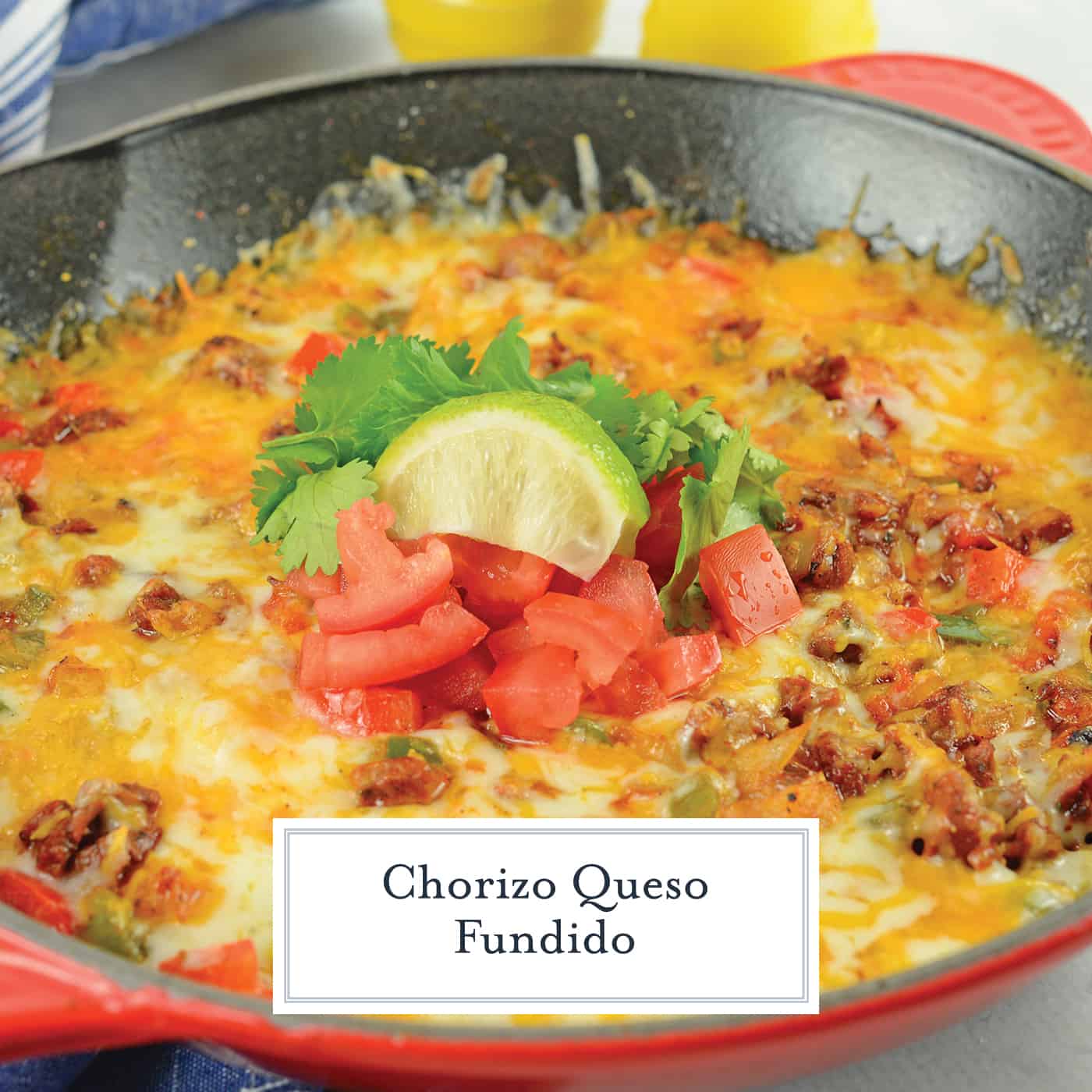 Queso Fundido with Chorizo is the best Mexican Cheese Dip made with a blend of Mexican cheeses, smoky, spicy Chorizo and fresh vegetables.
It is more like a cheesy spread than anything. Queso dip, or chili con queso, typically starts by making a blond roux (butter and flour), then adding milk and lastly, blending in cheese.
Chorizo Queso Fundido is just pure, simple melted cheese. Melted cheese at its finest with a few select enhancements.
Traditional Queso Fundido is made with grated Oaxaca, mozzarella cheese, or a combination of both. Oaxaca makes for a perfectly gooey, string cheese and won't get gummy easily, but it can also be more challenging to find and expensive.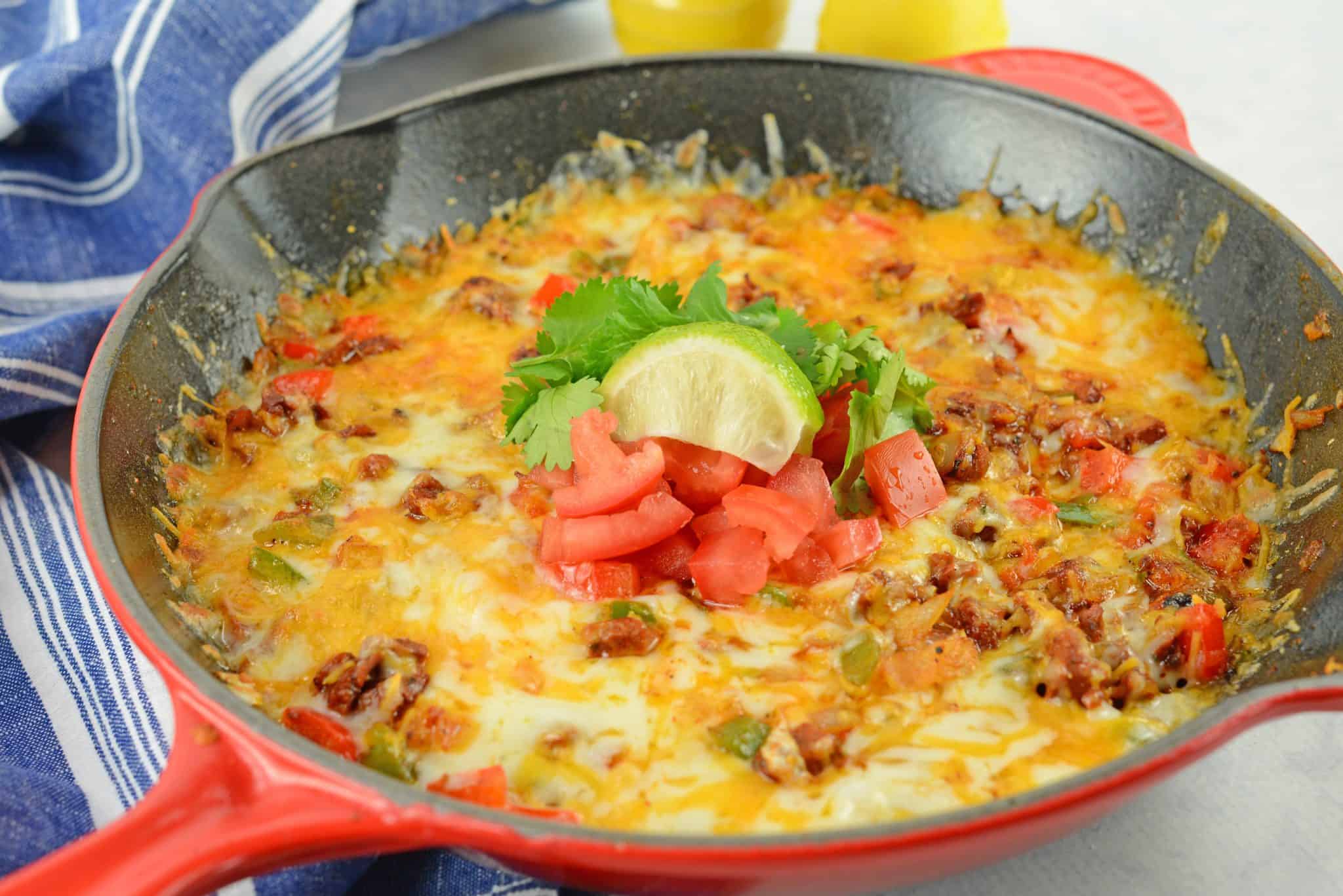 I typically use a blend of sharp cheddar cheese and pepper jack, which works well. You can use any combination of cheeses you have hiding in your cheese drawer, just make sure they equal about 3 cups grated. Avoid using hard cheeses like Parmesan.
I add slightly sautéed vegetables and crumbles chorizo sausage.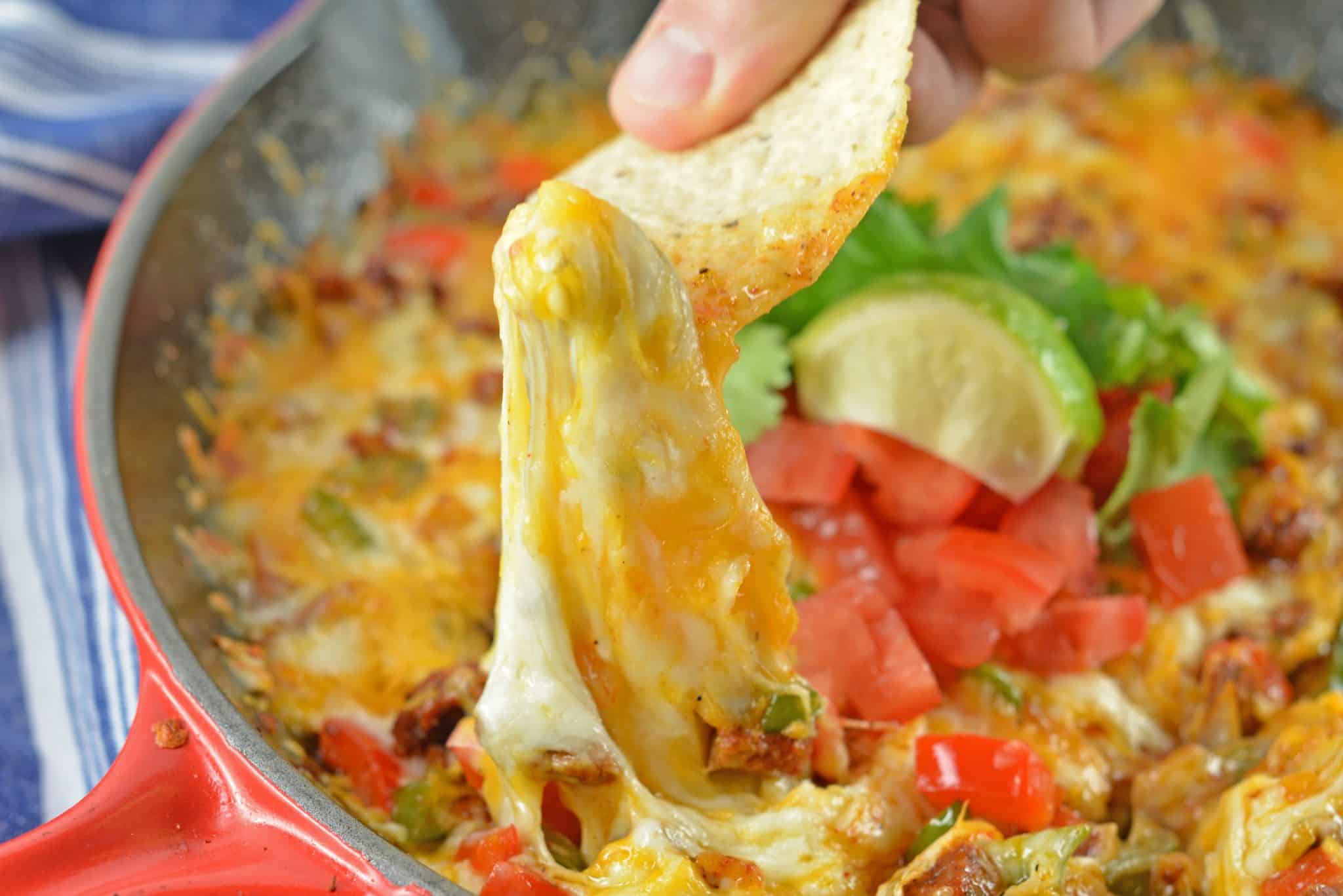 What is chorizo sausage?
Chorizo sausage is a Spanish sausage that can range from a smoky to spicy flavor. It typically has a bright red hue and can also be smoked and cured.
Freshly grating cheese is an important element of Chorizo Queso Fundido or any cheese dip, really. Pre-shredded cheeses are great and convenient, but they are lightly tossed in flour to prevent the shreds from sticking together.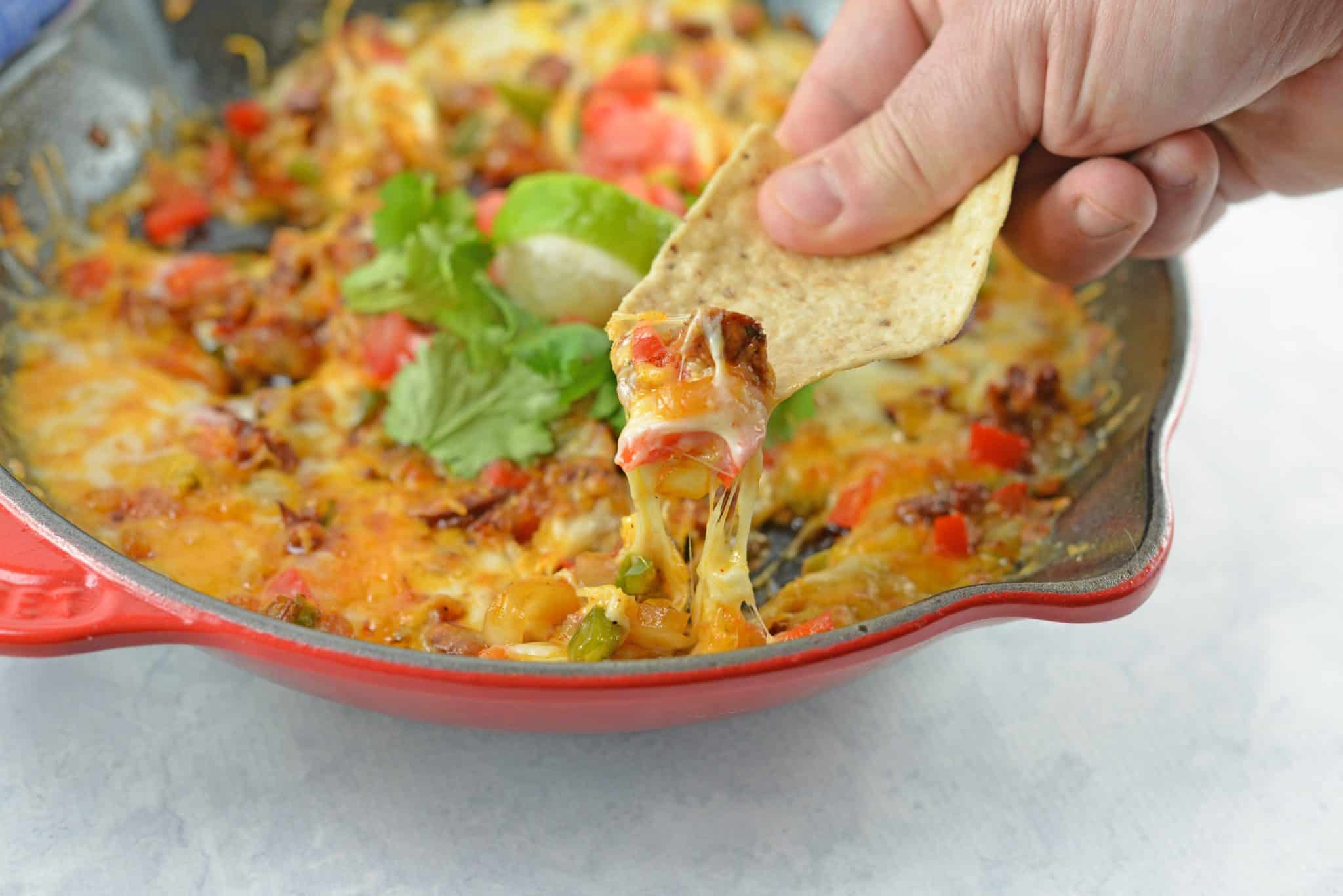 In recipes like this, where you want those long, stringy, cheesy pieces, flour will prevent this from happening and could also create a grainy texture. Take the time to freshly grate your cheese and the end result will be magical. It only takes a few minutes. You won't regret it.
Lastly, Chorizo Queso Fundido can be served with chips or flour tortillas. I like to make my own homemade corn tortilla chips (they are super easy and taste SO much better!) or buy small flour tortillas.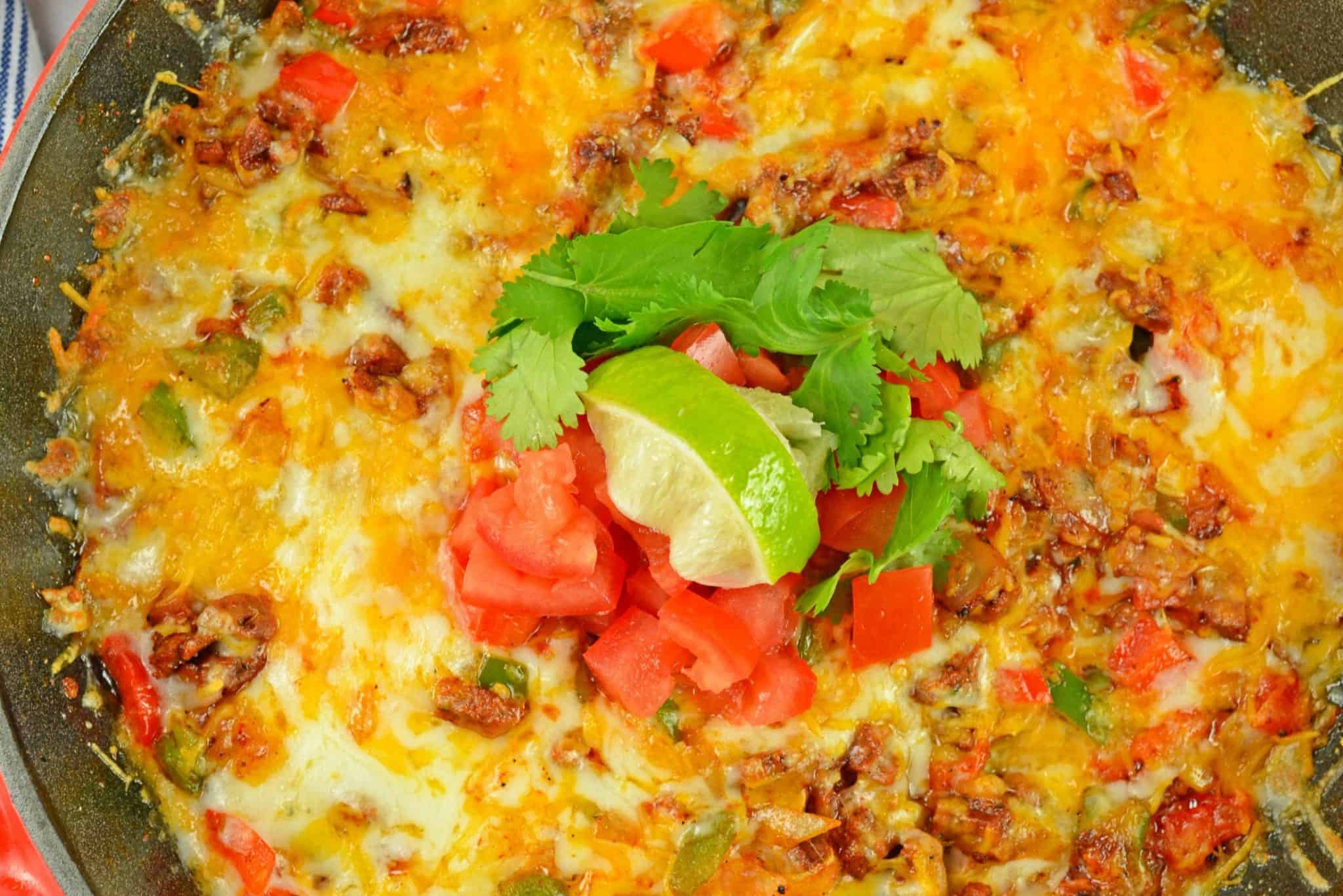 After being flambéed (also known as thrown under the broiler), the cheese will only stay cheesy for about 10-15 minutes, so eat fast! You can store leftovers and re-melt.
They even taste delicious on top of a grilled chicken breast marinated in Italian dressing.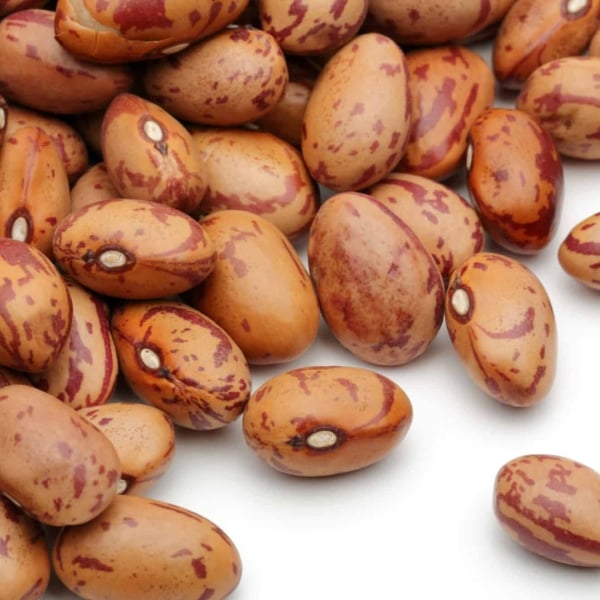 How to Cook Pinto Beans
Cooking your own Perfect Pinto Beans is a great way to pack in the protein and the flavor and they couldn't be easier to make!
View this recipe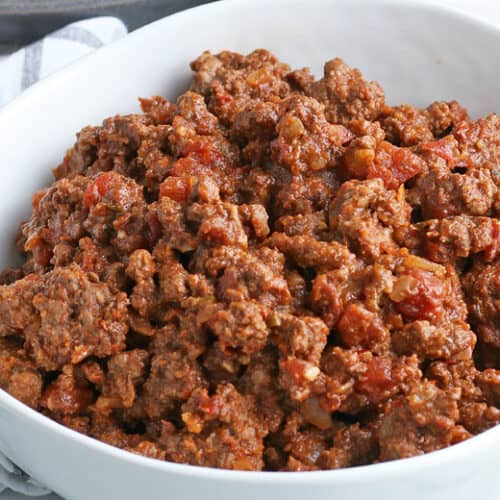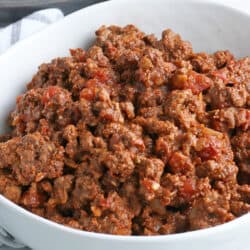 Instant Pot Taco Meat
Instant Pot Taco Meat is the perfect and fast way to make tender ground beef for tacos. Serve it immediately or freeze it!
View this recipe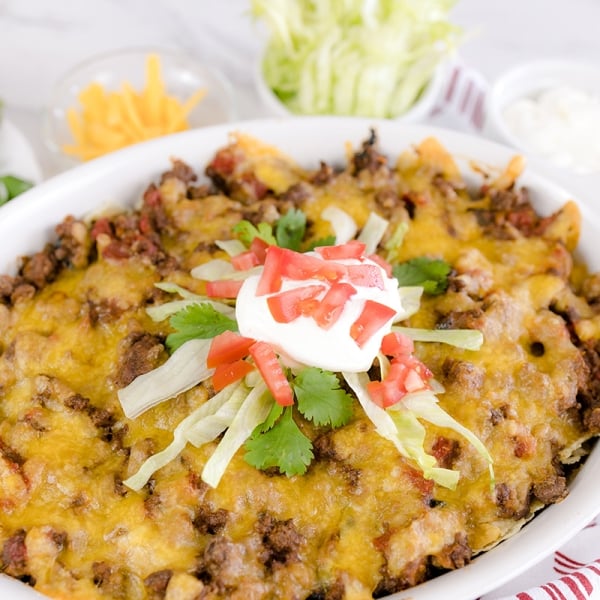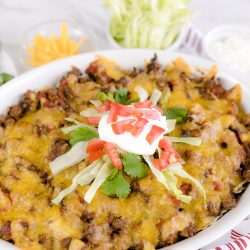 Taco Bake Casserole Recipe
This easy taco bake casserole recipe is a great cheesy recipe for an weeknight meal or potluck. Easily customizable with your favorite taco toppings.
View this recipe
Tools for making Chorizo Queso Fundido:
Cast Iron Skillet – You need a good, seasoning cast iron skillet or other oven safe skillet.
Wood cutting board – wood won't dull your knives like plastic and if treated properly, has natural antimicrobial properties.
Good knife – Global is my favorite! They are worth the price, I promise. I am kind of obsessed with them and store them tucked away so no one else can use them. Including hubby. Hands off my good stuff!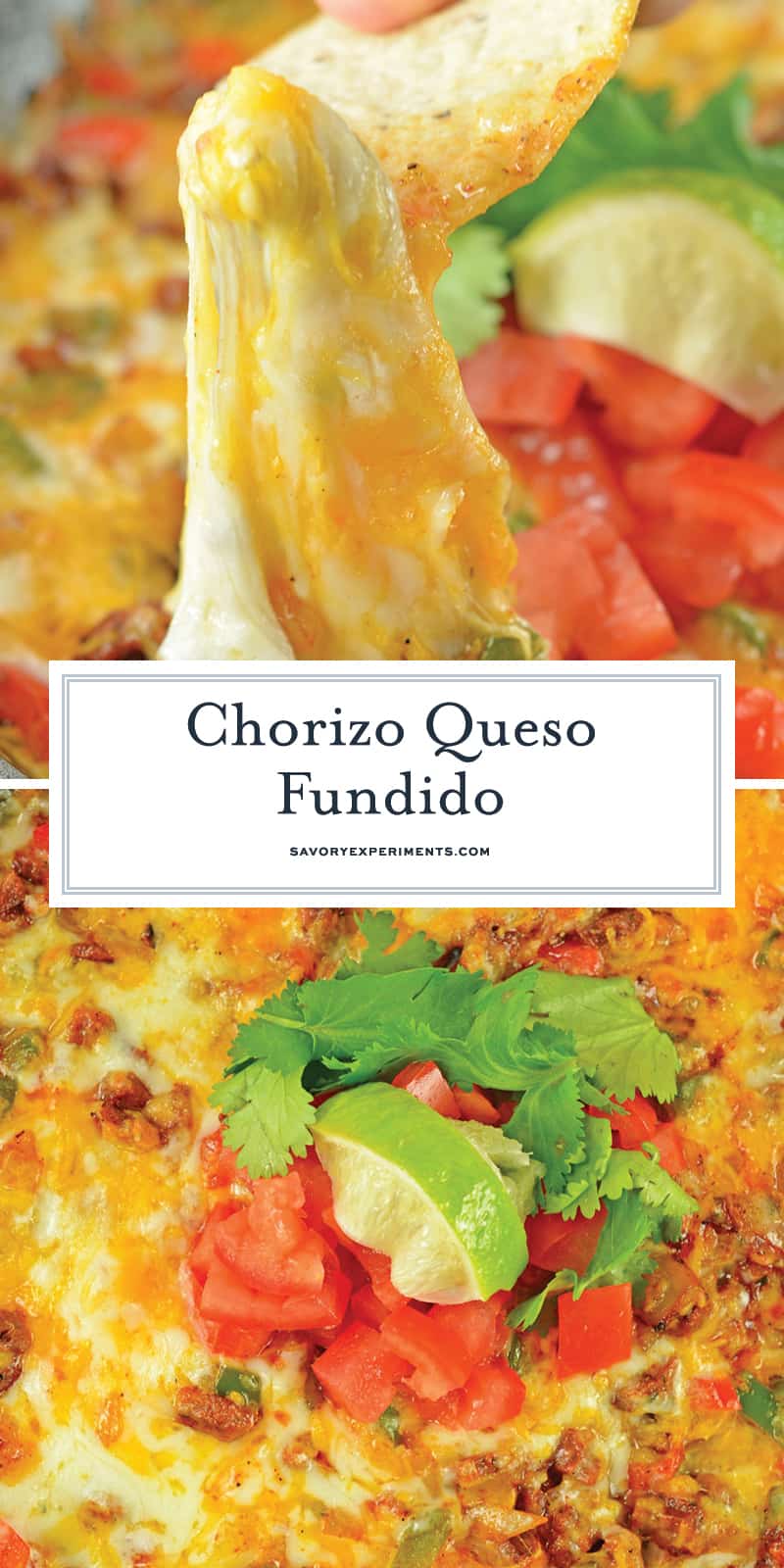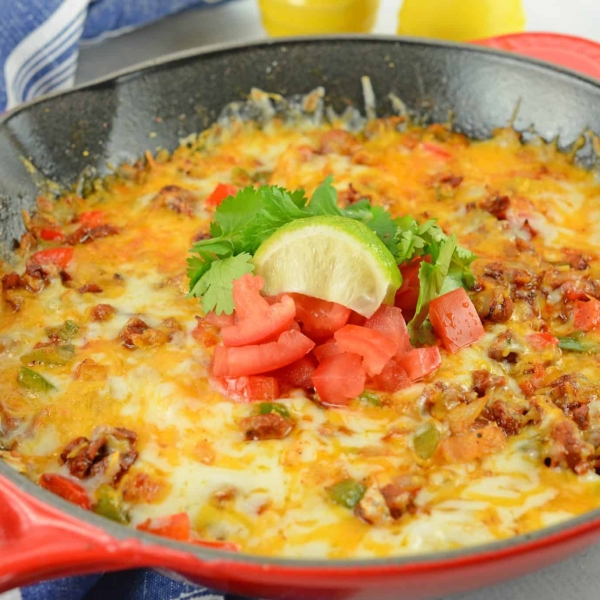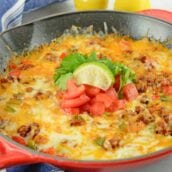 Chorizo Queso Fundido
Queso Fundido with Chorizo is the best Mexican Cheese Dip made with a blend of Mexican cheeses, smoky, spicy Chorizo and fresh vegetables.
Instructions
Heat medium cast iron skillet or some other over-safe pan over high heat. When hot, add vegetable oil.

Add chorizo, white onion, green bell pepper, red bell pepper, cilantro, jalapeno and chili powder. Sauté until soft, approximately 2-3 minutes. Remove from heat.

Heat oven broiler to high heat.

Sprinkle cheese evenly over chorizo and vegetable mixture. Don't attempt to stir it, it will get clumpy.

Place under broiler for 3-4 minutes or until cheese is melted, brown and bubbly.

Remove and top with the juice of one fresh lime, diced tomatoes, and additional cilantro, if desired. Serve with tortilla chips!

If you tried this recipe, make sure to come back and let us know how you liked it!
Nutrition
Calories:
322
kcal
,
Carbohydrates:
2
g
,
Protein:
18
g
,
Fat:
26
g
,
Saturated Fat:
15
g
,
Cholesterol:
71
mg
,
Sodium:
565
mg
,
Potassium:
163
mg
,
Vitamin A:
795
IU
,
Vitamin C:
8.1
mg
,
Calcium:
414
mg
,
Iron:
0.8
mg