This is a sponsored post written by me on behalf of Tyson Foods, Inc. All opinions are entirely my own.
I am a big fan of a classic juicy burger, but every once in awhile I want to switch it up with a gourmet burger like this zesty and crispy Cowboy Burger.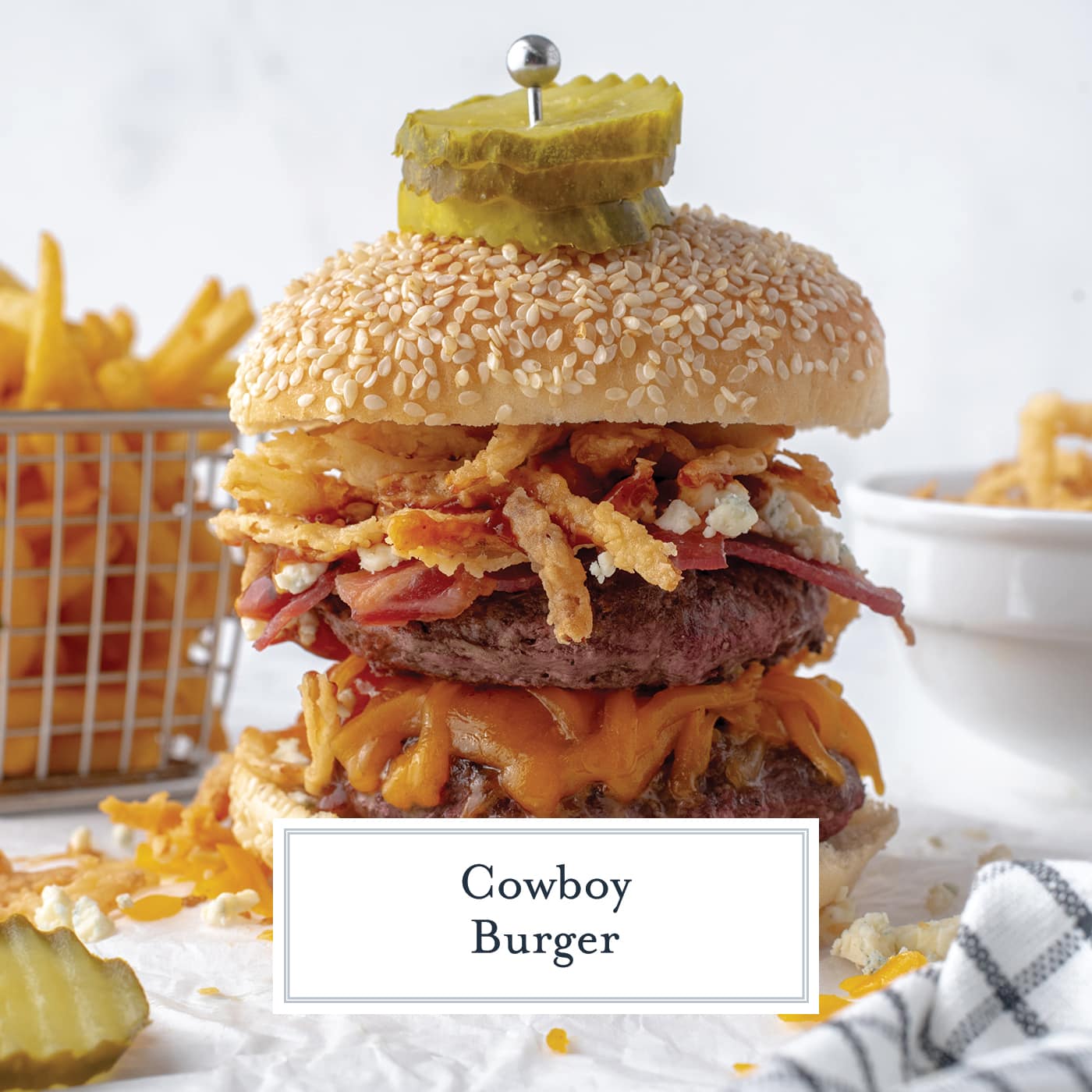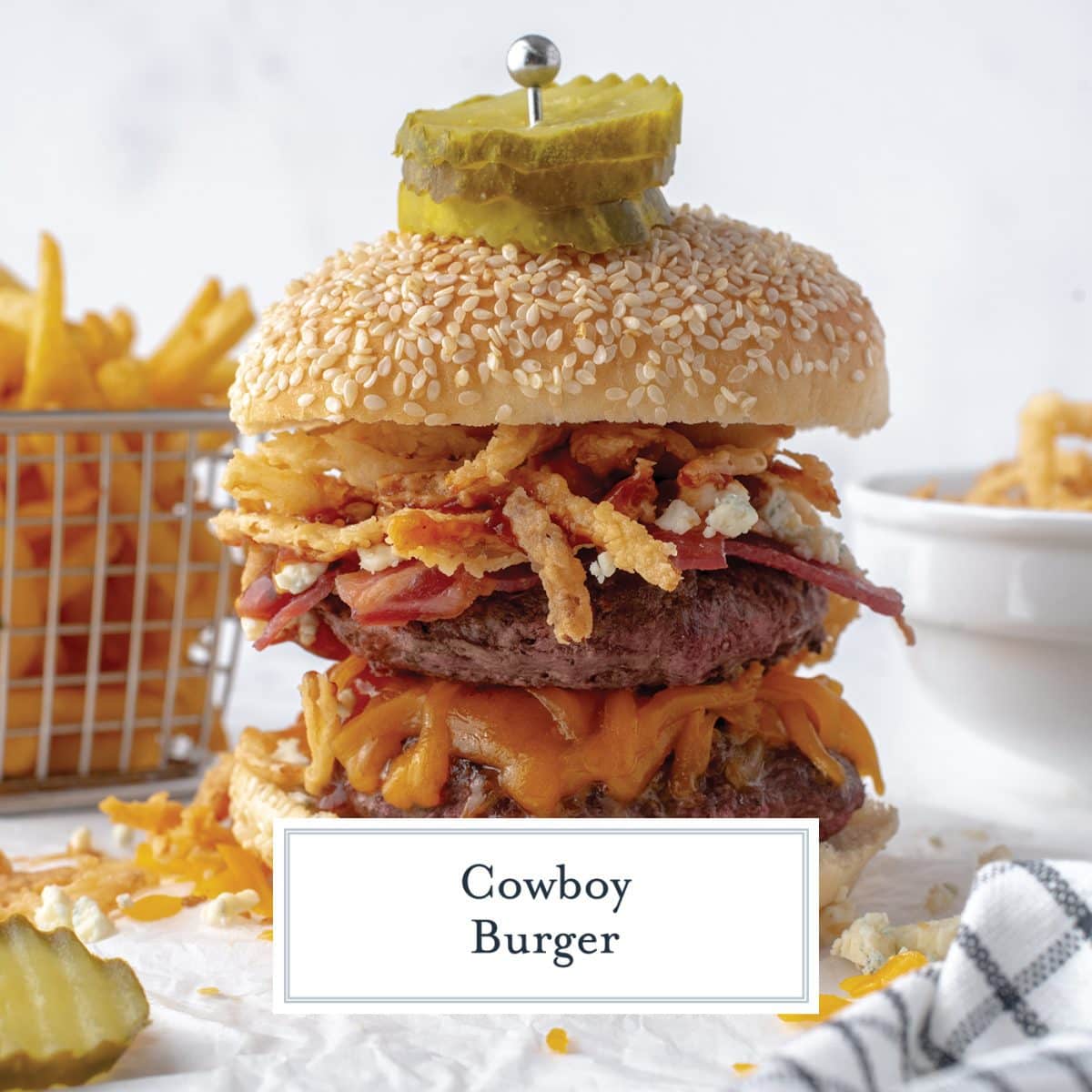 The Cowboy Burger is made of double patties with cheddar, blue cheese, onion strings, BBQ sauce, bacon and topped with honey habanero pickles!
Burgers as a Dinner Solution
It is finally fall, foodie friends! For many of us that means back-to-school routines, sports practice, band recitals and oodles of other activities. Busy weeknights and weekends that beg for relaxation. It also means football season and entertaining!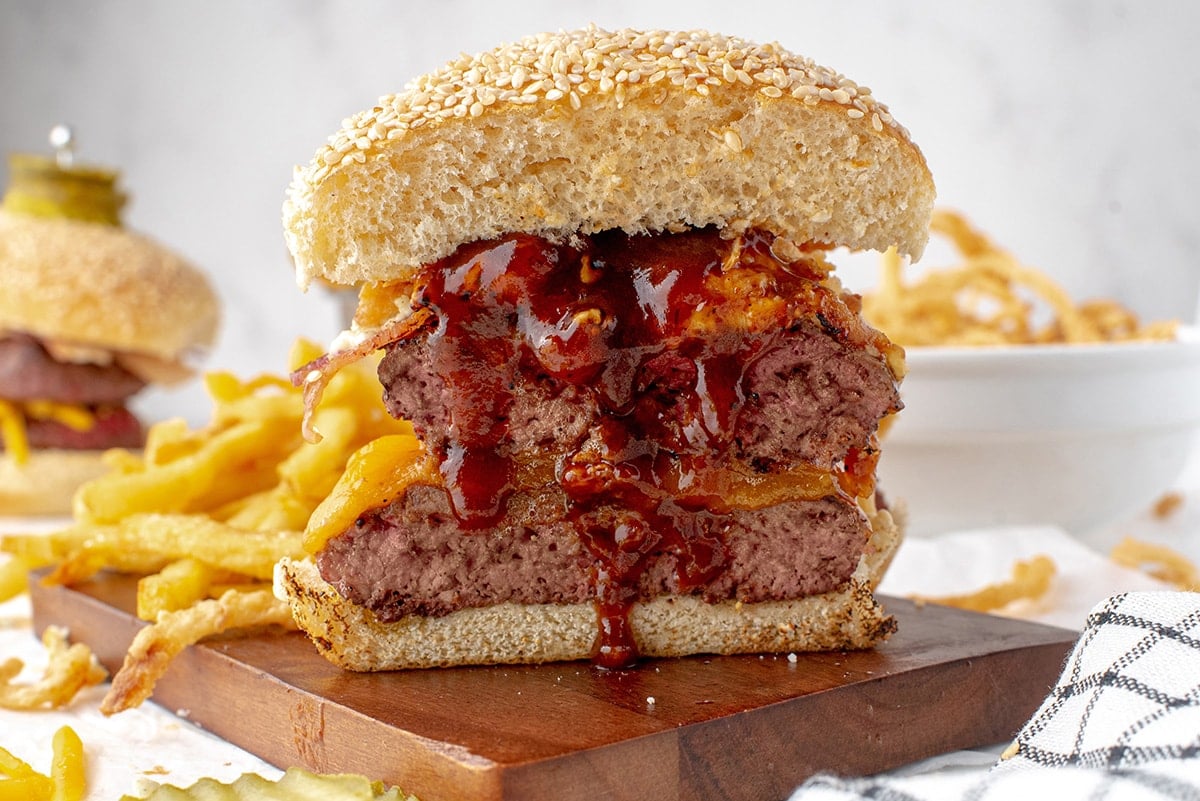 If you are anything like me, you are always on the lookout for new, easy recipes to serve up for all of these occasions. Just because the warm weather is behind us doesn't mean that you have to leave flame grilled goodness behind you. Incredible burgers are good year round.
What You'll Need
The ingredient list for these delicious burgers is fairly simple and many things can be swapped or modified to fit other preferences.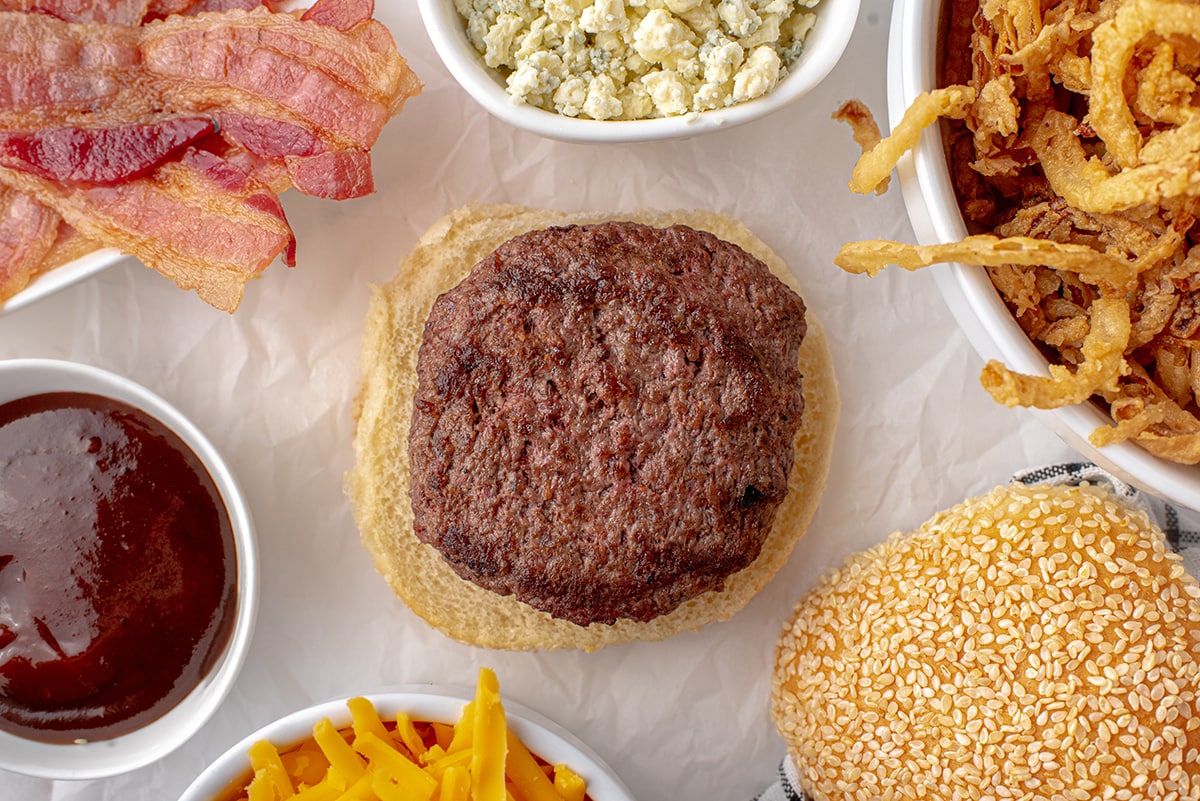 Burger Patties- When I'm doing two burger patties, I hesitate to go over a quarter pound of ground beef, more so because I can't fit it in my mouth! But feel free to go bigger or swap out beef patties for ground turkey, chicken, black bean or even veggie burgers.
Crispy Bacon– Cowboys love cured meat like bacon! Make your own in the oven or grab some pre-cooked and crumbled at the grocery store to save a little time. Of course, if you are using veggie burgers, omit this for a vegetarian option.
Crispy Onions– If you've never made these from scratch, you don't know what you are missing. They are a little zingy from buttermilk and super light and crunchy. Not nearly as oiled down as the store bought kind, but of course that is an option if you are short on time. Many use onions rings, but I feel like onion straws divide up the goodness and are easier to bite. We've all had that one onion ring we had to wrestle and ended up having all the onion come out just to leave the breading behind.
Cheddar Cheese– I know it seems weird because everyone does a slice of cheese, but shredded is the way to go- it melts faster and evenly. This is a fun place to switch up flavors too by using pepper jack cheese or even two types of cheddar.
Blue cheese– I prefer the creaminess of crumbled blue cheese, but blue cheese dressing is an option, as it another type of crumbly cheese without the funkiness of blue like feta cheese or crumbled goat cheese.
BBQ Sauce- Make your own or grab a bottle at the store, this is another place to customize your burgers. Pair a sweet and sticky honey barbecue sauce for sweet and spicy or get a habanero blend for the sweat-beading-on-your-nose type.
Honey habanero pickles– Yes, I made these from scratch and they take a little time, but they are also worth it!
Sesame seed buns- Toast the buns so they are a little heartier for all the fixins. Brioche and kaiser are good choices too, but I like the light nuttiness of sesame seeds on this one.
Variations include adding pickled red onions or raw onion slices. Some folks like adding mustard or even creamy horseradish sauce. Sauteed green bell peppers, or any bell pepper really, is also a fun way to hide the veggies.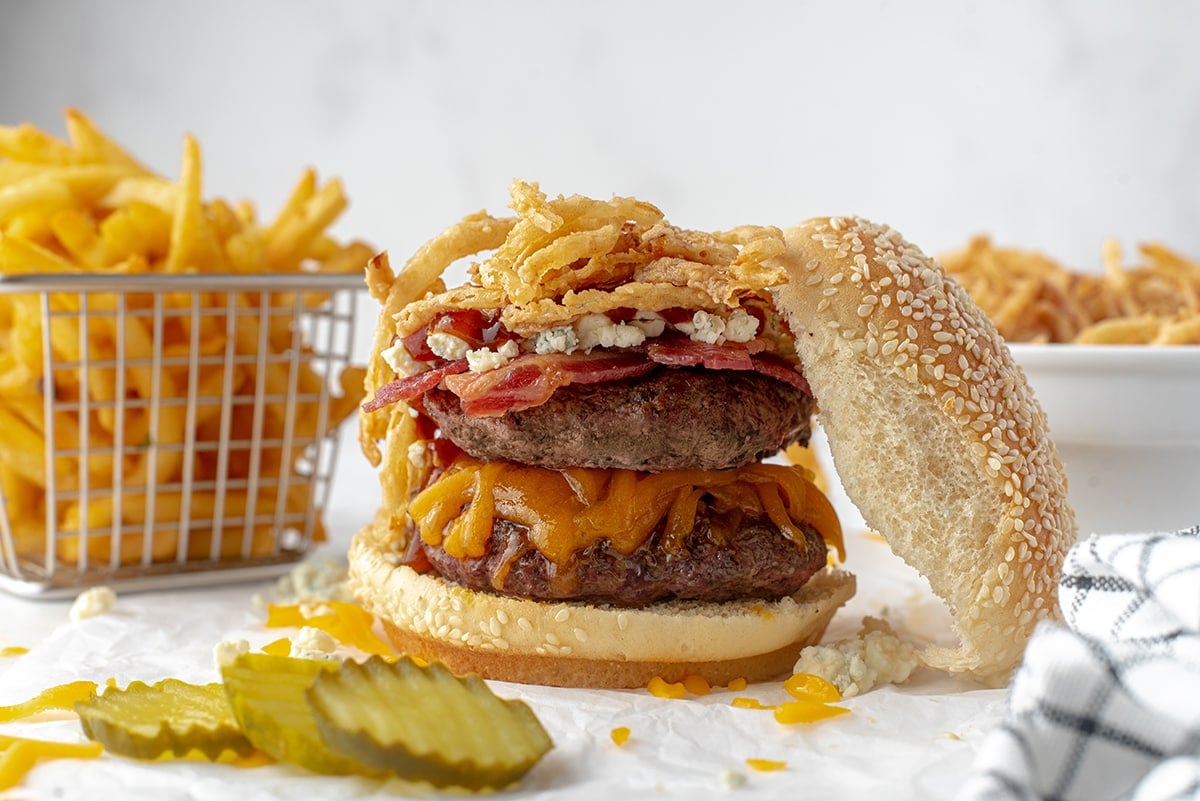 Assemble Your Burgers
Listen, assembly is the easy part! Build your burger the same way you would any other.
Place the cheese on a hot pattie so it melts, or melt it on the burger pattie while cooking.
Top with blue cheese and onion straws. I like to do the BBQ sauce last because it then it seeps down into the other ingredients and the bun holds it steady.
Grab a napkin.
Eat it! This is a messy burger, foodie friends. The type that you commit to because after you pick it up, you won't be able to put it down and then you'll need a good handwashing.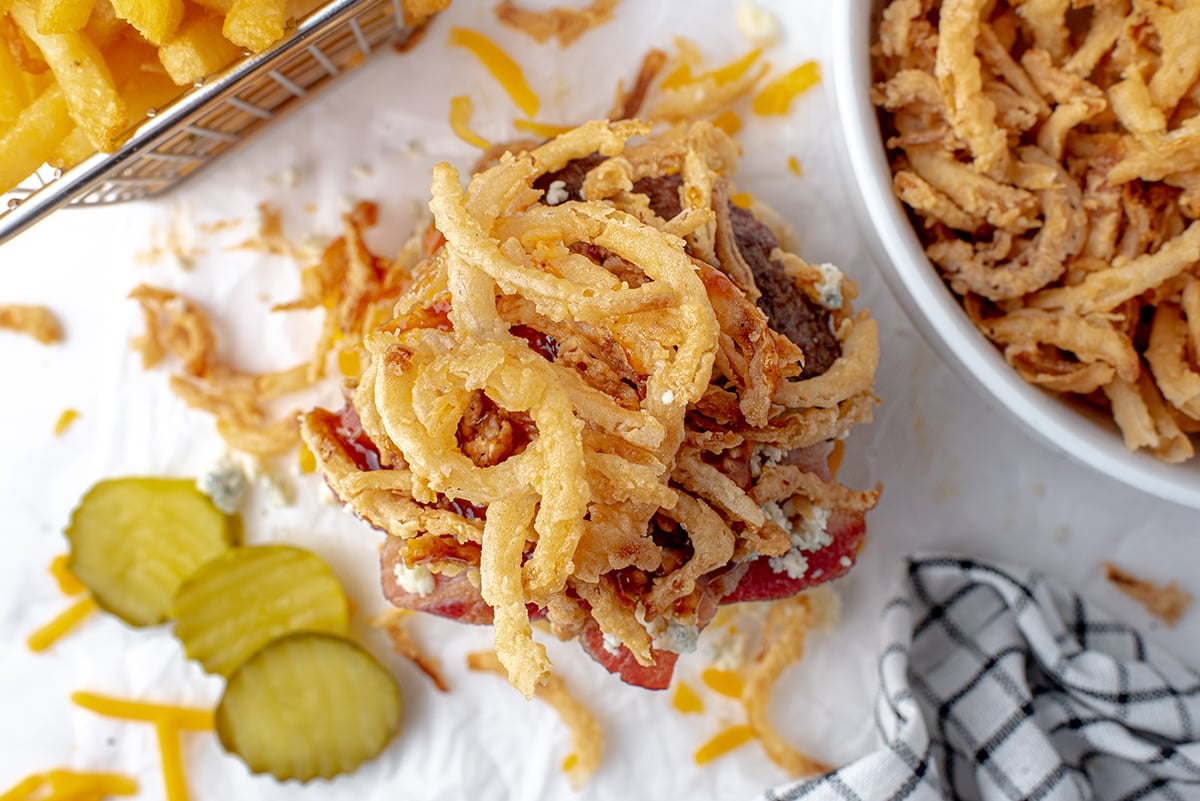 Make Ahead & Storage
All elements of the burger can be made ahead of time, even the patties, but I highly suggest waiting until you are ready to serve them to assemble. The buns will get a little soggy and you'll lose the crunch from onion straws.
Onion straws, after being cooked, can be cooled fully and then stored at room temperature. Everything else needs to be kept in the fridge.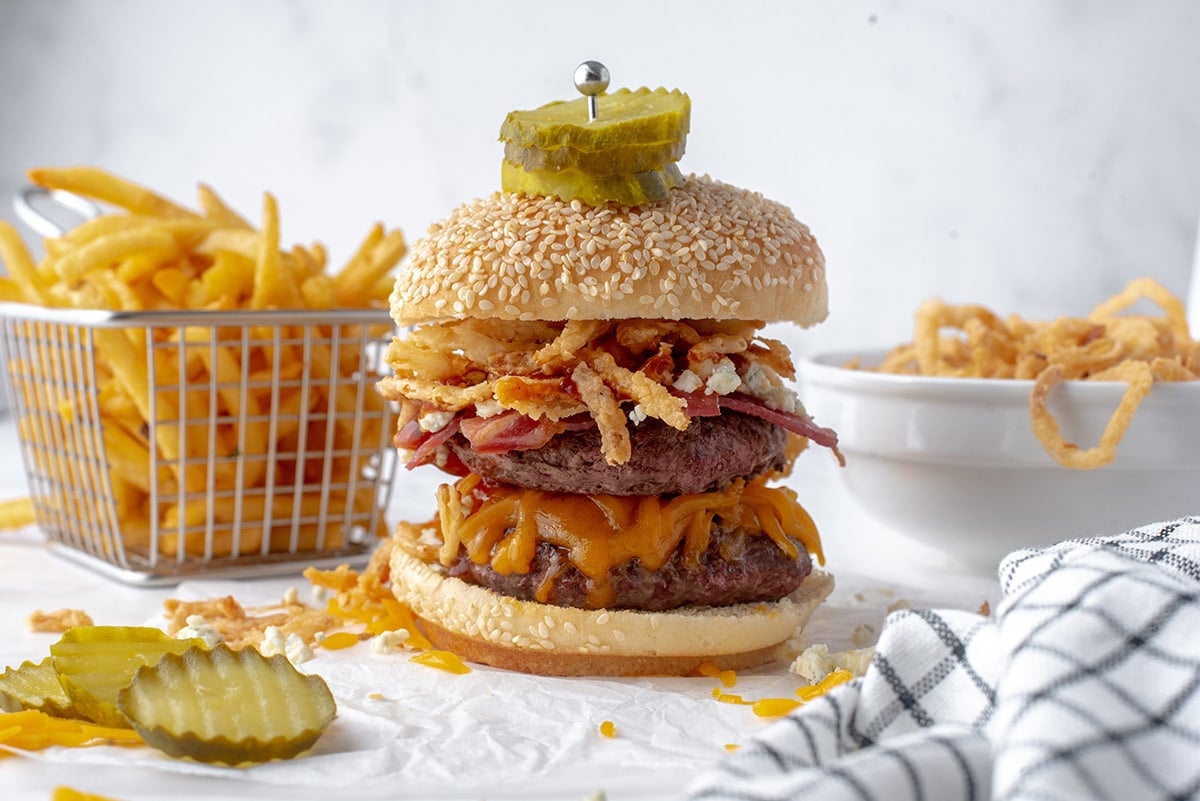 Sliders
This cowboy burger recipe also makes excellent sliders! Make each burger patty into four smaller burgers or just half size and place on slider cut rolls. These are best at one patty instead of two, they tend to get a little leaning tower of Pisa-ish on smaller buns.
Serve it With
Whenever I eat a burger, I crave two things: 1. a leafy green salad and 2. fries!!!!
I have a few good fry options: sweet potato fries, truffle fries, garlic parmesan and potato wedges. And since this is a western style burger, something like creamed corn or fried corn is also appropriate.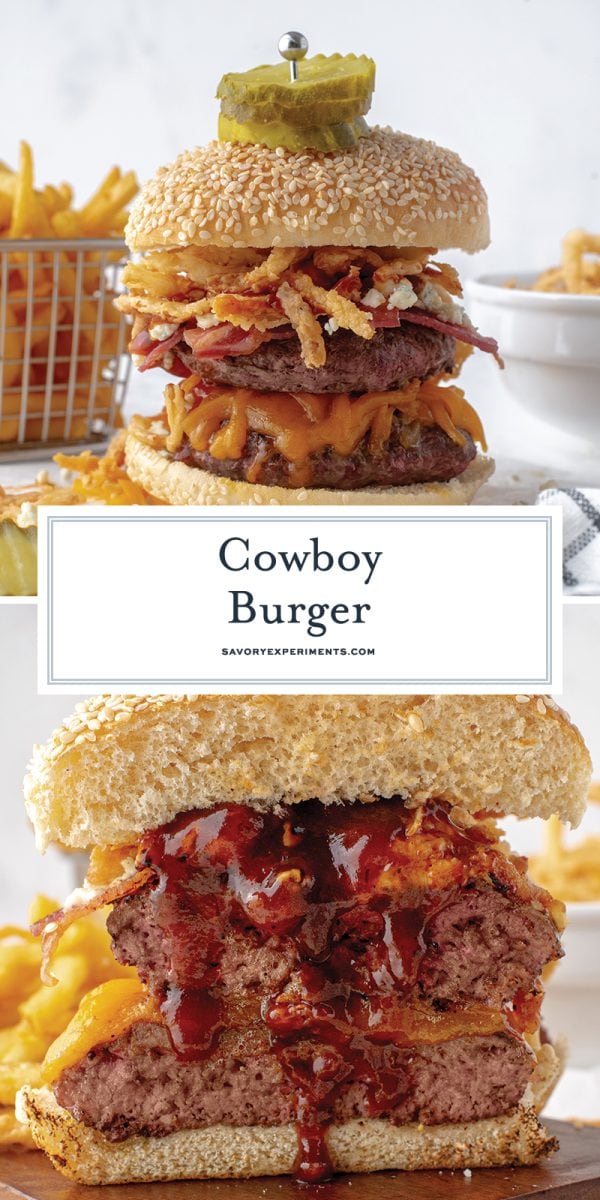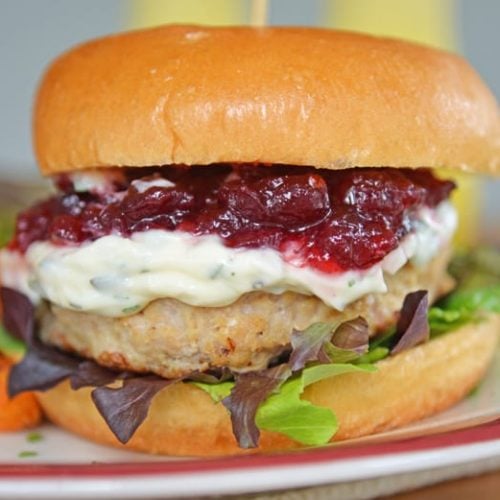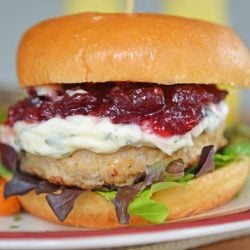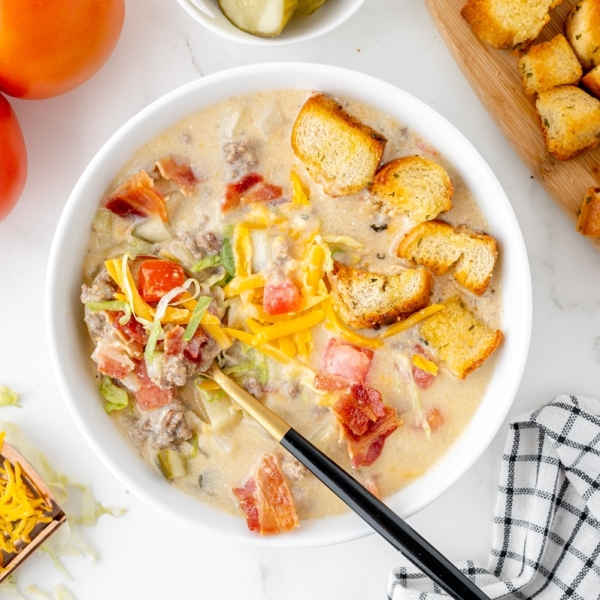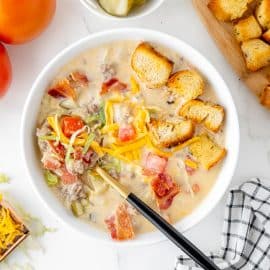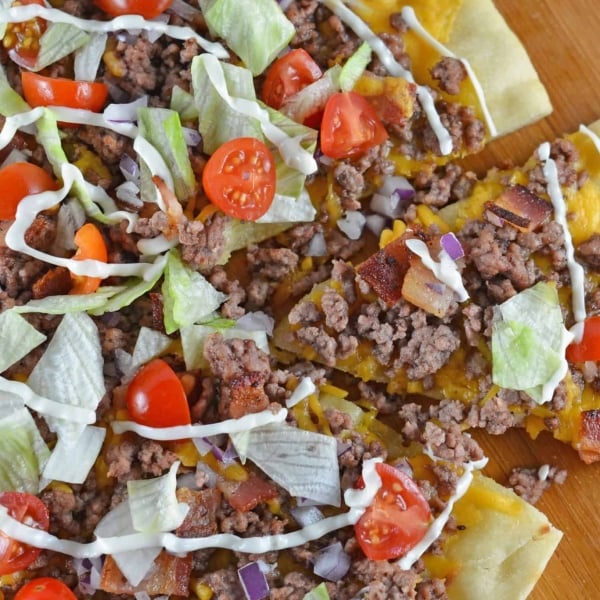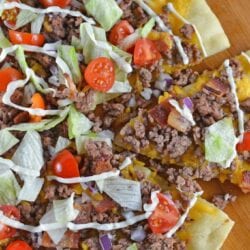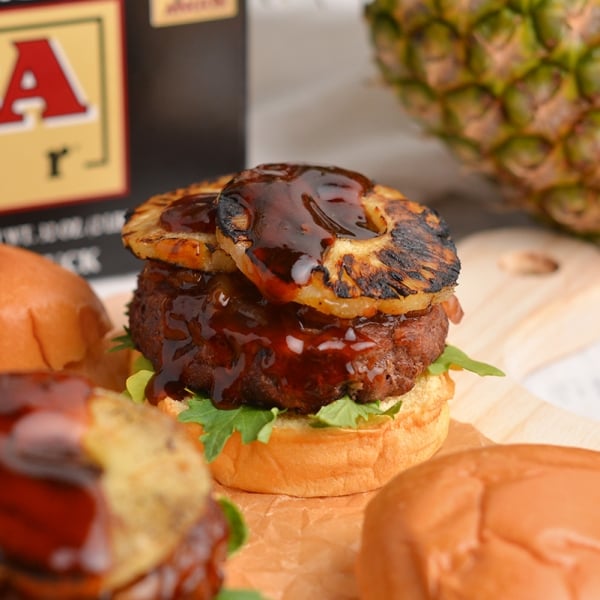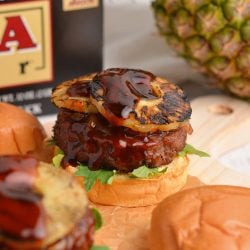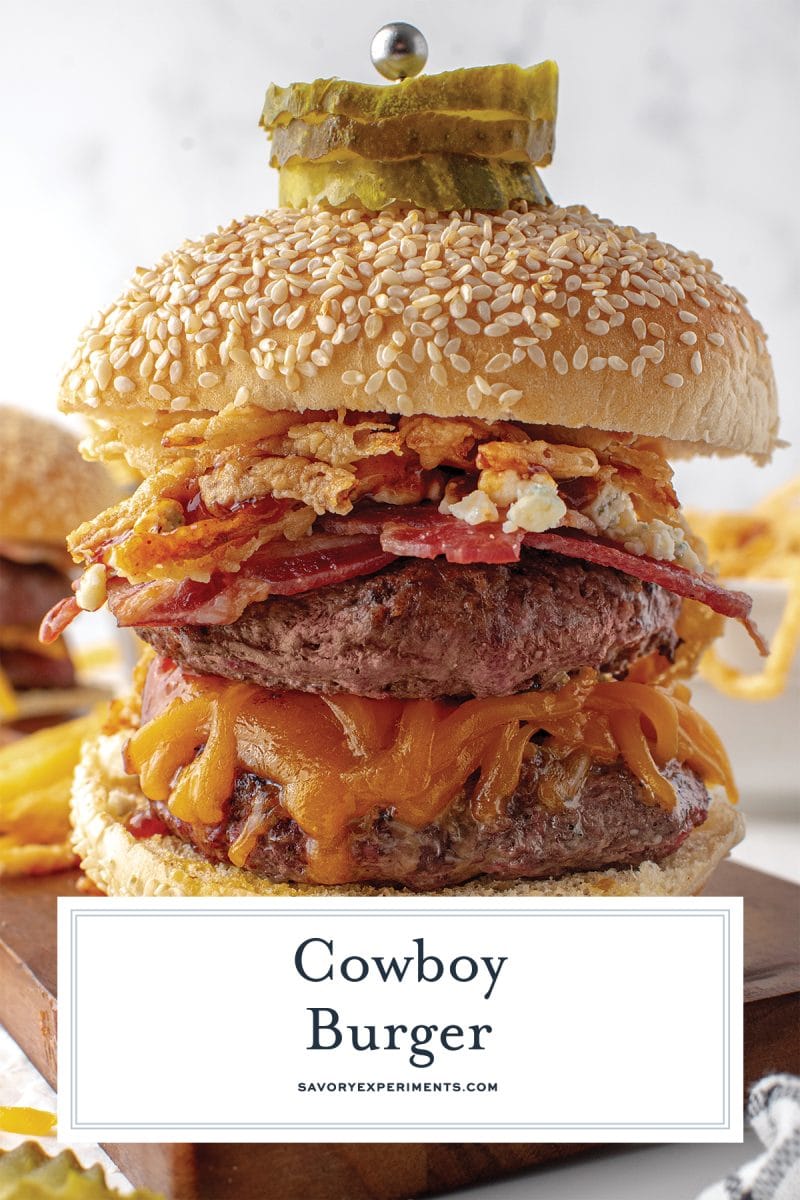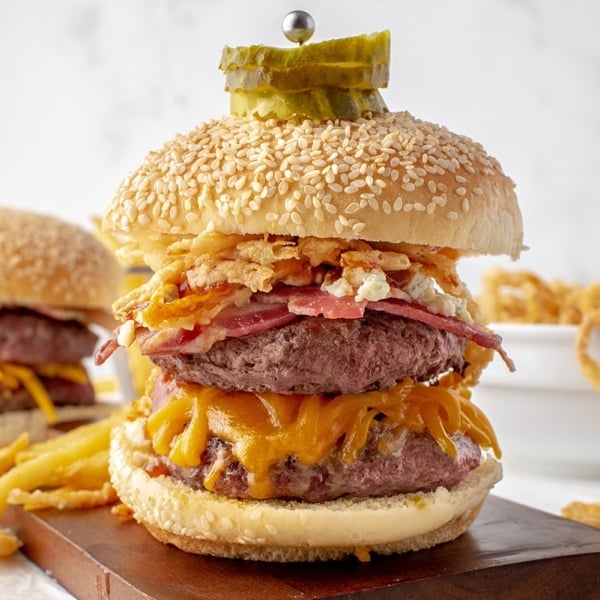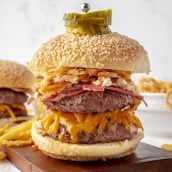 Cowboy Burger
The best burger you will ever sink your teeth into is the Cowboy Burger. Double patties topped with cheddar, blue cheese, onion strings, BBQ sauce, bacon and topped with honey habanero pickles.
Instructions
Cook the burgers to your desired doneness in a skillet or on the grill.

Assemble burgers by placing one of the burger patties onto the bottom half of two sesame seed buns.

Divide the cheddar cheese between both hamburgers. Hot patties will melt the cheese. Top with an additional burger patty.

Equally divide the bacon between both hamburgers. Top with the blue cheese, BBQ sauce and onions straws. Top with other half of the sesame seed bun.

Secure the burger with a toothpick laced with honey habanero pickles.

If you've tried this recipe, come back and let us know how it was in the comments or ratings.
Notes
Choose your cooking method: grilled or skillet cooked.
Nutrition
Calories:
1201
kcal
,
Carbohydrates:
43
g
,
Protein:
60
g
,
Fat:
85
g
,
Saturated Fat:
38
g
,
Cholesterol:
220
mg
,
Sodium:
1924
mg
,
Potassium:
949
mg
,
Fiber:
1
g
,
Sugar:
15
g
,
Vitamin A:
815
IU
,
Vitamin C:
0.6
mg
,
Calcium:
606
mg
,
Iron:
6.6
mg