Honey Habanero Pickles. Say it over and over because you are about to fall in love with these sweet and spicy morsels. You will also fall in love with how easy it is to make homemade pickles!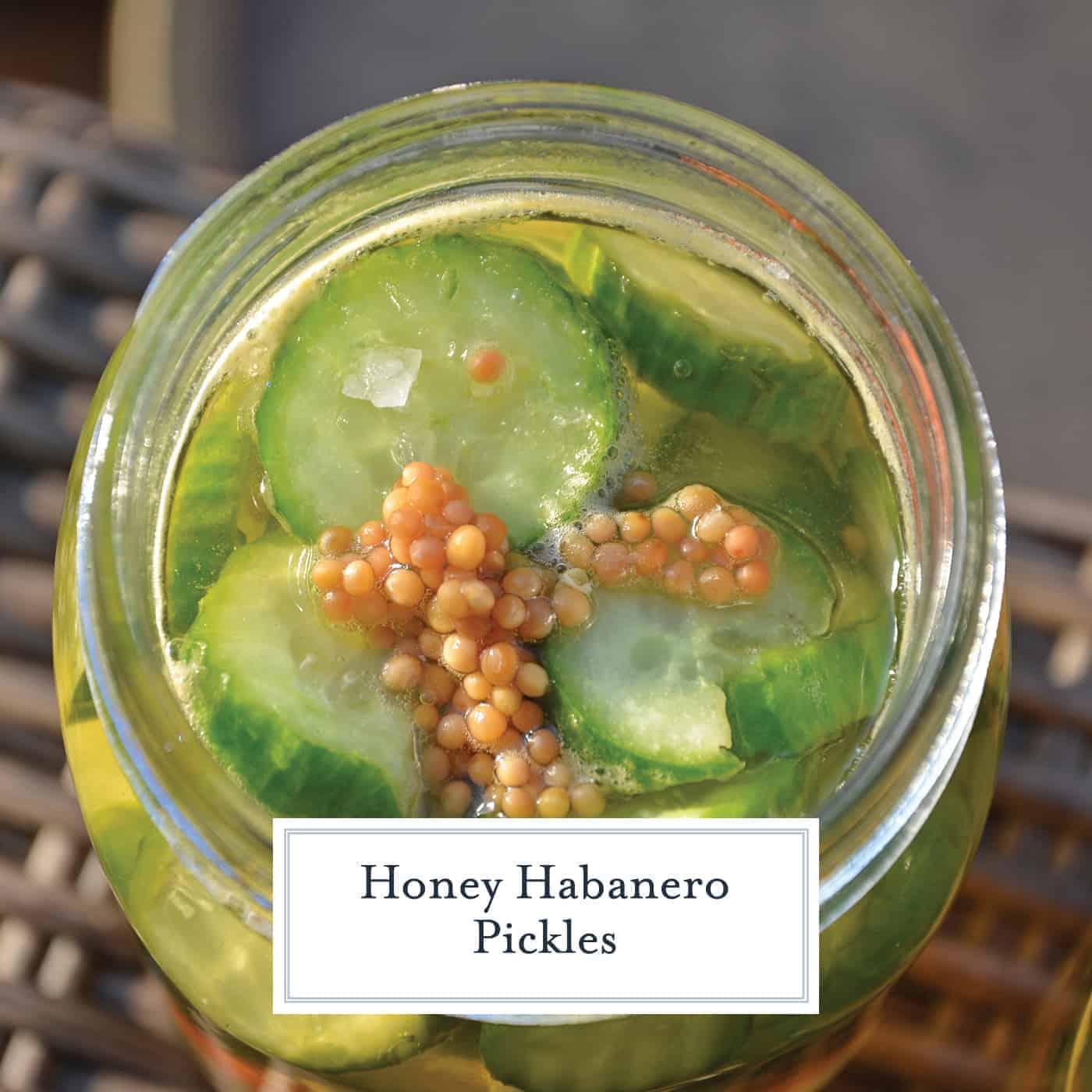 Honey Habanero Pickles are the best of both worlds, spicy and sweet. Eat them as a snack or pair them your favorite burger or hot dog.
Pickles have never been my thing. I wish they were. Relatively low calorie and low fat with vinegar that has loads of health benefits, they just hadn't been.
Although I'm willing to try new flavors on the off-chance I will fall in love. I soon realized that I just don't care for store-bought pickles, but good, ole, homemade pickles were fantastic! Specifically spicy pickles.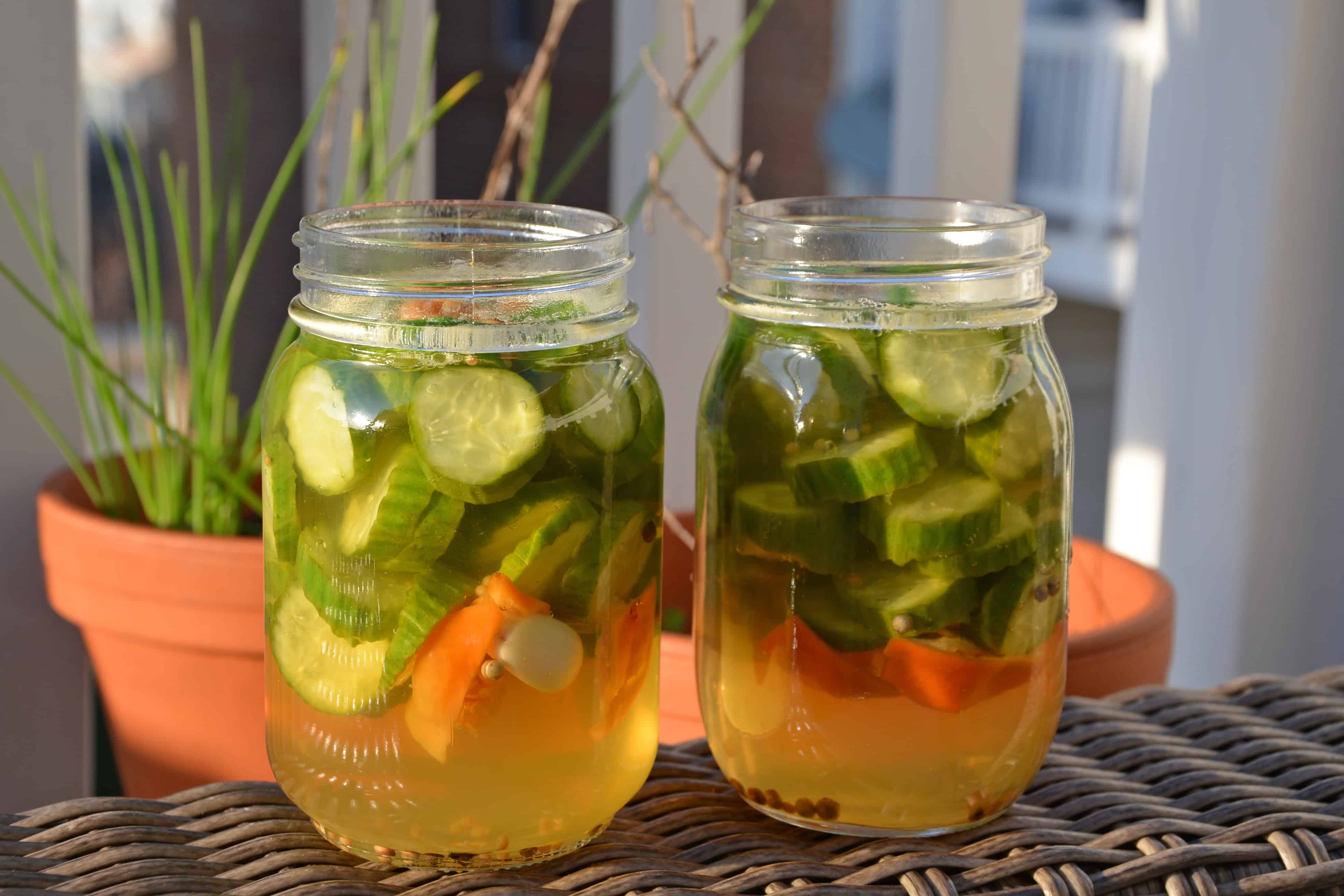 After having a similar sweet and spicy pickle chip on a burger and from a seller at a Farmer's Market and then again at a local hamburger joint, I decided to try and make my own refrigerator pickles with honey and habanero. Sweet and spicy- YUM!
Full disclosure…. I have never canned or pickled anything, so making Honey Habanero Pickles was a new experience for me.
The instructions I found online for refrigerator pickles seemed to be fairly straight forward, so I just decided to play with the ingredients a little to make them my own craving of sweet and spicy, honey and habanero.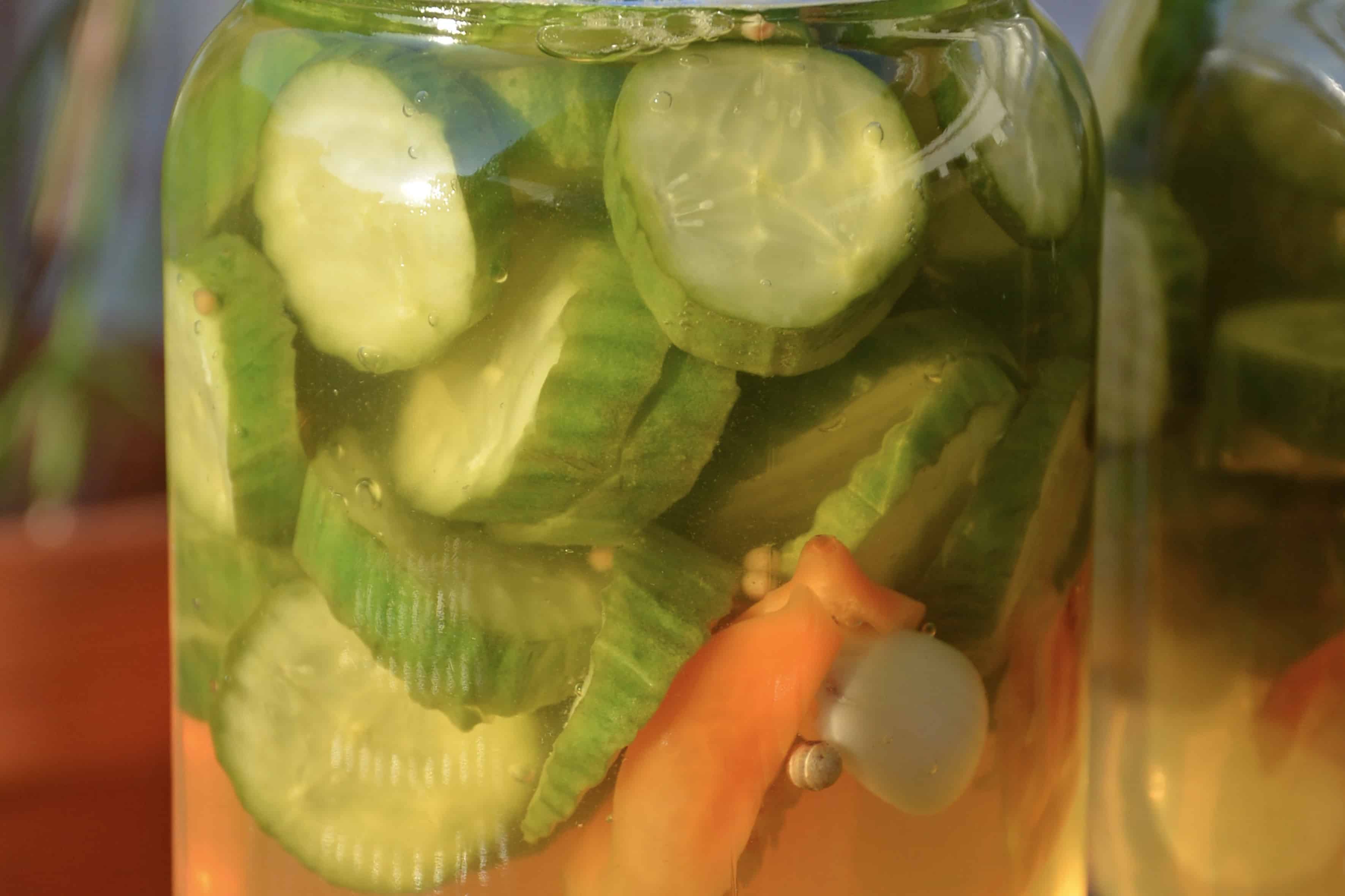 My first question was, of course, what are the best cucumbers for making pickles? I learned to skip the same type of cucumber I would use for a salad, like hothouse or English cukes.
And instead opt for a medium skinned pickle that is a little smaller. The skins hold up better to pickling ingredients and they just fit better into a mason jar. In fact, my grocer has a package that is specifically labeled "Cucumber Pickles".
The I used the ingredients I thought would be best for reaching the sweet and spicy concoction I was aiming for including fresh garlic, honey, whole mustard seeds, whole peppercorns and of course habanero.
PRO TIP: The potency of your garlic depends on how many of its fibers are ruptured to release the flavor. Minced garlic will provide more garlic flavor than simply smashed or sliced. If you want more garlic essence, minced or press it. If you want less, slice or smash.
Most people think the orange in the picture is carrot, but its not, it is the habanero pepper. You can certainly add carrots and pickle them alongside cucumbers or just do carrots alone.
I had no clue how my Honey Habanero Pickles would turn out. Every day hubby would look in the fridge and ask "are they ready yet?" and on the 8th day, I let him try one. Poof! I did it!
FACT: Pickling is just a process of fermenting, similar to making kimchi or kombucha. This process creates a brine that is good for you gut and digestive tract.
Sweet and spicy, honey habanero pickle chips for all! The two mason jars in my fridge were gone in two days! Other than the foresight to prepare Honey Habanero Pickles ahead of time, they are very simple to make and even tasty to eat!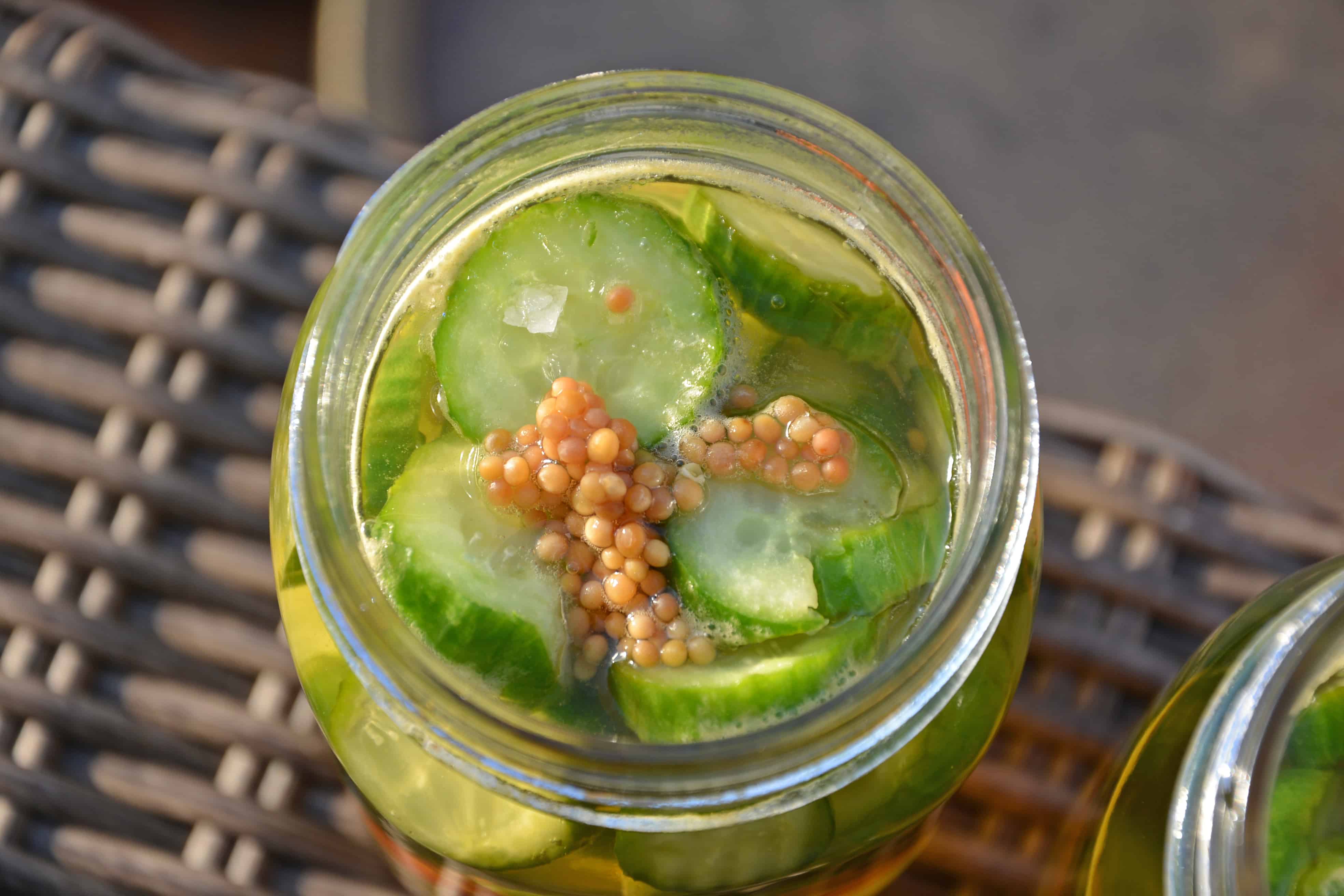 If you want, you can also add beets, asparagus cabbage to your pickle jar for a medley of sweet and spicy goodness! Perfect for charcuterie platters or a cool (but spicy) summer treat! Even though they are spicy, they still seem to be refreshing.
Tools for making Honey Habanero Pickles:
Mason Jars
– even if you don't plan to make a big batch, get a bigger jar than you think you need.
Funnel
– You'll want this to control the pour of brine into the mason jar.
Mandolin Slicer
– If you want fun chips with grooves, you'll need to cut them with this bad boy!
You'll also love these easy snack recipes!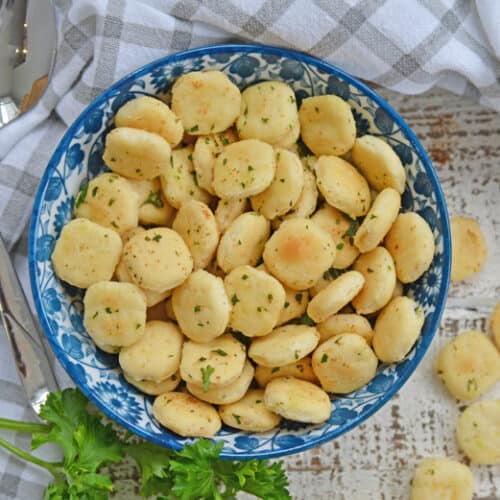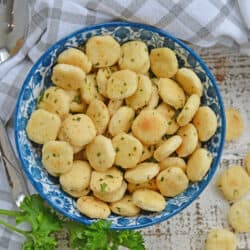 Ranch Oyster Crackers
Ranch fanatics will fall in love with these EASY Ranch Oyster Crackers! With butter, ranch seasoning and crackers, you have yourself a delicious snack!
See The Recipe!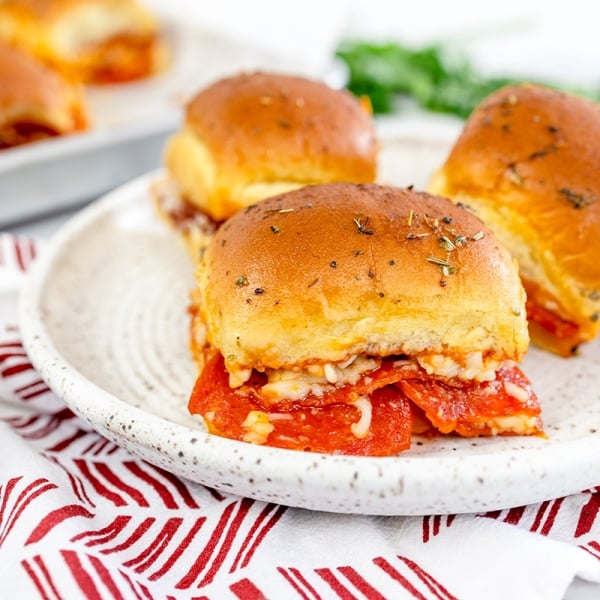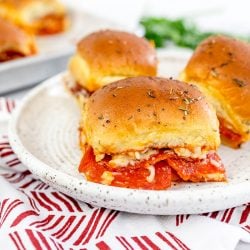 Pizza Sliders
Cheesy Pizza Sliders are easy to make with just 4 ingredients and the best for parties. Loved by kids and adults!
See The Recipe!
Questions you might have about how to make homemade pickles:
Are pickles healthy? This questions always makes me cringe. Mainly because everyone's definition of "healthy" is different and I am NOT a nutotiona professional nor a physician. You can scroll on down to look at the nutritional information and make a judgement call all on your own.
How long are homemade pickles good for? Homemade pickles don't contain the same preservatives as mass produced pickles, but the fermentation process does naturally preserve them. If kept in the refrigerator, they should be good for up to 2 weeks after being initially opened.
Do homemade pickles need to be refrigerated? Yes, pickles need to be refrigerated.
Can I make pickles faster? Unfortunately, no. There aren't any tips or tricks for speeding up the fermentation process.
What happens during the pickling process? For the pickling process to get started, vegetable sugars need to metabolize to prevent the growth of bad bacteria. Cucumbers naturally have good bacteria already in them (don't worry, it is harmless).
The process produces antibacterial substances, carbon dioxide and alcohol, without changing the vitamin content of the vegetable. This is known as lactic acid.
Can I cut my pickles into spears instead of chips? Sure you can! Smaller pieces will pickle faster, so spears might need an additional day or two to fully ferment.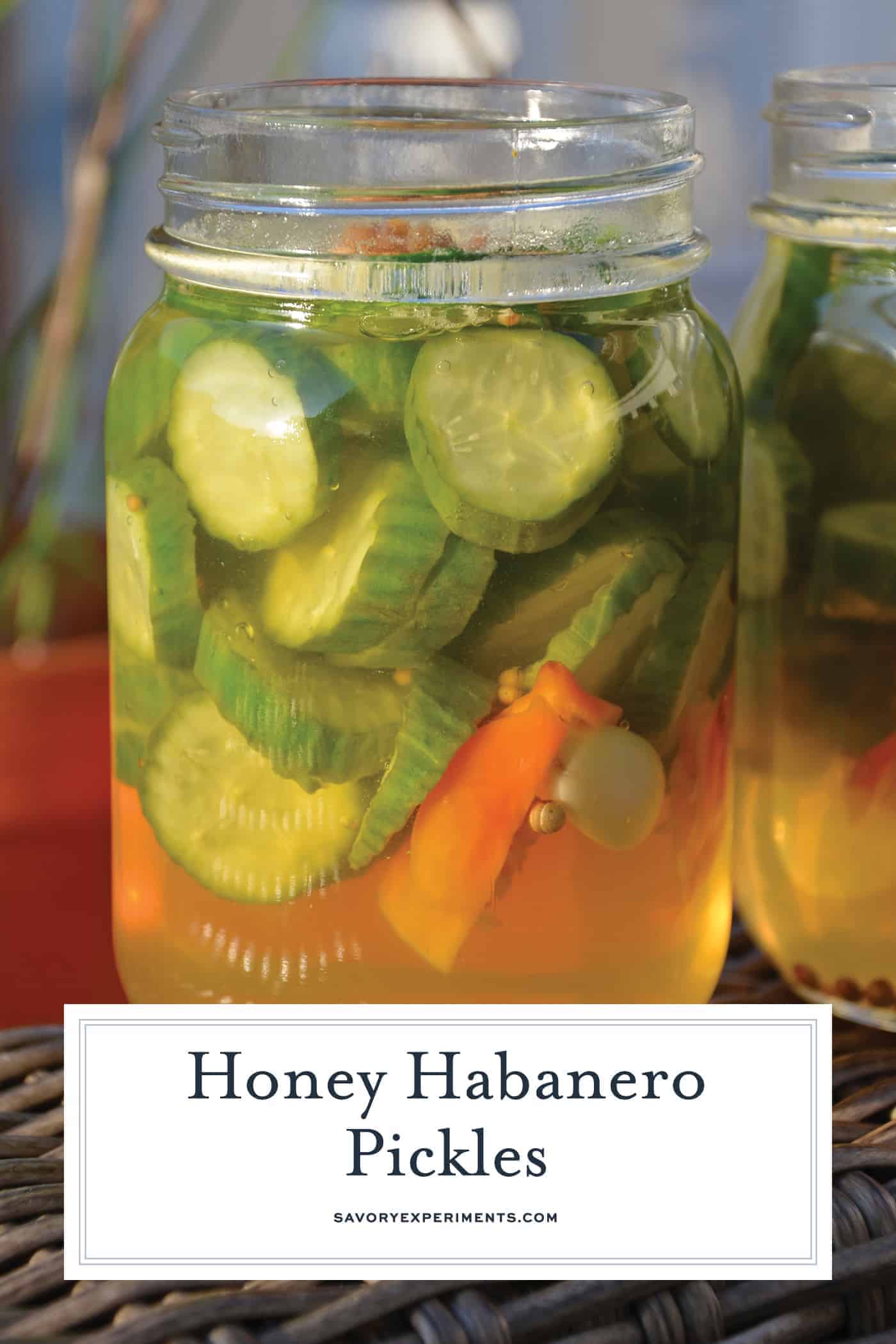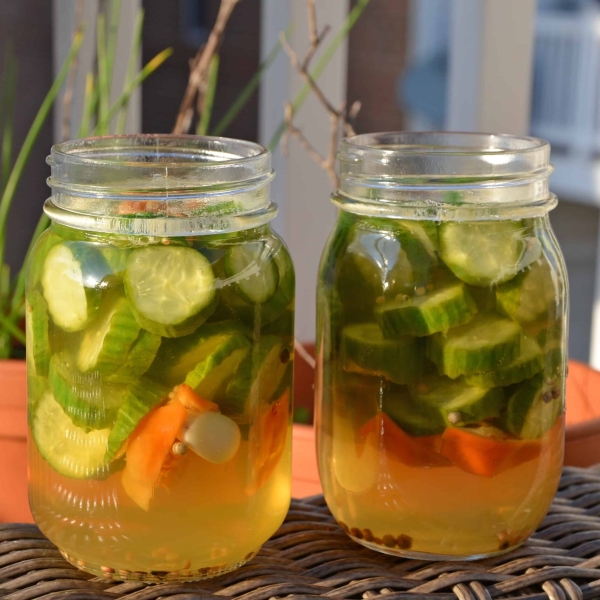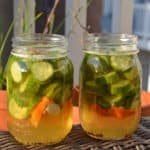 Honey Habanero Pickles
Honey Habanero Pickles are the best of both worlds, spicy and sweet. Eat them as a snack or pair them your favorite burger or hot dog.
Instructions
In a medium sauce pot, combine water through Kosher salt. Bring to a low simmer, stirring until all ingredients (except mustard seed) are dissolved. Remove from heat and allow to cool.

In the bottom of two 16 ounce mason jars, place habanero, garlic and peppercorns, dividing evenly.

Cut cucumbers according to preference, either sliced with a mandolin slicer or into spears. Divide evenly in mason jars.

When cooled, divide liquid into jars. You might have more than you need, that is fine, just discard it.

Screw on tops and place in refrigerator.

The amount of time it will take for them to "pickle" depends a lot on the size of your pickle. Mine were rather thin and cut into 1/2 inch disks, which took 10 days. Thick pickles could take closer to one month.

If you've tried this recipe, come back and let us know how you liked it!
Nutrition
Calories:
480
kcal
,
Carbohydrates:
118
g
,
Protein:
4
g
,
Sodium:
7014
mg
,
Potassium:
882
mg
,
Fiber:
4
g
,
Sugar:
112
g
,
Vitamin A:
430
IU
,
Vitamin C:
20.8
mg
,
Calcium:
114
mg
,
Iron:
1.9
mg