This is a sponsored post written by me on behalf of BUBBA burger. All opinions are 100% mine.
Sticky, sweet and totally juicy, these Pineapple Teriyaki Burgers are going to be a hit with your family and the next party.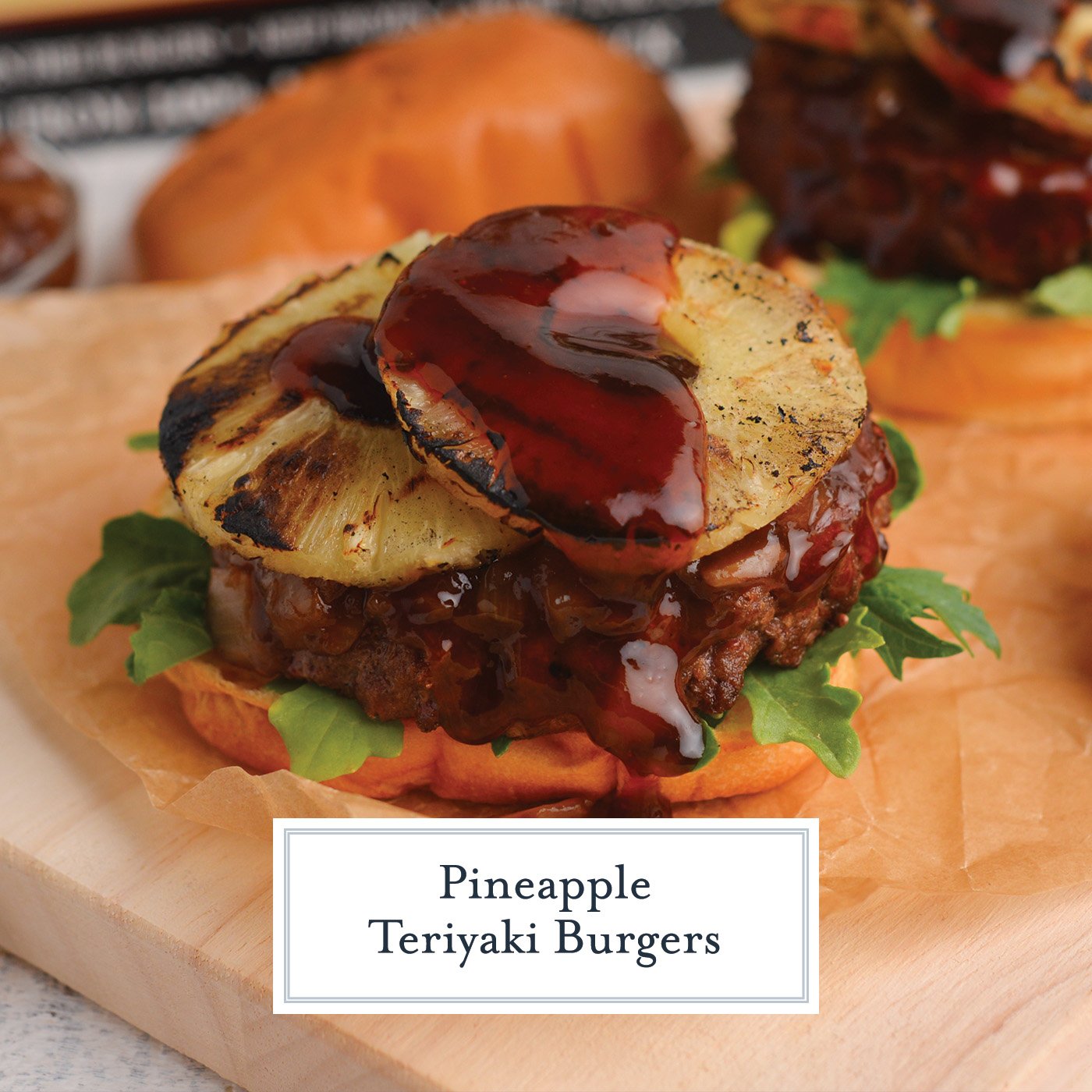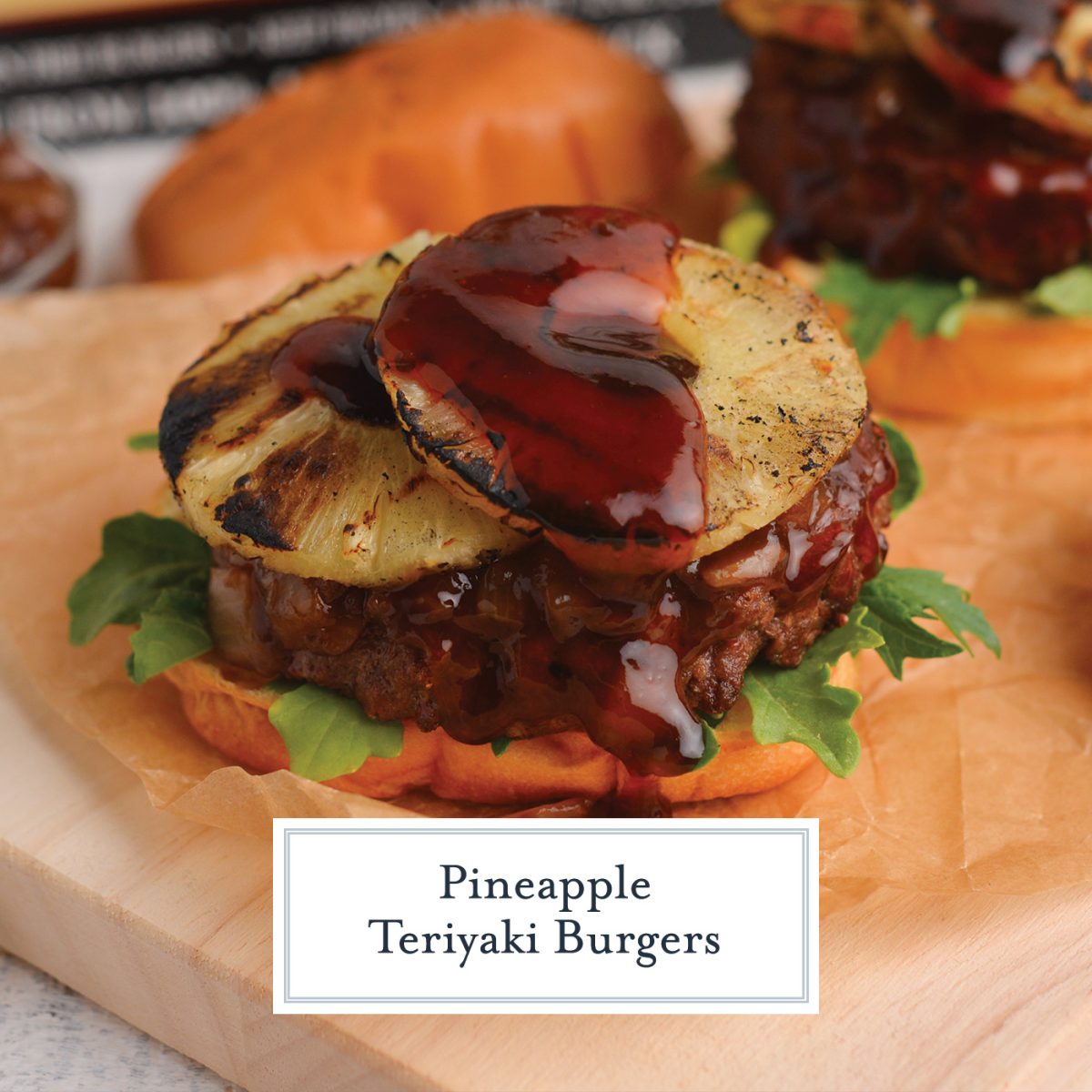 A juicy BUBBA burger with crispy field greens, a tangy onion jam, sweet teriyaki sauce and, of course, charred pineapple slices. Grilling pineapple caramelizes the natural sugars making them extra sweet and tasty.
Gourmet Burgers
I am a gal who craves burgers. And while there is nothing like a burger with just ketchup, mustard and maybe cheese, I also love a good specialty burger. One that complements the natural flavors of beef and provides unexpected flavors and textures.
I'm a true believer that a good burger should be just beef (and select complementary toppings) which is why we choose BUBBA burgers. They can be kept in the freezer and cooked frozen, so no need to think ahead. BUBBA burgers are made with 100% USDA Choice Chuck; no fillers, no artificial ingredients, and no preservatives. Click Here To Learn All About BUBBA!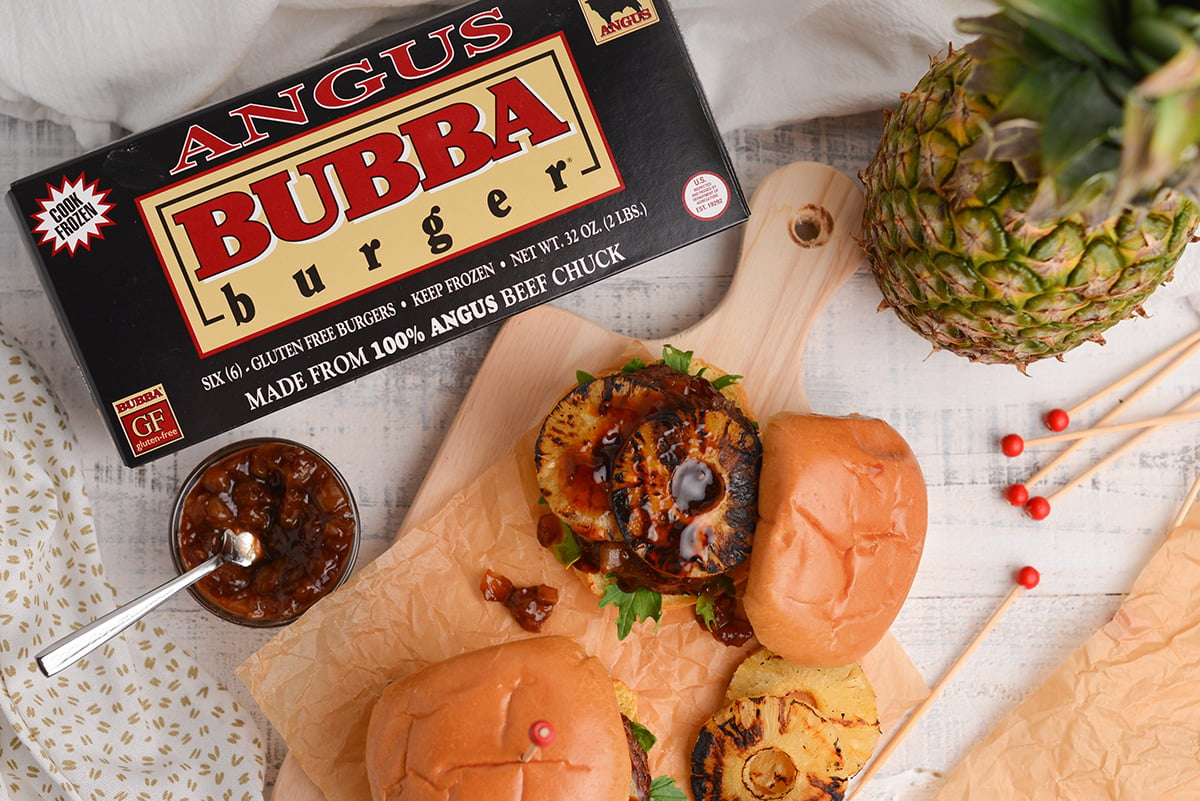 What You'll Need
BUBBA burgers– BUBBA burgers only have one ingredient: 100% choice beef chuck and for this beef cookbook author, that is super important. They are high in protein and quality and super convenient.
Bun– I love a sweet brioche bun, but a sesame seed bun, Kaiser roll or any other type of bread. I even eat these sans the roll for a lighter lunch.
Field Greens– This sounds fancy, but it is just the spring mix at the grocery store. Butter, bibb or iceberg lettuce are great too.
Onion Jam– If you've never had onion jam, you don't know what you are missing! Caramelized onions reduced with balsamic vinegar. It is sure to be your next favorite condiment. You can likely find it pre-made in the deli section, but it is also easy to make at home.
Teriyaki Sauce– Teriyaki sauces vary greatly by brand, so taste test a few to find the one that suits your palette as far as sweet and salty. Or make it at home like I do so you can adjust these levels.
Pineapple Slices– Fresh or jarred, either works! Skip the grilling part, but know that not only does it heat them up, it allows those natural sugars to really shine.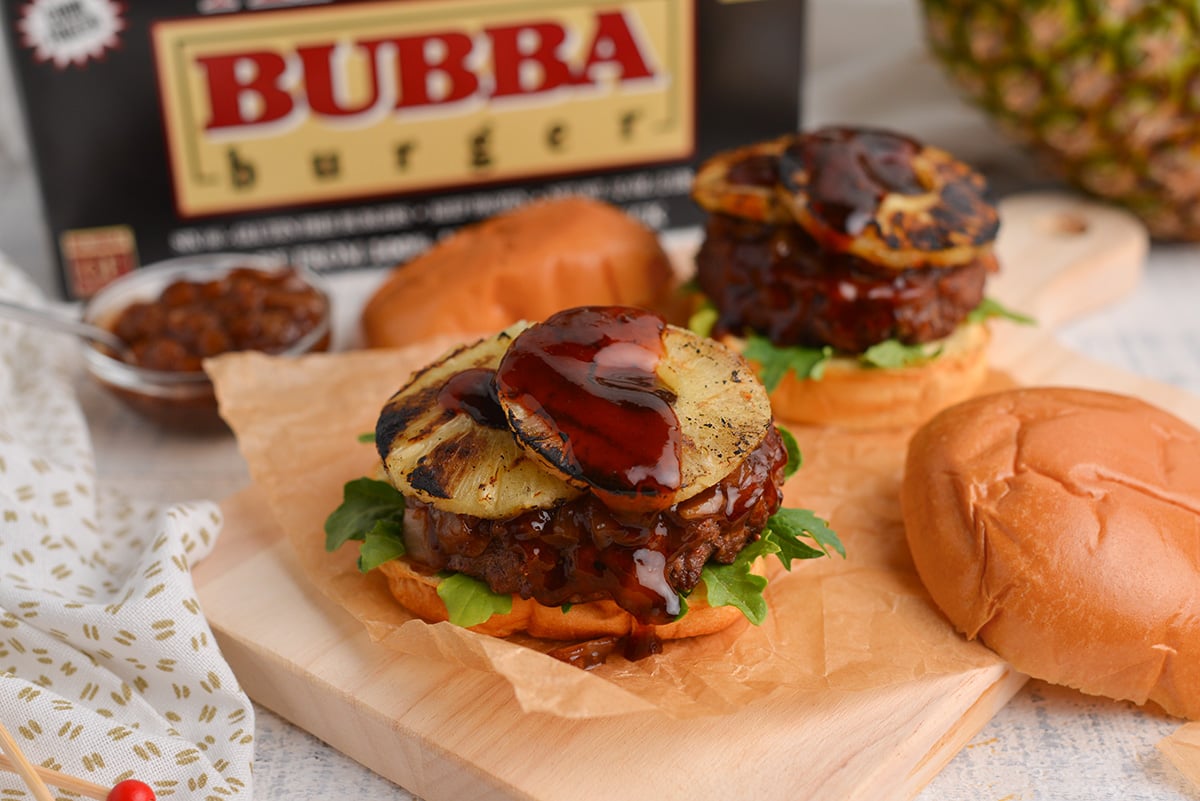 How to Make a Teriyaki Burger
You have options when making your BUBBA burgers. For this Teriyaki Burger recipe, I opted to use the grill since I wanted to grill the pineapple too, but fee free to prepare yours indoors on a cast iron skillet.
Place the frozen burger directly on a preheated grill (350°F on indirect heat) or skillet (medium heat).
Wait for the juices to rise to the top without moving the burger around and do NOT press on it with a spatula, approximately 4 to 6 minutes. Browning is a good thing, it helps to develop natural flavors!
Flip the BUBBA burger and cook for another 4 to 6 minutes or until your desired doneness.
Allow the burger to rest. While the burgers rest, place the pineapple slices on direct heat, flipping once after 1 minute. They should easily develop char marks.
Assemble the burger by placing field greens on the bottom, then your burger, a healthy slathering of onion jam, two pineapple slices and a drizzle of teriyaki sauce.
Enjoy open-faced or top with the other half of the bun.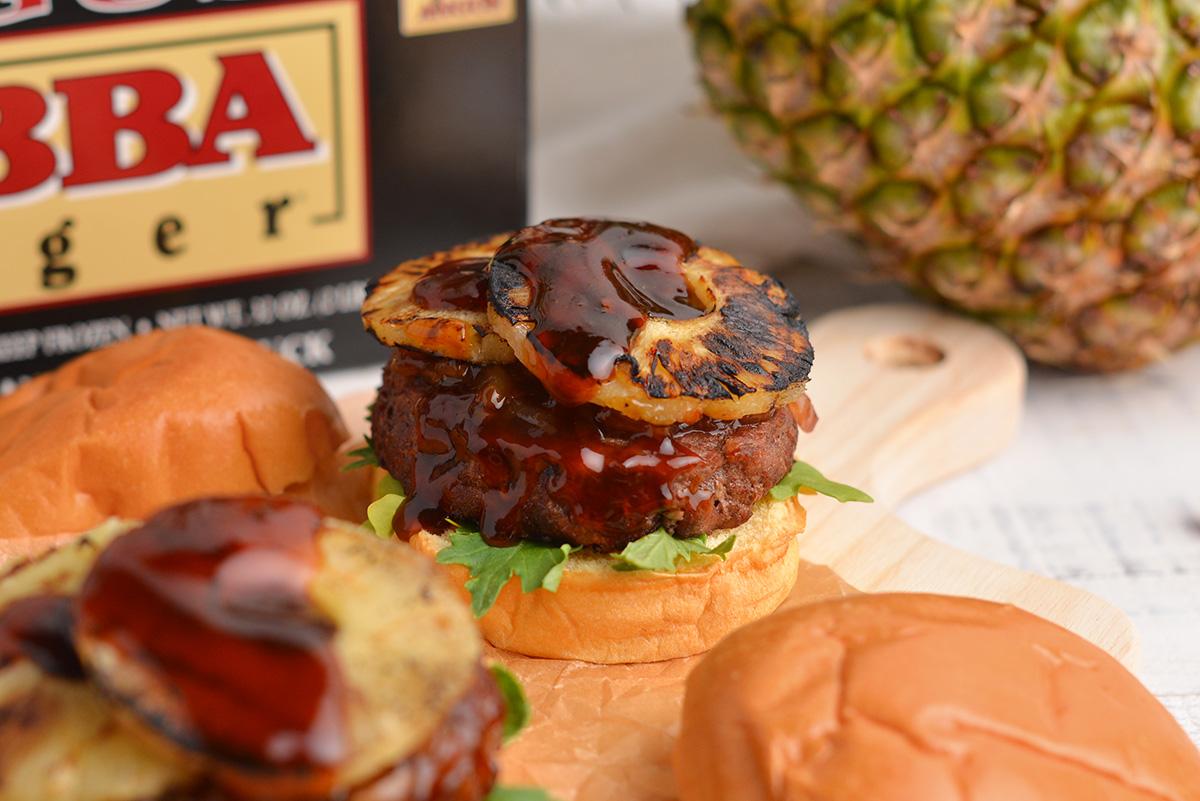 More Toppings That Pair with Teriyaki Burgers
Avocado slices
Thick cut tomato
Crushed red pepper flakes
Bacon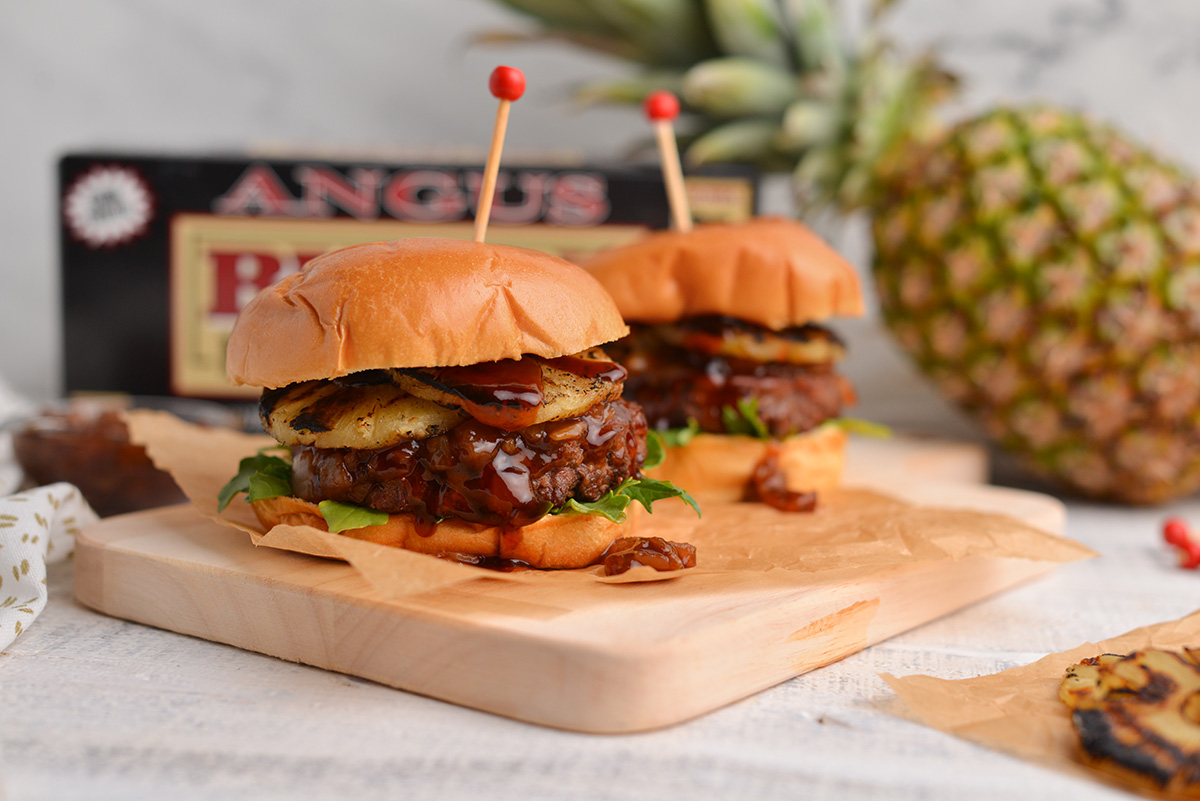 Leftovers
I highly suggest building your burgers fresh and enjoying them hot. If you do have leftovers, store the burgers and the topping separately and make them as needed.
Reheat in a skillet or a quick trip to the microwave and then assemble the burger from scratch just like the original instructions.