There aren't many flavors that pair better with truffle than parmesan. Perhaps garlic, but that is why so many of my truffle recipes include all three like Parmesan Truffle Fries.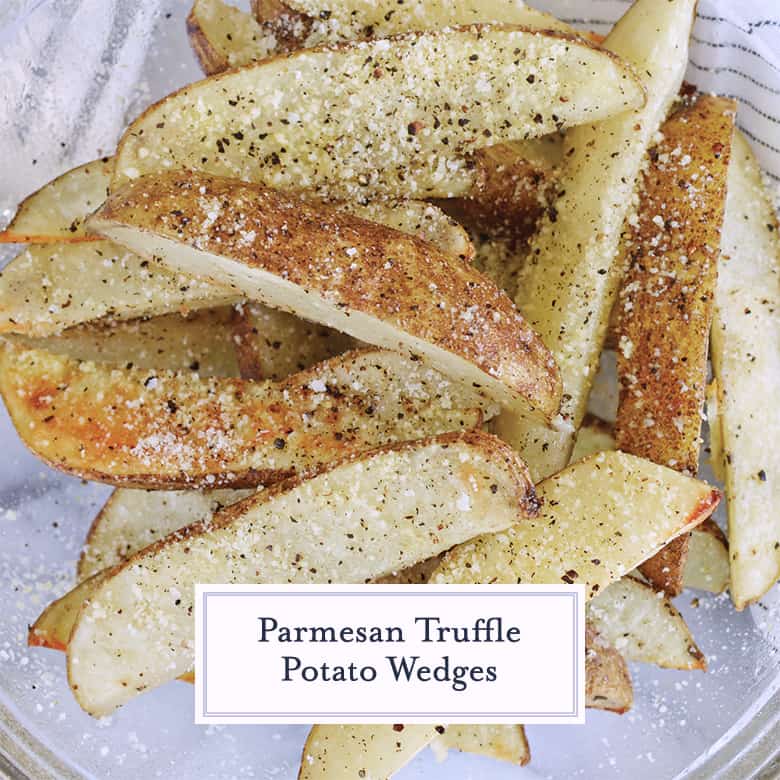 Truffle is a flavor that many folks enjoy and order at restaurants, but steer clear of at home. Unless you are seeking the rarest truffles that cost more than your car, you can easily find truffle infused olive oil or truffle pate at the grocery store or even through Amazon.
Truffle Oil
Truffle oil comes in either black truffle or white truffle varieties. Both are infused into olive oil and neither has a truly distinct color difference after being filtered out.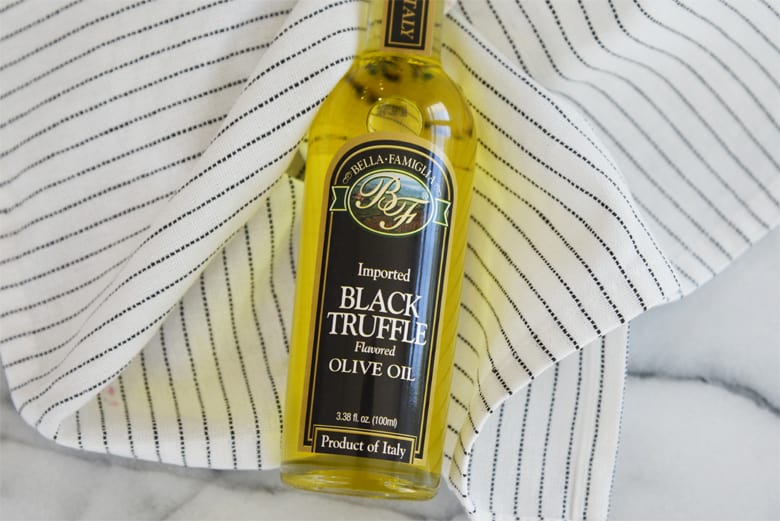 The flavors profiles are also so similar that white and black can be used interchangeably. Also, a little goes a long way. You don't need much to make an impact.
It does cost a pretty penny, so use sparingly. You can drizzle it over meat and fish as a finishing oil, salads, avocado toast or on roasted veggies like these oven baked potato wedges.
Oven Baked Potato Wedges
The easiest of homemade fries has to be potato wedges. No time consuming cutting or getting out appliances to make perfect fry shapes.
You can get crispy fries with a fluffy, soft interior without frying. Or even without having an Air Fryer. The secret is to use enough oil, but not too much and also the right oven temperature.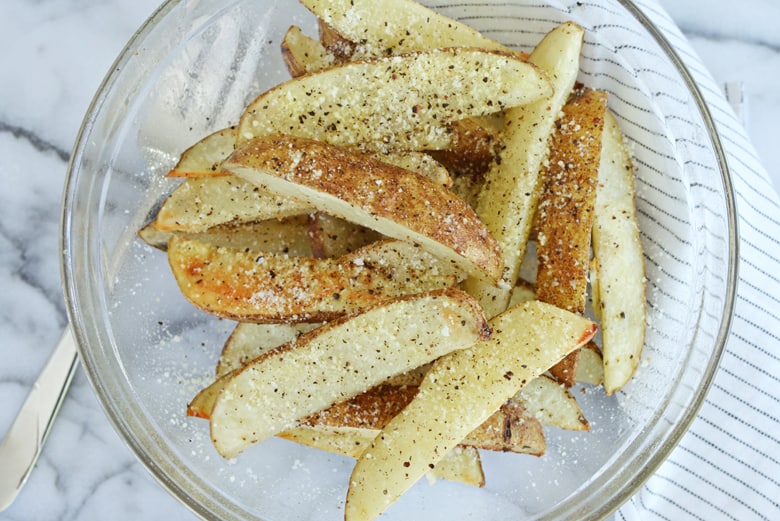 The oven needs to be hot enough to crispy them up and cook them fast!
Lastly, and this is a big one, don't use a baking dish with sides. You can use a rimmed baking sheet to prevent them from sliding off, but do not use something like a 9×13 baking dish. This just steams the potato and prevents them from getting crispy. This is the same for sweet potato fries and zucchini fries. If you want to try your hand at deep frying them, follow the instructions on our Cajun Fries post.
Tips for Crispy Baked Potato Wedges
Toss with oil, but leave excess oil in the bowl.
Use a high temperature for roasting.
Do not high a baking dish with high sides.
How to Make Potato Wedges
The process is fairly simple. Start by choosing the right potato. Russets are best for this type of potato recipe because they don't require peeling due to thin skin, but also have enough starch to get a crispy exterior and fluffy interior.
Cut each into 8 slices by cutting in half, then half again and half again. To get perfect peaked edges, cut from the inside towards the skin. If you have a particularly skinny potato, it might only be 4-6 slices.
In a mixing bowl, toss them in truffle oil and grated garlic and then transfer to a rimmed baking sheet, but do not tip the bowl out onto the baking sheet. You don't want any extra, added oil pool on the bottom.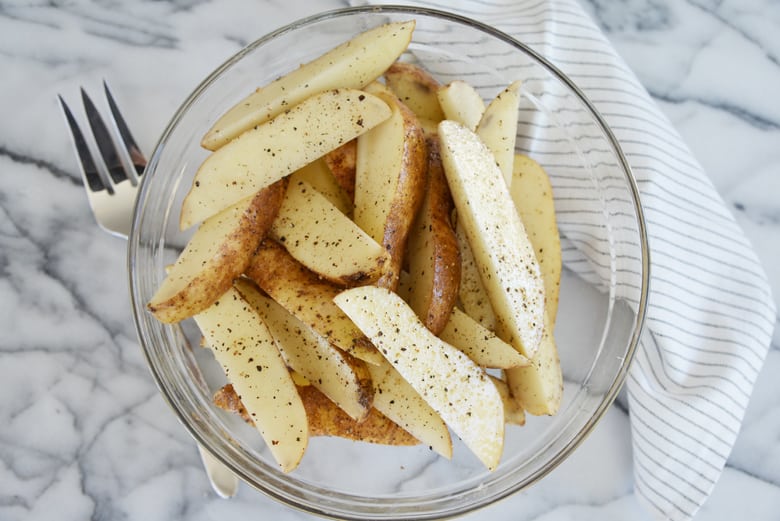 This lets the truffle flavor bake right on into the potato and prevents sticking. You'll add another drizzle for good measure and aroma at the end.
Season with freshly ground pepper and Kosher salt. If you do this in the bowl, you'll undoubtedly get pockets of salt and pepper that didn't distribute evenly.
Next, roast those bad boys. You can turn them half way through, but honestly, I don't and they turn out fine.
Lastly, drizzle with truffle oil, toss lightly being careful to not break your precious potato wedges. Sprinkle on top with freshly grated Parmesan cheese right before serving.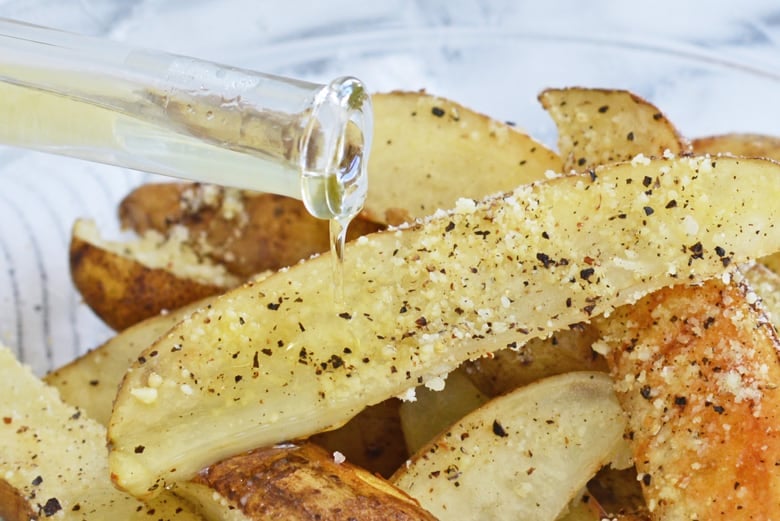 Dipping Sauce
Parmesan truffle fries honestly don't even need dipping sauce, but if you insist on dipping, check out my list of easy aiolis. Truffle Aioli Sauce and Garlic Aioli Sauce are probably the best bets.
You can stick with traditional ketchup or even fry sauce.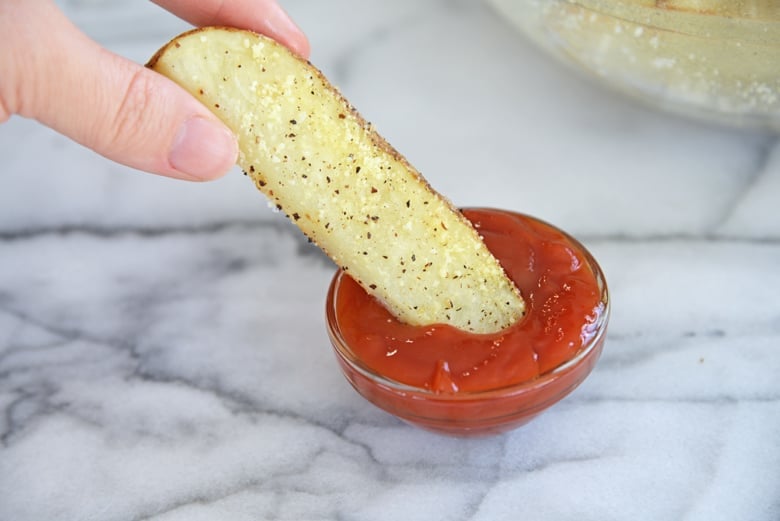 Salad dressing like ranch or creamy Italian are also winners.
How Many Potato Wedges Per Person
Is there really a right answer? Cause I could eat them all.
The right answer is about 6 because they equals one potatoes. But in all honesty, they are tasty and you might want to plan for 1.5 potatoes per person.
Parmesan Truffle Topping
It should be easy, right?
Well, technically it is, but there is an order you need to do it. Otherwise the cheese burns or the parmesan and garlic just form a paste with the oil and it is impossible to get evenly distributed over your fries.
So what is the trick? The trick is to roast your potato wedges with half of the oil, salt and pepper. It prevents sticking, but also helps those potatoes get nice and crunchy.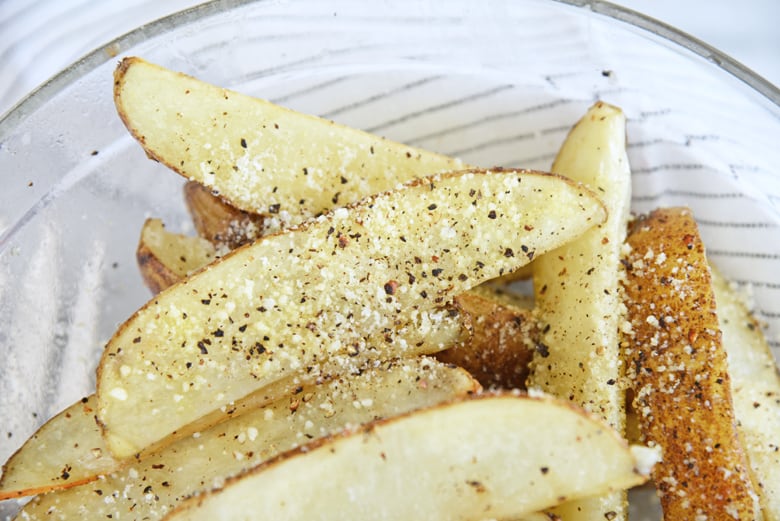 Then after the fries are cooked, whisk pressed or grated garlic with remaining truffle oil. Drizzle over the fries and then top with finely grated Parmesan cheese.
Resist the urge to toss it in a mixing bowl after cooked. This just results in broken potato wedges and clumpy oil.
What You'll Need:
Truffle Oil – Like mentioned above, a lot goes a long way. It is pricy, but use it sparingly and you'll be okay. Olive oil (all olive oil) also goes rancid, so only buy a small bottle if you don't plan to use it frequently.
Rimmed Baking Sheets – I really like this thick, industrial gauge baking sheets. You'll find this type in professional kitchens and are less likely to warp. Also, super cheap and they come in a variety of sizes. I have one of each!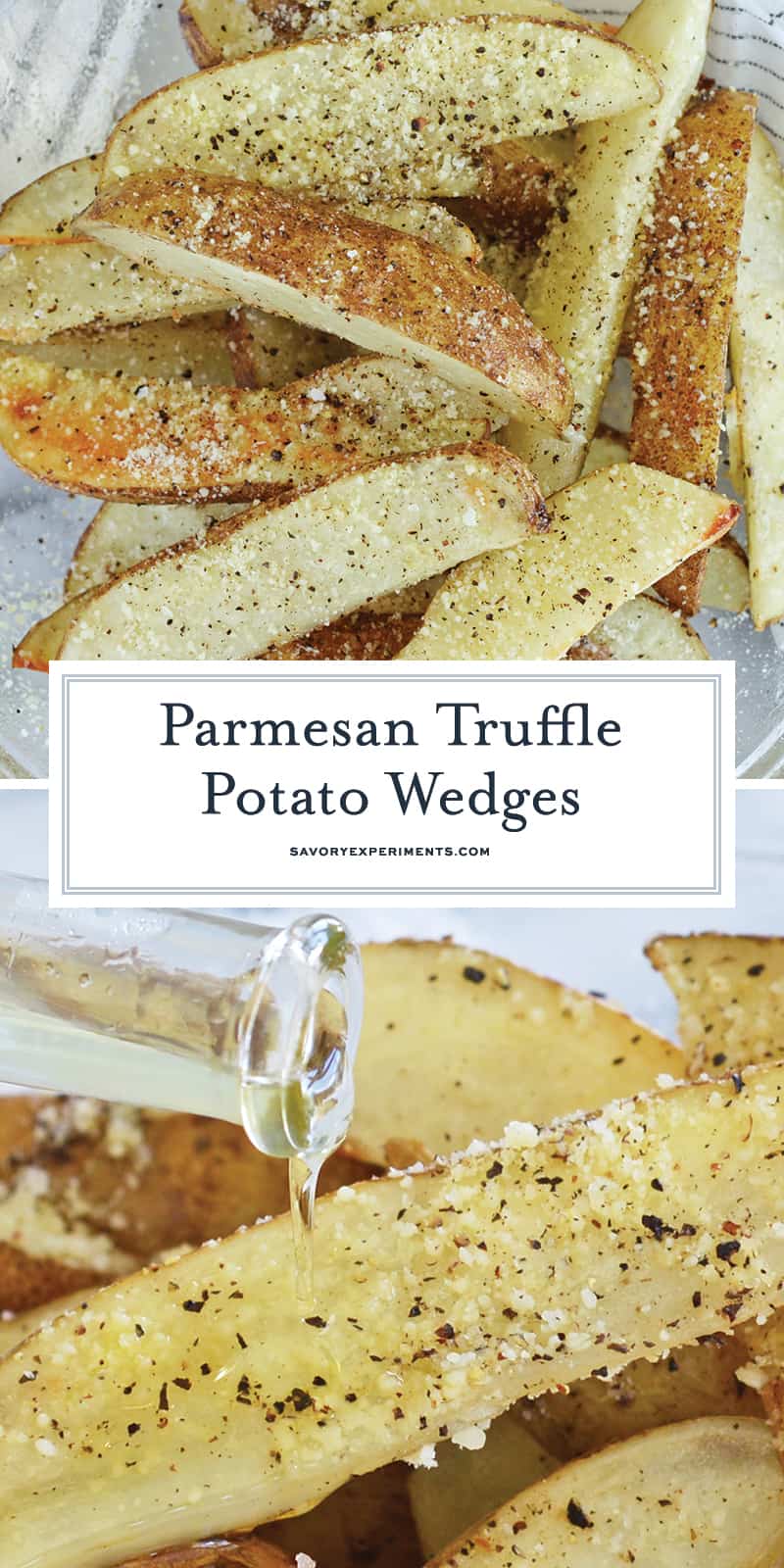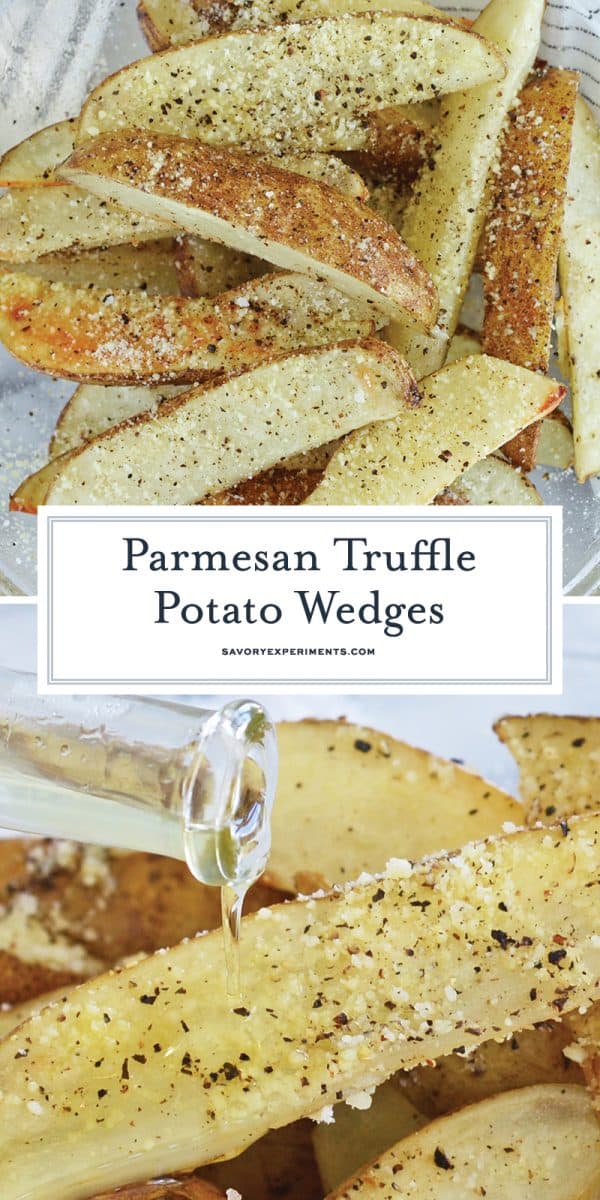 More Truffle Recipes: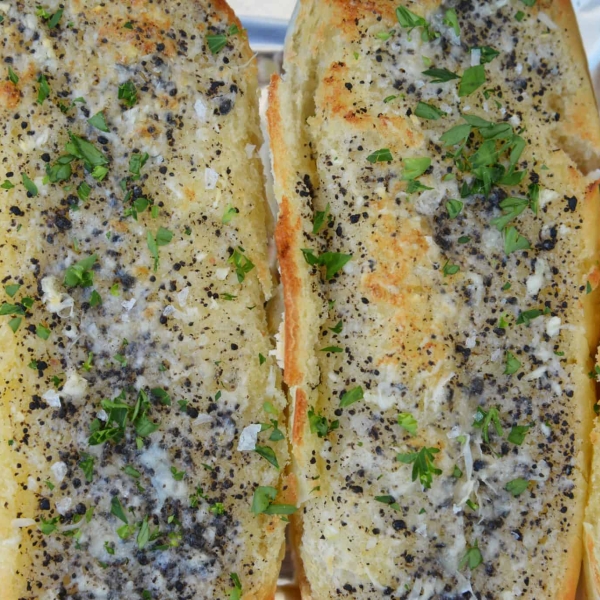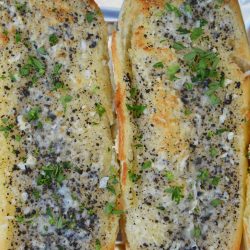 Black Truffle Garlic Bread
This Truffle Butter Garlic Bread is unlike any homemade garlic bread you've tasted. So delicious and made with just 3 ingredients!
View this recipe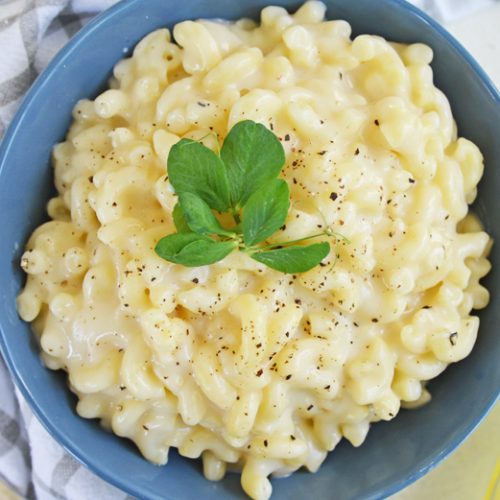 Truffle Mac and Cheese Recipe
Delicious mac and cheese using smoked gouda, white cheddar and truffle oil. The perfect side dish.
View this recipe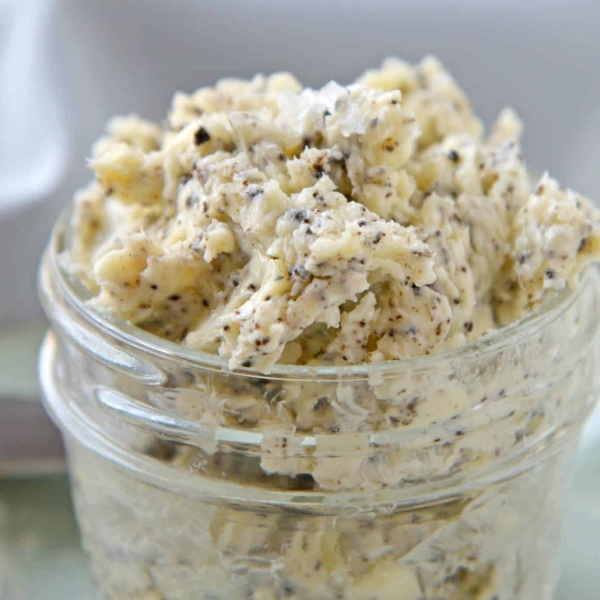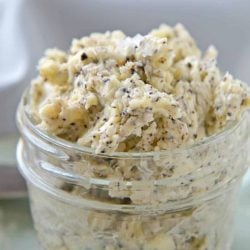 Truffle Butter
This Homemade Black Truffle Butter is so easy to make! Only 3 ingredients and a few minutes needed. You'll never get it at the store again!
View this recipe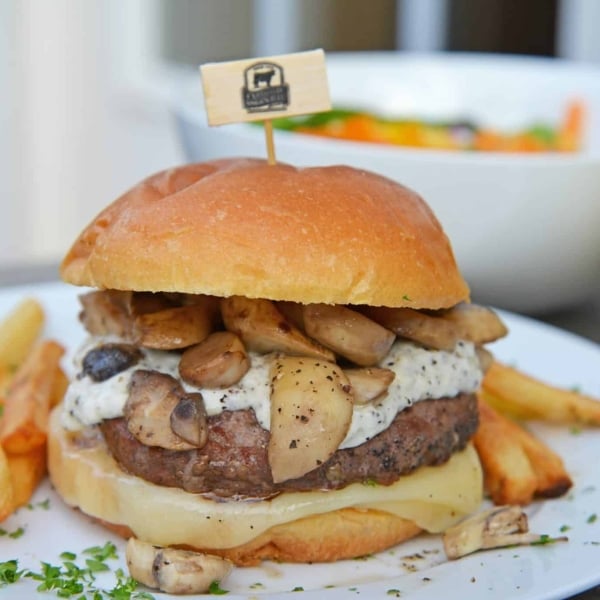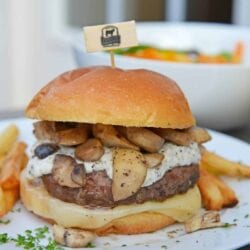 Garlic Truffle Burgers
A Garlic Truffle Burger is the perfect way to make a gourmet burger at home. Truffle Aioli, sautéed mushrooms, Swiss cheese and a juicy burger patty on a buttery brioche roll.
View this recipe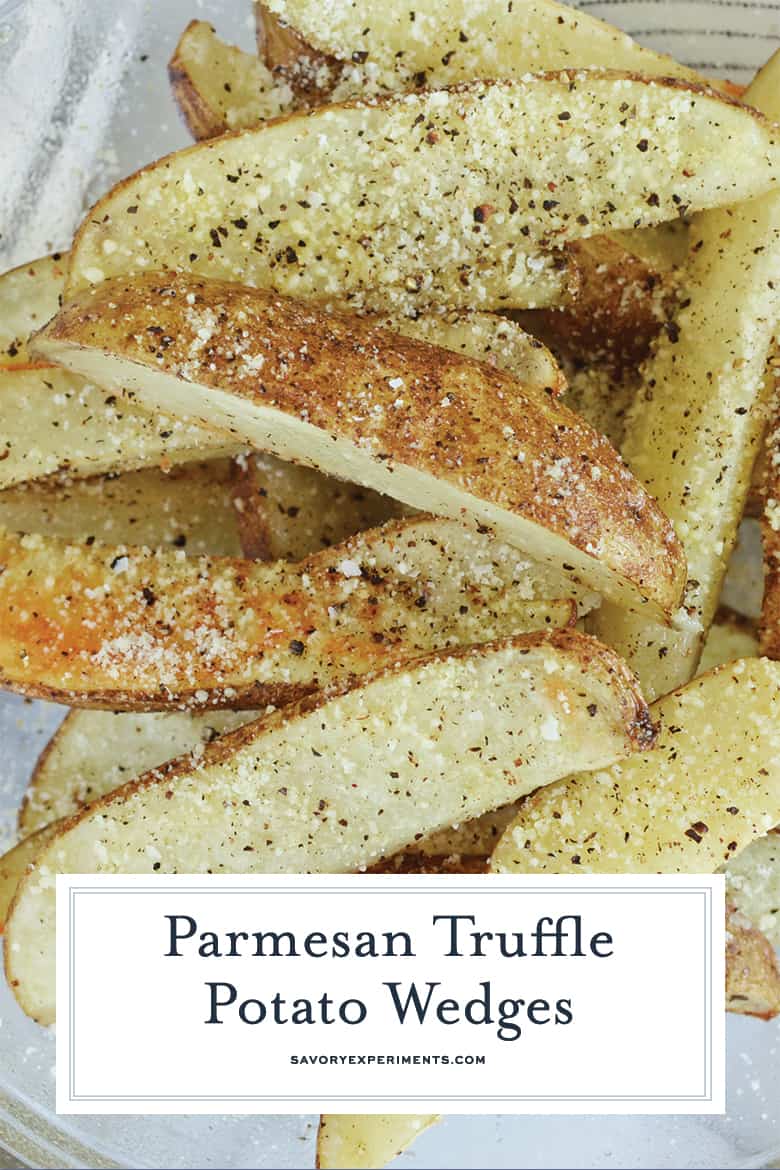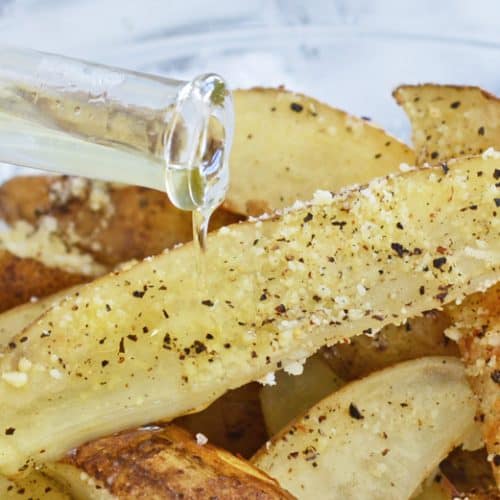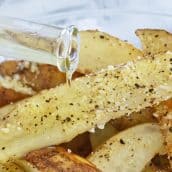 Parmesan Truffle Potato Wedges
Parmesan Truffle Potato Wedges have a crispy outside with fluffy inside and are tossed in truffle oil, garlic, salt pepper and finely grated Parmesan cheese.
Instructions
Preheat oven to 400 degrees. Line a rimmed baking sheet with aluminum foil for easy clean up.

Cut each potatoes into 8 slices by cutting in half, then half again and half again. To get perfect peaked edges, cut from the inside towards the skin. If you have a particularly skinny potato, it might only be 4-6 slices.

In a large mixing bowl, toss potatoes in 1 tablespoon truffle oil and grated garlic.

Using tongs, transfer the potato wedges to your prepared baking sheet, discard any remaining oil/garlic.

Season with freshly ground pepper and Kosher salt.

Bake for 35-40 minutes or until they are easily pierced with a fork.

Remove and while still on the baking sheet, drizzle with remaining 1 tablespoon of truffle oil and sprinkle with grated parmesan cheese.

Serve with your favorite dipping sauce.

If you've tried this recipe, come back and let us know how it was in the comments.
Nutrition
Calories:
239
kcal
,
Carbohydrates:
39
g
,
Protein:
5
g
,
Fat:
8
g
,
Saturated Fat:
1
g
,
Cholesterol:
1
mg
,
Sodium:
1194
mg
,
Potassium:
888
mg
,
Fiber:
3
g
,
Sugar:
1
g
,
Vitamin C:
13
mg
,
Calcium:
45
mg
,
Iron:
2
mg