These easy Salmon Burgers, flavored with lemon and dill, are the perfect weeknight meal. Using simple ingredients, and with minimal prep, these delicious burgers are on the table in less than 30 minutes!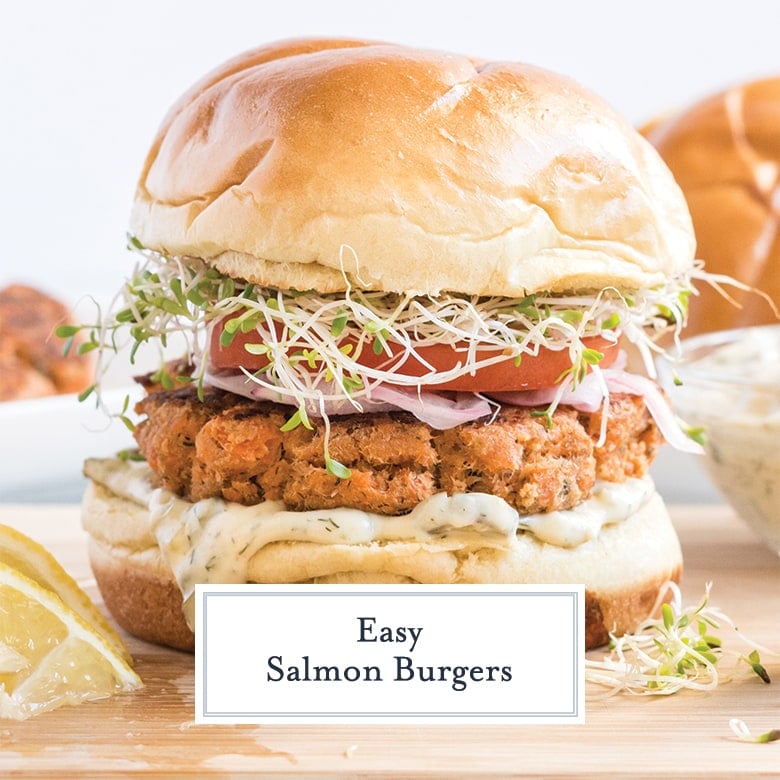 We love burgers in this house- beef burgers, sweet potato black bean burgers, mushrooms burgers. Give us a burger and we will devour it! They are one of those meals that are easy to prepare and have endless flavor combinations.
Easy Salmon Burgers
One of our favourite types of burgers are salmon burgers.
The great thing about salmon burgers is they are both quick and easy to make. And they can actually be quite economical too.
I use canned sockeye salmon for my burgers. Canned salmon is much easier on the pocketbook than fresh salmon and you can store it in your pantry so it's available whenever you need.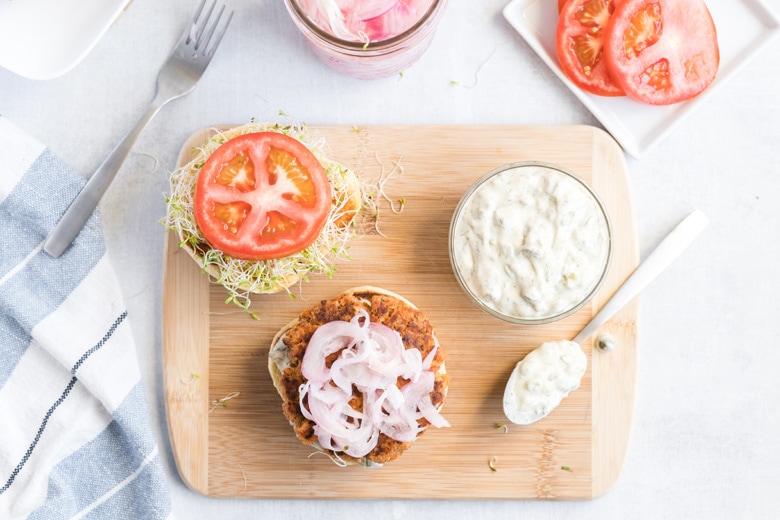 Because it's precooked, there is very little cook time needed for these burgers. From start to finish you can have dinner on the table in less than 30 minutes. That is a big win on a busy weeknight.
We like to either pair these burgers with a simple salad or pop some sweet potato fries in the oven. They are also fine on their own.
Salmon Burgers Ingredients
Canned Sockeye Salmon – Yes, these are made with canned salmon and, yes, they taste great. Just be sure to choose a high-quality salmon, like sockeye for best flavor and texture.
Egg – Acts as a binding agent to hold the patties together
Lemon juice – adds bright flavor and helps bring out other flavors
Dijon Mustard – adds a little bit of spice without overpowering the other flavors
Dill – always a great match with salmon and lemon
Granulated garlic – great flavor, but not as strong as fresh garlic
Salt & Pepper – staple seasonings in any recipe.
Panko Breadcrumbs – helps absorb some of the moisture and bind the ingredients. I use whole wheat as I like the flavor, but you can use white or gluten free.
Hot sauce – just a dash or two adds a nice spice. You can leave this out if you prefer.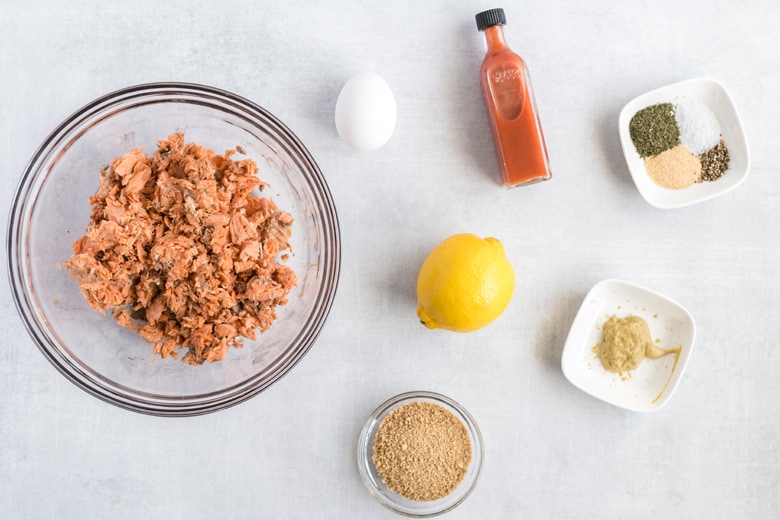 How to Make Salmon Burgers
There are really only a few steps to making salmon burgers, but there are a few tricks to making sure they turn out perfect every time.
ONE – Drain the salmon. Make sure it is well drained then place it in a medium sized bowl and flake it apart. I also like to remove any skin, but that is up to you.
TWO – Mix the ingredients together. Add the wet ingredients first, then add the seasonings and breadcrumbs. Mix until well combined.


THREE– Form the patties. Form the mixture into 4 equal sized balls and place on a piece of parchment or waxed paper. Next, gently press the salmon balls into patties with your hands. You are looking for patties that are about ½ inch thick.
Let the patties rest for about 10 minutes before cooking. This will help them hold together better.

FOUR – Cook the burgers. Heat a large, non-stick skillet over medium high heat. Once the pan is hot add a drizzle of oil to coat the bottom, then gently lift the patties from the parchment paper and place in the pan.
Allow to cook for about 5 minutes then carefully flip and cook an additional 5 minutes.
FIVE – Assemble the burgers and serve!
How to Serve Salmon Burgers
The first thing you need is a great bun.
I like to use brioche hamburger buns as they are light, buttery, and slightly sweet which pair so well with the salmon, however any hamburger bun will work.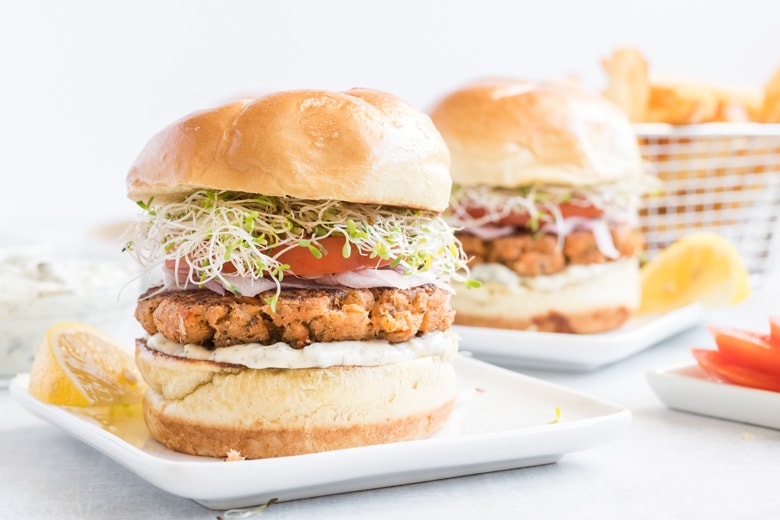 The next thing you need is some good toppings and some sort of sauce.
Our favorite sauce is tartar sauce. The tangy flavors in tartar sauce pair really well with the rich salmon.
For toppings, we like pickled red onions, tomato and alfalfa sprouts. The pickled onions add more tang and crunch while the tomatoes and alfalfa sprouts add freshness.
Of course, you can use any toppings or sauces you choose. Some other great choices are:
Pro Tip: When forming the patties, you want to handle the mixture as little as possible. Form the salmon into balls, then place on parchment or waxed paper and press with your hand to form the patties. If handled too much, they will want to fall apart.
Making Ahead & Variations
If you'd like to form the patties ahead of time simply store them in the fridge and cover with plastic wrap until ready to use.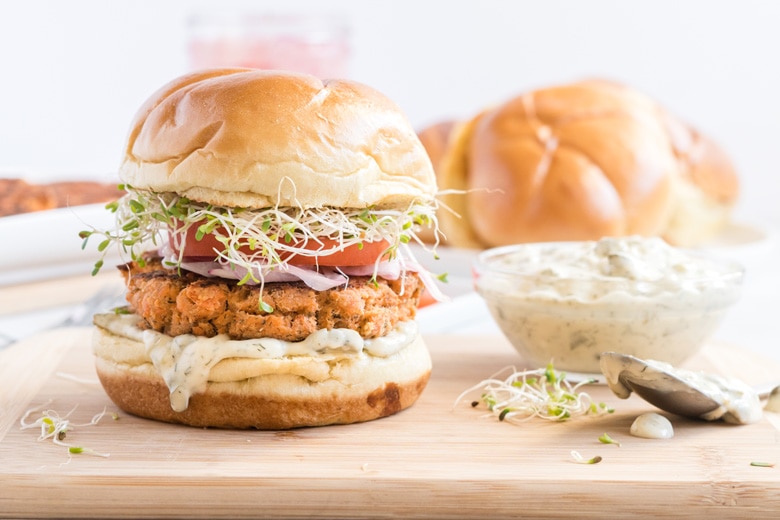 Also, if you'd like to use fresh salmon instead of canned, you can! In fact, these burgers would be a great way to use leftover cooked salmon. You can replace the canned salmon with equal parts cooked, flaked salmon.
Because these burgers are so delicate, they will fall through the grate of a standard grill, so I do not recommend grilling. However, if you have a grill stone or griddle, like a Blackstone, that fits on the grill these will cook perfectly.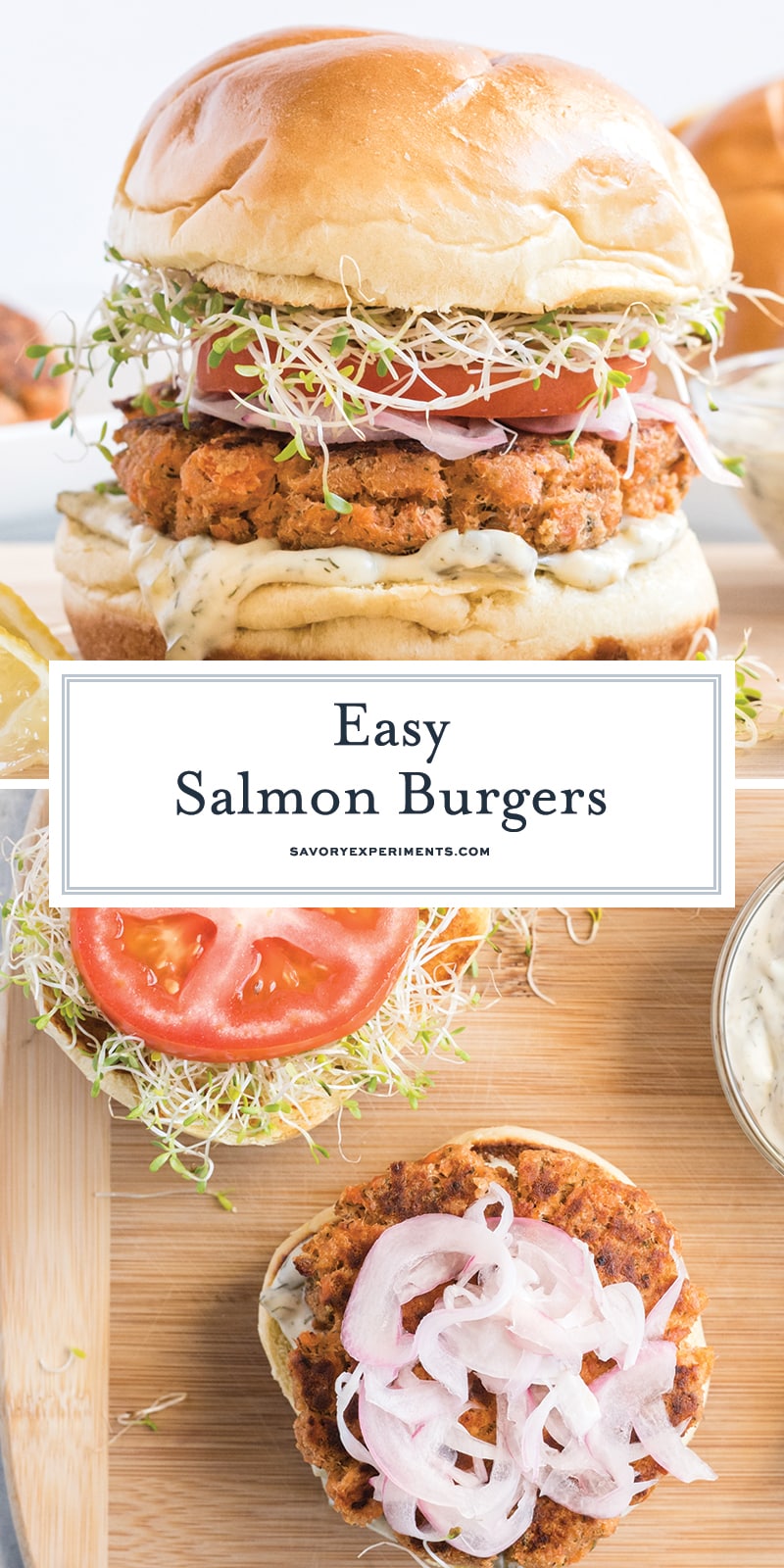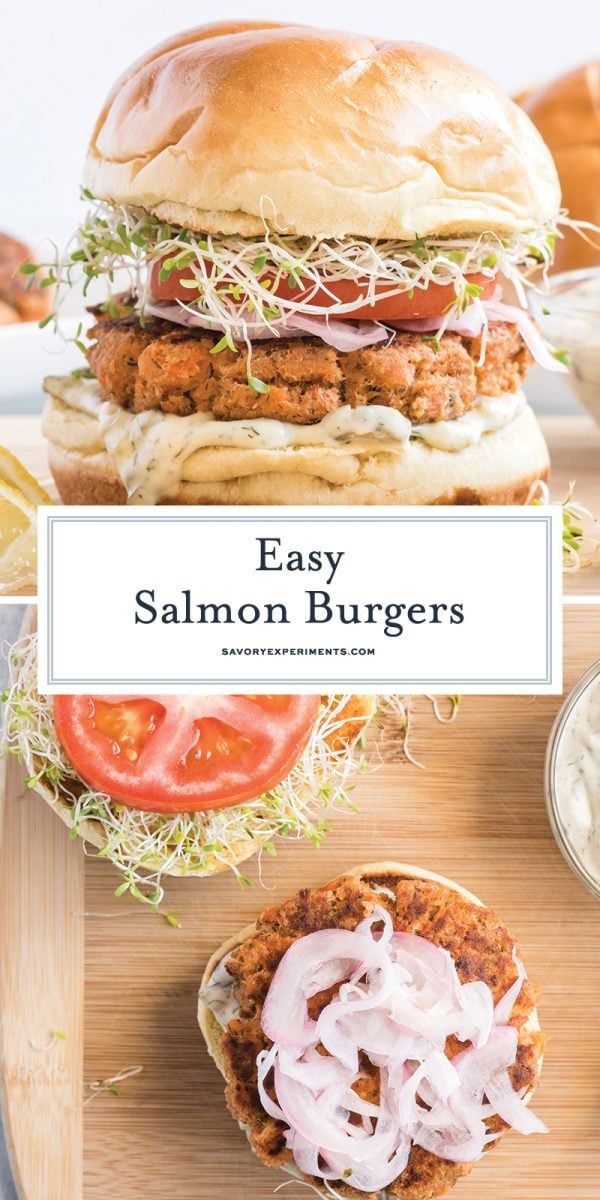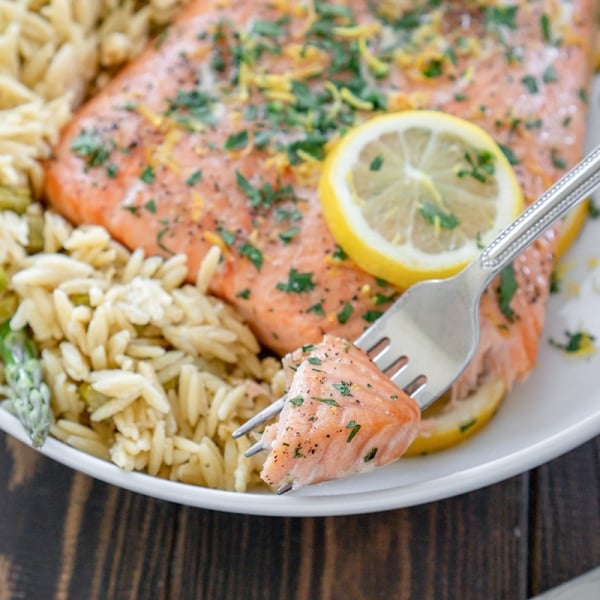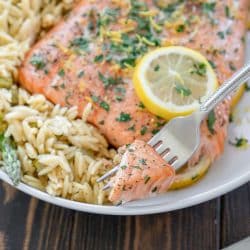 Lemon Pepper Salmon Recipe
Lemon Pepper Salmon is an easy to prepare, fresh and flavorful meal perfect for any night of the week.
View this recipe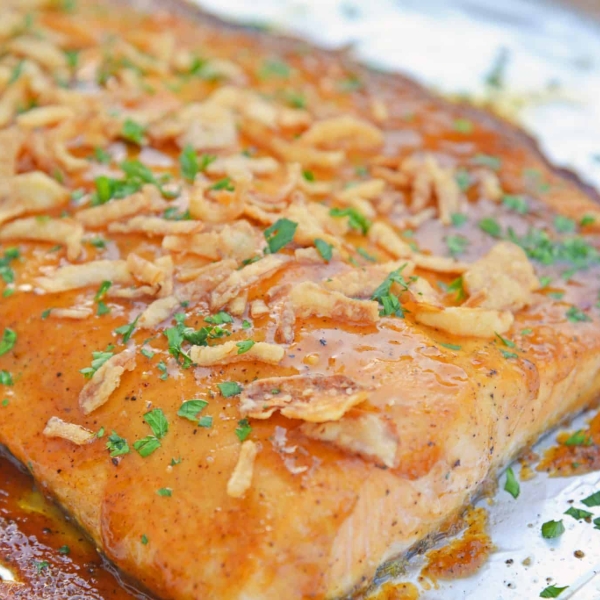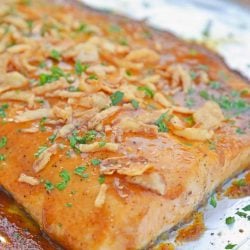 BBQ Baked Salmon
This BBQ Baked Salmon requires just 20 minutes and a handful of ingredients. Flavorful, quick and easy! Sure to become your favorite salmon recipe
View this recipe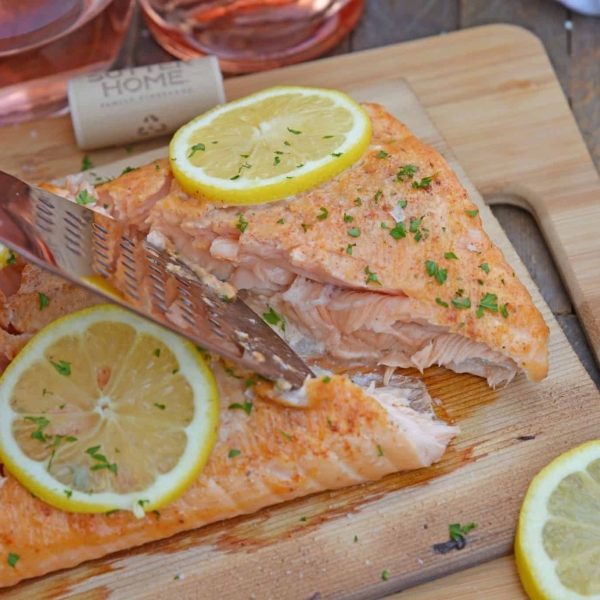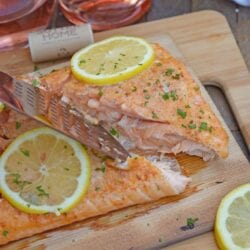 Spicy Cedar Plank Salmon
Spicy Cedar Plank Salmon is an easy grilled salmon recipe using a spicy salmon glaze. Perfect for a hot summer night and pairing with a crisp, sweet wine.
View this recipe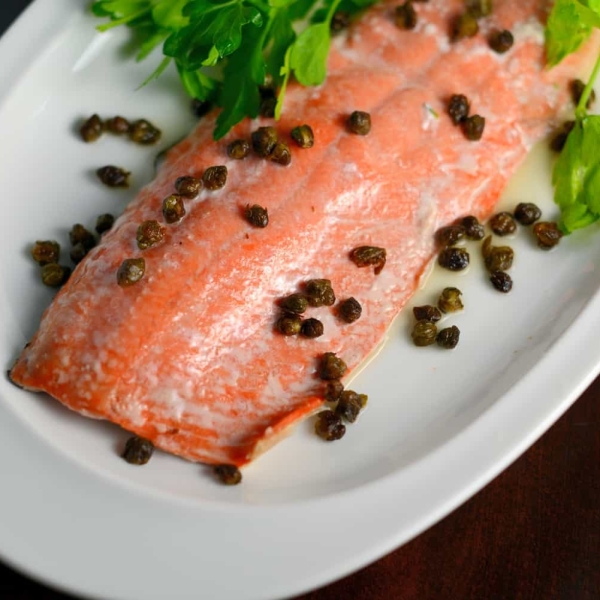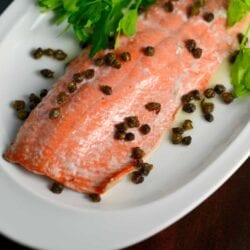 Crispy Caper Lemon Salmon
Crispy Caper Lemon Salmon is one of the best healthy salmon recipes. This lemon salmon is quick, easy and healthy! Crispy capers add texture sophistication to this easy weeknight meal.
View this recipe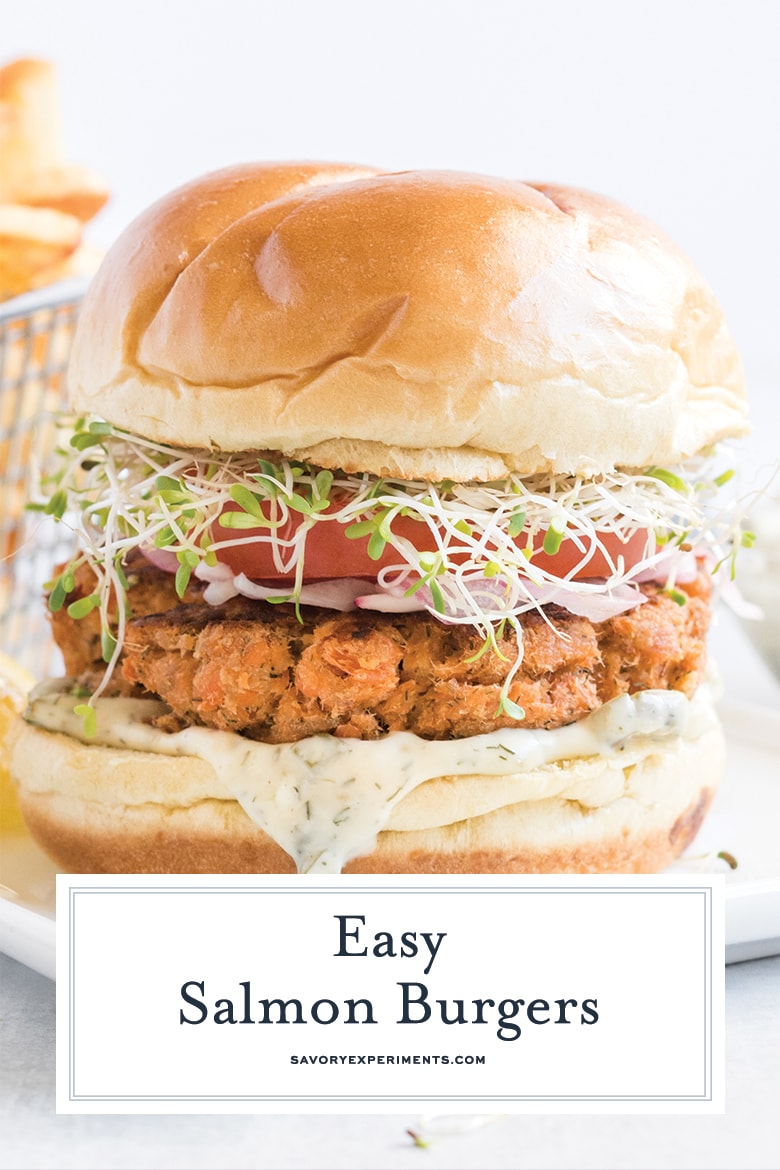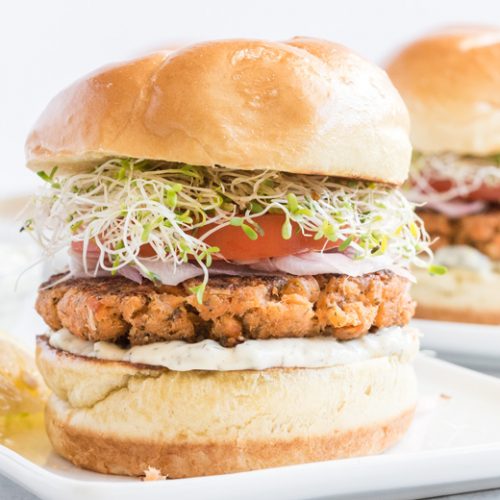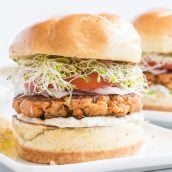 Easy Salmon Burgers
Made with sockeye salmon and flavored with tangy lemon & dill, these EASY delicious Salmon Burgers are on the table in less than 30 minutes!
Instructions
Drain the salmon well and add it to a medium size bowl, flake the salmon apart using a fork.

Add the egg, mustard and lemon juice to the salmon and mix with a fork to combine.

Add the seasonings and breadcrumbs and mix until all ingredients are well incorporated. Add a dash or two of hot sauce, if desired.

Form the salmon into 4 balls and place on a piece of parchment or wax paper.

Using your hand, press into patties about ½ inch thick.

Heat a large non-stick skillet over medium high heat and add a bit of oil to coat the bottom.

Once the skillet it hot, carefully add the patties. Cook for 5 minutes, then gently flip and cook 5 minutes more.

Remove from heat and serve on hamburger buns with your choice of toppings.
Nutrition
Calories:
348
kcal
,
Carbohydrates:
34
g
,
Protein:
33
g
,
Fat:
9
g
,
Saturated Fat:
2
g
,
Cholesterol:
129
mg
,
Sodium:
1080
mg
,
Potassium:
462
mg
,
Fiber:
2
g
,
Sugar:
4
g
,
Vitamin A:
143
IU
,
Vitamin C:
2
mg
,
Calcium:
413
mg
,
Iron:
3
mg